The Caribbean island of Barbados is the perfect honeymoon location thanks to its beautiful white sand beaches, friendly and helpful locals, and a variety of atmospheres from serene and romantic to fun and vibrant.
Visitors will love everything about this island, including the calypso music that greets them, the incredible excursions and experiences like swimming with turtles, romantic boat trips, and delicious rum.
This article is perfect for honeymooners looking for the ideal destination as we will explore the all-inclusive resorts in Barbados, the different areas you can stay and their benefits, and the best excursions and activities on offer in this tropical paradise.
What Makes Barbados Perfect For A Honeymoon
You can fly to Barbados from Miami in under four hours, transporting straight into a tropical paradise for your dream honeymoon.
Barbados is known for its diversity from one coast to another, with beautiful white sand beaches along the West Coast of Barbados, contrasting sharply with the rugged East Coast with its dramatic scenery that includes rocky coves and caves perfect for getting back to nature.
Barbados can be relatively expensive, especially if you are looking at luxury resorts. However, all-inclusive offers can help you get your money's worth, and splashing out on a honeymoon is totally acceptable.
Best Honeymoon Resorts, Hotels, and Other Stays in Barbados
Your Barbados Honeymoon should be unique, so choosing the perfect accommodation is essential. There is an excellent choice of luxury resorts for you to find the perfect one. Here are some of our top Barbados honeymoon resorts in Barbados.
Price per Night: $500 to $2150
Best For: All Inclusive
Availability: Easy to book
Enjoying your honeymoon in luxury is easy with an all-inclusive stay at Sandals Barbados. The adults-only, all-inclusive resort is perfect for honeymooners that don't want their vacation ruined by loud kids at the pool.
Honeymoon packages include a bottle of sparkling wine on arrival, flower petals on your bed, and you can choose a day for fresh flowers and breakfast in bed to be delivered.
An all-inclusive vacation at Sandals Barbados includes a luxury suite, exclusive dining options, unlimited drinks, entertainment, water sports, access to the state-of-the-art fitness center, and complimentary airport transfers.
The incredible suites available provide a great choice, including a two-person soaking tub, private infinity pool, swim-up suites, and more.
Your dining experience will offer a great selection of gourmet meals, making this a vacation you will never forget.
Price per Night: $250 to $550
Best For: Intimacy
Availability: Difficult to book
With just ten rooms, the Little Arches Boutique Hotel is perfect for an intimate, luxury honeymoon in Barbados. The adults-only hotel is located next to Enterprise Beach, giving guests quick and easy access to the beautiful white sands.
The beautifully decorated rooms offer all the amenities you would expect from a luxury getaway. The luxury Ocean Suite overlooks the nearby ocean and provides guests with a private freshwater pool.
One of the best things about staying at the Little Arches Boutique Hotel is the Cafe Luna. The Cafe Luna is an award-winning rooftop restaurant with incredible views and gourmet food, and the frequently changing menu ensures it is always popular.
Some stays at the Little Arches Boutique Hotel also include complimentary gold at the Barbados Golf Club. You can enjoy complimentary paddleboard, kayak, snorkel, surfboard, beach chair, storage, and umbrella hire at Carlisle Bay.
A Complimentary shuttle bus service is standard, while those staying for ten nights or more will experience a complimentary trip on a luxury catamaran for two.
Alternatively, honeymooners might opt for the complimentary couples massage and champagne if they stay for ten or more nights.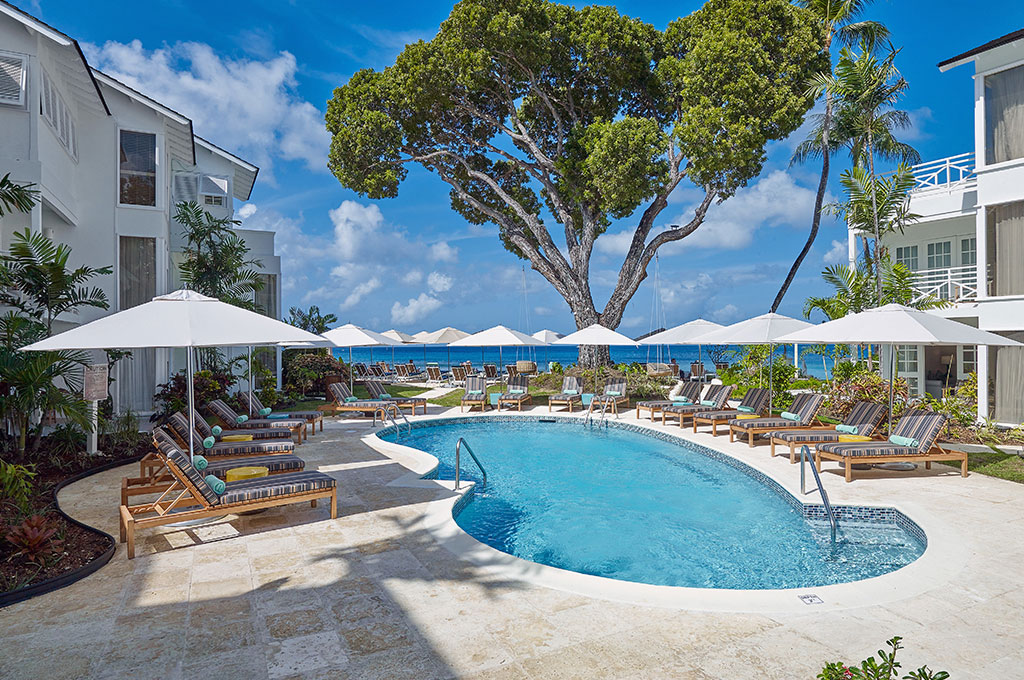 Price per Night: $350 to $1100
Best For: Beachside location
Availability: Difficult to book
Fresh and spacious ocean view accommodation provides honeymooning couples with the perfect place to relax and enjoy married life. Suites offer an incredible array of amenities, and an all-inclusive stay will provide an excellent choice of activities.
Complimentary watersports include paddleboarding, Hobie sailing, snorkeling, and a water trampoline. Start the day with a complimentary yoga class or explore the local art galleries to taste the island's culture.
The Batik Bar and Tapestry Restaurant provide an excellent selection of delectable dishes, while the wine cellar experience offers a taste of the world's best wines.

Price per Night: $200 to $500
Best For: Budget
Availability: Easy to book
This fantastic West Coast hotel offers an excellent location for honeymooners who want easy beach access and to enjoy the bars, restaurants, clubs, and shops of Bridgetown, the capital of Barbados.
The Beachview hotel is a family-run resort that offers a great range of luxury suites and villas. There is a spa and salon for guests to relax and pamper themselves, as well as a great choice of four swimming pools and a fitness center for those that want to stay active.
The Sugar Apple Cafe is the perfect place to enjoy a light bite by the pool, grab a snack, or pick up some snorkel gear from The Hut.
Located on the West Coast near Paynes Bay, guests will love the easy beach access. You will also be able to arrange glass bottom boat tours, jet skiing, and other watersports here.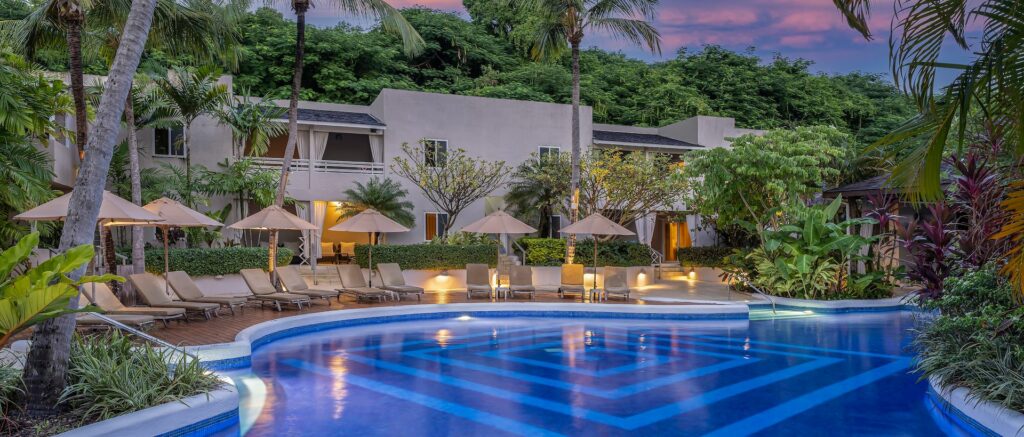 Price per Night: $400 to $1,000
Best For: Wellness
Availability: Easy to book
The Waves Hotel and Spa is great for honeymooning couples that want to rest and recuperate on their vacation. The relaxing, adult-only resort is perfect for making the most of the state-of-the-art spa treatments.
Guests can enjoy massage therapy, body wraps, scrubs, facials, manicures, pedicures, and the great sauna and steam room.
The suites and rooms offer a light, breezy place for you to relax, with private balconies and patios available for guests to enjoy. Dining options include Seascape, Shiso, and Kyma, providing guests with a wide variety of choices.
Alternatively, guests looking for a more intimate dining experience can explore the private dining options.
The two pools and extensive activity program mean you won't be struggling with things to do. There are craft displays, mixology lessons, and other great on-site activities.
If you want to make the most of the ocean, you can explore the excellent selection of water sports activities that can be enjoyed nearby.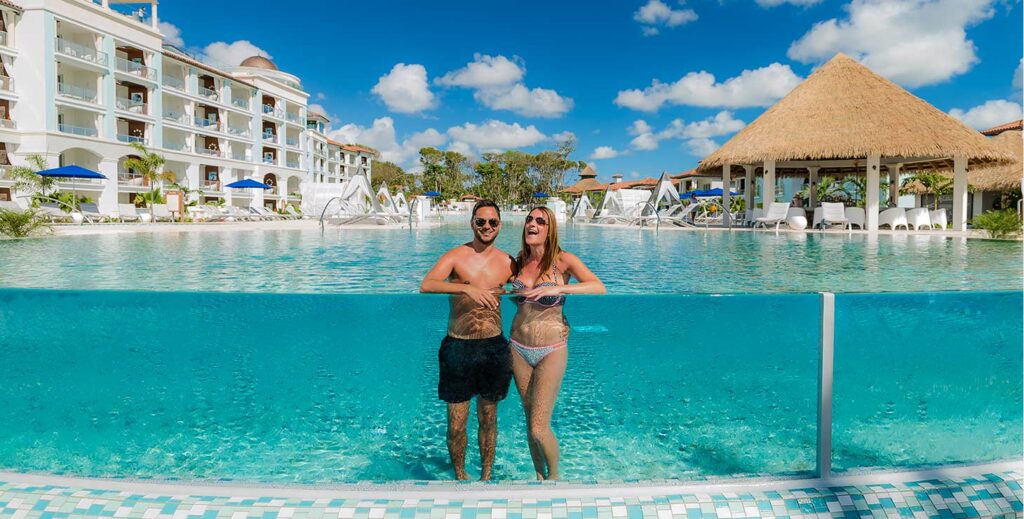 Price per Night: $700 to $2700
Best For: Luxury all inclusive
Availability: Easy to book
Sandals have two great all-inclusive, adults-only resorts for honeymooners to enjoy in Barbados, the second being Sandals Royal Barbados.
Honeymooners typically opt for a once-in-a-lifetime holiday, and Sandals Royal Barbados can provide that thanks to its incredible amenities and quality. You will be able to enjoy the rooftop pool and bar, four-lane bowling alley, and excellent selection of suites.
The all-inclusive package includes an incredible choice of dining at any of the ten restaurants, food, drink, and snacks as and when you want, scuba diving, water sports, entertainment, and much more.
The rooms and suites offer guests a great choice, and you can choose from a pool view, tropical garden view, Oceanfront, Beachfront, or oceanfront.
You can also decide whether you want a private pool, soaking tub, balcony, patio, swim-up pool, or secluded, romantic Rondoval suites.
You can enjoy the ten on-site restaurants or visit the nearby Sandals Barbados restaurants. On-site restaurants include Butch's Steak & Seafood, Chi, American Tavern, La Parisienne, Neptunes, The Jerk Shack, Sweet n' Salty's, Greenhouse, Heart and Soul, and Lovers Lane.
Choose from 31 pools to swim in or visit the nearby beaches where Sandals offers a range of professional instruction for Boogie boarding, kayaking, paddle boarding, and snorkeling.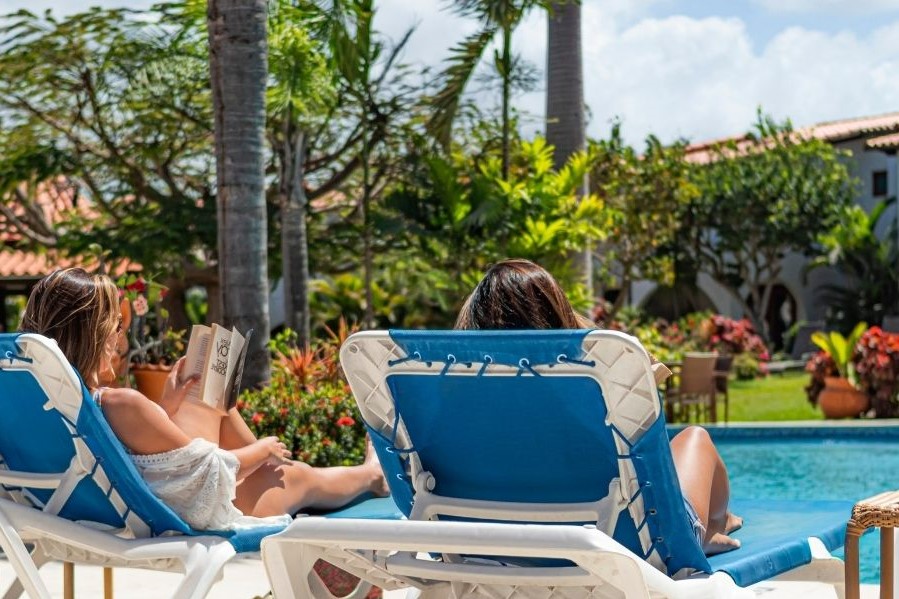 Price per Night: $150 to $350
Best For: Seclusion
Availability: Difficult to book
Guests can choose between room-only and all-inclusive accommodation at the Sugar Cane Club Hotel & Spa. The adults-only resort combines Mediterranean style with Caribbean beauty to create an ideal ambiance for honeymooners.
Guests can enjoy relaxing around the two swimming pools or use the gym, walking trails, and mountain biking.
The full-service spa boasts a steam room, pedicure room, hydrotherapy room, manicure room, two single massage rooms, and a couples massage room. There is an excellent selection of treatments for men and women to relax and rejuvenate.
Suites with garden and ocean views are available and come beautifully decorated with great amenities.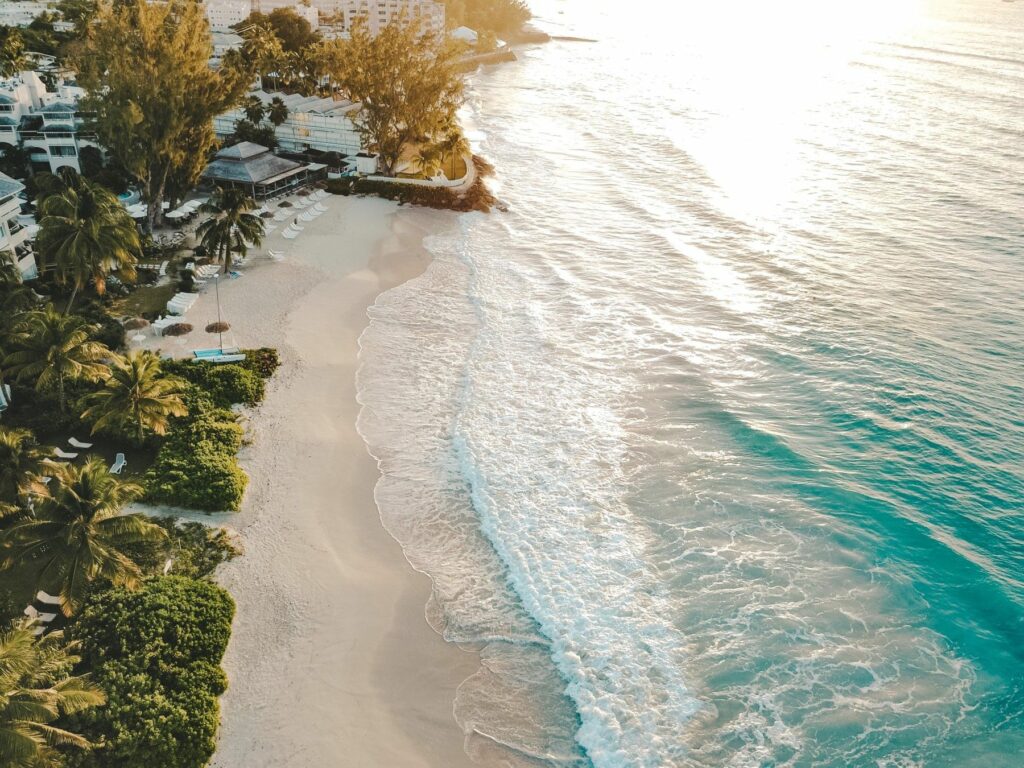 Price per Night: $200 to $500
Best For: Relaxing atmosphere
Availability: Easy to book
The Bougainvillea Barbados hotel offers guests a great choice of suites, and the Honeymoon Suite is perfect for newlywed couples. The suite has a private sun deck, bathroom goods from the White Company, and a furnished terrace to enjoy.
It offers excellent, casual dining at the Calabash Beach Bistro with a great menu that makes the most of local produce, freshly caught seafood, and its incredible beachside location.
Guests can pamper themselves at the Karma Spa & Salon, which offers a great range of treatments to rejuvenate the body and leave you feeling relaxed.
The state-of-the-art fitness center ensures that you won't fall behind with your fitness regime, and there is plenty of space in the large pools. Relax on a sun lounger poolside or walk to the beach to enjoy sunbathing and watersports in the Caribbean Sea.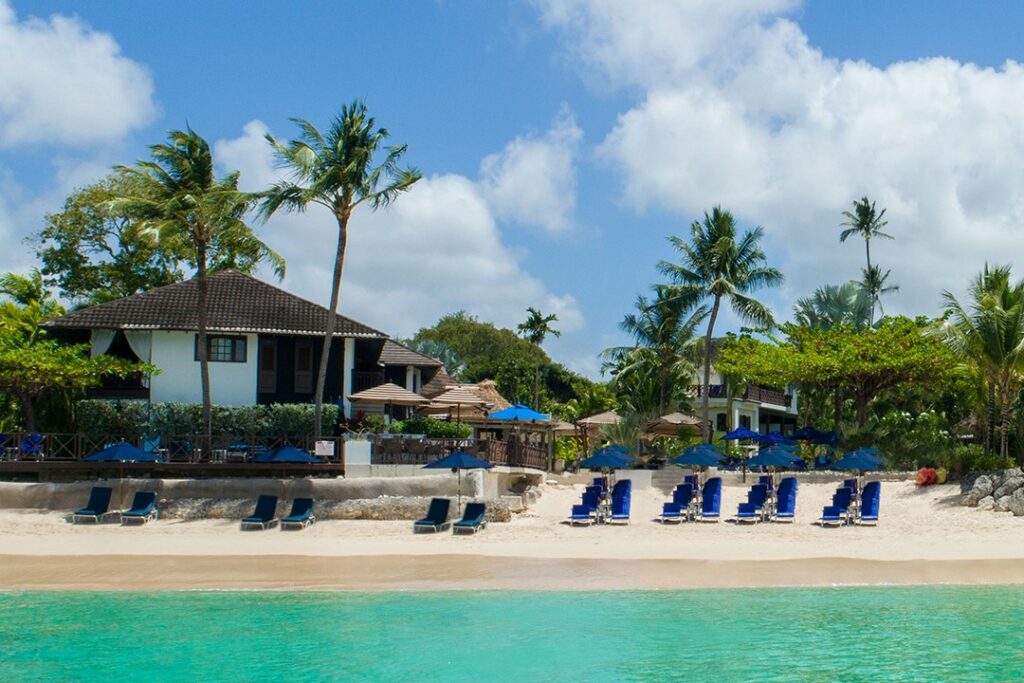 Price per Night: $400 to $1,200
Best For: Luxury Beach
Availability: Easy to book
Honeymooning couples looking for luxury should consider The Sandpiper hotel. The incredible five-star resort is a multi-award-winning hotel with an excellent reputation for providing an unforgettable experience for its guests.
There is an excellent selection of rooms and suites, with their treetop suites with four-poster beds, a sundeck, and a private plunge pool. The terrace comes with a wet bar, and the room is luxuriously decorated to a high standard.
You will have a great dining experience at the hotel's restaurant with a reputation for providing some of the best dishes in Barbados. Harold's bar offers a great place for refreshments.
The hotel's spa is located at the Coral Reef Barbados, The Sandpiper's sister hotel, and offers an excellent selection of treatments for individuals and couples.
Plenty of on-site facilities keep you busy, including the swimming pool, gym, tennis courts, nearby golf courses, and complimentary watersports equipment hire.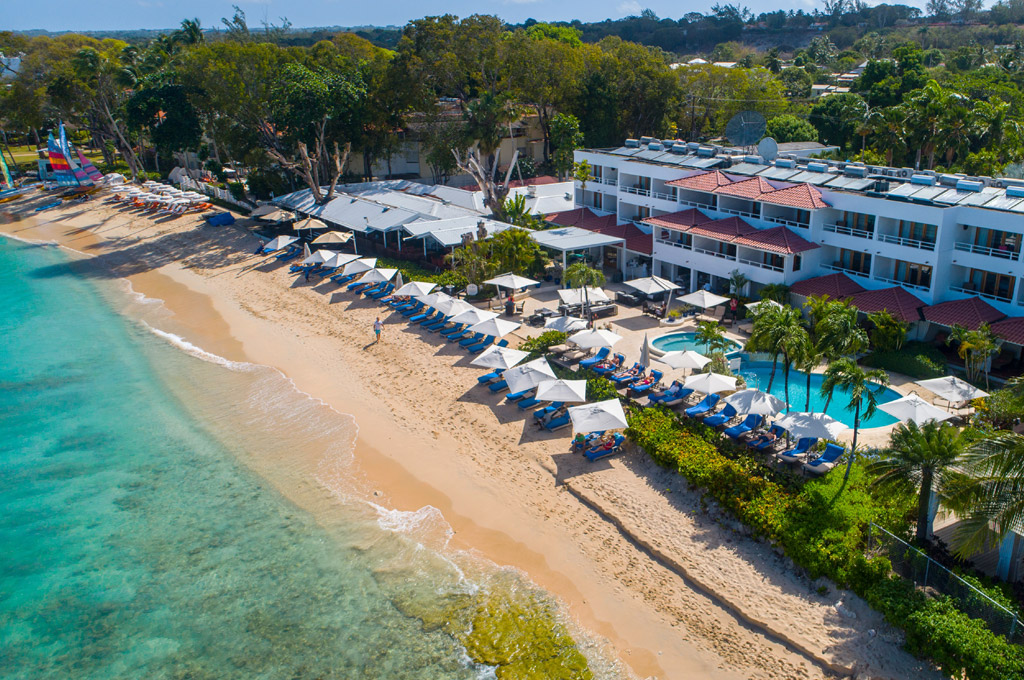 Price per Night: $400 to $1,200
Best For: Elegant location
Availability: Difficult
The House by Elegant Hotels is an elegant all-inclusive resort located beachside for guests to choose between the superb swimming pool or beautiful white sand beach.
The minimalist style accommodation is luxuriously furnished, and you can choose between garden or ocean view rooms and suites.
The all-inclusive package provides all-day dining and options to make the most of facilities at neighboring hotels Treasure Beach and Tamarind.
The beachside resort provides complimentary watersports for you to enjoy in the Caribbean sea, and the beach ambassador service takes care of everything for you.
Romantic beachside cabanas provide the perfect location for evening meals as the sun goes down.
Best Areas To Stay in Barbados
The best way to break Barbados into different areas is by looking at the island's North, South, East, and West and what they offer.
North Coast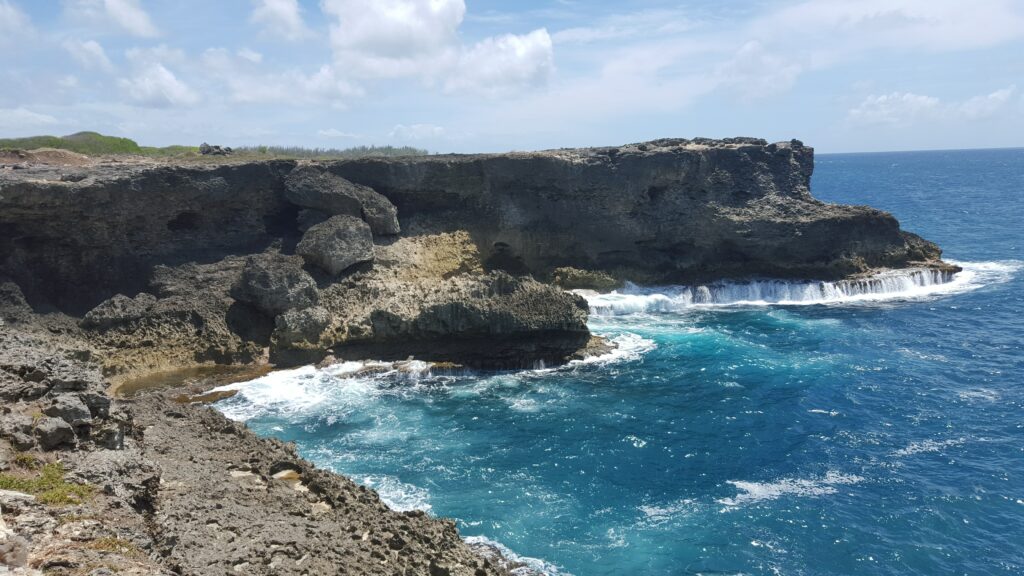 The Northern Coast of Barbados is known for its rugged scenery and landscapes and is perfect for low-key, private romantic getaways.
St. Lucy is a beautiful destination in the North of Barbados for couples who want to enjoy the island's natural side. Animal Flower Cave is a great area to explore, with Maycock's bay the perfect location for anyone looking to surf.
South Coast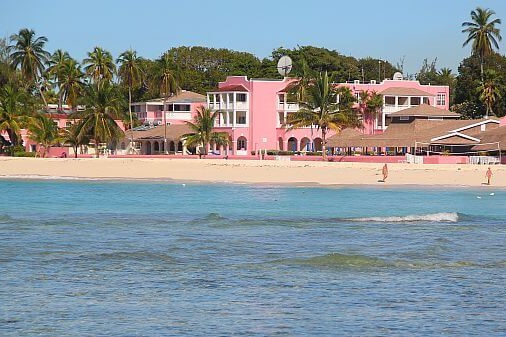 Honeymooning couples looking for a livelier vacation will love the south with its beautiful beaches. The Grantley Adams International Airport is located here, so it is an excellent location for hassle-free transfers.
Guests will be able to make the most of the beaches for sunbathing and watersports, or you will be able to explore St. Lawrence Gap, which boasts a great selection of clubs, bars, restaurants, and shops.
East Coast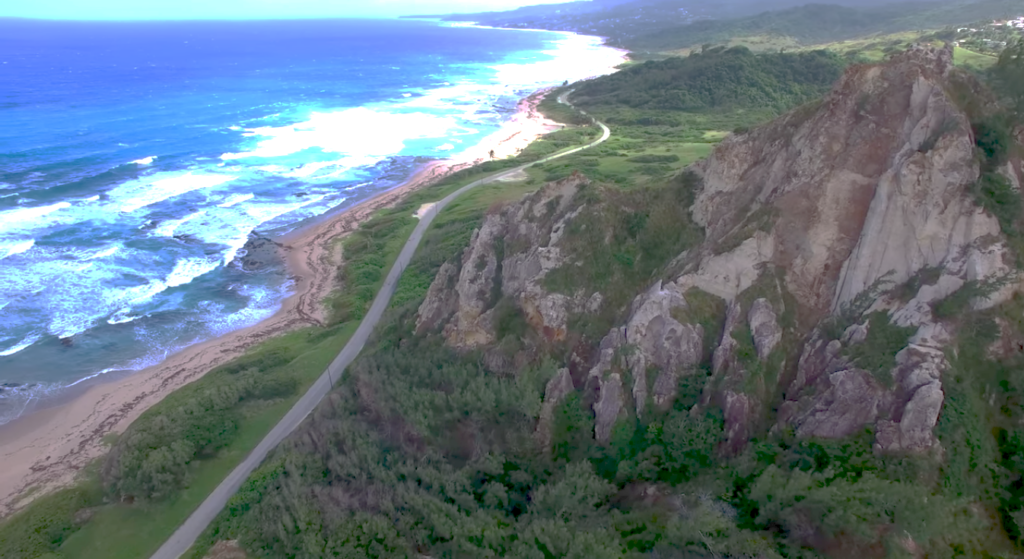 The East Coast of Barbados is similar to the North as it is a more natural location with a rugged coastline and incredible botanical gardens.
The laid-back atmosphere and incredible surroundings make this perfect for couples that want to unwind and enjoy each other's company.
West Coast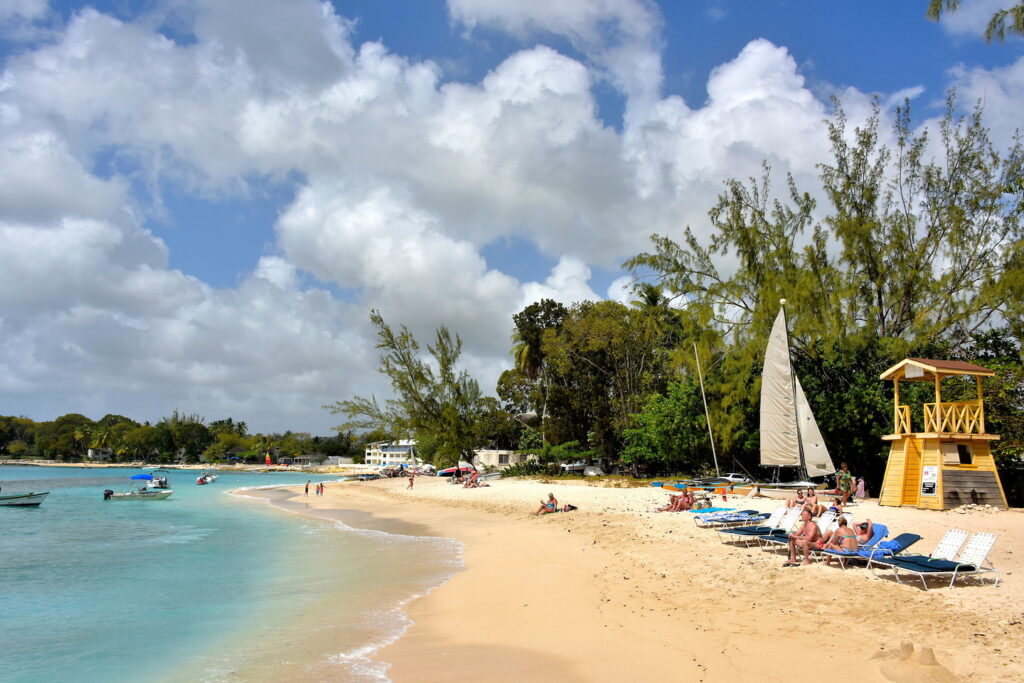 The West Coast of Barbados is probably the most popular tourist destination because of its excellent selection of white sand beaches, historical attractions, and shopping opportunities.
Many of the island's best luxury resorts are on the west coast. You will find an excellent choice of bars, restaurants, and boutiques in Holetown.
Top Excursions & Activities To Do On A Barbados Honeymoon
A Barbados honeymoon has lots to offer couples, making it an excellent choice for many Americans. Here are some of the top excursions and activities to enjoy on your Barbados honeymoon.
The Beaches
Mentioning just one beach would be a disservice to Barbados, and locations like Bathsheba Beach, Dover Beach, Miami Beach, and Enterprise beach offer visitors the opportunity to enjoy the sun, go swimming, and snorkeling, paddleboarding, surfing, and taking boat trips.
Carlisle Bay
Carlisle Bay has a bit of everything, with beautiful beaches boasting great snorkeling locations around shipwrecks, swimming pools, and amenities like lounge chairs and umbrellas.
Barbados Boardwalk
Enjoy a romantic walk on your Barbados honeymoon along the beautiful Barbados boardwalk. Sunset walks offer incredible views over the ocean, and you might even spot some of the famous sea turtles swimming by.
Harrison's Cave
This natural wonder is a particularly popular tourist destination, and it's easy to see why. The limestone cave system features stalactites, stalagmites, and streams, and guests will love the tours.
Mount Gay Visitor Center
Find out more about the island's favorite drink at the Mount Gay Distillery and Visitor Center. You will be taken on a tour to see the process of how the drink is made before having the chance to sample some.
Atlantis Submarine
The Atlantis Submarine excursion provides visitors with the perfect way to see marine life in an incredibly unique way. Enjoy trips during the day and night to see the various animals in their natural habitat.
Sample Itinerary & Budget For Your Honeymoon To Barbados
Setting a budget for your vacation can be difficult and will depend on the hotel you are staying at, what you plan to do, and whether you are going all-inclusive.
If you plan to eat out in Barbados, an average daily budget of around B$150 would be typical. This will vary depending on which restaurant you visit, but the average meal price is around B$60 per person.
Accommodation costs will vary, but you can see the average nightly price of our recommended resorts above.
Budgeting for daily excursions will also vary. Though a trip to the beach will be free, you might have to pay for a sun lounger or umbrella. The typical cost of this would be around B$10 per day. Taxi fares are typically around B$20 for a starting tariff and B$8 per mile beyond that.
Budgeting for a 7-day trip for a honeymooning couple to Barbados can look something like this;
| | |
| --- | --- |
| Activity | Weekly Cost |
| Accommodation | $350 (budget hotel) – $18,900 (expensive resort) |
| Flights | Upwards of $660 (round trip from the US) |
| Food and drink | $1,100 – $1,600 |
| Harrison's Cave Tour | $85 |
| Mount Gay Visitor Center | $70 |
| Atlantis Submarine Night Tour | $112 |
Here's a Barbados honeymoon itinerary you can take inspiration from:
Day 1 – Make the most of your beautiful resort and explore the surrounding area on your first day while settling in.
Day 2 – A day at one of the fantastic beaches swimming, sunbathing, or making the most of the great watersports is a perfect way to enjoy your second day.
Day 3 – Seeing more of the island is the ideal way to break up your week, and there are excellent boat tours, or you could enjoy the Harrison's Cave Tour.
Day 4 – On your fourth day, why not visit the island's capital Bridgetown? A day of shopping, seeing the sights and attractions, and a meal at a great local restaurant will be perfect.
Day 5 – Split your day between relaxing at the pool, enjoying your hotel's amenities, and visiting the local beach for the perfect lazy day.
Day 6 – On your second last day, why not do something memorable like the Atlantis Submarine? Tours are available during the day or night, depending on your preferences.
Day 7 – Make your last day a relaxing one and enjoy the resort pool and spa before heading home after a vacation to remember.
Frequently Asked Questions
How much does a Barbados honeymoon cost?
A Barbados honeymoon will vary in price depending on several factors. The hotel you choose, whether it is all-inclusive, travel costs, and what you plan to do on your trip are all significant factors.
Typically, you could expect an all-inclusive honeymoon in Barbados, including flights, to cost from $5,000 to $8,000 per couple.
When is the best time to visit Barbados?
Barbados experiences a rainy season that typically lasts between July and November. Because of this, December to April is the most popular time to visit as it is traditionally the dryest time of the year and experiences the best weather.
What is the best way to travel around Barbados?
Taxis are a great way to get around Barbados. They are quick, relatively cheap, and recognizable as they will have a "Z" on their license plate and typically have lights on top.
At just 21 miles in length and 14 miles in width at their widest points, getting around this great country doesn't take long, especially if you have chosen accommodation with good accessibility.
What is the best way to travel to Barbados?
Flying from the US will vary in time and cost depending on where you are flying from. Flights from Miami take around 3 hours 45 minutes. Other US airports that offer direct flights to Barbados include Charlotte, Washington, Boston, and New York.
What currency is used in Barbados?
The Barbados dollar is the currency used in Barbados, and the typical exchange rate is roughly 2 BBS per 1 USD. This makes it easy to keep track or convert prices on the island.
Start Planning The Perfect Romantic Honeymoon Getaway
Planning your Barbados honeymoon is made easy with Couples Travel. With so many great resorts, countless great locations to visit, and an incredible atmosphere, you are bound to have a vacation to remember.
The resources you find here will make it easier to plan your perfect honeymoon and enjoy the beautiful white sands, crystal clear waters, luxury suites, villas, and resorts.