With miles and miles of golden sandy shores, clear waters, and plenty of sunshine, South Carolina boasts some of the most diverse (and stunning) beaches in the United States. So whether you're looking for your ideal honeymoon location or a quiet romantic getaway, the Palmetto State has got you covered.
From the peaceful and serene Sullivan's Island to the upscale Isle of Palms, these beaches offer you a chance to escape the fast-paced living of city life. Or, if you want something in between, Edisto Beach is the perfect spot to book your vacation rentals.
If you're ready to feel your toes in the sand, taste the salt of the sea in the air, or enjoy the warmth of the sun on your skin, then let's get into it. It's time to grab your sunblock, pack your bathing suit into your carry-on, and get ready for an unforgettable trip.
1. Best for Entertainment: Myrtle Beach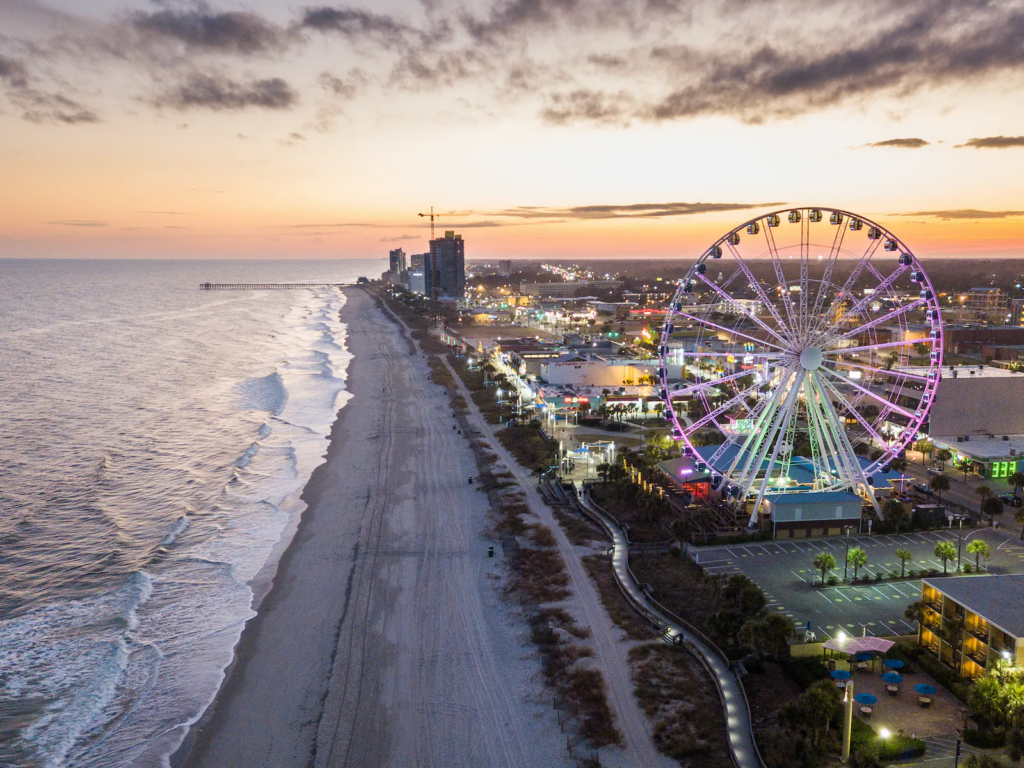 If you're looking for a sandy paradise for you and your partner, Myrtle Beach is a great choice. This South Carolina gem is packed with gorgeous beaches that seem to stretch on forever, giving you enough space to enjoy the sun, sand, and sea.
Myrtle Beach is warm and welcoming during the summer months, so it's perfect for all kinds of water activities. These include jet skiing, paddleboarding, scuba diving, surfing, and parasailing. Of course, swimming is also a popular pastime thanks to the calm waters.
If you're still young at heart, there is always plenty to do near Myrtle Beach. Nearby, you'll find the Family Kingdom Amusement Park and Ripley's Believe It or Not Museum for hours of endless entertainment.
Golf enthusiasts can also enjoy the local Myrtle Beach golf courses while shoppers get some much-needed retail therapy at Tanger Outlets and Barefoot Landing.
Overall, Myrtle Beach is the ideal vacation spot or fun weekend getaway destination. And if you want somewhere a little different that is still fantastic for a couple's retreat, Surfside Beach is just a short drive away…
2. Best for Budget Vacations: Surfside Beach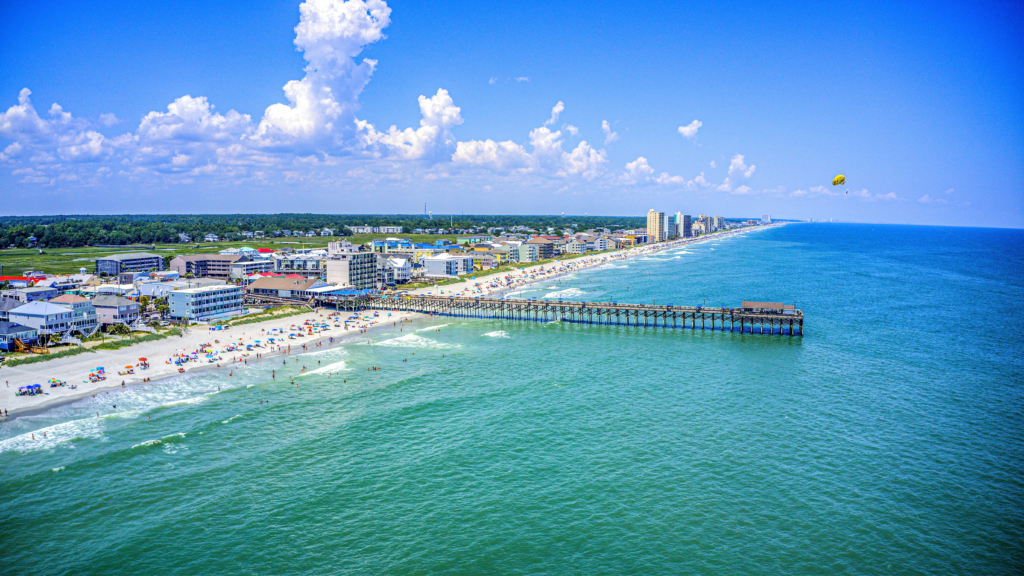 Surfside Beach is a popular beach known for its clean white sand, long boardwalk, and relaxing atmosphere. You can access the beach from over 30 different points, making it easy to find if you're a first-time visitor. And while Surfside Beach offers limited water sports and activities, it's ideal for swimming in the gentle waves.
Along the beach is a plethora of rental shops that offer comfortable beach chairs and umbrellas for a day of relaxation and sunbathing. There are also several vacation rentals and resorts just a stone's throw away from the sun and sand, making it easy to get to and from most hotels on foot.
The boardwalk at Surfside Beach is a must-see and is home to several entertainment venues, bars, and amazing restaurants. The great news is that although you'll have access to all of these fantastic activities, Surfside Beach is super affordable. But you won't have to worry about that if you're stretching out on the 2 miles of warm, soft sand.
Are you an amateur fisherman? Then you're in luck. Although part of it was destroyed by Hurricane Matthew, there is a great fishing pier available where you can cast a line and try to catch a record-breaking fish.
The surrounding area of Surfside Beach has mini golf, a water park, ice cream stands, and concerts. What more could you and your partner want? Plus, the stunning sand and soft waves make it a great place to unwind or enjoy jet skiing and kite surfing on the Atlantic Ocean.
3. Best for Luxury Accommodation: Hilton Head Island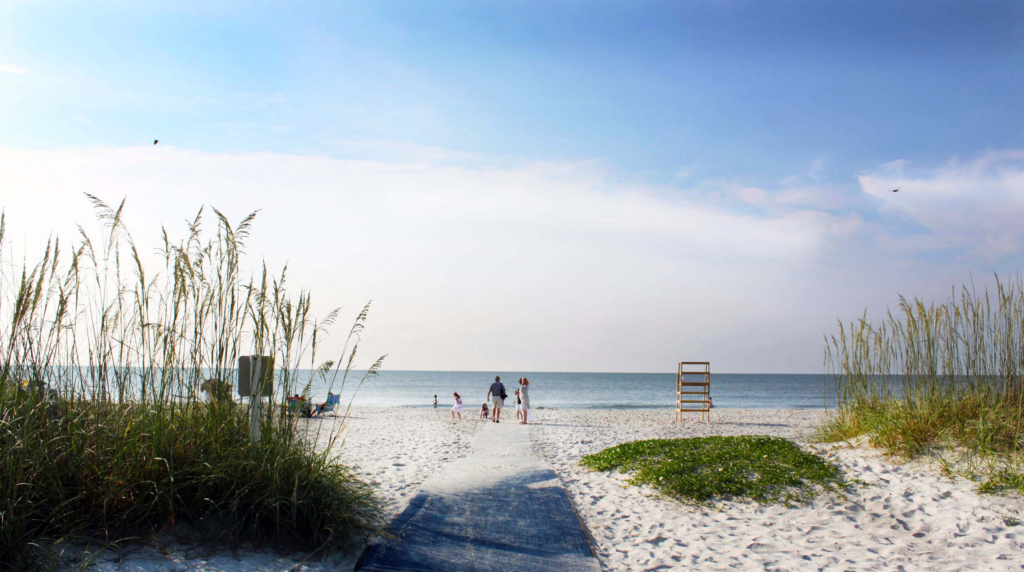 If you want an exciting and unforgettable vacation, Hilton Head Island is a popular beach destination for travelers. With 12 miles of stunning shores, there's little wonder this has become a well-known spot for enthusiastic beachgoers.
Hilton Head Island is home to some of the best beaches in South Carolina. With beaches like Coligny Beach Park and Mitchellville Beach Park with family-friendly and intimate spots, it's ideal for any type of getaway.
The island has plenty to offer, with golf courses, museums, and mouth-watering dining options. But one of the best parts about Hilton Head Island is its amenities. Whether you're looking for a relaxing spa day or a more active adventure like paddleboarding or fishing, it has it all!
Hilton Head isn't only known for its beaches, but also for its stunning views. So you'll have plenty of opportunities to enjoy breathtaking scenery and make truly unforgettable memories. The beaches here are best visited during the spring and fall when crowds are lower, and the weather is perfect all day.
It's important to note that accommodation at Hilton Head Island is pretty pricey, so it may be best for a honeymoon or special vacation than a quick getaway!
4. Best for Private Beaches: Kiawah Island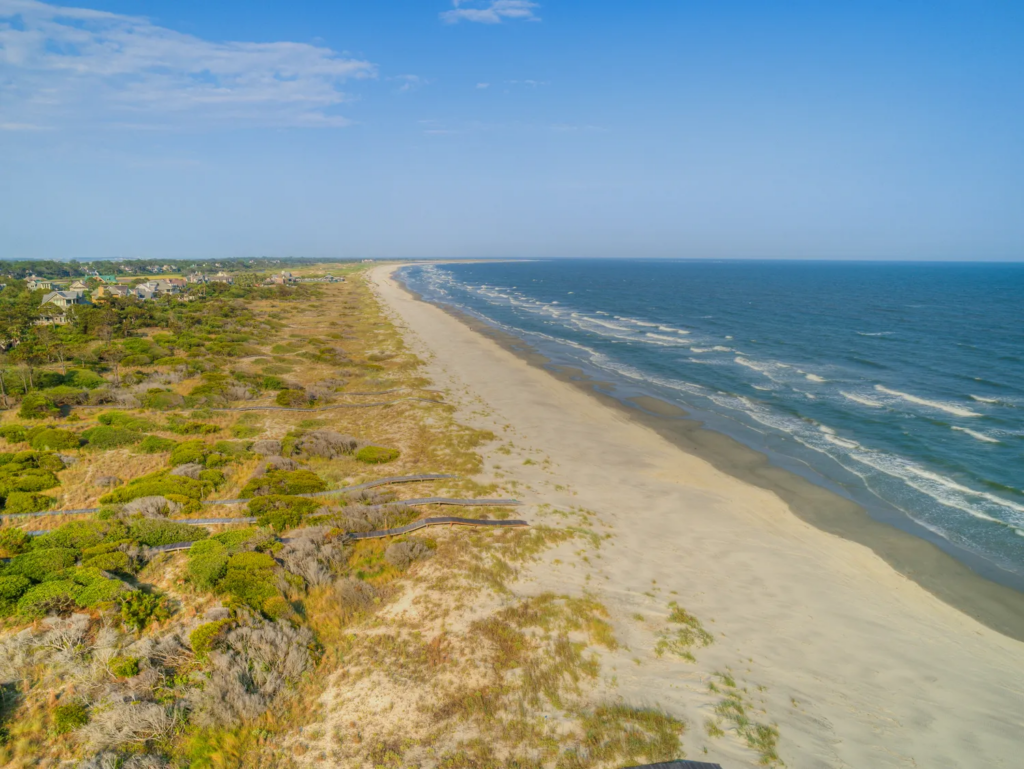 Kiawah Island is a gorgeous barrier island that is a short hour's drive from downtown Charleston, South Carolina. This little slice of heaven offers around 10 miles of beautiful beaches with stunning natural surroundings. It has maritime forests, sand dunes, and preserved marshes, making it a popular beach destination for any kind of couple.
While much of the island is now made up of private beaches and golf resorts, there is still a public beach on the west end of the island that offers plenty of swimming and suntanning fun.
On the public beach at Kiawah Island, you can find snack bars, outdoor showers, and lifeguards. This makes for a safe beachgoing experience for a relaxed day on the sand.
Close to Kiawah Island, Beachwalker Park is also located between the ocean and Bohicket River and provides a much more diverse range of activities.
If you're a fan of golfing, Kiawah Island Golf Resort is home to one of the biggest golf courses on the South Carolina coast. After a few rounds of golf, you can enjoy the natural beauty of the island on the hiking trails or kayak and canoe on the sparkling creeks and rivers.
Before you book your stay, remember that Kiawah Island mainly offers luxury accommodations that can be pretty pricey. The public beach can also become crowded during peak season, so if you want a private patch of sand to lounge on, it's a good idea to arrive early.
5. Best for Variety: Huntington Beach State Park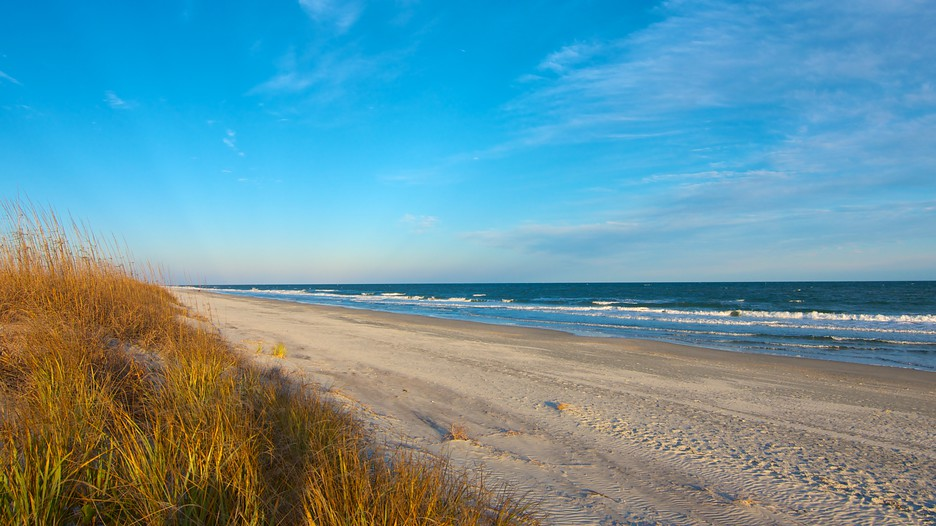 Huntington Beach State Park is a natural oasis located just south of Surfside and Myrtle Beach in South Carolina. This stunning park is a bucket list destination for nature enthusiasts, wildlife lovers, history buffs, and anyone looking for a peaceful retreat.
The park boasts more than 2,500 acres of pristine natural beauty, including three miles of unspoiled beach. The beach's shallow waters make it ideal for swimming and paddling, and the scenery is absolutely spellbinding. So whether you want to hike the trails or spend a few days camping outdoors, Huntington Beach State Park is idyllic.
What really sets this park apart is its abundance of wildlife. Here, you can observe all kinds of animals, from sea turtles and alligators to various seabirds. In fact, it's a prime spot for birdwatching and fishing.
History lovers can explore the unique Atalaya Castle, which was built in the 1930s and is a magnificent Moorish-style mansion. Or, you can visit the park's nature center, which has live animals and interesting, informative displays.
On the other hand, art and nature lovers will appreciate the park's dedication to wildlife preservation and the nearby Atalaya Arts and Crafts festival. Just remember to bring your camera with you for those all-important holiday snapshots!
If you want to make a day of it, the park has picnic facilities and campsites available. So you can spend a full day (or even longer) soaking up the sun and enjoying the sound of the nearby waves.
6. Best for Fishing: Folly Beach County Park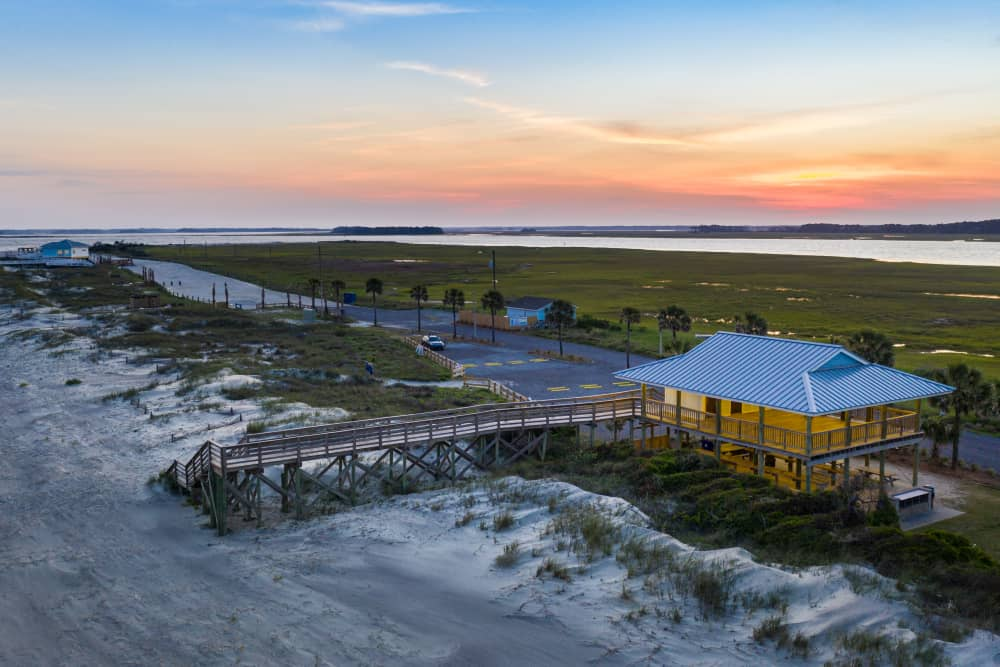 Folly Beach County Park is a beloved destination for beachgoers and watersports enthusiasts alike. And with over six miles of South Carolina beach to explore, Folly Beach is perfect for swimming, surfing, kayaking, and boating.
The area is also known for its fishing. So whether you like river, deep-sea, or pier fishing, Folly Beach has it all. In fact, the Edwin S. Taylor Fishing Pier draws huge crowds of amateur and seasoned fishermen every year.
Near Folly Beach, you can explore the Morris Island Lighthouse or take a boat tour to go and explore the picturesque waters. But you can just as easily have a fantastic time onshore at Center Street, where there are plenty of stores, bars, and restaurants to enjoy.
As one of the closest beaches to Charleston, Folly Beach is a popular spot for couples who typically stay in vacation rentals or privately owned villas. However, these accommodations may be more expensive than other beach hotels in South Carolina.
This beach town has a laid-back atmosphere and you can easily spend your days relaxing on the beach, exploring the park, or enjoying the local cuisine and culture. Of course, the beach is absolutely the main attraction at Folly Beach. With welcoming sand, crystal-clear water, and abundant marine life, you'll never want to leave this South Carolina haven!
7. Best for Activities: Edisto Beach State Park
Edisto Beach State Park is a hidden gem in South Carolina, offering a peaceful and uncrowded destination if you're looking for a romantic or intimate getaway. Located in one of the most serene beach towns in the state, Edisto Beach is a non-commercialized spot, making it perfect for a tranquil vacation.
One of the main attractions at Edisto Beach is its jaw-dropping 4.5-mile-long beach. Here, you can sunbathe, swim, and enjoy the sound of the waves crashing against the shore. Remember, although swimming is permitted, there are no lifeguards, so you'll need to be careful when you're entering the water.
If you love outdoor activities, Edisto Beach has plenty! You can hike or bike along the Swamp Moss Nature Trail, take a boat ride along the coastline, or join a guided kayak tour or fishing excursion. The park even has space for camping and playing golf. So no matter what you want to do, you'll find it here.
Overall, Edisto Beach State Park is a great place to escape the crowds and enjoy some peace and quiet. The secluded town occupies the southwestern tip of the mostly-underdeveloped Edisto Island, making it an ideal location for honeymooners. So be sure to add Edisto Beach to your itinerary next time you're in South Carolina.
8. Best for Quiet Getaways: Cherry Grove Beach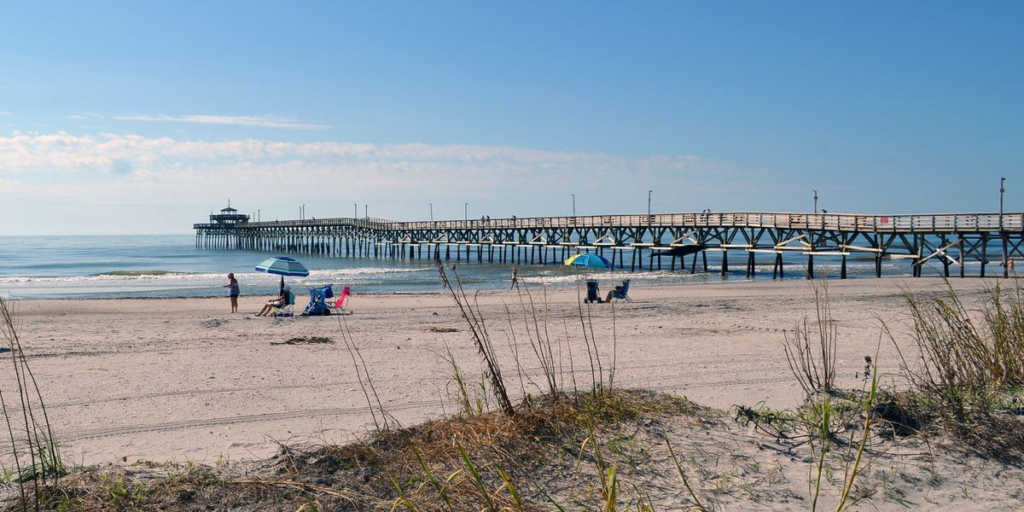 Cherry Grove Beach, located in the small beach town of North Myrtle Beach, is a true treasure along the South Carolina coastline. Cherry Grove Beach has a lot to offer, but is often overlooked by tourists in favor of better-known beaches. With soft, white sand, warm waters in the summer, and stunning views all around, it's no wonder that it is so popular among the locals.
Fishing is one of the main activities at Cherry Grove Beach, and the Cherry Grove Pier is a favored spot among amateur and professional fishermen. You may even be surprised to know that several record catches have been made here! Even if you're not into fishing, a visit to the Pier is worth it to watch the action. But if you are, you can also try your luck at the Inlet.
In this sleepy town, another well-liked pastime is golfing, with several golf courses like Heather Glen and River Hills. Plus, if you're interested in boating, there are tons of tour and rental companies for you to make use of.
Of course, if you want the backdrop of the beach but don't actually want to go out near the water, you can always visit the Cherry Grove Strip. There are several restaurants and stores to choose from, meaning you can shop 'til you drop before heading back to your vacation rental.
9. Best for Golfing: Litchfield Beach
Approximately half an hour away from Myrtle Beach, Litchfield Beach is a sandy home away from home. Unlike the bigger beaches in South Carolina, Litchfield Beach is peaceful and relaxing and perfect for anyone who wants to escape the hustle and bustle of the city.
With only a couple of access points, this 1.5-mile-long beach is rarely overcrowded – even during the weekends and the summer months!
Additionally, the calm and quiet waters of Litchfield Beach offer an array of exciting activities to enjoy. You can go kayaking, swimming, surfing, and fishing. Still, the white sand is also perfect for lounging if that's what you prefer.
Other than the incredible beach, Litchfield is home to three perfectly manicured golf courses that are sure to please even the most avid golfers. And while your partner is out on the golf course, you can stay near the attractive oceanfront cottages and holiday homes that line the shore, if you're not a golf fan. These accommodations will give you the perfect view of the jaw-dropping beach.
It's important to note that parking at Litchfield can be a bit tight, so it's recommended to arrive early to avoid any parking issues. But once you've found your spot, you can sit back, relax, and soak up the serene atmosphere.
10. Best for Relaxation: Sullivan's Island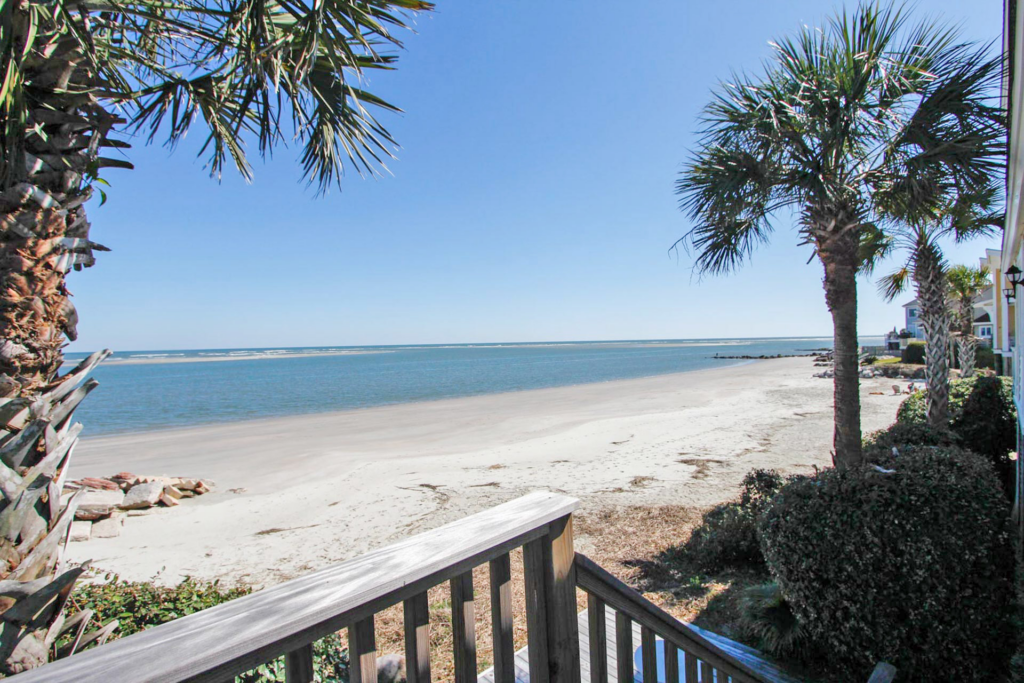 Sullivan's Island is just a short drive from Charleston and offers you an incredible beach getaway without the distraction of city life. This peaceful island is perfect for couples and has no beachfront developments to take away from the natural beauty of the golden sand.
Still, you can enjoy relaxed activities like building sandcastles, swimming, kitesurfing, or paddleboarding to add some easy-going excitement to your day. As underdeveloped as Sullivan's Island is, you'll need to check for the best times to visit if you want to secure a spot on the sand. It's extremely popular with tourists and locals, so you'll want to arrive early.
In addition to Sullivan's Island Beach, this destination has some interesting historic sites to explore. Fort Moultrie, for example, played a significant role in the American Revolution, and you can learn all about its fascinating history. Plus, the island's historic district also features many old buildings that add to its unique charm.
From history buffs to adventure seekers, Sullivan's Island truly has something for everyone. And once you arrive, you'll never want to leave this sunny paradise! Just be sure to plan your trip wisely so you can hit all of the best spots before your vacation is over.
11. Best for Resorts: Isle of Palms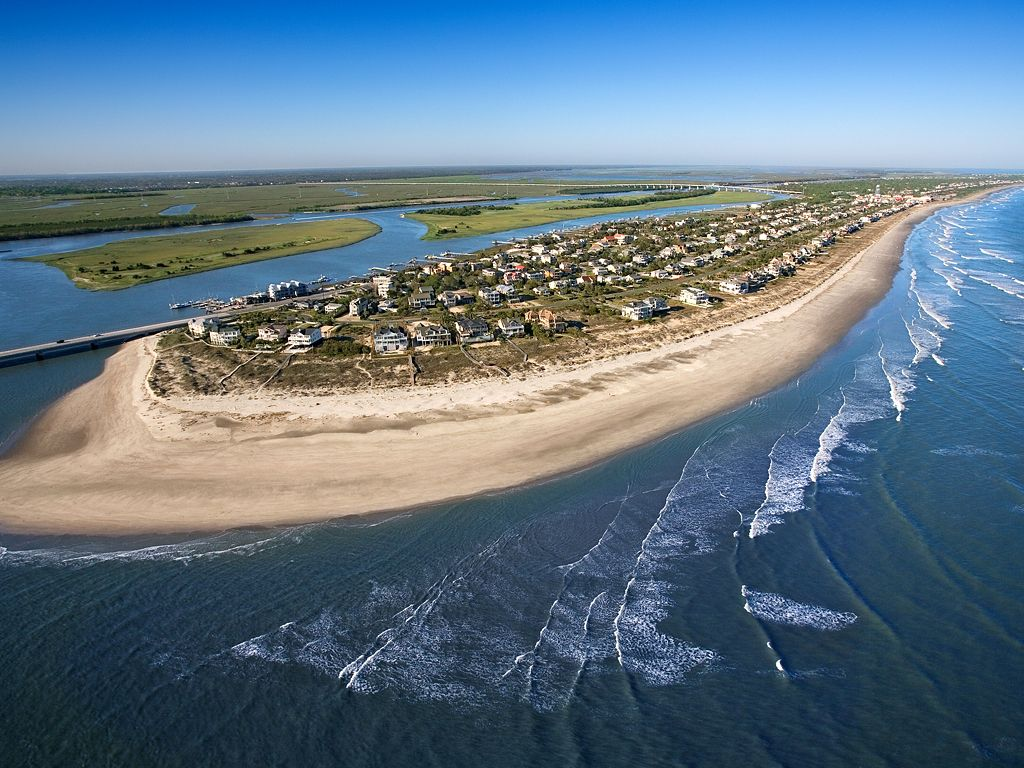 Isle of Palms is a stunning barrier island located just a short drive from Charleston. As one of the best beaches in South Carolina, it offers you an upscale resort experience with a plethora of attractions to keep you entertained.
Originally a playground for the rich and famous, this now-accessible island is home to several outstanding resorts, luxury homes, and condos located directly on the beach.
One of the most popular areas on the island is Front Beach, which is ideal for a relaxed beach experience. But if you're beach hopping, head to County Park, where you can find other amenities like outdoor showers and restrooms.
The best way to explore the island is by golf cart, although renting a bike or a moped is also a great option for couples. Throughout the year, the island also has plenty of festivals for tourists and travelers, giving it a fun and exciting atmosphere.
While Isle of Palms is more developed than other beaches in South Carolina, it still retains its beauty and natural allure. Here, you can take advantage of the pier, marina, and water sports rental services. At certain times of the year, you can also catch a glimpse of sea turtles as they nest along the shoreline.
FAQs
Does North Carolina or South Carolina have better beaches?
Both North and South Carolina have absolutely beautiful beaches! But which one is better will depend on your personal preferences. North Carolina's Outer Banks are famous for their scenic beauty, while the South Carolina coast offers more luxury accommodations and resort activities.
Some of the most popular North Carolina beaches include Cape Hatteras and Nags Head. Meanwhile, Myrtle Beach, Kiawah Island, and Hilton Head are among the best in South Carolina.
When is the best time to visit the beaches in South Carolina?
The best time to visit the unspoiled sandy beaches in South Carolina is in the spring and fall. During these months, the weather is mild and the crowds are much smaller than in the summer. Don't worry, though! The water is still warm enough for swimming in these seasons, so you can still pack your favorite bathing suit.
It's important to keep in mind that hurricane season runs from June to November. So, if you're planning a visit during these months, it's a good idea to check the weather.
Are there any pet-friendly beaches in South Carolina?
Yes, there are several pet-friendly beaches in South Carolina. Some of the most popular ones are Folly Beach County Park, Huntington Beach State Park, and Kiawah Island Beachwalker Park.
Keep in mind that most of these pooch-friendly beaches require that your furry baby stays on a leash at all times. You'll also need to ensure that you clean up after them when nature calls! Some South Carolina beaches also have specific hours when pets are allowed, so it's a good idea to check before you go.