Washington State, not to be confused with Washington, DC, is a wonderful destination for a romantic getaway. Located in the Pacific Northwest, many great locations and attractions are worth visiting.
Fans of romantic comedies will want to live out their own Tom Hanks and Meg Ryan getaway in Seattle. The more active couple will love the fantastic range of outdoor activities along the coast, islands, and Olympic National Park.
There are many types of accommodation for the perfect romantic escape. Enjoy luxury, all-inclusive resorts for an excellent range of amenities. Intimate B&Bs and waterside lodges are also great options.
If you are interested in romantic getaways in Washington State, this guide will help you plan the perfect trip.
What Makes Washington State Perfect For A Romantic Getaway?
Washington state borders Idaho and Oregon. The northern border is shared with Canada. The West coast of Washington state offers access to the Nort Pacific.
People planning romantic getaways in Washington State will have great options. However, they might not usually be concerned with its geography. This superb location and geographical features allow travelers to enjoy a diverse vacation.
The area is known for its beautiful forests and mountains. The charming coastal towns are just some Washington State vacation spots to consider.
You will have a great choice when choosing a romantic hotel for Washington State vacations. Many great hotels and resorts offer easy access to nearby sights and attractions.
This guide will take you through everything you need to know to plan the perfect getaway, including:
The most romantic locations
The best accommodation
Enjoyable excursions and activities to enjoy on your vacation
The budget you need to plan your trip
By the end of this guide, you will have the knowledge and inspiration to book romantic getaways in Washington State today!
Most Romantic Getaways Washington State
When you visit the Pacific Northwest, you will have an excellent choice of locations to explore. There are many towns, cities, and islands that would all warrant individual vacations.
To help you decide where to visit, we have looked at some of our favorite destinations. As well as enjoying great accommodations and days out in these locations, you can easily explore other locations.
Seattle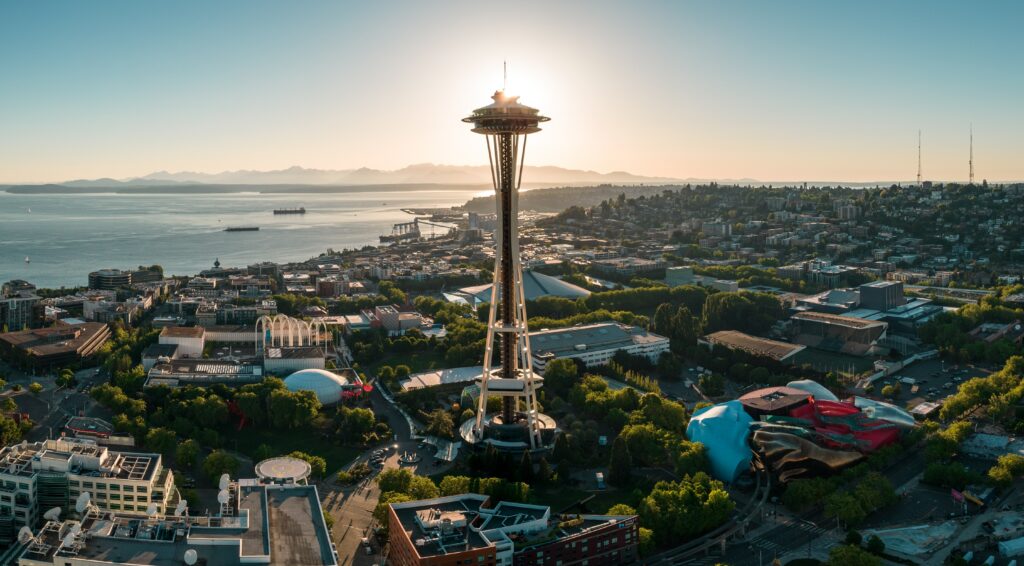 As we already mentioned, Seattle is one of the settings for the Meg Ryan, Tom Hanks rom-com Sleepless in Seattle. This automatically makes it an ideal location for a romantic getaway.
A Hollywood blockbuster should be enough to sway you. However, there are countless excellent attractions as well. This makes it a perfect location for a romantic getaway.
The Seattle Space Needle is a unique tourist attraction. It is one of the best locations in the city to enjoy great views. There is even a floor that rotates, and one full rotation takes about 45 minutes. The Seattle Space Needle is quite an expensive option. It typically costs around $35+ per person. Adventurous couples might want to explore the great Seattle tour options available. If you are okay with heights, a Seattle Seaplane or Hot Air Balloon flight can be a great option.
Alternatively, a harbor cruise might be an excellent option for you. Other great boat tours include whale watching. This can create unforgettable moments with your loved one.
If you want to see more of the city, a segway tour can be a fun way to look around. Seattle Ghost Tours are also popular among visitors that want to learn more about the city's spooky history. The Seattle Sky View Observatory is another excellent way to see the city. Enjoy refreshments from the cafe while enjoying the stunning city views. Animal lovers will also have an excellent choice of activities. The Woodland Park Zoo and Seattle Aquarium are excellent options.
Best Accommodations in Seattle:
There are lots of great romantic hotels in Seattle to choose from. You will be able to explore accommodation to suit all budgets. Some of our top Seattle hotels include:
Price per night: $140 to $250
The Ballard Inn is a historic building that has been a hotel for more than 100 years. The great location is near the center of Seattle. It is also around 30 minutes from the nearest airport. This makes it perfect for transfers.
The fantastic location puts you within walking distance of excellent bars and restaurants. It boasts a great indoor pool and fitness center. Guests can also relax in the spa and wellness center.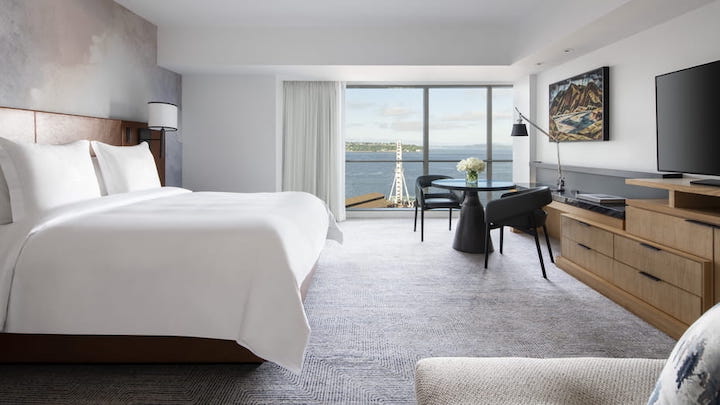 Price per night: $150 to $8,000 per night
The Four Seasons Hotel in Seattle has a great selection of rooms, including great doubles and luxurious suites. Despite its urban location, guests will enjoy incredible mountain and ocean views. You will be able to access the beautiful and natural wilderness of Washington State as quickly as the Seattle city center.
Its location is in the downtown area. This puts you close to museums, bars, and restaurants. The hotel boasts a beautiful infinity pool open from 6 am to 10 pm daily. Featuring a poolside bar and grill will offer a great selection of food and drink.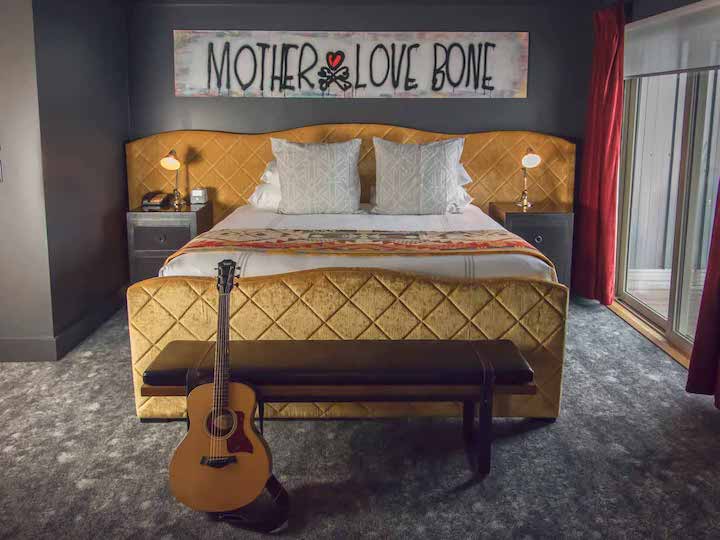 Price per night: $130 on average per night
Seattle's Edgewater Hotel is a bit of a misnomer. The hotel is actually over the water on secure stilts and platforms. This unique hotel offers visitors a fascinating waterfront location. As well as its fantastic location, it has also been the accommodation of famous faces over the years.
The Beatles even stayed here!
There is an excellent choice of city and sea view rooms and suits. The superb restaurant and lounge make it a popular location for functions. The luxury accommodation comes with gas fireplaces for romantic evenings. For just $31 per day, guests can enjoy guitar rental, use of the fitness center, and bike rental.
Olympic Peninsula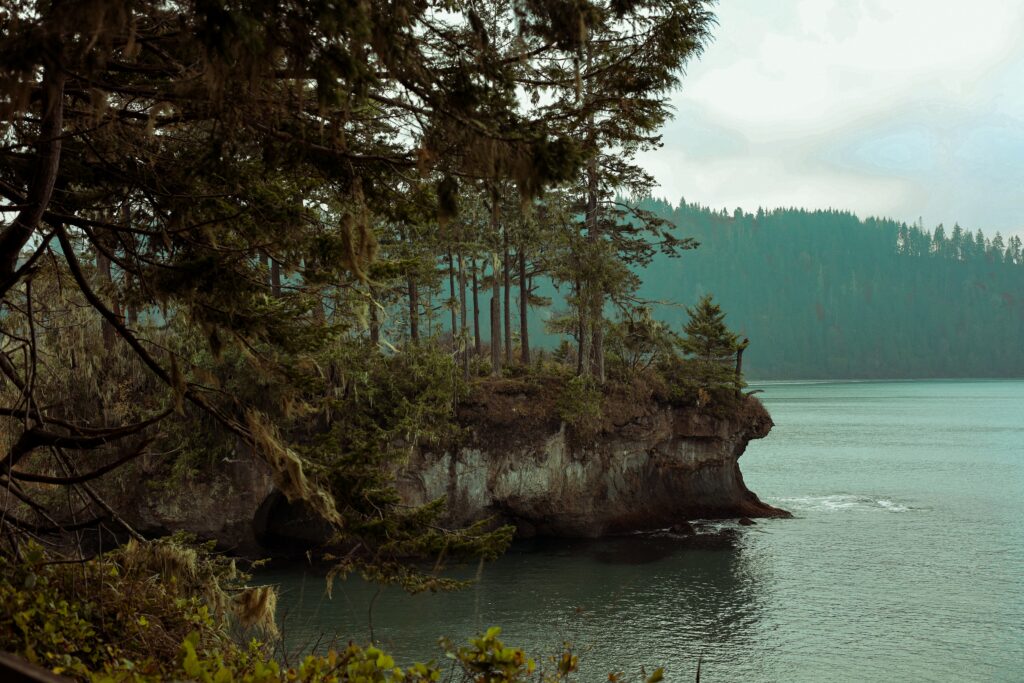 Across the water from Seattle is the Olympic Peninsula. There is also a large number of coastal towns with incredible scenery. Visitors will enjoy quaint town life, wildlife, and great activities. Renting boats, kayaks, and water skis will give guests a great day out. Couples can enjoy a range of tours and days out across the towns. Olympic Peninsula is the perfect place for quiet and intimate vacations.This great area is home to the Olympic National Park.
The Olympic National Park is a Biosphere Reserve and UNESCO World Heritage Site. Stretching across around one million acres of land, visitors will enjoy a range of stunning landscapes. Hikers can take advantage of numerous trails and campgrounds. The beautiful area can be accessed from several points. It is known for its wild forests, lakes, and waterfalls.
The area is home to a wide selection of natural attractions including:
Dungeness Spit: The Dungeness Spit is a seven-mile-long sandy stretch. The area is popular among hikers. The Lighthouse and wildlife rescue make the long walks rewarding.
Cape Flattery: Wildlife lovers will love Cape Flattery. The area is located near Neah Bay on the Makah Reservation. It is home to an abundance of marine life and birds. The short hike is delightful during the summer. This is when many of the native wildflowers bloom.
Hood Canal: Hood canal is located between the Olympic Mountains and Puget Sound. The Puget Sound is the stretch of water between Seattle and the Olympic Peninsula. Hood Canal is a natural fjord that was carved by glaciers and stretches for almost 60 miles.
Best Accommodations in Olympic Peninsula
Olympic Peninsula is the perfect location for romantic getaways in Washington State. There are many great luxury resorts and private cabins to choose from. These include: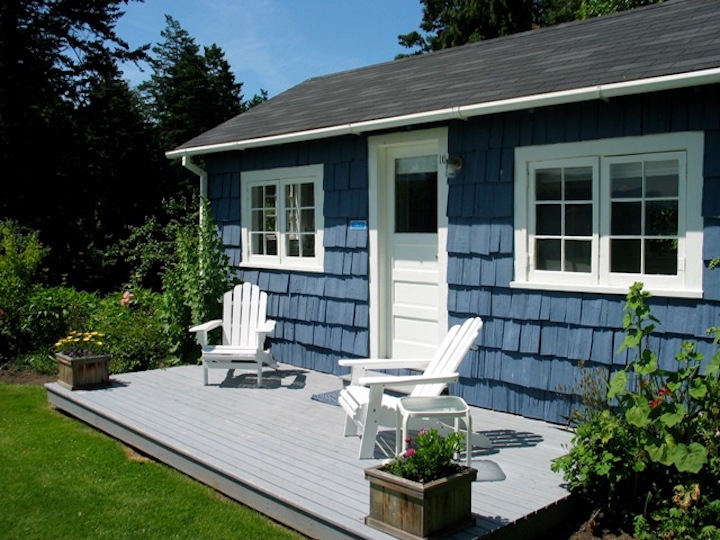 Price per night: $150 – $350 per night
There are only seven cabins available to rent. This guarantees privacy in an intimate location.
The dog-friendly location looks out across the water and has an outdoor swimming pool for guests to enjoy.
Some cabins come equipped with fireplaces for cozy evenings. Kitchens allow home cooking, while nearby restaurants are perfect for romantic meals.
2) Misty Valley Inn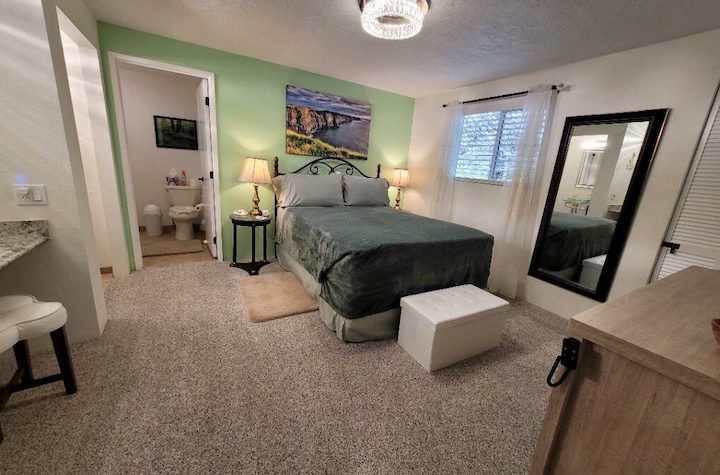 Misty Valley Inn is a modern B&B housed in an incredible 6,000 sq foot home.
The incredible location offers easy access to Lake Crescent and Olympic National Park. Uniquely it is about 3.5 miles from Forks town. The secluded area offers excellent forest views. Delicious breakfasts are served between 8 am and 9:30 am. They are the perfect way to start a day.
The modern suites are designed in a contemporary and comfortable fashion.
Orcas Island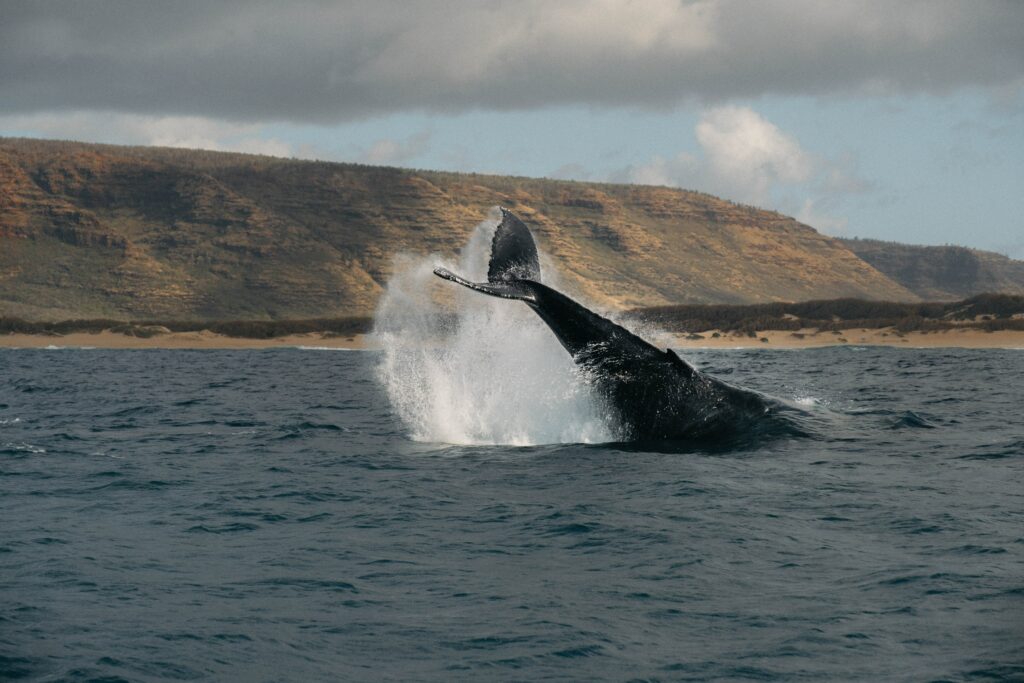 Orcas Island is located in the Pacific Northwest. It is a part of San Juan County in Washington State. Of the San Juan Islands, Orcas Island is the largest. Of all the San Juan Islands, only four are serviced by the Washington State Ferries and allow vehicles. This includes San Juan Island and Orcas Island.
Orcas Island offers visitors lots of great things to see and do. There are lots of outdoor activities to enjoy across the San Juan Islands. Orcas Island is great for hiking and kayaking. There are many trails to explore. The wide variety of trails can take you through beaches to waterfalls. As well as taking the ferry to Orcas Island and San Juan Island, small planes can be chartered for a unique experience.
Eastsound is a charming town that has a great selection of boutique shops. There is also a great selection of restaurants on the island for dining on romantic getaways. Culture vultures can visit Orcas Island Artworks. This is a small gallery that features work by local artists.
The island is home to several farms, and the farmer's market is held every Saturday. Anyone visiting from May to September should check out the excellent market. Island hopping tours and whale watching are popular pastimes for visitors to the island.
Orcas Island can get busy during the summer months, so booking accommodation well in advance is recommended.
Best Accommodations on Orcas Island
There are great hotels and resorts on Orcas Island. Peak months get busy, so booking early is advised. During peak months, prices are likely to be higher. Some of the best hotels on the island include: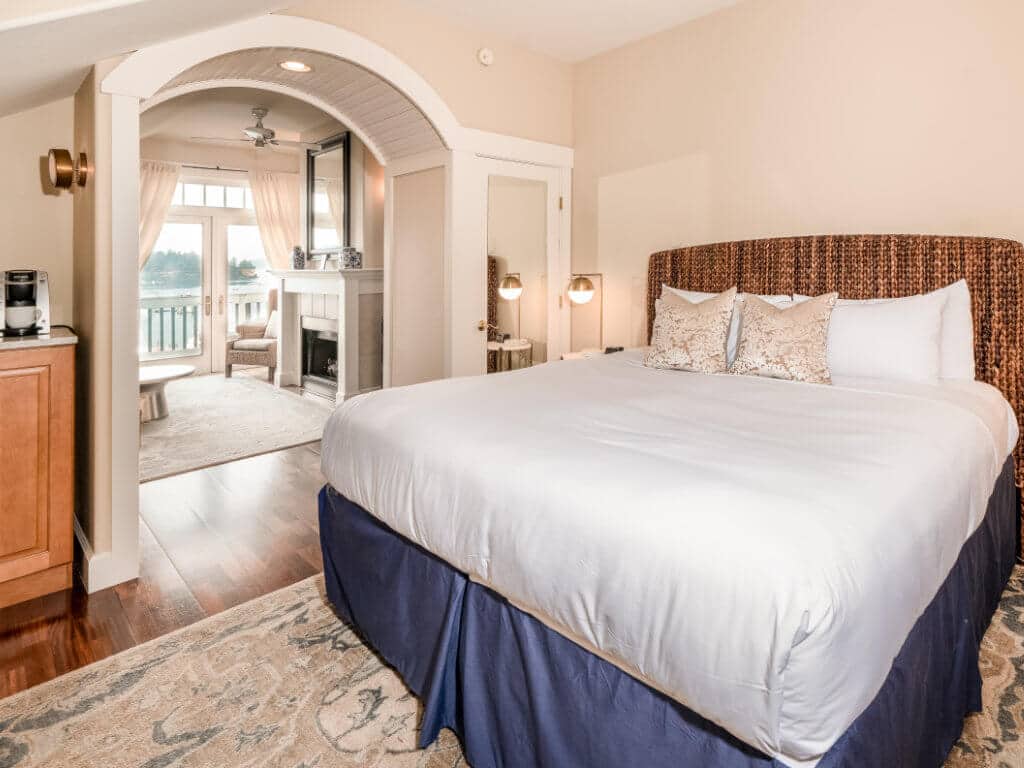 Roche Harbor is located on San Juan Island and offers guests a great range of amenities. The three restaurants make it easy to dine. The outdoor heated pool is also a great addition.
Active guests can enjoy tennis and bocce courts. The spa and wellness boutique will be ideal if you're planning a more relaxing break. There are beautiful gardens to explore and an outdoor sculpture park.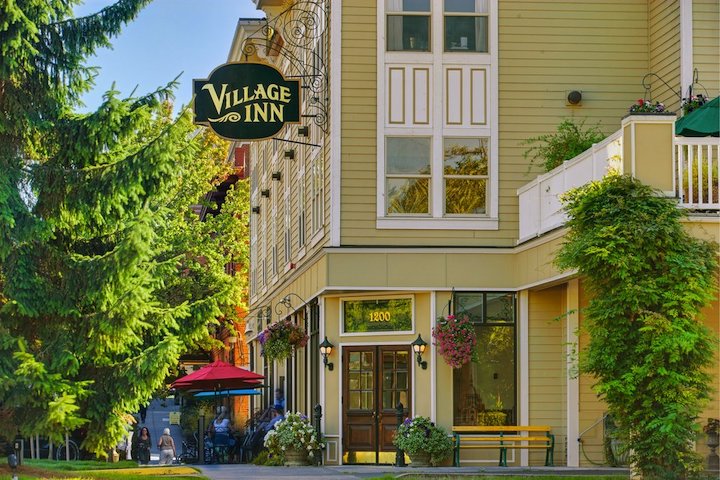 The charming Fairhaven Village Inn is a great option that we have snuck in at the end. It is located in Bellingham in the historic Fairhaven district. Its excellent location is the ideal setting for a romantic getaway. The cobbled streets and independent shops make it great for exploring.
You can choose from a range of beautifully decorated rooms and luxury suites at Fairhaven Village Inn.
The luxury suite has top-class amenities, including complimentary Wi-Fi and a hot tub. Fairhaven Village Inn has a great on-site cocktail bar. This is a great place to unwind after a fun day exploring Washington State.
Top Excursions & Activities To Do On A Washington State Romantic Getaway
Washington State offers a diverse range of excursions and activities. This makes it the perfect location for romantic getaways. Some of the best excursions and activities include:
Whale Watching
May to June is generally accepted as the best time to go out to watch the whales. Resident Orcas that live in the waters can typically be seen throughout the year. Migratory whales will only be seen at certain times.
As well as Orcas, the following whales can be seen in the waters around Washington State;
Humpback Whales
Gray Whales
Fin Whales
Minke Whales
Prices typically start from around $90 per adult. This will differ depending on the tour and time of year.
Seattle Art Museum
Seattle is a beautiful city with lots to see and do. There is an excellent selection of museums and galleries for visitors to explore.
One of the most famous museums is the Seattle Art Museum. Guests can enjoy regularly updated exhibits and collections. There is also a learning facility that holds interesting programs in which people can participate.
Ticket prices typically vary between $12.95 to $19.95. The museum is open from 10 am to 5 pm, Wednesday to Sunday. It is closed on Mondays and Tuesdays.
Port Townsend day trip
Port Townsend is a novel location to stay or visit. The historic town offers visitors the opportunity to explore fascinating architecture. The laid-back atmosphere makes it a fantastic location to spend a lazy afternoon.
Active couples can enjoy hiking trails or kayaking. The town is also home to great parks, including Chetzmoka Park. This area is incredible for picnics and lazing on the grass during summer.
Fort Warden State Park is another fascinating destination in Port Townsend. Visitors can get back to nature here. They can also explore abandoned bunkers.
Mount Rainier National Park
To the southeast of Seattle, visitors to Washington State will find the beautiful Mount Rainier National Park.
The park is home to a fine array of wildlife and vegetation. The snow-capped mountain makes for an impressive backdrop. The park is phenomenal for hiking and exploring wildflower meadows.
Sample Itinerary & Budget For Your Romantic Getaway In Washington State
The cost of an average weekend away in Washington State will vary depending on different factors. The time of year you choose to travel will make a significant difference. On average, budgeting for around $150 per day is typically enough to enjoy a romantic trip to Washington State.
| | |
| --- | --- |
| Activity | Price |
| Accommodations: | $100 for budget trips to $300 for luxury accommodations. |
| Food and Beverage | $60 per person |
| Car Rental | $60 per day |
| Whale Boat Tour | $90 per person |
| Olympic National Park | $15 for people arriving on foot |
| Seattle Aquarium | $25 to $30 |
Frequently Asked Questions
How much does a Washington State romantic getaway cost on average?
It is estimated that the average cost for a week-long trip to Washington works out at around $1,000.
This amount could be roughly halved for a budget getaway with an average daily cost of around $70. Luxury trips can cost around $2,400 for the week. Daily costs would rise to above $300 per person per day.
When is the best time to visit Washington State?
Visiting Washington state between July and September will give you the best chance of good weather.
Because these are seen as peak months, it can be busy and expensive. Budget trips can explore dates between October and April when it will also be quieter.
How long do people typically spend in Washington State on a romantic getaway?
The average romantic Washington State getaway lasts between a weekend and a week. Romantic getaways in Washington State can last as long as visitors want. There are lots to see and do to keep people busy.
Your budget will have a significant bearing on the length of time your vacation will last. It will also impact the types of activities you can enjoy.
What is the best way to travel around Washington State?
Washington State has lots to offer over a wide area. To get the most from your experience traveling by car is the best option.
Car rental costs will vary depending on the male and model of the vehicle you want. Car rental costs also vary depending on when you visit. Peak months have higher premiums.
What is the best way to travel to Washington State?
Washington State can be accessed by air, rail, and ferry. Travel by car is also possible for those living nearby.
The best mode of transport will depend on your location and budget. Traveling by air offers an excellent level of convenience. This is due to a great selection of airports in the state.
Start Planning The Ideal Romantic Getaway
One of the most challenging tasks of planning a romantic trip to Washington State is narrowing down the things to do. The state is home to a selection of beautiful towns and cities.
This makes it perfect for people interested in fun-filled city breaks. The broad selection of national parks and natural wonders also makes it perfect for couples that love to explore outside.
Nature lovers will find no end to exciting tours and locations to experience. The outstanding accommodation available in Washington state provides travelers with lots of choices. Luxury hotels and resorts are a terrific option for people that want to treat themselves. Waterside cabins and lodges also offer people the opportunity for a unique vacation.
No matter your budget, you will find excellent options for a romantic getaway in Washington State.