This small, remote island in the Eastern Caribbean is a great spot for those wanting a unique and exclusive honeymoon experience. With no highrise buildings, no casinos, and no cruise ships, it is the perfect honeymoon destination, especially if you want quiet and privacy.
Recognized as having some of the best beaches in the Caribbean islands, it's no wonder Anguilla is one of the most popular honeymoon destinations in the region. The many luxury resorts in Anguilla make it the perfect spot for a relaxing island honeymoon.
What Makes Anguilla Perfect For A Honeymoon
Powdery white sand beaches, clear turquoise water, tropical vegetation, and plenty of privacy – what more could you want for an island honeymoon?
Of course, the exclusivity of this island does come with a price tag, but if you time your Anguilla honeymoon right, you can get here even without having deep pockets.
Besides spending the day on the beach reading a book under an umbrella, you can enjoy watersports, go for hikes, have a romantic horseback ride at sunset, or go snorkeling in private coves.
Best Honeymoon Resorts, Hotels, And Other Stays In Anguilla
It is impossible to find an unappealing beach on Anguilla, which means that all Anguilla honeymoon resorts will give you access to luscious white beaches with calm, turquoise waters.
From the luxurious Zemi Beach House to the various all-inclusive resorts on Meads Bay beach, you're spoiled for choice when you choose to visit Anguilla.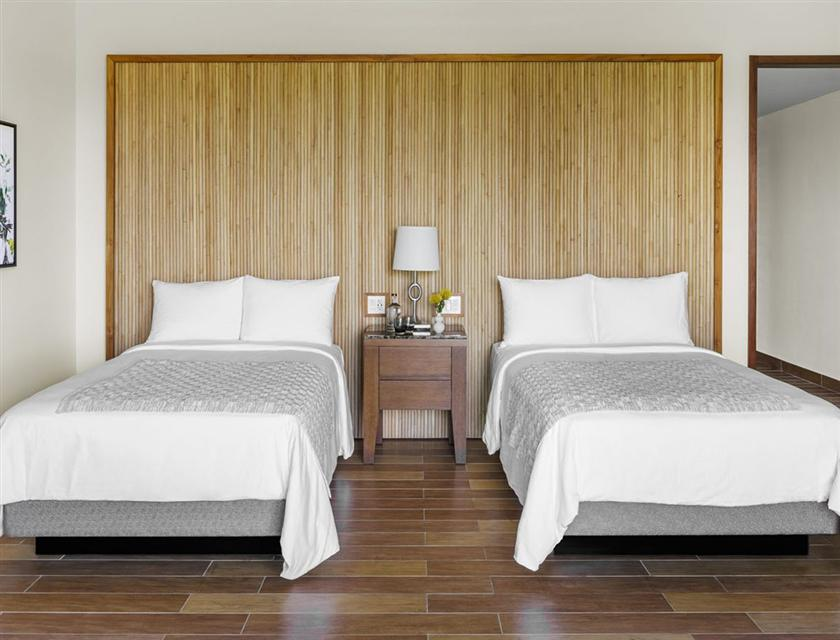 Price per Night: $940+
Best For: all-inclusive, younger couples, older couples, long stays, short stays
Availability: Easy to book
Enjoy the magnificent Rendezvous bay in style at Aurora Anguilla. From entry-level luxury suites in the tower to indulgent villas on the beach, plenty of different accommodation options are available.
Each suite features a television, free Wifi, an espresso machine, a minibar, and a luxe en suite bathroom.
You can spend your Aurora Anguilla honeymoon lounging on the beautiful beaches, have a tennis or golf lesson, take a guided hike around the island, go kite surfing, or spend time fishing at the bay.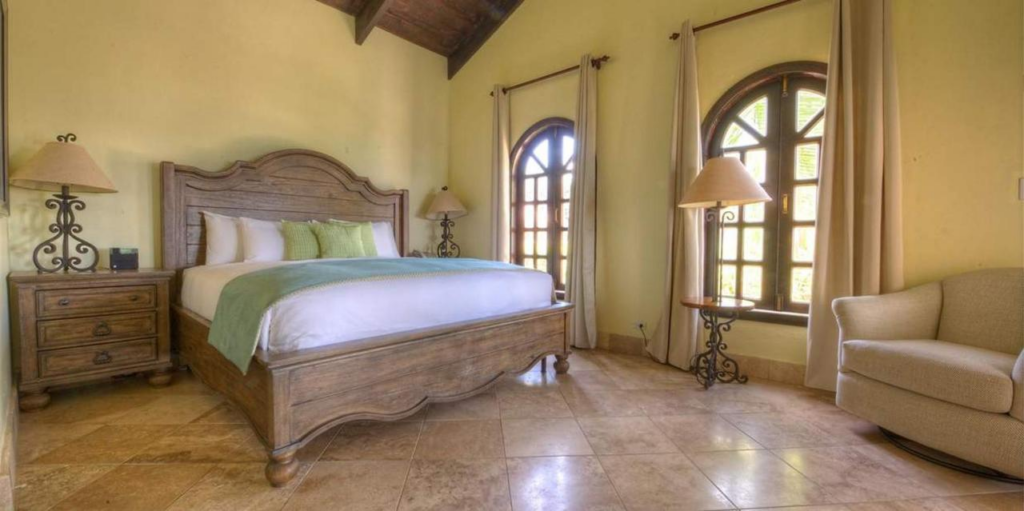 Price per Night: $4445 – $6615 for 7 nights honeymoon package
Best For: all-inclusive, younger couples, older couples, long stays, short stays
Availability: Easy to book
When looking at the various Anguilla Honeymoon Resorts, Frangipani Beach Resort is sure to catch your eye. With a lovely 7-night honeymoon package that includes a bottle of champagne on arrival, a beach hopping boat trip, and a couples massage, it's not one to miss.
Your stay will include daily breakfast, access to various water sports, free bicycle use for exploring the island, free Wifi, and complimentary toiletries in the en suite bathroom.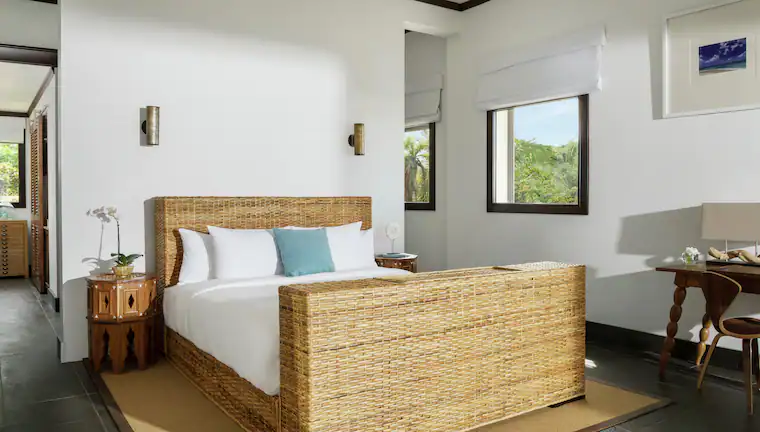 Price per Night: $704 – $5600 per night (7 night Island Escape for 2)
Best For: all-inclusive, adults-only, younger couples, older couples, long stays, short stays
Availability: Limited/Easy to book
You can't have an Anguilla honeymoon without enjoying some of the famous rum punch – which is why you'll receive a glass upon arrival when booking the Island Escape for Two with Zemi Beach House. Situated at the stunning and tranquil Shoal Bay East, this all-inclusive resort guarantees a romantic and restful time.
All rooms come with free Wifi, a minibar, private balconies, free toiletries in the en suite bathroom, an espresso machine, and a complimentary beach bag and flip flops. The honeymoon package also includes daily complimentary breakfast and access to the adults-only tranquility pool.
While staying at this luxurious resort, having a private dinner on the beach is a must! At Zemi Beach House, you can also attend a rum tasting, explore the island by kayak or paddle board, go snorkeling in the local coves, or partake in various water sports.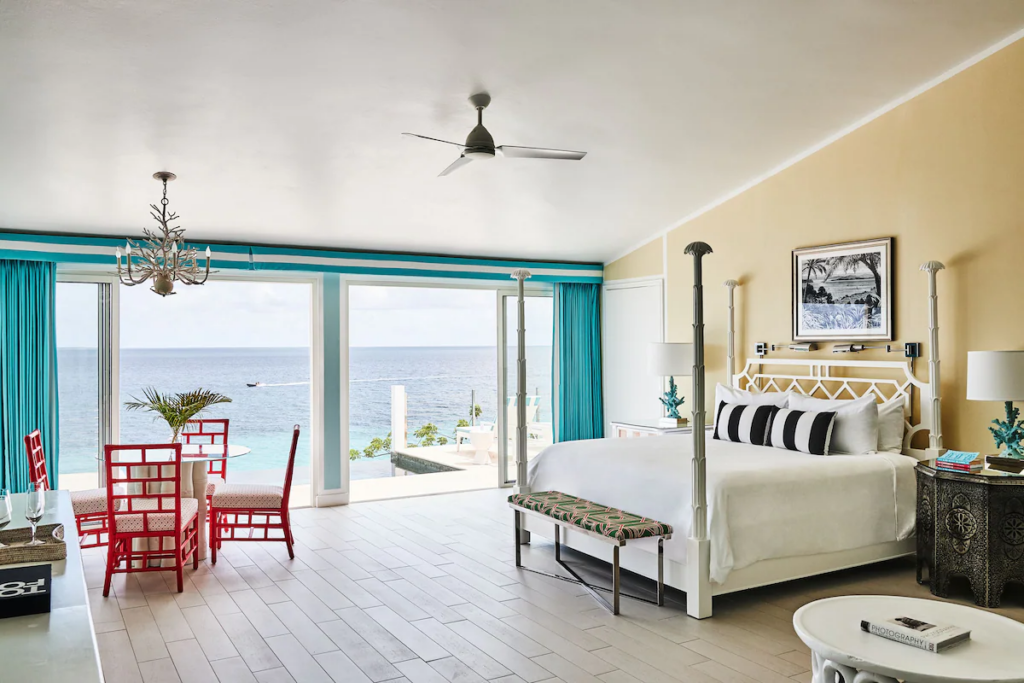 Price per Night: $560 – $3200 ( plus $2500 flat rate for honeymoon add on)
Best For: all-inclusive, adults-only, younger couples, older couples, long stays, short stays
Availability: Easy to book
Malliouhana Auberge Resort offers pure luxury and ultimate relaxation with its well-appointed rooms, suites, and varied activities and amenities. Enjoy kayaking, paddle boarding, or commandeer a Hobie Cat to explore Meads Bay.
Alternatively, you can relax at Leon's, a local restaurant located on Meads Bay beach with a relaxed atmosphere. If you're after a more private day on the beach, Turtle Cove at Malliouhana is a perfect spot for you.
Their honeymoon package includes a day trip to Sandy Island, a private dining experience with the hotel's chef, 120min couples massage, champagne, and chocolates on arrival, as well as a sunset cruise.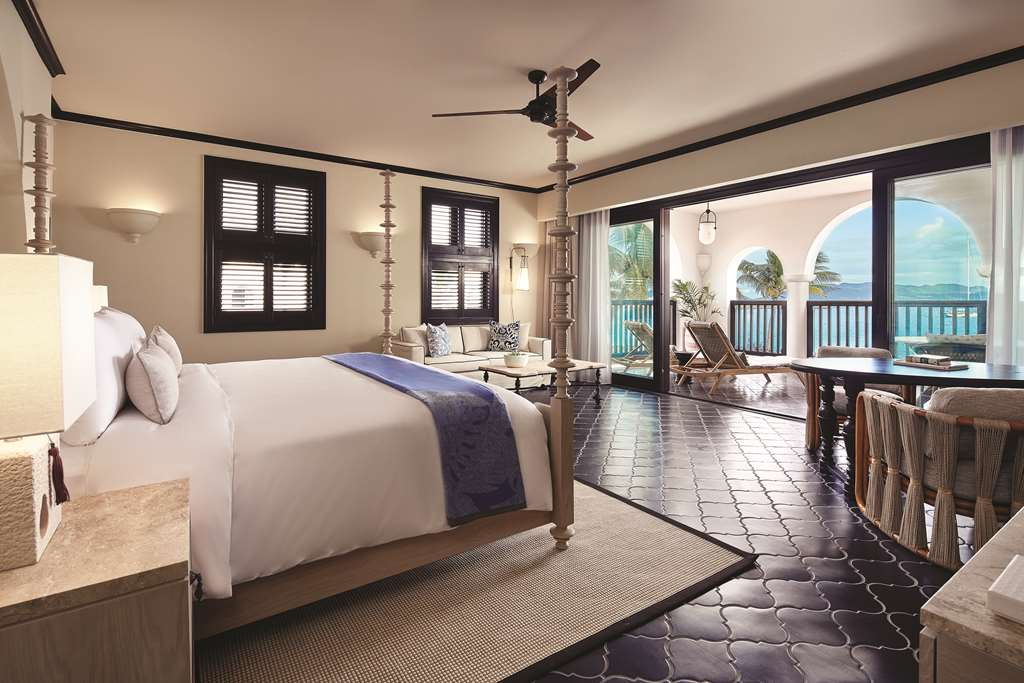 Price per Night: $1560 – $3700 per night (Celebrate in Anguilla offer)
Best For: all-inclusive, adults-only, younger couples, older couples, long stays, short stays
Availability: Easy to book
You can expect nothing but luxury at the Cap Juluca resort on Maundays bay. Each booking includes two elegant loungers on the beach, with extra-large umbrellas, a table, concierge service on the beach, complimentary towels, sorbet, and bottled water, as well as access to four different cabana bars.
If you want a break from the sand, you can lounge next to and splash in the resort's infinity pool. There are complimentary snorkeling, sailing, and kayaking options, or you can book a fishing experience with Shawn, a local Anguillian.
The Celebrate in Anguilla honeymoon package includes a romantic beach dinner, a couples massage, champagne on arrival, and daily breakfast. All rooms have a Nespresso machine, smart TV, en-suite bathroom with local organic toiletries, and ocean views.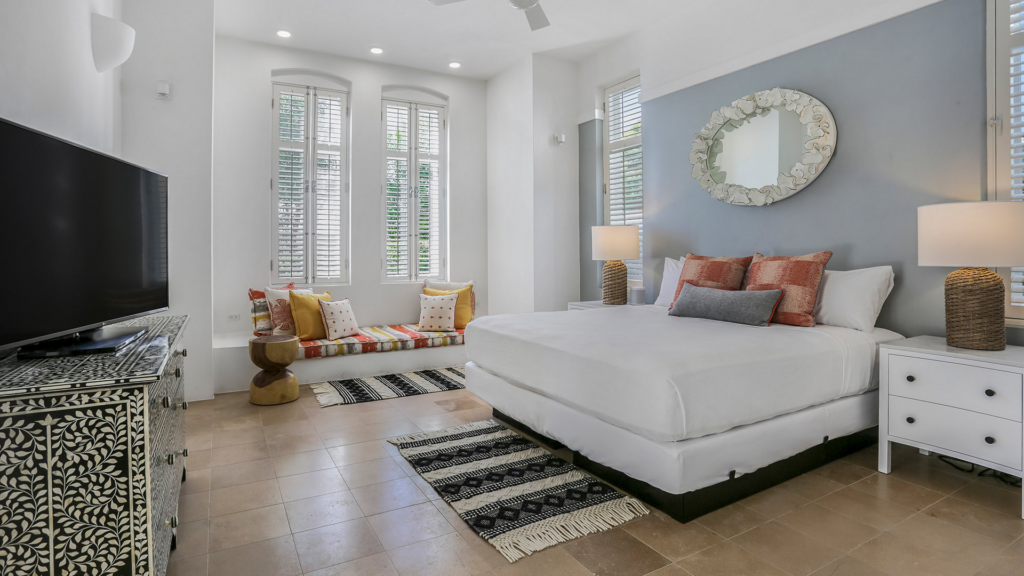 Price per Night: $4200 – $15700 per night
Best For: all-inclusive, adults-only, younger couples and older couples, long stays and short stays
Availability: Limited/Easy to book
These stunning, fully equipped villas are a wonderful choice for a private, opulent honeymoon. With butler service for 8 hours daily, an on-call concierge, and daily breakfast and housekeeping, you're in for a treat.
There are a variety of watersports on offer, as well as a fully equipped gym in the villa, so if you're a fitness fan, you won't be left wanting. Long Bay Villas also offer excursion coordination, removing any stress you may have around booking your various activities.
With an additional charge, you can hire a personal chef for the duration of your stay or organize a private dining experience if you don't need the chef for your entire stay.
Best Areas To Stay In Anguilla
With 33 different beaches, you are spoiled for choice when it comes to sunbathing spots in Anguilla. We recommend asking a local for directions to some of the smaller, more private beaches, as they're really worth a visit.
However, the main beaches are surprisingly quiet and have a lot to offer, from various water sports to relaxing sunbathing with concierge service, depending on your hotel package.
There are also a few lovely hikes on the island, the most notable being the hike to Windward Point.
Shoal Bay East
Often referred to by locals as just Shoal Bay, it is important not to confuse Shoal Bay East with Shoal Bay West, which is significantly less impressive than its eastern counterpart.
The beach at Shoal Bay is pristine, and the bay is perfect for snorkeling – bring your own gear, or rent some from a vendor on the beach.
The lower section of the beach, between Zemi Beach House and Tropical Sunset, is quieter and more idyllic than the upper section near Ernies – this part of the beach is great if you're looking to enjoy some nightlife and make some local friends.
Meads Bay
Located on the northern shore of Anguilla, Meads Bay beach features several excellent accommodations and dining options. It is a wonderful spot to sunbathe and swim – although, in the winter months, the sea can be on the rough side.
When the weather is more pleasant you can kayak, paddleboard, or take a boat trip around the bay before visiting one of the bars for a rum cocktail – and don't forget to visit one of the local restaurants to try some of the local fare. No holiday (or honeymoon) is complete without exploring your destination's culinary offerings.
Rendezvous Bay
One of the best beaches on Anguilla for a beach walk, Rendezvous bay beach is a stunning, 2-mile beach with white sand and turquoise waters.
The sea is warm and calm, perfect for paddling, and great for swimmers lacking confidence. You can enjoy live music at Dune Preserve in the evenings, from Tuesday to Sunday.
If you're a keen birder, visit the Rendezvous Bay Pond. This is one of the Caribbean's Important Bird Areas, and the 24-hectare lagoon supports various terns and brown pelicans.
Windward Point
Located at the island's eastern tip, Windward Point makes for a wonderful hike and gives plenty of opportunity for exploring. The sea here is quite wild, so not ideal for swimming, but the coast is fascinating, and there is a great panoramic view from the small hill.
Top Excursions & Activities To Do On An Anguilla Honeymoon
An Anguilla honeymoon is a true island experience and features mostly water and beach-related activities. The coral reefs make it a prime spot for scuba diving and snorkeling. There are plenty of options for relaxing and staying active to have the best of both worlds.
Sunbathing – the extensive white beaches on Anguilla are perfect for lounging on with a good book and a cocktail. Many hotels offer a concierge service on the beach and provide loungers and umbrellas.
Kayaking – included with many hotel packages, a great way to explore the various beaches around the island is to kayak along the coast.
Fishing – this is a key part of the island's economy, and several fishermen will take tourists out on a fishing trip, all kit provided. Ask your hotel for recommendations. This activity is quite unique and can be a great way to get to know locals better.
Boat Trips – Romantic sunset boat trips are a must-do activity. There is nothing like sipping champagne while watching the sunset from a boat floating on crystal clear water.
Spa treatments – after kayaking around the island, you're going to need a massage! Book a half or full day at one of the local spas and enjoy a variety of couples' spa treatments.
Sample Itinerary & Budget For Your Honeymoon To Anguilla
A honeymoon on this quiet, exclusive island is not cheap but is definitely worth the investment. Most hotels or resorts are all-inclusive and include access to various activities, such as kayaking and boat trips. We've compiled a comprehensive itinerary to make sure you see all the island has to offer.
Seven-night Luxury All-inclusive Honeymoon Budget
Frangipani Beach Resort $4445 – $6615 for 7 nights honeymoon package
Travel estimates:
Flights $852 – $2090 per couple
Airport shuttle included
Food and beverages: $200 per person per day
Excursions Included
Total: $6697+
Sample Itinerary
Day 1 – Settle into your luxurious room at one of the best Anguilla honeymoon resorts before taking a stroll on the beach and a dip in the sea. Enjoy dinner at the hotel's restaurant before heading in for the night.
Day 2 – Spend the day relaxing on the Meads Bay beach and next to the private pool, making use of the included pool and beach service – be sure to enjoy the island's famous rum punch!
Day 3 – Today, you'll take a bicycle tour of the island, stopping at some other beaches for a swim and enjoying the local cuisine. Be sure to stop at Shoal bay for a cocktail.
Day 4 – Enjoy the included beach hopping boat trip today – you'll see many of the 33 pristine beaches that make up the Anguilla coastline. Why not add some scuba diving – the coral reefs are stunning and can't be missed!
Day 5 – Take advantage of the included watersport options today – go kayaking or waterskiing in the turquoise waters. Spend the rest of the day enjoying each other's company while relaxing on the beach in the sun.
Day 6 – After a busy day enjoying watersports, you'll want to use the included couples massage today and enjoy some time at the resort's pool.
Day 7 – Take a hike to Windward Point on your last day on the island. You'll see a great panoramic view of the eastern point and spot some of the surrounding islands from the top of the hill.
While staying on Anguilla can be quite expensive, if you time it well and check what is included with each hotel stay, you can have a fairly inexpensive honeymoon on this gorgeous island.
Frequently Asked Questions
How much does an Anguilla honeymoon cost?
An Anguilla honeymoon will likely cost upwards of $6000 for a week. Choosing your packages carefully can reduce costs, as can paying careful attention to what is included with your stay at the various hotels and resorts. Opting to visit in the off-season will also help reduce your costs.
When is the best time to visit Anguilla?
The best time to visit Anguilla is between May and August. There are often great deals during this time, and you'll avoid the hurricane season. Some resorts in Anguilla close during September and October, as this is hurricane season, and also their time to do necessary renovations and upkeep.
What is the best way to travel around Anguilla?
The locals mainly travel by foot or bicycle, which is also the suggested mode of transport for visitors. Walking is one of the best ways to see all the sites wherever you're visiting. It is possible to hire a car or have a private vehicle chauffeur you to where you want to go if you'd prefer that.
How long should you spend in Anguilla for a honeymoon?
It is advisable to spend at least a week in Anguilla for your honeymoon to fully enjoy all the island has to offer, as well as have plenty of time to relax and enjoy each other's company at the start of your new life together.
What is the best way to travel to Anguilla?
The easiest way to get to Anguilla is to take one of the new direct flights from Miami on Wednesdays and Saturdays. Alternatively, you'll need to take a flight to Saint Martin or Saint Kitts and take either a boat or plane from there to the island harbor.
Start Planning The Perfect Romantic Honeymoon Getaway
If you're looking for the perfect romantic island honeymoon, the British Overseas territory of Anguilla is the ideal choice. With many all-inclusive resorts and amazing beaches, you're sure to have a wonderful experience and feel absolutely spoiled and relaxed by the end.
If the island life isn't for you, that's no problem! We have a wide range of honeymoon guides, with an option to suit all tastes. From European skiing trips to forest getaways in Oregon, we've got you covered. Why not browse them to find the perfect spot for your special honeymoon? You won't regret it!