A great beach getaway always lingers in the memory. It must be something to do with the sea air, the sunsets, the sand between your toes, the sound of waves at night, and the cocktails and company of course.
The United States has over 95,000 miles of beautiful coastline to explore, so there are plenty of picturesque beaches for you to choose from. However, this can also make it a little difficult to decide which beach vacation spot to choose.
Our list of 20 of the best beach vacations in the US will make your decision that much easier.
1. Best for Scenic Surroundings: Cannon Beach, Oregon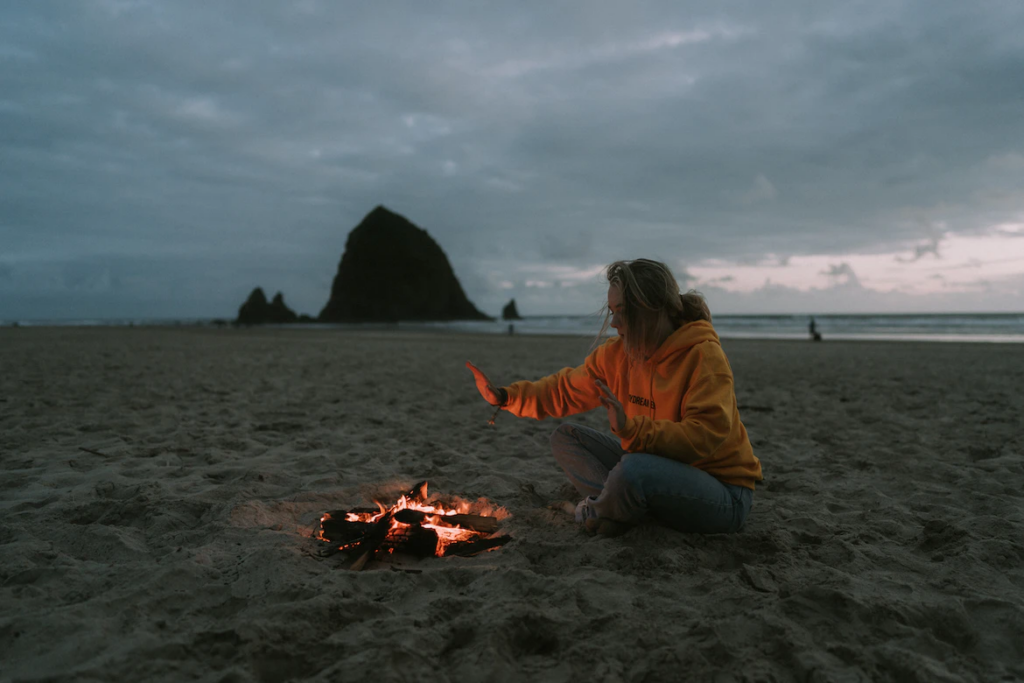 Cannon Beach, north Oregon, is a spectacular stretch of beach renowned for its stunning rock formations. The most famous local landmark is Haystack Rock, a humped formation shaped like a haystack that rises 235 feet above the beach. The beach itself is a splendid stretch of sandy shoreline in scenic surroundings.
The water is cold in Cannon Beach so romantic strolls along the shore are more popular than swimming. A wetsuit is recommended if you want to spend any time in the waves. The nearby Ecola State Park has lovely hiking trails with amazing views. The downtown Canon Beach area is quaint and welcoming with breezy seafood restaurants.
The town hosts several popular festivals and events throughout the year, including the Sandcastle Contest and the Stormy Weather Arts Festival. If your tastes lean toward a laid-back enclave in a truly natural setting, the combination of stunning scenery, outdoor activities, and a slow pace makes Cannon Beach a winner.
2. Best for Nightlife: Miami Beach, Florida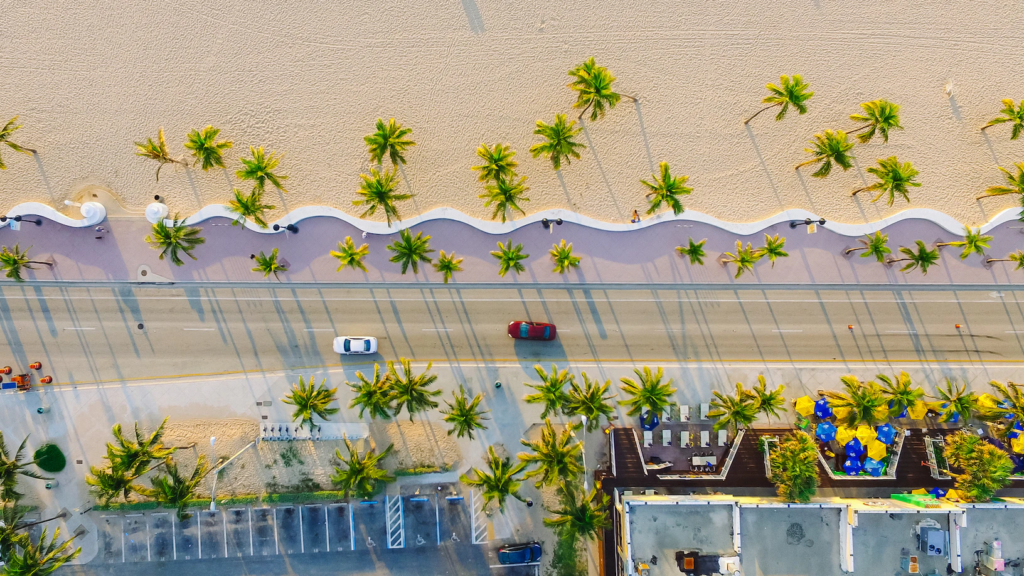 The Miami area is home to some of the best beaches on the East Coast. It is also party central! It you and your partner are looking for nightlife, head down Ocean Drive to South Beach. After dark, the Ocean Drive-South Beach zone is an electric charge of cocktail bars, fusion dining, dance clubs, salsa rhythms, and hot rooftop parties.
South Beach also offers a stunning sandy beach where you can work on your tan in-between cooling dips into huge turquoise waters. There are several outdoor gyms around South Beach and nearby Lummus Park to help you sweat out last night's indulgences.
Alternatively, you may prefer to stroll the city's art deco district, take a cruise through Miami's intracoastal waterways and Venetian islands, or just sip a delicious smoothie at Under the Mango Tree. If you need to retreat from the action of South Miami, the chilled islands of the Florida Keys are a short drive down US-1 S.
3. Best for a Romantic Weekend Getaway: North Beach, Tybee Island, Georgia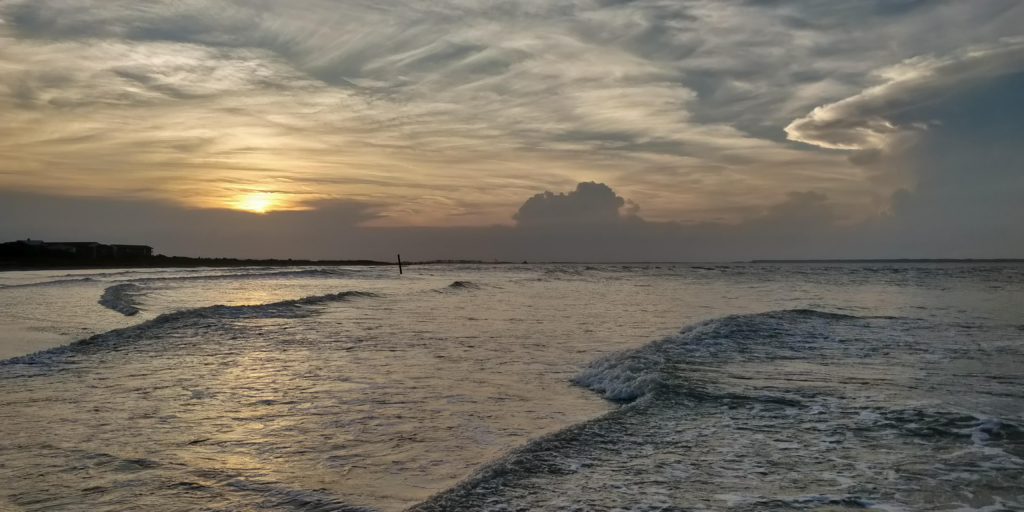 North Beach on Tybee Island, Georgia is undoubtedly one of the best beaches in Georgia. This island treasure close to the Savannah River mouth offers a uniquely interesting and memorable beach break. The beach is wide, clean, and very scenic, and the local hospitality is exceedingly warm.
Tybee Island has the kind of vibe where tourists and locals alike ditch heels and boat shoes and slip on the flip-flops to take in laid-back waterside restaurants and bars. So, surrender yourself to the local mood, experience a gorgeous sunset, then sip a few colorful cocktails.
The next day, swim and sunbathe at your leisure. If you gaze out to sea, you may even spot dolphins beyond the distant waves. If it isn't beach weather, explore one of the local nature trails to see the birds and wildlife, or take a Savannah trolley tour around the island. A lovely North Beach getaway may be just the tonic for busy, stressed-out couples.
4. Best for Seaside Arts and Culture: Carmel By The Sea, California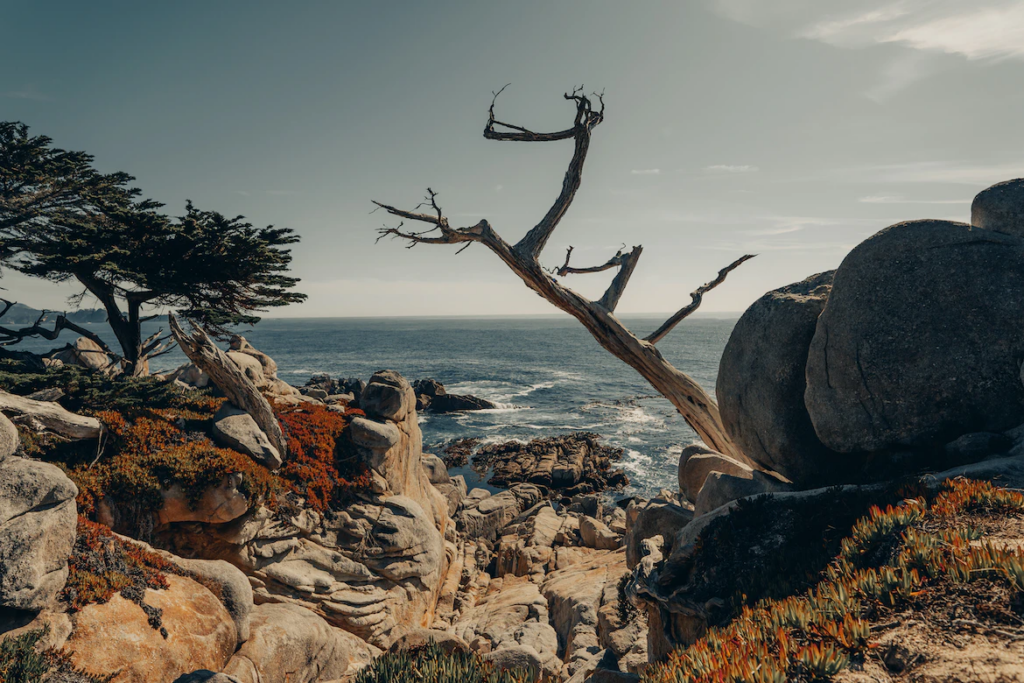 Carmel-by-the-Sea is a delightful beach city located on the central coast of California. This attractive locale serves a unique blend of sun and surf, culture, and recreation.
The main Carmel Beach boasts glorious views of the Pacific Ocean. The beach is great for swimming, surfing, and sunbathing. Other nearby beaches like Pebble Beach and Point Lobos State Natural Reserve are well worth a visit. The beaches are adjoined by laid-back recreational spaces where you can sit and enjoy a picnic.
If you and your partner are culture vultures, you're sure to love Carmel's art galleries, hip cafes, and coffee bars. The town has a thriving performing arts scene, with several live music venues and theaters. The combination of beautiful beaches and cool recreation and dining options make Carmel-by-the-Sea a sure treat.
5. Best for Sports and Activities: Clearwater Beach, Florida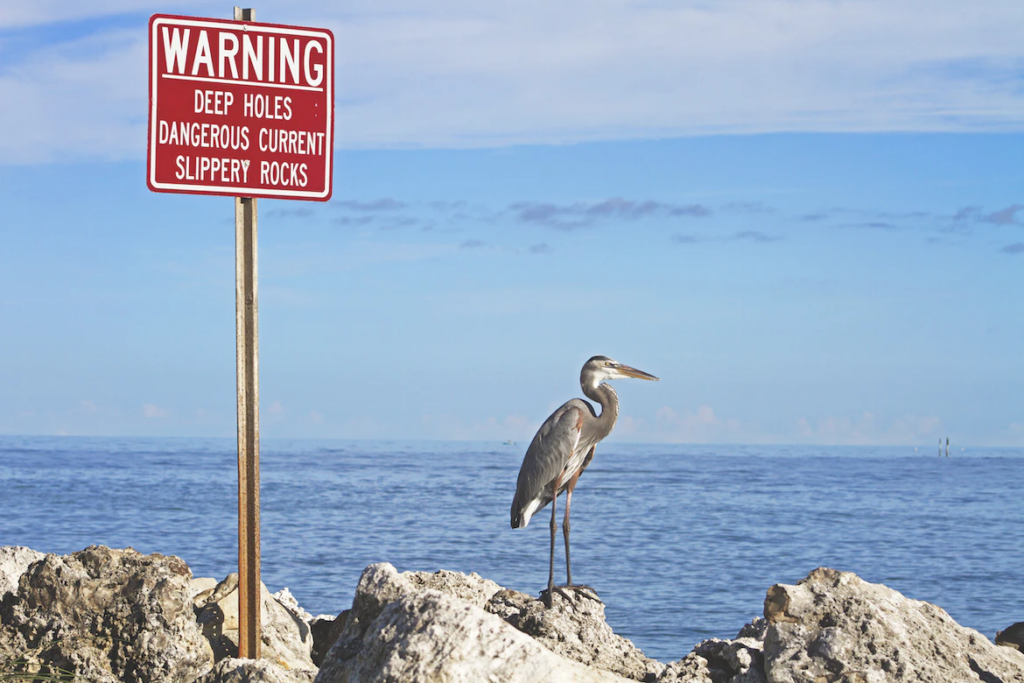 When you consider top beach vacations in the U.S., you have to think Florida. And when you talk buzzing beach towns with warm waters, surf shops, and activities for everyone, you're talking Clearwater Beach, Clearwater.
This Gulf of Mexico vacation spot is one of the most popular destinations on the Gulf Coast and for good reason; it's a lively mix of decent value accommodation and good times. The huge variety of activities includes swimming, surfing, jet skiing, parasailing, and volleyball. Lounging lazily on beach chairs is also permitted.
The Clearwater Marine Aquarium is an interesting local attraction if you're looking to escape the heat. The focus of the Marine Aquarium is on conservation and education – its work includes rescuing and rehabilitating injured marine animals to release them back into the ocean.
6. Best for Couples with Kids: Coronado Beach, California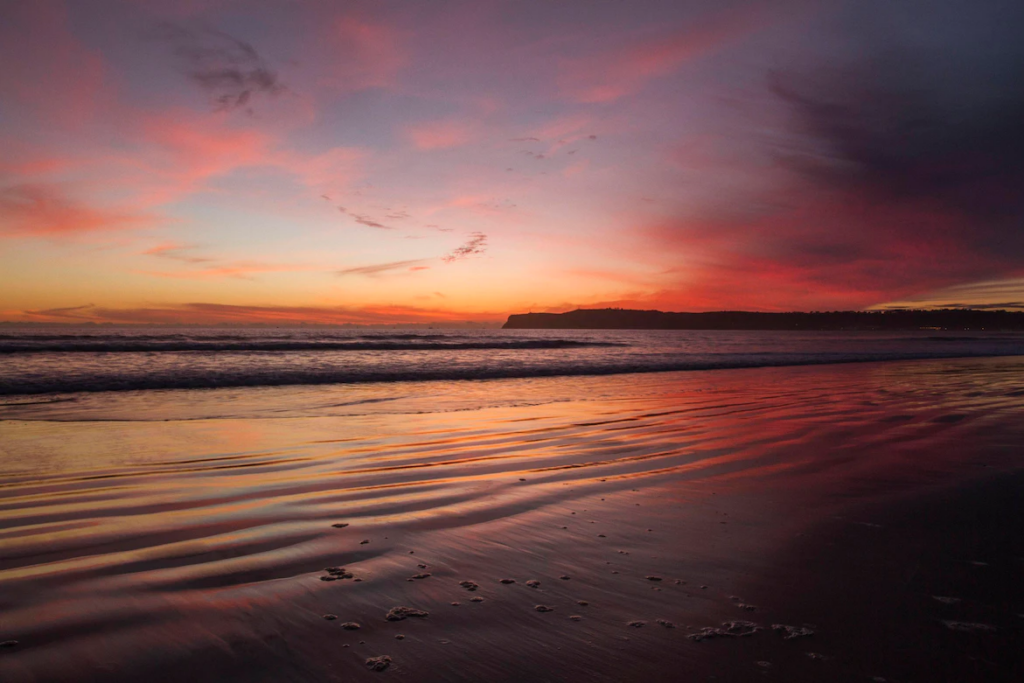 Coronado Beach in San Diego has to be one of the best beaches on the West Coast. Nicknamed 'the crown city', this resort promises everything you desire from a seaside vacation.. This San Diego locale comes with attractive palm-fringed walkways and a dozen green parks.
If you are looking for some family fun, there are enough outdoor activities to ensure no one will be bored.
The shore runs along San Diego's Ocean View Boulevard and serves up nearly two miles of powdery sand. The swimming is safe, and there is beach volleyball to entertain older kids. There is a designated dog beach to the north, while the storied Hotel del Coronado rises like a magical toy kingdom from the sand to the south.
One of the joys of the area is that everything is easily accessible and walkable, including vibey shops, arts and craft markets, galleries, and plenty to titillate the taste buds. It's worth mentioning that San Diego is also home to some of the other best beaches around, such as La Jolla and Mission Beach.
7. Best for Instagrammers and Photographers: Driftwood Beach, Georgia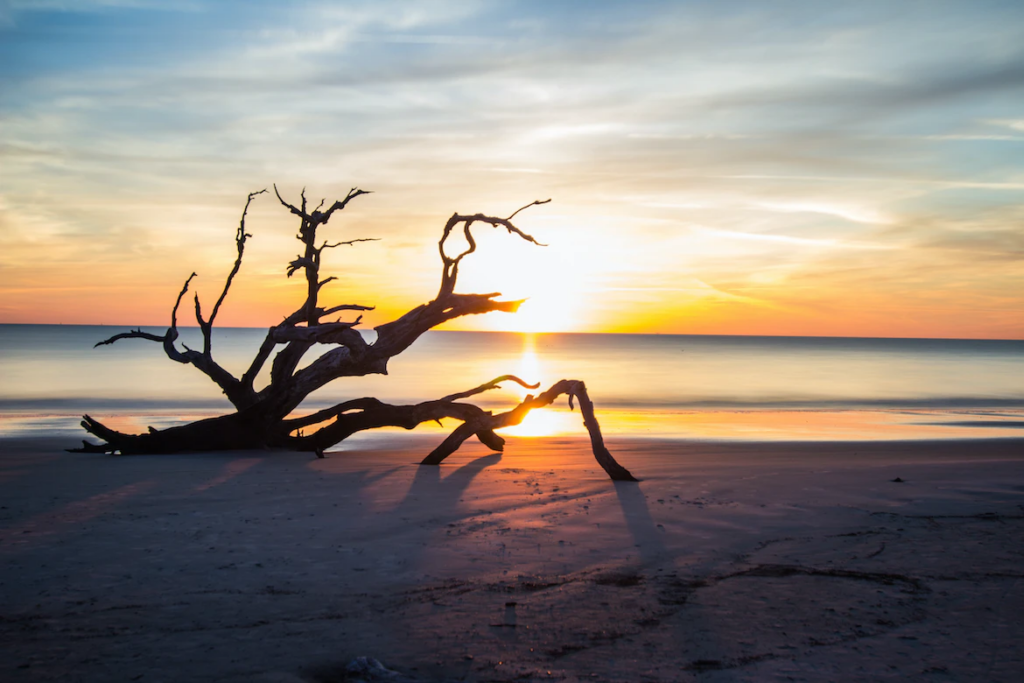 Driftwood Beach is situated on the northeastern coast of Jekyll Island, Georgia. It is set amidst an almost otherworldly landscape of weathered oaks and driftwood trees. This beautiful, evocative location is ideal for photographers, nature lovers, explorers, and couples seeking serenity.
Driftwood isn't one of the best beaches for swimming or water activities, but don't be put off. It's appreciated more as an idyllic place to relax and connect with nature, making it perfect for a romantic getaway with your loved one. Sunsets from the beach are spectacular, and many an artist, photographer, and Instagrammer have found inspiration in these surroundings.
When you stroll through the area's nature reserve, don't forget to keep your eyes peeled for wildlife, including many species of seabirds.
8. Gulf Shores, Alabama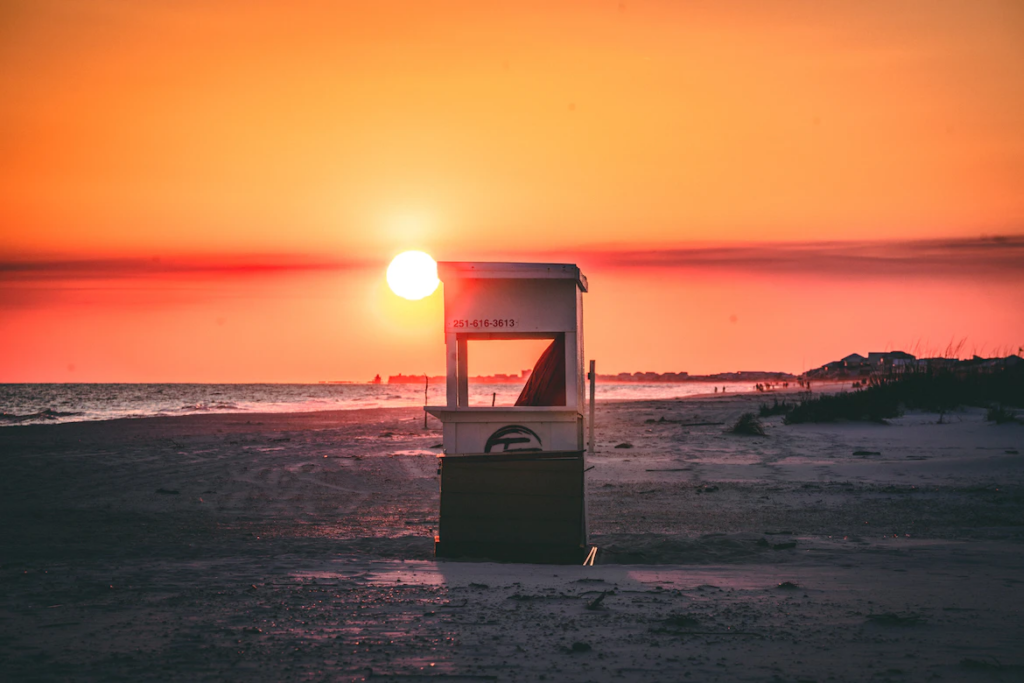 Gulf Shores is a jewel in Alabama's crown. This beach destination presides over 32 miles of sparkling white sands fringing a glittering blue-green ocean. For sporty couples, beach life means a wide range of recreational watersports, plus a zipline over the dunes for the daring.
In search of buzzing nightlife? Pumping beach bars feature live music, often right on the sand. For dining options, consider sumptuous local shrimp at Shrimp Basket, or a juicy local BBQ at Hog Wild Beach and BBQ.
There are a ton of activities away from the beach too. The Alabama Gulf Coast Zoo offers hands-on encounters with animals like kangaroos and lemurs. To the west, there is excellent birdwatching in the Bon Secour National Wildlife Refuge. Waterville USA is a waterpark for thrill-ride seekers.
9. The Hamptons, New York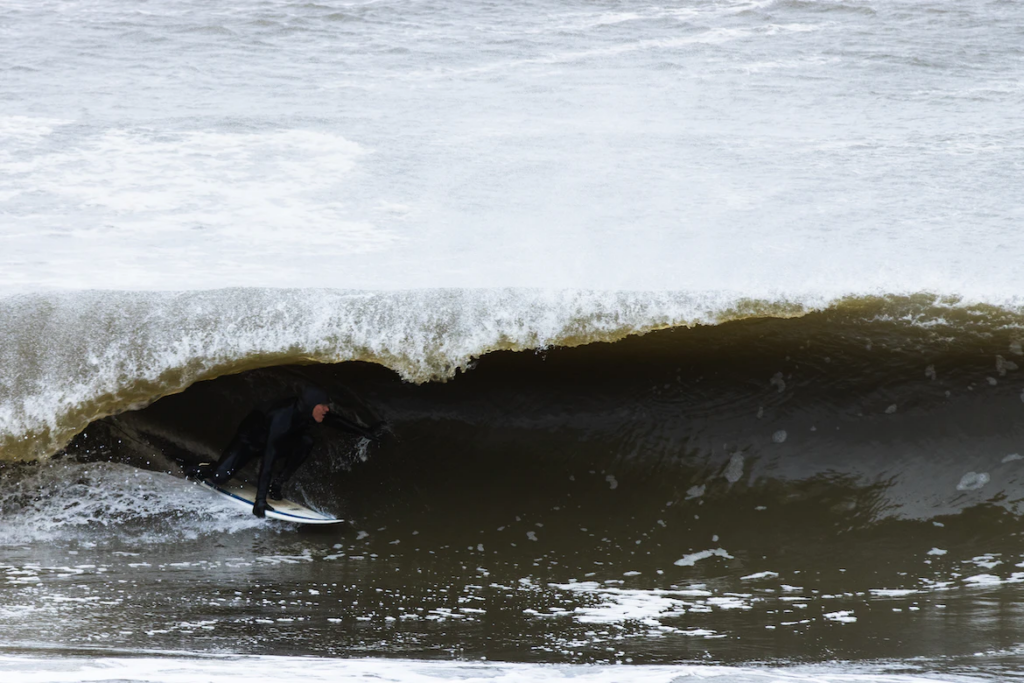 A mere 90 minutes from New York City, the Hamptons feel like a world away from the frenetic pace of the Big Apple. This picturesque group of villages along Long Island's southeast coast is the perfect summer and weekend getaway.
The Hamptons are renowned as an enclave for the wealthy, but the long stretches of beaches and gentle dunes are welcoming to all. East Hampton Main Beach is a calming stretch of white sands offering the promise of much-needed tranquility.
The beaches are great for beachcombing and meandering walks, even if the skies aren't blue, and the sea is a little windswept. There are many cute and eclectic shops to visit, and the area is renowned for fine restaurants offering East Coast seafood and farm-to-table fare. Nearby vineyards may tempt you to lay down a blanket and sample some local wines.
10. Henderson Beach State Park, Destin, Florida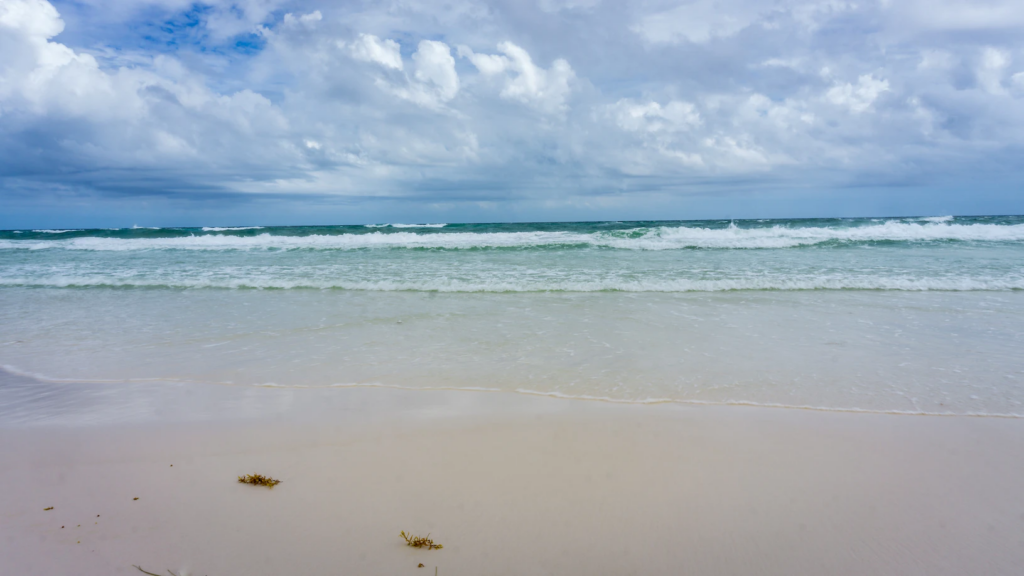 The sandy shores of Henderson Beach State Park on the Florida Panhandle are among the most attractive in the U.S.
The emerald waters of the Gulf of Mexico stretch expansively from the State Park's white sand beaches and neighboring dunes. There are miles of nearby nature trails to explore and a bunch of activities like biking, birdwatching, picnicking, and canoeing. The warm waters of the Gulf are blissful for swimming, playing, and wading.
The relatively unspoiled beaches are a trove of pretty seashells. Wander the waterline on a morning low tide to search for shells, take an energetic – or lazy – swim, then relax under the Florida sun before enjoying a late breakfast at a cozy eatery like Beach Walk Cafe.
End the day with a relaxed late afternoon hike through the state park and a romantic picnic on the beach at sundown.
11. Hilton Head Island, South Carolina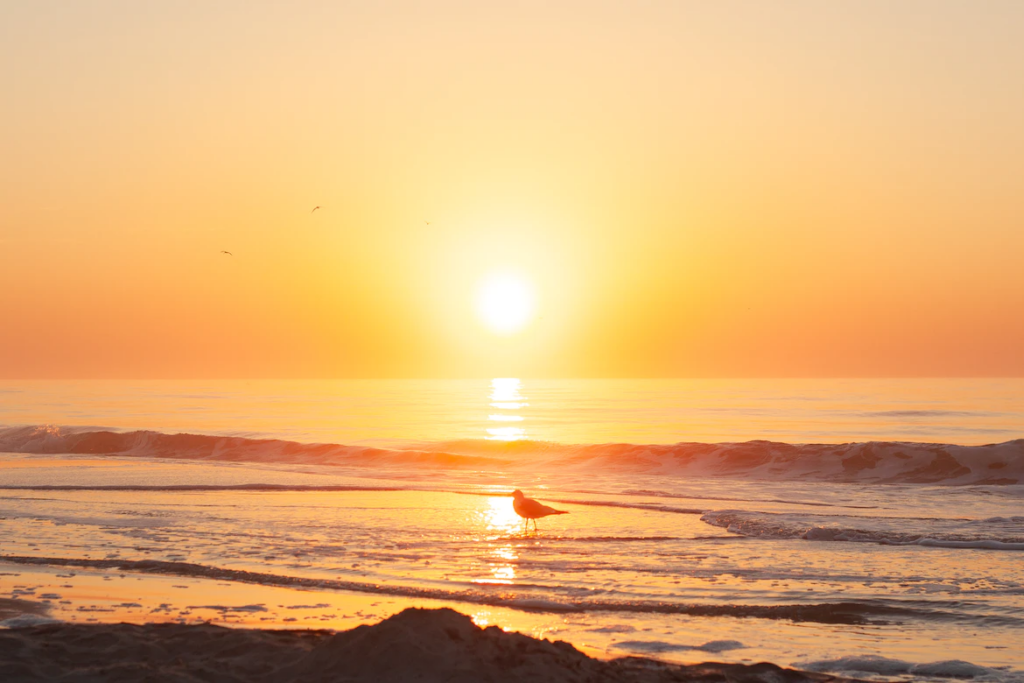 You and your partner should visit Hilton Head Island, off the coast of South Carolina, at least once in your lifetime. Hilton Head features 12 miles of spectacular beaches along the Atlantic Ocean in a setting of deep natural beauty. You're guaranteed to find your own little piece of private nirvana here, even in the crowded peak season.
Hilton Head may be known for its world-famous golf courses, but non-golfers are more than welcome to recline on the manicured white sands of beaches like Coligny Beach Park. The island's official beach season is from April to September. During this time, lifeguards are on duty and the water is mostly warm enough to swim. Candy-colored resorts, marvelous beachfront views, tennis, biking, hiking as well as frequent dolphin sightings all add to the appeal of this terrific seaside.
12. Key West, Florida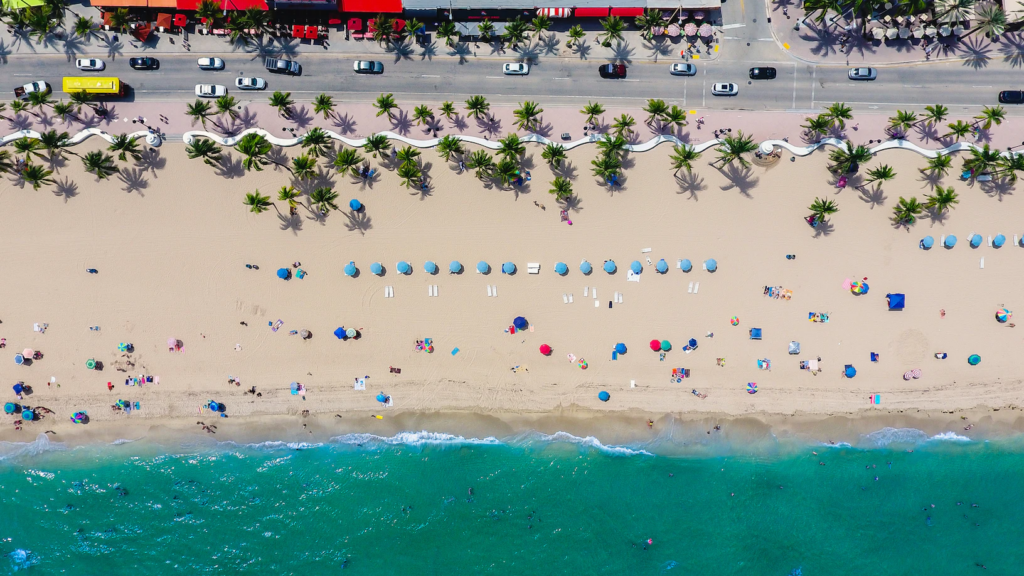 Key West, on Florida's southernmost tip, might be a long way from the rest of the country, yet a great many couples are drawn to this mini playground every year. It's hardly surprising since the weather is fantastic and there is always something to do.
If you're a couple looking to chill and kick back, get on down to Key West. One of the main beaches is actually called Rest Beach. The swimming in Key West is wonderful, and the offshore coral reefs make for great diving and snorkeling.
If you're a couple looking for lively nightlife, get on down to Key West too. The island's nightlife is one of its main attractions. There are bars, restaurants, and music venues a-plenty. Sloppy's Joe's Bar is the most famous because it was Hemingway's hangout, while the Green Parrot is a popular mixing spot for visitors and locals. If your idea of a great beach vacation is a mix of daytime and nighttime fun, Key West is a choice destination.
13. Laguna Beach, California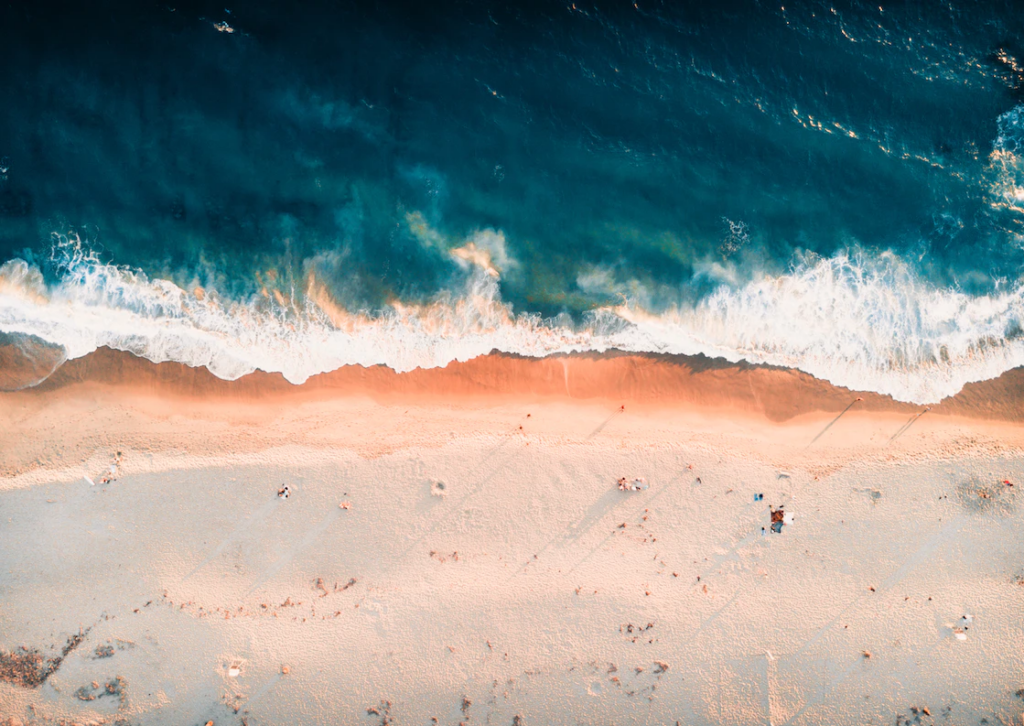 Laguna Beach is situated along the Pacific Coast Highway between Los Angeles and San Diego. This stretch of shoreline is a portrait of sandy coves, isolated beaches, lovely coastal parks, and hilly bluffs.
This Orange County city is one of Southern California's premier beach vacation destinations. It has a distinct small-town vibe and a strong affinity for the local arts and culture.
Main Beach is our top pick among a 7-mile string of beachfront, thanks to its excellent swimming and sunbathing. The adjoining Heisler Park is all lush gardens and fabulous views.
If you're into snorkeling or scuba diving, the nearby waters of Crystal Cove State Park are wonderful to explore. Whale spotting, fascinating tide pools, and great sunsets are other good reasons to visit this coastal getaway.
14. Myrtle Beach, South Carolina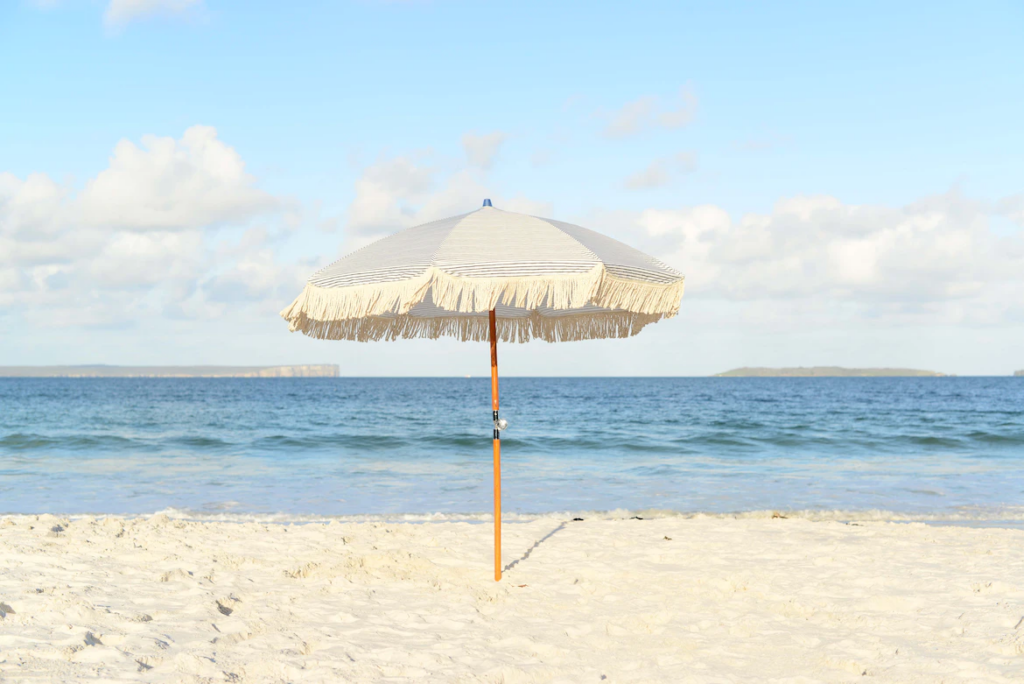 The gentle curving shore of Myrtle Beach with its famed Ferris Wheel and pier is a postcard image that evokes fond memories for many couples. This vacation city is situated on an amazing 60-mile stretch of beach.
In summer, rows of beach chairs and umbrellas line the sparkling shoreline as happy sunbathers unwind in the Grand State's warm rays and hospitable atmosphere.
On balmy vacation or weekend nights, the pier and beachfront boardwalk hum with life as revelers check out the arcades, souvenir stands, watering holes, and numerous eating spots. With an amusement park and plenty of beach and hotel activities, this is a good option for couples traveling with children.
15. Ocean City Beach, Maryland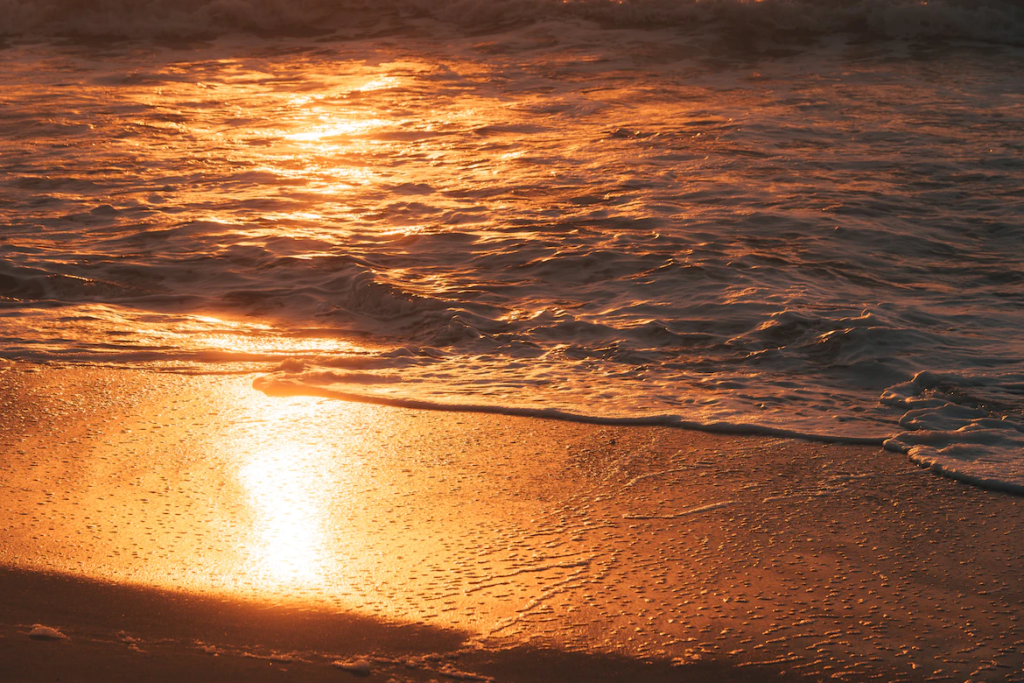 Ocean City in Maryland Is popular with younger couples who want a fun vacation with a range of activities. This coastal gem with its pristine beaches is such a visitor favorite it can get very crowded in high summer.
The good news is, the larger waterfront comprises 10 miles of sandy shoreline so you are sure to find a secluded nook where you can enjoy swimming and sunbathing, or more energetic pursuits.
Alongside the beach, the Boardwalk is a prominent feature of this bustling resort. This three-mile walkway contains numerous hotels, amusement park rides, arcades, bike rentals, shops, and refreshment stops like The Other One Brewing Co.
Watersports enthusiasts can dive into a host of pursuits such as kayaking, paddleboarding, and jet skiing. The town also has several golf courses, while more sedate attractions include the Ocean City Life-Saving Station Museum and Ripley's Ocean City.
16. Outer Banks Beaches, North Carolina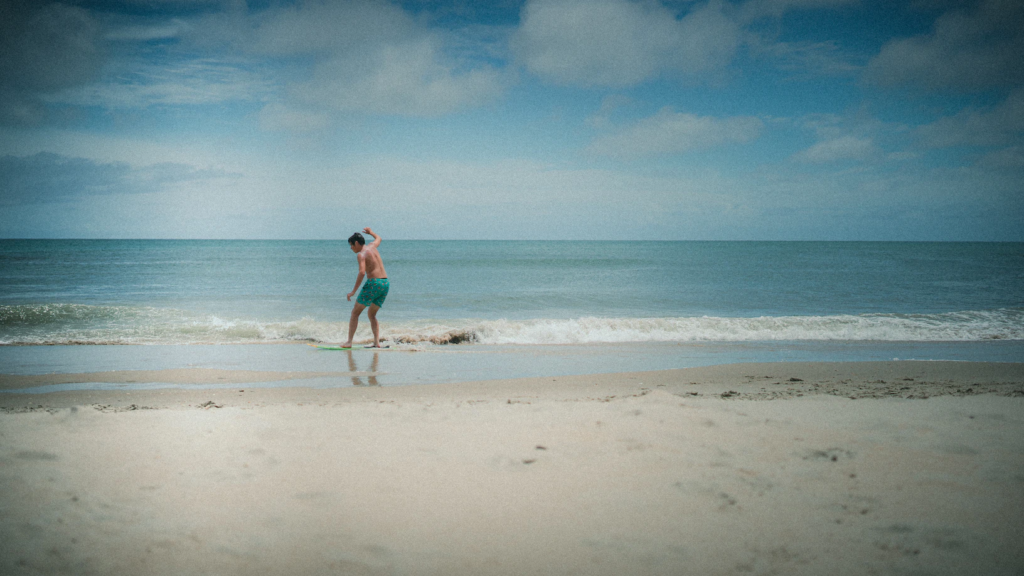 North Carolina's Outer Banks are renowned for their unspoiled beauty, wide open spaces, lighthouses, and towering sand dunes. Many couples return to Outer Banks again and again, drawn by the area's tranquil setting, friendly community, and romantic beaches.
There is something here for everyone. For adventurous couples, venture to the uncrowded shores at Hatteras Island to boat and kayak. . For those seeking R&R, Kitty Hawk and Kill Devil Hills are ideal beaches for sunbathing, swimming, and skimboarding. You can even surf in the right conditions.
Nags Head Fishing Pier is lovely to stroll at sunset. After appreciating a beautiful romantic sunset enjoy a candle-lit North Carolina dinner at a nearby restaurant like Blue Moon Beach Grill.
17. Poipu Beach, Kauai, Hawaii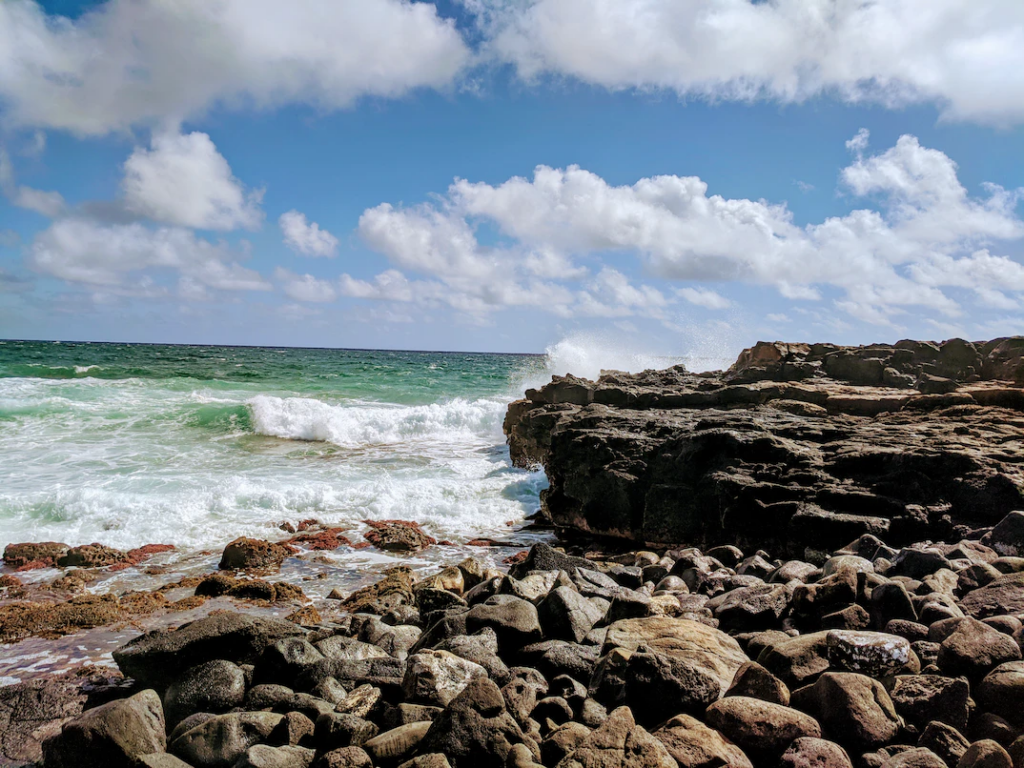 Poipu Beach is one of Hawaii's most beloved beaches. The crescent-shaped beach is situated on the southern coast of Kauai. Its golden sands are flanked by striking lava rock formations at each end. The nestled shoreline incorporates a sandbar that extends into the Pacific and allows sightings of sea turtles and possibly even the endangered Hawaiian monk seal.
Poipu Beach is a prime swimming destination due to its clear sheltered, calm waters. The bay's friendly depths are a window to a fascinating variety of sea life, so snorkeling can be awesome. This is a life-guarded enclave and as one of the more peaceful beaches, it is ideal for inexperienced swimmers who love splashing about in the shallows.
Nearby attractions include Spouting Horn blowhole, Allerton Garden, and miles of hiking trails.
18. Provincetown, Cape Cod, Massachusetts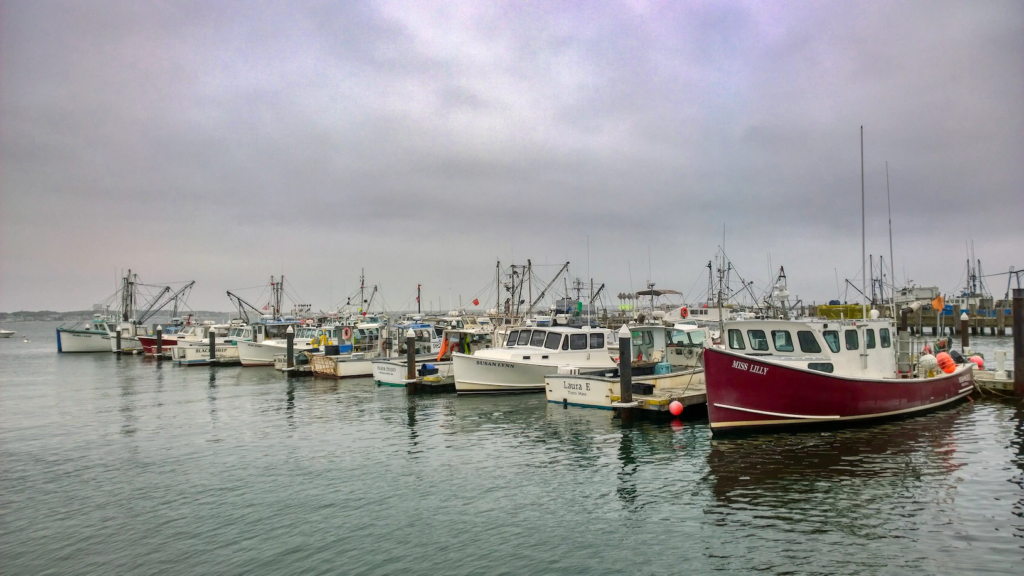 Cape Cod's northern edge houses the charming seaside community of Provincetown. This artist's haven was historically a fishing colony with a strong Portuguese influence. Today, folk from all over the Eastern Seaboard and further afield come to enjoy Provincetown's fine seafood, laid-back atmosphere, and inviting beaches.
Provincetown's National Seashore Park is a gateway to the beautiful beaches and tide pools of Herring Cove and Race Point Beach. Long Point Beach and Harbor Beach are other enticing stretches of sand that will coax you and your partner to lay down towels.
Artists, writers, and creatives are a prominent part of the quirky community, and this is reflected in its interesting downtown. Be sure to take a leisurely wander through its art galleries, specialty stores, bookstores, confectioners, and colorful seafood shacks.
. You needn't even bring a car to Provincetown because the town is such a convenient joy to walk around, and a ferry from Boston or Plymouth will get you there in about 90 minutes.
19. Virginia Beach, Virginia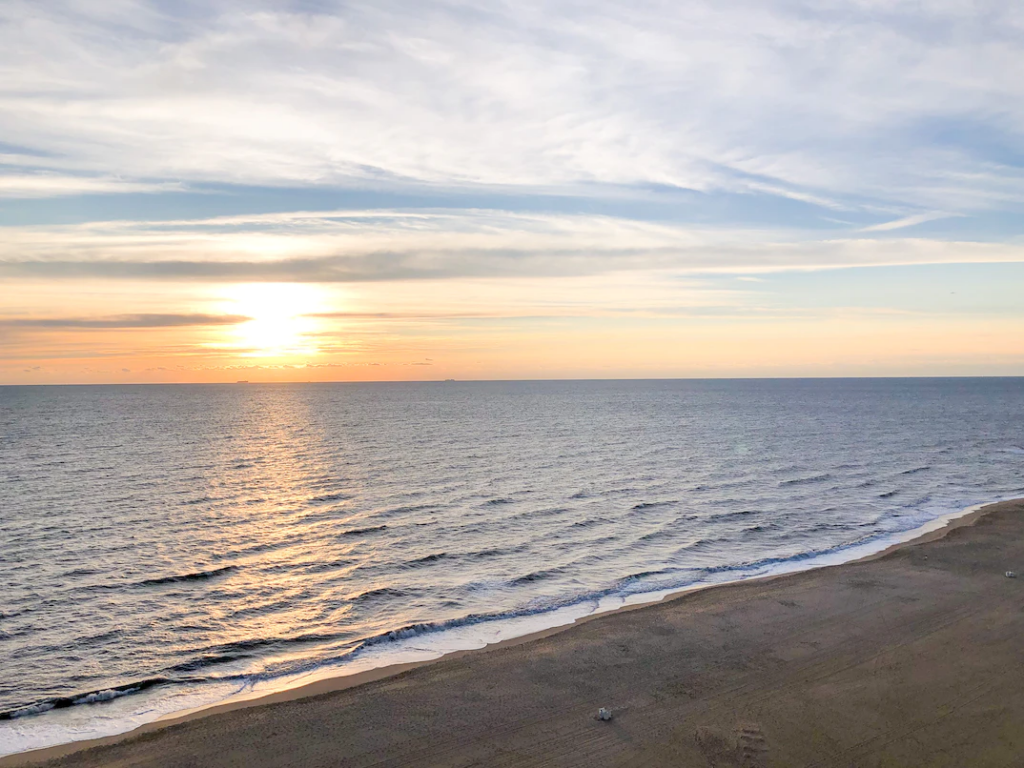 Virginia Beach in southeast Virginia is not only one of the best beaches in the state but one of the best beach destinations in the country.
The long yawning beachfront is ideal for swimming, sunbathing, and a variety of water sports like kayaking and parasailing. The waters are usually calm enough to accommodate even the most nervous paddler. The colorful local Boardwalk stretches for three miles along the oceanfront. This promenade attracts walkers, cyclists, joggers and rollerbladers, and anyone else keen to soak up the atmosphere. It hosts an impressive range of shops, restaurants, hotels, and entertainment venues.
The larger Virginia Beach offers many activities and attractions, including the Virginia Aquarium & Marine Science Center and the Military Aviation Museum. Activities here cater to most tastes, so Virginia Beach can be a great choice for groups of couples vacationing together.
FAQs
Does Florida have the most beaches in the United States?
With the exception of Alaska, Florida has the longest coastline in the US with approximately 825 miles of sandy beaches along its 1,350 miles of coast.
What are the best beaches in the US in December?
The beaches which lie further south tend to be warmest in December. Hawaii, Miami, and Key West are obvious warm spots, while Laguna Beach and San Diego, and South Padre Island in Texas are also agreeably warm at year-end.