From beach and mountain resorts to city living, Georgia has a lot to offer. Cute cabins, historic hotels, and even converted silos – you're spoiled for choice when it comes to choosing accommodation for your special honeymoon.
There are options for all seasons, from sunny beaches to historic towns and wooded mountains.
What Makes Georgia Perfect For A Honeymoon
Georgia is a fantastic honeymoon destination, as it has so many different types of experiences available and plenty of options for romantic getaways.
Northern Georgia is perfect for hiking through mountains and forests, but if you prefer farms and marshland, there are plenty in the south. There are also many beautiful seaside resorts along the coast, and islands, such as St Simons Island and Tybee Island.
For those who like the city, Georgia has some wonderful choices, such as Savannah and Atlanta. They both have a great variety of hotels – some with fine dining options and others with rooms featuring a private balcony.
Best Areas To Stay In Georgia
The great thing about a Georgia honeymoon is that you can explore all the various areas of the state with little effort. If you plan your honeymoon carefully, you shouldn't have to drive longer than 3-4 hours in one day when changing locations.
With historic cities, stunning beaches, majestic mountains, and rustic farmlands, there is a wide range of experiences to be had in this interesting state. Atlanta is not to be missed, especially for the city slickers, and for the adventurous couple, the blue ridge mountains are a must-see.
The various coastal islands are perfect for those looking to have a beachy honeymoon, offering plenty of relaxation options at their respective resorts.
Atlanta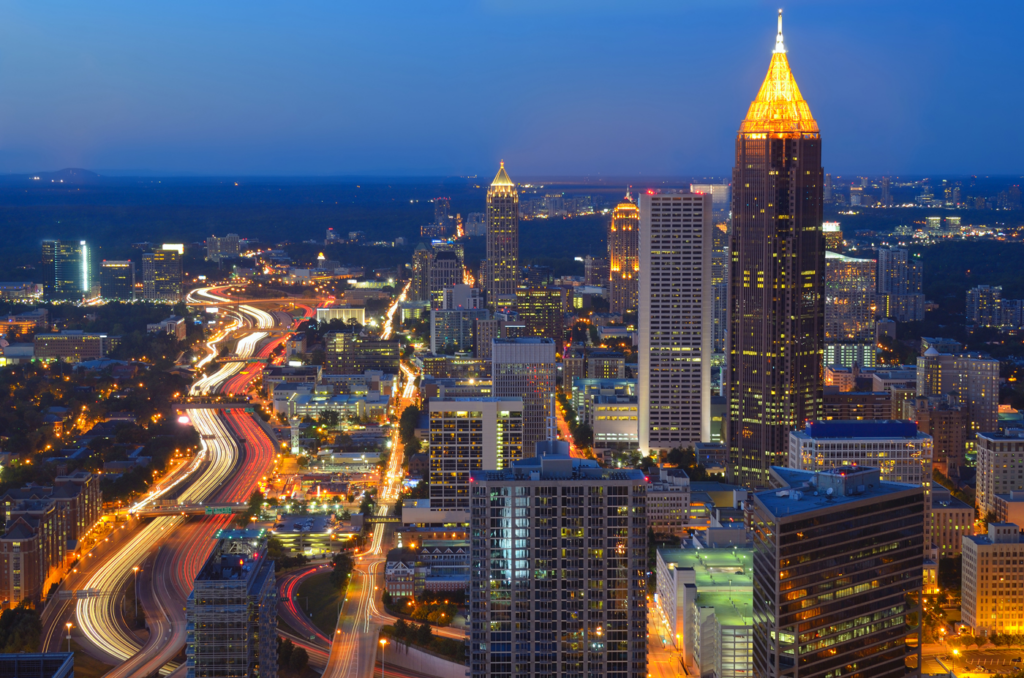 Adding a stop in Atlanta is a great idea if you're looking for a rich historical and cultural experience. From being the home of Martin Luther King Jr, and playing a big role in the Civil Rights Movement and earlier, the Civil War, this city also has several sports teams and an abundance of art offerings.
Other than visiting the various art galleries and museums, there are some other key activities that can't be missed when visiting Atlanta.
One of these is the Atlanta Beltline – 22 miles of unused railway tracks that have been converted into running, biking, and streetcar routes, connecting most of the inner city's neighbourhoods. These trails are interspersed with a variety of parks and green spaces.
If you want to learn more about the Civil Rights Movement and Martin Luther King Jr, visiting the Martin Luther King Jr Memorial Park may tickle your fancy.
Alternatively, you can visit the Olympic Park and take a photo with the Olympic rings before going for a peaceful walk in the stunning Atlanta Botanical Gardens.
Savannah
Known for its extensive history, dramatic coastline, and stunning architecture, Savannah is one of the oldest cities in the US and is worth a visit. Take a trolley tour to explore the city's history, and be sure to stop in at the awe-inspiring Cathedral of St John the Baptist.
You can't visit Savannah without exploring the magnificent Forsyth Park. Known for its fabulous fountain, this park has plenty of picnic spots, play areas for kids, and even a fragrance garden for the visually impaired.
The Savannah City Market originated in 1755 as a local market for farmers and traders. Today, it hosts many art galleries, top-class shops, and interesting restaurants.
St Simons Island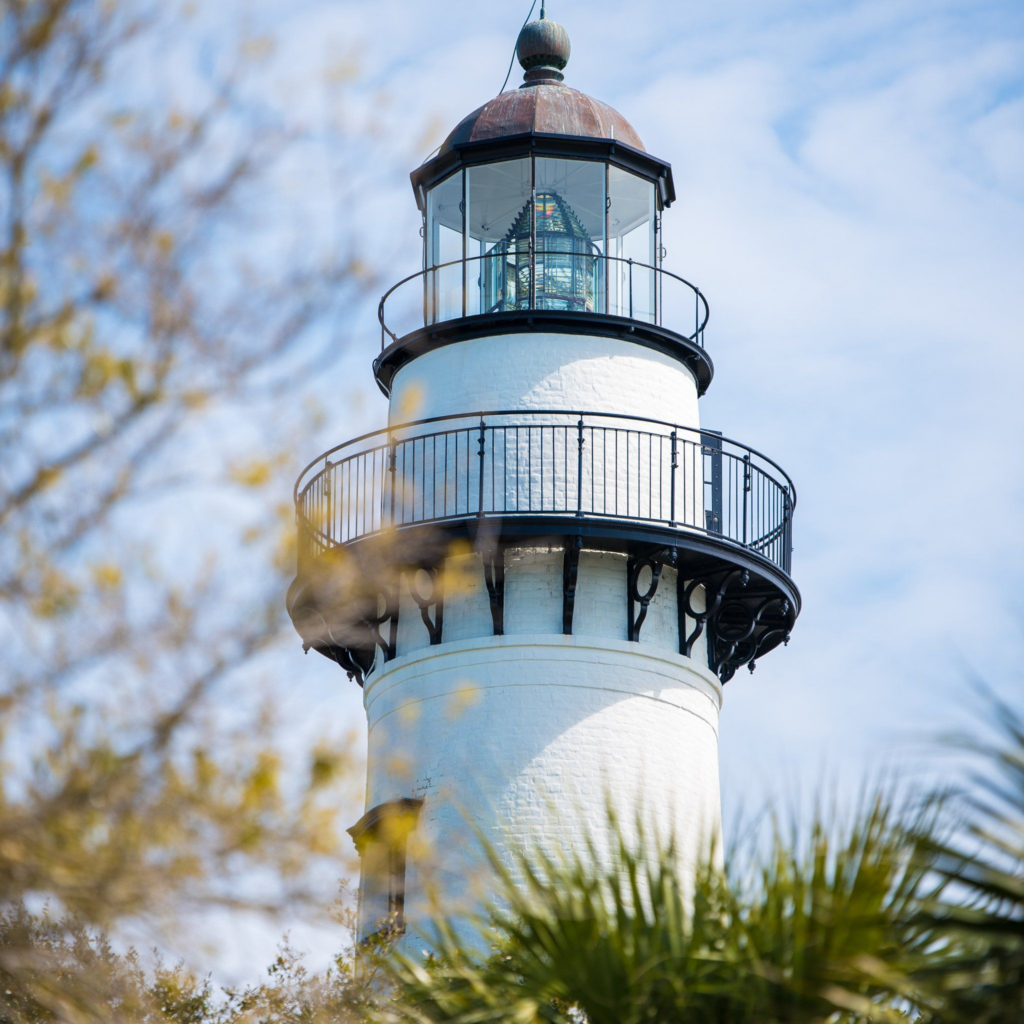 St Simons Island, just off the Georgia coast, is known for its sandy beaches and salt marshes. The famous lighthouse, rebuilt after being damaged in the Civil War, now has its own museum.
St Simons Island Pier is a great spot for fishing and is also a good spot for whale spotting. You can also see Jekyll Island in the distance! If you'd like to do some birding, visit Little St Simons Island, located just north of the main island.
When staying on the island, explore the land by bicycle and the sea by kayak. When you wander around, don't forget to stop in at Christ Church Frederica. Dating back to 1736, it is the oldest Episcopal church in the state.
Tybee Island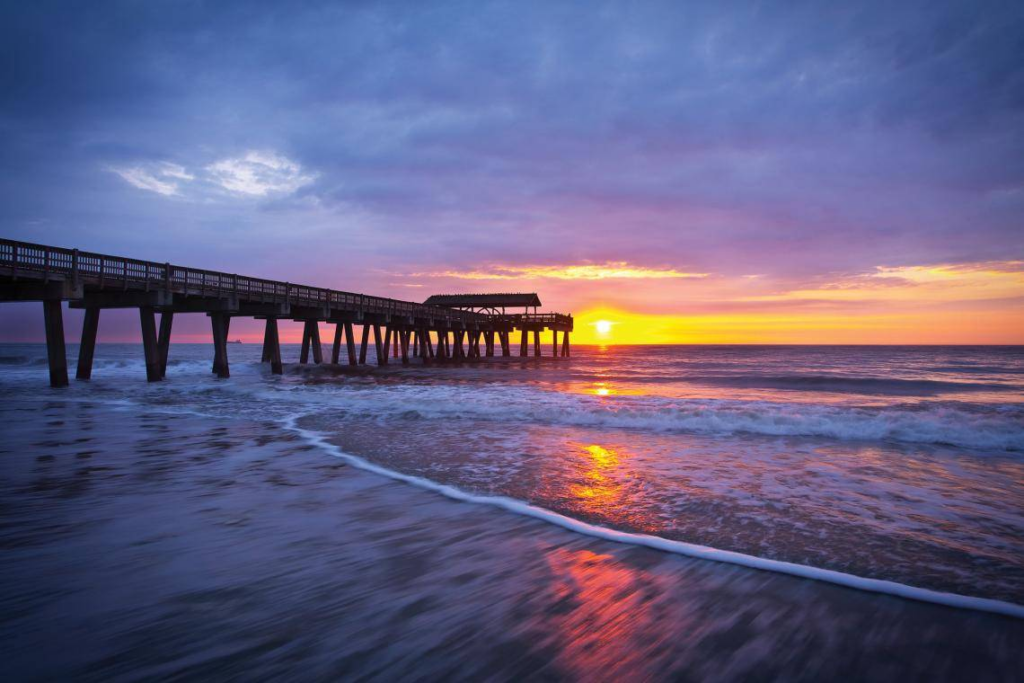 The ideal destination for a beachy honeymoon, Tybee Island has more than 3 miles of white beaches that are great for swimming, sandcastle building, and enjoying sunrises and sunsets. It also features many bike paths and trails, making it easy to explore the island without a car.
If you want an informative and historical experience on the island, a visit to the Tybee Island Marine Science Center and the Tybee Island Lighthouse & Museum is a must. The island is s relatively short trip from St Simons island and if you have the time, try to pay both a visit.
If you'd prefer to relax on Tybee Island, we suggest taking a Dolphin Tour, followed by a stroll along the Tybee Island Pier & Pavilion. You can also rent some fishing gear and spend the day fishing from the pier with the locals.
Best Honeymoon Resorts, Hotels, And Other Stays In Georgia
From converted silos to luxury suites, a variety of accommodations are available in Georgia. Whether you want a quiet self-catering honeymoon or a fully catered stay at an all-inclusive resort, you'll find something suitable in our list below.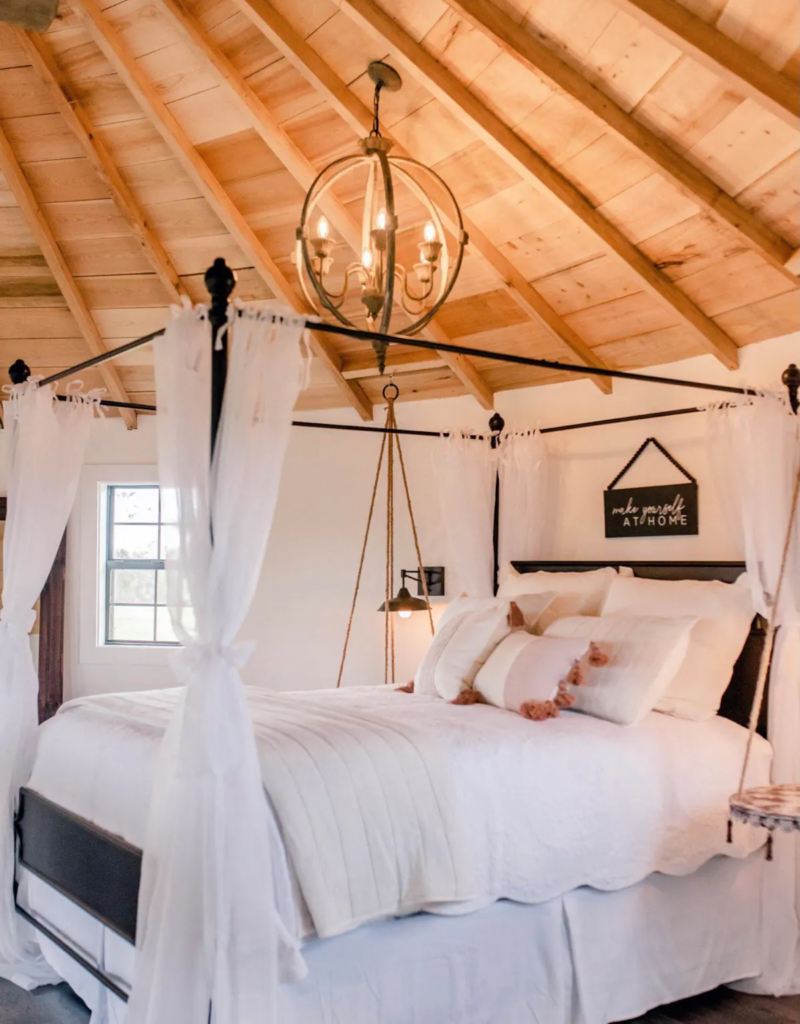 Price per Night: +/- $135 per night
Best For: Younger couples, older couples, long stays, short stays
Availability: Easy to book
This unique stay is a converted grain silo set on a working cattle farm. Featuring a private outdoor claw bathtub, a four-poster queen bed, luxury bathrobes, and disposable slippers, you're in for a treat when staying here.
Guests receive a selection of gourmet snacks and bottled water upon arrival, while fresh farm eggs and organic oatmeal are provided for breakfast each morning. The resort also offers other perks, such as champagne and strawberries or a local charcuterie board.
Remote and private, this is perfect for couples looking to have a relaxing, quiet time getting to know each other and plan their future together. The local town has a few restaurants and boutique stores, but you'll likely not want to leave the farm – it's that amazing!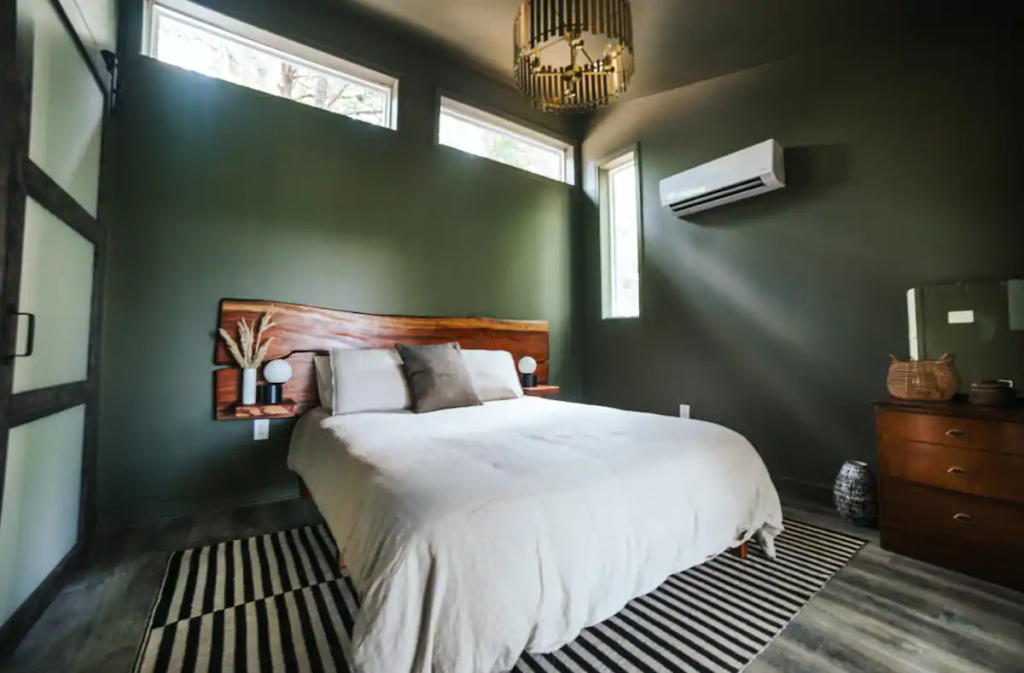 Price per Night: +/- $280 per night
Best For: All-inclusive, adults-only, younger couples, older couples, long stays, short stays
Availability: Easy to book
This gorgeous treehouse features a cedar Japanese soaking tub and is situated on a secluded 15 acres of woodland. A short 20minute drive from Summerville and La Fayette, it's easy to go for a quick supply run if needed.
With a comfy queen-sized bed, a fully equipped kitchen, and a cozy couch, you'll not want to leave too often. The property has several walking trails, should you want fresh air. It is the perfect spot to have some quality, quiet time away together.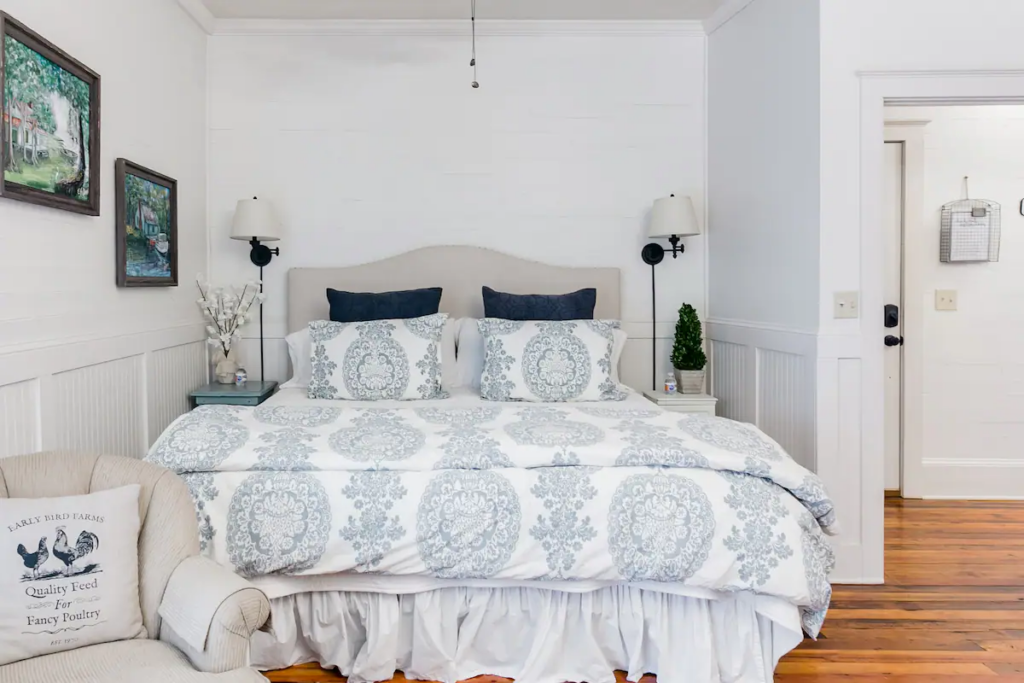 Price per Night: +/- $150 per night
Best For: All-inclusive, adults-only, younger couples, older couples, long stays, short stays
Availability: Easy to book
Honeymooners are in for a comfortable stay in McDonough, a small town 40min from Atlanta city center. This restored and revitalized general store is now a wonderful home away from home, with all the necessary amenities.
With a very comfortable bed, fully equipped kitchen, TV, and bathroom with a whirlpool bath, you'll be in the lap of luxury.
Enjoy your morning coffee on the porch, and spend the evenings snuggled on the swing bench with the fairy lights on. A day trip to the big city is always a great outing, or you can stay close and explore the small town and its surroundings.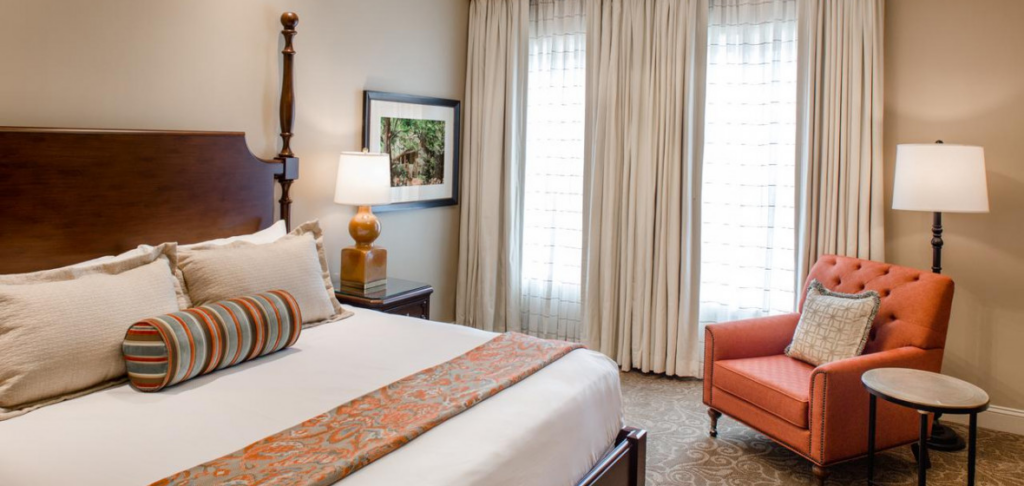 Price per Night: $309 – $700 per night
Best For: All-inclusive, younger couples, older couples, long stays, short stays
Availability: Easy to book
The luxurious accommodations at the Barnsley Resort are improved upon when choosing the Romantic Hideaway package. It includes breakfast, dinner, a $200 activity credit, sparkling wine, and a rose petal turn down on arrival.
Situated in Bartow County, this resort has a lot to offer – from horseback riding to clay pigeon shooting, hiking, biking, swimming, and of course, relaxing at the pool or spending the day in the spa!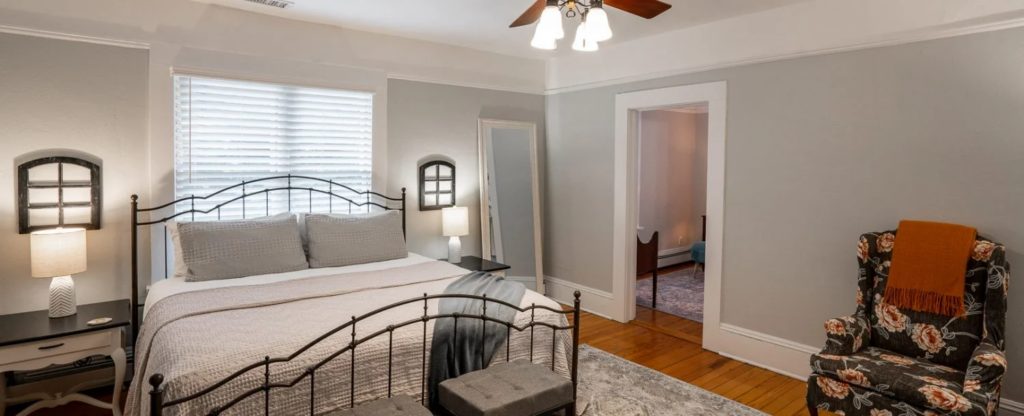 Price per Night: $225 – $295 per night
Best For: All-inclusive, younger couples, older couples, long stays, short stays
Availability: Easy to book
Beechwood Inn is a rustic yet classy inn in the North Georgia mountains with seven comfortable rooms and two cottages.
Breakfast is included with your stay, as is a glass of Beechwood Inn's wine in the evening, and the usual amenities such as free WiFi, luxury cotton linens, bath robes, and toiletries.
If you'd like to have a fresh flower arrangement, chocolate truffles, and chilled sparkling wine with keepsake glasses in the room on arrival, consider adding the Romance Package to your booking.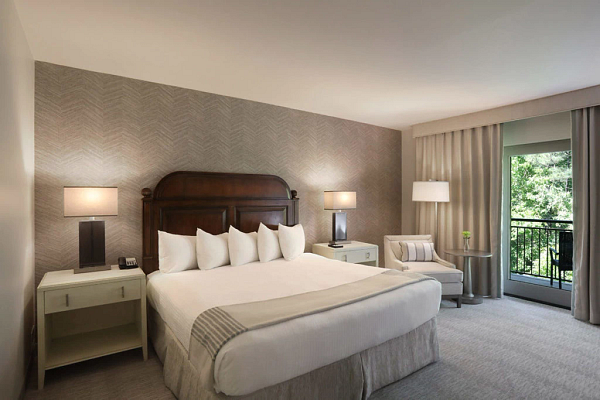 Price per Night: $179 – $529
Best For: All-inclusive, adults-only, younger couples, older couples, long stays, short stays
Availability: Limited
This Georgian resort offers beautiful views of the lake, gardens, or woodland from its 150 guest rooms and suites. You'll receive free access to the beach and gardens with your stay, free WiFi, pool access, and an in-room fridge and coffee maker.
If you'd like to add some romance to your arrival, add the Bubbles and Berries amenity to your booking. For later in your stay, treat yourself to the resort's spa services at Spa Prunifolia.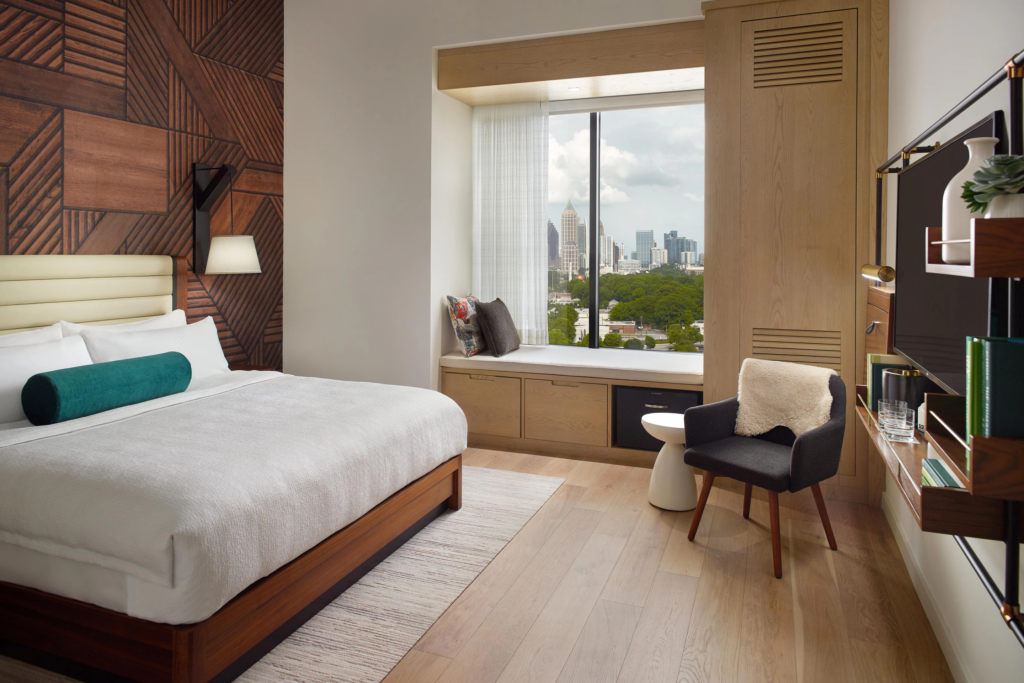 Price per Night: $440 – $674 per night
Best For: All-inclusive, adults-only, younger couples, older couples, long stays, short stays
Availability: Easy to book
The Bellyard is an eclectic and modern hotel in the up-and-coming West Midtown neighborhood, The Interlock. It is a fantastic base for exploring all that Atlanta has to offer while enjoying your Georgia honeymoon.
Be sure to book the Couples Getaway package, including late checkout, champagne on arrival, a bouquet of flowers, and daily breakfast. Each room has an en-suite bathroom, robes, complimentary toiletries, a television, free WiFi, and a minibar. Coffee can be provided on request.
Price per Night: $99 – $269
Best For: Younger couples, older couples, long stays, short stays
Availability: Easy to book
If romantic getaways in the mountains are your thing, then you'll love spending time at Mountian Top Inn and Resort. This resort offers cozy wooden cabins and lodge rooms with either queen or king beds. For an extra treat, be sure to book a room with a jacuzzi.
While staying at one of Georgia's most romantic resorts, be sure to go horseback riding through the forest and visit one of the local wineries. You can also explore the local towns and go hiking in Franklin D Roosevelt State Park, where you'll enjoy beautiful views and see some of Georgia's spectacular waterfalls.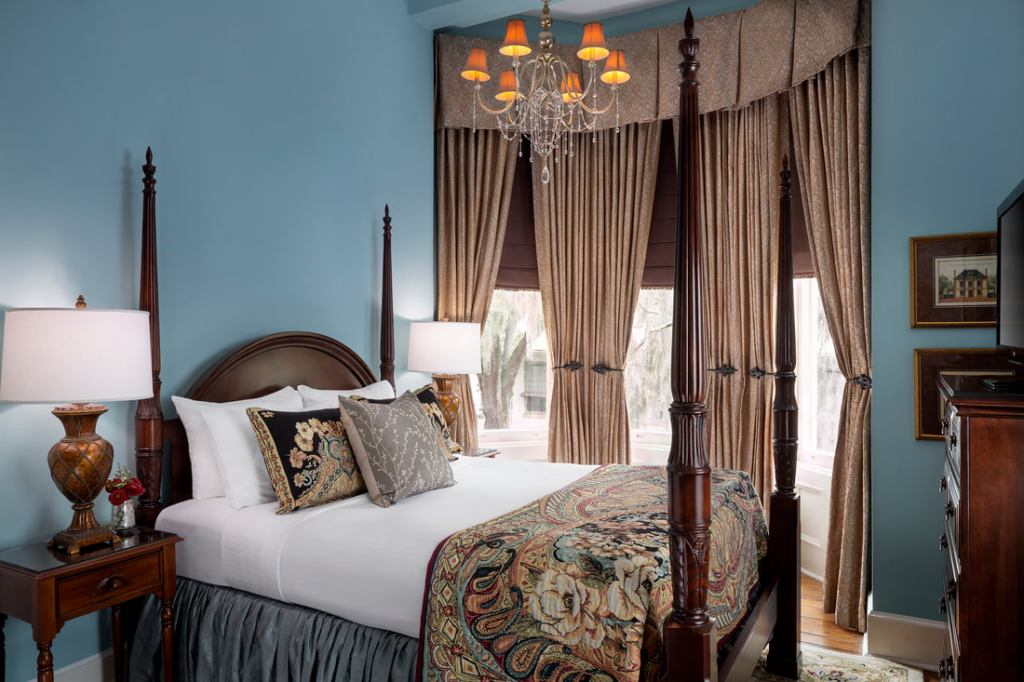 Price per Night: $299+
Best For: All-inclusive, younger couples, older couples, long stays, short stays
Availability: Limited
This historic inn in Savannah, GA, was built in 1873 and was known for hosting some amazing parties. It is now a romantic and luxurious hotel where you can enjoy all the charm of 19th-century Southern living, with the perks of modern amenities and technology.
Included in your stay is complimentary morning coffee or tea, a full Southern breakfast, afternoon refreshments, evening wine and hors d' oeuvres, and a late evening port and cookies. These can all be enjoyed in the parlor.
You'll be able to enjoy free WiFi, a flatscreen tv, plush bedding, and a nightly turn-down service. The private bathrooms have luxurious robes and walk-in rain showers.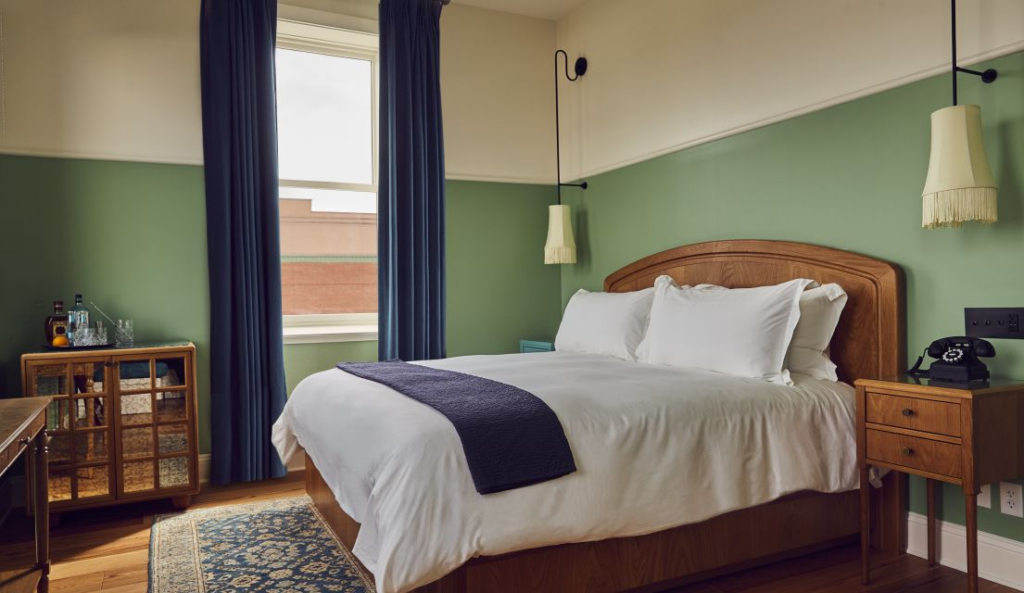 Price per Night: $425 – $649 (Stay, Play, Love package)
Best For: All-inclusive, younger couples, older couples, long stays, short stays
Availability: Easy to book
This all-inclusive hotel in the historic district of Savannah is an ideal place for a romantic Georgia honeymoon. Each room is kitted out with wonderfully comfortable beds and linens, complimentary toiletries in the bathroom, quilted bathrobes, free WiFi, and a 55-inch television.
Included with your stay are breakfast, free bottled water, a snack bar, and two daily drip coffees (to be enjoyed in the room or at the coffee bar).
If you opt to add the Stay, Play, Love package to your booking, you'll enjoy champagne on arrival, an informative private tour of Savannah's historic district, and enjoy a late 2 pm checkout (dependent on availability).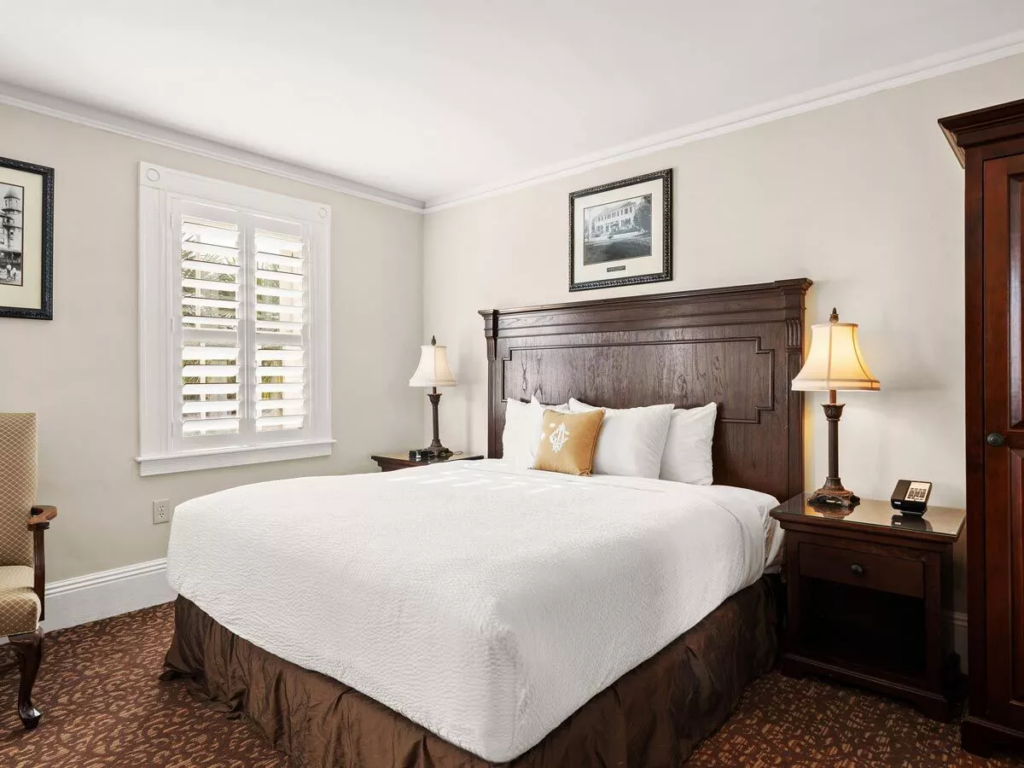 Price per Night: $549 – $913 (Romantic Package)
Best For: All-inclusive, adults-only, younger couples, older couples, long stays, short stays
Availability: Limited/Easy to book
Located on Jekyll Island, a small island off the coast of Georgia and across the way from Simons Island, Jekyll Island Club Resort is one of 3 accommodation options offered by Jekyll Island Club.
Be sure to include the Romance Package when making your booking – you'll get daily breakfast for two, and upon arrival, you'll receive champagne and chocolate-covered strawberries. You'll also be able to explore the island with a 1/2 bike rental.
While visiting this beautiful island, book a horseback riding excursion on the beach and consider a carriage tour of the island's historic district. For a romantic evening, purchase a s'mores kit from the resort and enjoy some s'mores around the fire. There are several other fantastic outdoor activities to enjoy on Jekyll island.
The resort offers a resort fee, which includes an umbrella and beach chairs on the beach, in-room bottled water, coffee, and a shuttle service between the different locations, amongst other perks!
Top Excursions & Activities To Do On A Georgia Honeymoon
A Georgia honeymoon can appeal to homebodies and outdoorsy couples, with various activities available for each category.
If you prefer to spend your time relaxing and taking things slow, the following may appeal to you:
Tour the Historic District
Many of the bigger towns and cities in Georgia have a Historic District that visitors can explore via foot, tram, or carriage, depending on where you are and what tickles your fancy.
From museums to preserved houses and art galleries, you'll be sure to find something interesting and learn something new about the state's (and country's) history.
Spend the day at the Spa
Not much can beat a half or full day at a spa. Use your resort's spa services, or visit a local spa to enjoy a couples massage, relax in the sauna, or soak in the roman baths.
Relax on the beach or poolside
If you're staying on the coast or near a lake, you'll be able to enjoy basking in the sun while resting on the beach. Alternatively, you can relax next to the pool at your hotel or resort, sipping on a cocktail and reading a book.
If you head to Tybee Island, don't forget to visit the Tybee Island Lighthouse before leaving the beach.
If you like to keep active and go adventuring, then consider these options:
Horseback riding
When staying near the beach or on an island, enjoying a romantic horseback ride on the beach during sunset is a wonderful way to spend the evening.
Alternatively, horseback riding is an excellent way to absorb the natural surroundings' exquisite beauty when exploring the North Georgia mountains.
Hiking in the North Georgia mountains
If you're staying in the mountains, go on at least one hike. The forests are beautiful, and the views from the mountain tops are phenomenal and worth the effort. There are many state parks to visit that will have hiking trails for various fitness and skill levels.
Swimming in the Atlantic Ocean
When choosing the coast for your Georgia honeymoon, you'll get the opportunity to swim in the Atlantic Ocean, which is significantly warmer than the Pacific. A visit to Tybee Island or St Simons Island is particularly great for those wanting to spend time on the beach and swim.
Sample Itinerary & Budget For Your Honeymoon In Georgia
The cost of your Georgia honeymoon can vary greatly. If you want a super luxurious stay at an all-inclusive resort, you'll likely need to fork out more than if you plan your own DIY road trip.
However, you can also choose to have the best of both worlds by combining the two – taking a road trip through the state with a variety of accommodations and activities can be a great option, as detailed in our sample budget and itinerary below:
twelve-night Georgia Honeymoon Road Trip Budget
3 nights each (Total: $2805 – $3687) :
The Drayton Hotel, Savannah $425 – $649 (Stay, Play, Love package) 1275 – 1947
The Silo at Oak Hill Farm, Hahira +/- $135 per night 405
Revitalized General Store, McDonough +/- $150 per night 450
Beechwood Inn, Clayton $225 – $295 per night 675 – 885
Travel estimate +/- $1300 per couple
Food and beverages $120 p.p /p.d
Excursions $700
Total: $7685 – $8567
Sample Itinerary
Day 1 – After checking into your comfortable room and enjoying some champagne together, you can head to St Neo's Brasserie for dinner. After dinner, have a drink at the bar before turning in for the night.
Day 2 – Today, you'll enjoy a tour of Savannah's historic district in a classic car, included as part of your Stay, Play, Love package.
Day 3 – Have a slow start, then head to Forsyth Park to enjoy a picnic supplied by The Savannah Picnic Co. Wander around the City Market in the afternoon, and choose one of the many restaurants as a dinner spot.
Day 4 – Time to pack your bags and travel to the next location. It's a 3hr drive, and you'll need to stop along the way for lunch and to pick up some supplies for your stay at Oak Hill Farm. Take it slow, and enjoy the scenery. Be sure to relax with a soak in the private outdoor bath at the Silo after you've checked in.
Day 5 – This part of the honeymoon is meant for pure relaxation. Wander around the farm, meet the animals, sleep in, read a book – basically chill! And don't forget to enjoy the farm fresh eggs for breakfast.
Day 6 – Another day to unwind and enjoy each other's company. Make dinner together, or order a charcuterie board from the owners.
Day 7 – After enjoying your last farm-fresh eggs for breakfast, you'll get on the road and journey to McDonough. Along the way, be sure to pop in at the Aviation Museum and learn about some American Indian history at the Ocmulgee Mounds National Historical Park.
Also, keep an eye out for farm stalls en route, where you'll be able to pick up some local produce. When you arrive in McDonough, you'll head to your accommodation at the Revitalized General Store.
Day 8 – Have a slow start, then head into Atlanta – be sure to pop in at The Interlock and explore the Atlanta Beltline before heading home. In the evening, enjoy some hot chocolate or a glass of wine on the porch.
Day 9 – Today, you'll explore the town of McDonough. Visit the Hood Street Arts Center, and explore the Heritage Park. Pick one of the local restaurants for lunch (or dinner) – there are a number of options, from Mexican to Italian to local Southern fare.
Day 10 – A beautiful drive into the North Georgia Mountains is today's agenda. Take your time and stop along the way to enjoy the beautiful views. Perhaps stop at one of the nature parks along the way for a lunch break. Enjoy the Romance Package treats when you check in at Beechwood Inn in the afternoon.
Day 11 – Spend the day in the Black Rock Mountain State Park today – make sure to pack water, lunch, warm clothes, and sunscreen. Explore the beautiful forests, go to the top of the mountain to enjoy the view, walk to the lake, and if you're up for it, hike to the waterfalls.
Be sure to also pop in at the Foxfire Museum & Heritage Center.
Day 12 – Downtown Clayton is the hub of the town and is worth exploring. Be sure to go for a whiskey tasting at Moonrise Distillery, and don't forget to make a reservation for dinner at Fortify Kitchen and Bar as a final treat on your honeymoon.
Day 13 – After a wonderful 12 days, it's time to head home. You'll take a slow drive back to Atlanta today to catch your flight. Enjoy the views of the Blue Ridge Mountains on the drive!
Frequently Asked Questions
How much does a Georgia honeymoon cost?
The cost of a Georgia honeymoon can vary greatly but will likely cost between $5000 and $10 000. Your choice of accommodation, meals, and activities will all significantly affect how much you'll need to spend.
The time of year will also affect the price – be sure to look at the difference between peak and off-peak pricing.
When is the best time to visit Georgia?
Georgia is stunning in all seasons, but you'll have the most variety of activities on offer if you plan your Georgia honeymoon between Spring and Fall. However, winter is ideal if you want to have a romantic time together in a cabin in the mountains, then winter is ideal!
Start Planning The Perfect Romantic Honeymoon Getaway
There are so many romantic getaways available in Georgia. From St Simons Island to the Blue Ridge Mountains, you'll be sure to have a phenomenal time when choosing a Georgia Honeymoon.
If Georgia doesn't suit you, be sure to browse our other honeymoon guides and advice on travel deals – whether you want to travel internationally or remain stateside, we have all the information you need to plan your dream honeymoon!