With 63 miles of accessible coastline, it is no surprise that Kauai, Hawai'i, is a popular destination for surfers, sunbathers, and couples looking for romantic beach holidays. Families flock to the best beaches in Kauai for their calm waters, while pro surfers take on some of the biggest waves in the world.
There are snorkeling spots for beginners and experts to explore everything from man-made lagoons to wild coral reefs. You might be lucky enough to spot whales and monk seals along with tropical fish, manta rays and sea turtles.
Kauai isn't all nature and wilderness though – there are plenty of amenities on land. Local eateries and luxury resorts make it easy to get the most out of your Kauai beach holiday.
We've created a comprehensive list of the 13 best beaches in Kauai, from the best breaks for surfers to secluded spots for wedding pictures, and everything in between!
1. Poipu Beach, Koloa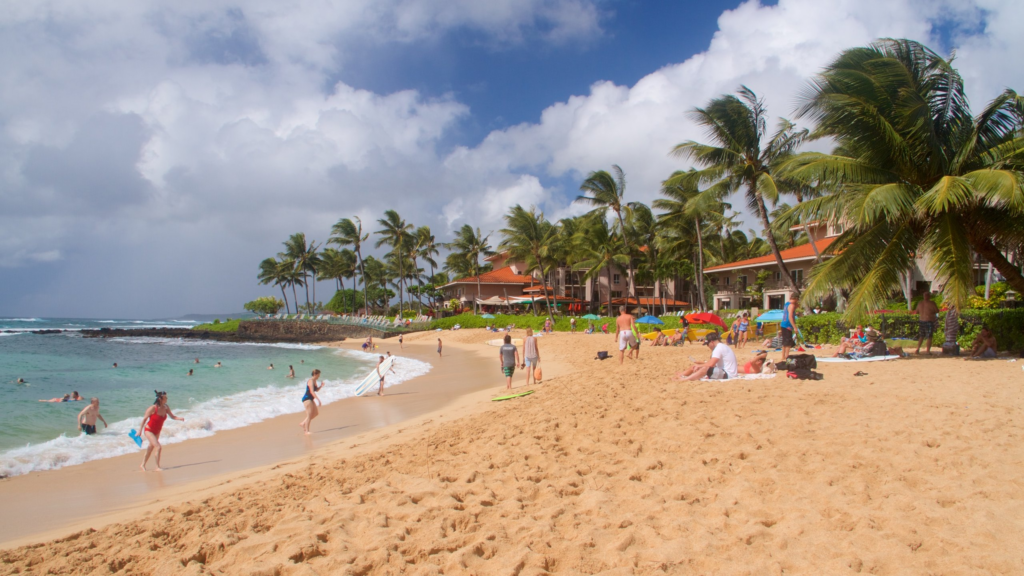 Best for: Best beach overall
Poipu Beach is one of the best south shore beaches and arguably one of the best beaches in the state. It is considered a must-visit destination, especially for couples.
The east side of the beach is perfect for unconfident swimmers who are still "learning the waves" (and aspiring surfers). The west side is better for older groups, couples, and those who are confident in the water.
The soft sand and wide beach make it perfect for games – beach volleyball, boules, flying kites, or playing frisbee. In the water, you can swim, snorkel, boogie-board, surf, or just keep an eye out for the endangered Hawaiian monk seals sleeping at Nukumoi Point.
Poipu Beach has all the amenities you would expect from one of the best beaches in Kauai, including showers, restrooms, picnic tables, and rental shops offering snorkeling and surfing equipment.
Poipu Beach Park, which borders the beach, has luscious grass lawns, perfect for beach-goers who hate getting sand on their towels.
Planning a trip to Poipu Beach is quite easy. Lihue Airport is just 25 minutes away, and there is no shortage of resorts and hotels in the area to make your Poipu Beach vacation comfortable. Most of these resorts, like the nearby Marriott's Waiohai Beach Club, have heated pools and spa facilities, so even if your beach day to Poipu Beach is rained out, you will still have plenty to do!
2. Hanalei Bay Beach, Hanalei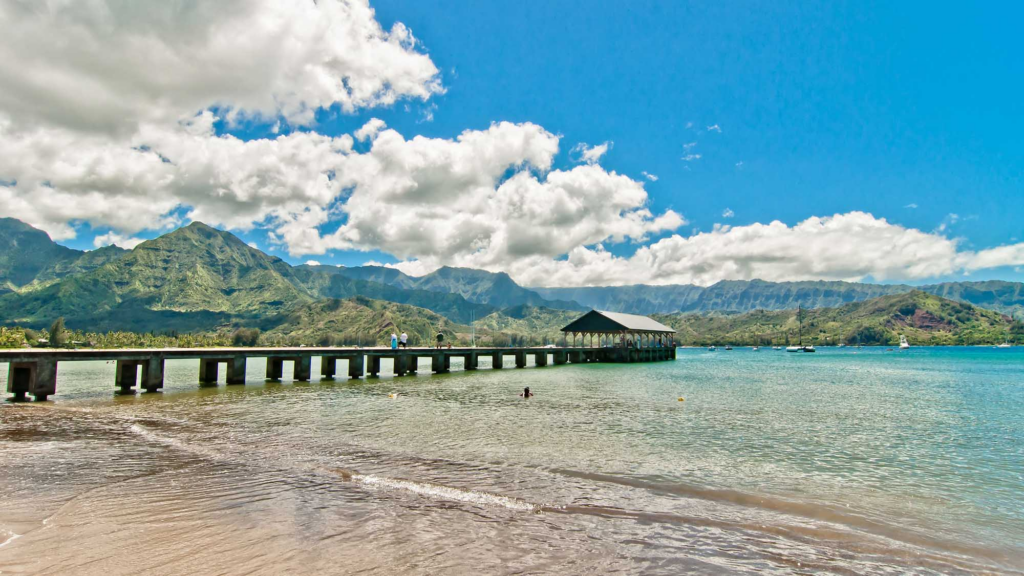 Best for: Beachactivities
Hanalei Bay Beach on Kauai's north shore consists of two miles of white sand, allowing everyone to spread out and enjoy their own space – even on a lovely beach day!
The deep cove and reefs bordering Hanalei Bay shelter the beach, with deep water and waves in the center of the bay.
Hanalei Bay Beach is great for all types of activities. Sit on the sand and soak up the sun or dive into the water for surfing, canoeing, kayaking and stand-up paddleboarding. It goes without saying that this beach is ideal for swimming, too.
Along the beach, you'll find rental shacks for equipment.
An old shipwreck lies just off the coast, making this an incredibly popular snorkeling and diving spot.
Just inland, bordering the sand of Hanalei Bay, is Waioli Beach Park. This large grassy lawn has plenty of shade for when the sun becomes a bit too much, as well as great picnic spots.
Hanalei Bay Beach Pier is the perfect spot for couples to walk hand-in-hand and admire the beautiful beach from the ocean. If you are lucky, you might spot a rainbow!
3. Shipwreck Beach, Poipu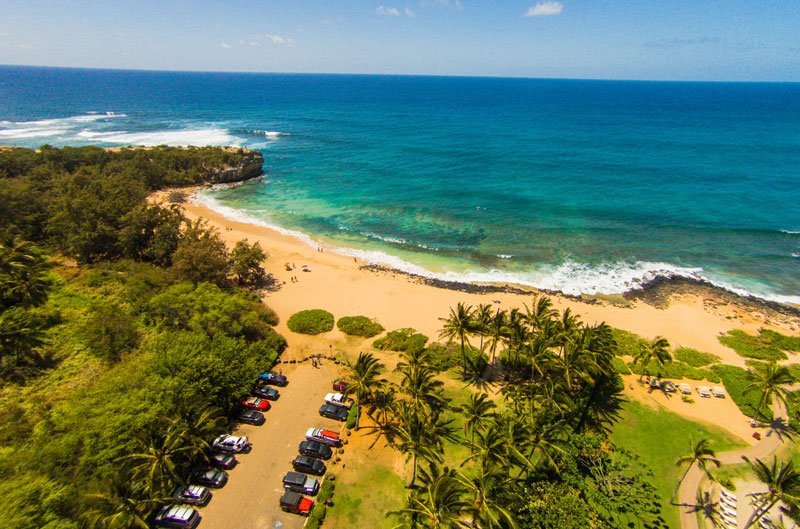 Best for: Experienced surfers
Just a five-minute drive from Poipu Beach Park is Shipwreck Beach – but here you will find a completely different vibe. With less relaxed waves and more daring surf, Shipwreck Beach is a popular destination with bodysurfers and surfers.
Shipwreck Beach gets its name from a wooden ship that sank just offshore many years ago and has since decayed completely. You can assume that if the sea here is rough enough to sink a ship, it's probably not the best swimming beach in Kauai.
Even so, this beach is well worth a trip. Not a lot of the tourist crowds head here, making it a beautiful and secluded beach – perfect for your next romantic date.
There are basic facilities like restrooms and showers, but no lifeguard on duty.
If you are into hiking, check out the 2-mile Maha'ulepu Heritage Trail, which starts at Shipwreck Beach and ends at Punahoa Point.
4. Salt Pond Beach, Hanapepe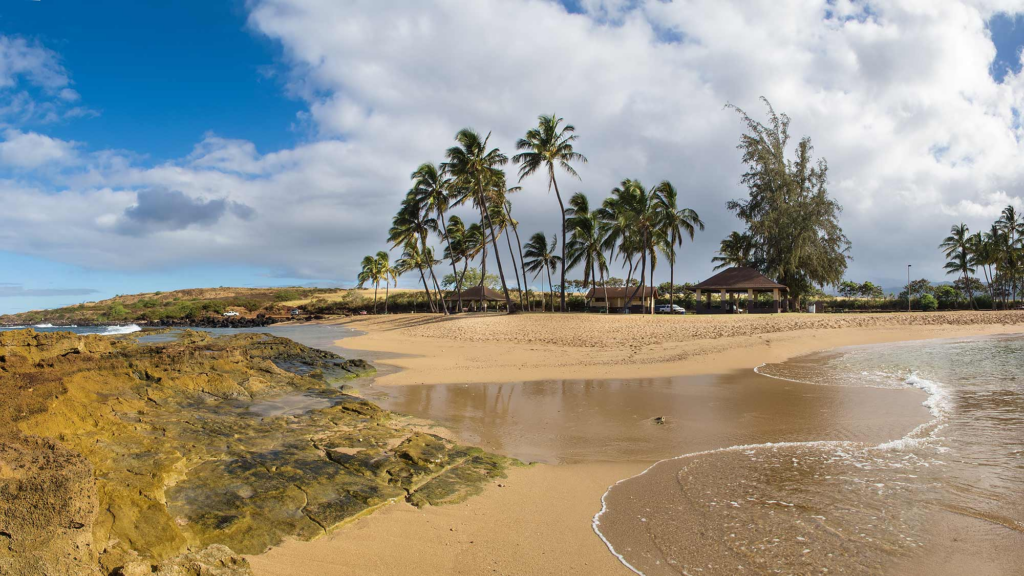 Best for: Wading in shallow waters
On the southwest shore of Kauai, you will find Salt Pond Beach. It's aptly named because of the salt flats next to the beach (more on that later).
Salt Pond Beach is great for people who are scared of the large waves in the ocean. There are lots of shallow pools and tidal pools, and the water is perfectly clear, giving hesitant swimmers the chance to spot some tropical fish.
This beach is also great for unconfident swimmers because of the lifeguards on duty. There are beach amenities for a family day out, like picnic tables, restrooms, and showers.
If you would rather skip the hassle of a picnic, Hanapepe is just five minutes away, and has plenty of restaurants that will cater to everyone.
Now, onto the salt beds… The salt beds at Salt Pond Beach are the only salt beds on this Hawaiian island – and strictly reserved for locals. Only Hawaiian descendants are allowed to harvest salt here, so best to steer clear and not stick your nose where it doesn't belong!
5. Kalapaki Beach, Lihue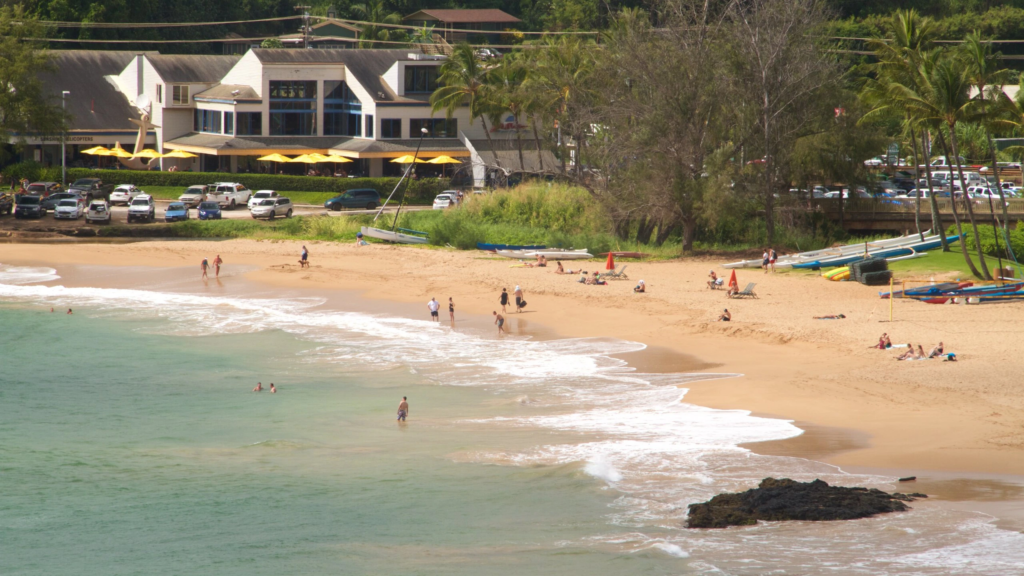 Best for: Swimming
Sandy Kalapaki Beach is in a secluded cove, making it one of the best beaches in Kauai for diving into the waves.
The reason Kalapaki Beach is so popular with tourists is that Nawiliwili Harbor, where cruise ships dock, is less than a mile away.
The waters here are incredibly calm because of the protected cove, making it ideal for bobbing in the ocean without having to duck waves every 30 seconds. It is also one of the most popular beaches for stand-up paddleboarding, for this very reason.
Don't have your own board? No stress; there are a couple of rental shops close to Kalapaki Beach.
Kalapaki Beach offers you the atmosphere of a private beach (with public access!) since it is located right in front of Marriott's Kauai Beach Club. Parking can be a bit of a mission, but once you find a spot you won't regret it!
There are restrooms, showers, and plenty of shops and restaurants just a short walk from Kalapaki Beach. So, once you're done with the sea, head into town for a bite to eat or some window shopping.
6. Lydgate Beach Park, Lihue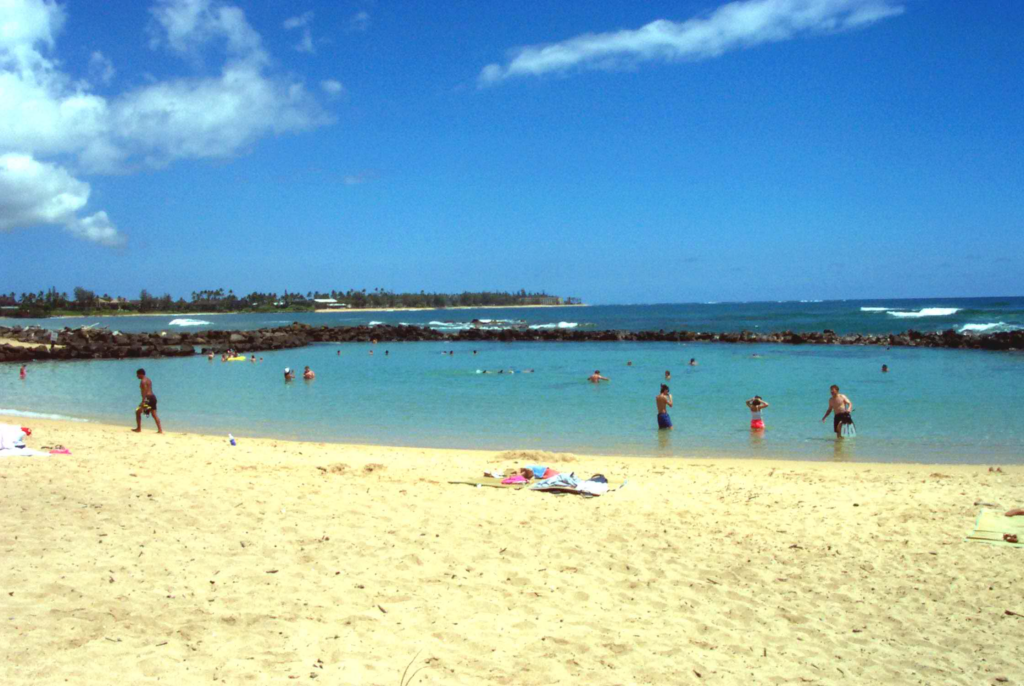 Best for: Year-round beach days
Lydgate Beach Park is one of the best places in Kauai to swim any time of the year.
Lydgate Beach was created in the 1970s when massive boulders were placed in a semicircle to construct a breakwater. Within this area, there is a small, shallow pool (around three feet deep) and a five-foot-deep larger pool.
The calm water in the pools makes it perfect for snorkeling throughout the year – get ready to spot the small tropical fish visiting from the nearby reef.
The Lydgate campsites, the Kamalani Playground, and the Wailua Golf Course are close by.
Once you get tired of the beach (although, is that even possible?), head across the Wailua River towards Lae Nani Beach, where you will find a couple of restaurants, as well as hotels and resorts.
7. Anini Beach, Kilauea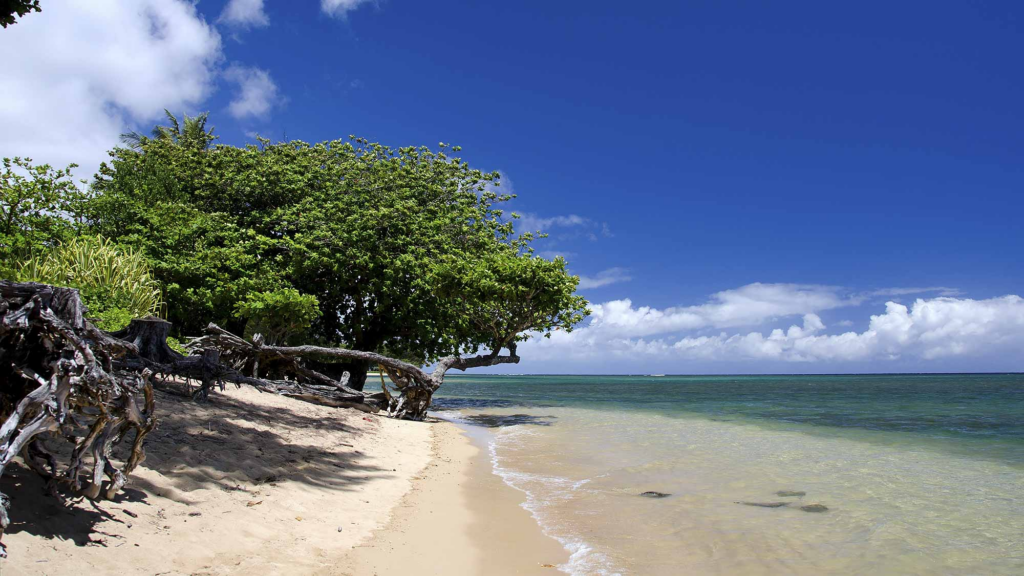 Best for: Smaller crowds
Anini Beach is another one of the best beaches in Kauai along the north shore. This beach is great for swimming and boogie boarding. It is a bit out of town (about 20 minutes from Hanalei Bay and 15 minutes from Kilauea) and much quieter than the other Kauai beaches in the area.
This shallow beach has calm waters (thanks to the 2-mile reef along the shoreline) and a wide sandy shore, making it perfect for wading and sunbathing.
There are restrooms and shower facilities, but no lifeguards on duty. Luckily, thanks to the shallow sea and lack of waves, lifeguards are seldom needed.
You can really make a day of it at Anini Beach, so pack a picnic (there are picnic tables) and your towels and relax away from the crazy Kauai crowds.
If you are an experienced diver, head out to Anini Reef (there is a boat ramp at the beach), but stay fairly close to shore and away from strong currents beyond the reef.
Couples who enjoy golfing on their beach holidays will love this location. The Makai and Princeville golf courses are nearby, and Club Wyndham Ka Eo Kai offers affordable three-star accommodation.
8. Polihale Beach, Waimea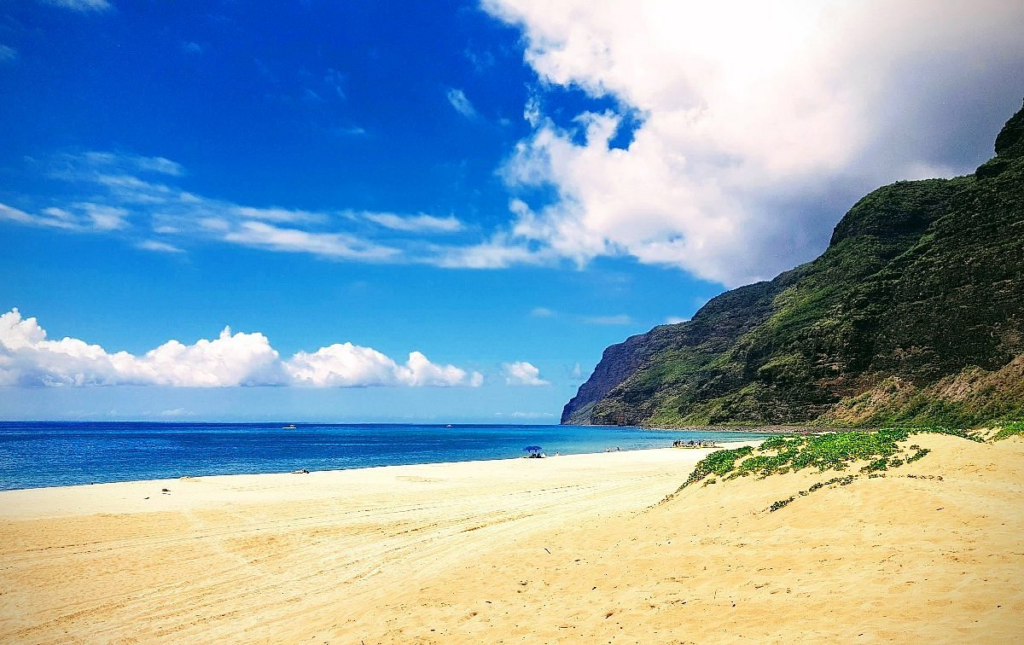 Best for: Isolation
If you want your personal slice of paradise, then Polihale Beach on the west coast is the perfect destination. This beach stretches for 17 miles and offers spectacular views of nature at every point!
Sadly, Polihale Beach is not great for swimming, as the sea is quite rough – but it is well-loved by locals for picnics and romantic strolls.
It is not the easiest beach to access (or at least slightly more difficult than the other popular north shore beaches), but that is what makes it one of the best beaches in Kauai. You can reach it by bumping along a dirt road that was once used for sugar cane transportation. Locals suggest you use a 4WD or high-clearance vehicle.
There is a great camping spot along the eastern edge of the beach (you will require a permit), but there aren't a lot of facilities at the beach itself. Pack a towel, umbrella, plenty of water, and snacks, and you're all set.
There are some portable toilets and one outdoor shower in the parking area.
We've already mentioned the spectacular views – but the high cliffs and almost endless dunes surrounding the beach are beyond amazing for catching the best sunsets on the island!
9. Ke'e Beach, Ha'ena State Park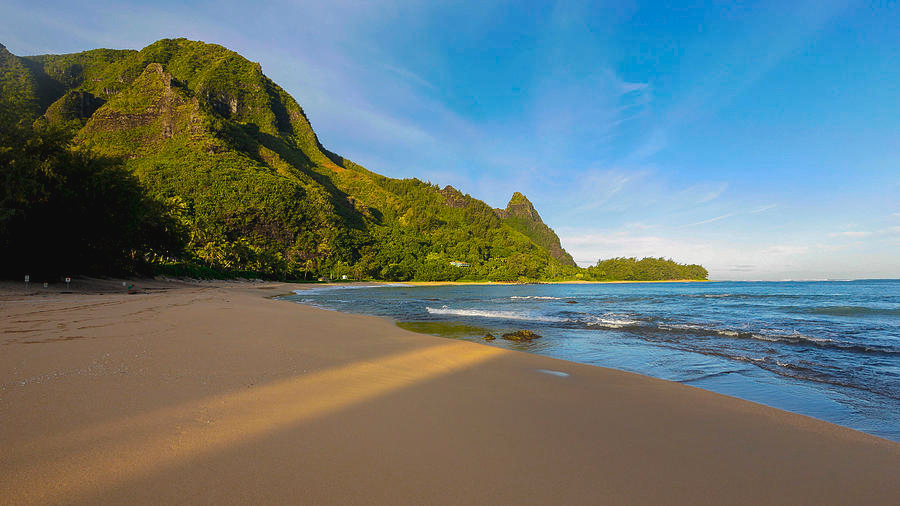 Best for: Photography
This popular north shore destination is one of the best beaches in Kauai for its beauty.
Because of its natural beauty, Ke'e Beach is ideal for wedding photos, engagement shoots, or influencers looking for the perfect shot.
That doesn't mean that swimming is off the menu though! Many people consider this one of the best swimming beaches on Kauai – and you will have a hard time convincing them otherwise.
Fans of Jurassic Park will also love this beach. Why? Well, the Na Pali Coast State Wilderness Park to the west is featured in Lost World. Knowing that this area was the home of fictional dinosaurs, you can just imagine how lush and unspoiled it must be.
Once you're done trying to spot a pterodactyl, grab your snorkel and head into the waves. There is a small, shallow coral reef just offshore where swimmers often spot elusive green turtles. The waters at Ke'e Beach are clear and shallow, perfect for any beachgoer (whether they want to take pictures or not).
10. Tunnels Beach, Ha'ena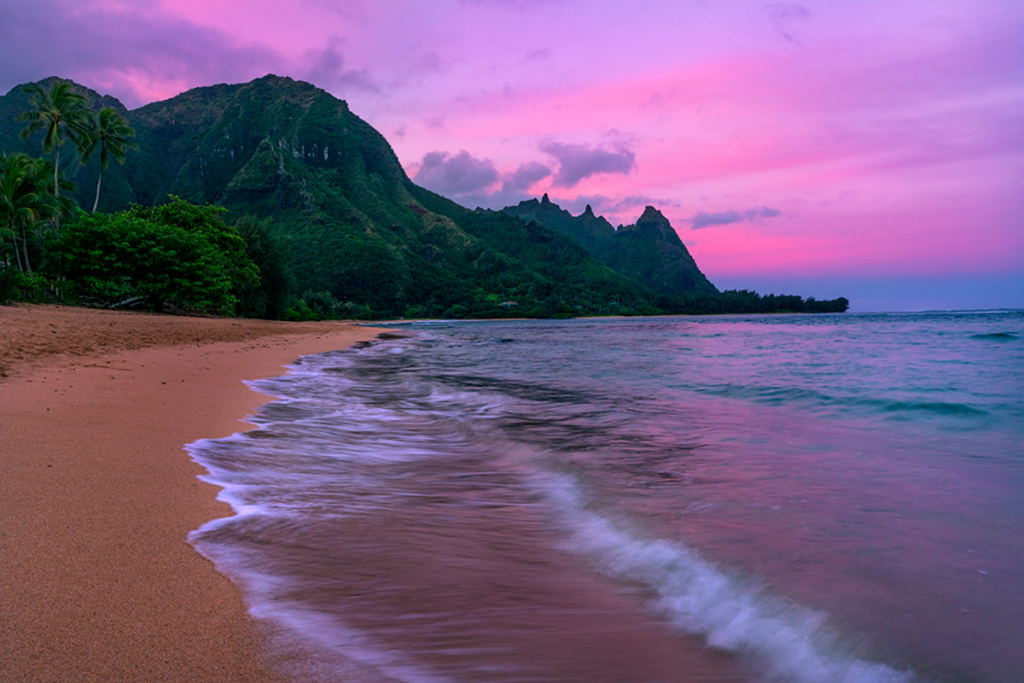 Best for: Snorkeling and diving
Tunnels Beach is one of the best beaches along the north shore for snorkeling and diving. People travel from across the world to submerge themselves in these waters.
This spot is not easy to get to, however. There are two access roads, and the residents of the nearby town have graciously marked them to help tourists find the beach. There is no parking at the beach itself, but the narrow road has places for cars to park along the side – if you get there early enough!
If you're not into diving, don't worry! As one of the most popular holiday spots in Kauai, Tunnels Beach still has plenty to offer. Grab a seat at one of the picnic tables, comb through the sand for pretty shells, and watch the sunset over the sparkling waters.
11. Baby Beach, Koloa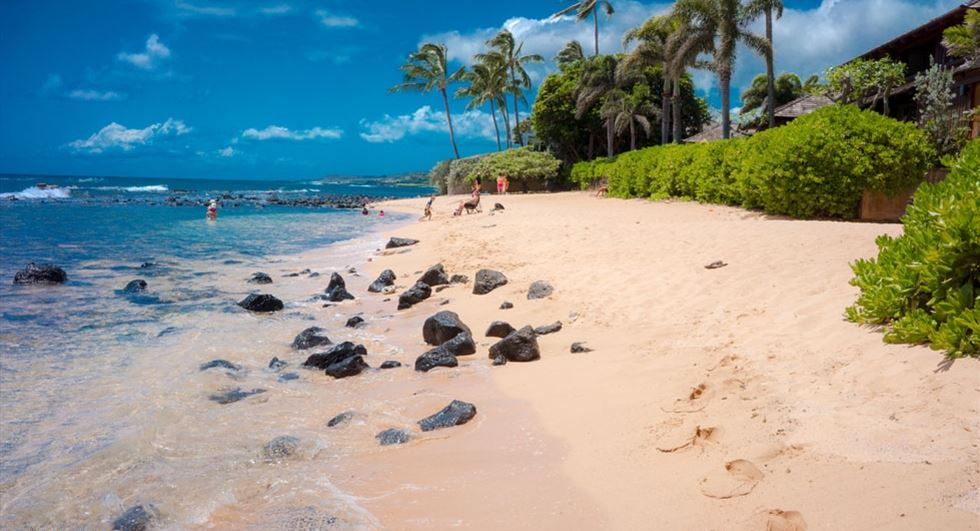 Best for: Relaxation
Baby Beach is the smaller sibling of the popular Kauai Poipu Beach, located just five minutes away. Even though it has many of the same facilities as Poipu Beach Park, it is far more relaxed, and you will see many couples heading here for a day out.
The waters are calm and warm, perfect for swimming, and there are many tide pools to explore and learn more about the island's marine life. If you're lucky, you might spot some endangered monk seals or sea turtles in the waves or resting on the sand.
The reason Baby Beach is less crowded than Poipu is because of its lack of amenities. You won't find a lifeguard on duty or restrooms here, but that is part of its charm.
Should the beach become a bit too hot or windy, there are many restaurants nearby where you can dust off the sand and grab a bite to eat.
12. Kealia Beach, Kapa'a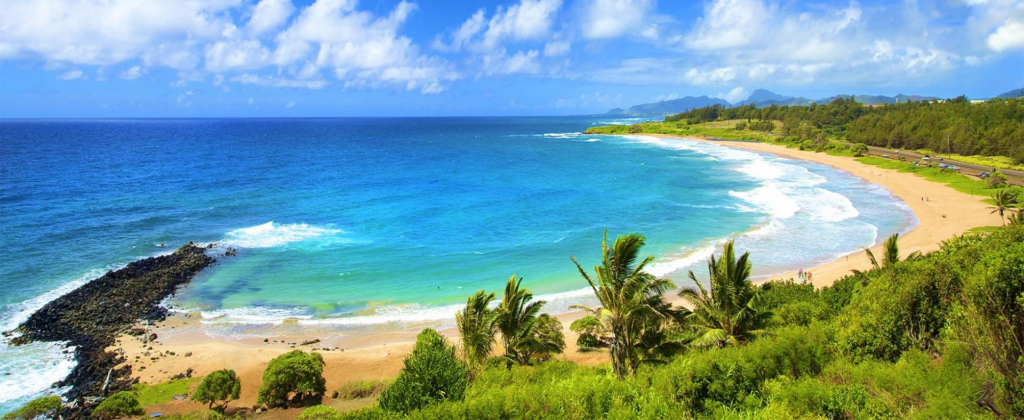 Best for: Pro surfers
Kealia, on the east coast, is one of those popular beaches in Kauai that's all about surfing. The wind is gusty and the swell is massive, but tourists still flock here to spot some of the best surfers in the world testing their skills in the dangerous waves.
Since swimming is pretty much out of the question for most visitors, the Kapa'a Coastal Path is a great place to go for an easy walk and to spot some whales during winter.
If you are adamant that you need to swim, check with the lifeguards to find the best spot – it is typically in the northern corner of the beach.
The facilities at Kealia Beach are adequate, with showers and restrooms available to the public.
13. Maha'ulepu Beaches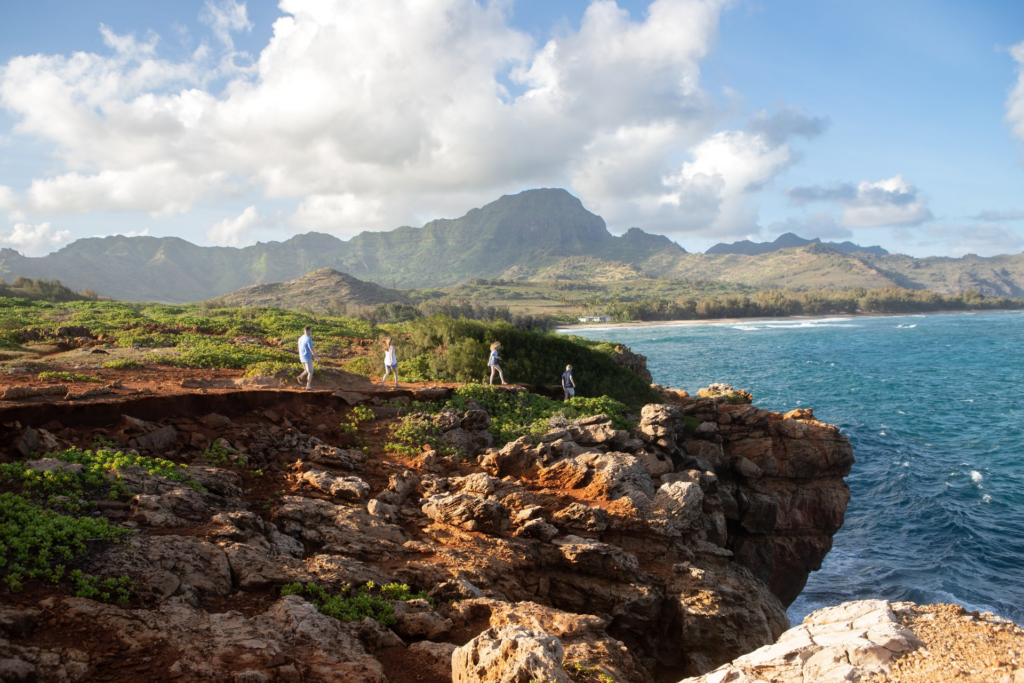 Best for: Uncrowded beaches
There are so many amazing beaches in Kauai that it is impossible to include them all in one list. This is why we include a couple of the Maha'ulepu Beaches along the south shore as one.
These beaches are usually uncrowded since they are not very easy to access – but they are worth the trip.
Gillin's Beach is a quiet, sandy beach backed by jungle. To get there, you either need to bounce along a potholed dirt road, or hike the Mahaulepu Trail.
The rough waves make this beach good for hanging out and less good for swimming. You can book the one house on the beach – Gillin's Beach House – if you want the whole place to yourself, or explore the nearby Makauwahi caves.
Kipu Kai Beach is another amazing, secluded spot along the coast. It's perfect for swimming, paddleboarding, and snorkeling. The road to the beach is a bit rough, so take your time and drive slowly.
Kawailoa Beach is yet another great secluded beach on Kauai. Picture turquoise waters, soft white sand and gentle waves lapping the shore. Windsurfers and kite surfers are always happy to make the trek to this spot.
Just note: none of the Maha'ulepu beaches have amenities, so pack accordingly! These beaches aren't great for kids either, but couples and outdoor enthusiasts have a lovely time exploring these coastal regions.
FAQs
Which side of Kauai has the best beaches?
There is no shortage of beaches on Kauai, but the southern coast definitely has some of the best on the island. Along the southern shore, you will find many popular beaches, such as Poipu Beach, Baby Beach, Shipwreck Beach, and Salt Pond Beach.
Of course, that doesn't mean the other beaches are lacking – each of the beaches in Kauai has something to offer everyone!
When is the best time to travel to Kauai?
Kauai is a wonderful holiday destination throughout the year, but the best times to visit are from September to December or April to June.
These times of year are less crowded, but the weather is still lovely. You also tend to miss the mad tourist rush, meaning accommodation and activities will be more affordable. If you really want to save some cash, book everything way in advance for the best deals!
What is the best way to travel around Kauai's beaches?
There is an inexpensive bus system around the island, but it is not very tourist-friendly. The best way to see the island and travel to the many amazing beaches is to rent a car. There are also a couple of taxis offering transport from the airport to your hotel, but after that you'll need an alternative way of getting around.
The average cost of renting a car on Kauai is $152 per day.
Are there private beaches in Kauai?
Except for the Federal Government areas on the island, all Kauai beaches are open to the public! There are no private beaches on Hawaiian islands!