Los Angeles has a vibrant culture unlike any other, with delightful landscapes, and iconic beaches spread around Santa Monica Bay.
With miles of shoreline to choose from for your next vacation getaway, it can be tough to choose exactly where to go, as you're spoilt for choice.
But don't despair, our ultimate guide to Los Angeles' best beaches takes you by the hand from trendy Venice Beach, with its pumping fitness scene and bohemian vibe to the laid-back Malibu opulence and perfect surf of Manhattan Beach.
It doesn't matter if your idea of a day at the beach is a romantic getaway for two or a fun day out in the sun with the dogs and surfboard. We'll help you to choose the perfect beach for your outing.
So, pack your sunscreen, grab your beach towel, and get ready for the best of Los Angeles' stunning coastline.
How We Choose Our Beaches
Whether you're newlyweds on honeymoon or an older couple, a really good beach must offer a variety of attractions.
Romantic walks on the beach are a favorite for all ages, so we look for beaches on pristine coastlines with beautiful white sandy shores.
The only thing we can't control is the hot sunshiney weather during your stay.
Now follow along as we help you to figure out which of Los Angeles' beaches is the ideal vacation spot.
1. Best Overall: Santa Monica State Beach, Santa Monica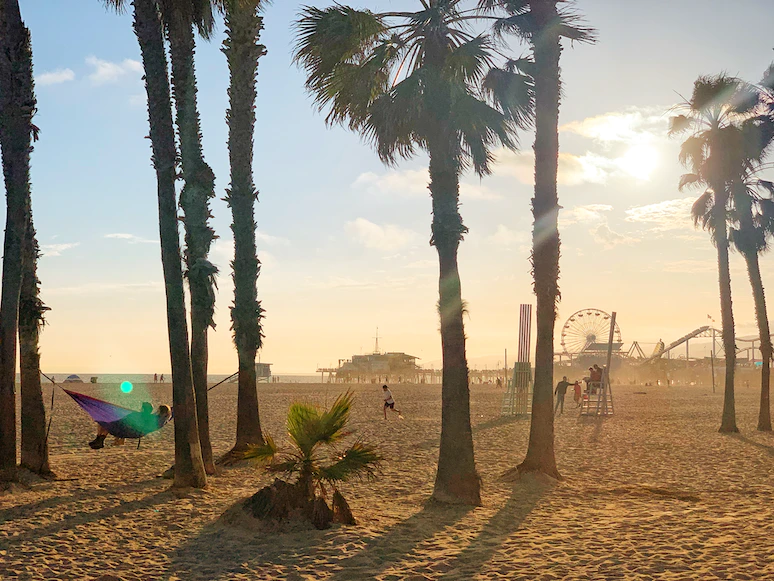 Santa Monica State Beach is definitely one of the all-time favorite beaches on this stretch of coastline. The golden sands, huge open areas for sports, and games like beach volleyball and frisbee make it a popular destination.
Santa Monica beach is well-tended by the city, so you can enjoy a relaxing afternoon sunbathing, take a dip in the deliciously warm water and just sit back and relax your troubles away.
Who knows, you may even see Arnold Schwarzenegger stroll by as this beach attracts a huge crowd, especially in the mornings.
If you're feeling the heat, then pop into one of the many restaurants and bars, or coffee shops to enjoy a refreshingly cool drink.
The Santa Monica pier is a short stroll away, providing visitors with a view of Santa Monica Bay together with a great vibe and plenty to eat and drink. The sidewalk is massive with ample space to take a stroll, ride your bike, or rollerblade with the other trendy beach lovers.
Santa Monica State Beach is located just 9 miles north of the Los Angeles International Airport. Take the Santa Monica Freeway west until it meets the beach and turns north onto the Pacific Coast Highway and you can't miss the Santa Monica Pier on your left.
The 3.5-mile Santa Monica State Beach provides plenty of fun and entertainment which includes an amusement park.
If you're there after dark, the nightlife is superb with bustling cafes, restaurants, and entertainment venues offering all-night fun.
2. Best for Beachfront Walks: Venice Beach, Los Angeles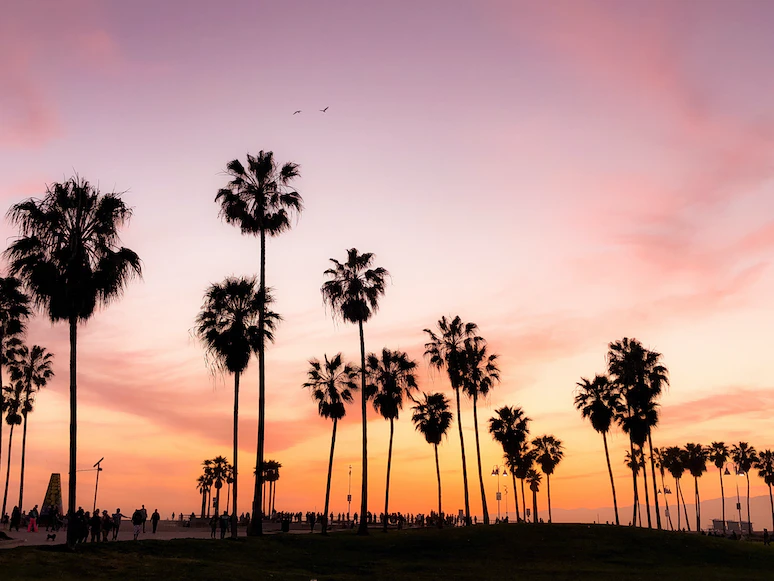 Two miles south of Santa Monica is Venice Beach, popular for its enchanting bohemian vibe, bustling boardwalk complete with street performers, and various arts and crafts vendors.
This is the largest beach in Los Angeles and includes sports fields, basketball, and tennis courts as well as a unique mix of tattoo artists, snack shops, and huge crowds on the weekends.
With hotels and accommodations right across the road from Venice Beach, you can step out onto the golden sand and be in the ocean in a matter of minutes.
You can stroll along the bike path that takes you all the way to Santa Monica and onto Redondo Beach. Or if you're feeling energetic, ride a bike or rollerblade to your heart's content to Manhattan Beach further south.
3. Best for Romantic Getaways: Malibu Beach, Malibu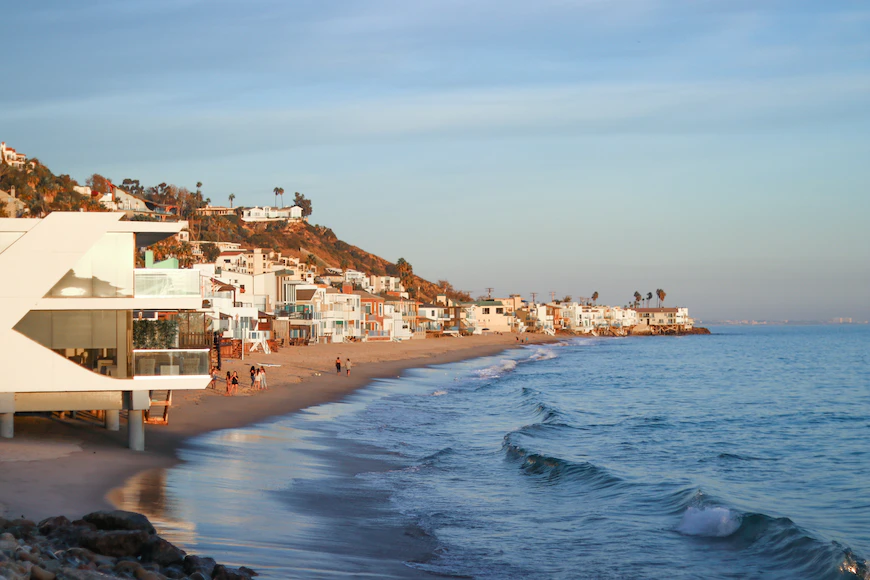 Follow the Pacific Freeway north from Santa Monica and you'll come across Mailbu Beach which stretches for almost 20 miles along the coast.
This is not just one beach but rather a romantic swathe of beaches including stretches of wide-open sand intersected by delightful coves. Many of these beaches are only accessible via long winding pathways that work their way down the cliffs.
Be prepared for a little bit of a slog from the car park if you're intent on enjoying the peach and tranquility of these little gems.
4. Best for Surfers: Zuma Beach, Malibu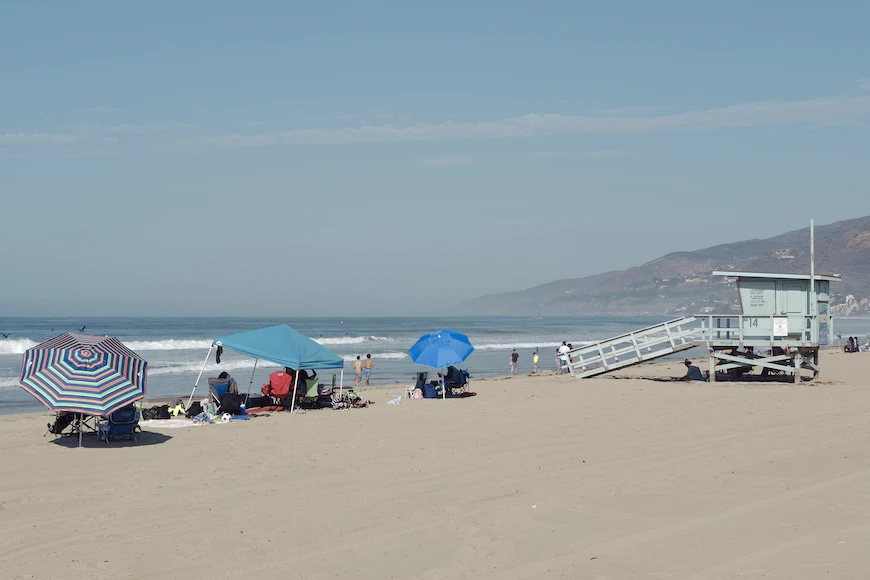 Located on the northern end of the Malibu beaches, Zuma Beach is a widely popular hangout for surfers as well as a popular spot to play beach volleyball and sunbathe.
While it is popular, there are almost 3 miles of flat beach to choose from once you get over the dunes that separate the boardwalk from the sea.
You can access the area via the parking lot or follow the bike path. Once there, rest assured that the 14 lifeguard towers will help to keep non-swimmers safe. Food and snacks are well catered for with various vendors providing excellent service.
Be careful of the secluded cove at the south end of the beach as it is not accessible at high tide and the rocky cliffs offer no way out.
But, make a slow trek up the beach at the end of the day, and you've got an awesome sunset to look forward to with exquisite seafood on offer from the Sunset Restaurant as you while away the hours.
5. Best for Watersports: Topanga Beach, Los Angeles County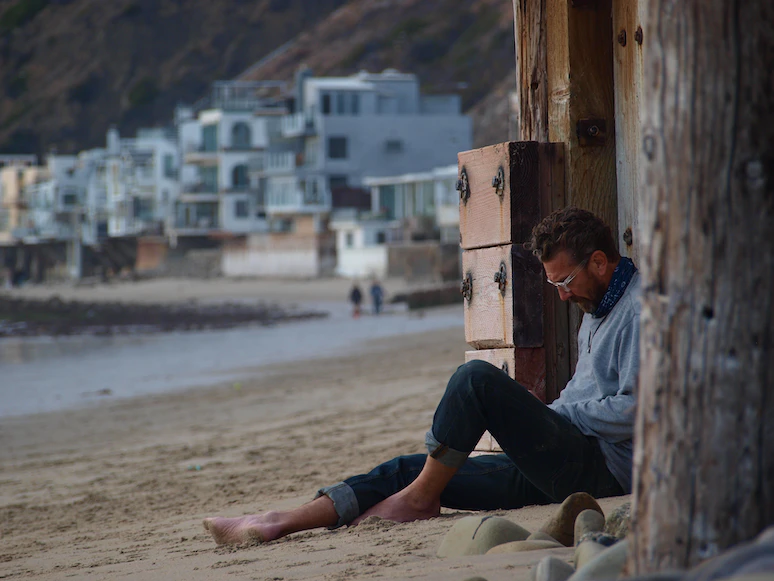 For movie buffs, Topanga Beach is sure to set your pulse racing as it is one of the original surfing beaches, featured in many TV shows and movies over the years.
The beach is a mile wide and more suited to watersports than sunbathing or beach volleyball. The rocky and pebble-strewn beach offers outdoor showers as well as clean bathrooms at the parking lot but it is not recommended that you swim here.
For an adventurous outing, bring your surfboard, scuba gear, or fishing reel.
Access to the beach is helped by reliable public transport with a metro stop right at the beach.
6. Paradise Cove, Malibu
If you're looking for a romantic destination, then Paradise Cove offers a semi-private beach as well as an awesome restaurant. You can book into the luxury cabanas, stroll across to your very own private beach area and enjoy beach chairs and waiter service right out of the movies.
Paradise Cove is located beside the Malibu Pier and the beach above the high water mark is reserved for your exclusive use as a private guest. If you're just visiting for the day, you'll have to pay for parking and can rent umbrellas and lounge chairs as well as enjoy all that the restaurant has to offer.
Expect to pay around $40 to park your car during the week and as much as $65 on weekends and over the holidays.
Tip: You can unfortunately not bring your dog as they are not allowed on the beach.
7. Malibu Lagoon State Beach – Surfrider Beach, Malibu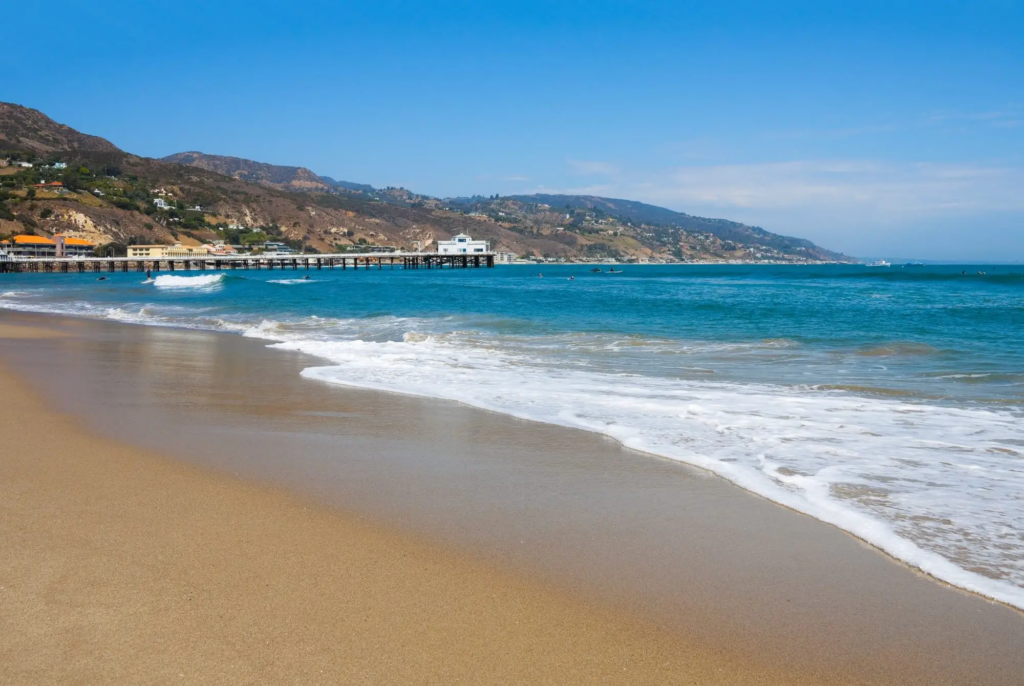 For surfers, Malibu Lagoon State Beach is a must-see as the waves are huge and it's a popular hangout for the experienced locals.
The area has a rich historical and environmental significance with plenty of signage available to point areas of interest as well as species of flora and fauna that inhabit the area.
Surfrider Beach is located next to the Malibu Pier and continues all the way to the tip of the Lagoon. If you're going to brave the water then you'll definitely need your wet suit as it's icy cold all year round.
There are lifeguards on duty during the day. But unfortunately, the amenities are a bit limited with porta-loos being the only option. However, the beautifully sandy Malibu Lagoon State Beach beach offers a great place to sunbathe.
And once you've finished on the beach, there are comfortable picnic spots closer to the parking area. You'll find showers there to wash off your day's collection of salt and sand as well.
One of California's historical landmarks, The Adamson House, is located just above the lagoon and you can book a tour with the museum if you want more information on the history of the area.
Malibu Lagoon State Beach offers great opportunities to observe the local birdlife as well as explore tide pools. Just remember, as with many of the beaches in the area, dogs are not allowed.
8. Manhattan Beach, South Bay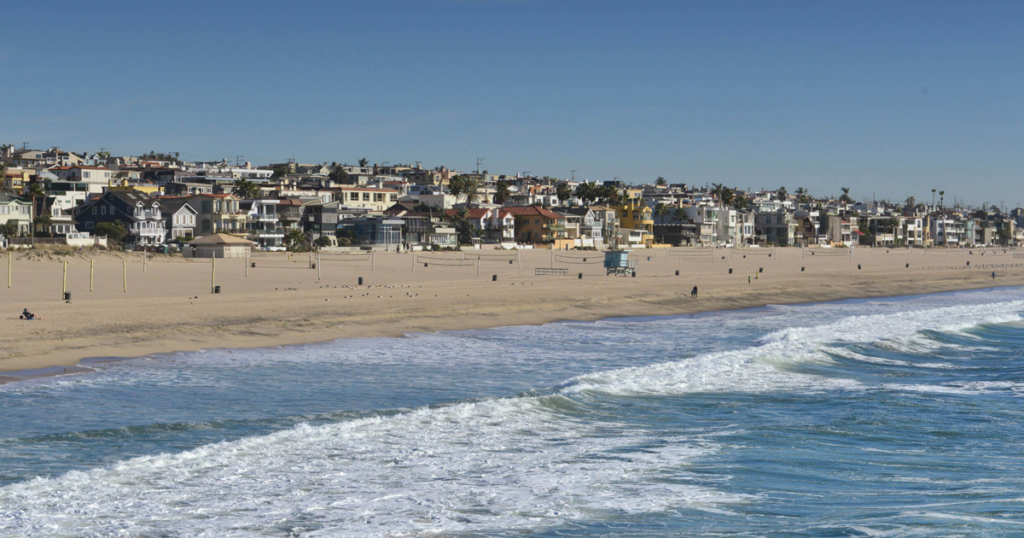 Manhattan Beach is slap-bang in the middle of an upscale neighborhood and offers the picturesque Manhattan Beach Pier as well as a variety of beachfront restaurants.
The beautifully wide sandy beach with volleyball courts is served by restrooms and showers but has limited parking nearby.
Once again, dogs are not allowed on this beach.
Manhattan Beach is very well maintained with lifeguards on duty during the day and you can wander over to the small aquarium when the beach no longer holds your attention. If you're feeling adventurous you can use the bike and walking trail to get a view of the luxury houses and hotels that pepper this piece of the coastline.
Who knows, you may even catch a glimpse of your favorite movie star.
9. Hermosa Beach, North Redondo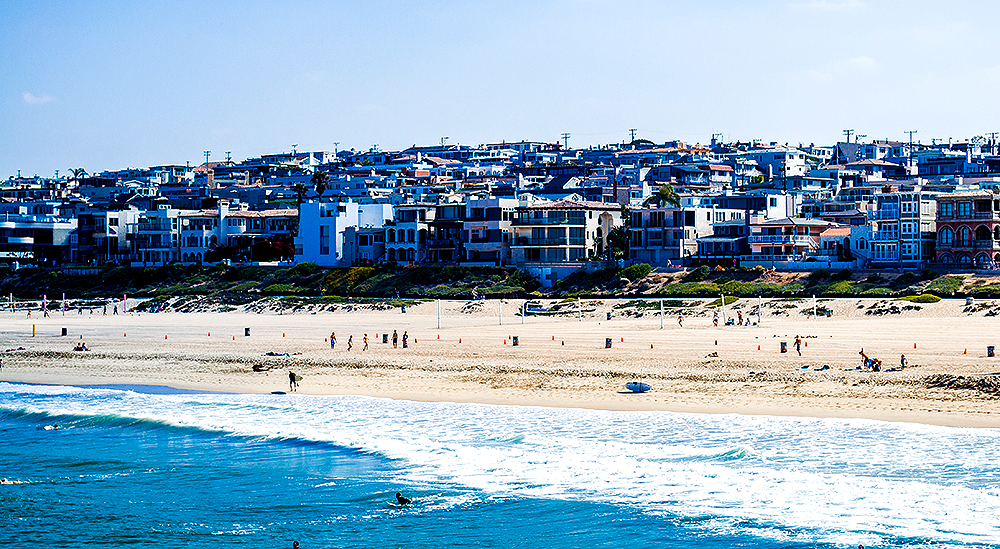 Located on the Pacific Coast Highway just past Manhattan Beach and close to Redondo Beach is Hermosa Beach, known for its laid-back vibe. It is great for sunbathing as well as beach volleyball.
Hermosa Beach is a popular spot for fishing as well but for those taking it easy on vacation, you can pick any one of the many restaurants that dot the coastline, offering the very best cuisine.
There are ample restrooms and showers accessible from Hermosa Beach but as is usual on this stretch of beachfront, parking is at a premium and can be expensive. Also, you can't bring your dogs onto the beach.
The nightlife around Hermosa Beach is a major drawcard and you will have easy access to the main shopping and dining areas on Pier Avenue and Hermosa Street.
10. El Matador State Beach, Malibu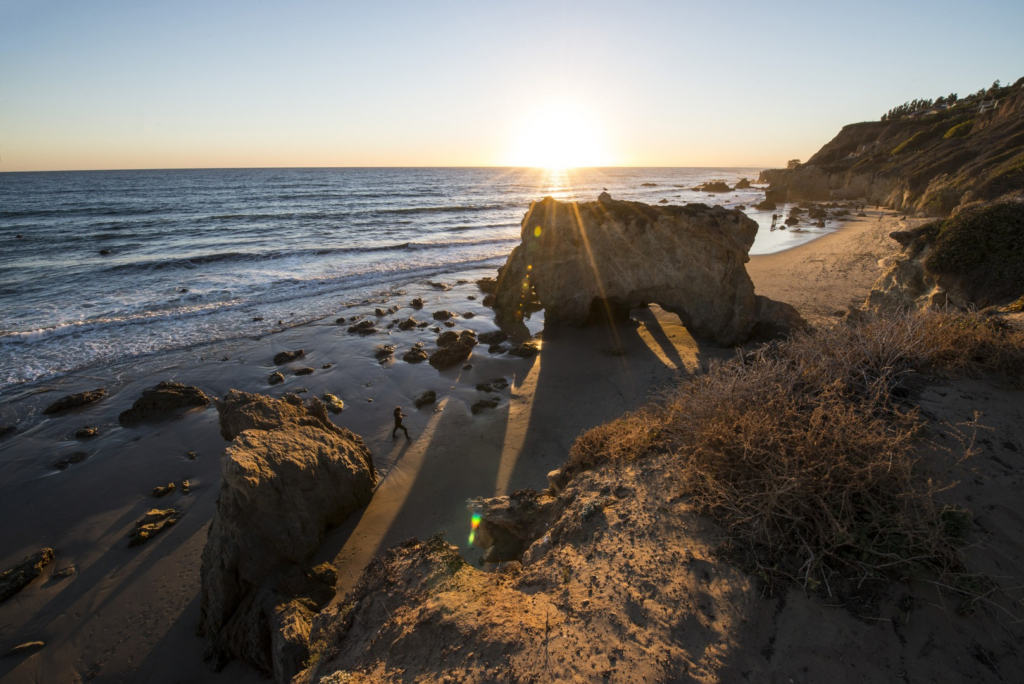 This state beach is a 45-minute drive from the city, but undoubtedly worth it.
What strikes you first when entering El Matador State Beach from the Pacific Coast Highway is its secluded and romantic setting together with impressive views of the surrounding Malibu coastline.
The beach forms part of the Robert H. Meyer Memorial State Beach and is well-known for the fantastic swell and beach break, making it a surfing hotspot.
The three small beaches that make up El Matador State Beach will enthrall photographers and artists who are sure to enjoy the mesmerizing eroded rock formations and caves together with the great swimming and sunbathing for which the area is famous.
The downside is that there are no facilities and parking is very limited. So, you'll have to come prepared with food and beverages if you want to enjoy an extended stay.
11. Carbon Beach, East Malibu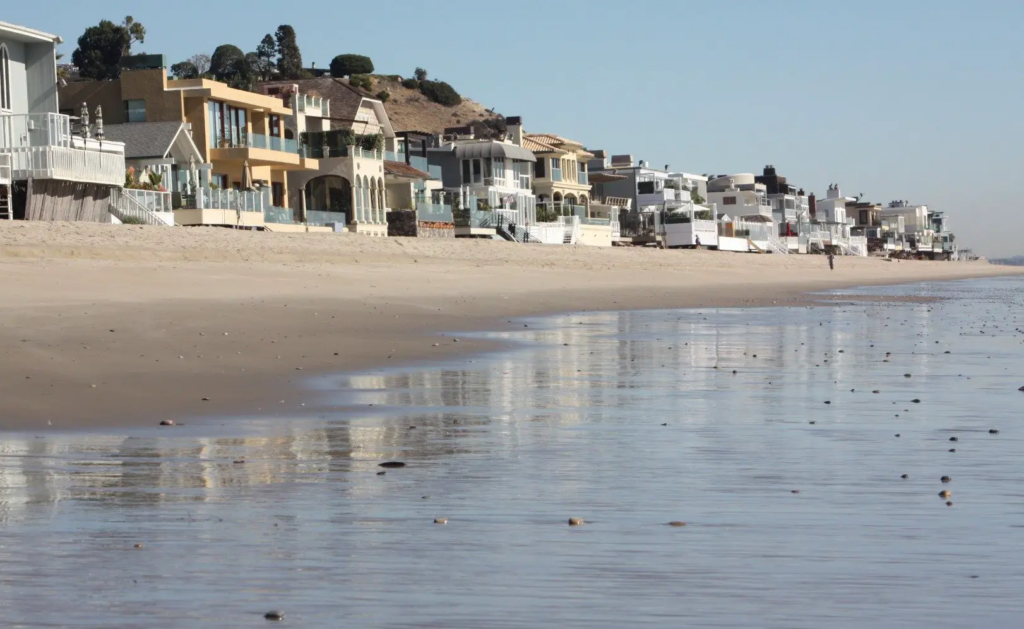 Carbon Beach is a secluded spot with luxurious upmarket homes and the perfect place to try and catch a celebrity out for a swim.
Often referred to as the Billionaires Beach, it's an exclusive area but the beautiful sandy white beaches are open to the public. After enjoying a day of swimming and sunbathing, you'll find the restrooms and showers are spotlessly clean and a pleasure to use.
You can access the parking area via the Pacific Coast Highway but make sure that you avoid blocking driveways when you park your car.
12. Huntington Beach, Orange County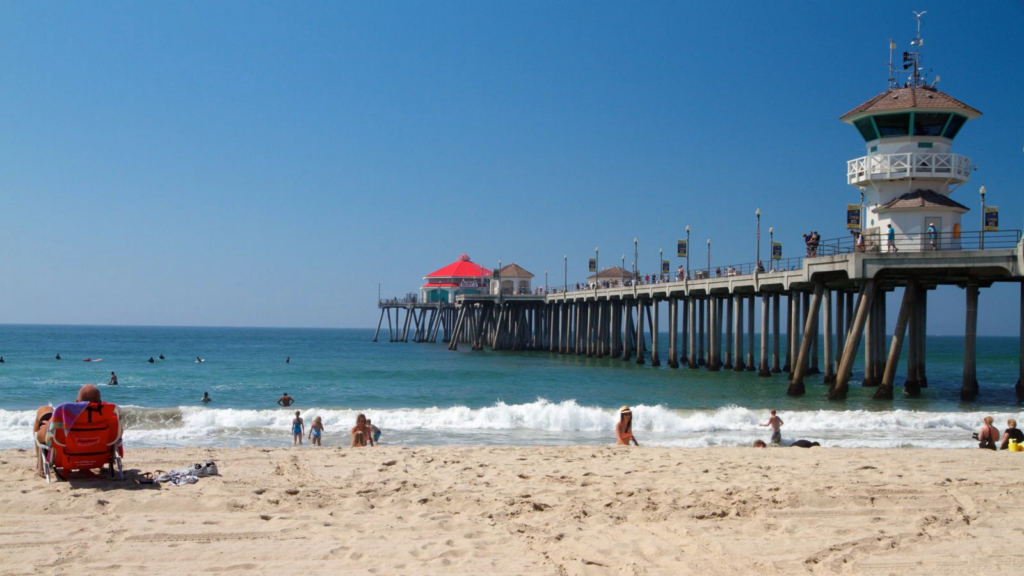 When you hear the name Huntington Beach you will immediately associate it with watersport and more specifically, the Surf Capital of California.
Located on the south end of the Pacific Coast Highway, Huntington is home to some of the most breathtaking white sandy beaches in California and consists of almost 10 miles of perfect beachfront.
It stretches out on either side of the Huntington Pier and has easy access to the shopping district and the International Surf Museum.
On weekends and holidays, the beach is packed with sun-seekers, with September and October being especially busy due to the international surfing competitions held there.
You have all the usual amenities including beach volleyball courts, bike paths as well as restaurants and shops. There are strictly enforced rules prohibiting smoking and drinking alcohol on the beach.
When the sun goes down, the beach offers bonfire pits to liven up the evening.
You may also consider Bolsa Chica State Beach which is located in Huntington Beach and has the most awesome views of the coast as well as the wetlands nearby.
Another of the quaint little beaches in Los Angeles in the Huntington Beach area is Sunset Beach, nestled between Seal Beach and Huntington Beach. This stretch of sand is usually a lot less busy and you can enjoy fishing as well as swimming and surfing without the crowds you find on the main beaches.
13. Redondo Beach, Torrance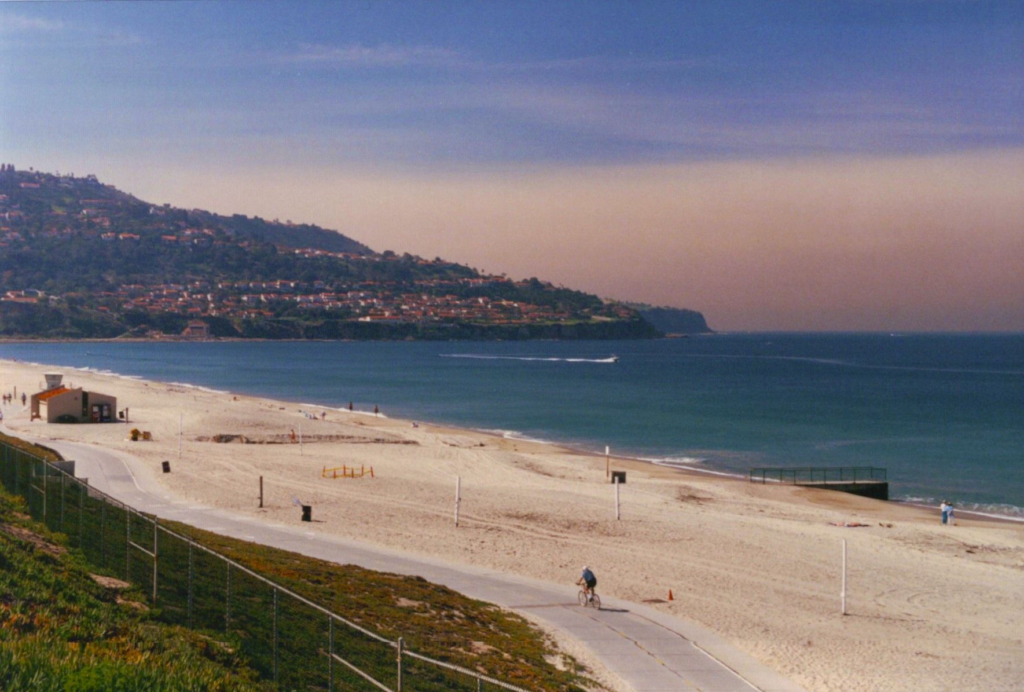 Redondo Beach is located to the south of Manhattan Beach and right next to Torrence Beach and is known for its pier and cluster of beachfront shops.
The town has a lively atmosphere with the beautifully wide Redondo Beach and promenade offering ample showers and restrooms, but with somewhat cramped parking.
Redondo Beach offers you the ideal place to take your significant other, and with the newly renovated pier, there's plenty to see and do.
After spending your day on the beach sunbathing, swimming, or kayaking, pop into one of the many restaurants to enjoy a delightful sundowner or meal.
The shops cater to all your needs from kayaks and SUPs to swimming trunks and beach towels. Access is a breeze as there's a safe bike path or you can use the metro trains (Green Line).
14. Playa del Rey, Santa Monica Bay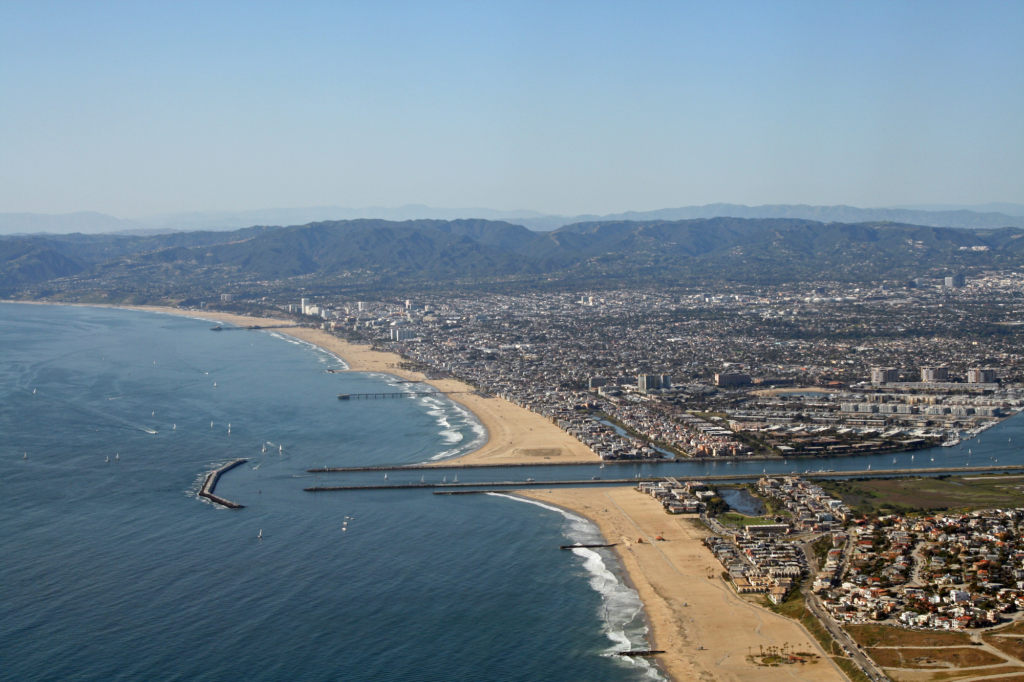 Playa del Rey Beach may not make the list of most sought-after destinations, but it is possibly the least crowded beach in Los Angeles.
It does lie below the flight path of LAX but the beach is around four miles long and for the most part untouched, virgin coastline. Located next to Marina Del Rey and Dockweiler, Playa del Rey enjoys pristine white beach sand with a protected wetland preserve backing onto the dunes.
You'll enjoy the wide open beach with tide pools to play in and plenty of open space to play a round of frisbee.
You're allowed to camp on the beach here and there are spots for RVs to hook up too – just make sure you book in advance though. Entertainment areas include volleyball nets, as well as rings for bonfires or campfires at night.
Access is fairly easy as the beach is located on the edge of a residential area with lots of on-street parking. There's a bike path that runs the full length of the beach as well.
15. Will Rogers State Beach, Pacific Palisades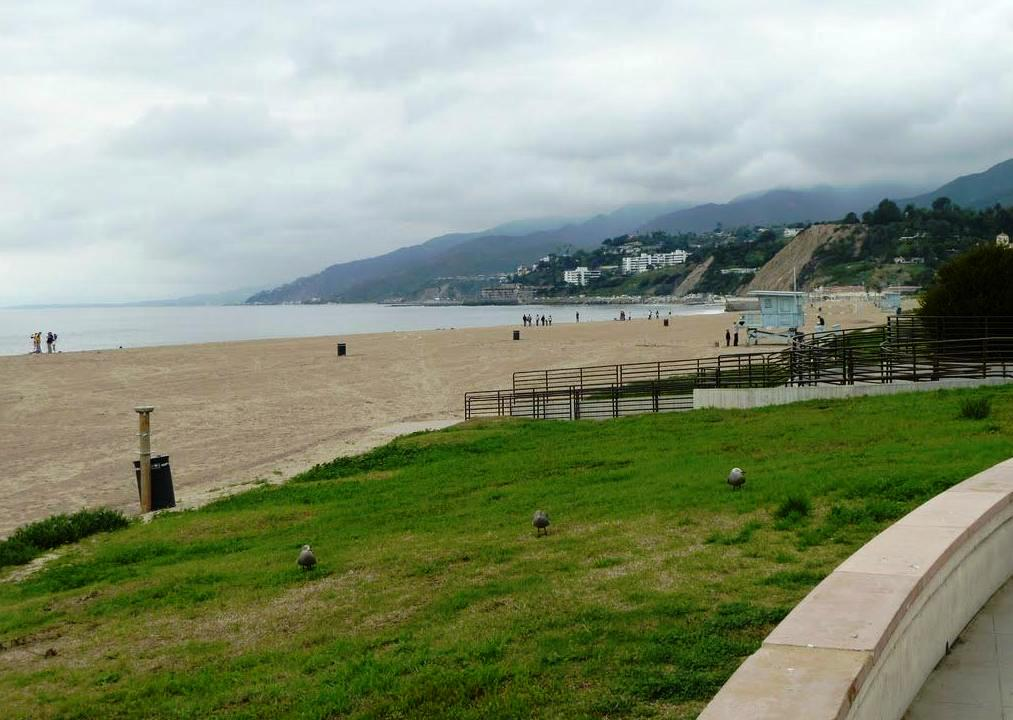 The Will Rogers State Beach is perfect for you and your partner if you want to get away from the hustle and bustle of the more popular beaches in Los Angeles, like Santa Monica Beach.
You'll enjoy the tide pools, white sandy beach, and idyllic calm waters, perfect for swimming and ideal for a peaceful afternoon sunbathing without the noise further down the coast.
The restrooms are clean and well-maintained and parking will set you back a small amount, depending on when you visit. Winter rates are $4 – $9 and in summer you'll pay between $4 and $15.
Try to avoid going on the weekend as traffic is heavy, but arrive early and enjoy the wonderful mountain views and soak up the relaxing atmosphere of this sometimes underrated beach.
16. Long Beach, East Side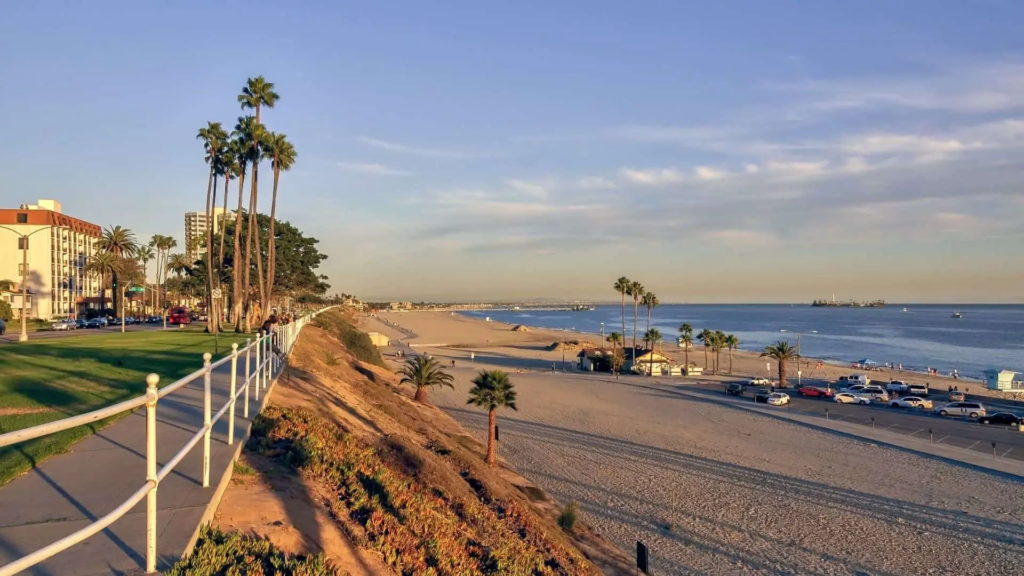 If you find yourself in California, then a visit to Long Beach is an idyllic place to spend a little time away from the hustle and bustle of city life.
While the Aquarium is great fun, it's a bit crowded with families and children during peak times. The Long Beach Convention and Entertainment Center as well as the Queen Mary are also within a short walk of the beach.
There's no smoking or drinking allowed on the beach and dogs are unfortunately forbidden. But, there's a beautiful bike path and pedestrian walkway that allows you to take in the sites with ease.
The water is great for swimming and you can usually see a beach volleyball game or two going on.
17. Cabrillo Beach, San Pedro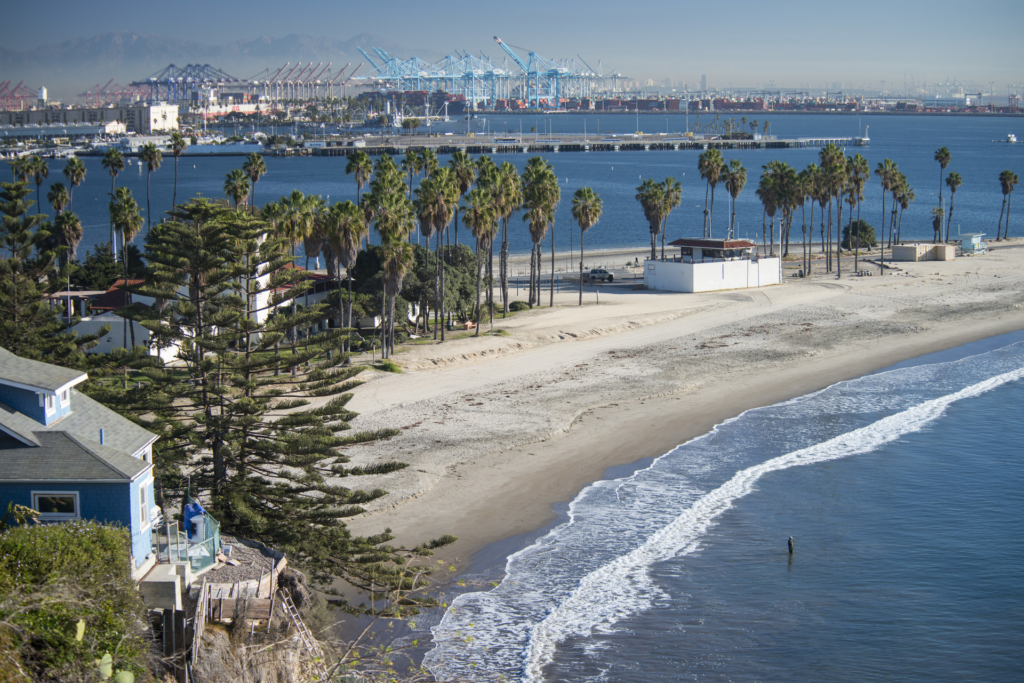 Another beautiful beach that deserves a visit is the quaint little Cabrillo Beach in San Pedro. The views are breathtaking and visitors describe the beach as spectacular.
The water is calm and there are well-appointed picnic areas. The look and feel of the area are similar to Redondo Beach, just with smaller crowds.
There's a nearby aquarium, but if you're not prepared to spend money, the tide pools scattered around the beach are home to plenty of sea life that will keep you and your partner entertained for hours.
Access is convenient and parking is plentiful, with beautifully clean restrooms and a little pier from which you can fish.
FAQs
What is the most swimmable beach in Los Angeles?
Based on feedback from locals and visitors alike, of all the beaches in Los Angeles, Santa Monica State beaches are considered the best for swimming.
What is the most famous LA beach?
Of all the Los Angeles beaches, Santa Monica is regarded as the most famous and iconic beach. It is the original muscle beach, made famous by bodybuilder, actor, and politician, Arnold Schwarzenegger.
What is the safest beach in Los Angeles?
The safest beach in Los Angeles is Will Rogers State Beach. Non-swimmers will love it for its quaint little tide pools and friendly atmosphere.