Greece is bursting with dazzling beaches, boasting hundreds of inhabited islands and miles of picturesque coastline. From calm, pristine stretches of sand to lively hotspots and hidden coves, this sunny Mediterranean nation is the perfect place to find your own piece of paradise.
Just note, some of the Greek islands tend to close down over winter, so it could be a bit more difficult to get to these beaches in the off-season.
Let's dive in and discover the best beaches in Greece, so your next holiday can be filled with fun in the sun!
1. Best for a Remote Escape: Elafonissi Beach, Crete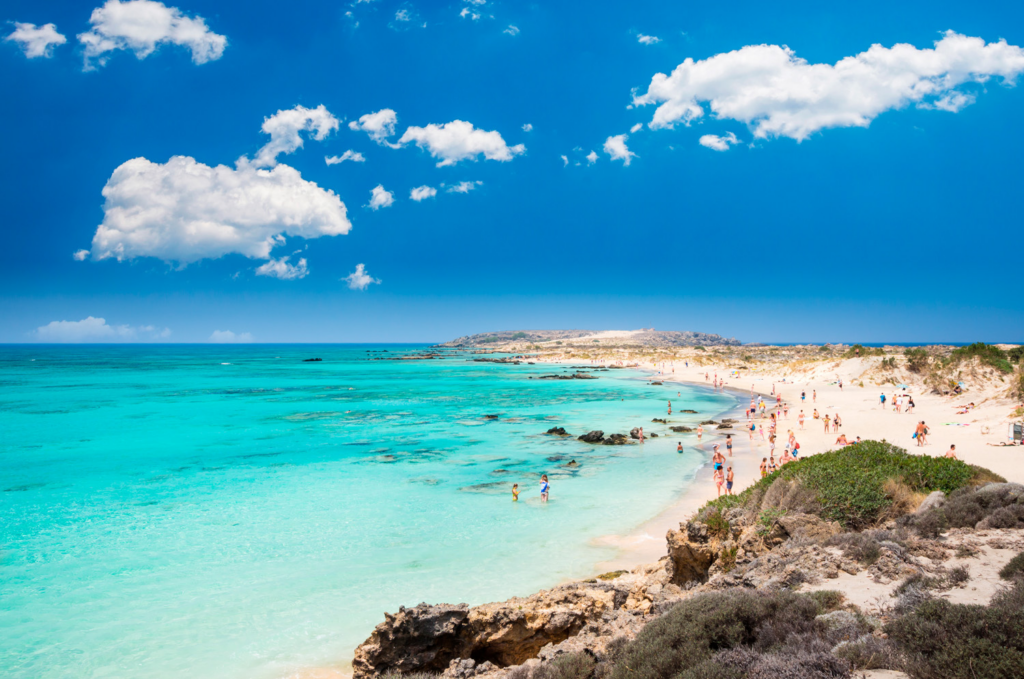 Experience the beauty of Elafonissi Beach; from its subtle pink sand to its aquamarine waters, it's like a tropical paradise right in the heart of Crete.
With no hotels in the area, it offers a remote feeling like no other, perfect for a peaceful, romantic getaway with your loved one. Sunbathe, wade, windsurf, and kiteboard on the safe, shallow waters. The stunning beach, complete with fine sand, is the perfect place to kick off your sandals and feel nature between your toes, while the clear waters glisten against a serene backdrop. But, no matter how tempting it might be, it's forbidden to take any of the pink sand away from the beach! Instead, explore the rocky areas of the beach, which is where you'll find the most of it.
There are a couple of snack bars dotted along the way if you feel peckish. But, besides that, the beach is relatively quiet and most definitely unspoiled. So, if you want to truly relax when in Greece, free from the hum-drum of tourists, Elafonissi Beach could be the perfect option. The nearest town is Gialos, which is around 26.5km away, where you'll find a few small hotels and villas.
2. Best for Beautiful Waters: Myrtos Beach, Kefalonia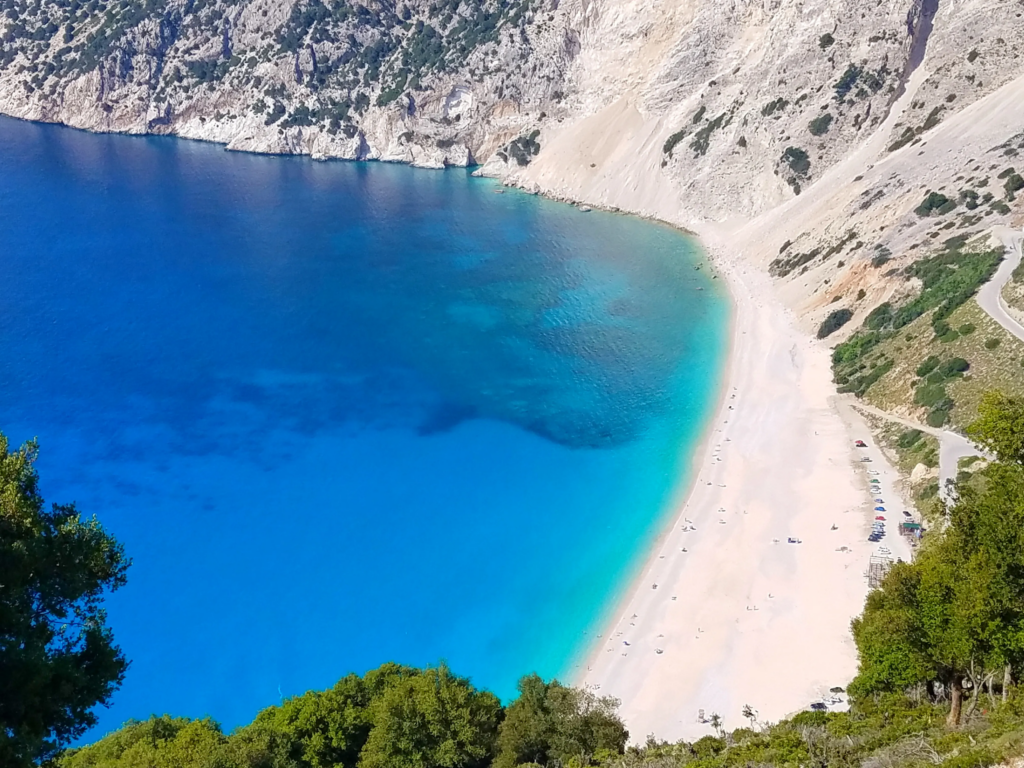 When in Greece, why not escape to the wild and beautiful Myrtos Beach on Kefalonia Island for an unforgettable beach experience? This stunning beach is tucked between two steep cliffs and features a wide semicircular shoreline of fine white sand and smooth pebbles.
At Myrtos Beach waves glimmer in stunning sunshine and the tranquil waters reveal a cool array of unforgettable shades, from teal to deep blue.
Enjoy a romantic sunset or take a drive along the narrow winding road, with astounding sea views along the way. Head to the beach for snacks or rentals of sun beds and parasols, or take a short drive to Agia Efimia for luxurious hotels with breathtaking views.
If you want to experience another stunning pebbled shoreline, take the short journey to Skala Beach. It holds the prestigious Blue Flag title, meaning it's one of the cleanest beaches in the country.
3. Best for Stunning Scenery: Paleokastritsa, Corfu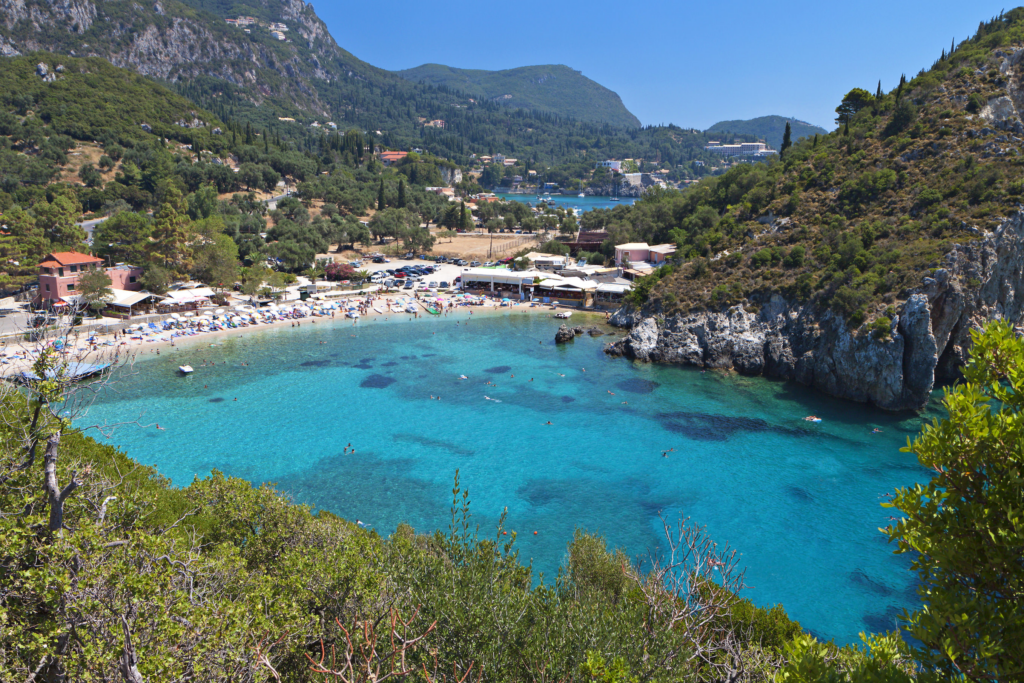 The stunning seaside village of Paleokastritsa is home to some of the most picturesque Greek beaches on Corfu, surrounded by olive groves. Paleokastritsa comprises six secluded bays that have crystal-clear green waters, perfect for swimming or any water activity.
While most of the beaches in Paleokastritsa have pebble shorelines, Agios Spyridon is the largest sandy beach. Rentals of sun beds, umbrellas, canoes, and motorboats are available on most of the beaches.
Agios Spyridon also has snack bars, cafés, and tavernas, while Alipa Beach has a little harbor, which is perfect for watching quaint little fishing boats coming in and out. Motor boats can be rented to sail to the neighboring beaches or explore the nearby caves. The village of Paleokastritsa is a popular resort area with plenty of hotels, shops, and waterfront tavernas.
4. Best for Exploring: St. Paul's Bay, Rhodes
Experience the charm of St Paul's Bay in Rhodes – a picturesque piece of paradise with a special place in history. It is said that the Apostle Paul's ship ran aground here during a severe storm.
As a result, a small church was built, which proves popular as a wedding venue, thanks in part to the unparalleled scenery. Created to honour St Paul who arrived here 21 centuries ago, the intimate church and its surroundings are an idyllic escape for those couples wanting to explore a dreamily romantic setting.
Why not soak up some of this stunning scenery or take a dip in the crystal-clear waters of the bay's two beaches? You can choose between a golden sand beach to the south or a mix of sand and gravel to the north.
Perfect for swimming, snorkeling, and diving, the warm, calm waters of the bay make it a great spot for those with young children in tow. And, perhaps best of all, if crowds aren't really your thing, no problem. Simply visit anytime outside the month of August and you'll pretty much have the best of St Paul's Bay all to yourself.
5. Best for Adventure: Gialova, Messinia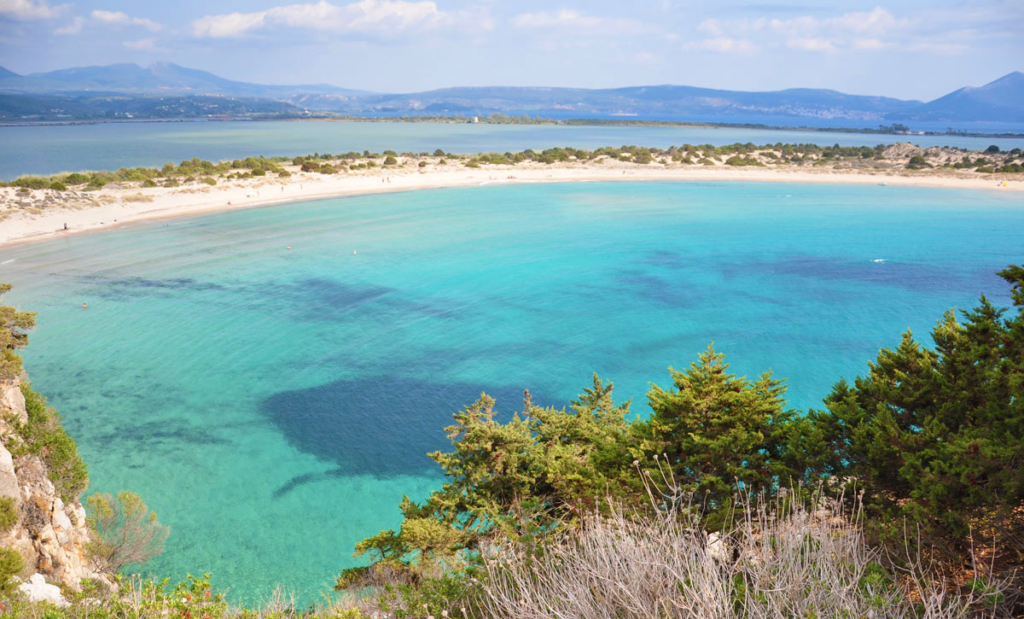 Take a trip to Gialova and explore the picturesque coastline of the Peloponnese. The lagoon is an adventurer's paradise, with its striking scenery and abundance of wildlife. So, if you don't feel like a day of relaxing on the beach, go for a hike around the olive tree-filled hills.
Don't forget to check out Navarino, an old castle in Navarino Bay, and Voidokilia Beach, all within easy reach. With so much to see and do, Gialova is a must-visit destination on the west coast of Greece for those who want a beach holiday, coupled with some adventure and history.
6. Elafonisi Island, Crete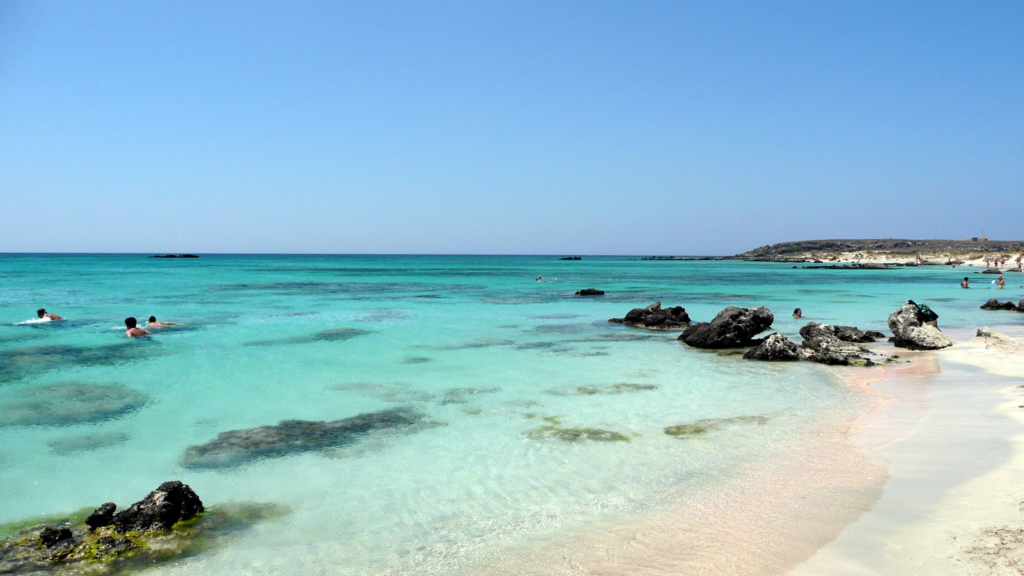 Undoubtedly, one of the best beaches in Greece is Elafonisi's dreamy wonderland tucked away in the southwest corner of Crete (not to be confused with Elafonissi Beach!).
The stunning pink-white sand, turquoise water, and soft rose dunes are like something straight out of a fairytale. As the water cascades across the shoreline, rainbows appear on its shimmering surface.
To reach the paradise-like Elafonisi Islet, a protected nature reserve, simply wade through 50 yards of shallow water or stroll across the thin, sandy isthmus. But, loathers of crowds beware. During the peak season, the wide strand is swarmed with umbrellas and sunbeds, which can put a strain on the environment and its limited facilities.
So, to fully enjoy this special place, plan your visit to Elafonisi Beach outside of summertime for a more peaceful and eco-friendly experience.
7. Paradise Beach, Mykonos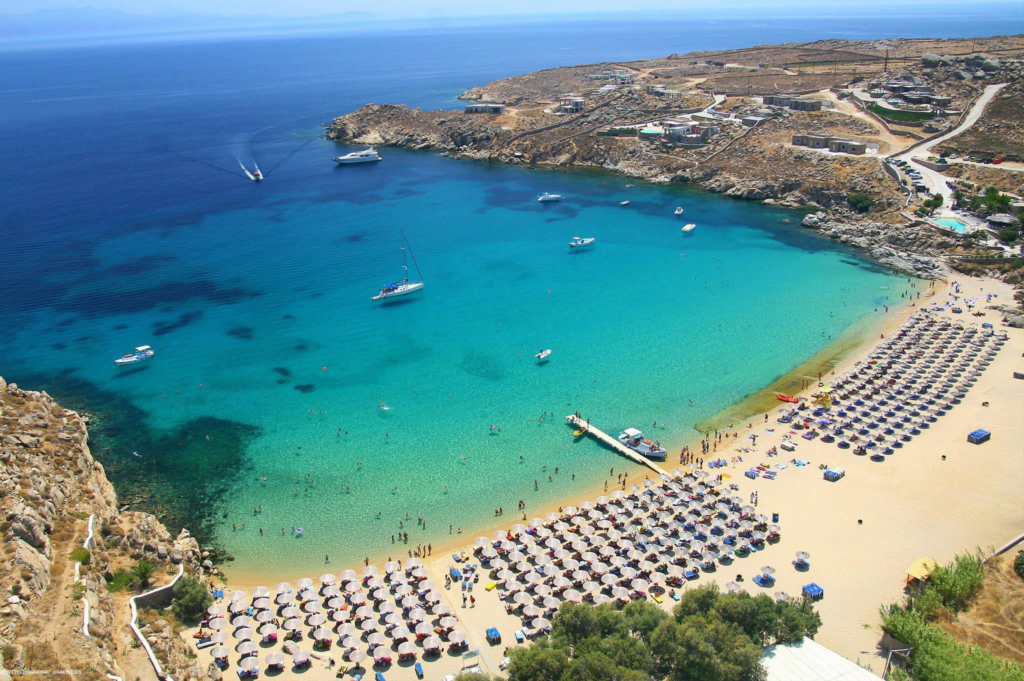 Is partying more your idea of a holiday? With its fine golden sand beaches, epic music spun by DJs, and upscale amenities, you'll have 24/7 access to the ultimate Mykonos experience at Paradise Beach.
For thrill-seeking couples, there's the opportunity to rent water sports equipment and even take a dive at the diving center. When you're ready to explore, Paradise Beach Club is a short jaunt away – just two miles south of Mykonos Town, accessible by foot, boat, or bus. It is considered one of the most famous beach clubs in the world! There are daily parties, drinks and lots of fun in the sun.
8. Simos Beach, Peloponnese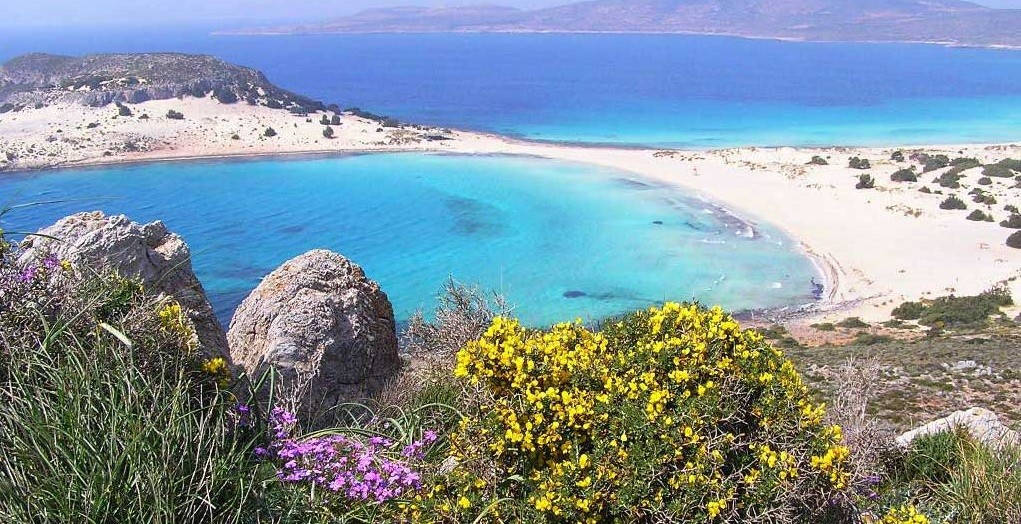 If you are looking for a tropical paradise, Simos Beach in Elafonissos is the perfect place to be. With its stunning white sand dunes, crystal clear waters, and lush palm trees, it's ideal for those seeking comfort, contentment, and some fun next to warm waters.
Whether you are looking for a fun-filled day of swimming, windsurfing or simply lounging on the beach, Simos has something for every beach-goer. There are two distinct beaches, Megalos Simos and Mikros Simos, both offering stunning views and a unique swimming experience. Both these beaches can be visited in the same day, for the ulimate day in the sun.
For those looking for a more organized beach experience, you won't be disappointed – Simos is equipped with sunbeds, umbrellas, beach bars, and even a couple of taverns nearby. No wonder it's known as one of the most famous beaches in Greece.
9. Balos, Crete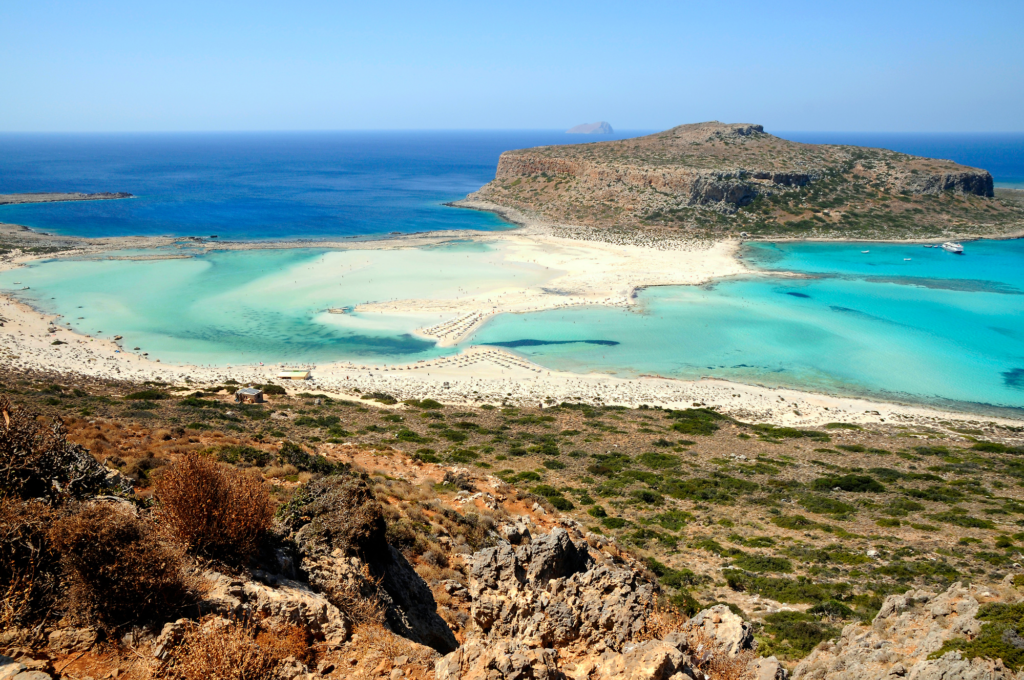 With its shimmering turquoise waters, soft white sand, and even some areas of pink sand (from crushed shells), Balos Beach is the ideal spot for a day of swimming and snorkeling. Those scared of a rough ocean will love the gentle, shallow waters, while more confident swimmers can explore the deeper, cooler waters beyond the lagoon.
There are no lifeguards at Balos, so bear this in mind when deciding how far out you intend to swim.
Plus, the area is home to a variety of wildlife, including protected monk seals, loggerhead sea turtles, Eleonora falcons, shags, and cormorants. There's a host of opportunities to see these amazing creatures in their natural habitats, so don't forget to bring your camera. Any day at Balos Beach is pretty much guaranteed to be a picture-perfect day.
But if you'd rather work up a sweat, you can always take the 6-mile hike from Kaliviani or drive along the rugged dirt road for a more adventurous outing. Although it's the perfect spot for a summer beach escape, you'll have to arrive early in the day to bag yourself a sunbathing spot
10. Navagio Beach (Shipwreck Beach)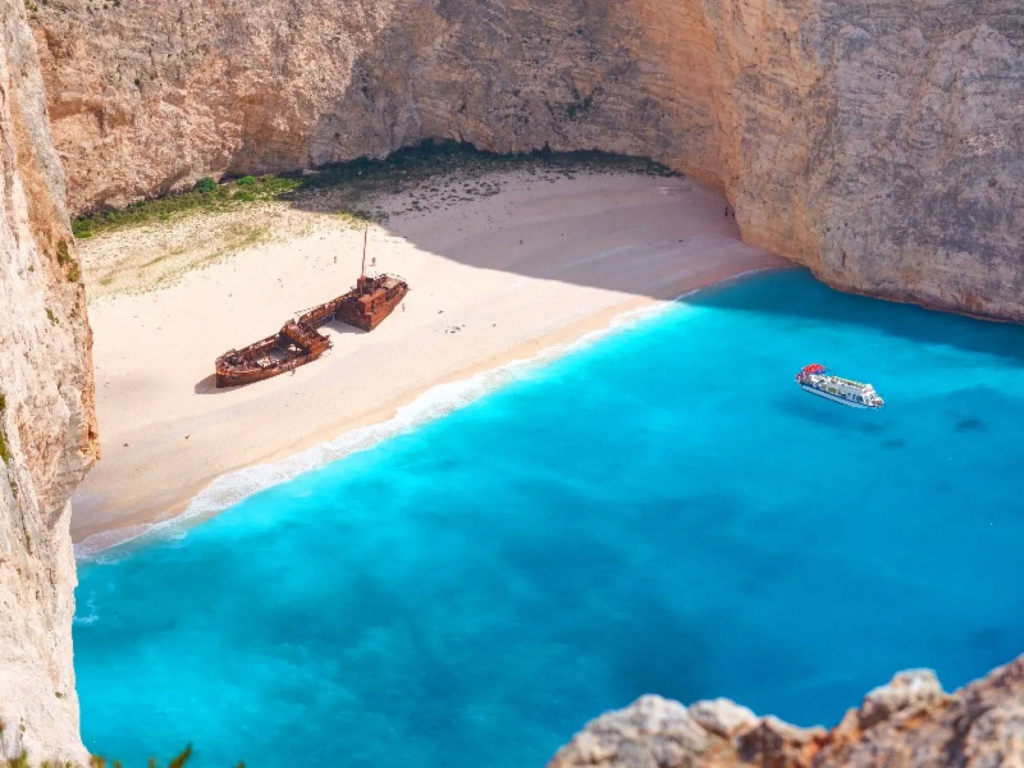 For intrepid seaside adventurers, Navagio Beach is the ultimate destination! Only accessible by boat, this famed beach on the Ionian Sea offers an unforgettable experience with its crystal-clear turquoise waters surrounded by majestic rock formations.
Infamous as "Shipwreck Beach" and "Smuggler's Cove", Navagio Beach is the final resting place of the Panagiotis, a cargo ship that ran aground in 1983. Although it is a little remote on the northwest coast of Zakynthos, Navagio Beach is still a top tourist destination, so the best way to visit is to arrive early in the morning before the crowds begin to gather.
There are tour companies on the island that offer day trips from Planos and Zante Town, however, these excursions are only available during the peak season from April to October. To make the planning easier, you can stay at one of the many hotels nearby.
11. Koukounaries Beach, Skaiathos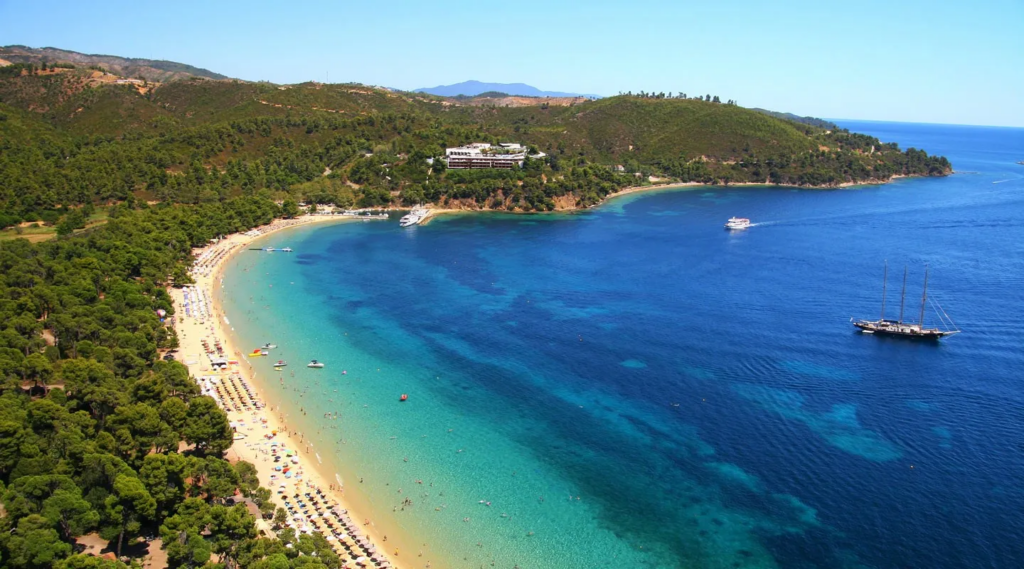 Koukounaries Beach is an exciting yet casual destination that offers something very special for holiday goers and locals alike.(It's always a great sign of a great beach when even the natives want a slice of the scenery!)
Since the 1960s, the beach has been protected, with its waters crystal-clear and perfect for swimming. And, with its pristine sand, it's one of the best beaches in Greece to soak up some sun. Lounge chairs and umbrellas are available for rent, and visitors can enjoy a snack at the beachfront snack bars.
After a day at the beach, treat yourself to dinner at one of the delightful local restaurants, tavernas, or beach clubs. No matter what your tastes, you'll find the perfect eaterie to you and your partner's tastes. From high-end Italian food to more moderately priced tapas, there's something to suit all tastes and budgets.
12. Psatha Beach, Attica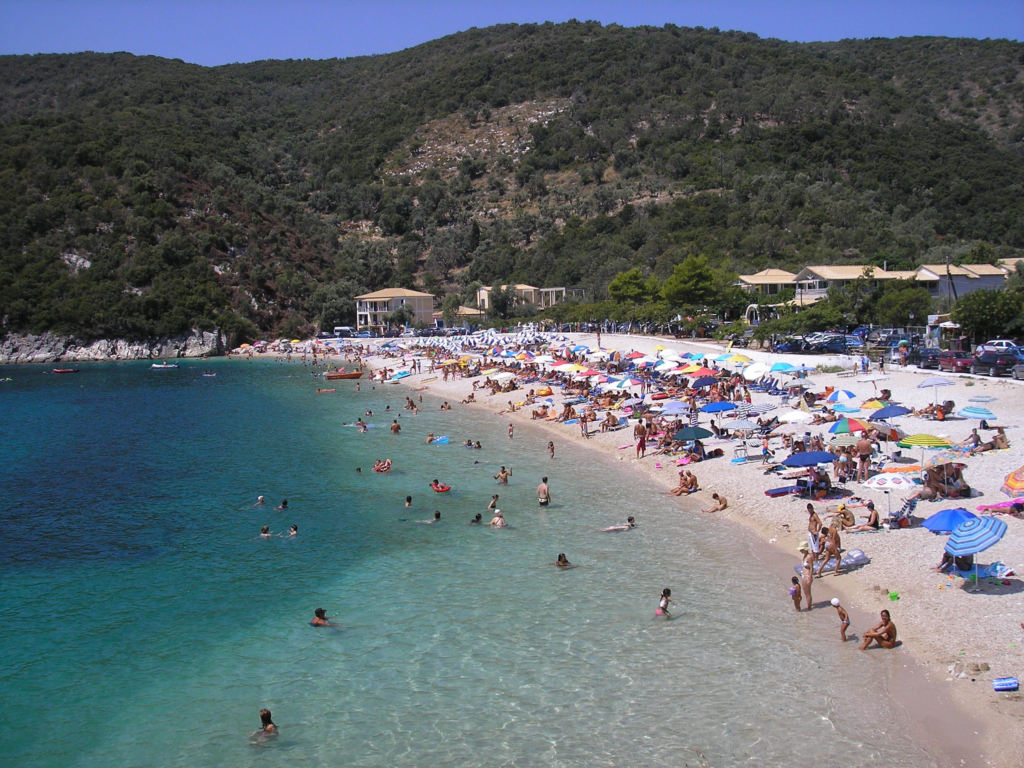 Psatha Beach, located roughly 40 miles west of Athens, is a picturesque paradise amidst the Corinthian Gulf and Mount Pateras. With lush trails, a pebbled shoreline, and nearby villages with hotels and restaurants, it's the perfect spot for a beach getaway with a side of Athens sightseeing.
Plus, unlike many Greek islands, Attica's beaches (including Porto Germeno) are open year-round, so you can soak up the sun whenever you're in the mood, including off-season when you'll beat the crowds.
So, stretch out your towel and bask in the sun at this expansive beach that spans over two kilometers! Psatha Beach is one of the best beaches in Greece to make some great summer memories.
13. Voidokilia Beach, Messinia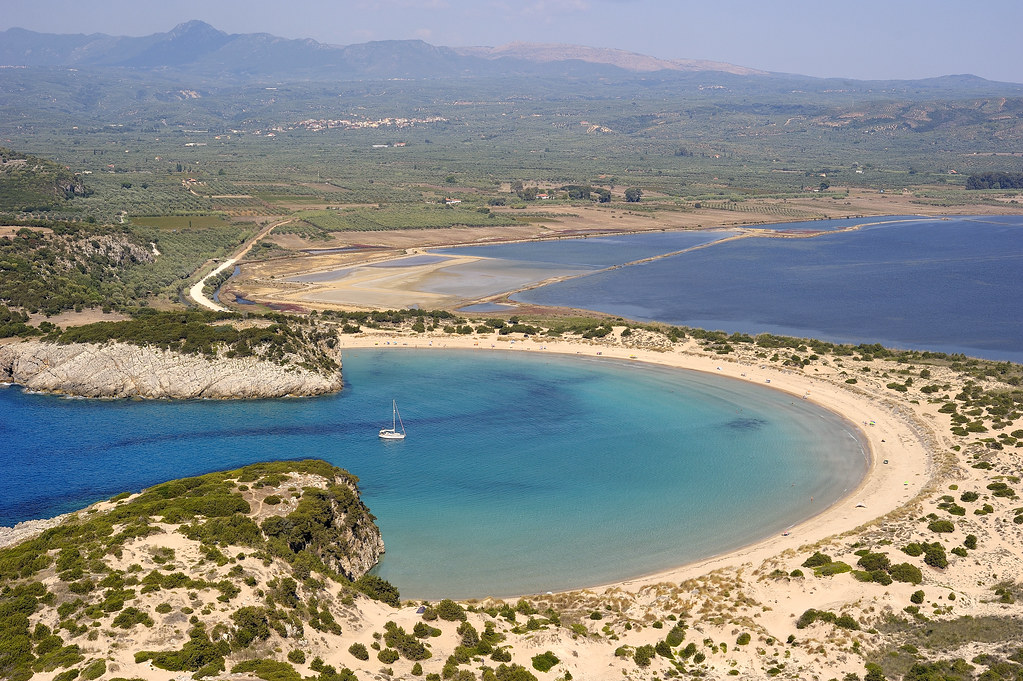 When at Voidokilia, you'll truly feel as if you've stepped into a dreamland paradise. The beach is surrounded by sand dunes, creating a secluded heaven for all to enjoy. Whether you're sunbathing, swimming in the ocean, or taking pictures of the captivating views, it's sure to be an unforgettable experience.
Its name, derived from Voufras which translates to "where oxen live", pays homage to the bay's curved shape resembling an ox's belly. The beach is a haven of soft sand and stunningly clear waters ready to be explored by all.
A day trip to the Old Navarino castle reveals mesmerizing views of the Divari lagoon of Gialova, Navarino Bay, and the rolling hills of Peloponnese covered with olive trees shimmering in green. The lagoon is also home to many species of birds, making it one of Europe's most important wetlands.
14. Red Beach, Santorini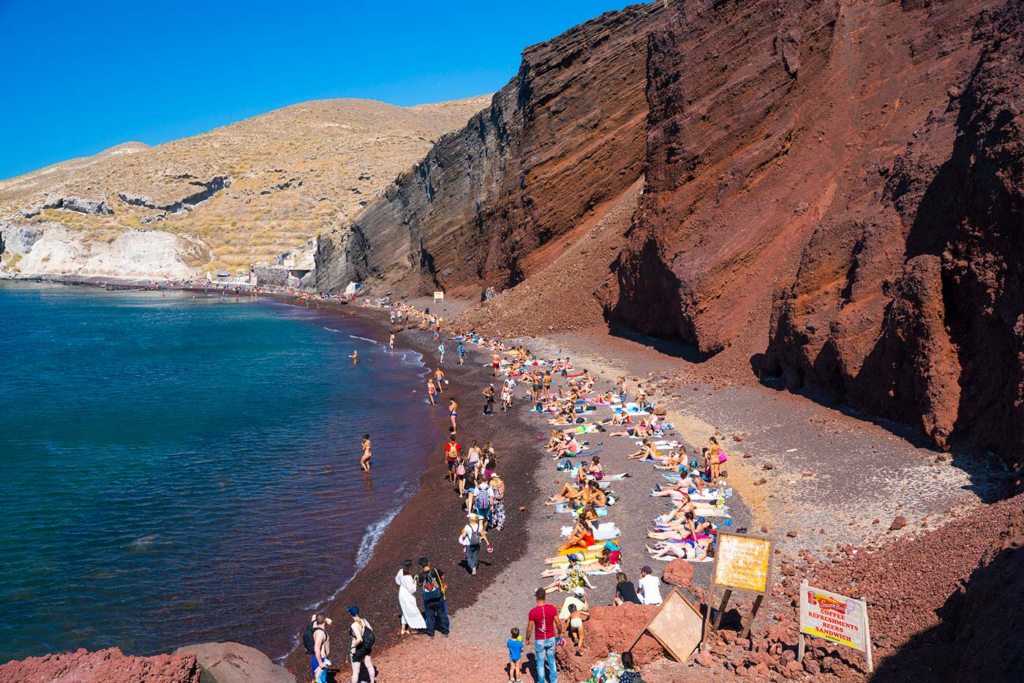 Santorini's southwestern coast is home to a truly incredible beach sitting on the blue Aegean Sea, and it's easy to see why. The vibrant rust- and fire-colored cliffs create a stunning backdrop, making it one of the most Instagram-worthy spots in the country.
To get there, you can take a boat, or take a short walk (sensible footwear required!) down from the nearby church. Once you're there, you can park up, grab a bite to eat, and get ready to soak up the sun. Just a quick word to the wise, however: if you're visiting in peak season, make sure you get there early to guarantee a spot.
15. Sarakiniko Beach, Milos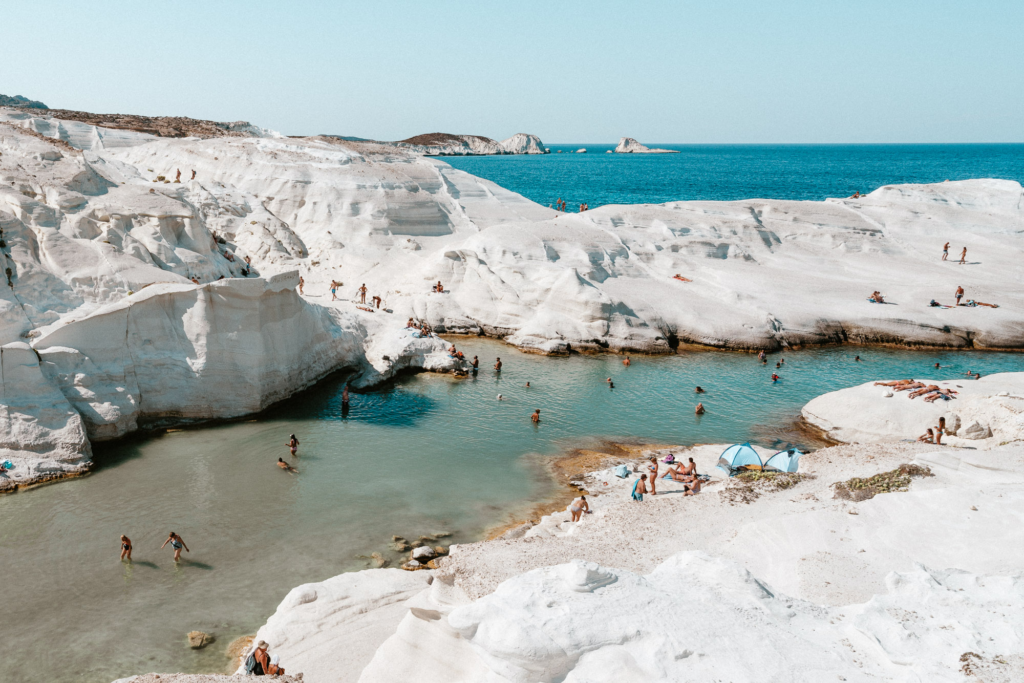 Sarakiniko Beach is located on the north shore of Milos. Here, you can make a splash with the various waterfalls and depths of the beautiful waters, and discover the hidden treasures of the arch formations, mini-ponds, and vertical cliffs.
You can also take a moment to admire the dramatic shadows cast upon the sea from the many ledges and immerse yourself in the breathtaking views.
Ready for a bit more adventure?
Marvel at the rugged coast, with its wind and wave-worn rocks, before stumbling upon the ghostly remains of the 'Africa', a Cambodian tanker that sunk in 2003 (thankfully without any casualties).
You'll be able to observe how the sea is gradually claiming the vessel, yet still allowing you to explore its rust-filled nooks and crannies.
15. Mylopotas Beach, Ios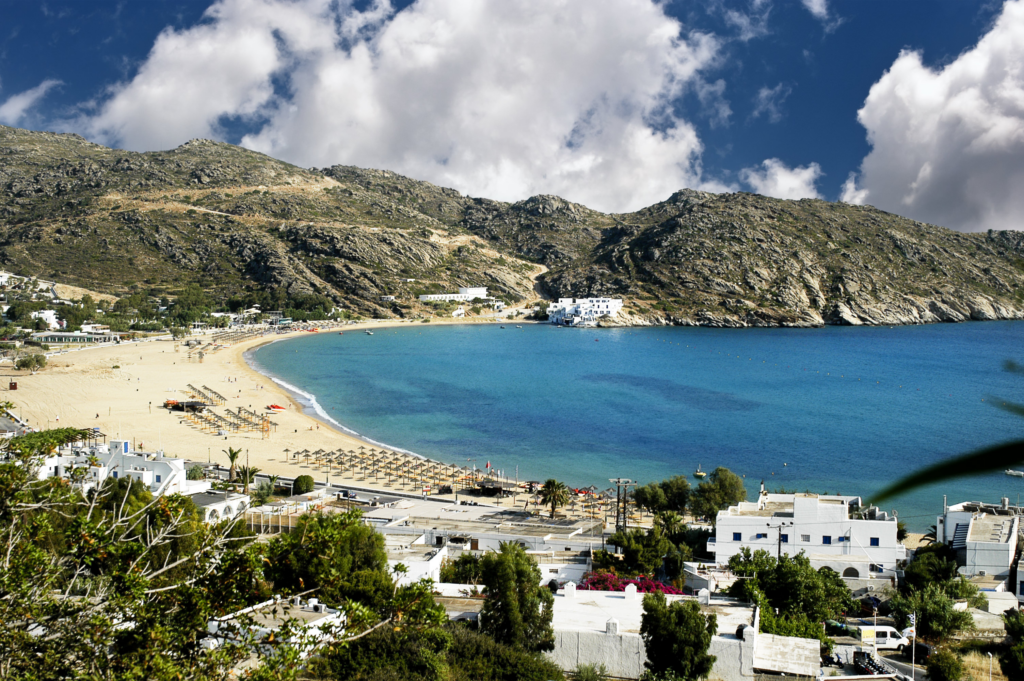 Closely situated to the quaint and pretty village of Chora, Mylopotas Beach is a golden beach and one of the best for swimming, windsurfing, and scuba diving. It has two sections- one with umbrellas and sunbeds, and the other a nice, secluded area for lounging in the sand.
While it is one of the best beaches in Greece, there are lots of things to see and do in the surrounding area, too.
For example, you can take a bus or a relaxing downhill walk of about a mile from Chora to get to the beach, or explore the reservoir, Panagia (the church of the Virgin Mary), and the filming location of "The Big Blue" movie.
Once you're in Chora, you can appreciate the traditional Cycladic architecture with alleyways, blue-domed churches, white houses, 12 windmills, and the remains of a medieval castle. Art lovers should not miss the Museum of Modern Art with its impressive Jean-Marie Dro art collection.
While the golden beach of Mylopotas is definitely a winner among sun worshippers, it's also perfectly paced to soak up some culture and sightseeing.
16. Megalos Mourtias Beach, Alonnisos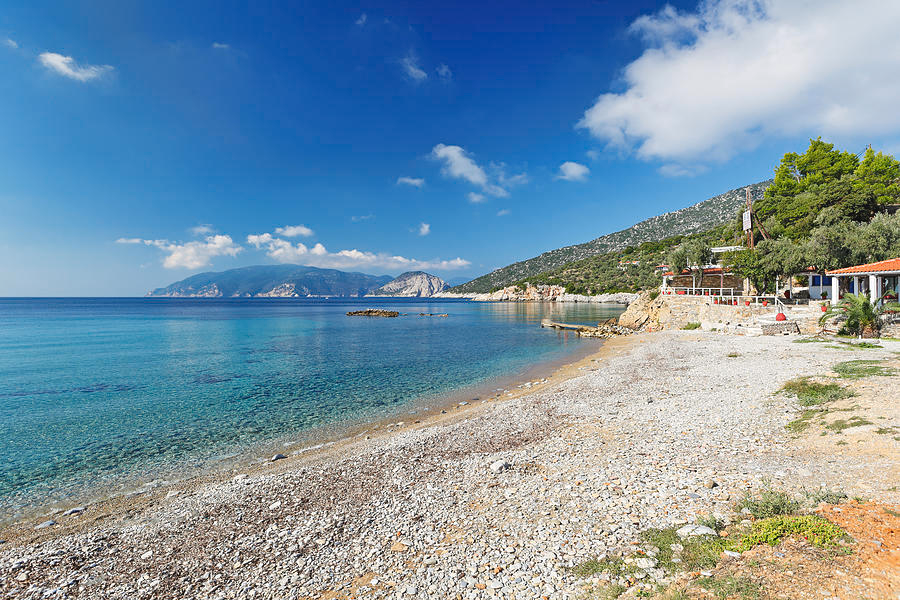 If you're looking for a picturesque beach with a view, take a trip to Megalos Mourtias Beach, one of the best beaches around. Located on the Northern Sporades island of Alonnisos, this curved pebbled beach is an absolute must-see. Although a little bit of a hike is required to get there, it'll be worth it when you arrive.
Why? The water is calm and clear, perfect for an afternoon swim. Plus, there are two tavernas serving absolutely delicious seafood and fresh salads, as well as sun loungers and umbrellas for rent if you need to sleep off some big plates of food.
Just don't forget your comfortable shoes: walking on the pebbles can be quite uncomfortable!
17. Plaka Beach, Naxos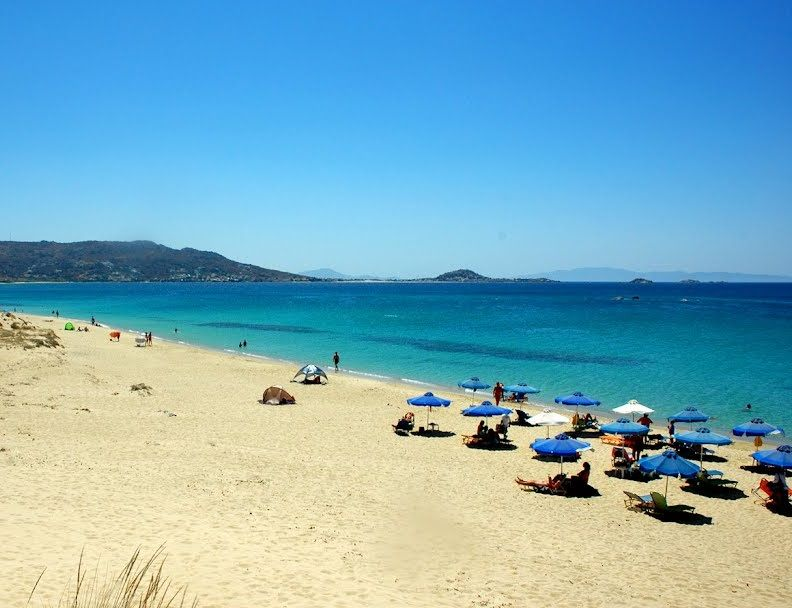 Whether you're looking for a day of serenity or a night of fun, Plaka Beach is the ultimate destination for a casual and exciting day out in Greece.
With its golden sand, glimmering turquoise waters, and tranquil atmosphere, this paradise is the perfect spot to soak up the sun, take a stroll along the shore, and enjoy delicious Greek cuisine.
Located on the island of Naxos (the largest of the Cyclades), visitors can enjoy a magnificent mountainous landscape with Mount Zeus (the highest peak in the Cyclades) as its centerpiece. Plus, the fertile lands of Naxos leave olives, grapes, and figs up for grabs.
This long and sandy beach is ideal for swimmers and sunbathers alike, with plenty of tavernas, chairs, and umbrellas for rent along the middle and southern ends. While Plaka was originally a nudist beach, today, you're more likely to find families here in the summertime.
FAQs
Can I wear swimwear on the beach in Greece and the Greek Islands?
You can wear whatever makes you feel comfortable on the pebbled and sandy beaches of Greece, well, within reason! Be it a swimsuit, speedos, or shorts, you'll certainly not look out of place. The only exception to this, of course, is the nudist beaches, where you might be required to wear nothing but your birthday suit.
Is it illegal to take stones from beaches in Greece?
Believe it or not, the answer is yes! Take pictures, not pebbles is the motto of many beaches in Greece. This is due to an increase in tourists pocketing one or more of the famous white pebbles that adorn so much of the coast. If you are caught pilfering pebbles, you can expect a hefty fine and quite a bit of embarrassment, so it's not worth the risk.
Are the beaches in Greece safe?
The beaches in Greece are super safe. There are no dangerous animals to worry about, such as sharks or poisonous fish. All the beautiful public beaches have minimal chance of dangerous waves or currents.
But, that doesn't mean you shouldn't be on your guard and follow any and all rules outlined. Many of the beaches in Greece aren't manned by lifeguards, so it is your responsibility to ensure your own safety and that of any children in your care.
How warm does it get in Greece and the Greek Islands?
Greece and its surrounding islands can get hot – particularly in the summer months. Expect to see temperatures averaging 84°F. So, remember the sunscreen and the importance of keeping hydrated when having fun on any of the beautiful beaches in Greece or the Greek Islands.