If you are living in or near the Windy City, chances are you are wondering what romantic getaways Chicago has to offer, especially since Valentine's Day is literally around the corner.
But don't sweat it; our extensive Chicago Getaway Guide will provide you with everything you need to know about the city itself, where to stay, and what to get up to with your loved one for a few days!
Read on to learn all about Chicago's vibrant attractions, dining spots, shopping opportunities, and more.
What Makes Chicago Perfect For A Romantic Getaway?
Do you enjoy romantic walks, lake views, great food, and lots of fun attractions to get up to (in and outdoors)? Then Chicago is the place for you and your partner's next weekend getaway!
As the third largest city in the United States, Chicago is home to many entertaining things to get up to. Among many other things, you will find:
amazing restaurants
beaches
a vibrant art scene
cultural highlights
stunning architecture in the historic downtown
top sports
parks
romantic hotels
The wide variety of activities that are available in and around Chicago is perfect for any couple. No matter whether you are a city dweller or a nature enthusiast!
Most Romantic Getaways Near Chicago
Chicago itself has a lot of amazing spots to visit, whether you want to take in the stunning views of downtown Chicago from one of the many skyscrapers or take a romantic walk along the Navy Pier and enjoy the view of Lake Michigan.
Best Accommodations in Chicago:
Below is a hand-picked list of romantic hotels in and around Chicago that we have trialed and tested for your next romantic getaway trip.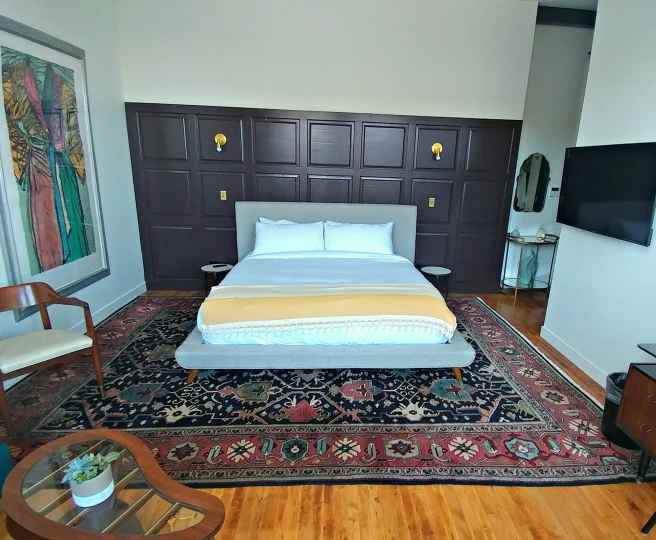 This 110-year-old building is one of the most beautiful hotels in Chicago.
You can choose from 11 different guest rooms and are also highly encouraged to spend some time relaxing in one of the common spaces that can only be described as funky. Think of quiet reading nooks and a lavish dining room.
2) Viceroy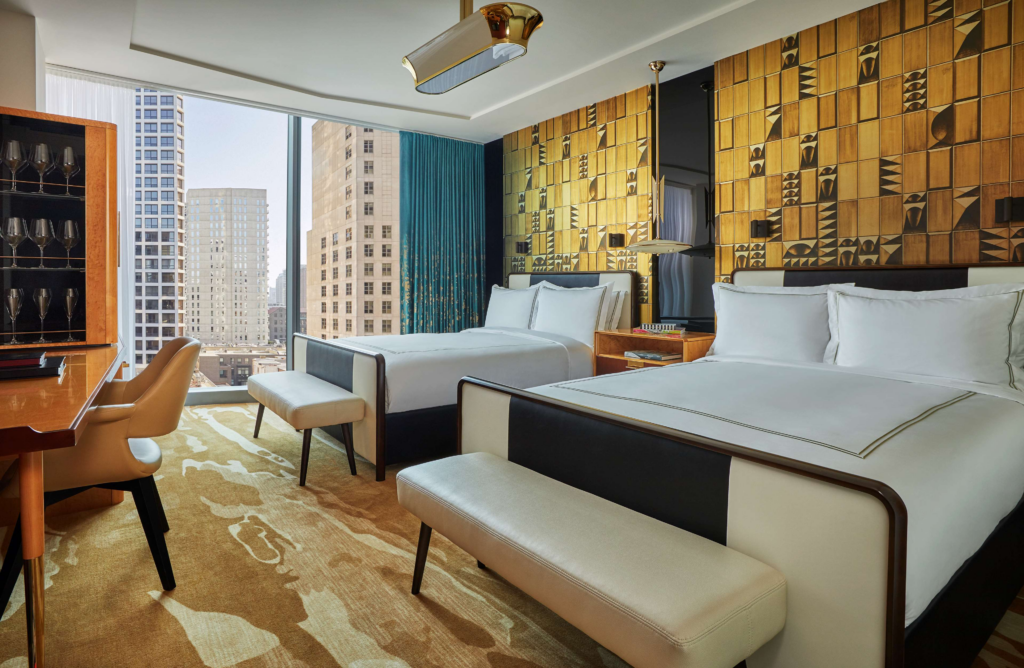 Price per Night: from $264
The sleek Viceroy building offers 180 guest rooms that include some very note-worthy suites. So, if you feel like splashing out with your loved one for a weekend – this is one of the most romantic hotels to choose from.
Each guest room comes with room service and blue-hued floor-to-ceiling windows, as well as gold accents. The Somerset restaurant downstairs awaits its guests for a romantic dinner after a cocktail and some panoramic city views at the rooftop bar, Devereaux.
Oh, and did we mention that you have access to a fitness center that is nothing short of state-of-the-art, as well as an outdoor swimming pool?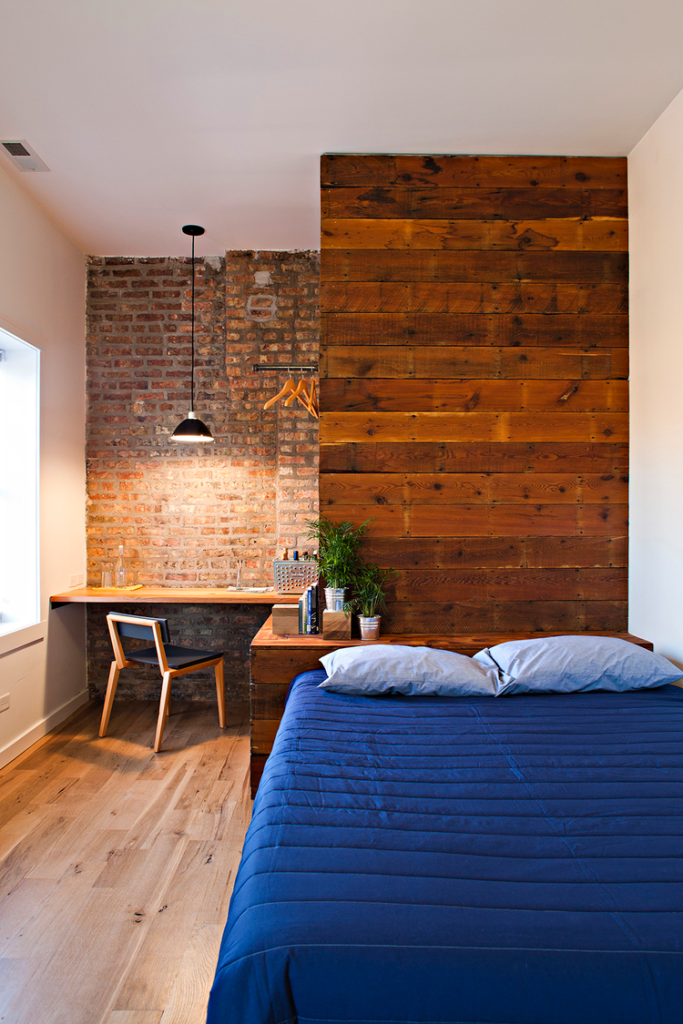 Price per Night: from $95
The Longman & Eagle is a well-known award-winning restaurant in Chicago. But, many do not know that after having a stunning dinner, you can have a sleepover in an intimate setting just upstairs!
Each guest room (there are only six at the inn) comes with a queen bed, thoughtful decor, and modern amenities.
For an extra special stay, we recommend booking room 55. You will get to enjoy a king-sized bed and a private hot tub!
Surrounding the hotel, you will find Logan Square, which has lots of other restaurants and sights to offer.
4) The Hoxton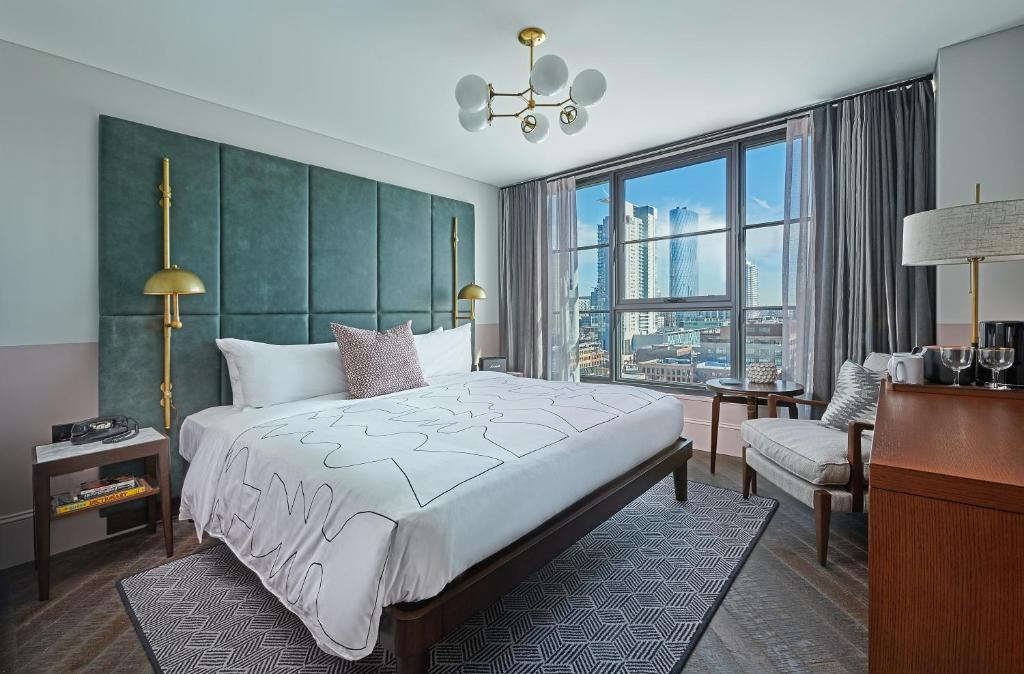 Price per Night: from $245
If you are an edgy couple, then the Hoxton will enchant you. This handsome London-type hotel offers three different bars. Among those is a rooftop bar by the outdoor pool.
Guests also get to enjoy an in-house yoga studio and even a coffee shop. And yes, you can get everything brought up to your room thanks to the friendly room service.
Each room comes with floor-to-ceiling windows, lavish bathrooms, and a modern design.
Guests get to choose between the two in-house restaurants or go for a nightcap at the in-house bar to mingle with some Chicago locals.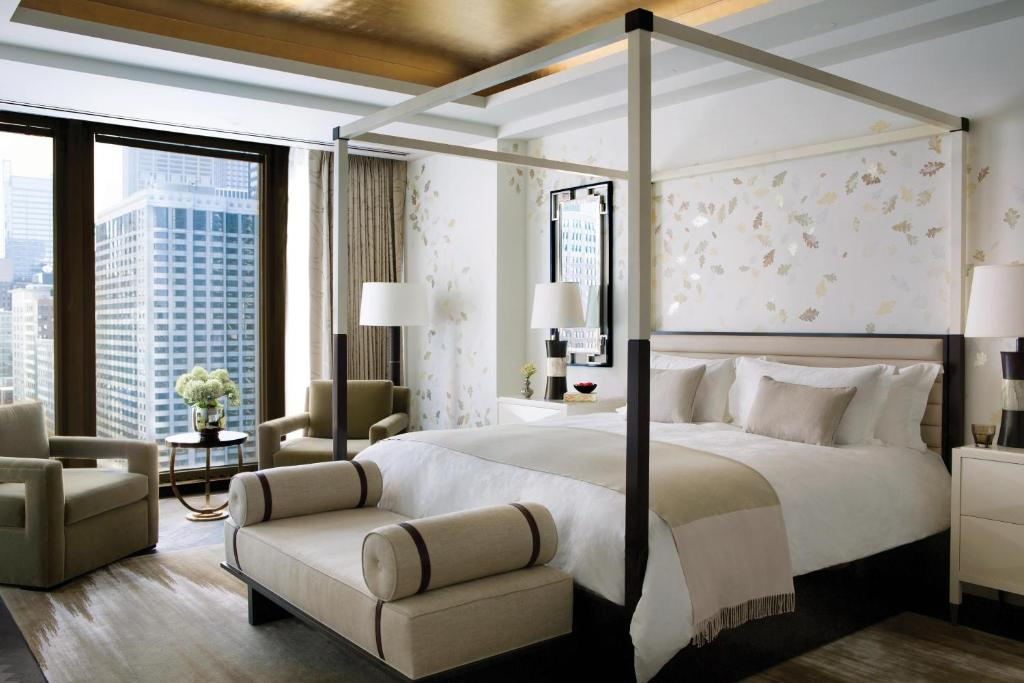 Price per Night: from $460
The Langham is potentially the best romantic getaway location in Chicago. All thanks to a gigantic ballroom, 316 suites, and a 67-foot swimming pool.
Enjoy the room service as you stay in one of their spacious rooms with city views, or go for hydrotherapy in their jacuzzi or a couple's massage at their world-class spa!
Apart from all of these stunning comforts on offer, your romantic vacation in Chicago comes with a complimentary breakfast!
6) Nobu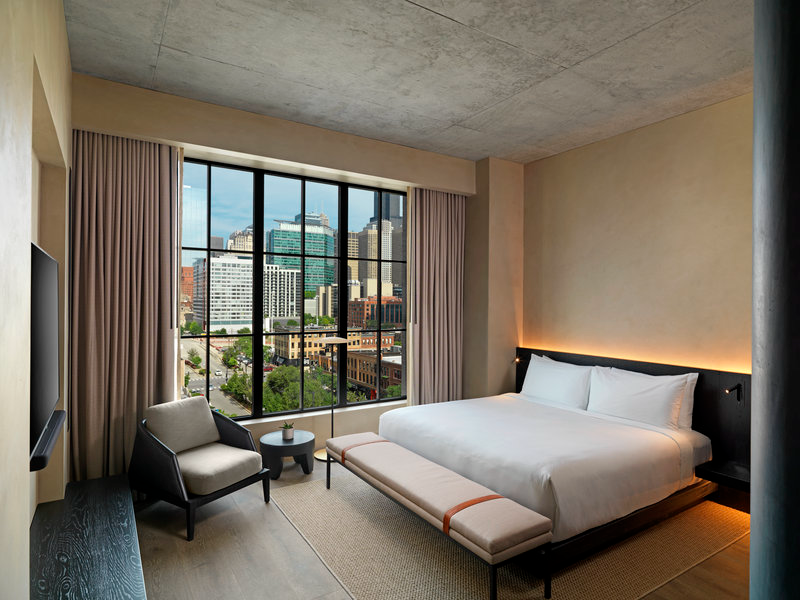 Price per Night: from $375
An indoor pool, a fitness center, and rooms that come with steam showers as well as room service and a rooftop lounge – need we say more?
The Nobu combines Japanese design with industrial chic and offers a getaway of a different kind. Some of their luxury rooms even come with a private terrace from which you can admire the Chicago city views.
The in-house restaurant that runs under the same name offers sushi lovers a haven to feast in as well as a stunning rooftop lounge with a bar.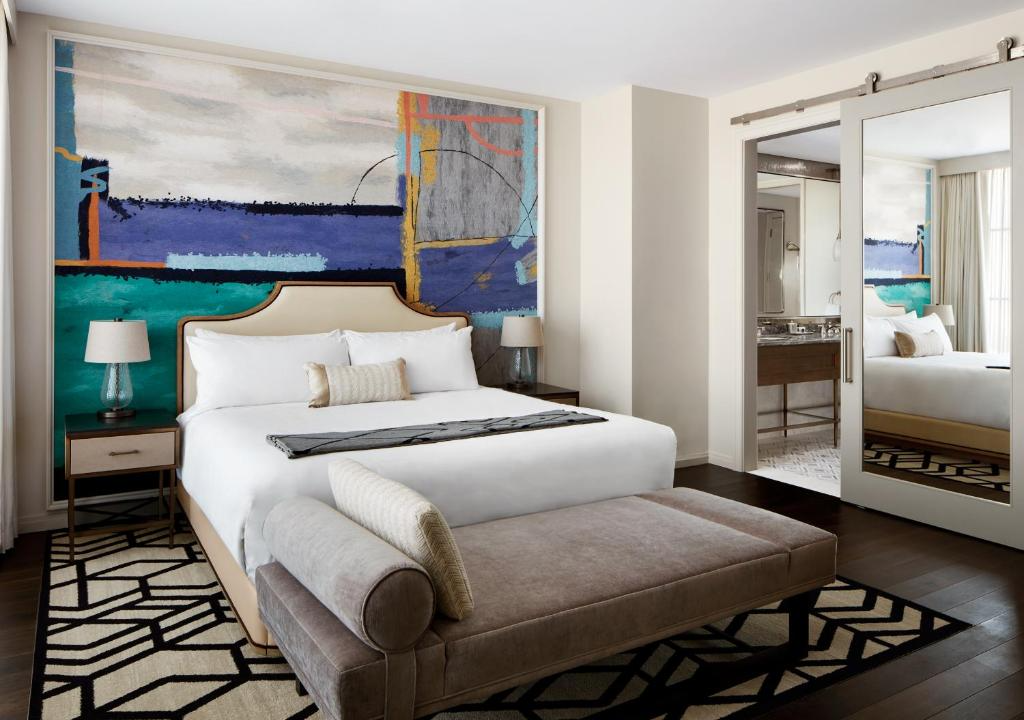 Price per Night: from $220
Nestled between Lake Michigan and Washington Park, you will find the Sophy Hotel. This boutique hotel comes with stunning hardwood floors and bathrooms that are fully tiled with marble.
Your rooms are cozy enough to spend a whole day there – we're not going to judge! Should you find yourself making it out of them, however, make sure to check out their in-house restaurant Mesler Kitchen. It comes with a beautiful dining area for al-fresco dining underneath the Chicagoan skies.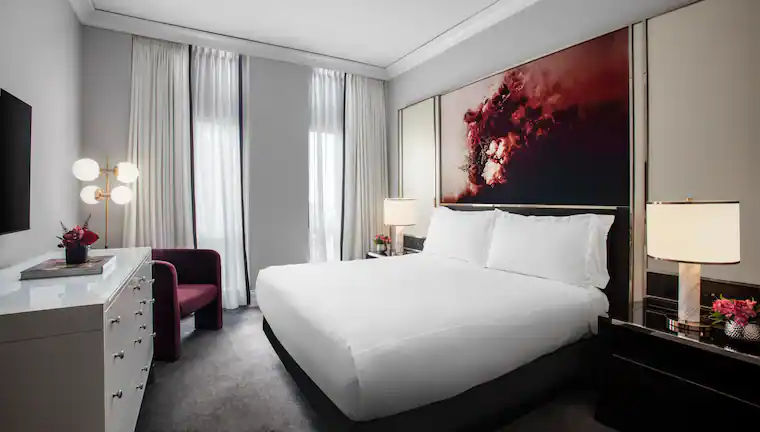 Price per Night: from $444
The Waldorf Astorian is certainly no bed and breakfast. The world-famous hotel group has got an impressive property in the heart of Chicago, and as per usual, it doesn't disappoint.
Guest rooms are 890 square feet on average and come fully equipped with LCD TVs, lavish marble bathrooms with tubs as well as private terraces overlooking the city. What makes this one of the top romantic hotels in Chicago? The cozy fireplaces in each room. To die for, we know, right?
If you have enough of cuddling it up in front of the fireplace, why not check out their Spa and Health Club for a couple's massage or a dip in the saline-water indoor pool?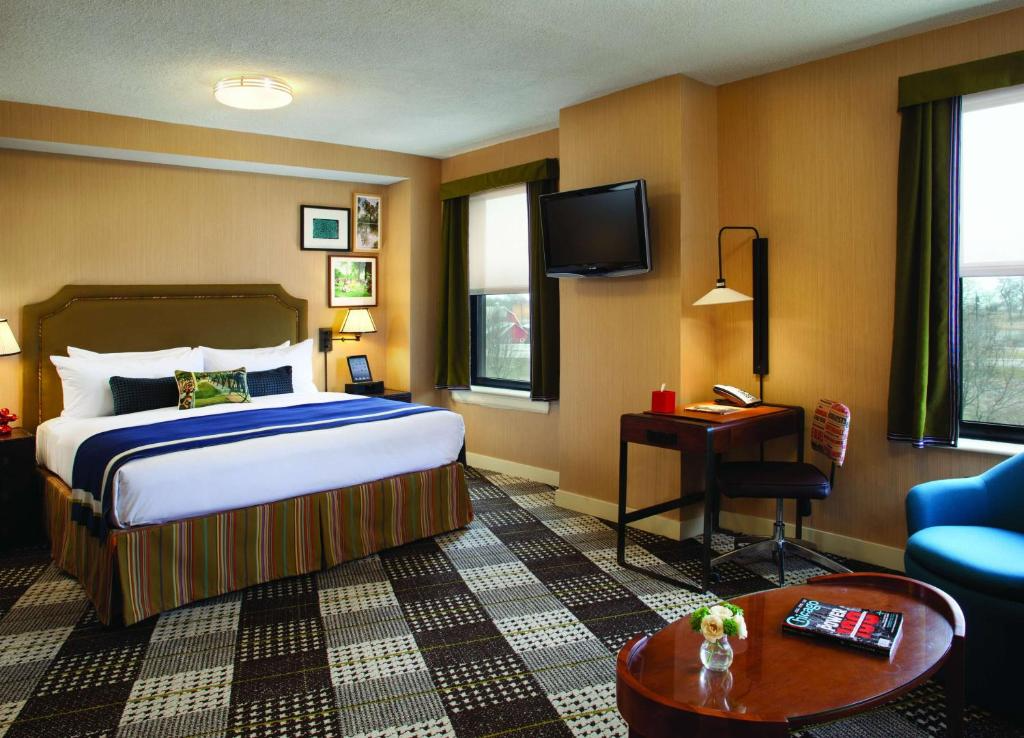 Price per Night: from $134
What are romantic hotels without a rooftop bar to watch the sunset or count the stars with your loved one? Hotel Lincoln is one of those romantic hotels that will not just only offer you a lavish rooftop bar but much more!
Rooms come with comfy plush beds and modern amenities. Guests can choose between three in-house restaurants. And all of this is directly located in the heart of Lincoln Park itself. Here, you can take some romantic strolls and take the Chicagoan city life in.
On top of that, there is a plethora of areas nearby that offer great opportunities for a getaway. For instance:
Lake Geneva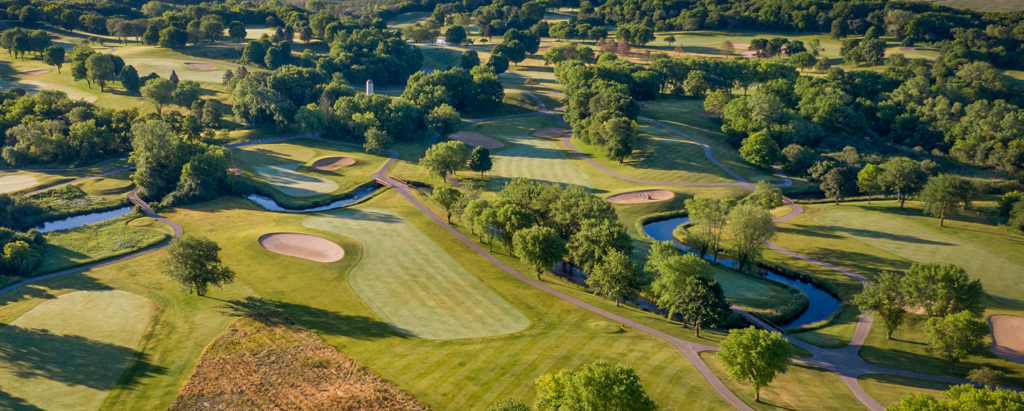 Nestled along Lake Geneva, you will find picturesque towns brimming with art and antique shops. On top of that, there are ample breweries and wineries that invite visitors for beer or wine–tasting sessions.
Lake Geneva is also home to many stunning inns and hotels for couples. For instance, the Grand Geneva Resort. This stunning place offers some of the most luxurious guest rooms.
Within walking distance of the Grand Geneva Resort, you will find the rolling hills of Wisconsin that are perfect for a summer's day hike or some cross-country skiing during winter time.
Best Accommodation in Lake Geneva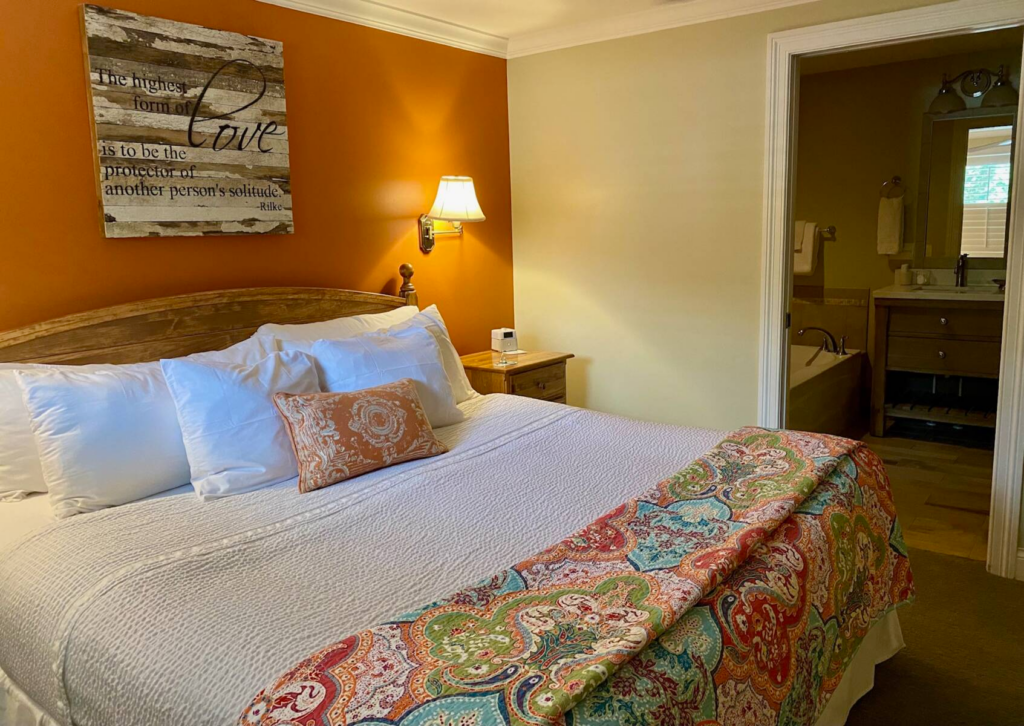 Price per Night: from $139
For those that are looking to get out of Chicago for a bit, the Seven Oaks offers adult-only tranquility on the shores of the beautiful Lake Geneva.
Relax and read a book on their charming front porches, cuddle up in front of the many fireplaces and enjoy a stroll in the private gardens of the Seven Oaks.
Within walking distance, you will find easy-access restaurants. Otherwise, why not play a round of mini golf, or check out the real deal golf course? If you don't like your handicap and are not going to improve it any time soon, there are plenty of other activities nearby, such as:
After these activities, you will also be happy to hear that you can visit their local day spa for a relaxing massage!
2) The Abbey Resort, Lake Geneva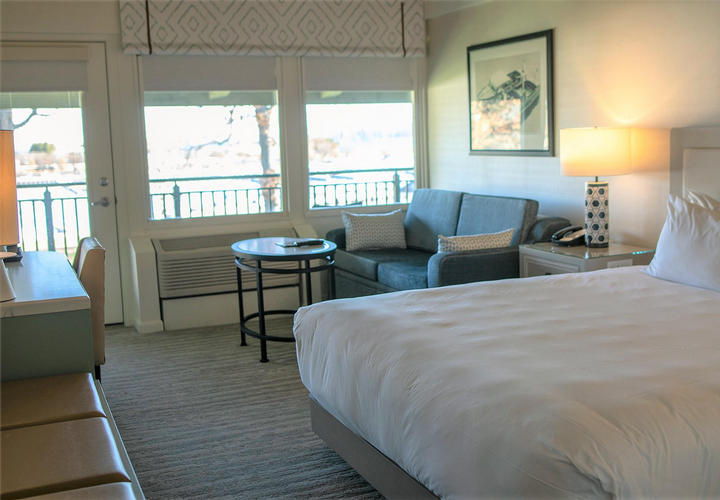 Price per Night: from $137
One of the best romantic getaways from Chicago is the Abbey Resort. Less than a few hours away from Chicago, this romantic hotel awaits you.
The resort has everything, from a Spa to a marina where you can rent boats. It even comes with a game room.
The private balconies and patios in each carriage house-style room provide stunning views.
The guest rooms also offer coffee and tea stations, as well as lavish bathrooms and flat-screen TVs.
The highlight? In winter, you can enjoy ice skating on Lake Geneva before cuddling up in front of the fire pit! Sounds stunning, right?
Galena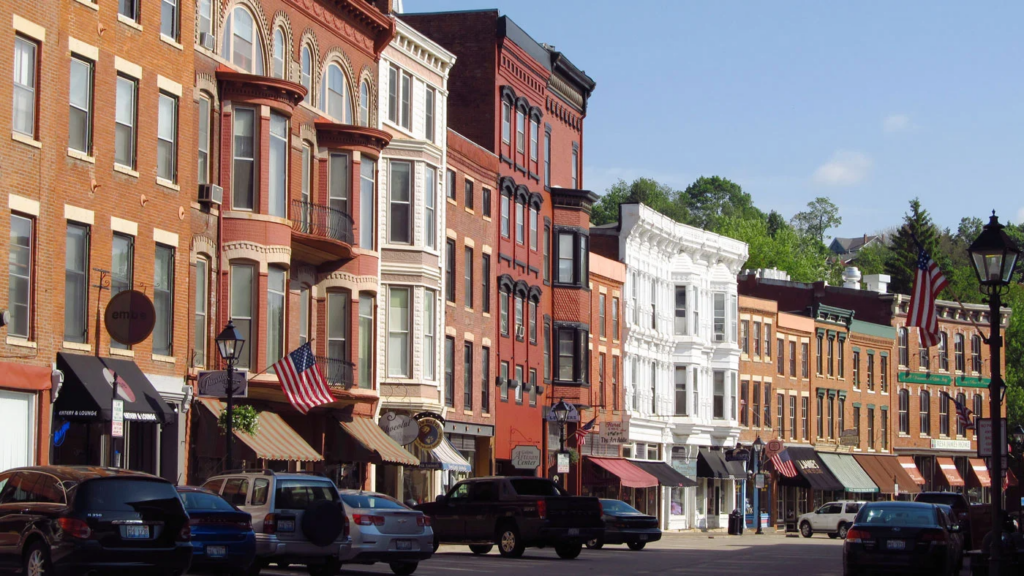 A short drive away from Chicago, you will find the town of Galena. With lots of historic sites and a beautiful backdrop of the surrounding nature, Galena is perfect for an excursion with your partner.
Galena itself is not short of wineries, which is why you will not struggle to find a tasting room or two here, either.
The beautiful main street offers lots of antique shops and art to admire. Apart from shopping, there are lots of restaurants available for those foodie couples!
For those looking for outdoor adventures, the Galena River Trail is the place to be. Otherwise, hop onto a hot air balloon and explore the area from above. Nothing says "I love you" more than a proposal over the Galena Hills during sunset.
Aurora, Illinois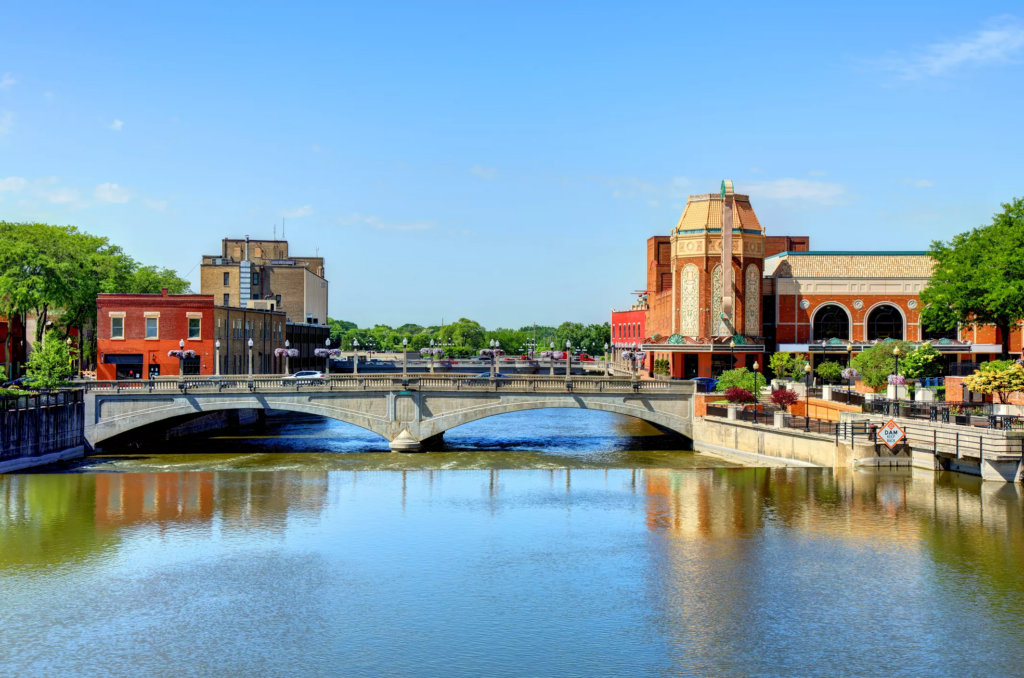 If you prefer to stay at a Bed and Breakfast or small-town boutique hotel for a few days to decompress from the busy city life – we recommend a visit to Aurora.
Aurora does not only offer many romantic hotels but also a downtown area that rivals Chicago's.
The city offers lots to do, from culinary excursions to visiting the area that was used as "Smallville" in the famous movie "Man of Steel."
Milwaukee, Wisconsin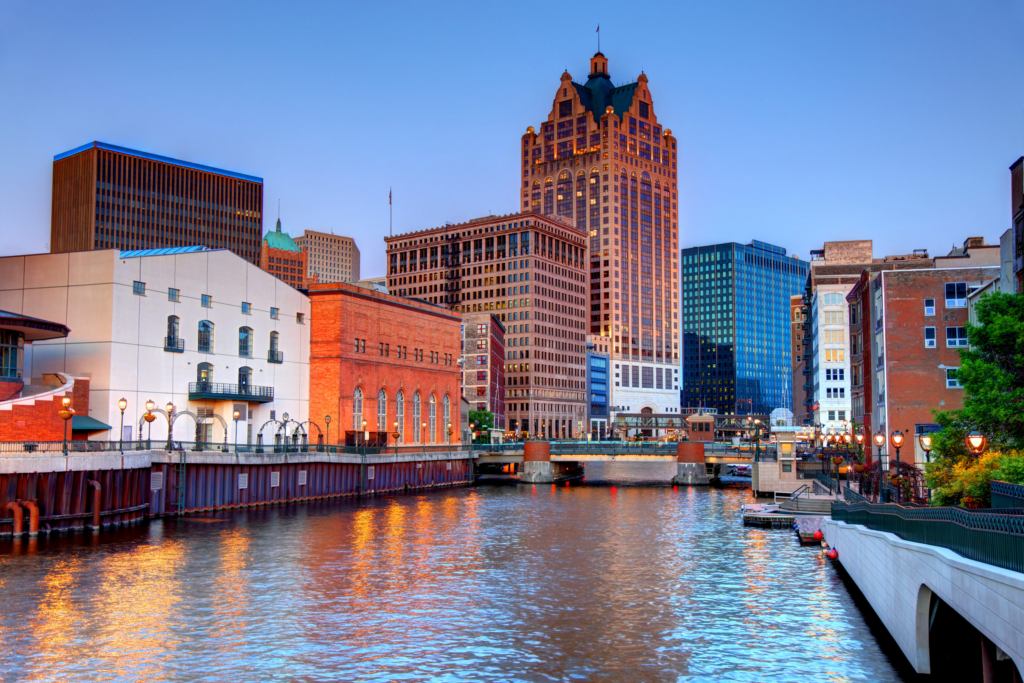 About 90 minutes away from Chicago, you will find the center of cheese country – Milwaukee.
Apart from amazing breweries and lots of cheese (duh), the city has several attractions, such as:
Milwaukee Art Museum
Kayak Rides along the river
Harley Davidson Museum
Top Excursions & Activities To Do On A Chicago Romantic Getaway
Now that you have your list of romantic hotels in and around Chicago, it is time to figure out what you can get up to with your significant other during your next visit.
Go on a Chicago Art Walk
The city itself has an inspiring art scene. The best thing about it? It's basically free to enjoy since the city is filled with statues, murals, and lots of street artists. No need to book an expensive tour guide.
Start in Pilsen and get ready to admire colorful murals all across the neighborhood. Definitely stop by the Hector Duarte Studio before you head toward Logan Square.
The impressive Concord Music Hall offers a nice photo opportunity in front of the Greetings From Chicago mural around the corner.
The last stretch of street art can be found at Rogers Park, along the Red Line wall.
Enjoy a Candle-lit Jazz Night
Twice a month, you will be able to enjoy great music and romantic vibes by candlelight at one of Chicago's most cozy jazz clubs.
Jazz by Candlelight offers stunning artists that pay tribute to jazz icons such as Louis Armstrong or Ella Fitzgerald.
Explore Chicago from the River
Do you enjoy cycling and boat tours? Have you ever done them together? No? Well, get ready for a Cycleboat tour along Chicago's Riverwalk!
Bring your own booze or enjoy the complimentary coolers on the boat while you and your partner take turns cycling and enjoying the view.
The scenic Riverwalk stretches for about a mile up to where Lake Michigan and the Chicago River meet. This is also perfect for an afternoon stroll while you hunt for a place to have a romantic dinner.
The area is filled with cozy cafés and bustling restaurants that will definitely satisfy your tastebuds. The many wineries and bars offer a happy hour in the evening, live music, outdoor games, and a great vibe overall.
Admire views of Chicago from the Willis Tower Skydeck
We already mentioned the impressive downtown Chicago city scenery. But you simply shouldn't miss out on a visit to Willis Tower – Chicago's tallest building!
Take some memorable snapshots up top, or even pop the question and drop the knee in front of one of the most iconic locations in Chicago, if not the States!
Snap Pictures at The Bean
Most likely Chicago's most snapped monument – you simply need to have a picture of your reflections kissing in front of The Bean, aka Cloud Gate.
Thanks to its reflective surface and funky shape, you can create an Insta-worthy memory with your partner.
Stroll through Lincoln Park
Lincoln Park is the largest park in the city and probably the most beautiful as well.
Stretching seven miles along Lake Michigan, this park even offers several beaches to relax in the sun.
Apart from plenty of walking trails, you can find bike rentals to make your way quickly to one of the many iconic monuments inside the park, some of which are:
Signal of Peace
North Pond
Belmont Rocks
Chill at North Avenue Beach
The largest and most popular of Chicago's beaches offers long stretches of white sand and is the perfect place to soak up the summer sun in the city.
Make a stop by the boat-shaped beach house and enjoy a drink or a snack a the rooftop bar while taking in the beautiful views across the city and Lake Michigan.
Sample Itinerary & Budget For Your Romantic Getaway In Chicago
Now that you have all the romantic hotels and activities for your getaway, here is your sample itinerary and budget for a romantic weekend in and around Chicago:
Sample Itinerary
Day 1:
Settle in your choice of hotel and freshen up while you get ready for your first day in Chicago!
The best way to explore a new city is probably by foot. Therefore, we recommend you take your loved one for a romantic walk along one of Chicago's newer attractions: the Riverwalk.
Since you are already heading its way – look for a restaurant that will suit your needs for a cozy dinner in the up-and-coming neighborhood of West Loop. Randolph Street is definitely where to find the culinary epicenter and will not disappoint for your first dinner and drinks in the Windy City.
If you have the time and energy, we recommend hopping to a few places afterward so you can take in all of this stylish neighborhood. Make sure to drop by or end your first night at an Irish Pub in Chicago (the city has a significantly large Irish population, and they are always up for some fun and tomfoolery)!
Day 2:
You get to choose whether you want to have a day of further city excursions or would rather rent a car and get out of the city to explore the beautiful countryside.
If you choose the latter, make your way to Lake Geneva and explore the beautiful wineries in the area. We recommend the Geneva Lake Distilling and Studio Winery for a wine tasting.
The Hawk's View Golf Course and the Lake Geneva Country Club both offer state-of-the-art golf courses to work on your handicap together.
Otherwise, if you are more of a city-dwelling couple, stay in Chicago for the day and explore the beautiful sights it has to offer, namely The North Side.
If your partner is somewhat of a sports fan and you want to make them happy – head toward Wrigley Fields, one of the most famous baseball stadiums there is.
Head to the John Hancock Center for a romantic dinner with a 360-degree view of the city from the 95th floor.
You won't just have breathtaking views but also enjoy some pretty amazing food while watching the sunset over the city.
Day 3:
The last day of your romantic weekend getaway involves some breakfast in bed before you head to downtown Chicago and explore the city a little further at your own pace. Choose whether you wish to rent a Cycleboat, rent a bicycle or go to one of the many museums of the city.
For one last special experience, try booking a Chicago food tour! Chicagoans truly love their food, and it is a great way to learn more about the city's culture.
Sample Budget:
Accommodation: $95 – $444 per night
Public Transport: CTA 3-day pass for $15
Car Rental: $27 per day
Dining and Drinks: $50 per person per day
Excursions and Activities:
Frequently Asked Questions
How much does a Chicago romantic getaway cost on average?
A romantic weekend getaway in Chicago will likely cost you around $600 to $800. Keep in mind that prices can vary depending on which hotel you book, where you decide to dine out and whether or not you are renting a car.
The amount and types of activities you choose will also highly influence the price you pay for your romantic weekend in and around Chicago.
When is the best time to visit Chicago?
The city is worth a visit all year round. There is lots to do and plenty of beaches to frolic in the sun on. And in the colder season, you can enjoy many winter sports, such as ice skating or skiing in the countryside of Chicago.
How long do people typically spend in Chicago on a romantic getaway?
This depends on your time and budget. But we recommend spending a long weekend in Chicago to at least get a good idea of the city and the area.
Start Planning The Ideal Romantic Getaway
Whether you are an artsy city-dwelling couple, foodie-lovers, or enjoy great outdoor adventures – a trip to Chicago will be a memorable romantic getaway for sure!
Check out our other Couples Travels resources for more inspiration on romantic hotels and getaways in your area.