With palm trees, beach houses, and a subtropical climate, South Carolina could be your perfect honeymoon destination. There's pretty much something for everyone in the Palmetto State. From lazing by Myrtle Beach to hiking around the state's three major lakes. Whether you're looking to relax or adventure around a new state, South Carolina can provide it!
In terms of where to stay, Charleston's French Quarter is very romantic. You could instead opt to stay right on Myrtle Beach. Spending a few secluded nights on Hilton Head Island would make your getaway extra romantic. Whichever region you choose, you are sure to find romantic accommodations. To help, we'll detail the best resorts, locations, and things to do.
What Makes South Carolina Perfect For A Honeymoon?
South Carolina is for adventurers – it's also for experts in relaxation. For newlyweds who want to take it easy, how does sipping sweet tea and vodka along the coast of the Atlantic ocean sound? After which, you could meander around the cobblestone streets of Charleston. By nightfall, you could enjoy the growing dance club scene of the city.
For adventurous newlyweds, South Carolina has several activities – both inland and at sea! Further inland, you'll find 47 state parks, 12 major lakes, and 10 mountains. All of these are good for hiking. For those seeking nautical explorations, island hopping from Charleston is possible. Kiawah Island, Seabrook Island, and Hilton Head Island are all within reach.
Plus, South Carolina is super easy to get to. Major carrier flights into Charleston International Airport are becoming increasingly regular. Plus, if you live in the south of the U.S., you could be just a short drive away from this sub-tropical retreat. It's easy to travel around the state. Charleston has its own trolly service. Buses and ferries are also readily available.
Best Areas To Stay in South Carolina
With such a wide range of intriguing locations, some couples opt to split their South Carolina honeymoon between several locations. Although it takes aroundfour hours each way, you could easily split your holiday between Charleston and the Blue Ridge Mountains. This way, you get both a relaxed and an adventurous week-long honeymoon.
Here's a brief overview of the best areas to stay on a South Carolina honeymoon:
Charleston Historic District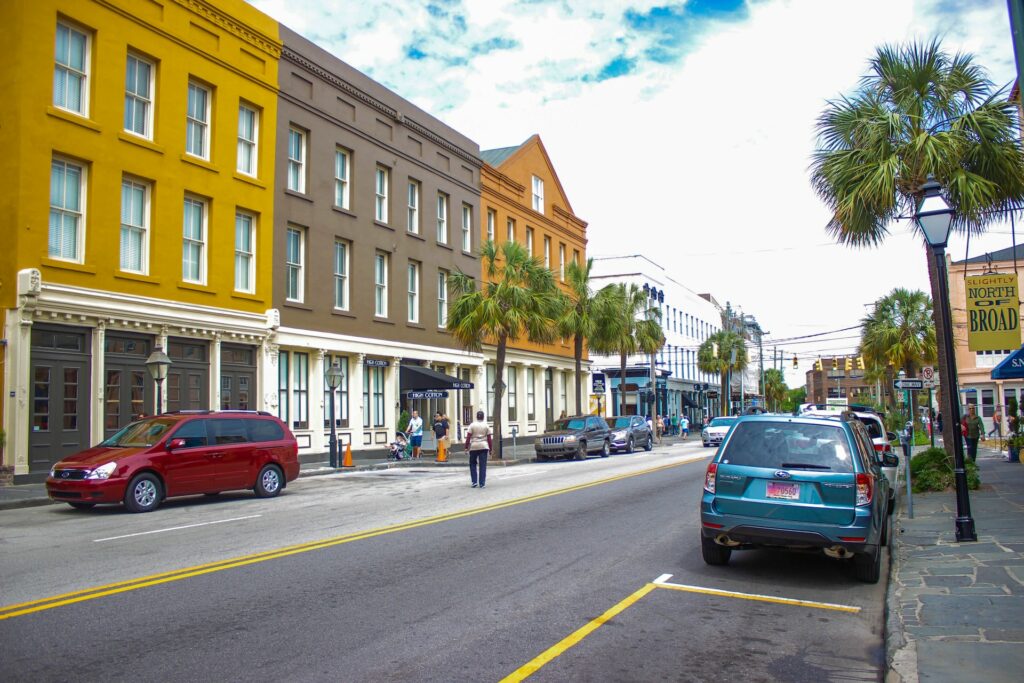 There's something distinctly quaint about Charleston, particularly in and around its famed Historic District. Here, you'll find horse-drawn carts, cobblestone streets, and an array of historic buildings. You'll also find award-winning restaurants, museums and art galleries, and tranquil parks. Within this district, you'll happily stumble upon the romantic French Quarter.
Staying in the Historic District doesn't position you too far away from the coast. Nearby, you'll find the likes of Folly Beach.
Blue Ridge Mountains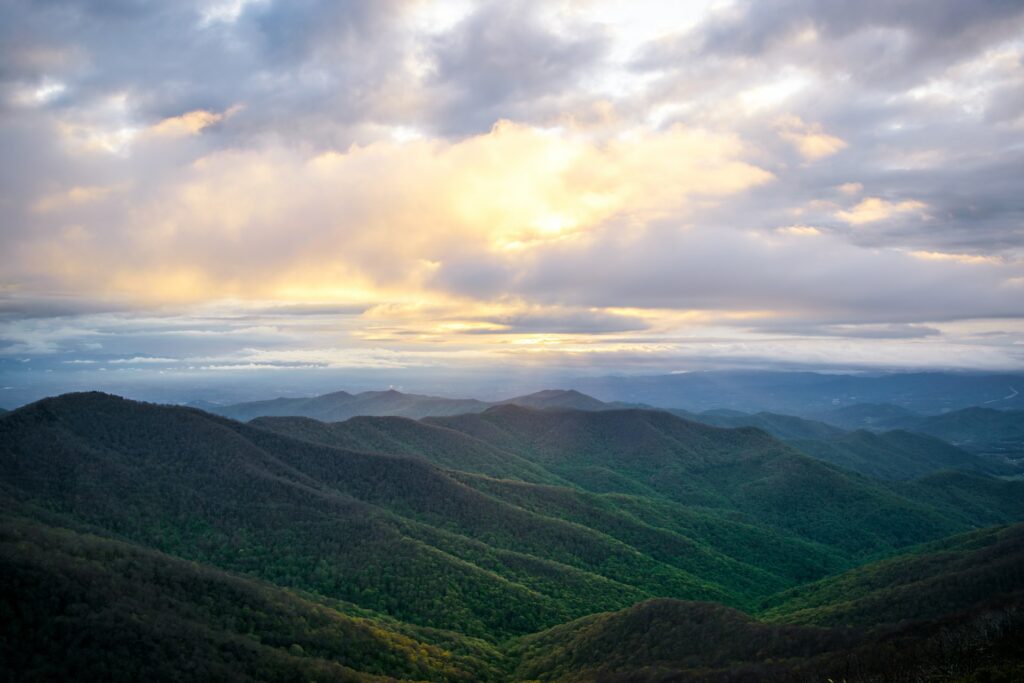 Seeking action and adventure? Why not spend some of your honeymoon at a secluded resort in the Blue Ridge Mountains? Around the mountains and Lake Keowee, you can find luxury resorts that are ideal for a honeymoon in the wilderness. From your resort, you can go hiking and picnicking around Devils Fort State Park and Table Rock State Park.
Beaufort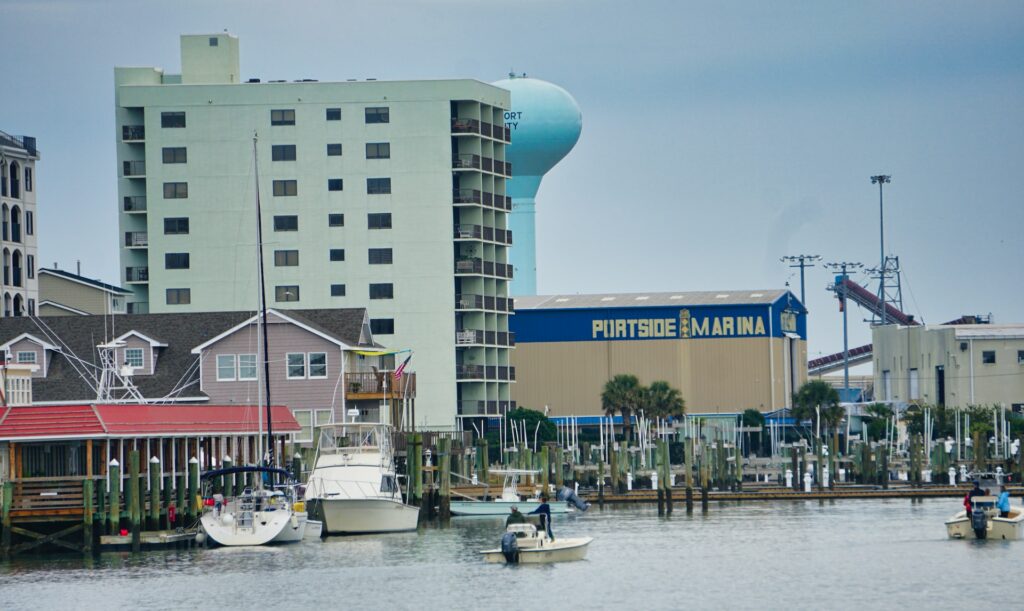 If you'd like something smaller than Charleston but of equal beauty, consider the resorts found in Beaufort. This settlement dates back to 1711 and showcases the best in southern hospitality and architecture. Besides the parks and green spaces, you'll also find pristine beaches and antebellum mansions. Hunting Island State Park is also nearby for those seeking hiking and cycling trails.
Myrtle Beach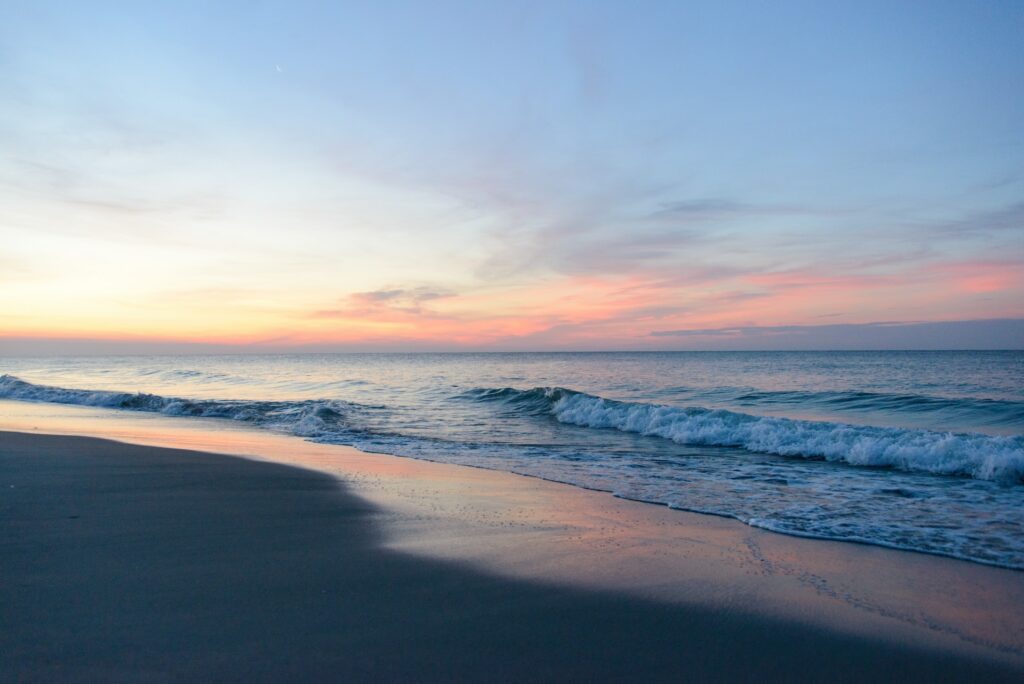 Myrtle Beach is a vacation city on the coast. Home to 60 miles of beaches, it's a prime spot for romantic sunsets. It's also famed for golfing. From October to April, Myrtle Beach is a laid-back beach haven with fewer tourists. The vibrant eateries and bars will stay open during the offseason, and the clientele will consist mainly of couples seeking a quiet retreat.
Best Honeymoon Resorts, Hotels, and Other Stays in South Carolina
South Carolina is home to a whole host of honeymoon destinations. Within each of these destinations, you'll find a wide range of hotels and resorts. These accommodations go from classic southern inns to contemporary, sprawling beach-front resorts.
You'll find the biggest range of fabulous resorts in and around the Holy City of Charleston. You can also find great hotels – and world-class golf – in Myrtle Beach, Kiawah, and Beaufort. Further inland, you can find luxury retreats around the mountains and log cabin escapes around the lakes.
Out of all the resorts found in South Carolina, these are our top seven best honeymoon destinations:
Price per Night: $199 – $370
Best For: Older Couples, Honeymoon Packages
Availability: Easy to Book
The Kings Courtyard Inn advertises its Romance Package specifically to newlyweds. Not only does this package secure you deluxe accommodation at the inn, but it also features plenty of extra features. Chocolate-covered strawberries, champagne, and a three-course dinner at Circa 1886 Restaurant are all included. You also get a return ticket on a Charleston Rickshaw.
Located in the Charleston Historic District, the Kings Courtyard Inn is just around the corner from the French Quarter! Nearby, you'll find Rainbow Row, a colorful and Instagram-friendly street.
The hotel itself is probably the most alluring on the whole of Kings Street. Dating back to the 1850s, this Greek revival building is the perfect setting for your honeymoon. In the Deluxe King room, you'll find a gas fireplace and a mahogany four-poster bed atop hardwood flooring.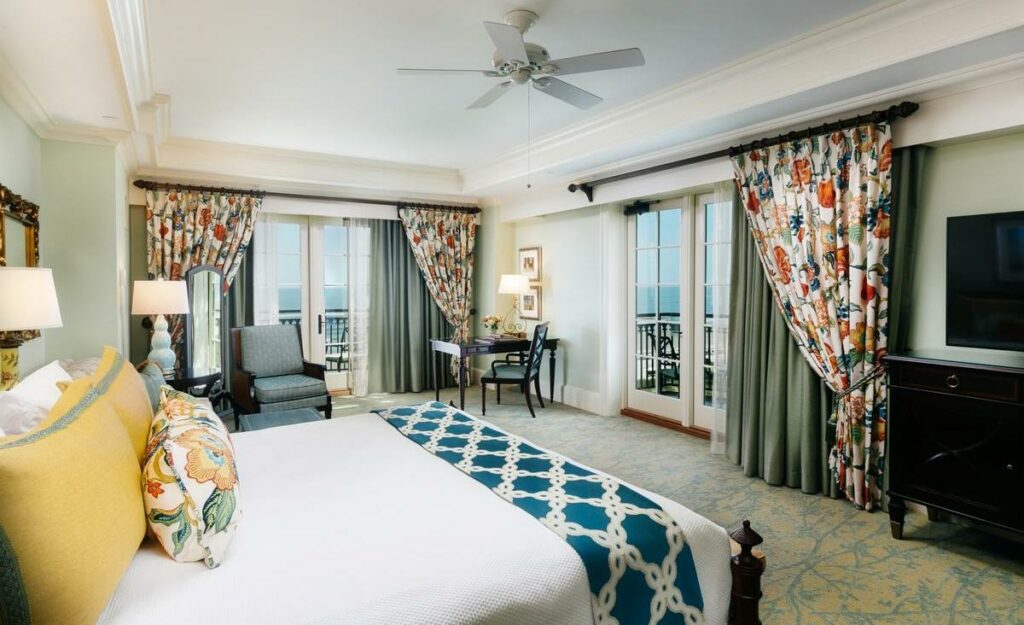 Price per Night: $250 – $2,740
Best For: Short Stays, Private Beach
Availability: Easy to Book
The Sanctuary is a five-star resort located on Kiawah Island. Positioned right in front of the Atlantic Ocean, the luxurious rooms of the Sanctuary look right out onto the rolling waves. Kiawah Island itself isn't overrun by tourists. It consists mostly of resorts and private beach areas, so you're sure to find peace and tranquility while staying at this resort.
The Sanctuary Kiawah Island Golf Resort itself boasts an incredible 10 miles of private beach. If sea swimming makes you peckish, you can order food from the Loggerhead Grill. Guests also have access to two outdoor swimming pools and the Spa At Sanctuary.
Not only are the amenities diverse, but the room choices are, too. Firstly, you've got Garden View and Ocean View Suites to choose from. Secondly, you've got a range of room and furniture layouts to choose from. Typically, you'll find a king or queen bed, a marble walk-in shower, and a balcony.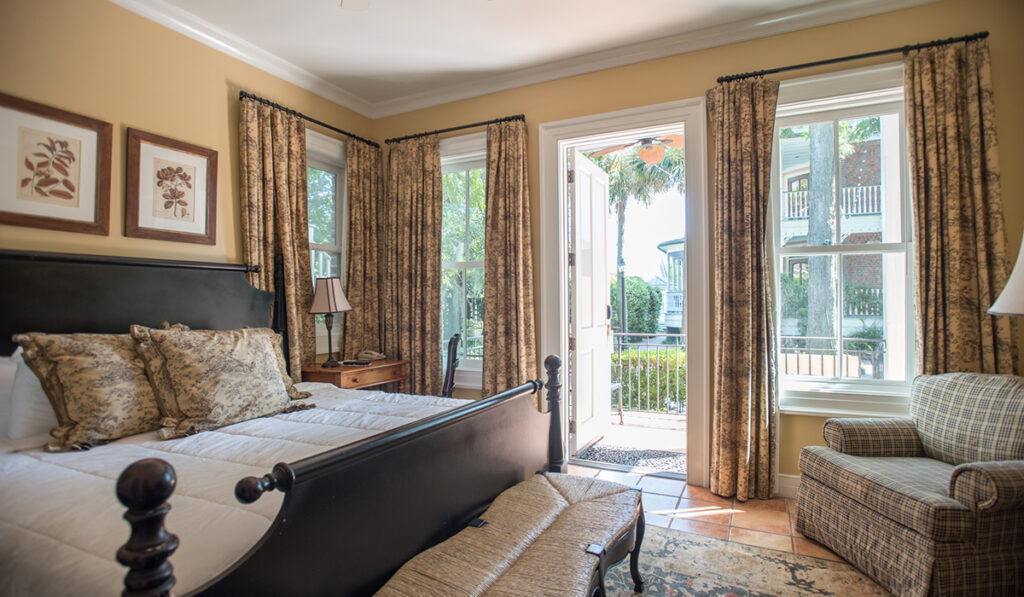 Price per Night: $200 – $300
Best For: Bridal Suites
Availability: Limited Availability
Found in the Historic District of the town, the Beaufort Inn offers a slice of tranquility away from the hustle and bustle of the town center. The house has acted as a summer retreat since 1897. In the time since, it has been able to maintain its charm. Today, it delivers the very best in southern hospitality.
Nearby, you'll find plenty of restaurants, art galleries, and independent stores. Waterfront Park is just a short walk away. In and around the Beaufort Inn, you can enjoy the private courtyards, porches, and verandas.
Bridal suites are available, which contain vintage-meets-contemporary furnishings. Grand fireplaces, claw-foot soaking tubs, and heart pine floors define the rooms. For the ultimate South Carolina honeymoon, we'd recommend the Garden Cottage King. This comes with a private porch, balcony, and a rainwater shower.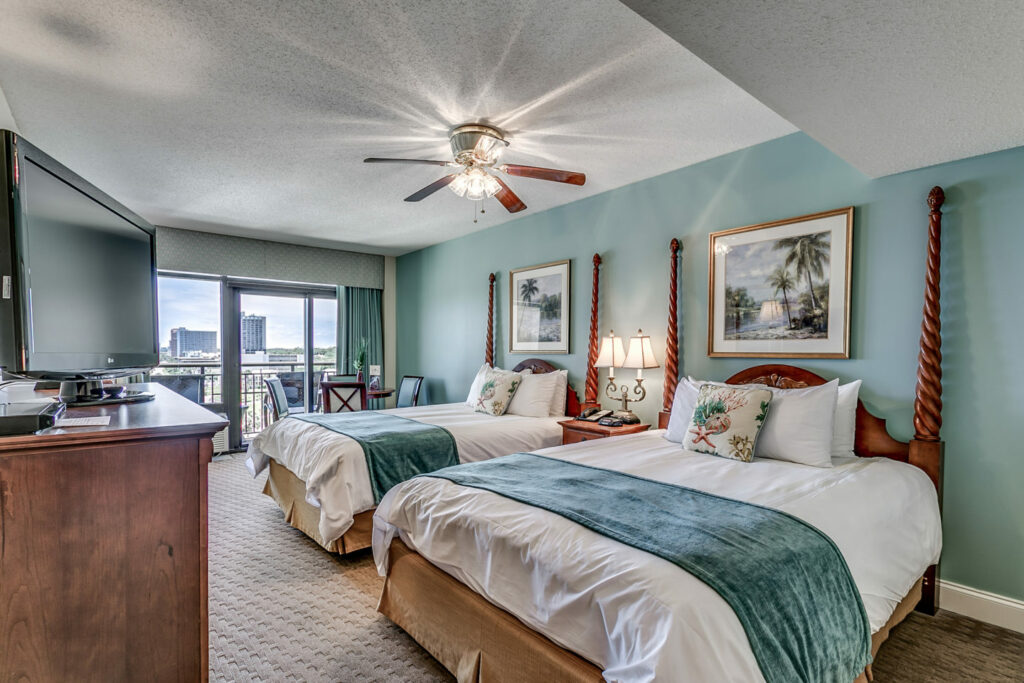 Price per Night: $140 – $700
Best For: Romance Packages, Secluded
Availability: Limited Availability
While Myrtle Beach may be busy with resorts and hotels, Island Vistas Resort manages to hold its own private stretch of coast. There isn't another hotel for miles in either direction! This makes it feel secluded, creating the perfect atmosphere for your South Carolina romantic getaway.
Obviously, staying at this hotel means you're not really within walking distance of the busy part of Myrtle Beach. Still, it takes just a 10-minute drive to reach the vibrant restaurants, bars, and attractions. Plus, there are plenty of onsite attractions to keep you occupied. There are three pools, hot tubs, a spa, and two dining options. The Tiki Hut serves pizza poolside!
The Island Vistas Resort's Romance Package secures you the best ocean-facing rooms. This offer also includes champagne, rose petals, and cheese platters. Plus, the room position is perfect for taking long sunset or sunrise walks along the empty beachfront. The rooms are kitted out with wide balconies, comfortable living areas, kitchens, and jacuzzis.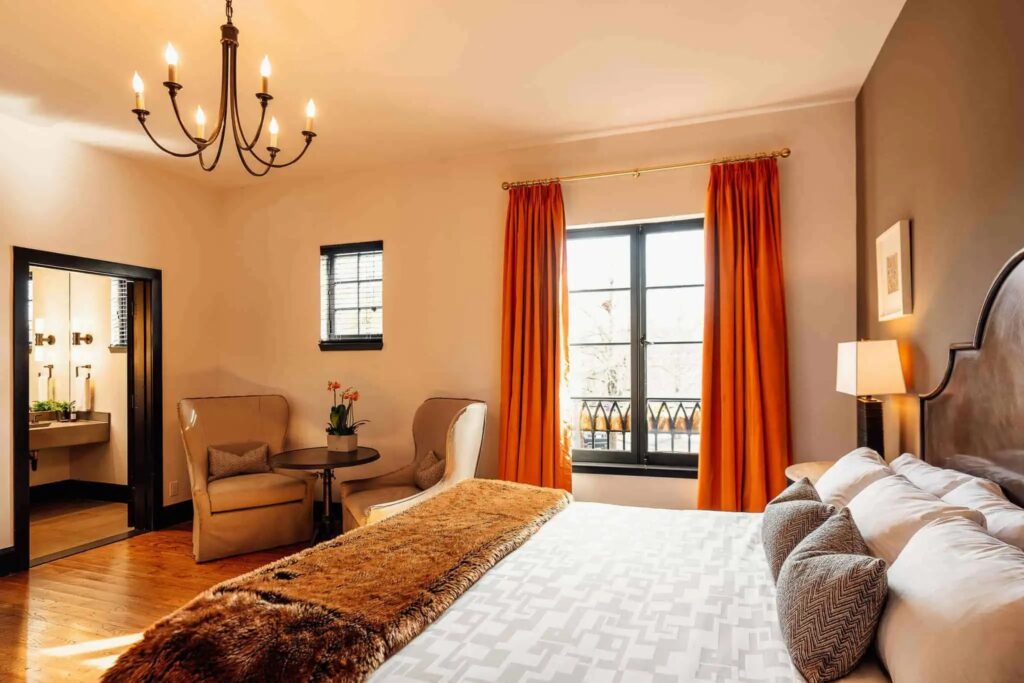 Price per Night: $380 – $540
Best For: Outdoor Adventures, Boutique Hotel
Availability: Limited Availability
Out of all the resorts positioned around the Blue Ridges, the Hotel Domestique has to be the most luxurious. If you're looking to trail around some of the mountains with your partner, this resort is found right at the base. This not only makes it great for activities, but it also means it affords a dramatic view of the awesome mountaintops.
With just 13 rooms, the Hotel Domestique feels just like a homely country house. The decor arrangements of the interior have real artistic touches. Rich upholstery and hand-hewn beams are paired with contemporary art pieces. This can be seen throughout the common areas and onsite dining facility, Restaurant 17.
The rooms also feature luxurious furnishings, which include river rock standing showers and king-sized beds. Of course, all rooms boast unbeatable views of the surrounding wilderness. Nearby the hotel, you can partake in hiking and kayaking excursions. While here, you can also enjoy the upstate vineyards. The Hotel Domestique can even give you a vineyard passport.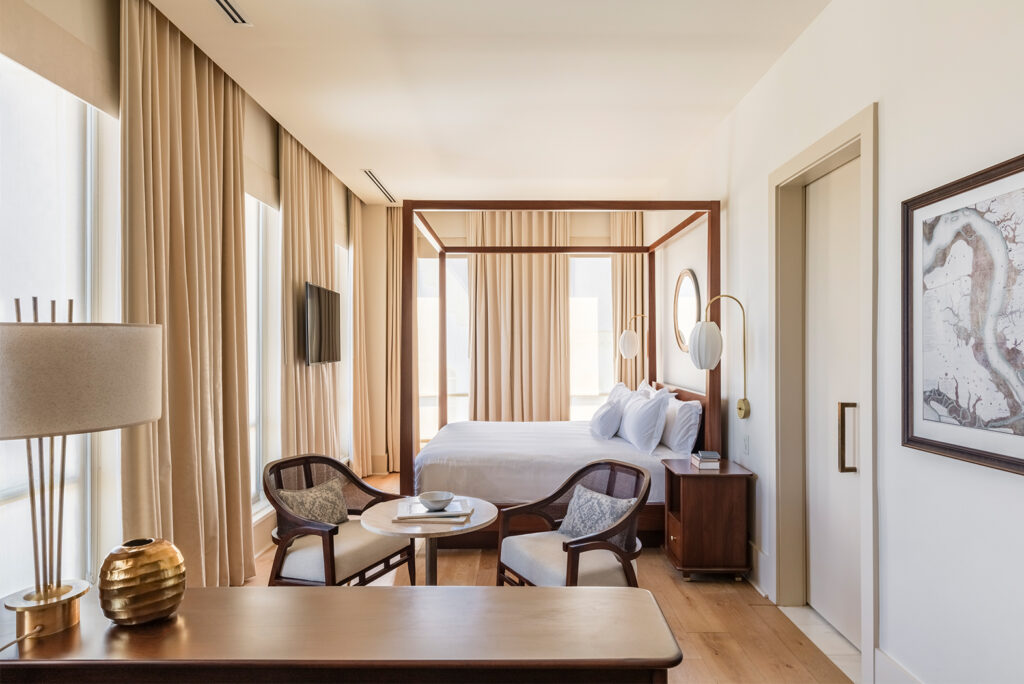 Price per Night: $355 – $870
Best For: Young Couples, Central Location
Availability: Easy to Book
Nestled in downtown Charleston you'll find the Dewberry Charleston. While it's a fairly new addition to the city's hotel scene, the Dewberry is located in a mid-century modern building. It's distinctly different from the quaintness of other South Carolina hotels. It offers a contemporary hotel to base yourself in as you explore the dense and diverse city.
If you're planning on sharing a few romantic drinks on your honeymoon, the Dewberry is the right place to do it. The Citrus Club is the hotel's rooftop cocktail bar that commands brilliant views over the city skyline (it's the highest rooftop in Charleston!). The Living Room is a few floors down and boasts a wraparound patio. Other onsite amenities include the onsite spa.
The rooms at the Dewberry typically contain king-canopy beds, sofas, and curated minibars. While staying at the Dewberry, you can sample the fine dining delights of the Holy City. This includes 39 Rue de Jean and Vincent Chicco's. Other nearby romantic things you could do include exploring Gibbes Museum of Art or Joe Riley Waterfront Park.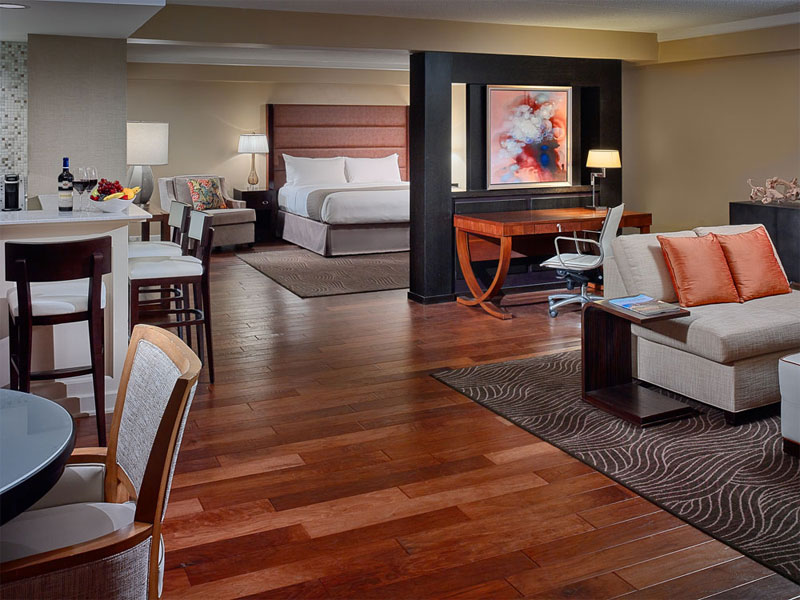 Price per Night: $120 – $990
Best For: Spa, Beach Access
Availability: Easy to Book
Hilton Head Island is home to some of the best natural beauty in the whole of South Carolina. With a great location and amazing amenities, the Sonesta Resort Hilton is one of the best honeymoon destinations in the Palmetto State. This resort opens up right onto the iconic Bass Head Beach, where couples can meander along during the day, at dusk, or even by moonlight!
Coligny Beach Park and the center of Hilton Head Island are also nearby. Along the beach and further inland, you'll find plenty of bars and late-night spots. Here, you can keep your honeymoon celebrations going until the small hours. Hilton Head has a real tropical island party vibe going on, both at indoor and outdoor venues.
Back at the Sonesta, this oceanfront resort offers plenty of activities to keep you busy. Several outdoor pools can be found around the resort, in between delicately landscaped tropical gardens. There's also the Arum Spa where you can book a couples massage and several dining options. Garden and ocean view rooms are available, complete with king beds and living space.
Top Excursions & Activities To Do On A South Carolina Honeymoon
Not only is South Carolina bustling with honeymoon destinations, but it's also brimming with exciting things to see and do. When mapping out your honeymoon itinerary, be sure to include some of the following activities:
Charleston Dinner Cruise
If you want to spectate Charleston's impressive harbor at sunset, going on a Charleston Dinner Cruise would be the best way to do it. On this, you can share a 3-4 course meal with your loved one as the sun sets. This experience includes bar services, live music, and food made using local ingredients exclusively.
Beaufort Carriage Ride
Have a relaxing trip through history with a horse-drawn carriage ride around Beaufort. Not only will you learn all about the Civil War history of the town, but you'll also see some of its most glamorous spots. You'll ride past some of the most expensive Antebellum and Victorian houses in the area and also pass by some familiar movie filming locations.
Upstate South Carolina Wine Tour
At the opposite end of the state, you'll find a thriving wine scene waiting to be explored by newlyweds. With Greenville Wine Tours, you can discover some of the state's best vineyards, from Victoria Valley Vineyards to Eagle Mountain Vineyards. Not only can you sample a range of delicious wines, but you'll have stunning mountains to look at while you sip!
Attend a show at Gaillard Center
The Gaillard Center is Charleston's premium entertainment venue. If you want to give your South Carolina honeymoon a touch of sophistication, you could attend an opera, concert, or play at the Gaillard Center. Tchaikovsky and Beethoven concerts are often held at this venue.
Sample Itinerary & Budget For Your Honeymoon To South Carolina
From downtown Charleston to the major lakes of the state, South Carolina has a lot to offer newlyweds. With activity options so diverse and found all over the state, it's important to plan your honeymoon week in advance. To help you out, here's a sample itinerary and budget to start you planning your ultimate romantic trip:
Sample Itinerary
Day 1 – Day 1, as always, should be about checking in and enjoying your resort's amenities. If you've had a long flight, you should spend the first hours of your honeymoon poolside or in the on-site sauna. Later, you can dine at the resort's restaurant or a nearby eatery. At night, you can enjoy a few drinks at the resort bar.
Day 2 – Get up early and tour the city. If there's a walking tour that goes around all the main sites, get involved with that. Take note of a few sites to explore further in the afternoon. Enjoy lunch in the town or city center. In the afternoon, hit up the beach or a local point of interest. Dine back at the hotel before hitting the town for drinks at night.
Day 3 – Take a day trip on the third day. If you're in Charleston, travel to one of the islands or Beaufort. Spend your sunset on a beach and get a late bus home.
Day 4 – Take it easy at the hotel. Enjoy the facilities on offer. If you're at a beach resort, have a beach day. If you're not nearby a beach, spend your day chilling by the pool or in the sauna. Eat out at a fancy restaurant and drink at the local bars at night.
Day 5 – Travel to the countryside and check into a lakeside or mountainside resort. Enjoy the facilities of the resort or follow a short trail in the surrounding wilderness.
Day 6 – Get up early and go on a big trail around a lake or up a mountain. Check out some local beauty spots and take plenty of photos. Get a bus back to your original resort later on in the afternoon. Enjoy dinner and drinks once you arrive back.
Day 7 – Take it easy on the last day. Return to a few favorite eateries and bars throughout the day. Finish things off with a sunset cruise.
Sample Budget
Accommodation – $900 – $19,000
Food and Drink – $840 – $1,500
Transport – $140
Wine Tour – $150
Charleston Dinner Cruise – $210
Gaillard Center Show – $50
Beaufort Carriage Ride – $60
Of course, you'll be able to secure lower rates in the off-season months. From around October to April, you'll get the best resort deals in places like Myrtle Beach and at the Kiawah Island Golf Resort.
Frequently Asked Questions
How much does a South Carolina honeymoon cost?
A couple can spend just $1,500 on a South Carolina honeymoon. South Carolina is generally quite inexpensive when compared to other U.S. states and honeymoon hotspots. Still, couples who enjoy splashing out will definitely exceed $1,500 on their South Carolina honeymoon.
When is the best time to visit South Carolina?
South Carolina looks its best in springtime. If you're heading to Myrtle Beach, we'd definitely recommend going in the off-season. During the summer, this beach resort is overrun by families. So, spring or autumn is best. Plus, you'll get a more agreeable climate than in the heat of summer.
What is the best way to travel around South Carolina?
Although a reliable bus service connects all major cities and towns, it may not be cost-effective if you plan on doing a lot of traveling. Instead, it would be recommended to hire a car. This way, you can more freely visit the parts of the state you want.
Start Planning The Perfect Romantic Honeymoon Getaway
South Carolina has a lot to offer both explorer couples as well as honeymooners seeking culture and relaxation. The upstate regions offer much exploration in the form of hiking and walking trips. This mountainous area is also home to the state's best vineyards.
Along the coast, you'll find beautiful beaches and terrific resorts for starting your married life the right way. A Beaufort or Charleston honeymoon is perfect for exploring quaint streets by horse and carriage, or fascinating harbors by boat. For a tranquil retreat, go to the Sanctuary Kiawah Island Golf Resort.
Wherever you end up, you'll definitely find fine dining, outdoor adventure, and southern hospitality in South Carolina.
If you still haven't made up your mind on where to spend your romantic getaway, check out the other resources on Couples Travel.