Trying to find the perfect destination for your honeymoon? Don't just close your eyes and point to the map! We've got guides for every destination imaginable. And in this article, we're covering a true diamond in the rough: Alabama!
As a newlywed (or soon-to-be newlywed), planning your wedding is stressful enough. With caterers, venue, photographers, and those all-important seating charts to get right, there's hardly any time to focus on what comes after your big day. Luckily, we've taken all the hard work out of finding your ideal destination.
With the go-to spots, best hotels and stays, and even an itinerary and budget, we've got your honeymoon plans sorted!
What Makes Alabama Perfect For A Honeymoon
Alabama is one of the most well-kept secrets when it comes to the best destinations for romantic getaways. With sprawling beaches, jaw-dropping views of mountains, lakes, and rivers, and tons of art and culture to enjoy, there's something for every type of couple!
The seclusion of the sleepy towns and the excitement of the bigger cities make for the ideal honeymoon spot. You can go from hiking gorgeous trails to taking in a show and sipping on cocktails in the bustling city – all on the same day!
Best Areas To Stay in Alabama
When you're scouting for honeymoon destinations, Alabama has some of the most incredible towns and cities to explore. Pick a quiet resort town for a relaxing romantic getaway, get close to the beaches along the Gulf Coast, or split your time between some of the best destinations to curate your ideal vacation!
Mobile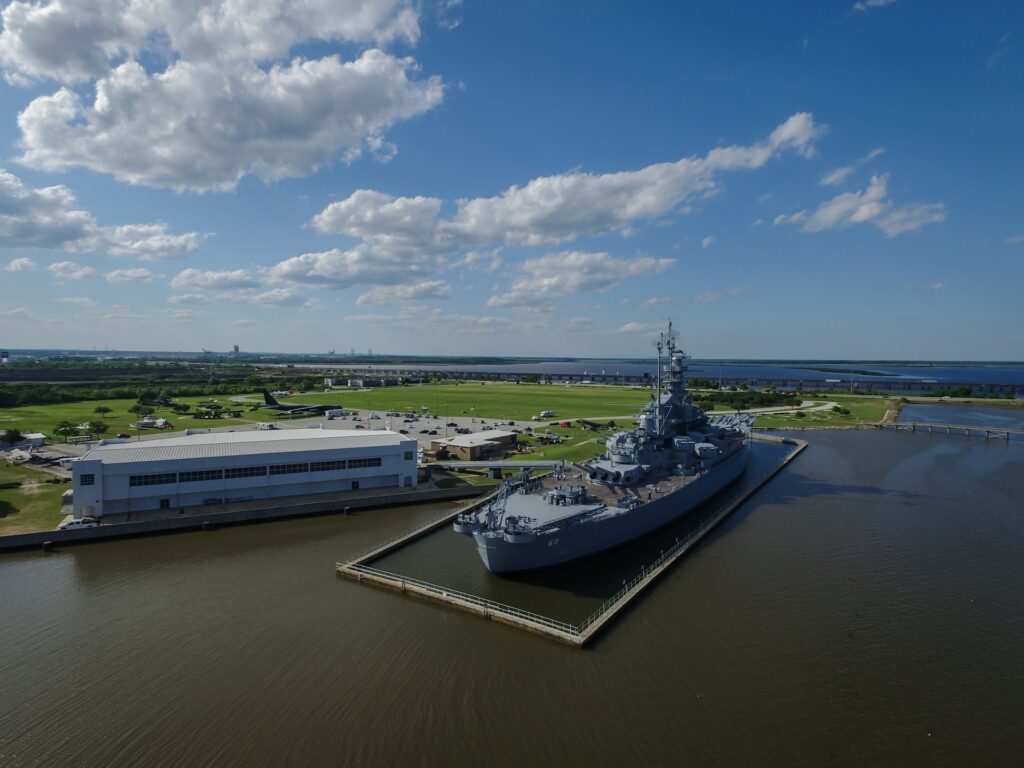 Along the Golf Coast lies one of the best romantic getaways in Alabama. The historic port city of Mobile is the ideal destination for history buffs and has plenty of quiet spots that are perfect for stealing romantic moments.
With museums and art as far as the eye can see, Mobile is a great place to start your honeymoon. Spend a romantic weekend here before moving on to other cities, or settle in and enjoy a serene retreat with your spouse.
Gulf Shores & Orange Beach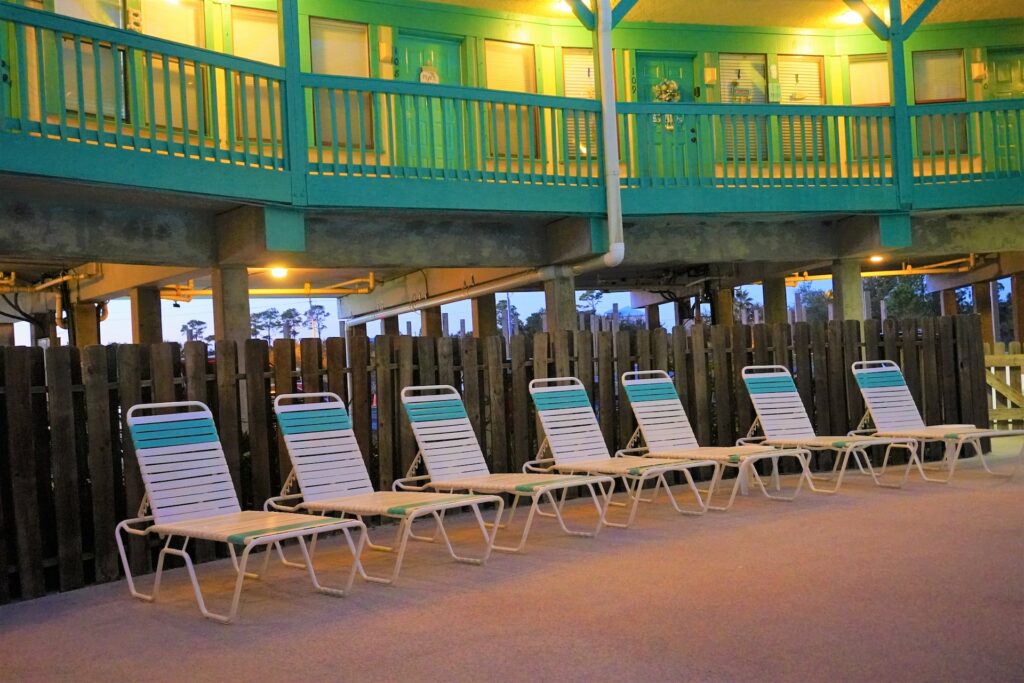 Adventurous and outdoorsy couples will love the water sports and activities offered in the small cities of Gulf Shores and Orange Beach. These two destinations are so close to one another that you won't have to pick and choose where to stay! In fact, the Backcountry Trail will take you straight from Orange Beach to the beaches of Gulf State Park in Gulf Shores.
If you're looking for excitement and non-stop activities, these two locations make for the perfect honeymooning spot.
Birmingham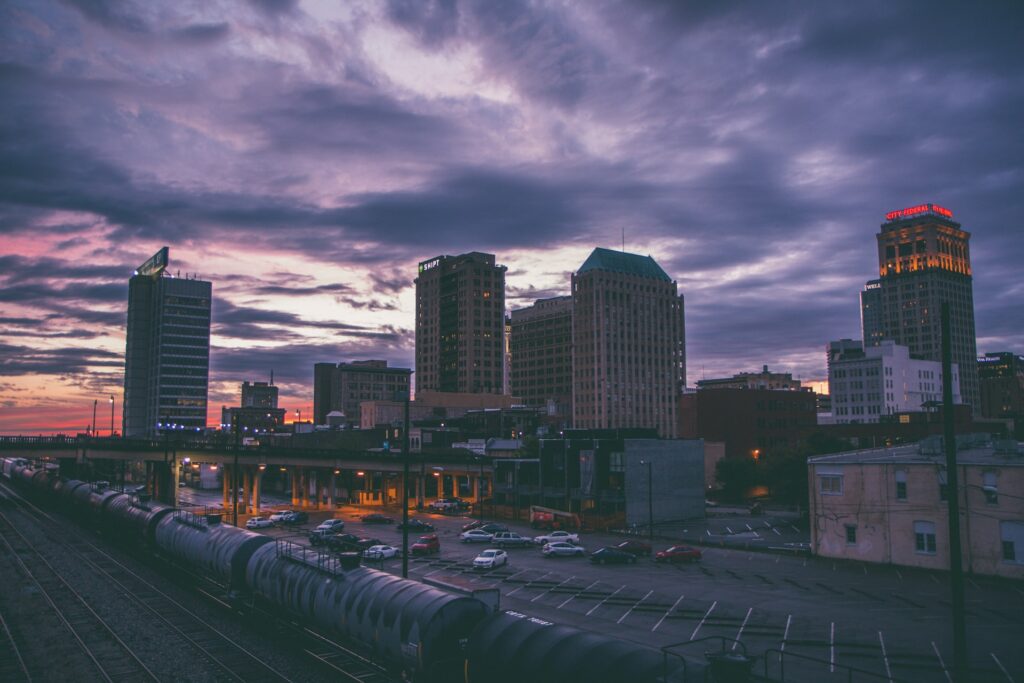 There's no better place to visit in Alabama than its largest city! Birmingham is filled with cultural arts and historic locations to give couples a deeper understanding of why its one of the most popular tourist cities.
There's also something for every couple here. From the ballet and museums to exciting nightlife and outdoor recreation, it's a good spot for couples that want to experience it all!
Best Honeymoon Resorts, Hotels, and Other Stays in Alabama
Looking for a romantic hotel to set the tone for the ultimate honeymoon? Look no further! There are plenty of romantic getaways in Alabama that are luxurious and elegant while still being affordable! The range of hotels and resorts has a lot to offer, but be sure to check out the quaint bed and breakfasts for a private respite!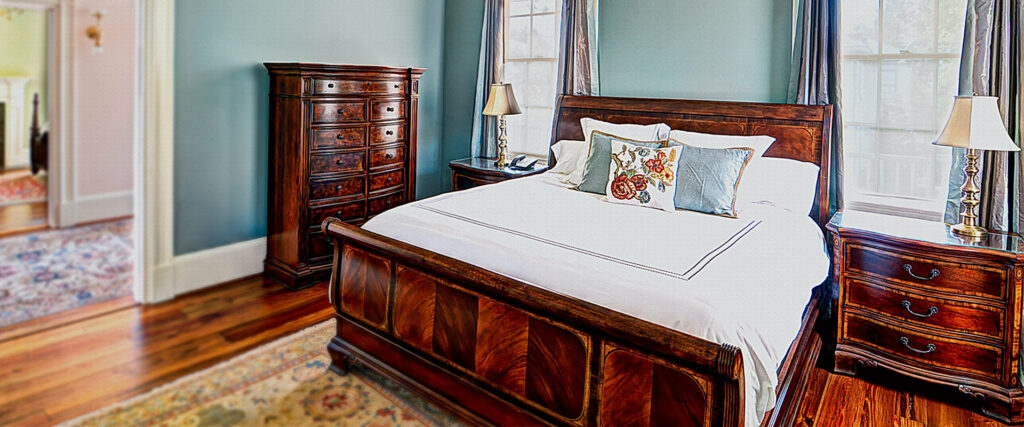 Price per Night: $147 – $200, excluding private cottages
Best For: Great for longer stays and quiet accommodation
Availability: Good availability, easy to book
This boutique hotel is one of the most romantic getaways in Alabama. It features Victorian-style rooms that have been refurbished and fitted with modern amenities; it's the perfect blend of old and new-world comforts.
The luxury king suites include a semi-private balcony and a whirlpool tub, making it perfect for newlyweds looking for privacy. What makes this accommodation stand out from other romantic hotels is its affordability. Although it may not have an on-site spa or tennis court, the boutique hotel is quiet and secluded for a relaxing retreat or romantic weekend.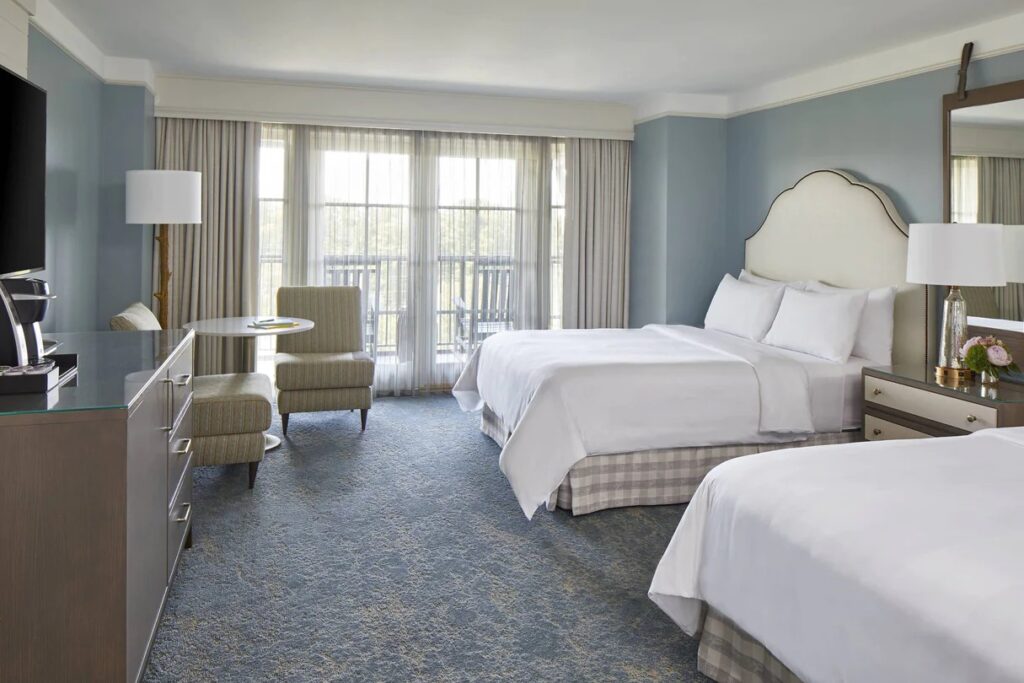 Price per Night: $329 – $449
Best For: Older couples, long stays
Availability: Good availability, easy to book
Next on our list of romantic getaways in Alabama is the Grand Hotel Golf Resort. Located in Point Clear, the Grand Hotel Marriott Resort is a short drive from the tourist hotspot, Gulf Shores.
The resort's facilities include a hot tub, outdoor pool, indoor pool, restaurant and dining room, a full fitness center, and golf courses. So, if you and your sweetheart are looking for a resort with every amenity you can imagine, the Grand Hotel Marriott Resort is the one for you!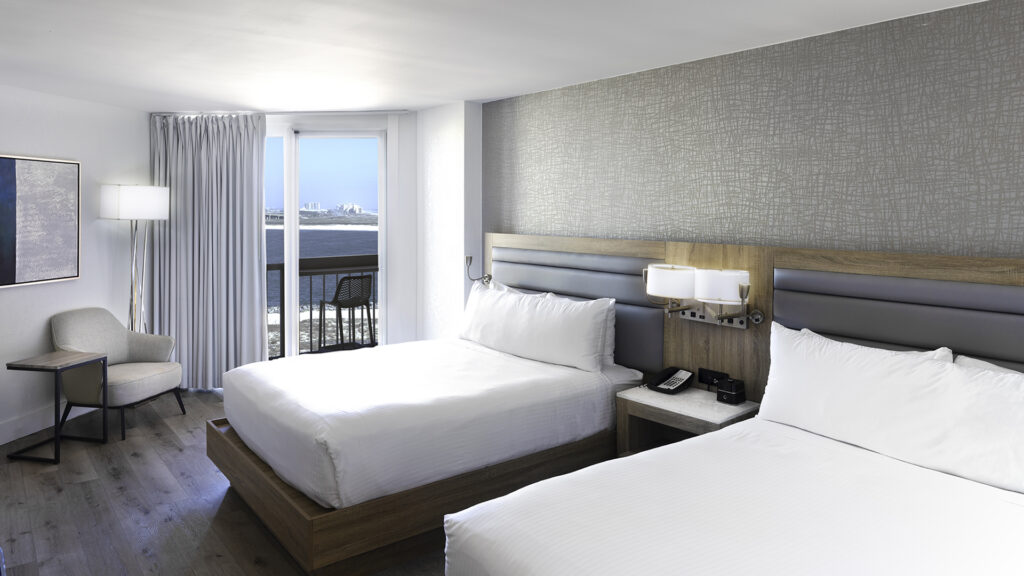 Price per Night: $145 – $920
Best For: Younger and older couples, longer stays
Availability: Good availability, easy to book
When you're looking for a romantic retreat, Perdido Beach Resort is the ultimate getaway. The Perdido Beach Resort has everything you'll need to complete your honeymoon, from indoor and outdoor pools to a relaxing hot tub, on-site dining, and easy access to Orange Beach.
If you're still in the planning phase of your wedding, you may also want to check out the hotel's wedding venues. They offer weddings along the sandy beaches of the Gulf Shores, making it the ultimate two-in-one destination.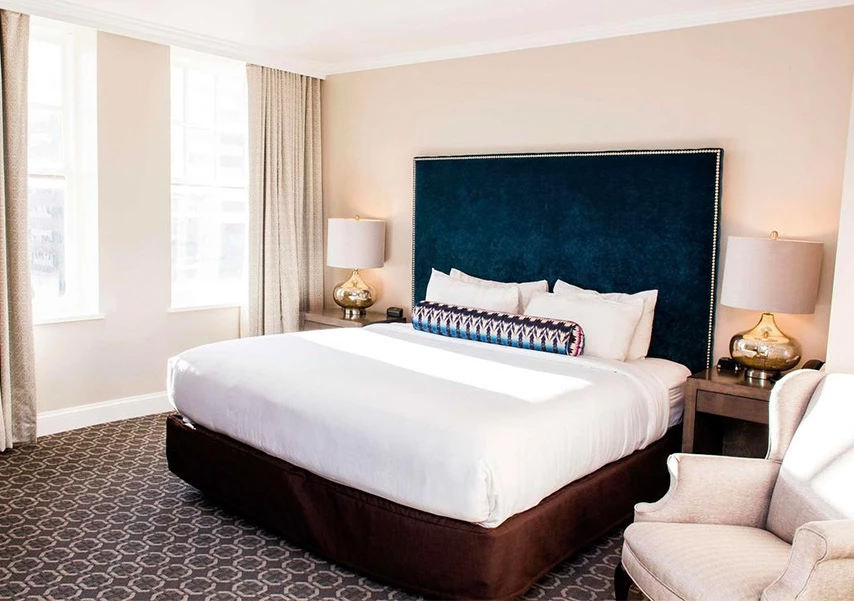 Price per Night: $174 – $523
Best For: Young couples, long stays
Availability: Limited availability
When you're planning getaways in Alabama, Birmingham is the place to be. And if you're staying in Birmingham, there's nowhere better to rest your head than the Redmont Hotel. This art deco hotel is filled with history (and even some spooky apparitions) that make it the ideal location for a memorable trip.
The hotel has standard amenities and multiple dining areas to keep you satisfied during your stay. It's one of our favorite places to come back to after a long day out and about in Alabama!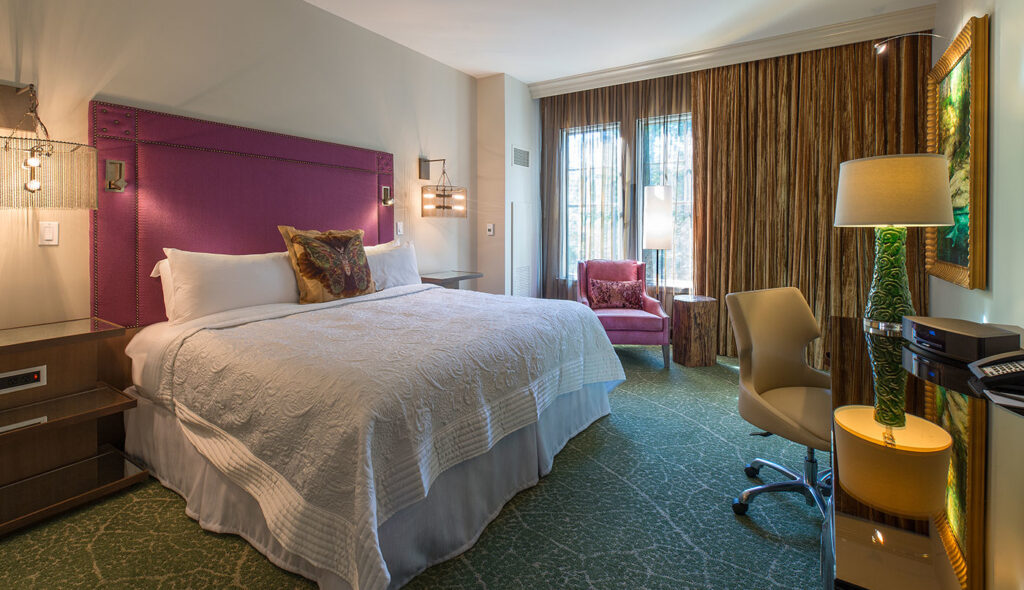 Price per Night: $264 – $1,420
Best For: Long stays, young couples
Availability: Good availability, easy to book
Another one of our top getaways in Alabama (specifically Birmingham) is the Grand Bohemian Hotel. This romantic hotel is the epitome of luxury without being too expensive.
The standard suites are perfect for honeymooners that want to get out and explore, and the hotel offers a ton of other activities on-site as well! It boasts an outdoor pool, spa, and on-site dining to meet all of your needs and ensure you have a comfortable stay.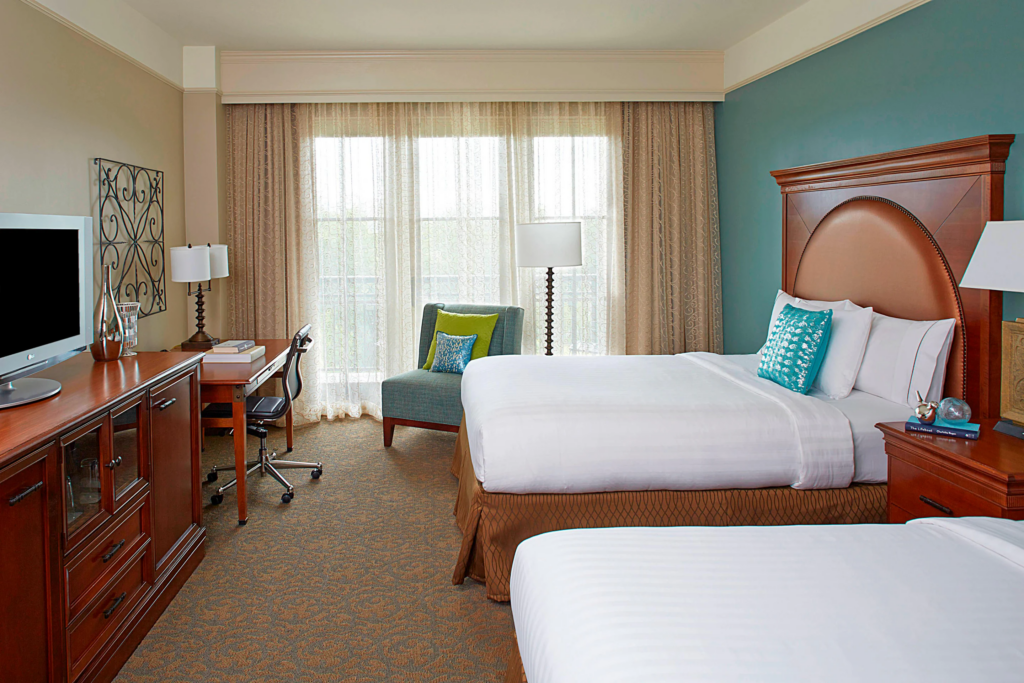 Price per Night: $448 – $892
Best For: Short stays, older couples
Availability: Limited availability
Okay, so maybe you want something more exciting than a standard hotel, or maybe you're not a fan of the Redmont's permanent spectral guests. In that case, why not spend your honeymoon in the lap of luxury at the Renaissance Hotel? The elegant rooms and castle-like exterior are perfect for quiet retreats.
The hotel offers an on-site spa, restaurant, and golf courses, as well as a hot tub and an indoor and outdoor pool.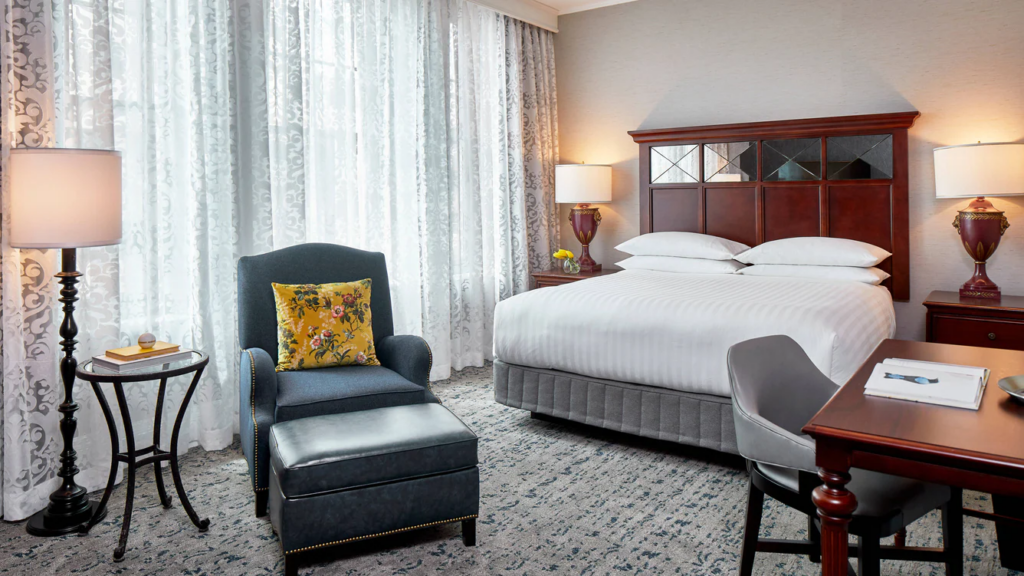 Price per Night: $182 – $293
Best For: Old and young couples, long stays
Availability: Limited availability during peak-season
For a hotel in a historic town, the Battle House is full of exciting modern amenities! From the rooftop pool to the on-site spa and tennis courts, there's something truly amazing about staying at this hotel. The rooms are also neatly decorated and fitted with lush furnishings and high-end linens. You'll never want to get out of bed!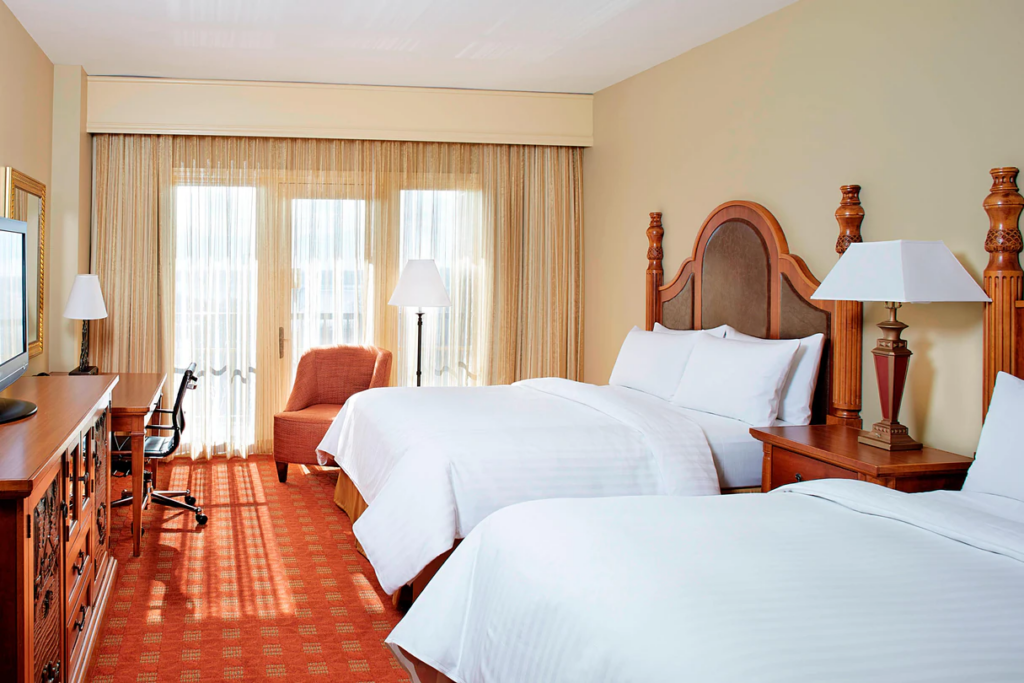 Price per Night: $195 – $341
Best For: Older couples, long stays
Availability: Good availability, easy to book
Want to dine in style with a panoramic view of beautiful Florence? Is that even a question? You'll find everything you need for a relaxing stay at the Marriott Shoals Hotel. From the on-site spa to the opulent rooms, this is the best stay for mature couples who are looking for some peace and quiet.
The Shoals Hotel is also one of the best getaways in Alabama, with jaw-dropping views of the Tennessee River.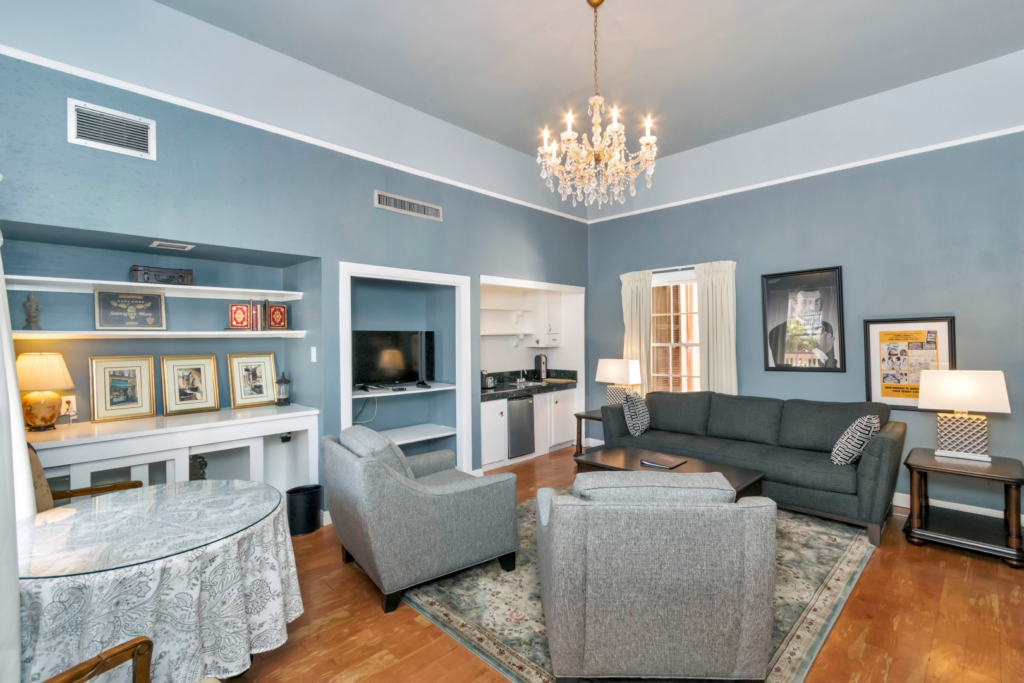 Price per Night: $199 – $309
Best For: Older couples, long stays
Availability: Limited availability during peak-season
The Malaga Inn is one of the most special and romantic hotels in all Alabama. Nestled in Mobile, this historic building has had a complete makeover without losing any of its Southern hospitality or charm. If you're looking for complete privacy and tranquility, let the Malaga Inn transport you to a world of romance in Victorian-style guest rooms.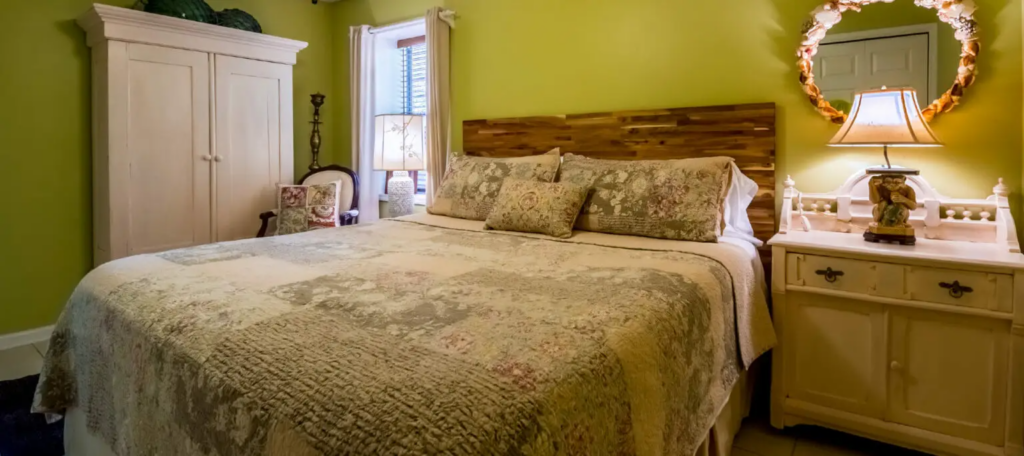 Price per Night: $175 – $300
Best For: Older and younger couples, long stays
Availability: Good availability, easy to book
Want to stay in a bed and breakfast that looks like it was taken straight out of a romance film? Then look no further than the Smith! The guest rooms and suites are fitted with cozy fireplaces, so you can curl up with your sweetheart at the end of a long day.
In the morning, you can also feast on the complimentary continental breakfast before heading out to see the sights. It even has gorgeous views of Smith Lake, so be sure to take some honeymoon snaps to show your family and friends back home!
Top Excursions & Activities To Do On An Alabama Honeymoon
Cathedral Caverns State Park
If you're seeking adventure (and looking for a beautiful backdrop for some honeymoon snapshots), you won't want to pass up the opportunity to visit Cathedral Caverns State Park. This gem is located just outside Woodville and Grant in Kennamer Cove and is a treasure worth exploring.
Inside the caverns, you'll find stalagmites and rock formations that will take your breath away. While you're there, don't forget to take a look at one of the largest stalagmites in the world. Nicknamed Goliath, this incredible formation has a perimeter of 243 feet and is a whopping 45 feet tall!
There are also plenty of other activities at the park to keep you entertained, like gem mining and cave tours. There are even hiking trails for outdoorsy couples who love a challenge. At just $18 per adult, this is one of the most budget-friendly activities you can do on your romantic getaway to Alabama.
Alabama Wine Trail
The Alabama Wine Trail is a fantastic excursion for foodies and wine connoisseurs looking for an excursion to spruce up their romantic getaways. The route includes six wineries that are tucked away against the mighty Tennessee River in North Alabama, so you're sure to get gorgeous views along the way.
Events along the route should keep you entertained, and the tastings should excite and delight your tastebuds. There's nothing more appealing than sipping on great wines with your honey! You can also find a wine 'passport' on the Wine Trail's website that allows you to collect stamps from each of the wineries along the route.
What's more, you'll get a free gift from the last winery you visit when you complete the Trail! These gifts make fantastic souvenirs to commemorate your perfect romantic getaway and honeymoon!
Bellingrath Gardens & Home
If you're looking for a relaxing outing and picturesque scenery, you'll want to visit the Bellingrath Gardens. There are also plenty of events that take place here throughout the year, so be sure to check their website to avoid missing out!
The estate is filled with perfectly-manicured gardens and a Museum Home that is filled with rich history, including the Delchamps Gallery of Boehm Porcelain. The home is fitted with its original furnishings, and the antique architecture is truly a sight to behold. So if you're a couple of history buffs (or you just want to get out into nature), this is the place to be!
Access to the gardens is around $15 per adult, while additional entry to the Museum Home will increase the ticket price to $24.
Sample Itinerary & Budget For Your Honeymoon To Alabama
Let's face it: Weddings are expensive! And unless you're a Rockefeller, you'll need to budget for any getaways in Alabama you've chosen for your honeymoon.
But before you start to panic, take a look at our sample itinerary (and a budget example to help you cut costs). We'll help you relieve some of the stress of planning your perfect honeymoon so you can have the ideal vacation with your partner!
Flights: Depending on your airline and where you're departing from, flights to Alabama can cost around $800 – $1,500 for a couple in economy class.
Accommodation: The average hotel in Alabama charges around $150 – $500 per night. Budget hotels may charge as little as $100, while luxury resorts and hotels can charge over $4,000 for certain rooms and suites. But you can still find an elegant hotel to settle in at for a reasonable price if you pick from our list of the best stays!
Travel: If you're exploring around Alabama, we'd recommend hiring a car for the length of your stay. Car rental is around $45 per day, which is much cheaper than hailing rides from services like Uber of Lyft for more than $10 a trip. After a while, those $10 trips start to add up! And longer trips are going to cost a lot more.
Food and drink: Your food and drink budget will depend on where you're enjoying a romantic dinner. Fine dining restaurants can charge more than $200 per person, so you'll need to factor in expensive meals. On average, a couple spends around $100 per day on food. But you can cut costs by taking advantage of complimentary meals at your hotel.
Alabama Shakespeare Festival: For the artsy couple, a night at the theatre is a must for your itinerary. The Alabama Shakespeare Festival is located in Montgomery within the Wynton M. Blount Cultural Park. Tickets cost around $25 – $64 per adult, depending on where you're seated.
Dolphin Cruises in Orange Beach: Want to go dolphin-spotting? Of course, you do! And what could be better than a sunset cruise to watch the dolphins along the Gulf Coast? Tickets are around $30 for the sunset cruise, which is recommended for adults who are looking for an extra dose of amorous energy.
Catch a tan on one of Alabama's Gulf Coast: Head on over to the beach for some romantic fun or a moonlit walk along the sand. Either way, this activity is totally free and is one of the selling points of this romantic getaway!
Now that you have a good idea of how to budget your honeymoon savings, it's time to have some fun and explore! Our itinerary includes activities for all kinds of romantic getaways, from budget honeymoons to all-out luxury vacations!
Day 1 & 2:
Relax, unwind, and let the stress of everyday life melt away! For the first two days of your romantic getaway, we'd recommend spending your time on the white sand beaches, tanning beside your hotel's outdoor pool, visiting the on-site or local spa, and frequenting the local restaurants for some great grub!
Day 3:
Start exploring the lively city you're staying in. There are so many towns and destinations that are full of life, history, and cultural arts. There's no way to get a better taste of Alabama than to walk down the streets of where you're staying. You could just find some other great things to see and do.
Day 4:
Head out to get fresh air in one of Alabama's gorgeous National Parks! Spend your time walking trails, biking, picnicking, or spotting local wildlife.
If you and your partner aren't the outdoorsy types, take the day to enjoy nature in a different way. Get up early for a scenic drive, tackle the Wine Trail, or stroll hand-in-hand through the Bellingrath Gardens. Either way, you're sure to find something to marvel at!
Day 5:
Take in a show with the Alabama Shakespeare Festival or visit the museums for a taste of the local history. It's time to slow down and enjoy everything Alabama has to offer before your trip comes to an end.
Day 6 & 7:
Fill your last few days by making amazing memories! Go kayaking along a lazy river, go on relaxing sunset dolphin cruises or go on exciting helicopter tours and listen to live music while sipping on some sweet tea. Soak up every last second with your partner, and don't forget to take some great holiday pics.
Frequently Asked Questions
How much does an Alabama honeymoon cost?
The average week-long romantic getaway in Alabama costs around $1,500 to $4,000. However, some budget-savvy honeymooners can get away with spending around $1,000 to $3,000. If you want to make your honeymoon memorable with luxury accommodations, fine dining, and all the add-ons you can imagine, you may need to budget between $4,000 and $12,000.
When is the best time to visit Alabama?
The best time to head off to Alabama on a romantic getaway is spring. The weather is moderate, and most tourist activities are in full swing.
It's also the perfect destination in the fall for couples who aren't looking to spend all their time in the great outdoors. The cooler weather is perfect for indoor activities and romantic walks along the beach. You may not want to get in the water, though! It might be a little chilly.
What is the best way to travel around Alabama?
The best way to get around Alabama is in a rental car. While there is a good amount of accessible public transportation, paying multiple fares in a day is going to rack up quite the bill.
If you aren't planning on exploring too much, you can also use a ride-hailing service to transport you around the towns or cities. But if you want to soak up everything Alabama has to offer, we'd recommend renting a car and taking as many little adventures as possible!
Start Planning The Perfect Romantic Honeymoon Getaway
Planning your romantic getaways in Alabama is easy with our comprehensive guide. But we're dedicated to making your honeymoon dreams come true.
So, if you're looking for other honeymoon destinations or even the best places to go for a romantic weekend, we've got you covered! Our list of guides covers every vacation spot for couples to help you plan your perfect trip.