The Southwestern state of New Mexico has it all – deserts, mountains, cities, art – it's known as the Land of Enchantment for a reason.
This article will take a deep dive into all things New Mexico. From New Mexico honeymoon resorts to New Mexico honeymoon ideas, you can get a feel for what your special time will be like in this beautiful part of the US.
Why You Should Honeymoon in New Mexico
With sizzling deserts, mountain peaks, art colonies, and rich indigenous history, a honeymoon in New Mexico has something for everyone. It is rich with both culture and natural beauty that is unlike anywhere else in the US.
Most importantly, nobody wants to travel far to get to their honeymoon location. The whole point is to enjoy it! New Mexico is perfectly situated so that, no matter where you are in the US, flights are rarely longer than 5 hours. A nonstop flight from Chicago to Albuquerque, for example, is only about 3 hours, while nonstop flights from New York are only 5 hours. They're generally very affordable too! A trip to New Mexico is like traveling to a different country at a fraction of the cost in a fraction of the time.
With quick travel times, affordable travel prices, and deluxe honeymoon resorts, you can (almost) instantly transport yourself to one of the most diverse states in the country. Brimming with unique art, snowy mountains, beautiful deserts, and a hot, dry climate, you can't go wrong! A New Mexico honeymoon is perfect for couples seeking adventure, relaxation, warmth, culture, and fun.
Best Areas To Stay in New Mexico
In New Mexico, there is something for everyone. Whether you're looking for the best hiking trails, luxurious spa treatments at all-inclusive honeymoon resorts, or a tour through some incredible historical sites, New Mexico has it all.
This can be daunting when planning your trip, but that's where we come in. While New Mexico is quite a big state, there are a few key spots that you really shouldn't miss.
Santa Fe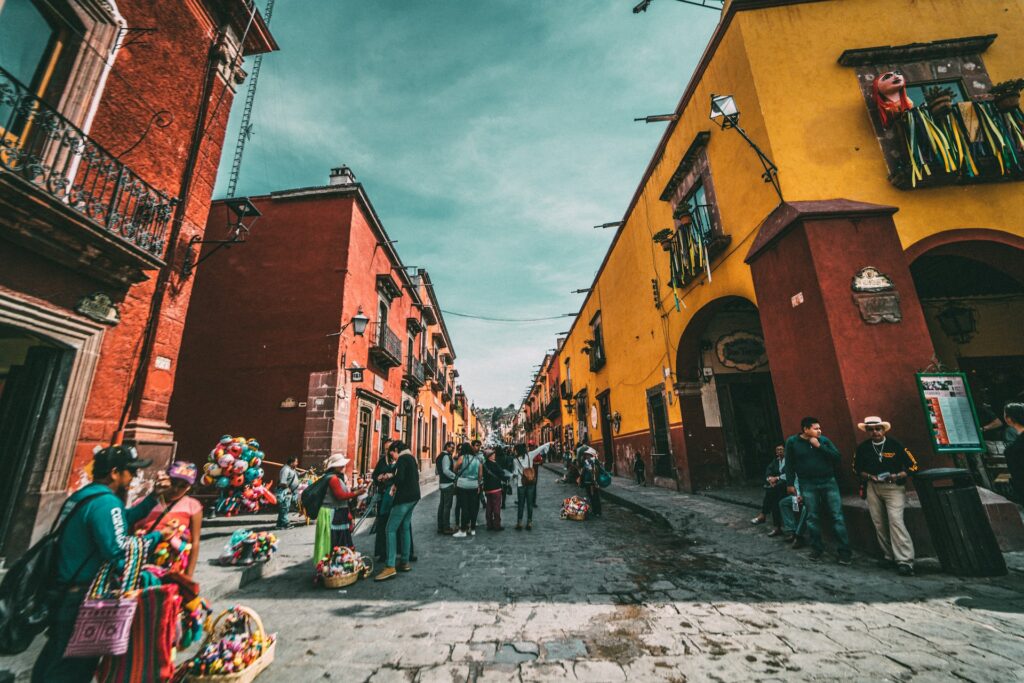 This romantic, Old World city is known for its beautiful architecture, views of the mountains, and incredible sunsets. Santa Fe is the perfect place for a laidback, romantic getaway filled with picturesque landscapes and architecture, incredible food, and luxurious honeymoon resorts and spas. For a low-impact honeymoon, it is the perfect destination.
Just an hour from Santa Fe is one of its hidden gems, the Ojo Caliente Mineral Springs Resort & Spa. As if the experience of soaking in mineral-rich, naturally-warm hot springs wasn't enough, you can pair it with a massage and a bottle of wine afterward to make it a romantic and relaxing adventure. An overnight stay really makes it extra special, as you can spend the night under the stars, soaking away in the warm water.
If you choose to visit the city over the Christmas holidays, you shouldn't miss the Santa Fe Botanical Garden. The lush landscape is transformed into a winter wonderland with a flurry of Christmas lights and decorations. Amongst the beautiful plants and scenery, it really is a romantic sight to be seen.
Albuquerque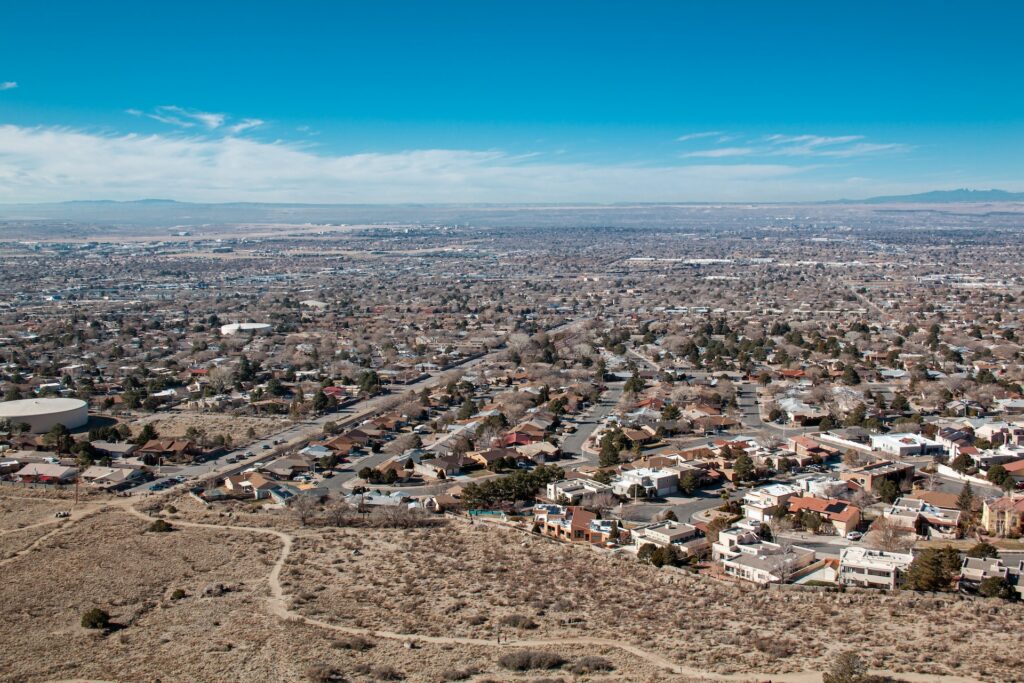 Known historically for being an outpost on El Camino Real, which linked Mexico City to New Spain, this capital city is both metropolitan and rustic, with everything in between. To the east lie the Sandia Mountains, to the west lies West Mesa, and the Rio Grande flows north to south.
The city has a mix of Spanish and Native American influences that are truly unique. From this history comes a food culture like no other. You can find spicy dishes made with fresh green chilis among the traditional Native American architecture and art. It's really special. Amongst the culture, there are also plenty of beautiful honeymoon resorts you can stay at, with the occasional historic hotel here and there, too!
The Sandia Peak Tramway is a great way to get a breathtaking view of the Sandia Mountains. But the best views of Albuquerque come from above. If you're there in October, you can catch the Albuquerque International Balloon Fiesta or hitch a ride on a hot air balloon anytime year-round.
Taos
Taos is known for being home to one of the most bona fide art colonies in the US – and it shows. It is the perfect location to enjoy nature and learn about the deep and rich history of New Mexico.
If you're a history buff, Taos Pueblo World Heritage Site is a must-see. You can spend some time learning about the past and walk through the historic district, too.
Just outside the city lies the Rio Grande del Norte National Monument, which is a marvel. Taking a walk across the Rio Grande Gorge Bridge is a great way to experience this massive river. If you're into skiing, Taos Ski Valley has world-class slopes to satisfy your snowy needs.
Best Places To Stay in New Mexico
New Mexico honeymoon resorts are all top-notch. With a big focus on relaxation, nature, and luxury, you won't be disappointed with the vast number of lodges, inns, hotels, and honeymoon resorts peppered throughout the state.
Some of the best honeymoon resorts have world-class spas and incredible dining options that will leave you relaxed and satisfied after your trip. They're also conveniently located close to the big cities, which means you won't have to sacrifice activities and fun for luxury and relaxation. You can really have to best of both worlds.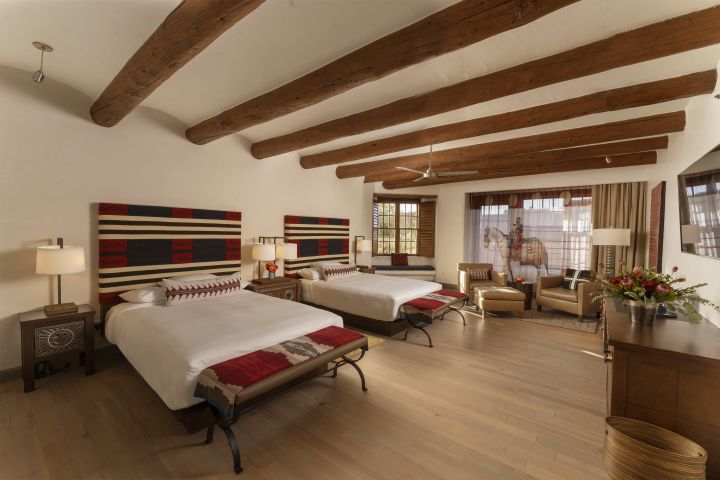 Price Per Night: From $159
Best For: Long stays, short stays, younger couples, older couples
This is one of Santa Fe's absolute gems and one of the highest-rated honeymoon resorts in the city! With mountain views, a rooftop hot tub, an outdoor pool, and a lush spa, this resort is very popular among couples. Being that it is located in the middle of the city, it's within walking distance of many parks, museums, and delicious restaurants.
Its location allows you to really enjoy living in the city without it being too hectic. Just 10 miles away is a ski lift for those couples who want to enjoy some fresh powder and time on the slopes.
A quaint room with a queen bed will net you only $159 per night, which is a total steal! Even the most luxurious room, with a king-size bed, private balcony, and fireplace, is only $299 per night. Amongst couples, this hotel is rated 9.8 out of 10 stars. It is one of the highest-rated honeymoon resorts in New Mexico.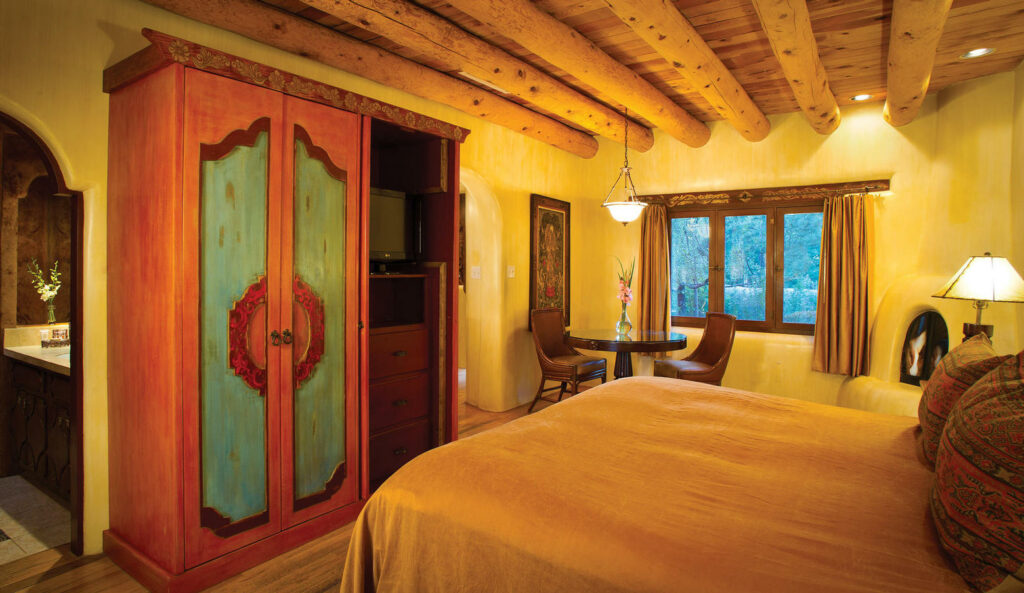 Price Per Night: From $159
Best For: Long stays, short stays, younger couples, older couples, kid-friendly
This hotel is situated in northern New Mexico, tucked away in the mountains of Taos. It is perfect for couples who want to be outside the hustle and bustle of the city and enjoy the nature Taos has to offer. They have an amazing spa and delicious restaurant, but, most importantly, it is just 30 minutes from the ski slopes.
At the hotel, there are 48 Taos mountain rooms with fireplaces, spacious bathtubs, and private balconies. There are also 18 Native American suites, kitted out with Kiva-style fireplaces and stone tile work throughout. They also offer six historic Casita Suites, which are decorated by local Taoseño artists.
For a more luxurious experience, the 2- and 3-bedroom Global Suites offer more space, two bathrooms, and spacious living and dining commons. The rooms here make this one of the most unique honeymoon resorts in Taos.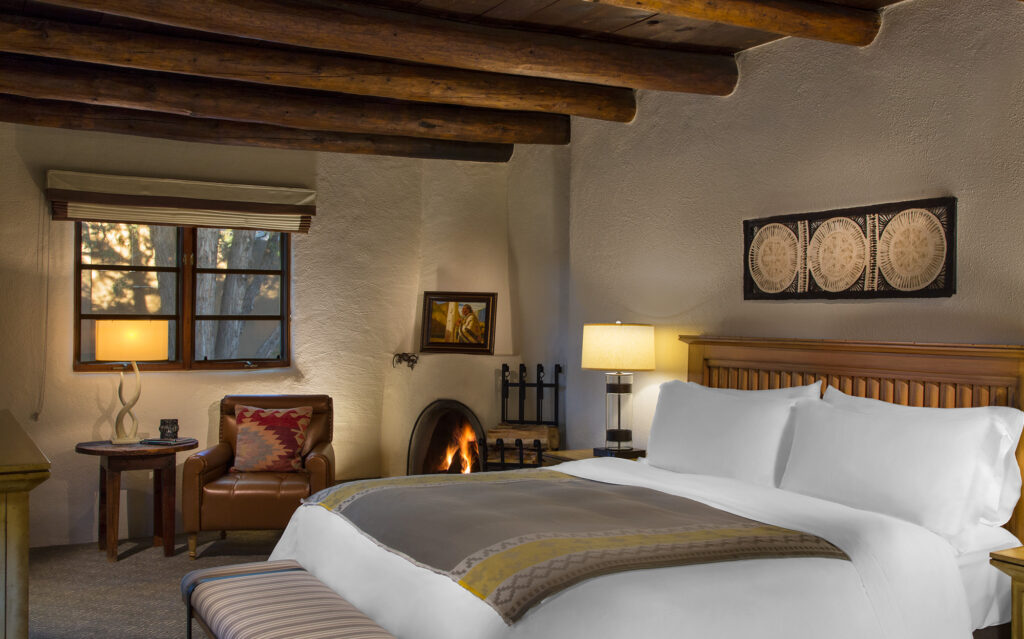 Price Per Night: from $300
Best For: All-inclusive, long stays, short stays, younger couples, older couples
Being one of the only honeymoon resorts in downtown Santa Fe, this is one of the best. They offer special deals like the Pure Wellness Rooms, which makes for a sanitized and healthy experience.
They also offer romantic packages for couples which include breakfast every morning, champagne, and other activities and perks sprinkled throughout. The spa has four massage rooms, and the hotel itself has its own heated pool that is outdoors and saline. To top it off, they have a hot tub, too!
Their most luxurious room is the Sage King with Fireplace Rooms, located close to the resort's spa, salon, steam room, and fitness center. They come furnished with balconies and gas fireplaces to make the experience all the lusher.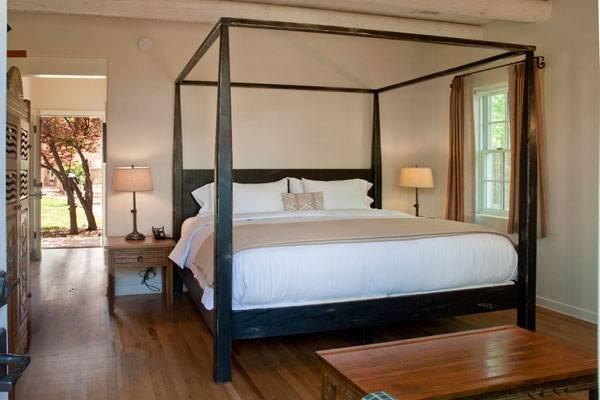 Price Per Night: from $355
Best For: Long stays, short stays, younger couples, older couples
If you're environmentally minded and want to spend time in the thick of nature, Los Poblanos is the inn for you. This is one of the most environmentally-conscious honeymoon resorts in New Mexico. Eco-friendly couples will love staying at this boutique 4-star inn adjacent to an organic farm that grows honey, lavender, and other delicious crops.
You can visit the spa for deep-tissue massages and mani/pedis or enjoy the local cuisine served at the inn's restaurant. Close by, there are many different places to hike and cycle if you're inclined to outdoor activities.
With specials and packages offered year-round, you can get the most bang for your buck by planning wisely. The rooms themselves are each unique, fitted with 1930s revival tin lights, ironwork, hardwood floors, and fireplaces, each with its own twist.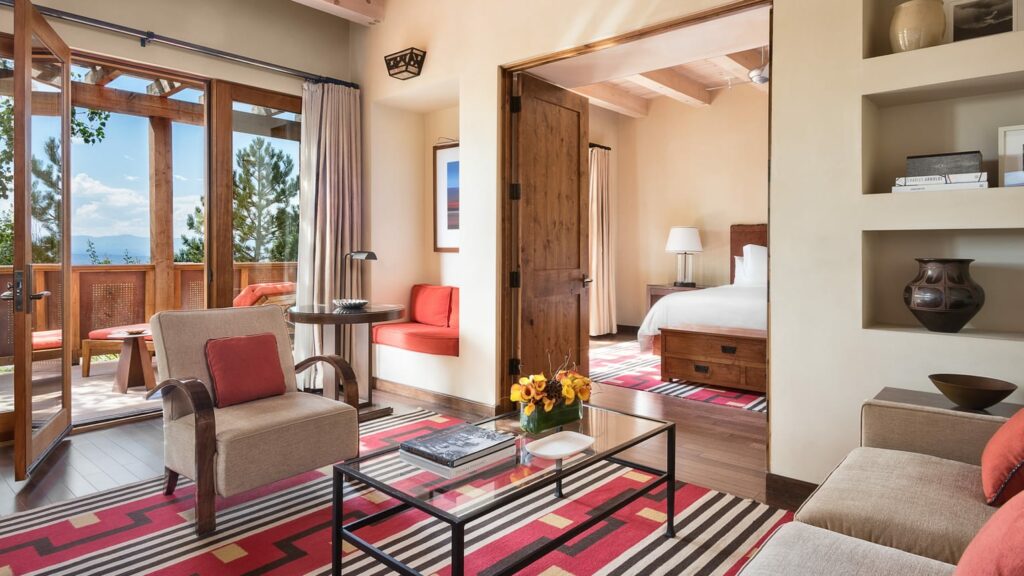 Price Per Night: from $800
Best For: Long stays, short stays, younger couples
The Four Seasons Resort is located in the Sangre de Cristo foothills. There are beautiful hiking trails nearby and a top-of-the-line spa for a smooth recovery.
This 5-star resort is just a 10-minute drive from the Santa Fe Opera House and a 15-minute drive from the Santa Fe Convention Center. At the resort itself, they have a delicious bar and restaurant alongside an outdoor pool, yoga studio, and art gallery. It is one of New Mexico's most complete honeymoon resorts.
The resort offers casita accommodations, which come with private balconies and all the amenities you could need. Some suites boast incredible 360° views of the mountains and a quaint and cozy fireplace on the patio or private balcony.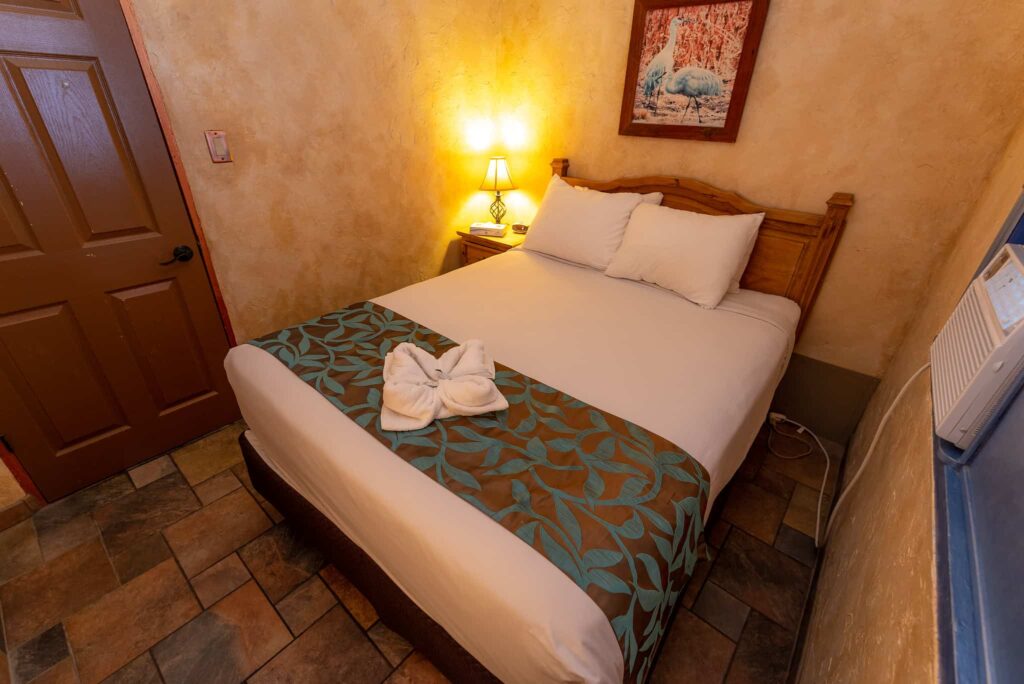 Price Per Night: from $152
Best For: Short stays, younger couples, older couples
Located on the banks of the Rio Grande, this is one of the best honeymoon resorts for ultimate relaxation. The Riverbend Hot Springs Resort is the perfect oasis to heal in the desert, to recharge your mind and body with naturally-occurring hot springs. It is one of the most perfect honeymoon resorts for couples looking for a quiet and relaxing time.
All overnight accommodations include access to the incredible hot springs. The most luxurious rooms include the Triple Suits, which is situated just a stone's throw from the hot springs.
This 3-bedroom apartment is covered in Southwestern artwork and feels like home. The most popular unit is the Desert Flower Casita. It's a remodeled 1970s mobile home that includes your own personal hot springs soaking pool, two bedrooms, and a full living room and kitchen. It even has a private balcony or patio, too.
Top Excursions & Activities To Do On A New Mexico Honeymoon
One of the best things about going on a New Mexico honeymoon is that you'll never run out of things to do. With world-class spa treatments and incredible outdoor adventures, New Mexico really has it all.
White Sands National Monument
Take a drive or a hike to sled down the huge, white dunes of White Sands National Monument. This dune field is made of gypsum and is the largest on Earth. Some of the dunes are as tall as 60 feet and contain about 4.1 billion metric tons of gypsum sand. Truly a sight to be seen!
Bandelier National Monument
The Bandelier National Monument is located on the slopes of the Jemez Volcanic field in the Jemez Mountains. With over 70 miles of pristine hiking trails, you'll never run out of corners to turn and nature to uncover.
Rio Grande Gorge Bridge
Take a drive to this steel deck arch bridge that stretches across the Rio Grande Gorge. Just 10 miles northwest of Taos, it sits 600 feet above the Rio Grande. It's the 10th-highest bridge in the US.
Santa Fe Plaza
The Santa Fe Plaza is truly the heart and soul of Santa Fe, New Mexico. It is a spot where tourists and locals come together, and it is surrounded by beautiful landmarks, shops, and delicious restaurants. It's the perfect place to wander around and get lost in the unique culture of Santa Fe.
Indian Pueblo Cultural Center
The Indian Pueblo Cultural Center is operated and owned by the 19 pueblos of New Mexico. It is located in Albuquerque and is a world-renowned museum where Pueblo people can tell their unique, indigenous story. They host traditional Native American dances every weekend and have really special community activities that anyone can participate in.
The National Museum of Nuclear Science & History
Nuclear science was born in New Mexico. The National Museum of Nuclear Science & History is a great way to learn about how nuclear science is still so important all over the world today. It's a great way to learn some little-known history about New Mexico, and to beef up your science knowledge, too.
Albuquerque International Balloon Fiesta
The world-famous Albuquerque International Balloon Fiesta is a 9-day hot air balloon festival that happens every year in October. There are shape balloon rodeos, twilight balloon glows, and the sky is full of incredible hot air balloons from around the world. If you've ever wanted to take a ride in hot air balloons, this is the time you should go!
San Antonio Hot Springs
Located nearby the town of Jemez Springs, the San Antonio Hot Springs are situated on a mountainside with picturesque pools of hot, clear mineral water. If you want to visit the springs, it's best to come in summer when vehicles can drive to them. There's a small hike involved to eventually reach them, but it's worth it!
Ten Thousand Waves Spa
New Mexico is full of luxury spas and plenty of space to relax and unwind. One of the best is the Ten Thousand Waves Spa in Santa Fe. It is decorated like a beautiful Japanese hot spring and includes the works: massages, skincare, and delicious Japanese food. Most come for the day, but they also have accommodations if you find it hard to leave.
Sample Itinerary & Budget For Your Honeymoon To New Mexico
If you're planning your romantic getaway, you might be wondering where to start due to the sheer number of places to go and things to see in New Mexico.
We'll be able to help you with this, though, as we have prepared a 4-day New Mexico honeymoon itinerary with a budget.
Day 1
Santa Fe is one of the most popular destinations for a romantic getaway in New Mexico. So, it is a great place to start your journey.
Once you arrive at your hotel and have settled down, it might be a good idea to take your partner for a massage. The best place to get rid of your travel stresses and relax has to be Ten Thousand Waves Spa.
Here you and your partner can soak in a hot tub, eat some delicious Japanese food, get a massage, and relax.
Day 2
Now that you and your partner are more settled and relaxed, you can start exploring Santa Fe, New Mexico. The best place to get a feel for what the city is really like has to be the Santa Fe Plaza.
Some of the best attractions in the plaza include the Cathedral Basilica of St. Francis of Assisi, the Palace of the Governors, the markets that are frequently held there, a few excellent art galleries, and some museums.
It will take almost a full day to see everything that the plaza has to offer, and you can even grab dinner at one of the restaurants afterward.
Day 3
Taos is about a one-and-a-half-hour drive away from Santa Fe and makes for a great day trip. Here you can visit the historic Taos Pueblo, which is the only active Native American community that is both a National Historic Landmark and a World Heritage Site.
If you want to make the most out of your trip to Taos, New Mexico, then you should take a guided tour of Taos Pueblo and wait until some of the local shops open.
This visit should take up most of your day, but if you have time left over, you and your partner should stop off at the Taos Art Museum or Millicent Rogers Museum.
Day 4
Canyon Road makes for an excellent last-day New Mexico excursion, as it is home to more than 80 different art galleries. It is also a great place to pick up some souvenirs like handmade pottery and wood carvings.
When you work up an appetite after exploring, you can head to either the Geronimo Restaurant or The Compound Restaurant to taste some delicious local cuisine. This excursion can also take you almost the whole day, but if not, you can finish your day off at the Museum of International Folk Art.
Budget
This budget will provide you with the average amount you will spend per day in New Mexico as a couple on honeymoon.
Accommodation – $170 to $300
Car rental – $37
Food and drinks – $110
Excursions – $50 – $100
Frequently Asked Questions
How much does a New Mexico honeymoon cost?
Based on our estimations, an average honeymoon in New Mexico will cost a minimum of $367 per day.
When is the best time to visit New Mexico?
Depending on the type of honeymoon you're looking for and what activities you enjoy will determine what time of year is best for you to visit New Mexico. The reality is that it is alive and beautiful all year round! For example, if you want to catch the hot air balloon festival, then October would be the time for you. Check out what's happening and plan your trip around the things you want to do most!
It's also a good idea to check the time of year, as many New Mexico honeymoon resorts have specials in the off-season!
What is the best way to travel around New Mexico?
If you plan your honeymoon in just one city, like Santa Fe or Albuquerque, you can safely get by without renting a car. There are free bus services in Albuquerque, and catching a taxi or hotel shuttle is never a problem to get you where you need to go. If you're planning a road-trip-style honeymoon, it's easy to get around New Mexico in a car. Be sure to get a 4-wheel drive if you plan on making a desert mission!
Start Planning The Perfect Romantic Honeymoon Getaway in New Mexico
The Land of Enchantment has something for everyone. Deserts for heat seekers and snow-capped mountains for skiers, honeymoon resorts, historic hotels, and lively downtown areas – New Mexico is one of the most beautiful places to celebrate time with your loved one.
When you're looking to plan your honeymoon or book honeymoon resorts, be sure to check in with Couples Travel to help you iron out those details. Your dreamy New Mexico honeymoon awaits. What are you waiting for? Start planning your romantic getaway today!