North Carolina is one of the most effortlessly beautiful states around. But narrowing your decision down to just one town is tricky when there are so many locations to choose from. If you're looking for somewhere with outdoor activities, artsy hotspots, historic charm, and much more, then Asheville is the place to be!
Holidays, anniversaries, honeymoons, and more! There's nothing quite as exciting as a romantic escape with your beloved. But you don't need an excuse to start planning some of the best romantic getaways ahead of time. In fact, finding your ideal location and perfecting your budget and itinerary can take some time.
Luckily, we've taken all the guesswork out of your planning. So all you have to do is reserve your hotel, pack your bags, and start daydreaming about relaxing in a private hot tub or cuddling up by a cozy fireplace.
What Makes Asheville Perfect For A Romantic Getaway?
With gorgeous mountains, peaceful lakes, bustling districts, and rich history, a trip to Asheville can make for one of the best romantic getaways. Every couple will fall in love with the town's charm!
From romantic walks on mountain trails to the pristine gardens of Biltmore Estate, Asheville is the perfect romantic destination.
There is plenty of luxurious accommodation at resorts and premier hotels, but if that's not your thing, then you can enjoy the tranquility and privacy of a local bed and breakfast. There's no denying that Asheville is the perfect vacation spot for families and couples alike!
Most Romantic Getaways Asheville, NC
Are you looking for a charming bed and breakfast? Or perhaps a trendy hotel or elegant estate? Either way, Asheville has got you covered. With unique locations and unbelievable attractions, every corner of this little town will enchant you.
South Asheville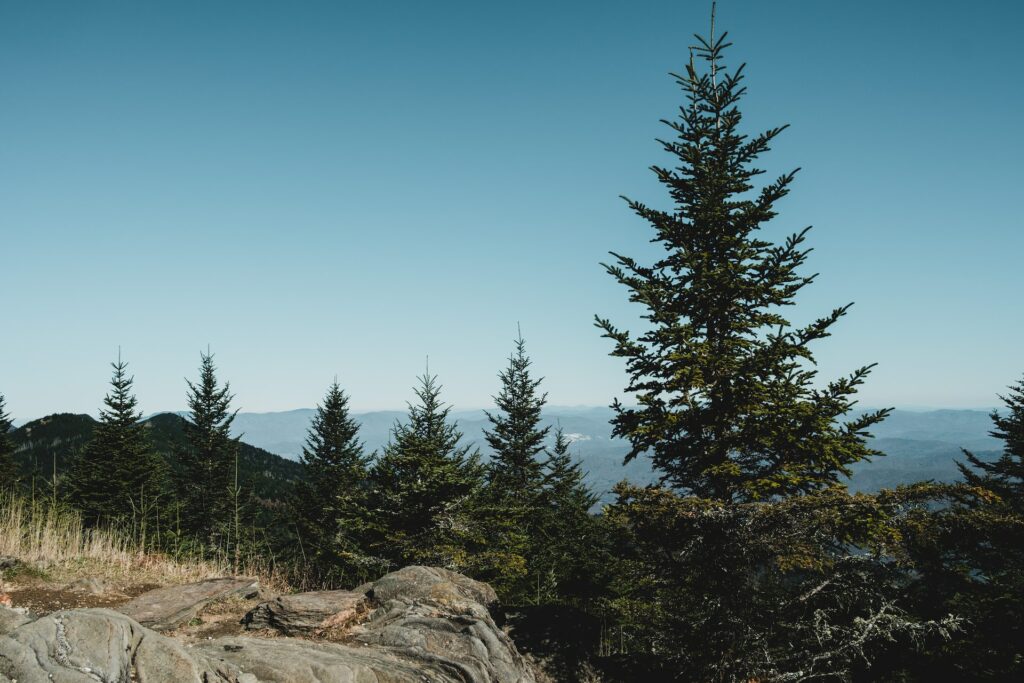 South Asheville is a great spot for couples who want an easy-going romantic retreat. The area is relatively small and far from the noise and tourist spots in the main city center. But if you're looking for well-hidden attractions, then South Asheville is perfect for you and your partner!
The location is home to Biltmore Village and the Biltmore Estate. It also has plenty of eateries for foodies and outdoor activities for adventure seekers. You'll also be a stone's throw away from the Blue Ridge Parkway and the Blue Ridge Mountains!
Best Accommodations in South Asheville: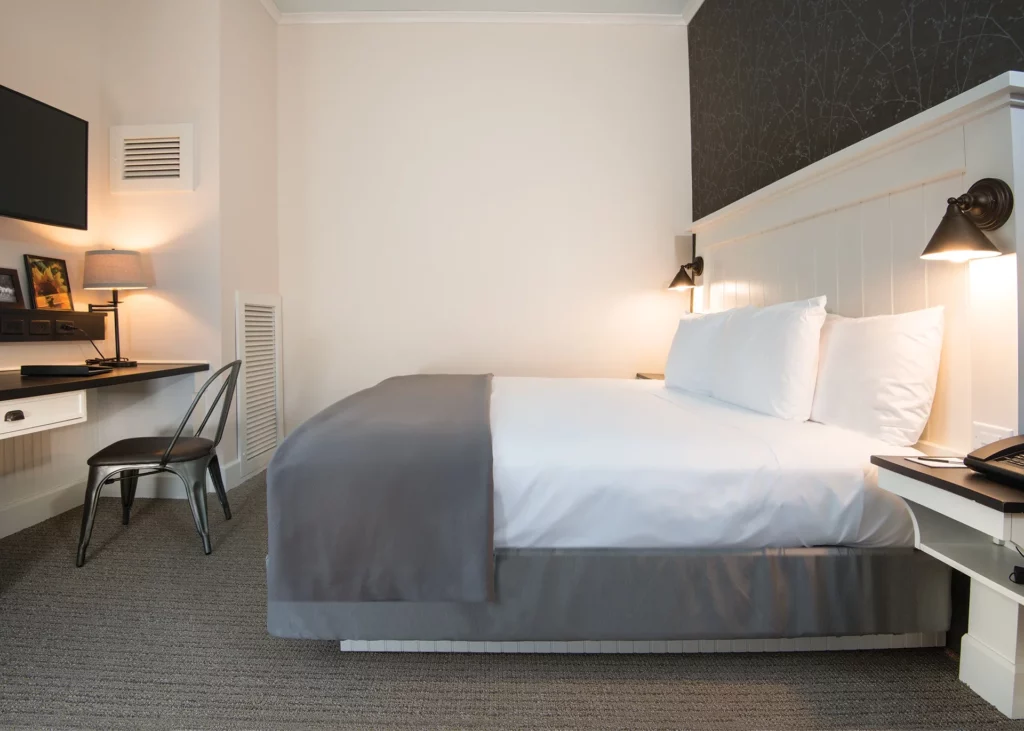 Price per night: $250 – $400
When it comes to romantic hotels, no place does it better than the Village Hotel! At the heart of the Estate, this hotel gives guests access to the grounds and the jaw-dropping views of the lush, green gardens. There's also dining available through room service or in the dining room, and a full-service spa to help melt your troubles away.
Don't forget to take advantage of the hotel's packages and offerings. These offerings can help reduce your spending by giving you access to the Biltmore House, gardens, and exhibits at no extra cost. You can even save on several additional nights during your stay.
2) Grand Bohemian Hotel Asheville

Price per night: $303 – $495
Standing proudly in the foreground with the natural backdrop of the Blue Ridge Mountains is the Grand Bohemian Hotel Asheville. The hotel is the height of luxury and has a natural air of elegance and romance. There's also an on-site spa and restaurant to keep you entertained when you want to spend a night in!
The Grand Bohemian Hotel is our number one pick for accommodation in the Biltmore Village area if you don't want to stay at one of the Estate getaways (or they're all booked up!).
Downtown Asheville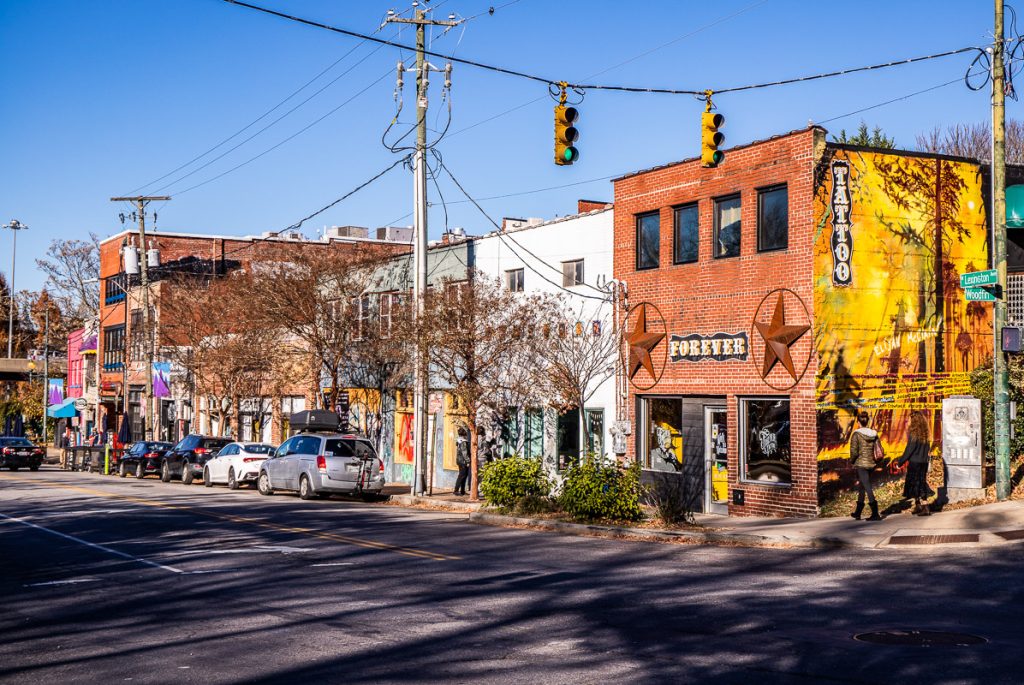 The ideal place for travelers is Downtown Asheville. The historic Downtown is full of lively locals, and the streets are teeming with history, arts, culture, and color! There are also plenty of stores to do some light shopping for fun and unique souvenirs. This is the perfect destination if it's your first time in Asheville!
When you're in the mood for some fun, you can head over to one of Downtown's Museums. Let your creative juices flow at the Asheville Art Museum, train your brain at the Asheville Museum of Science, or let your hair down and have fun at the Asheville Pinball Museum!
Best Accommodations in Downtown Asheville: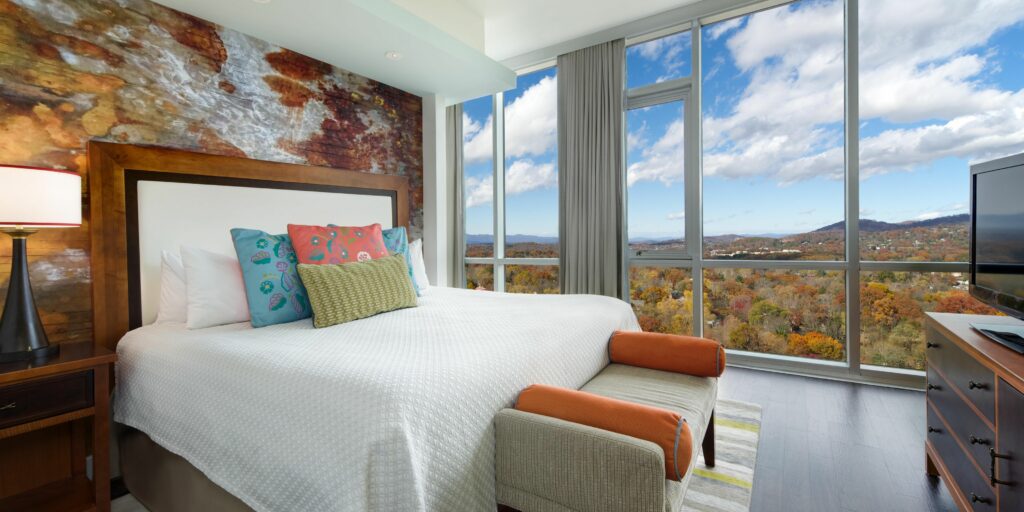 Price per night: $158 – $210, excluding multi-room suites
When you're in Downtown Asheville, Hotel Indigo is the place to go! This modern hotel is reminiscent of the artsy vibe you'll find in the city center and surrounding districts and has all the standard amenities you'd expect. Unlike some of the more expensive hotels, Hotel Indigo is reasonably priced for a comfortable and luxurious stay.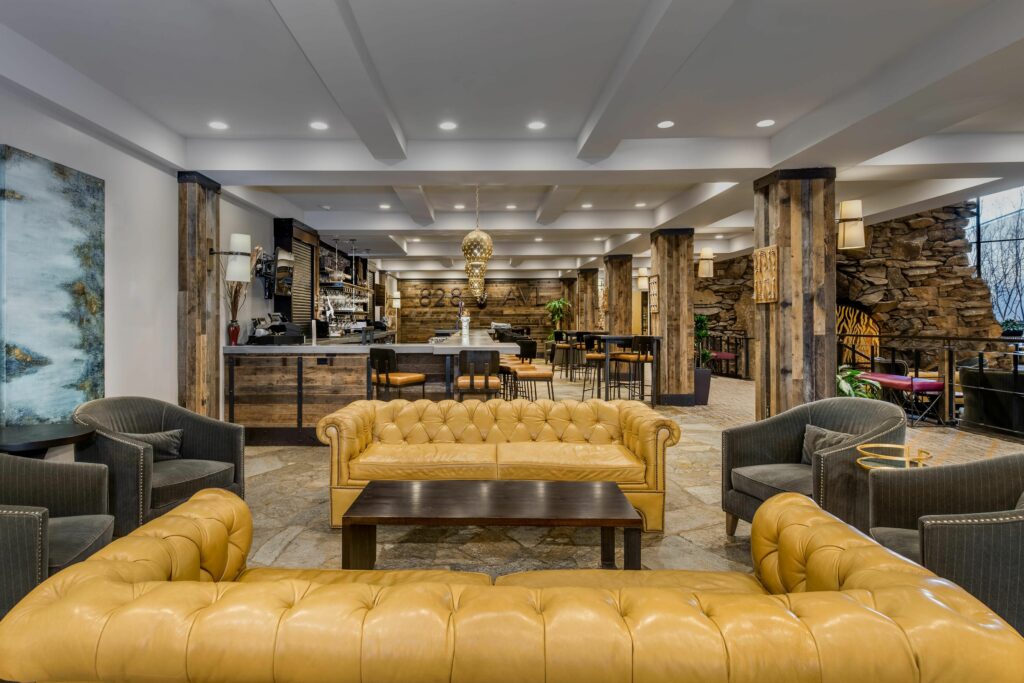 Price per night: $125 – $188
The Crowne Plaza Resort Asheville has more than you could ever imagine! The resort offers couples a range of things to do without having to leave their accommodation. These include an indoor and a heated outdoor pool, a hot tub for a relaxing soak, a spa fitted with a gorgeous sauna, and adventure centers.
You can also enjoy a romantic dinner for two in the dining room at the Overlook restaurant.
River Arts District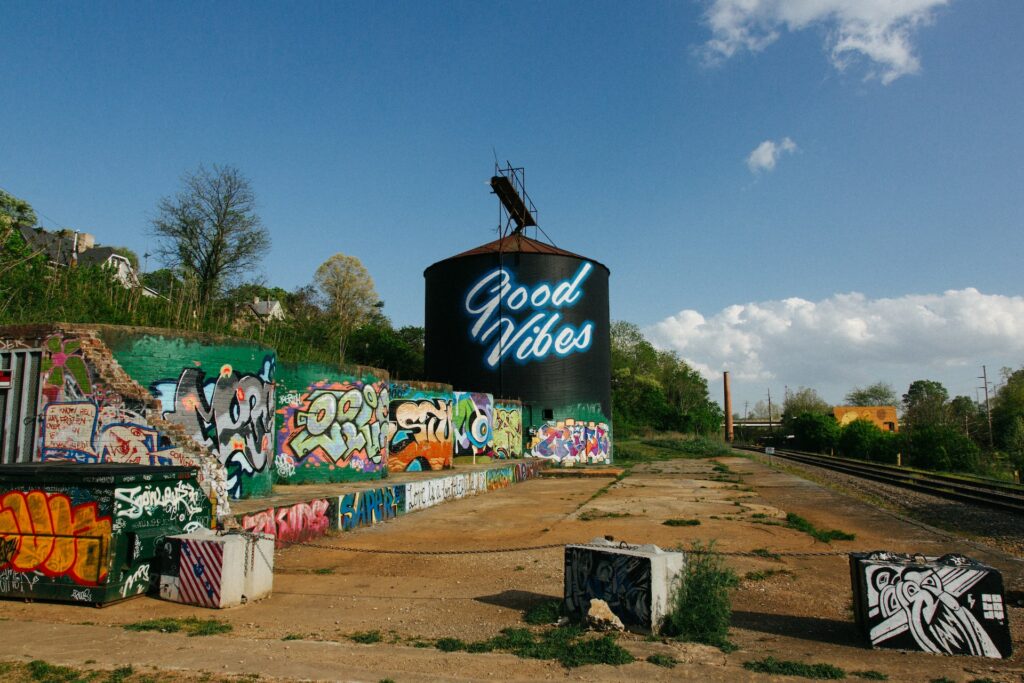 The River Arts District is one of the trendiest places to visit in Asheville. This district is best for young couples, as it is always vibrating with energy and is home to the best nightclubs, breweries, and local art scenes. Named after the French Broad River, the River Arts District is also great for adventure.
The RAD Riverwalk gives travelers a chance to stroll along the river banks and take in the scenery. However, there are also tons of water activities like kayaking, paddle boarding, and tubing! So whether you can keep up with the ever-changing district or you're young at heart, the River Arts District is the place to be.
Best Accommodations in River Arts District: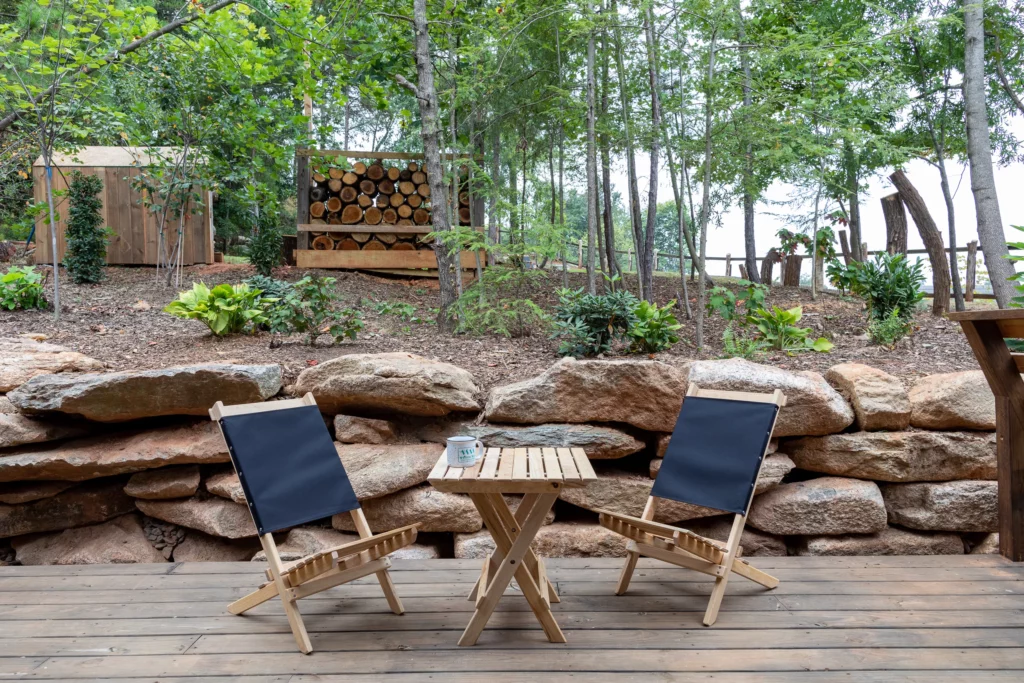 Price per night: $138 – $168
For a getaway that really lets you 'get away,' the Wrong Way cabins are the idyllic place to rest and reset. The A-frame cabins have rustic interiors with just the right amount of modern furnishings, making them perfect for creating intimacy and romance!
When you step outside your cabin, you'll also be greeted with lush woods that will allow you and your partner to feel like you are in your own private world.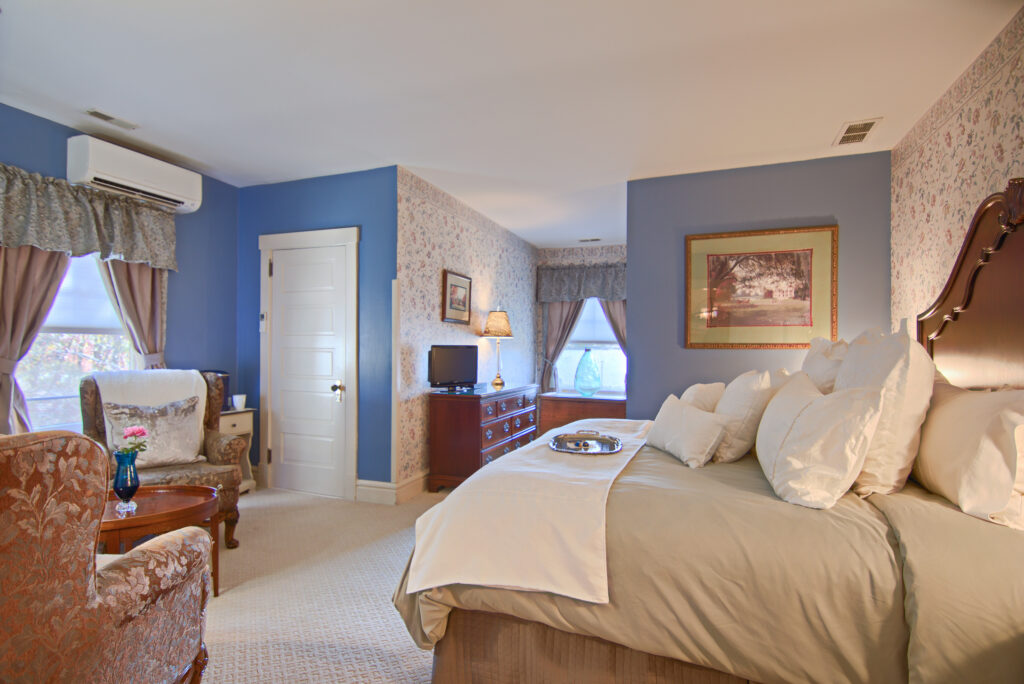 Price per night: $200 – $245
If cabins aren't your thing, the North Lodge on Oakland bed and breakfast has individually decorated rooms that are comfortable and feature unique touches. For the perfect romantic retreat, be sure to add an in-room massage or chocolate-covered strawberries to your bill – you won't regret it!
Montford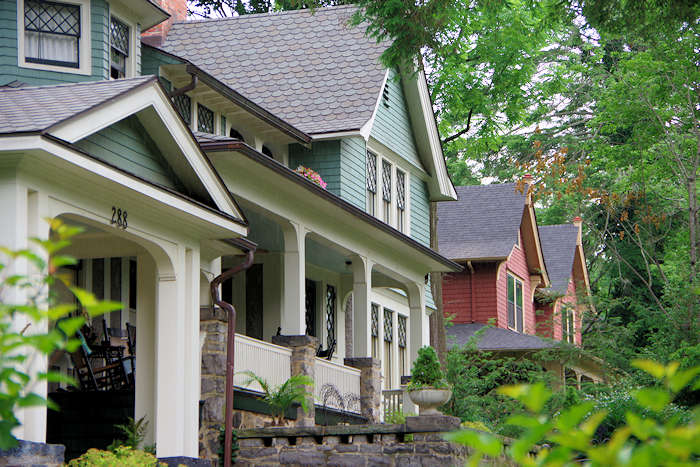 Romantic getaways aren't always about finding something to do or keeping busy. In fact, most of the time, these retreats are intended to take some time away to unwind and reconnect with your partner. But it can be hard to relax in tourist hot spots. Luckily, the residential area of Montford is within walking distance of Downtown Asheville.
Here, you'll find a quaint bed and breakfast that will provide you will all the peace and privacy you need. Although your bed and breakfast inn may not have a concierge service or valet parking, you'll find plenty of Southern hospitality to complete your perfect romantic vacation.
Best Accommodations in Montford: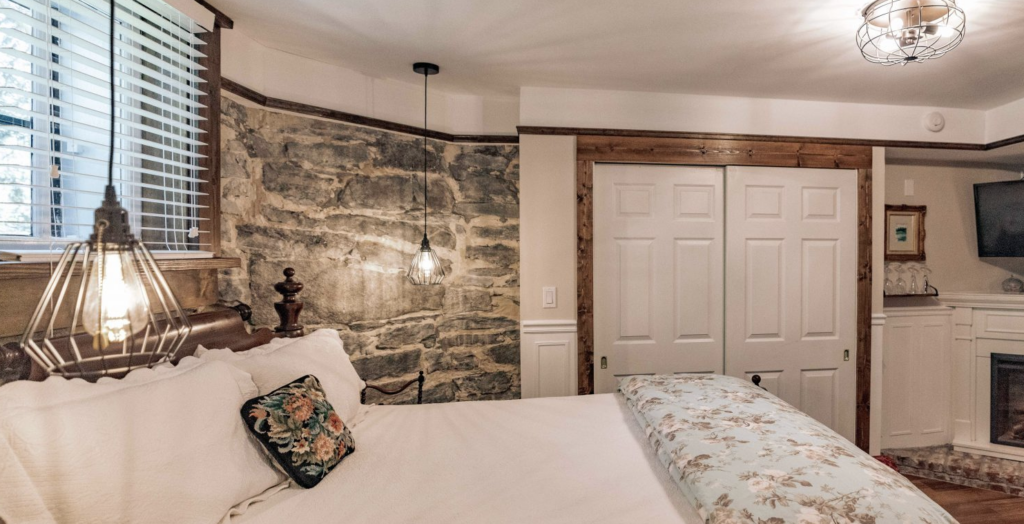 Price per night: $219 – $519
Take a break at a re-imagined Victorian mansion at the 1899 Wright Inn & Carriage House. This delightful inn is located in the prestigious Historic Montford District, only a mile from the city center. The wraparound porch is the perfect place to relax or enjoy a free glass of wine during the social hour. You can also take your complimentary two-course breakfast here!
Price per night: $275 – $315, excluding the bundle reservation
The charming Applewood Manor bed and breakfast is the epitome of French elegance. This countryside inn has uniquely themed rooms with hot tub baths and stunning artwork. Each room also feels completely removed from the outside world, allowing you and your partner to enjoy your respite without interruptions.
When you're planning your stay, be sure to check out the Inn's website for more information on upcoming events and activities!
Grove Park-Sunset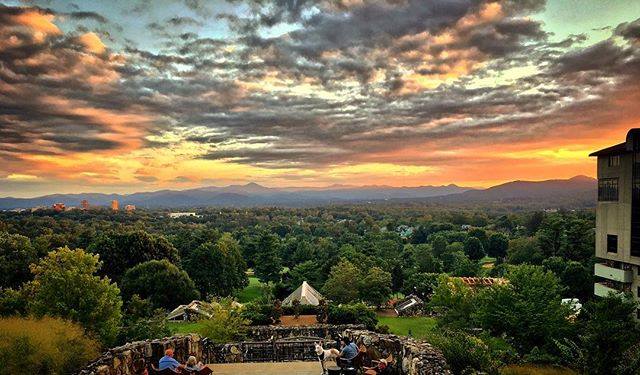 An honorable mention on our list is Grove Park-Sunset. This destination is filled with Prairie and Tudor-style homes and various art galleries, museums, and golf courses.
There are a number of outdoor activities in the area that are only a short drive away from the attractions in Asheville. You'll find plenty of romantic hotels, cozy cabins, and maybe even a bed and breakfast inn for a romantic stay. It's also close to Mount Mitchell, giving you ideal access to hiking trails and breathtaking waterfalls.
Grove Park-Sunset is home to the pièce de résistance of luxury accommodation in Asheville: The Omni Grove Park Inn.
Best Accommodations in Grove Park-Sunset: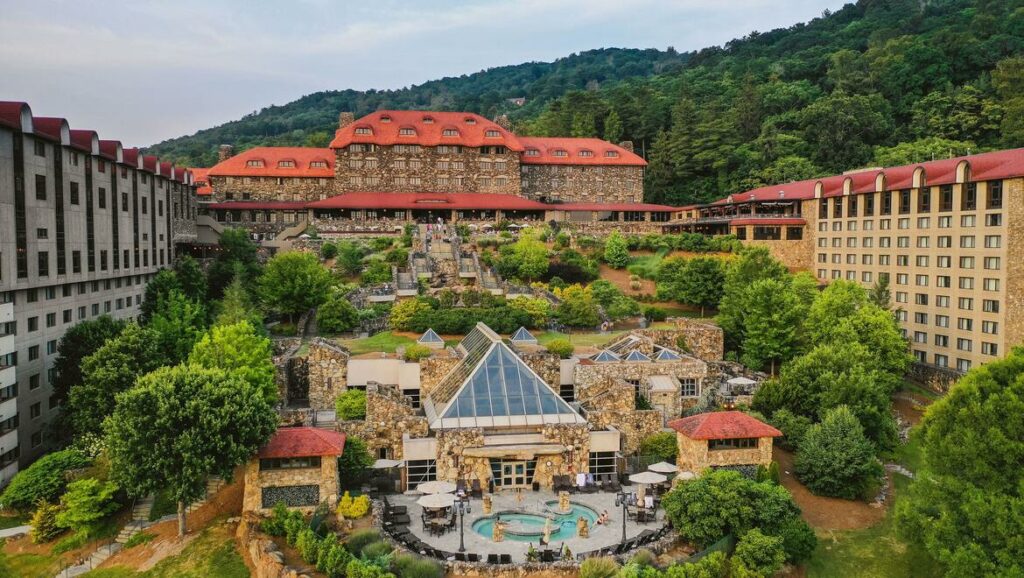 Price per night: $379 – $1,739
The Omni Grove Park Inn has been hosting travelers for more than a century and can be found in the heart of the Blue Ridge Mountains. You and your loved one will find everything you need here for your fantasy getaway, including an indoor pool and subterranean spa. The resort also has plenty of on-site eateries with fresh, locally sourced ingredients for a superb meal with your partner.
Top Excursions & Activities To Do On A Asheville Romantic Getaway
Visit Biltmore Estate
At the heart of South Asheville is the Biltmore Estate. It features more than 8,000 acres of manicured grounds, lush gardens, retail and dining locations, a winery, art exhibitions, nature trails, and the iconic Biltmore House. You'll find everything you could want in a day out and more here.
You and your partner can spend the day exploring the grounds and hiking trails, sipping on award-winning wine, perusing the stores at Antler Hill Village, or taking a tour of the Biltmore House and its immersive exhibits.
Don't forget to grab an Estate map or look it up online. The grounds are enormous, and you'll want to know where you're going!
Visit the North Carolina Arboretum
The North Carolina Arboretum is in the heart of the Pisgah National Forest and is home to one of the most diverse ranges of plant species in the state. With public gardens and exhibits, as well as hiking and biking trails, you're sure to get lost in the beauty of it all!
When you're visiting, don't forget your camera to take some breathtaking holiday snaps. You'll also need to keep your wallet handy. While entrance to the gardens is free, you'll be charged a small fee for parking.
Mount Mitchell State Park
One of the best parts about traveling around the U.S. is being able to visit your destination's State Parks. With so many diverse parks, adding them to your itinerary is a must (it's also a great idea to add to your bucket list!).
At Mount Mitchell State Park, you can enjoy a picnic or a sit-down meal at the restaurant after hiking the trails and spotting some of the local birds (be sure to pack your binoculars!). The Park has seasonal activities and amenities, so you'll need to consult the Park's website during the colder months. It's often closed in winter when there are hazardous weather conditions.
Blue Ridge Parkway
According to seasoned travelers and Asheville locals, driving along the Blue Ridge Parkway is one of the best things to do during your trip. Additionally, several stops have access to the Blue Ridge Mountains hiking trails along your trip.
But if you want to stay in your rental car, there are other sights to take in, too! Keep an eye out for Mount Mitchell, Linville Gorge, New River, and Whitewater Falls. Some events take place at various locations along the Parkway, so be sure to check the website to see if any of the latest events tickle your fancy.
Sample Itinerary & Budget For Your Romantic Getaway In Asheville
From the outside, Asheville may seem unassuming. But it's a spectacular choice for a romantic retreat. Before you start planning your trip, take a look at our budget outline and sample itinerary to give you some inspiration!
Typically, the average budget for a couple's trip to Asheville includes the following:
Accommodation: An average of $100 per night (budget accommodation) – $1,000 per night (luxury resorts and hotels)
Flights: Depending on where you're departing, a direct flight in economy class will cost around $700 to $2,000 for two adults
Travel: Your destination will influence how much you spend on local travel each day. Although you can walk around most districts, you'll need to rent a car if you want to explore further. Alternatively, taxi fare is around $10 – $20 per day if you want to rest your tired feet!
Food and drinks: There is no shortage of incredible restaurants in Asheville that serve delicious meals and refreshing drinks. You can expect to spend around $20 – $50 per person per day during your trip. Of course, you can save some cash by spending a night at a bed and breakfast or a hotel with complimentary meal services.
Biltmore Estate: The perfect day tripto these gorgeous gardens and gigantic grounds costs $45 – $85 per adult. This ticket will give you access to parking, the grounds, Antler Hill Village, and the winery (with a complimentary wine tasting!). If you'd like to add an audio or guided tour and access to the immersive exhibits, tickets cost $69 – $374 pp.
Western North Carolina Nature Center: Animal lovers rejoice! The Western North Carolina Nature Center is the best spot to view and interact with several animal species. Tickets are around $14 per adult, but bringing some spare change is recommended if you want to feed the animals. There are also gift shops in the center for souvenirs.
Asheville Salt Cave: The Asheville Salt Cave is the best-kept secret among seasoned travelers and locals. If you want to relax and unwind with a couples massage, prices range from $405 to $525. Bookings can be made up to two hours before your session, so it's a great choice for a spontaneous (and romantic) activity.
Now that you've saved enough cash to splurge on your romantic holiday, it's time to devise a schedule. After all, there's a lot to fit in if you want to make the most of your trip! Our itinerary includes a little something for everyone, so you can use it as a template to create your own or print this one out and enjoy!
Day 1:
After your flight or road trip, head to your hotel or bed and breakfast and get unpacked. Enjoy a light meal at one of the on-site restaurants or explore around the town to find somewhere fantastic to share a meal.
Peruse the local art galleries, museums, or stores until it's time for dinner. Then, find a spot with great scenery and watch the sunset as you toast to your first night on your perfect getaway.
Day 2:
Take a day trip to Biltmore Estate and enjoy a complimentary wine tasting. If your budget allows, don't forget to enjoy a guided tour and spend some time at the multi-sensory exhibits inside Biltmore House.
Hike the trails around the grounds and take a few snapshots of the gardens before grabbing a bite to eat at one of the restaurants at Antler Hill Village.
In the evening, take a romantic drive along the Blue Ridge Parkway and park somewhere to take in the breathtaking views.
Day 3:
After breakfast, start your day right at the Asheville Salt Cave or the spa at your accommodation. Then head to the Mount Mitchell State Park for a picnic and bird spotting.
If nature walks aren't your thing, pay a visit to the Western North Carolina Nature Center or enjoy a range of water activities on one of the surrounding lakes.
Day 4:
Take a romantic stroll around town and visit the local gift shops for some souvenirs. You can also visit one of the trendy breweries in the River Arts District for your last (delectable) taste of everything Asheville has to offer.
Frequently Asked Questions
How much does an Asheville romantic getaway cost on average?
Asheville is the perfect destination for couples looking for the best romantic getaways for luxury and an average budget. A week-long couple's trip to Asheville has an average cost of around $2,000 – $4,000.
When is the best time to visit Asheville?
The best time to visit Asheville is during the spring and fall. However, it's important to note that this is considered a busy time for tourists, and the hotels and resorts can become quite crowded.
If you want to visit Asheville during peak season, you may want to consider reserving a bed and breakfast outside of town. The accommodation in residential areas is usually quieter and cheaper.
How long do people typically spend in Asheville on a romantic getaway?
The best romantic getaways in Asheville are usually around four to seven days long. This allows for exploration, relaxation, romance, and fun without making your days too jam-packed!
Start Planning The Ideal Romantic Getaway
So, what are you waiting for? By now, you should be booking the next flight to Asheville with your sweetheart. But if you're not sure that Asheville is the ideal location for your perfect weekend away, be sure to check out some of our other guides to find the best romantic getaways in almost every location imaginable!