Planning a honeymoon is exciting but also quite stressful. There is so much to think about, and after a wedding, all you want to do is relax and take it easy. But don't worry. We have taken all the stress away from planning your perfect romantic getaway.
In this article, we will cover everything from a budget, the best places to visit, romantic stays, and an amazing itinerary. Planning a romantic honeymoon has never been this easy.
You'd be surprised at how wonderful a honeymoon in Connecticut can be. The state has so many fun activities and things to see. It is just full of excitement and romance. Here is the ultimate Connecticut Honeymoon:
What Makes Connecticut Perfect For A Honeymoon
Connecticut is perfect for a honeymoon due to the sheer variety of things to do there. You can sip on wine in the countryside, go on long romantic drives along the beautiful coastline, or cozy up next to the fire while lying under the stars. The romantic options are endless!
You could also take a cruise to Hartford for an incredible ride down the stunning Connecticut River or head to the northwest corner of Connecticut and visit Litchfield. The Eastern side of Connecticut is also incredible. Here, you can find Mystic Country, which is perfect for romantic getaways.
You may even want to visit the New Haven beach towns if you are looking for some sun and fun. And you must take in the Long Island Sound Views in gorgeous Stamford. Connecticut has a little bit of everything; adventure, fun, tranquility, and all the love.
Best Areas To Stay in Connecticut
Hartford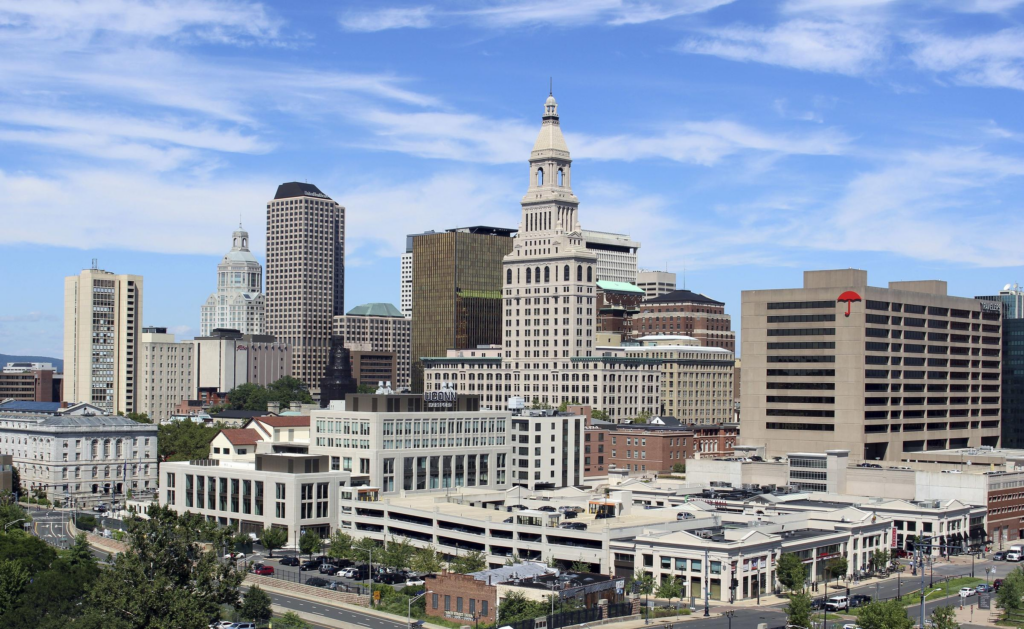 If you are looking for classic elegance and charm, then look no further than the wonderful Hartford. There are loads of romantic hotels and getaway options in Hartford. It is a small but charming town that is fully surrounded by the most breathtaking countryside.
The town is full of beautiful architecture, history, and serene gardens, and it is right by the beautiful Connecticut River. Hartford is full of exciting and romantic things to do, especially for happy couples on their honeymoon. You can explore the cultural centers and historic sites and indulge in New England-style cuisine on romantic getaways here.
Litchfield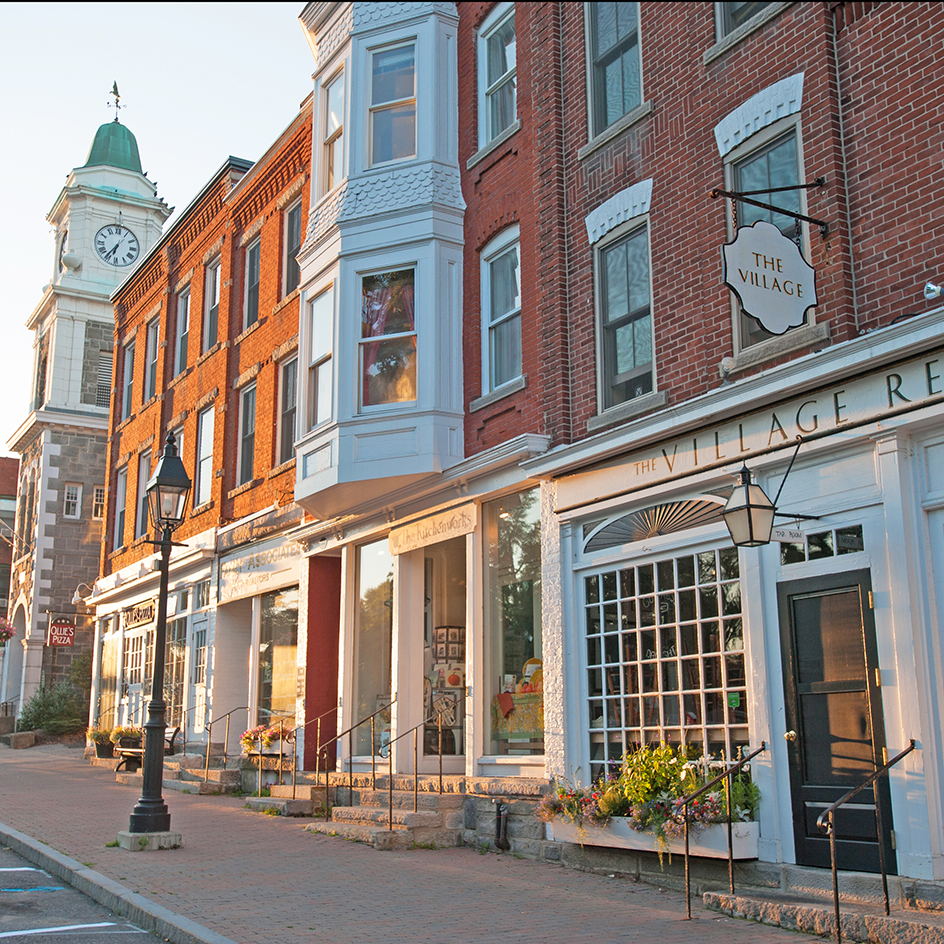 Enjoy Litchfield Hills' gorgeous sweeping hills, antique stores, historic homes, art galleries, and lush gardens. Couples in Connecticut may enjoy a ton of great activities right here, as most things are also within walking distance!
You can find some of Connecticut's best bed and breakfasts here, and you can take in the spectacular countryside right from your accommodation. Litchfield has the perfect blend of relaxation and romance. We could not recommend it enough for a romantic weekend getaway.
Mystic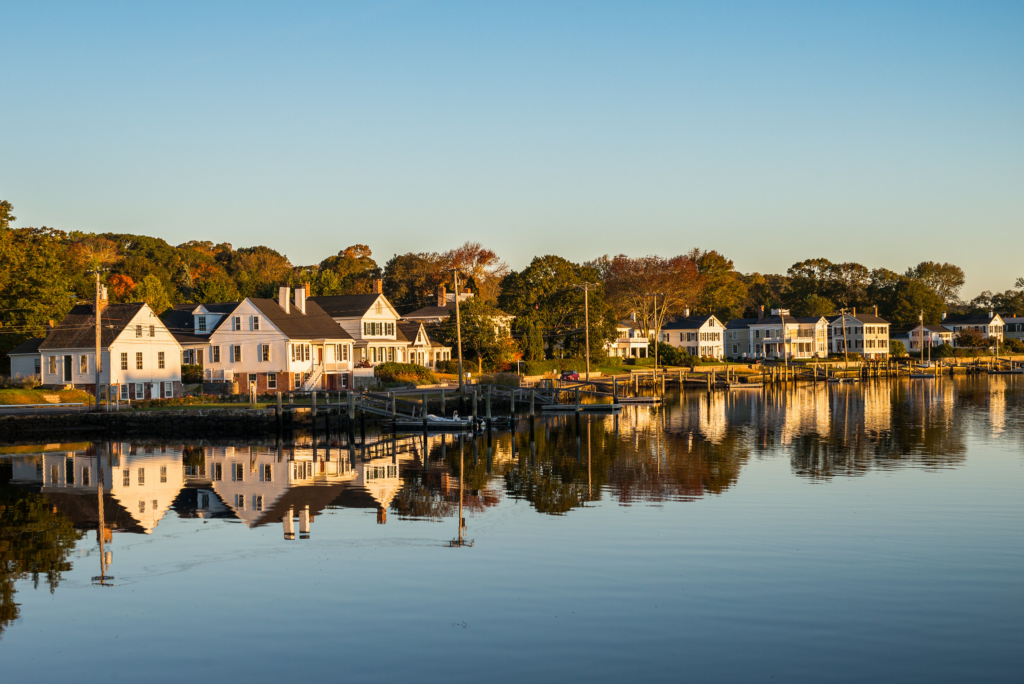 Mystic Country can be found between Boston and New York. It is one of the best places to go for romantic getaways.
The entire eastern part of the State is housed in the stunning Mystic area, which also provides a variety of romantic vacation options. From peaceful rural inns to cute city homes and stunning coastal hotels, Mystic has some of the most incredible accommodation options in the whole of Connecticut.
Mystic Country's southern coastal villages have miles of stunning oceanfront shoreline, which sets the perfect backdrop for a romantic getaway. Take in the stunning sunrises, wonderful restaurants, and sophisticated cultural attractions while staying at one of the top beach hotels in Connecticut.
This area is known for its incredible New England architecture. Mystic is, without a doubt, one of the most romantic destinations in Connecticut for honeymooners.
New Haven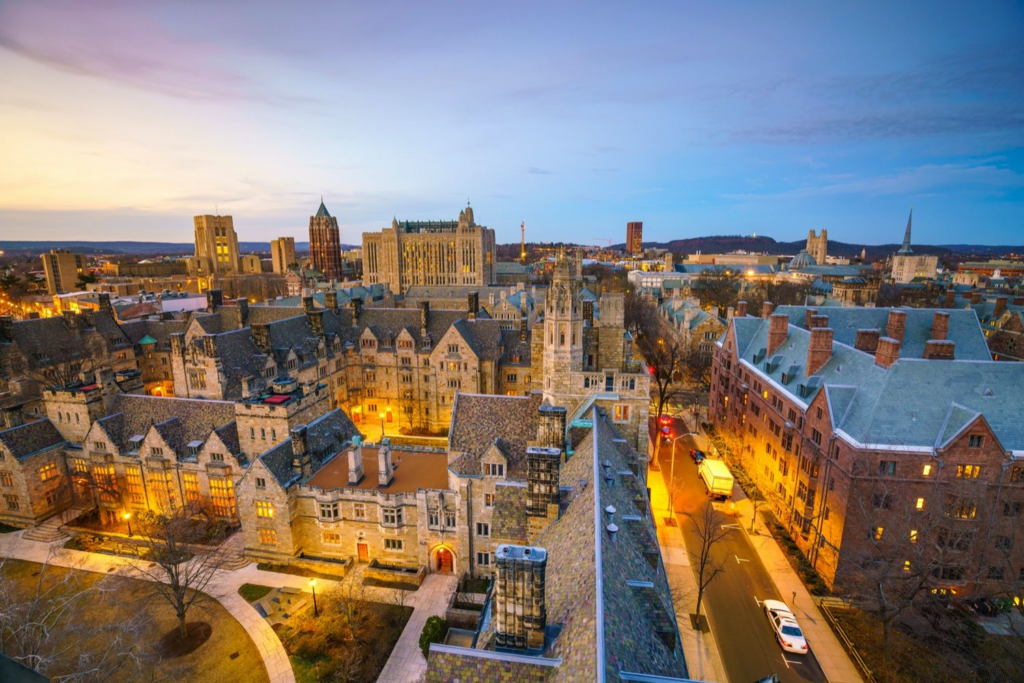 If you are craving some time by the beach during your romantic getaway, then New Haven is the place for you. This town is spectacular, a breath of fresh air, and easily one of the most incredible places in the state.
New Haven is the home of picturesque beach towns, Yale University, fantastic dining, amazing shopping, and some of the top beach hotels in Connecticut.
New Haven is perfect all year round; in spring, you can admire the stunning Japanese Cherry Blossoms. In summer, take in the 40 miles of prime shoreline (but not all at once!). You and your partner can go for New England apple picking during the autumn months and enjoy a romantic walk through Lighthouse Point Park during the winter.
New Haven is a must during your honeymoon in Connecticut. Love is everywhere! What more could you want on a romantic weekend getaway?
Hammonasset Beach State Park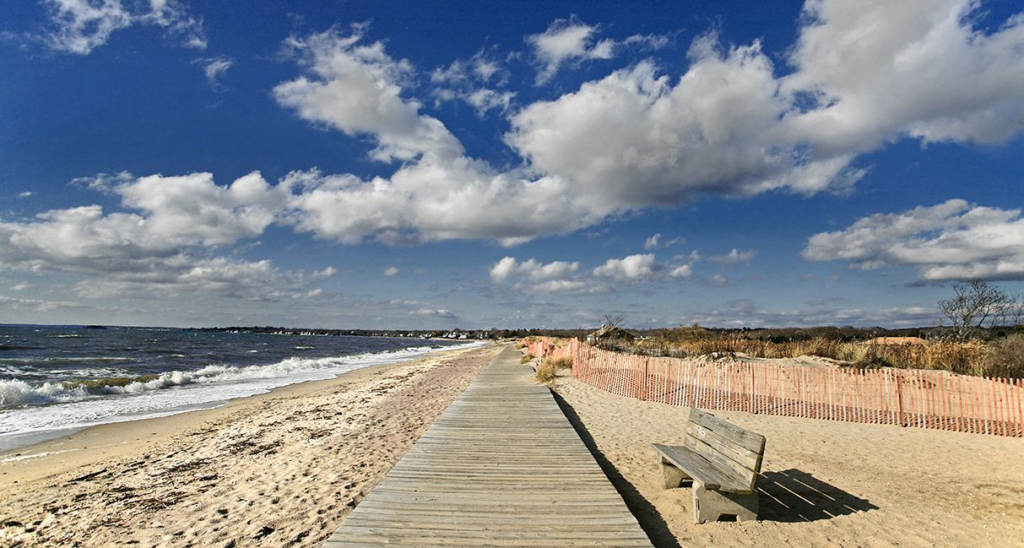 Hammonasset Beach State Park is wonderful all year round and has a special charm no matter the season. It is one of our favorite vacation spots in Connecticut and is a paradise for beach lovers. Hammonasset Beach State Park offers everything from picnicking spots to swimming and seasonal camping.
Enjoy activities like hiking, boating, scuba diving, saltwater fishing, or simply take a stroll along the stunning beach as the salty breeze caresses your face. This place exudes romance. We cannot recommend Hammonasset Beach State Park enough, especially for romantic getaways and honeymoons.
Best Honeymoon Resorts, Hotels, and Other Stays in Connecticut
Connecticut has it all. If you are looking for an elegant inn, huge hotel, resort, historic inn, or charming bed and breakfast, there is a type of accommodation for every couple. Finding accommodation is usually the hardest part of planning a trip, especially when there's so much variety.
This is why we have compiled a list of our favorite stays in Connecticut. Whether you want spa services, fully inclusive packages, or world-class amenities, Connecticut has it all. Here are some of the best stays and hotels in Connecticut: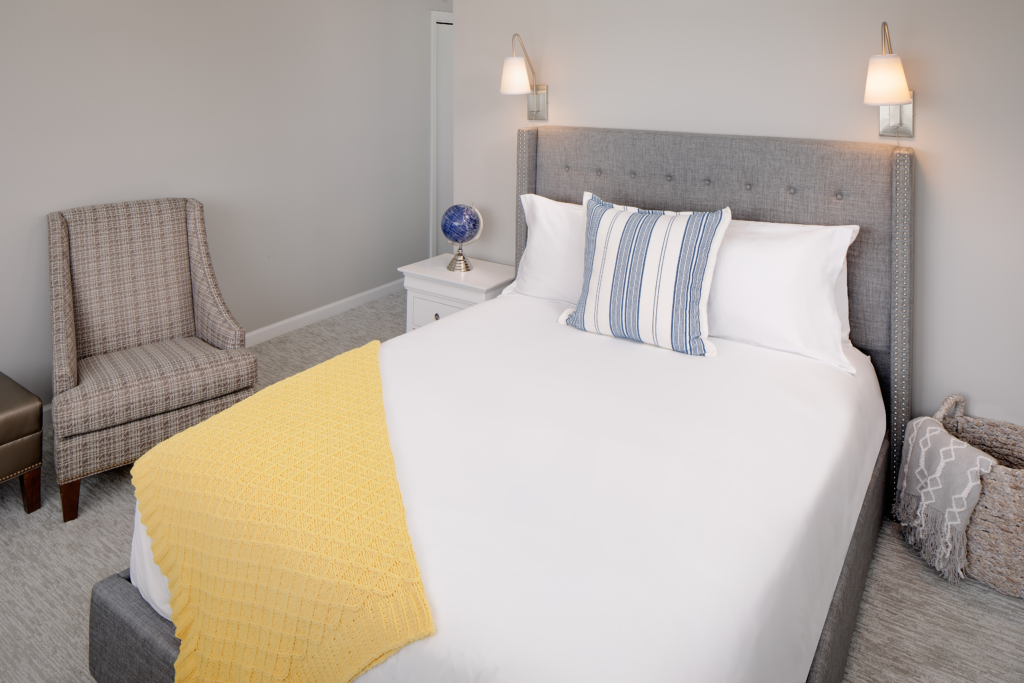 Price per Night: $229 to $269
Best For: Short stays, all couples
Availability: Limited availability
The Inn At Harbor Hill Marina has long been recognized as one of the top romantic getaways in the state. You can find this stunning stay just off of the Niantic shoreline in Connecticut. Go for romantic strolls along the beach, breathe in the ocean air, listen to the waves lapping the soft shoreline, and embrace the ocean life.
You can also go explore the seaside village boutique shops and indulge in delicious food at the cafes and amazing restaurants in the area. The Inn at Harbor Hill Marina has 16 beautiful rooms that all overlook the marina district of this wonderful town.
Each room has a balcony, fireplace, and whirlpool tub. They come fully equipped with everything you may need to enjoy a romantic weekend away. The sandy beaches, nearby attractions, and spectacular views make this stay more than perfect.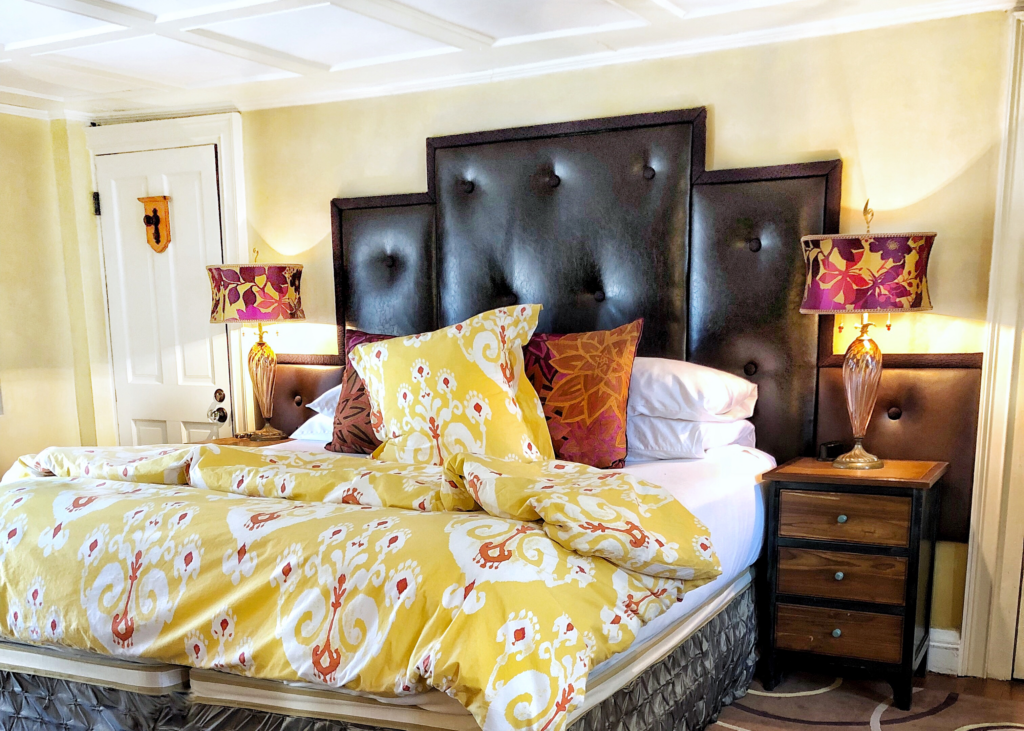 Price per Night: $330 to $405
Best For: All couples, long and short stays
Availability: Easy to book, good availability
The Connecticut River Valley Inn can be found in Glastonbury. And this wonderful inn is a mere 8 miles from the amazing Hartford City Center. This accommodation is absolutely stunning, and honeymooning couples can take advantage of the garden views, gas fireplace, homemade breakfasts, and on-site art gallery.
It is in a convenient location and there are various shops and restaurants nearby. The Connecticut River Valley Inn is one of the best places to stay on romantic getaways like honeymoons. The place is lovely, romantic, and very inviting. The whole property has a very 1600s New England Style, and it is beautiful from the inside and out.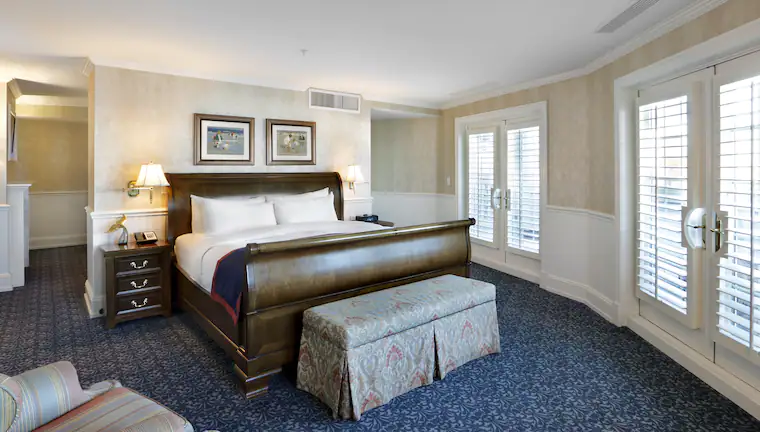 Price per Night: from $602
Best For: Older couples, long or short stays
Availability: Need to book far in advance
It will be difficult for beach-loving couples to find a better spot for their honeymoon than the stunning Madison Beach Hotel. Most of the hotel's rooms feature views of the coastline or Long Island Sound, and it is only a short distance from the beach, perfect if looking at the view isn't enough and you want to get out there and experience the sand between your toes.
Our number one activity at this hotel is to go for a romantic stroll on the beach and take it very easy during your stay! The hotel has a lovely Sounds of the Sea Spa where you and your partner can treat yourself to some amazing massages. Your honeymoon here is all about relaxation and tranquility. If you do want to take things up a gear, there is also a fitness room at the hotel.
At the end of the day, head to The Wharf for a delicious meal and drinks. You can also admire the most spectacular views while you dine.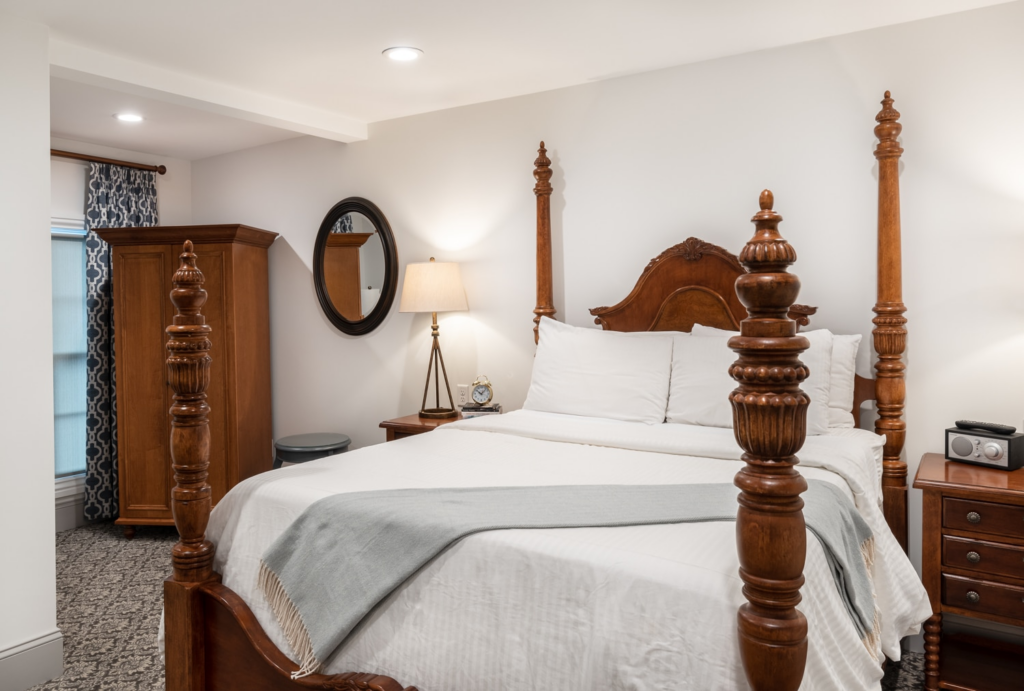 Price per Night: $375 to $875
Best For: Young and old couples, long or short stays
Availability: Easy to book
The Whaler's Inn, Mystic can be found on a very quiet street in a charming little town. Spend your days exploring the gorgeous coastal town and your evenings watching the beautiful sunset over the iconic Mystic River Drawbridge. What could be more romantic?
At the end of the night, get back to your gorgeous hotel and cuddle up by your fireplace. All of the rooms at Whaler's Inn Mystic have a nautical theme and come with their own private whirlpool tub. You and your partner can unwind with a delicious glass of bubbly to put the cherry on the cake for your perfect day!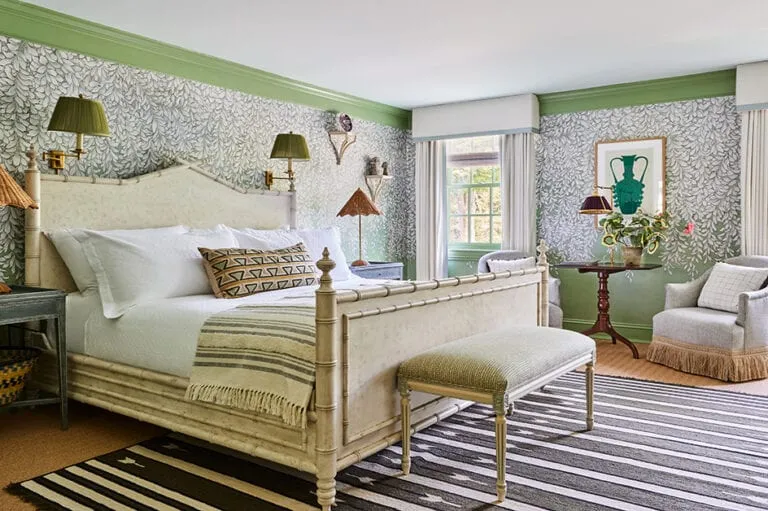 Price per Night: $1899 to $2339
Best For: Short stays, all couples
Availability: Good availability
Grace Mayflower Inn & Spa is the ultimate place to stay if you are looking for top-class spa treatments and relaxation. Cozy up by your fireplace and enjoy wine from the local vineyards. What could be more luxurious?
Spend time exploring the gorgeous, landscaped gardens and taking in the breathtaking views. You are in for one hell of a time during your romantic getaway at Grace Mayflower Inn & Spa! The inn also has tennis courts, sparkling pools, and a stunning golf course for the more adventurous and active couples out there. Prefer a more relaxing break? Don't worry, it also has a hot tub for all guests to enjoy.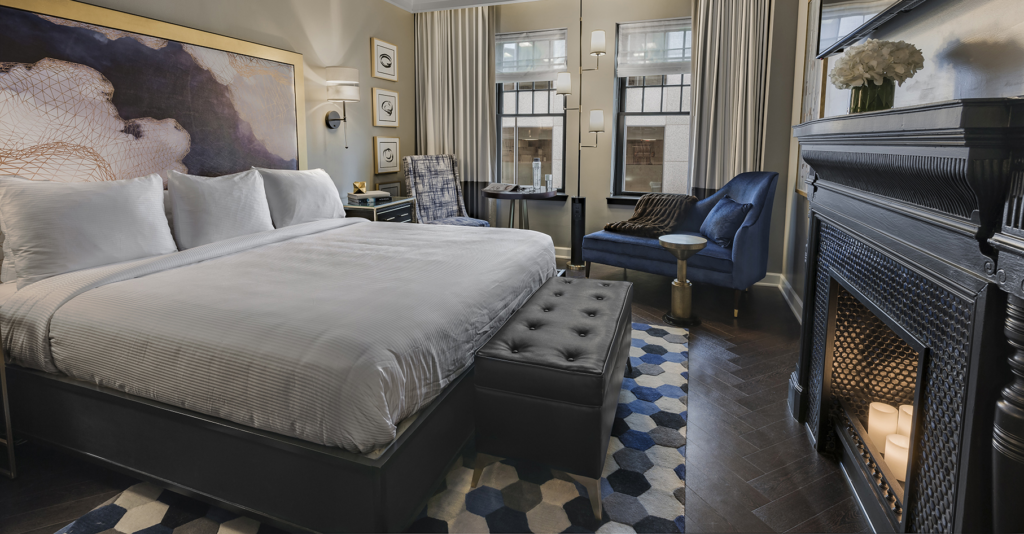 Price per Night: $269 to $368
Best For: All couples, long or short stays
Availability: Good availability, easy to book
The Goodwin is undoubtedly a place that no couple visiting Connecticut should skip. Every nook and cranny of this lovely boutique hotel from the Victorian era radiates charm and romance. With an intimate lounge, seasonal cocktails, and freshly shucked oysters from the raw bar, it's one of the top romantic hotels to stay in when in Connecticut.
There's the perfect blend of fine dining, relaxation, fun, and luxury. The Goodwin has a very romantic atmosphere, and no matter where you are or what you are doing, you will feel the love at this boutique hotel.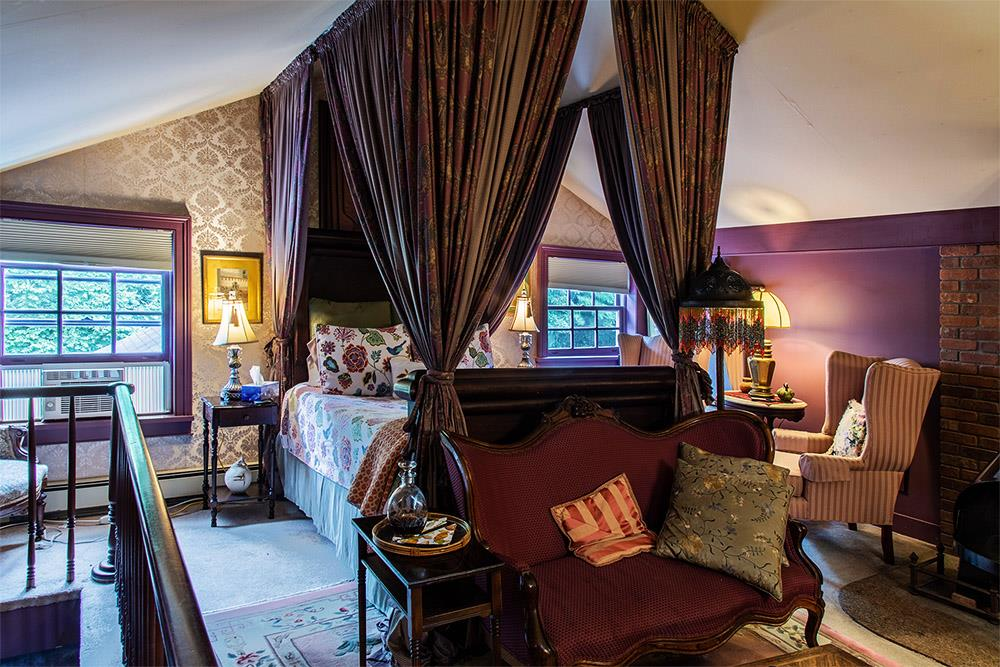 Price per Night: $199 to $279
Best For: Short stays, older couples
Availability: Easy to book
In Mystic, Connecticut, this old bed and breakfast resembles a virtual museum filled with an interesting history. It is one of the top bed & breakfasts in Connecticut, and it offers elegance and charm, making for an incredibly romantic experience.
Among the amenities are a deliciously prepared breakfast, a magnificent garden, a seasonally open outdoor swimming pool, and two kind and welcoming hosts. You can also upgrade to the superior room, which comes with a spa bath for two if you want to go all out on making your honeymoon the trip of a lifetime.
Price per Night: $215 to $250
Best For: Short stays, older couples
Availability: Limited availability
The Stanton House Inn was built back in 1850 and was used as a private residence for more than 100 years. It has 20 suites and rooms that are all unique, and the place blends modern amenities and comforts with historical details.
The Inn can be found in Greenwich, perfectly located for couples looking for a more rural and secluded getaway. Spend your days enjoying your tea in the dining room or reading a book in the stunning parlor. If you're looking for ultimate relaxation during your honeymoon, there's really no better place to do it than here.
You will receive a complimentary breakfast every day on the open-air patio, and if you come during the winter months, you can curl up next to the fireplace. There is also a swimming pool where you can lounge in the sun and catch a tan.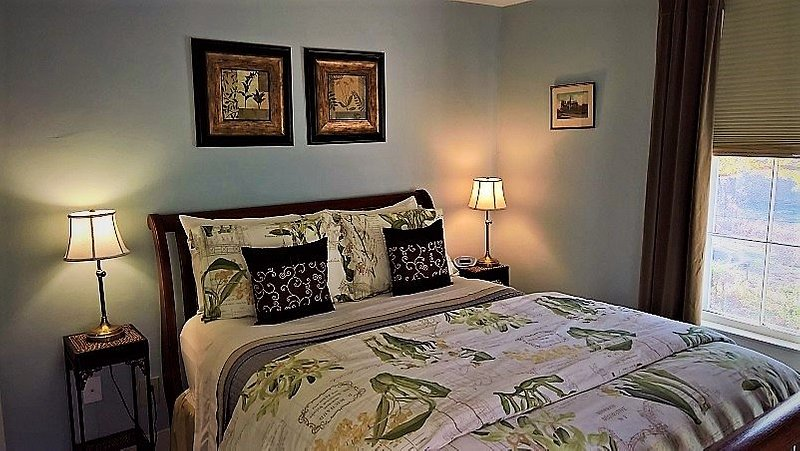 Price per Night: from $100
Best For: short stays
Availability: Easy to book
This is a popular BnB in Connecticut, offering the perfect blend of romance and convenience. You will have access to the BnB's BBQ facilities, beautiful gardens, and more. You can also go hiking, fishing, canoeing, and skiing during your stay, making it a great spot for adventure-seeking couples.
To top it off, they also offer in-room massage services, just what you deserve on your honeymoon! So, it's not only for the most adventurous couples after all.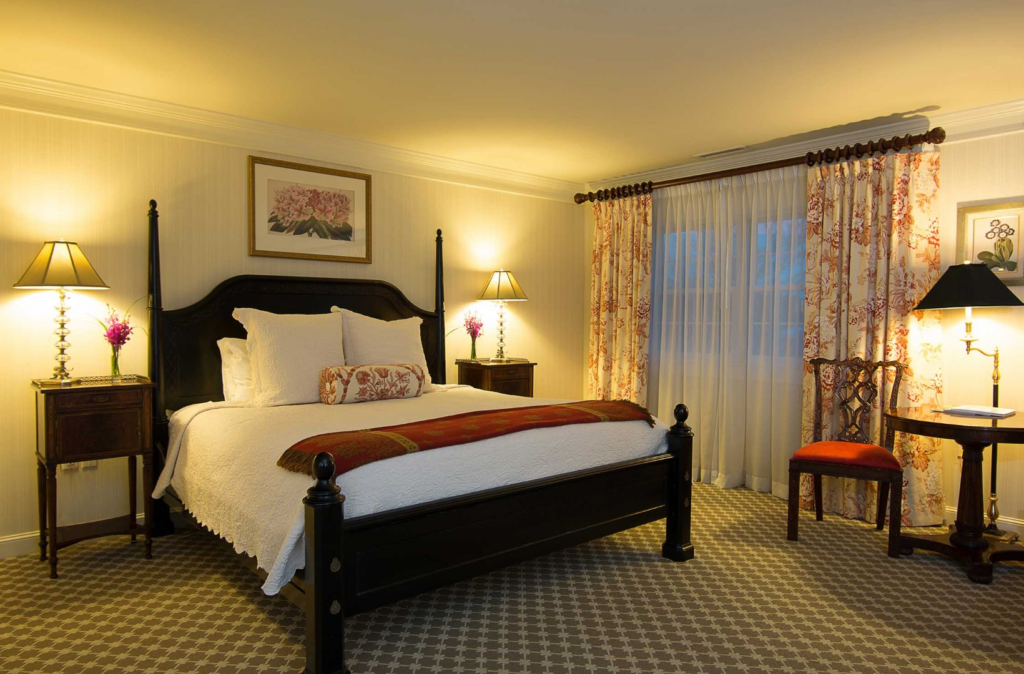 Price per Night: from $319
Best For: All couples, long and short stays
Availability: Good availability
Saybrook Point Inn & Spa is right by Long Island Sound and offers a top-class spa. It has guesthouses, standard rooms, and villas, so you can find just about anything you are looking for. The rooms are comfortable and boast the most incredible views of the islands.
The spa has won multiple awards, so you need to book a few treatments during your stay to see what all the fuss is about! You won't have to venture far to grab a bite either; the hotel's Fresh Salt restaurant is sure to impress. This is one of the best seaside romantic getaways in Connecticut.
Top Excursions & Activities To Do On A Honeymoon in Connecticut
Crazy Dash Adventure
If you are looking for something fun and exciting, then Crazy Dash Adventure is the activity for you. It is an entertaining digital adventure walking tour that allows you to unleash your inner child and find your playful side.
Stroll through the city hand in hand and complete funny tasks while sightseeing. It is all done via an app on your phone. You can see various sites like historical markers, monuments, and crucial landmarks.
The whole point of this tour is to explore the city, have fun, and learn a bit about the place, but with a unique twist. This is the perfect blend of fun and romance.
Mystic Seaport
This self-guided tour of the nautical community in Mystic from the 1870s is a must-see while you're on vacation in Connecticut. During the tour, you'll discover what life was like along the seaside in the early 19th century in Connecticut. The Mystic Seaport is an actively working preservation shipyard, so you can see how things have changed over the years.
The village has three stunning ships, and it includes The Charles W. Morgan, which is seen as the "Crown Jewel" of the collection at the Mystic Seaport. This is a very fun activity for couples who are interested in history. You can learn something new, have fun, and admire some incredible views.
Sunset Meadow Vineyards
Sunset Meadow is in Litchfield County, and it is one of the top vineyards in America. It is open throughout the year, but seating is limited, so it is best to book in advance if you want to get a sample of the region's fantastic wines! Book a tour here and you can spend the day not only tasting excellent wines but also surrounded by gorgeous views – the perfect setting for post-wedding relaxation with your new spouse.
Sample Itinerary & Budget For Your Honeymoon To Connecticut
Before planning a trip, creating a budget and making an itinerary are crucial. It is always nice to know what you are getting yourself into and what you can expect from your trip. It might not be the first thing on your mind after the wedding, so we have done all the budgeting and planning for you:
Flights: The price of flights will depend on where you are flying from and on which airline you choose to fly with, as all of them offer different rates. Flights can start from around $80 per person one way.
Accommodation: If you choose to stay in luxury suites, you will, of course, pay a lot more, but it is best to budget around $150 to $250 for accommodation per night.
Food and drinks: You can go fine dining or eat at local, budget restaurants. Some hotels also offer breakfasts and dinners. It is best to budget around $75 to $200 a day on meals, although it can again vary considerably depending on where you choose to eat.
Travel: The best way to get around is by car. There is public transport, but these tickets can rack up quickly. Hiring a car can cost about $38, and it gives you more flexibility to explore the state at your own pace.
Excursions: Crazy Dash Adventure costs $13 per person.
Day 1 and 2
Get settled into your beautiful accommodation. Explore the grounds and unwind with a bottle of bubbly. Then head out for a romantic dinner at a stunning restaurant. Wake up on day two and relax after the stress (and fun) of your wedding day. Lounge by the pool and drink loads of cocktails. You've earned it!
Day 3
Go for a fun adventure and explore the town you are staying in. Visit the local shops and restaurants, rummage through antique shops for hidden treasures, and admire the local attractions.
Day 4
Spend the whole day on the beach and make a trip along the coast. Go for a romantic picnic and watch the sun go down over the water.
Day 5
Book a spa day; you deserve it! Spend the whole day getting pampered and unwinding after a busy few days on honeymoon.
Day 6 and 7
Try a fun activity like a wine tasting or a city tour or maybe explore another town nearby if you've seen everything in your area already. The best plan? Spend most of your time relaxing before heading back to the real world!
Frequently Asked Questions
How much does a honeymoon in Connecticut cost?
A honeymoon and romantic getaways in Connecticut can cost anything between $2500 to $8000. It all depends on how long you want to go, the type of accommodation you book, where you are coming from, and what you want to do.
When is the best time to visit Connecticut?
May, June, September, and October are the best months to visit Connecticut. This is when the weather is good, and it is not too busy.
What is the best way to travel around Connecticut?
It is best to travel through Connecticut by car. This way, you can go at your own pace and stop to visit some hidden gems along your travels.
Start Planning The Perfect Romantic Honeymoon Getaway
Now that you know how incredible and romantic Connecticut is, you can start booking your dream honeymoon in the Constitution State. You will have the perfect balance of relaxation and adventure and get to explore a new state that is full of natural beauty and world-class amenities.
Most of the planning has been done for you, so now it's time to grab your wallet and start booking! If you're not convinced that Connecticut is right for you, our team at Couples Travel have put together plenty of honeymoon guides. Check them out; you might be surprised and find your new dream destination waiting for you.