If you are looking for a quiet seaside retreat, the little state of Delaware might be the perfect spot for your honeymoon. Delaware is the oldest state in the United States and is known as the Diamond State – it is beautiful, relaxing, and full of romance.
Planning your honeymoon can be stressful and take a lot of time. So we have made your life easier by creating the ultimate guide that includes the best places to stay, a budget, excursions, and an itinerary. Leave the planning to us!
Delaware is a coastal paradise, and we couldn't recommend it more for a romantic honeymoon. If you'd like to explore other states for your romantic getaway, consider looking at some of our other honeymoon guides. Your romantic honeymoon awaits!
What Makes Delaware Perfect For A Honeymoon
Delaware may not be at the top of everyone's list, but it has a bit of everything. You'll find everything from a classic boutique hotel to a luxury resort or a stunning beach hotel in this little piece of paradise.
The state has romantic places to stay, beautiful areas to explore, and fun activities to enjoy. Whether you want a relaxing and simple getaway or an adventure-filled honeymoon, you will surely find it in Delaware.
Delaware is a hidden gem. It is the perfect place to unwind and, if calm and quiet places are your style, you will absolutely love it! The ocean breeze, coastal towns, and sandy beaches are the perfect setting for a romantic getaway.
Best Areas To Stay in Delaware
Wilmington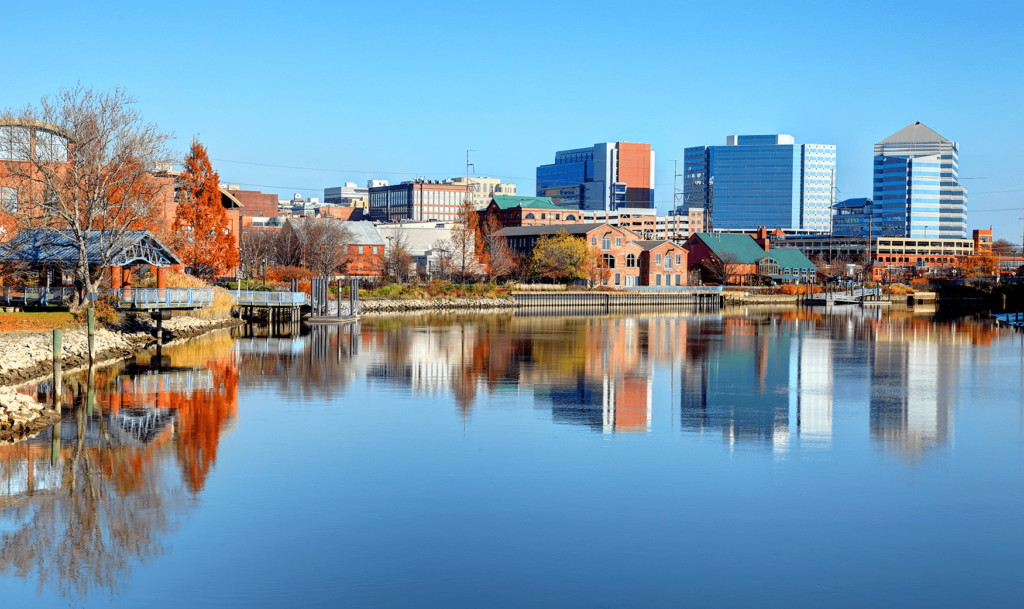 Wilmington is a wonderful riverside town in Delaware, and you'll find it in the lovely Brandywine Valley. The town has the perfect mix of new and old; you should add it to your list when visiting Delaware.
Wilmington is bursting with entertainment and culture and is full of stunning mansions from bygone eras. It is a wonderful place just bursting with romance. The Wilmington walk is a must-do. You can take a romantic stroll along the water and watch the ferries and sailboats go by.
There are also some amazing sculptures along the walk, making for a lovely time spent in nature. There is also the Grand Opera House for those that love the theatre and music.
You could spend some time at the Delaware Art Museum. They have everything from modern to classic art and often host events. Be sure to check the calendar before going to see what events you could attend.
Rehoboth Beach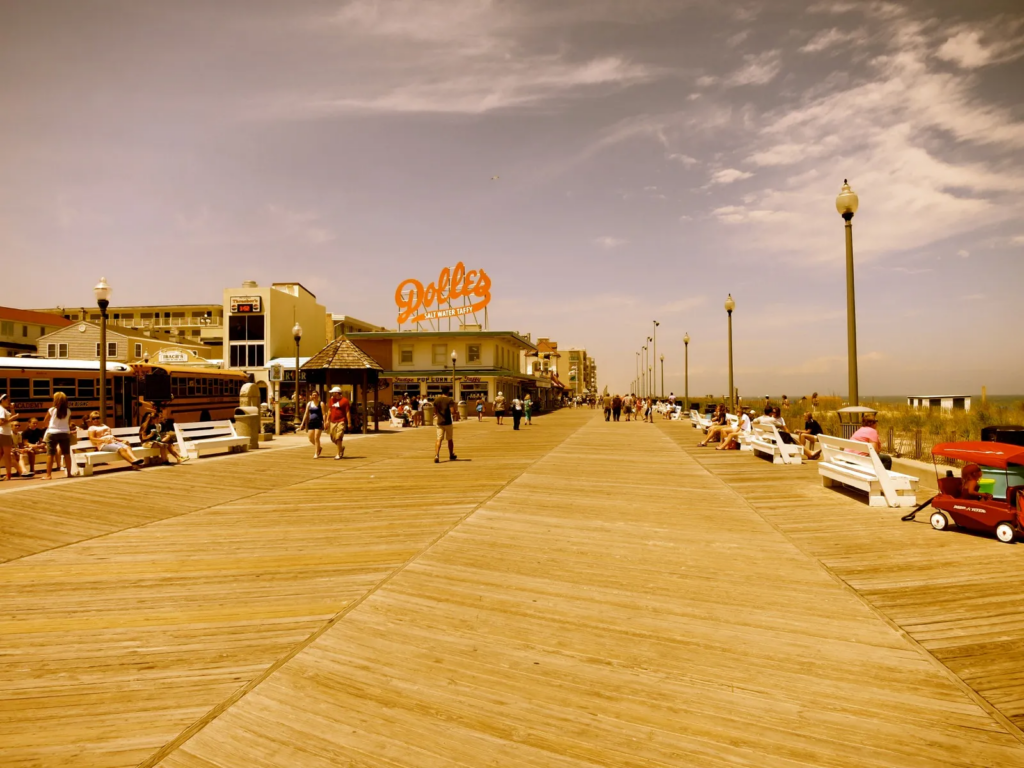 Rehoboth Beach in Delaware is a small, lovely town with spectacular seashores and a rich history. If you want to get away from the hustle and bustle and stay in a quiet spot, Rehoboth is the place for you.
You must go on a tandem kayak when in Rehoboth Beach. You can easily hire one, and the scenery in Rehoboth Beach is just spectacular. You could also spend time in one of the stunning parks in Rehoboth Beach or head to the seashore. You can walk around or ride bikes together and explore the city.
Lewes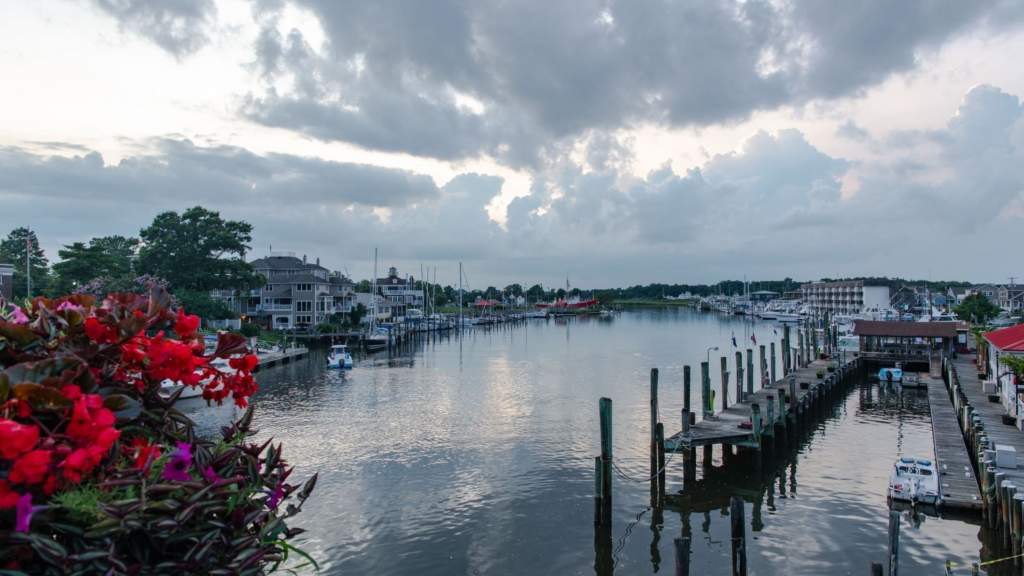 Lewes has a friendly small-town atmosphere full of old and charming buildings. It is one of the top places to visit in Delaware as it is brimming with romance and is located right on Delaware Bay.
You will be spoilt with the most incredible coastal views. There are also some fantastic nature and camping activities in the Cape Henlopen State Park on the eastern coastline.
You should go on boating tours in Lewes and enjoy the stunning views. There are eco-tours, firework tours, and even a tour where you can watch the meteor shower. Of course, it does depend on the time of year. You can customize your boat tour to make it extra special for you both.
The historic Lewes Farmers Market is also a must-see. You can eat delicious foods and browse all of the local stores.
Best Honeymoon Resorts, Hotels, and Other Stays in Delaware
Where you stay during your honeymoon should be more than perfect. We understand that finding the right place to stay can take up a lot of time, research, and energy.
This is why we have found some of the best places in Delaware for romantic getaways. You'll find anything from bed and breakfasts and resorts to hotels in Delaware – there is something that every couple will love. These are our top picks: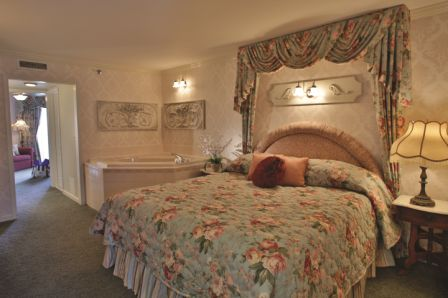 Price per Night: $259 to $744 dependent on the season. Traveling in winter is the cheapest, while summer at the Boardwalk Plaza Hotel is much pricier.
Best For: Long and short stays
Availability: Good availability and easy to book
The Boardwalk Plaza Hotel located on Rehoboth Beach is just a stone's throw from the ocean. You could not stay closer to the beach if you tried. The Boardwalk Plaza Hotel is the epitome of an oceanfront hotel.
You'll be treated to the most amazing seaside views from your bedroom window at the Boardwalk Plaza Hotel, with 84 stunning rooms in the hotel to choose from. Expect white trim balconies and a stunning edifice of brick – the architecture is almost as stunning as the beach!
After spending your days on the beach, we recommend visiting the lovely Victorian Restaurant for a delicious meal. They play live music there, and you can relax in their amazing heated soaking pool.
You can also do tai chi lessons or beachside yoga at the Boardwalk Plaza. With an on-site restaurant, amazing amenities, and stunning beach views, you will surely be in for a tranquil and romantic time at the Boardwalk Plaza Hotel.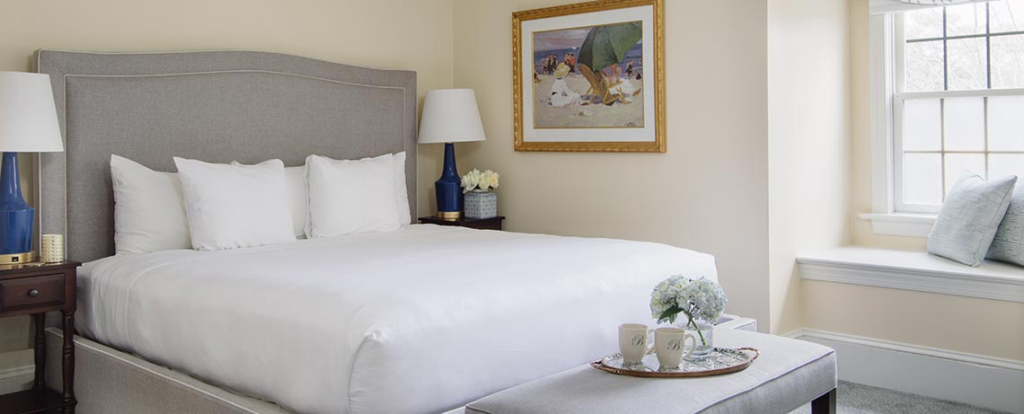 Price per Night: $274 to $500
Best For: All couples
Availability: Limited availability in certain months. Book far in advance for the high season.
The Bellmoor Inn and Spa is a stunning upscale resort in Rehoboth Beach. You can find a bunch of different accommodations with amazing luxury amenities. The main Bellmoor Inn building has several suites and guest rooms with modern designs.
There is also the Palmer House behind the main building. It offers six rooms with private entrances, so couples can enjoy romantic getaways without any disturbances. The Bellmoor Inn serves a full complimentary breakfast each morning and has a shuttle service that can take you to the Rehoboth boardwalk and the beach.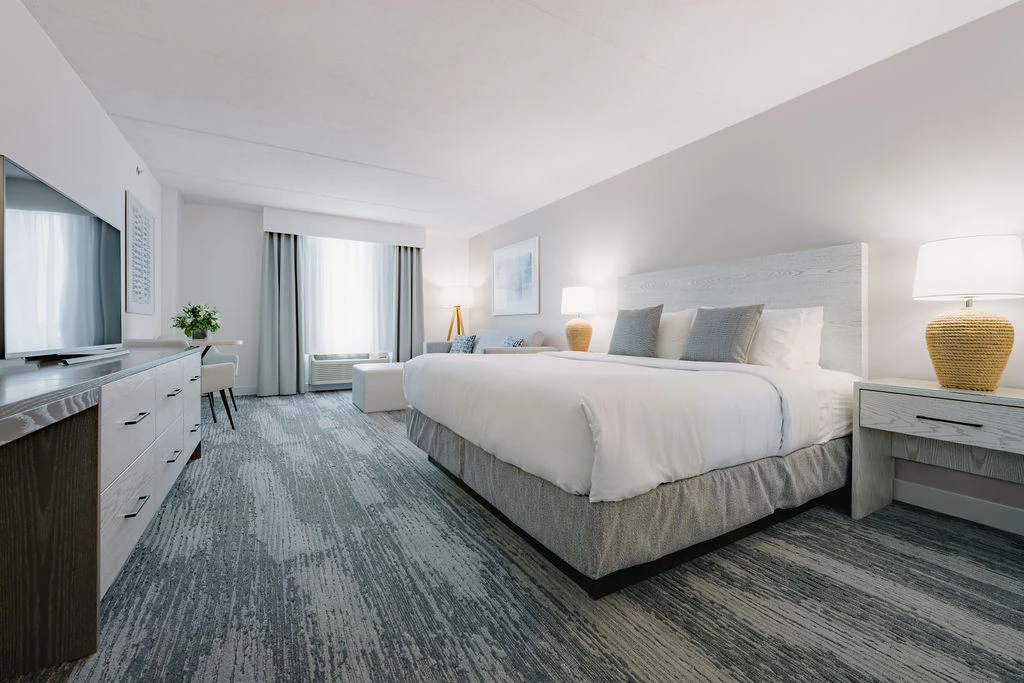 Price per Night: $92 to $100
Best For: Long stays, old and young couples
Availability: Good availability
The Bethany Beach Hotel is found right on the stunning Bethany Beach boardwalk. If you are looking for a romantic oceanfront getaway, look no further than Bethany Beach. This is a stunning all-suite property with 112 luxury suits to choose from. You'll have a private balcony and the most incredible views of the nearby beach.
You'll be treated to a full American complimentary breakfast during your stay, and can venture out for lunches and dinners at the various sea-level restaurants. Romantic getaways are only complete with spa treatments, and luckily Bethany Beach has an on-site spa called Oceanova.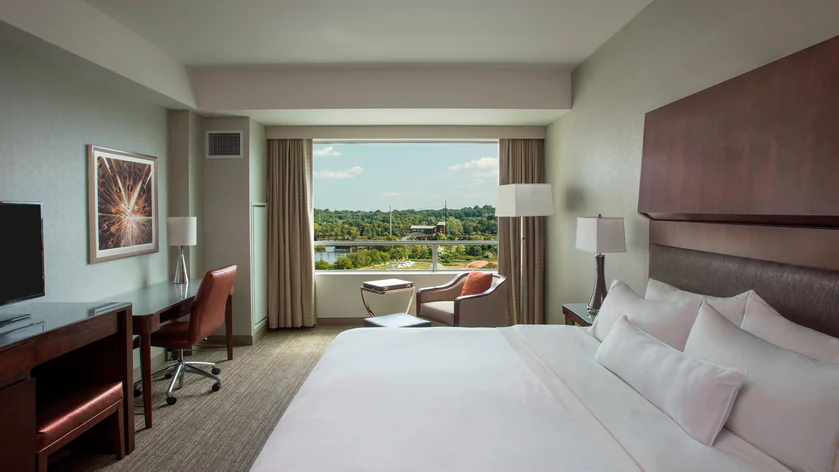 Price per Night: $244 to $269
Best For: All couples
Availability: Easy to book
The Westin Wilmington provides a comfortable and wonderful stay. You'll have lovely riverfront views right from your bedroom window, perfect for romantic getaways. It is one of the top bed and breakfasts in the state, with a hiking trail, pool, fitness center, and a restaurant on-site for guests to enjoy.
Choose between a standard guest room or a spacious suite with a stunning floor-to-ceiling window that overlooks the riverfront or the city. It is a top place to stay during all romantic getaways, as the hotel and its surroundings are beautiful!
Price per Night: $399 to $1061
Best For: Young and old couples
Availability: Good availability
Hotel Du Pont is elegant, and you'll be blown away by how beautiful it is. You could not find a more perfect place to stay for your romantic getaways. This gorgeous hotel is one of the top luxury accommodations in Delaware.
"Du Pont" has always been a big name in Delaware as a rich family went by that name in the past, and they were very influential in the state. Anything related to Du Pont is grandiose, so think glossy marble floors, stunning chandeliers, draping, and a grand piano. A stay at this hotel can feel like a fairytale.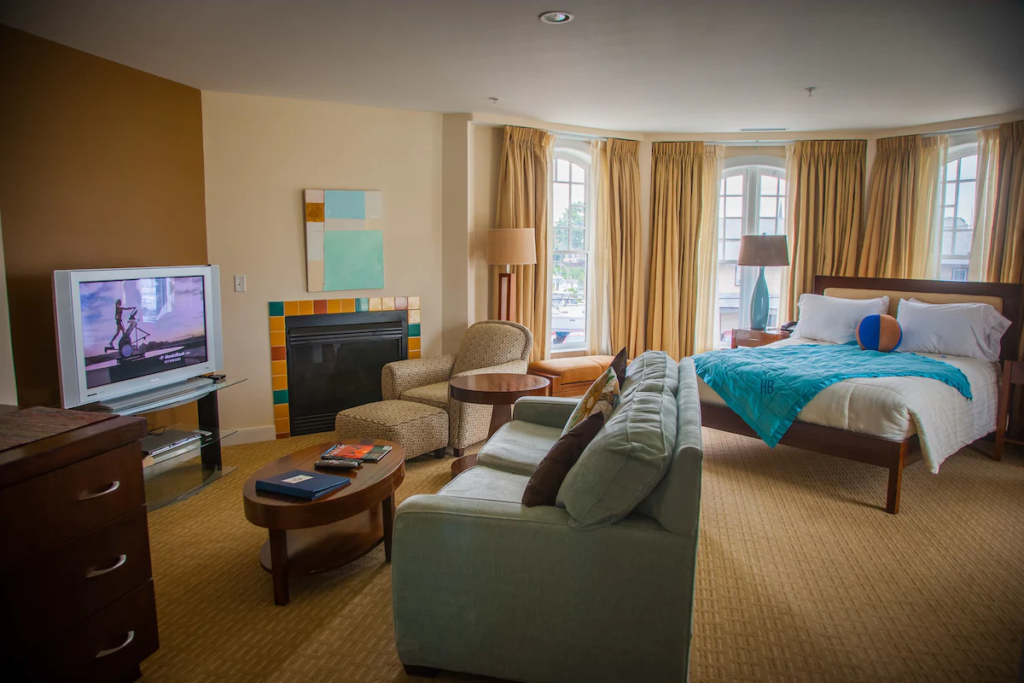 Price per Night: $149 to $200
Best For: Adults-only, long or short stays
Availability: Easy to book
Hotel Blue is a popular choice for romantic getaways as it is an adults-only accommodation. It is in Lewes and is a great place for couples to unwind and escape. It is an upscale hotel and it lies right on the magical canal.
Hotel Blue is a boutique hotel that offers rooms in various styles. You can opt for one-bedroom suites or go all out and book a tower suite that overlooks the canal. Each room has its own fireplace, perfect for couples to cozy up after galavanting around Lewes.
Hotel Blue also offers complimentary coffee, tea, and espressos in the lobby and restaurants within walking distance of the hotel. You should also explore the historic town where you can find lovely shops and events depending on the time of year you visit. Hotel Blue is a top-notch stay.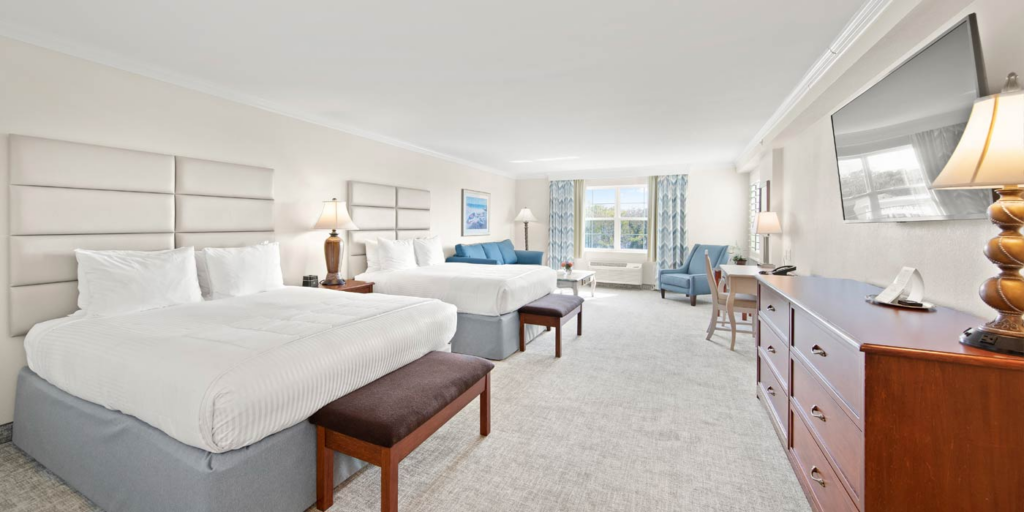 Price per Night: $179 to $242
Best For: Long stays, young and old couples
Availability: Good availability, easy to book
Hotel Rehoboth is one of Delaware's most luxurious hotels, situated on Rehoboth Beach. Hotel Rehoboth is known for its sandy yellow walls and stunning windows that attract the most spectacular light. A stay here is bound to be memorable and relaxing.
Hotel Rehoboth has top-class facilities, including an outdoor heated pool and a sun deck where you can spend your days soaking up the sun and relaxing. There's a huge hotel DVD collection for those nights when you just want to curl up and stay in.
They also offer shuttle services to take you to the beach, and the hotel will provide you with lawn chairs and beach towels. They also have a bike rental, so you can explore the surrounding area. Hotel Rehoboth is dedicated to making your stay with them unforgettable.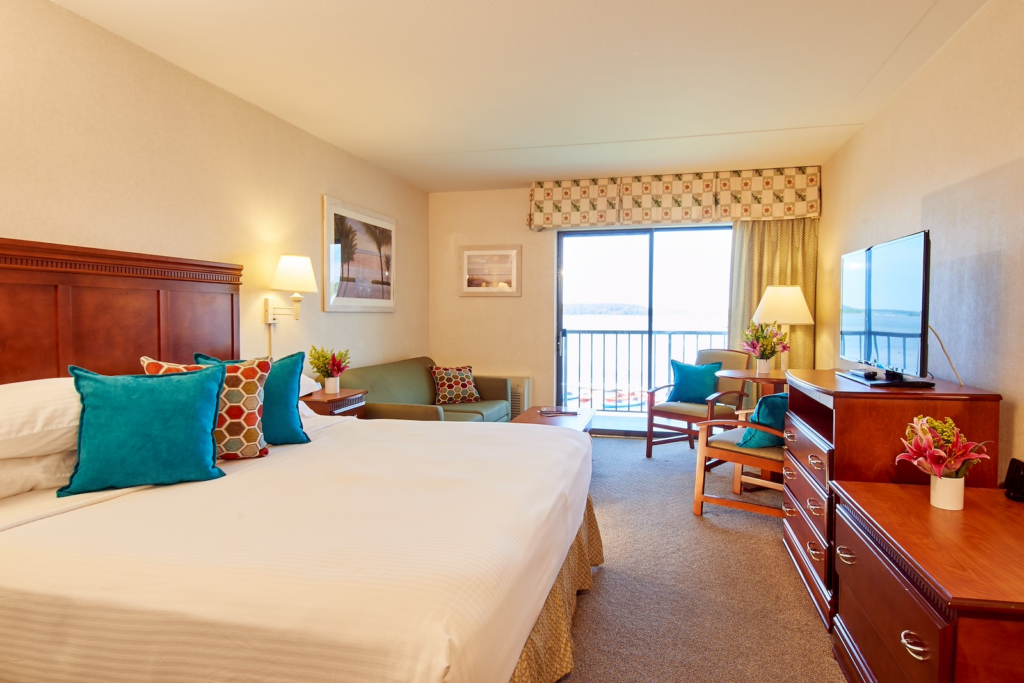 Price per Night: $126 to $144
Best For: Long and short stays, old and young couples
Availability: Best to book well in advance
The Bay Resort Motel is in Dewey Beach. It is a waterfront property and an absolute dream for those wanting to relax and watch the sun go down from their own private bay. The Bay Resort Motel offers 67 king-size and double rooms, each with amazing views and standard amenities.
You'll have a fully equipped kitchenette in your room to feel right at home during your stay at the Bay Resort Motel. You can spend time in the private cove or pool, visit Dewey beach, or go crabbing and fishing. The Bay Resort Motel is the perfect place to stay during a romantic getaway.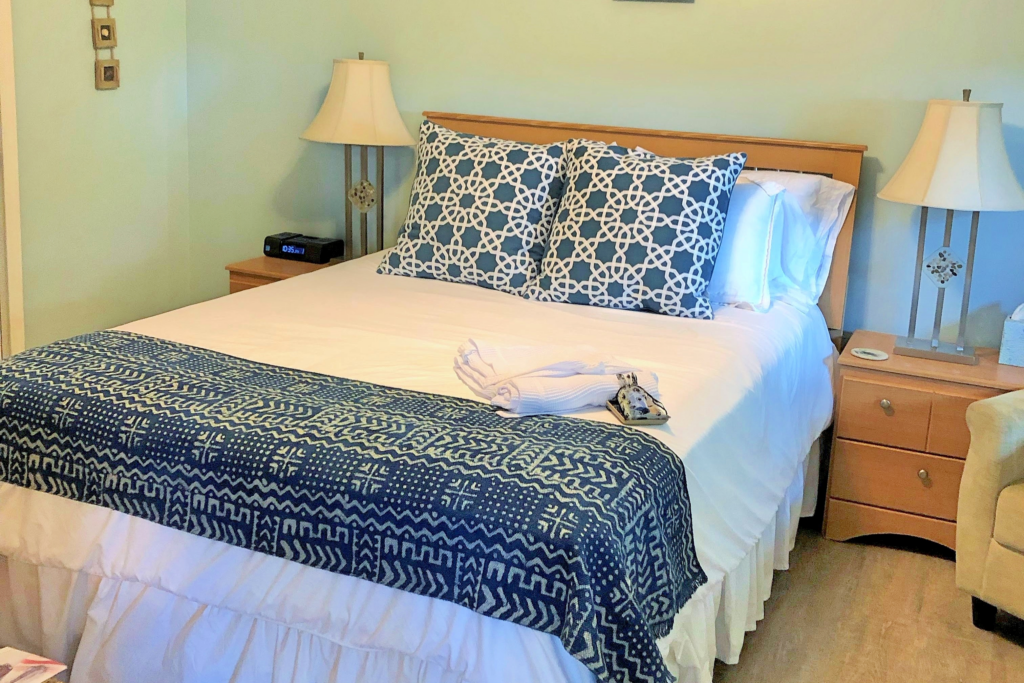 Price per Night: $220 to $435
Best For: All couples, short stays
Availability: Limited availability, so it is best to book far in advance
The Lazy L Bed and Breakfast is the ultimate place for couples wanting a slow and easy honeymoon. The Lazy L bed and breakfast is in Lewes, surrounded by stunning trees and grounds, and away from the hustle and bustle of the streets.
The BnB offers a private cottage and five guest rooms. Breakfast is served daily on the porch; guests can choose from baked goods, fresh fruits, and more. The property is huge, and the area is perfect for bird-watching, kayaking, and relaxing outdoors. There's also a hot tub and a heated swimming pool on site.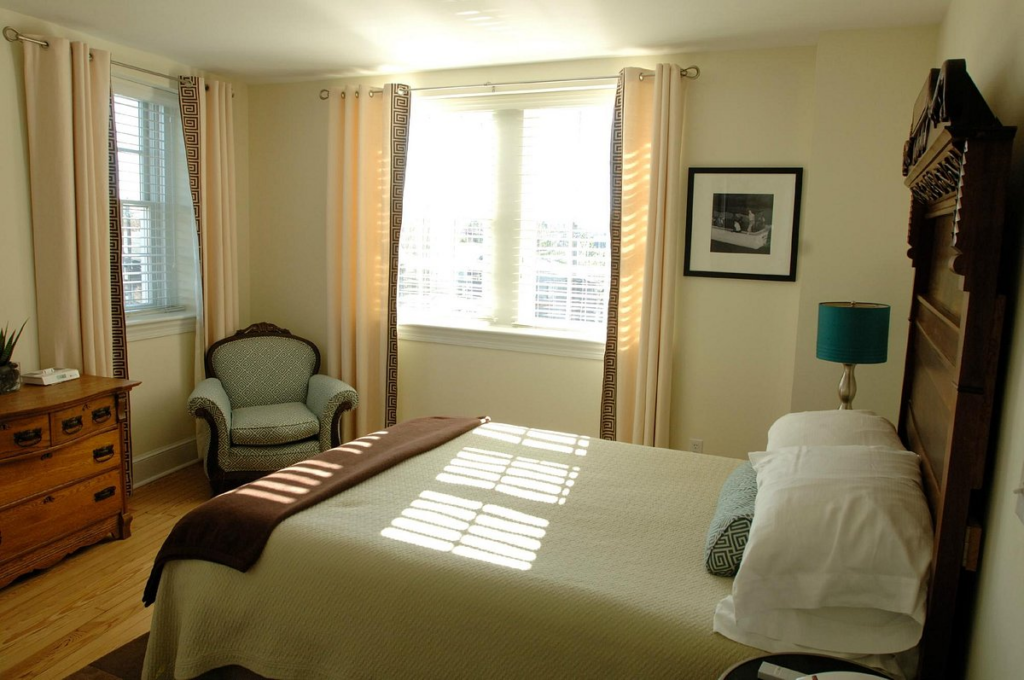 Price per Night: $99 to $339
Best For: long stays
Availability: Decent availability
Hotel Rodney is in downtown Lewes. It is a luxurious boutique hotel built back in 1926. Renovated for ultimate comfort, you'll find six rooms on the property, including master and deluxe suites.
Several restaurants close by serve delicious food – we recommend Jerry's Seafood and the Rose and Crown. You'll always find something on the menus to suit any cravings. This historic hotel is perfectly located to explore the beach and enjoy the hustle and bustle of downtown Lewes.
Top Excursions & Activities To Do On A Honeymoon In Delaware
Delaware has something for everyone, from wildlife at the Brandywine Creek State Park, the beautiful Longwood Gardens, and amazing views of the stunning beaches.
Delaware Seashore State Park
The Delaware Seashore State Park is surrounded by Rehoboth Bay, the Atlantic Ocean, and the Indian River bay. This is the perfect spot for beach lovers, where you can sunbathe and swim. These incredible beaches have lifeguards on duty during the summer.
It's also a great spot for those who want to go boating or fishing. It is easy to access the water, and there is a special pier for the elderly or disabled. If you want more than just a beach day, Thompson Island or Burton Island are great alternatives. Here you'll find salt marshes and hiking trails to explore.
Cape Henlopen State Park
This park is stunning and offers tons of fun and recreation. You can lounge in the sun on one of the sandy beaches, with lifeguards on duty from Memorial Day until Labor Day.
If you don't want to spend time by the water, explore the various biking and hiking trails. A three-mile trail goes around the park where you can walk along and learn about the area's history, thanks to the placards along the path. There is also an 18-hole disc golf course and basketball at the park for everyone to enjoy.
Lums Pond State Park
Lums Pond State Park is one of the best spots to go fishing, camping, and hiking. Lums Pond is the biggest freshwater pond in Delaware! You'll find hiking trails, boat rentals, the Go Ape! Treetop Adventure course, and much more. This park is packed with exciting activities for everyone.
There are pavilions and picnic areas that can be pre-booked to enjoy a lovely day out. The park has over ten miles of amazing trails for bikers, hikers, and horseback riders.
Sample Itinerary & Budget For Your Honeymoon To Delaware
It is always best to know approximately how much a trip will cost so that you can budget accordingly. Having some idea removes stress and makes your trip so much more enjoyable. Planning trips can be quite painful, so we've done some of the planning for you to make your life easier.
Here is a great budget and itinerary for an amazing getaway to Delaware:
Flights: The cost of your flights depends on the airline you fly with and where you are flying from. These can cost as little as $24 from certain areas and as much as $147 for a per-person round trip.
Accommodation: Your accommodation costs depend on where you choose to stay. Luxury suites cost much more than standard rooms will, but the average cost per night in Delaware is between $100 and $250.
Food and drinks: Some accommodations offer free breakfasts and snacks, so you may only need to buy certain meals. Budget on around $70 for food daily for two people. These prices will need to be upped if you're planning on doing some fine dining.
Travel: Public transport in Delaware is amazing, from buses to boats. Tickets for these can quickly add up so it might be best to rent a car. This gives you much more travel freedom, and it's affordable as car rentals start at $30 per day.
Excursions: Tandem kayaking costs $40 for two hours. Entrance to the Delaware Art Museum is around $14 per person. Entrance to Lums State Park is $8 per person. This gives you some indication of what you can look to pay for some of the attractions.
Days 1 and 2
Arrive at your amazing accommodation and settle in. Explore the area and head to a nice restaurant for a romantic dinner. Spend day two exploring the town or lounging by the pool or in the hot tub where you are staying.
Day 3
Spend the day lying on the beach and soaking up the sun, then head out for dinner and cocktails.
Day 4
Explore the surrounding area and book a fun activity. Perhaps visit a nature park, go on a hike, visit a museum, or explore some historical sites?
Day 5
Spend some more time on a beautiful beach, and treat yourself to a massage. You deserve it.
Days 6 and 7
Visit one of the beaches you have yet to see or spend time out exploring the towns in the area. End your trip with an amazing dinner at one of the top restaurants.
Frequently Asked Questions
How much does a honeymoon in Delaware cost?
Budget on around $4800 for your honeymoon in Delaware. This price depends on how long you go for and the type of accommodation you're booking. Budget honeymoons are always possible, but you can also pay more for luxurious ones.
When is the best time to visit Delaware?
May is always a good time. If you like fall, then late September and October are great. Many of the beaches get very busy during summer, and it tends to get very hot and humid. Late spring and autumn are the ideal times to visit.
What is the best way to travel around Delaware?
The best way to get around Delaware is by car. That way, you can travel freely and see all the hidden gems of the Diamond State. Public transport is also an excellent alternative.
Start Planning The Perfect Romantic Honeymoon Getaway
Now that you know everything you need to know about romantic getaways in Delaware, you can see how special and magical the state really is. It is the perfect place to relax and let your romance blossom, so start booking your trip to avoid missing out on the Diamond State's beauty, tranquility, and excitement!