The diversity of destinations found throughout Greece has long upheld its reputation as a prime honeymoon spot. With countless alluring cities on the mainland, and literally thousands of quaint islands scattered across its peninsula, this southern Balkan nation can provide the backdrop, atmosphere, and climate to fulfill your honeymoon fantasy.
Inland, you'll find the tourist epicenters of Athens and Thessaloniki, which can provide your honeymoon with romantic evening walks through bustling streets, great dining experiences in the twilight, and ancient landmarks, with the coast just a stone's throw away. The Greek islands, on the other hand, will cast you out to the heart of the Aegean Sea, with azure skies and beaches.
In this article, we'll uncover the best that Greece has to offer for newlyweds, focusing on the best regions and resorts, as well as the top activities, excursions, and Greece travel tips.
What Makes Greece Perfect For A Honeymoon?
Like the sound of meandering around the Acropolis in the early evening with your better half, but also attracted to the vision of Greek island life? Greece is the perfect honeymoon destination as it allows you to hop seamlessly between cities and islets. Rather than limiting your Greece honeymoon to one destination, why not cover several locations?
First off, the capital city of Athens is easy to get to, as numerous direct flights leave from New York, Washington D.C., and Philadelphia daily. Once arrived, you could spend a couple of romantic days exploring the ancient city to get in the mood for what lies ahead. From Athena, the Aegean and the Greek archipelago are only a short drive and boat ride away.
Once you hit the stunning islands of Santorini, Crete, and Mykonos, your honeymoon can really begin, as you explore the tranquil, blue, and cobblestone towns that cling to the rockface. Spend days winding down on the secreted, alcove beaches, and evenings drinking to the sound of Dimotiki music. On top of being an idyllic getaway, a Greece honeymoon is also very affordable.
Best Honeymoon Resorts, Hotels, and Other Stays in Greece
On par with Greece's fascinating cultural landmarks, white sandy beaches, and azure coastline, is its range of honeymoon resorts and hotels. Whether you're looking for a lavish hotel in the center of Thessaloniki or a white cave house perched on Santorini, Greece honeymoon resorts are sure to go above and beyond your expectations.
Romantic hotels are definitely the way to go when honeymooning in the major cities, but while island hopping on your honeymoon in Greece, you should definitely take advantage of the range of Air B&Bs, bed and breakfasts, and other rental options available. To help you narrow down your options, here's a list of some of the most romantic accommodations available throughout Greece.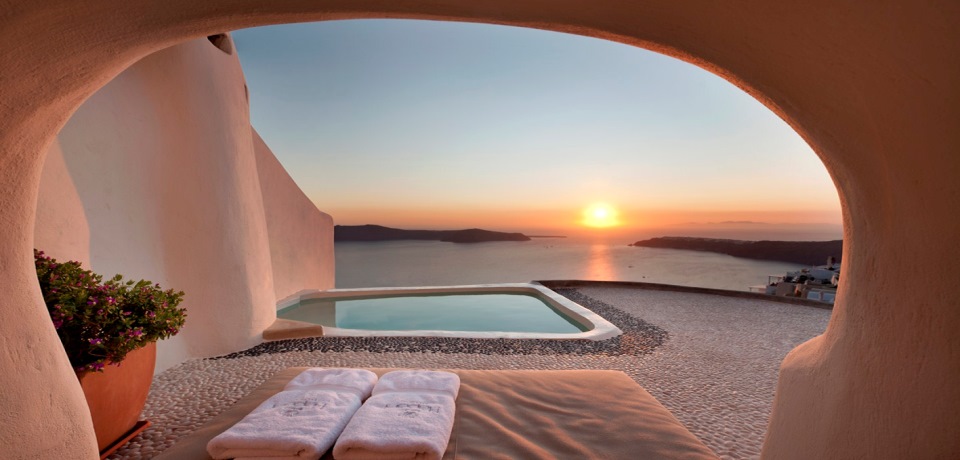 Price per night: $270 – $1,020
Best for: Quiet retreat, ocean views, honeymoon packages
Availability: Limited
Sunset viewing doesn't get any better than from the posh Santorini village of Imerovigli. Overlooking the Aegean sea and the nearby Caldera Islands, watching the sunrise in the morning and dip in the evening over this dramatic scene is something you will remember for a lifetime. Out of all the exquisite resorts found in this village, Kapari Natural Resort is the best.
The resort is new, but each room has existed for centuries. The Kapari keeps the integrity of the traditional Greek cave houses, with curved walls and built-in furniture, while adding some contemporary spins such as king-sized Duxiana mattresses, flat-screen TVs, and a private balcony and pool area. It's listed in National Geographic's Unique Lodges of the World.
Although only 14 rooms can be found at this boutique resort, there are seven categories to choose from, including a Spa Premium room. When not luxuriating in your room, you could enjoy breakfast, lunch, or dinner from the lofty rooftop restaurant, or take a stroll through Imerovigli.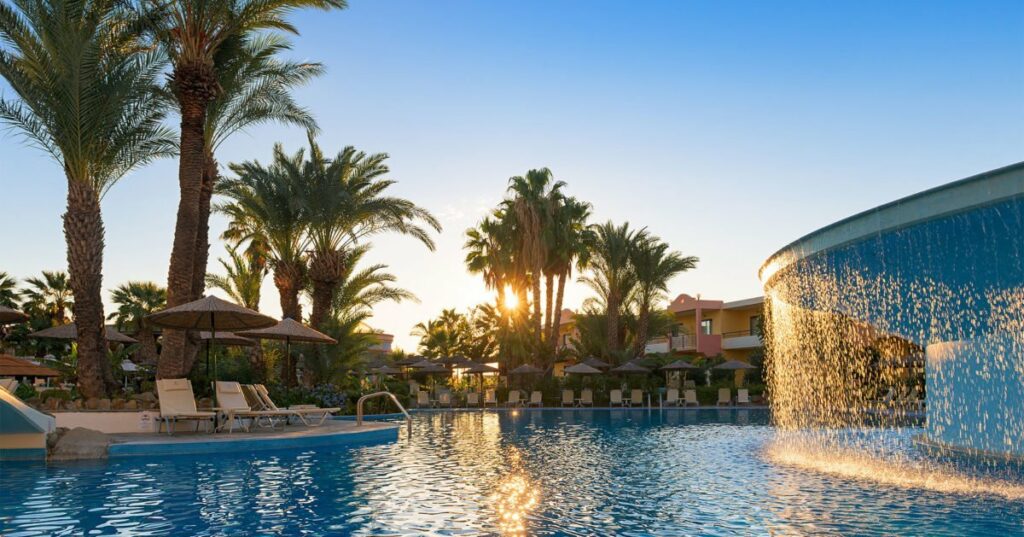 Price per night: $278 – $813
Best for: Bridal suite room, ocean views
Availability: Easy to book
From your private balcony or terrace, it's difficult to distinguish where the pool grounds of the Atrium Palace end and where the ocean begins. Newlyweds can enjoy meandering around the resort's tranquil gardens, lakes, and waterfalls, and later take a dip in the pool. Although kids are welcome at this resort, it never feels too overcrowded, maintaining its serenity.
After spending a day poolside, couples can retreat to their deluxe room, or get a full body massage at the AnaGenesis Thalasso Spa Center. Guests also have access to a private beach area out front, guaranteeing them a sunset spot.
If you're planning on having your wedding on Rhodes island as well as your honeymoon, the Atrium Palace can also host your wedding, with a bridal suite room option available.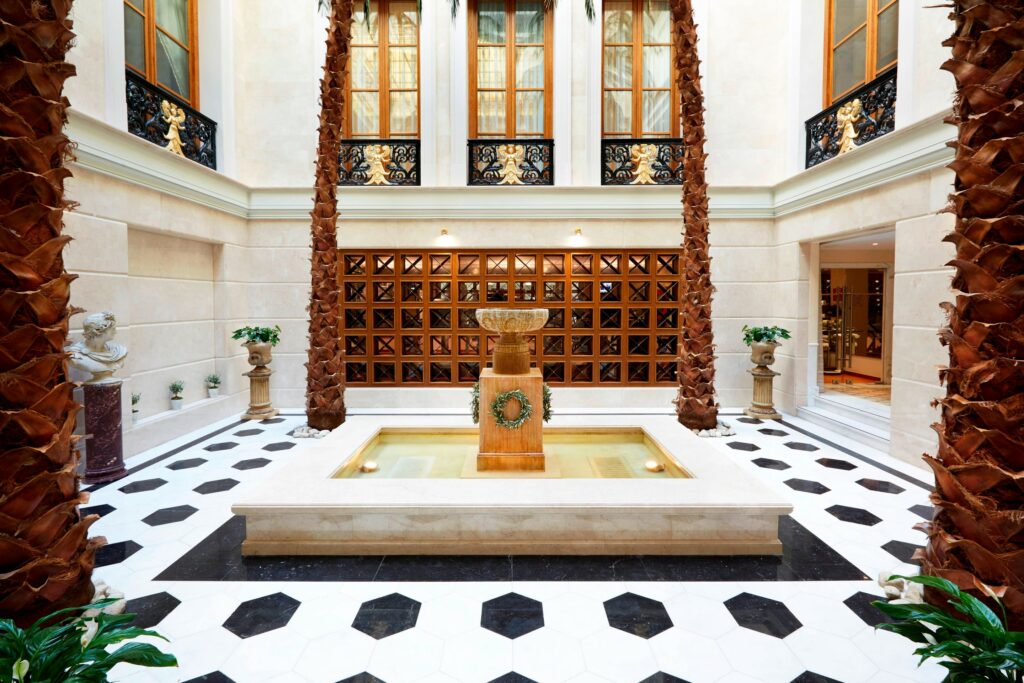 Price per night: $264 – $1,216
Best for: Traditional Greek accommodation
Availability: Easy to book
If you're starting your honeymoon trip in Athens, start it off in style by booking a few nights at the Hotel Grande Bretagne. Positioned right on Syntagma Square, the Hotel Grande Bretagne has been welcoming guests – including many honeymooners – since 1874! If you're looking to make a grand entrance in Greece, stay at the Hotel Grande Bretagne.
The timeless elegance of the hotel is evident throughout the entire establishment, with imposing pillars throughout the entrance and marble flooring throughout. The best amenities include the rooftop restaurant which provides a direct view of the Acropolis, the outdoor pool, and the Grande Bretagne Spa.
A city center positioning is ideal for Athens, as it puts all the main sights within proximity.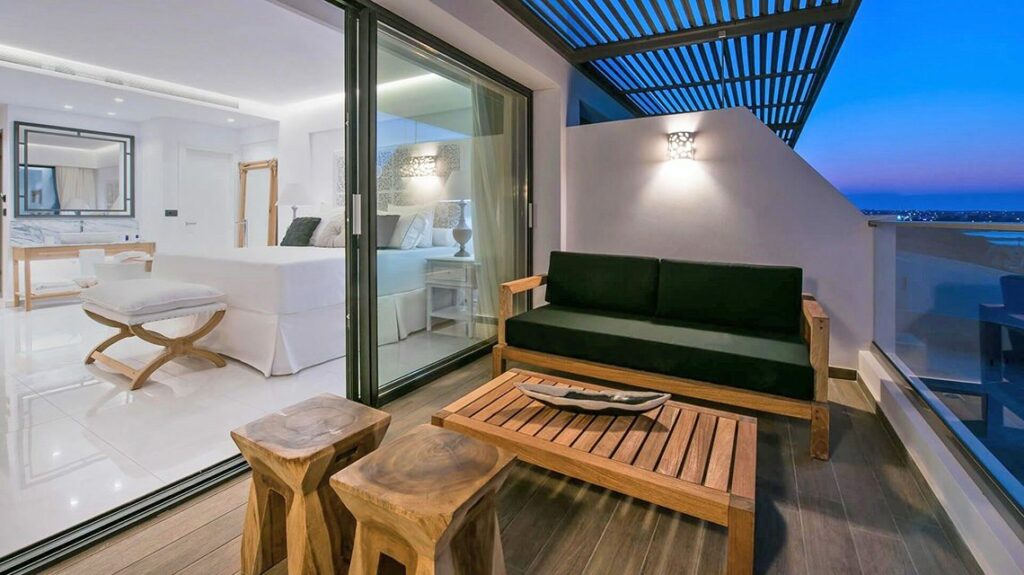 Price per night: $386- $2,770 (Dream Villa Beachfront with Private Pool)
Best for: Young couples, city access, spa
Availability: Easy to book
Since opening in 2018, the 5-star Abaton Island Resort has quickly become one of Crete's prime honeymoon destinations. With all modern amenities, both inside the rooms and throughout the resort, this is the perfect honeymoon spot for couples who enjoy doing very little! There are 14 different room types, including the Royal Villa and Deep Blu Delux Sea View.
You don't even have to leave your room to get to the pool, with many of the rooms equipped with totally private or shared balcony pools. If you opt to go downstairs, you'll find rows of chaise lounges poolside, where you can enjoy the gentle sea breeze as you soak up the sunrays. Alternatively, you could enjoy a sauna or a massage at the Elemis Spa.
Although kid-friendly, none of the amenities are really designed for kids, so a peaceful time is pretty much guaranteed. Another highlight of the Abaton is that it's just a short bus ride away to Heraklion, Crete's capital, should you desire some nightlife.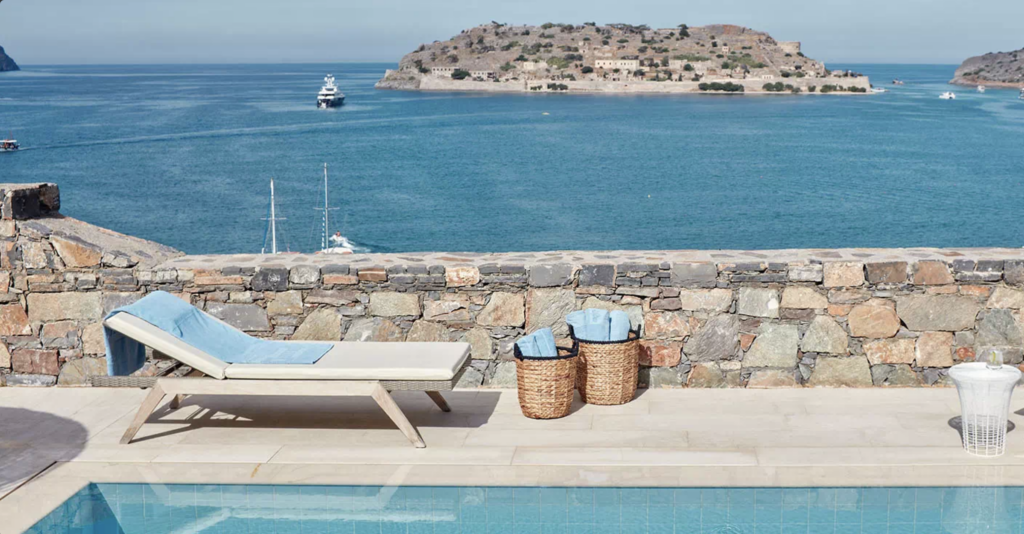 Price per night: $350 – $1,400
Best for: Honeymoon packages, beach bar
Availability: Easy to book
Honeymoon packages are available for this romantic resort, which is poised directly in front of the Elounda coast. The architecture found throughout truly lives up to the resort's name, with long, stone arches separating the outside areas. Here, you'll find several tranquil gardens, infinity pools, and a plethora of alfresco dining options.
The Blue Palace Resort extends to the beach itself, with a private stretch of sand for guests to lounge on. Also on the beach, you'll find the resort's Isola Beach Club, where you can enjoy your favorite cocktail, dine out, and watch the sun go down.
Newlyweds have a range of villas to choose from, including the Superior Bungalow Seaview, Bungalow Heated Pool, and the Maisonette Suite. Each of which comes with its own private outdoor area, for you and your partner to enjoy some downtime.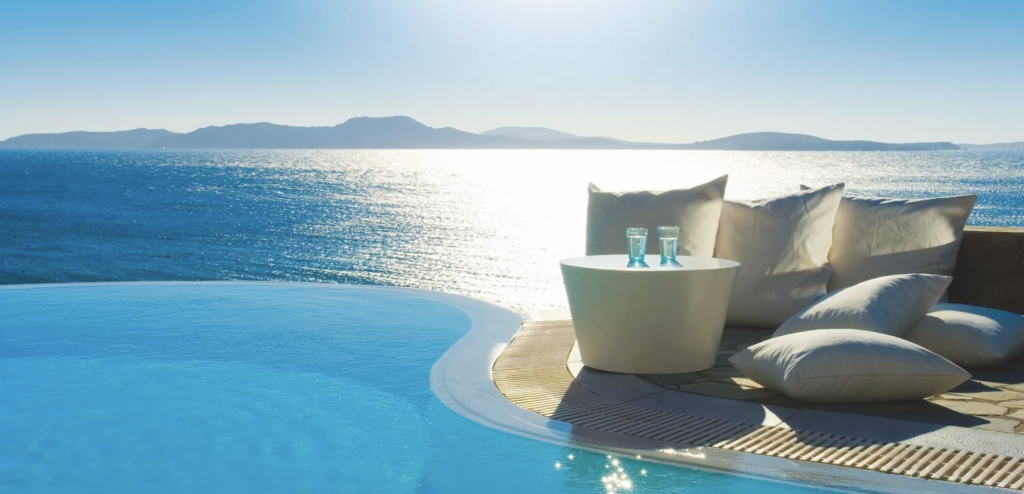 Price per night: $690 – $2,830
Best for: Private dining
Availability: Limited
The Mykonos Grand Hotel & Resort provides peace and tranquility on one of Greece's most renowned party islands. The honeymoon package not only grants you a private terrace and pool but also your own private grill and chef. Lounge around with your newlywed while your chef cooks up whichever meal you fancy – without being interrupted by other guests!
However, this doesn't mean you have to spend your entire honeymoon in Greece being totally isolated from the party. The Mykonos Grand Hotel is right next to Agios Ioannis Beach, one of the island's best small beaches, and also features some lively nightlife spots nearby. The resort also features a spa that offers special couple packages.
With 96 rooms, the Mykonos Grand Hotel & Resort tends to sell out during peak season – so book well in advance!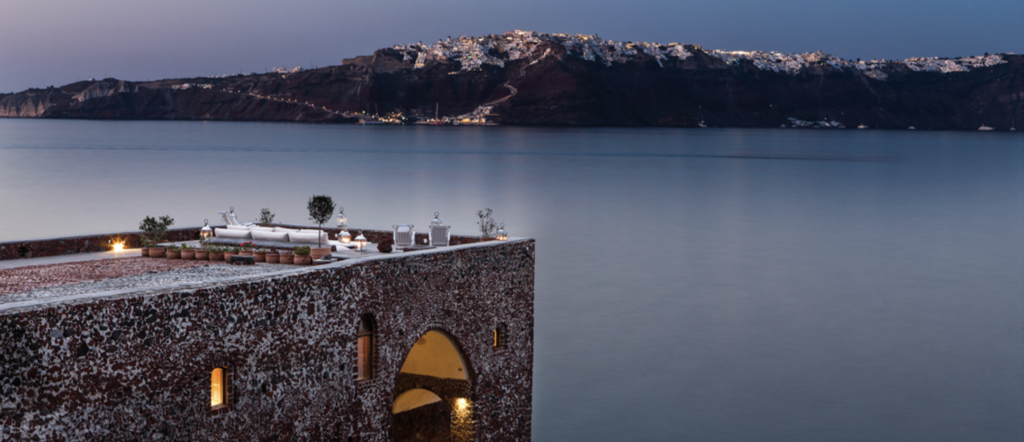 Price per night: $520 – $3,000
Best for: Unique stay, boutique resort
Availability: Limited
If you want an authentic insight into island life, Preivolas is a collection of Cycladic-style houses which are perched on the hillside and looking out towards the Aegean Sea. Each of these 20 accommodations is centuries old and unique from one another, having been restored with modern amenities when the hotel opened.
Dream-like arched doors lead you from your master bedroom out into your private sea-facing pool or hot tub, which is the perfect place to both start your day and unwind later on. Honeymooners can enjoy nearby amenities such as the communal infinity pool, the Perivolas Restaurant, and the wellness center, where you'll find saunas and steam baths.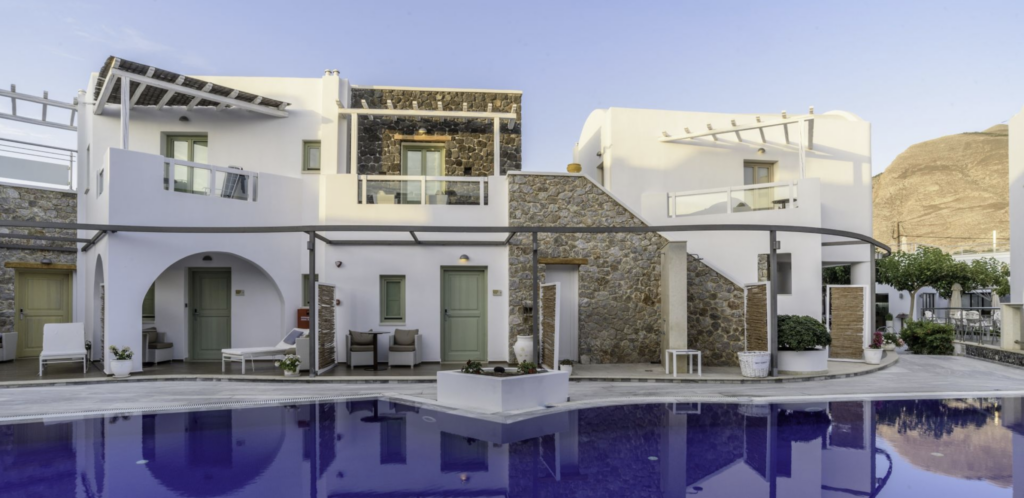 Price per night: $230 – $740
Best for: Honeymoon suites, private jacuzzi, adults only
Availability: Limited
The La Mer Deluxe Hotel & Spa is one of the best adults-only resorts on the Greek island and has exclusive offers for newlyweds. Out of all the hotel's luxurious rooms, we'd recommend opting for the Honeymoon Suite, which is ocean-facing and comes with a marble jacuzzi. All rooms are minimalist in design, in homage to the Cycladic architecture of Santorini.
Privacy is guaranteed both in your room as well as throughout the resort, which only features 45 rooms in total. Find your own secluded corner out of the resort's abundant recreational space, which includes the onsite Spa, pool, alfresco restaurant, and spacious terrace.
The resort can be found in the eastern village of Kamari, where guests can head out and explore whenever they feel like immersing in the authentic culture of Santorini. Romantic activities include drinking on its lengthy promenade, catching a movie at its open-air cinema, exploring the ancient ruins, or wandering along to the Black Beach.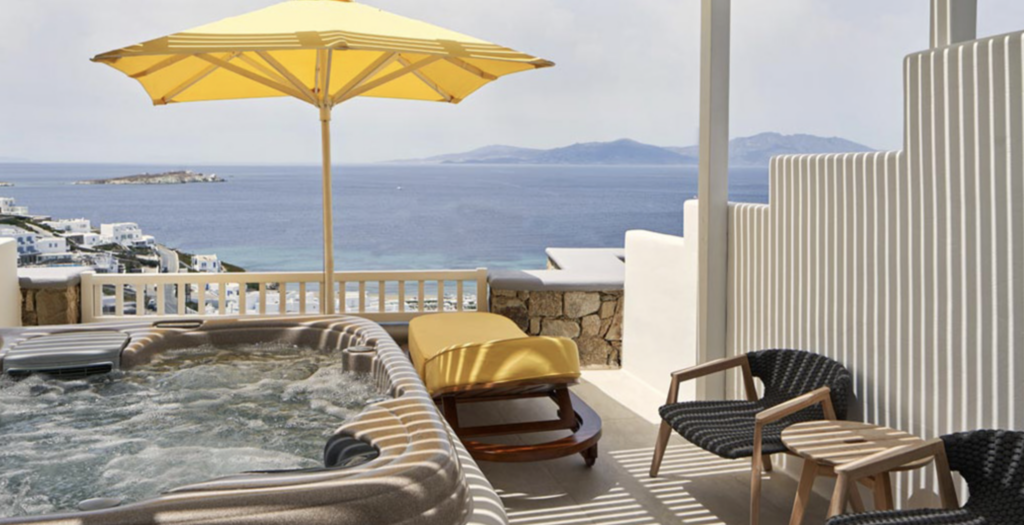 Price per night: $630 – $1,635
Best for: Nightlife, young couples
Availability: Easy to book
Myconian Imperial Resort is the perfect place to chill out during the day after lapping up Myknonos' exciting and diverse nightlife. Mykonos has a reputation for being a party island, and if you've chosen this island as your honeymoon destination, you definitely should go out and experience it.
This resort makes things easy for you, by providing a shuttle bus to the clubs. During the day, you can enjoy drinks by the pool, a rejuvenating massage at the Thalasso Spa Center, or a romantic meal at the gourmet restaurant. There's even an onsite boutique store, where you can pick up some threads to wear for your nights out.
Each room at the Myconian Imperial Resort has a balcony, some of which face out toward Elia Beach.
Best Areas To Stay In Greece
Greece is like several different countries in one, which can make it difficult to select the best area to spend your honeymoon. It all comes down to what you're looking for: ancient ruins or black sand beaches? Whitewashed houses or a city-center boutique hotel? Ocean views or a bustling city center? Whichever you choose, you're sure to find a unique and alluring atmosphere.
In this section, you'll find more information on the top areas to stay in Greece: Athens, Crete, Santorini, and Mykonos. Although inland Greece also has its charms, we'd definitely recommend picking either Athens or a specific island to honeymoon on. Luckily, it's easy to island-hop around the archipelago, with ferries running around the clock.
Athens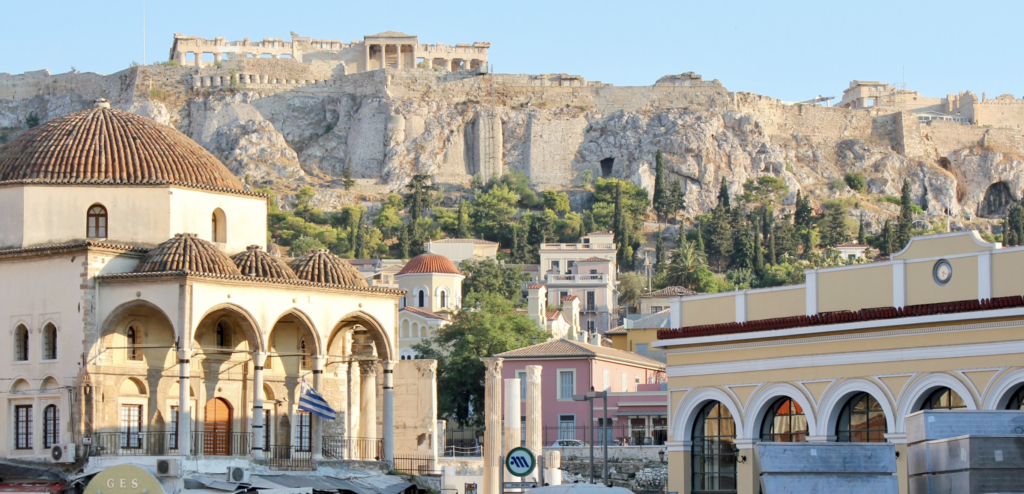 Athens is Greece's epicenter of tourism and culture, and also one of the most visited cities in the whole of Europe. If you're looking for romantic excursions to keep you entertained through the day, and lively districts to celebrate your marriage at night, Athens truly has it all. Throughout the city, you can find ancient ruins, boundless parks, and illuminating museums.
The crowning jewel, of course, is the Necropolis, which looks out over the city from a raised outcrop. This enchanting citadel is both fascinating to stroll around during the daytime and breathtaking to gaze upon at night when lit up. Nighttime is truly when Athens shines, with late-night restaurants, swanky bars and clubs, and a general buzzing atmosphere.
Crete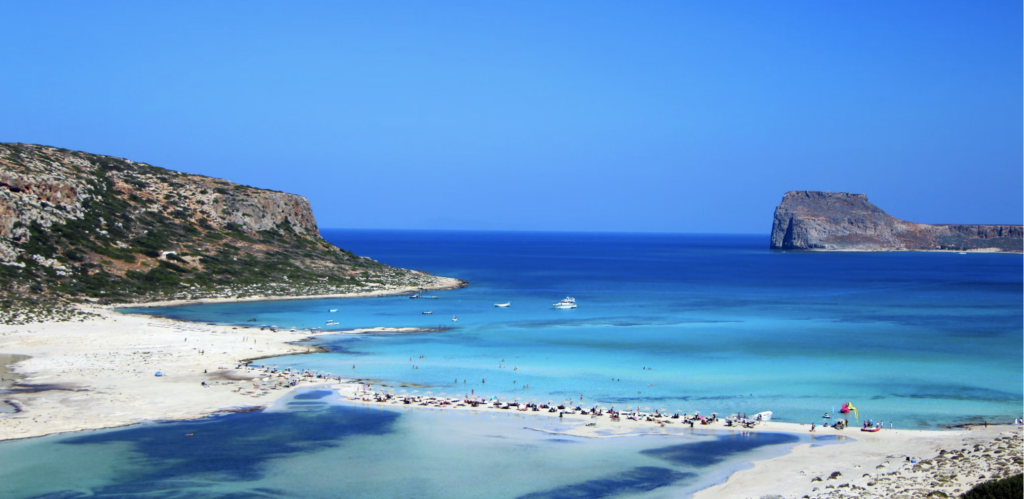 If you're only planning on staying in one place while honeymooning in Greece, make it Crete. It may be one of the furthest away, but it is also the biggest of the Greek isles and is bustling with couples on romantic getaways. 5-star hotels are dotted along its coastline and further inland, giving you the choice to pick whatever location best suits your itinerary.
Honeymoon itineraries on this Greek island normally include days spent strolling along the pink sands of Elafonisi, getting your picture taken at the imposing Samaria Gorge, or standing in awe of the Balos Lagoon. After a day's worth of exploring, it's nice to settle down in Stalis or Malia, with an exotic cocktail in hand, and soak up the island nightlife.
Santorini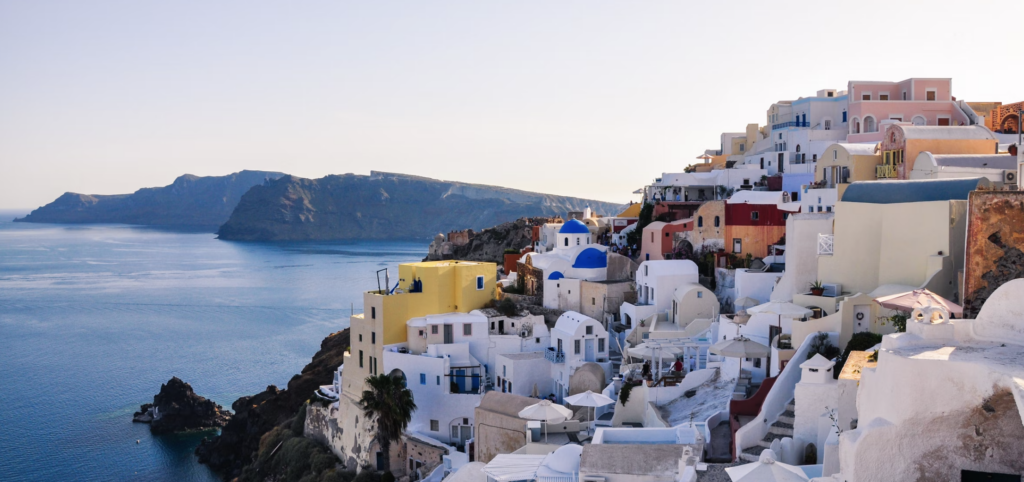 All Greek islands are special in their own way, but it's Santorini that seems to attract the most tourism. This is perhaps partially due to its appearance; white buildings with blue roofs, natural landscapes, and sweeping oceanfront views. All of which will perfectly meet the expectations of your Greek honeymoon fantasy!
By day, Santorini is the perfect place to lay poolside and soak up some rays, particularly in quiet villages such as Imerovigli. In the evening, the island invites visitors to explore its winding streets and enjoy exceptional Greek delicacies in Aegean-facing restaurants.
Mykonos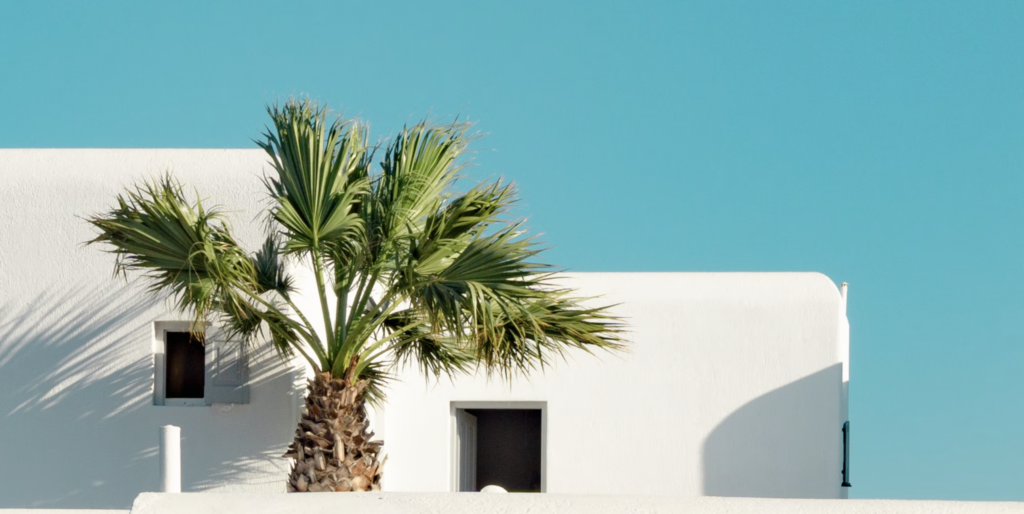 Don't be deterred by its party-island reputation – Mykonos is also one of Greece's best honeymoon destinations. It's often dubbed as 'Little Venice' thanks to its Venitian-styled accommodation, characterized by being ocean-facing with two stories and a balcony. Mykonos not only stands out due to its architectural style but also by its range of activities offered.
For those who wish to bring home plenty of keepsakes, Mykonos is the best island for shopping, with narrow streets filled with boutique clothing stores, jewelry purveyors, and art galleries. In between lounging on one of the island's great beaches, you and your new partner could explore the seabed on one of Mykonos' many scuba diving experiences.
Top Excursions & Activities To Do On A Greece Honeymoon
Many of the most popular Greek excursions and activities are suitable for honeymooners, which includes the following:
1) Santorini Sunset Cruise
No matter what region of Greece you venture to, the sunset is going to be worth admiring. If you're on an island, go on a sunset cruise. Santorini has the best romantic boat ride offerings, with various pickup points along the island's coast, including Kapari Natural Resort!
The Santorini Luxury Catamaran Sunset Cruise is one of the top-rated ones, that'll take you around beaches, hot springs, and lighthouses.
2) Golden hour in Athens
Alternatively, if you're in Athens, clamber up Arios Pagos for golden hour. Arios Pagos is a rocky hill poised opposite the Acropolis, that's free to enter and easy to climb up! There are plenty of seating areas on its plateau and a good atmosphere created by the tourists and locals who gather there. We'd recommend picking up a few drinks before making the ascent.
3) Santorini Volcanic Island Cruise
If you fancy going for a boat tour during the daytime, you could opt for the Santorini Volcanic Island Cruise, which will take you around the Aegean Sea's hot springs.
4) Wine Tour
For those who would rather experience a dry land excursion, there are a vast amount of wine tours that take place throughout Greece's mainland and islands. Santorini, Athens, Crete, and Rhodes all have well-established wine and even olive oil tasting tours.
The best vineyards to visit include Lyrarakis Winery & Tasting Room in Crete and Venetsanos Winery in Santorini.
Sample Itinerary & Budget For Your Honeymoon To Greece
To help you plan out your Greece honeymoon itinerary, here's a basic breakdown of how much you can expect to spend in total for a 7-day trip (per person). The amount you should budget depends on the time of year you choose to visit Greece as well as a whole host of other variables.
| | |
| --- | --- |
| Accommodation | $280 (budget hotel) – $21,000 (expensive resort) |
| Food and drink | $320 |
| Transportation between islands | $10 – $100 (for a return trip) |
| Sunset cruise | $120 – $190 |
| Wine tasting | $30 – $40 |
| Acropolis entrance | $20 |
Here's a sample itinerary to take inspiration from:
Day 1 – Arrive in Athens and, depending on how much time you have, explore some of this beautiful capital. If you've got most of the day ahead of you, walk around the city center and visit some of the easily accessible ancient ruins, such as the Temple of Olympian Zeus.
Day 2 – With plenty to see and do in Athens, your second day should be action-packed. Visit the market in the morning, explore the Museum of Cycladic Art in the early afternoon, and time your Acropolis visit for sunset.
Day 3 – Set sail for your honeymoon island from Port of Piraeus, or catch a flight from Athens International Airport. Flights are the quickest means of reaching the Greek islands. For example, the flight time between Athens and Santorini is around 40 minutes. If you get a ferry, make sure you leave early, as these can take well over four hours.
Day 4 – Spend day four settling into your island resort. It would be a good idea to spend this first day enjoying the pool and other onsite amenities.
Day 5 – Spend day five doing a big activity, such as going on a wine tour or the Santorini Volcanic Island Cruise.
Day 6 – Make day six as romantic as possible by spending the afternoon beside your resort's private beach cabanas before going on a romantic sunset cruise.
Day 7 – Spend your last day by the pool, in your resort's spa, or on the beach.
Frequently Asked Questions
How much does a Greece honeymoon cost?
The average cost of a honeymoon in Greece will fall somewhere between $1,400 and $2,000. However, this depends on the season you choose, as well as the resort and specific region. Some islands are more expensive than others, for example, Mykonos and Santorini are noted for being the most expensive of the islands, while Paros and Naxos are more affordable.
When is the best time to visit Greece?
The best times to visit Greece include late spring and early fall. During these periods of the year, the weather is the most agreeable, which makes exploring the country's fascinating monuments and the countryside more enjoyable. In July, temperatures average 81 Fahrenheit in Athens, which most honeymooners would consider too hot a climate for a honeymoon.
What is the best way to travel around Greece?
Car rental is by far the most popular way to travel around Greece, whether your vacation is taking place on the mainland or an island. Compared to other European countries, you'll be surprised how easy and cheap it is to rent a car in Greece. On most islands, you'll find a car rental depot easily.
Start Planning The Perfect Romantic Honeymoon Getaway
Greece is one of the most geographically diverse countries in Europe, so why not take full advantage of its fascinating mainland, islands, and islets for your international honeymoon? Whether you set a course for Crete, Santorini, or Mykonos, every day will feel like an adventure and be even more romantic than the last.
When planning your Greek honeymoon, be sure to use Couple's Travel other resources to find the best hotels, islands, and excursions.