For some newlyweds, honeymoons are reserved for relaxing poolside with a little-to-no itinerary to follow; for others, a honeymoon destination should be action-packed and bucket-list worthy.
Bali, somehow, manages to satisfy both of these travel styles.
Whether you're looking for boundless beaches and tranquil resorts or Hindu temples and unforgettable cultural experiences, you'll find it in Bali. The surrounding coral reefs, volcanic backdrops, and tropical climate of Bali make it both a romantic and exciting place to spend your honeymoon, but, given the island's diversity, you need to organize it well in advance.
What Makes Bali Perfect For A Honeymoon
For many, Bali is the perfect honeymoon spot if you're looking to take an extended break from reality. Although the island does have expensive hotels, restaurants, and bars, Bali can easily be done on a budget.
Plus, this island has plenty of fun excursion opportunities that'll make an extended stay worthwhile. When you're not lounging by your private infinity pool, you could head out and find one of the island's many waterfalls, traverse through a monkey forest, or get spiritual at a nearby temple. A Bali honeymoon itinerary is typically as relaxing as it is adventurous.
Best Honeymoon Resorts, Hotels, And Other Stays In Bali
Whether you want to frolic on Bali's beautiful beaches or explore the dense forestry that defines the inland areas, there is a luxury resort for you. To give you an idea of the best accommodation options available, we've compiled this list of the 10 best hotels you could book today for your Bali honeymoon.
Some are found on Seminyak and Nusa Dua beach, while others are closer to the inland cultural hubs, such as Ubud.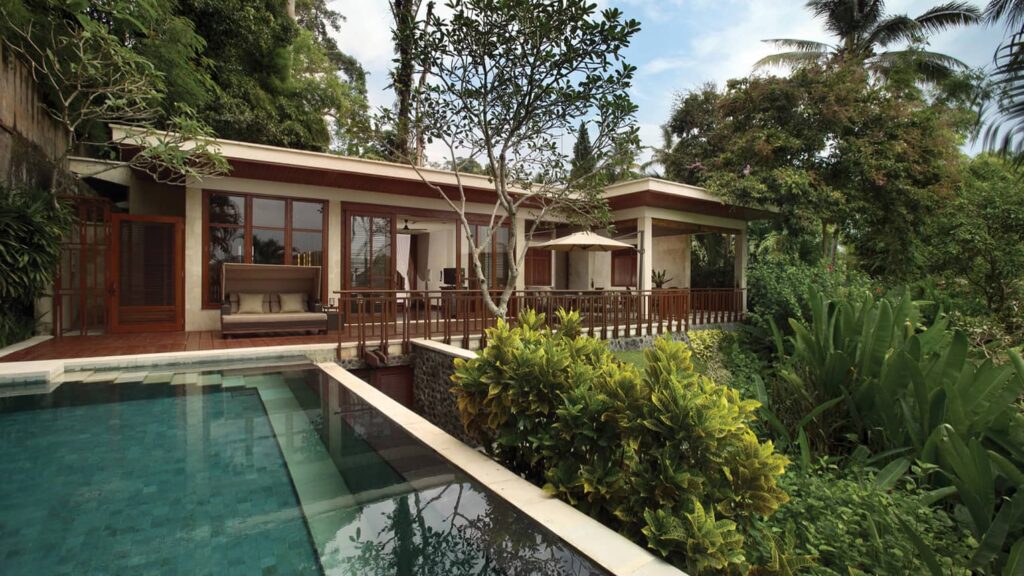 Price per night: $950 – $5,700
Best for: Spa treatments, romantic sunset dinners
Availability: Easy to book
To reach the Four Seasons Resort Bali at Sayan you need to cross a suspension bridge that takes you over the canopy of the forest below. As you cross over, you'll feel as though you're entering into a world of pure bliss. In the main hub of the resort, peaceful gardens command unbeatable views over the Ayung River, rice paddies, and imposing mountains.
Many of the rooms at this resort look out onto the surrounding gardens and rivers, allowing you to wake up and fall asleep to the sound of the jungle. The villas come with an outdoor seating area where you can soak up some rays, and a private plunge pool for you to cool down in.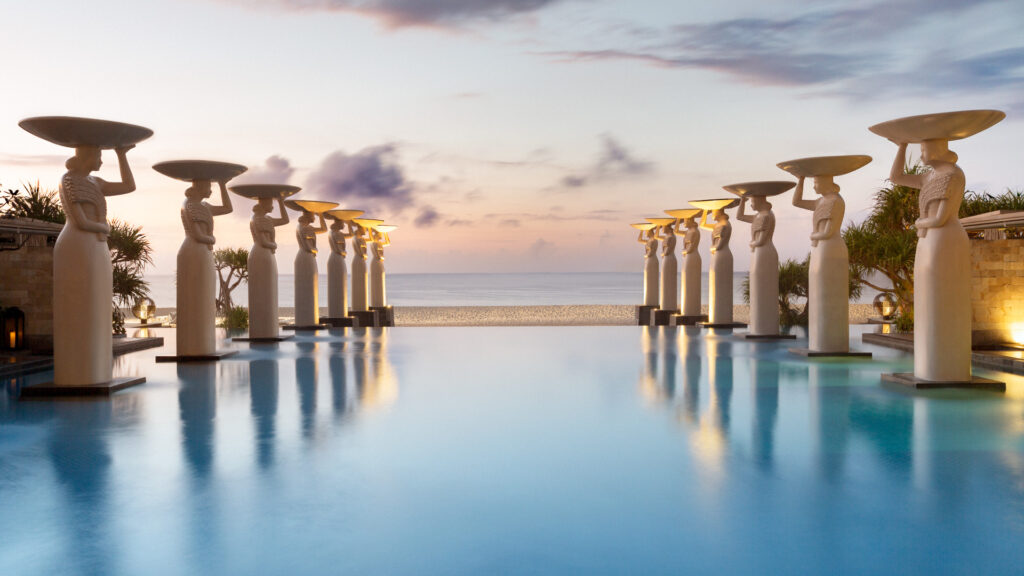 Price per night: $180 -$3,000
Best for: Ocean views, honeymoon packages
Availability: Easy to book
The Mulia Bali is essentially three resorts in one. Firstly, the Mulia is a boutique resort with 110 rooms that look out onto the coast. Then, the Mulia Resort is slightly bigger, with 526 rooms, some of which boast private lagoon pools. And finally, the Mulia Villas, which are hidden away in the Nusa Dua hills. Throughout, most rooms boast a private patio and jacuzzi.
The variety in rooms is not the only thing that inspires interest in this hotel; the 1-kilometer worth of private beachfront, impeccable views of the Indian Ocean, and a variety of onsite amenities make this resort one to consider for your honeymoon.
Dining is particularly special, as you can opt for butler services if you're enjoying the comfort of your own private infinity pool, or hop downstairs to dine out at one of the nine on-site restaurants. A honeymoon package is available for this hotel, which will reserve the Mulia Grandeur Room for you for 5 nights and give you buffet access for as little as $605 per person.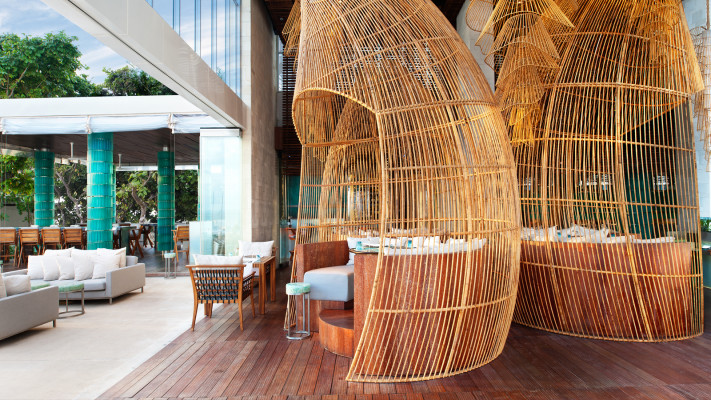 Price per night: $310 – $900
Best for: Nightlife
Availability: Easy to book
The W Bali – Seminyak beach resort is as chic as it gets and has become a hotspot for Instagrammers in recent years. That doesn't necessarily mean that a stay at this resort will be overcrowded with influencers, but you can expect a bit of a party atmosphere some nights of your stay.
Being positioned close to the center of Seminyak, some of the most fashionable bars, clubs, and restaurants of Bali are just a short walk away. So, if you're looking to add a bit of excitement to your honeymoon, W Bali – Seminyak is a top choice for party lovers. The resort's amenities will also ensure you have relaxed days, with a private beach right out front!
Additionally, the resort features a 24-hour AWAY® Spa, indoor and outdoor dining options (including floating breakfasts!), and bars selling fresh and original cocktails. The rooms offer honeymoon tranquility, with many featuring private pools or flower-filled terrazzo bathtubs.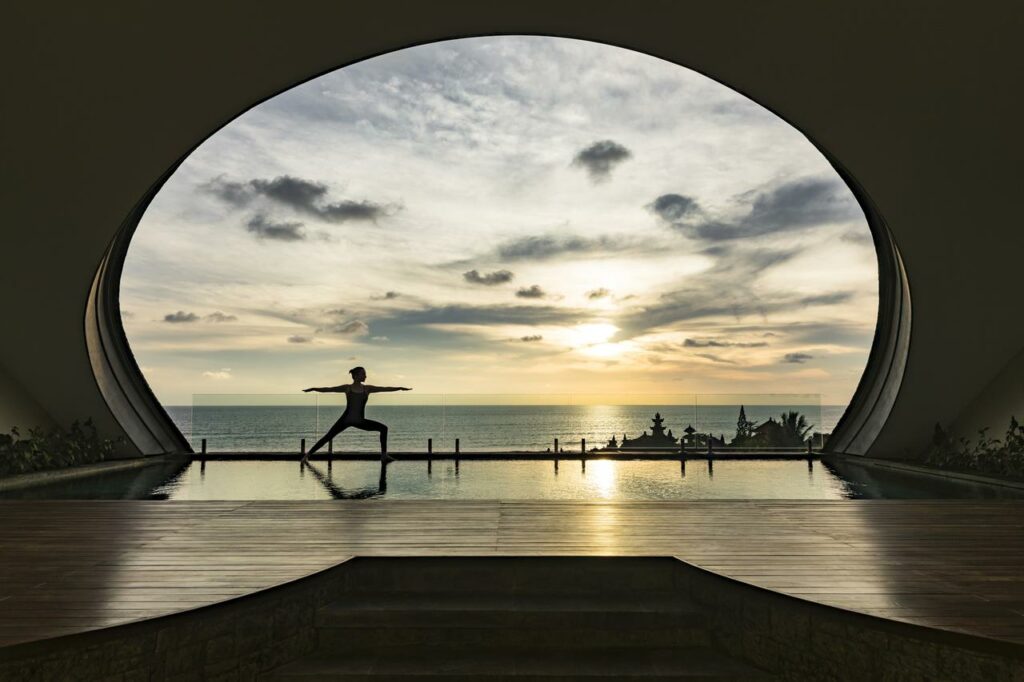 Price per night: $225 – $405
Best for: Watersports, live music
Availability: Easy to book
Positioned on the south coast, Como Uma Canggu is Bali's best option if you're looking to partake in some watersports during your honeymoon. The south coast is known for its huge dramatic waves, which can be used as a dramatic background to your honeymoon photos or for surfing.
With the crashing waves comes a gentle breeze, relaxing on the volcanic-sand-based beach is made all the more pleasurable. And to help you really relax, check out the COMO Shambhala, the on-site spa, which offers holistic therapy and fitness classes. The rooms on offer are diverse and include standard rooms, penthouses, and suites – each being ideal honeymoon material.
The COMO Uma Canggu is just a short drive away from Seminyak beach, which puts you close enough to the nightlife, but also far away enough to not be distracted by it. Still, if you'd like to mingle with other couples onsite, the COMO Beach Club hosts live acoustic sets and DJs most nights.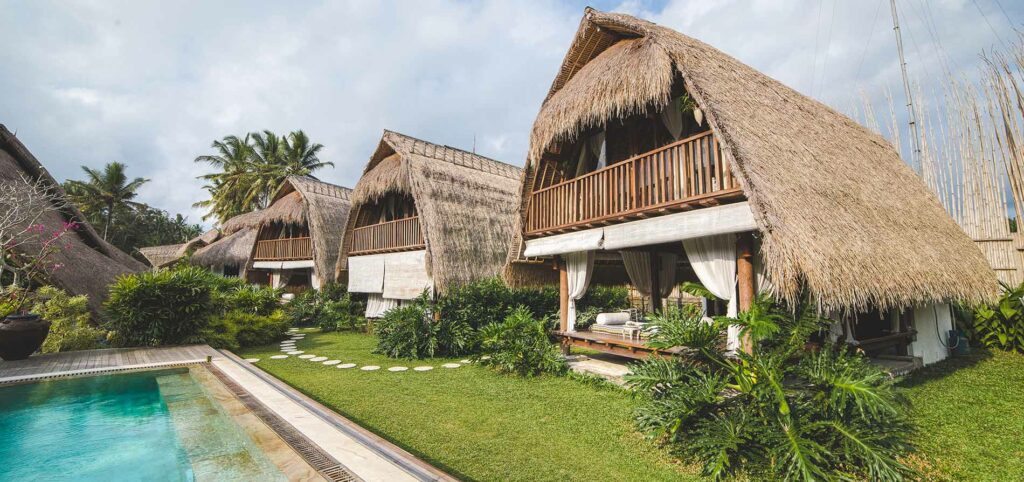 Price per night: $160 – $230
Best for: Nature, camping
Availability: Limited
If you like the sound of getting as close to Balinese nature as possible, the Sandat Glamping tents offer luxury in the middle of the jungle. Immerse yourself totally in one of the campsite's five safari-style tents or one of three luxurious Lumbungoptions, which are in the style of traditional Balinese housing.
Given the limited amount of available tents, spending your honeymoon here will guarantee privacy. In each accommodation, you'll find a sun deck, private pool, and outside dining area, made more enjoyable by the butler and dining services provided by the campsite.
While on the campsite, you may feel like you're in the middle of nowhere, but civilization isn't too far away. Just 3km away from the site you'll find the tourist center of Ubud.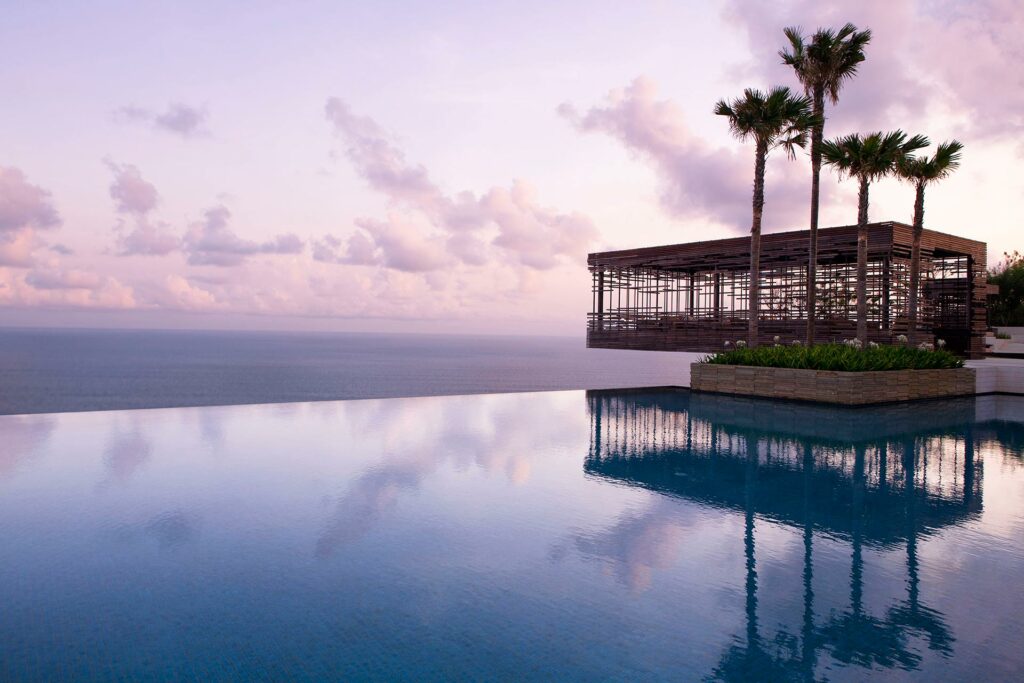 Price per night: $850 – $980
Best for: Easy transport, privacy, nearby sightseeing, bridal suites
Availability: Easy to book
The Alila Villas Uluwatu put comfort first. The rooms are immaculate, the dining options are extensive, the relaxation points are unlimited, and include the Cliff Edge Spa Cabana.
Not only does each room in the Alila Villas Uluwatu have a private pool, but each also comes with a private cabana. With plenty of room service options available, you could spend your entire time in your private villa if you wanted to!
The main outdoor pool area is surrounded by greenery and looks out onto the Indian Ocean. The hotel is slightly elevated, being positioned on limestone cliffs, which gives it a unique view of the surrounding natural world and ocean. Although the resort doesn't have its own beach, the top beaches of Bali are only a short car ride away, as is the Uluwatu Temple.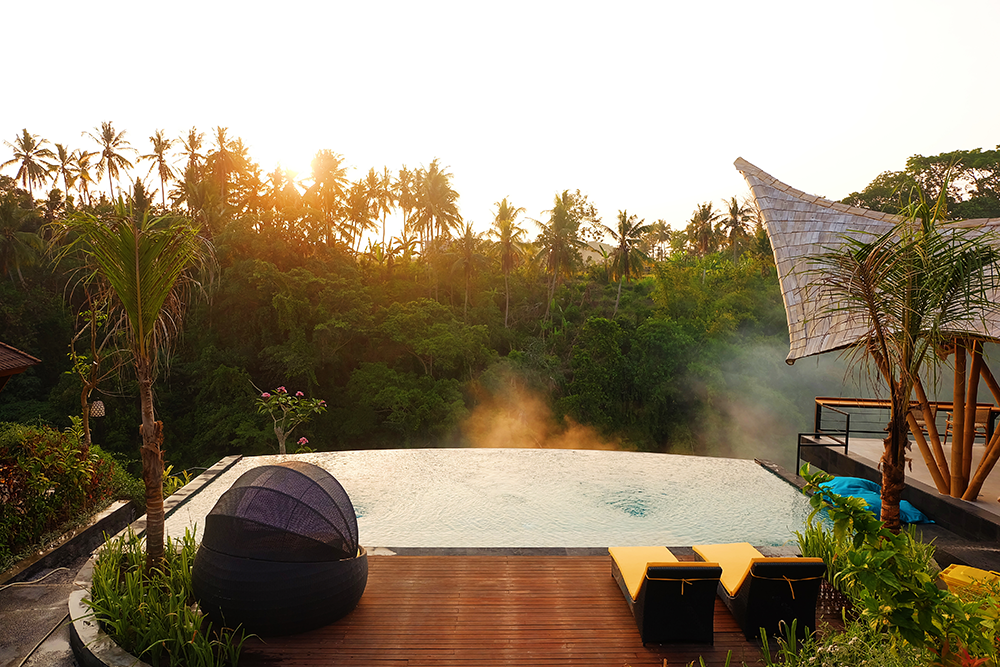 Price per night: $70 – $85
Best for: Adults-only, sight-seeing, budget accommodation
Availability: Limited
If you want your Bali honeymoon to be totally kid-free, the Kadewa Retreat in Ubud is one of the best adults-only resorts in Bali. The outdoor pool is guaranteed to be placid every time you venture outside, with your own sunspot reserved and waiting for you. While lounging, you can spectate the wonderful views the resort commands over the surrounding forest valleys.
This boutique resort only has 7 rooms, so you can bet that rooms fill up fast – particularly in peak season. Inside each room, you'll find comfortable king-sized beds, soaking tubs, and a private outdoor area.
Although limited in amenities, the Kaewa Retreat encourages you to go out and explore the surrounding landmarks by offering car hire to all guests. The Uluwatu Temple, Ubud Market, and Goa Gajah are all a short ride away, making the Kadewa an ideal Bali honeymoon spot for those with adventure in mind.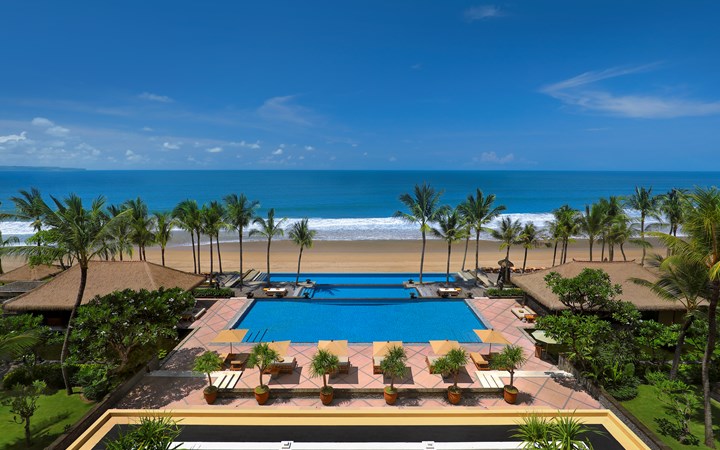 Price per night: $390 -$1,700
Best for: Honeymoon package
Availability: Easy to book
The Legion Bali is poised directly on Seminyak beach, meaning you and your partner can run out to the ocean every morning and soak up some rays. Alternatively, you can take in one of Bali's most beautiful beaches from the comfort of your private balcony. Room offerings are diverse, from the studio suite right up to the ground floor beach house villa.
Take a stroll down to the resort's serene infinity pool and discover the verdant gardens that surround it. Throughout the Legian Bali grounds, you'll also find 2 additional pools, a steam room, sauna, yoga studio, fitness center, a restaurant, and two separate bar areas.
The Legian Bali also offers a honeymoon package that is guaranteed to pique your interest. This package includes five nights in the studio suite, daily access to the breakfast buffet, transport to and from the airport, welcome drinks, champagne, and a floral bath upon arrival. Depending on when you book, you can get this offer for as little as $1,100 (per person).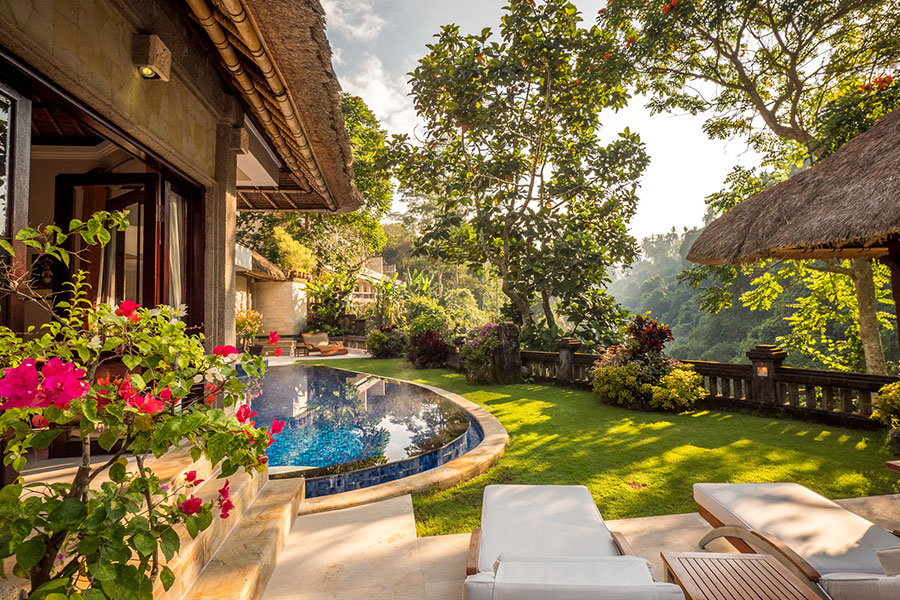 Price per night: $280 – $920
Best for: Jungle views, transport
Availability: Easy to book
Petanu River runs right by Viceroy Bali, which can be admired with a drink in your hand from the luxury hotel's infinity pool. Perched on top of the Valley of Kings, which affords spectacular and panoramic views of the sprawling jungle, Viceroy Bali offers guests a lofty introduction to the natural side of Bali.
Head out on a jungle adventure or explore the cultural hub of Ubud, with shuttle buses running to and from the town center. Transport to and from the airport couldn't be easier, as this resort comes equipped with its own helicopter!
Choose from a terrace villa, a pool suite, a vice-regal villa, a garden pool villa, and many more room options, each of which provides some form of a private pool or terrace area. Room service is available 24/7 – the Cascades Restaurant is sure to keep your taste buds engaged each night, serving up a curious fusion of French and Asian classics.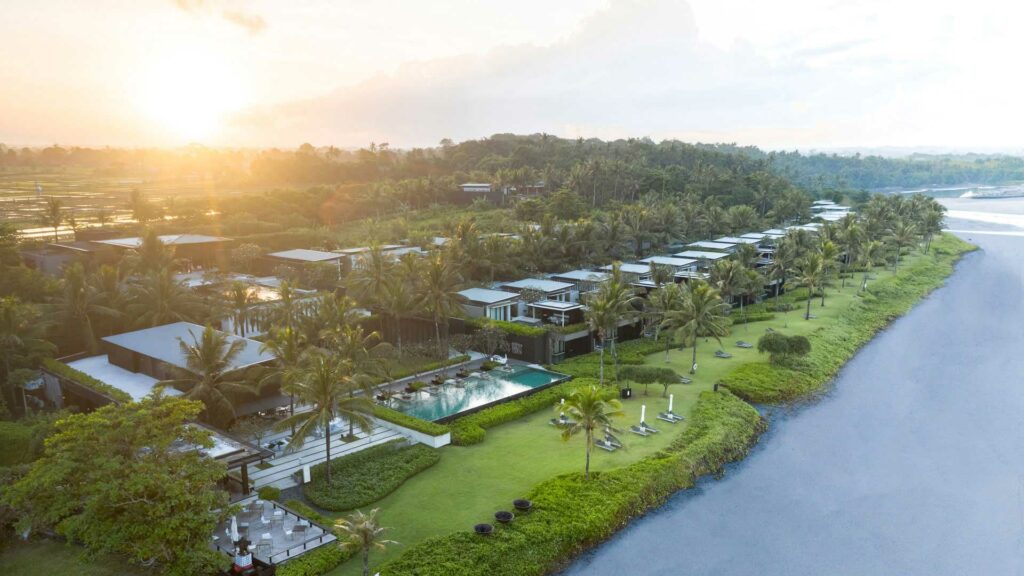 Price per night: $850 – $1,100
Best for: honeymoon packages
Availability: Easy to book
If you're looking for luxury Bali honeymoon packages, Soori Bali offers fantastic value for money. For $2,975 per person, you could spend 3 nights in the Mountain Pool Villa, a romantic dinner at the Soori Bali Beach Lawn restaurant, a different breakfast offering each morning, a Segway trip through rice paddies, and an array of spa treatments.
Each room at the Soori Bali boasts its own private pool, but if you want more space to swim, you'll find an infinity pool overlooking the ocean, and nearly 2 miles worth of beach to explore. Alternatively, if you want to soak up some Balinese culture, the Tanah Lot Temple is just a 10-minute drive away.
Best Areas To Stay In Bali
The best areas to stay in Bali include Ubud, Jimbaran Bay, Nusa Dua, and Seminyak. We'd advise against staying in Kuta though, as it may be too overcrowded to enjoy the intimacy and romance of a honeymoon.
Ubud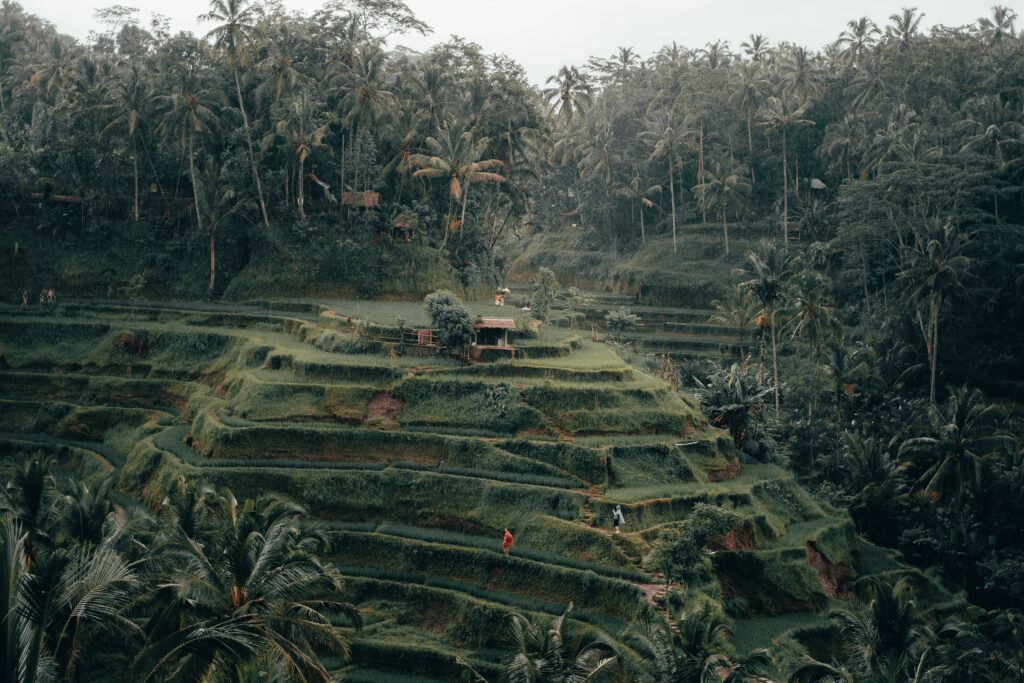 All roads lead to Ubud, the cultural center of Bali. If you want to experience the epitome of Balinese culture, you'll be able to find it in Ubud, with tropical jungles, rice paddies, Hindu temples, holy landmarks, and the Ayung River running through its center. If you're planning on staying a week in a remote resort, definitely visit Ubud before or after your stay.
You could kickstart your Bali honeymoon by meandering around Ubud's intricate markets, sampling local Balinese delicacies, browsing in the independent shops, and just generally soaking up Indonesian culture. In some corners of the town, you'll likely be greeted with traditional gamelan music paired with the smell of incense.
Jimbaran Bay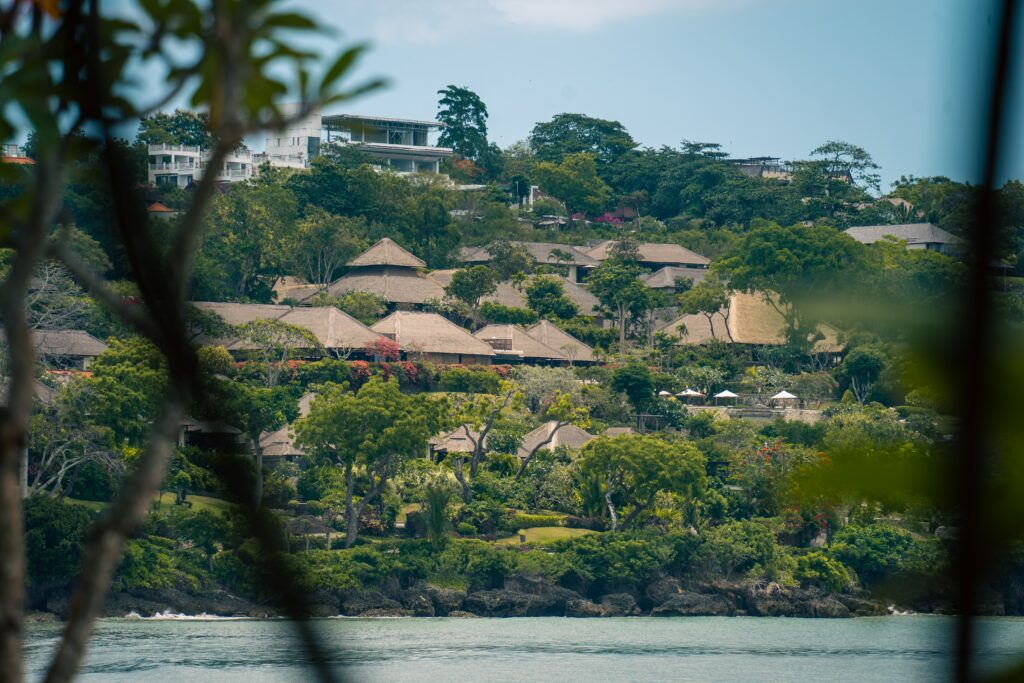 If you're looking for a nice place to dine out on your Bali honeymoon, we'd advise forgoing Kuta for the most part. For a more romantic dining experience, you should take a walk along Jimbaran Bay and pop into whatever restaurant takes your fancy. In the twilight, Jimbaran Bay looks extra picturesque, with calm waters gently lapping the beach.
By day, Jimbaran Bay becomes a hotspot for watersports. Under the water lies a diverse coral bank, which ensures the waters above stay calm. For this reason, Jimbaran Bay is popular with beginner surfers. If you're looking for the best photoshoot location in the area, you'll find the aptly titled Honeymoon Beach close by Jimbaran Bay.
Nusa Dua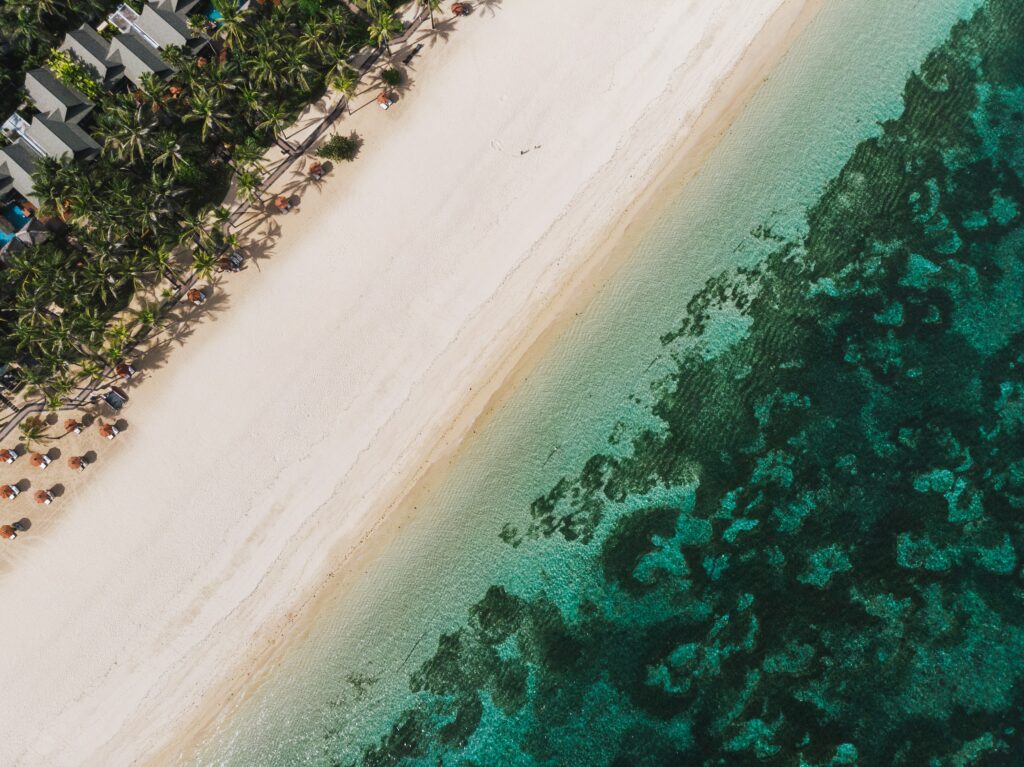 Defined by its dual temple-topped headlands, Nusa Dua has the highest number of extravagant luxury resorts than any other area on the islands, which is why it is the chosen location of many Bali honeymoons. Despite its popularity, Nusa Dua is home to several beaches, meaning you'll be able to find a quiet spot on one of them.
Besides beach lounging, there are several fun activities you can do throughout Nusa Dua, many of which are suited to a Bali honeymoon. It's home to several natural sites, such as Water Blow, and historic sites, such as Puja Mandala.
You could also go camel riding along one of the beaches, shop extravagantly at the Bali Collection department store, or set sail for Serangan Island (better known as Turtle Island!).
Seminyak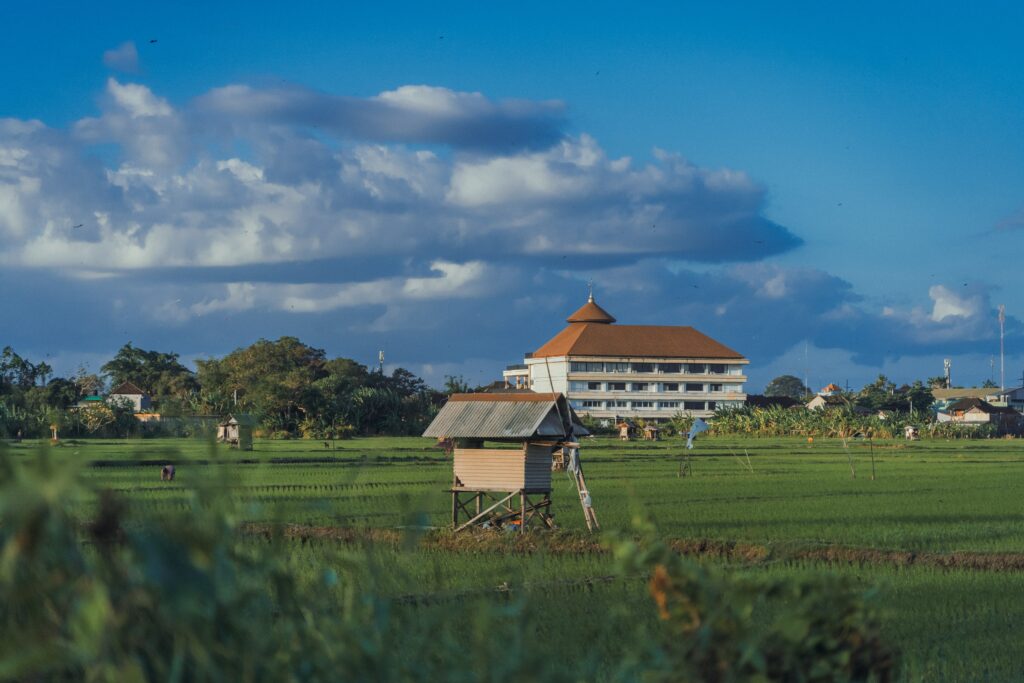 If you'd like your Bali honeymoon to be filled with exciting nightlife, boutique shops, art galleries, and water sports – the list goes on! Seminyak is home to several luxury resorts and six main beaches: Double Six Beach, Berawa Beach, Kelan Beach, Batu Belig Beach, and Sanur Beach, each of which could provide the perfect scenery for your Bali honeymoon.
Generally, Seminyak is far quieter than the likes of Kuta, but with just as many alluring bars and restaurants. The eateries are known for having foreign resident chefs, which makes the food along the Seminyak strip very cosmopolitan.
Top Excursions & Activities To Do On A Bali Honeymoon
Most of Bali's top activities you'll be able to experience through your hotel, such as spa days, water sports, and day trips to temples. However, there are many additional excursions you could organize to make your Bali honeymoon that extra bit special.
The Hanging Gardens of Bali
One of the most popular activities for couples exploring Bali together is to dine at the Hanging Gardens of Bali. True to its name, the Hanging Gardens offers a sky-high view over the jungle and Ayung River, where you can enjoy a mix of both Indonesian delicacies and foods you'll be more familiar with.
Mount Batur road trip
Another favorite trip amongst honeymooners is to drive out to Mount Batur at dawn and take in the dramatic scenery as the sun rises over the mountain and volcano in the distance.
Volcano helicopter tour
For a closer look at the volcano, helicopter tours can be booked that'll take you over the Kintamani volcano. Volcano helicopter tours can be booked through Air Bali, with prices starting from $2,220.
Sunset horseback ride
Out of the many romantic things to do on Bali's beaches, going sunset horseback riding is amongst the most popular. Kuda P Stables in the Tabanan Regency offers this experience, with prices starting from $45.
Sample Itinerary & Budget For Your Honeymoon To Bali
To help you more accurately budget for your Bali honeymoon, here's a rough guide for how much you can expect to spend throughout your stay. These estimates are the costs for a 7-day honeymoon, per person.
| | |
| --- | --- |
| Activity | Weekly Cost |
| Accommodation | $530 (budget hotel) – $5,700 (upmarket hotel) |
| Food and drink | $280 ($40 per day) |
| Transport | $30 (2-3 excursions via public transport) |
| Spa day | $30 – $40 |
| Daytrip to Mount Batur | $45 |
| The Ultimate Volcano Helicopter Tour Bali | $2,220 |
| Sunset horseback ride | $45 |
The figures presented above are only estimates and could in reality be dramatically different. The resort you stay at and the time of year you visit will impact your spending massively.
To give you itinerary inspiration, here's an example of how to spend your seven days in Bali:
Day 1 – Spend the whole of your first day getting into vacation mode. If your resort has an onsite spa, book yourself into that. If not, a day spent swimming and sunbathing by the pool will do the trick!
Day 2 – Check out your surrounding area in the morning and hit the beach in the afternoon. If your hotel's got a private beach, set your towel down for the day and catch as much sun as possible.
Day 3 – If you're feeling adventurous, go hike Mount Batur on day three for some unforgettable views. The company Bagus organizes Mount Batur hikes that can start right from your resort, with prices starting from $45.
Day 4 – Replenish yourself by booking a couples package at your resort's onsite spa and dine out at the Hanging Gardens of Bali in the evening.
Day 5 – Round off another beach day with a sunset horseback ride along or by catching a movie at the Karma Beach Club outdoor cinema.
Day 6 – Save a big activity for your second last day, such as going on a volcano helicopter tour.
Day 7 – Spend your last day chilling out by the pool and getting ready for your return trip.
Frequently Asked Questions
How much does a Bali honeymoon cost?
The cost of a Bali honeymoon for couples ranges, on average, between $4,000 and $5,000 for one-week stays. The price you'll spend on a Bali honeymoon greatly depends on the time of year you book it for. The most affordable time to enjoy your Bali honeymoon would be during October, which falls just after the peak season ends.
When is the best time to visit Bali?
The best time to visit Bali would be anytime between March and September. October to February is the official rainy season on the island, so it's best to avoid these months. Although June through to September is technically the country's winter, the weather is still perfect for a honeymoon.
What is the best way to travel around Bali?
The traffic can be quite chaotic in Bali, so, for those who aren't as confident on the road, we'd recommend sticking to public transport and Uber. However, if you're willing to deal with the hectic roads, hiring a car is the easiest way to see the best sights on the island. Some resorts, such as the Kadewa Retreat, offer car hiring services.
Start Planning The Perfect Romantic Honeymoon Getaway
Bali has it all: luxury hotels, impeccable scenery, and cultural experiences that'll stay with you forever. Whether you want to spend your honeymoon lounging on the beach or exploring the jungle, this Indian Ocean island can provide you with all you need for the ultimate romantic getaway!
As you organize your Bali honeymoon, use the Couples Travel resources presented in this Ultimate Bali Honeymoon Guide to ensure you have the best time away possible.