Not many people think about going to the Midwest for their honeymoon, but Kansas is a beautiful and popular choice. With so much to see and do there, romance is truly in the air.
We understand that planning a honeymoon can be stressful and time-consuming, especially after a wedding. This is why we've made this helpful guide to give you all the information you need to plan the perfect trip.
We've covered everything from the top places to go, a budget, the best hotels or resorts to stay in, and a sample itinerary. Honeymoon planning has never been this simple!
Keep reading to get the lowdown on the ultimate honeymoon in Kansas.
What Makes Kansas Perfect For A Honeymoon
Kansas is a prime location for a honeymoon and romantic weekend getaways. There are loads of incredible places around the state that you need to see, from theatre and art performances in Kansas City to stunning bike trails in Wichita.
Romance blooms in this state, and you'll find more than enough to do that will continue to spark that romantic magic. You can explore several castles in Kansas City or book some relaxing couples massages in Wichita.
Couples have plenty of options when it comes to accommodation in Kansas, from boutique hotels to budget accommodation, even romantic cabins. There are so many major cities in Kansas that are perfect for a honeymoon, like Topeka, Kansas City, Wichita, and more.
If the bigger cities aren't for you, then you can escape to the smaller towns like Manhattan or Pittsburg. Here, you could enjoy a romantic picnic and admire the vast Kansas landscape at Flint Hills Prairie or Lake Shawnee.
There are so many different ways to spend your romantic getaway in Kansas, and whatever you decide to do, you sure are in for an unforgettable, romantic, and special time in the land of Oz!
Best Areas To Stay in Kansas
Kansas City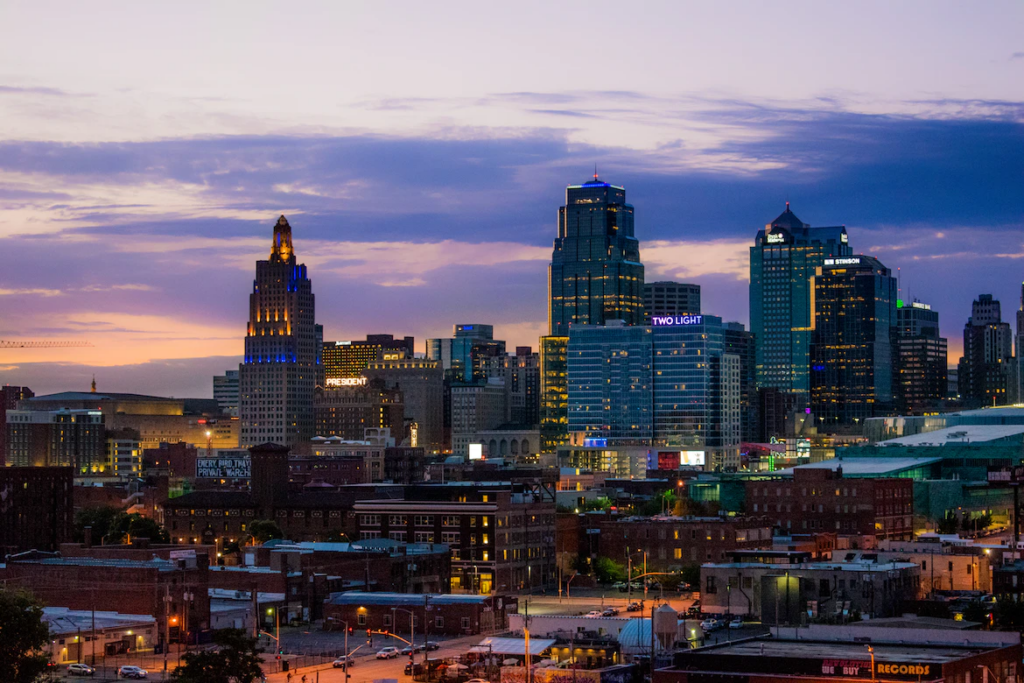 Kansas City is a phenomenal place where two American states merge into one. This has truly created some of the most incredible places in Kansas. Kansas city lies on the border of Kansas and Missouri, and it is jam-packed with exciting and fun things to do, especially for couples.
You can really feel the romance in the air in this city. From shopping and interesting museums to a busy nightlife and sports, there is something for every couple in Kansas City.
Kansas City is also a great place to go for history buffs. You can see some of the remaining Native American dugout canoes at the Wyandotte County Museum. Or you can go on an adventure and retrace Lewis and Clark's steps at Kaw Point Park. We also cannot forget to mention NASCAR racing at the Kansas Speedway. This will really get your heart pumping and blood rushing!
Kansas City is full of romantic, exciting, and beautiful attractions. It will be very difficult to choose a few, so plan your trip carefully so you don't miss out! Your Kansas City romantic adventure will be packed with love, history, fun, and so much more.
Topeka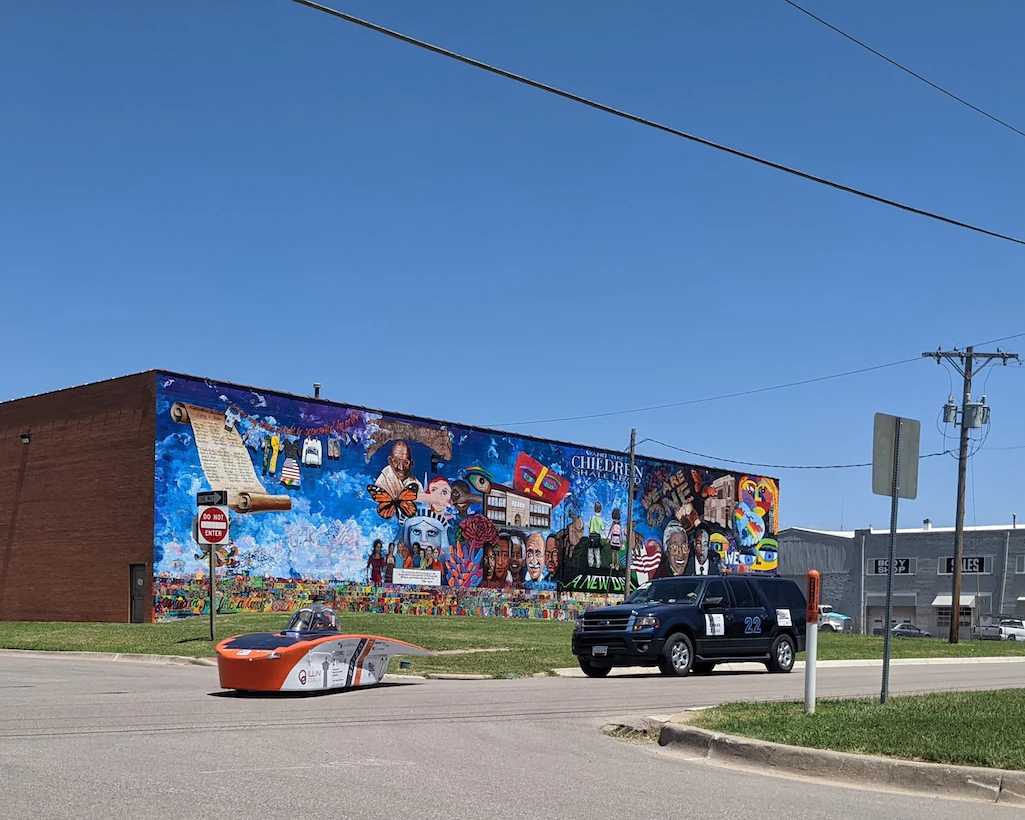 The gorgeous capital of Kansas is a must when you're in the state. Topeka is a special place, and it's perfect if you're going there to celebrate your love. You will be amazed at how many fun and exciting things there are to do in Topeka.
We highly recommend going for a cute date in the Ted Ensley Gardens, right on Lake Shawnee's western shore. After your romantic little date, head out for a delicious meal at a local eatery. We suggest going to the famous Lonnie Q's; this is where you will find the best BBQ in town.
For the more adventurous couples, we suggest going for a hike up the incredible Burnett's Mound. It is the highest point you'll find in Topeka; imagine the views from up there!
Pittsburg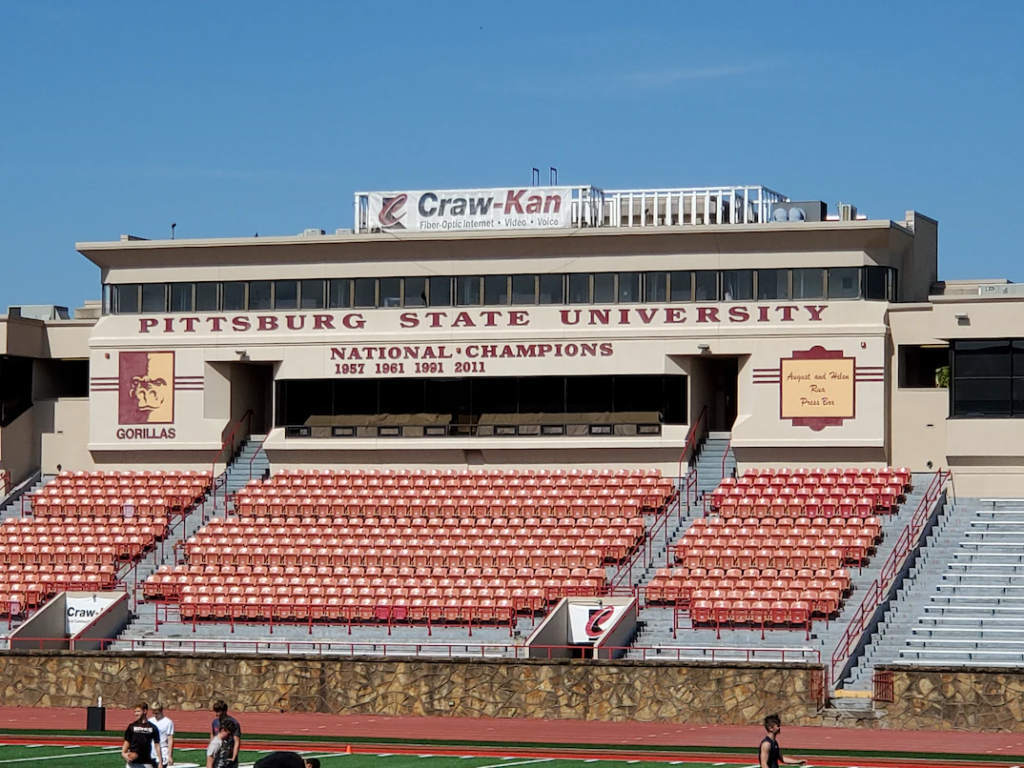 Yes, there's also a Pittsburg in Kansas, not just in Pennsylvania. Pittsburg is the perfect place for adventure seekers, history buffs, theatre buffs, and those looking for a thrill. This city is so diverse that you can find something for everyone's taste.
A romantic getaway will leave you wanting more and more. There are tons of amazing places to eat in this city, from fine dining to more relaxed eateries, so get ready for a delicious meal and loads of drinks!
After dinner, why not see what's on at the Bicknell Family Center for the Arts and watch an incredible theatre performance there? From Gilbert and Sullivan to historical dramas; there's something for everyone.
Then end your days off by going to the old town square and sharing a delicious treat in one of the romantic cafes. If theatre and cultural arts are your thing, then Pittsburg is the perfect city for you.
Best Honeymoon Resorts, Hotels, and Other Stays in Kansas
Finding a place to stay is often the hardest part of planning a trip. You never know what areas are best or if the hotel or resort is as good as it seems. And, of course, you want pure perfection and romance during your honeymoon, so we have given you one less thing to stress about.
Here is our list of the top hotels in Kansas that will be perfect for your honeymoon. If you are looking for a boutique hotel, spa resort, or all-inclusive stay, you can find it all right here: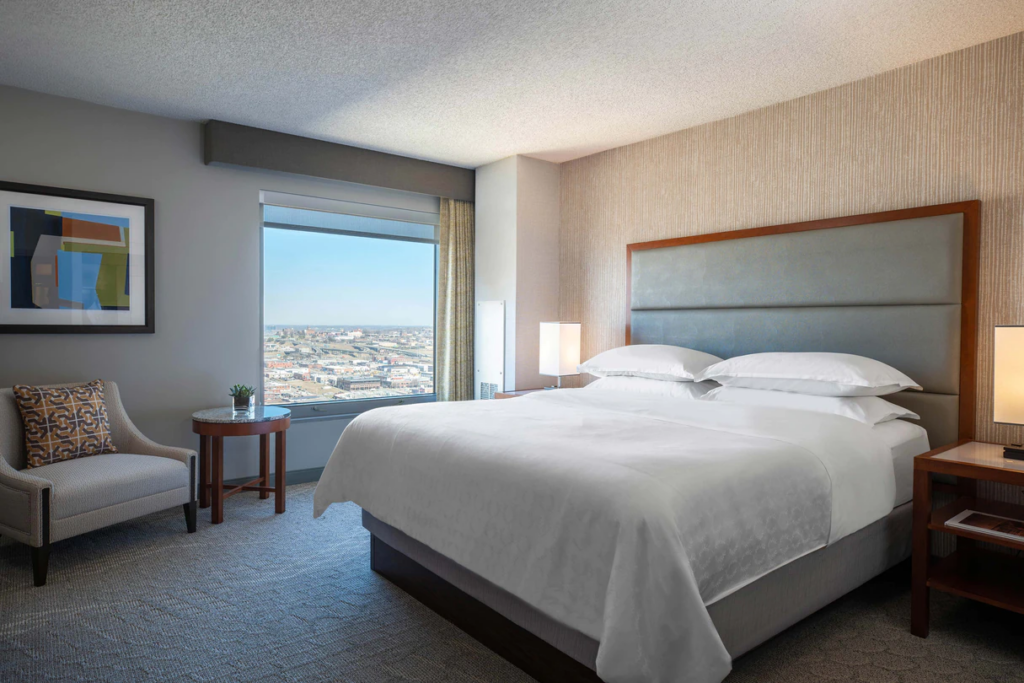 Price per Night: $299 to $1795
Best For: Long or short stays, all couples
Availability: Good availability
The Sheraton Kansas City Hotel can be found at the stunning Crown Center, meaning that it is perfectly located in Kansas City's downtown. The hotel is surrounded by the best attractions in Kansas City; you can find both the Kauffman Center for the Performing Arts and Legoland just on your doorstep.
During your stay, you will have the best of both worlds with luxury and convenience, and this gorgeous hotel is beautiful both outside and in. During your stay, you will have full access to the fitness center and the amazing heated outdoor pool. You can still keep fit on your honeymoon if you want to!
All of their club-level rooms have a lounge with loads of free drinks and snacks, along with the most spectacular views of the city. And on top of all of that, an Italian restaurant, a colorful cafe, and a pub are right there to make sure that you and your lover will be treated to the best dining in the city.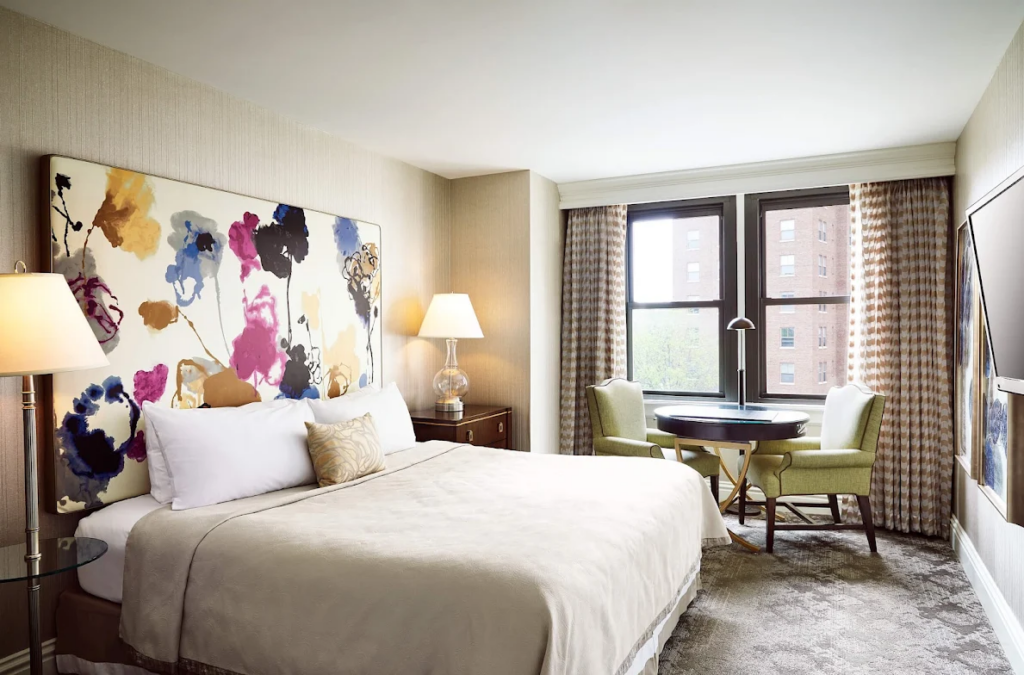 Price per Night: $224 to $309
Best For: Short stays, all couples
Availability: Good availability, easy to book
Numerous magazines have chosen the Raphael Hotel as Kansas City's greatest spa hotel and the most romantic hotel due to its European-style charm and elegance. Couples will get the best care possible during their stay thanks to their special fusion of traditional hospitality and contemporary service. You will be treated like royals during your stay at this boutique hotel!
The iconic 1928 Renaissance-style structure features a beautiful ambiance that you can feel throughout the entire site. This luxury hotel is located in the heart of Kansas City and is close to many of the city's most romantic attractions for couples.
The hotel also has an elegant and hip restaurant that serves the most amazing American cuisine, and they play live music every evening. A stay here is just what you and your sweetheart need; romance is in the air, so breathe it all in!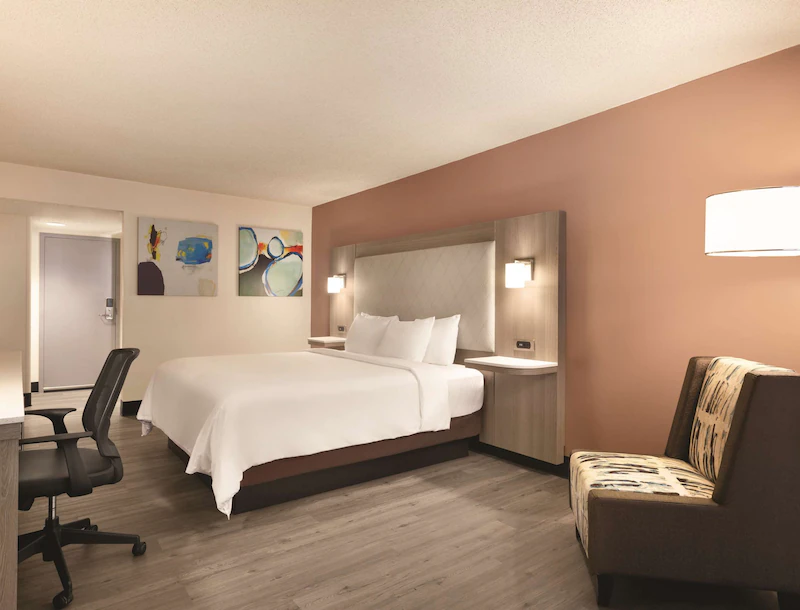 Price per Night: $77 to $157
Best For: All couples
Availability: Easy to book
The Lenexa Hotel is home to one of Kansas's most seductive jacuzzi suites for couples. What could be better than that on your honeymoon? This beautiful hotel has a fitness center, indoor pool, and hot tub. Additionally, there is an on-site bar, opulent in-suite amenities, a cozy seating space, and attentive service personnel. You will have everything you need under one roof – we don't blame you if you don't want to leave your hotel!
The design is ideal for anniversary celebrations or wedding receptions. Visitors are welcomed with outstanding hospitality and a friendly environment upon arrival; you will feel right at home.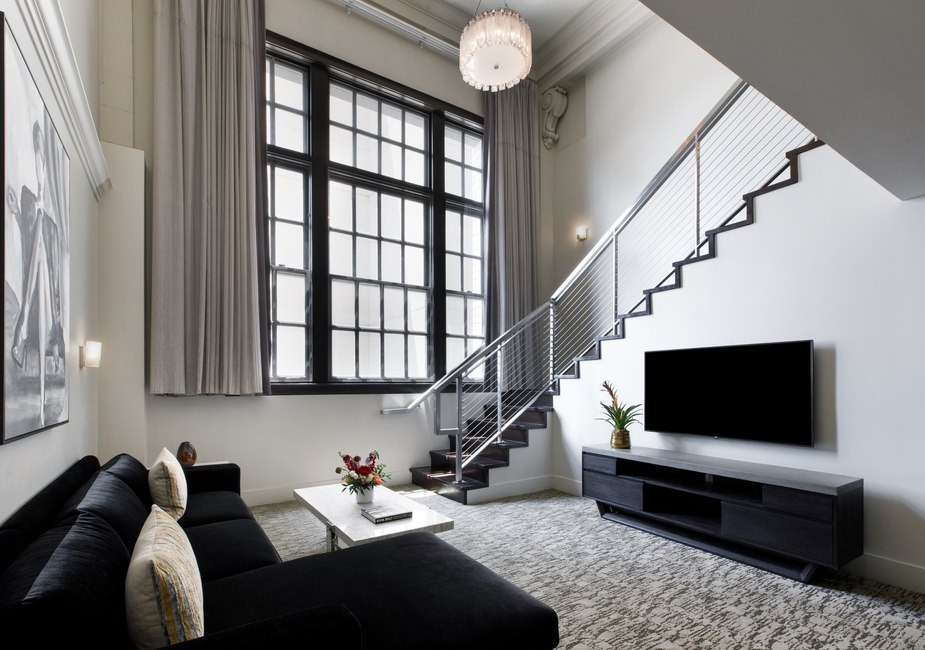 Price per Night: $327 to $364
Best For: Long and short stays
Availability: Easy to book, good availability
This gorgeous, romantic (and somewhat expensive!) hotel is considered one of Kansas City's most romantic stays. The Ambassador Hotel Kansas City is perfectly located so that you can enjoy every attraction that the heart of Kansas City has to offer.
Couples can benefit from a cutting-edge workout facility, friendly service, and cost-free transportation. The best thing is that there is a chic, romantic restaurant where you and your partner can enjoy delicious cuisine, drinks, and wine.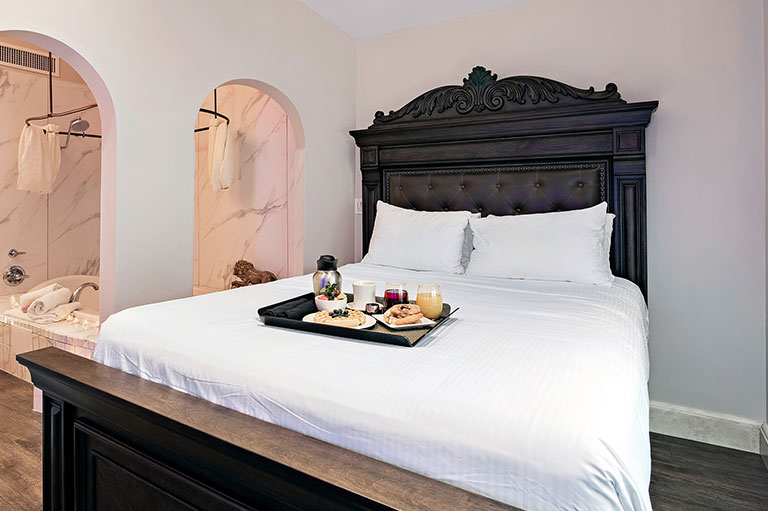 Price per Night: $189 to $490
Best For: Short stays, young couples
Availability: (Limited/Easy to book)
The luxurious and beautiful Avalon Hotel Kansas City gives guests a unique experience during their romantic getaways. This contemporary, lavish hotel has regal two- and three-story suites on offer that will blow you away. Some of their suites have a winding staircase, romantic in-suite jacuzzis, and more. Some of the rooms even have secret bed chambers.
All of the suites in this hotel have different themes. It really is the best-themed stay in the whole of Kansas. Other than their incredible rooms, there is also an outdoor and indoor wine bar where you can find the most incredible cuisine and live music.
Breakfast is included during your stay at the Chateau Avalon Hotel, so you're free to enjoy a lazy morning without leaving the resort.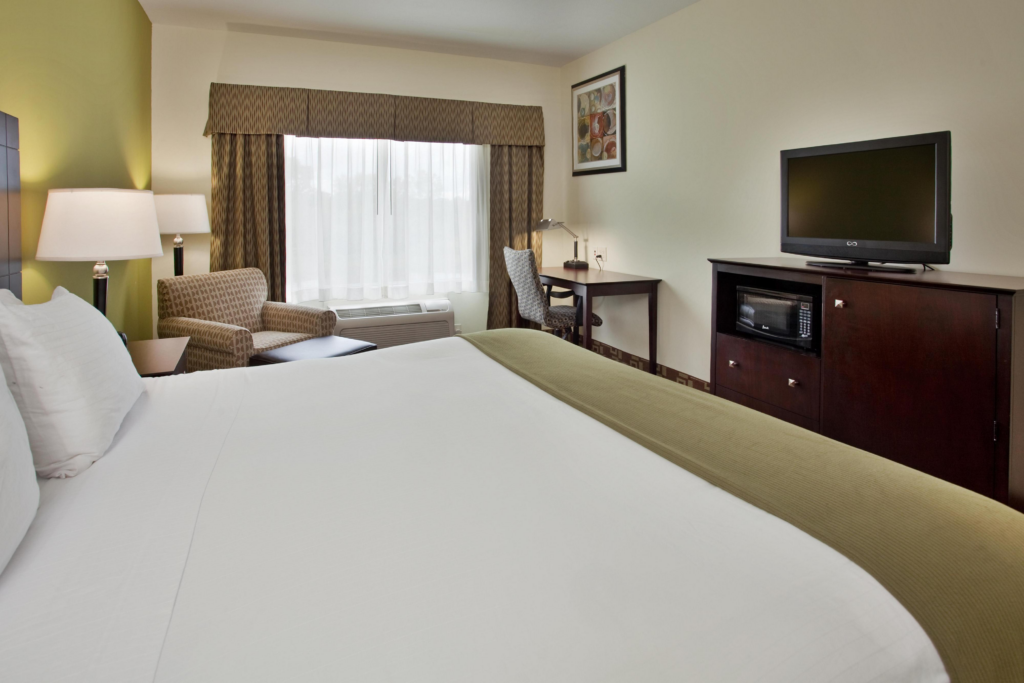 Price per Night: $161 to $233
Best For: All couples, short stays
Availability: Easy to book, good availability
The Holiday Inn Express & Suites in Overland Park is an amazing option for couples looking for the best budget accommodation. You'll still have everything you need during your stay, but with more money spare to indulge in exciting activities. The hotel has a fitness center and an indoor pool, perfect for a fun, active romantic getaway.
While it might not be top of the list of most romantic hotels in Overland Park, it has modern amenities, and you will be served a delicious breakfast every day. It is also very close to the Overland Park Golf Course. You cannot go wrong with the Holiday Inn if you're looking for something relatively basic but still comfortable.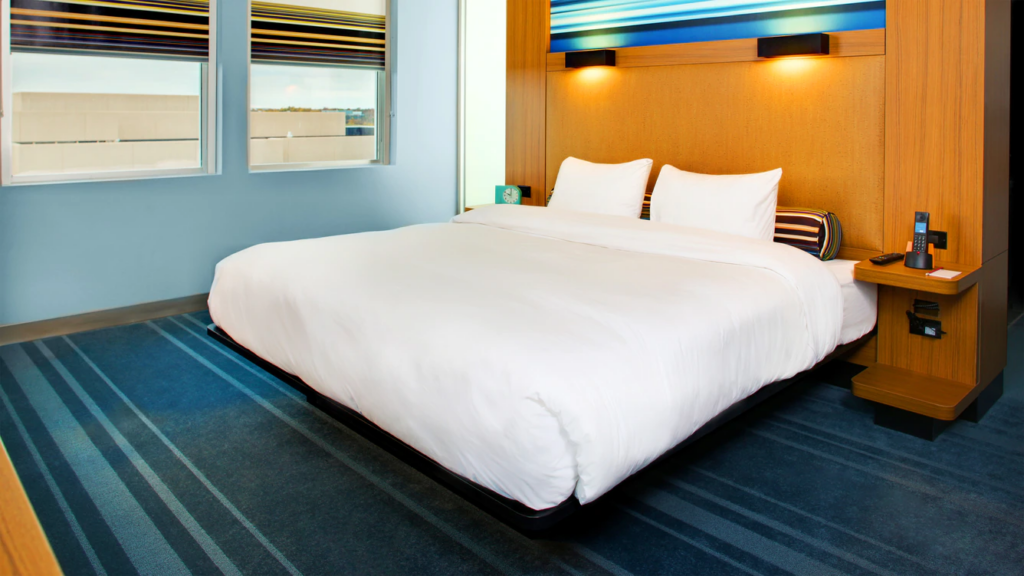 Price per Night: $132 to $259
Best For: Long and short stays, young couples
Availability: Easy to book
For romantic weekend vacations in Kansas, Aloft Hotel is the ideal location. This vibrantly designed hotel will be the perfect place to stay during your romantic Kansas trip. With an on-site bar, a variety of food options, an indoor pool, and a 24-hour fitness facility, you will have everything you need to get comfortable.
The funky and bright patterns and colors that are seen throughout this hotel make it one of the best-themed stays in the city. You can expect private bathrooms, luxury amenities, free bath amenities, and a walk-in shower.
The remix lounge and bar have a very romantic ambiance and provide couples with the perfect spot to sip on cocktails. Because really, what more could you ask for during relaxing romantic weekend getaways or honeymoons?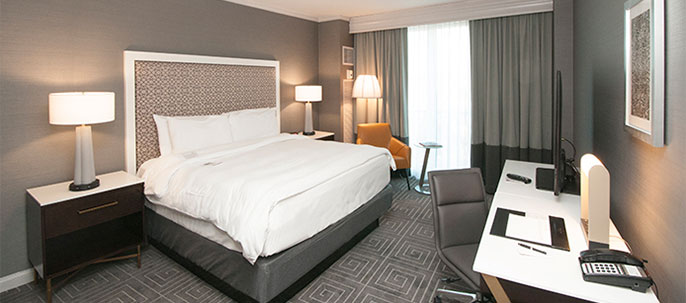 Price per Night: $237 to $436
Best For: Long and short stays, all couples
Availability: Easy to book, good availability
The Intercontinental Kansas City at the Plaza is perfect for romantic getaways; the location is ideal, and the hotel itself is amazing. This hotel in Kansas City has been a popular choice for years, and it can accommodate any type of traveler.
It is located in the amazing Country Club Plaza, and you can find some of the most incredible hors-d'oeuvres at the award-winning restaurants in the area. The Intercontinental Kansas City at the Plaza hotel also has its own restaurant, the American Slang Modern Brasserie. So, if you'd rather chill out at one of the top romantic hotels than venture too far for a top-class meal, you're in luck here.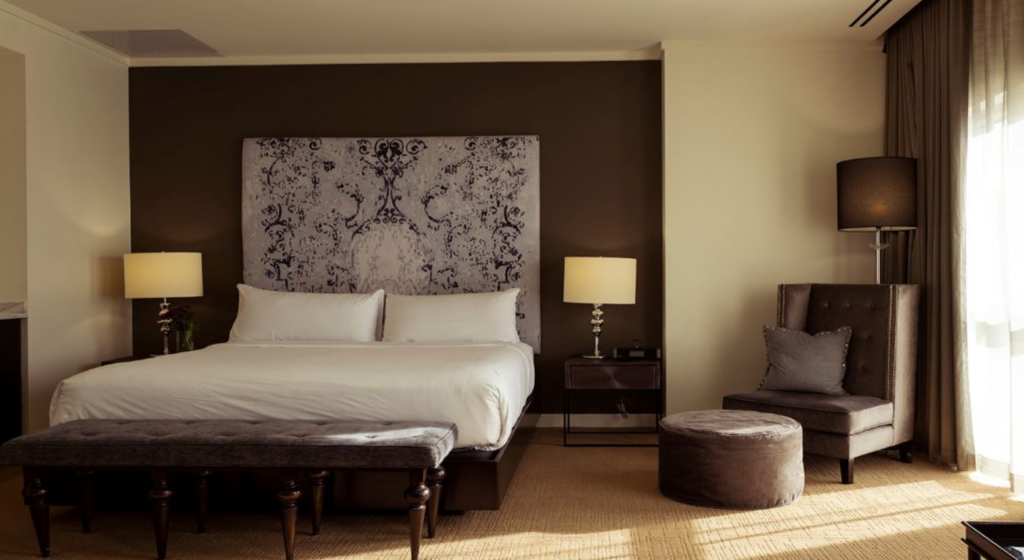 Price per Night: $290 to $1118
Best For: Long stays, all couples
Availability: Easy to book
Couples can have a truly special experience at The Fontaine, one of Kansas City's most romantic and beautiful hotels. The hotel offers elegance like no other in a clean, artistic setting.
Stunning hardwood floors and spacious walk-in showers with rain showerheads are standard in every room. And to top it off, each suite features a luxurious, romantic bathtub large enough for two people. It is the perfect spot to unwind after a long day of fun and exploring in Kansas City.
Couples can work out in the cutting-edge fitness center or take a swim in the incredibly lavish rooftop pool. You can end your days off with a romantic dinner on the top floor of this gorgeous hotel.
The restaurant, 901 West, features out-of-this-world Mediterranean cuisine and the most spectacular views of the city. It really sets the mood for a romantic dinner; the ambiance here is just spot-on for honeymooning couples.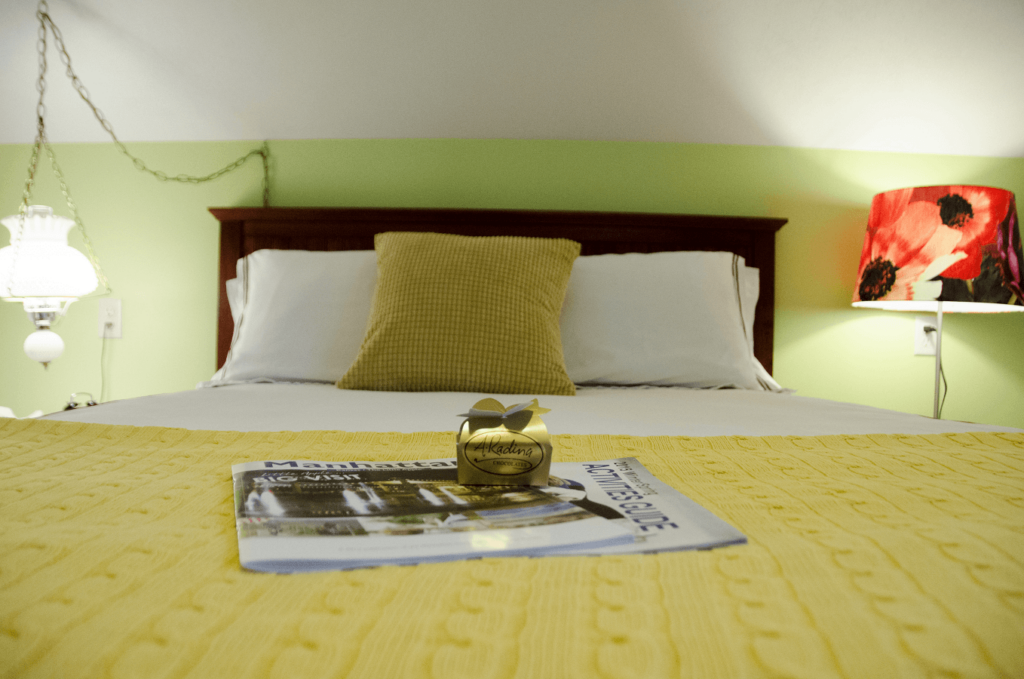 Price per Night: $181
Best For: Short stays
Availability: Limited availability
The Anderson Bed & Breakfast is a wonderful little stay in Kansas. During your stay, you have access to free bicycles so you can go off and explore the beautiful town around you. Check out the Kansas State University campus, go golfing, and so much more – the choice is yours.
All of their rooms have a lovely sitting area, modern amenities and are comfortable. So, if your dream honeymoon involves finding one of the coziest romantic hotels and staying in your room, we're not going to stop you!
Anderson Bed & Breakfast is the best when it comes to hospitality. You will love your stay here, and will surely want to return soon.
Top Excursions & Activities To Do On A Honeymoon in Kansas
Romantic getaways are not complete without some fun and adventure. Here are some of the best activities in Kansas:
Dance At Camelot Ballroom
Dance the night away and hold your partner close at the amazing Camelot Ballroom in Overland Park. You can go for secluded dance nights, dance lessons, special events, and universal dance sports competitions at The Camelot Ballroom.
It is a great way to spend quality time together, and of course, dancing and holding your loved one in your arms is perhaps the most romantic activity you can do!
Indoor Skydiving
Feel the thrill and rush of skydiving at Kansas City Indoor Skydiving. It will feel as if you are jumping out of a plane even though you're safely indoors! You will first have a professional training session to get you fully prepared for the jump. Then you and your instructor will fly in an incredible vertical wind tunnel.
You will receive a personalized flight certificate afterward. This activity is an adventure to a T and a true must-try when you're in Kansas City.
Botanica, The Witchita Gardens
Go for a romantic stroll through the themed gardens at the stunning Botanica in the Wichita Gardens. The gardens are massive and spread over 9 acres. You can discover fountains, streams, sculptures, and waterfalls.
There is also a woodland walk, Butterfly Garden, Sally Stone Sensory Garden, Garden on the Rocks, and the Jayne Milburn Aquatic Collection.
Sample Itinerary & Budget For Your Honeymoon To Kansas
Flights: The cost of your flights will depend on where you are flying from in the first place and on which airline you choose to travel. But on average, flights can cost you around $48 to $150 per person one way.
Accommodation: On average, most places cost around $150 to $250 per night. You can book more luxurious rooms, but they will cost a bit more. There are also some budget stays available. To be safe, budget around $200 minimum per night for most stays in these romantic hotels in Kansas.
Food and drinks: A meal can cost anything between $50 to $100. It depends on where you eat, and some of the hotels also include breakfasts or dinners. Budget around $100 to $150 a day on meals for both of you.
Travel: It is highly recommended that you hire a car for your trip to Kansas at the cost of around $28 per day. Romantic getaways are always better when you have your own transport and don't have to rely on public transport timings.
Excursions: A dance lesson at Camelot Ballroom costs $10. Indoor skydiving costs around $200 per person.
Day 1 and 2
Get settled into your accommodation and head out for a romantic evening. Book a dinner or go watch a show. Start your second day feeling fresh and spend time lounging by the pool or in your private hot tub.
Day 3
Try a fun and adventurous activity, maybe indoor skydiving or something active. Then enjoy a delicious meal on the rooftop of your hotel.
Day 4
Visit a winery (Grace Hill Winery is a good one) for some wine tastings, or walk through the stunning gardens at Witchita. Have a romantic picnic and take it very easy; you need to relax during romantic getaways and on your honeymoon!
Day 5
Explore the town where you are staying, and look at the local shops, attractions, and restaurants.
Day 6 and 7
Treat yourselves to a spa day and spend your last two days soaking up the sun and relaxing as much as you can.
Frequently Asked Questions
How much does a honeymoon in Kansas cost?
A honeymoon in Kansas can cost around $5000. But it all depends on the type of accommodation you book and the activities you do. You can certainly do it on a budget; Kansas City has some of the best budget accommodation you can find in the state.
When is the best time to visit Kansas?
It is best to visit Kansas between mid-summer and late autumn for romantic getaways.
What is the best way to travel around Kansas?
You can travel around Kansas using the bus, a bike, or any other mode of public transport. But it is best to travel by car for maximum convenience.
Start Planning The Perfect Romantic Honeymoon Getaway
Now that you know how amazing Kansas is, you can see why it is the perfect spot for romantic getaways. You can find just about anything in this wonderful state, and there is something that every couple will enjoy. Romantic getaways here are unforgettable and magical, just as they should be.
You won't have to do much planning, just make the first move and book your honeymoon! If Kansas isn't the place for you, then check out our other honeymoon articles to find the perfect honeymoon spot for you and your partner!