If you're tired of the hustle and bustle of Los Angeles, there's a big chance you're looking for somewhere to escape. The good news? Many options nearby can take you from city life to sipping cocktails in a pool in an hour.
We're looking at a few places near Los Angeles where you can enjoy a weekend getaway. These include Santa Barbara, Temecula, Palm Springs, San Diego, Laguna Beach, and Big Bear. Let's dive into why these areas are so popular and why you should book your trip now!
Let's get into it.
What Makes These Destinations Perfect For A Romantic Getaway?
Choosing a weekend trip away from Los Angeles is easy, but with so many fantastic options, finding the right one might be a struggle. The beaches, wine farms, winter sports, and outstanding cuisine make all of the destinations on our list popular.
The good news: you can book a weekend stay without breaking the bank. This doesn't mean skipping activities, either. You can savor the amazing views, fun activities, and relaxed vibes.
So, whether you're looking for fun in the sun or the perfect little winter sports getaway, the below destinations have it all.
Most Romantic Getaways Near Los Angeles
Santa Barbara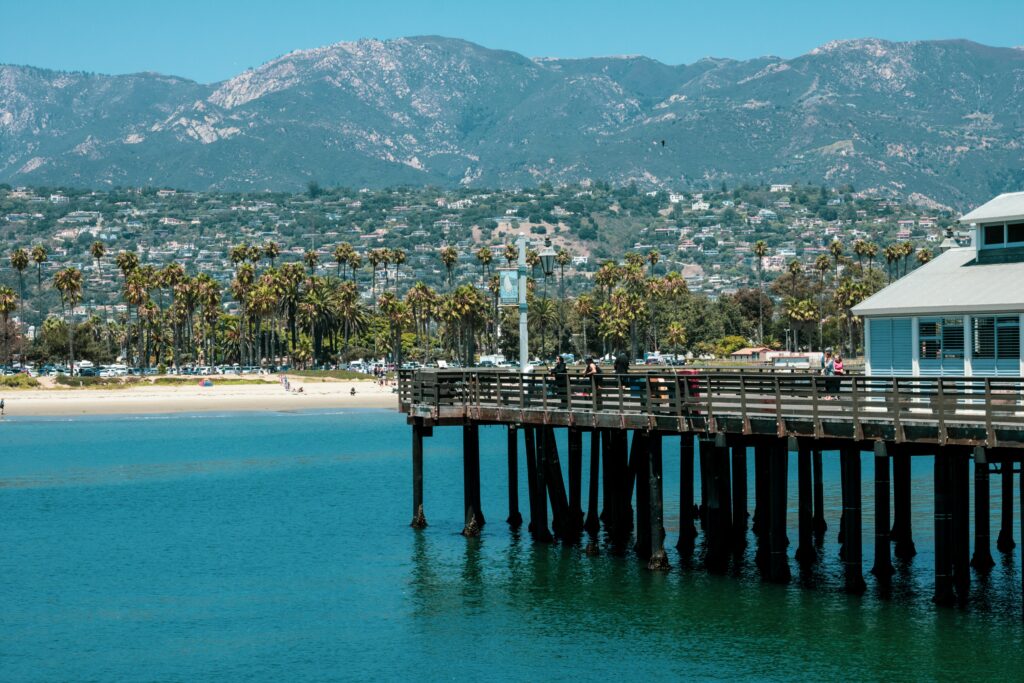 Santa Barbara is about 100 miles from Los Angeles, making it the perfect weekend getaway spot for city dwellers. It offers stunning beaches and Spanish architecture. You'll feel like you've gotten off a 12-hour flight into one of the most beautiful places on earth.
Santa Barbara is a popular location for those that enjoy outdoor activities. These include swimming, surfing, hiking, and biking. Beautiful nature spots, including the Lotusland and Alice Keck Park Memorial Garden, will take your breath away.
For those into history, you will enjoy the many museums like the Santa Barbara Museum of Natural History and the Santa Barbara Museum of Art. If you're looking for a place to head out on a sunset cruise, Santa Barbara offers some of the best cruises for your romantic weekend getaways.
We highly recommend grabbing a boat cruise to Channel Islands National Park. Five islands offer ocean caves, snorkeling, whale watching, and much more.
Best Accommodations in Santa Barbara: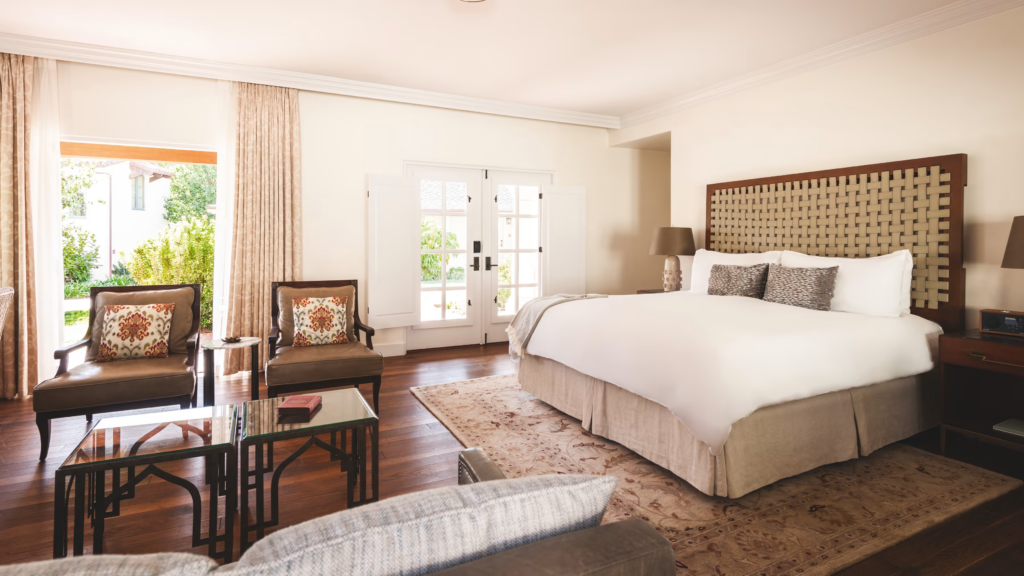 Price per Night: $851-$1,462
Are you looking for weekend getaways to spoil your significant other? El Encanto is the place to do it.
Situated on the hills of Santa Barbara, the views of the Pacific Ocean from this resort are breathtaking. Not to mention you'll be sitting in the lap of luxury.
You're invited to wind down at the pool with a local glass of wine and take in the gorgeous natural scenery.
If you need more downtime, the onsite spa is there to help. It offers a wide range of treatments to enjoy alongside your partner.
This SoCal delight also offers an onsite restaurant with decadent cuisine.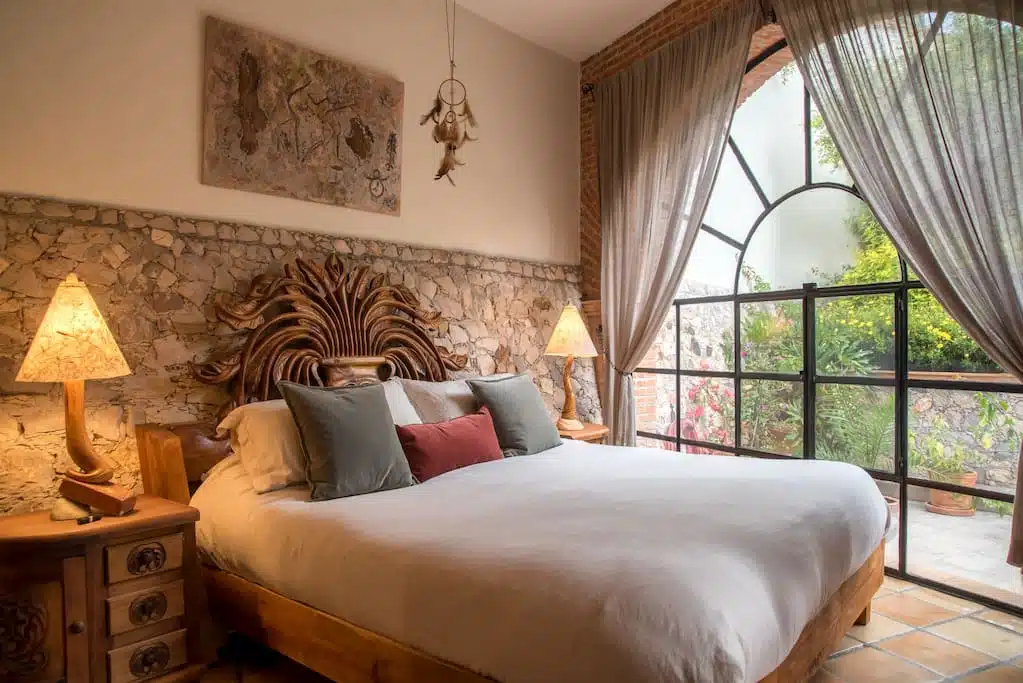 Price per Night: $185-$345
Located just one block from West Beach, Harbor House Inn is a boutique hotel with 17 studios available during your weekend getaways.
This is a laid-back accommodation option with great service. There is no need to sweat it when it comes to what to wear as long as you are comfortable.
Enjoy the relaxed atmosphere while enjoying time with your loved one. 
Temecula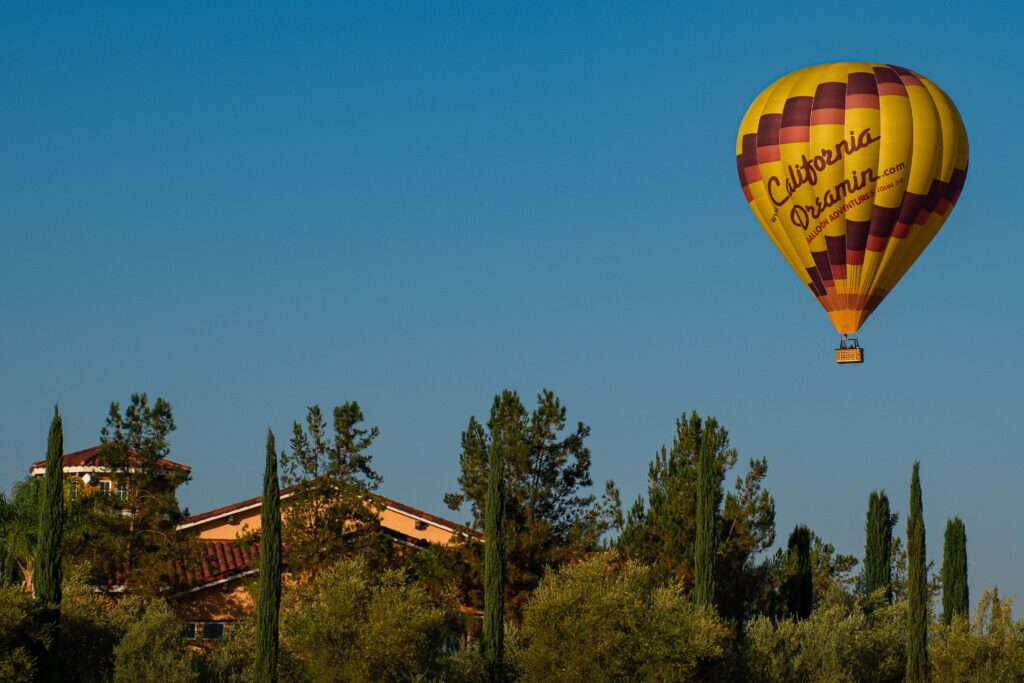 Known as California's wine country, Temecula is about one hour outside Los Angeles. It's truly one of the best weekend getaways available. One of the most attractive things about this area is the wine. There are over 40 wineries in the Temecula Valley wine region. A trip to the Winelands is a must, even for those that don't drink. The views are incredible!
Hot air ballooning is another popular activity. You'll be transported over the lush valleys and wine country with a bird's eye view of this gorgeous area.
If you're into history, Old Town Temecula will get you intrigued. The restored 19th-century buildings will transport you back to a simpler time. Marvel at the architecture while taking in some popular shops and restaurants.
Best Accommodations in Temecula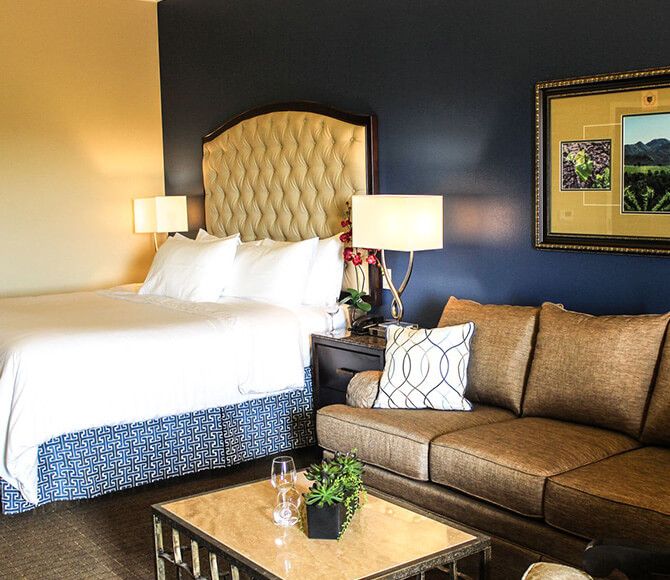 Price per Night: $264-$358
Carter Estate Winery and Resort is the place to be if you want an experience in the wine country. Sip on some of the best wines with incredible views.
The resort is clean and comfortable and offers in-room breakfast until 2 pm. This is much appreciated after a day of wine tours.
So relax, grab a glass, and enjoy all the area has to offer.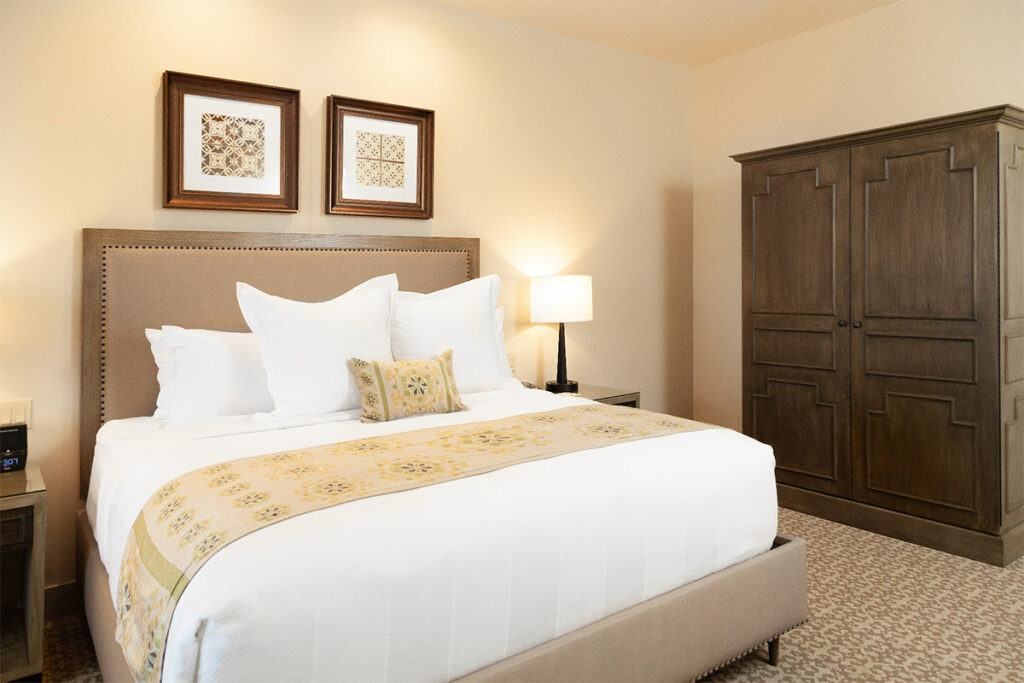 Price per Night: $207-$960
The Ponte Vineyard Inn is a 90-room hotel with gorgeous interiors and wine tasting. It has some of the most breathtaking views in the area.
You can truly relax at an onsite spa that offers indulgent treatments you can enjoy with your partner.
After that, a dip in the pool and a delicious meal at the onsite restaurant is in order. So get a good night's sleep before a fun and exciting wine tour tomorrow! 
Palm Springs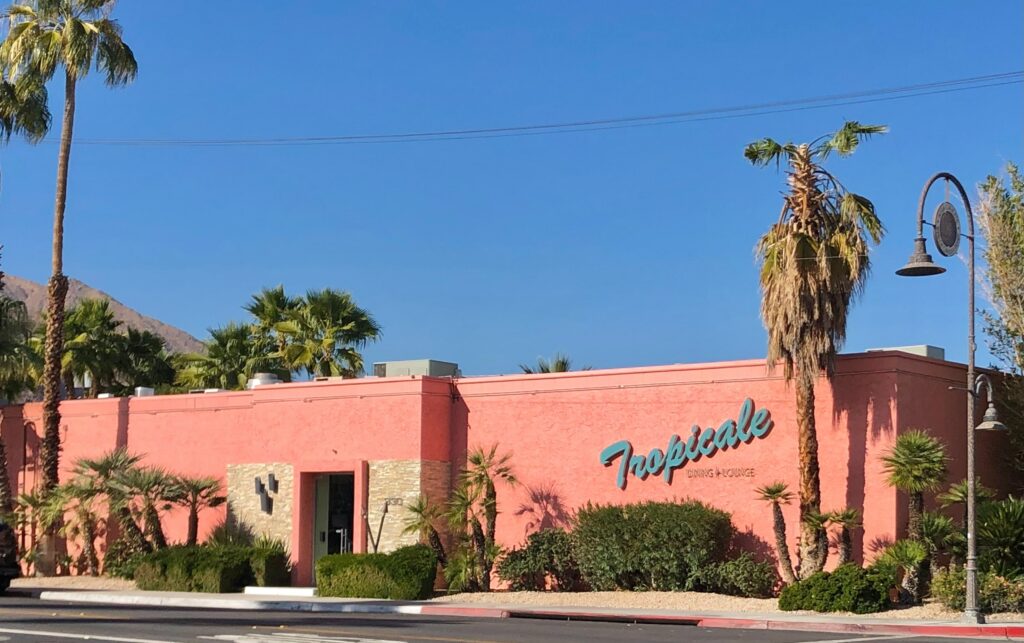 Located in the Southern California Sonoran Desert, Palm Springs is about 110 miles from Los Angeles. This area is trendy among affluent politicians and celebs as it's near enough to the city while still affording a breakaway.
Palm Springs is known for its hot springs, which some believe hold healing properties. Why not see for yourself at one of the many spas in the area? If you're into golfing, you're in luck. There are countless golf courses in Palm Springs, so don't forget to bring your clubs along.
The Palm Springs Air Museum and Palm Springs Art Museum are popular among history lovers. If you want something a bit more adventurous, try The Palm Springs Aerial Tramway. It takes visitors up to an elevation of 8,516 feet for panoramic views of the surrounding area.
Best Accommodations in Palm Springs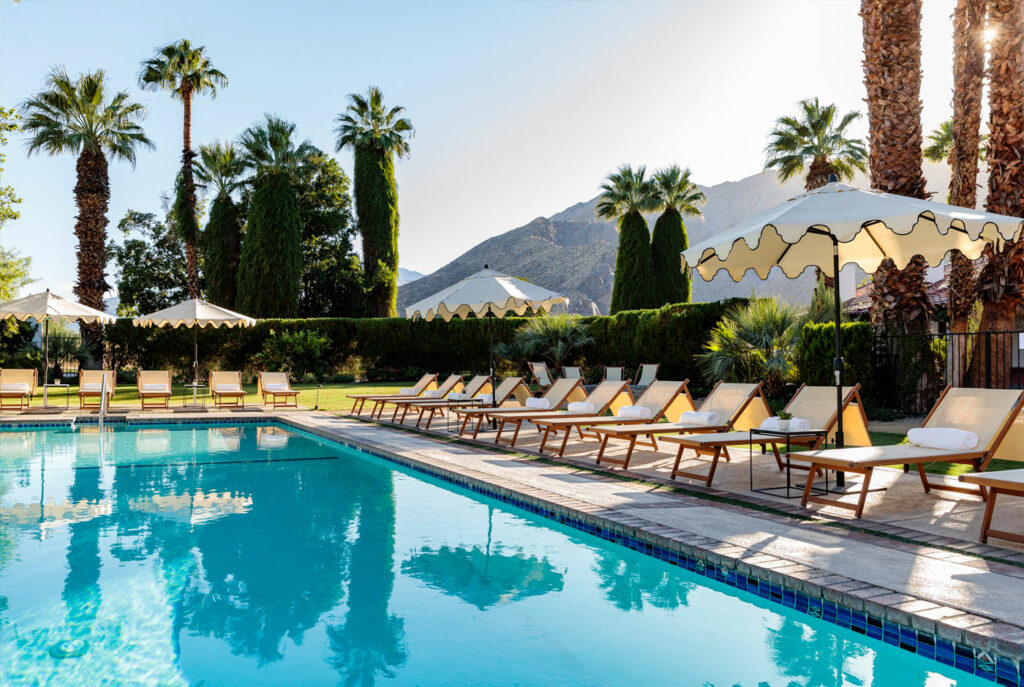 Price per Night: $279-$1,099
Ingleside Inn started as an invitation-only venue that looked after Hollywood's most famous inner circle. There is still that old-time feel with an authentic elegance about it
The inn is private but is situated only a few steps from downtown Palm Springs.
Grab a martini at the famous Melvyn's Restaurant after a relaxing afternoon at the gorgeous pool. This is the epitome of relaxation in style for romantic weekend getaways.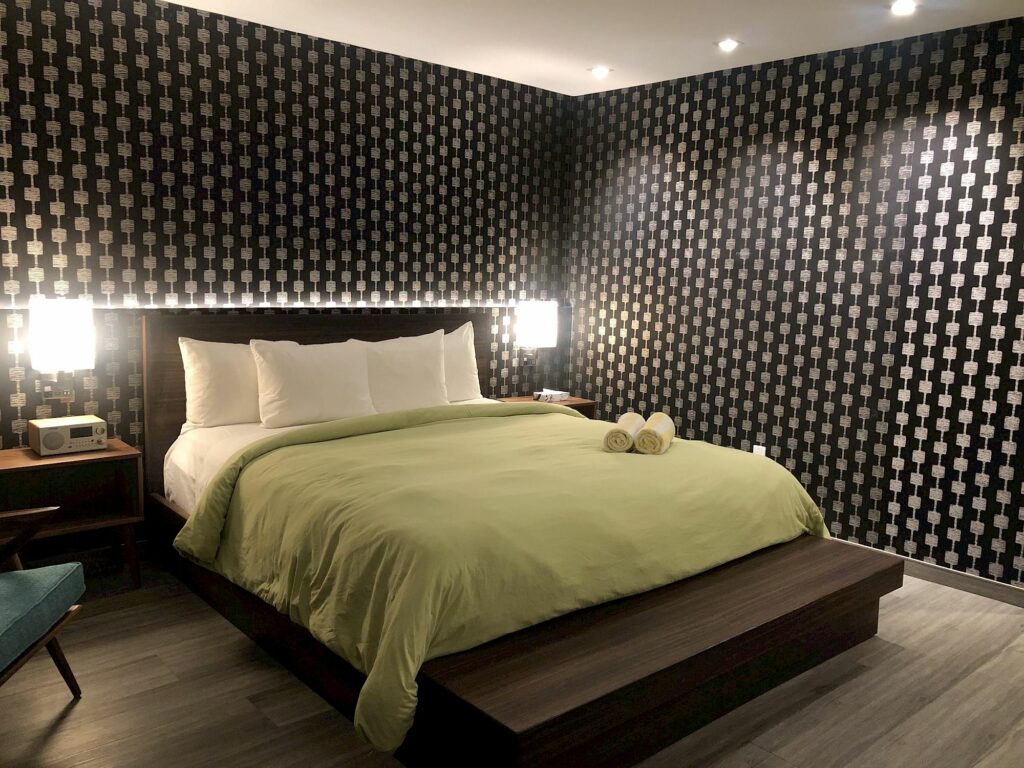 Price per Night: $129-$149
If you've ever dreamed of staying in one of those famous inns with the classic outdoor pool and mountain backdrop, you've found the right place.
The Skylark Hotel offers 28 unique rooms sure to spark your curiosity. It mixes modern comfort with a classic American Palm Springs inn style.
Enjoy the complimentary breakfast before heading up the Aerial Tramway, only five miles away. 
Laguna Beach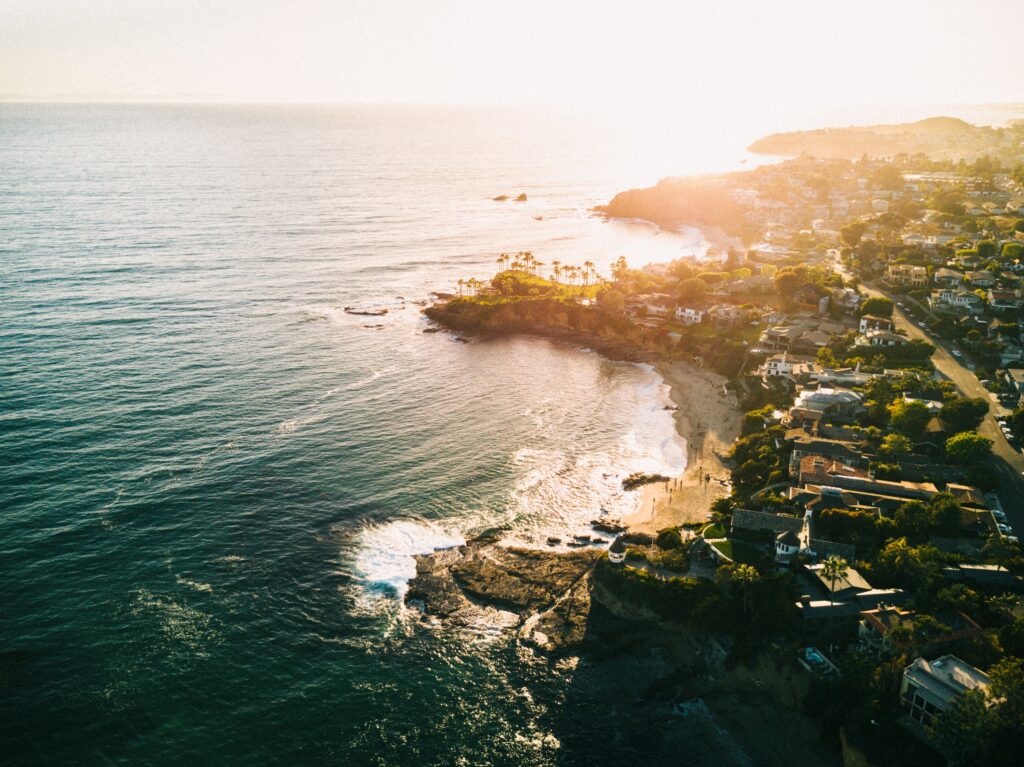 Laguna beach lies between San Diego and Los Angeles, situated within Orange County. This is the ultimate destination for beach and outdoor lovers. The sandy bays and crystal blue waters attract those from Los Angeles with a weekend break from city life.
You can enjoy hiking, cycling, surfing, sunbathing, and swimming. If you want, catch a sunset cruise along the way! This is all possible with 20,000 acres of wilderness waiting to be enjoyed.
If you're into sea life, there are tide pools that offer an exciting look at local sea creatures in their natural habitat. Or if you're not a sea person, a picnic or hike in one of the many parks is also a winner.
Best Accommodations in Laguna Beach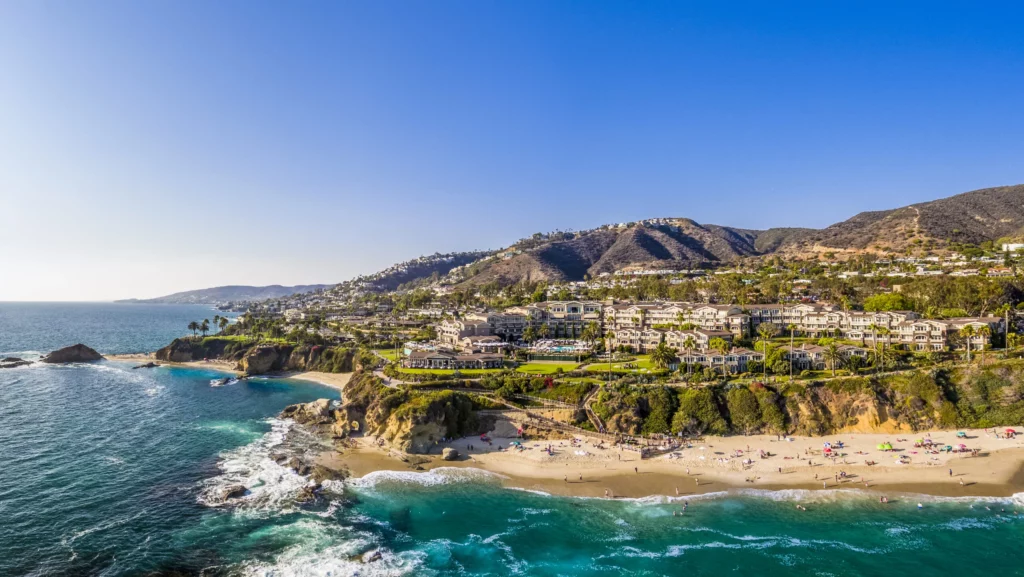 Price per Night: $950-$10,650
Situated on the cliffs of Laguna Beach, the Montage offers expansive ocean views from its two outdoor pool decks.
You can relax and rejuvenate at the onsite spa while sipping gorgeous cocktails from the poolside bar.
Don't forget to eat at one of the three onsite restaurants that combine delicious cuisines with views that are out of this world.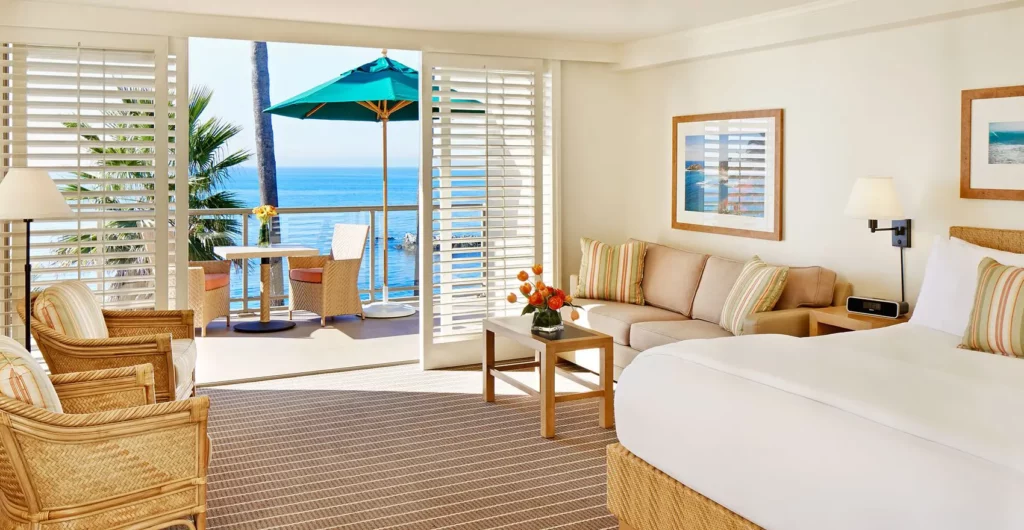 Price per Night: $99-$849
This luxury boutique hotel offers unparalleled views of the Pacific Ocean. Some of the accommodation options face the gorgeous beaches in the area.
There is a rooftop bar that is simply stunning during sunset. So grab a cocktail and enjoy the views after a day of lounging by the pool.
Situated in the heart of Laguna, The Inn at Laguna Beach is moments away from all the must-see restaurants, shops, and activities. 
San Diego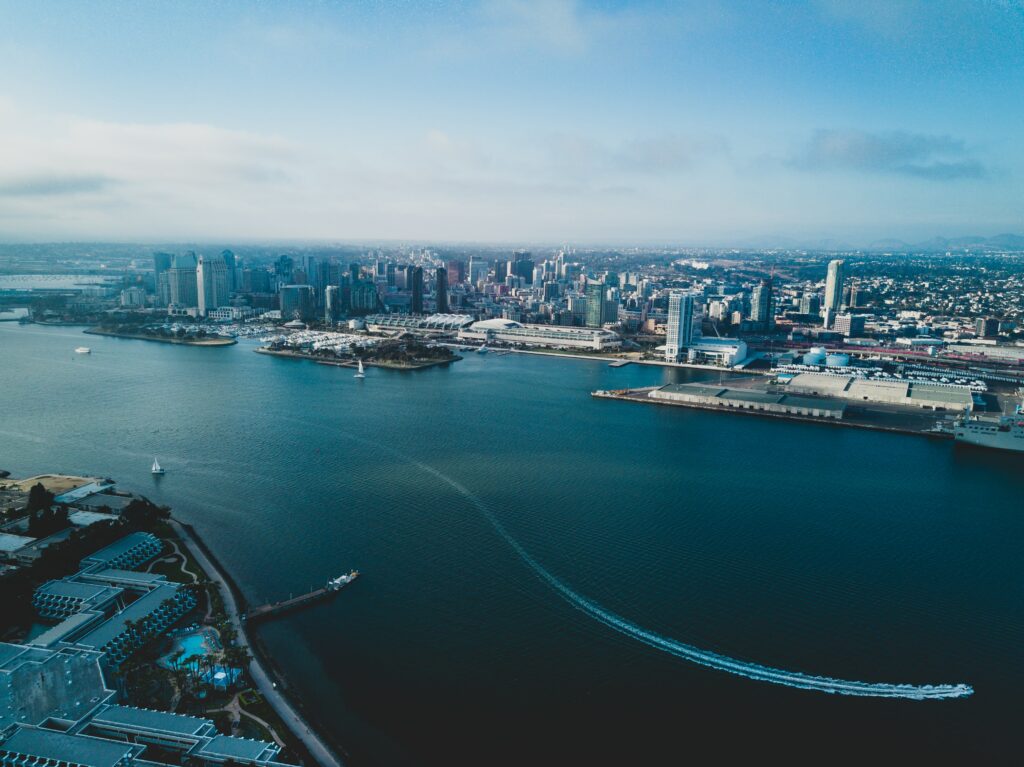 San Diego is the eighth largest city in the country, offering stunning beaches, museums, and a range of outdoor activities you don't want to miss.
You can enjoy exploring the famous San Diego Zoo, giving you an up-close and personal look at some fantastic creatures.
But the most popular activity is visiting one of the many beaches. The water is warm and inviting. Bring along your surfboard and swimming costume for a day of fun in the sun.
Best Accommodations in San Diego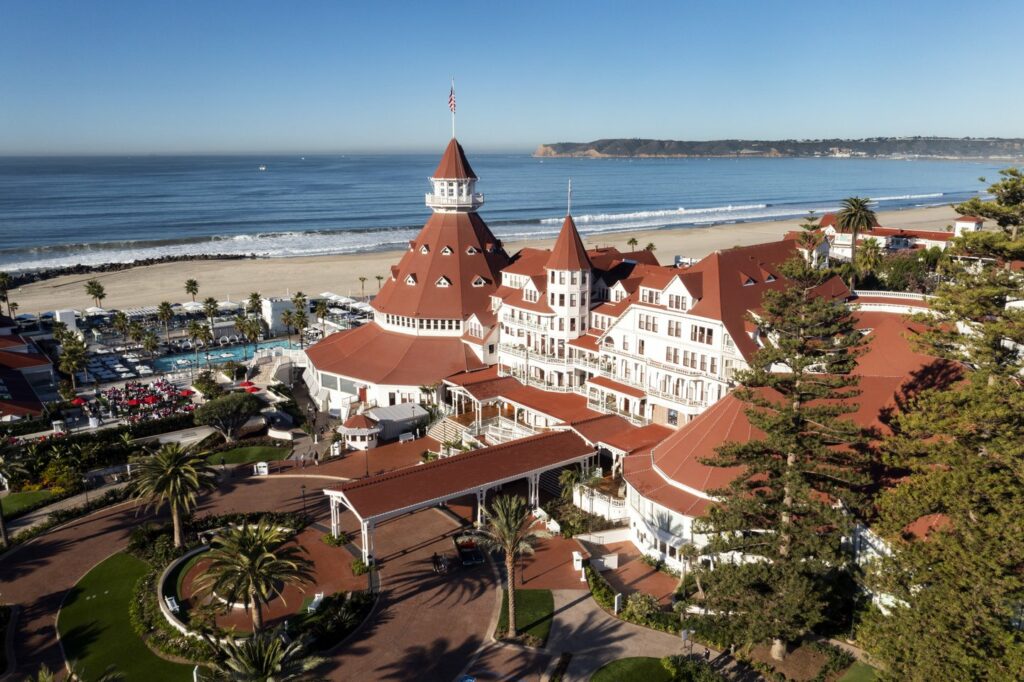 Price per Night: $574-$1,708
Situated on Coronado Island, The Hotel del Coronado is one of the most famous accommodations in San Diego.
Built in 1888, the architecture is gorgeous and will get tails wagging for those that enjoy a good history lesson. The hotel has hosted many celebs and political figures throughout its long history.
You can relax while enjoying the onsite restaurants, spa, and private beach, that make this hotel so popular.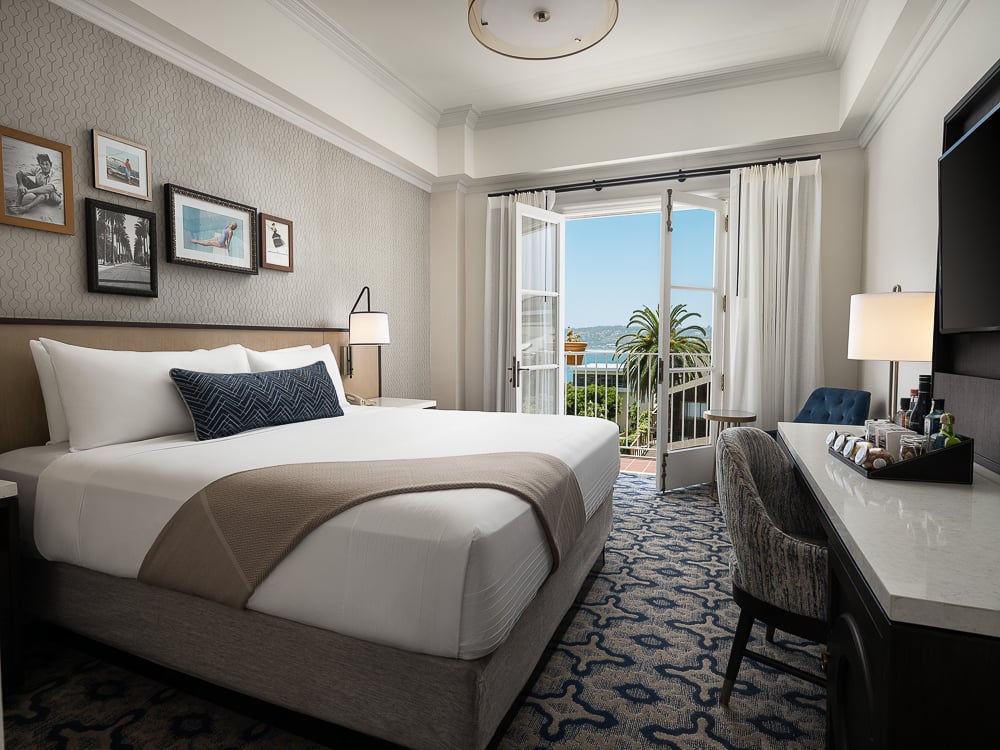 Price per Night: $409-$919
Located in La Jolla, La Valencia Hotel is a Mediterranean-style accommodation with panoramic ocean views.
The luxury accommodations are only the beginning. There is a swimming pool, various restaurants, and a full-service spa.
Plus, it is situated near many popular shopping and dining areas that you shouldn't miss on your romantic summer weekend getaway. 
Big Bear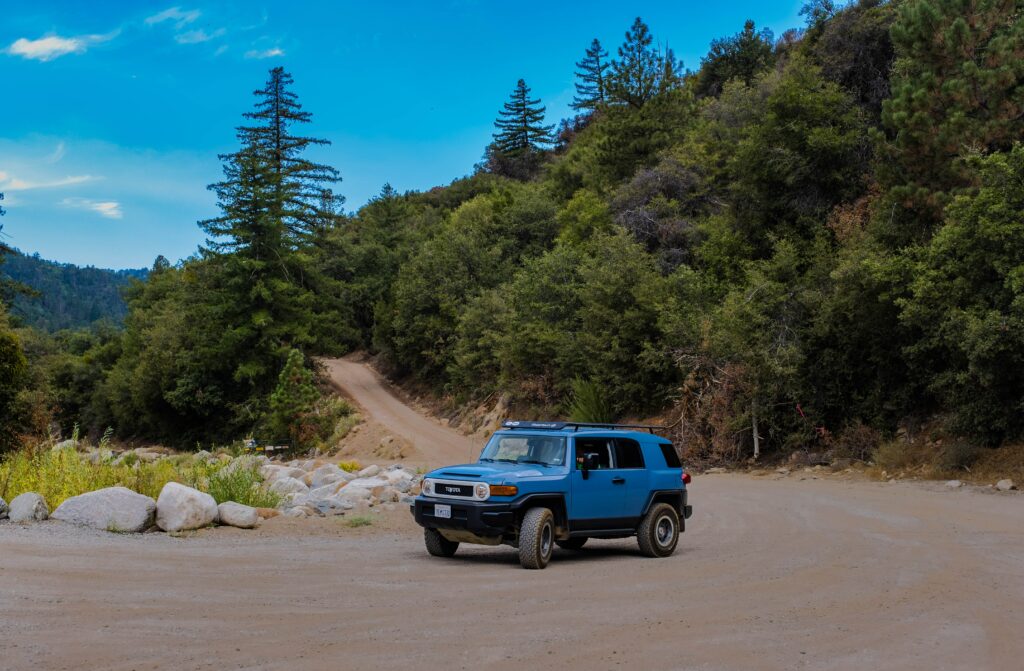 Situated in the San Bernardino Mountains, Big Bear is the place you want to be if winter sports are your thing. Snowboarding and skiing enthusiasts absolutely love this area. The slopes are extensive and offer excitement and fun, even for beginners.
There is also fun to be had in the summer with weekend getaways at Big Bear Lake. You can enjoy various recreational activities, including fishing, swimming, and kayaking. Plus, there are loads of trails for those that want to hike, and enjoy horseback riding and birdwatching.
Big Bear is known for its natural beauty that transports visitors to a space of relaxation and calm. You can let off some steam during the day while getting a good night's rest to recharge the batteries.
Best Accommodations in Big Bear

Price per Night: $189.99-$351
The Holiday Inn Resort The Lodge at Big Bear Lake is the perfect option for a weekend getaway, whether in summer or winter. It is close to popular skiing resorts and hiking trails, so it's a year-round accommodation.
Get ready to take in some fantastic mountain views from the inn, with some bedrooms offering a private balcony.
Don't worry about bringing your own equipment. There is a ski rental at the accommodation. After a fun day of activities, you can unwind at the hot tub, swimming pool, and fitness center.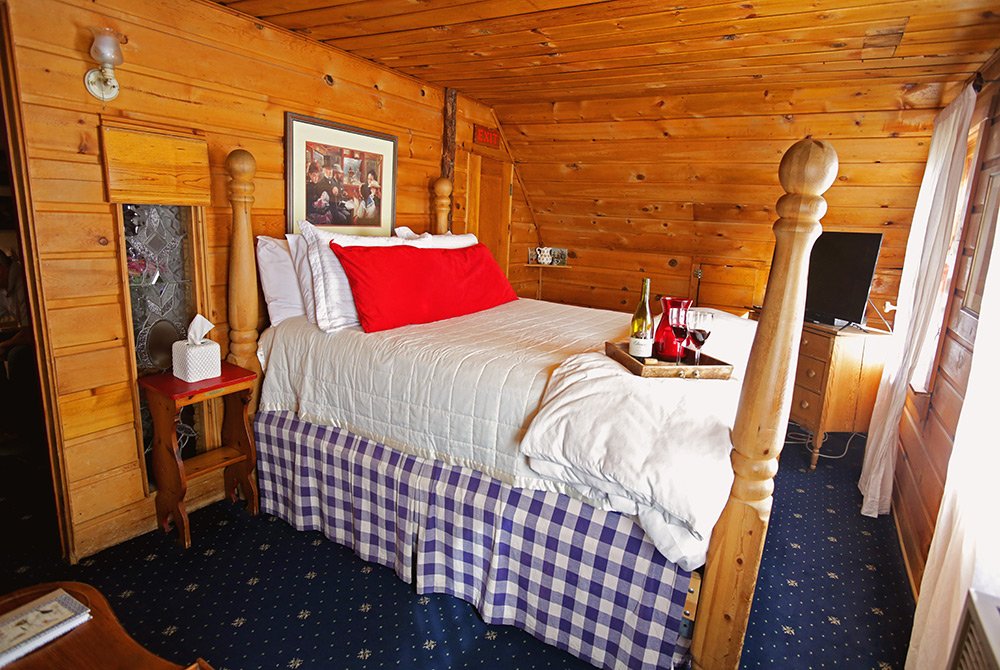 Price per Night: $184.90-$235.40
The Gold Mountain Manor was constructed in 1928 by a famous movie investor. It will surely transport you to a simpler time when architecture and furnishing were charming. You can stroll through the corridors, taking in some fascinating items throughout.
The Gold Mountain Manor is a mix of old and new, with guest rooms featuring all the necessities of today's modern world. Don't worry; you won't have to run around with a candle in the dark.
Known as the "hidden gem" of Big Bear mountain, this accommodation is truly one in a million. We highly recommend staying here for at least one night to see for yourself. 
San Luis Obispo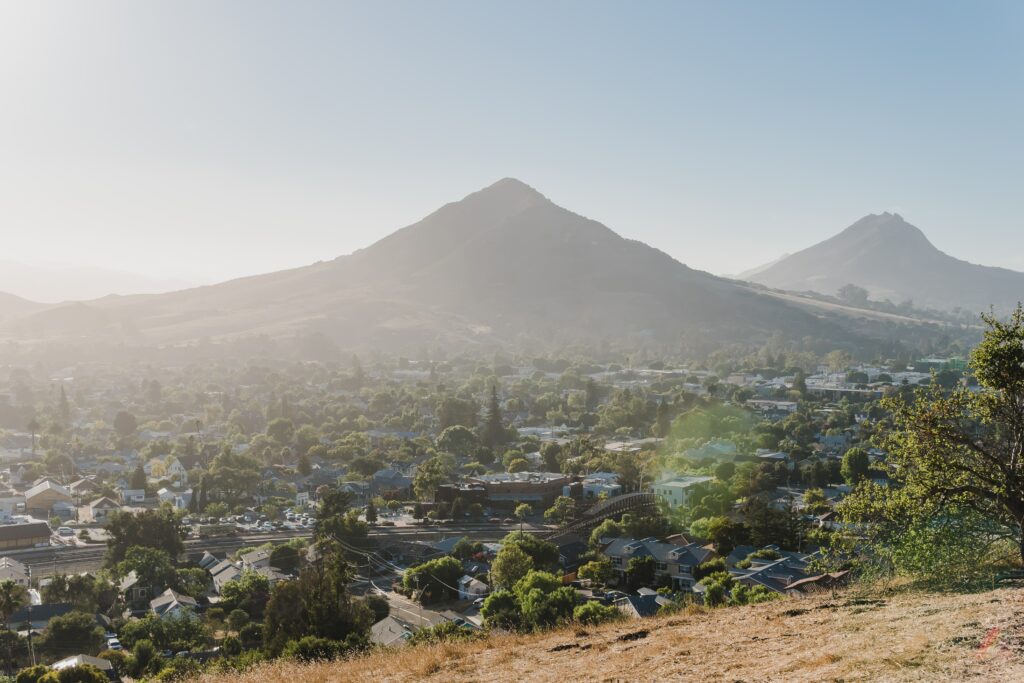 San Luis Obispo is the place to be for a Mediterranean climate. If you want fun in the sun, you will enjoy the area's beaches, hiking trails, and wineries.
If you're into cycling, the area is very cycle-friendly. The city invites visitors to explore the area by bike. Biking is made easy with well-constructed bike lanes.
This city's vibrant culture and natural beauty make it a wonderful place to relax, enjoy the sites, and grab some good food.
Best Accommodations in San Luis Obispo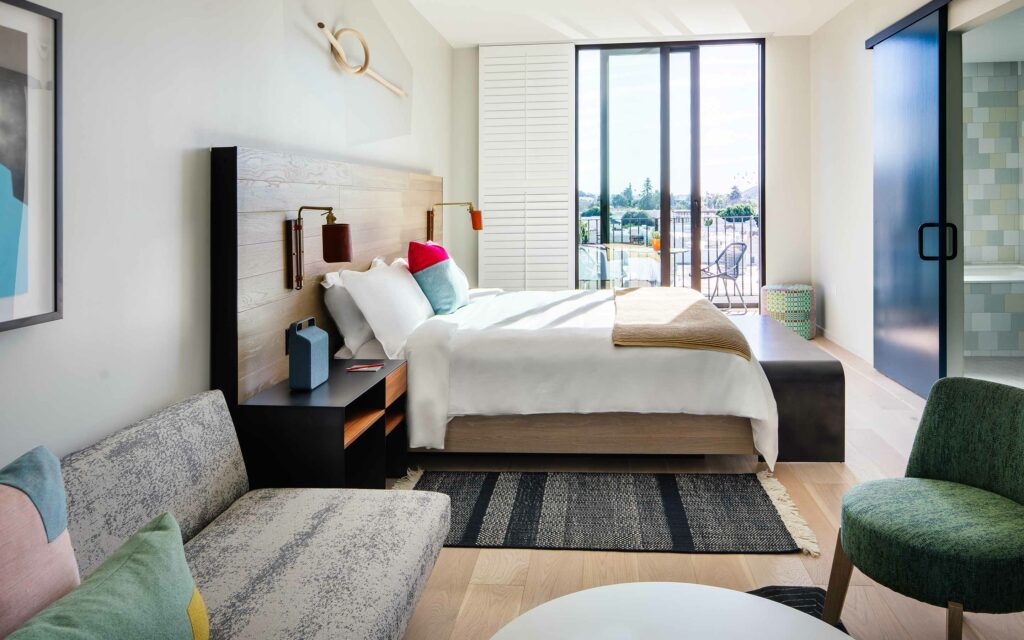 Price per Night: $399-$899
Hotel San Luis Obispo is an urban resort that captures the feel of the area very well. The surrounding hills and flexible accommodation make this a comfortable spot to chill out and enjoy the scenery.
If you're a foodie, you're in for a treat. The onsite restaurant serves decadent food that would make even the pickiest eater enjoy their meal. It is open for breakfast, lunch, and dinner, so you're covered throughout the day.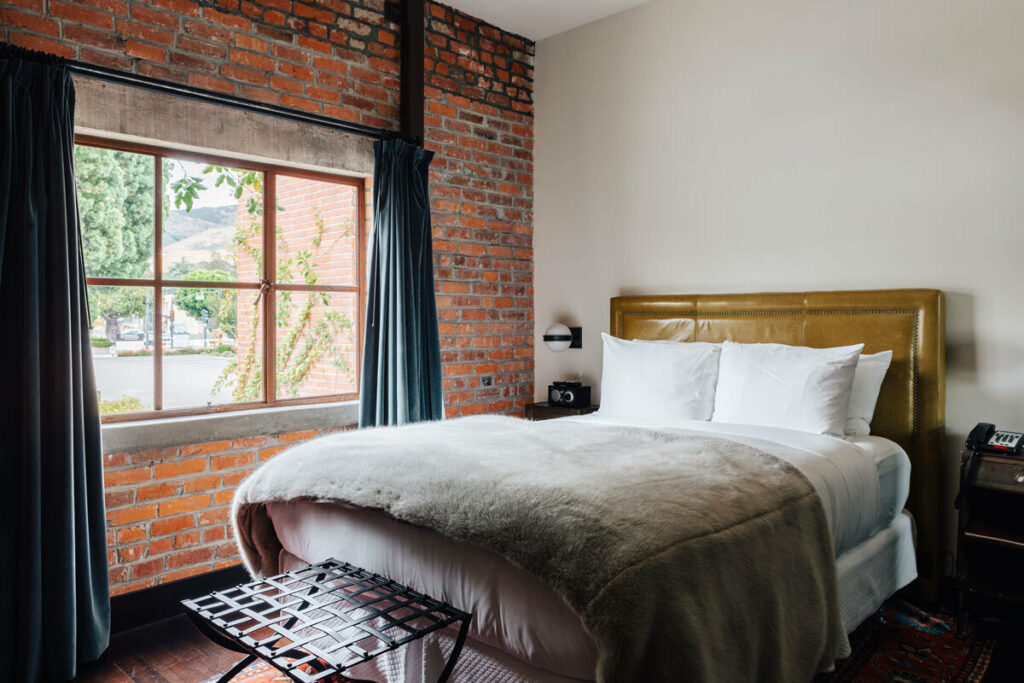 Price per Night: $199-$299
This 17-room boutique hotel is located in downtown San Luis Obispo. It offers a comfortable stay in modern and well-thought-out rooms.
The luxury hotel lies near many popular shops and restaurants in the area. But you won't have to go far for a good meal. The Granada Bistro serves some of the best food and wine in the area. 
Top Excursions & Activities To Do On A Romantic Getaway Near Los Angeles
Beach: SoCal is known for its beaches. If you're looking for a place to sunbathe, Laguna Beach and Palm Springs have some of the most beautiful beaches in the world.
Skiing/snowboarding: The San Bernardino Mountains are where you want to be in the winter to enjoy a weekend getaway filled with snow sports.
Wine tasting: Temecula offers some of the most stunning wineries in California. They provide expansive views and excellent wine.
Hiking: Santa Barbara and Big Bear have fantastic trails that are a must for nature lovers. These trails provide fabulous views of the surrounding areas.
Sample Itinerary & Budget For Your Romantic Getaways From Los Angeles
On average, a couple will spend about $161 a day per person. So, a three-day weekend trip will cost about $966.
However, this is just the average price. This will all depend on the accommodation type and the activities you want to do during your stay.
The time of year also affects things. For example, going on a winter getaway in the peak of summer will cost less than going in the winter when the accommodations are booked up.
Looking at the travel cost, traveling from Los Angeles to any of the above is easiest by car. The destinations aren't too far, with the average being about 1.5 hours' drive.
| | |
| --- | --- |
| Activity | Price |
| Hotel Stays/Accommodations: | $100-$1700 |
| Mode of Travel: | We recommend renting a car for your weekend trip. It makes it easier to get around. Car rental varies, with some starting at $13 a day and going up to $50. |
| Food/Beverage: | On average, you should set aside at least $36 per person daily. However, please consider that alcohol can increase this price very quickly.  |
| Wine tasting: | For a whole experience of wine tasting in Temecula, we recommend going to a few wineries. A day pass, including tastings and tours, is about $100 per person.  |
| Hot air balloon rides: | Hot air balloon rides in Temecula range between $189-$205 per person.  |
| Winter sports: | Lift tickets in Big Bear cost between $79-$169 per person daily. But this doesn't include lessons.  |
Frequently Asked Questions
How much does a romantic getaway from Los Angeles cost on average?
This depends on the type of trip you want to take. On average, you should budget at least $161 a day per person. But the prices can vary based on the type of accommodation you're looking for and the activities you want to do.
When is the best time to visit Southern California?
If you want a snow vacation, the snow in Big Bear usually begins in November and goes through to April. Summer in SoCal is between June-August. Remember that many areas in the state are generally quite warm all year round.
How long do people typically spend on a romantic getaway from Los Angeles?
As a city dweller, taking a trip to a nearby area is usually done over a long weekend. So about 3-4 days is the norm. Generally, a week-long trip is enough for those going for winter sports.
Start Planning The Ideal Romantic Getaway
As you can see, many options exist for choosing the right getaway from Los Angeles. You don't have to stick to the city, so venture out and explore all SoCal has to offer.
The above destinations offer everything from a fun beach holiday to a winter wonderland. The options are truly endless.
You may need a little more help planning your weekend trip. Look at our Couples Travel resources to begin planning the perfect romantic getaways.