Planning a honeymoon is as exciting as it can be stressful, but it doesn't have to be. With our help, you can book the perfect honeymoon to ensure you and your partner have the perfect romantic getaway together.
Louisiana is a beautiful state, blending the perfect mix of culture, history, fun, and a lot of love. We have compiled the ultimate guide to make your honeymoon planning much easier. We have covered activities, romantic hotels, budgets, and an itinerary. Booking your honeymoon has never been easier!
What Makes Louisiana Perfect For A Honeymoon
Louisiana is known for its cuisine, swampland, and multicultural heritage. But that's not all that makes this state so exciting. Many people are drawn to it because of the culture, people, and beautiful terrain. The stunning mix of waters from the Mississippi River and the Gulf of Mexico has created marshes, swamps, and deltas along the southern border.
Louisiana needs to be on your list for your next romantic getaway or honeymoon. The rich history, lakes, gardens, and towns provide a magical setting for a lovely time away with your partner. Romance is everywhere here, in the people, the atmosphere, and the music.
Romantic getaways in Louisiana have something for every couple: love, culture, and excitement!
Best Areas To Stay in Louisiana
Shreveport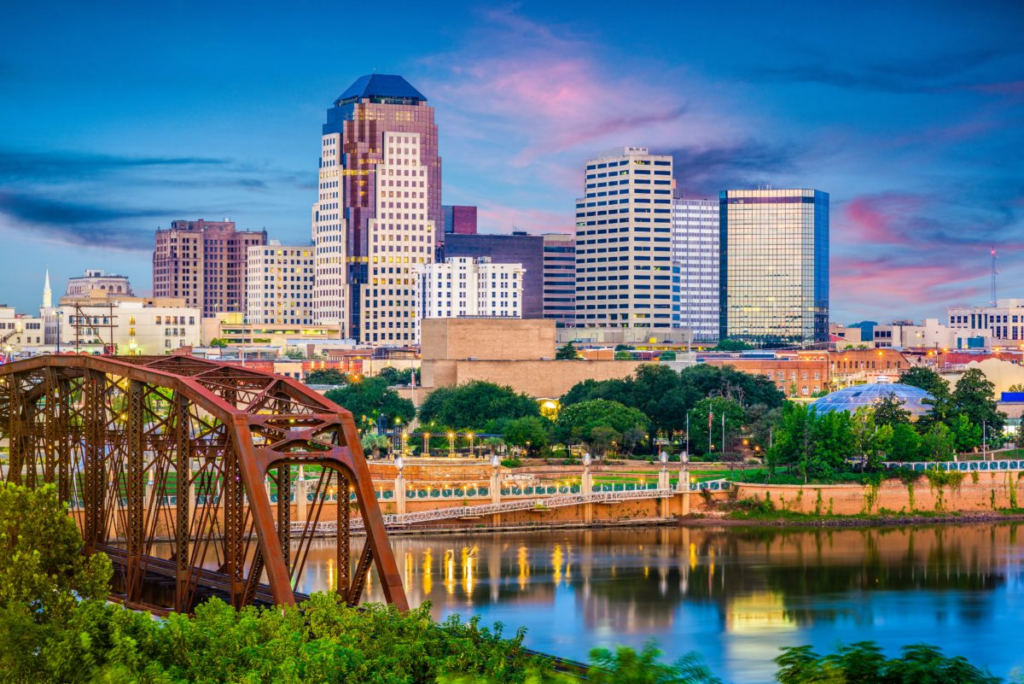 Shreveport is Louisiana's third largest city and is the ideal spot for anyone looking for a wonderful time away in the USA. There are various historical and cultural attractions in Shreveport, gambling, and recreational activities.
Romantic getaways in Shreveport can be spent catching a lovely concert at the amazing Municipal Memorial Auditorium or exploring the stunning R.W. Norton Art Gallery and Gardens at the Norton Art Gallery. You must visit the historic Holy Trinity Catholic Church while you are there. It perfectly represents the European style embedded in the city's architecture.
There are many fun things to do in Shreveport. Such as the various riverboat casinos, Louisiana Boardwalk Outlets, and the cool neon-lit Texas Street Bridge. We also recommend going for a romantic stroll in one of the many beautiful botanical gardens in the city and then indulging in a delicious meal while admiring the views of the waterfront.
New Orleans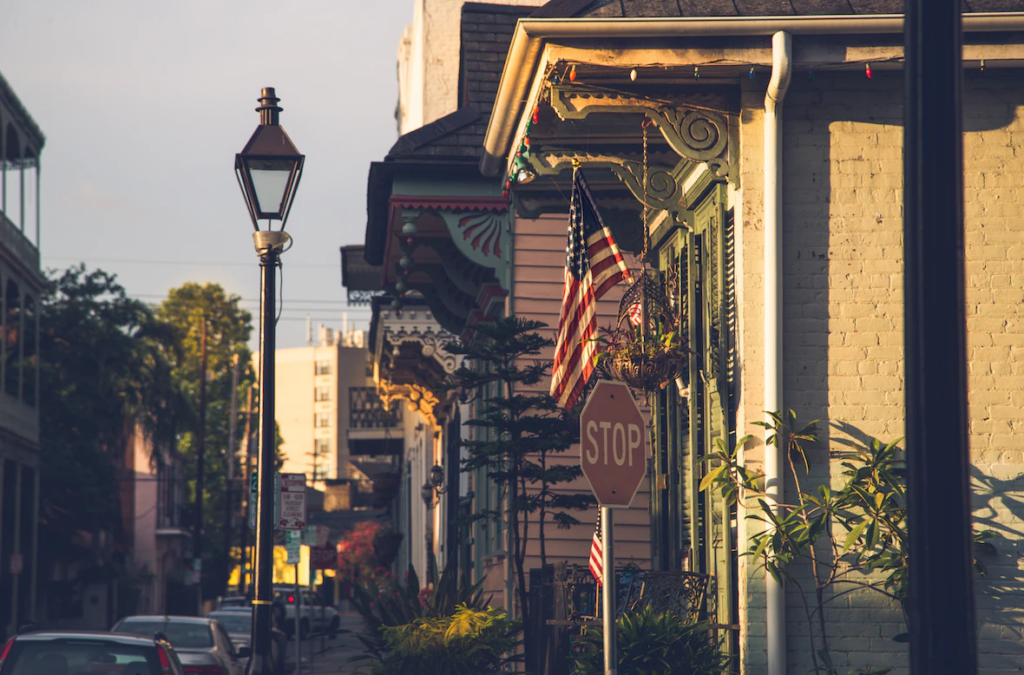 New Orleans is known as the "Big Easy." This city's eclectic ambiance fills the whole place with easy-going and fun energy. Romantic getaways in New Orleans are filled with rich music, authentic Creole cuisine, performances, art, and much more.
New Orleans has a mixed culture, blending German, Irish, French, Haitian, African, and Caribbean elements. This incredible city has explosive energy you just do not want to miss. It is one of the top destinations in Louisiana.
In the New Orleans winter, they host the annual world-famous Mardi Gras festival, which brings people into the city from all over the world. You can expect to see fun costume parades and round-the-clock parties. The most popular attractions in the city include Jackson Square, the French Quarter, and Bourbon Street.
You can also find romantic bed and breakfasts in the city, all-inclusive hotels, and spa resorts. This city is the perfect mix of mystery and romance. What else would you want on your honeymoon?
We also recommend checking out the Steamboat Natchez, the garden district, and the airboat tour while you're in New Orleans.
Lake Charles
Lake Charles is a top destination for romantic getaways in Louisiana. This city is all about gambling and food. Lake Charles is home to a racetrack and four different casino properties, so this is the perfect city for those couples who love a bit of risk.
Spend some time trying your luck with blackjack, and then head out to the Creole Nature Trail in Louisiana's outback. It is filled with food, music, and Cajun culture. And this beautiful 26-mile trail has several undeveloped natural beaches, marshes, and many romantic adventures.
Romantic getaways in Lake Charles are full of kayaking, paddle boarding, alligator tours, fishing, and crab catching. This is the perfect destination if you love adventure, risk, excitement, and good food.
Best Honeymoon Resorts, Hotels, and Other Stays in Louisiana
Finding the perfect place to stay during your honeymoon can be challenging. You want to have the best of the best. That's the only way to celebrate tying the knot. Louisana has some amazing places to stay, from hotels and B&Bs to resorts and fancy villas.
The following are some of our favorite places to stay in Louisana. From Southern Louisiana to Jennings, so many amazing options will promise a romantic, fun, and love-filled stay.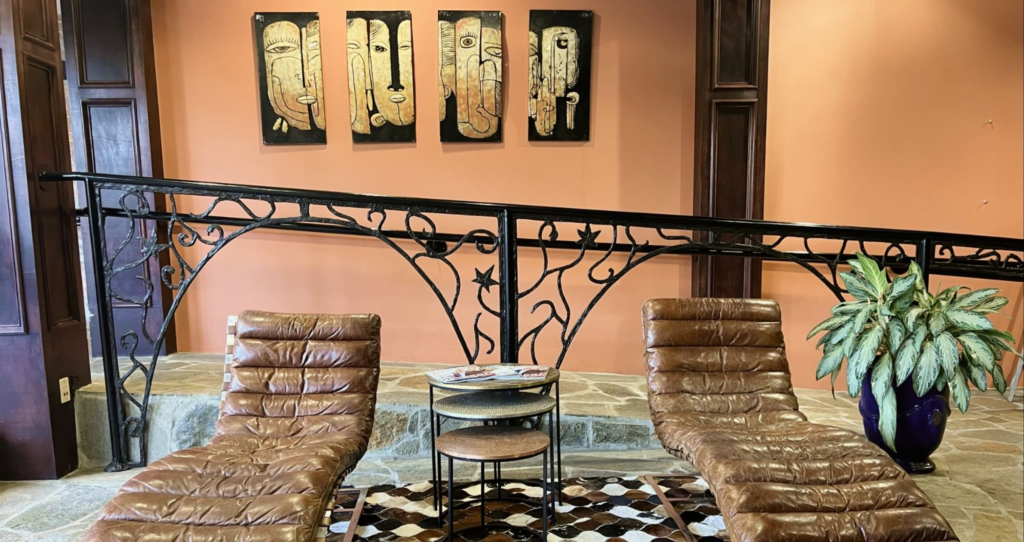 Price per night: $139 to $250
Best For: Short stays, all couples
Availability: Limited availability
The Remington Suite Hotel & Spa is an upscale hotel that makes for one of Louisiana's most romantic hotels. The hotel is a short drive from the Shreveport Opera and within walking distance of restaurants, museums, and incredible attractions.
The hotel rooms feature in-room jacuzzis, vintage wet bars, and stunning spiral staircases. It is one of the top hotels on the Shreveport boardwalk. The property itself is beautiful both on the outside and inside. And it exudes elegance and romance.
You can also access the hotel hot tub and the indoor pool. There is also an amazing restaurant on-site that serves the most delicious cuisine, and the romantic ambiance is sure to spark that passion and thrill during your romantic getaway.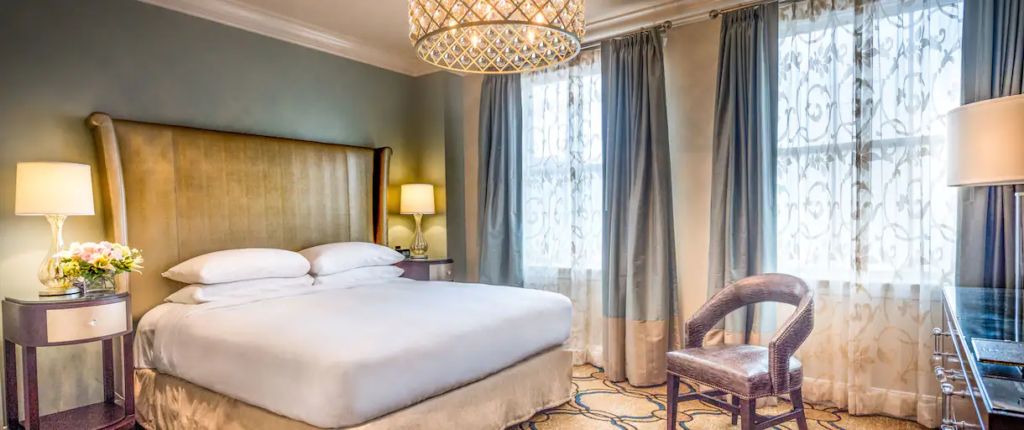 Price per night: $134 to $2511
Best For: Long and short stays, all couples
Availability: Easy to book, good availability
The Hilton Baton Rouge hotel is a beautiful place to stay. It boasts a Victorian style and exudes a lovely Southern charm. The hotel is a few minutes from the Baton Rouge River Center and the State Capitol Building.
The rooms here are beautiful and have the most amazing views of the Mississippi River, making for the perfect backdrop for a romantic weekend away. The property also has various gorgeous lounge areas and a lovely outdoor pool.
There is also an on-site restaurant that serves the most incredible Cajun cuisine, and the atmosphere is passionate and romantic. The hotel is perfectly located and is one of the top hotels for couples in Baton Rouge.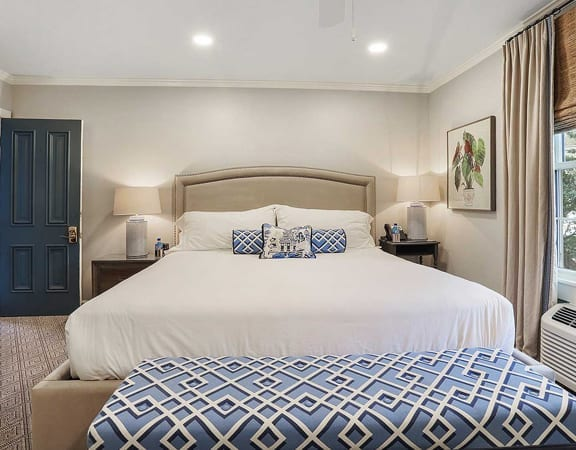 Price per night: $265 to $419
Best For: older couples, short stays
Availability: Limited availability
The St. Francesville Inn offers a lovely old-fashioned style and charm, and it is the perfect place to stay during a romantic getaway in wonderful Louisiana. The whole Inn has recently been fully renovated and now offers couples the most luxurious experience.
The Inn is in a stunning old Victorian building, and the whole place is surrounded by gorgeous gardens, creating the perfect environment for a romantic stay. There is also a restaurant on-site where they serve beautiful and delicious International and Cajun cuisine, craft cocktails, and delicious wines from all over the world.
During your stay, you can visit the surrounding areas and attractive shops, the St. Francisville historic area, and the historic plantations.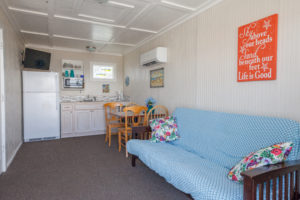 Price per night: $238 to $270
Best For: long stays, young and old couples
Availability: Good availability
The Blue Dolphin Inn and Cottages is the best accommodation you will find in the Grand Isle. This stay is incredible. It offers modern amenities, seating, a full kitchen, private bathrooms, and the most spectacular sea views. What could be better?
You can easily make yourself at home during your stay, and you will have access to the fully equipped outdoor cooking facilities and the amazing deck right by the beach. This is the best place to go if you are looking for a secluded getaway. You will have enough time to spend together, just the two of you.
Grand Isle is a stunning place to go for romantic getaways. There is so much to see and do in the area that you will be spoilt for choice. And the best part is that you'll have most of them right on your doorstep or from your private deck. This Inn is one of our favorite stays in Grand Isle, LA.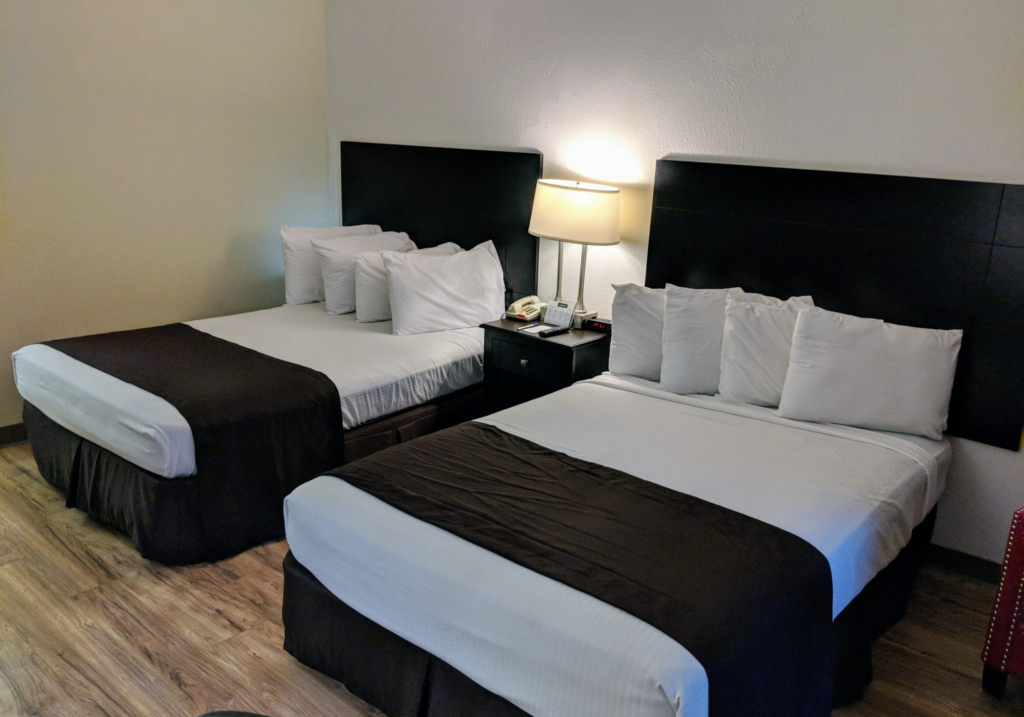 Price per night: $97 to $100
Best For: short stays
Availability: Easy to book, good availability
Hotel Francis can be found near Cat Island National Wildlife Refuge and Butler Greenwood Plantation. This stay offers couples the best budget-friendly hotel you can find in Louisiana. However, just because it's budget does not mean it skips out on the luxury and the romance. Hotel Francis is a very special place.
You will have a private balcony with the most incredible views of the private lake. There is also an outdoor pool and a daily continental breakfast. The hotel also serves dinner from Mondays to Thursdays, so you do not have to worry about finding places to eat during your stay.
The rooms here are comfortable and fully equipped, so you can make yourself happy and at home.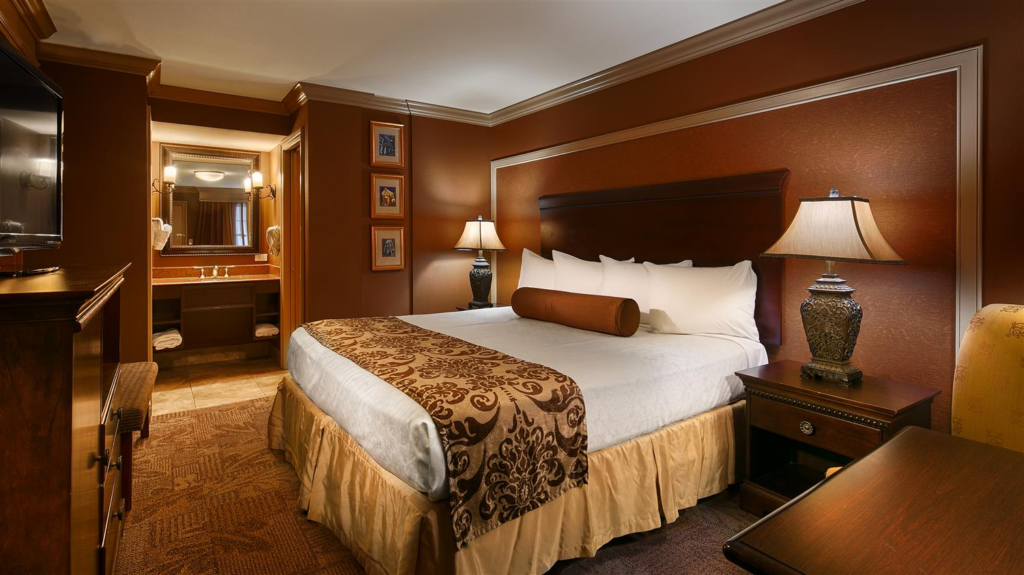 Price per night: $113 to $340
Best For: long or short stays, young and old couples
Availability: Limited availability
The Best Western Plus French Quarter Landmark Hotel can be found around the corner from the popular and busy Bourbon Street in New Orleans. It is one of the best budget-friendly hotels in the city. The hotel has the most incredible atmosphere, creating the perfect setting for romantic getaways in Louisiana.
You can expect a continental breakfast every day during your stay, and there is a wonderful outdoor pool where you can unwind, catch a tan, and sip on some delicious drinks. The hotel also has an in-room jacuzzi in select rooms, making your romantic getaway much better.
You can also spend your time in the outdoor cocktail lounge and admire the beautiful views of the gardens while sipping on fruity drinks. This hotel in New Orleans is perfectly located, and the amenities are unmatched. You will truly have the chance to unwind and bask in all the romance. This is one of our favorite hotels in New Orleans!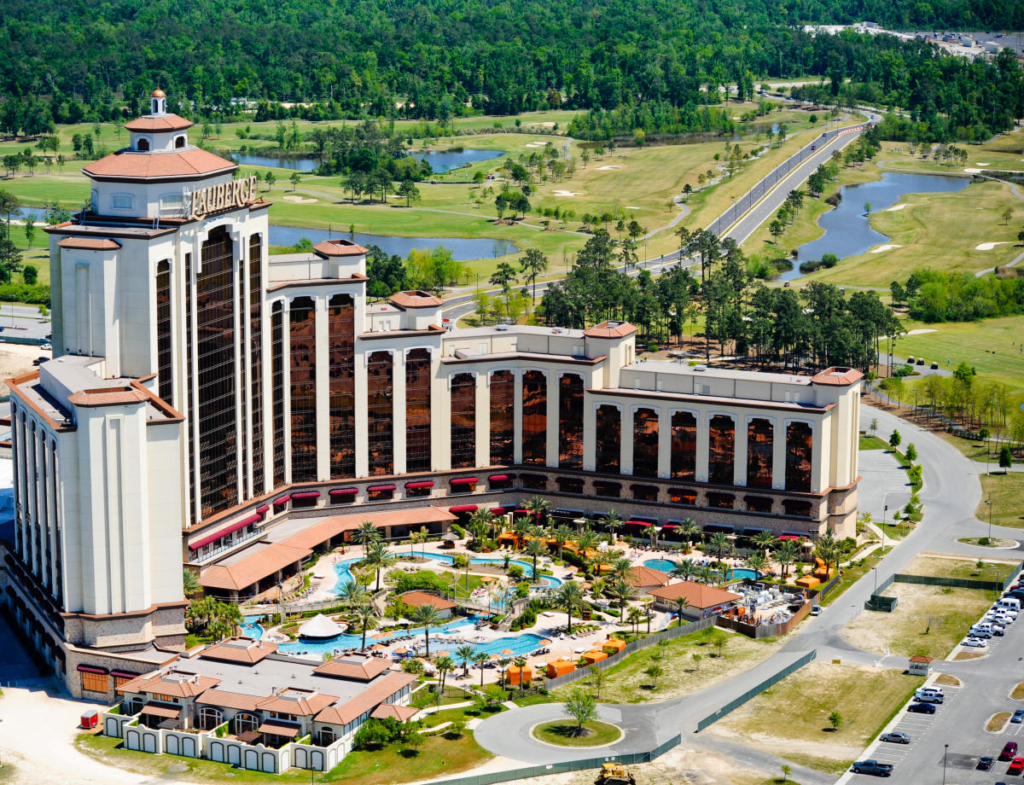 Price per night: $172 to $482
Best For: all-inclusive, young and old couples
Availability: Easy to book, good availability
L'Auberge is a stunning Vegas-style resort, and it delivers the full honeymoon package. It has an old-time and romantic appeal with the most luxe features, and you can enjoy stunning views of Lake Charles right from the balcony in your room.
There is a casino on the property, so you can play table games and slot machines. There is daily live entertainment and various delicious restaurants to eat at. You will have everything you need at this all-inclusive resort. They have a salon and spa that you simply must visit during your honeymoon.
Spend your days floating down the lazy river or lounging by the pool. There is also an 18-hole golf course for those looking to play a round or two. L'Auberge has everything you will need for a perfect honeymoon. It is the best spot right on the Calcasieu River, Lake Charles.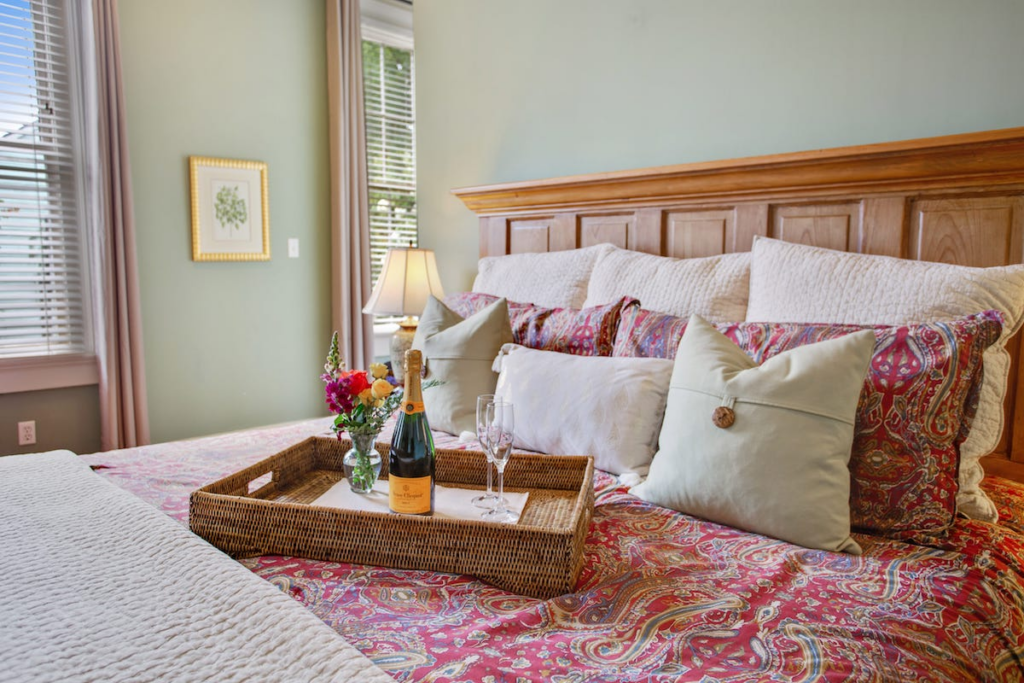 Price per night: $615 to $825
Best For: long and short stays, young and old couples
Availability: Limited availability
Maison Perrier Bed & Breakfast can be found in the Uptown Garden District of beautiful New Orleans. The New Orleans garden district is fantastic; anyone would love to stay in this area. This bed and breakfast is a historic building; the whole structure was built by hand. It is well-known for its iconic Victorian appeal and incredible woodwork.
You can also get an in-room jacuzzi to spruce up the romance during your stay. Indulge in a complimentary home-cooked breakfast every morning and the most amazing freshly baked desserts. This stay is perfect for romantic getaways in New Orleans as they have all the right facilities.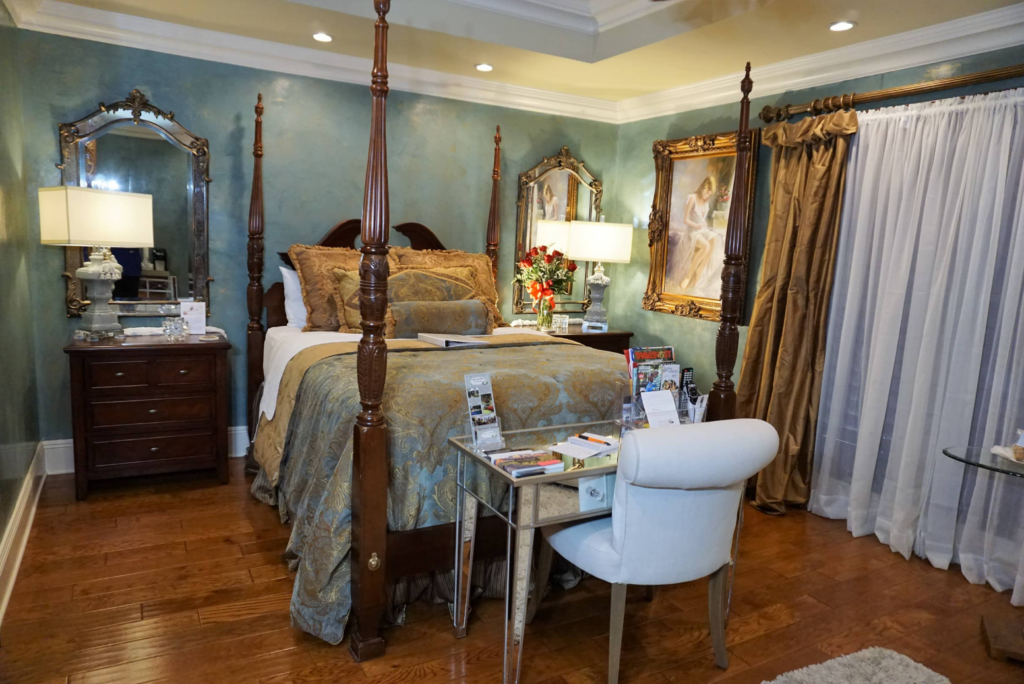 Price per night: $145 to $175
Best For: young and old couples
Availability: Good availability
The Louisiana Cajun Mansion B&B is a stunning mansion found a mere 9 miles from the amazing downtown Lafayette, an is perfect for Louisiana weekend getaways (or longer stays!). This bed and breakfast has a lovely cabana and outdoor pool, a sun terrace, and a barbecue grill for all guests to enjoy.
This bed and breakfast is as beautiful on the inside as on the outside and the perfect place for couples during romantic getaways. There is also much to see and do in the area, like the Lafayette Science Museum, Lake Martin, and Acadian Village shopping center.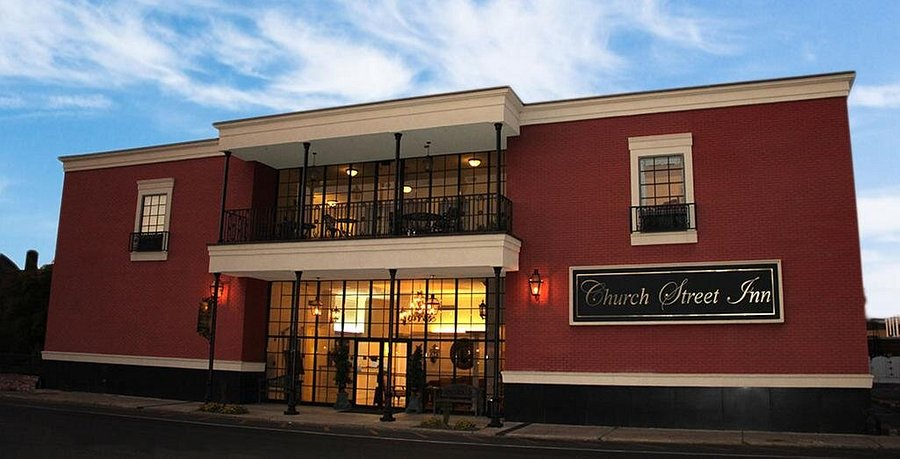 Price per night: $159 to $229
Best For: long stays, all couples
Availability: Easy to book, good availability
If you are heading to Natchitoches, Church Street Inn is the perfect hotel accommodation, especially for romantic getaways. Church Street Inn offers a delicious American breakfast every day, with the most amazing views of the entire city.
The hotel is near the Fort St. Jean Baptiste State Historic Site, Northwestern State University, and the Oakland Plantation. This hotel has fantastic amenities and is in a prime location, making it the perfect place to stay if you want to get the most out of Natchitoches.
Top Excursions & Activities To Do On A Louisiana Honeymoon
French Quarter
The French Quarter is the most popular destination in New Orleans, Louisiana. The whole neighborhood is made up of 13 city blocks that stretch along the beautiful Mississippi River. The French-styled architecture just exudes romance, and the city is full of lovely family-owned restaurants and stores.
Bourbon Street is the most well-known street in the quarter, and it is known for its antique shops, old-fashioned bars, live street performances, and delicious cuisine. There is no better place to go while you are in New Orleans.
Romantic getaways in New Orleans are pure magic; the city is bursting with energy, and there is so much to do there and see. Royal Street in New Orleans is also a must-see to explore while there. It is known for its galleries, restaurants, street performers, and shops. It is very easy to get lost in the romance of this incredible place.
Explore The Great Outdoors
Couples can explore the outdoor haven of Shreveport that lies along the great Texas-Louisiana border. Spend your time surrounded by nature and immerse yourself in Louisiana's outdoor adventures. Cypress Black Bayou is close to Shreveport, and Caddo Lake on the Texan border, are great spots for exploring, fishing, and picnicking.
You can also go on more exhilarating experiences like going on an airboat ride on the Bayou or zip-lining over swampland. There are so many fun and exciting outdoor things to do in Louisiana.
Grand Isle State Park
If you love the sun and the beach, visit Louisiana's premier beach destination, Grand Isle State Park. Romantic getaways here are unforgettable. The park covers the northeastern end of the Grand Isle and is home to some amazing wildlife.
You can indulge in various outdoor activities there, such as fishing, crabbing, bird watching, and more. The Grand Isle is also the perfect spot to go snorkeling, and you are sure to see some incredible marine life species.
Most couples enjoy snuggling on the beach and having romantic sunset picnics. You could also climb the observation tower to witness amazing panoramic sea views. There are also a few exciting festivals in the Grand Isle State Park. The International Grand Isle Tarpon Rodeo and the Grand Isle Migratory Bird Festival are very popular.
Sample Itinerary & Budget For Your Honeymoon To Louisiana
Before planning romantic weekend getaways, creating a budget and having an itinerary is always a good idea. Pre-planning things can save you time, stress, and money. But we also understand how stressful planning can be, so we have formulated a decent budget for a honeymoon in Louisiana, as well as a fun and exciting itinerary.
You can travel through Louisiana on a budget or splurge during your trip. Whatever you do, your honeymoon will be incredible, and Louisiana caters to everybody!
Flights: Flight prices will differ depending on your preferred airline and where you will be flying from. But in general, flights can cost between $84 and $378 per person.
Accommodation: You can pay as little as $100 per night or as much as $2000 per night. It depends on if you choose a budget stay or want the premier suite at your accommodation.
Food and drinks: On average, a meal can cost you $50.43. So budget around $150 per day on food. But note that some accommodations do include breakfasts and dinners. You can also opt for more budget restaurants instead of fancier ones.
Travel: It is best to travel by car. Public transport tickets can rack up quite a price by the end of your stay. Renting a car costs $39 per day.
Excursions: An airboat ride can cost $55 – $75 per person. The steamboat Natchez can cost $55.00 per person. Most gardens, towns, and other sights are free of charge.
Day 1 and 2
Time to unwind and settle into your lovely accommodation. Get comfortable and start to feel the stress falling away from you. Lie next to the pool or get into the hot tub at your accommodation and indulge in some drinks. Book a romantic dinner and head out into town for the night. Spend Day 2 with your partner at a local spa.
Day 3
Do a fun outdoor activity. You could go fishing, swimming, paddle boarding, or go on a boat cruise.
Day 4
Head out and explore the town you are staying in. Look at all the little shops, cafes, streets, and restaurants. Indulge in lots of local food and drinks.
Day 5
Do a historical or cultural activity. Visit one of the many museums or galleries and end your day by taking a romantic stroll around the neighborhood.
Day 6 and 7
Soak in the last few days of your honeymoon, book a spa treatment and spend all your time doing nothing. Lie by the pool, drink champagne in the hot tub, and then book a fancy dinner for your last night.
Frequently Asked Questions
How much does a Louisiana honeymoon cost?
An all-inclusive honeymoon in Louisiana can cost anything between $5,000 to $8,000.
When is the best time to visit Louisiana?
The best time to go to Louisiana is from mid-February to the beginning of May. It is also good to go from October to December.
What is the best way to travel around Louisiana?
The best way to get around Louisiana is to travel by car. There is more than enough public transport, but a car gives you much more freedom.
Start Planning The Perfect Romantic Honeymoon Getaway
Now that you know just how wonderful Louisiana is, there is no reason you shouldn't consider it for your honeymoon.
You will truly have an unforgettable and incredible honeymoon in this stunning state, especially if you are a couple who loves adventure and the outdoors!
Make sure to check out Couples Travel before you plan your trip for all the advice you need.