Massachusetts is quaint, charming, and perfect for a honeymoon. Being an original state, Massachusetts is steeped in history. It has witnessed some of the biggest events in U.S. history, from the Boston Tea Party to the first ever thanksgiving. Being the birthplace of so many traditions and inventions, it makes sense to kickstart your newlywed life here!
However, Massachusetts is not only a destination for history buffs. The state is also teeming with honeymoon resorts, alluring regions, and romantic activities and excursions. Take a romantic stroll around the harbors and lighthouses of Cape Cod and Martha's Vineyard. Hike through one of the state's 15 national parks. Or, take a dinner cruise around Boston Harbor.
In this guide, we'll cover all the best romantic honeymoon suites, sandy beaches, and sunset cruise excursions available!
What Makes Massachusettes Perfect For A Honeymoon?
Massachusetts has a unique diversity to it. This is what makes the state perfect for a romantic honeymoon. For couples who enjoy nautical excursions, you have Cape Cod, Nantucket, and the surrounding islands. Within the coastal areas, you'll find idyllic towns, seaside restaurants, and incredible beaches. Massachusetts isn't known as the Old Bay State for nothing!
Inland, you'll find the culturally rich state capital of Boston. Here, you can take the Freedom Trail around the city's fascinating museums, historic houses, and lush parks. By moonlight, you can sample the state's array of culinary treats – clam chowder and other seafood delicacies! Later, you can explore the city's vibrant nightlife.
Even further inland, you'll find the state's national parks, rich with wildlife. Here, you can go for a scenic hike, or take things easy with a romantic picnic. Don't worry about getting between the coast, the cities, and the countryside. Boston has one of the best-ranked transport systems in the U.S.! Plus, reliable bus services can take you further inland.
Best Areas To Stay in Massachusettes
Interestingly, Massachusetts is the seventh smallest state in the whole of the U.S.! This makes getting around incredibly easy. Still, you need to pick an area to base yourself in.
Back Bay and Beacon Hill
When staying in Boston, the two most romantic areas to stay in are Back Bay and Beacon Hill. These neighborhoods showcase the best in surviving Edwardian and Victorian residential architecture. Plus, they put you within walking distance of all the action. The Freedom Trail sets off in Back Bay. You'll also be close to Charles River, Boston Common, and Acorn Street.
Martha's Vineyard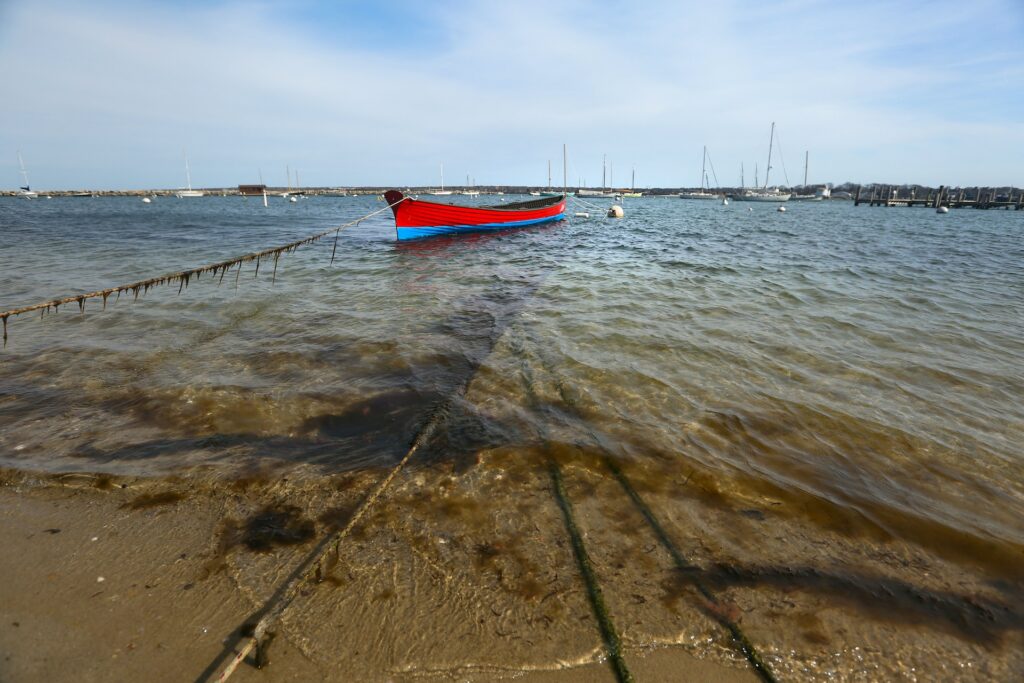 If you're going to Massachusetts for your honeymoon, chances are that you're going to be visiting Martha's Vineyard at some point. So why not lodge there? This island is located south of Cape Cod and has numerous romantic hotels scattered across its natural beauty. Staying here would poise you just a short stroll away from the most romantic beaches in the state!
Sometimes referred to simply as 'Vineyard', Martha's is a land of exquisite scenery. You could have a romantic picnic on Menemsha Beach or treat your partner at the shops on Circuit Avenue.
Nantucket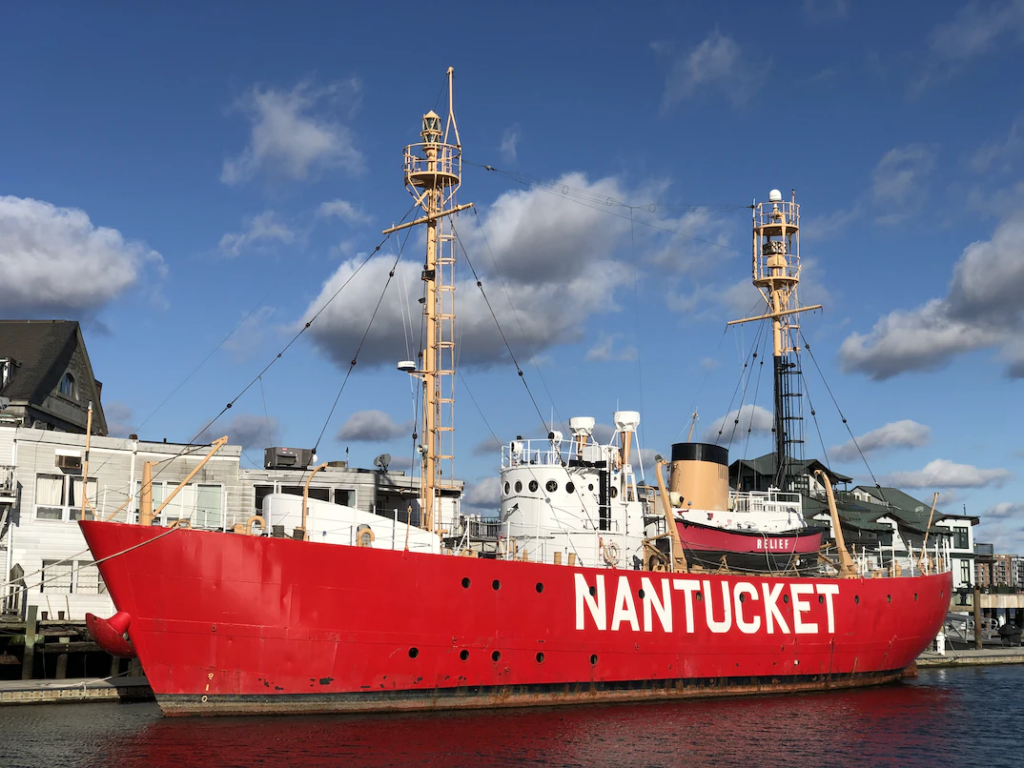 Nantucket is full of rich houses, beautiful scenery, and lovely honeymoon resorts. Despite being a small island, Nantucket packs in plenty of things to see and do. Simply strolling around the neighborhood is an activity in itself, given that the island is home to some of the most expensive houses in the whole of the U.S. Nantucket's coast especially is popular with divers.
On top of pristine beaches and historic New England buildings, you'll also find plenty of wildlife on Nantucket, particularly around the Coskata-Coatue Wildlife Refuge.
Best Honeymoon Resorts, Hotels, and Other Stays in Massachusetts
For the most part, Massachusetts is home to contemporary hotels with modern amenities. Still, even the most modern of its hotels give nods to the state's past. A lot of new hotels have opened in renovated New England buildings. While they've been given a modern twist, they still maintain an edifice of early American architecture.
Many of Boston's downtown gothic skyscrapers are now contemporary hotels. These awesome buildings are exciting to stay in, with their lofty views over the city. If you want to stay in unique accommodations in the capital, check out the Harbour area. The birthplace of the state, the Harbour is now home to several unique accommodations and highly rated resorts.
For a more traditional taste of Massachusetts, book a room at one of the Greek revival buildings which define the islands of Nantucket and Martha's Vineyard. Here, you'll find plenty of luxury B&Bs. Many of the accommodations here come with wrap-around balconies and picturesque views of the sea.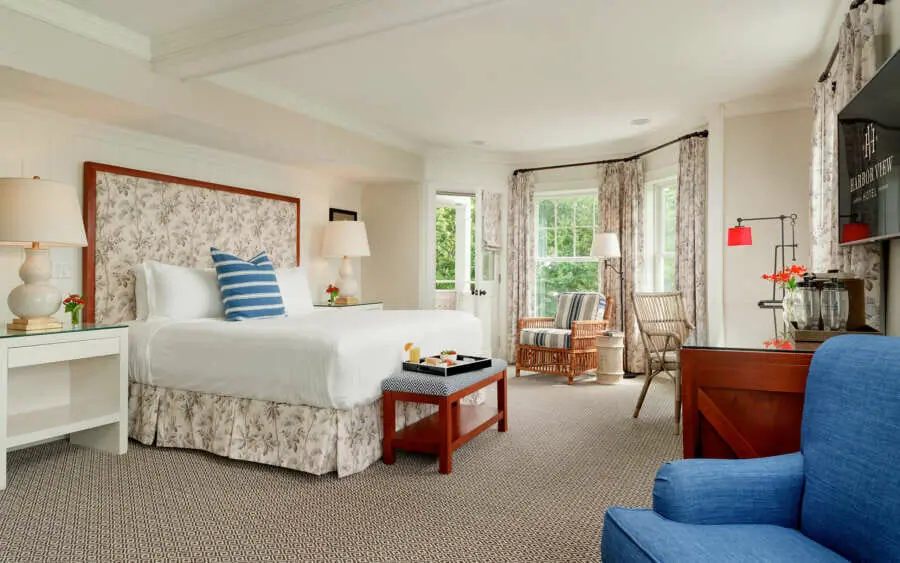 Price per Night: $495 – $1,895
Best For: All-inclusive, older couples
Availability: Easy to book
The Vineyard has been a popular honeymoon destination for centuries. No hotel preserves the glamour of the island better than the Harbour View Hotel. Positioned on the popular North Water Street, the Harbour View Hotel boasts some of the best resort views in the whole of Massachusetts. The Harbour, the lighthouse, and Chappaquiddick Island can all be seen.
Not only can these scenes be admired, but they can all be visited. The bustling town center is just a short walk away. It only takes a five-minute romantic stroll to reach the sands of Light House Beach! Inside the hotel, you'll get to know the real character of Martha's Vineyard. The rooms boast rich oak floorings, sophisticated furnishings, and paneled walls.
When you feel like leaving these large, comfortable rooms, you can frolic poolside at the large swimming pool. Enjoy a few drinks on one of the cabanas, or rent out one of the hotel's Mercedes-Benz to explore the island.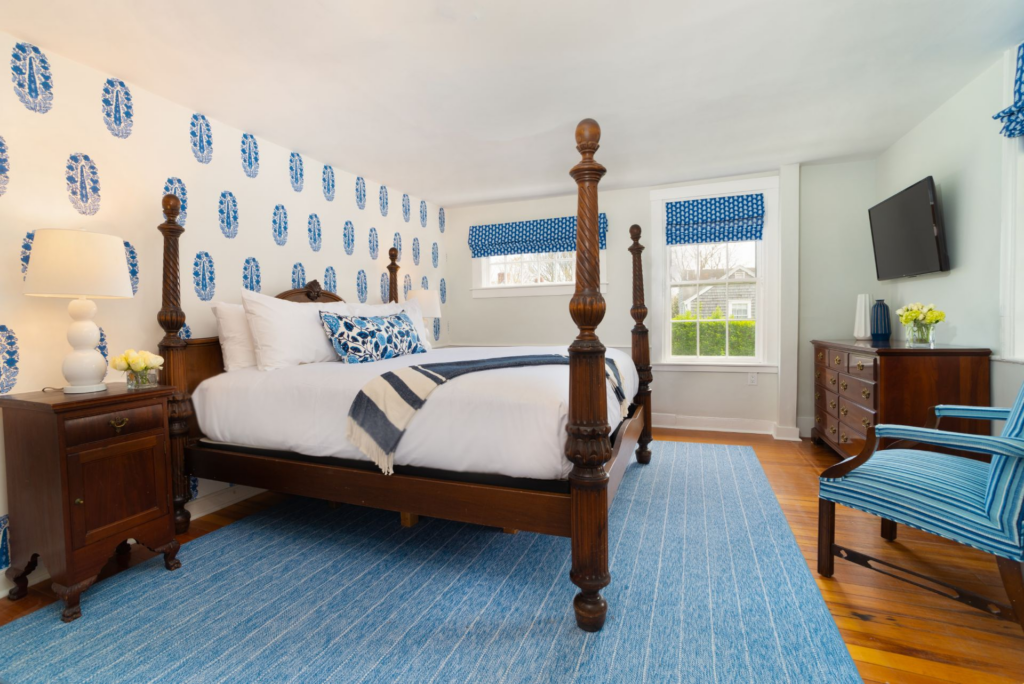 Price per Night: $139 – $724
Best For: All-inclusive (breakfast), privacy, boutique hotel
Availability: Limited
The Nantucket Resort Collection consists of three very distinct accommodation types. Each of which tells a different story about the history of the building through its architecture. Try mansion living at the Chapman House, with its white-tiled en-suite baths and marble decor. Sample traditional B&B hospitality at Regetta Inn or the historical Sherburne Inn.
Each of these three properties is positioned around the town center of Nantucket, with the main resort being located on Step Lane. In most rooms, large windows afford spectacular views over the Nantucket harbor. Stylistically, these buildings maintain a 17th-century townhouse appeal – both inside and out. Only a limited number of rooms are available.
Outside, you can enjoy the opulent gardens, landscaped for exclusive use by Nantucket Resort Collection guests. Breakfast is included for all guests. Besides this, the resort offers few amenities – but this doesn't matter. Each house puts you right in the action of Nantucket town. Jetties Beach is just a 15-minute stroll away, with plenty of restaurants along the way.
Price per night: $161 – $494
Best for: Young couples, romance packages, short stays
Availability: Easy to book
If you're spending a few nights in Boston and you want to get involved in the downtown action, check in at the Godfrey Hotel. All the major downtown attractions surround this hotel. For culture vultures, the Museum of Fine Arts, the Boston Theatre District, and Sculler's Jazz Club are all nearby. The Boston Harbor is out in front, and Logan Airport couldn't be closer.
It's a hotel that's great for young couples looking to soak up the Boston nightlife. On the outside, the hotel features an early 20th-century gothic-revival facade. On the inside, however, you're met with contemporary plushness. The onsite RUKA Restobar is a great spot to start your night, and the George Howell Coffee is a great place to start your day.
A great pitstop on your Massachusetts honeymoon, this hotel offers couples a special All You Need is Love package. This includes several romantic perks like bubbly, chocolate, and luxury occupancy bedrooms. We'd recommend the Executive King Bedroom for honeymooners, which combines comfortable furnishings with unbeatable views of the Boston skyline.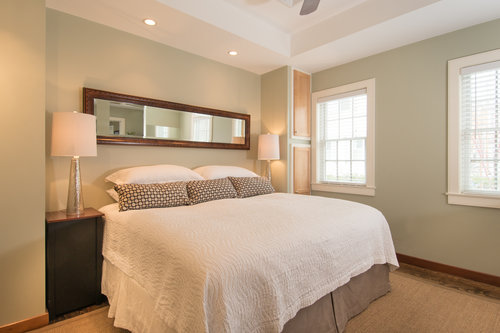 Price per night: $82 – $262
Best for: Adults only, private jacuzzis
Availability: Limited
If you're seeking a quiet retreat in the Province Town area, the 8 Dyer Hotel is a fantastic adults-only option. Located in a large New England-style house, this hotel allows newlyweds to enjoy the early days of their marriage in peaceful and homely surroundings. The 8 Dyer boutique hotel only features seven rooms in total, so tranquility is guaranteed.
The limited guests are treated exceptionally well, especially in the rooms. All bedrooms feature a private jacuzzi. The premium rooms also boast a patio or balcony area from which you can spectate the coast. Onsite amenities include an outdoor swimming pool, sauna, sun terrace, and restaurant. The complimentary breakfast is served à la carte.
Out of all the quaint towns positioned along the coast, Province Town offers some of the most beautiful scenery and attractions. The area is particularly well known for its beautiful beaches, with Race Point Beach and Herring Cove Beach just a short journey away. Plus, this resort puts you right in the middle of the sleepy town center, where you'll find other intrigues.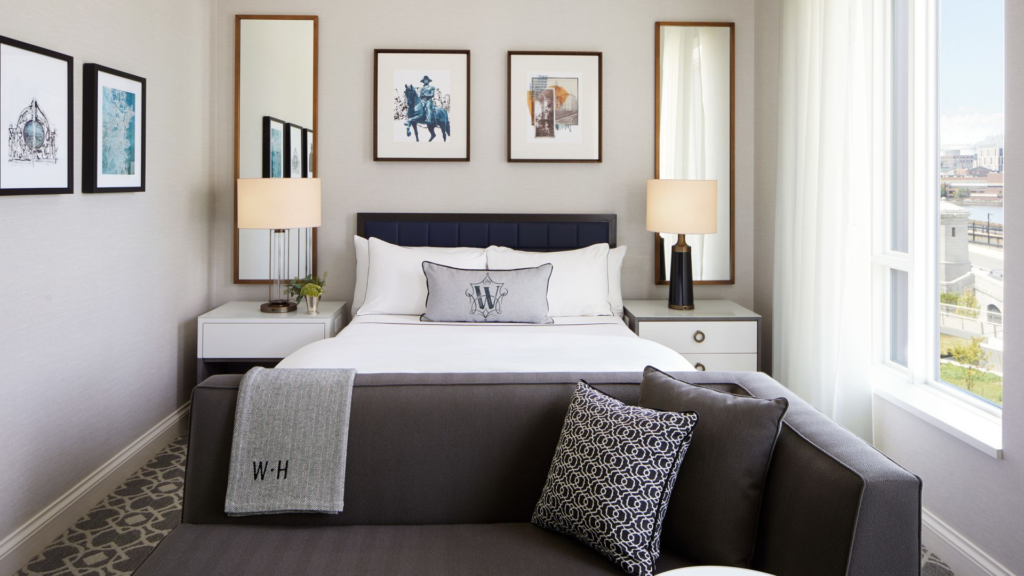 Price per night: $340 – $1,124
Best for: Romantic packages
Availability: Easy to book
The Whitney Hotel puts you right in the center of Beacon Hill. This is a neighborhood in Boston full of historic buildings and romantic things to do. The Freedom Trail starts nearby, and the Boston Public Gardens are only a 10-minute stroll away. There are plenty of cute streets where you can take your honeymoon portraits, such as the ancient Acorn Street.
We consider The Whitney one of the best Massachusetts honeymoon resorts due to the exceptional Romance Package offered. This package includes discounts at the Bella Santé Day Spa and the Peregrine Restaurant. It also includes complimentary champagne, chocolates, and late checkout! The Peregrine serves up a delicious array of Mediterranean Cuisine.
Not only for dining, the Peregrine also has an attractive lounge area where you can enjoy a few romantic drinks late into the night. In terms of rooms, this romantic hotel offers King sized rooms that are fit for newlyweds. Not only are there king beds featuring plush mattresses and fixtures baths, but you and your partner can also enjoy in-room dining.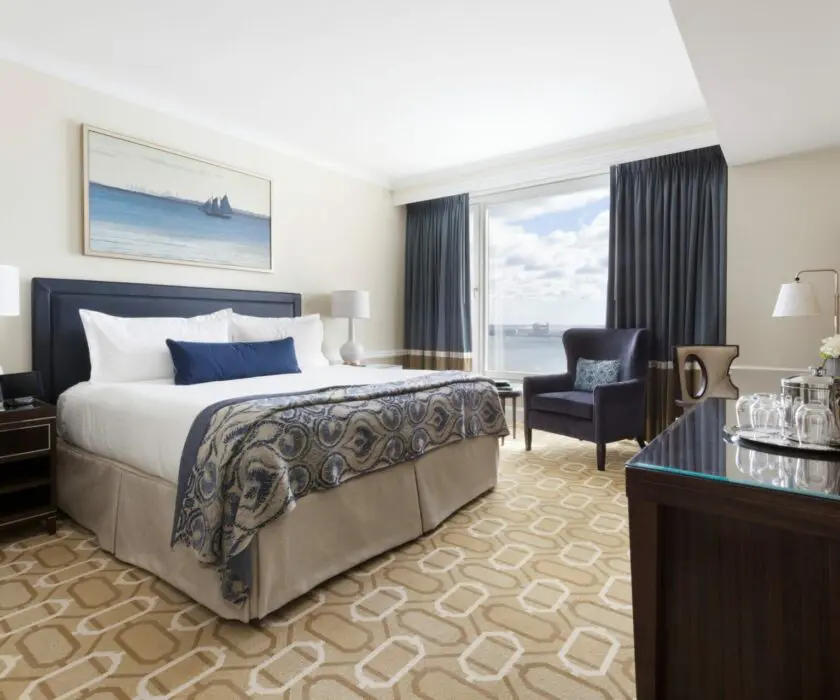 Price per night: $315 – $3,000
Best for: Older couples, long stays
Availability: Easy to book
This five-star hotel is the most luxurious you're going to find on the Boston Harbor. Classed as an urban resort, you can find this hotel right under Boston Harbor's iconic 60-foot archway. Wake up to the coastline every morning, and look out onto the Atlantic Ocean as you fall asleep at night. Each superior 500-square-foot room features maritime-inspired decor.
The Premier Room is the most suited to guests on their honeymoon. With a separate living room, a porcelain soaking tub, and beautiful mahogany walnut wood furniture. The large windows will either give you a clear view over the Boston Harbor, skyline, or the Atlantic. The rainfall shower sets you up for a fun-filled day exploring downtown Boston and the Harbor.
The Boston Harbor hotel keeps guests entertained with its range of diverse onsite amenities. Never lose sight of the ocean by dining at the Rowes Wharf Sea Grill & Bar, which sits right on the waterfront. The next day, you and your partner can enjoy a couples' massage at the on-site spa.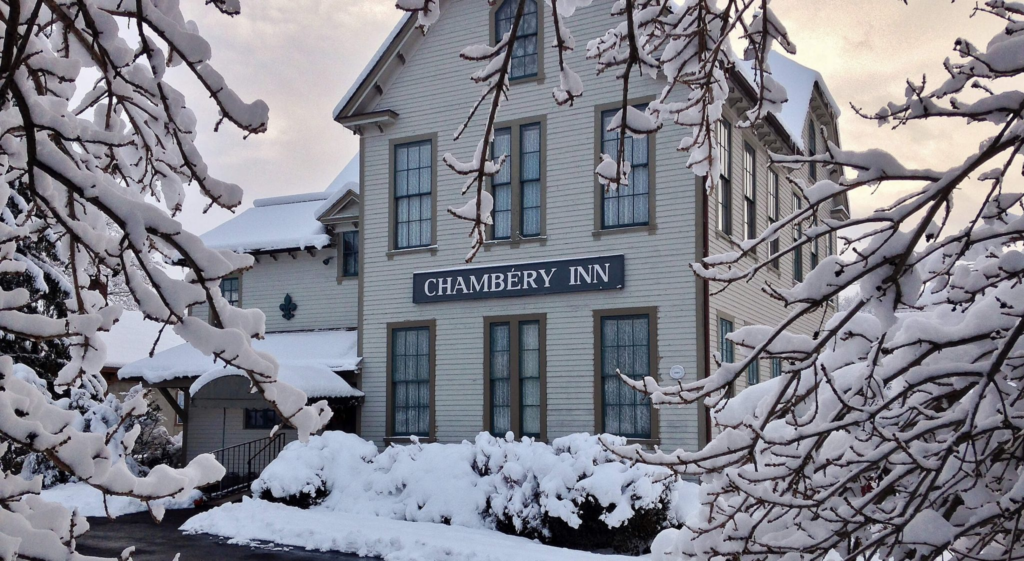 Price per night: $134 – $450
Best for: Active couples, quiet retreats, countryside accommodation
Availability: Limited
This is our favorite hotel in western Massachusetts. If you want to position yourself close to the hiking trails and splendor of the Berkshires, consider this beautiful inn. The French-inspired Chambery Inn is located right on the high street of the sleepy town of Lee. The town is home to a few restaurants, bars, and shops, but the real highlight is the surroundings.
A stay at the Chambery Inn will put you within walking distance of some of the most stunning landmarks in the Berkshires. Go for an exciting hike through the Great Barrington or ascend Mount Greylock. You could even visit the Norman Rockwell Museum, which is only a 15-minute drive away. Once back in Lee, you can dine on French cuisine at the Chez Nous.
Once you're back at the Chambery Inn, you can enjoy the privacy afforded by the spacious rooms. The 500-square-foot rooms boast canopied beds, antique fireplaces, and eight-foot windows. After a hike, you can soak in the private jetted tub. All guests are delivered a complimentary breakfast in the morning. You could also order a masseuse to your room.
Top Excursions & Activities To Do On A Massachusetts Honeymoon
North End Food Tour
Boston has a great international food culture, which is best displayed in the 'Little Italy' of the city. Located in the north end of the city, this district maintains its rich Italian heritage. On the North End Food Tour, you can walk over the 17th-century cobblestones and sample food from the best restaurants, bakeries, and delis.
Cape Cod National Seashore
The Cape Cod National Seashore is protected by the U.S. National Park Service. Why? Because it is a thing of exceptional beauty. It's perfect for a long romantic stroll or a swim. Luckily, Cape Cod is home to some of the best Massachusetts honeymoon resorts, so you can spend the night there too! If not, you can easily catch a train to Cape Cod from Boston.
Boston Sunset Cruise
Hop aboard the Northern Lights yacht and admire the Boston skyline as the sun dips below it. From the water, you'll be able to admire the Boston Harbor in all its glory. The Northern Lights Cruise allows you to gently cruise along the coast for 2 hours.
If you'd like something more romantic, you could upgrade to the Signature Dinner Cruise on Spirit of Boston. This cruise provides you with an all-you-can-eat buffet, live music, and a cabaret show.
Norman Rockwell Museum
This museum not only showcases some of the artist's finest work but is also located nearby the verdant Berkshires. The surrounding countryside is just as captivating as the legendary artworks found inside!
Sample Itinerary & Budget For Your Honeymoon To Massachusetts
Although a small state, Massachusetts is bustling with activity. You really need to plan if you want to see everything. So, once you've booked a romantic hotel, we'd recommend organizing an itinerary. Here's a rough outline of how much to budget and how you could fill a week-long romantic vacation in Massachusetts:
Activity and Cost
Travel – $240 (For two people. To cover travel throughout the state as well as throughout Boston).
Accommodation – $574 – $21,000 (Depending on where in the state/level of luxury)
Food and Drink – $560 – $1,500
Signature Dinner Cruise on Spirit of Boston – $300
North End Food Tour – $190
Norman Rockwell gallery visit – $40
Sample Itinerary
Day 1 – Fly into Boston Logan International Airport and check into the hotel. If you're tired, relax and enjoy your hotel's amenities and save the big city for Day 2. If you've got the energy, you can get out and explore the downtown area and harbor. Perhaps enjoy a spot of whale watching. In the evening, dine at your hotel's restaurant and finish off with a few drinks.
Day 2 – Get up early and go on a guided tour of the city. Take in the famous sights of Boston Common and Beacon Hill. Take lunch at one of the award-winning restaurants in the north end. Later in the afternoon, go on a romantic cruise and take in the sunset. Later, head out to the Downtown or Allston area for drinks.
Day 3 – Get up early and take a train to Cape Cod. Walk on the sandy beaches and visit the area's famous lighthouses. Have lunch at one of Cape Cod's famous restaurants before spending the afternoon swimming. Enjoy a beach sunset before getting the train back to Boston.
Day 4 – Outdoor enthusiasts should take an early bus to the Berkshires, which are positioned in the western region of the state. Here, you can partake in hiking and meanderings through the district's various scenic trails. If you're not adventurous, you can stay in Boston and hit up the art galleries.
Day 5 – Take a ferry ride over to Martha's Vineyard. Here you can have another beach day, or spend some cash along Circuit Avenue. There are plenty of restaurants throughout the island, including The Dunes and the Woods Restaurant. Spend your evening dining and soaking up the atmosphere of the island. Spend the evening at a romantic hotel.
Day 6 – Get up early and take a ferry over to Nantucket. Enjoy the small-town island feel and go lighthouse spotting. Enjoy a few drinks at Cisco Brewers. Get the ferry back over to Boston Harbor in the evening.
Day 7 – Spend your last day enjoying some of your favorite restaurants, parks, and landmarks of Boston.
Frequently Asked Questions
How much does a Massachusetts honeymoon cost?
To spend a week-long honeymoon in Boston, you'd have to spend at least $1,800. Of course, it's possible to do it for less than this, but it means missing out on the full Massachusetts experience. On the other hand, you could end up spending over double that figure if you like to live extra luxuriously.
When is the best time to visit Massachusetts?
Massachusetts is busy all year, so it's difficult to pick an ideal time to visit. Of course, the shoulder seasons (between low and high seasons) would be preferred if you want to get cheaper hotel rates. In the second week of September, you could enjoy the Boston Arts Festival.
What is the best way to travel around Massachusetts?
Boston itself has a great transport system, making it easy to get around the city. If you want to get out further afield, trains are reasonably priced and reliable. Plus, they can get you to the main attractions, such as Cape Cod and the Berkshires.
Start Planning The Perfect Romantic Honeymoon Getaway
Massachusetts clearly has a lot to offer honeymooners planning the ultimate romantic getaway. From its bountiful beaches to its rolling national parks, there's something for every kind of couple.
If you're planning a week-long vacation, we'd recommend splitting your time between a few different spots. Boston is vibrant and full of things to do, but it's definitely worth exploring Cape Cod, Martha's, and Nantucket.
When it comes to booking hotels and mapping out your week, refer to the information we've provided above to create your perfect itinerary. If you're not totally sold on Massachusetts honeymoon resorts, check out Couples Travel's other resources to find the perfect destination for you!