Have you always dreamed of a warm, sun-soaked romantic escape? Miami, Florida, might just be the place for you!
Miami is a bustling destination with a vibrant night scene and relaxing beach days. There is never a dull moment – but that doesn't mean you can't check in to a full-service spa to unwind after a busy day.
We have compiled a "romantic getaways in Miami" guide to provide you with everything you need to know about a romantic break. Read on to learn about the best romantic hotels and activities that Miami Beach and its surrounds have to offer!
What Makes Miami Perfect For A Romantic Getaway?
The lively nightlight and turquoise sea is a draw for many, while others flock to the seaside village for its all-inclusive resorts.
Traveling around Miami is easy if you have a car. It will allow you to see all the best spots and catch an amazing sunset from one of the many beaches.
Regarding budget, there is something for everyone in the Magic City. You can splurge on an all-inclusive hotel stay with tennis courts and a full-service spa. Otherwise, opt for a chain hotel that offers all the modern amenities you require.
Most Romantic Getaways Miami
This city is great for couples who enjoy the ocean (or at least enjoy looking at an ocean view from their Miami romantic hotels!).
We have narrowed down the best locations and Miami romantic hotels to help you plan your next trip. We have also included some of our favorite couple's activities while visiting each area of Miami.
South Beach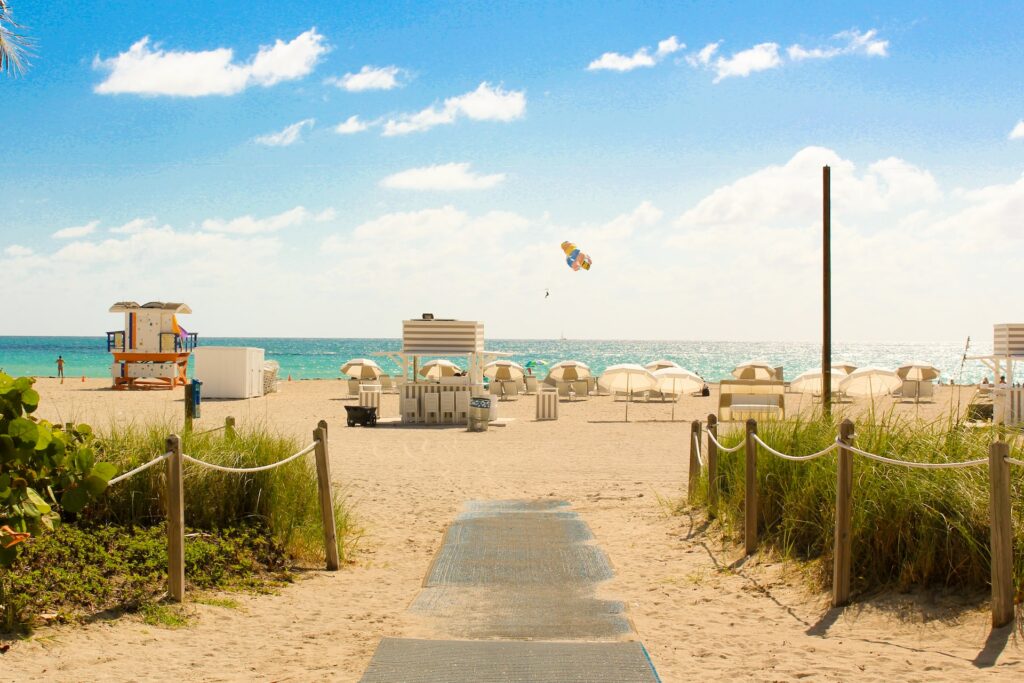 South Beach is a popular Miami Beach neighborhood deserving its own mention.
People are roller skating around the walkways, there is a lively night scene, and the rich, powerful, and up-and-comers are drawn to this area.
Here are our favorite couple's activities in South Beach:
Best Accommodations in South Beach: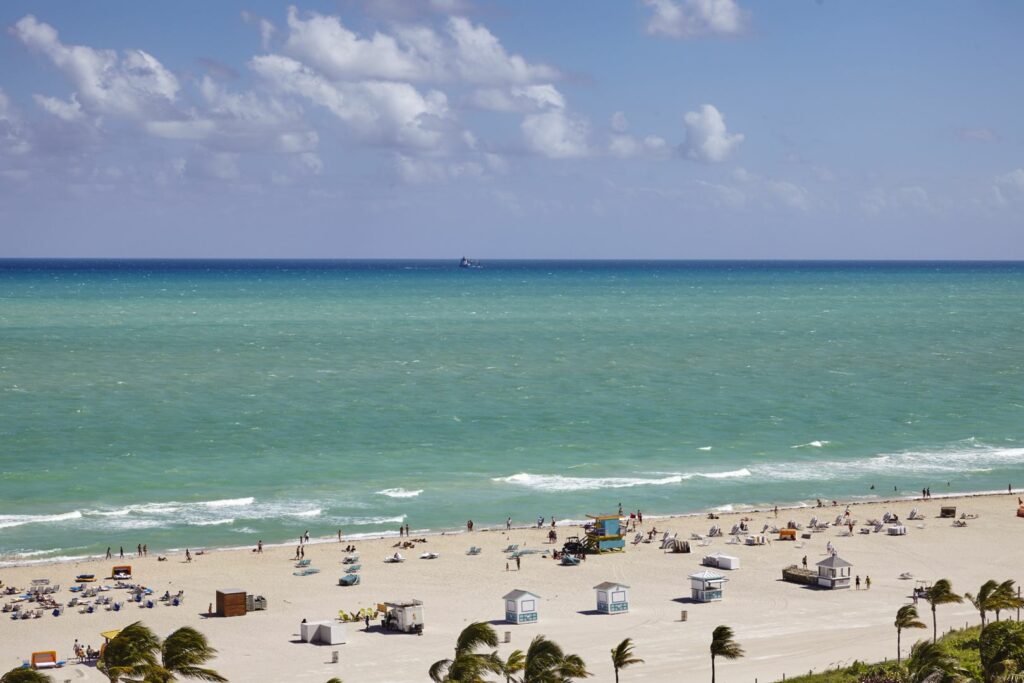 Price per Night: $449 – $6,405
Loews Miami Beach Hotel is a South Beach hotel like no other.
Loews Miami Beach Hotel is located in the heart of the Art Deco District, right on the beachfront. It is an oceanic icon, with 790 rooms and 69 suites to choose from. To treat yourself and your partner, check into the most exclusive Presidential Ocean Front Balcony Suite.
Other amenities at Loews Miami Beach Hotel include a pool deck with a hot tub, and adult-only cabanas by the pool. The hotel also has a full-service spa and fitness center, authentic Miami cuisine, and complimentary WiFi.
A stay at Loews Miami Beach Hotel is not complete without pre-booking your breakfast for the duration of your stay. The Bed and Breakfast package at Loews Miami Beach Hotel includes a stay in one of the luxurious rooms and breakfast credits to cash in at one of the hotel restaurants.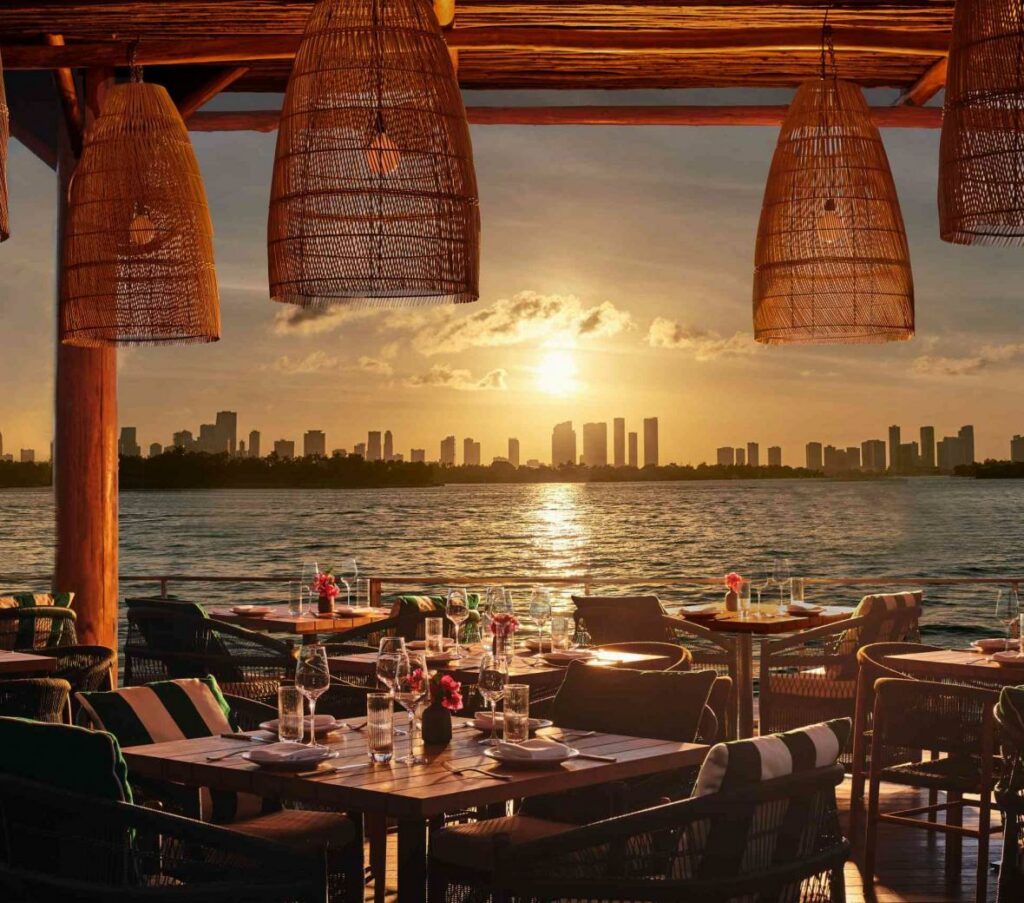 Price per Night: $479 – $1,979
The Mondrian South Beach Hotel is situated on the spectacular Biscayne Bay.
The Suites at the Mondrian South Beach Hotel offer spectacular views of the Miami skyline and ocean. Each suite has a convenient, functional kitchenette to enhance your stay.
The Mondrian South Beach hotel is one of the best in Miami due to its proximity to activities and beaches. There is also plenty at the hotel to keep you occupied.
You can book a couple's massage at Baia Beach Club's full-service spa or reach your couple's goals at the fitness center. The club also offers guests at the Mondrian South Beach Hotel a dining experience with an ocean view that will take your breath away – if the food and drink don't do so already!
There are a couple of packages to choose from at the Mondrian South Beach Hotel. We recommend the Wellness On The Bay Package, which includes a spa credit to use during your stay.
Price per Night: $249 – $1,149
The Hotel Victor South Beach is the perfect destination for couples who are looking for more privacy. This boutique hotel oozes luxury, and although it is located in the heart of the action of South Beach, it is a tranquil oasis amid the madness.
Rooms at this luxury boutique hotel have that relaxing "beach house" atmosphere. There are also penthouses (each with a private hot tub) for couples who want something extra.
There is a full-service spa, swimming pool, and fitness center. If that is not for you, head over to Gianni's for a blend of Italian and Mediterranean flavors.
Sunny Isles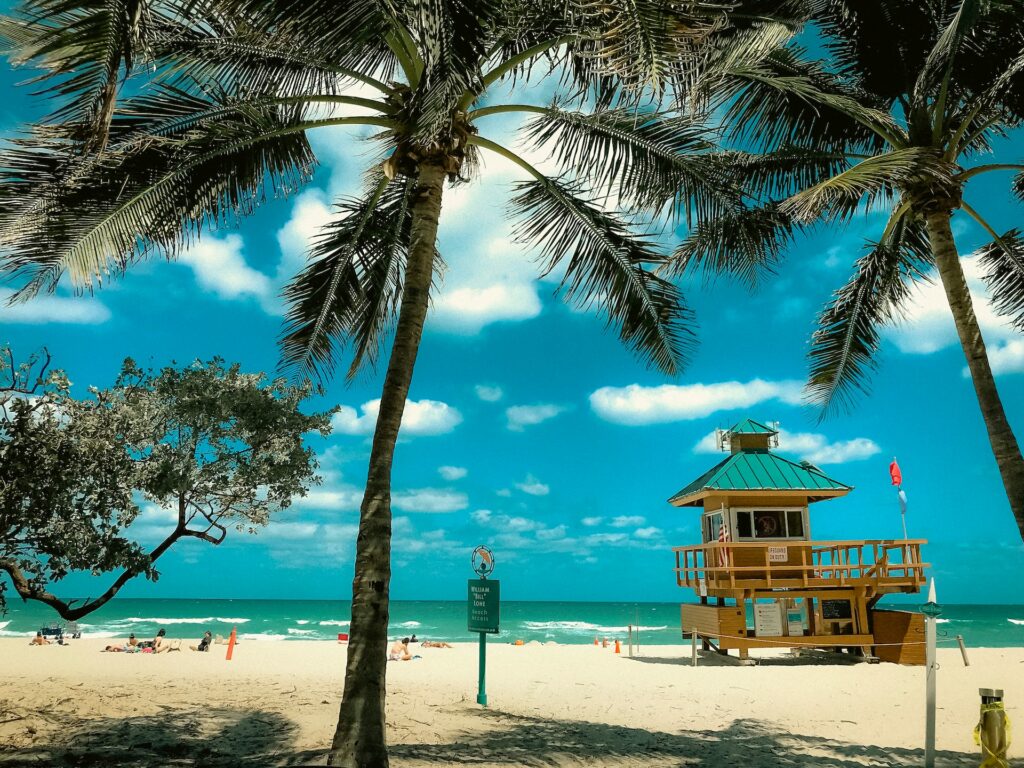 Sunny Isles is located north of Miami Beach, and is a paradise in itself. There are expanses of luscious outdoor greenery, multiple golden beaches, and plenty of resorts.
Sunny Isles has a variety of activities, but adopts a more laid-back atmosphere than other parts of Miami.
Here are our top picks for couples staying in Sunny Isles:
Best Accommodations in Sunny Isles: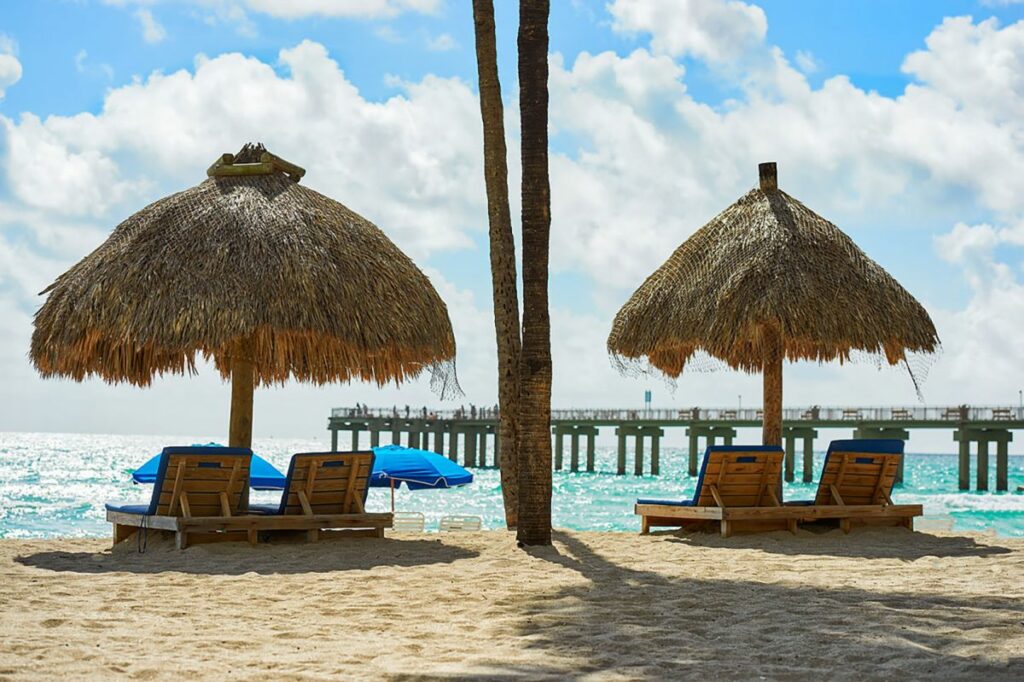 Price per Night: $176 – $581
The Newport Beachside Hotel is one of the most romantic hotels in Miami for couples on a budget. This imposing hotel may not look like much from the outside, but its location right on the ocean is one of the most desirable locations in the city!
Guests at the Newport Beachside Hotel get to enjoy direct access to soft sandy beaches, warm waves, and the Newport Pier.
The Newport Beachside Hotel and Resort is a AAA Diamond-rated hotel, offering guests everything they could possibly need. There are City View, Ocean Front, and Partial Ocean View rooms available.
Other amenities at the Newport Beachside Hotel include private beach rentals (chairs and umbrellas), fishing from the pier, a full-service spa, a fitness center, and even some pet-friendly rooms if your pet weighs less than 40 lbs.
There are several dining options at the Newport Beachside Hotel, including Kitchen 305, the Lobby Bar, and Cappuccino's if you want a snack on the go.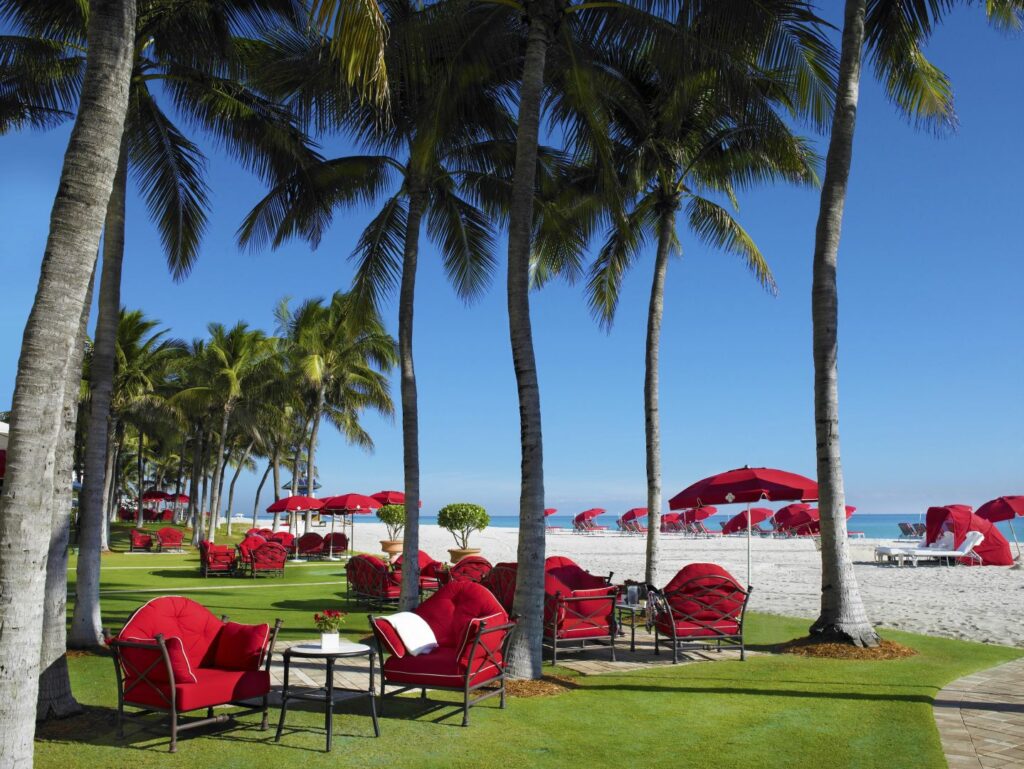 Price per Night: $744 – $7,200
Acqualina Resort is a luxury hotel and beach resort located on 4.5 acres of seaside property.
Couples who stay at Acqualina are invited to a world of luxury. With world-class dining, three oceanside swimming pools, a full-service spa, and signature red beach umbrellas, you will surely enjoy your stay at the resort.
There are a variety of guest accommodations available. You can stay in a luxury guest room or one of the large three-bedroom suites with all the modern amenities you desire.
We recommend you book the Spa Package for Two. The package includes a stay in an oceanfront room, a $1,000 spa voucher, and a lunch or dinner experience.
If a relaxing spa experience isn't your cup of tea, head to the adult-only pool, relax at the oceanfront lounge or rent a cabana for ultimate poolside relaxation.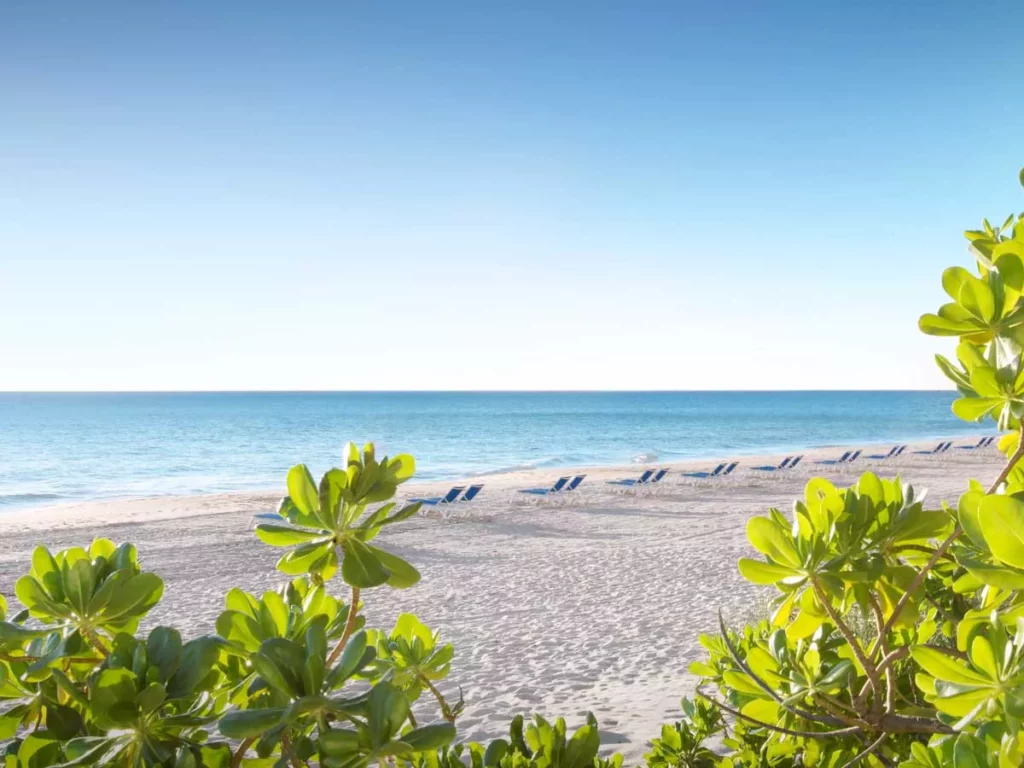 Price per Night: $231 – $991
Solé Miami is in a prime location on Sunny Isles Beach! From here, you can easily reach Bal Harbour, South Beach, Golden Beach, and Aventura.
It is great for couples looking to enjoy the Art Deco District's nightlife.
Guests at Solé Miami get to enjoy private access to the beach, but if you would rather skip the sand, the oceanside pool is the place to be.
The BALEENkitchen restaurant serves exotic, local flavors. If you are easily bored, there are plenty of unique daily activities at Solé Miami to keep you occupied. There is a daily happy hour, live music, and regular festivals on the calendar.
The rooms and suites at Solé have been described as "your own personal oasis," with bold yet calming colors and a peaceful atmosphere.
Miami Beach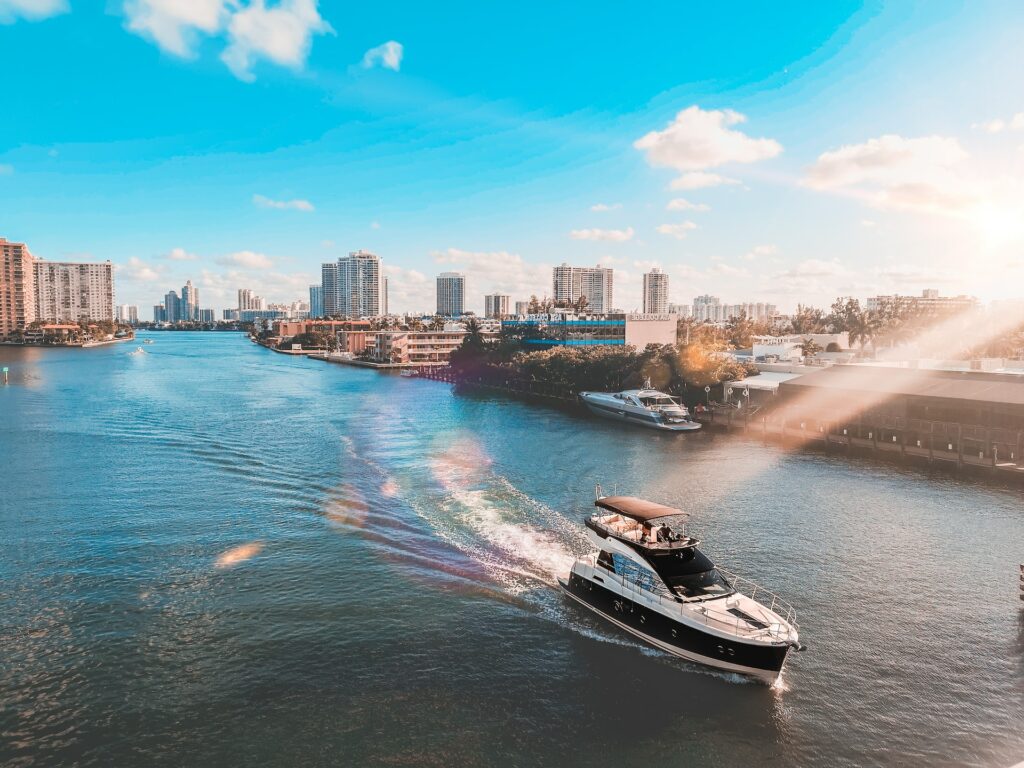 Miami Beach is the most popular destination in the city. Located just north of South Beach, this popular tourist destination attracts millions of solo travelers and couples each year.
Miami Beach is home to Michelin-starred restaurants, water sports, art galleries and spa resorts.
We have narrowed down our top excursions and activities for couples staying in or visiting Miami Beach:
Best Accommodations in Miami Beach: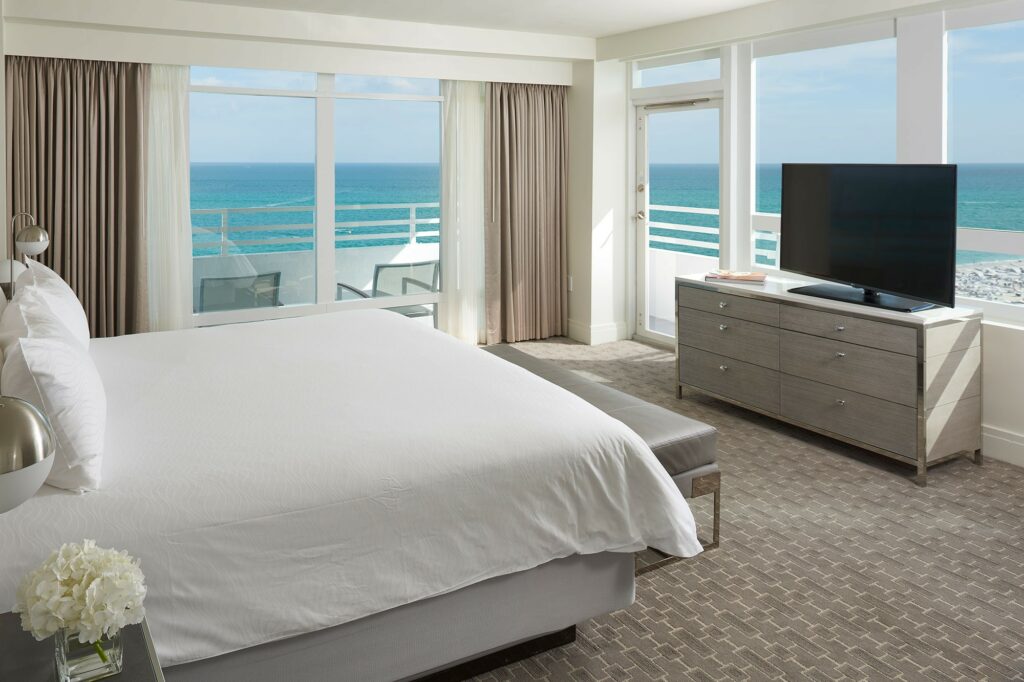 Price per Night: $453 – $4,999
The Fontainebleau Miami Beach is a place where old-school glamor meets modern luxury. Whether winter or summer, the Fontainebleau Miami Beach is one of the top Miami hotels.
Luxuriously appointed guest rooms, junior suites, two-bedroom suites, and luxury suites are available. For couples looking to splash the cash, there are also specialty suites, such as the Le Sable Presidential Suite, with uninterrupted ocean views.
You can unwind at Lapis, a full-service spa, or get the blood pumping at the many activities at Fontainebleau Miami Beach. Apart from the pool and beach, you can rent private cabanas, explore Fontainebleau Miami Beach merchandise at the on-site shop, or stroll around the Fontainebleau marina.
There are also dining options at the Fontainebleau Miami Beach for all palates. Dine in your room, enjoy a private dining experience, or eat at one of the four restaurants at the hotel.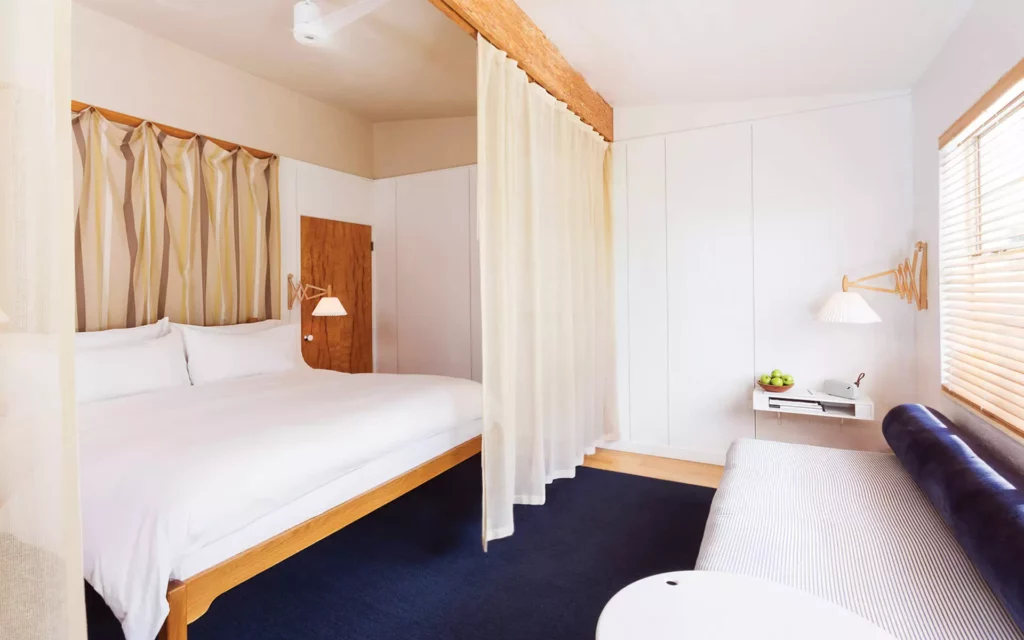 Price per Night: $420 – $1,309
The Standard may seem like just another Miami Beach beachside hotel, but this slightly more affordable spa hotel option is great for guests who enjoy sipping cocktails in an infinity pool without emptying their bank accounts.
This hotel is less like a traditional hotel and more like a full-service spa with guest rooms. The rooms continue the spa theme, many with a private balcony and a soaking tub. Guests can enjoy workshops from renowned yogis and spa treatment practitioners.
Other amenities include a bar, nail salon, gym, cafe, steam room, and Lido's Grill.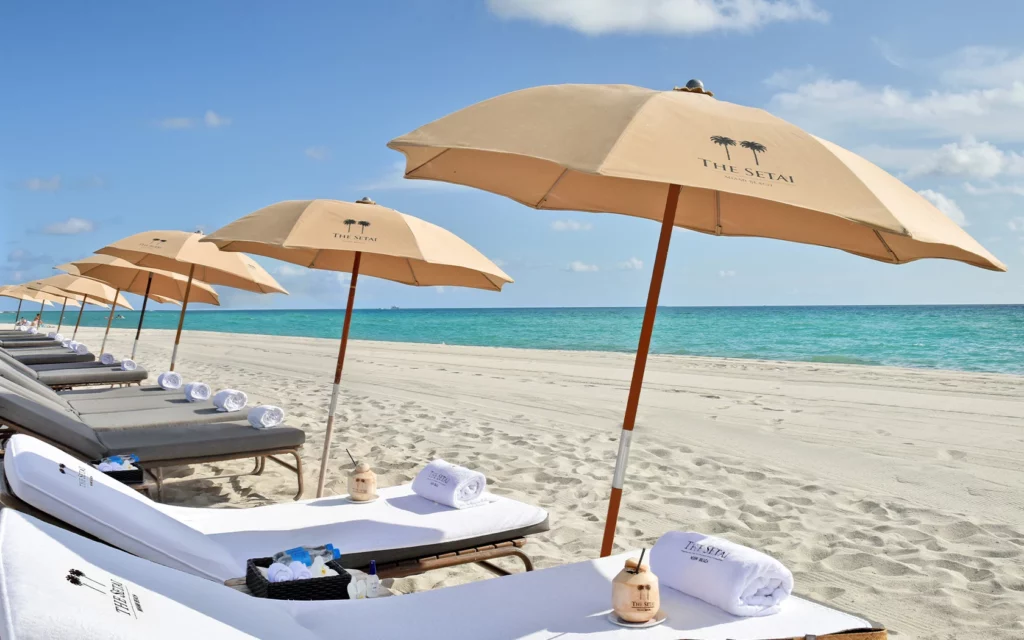 Price per Night: $1,050 – $3,500
The Setai is located in the heart of the Art Deco District. It is one of the best Miami hotels for couples looking for something different.
This boutique hotel boasts all the modern luxuries you would expect from a world-class hotel, with pools overlooking the beach, Art Deco and Ocean Suites and amazing seafood at the Ocean Grill.
The Valmont Spa will cater to your every need when it comes to relaxation.
Coconut Grove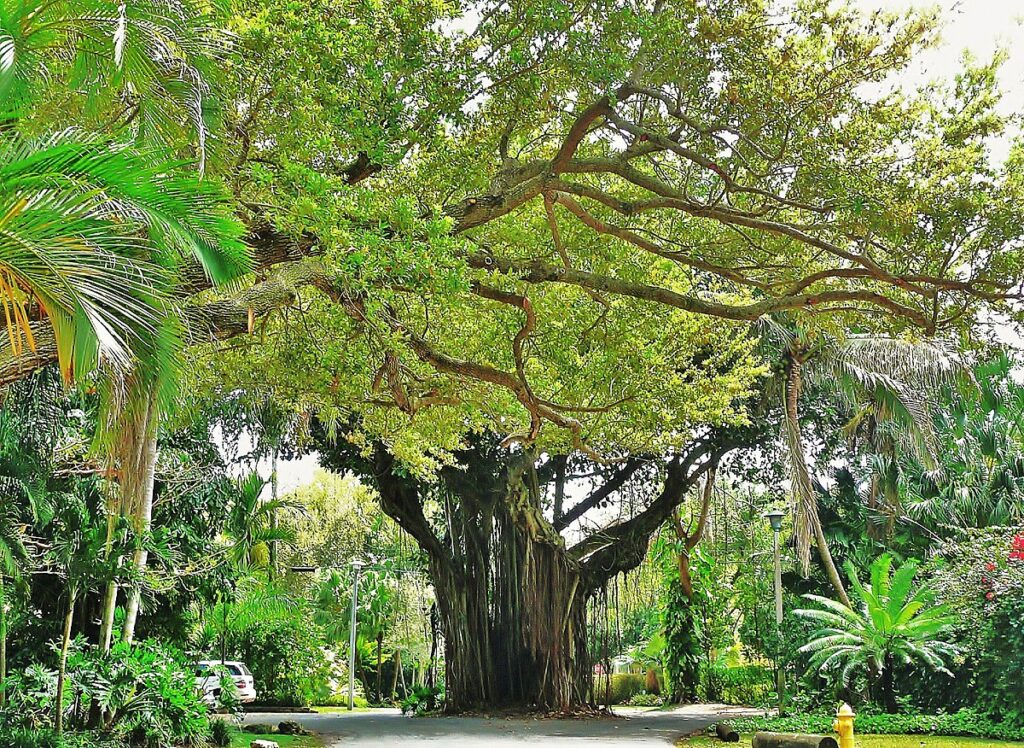 Coconut Grove is one of the most vibey areas of South Florida. It is home to many museums, galleries, restaurants, and amazing hotel stays! The Coconut Grove Art Festival is held here every February.
If you are not there during the festival, here are some other romantic activities in Coconut Grove:
Best Accommodations in Coconut Grove: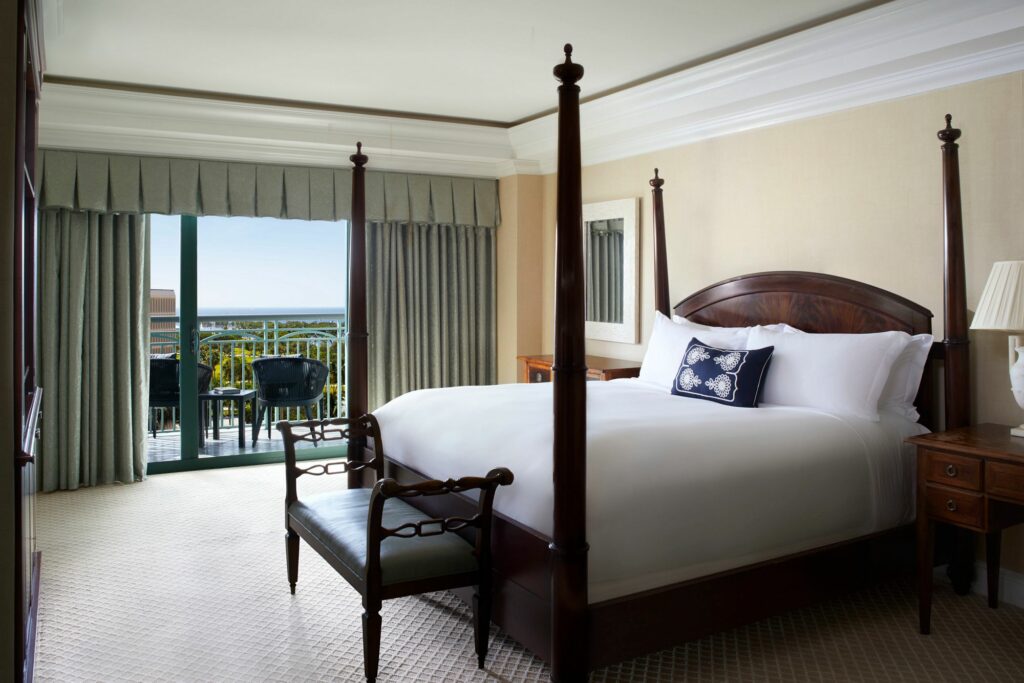 Price per Night: $575 – $1,169
Let's face it, when you think of luxury Miami hotels, you probably think of a Ritz-Carlton. And you are not wrong! If you want that celebrity treatment, staying at the Ritz-Carlton at Coconut Grove is the way to go.
Book a poolside massage or a private spa session in your room. Speaking of rooms, couples can stay in Deluxe Rooms or splurge on the Ritz-Carlton Suite with uninterrupted views of the bay.
Enjoy cocktails and live music at The Commodore, tuck into fresh seafood at Isabelle's Grill Room and Garden, or grab a sandwich and salad at the Poolside Cafe.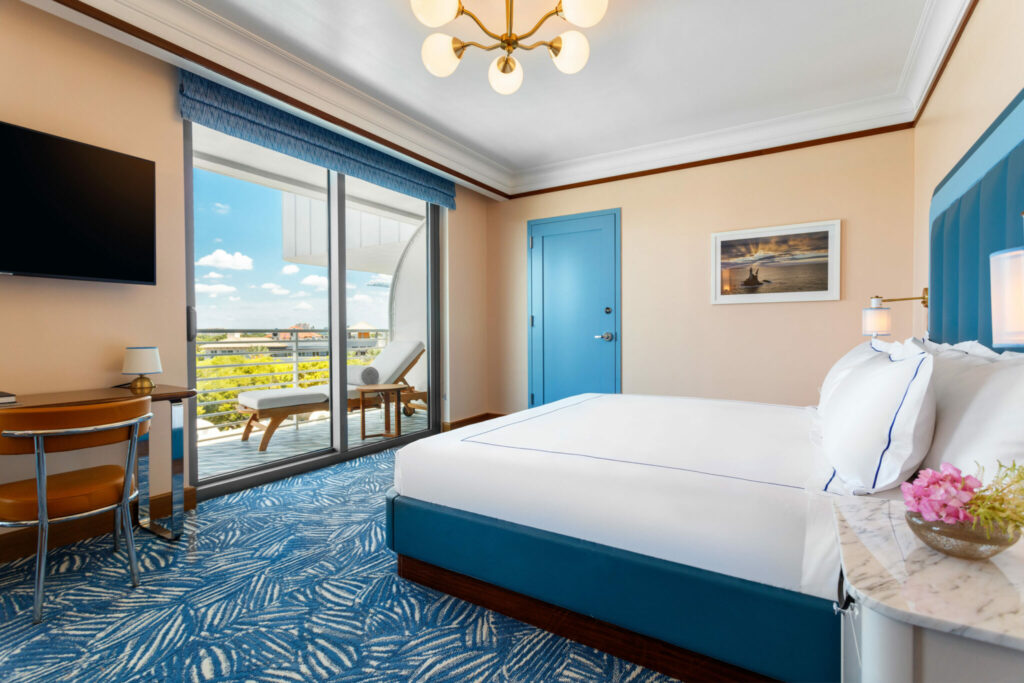 Price per Night: $367 – $682
Mr C Miami is a quaint and vibrant hotel, perfectly matching its location in the lively neighborhood.
Guests at the hotel are spoiled with views of Biscayne Bay and the iconic Miami skyline. There are 100 rooms to choose from, with many of the suites featuring a private balcony.
Sundowners at the rooftop Bellini Restaurant and Bar is simply a must! Or, enjoy a sweet treat at Il Giardino, where you will find the best crepes in town!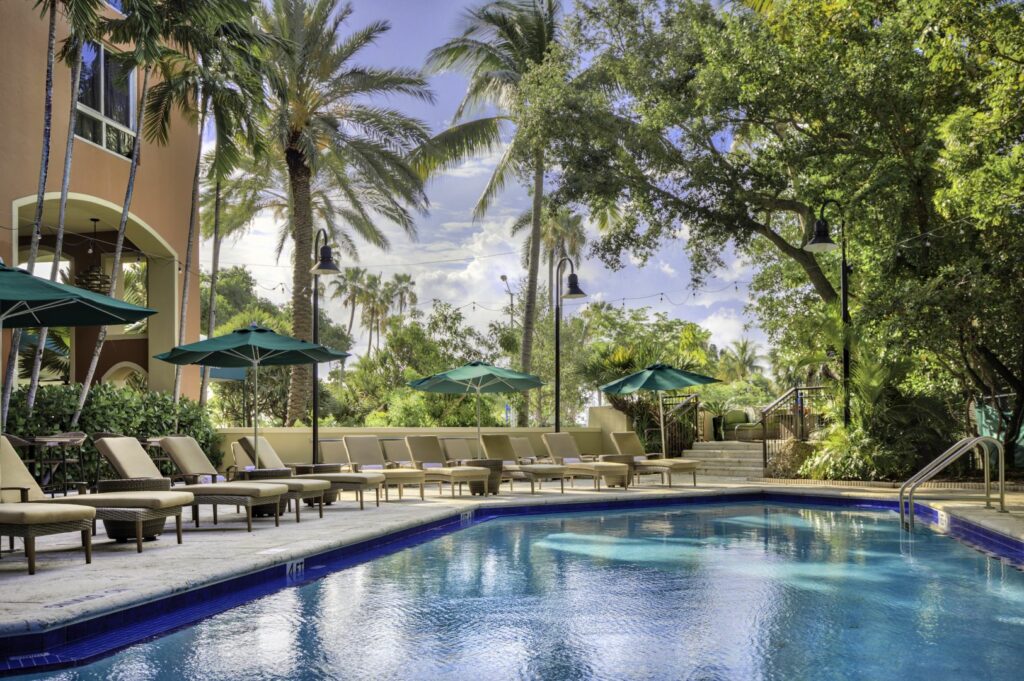 Price per Night: $296 – $353
You may associate the word "mutiny" with a pirate ship, but at the Mutiny Hotel, you will only find the best in luxury.
This luxury hotel is a top destination for many couples visiting Miami because of its private suites. The Deluxe One-Bedroom Suite provides you and your loved one with everything you need during your stay. This includes a functional kitchenette, a balcony, views over the pool or bay, and bathroom amenities.
The dining options at this hotel are second-to-none. The Table 14 Bar and Restaurant offers delicious yet casual dining, combining local and international cuisine.
Top Excursions & Activities To Do On A Miami Romantic Getaway
There is certainly no shortage of romantic activities in Miami. You can relax at any of the many beaches, for example, or hit a nine-hole golf course to try your luck.
We have narrowed down some of the best activities in Miami while staying in one of the romantic hotels.
Sample Itinerary & Budget For Your Romantic Getaway In Miami
Not sure where to begin your romantic trip to Miami? We have compiled a weekend itinerary for couples who wish to live it up in the Magic City.
Sample Itinerary
Day 1: Gourmet Dining and Gardens
Visit the Fairchild Tropical Botanic Garden ($24.95 for an adult). You can drive through the oak-lined roads or enjoy a picnic on the open lawns.
Next door is the Matheson Hammock Park, which is well worth a visit ($5 for a vehicle pass). Make sure to take a dip in the man-made atoll pool!
There are many different dinner options in Miami, so wander the streets until you find a restaurant that serves your cuisine of choice! Do you have decision fatigue? Then we recommend Mamey Miami in Coral Gables!
Day 2: History and Beaches
A trip to Miami would not be complete without visiting the historic Vizcaya Museum and Gardens.
Your next stop is Virginia Key. This island has a rich history as it was the only beach allocated to Black residents during segregation. For a mile-long white sandy beach, stop in at Virginia Key Beach Park.
Downtown Miami and Brickell have plenty of restaurants, but we recommend the River Oyster Bar for some fresh, local seafood.
Day 3: Off the beaten track with wine
Head south to pay a visit to the mysterious Coral Castle Museum ($18 for an adult). Scientists still cannot explain how the thousand tons of coral rock was carved out by one person!
Next you can visit Fruit and Spice Park. Foodies will love this park, where over 500 species of herbs, nuts, and fruits are cultivated.
Finish off your romantic trip with some drinks at Schnebly Redland's Winery and Brewery. Alternatively, head to Miami Brewing Company for some flagship beers.
Itinerary notes
A weekend is possibly too short for a romantic trip to Miami. You can extend the itinerary to include relaxing beach days or spending a day at your hotel's spa.
Sample Budget
Below is a sample budget for a weekend couple's trip to Miami:
| | |
| --- | --- |
| Activity | Price |
| Accommodation | $400 per night average |
| Car rental (recommended if you don't have your own car) | $120 for the weekend |
| Dining and drinks | $50 per person per day |
| Excursions and activities | $30 per person per day, depending on what you do |
Frequently Asked Questions
How much does a Miami romantic getaway cost on average?
A weekend in Miami for a couple can set you back around $1,200. The actual cost will depend on where you stay, where you dine, and which activities you do.
When is the best time to visit Miami?
Miami is the best between March and May, as the weather is still pleasant, but you're not charged peak-season rates.
How long do people typically spend in Miami on a romantic getaway?
You need at least three days in Miami, although we recommend extending your stay up to a week!
What is the best way to travel around Miami?
The best way to see Miami is by car. If you live close, take a scenic drive. Otherwise, you can pick up a car at the Miami International Airport.
Start Planning The Ideal Romantic Getaway
Miami is a dream destination for romantic getaways! Large hotel resorts and boutique hotels line the streets, with easy access to white beaches and bustling live entertainment at night.
If you are ready to plan your trip to Miami or elsewhere in the States, make sure to check out Couples Travel for all the tips and the best stays out there!