The central state of Kansas is a wonderful destination for romantic breaks. The midwestern state is best known for being the setting of The Wizard of OZ. With so much to see and do here, you will be forgiven for thinking a Wizard has pulled some tricks.
Kansas boasts a variety of beautiful landscapes and attractions for visitors to enjoy.
Visitors to Kansas can make the most of the bright lights of Kansas City or explore charming small-town life. Immerse yourself in the Wild West in Dodge City or explore any one of the 25 state parks to get back to nature.
If you are planning a trip, romantic Kansas City getaways can be a perfect choice. This article will explore the best things to see and do on a trip to Kansas. We will also help you find the best resorts, day trips, and more.
What Makes Kansas City Perfect For A Romantic Getaway?
Planning a romantic break in Kansas City is easy, thanks to the great accommodation and attractions on offer. You will also have easy access to a number of great things to see and do throughout the state of Kansas.
Traveling to and from Kansas City is simple, thanks to the Kansas City International Airport, train station, and bus links. The Chicago – Kansas City Expressway even makes travel by road a straightforward task.
Kansas City is great for romantic city breaks but also offers travelers a way to enjoy more peaceful and serene locations nearby.
Generally speaking, Kansas City has a relatively low cost of living. This can make it perfect for people looking for romantic getaways on a budget. The cost of a Kansas City break will be dependent on your choice of accommodation, travel, and activities.
The state of Kansas is best known for its prairies. This lends itself to incredible sunsets and beautiful views.
While the state is landlocked, you can still find some beautiful lake beaches for romantic walks, picnics, and boat rides.
The city is ideal for romantic weekend getaways. Longer stays are ideal if you plan to explore more of what the state has to offer.
You might also be delighted to find out that Kansas City is regarded as the barbecue capital of the world. Finding great food is never difficult in this wonderful city.
Most Romantic Getaways Kansas
Kansas is home to a diverse range of towns and cities. This makes it ideal for all types of visitors, regardless of their tastes and preferences.
This section will explore the best areas in Kansas for romantic getaways.
As well as telling you about the things to see and do in each area, we will also provide you with accommodation options to suit each area.
Kansas City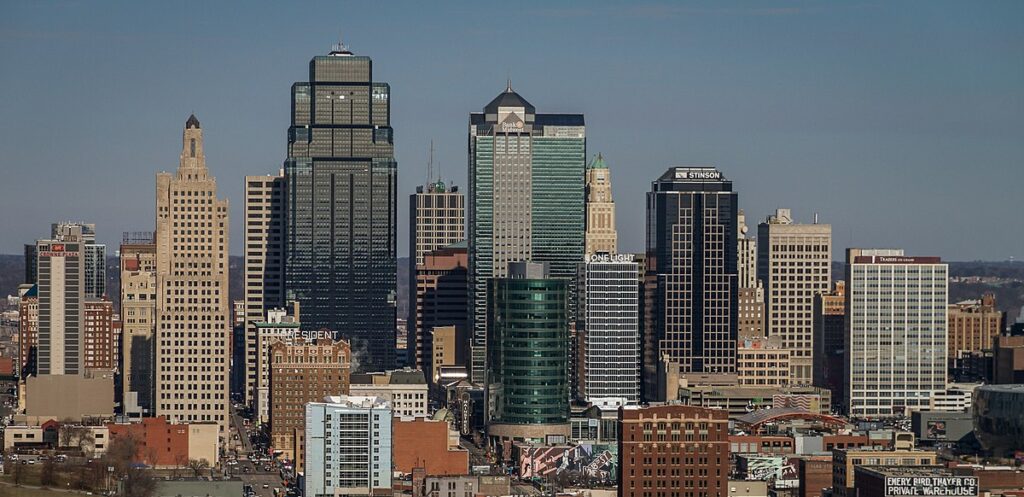 Kansas City is the obvious place to start for romantic trips to Kansas. However, of the cities in Kansas, it is only the third largest in terms of population.
There are still lots of great things to see and do here, though.
Kansas can be very hot through the summer and cold in the winter. This makes fall the perfect time to visit for couples. You will be able to enjoy warm days and cool nights at this time of year. This can make a visit much more comfortable.
Notable attractions in Kansas City include;
The Nelson-Atkins Museum of Art
National WW1 Museum and Memorial
Kansas City Zoo
Kemper Museum of Contemporary Art
There are also a number of great walking and segway tours around the city.
There are lots of great shopping opportunities in the city. There is also an extensive selection of bars and restaurants to explore.
The Country Club Plaza is perfect for people that want to enjoy a shopping and dining experience in one handy location. The European style of architecture is also impressive in this location.
The City Market is another hot spot for more unique products and restaurants.
Overland Park Arboretum is a beautiful area that is ideal for romantic walks and relaxing visits.
Best Accommodations in Kansas City: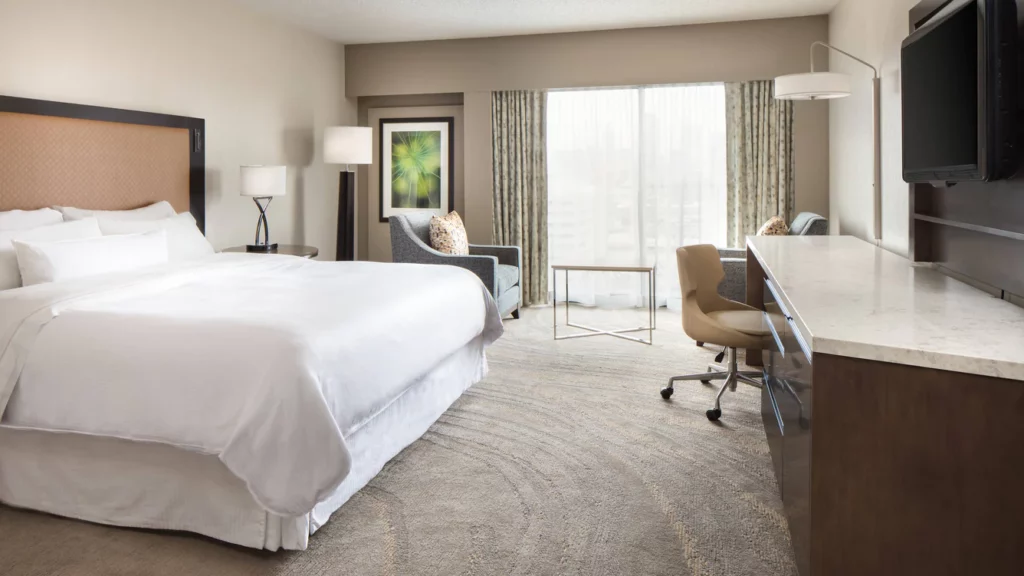 Price per Night: Average room price is $220
The Westin Kansas City at Crown Center is a 4-star hotel located in downtown Kansas City.
The excellent location offers easy access to many of the city's top attractions and travel hubs.
The hotel itself boasts a heated outdoor pool and a state-of-the-art fitness center.
Guests can relax in modern rooms that have contemporary furnishings.
The One East Urban Bar and Kitchen offers a casual dining experience. Alternatively, guests will have a great location to explore local restaurants and bars.
The Westin Kansas City has a range of rooms available. This includes affordable doubles to luxurious suites that have magnificent city views.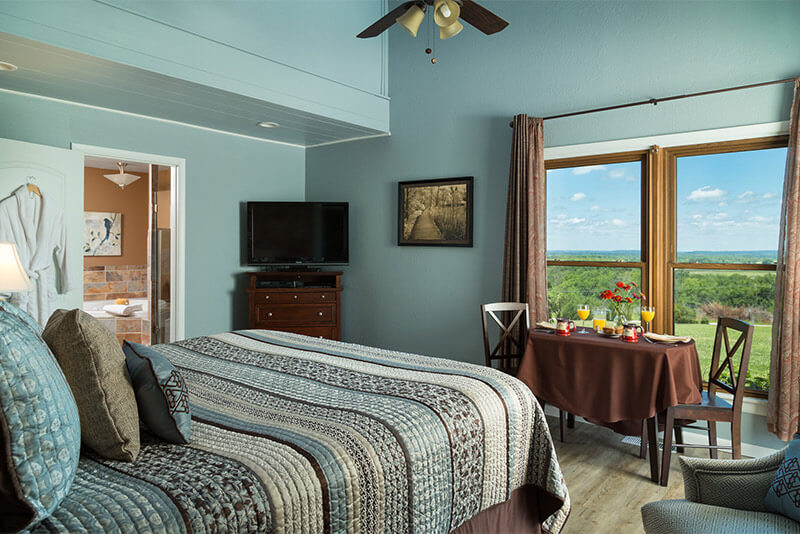 Price per Night: Average room price is $159
Couples looking to enjoy the excitement of city life with a relaxing, peaceful break will love the Cedar Crest Lodge. Just a one-hour drive from the center of Kansas City takes you to this relaxing retreat.
Rated as one of the best bed and breakfast experiences in the US, Cedar Crest Lodge is ideal for the perfect romantic getaway.
There are 12 guest rooms in total, each decorated in a warm and welcoming way. Depending on the room you choose, you can even enjoy steam showers and jetted tubs.
Couples can book spa services, including Swedish massages, hot stone massages, and more.
If you aren't interested in the spa services on offer, you may be tempted by the foodie packages. This allows guests to enjoy high-quality meals and snacks throughout the day.
This famous Kansas country inn has a wonderful reputation and is the perfect way to enjoy a relaxing break.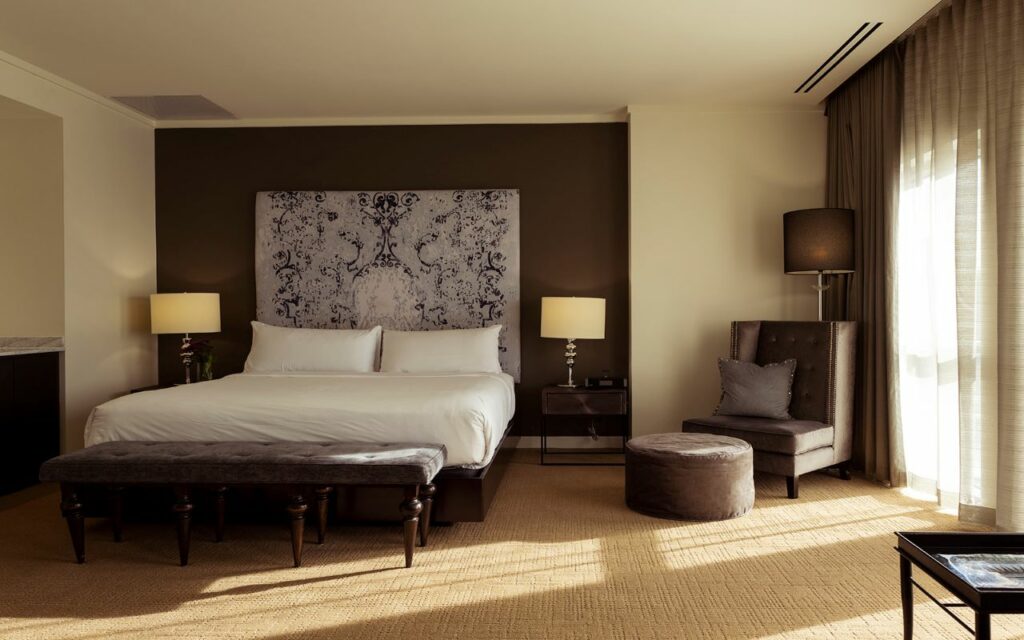 Price per Night: Average room price is $189
The Fontaine offers a level of luxury for those visiting Kansas City. The central location makes it easy for guests to enjoy everything the city has to offer.
An added bonus for local or neighboring visitors is the 20% discounted local rate. This is available for anyone with a valid state ID for;
Kansas
Nebraska
Iowa
Arkansas
Illinois
Oklahoma
There are 132 rooms and suites in total. They are all decorated to a high standard, and the bathrooms feature decadent Carrera marble.
Guests will enjoy complimentary wi-fi, a rooftop swimming pool, and access to a 24-hour fitness suite.
Luxury accommodation boasts a range of benefits that includes;
iPhone docking station
iPad docking station
Large HD TV
Movies on demand
Hypoallergenic pillows
Egyptian cotton sheets
Rainfall walk-in shows
Five Wits bath amenities
During the winter, from late November to March, guests can enjoy the hotel's Igloo Season. This allows guests to book private rooftop igloos for drinking and dining experiences.
Don't worry if you are traveling during the summer. From late May to October, there are private cabanas where you can reserve a private area for the same reasons.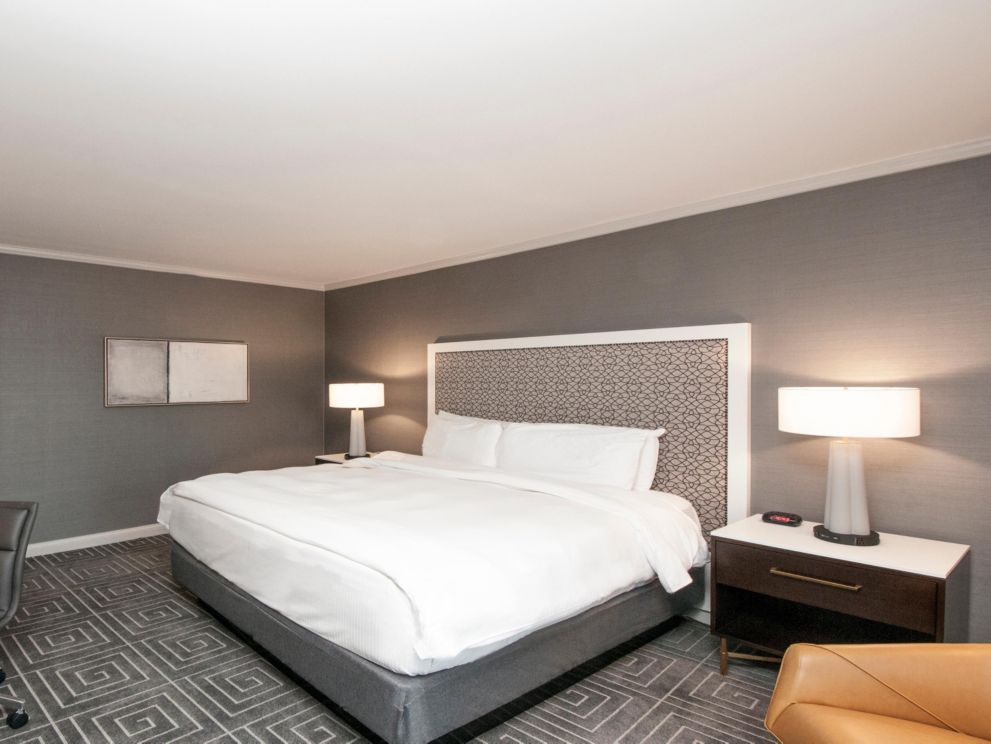 Price per Night: Average room price is $202
The InterContinental Kansas City at the Plaza offers guests excellent award-winning facilities.
Depending on your budget, you will be able to choose from regular guest rooms to executive suites.
The hotel features a pool, gym, and sauna for visitors to enjoy. The Country Club Plaza offers incredible shopping facilities, and there are a number of restaurants to choose from as well.
Wichita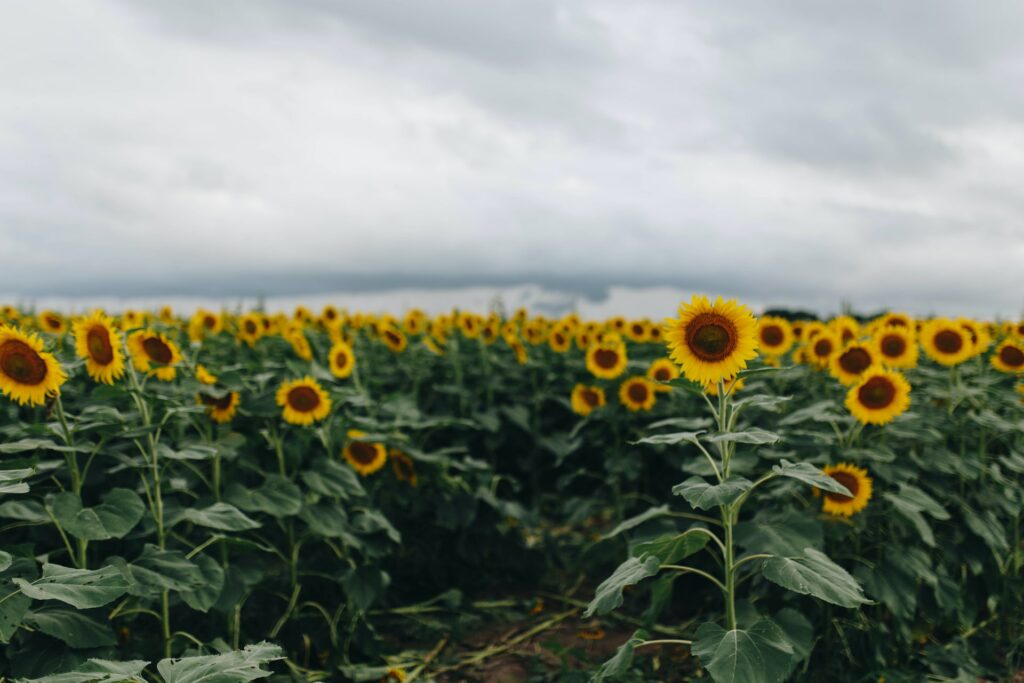 Wichita has an excellent choice of things to see and do for all visitors. Couples will have an excellent choice of museums, restaurants, and attractions.
In fact, with more than 1,000 restaurants to choose from in Wichita City, you won't find it hard to locate a great place to eat.
One of the most popular activities for couples in Wichita is exploring the Botanica Wichita gardens. This is a great attraction throughout the year, with seasonal designs and flowers making it a beautiful sight.
Nature lovers can explore the city's zoo or Great Plains Nature Centre. Alternatively, the extensive range of museums and galleries will keep you entertained on your trip.
The performing arts center or music theatre are great for catching a show while you are in town.
Best Accommodations in Wichita: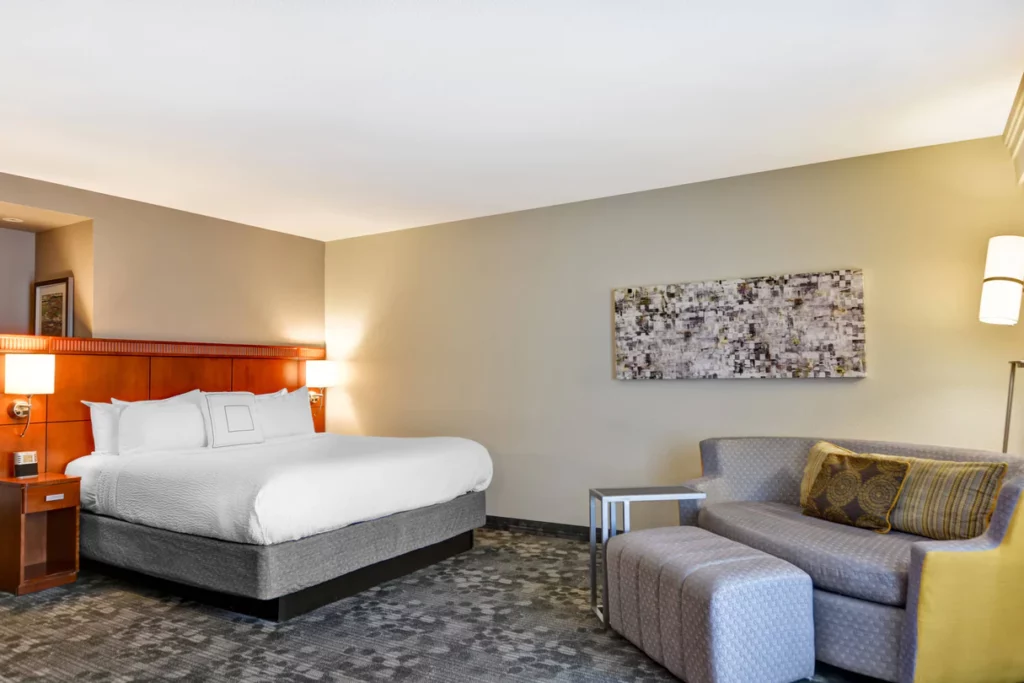 Price per Night: Average room price is $145
The Courtyard by Marriott Wichita at Old Town has an excellent location in the city's Old Town. Despite its contemporary style, it still holds on to some classic details of when it was first built as a warehouse in the 1930s.
The hotel offers guests spacious rooms and complimentary wi-fi access. Suites offer majestic city views, which are marvelous in the evenings.
The best thing about this accommodation is how close it is to local attractions. Romantic walks will take you to markets, museums, and restaurants.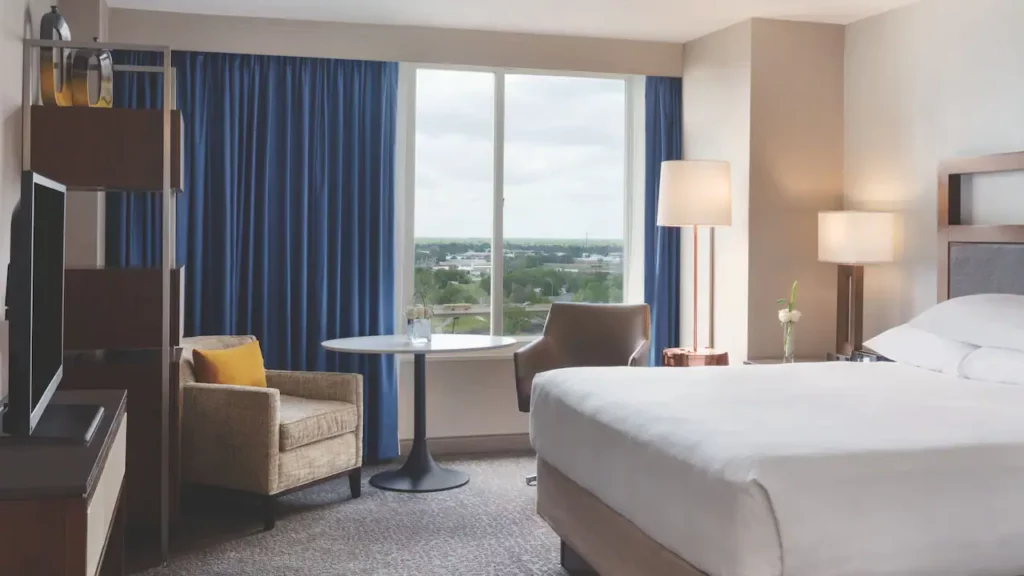 Price per Night: Average room price is $140
The Hyatt Regency Wichita is located on the banks of the Arkansas River, giving it a dramatic location that is ideal for photo opportunities.
Guests will enjoy complimentary wifi throughout the hotel. The indoor swimming pool with two hot tubs is an excellent feature for exercise and relaxation. There is also a 24-hour fitness suite for guests to use.
Those that love to wake up to a delicious breakfast will enjoy the HARVEST Kitchen. Fresh local produce is used to create delightful meals.
The excellent location of the hotel is perfect for visitors. The hotel even offers complimentary travel to the city's Old Town, where guests will find a range of clubs, restaurants, and bars.
Dodge City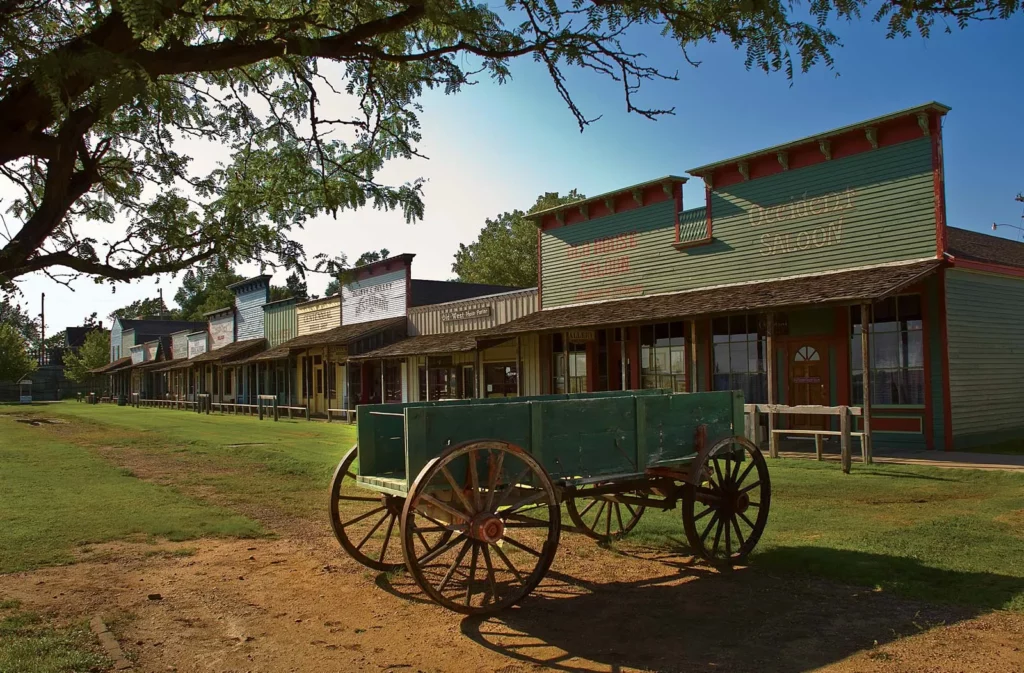 Anyone visiting Kansas or the midwest should take some time to explore the fascinating history of the area. Dodge City, in the southwest of Kansas, is a great place to start.
As well as being a famed wild west town, it is now a great location for romantic trips and breaks.
The area offers a range of excellent sites and attractions that appeal to many.
While Dodge City won't offer the same level of amenities that you will find in Kansas City, it still has a range of excellent things to see and do for couples. Pop on your cowboy hats and hit up a couple of saloons at Boot Hill Museum. This outdoor museum celebrates the town's gunslinging past.
Alternatively, you could take a tour of the Boot Hill Distillery. The tasting room lets couples enjoy a selection of bourbons, gin, vodka, and more.
During the summer, you will be able to enjoy one of the largest community festivals in Kansas. Dodge City Days takes place over ten days in July and August and features an excellent selection of performances.
Finally, you can take in the historic Santa Fe Trails. The dramatic landscape creates the perfect backdrop for romantic walks and photo opportunities. It is also a great location for proposals.
Best Accommodations in Dodge City: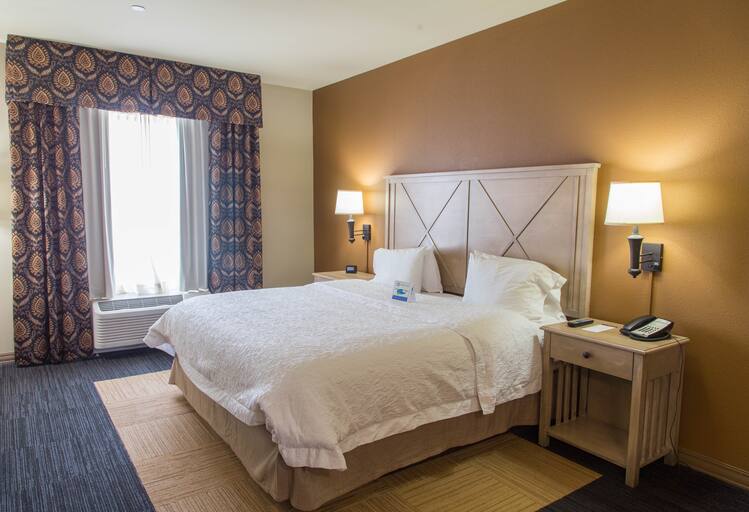 Price per Night: Average room price is $129
There are some excellent romantic hotels to explore in Dodge City. The Hampton Inn & Suites are located near the Boot Hill Casino and Conference Center, making it a great choice for couples that want to visit.
Guests can enjoy complimentary breakfasts and WiFi. There is also an indoor pool and fitness center that visitors can enjoy. The swimming pool area has an excellent hot tub for relaxing.
Guest rooms include large TVs, soaking tubs, and complimentary toiletries.
The hotel is just a four-minute drive from the local bus station and ten minutes from the Dodge City airport.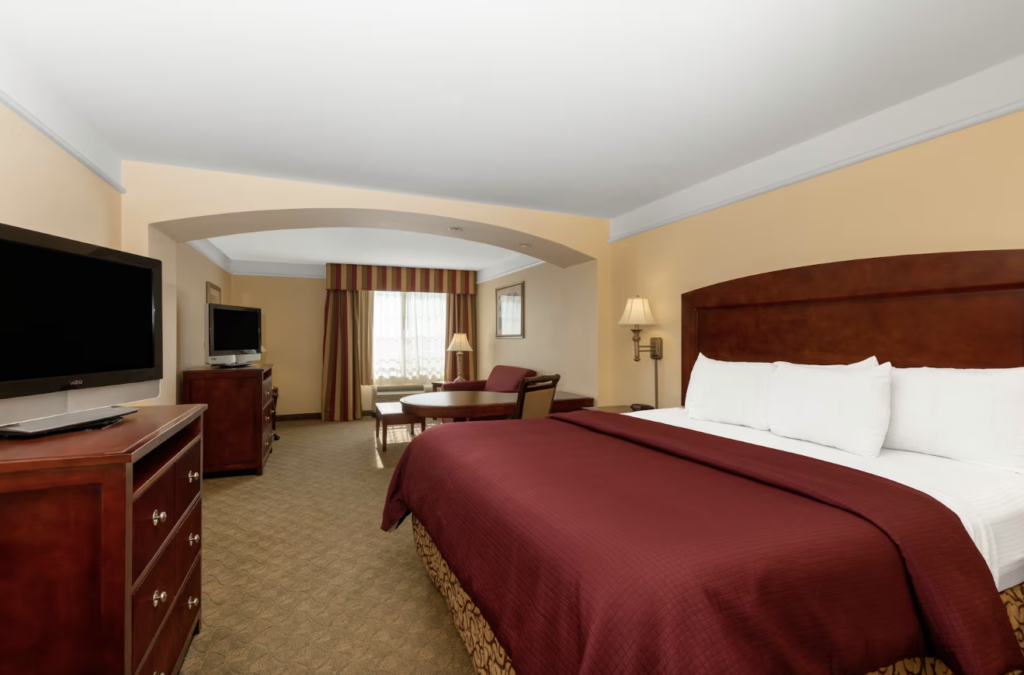 Price per Night: Average room price is $85
The La Quinta Inn & Suites by Wyndham is another excellent option for couples looking for Romantic Hotels in the state of Kansas.
Guests can make use of the excellent swimming pool and will love the complimentary breakfasts.
The hotel offers easy access to the airport and bus station. For guests that are driving, there are free parking facilities.
Top Excursions & Activities To Do On A Kansas Romantic Getaway
With so many excellent towns and cities, a romantic trip to Kansas offers a wide selection of things to see and do.
No matter what your tastes or budget are, there will be a list of activities to fill your day with fun and wonder.
Active vacationers will love the trails and hikes available in the great parks of Kansas. These include;
Flint Hills Nature Trail – Flint Hills Nature Trail covers 117 miles. While nobody will expect you to cover the full distance on your break, it is a great place to explore.
Wyandotte County Lake Loop Trail – This excellent trail is just 20 minutes from Kansas City, Missouri. The 9.2 loop takes in the lake and woodlands, making it a great choice for a romantic walk.
Chisholm Creek Park – The Nature Trail at Chisholm Creek Park is perfect for couples hoping to catch a glance of rare birds, fish, or mammals. The trail is just 4.2 miles in total, making it an easy option.
Couples looking for a romantic meal in Kansas City will find a great selection of restaurants to choose from.
Pierpont's at Union Station – This excellent option is located in central Kansas City. The historic location and quality dining experience mean this is a highly rated option for diners.
Trezo Mare – Trezo Mare is one of the best Italian dining options in Kansas City. The elegant restaurant is a great choice for couples.
Joe's Kansas City Bar-B-Que – This might not be the fanciest option in Kansas City, but it is definitely one of the tastiest. Any trip to Kansas City, Missouri, without visiting a barbecue joint would be wasted. This is one of the best.
Other incredible attractions and sights that should be high on the list for any trip to Kansas City include;
The Sedgwick County Zoo – See a range of wild and exotic animals at this great zoo.
Kansas City Walking Tour – See more of Kansas City and learn about local history from experienced tour guides.
iFly Indoor Skydiving Experience in Kansas City – Enjoy a unique and hilarious day at the Kansas City Indoor Skydiving experience.
Cottonwood Falls Day Trip – Get a taste of Kansas' ranching community at Cottonwood Falls. There is a museum, local shops, and lots of other great attractions to enjoy here.
Fort Scott – Fort Scott is an excellent historic site with a range of trails to explore.
Kansas also places you close to the Ozarks and Table Rock Lake, where you can enjoy a selection of outdoor activities.
Sample Itinerary & Budget For Your Romantic Getaway In Kansas City
The cost of a romantic trip to Kansas City will vary depending on many factors. These include;
Where are you traveling from
The time of year you plan your vacation
Your accommodation budget
Your meal budget
The attractions you plan to see
Planning romantic weekend getaways to Kansas City can be tailored to suit all budgets. Generally speaking, Kansas City is one of the cheaper US locations you can visit. The state of Kansas has a relatively low cost of living, making it a great choice for breaks.
The following itinerary will give you a general idea of how much a weekend trip to Kansas may cost you.
Hotel Stays/Accommodations: You could expect to pay between $170 to $440 for a weekend trip to Kansas. The cost of your accommodation will vary. This will depend on whether you are looking for a luxury room in a high-end hotel or a standard room in a Holiday Inn. Another great option is a weekend in a romantic bed and breakfast.
Mode of Travel (if they need to rent a car or they can rely on public transit): A round-trip flight from New York to Kansas will typically cost around $268. The average round trip from California will set you back somewhere around $354.
Traveling around Kansas City is pretty easy, thanks to a good public transport system. There is even a free streetcar to take advantage of.
If you plan on traveling around the state of Kansas and wanted to rent a vehicle, you could expect to pay between $25 to $50 per day, depending on availability.
Food/Beverage: There are lots of great bed and breakfast options in Kansas, helping you save money on food. If you take into consideration that most people will eat out for lunch and dinner, you should budget for around $100 per day per person.
This takes into account visiting a romantic restaurant like Pierpont's at Union Station for dinner, where a steak will set you back around $40-$50.
Alternatively, a dinner at Joe's Kansas City Bar-B-Que with sides and a drink will only set you back around $30 to $35.
The following admission costs should give you a good idea of what Kansas excursions may cost;
| | |
| --- | --- |
| Activity | Price |
| iFly Indoor Skydiving Experience in Kansas City | From $64.99 for two |
| Kansas City Walking Tour | $10-$20 per person |
| The Sedgwick County Zoo | $20 (online price) |
| SEA LIFE Kansas City Aquarium | From $19.99 |
Frequently Asked Questions
How much does a Kansas romantic getaway cost on average?
A romantic vacation to Kansas, including accommodation, meals, and attractions, could cost between $600 to $800. This will depend on a number of factors.
When is the best time to visit Kansas?
Kansas can face extremes in temperature in the summer and winter. Visiting during the fall typically results in warm days without being too uncomfortable.
How long do people typically spend in Kansas on a romantic getaway?
A weekend break in Kansas City is typically enough time for couples to enjoy a romantic dinner or two and see the sights. Couples that want to explore more of what the state has to offer might want to look at extended breaks.
Start Planning The Ideal Romantic Getaway
Kansas can be the ideal location for romantic breaks. This is because of its great selection of romantic hotels and attractions. Not to mention its natural beauty.
Exploring your options can help you uncover great deals on guest rooms. You will find great deals on hotels with room service and modern amenities.
There are some great city hotels with excellent attractions located nearby.
You might prefer the small-town charm of romantic bed and breakfast options instead that boast onsite spa facilities.
With so many excellent options, you and your loved one are bound to enjoy your stay in Kansas.