If you and your new spouse aren't interested in the idea of a honeymoon on a tropical island loaded with a few too many tourists, then why not see what Montana has to offer? The state is steeped in history, both ancient and slightly more modern.
Montana plays host to some of the largest and most highly acclaimed national parks and wildlife areas in the United States, and if you decide to visit in the winter, you and your partner can even try your hand at skiing.
What Makes Montana Perfect For A Honeymoon?
After weeks or even months spent planning a wedding where both of your families are crammed into one room, you and your spouse might want peace, quiet, and fresh air. If this is the case, look no further, as you can breathe some crisp, clean mountain air and cozy up in front of a fireplace in a little log cabin.
If you don't want to visit the treasure state in winter, you could explore great national parks like the world-famous Yellowstone National Park and Glacier National Park. There are also plenty of quaint mining towns steeped in history and ripe for exploring dotted around the state.
Another summer activity that you might enjoy is all the watersports to choose from on Flathead Lake, or once again, if you decide to go in winter, you can soak all of your wedding worries off in some natural hot springs as well; there are many to choose from. Thankfully, this won't all come at a huge cost, as Montana is not much of a tourist trap.
Best Honeymoon Resorts, Hotels, and Other Stays in Montana
The accommodation in Montana is pretty similar if you plan on spending your stay close to the state's biggest attractions. There are many cozy lodges and cabins near Yellowstone National Park and Glacier National Park, like Old Faithful Inn.
If you'd like to spend a good deal of your honeymoon doing some skiing, then staying at the Lodge at Big Sky will likely be the most beneficial. If you and your partner would like the best of both worlds, then you can stay at Lone Mountain Ranch, which is conveniently located between Yellowstone National Park and the Big Sky Resort and has some cozy little cabins.
If watersports are your thing, there are some excellent lodges and cabins nestled around Flathead Lake, where you can do some fly fishing, water skiing, or anything else that might pique your interest at the lake.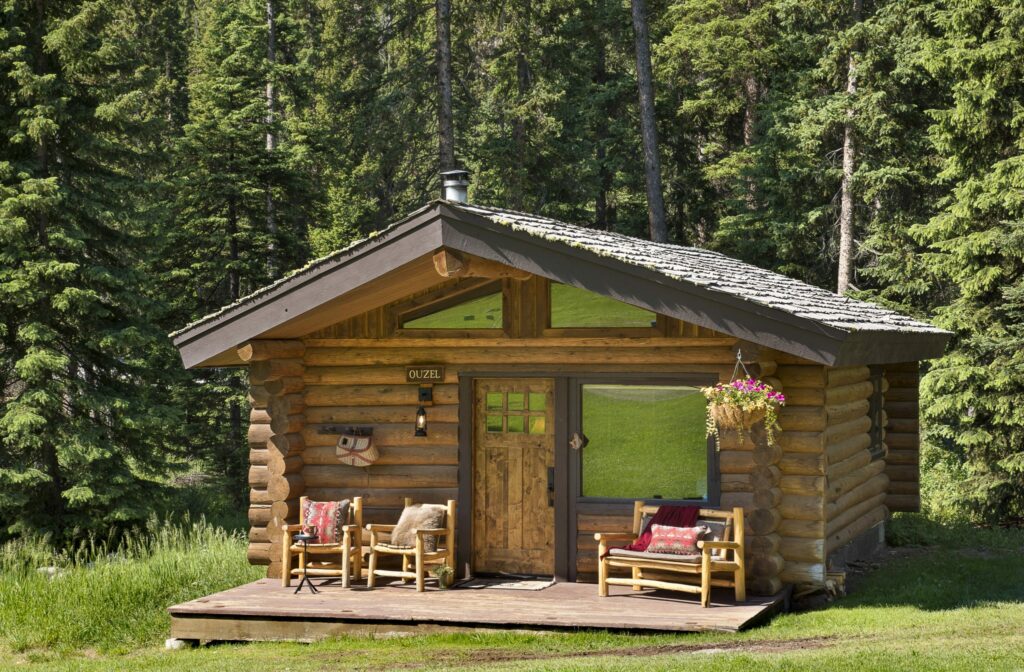 Price per Night: From $660 in winter and from $1295 in Summer.
Best For: Long stays, all-inclusive resort
Availability: Limited cabins available
If you want the real Montana honeymoon experience, look no further than Lone Mountain Ranch. The ranch has everything you might need, as all of the activities are in-house. However, the type of activities you can get up to will depend on whether you visit in summer or winter.
In summer, you and your spouse can go horseback riding, tour Yellowstone National Park, go mountain biking, explore hiking trails, go fly fishing, and more! As previously stated, all these activities are conducted by the ranch, so you can choose an itinerary or bounce from activity to activity at your own leisure.
In winter, there is skiing, snowboarding, snowshoeing, and even dogsledding, so you'll be able to get the real winter Montana honeymoon experience without having to travel from activity to activity. The accommodation consists of log cabins with cozy fireplaces, which are great for a romantic getaway.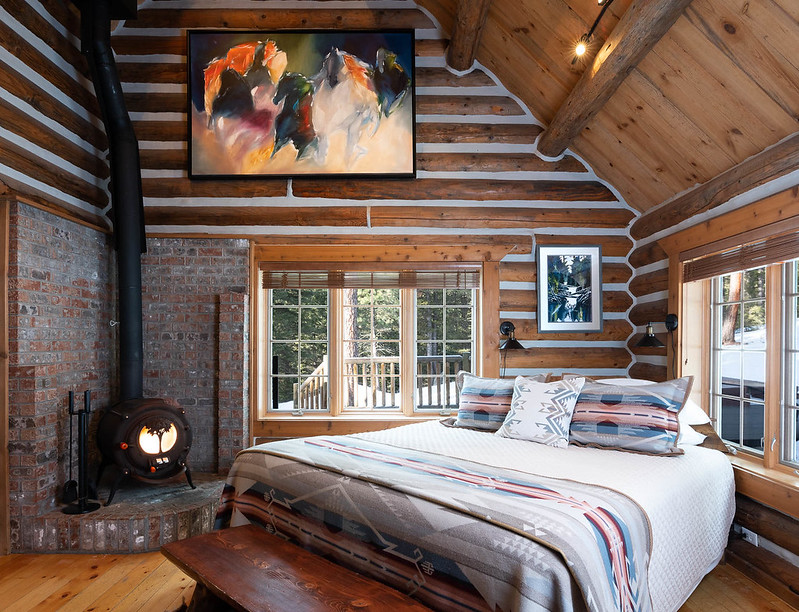 Price per Night: From $1300
Best For: All-inclusive, extended stays
Availability: Easy to book
While Triple Creek Ranch isn't necessarily located near any of Montana's most well-known attractions, it can offer everything those regions do and more. It is situated near Bitterroot National Forest, so if you and your spouse are looking for a quaint, quiet romantic getaway out in some natural beauty, then Triple Creek Ranch will be great.
The ranch's outdoor activities differ based on the season, like many other resorts listed here. In summer, there is horseback riding, fly fishing, whitewater rafting, sport shooting, hiking trails, golf, and mountain biking.
In winter, there is snowmobiling, skiing, and dog sledding. The luxury resort also has an extensive array of spa services, allowing you and your partner to relax even further. The accommodation at Triple Creek Ranch comprises a range of luxury log cabins that range in size depending on your preference, but all of them are rustic-looking and cozy.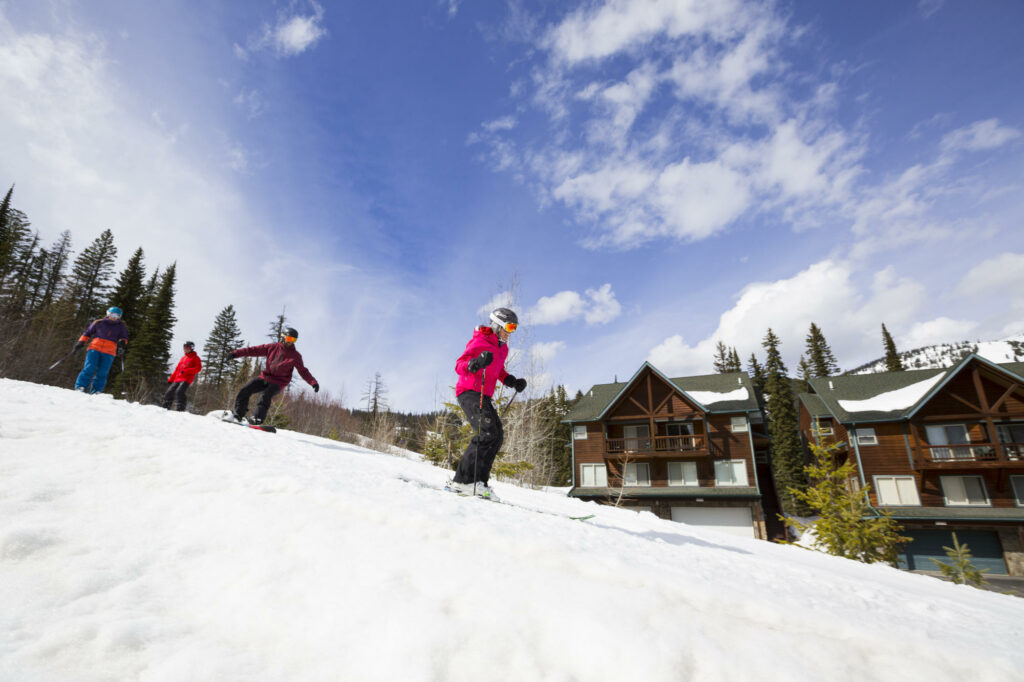 Price per Night: From $208 in Summer
Best For: Long stays
Availability: Limited
The Whitefish Mountain Resort is situated near Whitefish Lake and Glacier National Park, so the location is great if you want to do more than just stay in your hotel room. Whitefish Mountain Resort is one of the best-known ski resorts in all of Montana for more than a few good reasons.
This resort is situated in a beautiful part of the Big Sky Country and has all the winter and summer activities you could ever want from a Montana honeymoon. There is skiing and snowboarding galore, and even night skiing for the more experienced guests.
In the summer, there are excellent mountain biking courses, an aerial adventure park, and alpine sliding. If you want to spend some time in the wilderness as well, Glacier National Park is not that far away either. The resort features a variety of great hotel rooms to choose from, and the town of Whitefish is known for some great restaurants too.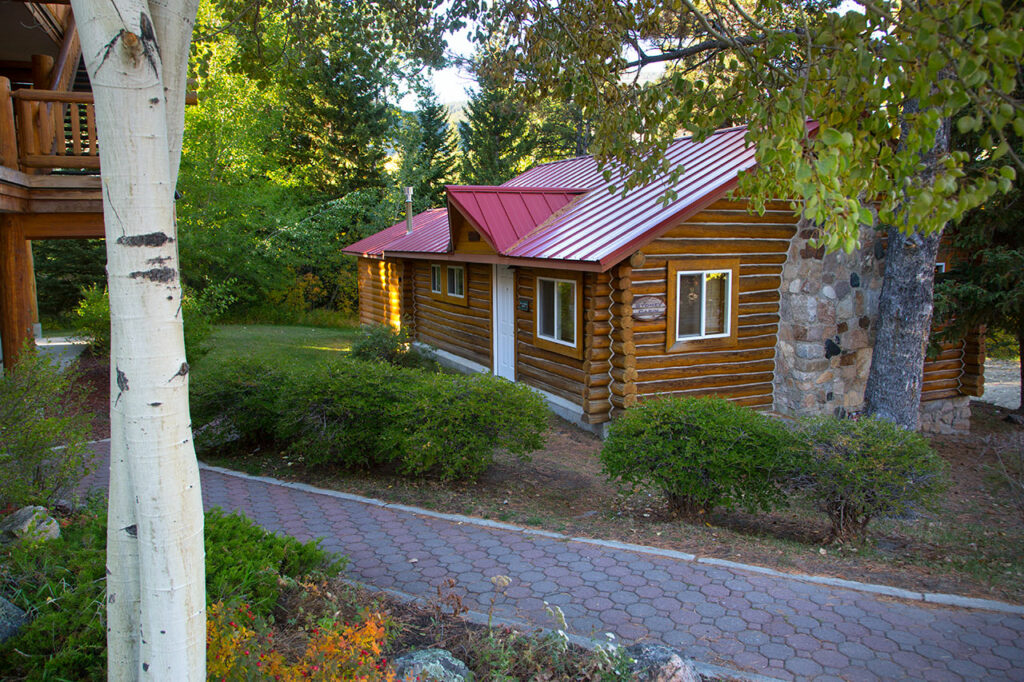 Price per Night: From $150 per night
Best For: Long stays
Availability: Limited
Rock Creek Resort is located right at the base of the Beartooth Mountains nestled right on Rock Creek, which means you won't be all that far away from Yellowstone National Park, but, thankfully, there is also plenty to see and do right at Rock Creek Resort. The accommodation is great, so you and your partner have a variety of rooms, townhouses, and cabins to choose from.
Many of the available accommodation options have private balconies where you can enjoy beautiful scenic views of the creek and the surrounding mountains. There is also a plethora of both summer and winter activities to keep guests busy. In winter, guests can enjoy both Nordic and downhill skiing after you and your spouse can cozy up next to a fire.
During summer, there is blue ribbon fly fishing, whitewater rafting, hiking trails, horseback riding, and mountain biking. You and your partner can also enjoy some great eats at the Old Piney Dell restaurant. After you've tired of all the activities at the resort, you can head over to Yellowstone and see all that the national park has to offer.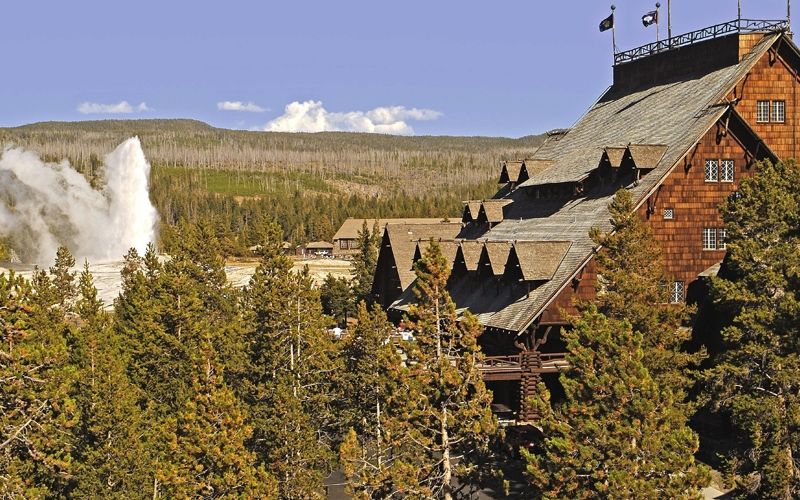 Price per Night: From $409
Best For: Short stays, extended stays
Availability: Limited
Old Faithful Inn is one of the most iconic accommodations in all of Yellowstone National Park, so it may be difficult to book accommodation here during peak season. If you can get accommodation here for your honeymoon, you'll be treated to one of the most beautiful rustic-looking hotels, as the building has been around for over 100 years.
If you and your partner want to spend your honeymoon exploring Yellowstone National Park, then this is one of the best places to do it from. The hotel has no air conditioning, TVs, internet connection, or radio, so if you and your spouse are really looking to get away from it all, then there is no better place to do it.
Old Faithful Inn offers great tours of Yellowstone National Park that will allow you to see as much of the park as possible during your stay, so you'll be able to take in all of the natural beauty that this fantastic part of the world has to offer.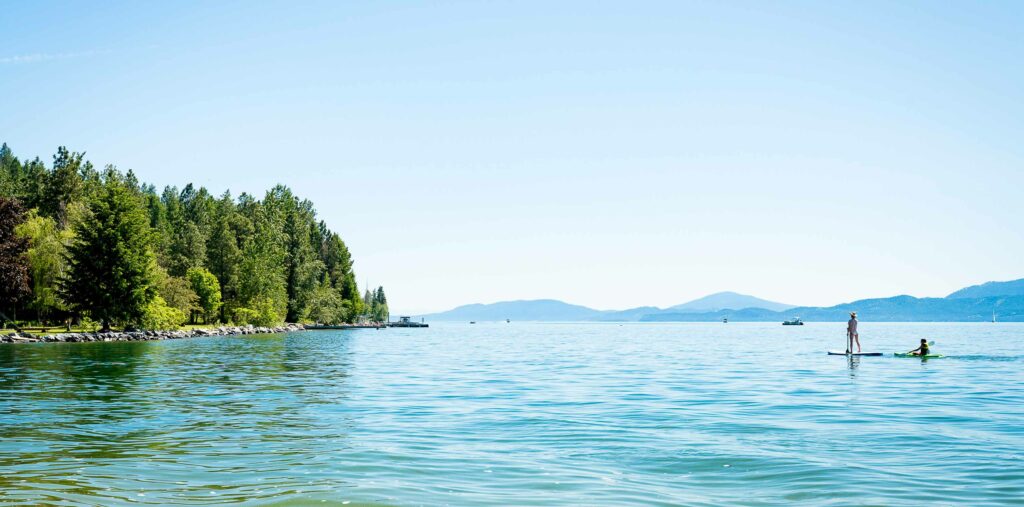 Price per Night: From $630
Best For: Long stays, All-inclusive
Availability: Easy to book
The Flathead Lake Lodge is situated on Flathead Lake, so you'll have all manner of watersports activities available, such as boating, waterskiing, tubing, paddling, sailing, and fishing. You'll also be able to do all the other summer activities that are standard fare in Montana, such as horseback riding and mountain biking.
Regarding accommodation, you and your spouse can choose to stay in one of the many cozy rooms at the lodge or a cabin of your own if you would like a bit more privacy on your honeymoon. Rest assured, regardless of what accommodation you choose, you'll be extremely comfortable as the rustic-looking buildings still have modern amenities.
You'll also be close to the Glacier National Park, so you can explore and do all the hiking trails the park offers at your leisure.
Best Areas To Stay in Montana
Almost all of Big Sky Country, better known as Montana, has very similar attractions to offer people. The great outdoors, crisp mountain air, natural beauty, and outdoor activities galore. The type of honeymoon that you are looking to have will depend on what season you end up visiting Montana.
If you plan on visiting the state in the summer, you'll want to be close to the national parks like Glacier National Park and Yellowstone National Park or a lake like Flathead Lake. Staying in these areas will allow you to explore the wilderness on horseback, foot, or mountain bike and will enable you to soak up all the natural beauty.
If you decide to honeymoon in Montana in the winter, then the national parks and lakes won't be able to offer all that much, so it will be better to plan your honeymoon near a ski lodge that has warm cozy cabins like Lone Mountain Ranch. This will allow you to spend the day hitting the slopes and the evenings in front of a fire with a hot cup of cocoa.
Flathead Lake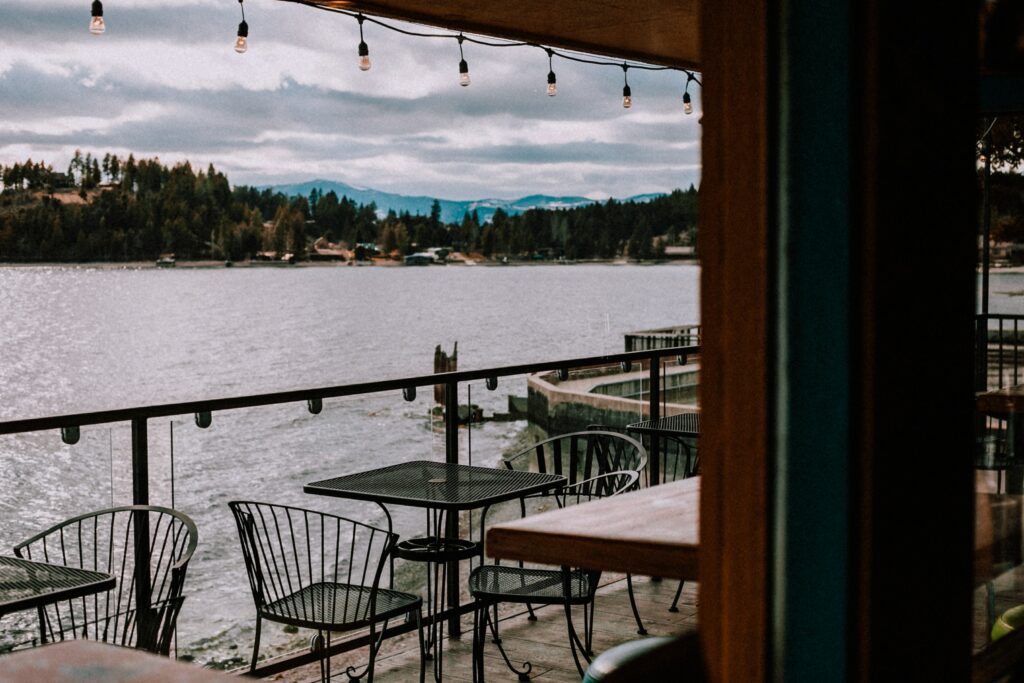 Flathead Lake is a great place to honeymoon if you plan your honeymoon for summer, as you'll have all kinds of water-based activities at your disposal, but also be able to hike, go mountain biking, and horseback riding. This will give you and your spouse the best of both worlds for your honeymoon.
Flathead Lake is not far from Glacier Park, so you'll still be able to explore one of the best national parks Montana has to offer while still having the lake at your disposal. You also won't be all that far from civilization here either, as the city of Kalispell is only 10 miles away, so you and your spouse can enjoy an evening at a local bar too.
Polson is another small town situated nearby with museums, shops, and some fine dining restaurants like Finley Point Grill, so you'll be able to enjoy all of the sights and sounds of the Montana wilderness, and then take a short drive to Polson for a romantic dinner.
Whitefish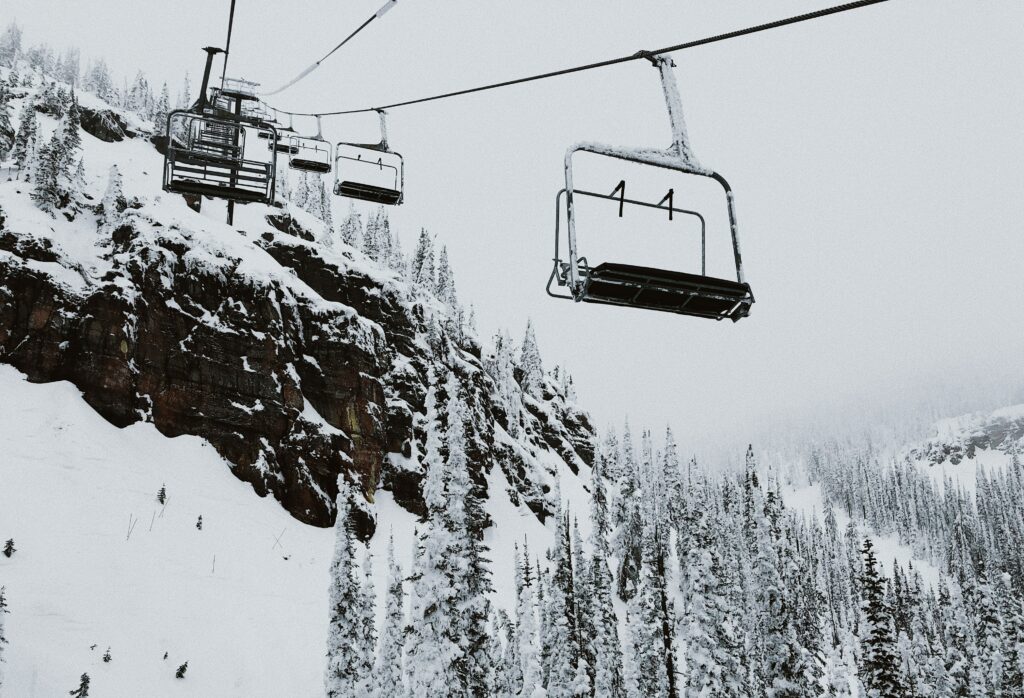 Whitefish is not all that far away from Flathead Lake. Still, it is often better to visit the area during the winter, as the town plays host to the most popular ski resort in Montana, so skiing, snowboarding, and snowmobiling are the name of the game.
You won't need to hire a car to get to the slopes either, as there is a shuttle service that operates daily and transports guests from the town of Whitefish to the slopes. While the Glacier National Park is close by, it won't be worth visiting during the winter even though it is open year-round, as hiking in the snow won't be so much fun!
If it's good food you're after, Whitefish has you covered, as the downtown area is brimming with local restaurants that will leave you wanting more. There are also plenty of stores selling handmade jewelry and used books, so it has a friendly small-town vibe despite being a massive skiing destination.
Bozeman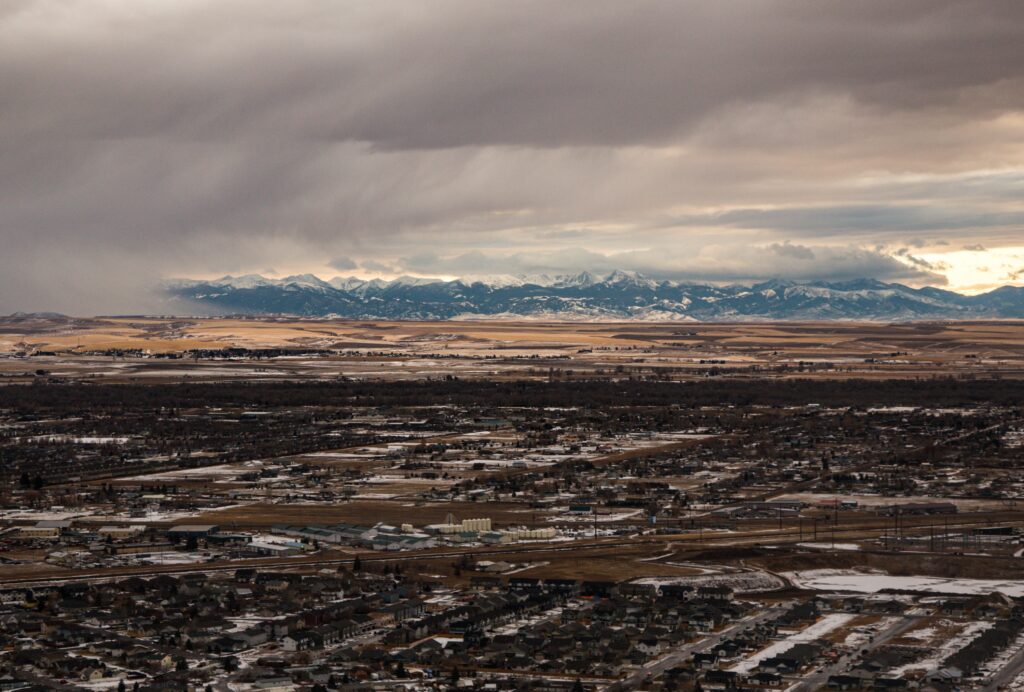 Bozeman is often referred to as one of the best cities in Montana and is a great place to stay if you want to visit Yellowstone National Park or the Big Sky Resort, so it won't matter whether you go in winter or summer, as both seasons can offer great yet different experiences to you and your spouse.
Besides the obvious beauty that Yellowstone National Park has to offer, there are plenty of other great things to do in Bozeman, such as Main Street in Downtown Bozeman, as it has plenty of interesting local businesses and eateries to explore, and there is even live music every Thursday in the summer.
If you decide to visit in the winter, Bozeman still has all of the great attractions it already offers, but you can also head up to either Bridger Bowl Ski Area or Big Sky Resort to hit the slopes on a snowboard or a pair of skis. There are also plenty of museums displaying ancient and more modern history.
Top Excursions & Activities To Do On A Montana Honeymoon
Hiking – You would seem crazy not to want to go on a hike in Montana, as there are so many national parks, forests, and hiking trails around that you are spoiled for choice. You'll be able to experience peace and quiet like never before while seeing all of the flora, fauna, and natural scenery that has made the state so popular.
Skiing – One of the best things about Montana is that it can be enjoyed for different reasons during both summer and winter. If you visit Montana in winter, then you'll need to put on a pair of skis or get on a snowboard at least once during your trip, as the region has some of the best ski resorts in the entire US.
Watersports – If you visit Montana during the summer, finding a lodge or resort near a lake is a great idea. This will allow you to do some water skiing, paddling, boating, and even sailing, provided that the lake you go to is large enough.
Museums – There are many different museums all over Montana worth visiting, as the state has some fascinating ancient history dotted all over it. Yellowstone National Park by itself has played host to many great archaeological discoveries.
Sample Itinerary & Budget For Your Honeymoon To Montana
If you plan on spending your honeymoon in Montana, you will first need to decide whether to go in winter or summer, depending on your and your partner's tastes.
If you like the idea of outdoor activities like mountain biking, hiking, and exploring national parks, then it will be best to go during summer. If you'd prefer to spend your time skiing across a winter wonderland, then you should go in winter.
Here's roughly what you can expect to spend if you decide to honeymoon in Flathead Lake for seven days.
| | |
| --- | --- |
| Activity | Price |
| Flights | From $328 for a roundtrip from JFK to Glacier Park International |
| Car rental | From $199 per day |
| Accommodation | From $4410 for seven days at Flathead Lake Lodge |
| Food | All inclusive |
| Horseback riding | All inclusive |
| Watersports | All inclusive |
| Mountain biking | All inclusive |
| Glacier National Park | $35 for a 7-day pass in Summer |
Day 1 – Once you have landed at Glacier Park International, you can either hire a car or get a shuttle to Flathead Lake Lodge, where it might be nice to just relax in your hotel room and enjoy some peace and quiet after a long flight before heading to the restaurant for some supper.
Day 2 – Once you feel nice and rested after a good night's sleep, you should consider heading out onto the lake on a boat, paddleboard, or sailboat if the weather is good.
Day 3 – After spending some time on the lake, you and your spouse can do some horseback riding on some trails with a guide. This will offer peace and quiet and allow you to appreciate the natural beauty.
Day 4 – After you've spent a couple of days at the resort, it might be nice to head out and explore Glacier National Park, where you'll be able to appreciate the big sky country even better.
Day 5 – If the weather is good, you and your spouse could give some watersports like waterskiing a try if the weather is good, as this will also allow you to see more of the lake.
Day 6 – If an event is on, you and your partner can enjoy a fire on the beach in the evening with some live music after spending the day on a guided mountain biking trail.
Day 7 – If you'd like a calmer day on the last day of your honeymoon, then you should consider going rainbow trout fishing with your partner in the fishing pond.
Frequently Asked Questions
How much does a Montana honeymoon cost?
The cost of a Montana honeymoon will depend on the season that you go in and what resort you choose to stay at.
The above resort has an all-inclusive package that will cost you around $6,200 a week.
When is the best time to visit Montana?
The best time to visit Montana will differ, depending on what you are looking for, as the summer and winter months offer different activities.
What is the best way to travel around Montana?
The best way to travel around Montana is by car, as the state is quite remote, and towns and attractions are often far apart.
Start Planning The Perfect Romantic Honeymoon Getaway
Spending your honeymoon in Montana is a great way to get away from the hustle and bustle of your everyday life and spend some time in nature, so if you and your new partner are nature lovers, it will make for a great honeymoon.
There are national parks, ski resorts, and cozy lodges galore in the state, so if you want a Montana honeymoon, you should check out Couples Travel.