Honeymoons are meant to be unique, and choosing the perfect location will help newlyweds enjoy making memories that will last forever. With its pink sand beaches, welcoming and friendly people, excellent cuisine, and great weather, Bermuda can provide the ideal destination for honeymooners.
Enjoy a laid-back, romantic getaway that lets you soak up the sun on the beautiful beaches, dine in a diverse range of restaurants and sample the sumptuous seafood on offer, get active with a wide variety of watersports, activities, and day trips, or enjoy the lively nightlife before returning to your luxury hotel, villa, or private island.
This wonderful island nation is made up of 181 islands and islets. Island hopping is easy, with a series of bridges and causeways giving visitors an easy way to explore the main islands, and boat tours offering a unique way to see the rest. Discover the best hotels and attractions Bermuda has to offer in this article.
What Makes Bermuda Perfect For A Honeymoon
Bermuda is the perfect honeymoon destination for couples traveling from the US as it is conveniently located just a short two-hour flight from many locations on the East Coast, including New York, Boston, and Philadelphia, to Wade International Airport.
There is an excellent choice of Bermuda honeymoon resorts. You will be able to enjoy everything these luxurious accommodations have to offer, including a private beach, a private balcony with ocean views, state-of-the-art spa facilities, landscaped gardens, and much more.
Enjoy a romantic sunset sail on the Atlantic Ocean, walks on a pink sand beach, fine dining and delicious cocktails, and star gazing when the sun goes down in one of the world's most popular honeymoon destinations.
Best Honeymoon Resorts, Hotels, and Other Stays in Bermuda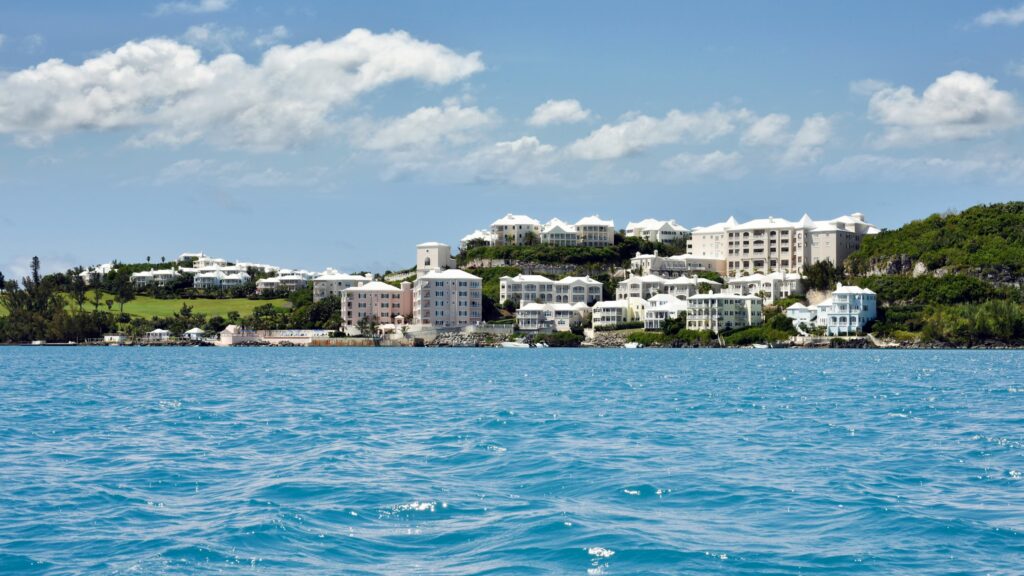 Price per Night: $500 to $1500
Best For: Easy airport access, private beach
Availability: Easy to book
The Rosewood Bermuda resort is located in Hamilton Parish and is less than fifteen minutes from the Wade International Airport. This 5-star resort boasts a selection of pools, a state-of-the-art spa, and the largest private beach in Bermuda.
Rosewood Bermuda boasts three restaurants and luxuriously furnished rooms for visitors to enjoy. As part of Tucker's Point, you will have almost 250 acres of stunning coastland to explore, as well as easy access to local golf clubs, beaches, the Bermuda Underwater EWxploration Institute, and BAMZ (Bermuda Aquarium Museum and Zoo).
The spa has eight treatment rooms for guests to pamper themselves, and other facilities include a fitness center, tennis courts, sauna, and scooter rentals.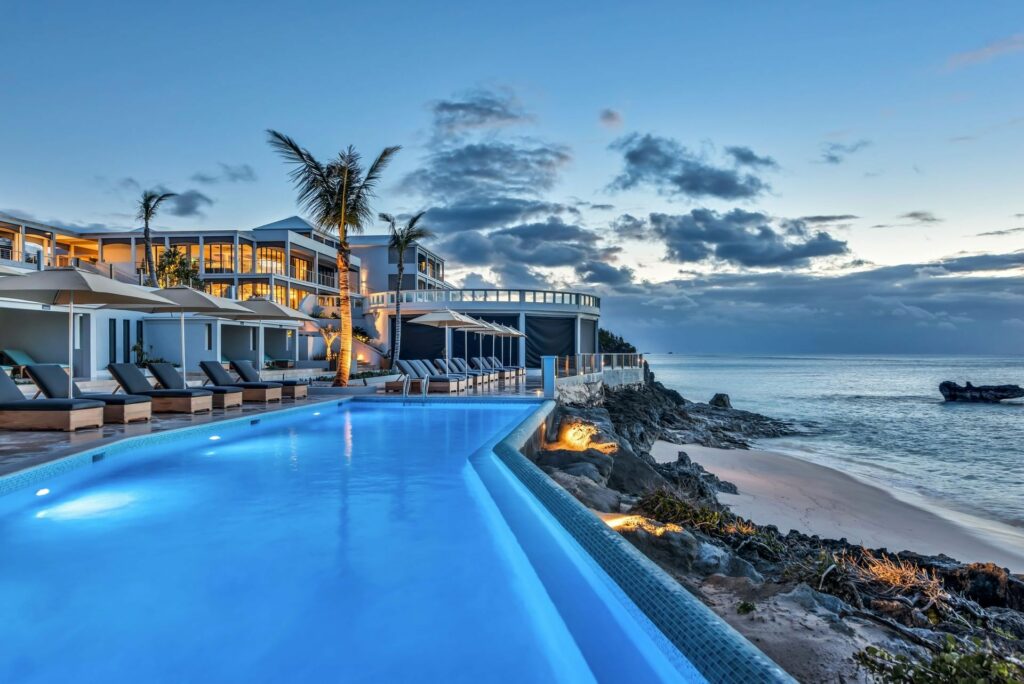 Price per Night: $500 to $2,500
Best For: Sea views
Availability: Limited
Like the Rosewood Bermuda, The Loren at Pink Beach is also found in Tucker's Town, St. George Parish, so it shares the same ease of access to the airport and local attractions.
You will have an excellent choice of accommodation with opulent oceanfront suites with a private terrace or balcony. The Villa offers more privacy and is available with a private pool.
Alternatively, you can stay at The Residence, an almost 11,000 square foot, six-bedroom luxury mansion. As well as offering an excellent level of luxury and space on your vacation, The Residence also comes with access to its own private beach club, a tennis court, heated swimming pool, media room, gym, outdoor kitchen, and chef's kitchen.
Al fresco dining, chilled and intimate lounge settings, and private dining options are all available for the perfect romantic honeymoon vacation.
As if all that wasn't enough, the spa and fitness room ensure wellness can be achieved with relaxing treatments, yoga, cardio machines, and weights.
Relax on Bermuda's famous pink beaches, enjoy fine dining and drinks, or take advantage of the Club Loren experiences when staying at this fabulous resort.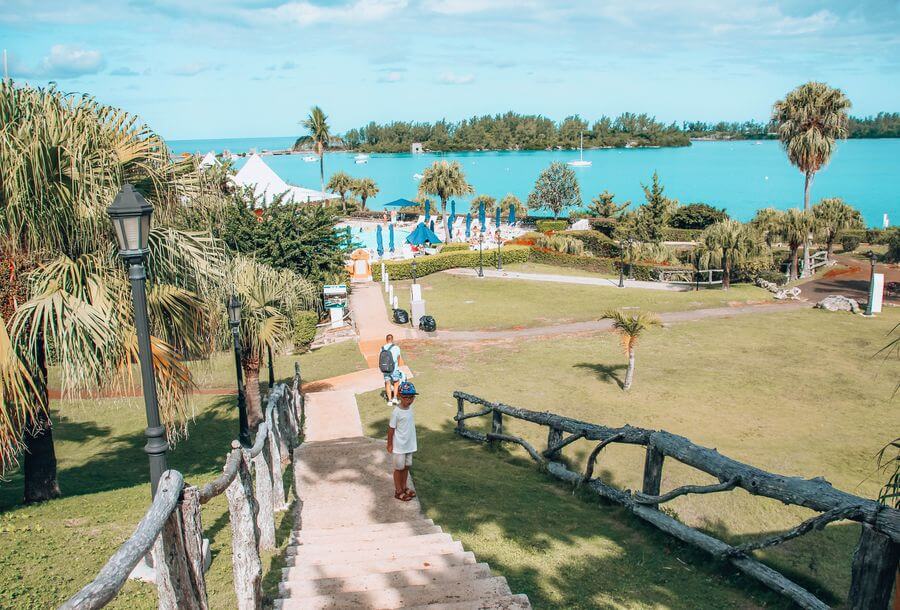 Price per Night: $300 to $600
Best For: All-inclusive
Availability: Easy to book
From the private pink sand beaches to the 21 acres of lush, tropical gardens, Grotto Bay Beach Resort is an excellent option for honeymooners that want to relax and not think about money for the whole trip.
The Grotto Bay all-inclusive supplement includes breakfast, lunch, and dinner at a choice of three restaurants, unlimited drinks, and afternoon tea.
Your all-inclusive package includes access to an underground swimming cave, fitness center, water park, tennis courts, kayaking, paddle boarding, snorkeling, and a free public transport pass covering the entire island.
You will choose between traditionally furnished rooms and a choice of eleven cottages. Ocean view options are available for those who enjoy looking out over the water.
Guests will love the unique cave spa, where you can enjoy the incredible natural setting and choose from several treatments.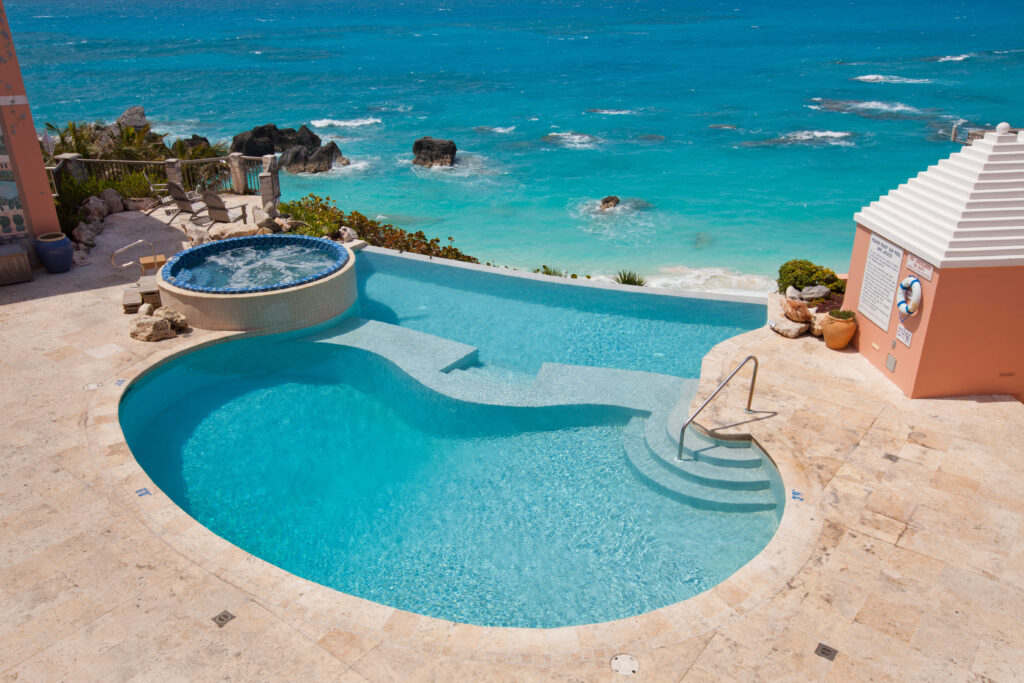 Price per Night: $300 to $750
Best For: Older couples
Availability: Easy to book
Located on the south coast of Bermuda, The Reefs Resort & Club is a beautiful boutique beachfront retreat. The family-owned resort is popular among honeymooners because of its excellent service and facilities.
Couples will be able to enjoy relaxing spa treatments at La Serena Spa, as well as make use of the hot tub, fitness center, tennis courts, and freshwater infinity pool. Those that want to make the most of the ocean will enjoy complimentary snorkeling equipment and sea kayaks.
Choose between beautifully furnished poolside or cliffside rooms, suites with sea views from their beautiful balconies, or stunning cottages that offer privacy, sea views, patios, and private hot tubs.
There are excellent dining options available at The Reefs Resort & Club, including Aqua Terra, where you can enjoy locally sourced produce for breakfast, lunch, and dinner. Coconuts offer al fresco dining and a romantic view over the beach and are open for lunch and dinner services.
If you are looking for something a bit more casual, the Clubhouse Lounge & Bar for a drink and snack. The lounge will also feature entertainment most nights, with local entertainers and DJs putting on a show for guests.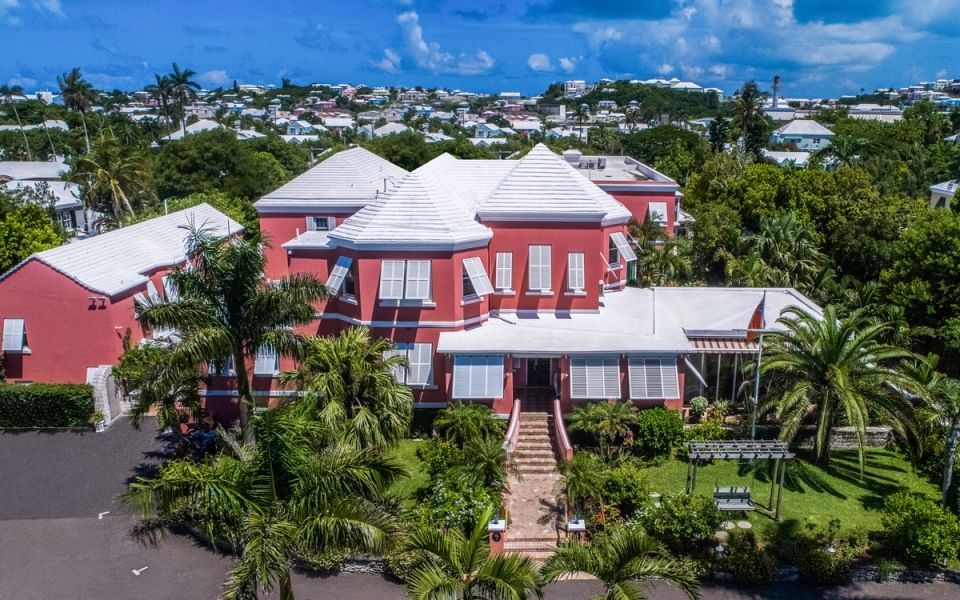 Price per Night: $300 to $500
Best For: Traditional accommodation
Availability: Limited
Found in the heart of Bermuda's capital, Hamilton, the Royal Palms Hotel is a family-owned boutique hotel that offers a more intimate setting for honeymooners.
Set in two 19th-century manor houses among tropical gardens, the Bermudian and colonial styles blend for an elegant and luxurious setting.
Continental breakfasts and an evening Wine Hour bookend the beautiful days you will spend in this stunning hotel. The friendly and helpful staff team is another reason this is such a popular option.
The rooms and suites are beautifully decorated and exude the same class and taste the rest of the hotel does. Guests can expect freshly cut flowers when they arrive, air conditioning, towels, and complimentary Wi-Fi and bath products.
The award-winning Ascots restaurant is one of Bermuda's finest dining options, and Just 24 offers a more casual, laid-back option. Up to 14 lucky guests can also enjoy a private dining experience in the Royal Palms award-winning wine cellar.
Price per Night: $300 to $675
Best For: Intimacy
Availability: Easy to book
Combining the convenience of a great location that is close to the best south coast beaches with the intimacy and seclusion of being set back from the main road with its own private beach, the Pompano Beach Club is an excellent option for honeymooners that want to experience everything Bermuda has to offer.
This is another family-run boutique hotel that offers luxurious accommodation and impeccable service. There are many great options for guests, including the Lower Snapper Suites, Superior Rooms, Suits, Deluxe Rooms, and Townhouses.
Depending on the level of luxury you are looking for, and let's face it, you should be aiming high on your honeymoon, the rooms, suits, and townhouses at the Pompano Beach Club will provide you with beautifully furnished accommodation.
While most hotels operate strict opening times for pools and other facilities, the Pompano Beach Club offers 24-hour access to the main pool and jacuzzis.
The private beach at the Pompano Beach Club is spectacular. You are provided with sun beds and umbrellas, and you can wade out as far as 400 yards during low tide.
Dining options include the Cedar Room Restaurant, Ocean Grill, Coral Reef Cafe, Sunrise Coffee, Beach Bar, Pool Bar, and Sunset Lounge. These great options make the most of locally sourced produce and fresh seafood.
If you want to keep your days active, you can make the most of the tennis courts, fitness center, spa, game room, or watersports center. Scuba diving and water excursions can also be arranged for guests that want to get up close and personal with the marine life.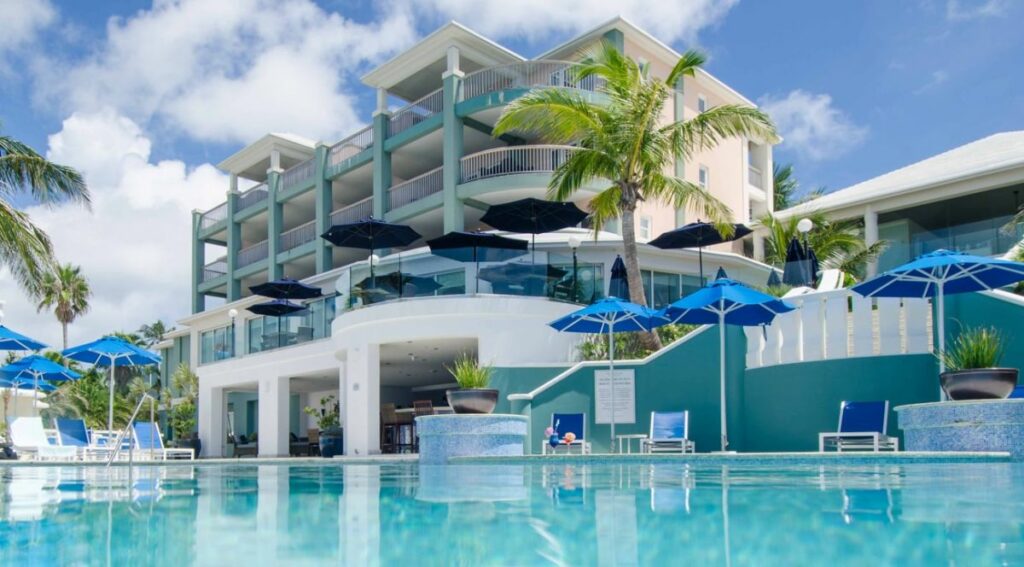 Price per Night: $275 to $600
Best For: Active couples
Availability: Limited
Newstead Belmont Hills Golf Resort & Spa is an exquisite way to enjoy a honeymoon. Its perfect location offers quick and easy access to all the island's top attractions and even offers complimentary transport to the beach or downtown Hamilton.
Newstead Belmont Hills Golf Resort & Spa has a great range of modern, sophisticated, and luxurious suites that come elegantly furnished and with their own private terrace overlooking the harbor or infinity pool.
The great range of amenities will mean you can spend endless days enjoying the hotel. The stunning infinity pool and sundeck are ideal for relaxing, as are the pool bar and jacuzzi.
A complimentary water taxi from the hotel's dock to Hamilton and straightforward airport transfers makes getting to and from the hotel easy.
Enjoy a complimentary round at the Belmont Hills Golf Course, take advantage of the hotel's tennis courts, and visit the fitness room to stay active.
Morning yoga by the pool and a range of treatments available at the hotel spa will help to relax and rejuvenate you.
You won't have to travel far to enjoy exquisite dining with a collection of great restaurants, including Aurora, Blu, Divots Bar & Grill, Marea, and the Pool Bar providing a great choice all through the day.

Price per Night: $300 to $750
Best For: Boat trips
Availability: Easy to book
The Hamilton Princess & Beach Club's incredible harbor location is perfect for those who want to explore the capital, travel to other parts of the island, or experience incredible boat tours and excursions.
The rooms and suites are perfect for honeymooners with beautiful balconies and opulent furnishings. You will have access to the excellent spa and fitness facilities and will be able to make the most of the tennis courts, nearby golf course, and swimming pools.
The Duchess Cafe & Gelateria, Princess Beach Club, Crown & Anchor, and 1609 Bar & Restaurant are all excellent dining options onsite for guests to enjoy.
You will be within walking distance of even more excellent attractions in Hamilton, making it a great choice for people that want to see as much of Bermuda on their vacation as possible.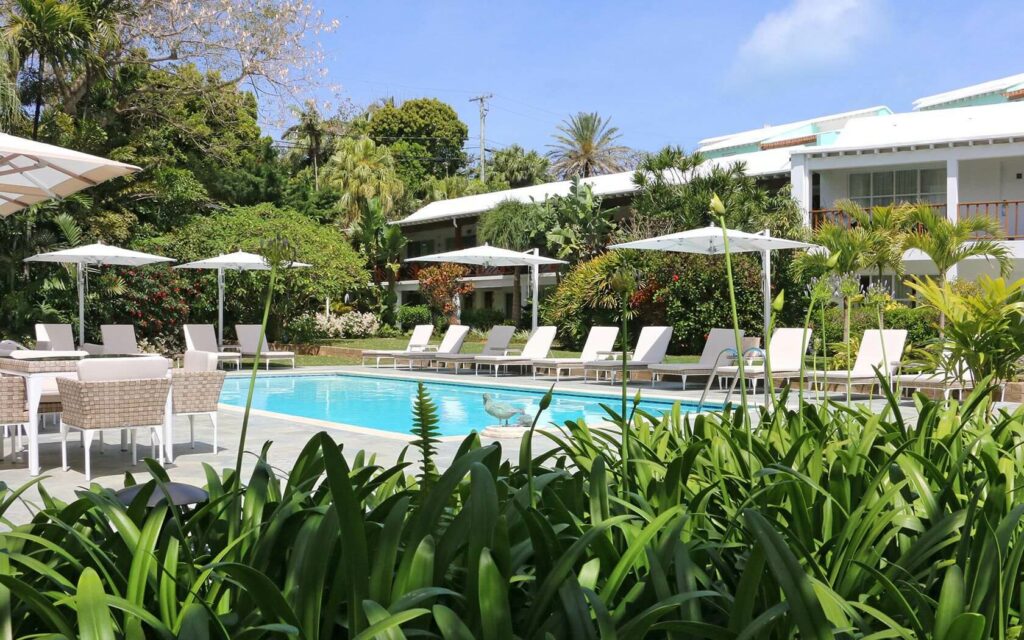 Price per Night: $425 to $700
Best For: Access to Hamilton
Availability: Limited
The beautiful Rosedon Hotel was built over a hundred years ago, and its opulent fountains and tropical gardens add to the exquisite location.
The romantic rooms are perfect for honeymooning couples with elegant four-poster beds, European furnishings, and covered porches. No two rooms are the same, guaranteeing a unique and enjoyable vacation.
Guests of the hotel can enjoy filtered drinking water, poolside continental breakfasts, complimentary bikes, high tea, a shuttle service to and from the nearest beach, luxury hotel transfers, fitness, spa, and sauna experiences, and local walking tours.
The outdoor heated swimming pool is perfect for relaxing around or enjoying a dip at any time of the year.
The Huckleberry Restaurant provides an excellent fine dining experience that makes the most of locally sourced produce from their gardens and honey from their hives.
Environmentally friendly travelers will appreciate the green initiatives implemented by the Rosedon Hotel, which uses solar panels to heat water, energy-efficient lighting, and recycle as much waste as possible.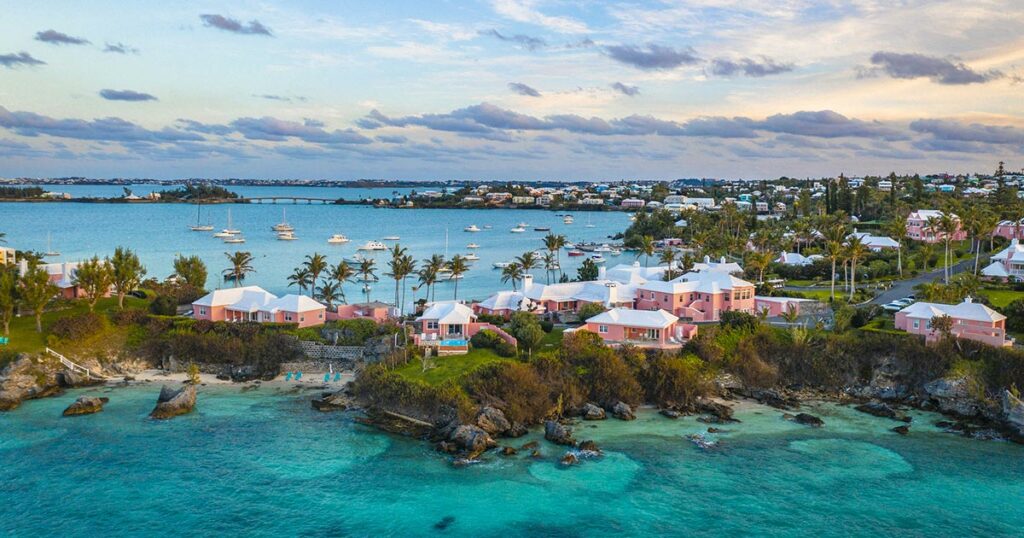 Price per Night: $300 to $700
Best For: Private accommodation
Availability: Easy to book
The Cambridge Beaches cottage resort is perfect for honeymooning couples that want to enjoy privacy without noisy children destroying the peace. No children under 13 are permitted at this destination, making it ideal for anyone looking to enjoy a relaxing vacation.
Located on a western peninsula of Bermuda, Cambridge Beaches is just a short distance from the charming Somerset village that has excellent bars and restaurants to enjoy. Hamilton is only 20 minutes by ferry for shipping, sightseeing, and a more lively experience.
The traditional cottages of the Cambridge Beaches resort provide incredible views and a relaxing environment. Guests can use the infinity pool, nature reserves, four private beaches, and an indoor pool.
The onsite spa offers a selection of relaxing treatments for guests to enjoy, and the fitness center and tennis courts are perfect for more active visitors.
Each cottage is unique and will vary in size. You can choose between private terraces, balconies, or patios, with some even having a private plunge pool.
Breezes restaurant offers a great selection of locally sourced produce and freshly caught seafood, and the Tamarisk Restaurant is excellent for its buffet breakfast and formal dining options.
Best Areas To Stay in Bermuda
At around 24 miles in length, Bermuda is relatively small, so no matter where your accommodation is, you will be able to explore and experience everything the island offers.
The following locations offer guests a great place to set up a base for their vacation or to visit on a day trip.
Saint Georges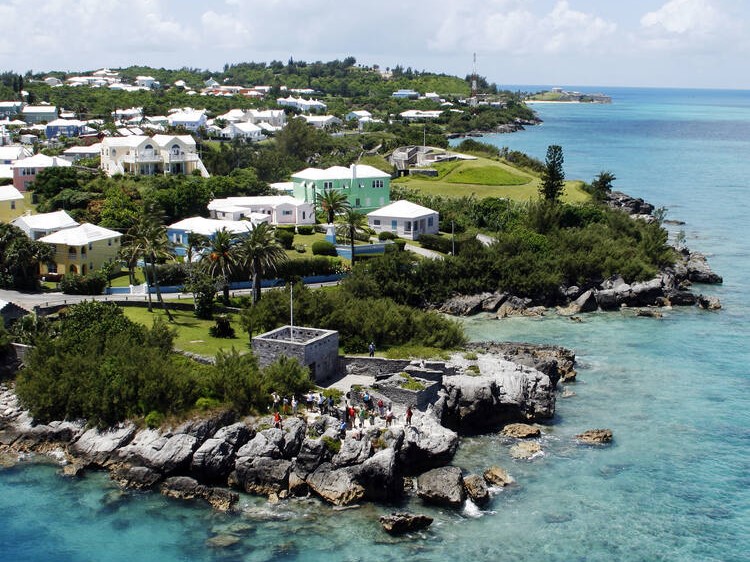 St George's Island is the northernmost area of Bermuda and was the first British Settlement. Because of this, visitors can learn about colonial history and architecture. Museums, beaches, and gardens make this an excellent location for couples and nature lovers.
Elbow Beach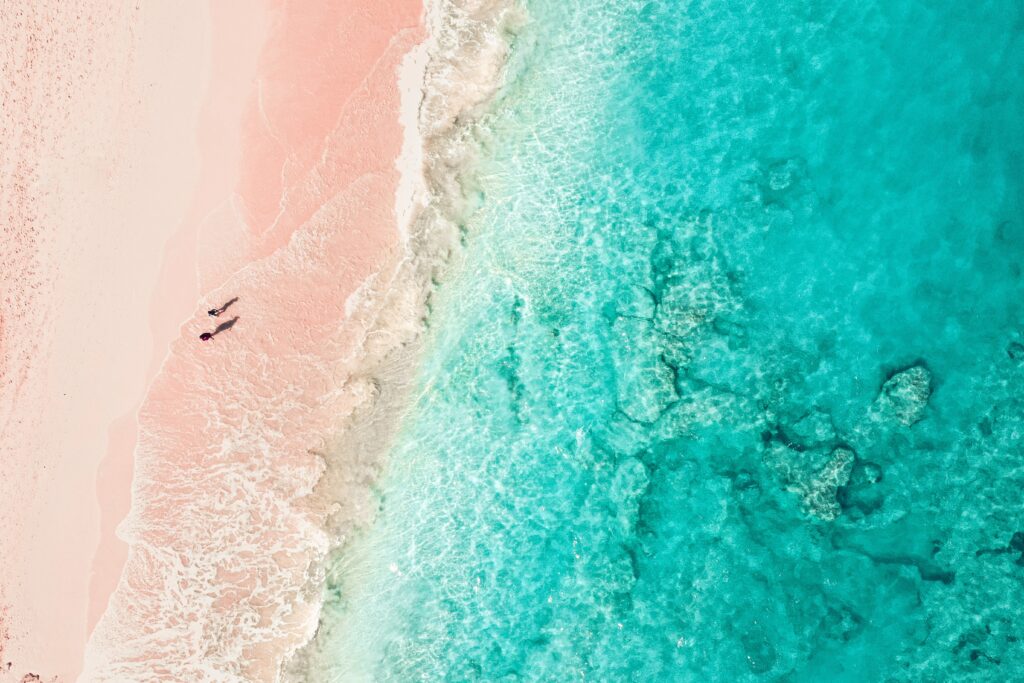 Beach lovers may recognize Elbow Beach as one of Bermuda's most famous locations. When visiting, sunbathing, snorkeling and diving are all options, and you will be delighted by how quiet it is compared to famous beaches in other countries. Paget Parish also has a great choice of shops and cafes for couples to visit.
Southampton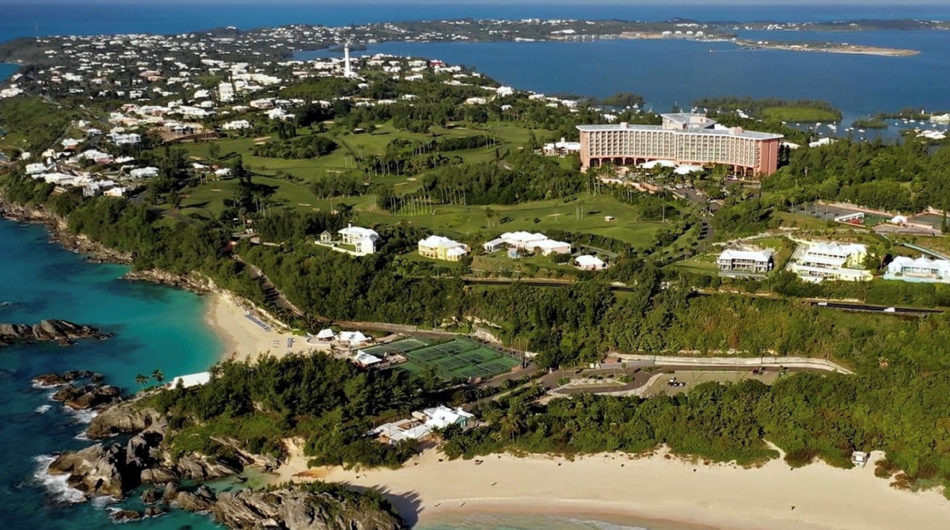 Southampton is one of Bermuda's nine parishes and boasts a great selection of pink beaches for visitors to enjoy. Horseshoe Bay Beach and cove, Angle Beach, and Gibb's Hill Lighthouse are all popular locations.
Mt Pleasant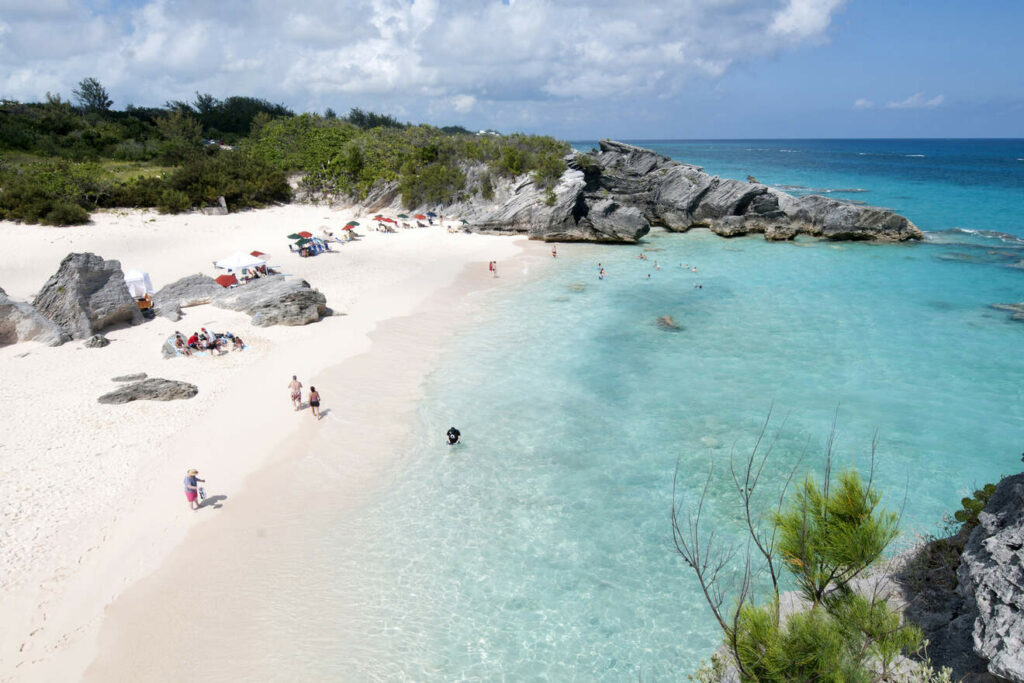 Island hoppers will probably frequent some of the ports around Mount Pleasant, a beautiful, central Bermudan location. If you plan to do some shopping on your honeymoon, Mt Pleasant has some of the most upmarket shopping options on the island.
Surf Side Beach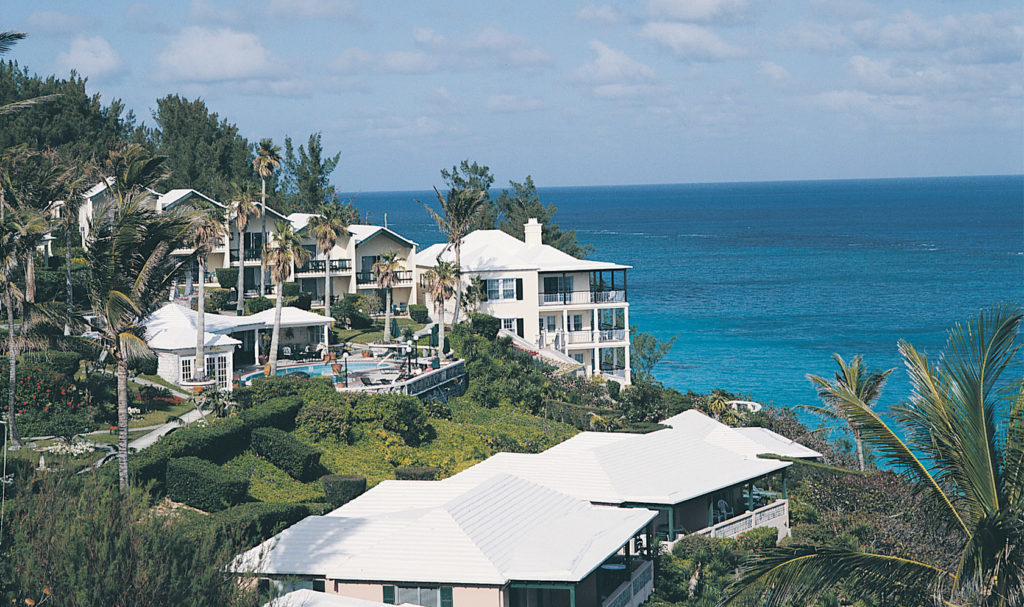 Nestled in the center of the island, Surf Beach is a great location that gives you quick and easy access to the rest of the island and its attractions. Boat rides, diving, sunbathing, and exploring the local area attracts lots of visitors to this beautiful part of Bermuda.
Somerset Village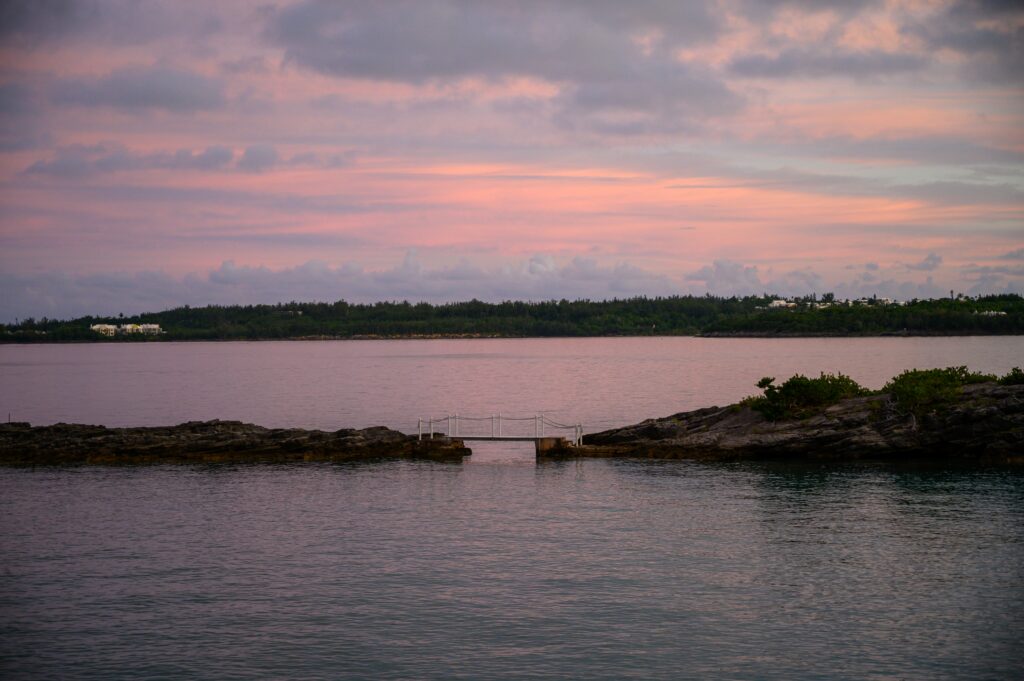 Somerset Village is a more secluded and laid-back community that is perfect for romantic honeymooners. Make the most of the old railway line that is now a path to see more of the area, and be sure to take in the beautiful clear waters of Mangrove Bay Beach.
Hamilton Parish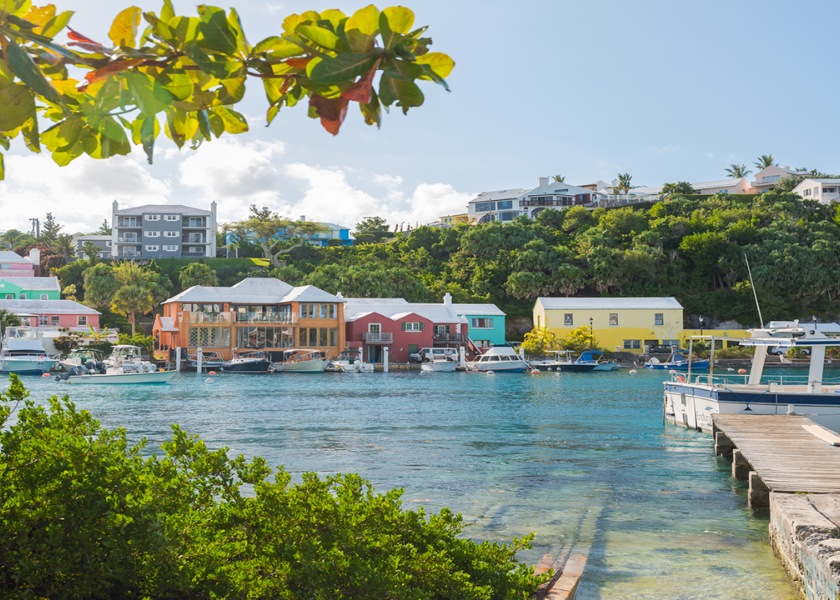 Last but not least is Hamilton Parish, the capital of Bermuda. As well as the beautiful beaches, the incredible lagoon and caves make for great areas of natural beauty, as does the local nature reserve.
Top Excursions & Activities To Do On A Bermuda Honeymoon
If you are planning a Bermuda honeymoon, there are lots of great things to see and do. Here are some of Bermuda's top excursions and activities that you might want to consider.
Crystal & Fantasy Caves
Enjoy a guided tour and experience the unique and beautiful subterranean lakes and caves developed over the centuries. This is an excellent opportunity to experience Bermuda's natural beauty, 120 feet below the ground.
Blue Hole Park
You might spend most of your time whiling away the hours under the sun on a beautiful pink beach, but you should also head over to the West End of Bermuda to Blue Hole Park. Cave exploration, swimming, and cliff-jumping are all available here in the bright blue waters.
Swizzle Inn
Every Bermuda honeymoon should include a rum-based drink or two, and you will find a great selection at the Swizzle Inn. The Rum Swizzle and Dark n' Stormy are the nation's two national drinks, and you get to enjoy them both here.
Hamilton
Visit Bermuda's capital Hamilton and experience the island's best restaurants, great shopping opportunities, Hamilton City Hall and Arts Centre, and clubs for those that want to venture out and experience the nightlife.
The Beaches
As you might expect, the one thing you will find plenty of in Bermuda is beautiful beaches. You will be able to find great public and private beaches all over the island to enjoy sunbathing, watersports, and boat trips. Bermuda's best beaches include Horseshoe Bay Beach, Jobson's Cove Beach, Warwick Long Bay Beach, and Elbow Beach.
Sample Itinerary & Budget For Your Honeymoon To Bermuda
Setting an itinerary for a trip will help you budget. Bermuda is not a cheap country to visit, and accommodation can be relatively pricey.
A Bermuda budget for a seven-day trip per couple will look like this;
| | |
| --- | --- |
| Activity | Weekly Cost |
| Accommodation | $1,000 (budget hotel) – $17,500 (expensive resort) |
| Flights | Upwards of $500 (round trip from the US) |
| Food and drink | $770 – $1,400 |
| Crystal and Fantasy Cave Tour | $35 |
| Bermuda Triangle Twilight Cruise from King's Wharf | $89 |
| Belmont Hills Golf and Country Club | $173 |
Bermuda honeymoon itinerary inspiration:
Day 1 – Settling into your resort and using the excellent facilities on offer is the perfect way to start a honeymoon.
Day 2 – A trip to a local beach on your second day will let you see more of the island and enjoy the beautiful pink sand beaches.
Day 3 – A visit to the Crystal and Fantasy Caves on day three is the ideal way to start exploring Bermuda.
Day 4 – Visiting Hamilton, Bermuda's capital, is a great way to spend a day. See local attractions, visit the shops, and enjoy a meal at one of the great restaurants.
Day 5 – A morning enjoying your resort facilities before visiting the Belmont Hills Golf and Country Club will give you the perfect mix of relaxation and activities.
Day 6 – The unforgettable twilight cruise around the Bermuda Triangle on your second last day is the perfect way to enjoy a romantic evening.
Day 7 – The last day of your honeymoon can be spent with relaxing spa treatments and enjoying your resort pools.
Frequently Asked Questions
How much does a Bermuda honeymoon cost?
The cost of your trip will depend on the duration and where you plan to stay. A typical two-week holiday to Bermuda will cost around $3,500 per person. When you consider this a honeymoon, you might want to push that budget a bit higher to experience the trip of a lifetime.
When is the best time to visit Bermuda?
May to October is Bermuda's busy season when hotel prices will be at a premium. March and April are great times to visit because it is not as active, but the weather is still typically good, and October is typically the wettest month.
What is the best way to travel around Bermuda?
The public transport system in Bermuda is a great way to get around, with buses and ferries taking you everywhere you would need to. For more independence, you can hire electric cars and scooters to explore.
What is the best way to travel to Bermuda?
The quickest and easiest way to travel to Bermuda is by air, with travel times taking as little as 2-hours from the East Coast of America. Alternatively, cruise options are available for those happy to take their time and pay a bit more.
Start Planning The Perfect Romantic Honeymoon Getaway
It is safe to say that Bermuda offers a luxury honeymoon experience for visitors. With several excellent all-inclusive vacation packages to take care of, honeymooners can enjoy a care-free holiday of a lifetime.
Couples Travel makes a Bermuda honeymoon easy to plan thanks to our excellent range of resources, leaving it up to you to plan your big day and dream about lying on a beach as a married couple.