Are you planning your honeymoon in New Hampshire and looking for the ultimate guide to make it a lifetime trip? Look no further!
From romantic getaways in the majestic White Mountains to outdoor adventures in the stunning Lakes Region, we've got you covered with the top honeymoon resorts, exciting excursions, and insider travel tips.
Get ready to start planning your dream honeymoon in the Granite State!
What Makes New Hampshire Perfect For A Honeymoon
Due to its wide variety of natural beauty and romantic activities, New Hampshire is the ideal location for a honeymoon. The White Mountains offer breathtaking vistas, hiking paths, and inviting lodges for a romantic trip.
The Lakes Region boasts beautiful lakes and mountains, perfect for boat rides and picnics. The Seacoast Region offers sandy beaches and charming coastal towns.
New Hampshire is also known for its charming small towns, historical sites, and delicious farm-to-table dining options, which are perfect for a romantic and intimate honeymoon experience!
Best Areas to Stay in New Hampshire
New Hampshire makes a beautiful honeymoon with its natural beauty, outdoor activities, and charming villages. The White Mountains, Lakes Region, Seacoast Region, Dartmouth-Lake Sunapee Region, and Monadnock Region are just a few locations from which honeymooners can select.
Each region provides a distinctive experience and a range of lodgings to make your honeymoon as pleasant and memorable as possible.
White Mountains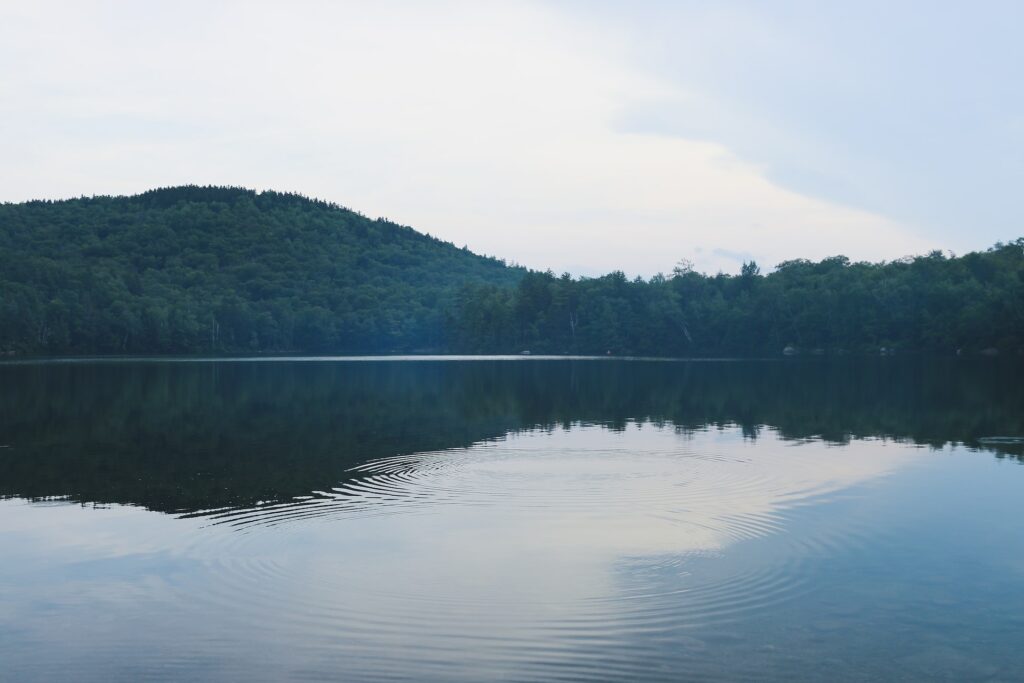 New Hampshire's White Mountains provide the ideal honeymoon location with its natural beauty, outdoor activities such as horseback riding, and romantic honeymoon resorts.
The tallest point in the northeastern United States is Mount Washington and other breathtaking mountain summits. Many different sports are available in the White Mountains, including hiking, skiing, and rock climbing.
The stunning foliage during autumn makes the spectacular trip along the Kancamagus Highway a must-see. The White Mountains' North Conway and Lincoln towns are located there and have fantastic hiking, cross-country skiing, and retail opportunities.
The White Mountains also offers various honeymoon resorts, such as the Omni Mount Washington Resort, which boasts luxury accommodations, spa services, and many cozy inns and bed and breakfasts that offer an intimate and romantic experience.
The White Mountains of New Hampshire provide the perfect blend of natural beauty and a romantic atmosphere, making it an ideal honeymoon destination.
Lake Region
A stunning location for a honeymoon, the Lakes Region of New Hampshire offers gorgeous lakes, mountains, and outdoor activities.
Numerous lakes in the area, including Lake Winnipesaukee, Lake Sunapee, and Squam Lake, are well-known for providing opportunities for boating, swimming, and fishing. Cross-country skiing, cycling, and hiking are just a few of the outdoor activities available in the region.
Meredith and Wolfeboro, two quaint tiny towns in the Lakes Region, provide a wide range of dining and retail opportunities. The area is also well-known for its breathtaking mountain vistas, which are especially lovely when the leaves change in the fall.
A selection of lodging options is available in the Lakes Region, including more honeymoon resorts, inns, and bed & breakfasts. These establishments provide a variety of facilities and services to make your honeymoon as pleasant and memorable as possible.
Overall, the Lakes Region of New Hampshire has the appropriate balance of scenic beauty, outdoor recreation, and charming villages, making it the perfect honeymoon location.
The Seacoast Region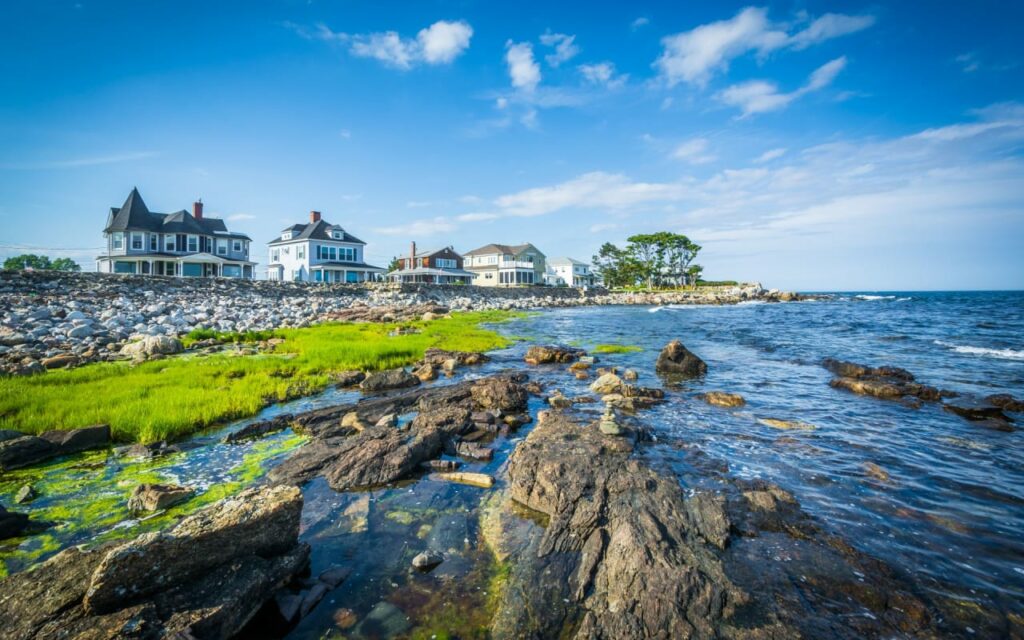 Beautiful coastal New Hampshire's Seacoast Region provides honeymooners with various attractions and activities. Portsmouth, Hampton, and Rye are just some attractive seaside towns that provide various dining, shopping, and entertainment opportunities.
The area is also home to sandy beaches, including Wallis Sands State Park and North Beach in Hampton. The USS Albacore Museum and the Portsmouth Harbor Lighthouse are just two of the several historical landmarks in the region.
Kayaking, fishing, and sailing are popular outdoor pursuits in the area. The Seacoast Region also provides hiking trails, scenic drives, and bird-watching possibilities for people who like the outdoors.
Lodging options are plentiful in the Seacoast region, from honeymoon resorts to inviting bed & breakfasts. One of the area's most opulent honeymoon resorts, The Wentworth by the Sea, a Marriott Hotel & Spa, offers breathtaking sea views and a full-service spa.
Best Honeymoon Resorts, Hotels, and Other Stays in New Hampshire
New Hampshire honeymoon resorts offer various options for couples looking for romantic getaways.
From luxurious honeymoon resorts such as the Mountain View Grand Resort to charming bed and breakfasts, there's something for every taste and budget!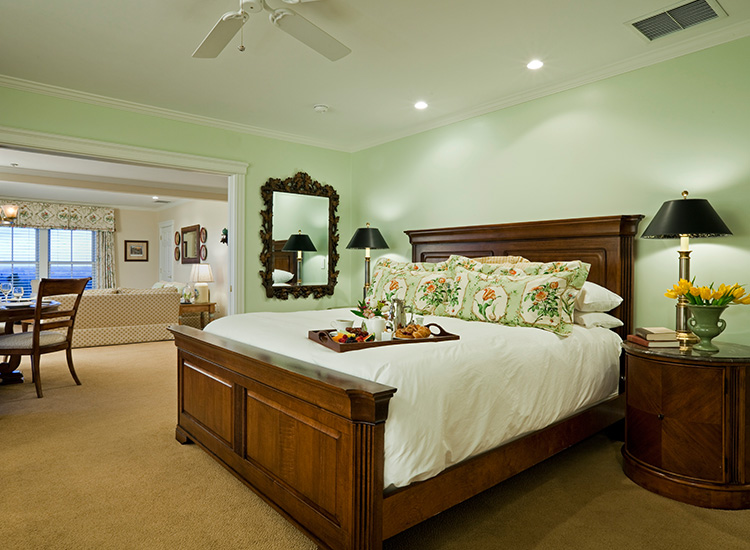 Price per night: $131 – $536
Best For: old & young couples, long & short stays, easy access to local attractions & activities
Availability: Easy to book
Mountain View Grand Resort & Spa is situated in Whitefield and features an indoor pool, an outdoor pool, and four on-site restaurants, 2 of which are open all year. There is a tennis court and a spa on the property.
You will get a private bathroom with a bath or shower, a TV, and air conditioning in your resort lodging. Some lodgings provide stunning views of mountains.
Meeting spaces, a game area, and a kids' club are available at Mountain View Grand Resort & Spa. Numerous activities, including hiking, are available on-site and as nearby attractions, making this great for romantic getaways for couples who enjoy being in nature.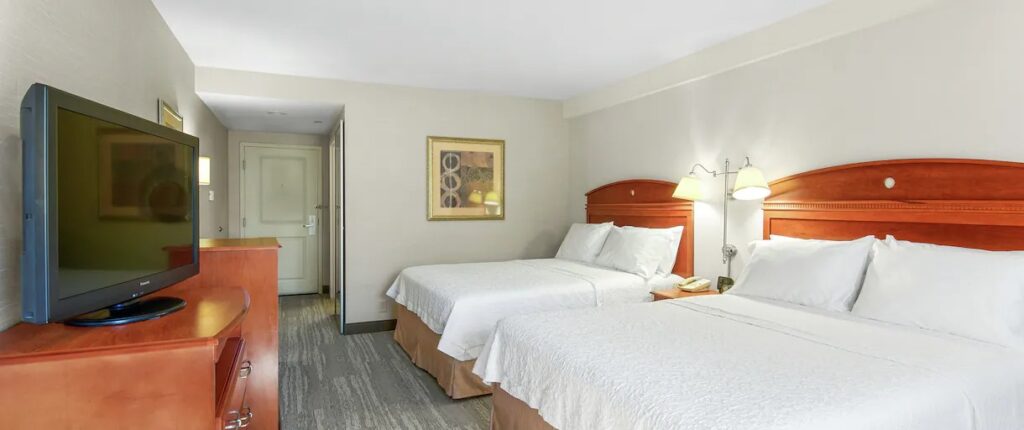 Price per night: $85 – $105
Best For: old & young couples, short & long stays, nature lovers
Availability: Easy to book
The Hampton Inn is a hotel chain with locations across the country, including North Conway, New Hampshire. The hotels under the Hampton Inn brand are renowned for their cozy lodgings, kind hospitality, and modern amenities like WiFi and complimentary breakfast.
The Hampton Inn can also provide extra amenities, including a gym, pool, and business center. Accommodations are made to be practical for visitors and are frequently found close to busy thoroughfares, airports, and other well-known locations.
With Mt. Washington 15 minutes away, this is a perfect location for couples who love being around nature, with modern amenities and activities close by for a blended holiday experience.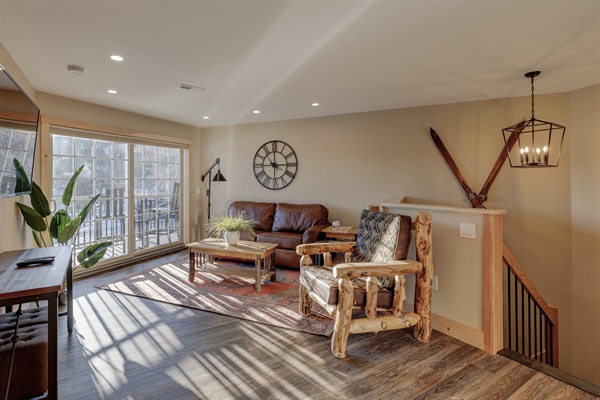 Price per night: $167 – $187
Best For: old & young couples, short stays, boutique hotel experience
Availability: Easy to book
The Lodge by Sunapee Stays is situated in New Hampshire, close to the town of Sunapee. For couples looking for an adventurous holiday rental, go no further than The Lodge by Sunapee Stays.
The property features a fully functional kitchen, cozy living quarters, and outside play areas. Furthermore, The Lodge by Sunapee Stays is situated in a lovely place with breathtaking views and chances for outdoor pursuits. The building is a sizable holiday house or a collection of vacation homes that may be rented out temporarily by families, friends, and couples.
Couples wishing to explore and enjoy the region's natural beauty will find the property's position in the lovely New Hampshire area, with its picturesque vistas and options for outdoor activities like hiking, skiing, and boating, to be the ideal setting.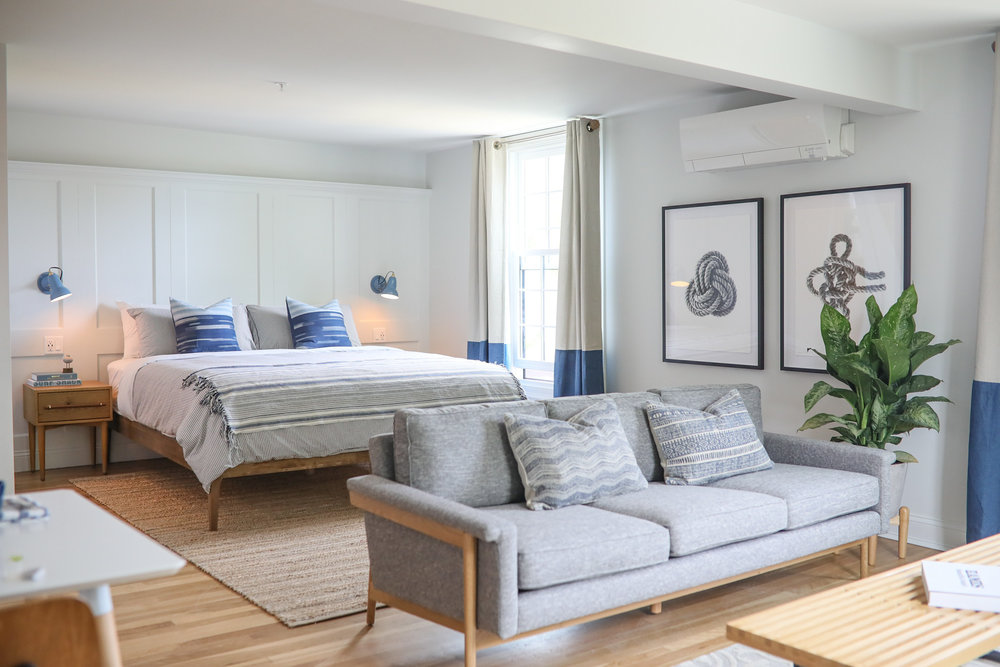 Price per night: $170 – $250
Best For: old & young couples, short & long stays, pet friendly
Availability: Limited availability on certain rooms
On the island of New Castle, the resort known as Great Island Inn provides contemporary apartments for independent tourists. The six guest studios provide in-room laundry facilities and fully functional kitchens.
Throughout your stay, the resort offers personalized concierge services, including knowledge of nearby attractions, dining options, and day trips, and just when you think it can't get better, it does!
The inn is pet-friendly, meaning your four-legged friends can join you and your loved one on this adventure.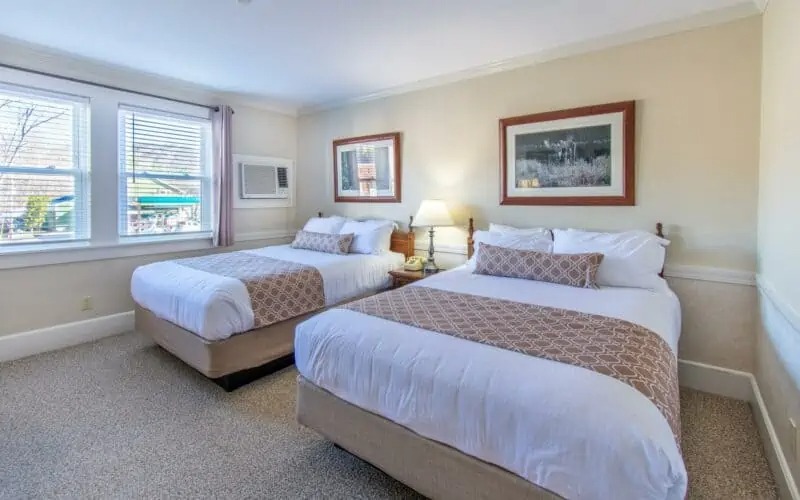 Price per night: $99 – $219
Best For: old & young couples, centrally located, long & short stays
Availability: Limited Availability
The four-season Eastern Slope Inn Resort sits in the heart of North Conway Village in New Hampshire. The resort is within walking distance from the shops, eateries, cafés, and well-known sights. It's the perfect stay for couples looking to stay in a centrally located area to save on travel fees.
The resort features multiple styles of guest rooms ranging from studio to deluxe suites. Many rooms feature living rooms, kitchens, gas fireplaces, and jacuzzi tubs for relaxing after long days of exploring and fun in the nearby town.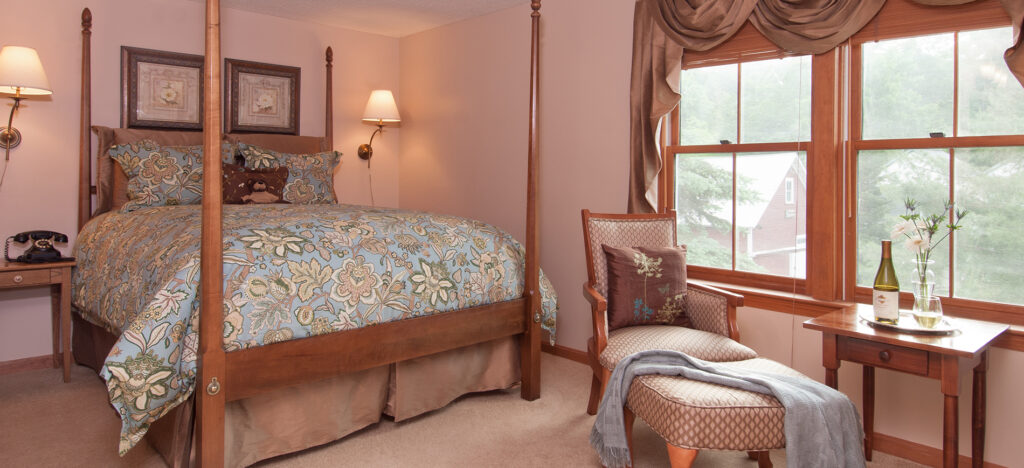 Price per night: $192 – $377
Best For: old & young couples, peaceful quiet accommodation, centrally located
Availability: Easy to book
Nestled in the heart of New Hampshire's White Mountains, the Inn at Ellis River welcomes honeymooners to a romantic countryside escape. The inn is located in Jackson village, a little community renowned for its natural beauty and facilities for outdoor activities.
If you're looking for a home away from home, then the Inn at Ellis River is what you're looking for. From delicious country breakfasts, warm and welcoming hosts, and numerous activities nearby, this inn is great for couples who want a quiet weekend away to enjoy each other's company.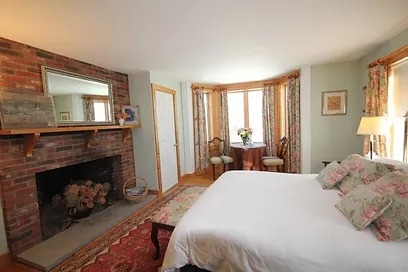 Price per night: $250 and upwards
Best For: old & young couples, adventurous couples who enjoy outdoor activities
Availability: Easy to book
East Andover, New Hampshire, is home to the historic Highland Lake Inn Bed & Breakfast. The inn is located on the banks of Highland Lake, giving visitors access to various outdoor activities and water sports.
The inn offers cozy rooms and suites, each with a private bathroom and contemporary conveniences. Additionally, some rooms come with balconies, Jacuzzi tubs, and fireplaces. The inn also features a parlor, library, and dining room where guests can enjoy breakfast each morning.
The Highland Lake Inn Bed & Breakfast is renowned for its welcoming environment and top-notch customer support. The innkeepers are delighted to assist visitors with travel arrangements and provide suggestions for nearby events and sights.
Price per night: $200-$350
Best For: old & young couples, romantic countryside escape, privacy
Availability: Limited Availability during the first quarter of the year
Enjoy serenity with your sweetheart at the Stephen Clay Homestead Bed & Breakfast, nestled in the heart of charming Southern New Hampshire and Historic Candia. Established in 2000, this tranquil retreat promises a relaxing escape from the hustle and bustle of everyday life.
The Stephen Clay Homestead offers peaceful, private guest rooms with refrigerators and air conditioning. Shared bathrooms have a shower as well as a bath and a hairdryer. All of the rooms provide views of the garden to visitors. Additional features include a fireplace, a desk, linens, and plush bathrobes.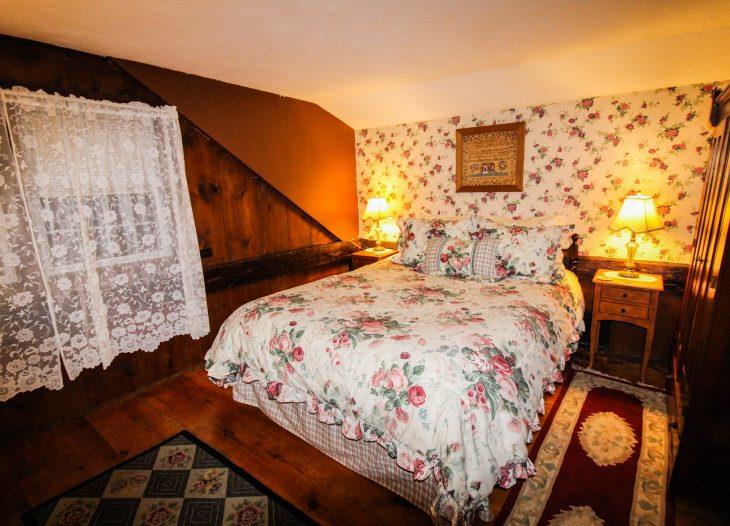 Price per night: $194 – $219
Best For: old & young couples, rustic accommodation, nearby entertainment
Availability: Limited Availability during the first quarter of the year
Escape to the picturesque town of Meredith and experience the ultimate comfort at the Nutmeg Inn. With free WiFi and private parking, this historic country inn makes for a cozy home away from home.
You can unwind in style in the spacious accommodation, complete with a flat-screen cable TV, a fully-equipped kitchen with a refrigerator, and a private bathroom stocked with complimentary toiletries.
After a long day of cycling, skiing, or hiking, visitors may unwind in the garden or the communal living space.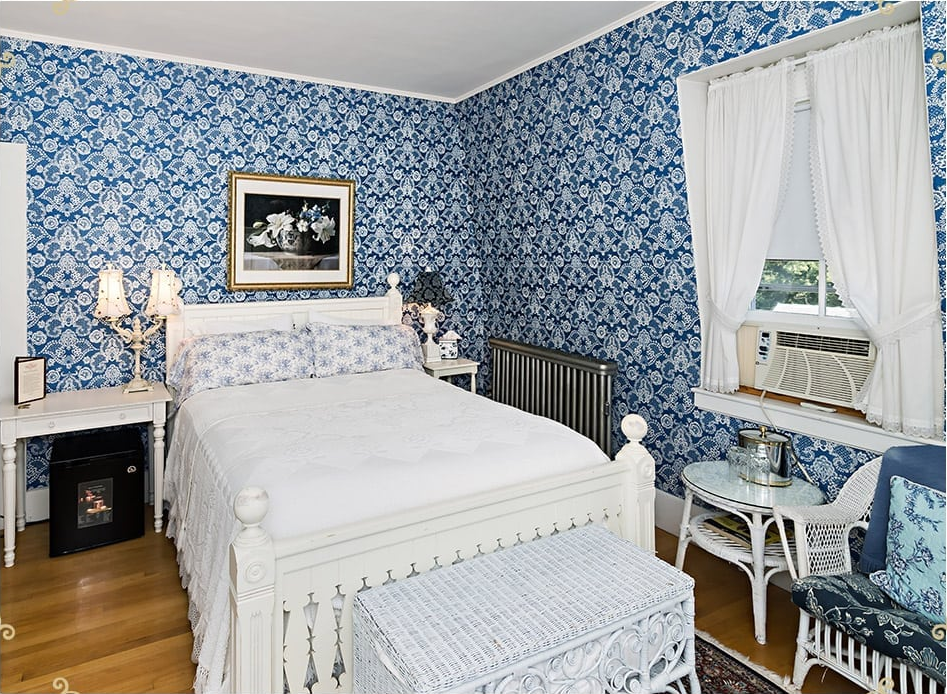 Price per night: $150 – $162
Best For: old & young couples, lovers of historic buildings
Availability: Easy to book
Step back in time and experience the charm of the past at The Silver Fountain Inn in Dover, New Hampshire. Built in 1829, this historic bed and breakfast has been expertly restored to showcase its timeless beauty and unique character.
Cozy up in one of the guest rooms or suites, each complete with private bathrooms and all the modern comforts you need. Upgrade your stay with a room featuring a balcony, a bubbly Jacuzzi tub, or a warm fireplace!
The inn also features a library and parlor for relaxing and a dining room where guests can enjoy breakfast each morning. The Dover downtown area is just a short stroll from the Silver Fountain Inn, where visitors can discover a variety of stores, eateries, nearby attractions, and cultural activities.
Top Excursions & Activities To Do On A New Hampshire Honeymoon
Couples may participate in various excursions and activities while on their honeymoon in New Hampshire, including hiking in the White Mountains, boating in the Lakes Region, touring historical sites, horseback riding, and dining locally.
With such a vast range of options, we have chosen four activities where we believe almost everyone may discover a favorite pastime!
1. Audio Driving Tour Guide for the Kancamagus Scenic Byway
Make the most of the Kancamagus Scenic Byway's stunning autumn foliage with a self-guided audio tour! This picturesque road traverses the famed White Mountain National Forest in New Hampshire. The Kancamagus is the ideal scenic drive every season, thanks to its natural beauty.
Utilize this self-guided audio tour while you travel to learn everything there is to know about the Kancamagus, its surroundings, and its history. Start the trip at Lincoln's White Mountains Visitor Center when you get there. For the greatest experience, follow the tour route and the posted speed limit.
2. Islands & Harbor Bike Tour
Discover the landscapes of Portsmouth and New Castle, New Hampshire, on a fun bike tour. Join a small group and ride past several points of interest, including Prescott Park, Four Tree Island, Haven Park, and Fort Stark Historic Site.
Your guide also provides commentary about the history of the cities and shows you the area's well-preserved Georgian, federal, and colonial-style homes.
3. Seven Birches Winery Tour: Meet the Winemakers
You won't want to miss the White Mountains Seven Birches Winery Tour, which takes you closely through the wine-making process with the wine producers themselves.
Whether you love wine or are merely joining people who are passionate about the beverage, couples will enjoy this excursion!
Enjoy wine tastings of both new and vintage wines and a thorough tour of the winery's wine-making facility.
4. From Boston to Kennebunkport, including an optional lobster tour
Discover the shores of New Hampshire and Maine, as well as the sights of Kennebunkport, all in one day with the help of this private, full-day trip departing from Boston. Meet your guide and board your vehicle at your departure location in the morning.
Stopping in the old town of Portsmouth, seeing the Cape Neddick Nubble Lighthouse, touring the President Bush compound in Kennebunkport, and upgrading to include a lobster trip are all included.
Sample Itinerary & Budget For Your Honeymoon To New Hampshire
New Hampshire is a beautiful and romantic destination for your honeymoon. From charming mountain towns to luxurious honeymoon resorts, this state has a wide range of activities for a perfect honeymoon.
That's why we have taken the liberty of preparing a four-day itinerary to be used as a rough guide to get you moving in the right direction.
Day 1:
Arrive in Portsmouth and check into a romantic bed and breakfast. Once settled in, explore the charming downtown area, including the historic Portsmouth Harbor. Have a romantic dinner at a local seafood restaurant.
Day 2:
Take a quick drive to the town of North Hampton (only 8 miles away) for a day of shopping and fun. Return to Portsmouth for dinner and a show at the Music Hall.
Day 3:
If you're up for a little road trip, consider heading down to the beautiful Lake Winnipesaukee (around 50 miles away) for a boat trip. Have lunch at a lakeside restaurant and spend the afternoon relaxing on the beach or renting a boat. Return to Portsmouth for dinner.
Day 4:
Spend your final full day visiting some of the historic sites in Portsmouth and take a tour of the Strawbery Banke Museum. Enjoy a delicious lunch at a local cafe. Head back to your hotel for a night of unwinding and packing.
Budget:
Accommodations: $100-300/night
Transportation (rental car): $100/day
Food and activities: $150-200/day
Total cost: $1,400 to $2,400, depending on your hotel and your chosen activities.
Please note that this is just a sample itinerary; you may want to adjust it to fit your preferences and budget. Also, keep in mind that the prices may vary depending on the time of the year you plan your trip.
Frequently Asked Questions
How much does a New Hampshire romantic getaway cost?
You can expect to spend between $1,400 and $2,050 on your next romantic getaway. It's important to note that prices can be affected by whether you're traveling during peak season.
When is the best time to visit New Hampshire?
You might be surprised to learn the best time is in the fall, between September and October. This is due to various factors, including the fantastic fall foliage, lower temperatures, and fewer crowds than you would encounter if you were to visit during the summer.
What is the best way to travel around New Hampshire?
As the state boasts a vast network of roads and highways, driving is the most convenient way to get to New Hampshire. There aren't many public transportation choices. In addition, driving is the best way to reach several top tourist attractions, including the White Mountains.
Is New Hampshire LGBTQI-friendly?
The LGBTQI community is protected and has rights under the laws and regulations in place in New Hampshire. Since 2010, same-sex unions have been permitted in New Hampshire, and the state forbids discrimination based on sexual orientation and gender identity in sectors including employment, housing, and public facilities.
Start Planning The Perfect Romantic Honeymoon Getaway
A beautiful and romantic honeymoon destination awaits you and your loved one in New Hampshire!
New Hampshire has something to offer any couple, whether you want to experience the White Mountains' natural splendor or Portsmouth's gastronomic offerings.
Put together the honeymoon of a lifetime with our Couples Travel resources. We'll help you plan the perfect romantic honeymoon getaway to any destination you can imagine!