There's no better time to take a bite out of the Big Apple than on your honeymoon! And this destination packs a lifetime of experiences into one destination. So, if you and your partner want an unforgettable getaway, you'll need to know everything about this magical state!
Our guide has everything you'll need for a stress-free stay, including the best areas to stay, the best hotels and resorts in New York City, a sample budget and itinerary, and even the top excursions to make the most of your time in the Empire State!
What Makes New York Perfect For A Honeymoon?
If you're looking for an action-packed honeymoon that offers a little bit of everything, then there's no place finer than New York City! From museums and art galleries to some of the most famous historical buildings in the world, you can enjoy a range of experiences without having to hop from destination to destination!
Best Honeymoon Resorts, Hotels, And Other Stays In New York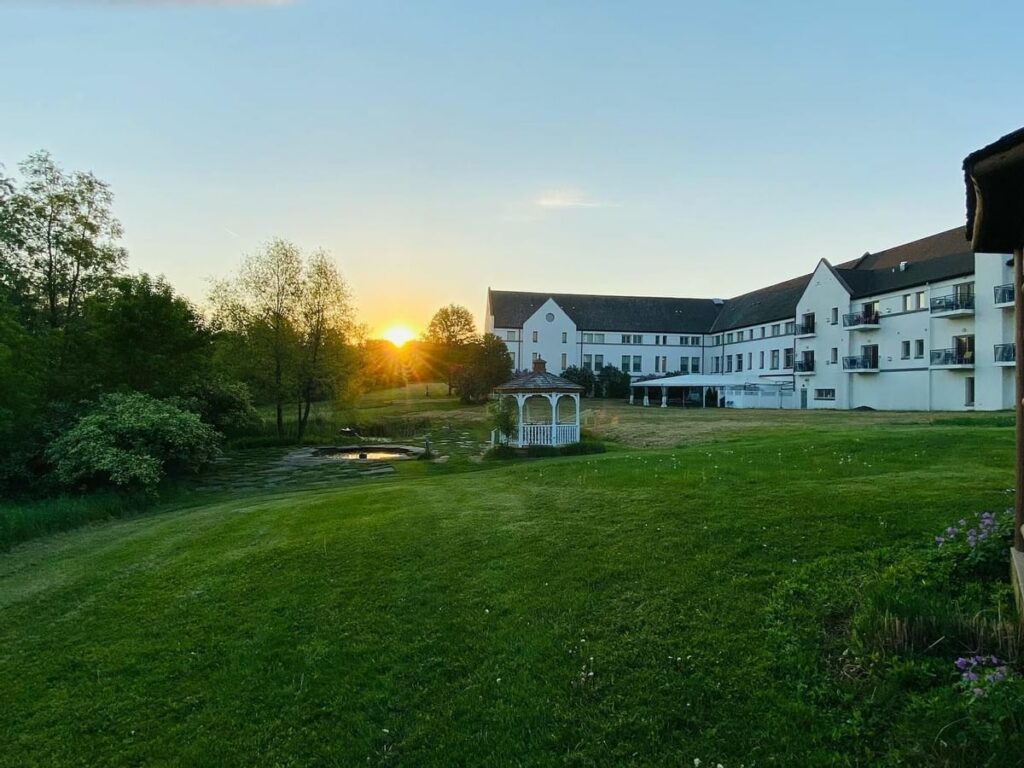 Price per night: $140 – $410
Best for: Older couples, long stays, quiet accommodation
Availability: Good availability
If you're looking for a New York honeymoon without the hustle and bustle of the city, then the La Tourelle Hotel & Spa is a great choice. Nestled in Finger Lakes in Ithaca at the southern end of Cayuga Lake, this serene getaway is the perfect pick for affordable sophistication. With additional add-ons like the Bed and Breakfast of Spa package, you'll never want to leave!
Surrounded by scenic hills and a stone's throw away from some of New York's oldest villages, the La Tourelle is the ideal spot for an intimate honeymoon. There is an on-site spa and bistro to help you relax and unwind, and you can take a break from your break by visiting the year-round Farmer's Market held on weekends. What more could you possibly want?
This destination is perfect for newlyweds who want a different perspective on what the Big Apple offers and is the perfect backdrop for making treasured memories with your spouse.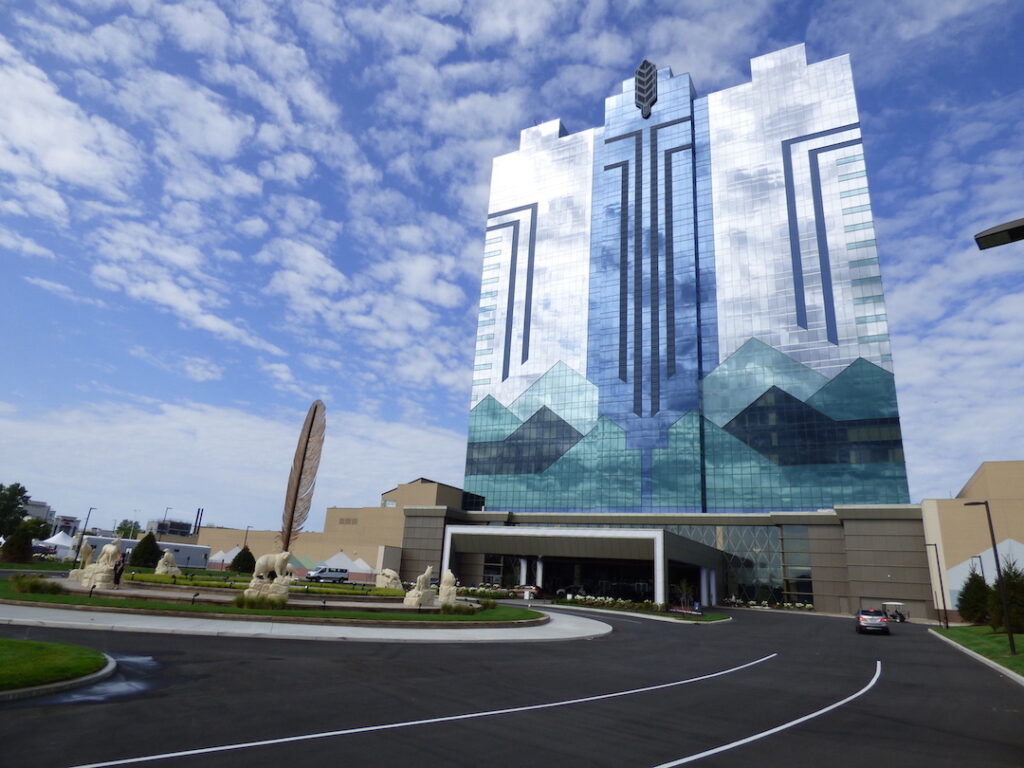 Price per night: $165 – $315
Best for: Younger and older couples, long and short stays, entertainment
Availability: Easy to book
What could be more romantic than spending your honeymoon at Niagara Falls? In the words of Seneca Niagara Resort, "nothing else comes close." With Deluxe and Corner Suites, you can enjoy your stay in one of the most amazing hotels Niagara Falls offers.
This resort has it all: relaxation, entertainment, and your pick of dining options, all rolled into one. And speaking of rolls, you and your partner can enjoy the on-site casino for a night of high-stakes fun after taking a short daytime stroll and basking in the picturesque views of the Falls.
The Seneca also has several discounts and offers to choose from at an affordable price. So if you want to live it up on your honeymoon (while still keeping to a sensible budget), you won't have to gamble on this resort. Instead, you can enjoy your stay knowing that it's one of the finest New York City has to offer.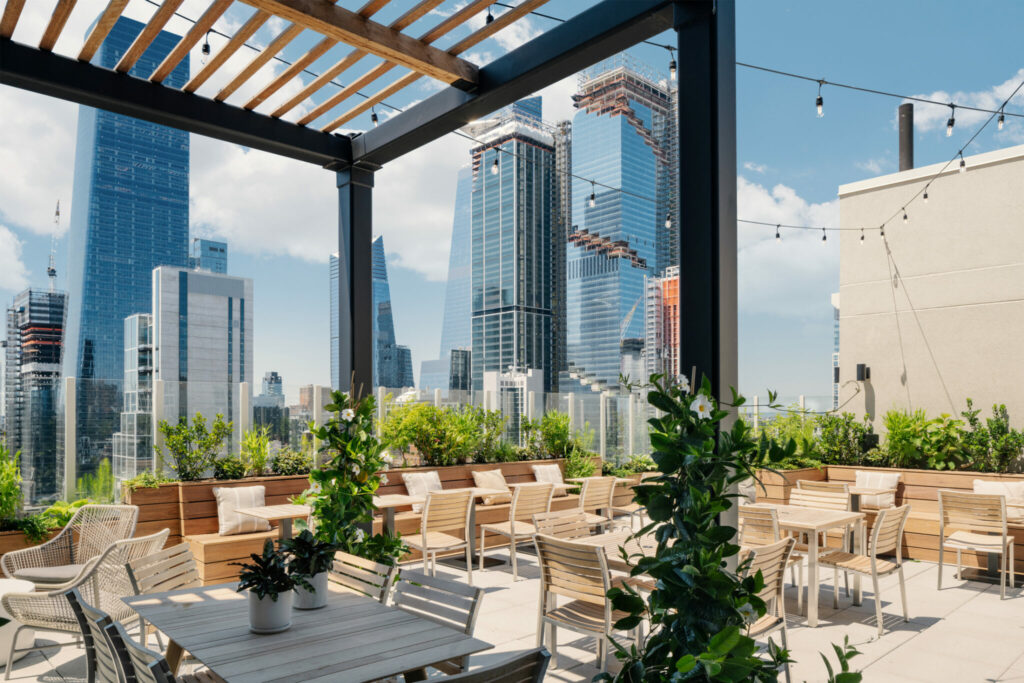 Price per night: $167 – $807
Best for: Older and younger adults, long stays, boutique hotel accommodation
Availability: Easy to book
Arlo Midtown's boutique hotel puts you right where you want to be. With a sleek, modern look, this hotel is perfectly situated near all New York City has to offer – the Museum of Modern Art, the Empire State Building, Central Park, and even Times Square. But that doesn't mean that you have to leave your hotel to have a good time!
You and your partner can enjoy a morning pick-me-up at the coffee bar or a delectable cocktail at the bar and lounge in the evenings. You can even soak up the views of the New York City skyline from the rooftop before heading off to your Double, King, or luxurious Suite room for an evening of romance.
This modern hotel also offers a discount for longer stays, making it an affordable place to call home while you're on your honeymoon. There's even a $25 breakfast credit per person for each morning of your stay, which helps to cut down on hefty food costs for honeymooners on a budget.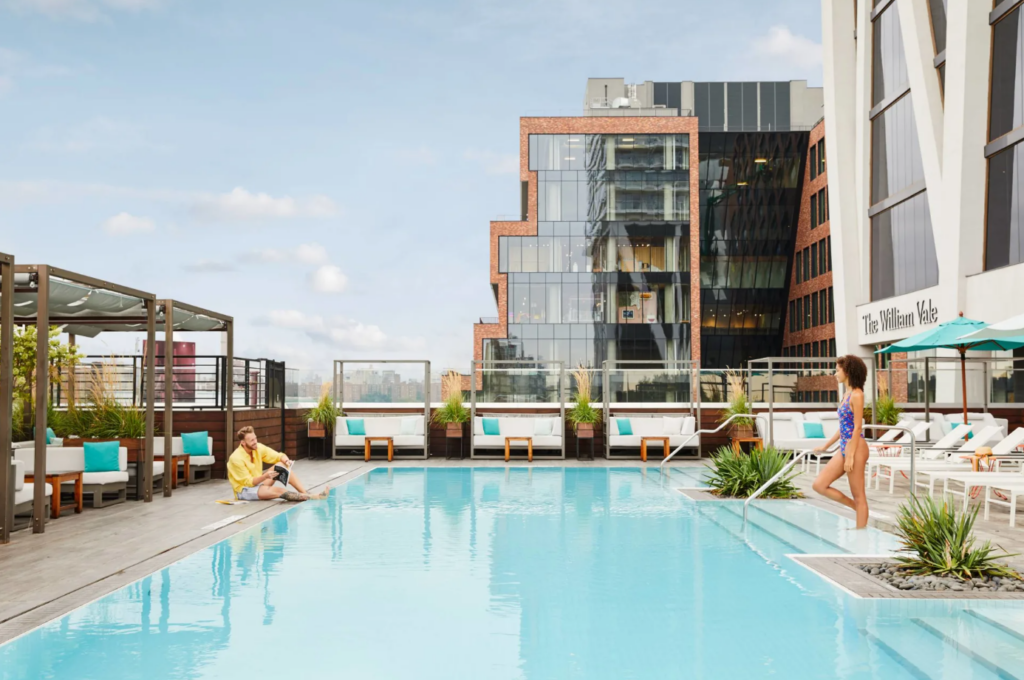 Price per night: $320 – $900
Best for: Older and younger couples, long stays, trendy accommodation
Availability: Limited availability during peak season
William Vale is the place for young couples who want to immerse themselves in all that Brooklyn offers. It's close enough to explore hot spots like the Brooklyn Bridge but has enough of an intimate feel when you're spending a night in. We like to think of the William Vale as a tropical paradise in the middle of a concrete jungle.
With open-air balconies, a 60-foot pool, and a luxurious rooftop bar, you'll be able to soak in the best views in New York City – all from the comfort of your hotel. But the pièce de résistance for honeymooners is definitely the Vale Garden Residence.
This gem has a private balcony with a gorgeous jacuzzi where you and your spouse can enjoy a romantic evening in the perfect setting. But if you get sick of the breathtaking views (as if!), you can always enjoy your time crawling the local coffee shops, munching on delicious street food from the food trucks lining the streets, and tasting delicacies from the unique eateries.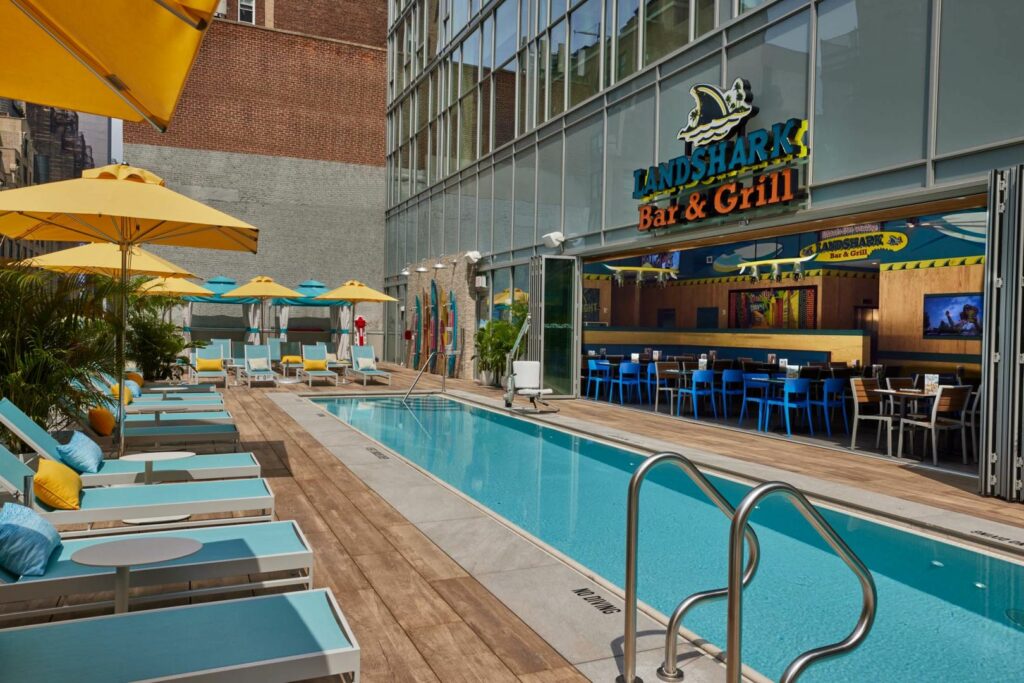 Price per night: $359 – $898
Best for: Younger couples, long and short stays, resort accommodation
Availability: Good availability
With a name like Margaritaville, you know you're in for a treat with this New York resort. This resort opened in 2021 and is already making a name for itself as one of the best places to stay in New York City. With tons of perks and amenities, you and your partner will get an all-inclusive stay for a reasonable price, leaving you more cash to spend on making memories.
The resort is located in Times Square, putting you in the Big Apple's epicenter. It's also a short walk to other worthwhile attractions like Bryant Park and Broadway. So whether you want to go on a romantic stroll or catch a show, Margaritaville has it all. You can also opt to stay in for the night and enjoy the on-site bars and restaurants!
With a few special offers and discounts like the NYC Island Adventure package and the Early Bird late check-out offer, you can customize your stay to make the most of your New York honeymoon.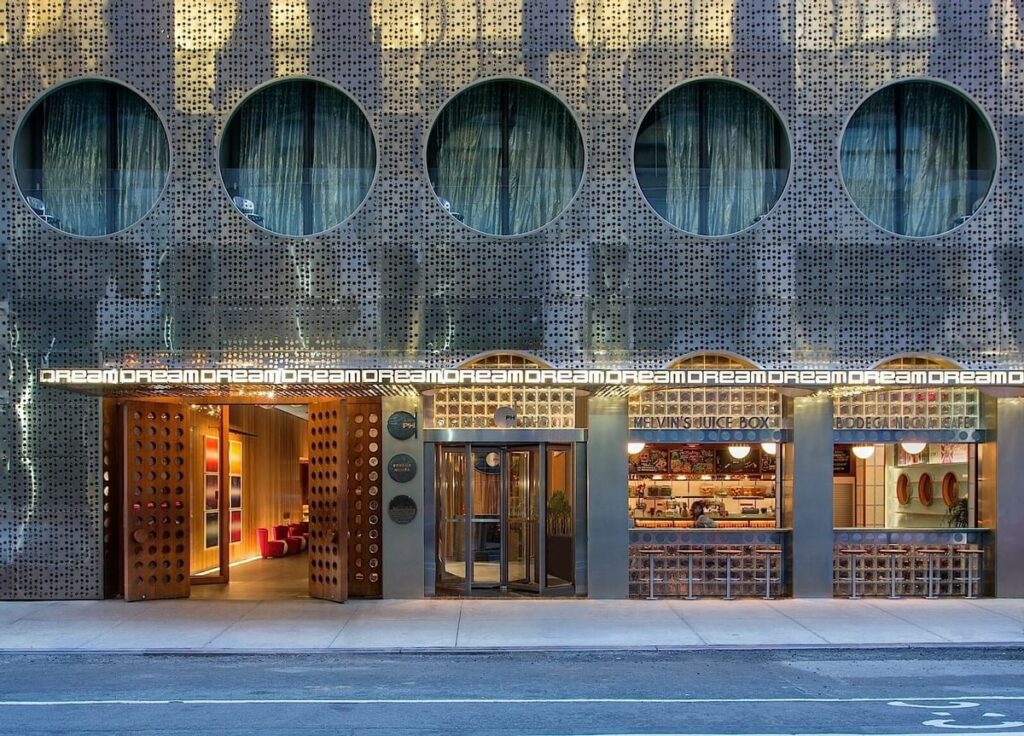 Price per night: $500 – $755
Best for: Younger couples, long stays, modern luxury accommodation
Availability: Good availability
Another hidden hotel that makes for the perfect honeymoon getaway is the Dream Hotel in the Meatpacking District! With an art deco vibe and more amenities than you'll know what to do with, you'll definitely enjoy your stay at this trendy hotel.
Dream Hotel is home to a cafe, rooftop lounge, several restaurants, a salon, a fitness center, and a massage treatment room. One thing's for sure – you'll never be bored! What really draws in the crowds, though, is the "Dream Beach."
The Dream Beach is straight out of a tropical paradise, with imported sand, private cabanas, chaise lounges to soak up the sun, and a gorgeous glass-bottom pool that makes you feel like you're swimming in the clear waters of a remote island. With the Dream Hotel, you can get the best of both worlds with modern accommodation and a built-in tropic utopia.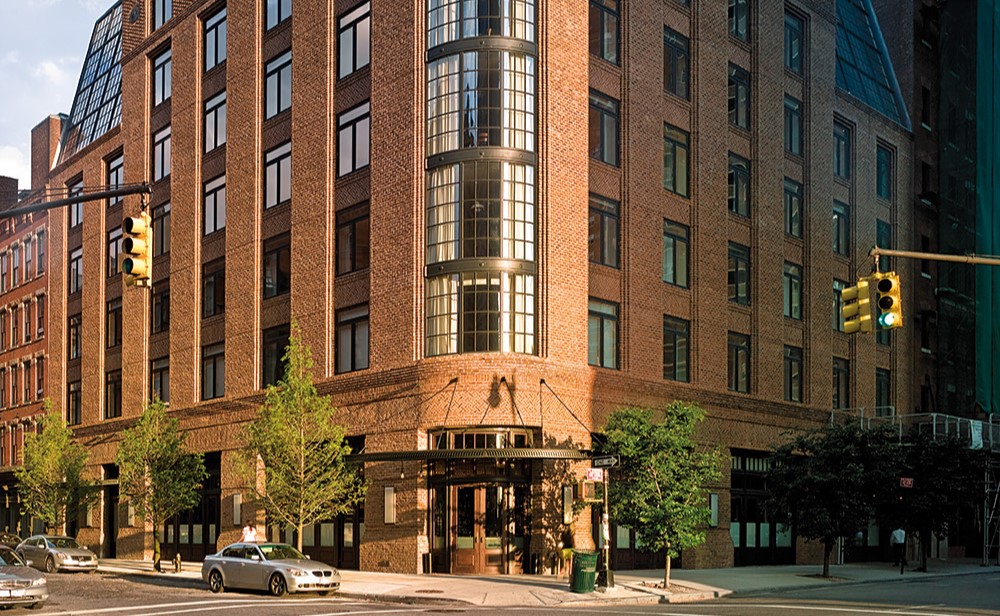 Price per night: $825 – $2795
Best for: Younger and older couples, longer and shorter stays, boutique hotel accommodation
Availability: Limited availability for suites
If you're looking for a more intimate honeymoon experience, the Greenwich Hotel has everything you could want. With an on-site spa, restaurant, pool, and gym, you can consider this boutique hotel a home away from home with a touch of added romance.
The Greenwich Hotel offers more than eighty rooms to suit almost any budget, with each room having access to a private courtyard. The courtyard is your personal slice of heaven and makes for an excellent place to enjoy quiet, uninterrupted time with your new spouse.
Close to the Flea Theater, Pier 25, and the One World Observatory, you won't run out of things to do during your stay. You can also get a feel for New York City's nightlife in the Meatpacking District – home to all the hottest nightclubs and bars for an evening of fun and carefree enjoyment!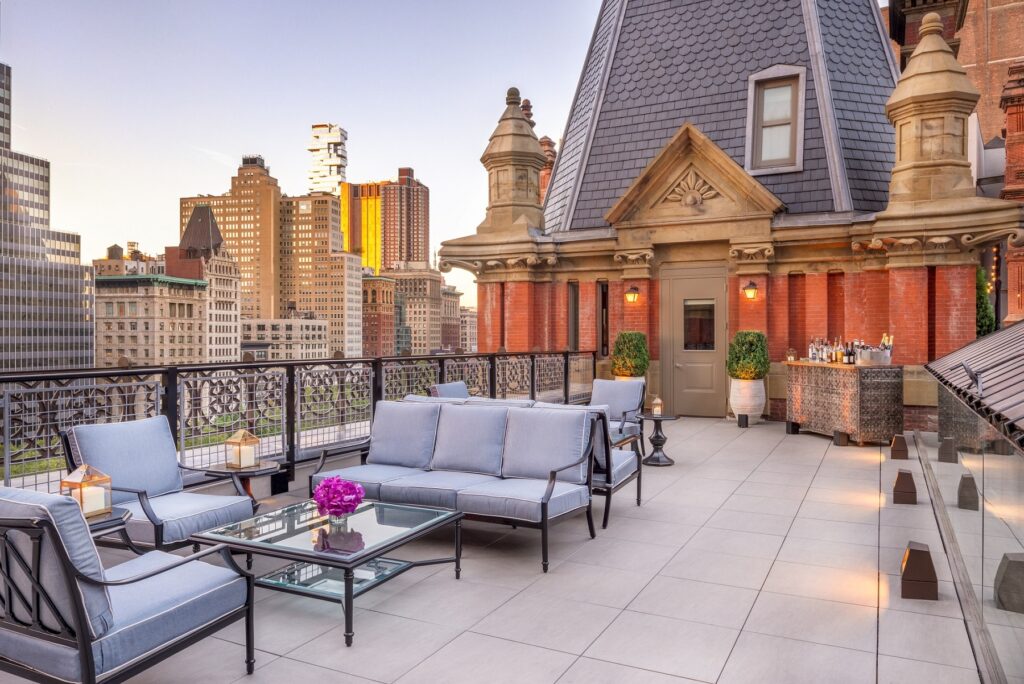 Price per night: $508 – $4508
Best for: Younger couples, short and long stays, adult-only standard and luxury accommodation
Availability: Limited availability for suites
The Beekman was built in 1883 and is one of New York City's oldest skyscrapers. The history of this hotel is evident in its architecture. It is a fantastic choice for couples that want their pick of luxury accommodation without having to blow their entire honeymoon budget!
Because you're in Downtown Manhattan, you can enjoy sights like the Brooklyn Bridge, Seaport District, and Governors Island. If you're looking for a hotel that's just as interesting as any other tourist destination, the Beekman is steeped in history. To add to the beauty of this hotel, it's also home to a nine-story atrium with classic Victorian architecture.
The atrium houses the Bar Room, the hotel's highlight (and possibly your honeymoon!), which serves delectable dishes that newlyweds can enjoy for a romantic dinner. There are also jazz brunches held every weekend if you're looking for fun and culture!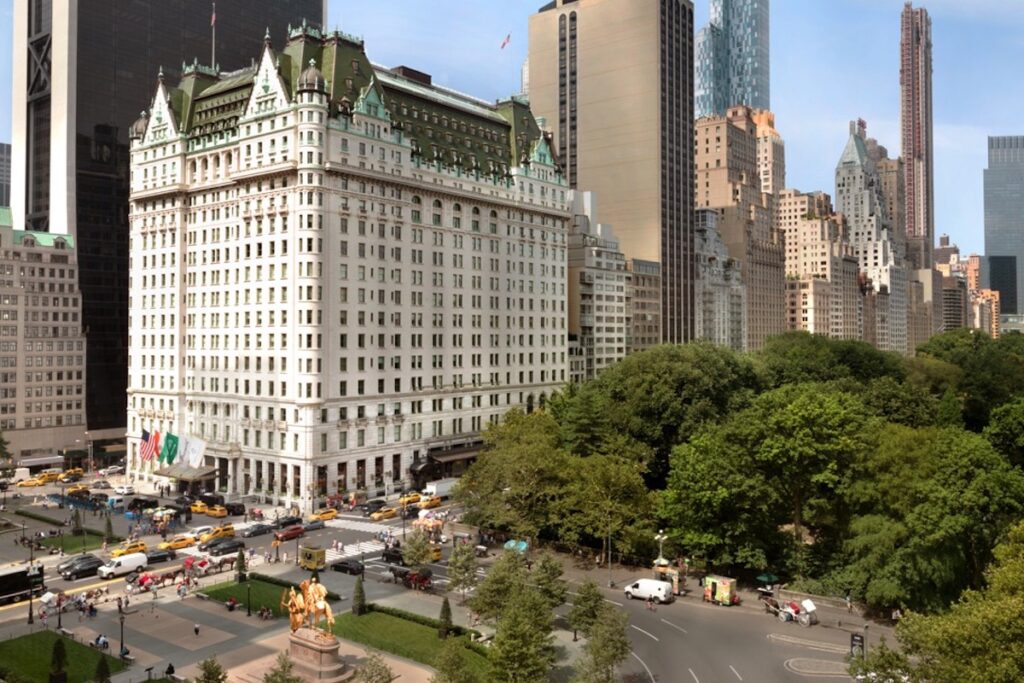 Price per night: $1093 – $2996 (excluding one-of-a-kind suites)
Best for: Older and younger couples, short stays, luxury accommodation
Availability: Limited availability
Book your stay at one of the most luxurious and romantic hotels that New York City has to offer – The Plaza! This world-renowned hotel combines classic opulence and modern amenities with an on-site spa and salon for all your honeymoon pampering. And, with guest rooms and suites to suit any style, The Plaza makes for an unforgettable stay.
With hot spots like the Museum of Modern Art and the Museum of Jewish Heritage at your feet, you can enjoy a more sophisticated view of New York City. And don't forget to make a stop at the famous Tiffany & Co. jewelers!
Although this hotel has a higher price tag than others, you and your partner can soak up all the finest luxuries New York has to offer for a romantic and relaxing honeymoon experience. Besides, who wouldn't want to spend a night at the iconic Plaza hotel?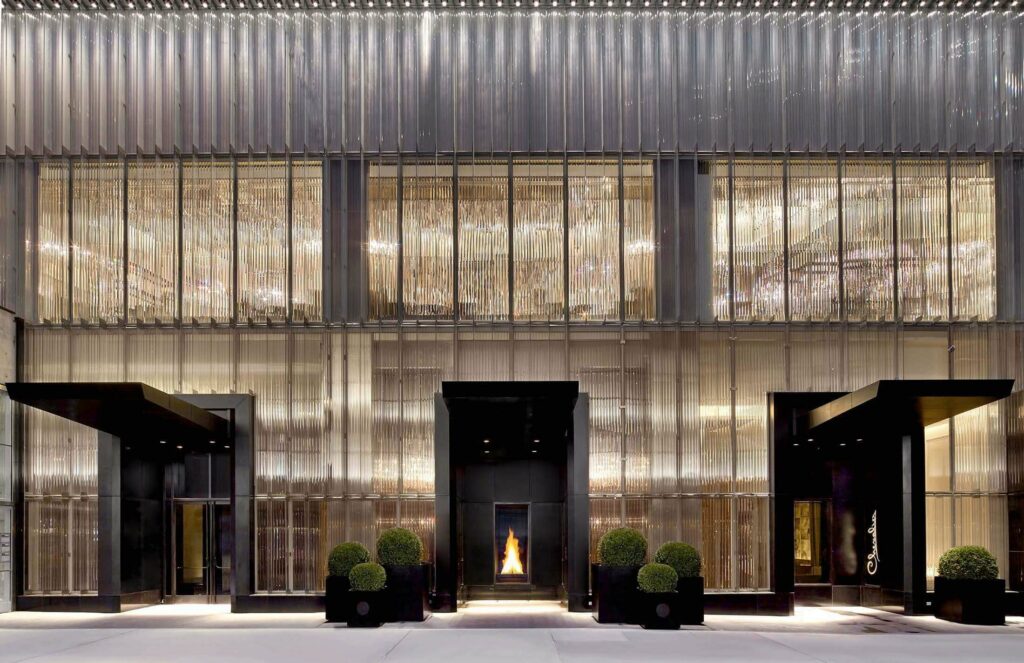 Price per night: $1095 – $3836
Best for: Younger and older couples, shorter stays, hot spot accommodation
Availability: Limited availability for luxury suites
Another great luxury pick is the Baccarat Hotel. Your honeymoon won't have a dull moment with the hotel's on-site boutique, pool, fitness center, and spa. You'll also be close enough to walk to several of New York's finest attractions and landmarks.
You may want to take advantage of Baccarat's special occasion packages for honeymooners. From red roses and chocolates to a champagne breakfast in bed – you can celebrate your wedding in luxury and style. And speaking of luxury, you may also want to indulge in Baccarat's Afternoon Tea.
If you want to enjoy a taste of sophistication with a high tea experience, you'll have to book at least 30 days in advance. This offering is definitely an exclusive and in-demand activity to add to your honeymoon itinerary.
Best Areas To Stay In New York
Finding an area where you can "settle down" for your New York honeymoon can be tricky! With so many different districts, each offering a unique slice of New York City life, narrowing your trip down to one spot is never easy.
Luckily, we've compiled three of our favorite places in New York that offer different experiences. Whether you want to see the sights, soak up the rich and diverse culture, or spend your honeymoon in the lap of luxury, we've got you covered.
Midtown Manhattan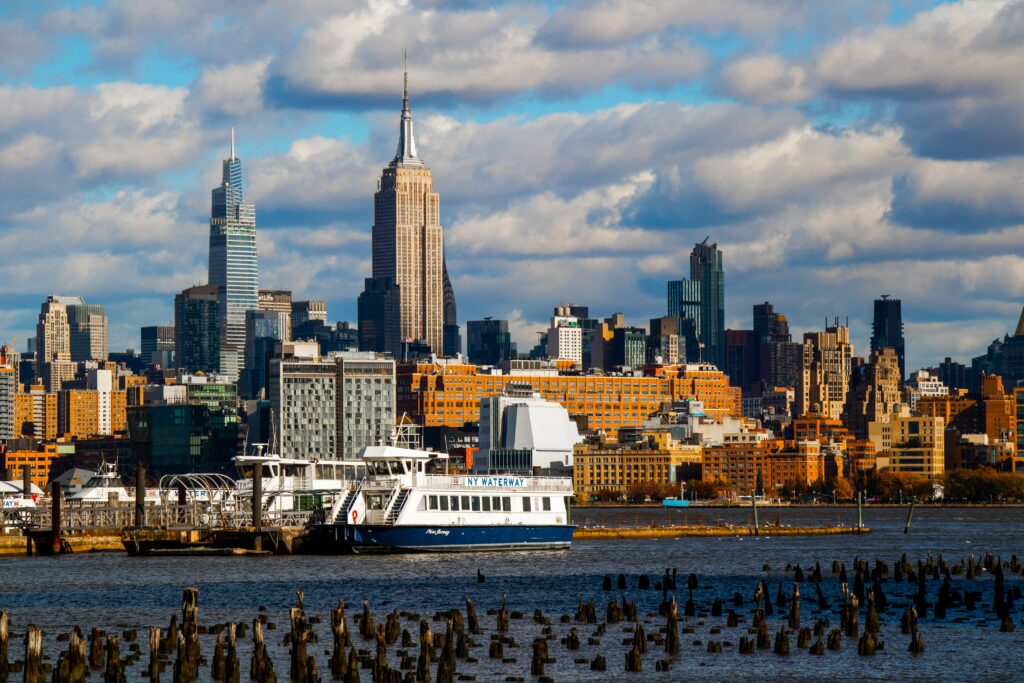 We're starting this list off with a bang! Midtown is one of the most popular tourist spots in New York City – and for a good reason. It's one of the most central locations in relation to the Big Apple's most famous sights and landmarks, making it the perfect destination for couples that want to make the most out of their New York honeymoon.
Staying in Midtown puts you right in the middle of all the action. If you want to explore the city on foot, you'll be within walking distance of the Empire State Building, Central Park, the Museum of Modern Art, Times Square, Grand Central Terminal, and much more.
While Midtown may be teeming with tourists, it's the best spot for a first-time trip to New York. It's also well-connected to most of the main subway lines, making transport more convenient for when you want to explore the rest of the city. Midtown Manhattan is the place to be if you want easy access to department stores while still being in spitting distance of an urban park.
Greenwich Village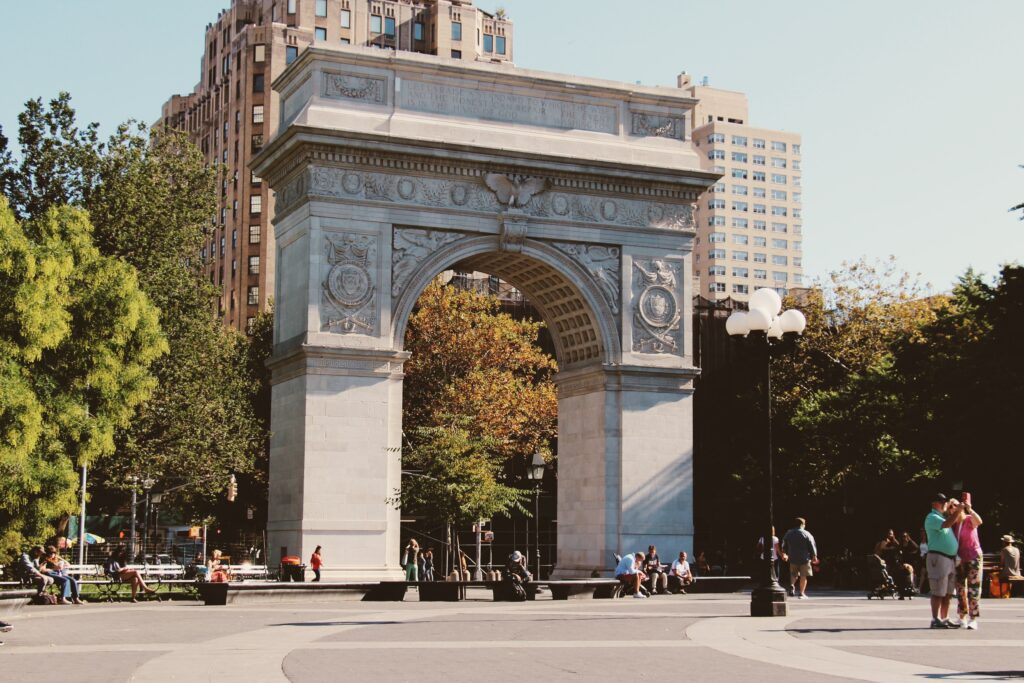 Greenwich Village is a great spot if you want to immerse yourself in the culture and art of New York. There's a reason it's known as the "city that never sleeps"! From jazz and comedy clubs to the hottest nightclubs in the Meatpacking District, you can spend your honeymoon trip living it up with the rest of the artsy locals.
Just because Greenwich is less popular with tourists doesn't mean it's without its fair share of sights. It's a short trip to the Brooklyn Bridge and Statue of Liberty, so you can still enjoy New York's culture and get some holiday snaps of some of its most famous landmarks.
You can enjoy the breathtaking architecture and feast your eyes on Washington Square Park, or take a load off and catch your breath at one of the many restaurants that line the bustling Greenwich streets.
Upper East Side
New York is the perfect blend of art, culture, and style. And if you're looking for style, you'll want to stay on the Upper East Side. With Central Park at your doorstep and a plethora of local museums and hotspots, you'll be spoilt for choice when it comes to things to do.
The Upper East Side is also much quieter than some other New York City neighborhoods, making it the ideal location for a relaxing honeymoon. It's also home to 5th Avenue, so you'll have plenty of time to enjoy a luxurious shopping spree during your stay.
Although this district is known for its expensive hotels and restaurants, it's the ideal stay for couples who want a taste of what the Big Apple has to offer beyond tourist attractions and busy city life.
Top Excursions & Activities To Do On A New York Honeymoon
There's no shortage of things to do in the city that never sleeps! But what are the essential activities and excursions for an unforgettable New York honeymoon?
Go on a cruise around the Statue of Liberty & Ellis Island
There are many boats to board if you want to take an hour out of your day to enjoy a romantic cruise while also seeing two of New York City's most famous tourist attractions. It also allows you to get off your feet and unwind for an hour!
You can check out the highlights of this tour and book your tickets here.
Tour the Empire State Building
You can't take a trip to New York without visiting one of the most iconic buildings in the world! You can book your tickets for this once-in-a-lifetime opportunity here.
Tour a local museum
New York is home to several of the world's most famous museums, including the MoMA, Guggenheim, Museum of Natural History, and even the quirky Museum of Ice Cream!
Enjoy the FRIENDS Experience
Fans of the TV show FRIENDS won't want to miss the opportunity to tour the sets, take a gander at original props, and buy a trendy souvenir from the FRIENDS gift shop! You can get your tickets to this experience here.
Sample Itinerary & Budget For Your Honeymoon To New York
So, now that you know where you'll be staying and what you'll be doing, one question remains: how much is it going to cost? We've broken down the major costs you'll need to consider and compiled a basic itinerary to help you make the most of your honeymoon.
| | |
| --- | --- |
| Activity | Weekly Cost |
| Travel | $10 – $30 per day (1-3 trips via taxi cabs and similar public transport) |
| Accommodation | $1,400 for a week-long stay for two in a budget hotel – $8,000 in a luxury hotel or spa. Some more expensive hotels with one-of-a-kind suites can cost up to $50,000 a night, though! |
| Food and drink | $30 – $100 per person per day. Your food costs will be heavily influenced by the restaurants you choose and whether your hotel includes any complimentary meals. |
| Day trip to New York museums | Most museums in New York City have an entry fee of around $25 per person. |
| Visiting Empire State Building | Visiting an attraction like the Empire State Building will cost around $35 to $50 per person. |
| Broadway shows | Newly weds can take in a Broadway show for between $50 to $250 per person, depending on the show. |
It's important to note that your budget could be significantly more or less, depending on what time of year you're traveling and the type of accommodation you've booked.
But now that we've got the basics like food, travel, and accommodation outlined, how will you spend your days? Here's a sample itinerary you and your partner can use while on your perfect New York honeymoon:
Day one – Once you've gotten to your hotel, you may want to relax and unwind at the house restaurant or bar for a drink and a light meal. Then you can ease into your stay with a cozy night in or get dressed up to enjoy the local nightlife!
Day two – After a refreshing breakfast at your hotel, you and your spouse can spend the day seeing the sights and taking in the picturesque views of the city. Be sure to grab a souvenir or two! Then, you can finish off your day with a romantic dinner for two.
Day three – Visit the local museums or explore the trendy neighborhoods of Brooklyn and Greenwich Village. Enjoy hot coffee from one of the busy bistros, or grab an authentic New York slice!
Day four – Book a spa day for you and your spouse at your hotel or spend some time looking around the stores on 5th Avenue. Afterward, cross over to Central Park and enjoy a romantic bike ride.
Day five – Spend your day exploring and enjoying the more unique aspects of New York. Check out an art gallery or find a group of street musicians to keep you entertained! In the evening, take in a once-in-a-lifetime Broadway show.
Day six – On your last full day of being honorary New Yorkers, you can spend your time checking out any attractions you may have missed. End your day with a meal extravaganza at a fine-dining restaurant for one final night of newlywed bliss!
Frequently Asked Questions
How much does a New York honeymoon cost?
A New York honeymoon can cost travelers between $2,000 for budget travel and upward of $10,000 for a more luxurious stay. If you want to stay in the lap of luxury, you can opt for more expensive suites. But these can cost as much as $50,000 a night!
When is the best time to visit New York?
The best time to visit New York is during the fall and spring months. With perfect weather and the ability to walk around and explore, you'll be able to take in as much of the city as possible!
What is the best way to travel around New York?
The quickest way to travel around New York is via the subway. But taxis may sometimes be more accessible and worthwhile for shorter trips.
Start Planning The Perfect Romantic Honeymoon Getaway
Street food, fine-dining restaurants, lively art districts, and posh, luxury neighborhoods are just a few of the Big Apple's many attractions. From picturesque views in Central Park to bustling streets filled with eccentric street musicians – there's nowhere else in the world that can offer you the blend of unique experiences like New York!
With our comprehensive guide, you can plan the perfect getaway with your spouse and celebrate your special day in any style you'd like!
SOURCES