The state of Ohio is full of sights, experiences, and activities, making it a must for romantic getaways.
In this article, we'll walk you through why Ohio could make the perfect honeymoon destination for you and your wife or husband, as well as the best Ohio honeymoon resorts, the best areas, the top excursions, and so much more.
What Makes Ohio Perfect For A Honeymoon?
While you may not immediately think of Ohio as a romantic location to spend your honeymoon, you might be surprised to learn that there's much more to the state than you might think.
With beautiful, picturesque Amish towns, splendid national parks, bustling nightlife, and lots of beautiful hotels and lodges to stay in, Ohio has just about everything a honeymooning couple could want.
Not only that, but Ohio is very easy to navigate, has a subtle romantic aura (one of its best-kept secrets!), and has an easier pace of life than you might expect or be used to in your own state.
Honeymoon Resorts, Hotels, And Other Stays In Ohio
A wide range of romantic retreats is dotted all over Ohio to suit every taste and budget. Below, we have discussed 9 of the very best to give you some inspiration for the ultimate romantic break as newlyweds.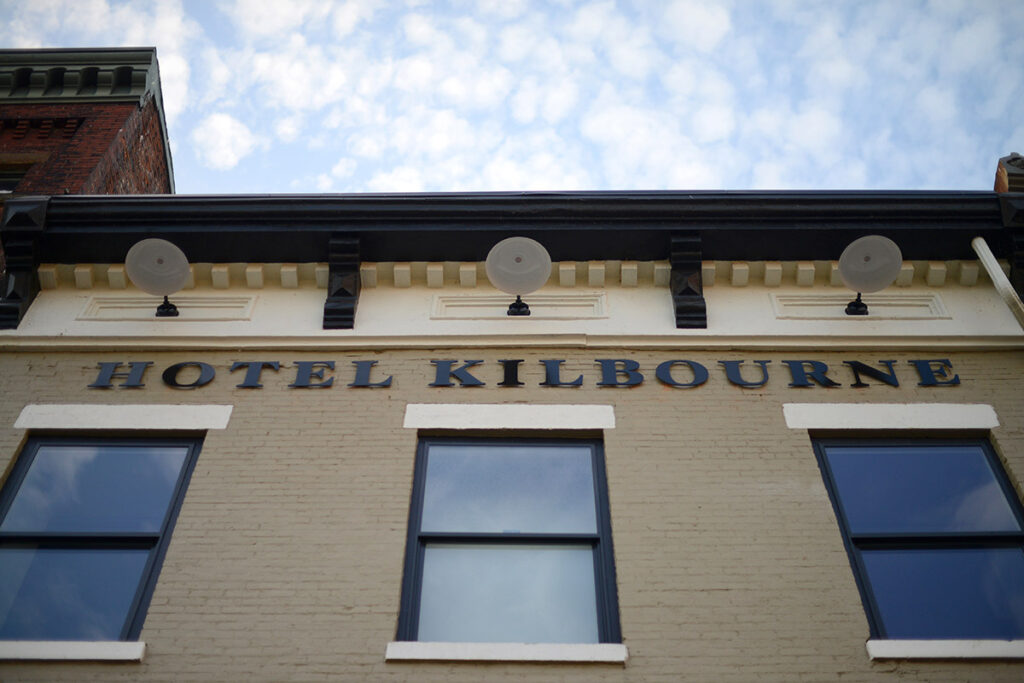 Price per Night: From $182.73
Best For: Younger couples, adults only
Availability: Limited
Set in Sandusky, Ohio's lively entertainment scene, each room at the Hotel Kilbourne has been lavishly modernized, perfect for newlyweds looking for a more luxurious honeymoon. There's also sumptuous bedding and a Nespresso machine, should you require a little pick-me-up after a night on the tiles.
As the city's first-ever adults-only boutique hotel, it has everything a newly married couple could want, including stunning lakeside views, all within walking distance of Sandusky's typically lively nightlife.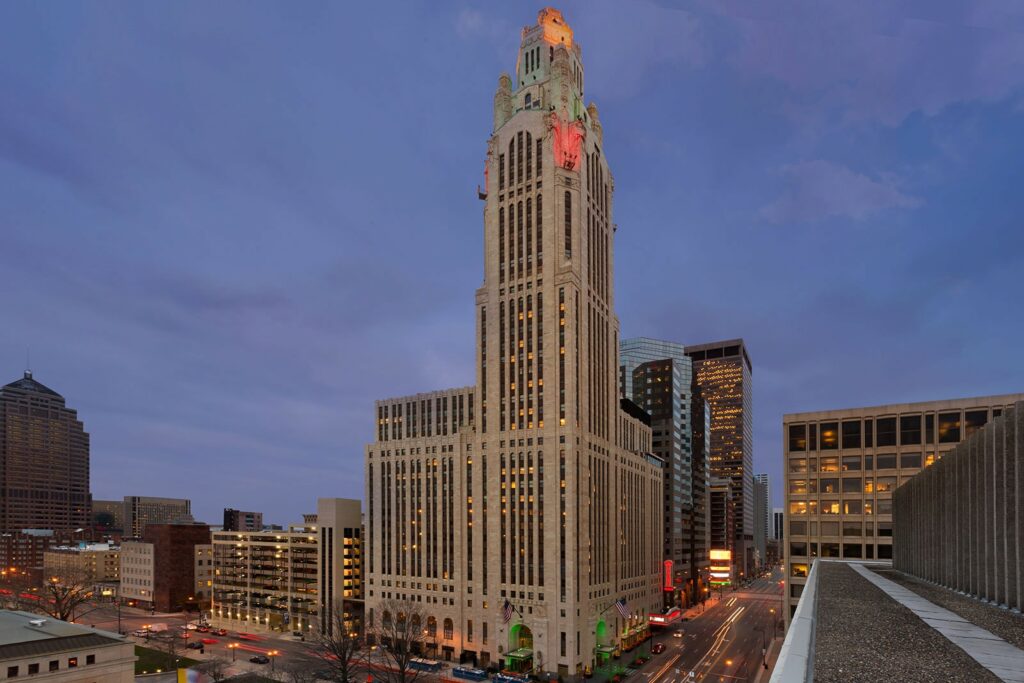 Price per Night: From $332
Best For: Younger couples, older couples
Availability: Easy to book
The Marriot's Hotel LeVeque gives luxury vibes throughout every inch of its sprawling building. There's an on-site concierge ready to give you personalized service on your romantic getaway and tasty welcome drinks that you can sip in the brasserie called The Keep.
What could be more romantic than watching the stars together on the perfect honeymoon? The hotel has a particular Star Treatment package that includes an in-room telescope, as well as a star machine that projects the night sky onto the ceiling, so you won't have to leave the comfort of this grand hotel to see a shooting star or two.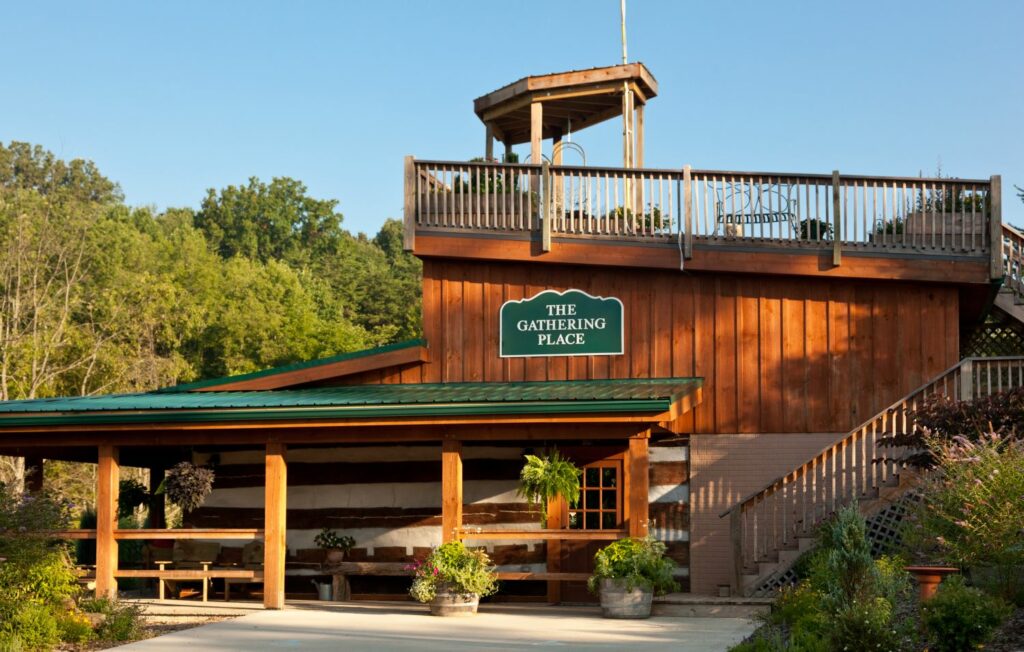 Price per Night: From $379
Best For: Younger couples, older couples
Availability: Easy to book
The Inn & Spa at Cedar Falls is equipped with everything for a relaxing and enchanting honeymoon. This luxury hotel offers aromatherapy Jacuzzi baths in certain suites and a cozy fireplace to snuggle up beside with a glass of wine or perhaps some fizz.
Then there's the luxury Hocking Hills spa, which offers a wide range of treatments and packages, including a 60 minutes couple's massage. Enjoy soft lighting, calming music, robes, and a warm cup of nourishing tea upon arrival at the spa.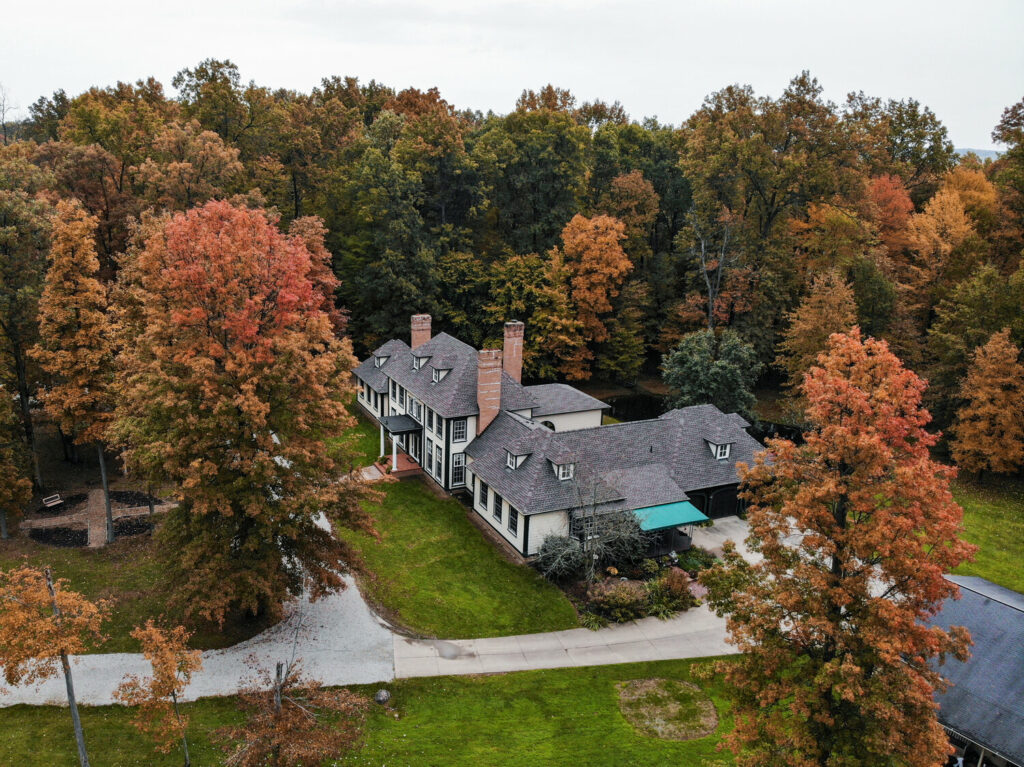 Price per Night: From $179
Best For: Long stay
Availability: Easy to book
You might not think a bed & breakfast would be ideal for an enchanting honeymoon, but you'd be wrong. When it comes to Shady Oaks Farm Bed & Breakfast, the secluded property knows how to make its guests feel special.
The far is secluded, so you feel like you are in the middle of nowhere while also being close enough to local amenities that you don't feel too far out of the way. Celebrate your love in one of the farm's bedrooms, complete with crisp white sheets and antique furnishings after
Opt for breakfast in bed or consider eating in the sumptuous dining room before a busy day spent in the farm's gardens and lake. There are even stables on-site, so why not pop down to see the horses before settling down in the bar for a quick drink before dinner?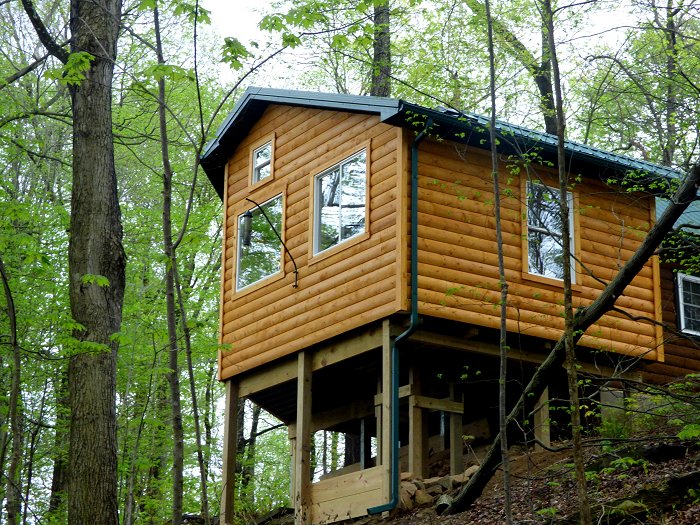 Price per Night: From $132
Best For: Sporty couples
Availability: Easy to book
If cozy cabins are your thing, you can't choose better than Ash Ridge Cabins. Set in the Hocking Hills, each cabin is secluded; you feel like you are miles away for anyone or anything, which adds to the romantic feel of this back-to-nature location. The cabins are rustic yet luxurious, giving the best of old and modern.
However, Ash Bridge makes a great base to explore the surrounding Hocking Hills State Park & Forest and all its nearby attractions. If you would prefer to stay in Hocking Hills, the hotel is close to lots of activities, including horseback riding, climbing, canoeing, swimming, boating, fishing, and hunting.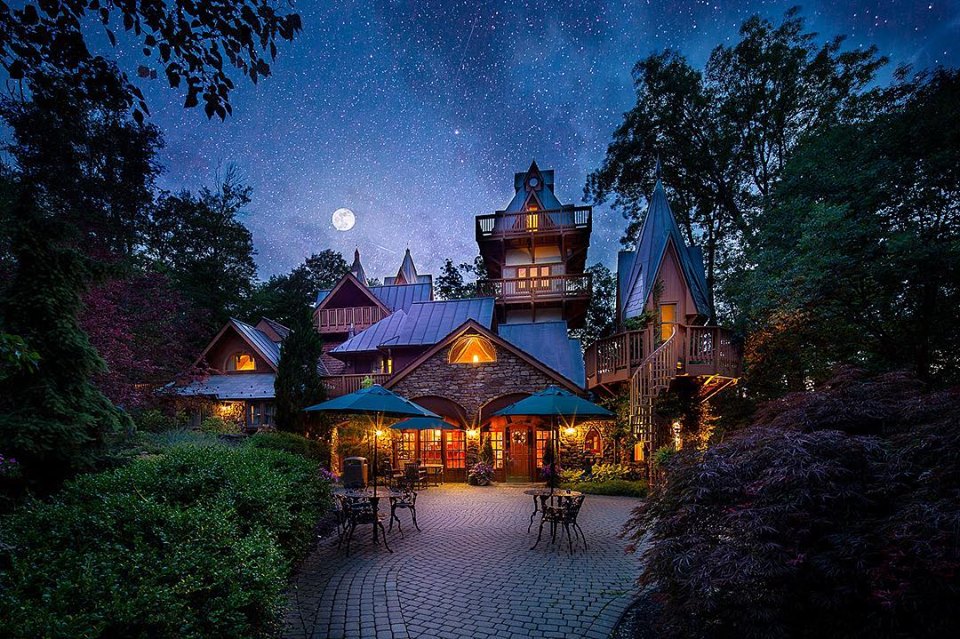 Price per Night: From $176
Best For: Short stays
Availability: Limited
What better way to celebrate your union than by experiencing the perfect honeymoon in a magical castle? Landoll's Mohican Castle features a stunning restaurant and even an indoor swimming pool if keeping fit is important to you.
Each room has a flat-screen TV, sitting area, and private WC. The rooms feature characterful wooden elements and a unique layout, making this castle a location you won't forget in a hurry.
The castle's grounds are perfect for a picnic, and there's a hot tub so honeymooners can relax together after a long walk. If you want to get adventurous, the hotel offers a host of outdoor activities, including fishing, skiing, and a variety of water sports.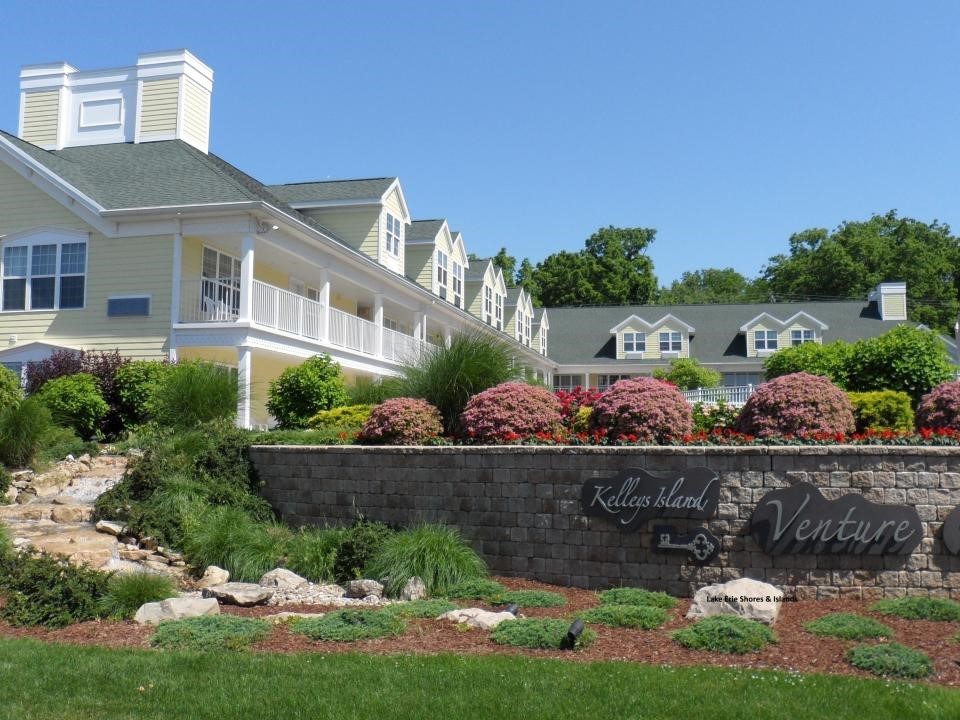 Price per Night: From $160.50
Best For: Younger couples
Availability: Limited
Set in the heart of Kelleys Island, this resort boasts a range of large and comfortable suites, many with their own terrace in case you want to take in the views of the nearby lake and the hotel pool for those who want to relax closer to home.
Each suite has a microwave, mini refrigerator, large flat-screen TV, and a luxurious bathroom where you can pamper yourself and unwind.
If you want to explore the island but don't want to travel on foot, you and your other half can choose to explore by golf cart or bike.
On nearby Lake Erie, there are a wide variety of sports and activities to get your teeth into, but it is just as beautiful for taking some Instagram-worthy pictures, too, if you'd prefer to chill out. But, for those water babies among you, there's canoeing, snorkeling, kayaking, and scuba diving.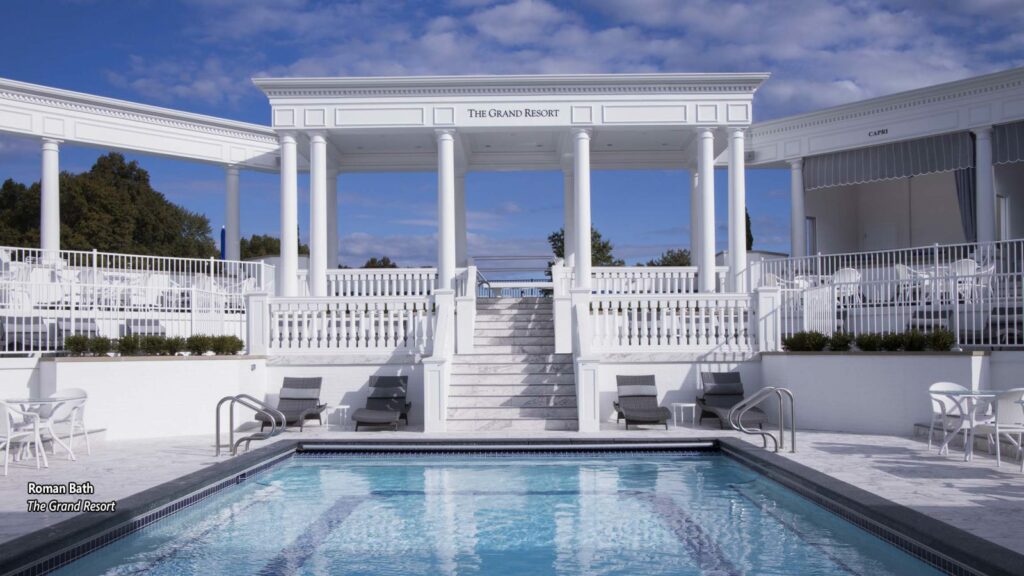 Price per Night: From $229
Best For: Older couples, long stay
Availability: Easy to book
The Grand Resort is elegant and romantic, allowing you and your partner to relax and unwind in a little bit of luxury. If you wish, you might want to consider choosing a room with your very own private hot tub.
You can enjoy a relaxing lunch date at The Lobby Bar, which serves all the American classics or hit Gatbsy's in the evening to treat yourselves to some traditional Italian fare.
There's a golf club comprised of 3 courses where you can practice your handicap, as well as tennis courts, a gym, and a large swimming pool at The Grand Resort, so if keeping active you part of your honeymoon itinerary, this hotel could be the one for you.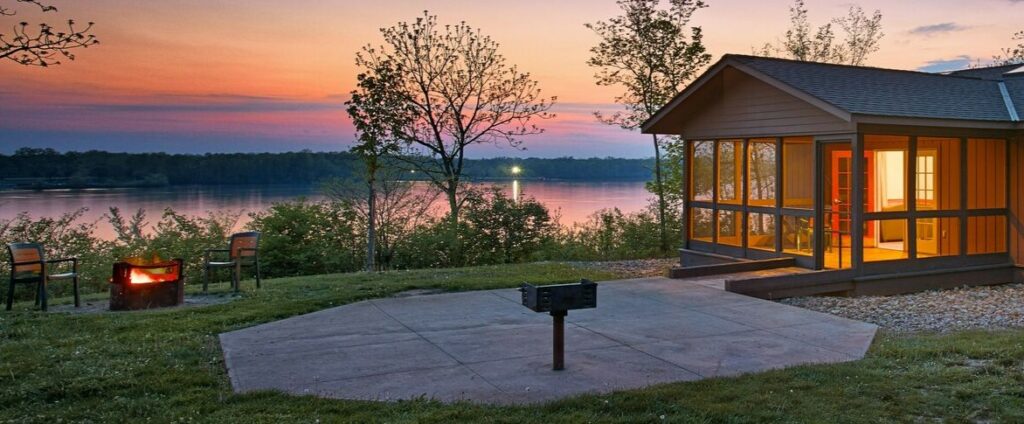 Price per Night: From $139
Best For: Older couples
Availability: Easy to book
Another hotel for golf lovers is the Deer Creek State Park Lodge and Conference Center which has a mini golf course where you and your partner can bring out your competitive sides. There's also a fitness center, a bar, a highly-rated restaurant, and a swimming pool.
Why not spend the after sunning yourself on one of the outside lounge chairs before a quick dip followed by a walk to the nearby lake, followed by an intimate dinner in your room?
Best Areas To Stay In Ohio
Many areas within the state make Ohio perfect for romantic getaways, including honeymooners looking for a good time. After all, the magical state does have something for everyone.
If taking in the fresh air on a trail is your thing, Ohio has miles and miles of stunning walks and hikes to keep you enthralled. Then there are the big cities with lively nightlife if you want to let your hair down and dance away the night.
One of the great things about an Ohio honeymoon is that you don't have to stay tied to one location. If you feel like spending a few days in the city and then moving to a quieter area after the busyness of the bright lights, it's very easy to get from A to B, whether using a car or public transport.
Below we'll explore some of the best locations in Ohio to make your dream honeymoon a reality.
Columbus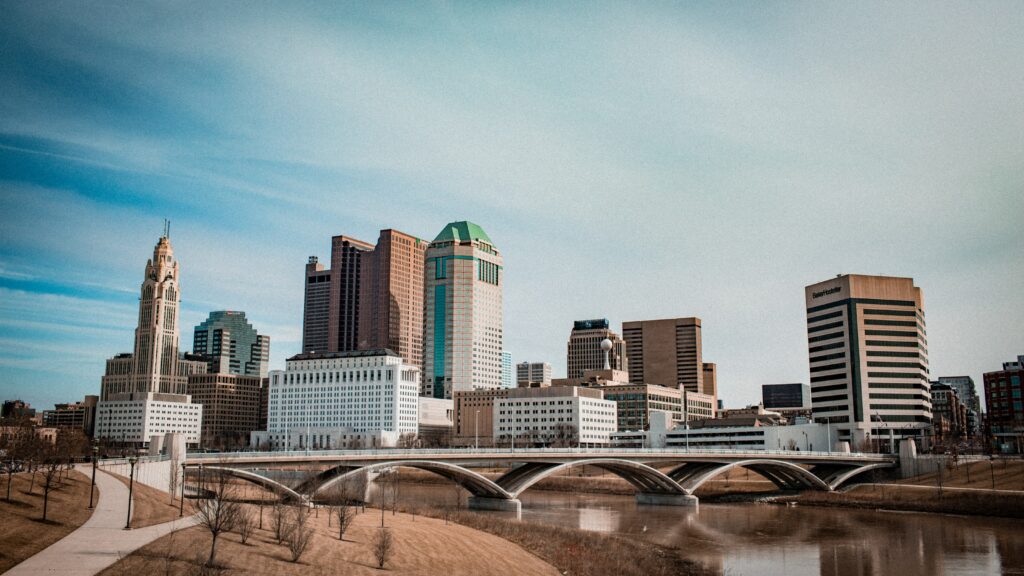 The fun-packed capital of Ohio has a whole host of romantic things to do and see, as well as some unbeatable hotels, which we will get to a little later.
Alum Creek Beach is the perfect place for a last-minute romantic picnic. Or, if you prefer, enjoy a swim in this stunning spot as the sun dips below the horizon.
If art is your thing, spend the evening in the Ohio Theatre, listening to the highly-recommended Columbus Symphony Orchestra.
The charming capital of Ohio is rarely considered a top destination for celebrating love, but the city hides a multitude of romantic activities and some very special hotels.
For a late-night dinner, you might want to consider some of the truly incredible restaurants that Columbus has to offer. As a center for some of the best food in the state, Columbus is popular with foodies, and The Boat House Restaurant is considered one of the best eateries in town. As well as having a great selection of mouthwatering dishes, they also boast an extensive cocktail menu and one of the best views in the city.
Sandusky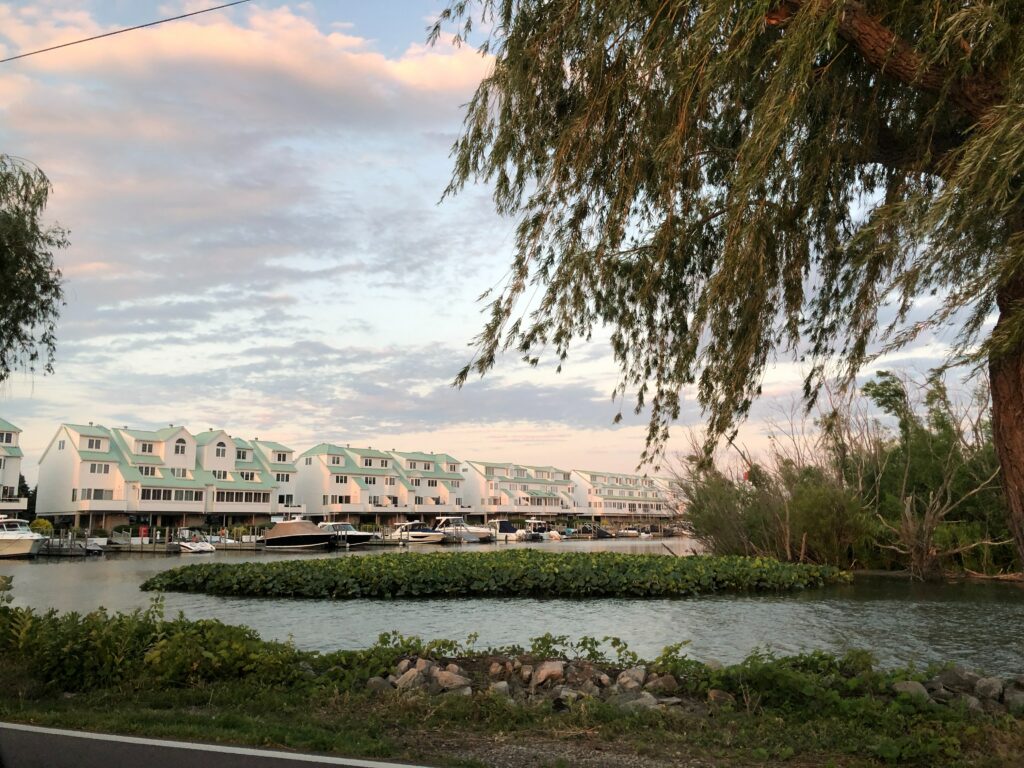 If you want a bit of adventure while celebrating your love for your brand-new husband or wife, Sandusky is a great base for adrenaline junkies and romantics alike.
Famous for being the location of Cedar Point, one of the very oldest theme parks in the United States, Sandusky might just surprise you when it comes to what it has to offer newlyweds. If you don't fancy sharing a rollercoaster ride with your significant other, fear not; there's much more to this city than theme parks.
In need of a thrill-seeking experience? If so, there are several escape rooms to conquer together. Surprisingly, escape rooms are becoming a very popular activity at Bachelor/Bachelorette parties and on the honeymoon itself.
History buffs are spoilt for choice when honeymooning in Ohio; there's the famous Roundabout Museum to visit or the Sandusky Maritime Museum.
Whatever your preferred activity in Sandusky, one thing is for certain, you'll never be short of things to see, do and experience in this city.
Cuyahoga Valley National Park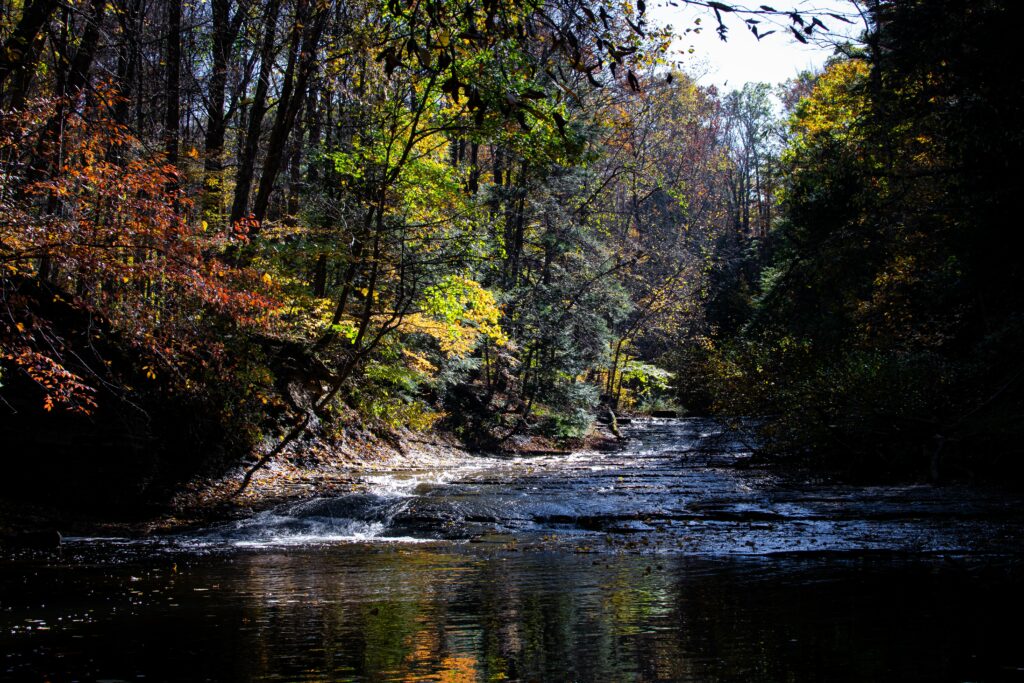 If you and your other half enjoy nature, there's no better place to visit than Cuyahoga Valley National Park. There are many trails to walk, but if you prefer biking, you can hire a pair for the afternoon to take in the breathtaking scenery in the mammoth-size National Park. Apart from the flora, 200 species of birds call the park home.
If you feel like taking things at a slower pace, there's a scenic railroad that you can travel on instead.
Hocking Hills State Park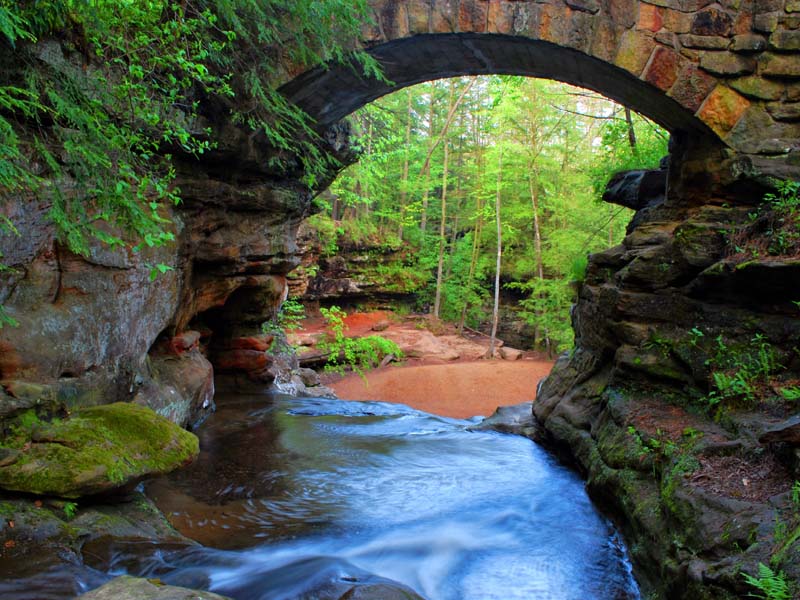 Another park worth a mention is Hocking Hills State Park. There are over 25 miles of hiking trails to enjoy, stunning waterfalls, recess caves, and ancient rock formations just waiting to be discovered.
If you know your stuff when it comes to hiking trails (and have all your equipment ready), there's the gorgeous Rose Lake deep into the park, which will offer you breathtaking views of the forests behind you.
There's also the Old Man's Cave, Cedar Falls, and Ash Cave within the forest, which are popular attractions to while away a few hours with your loved one.
If you want to get your blood pumping, there are lots of fun activities to try, like canoeing, rock climbing, and even zip lining.
Cincinnati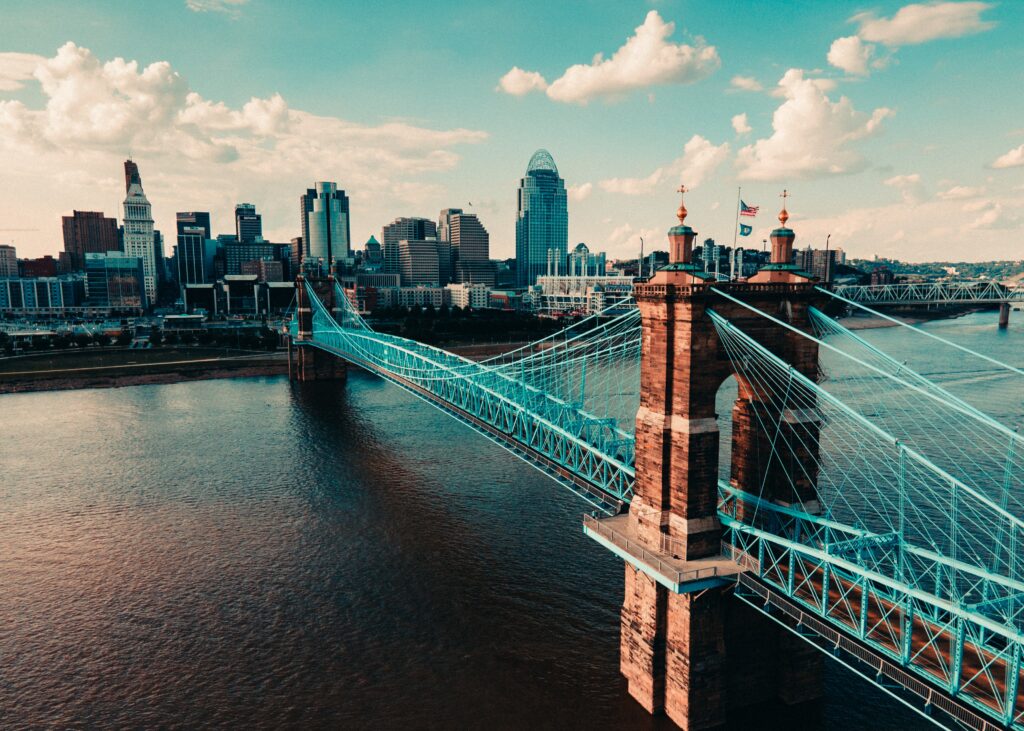 Once a vital lifeline in the industrial sector, Cincinnati has, in modern times, become known as a hub for history, culture, and culinary delights. For these reasons, it's no wonder that it's considered one of the best locations in all of Ohio for couples.
You can begin your romantic getaway in the city but taking a stroll along the banks of the Ohio River. Or, why not wait until nightfall and watch the sunset on top of one of the city's seven hills?
You can also take advantage of one of the riverboats where you can see this beautiful city in all its glory from the water. If art is more your thing, a visit to The Carnegie is an absolute must, or there's the famous Cincinnati Ballet that you can watch before stopping for cocktails and a bite to eat in any city's wonderful bars and restaurants.
Top Excursions & Activities To Do On A Ohio Honeymoon
Geneva-on-the-Lake
Geneva-on-the-Lake is a village in Ashtabula County, Ohio, and is popular with both tourists and Ohio natives alike. Choose from spas to unwind or wineries to sample some of Ohio's most popular creations. There are even theme parks and zip lines to be had. For such a small place, Geneva-on-the-Lake packs a lot in.
For music lovers, Cleveland has a Rock & Roll Hall of Fame where there are plenty of themed days and exhibits, from The Beatles and Little Richard to Nine Inch Nails. There's also live music and a huge merch shop where you can get souvenirs of a great day out.
Cleveland also has the Metroparks Zoo, where visitors can learn more about wildlife conservation and visit some remarkable animal species.
Lake Erie
Lake Erie is home to a large number of bird species, making it ideal for a relaxing day of bird-watching. Taking a few hours to relax by the water is a day well-spent for those who would prefer a more relaxed pace.
Why not consider the ride of a lifetime with your very own private helicopter ride over the state of Ohio? If you've got the head for heights, you can spend a thrill-seeking 60 minutes in the air seeing the Buckeye State in all its aerial glory.
Sample Itinerary & Budget For Your Honeymoon To Ohio
While no honeymoon is cheap these days, Ohio is a great place to choose as a honeymoon destination, whether you are on a budget or have a bit of extra cash to splash.
Below is an estimate of how much the typical Ohio honeymoon will cost for seven days:
| | |
| --- | --- |
| Activity | Weekly Cost |
| Ohio honeymoon resorts/hotel | $1600 |
| Food/Drink | $950 |
| Sightseeing | $500 |
| Car Rental | $420 |
| Spending Money | $1200 |
This is an estimate; everyone's holiday will be different. Be mindful that off-season accommodation and car hire prices may be cheaper than during the most popular months.
Below we have outlined a sample itinerary based on a couple staying in the state for seven days.
Day 1 – The first day is the perfect time to unpack and unwind while enjoying your new surroundings (and possibly fighting off jet lag).
Day 2 – After a delicious breakfast in your hotel, Day 2 is all about seeing the sights. Why not take a trip into town where you can grab a light lunch before hitting the shops or go for a romantic walk near a lake or river?
Then it's back to the hotel for a bit of R&R and to get ready for dinner. You might want to sample what your hotel offers, or you could pop out to a local restaurant, of which Ohio has many.
Day 3 – Treat yourself and your loved one to a spa pampering morning in Geneva-on-the-Lake, followed by a picnic in the scenic surroundings. Then, you could opt for some wine tasting or choose one of the sandy beaches to have a paddle.
Day 4 – Start the day off slowly with a round of golf before enjoying live entertainment in Ohio's Rock & Roll Hall of Fame, followed by a night out on the tiles.
Day 5 – When in Ohio, it would be a shame not to take advantage of the state's walking trails. Bring a packed lunch and uncover some hidden gem walks on offer, followed by a cosy meal for 2 in your hotel room, followed by some romantic drinks.
Day 6 – Take advantage of your complimentary breakfast at the hotel; today will be busy! As it's your last full day in Ohio, there's still a lot to see and do. A day spent in Cincinnati is the perfect round-off to a magical honeymoon.
Check out this fabulous location's specialty shops, local history, fine arts, and culture. Grab a bite to eat in any of the city's eateries, followed by watching the sun go down when you return to your hotel.
Day 7 – The final day in Ohio involves getting packed, saying goodbye to your room, and taking some last-minute photos before you leave!
Frequently Asked Questions
How much does an Ohio honeymoon cost?
How much your Ohio honeymoon costs is largely down to you. Before deciding where to stay and what you plan to do, agree on a reasonable and affordable budget. The great news about Ohio is that every budget can be catered for, from a simple, low-cost honeymoon to a more premium affair.
How long should I stay in Ohio on my honeymoon?
To see everything Ohio has to offer, we advise staying in the state for at least seven nights for the perfect honeymoon. However, you won't run out of amazing things to do in Ohio, and many couples spend as much as two weeks here. From cozy cabins to vacation rentals and hotels, there are plenty of places to stay and many more to see and do.
When is the best time to visit Ohio?
Any time is a good time to visit this truly magical state in our book. Generally speaking, Ohio is most popular from March to September.
What is the best way to travel around Ohio?
The best way to get the most out of your Ohio honeymoon is by car. If you and your new husband or wife are planning on flying to Ohio or using public transport, purchasing a hire car for your romantic vacation is a good idea. However, public transport in Ohio is usually good and is reasonably priced if you'd prefer a week or two of no driving.
Start Planning The Perfect Romantic Honeymoon Getaway
There's no denying that Ohio can make the perfect honeymoon location. Full of culture, history, adventures, and welcoming people, the state continues to grow in popularity as newlyweds quickly begin to discover what the area has to offer.
While throughout your married life, you will have lots of opportunities to have romantic getaways, you'll only ever have one honeymoon, so to make sure it's the very best, check out some of our other guides.
If you are considering other locations for your romantic getaway, we have a whole host of information on the best locations to spend your honeymoon, so why not get reading?
SOURCES