Oklahoma is a beautiful location for a honeymoon. The perfect balance between city life and spending time outdoors in nature makes a wonderful romantic getaway for couples who love adventure and the outdoors.
Planning a honeymoon is exciting. You are soon to be celebrating your commitment to your partner, and going all out for a honeymoon is mandatory. You both deserve to have a relaxing, beautiful, and unforgettable romantic retreat.
We want to help you make the best out of your honeymoon. The following are some of the best romantic getaways in Oklahoma, along with some valuable tips and recommendations. Love is in the air, and it's time to celebrate!
What Makes Oklahoma Perfect For A Honeymoon
Oklahoma can offer everything from the natural world to city life activities. Think stunning cabins, beautiful mountainous retreats, dreamy horse and carriage rides, and a groovy nightlife scene to let your hair down!
Oklahoma lets you have the fun, the drinks, and the dancing, as well as the tranquility of the outdoors and natural world. You can explore stunning gardens, visit the major cities, and indulge in tons of different tours and activities.
It makes the perfect honeymoon destination, as it is romantic, has loads of opportunities to have fun, and also has a relaxing element – you are sure to come home feeling refreshed and ready for this new beautiful chapter you are starting!
Best Honeymoon Resorts, Hotels, and Other Stays in Oklahoma
You can find almost any type of accommodation in Oklahoma, from guest rooms and cabins to suites, mansions, and resorts. If you are looking for a place with a private hot tub, Oklahoma has it!
Want a lavish spa day? A good boogie? A day in the great outdoors? Oklahoma has got you covered! The following are some of the best stays in and around Oklahoma, and you are sure to find something that ticks all of your boxes!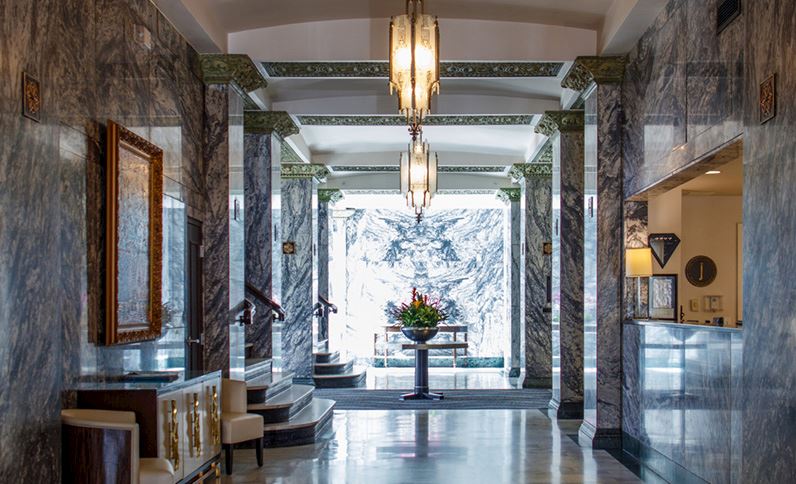 Price per night: The presidential king suite starts at $1,411 per night. Other rooms can cost about $291 per night.
Bets for: It is excellent for older and younger couples and is perfect for short and long stays.
Availability: Booking is relatively easy as they tend to have a lot of availability.
The Colcord hotel has been around since 1910 and still remains a place of pleasure and luxury. The hotel boasts marble floors, nickel and bronze elevators, marble columns, and an ornamental plaster ceiling. The place is stunning!
All rooms are top-of-the-line when it comes to the amenities and all of the furnishings. The hotel also has a fantastic restaurant with the most delicious food. They uphold Coury Hospitality's gold standard of service and comfort.
There is also a bar, and you can spend your days exploring the city as it is in close proximity to some of the best attractions in Oklahoma City.
Price per Night: The suites start from $300 per night
Best For: The hotel is best for older couples
Availability: Booking is easy when you book in advance.
The Skirvin Hilton is a fantastic choice if you want a taste of the high life in the city. The hotel is a member of the Historic Hotels of America and has been given a 4.5 rating. It is a short walk from the Bricktown Entertainment District, so you'll have entertainment on your doorstep!
You must go to the hotel's Red Piano Lounge, and you can listen to music, sip on delicious cocktails, and dance the night away. The rooms come fully equipped, and you sure are in for a comfortable, relaxing, and romantic stay!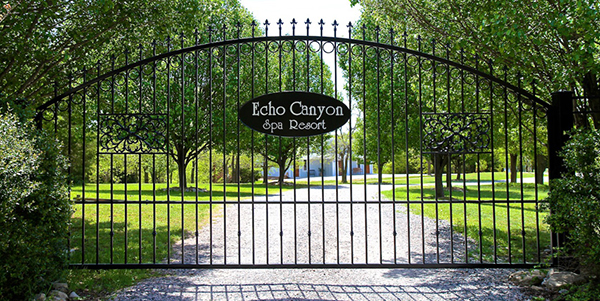 Price per night: Their rooms start at $205 for a night. Cottages start at $349 per night.
Best for: Active and adventure-loving couples. Younger and older people will love thisstay.
Availability: There is tons of availability. If you want a mansion or manor suite then rather book fairly soon in advance.
Echo Canyon Spa Resort is for you if you are looking for a romantic and luxurious getaway. Each room has its own theme and is elegantly decorated.
You can choose between suites or cottages. The rooms come fully equipped and also have a stunning fireplace to really set that romantic mood! Indulge in one (or multiple) of their amazing spa treatments. The Aloha Spa has over 100 treatments on offer.
Other than relaxing, you can also keep yourself busy by going on hikes, sailing, swimming, biking, and much more. It is also worth going for a walk through the beautiful parks as the scenery is outstanding.
End your days off with a four-course culinary meal in the resort restaurant. They also have manor and mansion suites on offer – perfect for newlyweds!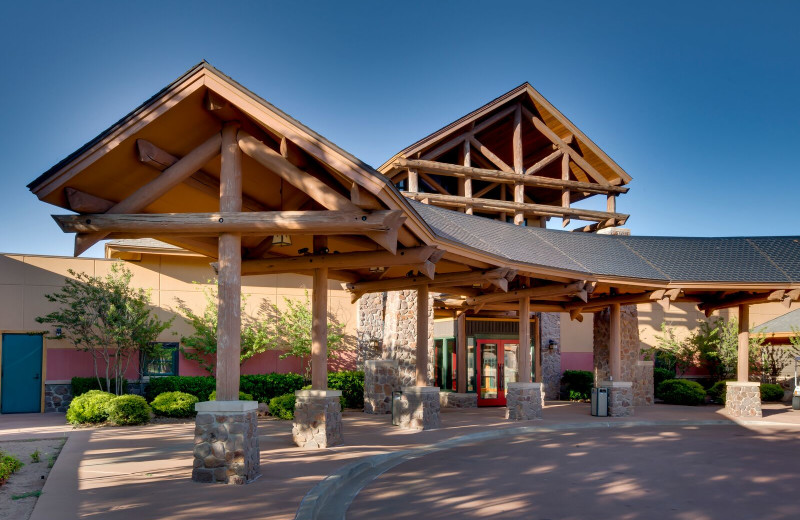 Price per night: Their executive suite starts at $465 per night
Best for: Young couples who love being active and going on adventures.
Availability: There is a lot of availability. But do book well in advance if going in peak season or during holidays.
Quartz Mountain Resort can be found in Southwestern Oaklahoma in the Wichita Mountains. The resort is sacred and mystical as it is the ultimate escape from civilization and the real world. It is a fantastic choice for those seeking adventure.
You can spend your days hiking or riding bikes through Wichita. You can also visit the wildlife refuge and climb Quartz Mountain. The mountainous landscape makes the most incredible backdrop for a romantic getaway.
You will surely feel rejuvenated after your stay, and it is a great way to connect with nature and ground yourself. Alternatively, you could stay in one of the cabins on their grounds and wake up to the most stunning sea views.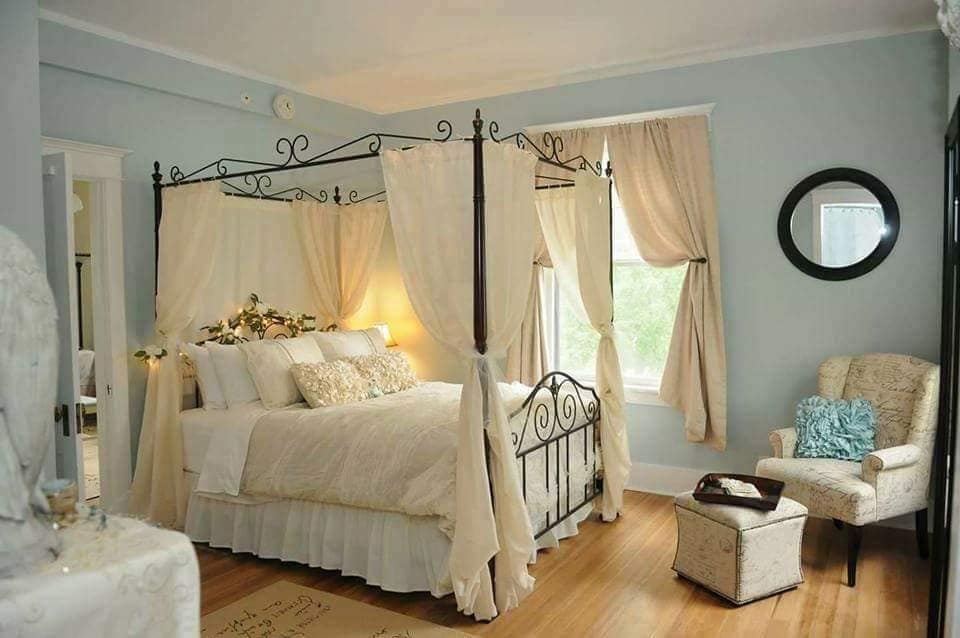 Price per night: Their rates start at $123 per night.
Best for: Older and younger couples will love this stay. It is well suited to couples looking for a quiet and relaxing time.
Availability: This stay is small, and space is limited, so book early to avoid disappointment.
Southard House is right in Enid's Kenwood Historic District, and it is a wonderful escape from the busy city life. Enid is a charming location, and your stay is not too far from the city parks, downtown shopping, and the historic Gaslight Theater.
You can spend days exploring all the beauty Enid has to offer. Start your mornings with a fresh cup of coffee, orange french toast drizzled in the most delicious orange syrup, and more. Southard House is known for its delicious breakfast!
Southard House makes for a luxurious and romantic retreat.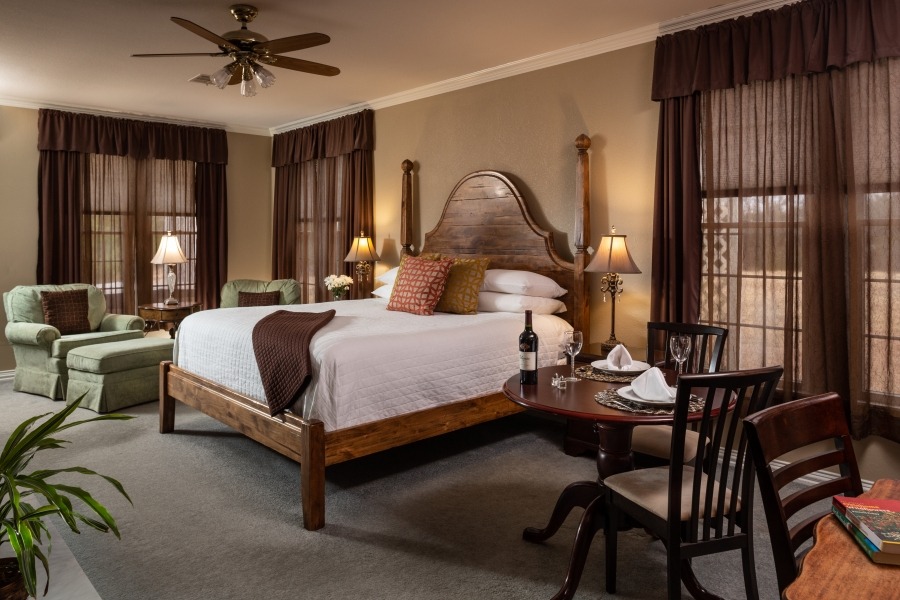 Price per night: The villas cost about $339 per night, and the cottages start at $259.
Best for: Younger and older couples. Great for a short stay.
Availability: The Inn has a lot of availability, but book early if you want to go during high season.
If you want a private stay, you can book one of their separate cottages, or you can opt to stay in one of their large luxurious guest rooms.
Shiloh Morning inn is a taste of heaven on earth; start your mornings with a gourmet breakfast and end your days off with a delicious dinner brought straight to you.
Honeymooners can book the honeymoon packages that will give you all of the finishing touches to make your stay as beautiful and romantic as possible. The bed and breakfast is right by the Chickasaw National Recreation Area and Lake Murray State Park.
Guests can spend their time going for dips in the fresh spring waters, going on hikes, and exploring the surrounding areas. After a busy (or relaxing day), guests can wind down in the hot tub or whirlpool tub.
Best Areas To Stay in Oklahoma
There are some stunning areas in Oklahoma that you just have to visit! There are tons of nearby attractions in all of the cities and some fantastic sightseeing activities. Each area offers something unique and exciting.
You can explore places like the Pensacola Dam, the Heller Theatre, and Broken Bow Lake. Oklahoma is a beautiful state, and you must see and experience all it has to offer. Some areas are within driving distance, and you can certainly split your honeymoon between two of them!
Muskogee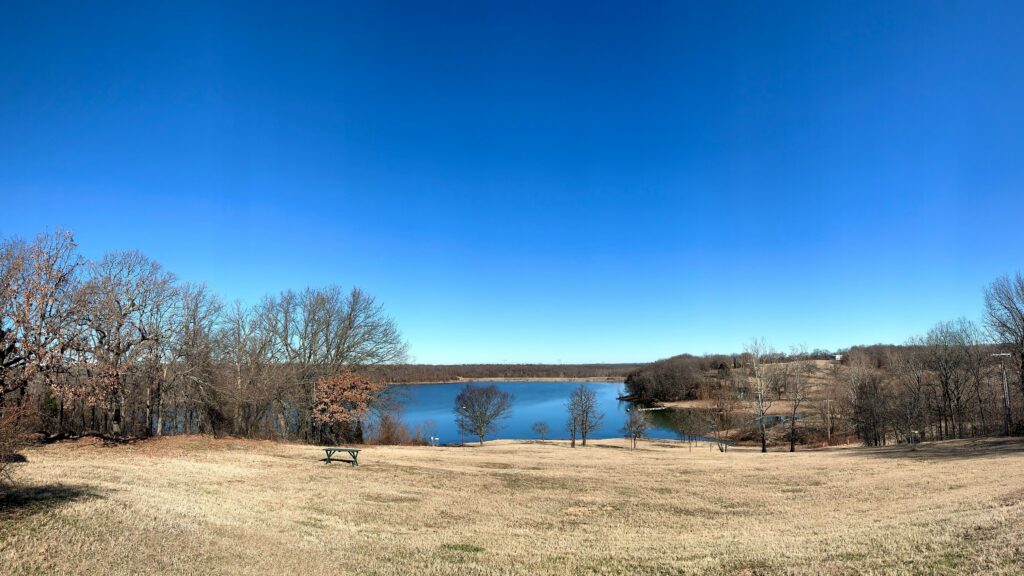 Muskogee was Oklahoma's first port that gave them access to the Gulf of Mexico, and there are some stunning historical sights, parks, and museums in the area. Three rivers converge in Muskogee, making it a lovely crossroad for different cultures.
This city is amazing, and you can find a submarine and a castle here, as well as loads of other attractions. Most people go visit the Castle of Muskogee, where they host a number of festivals throughout the year.
Honor Heights Park is also popular, and many people go there to swim, picnic, and relax. You could also go to the Oklahoma music hall of fame museum and the Five Civilized tribes museum for a great cultural and historical experience. Pecan Creek winery is also lovely!
Tulsa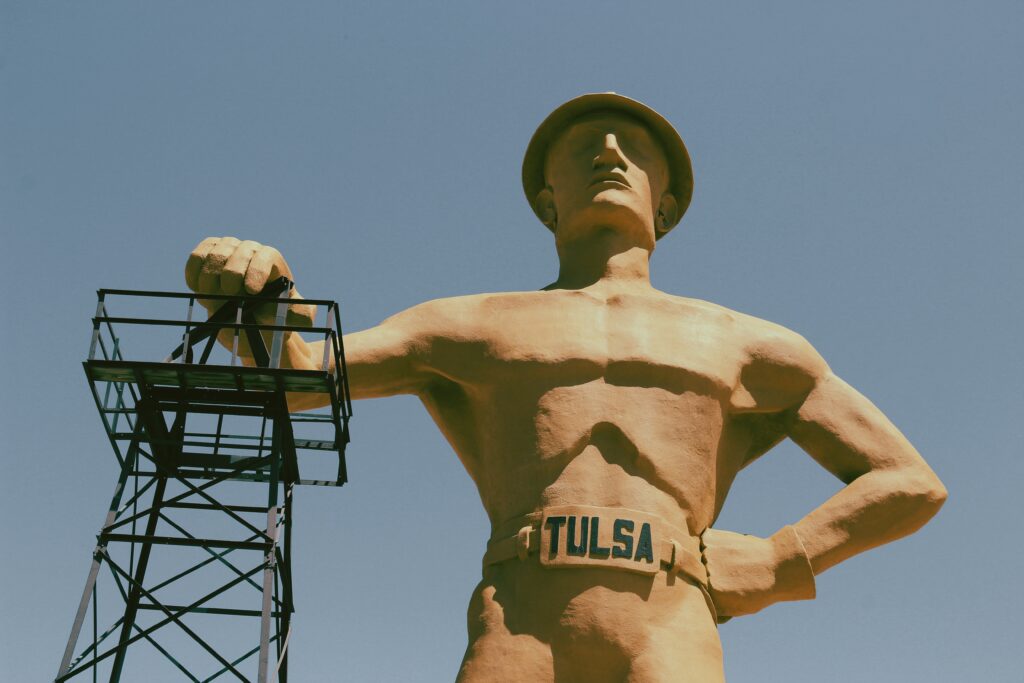 Tulsa is known for its underground art scene, art deco culture, and better-than-the-coast food. It is a vibrant and exciting city with tons of restaurants, art, outdoor activities, and entertainment.
Many people love partaking in the Tulsa scavenger hunt as it is a fun and exciting day out. The Philbrook Museum of Art is a must when you are in Tulsa, and so is the Cave House – you can immerse yourself in the culture and history of the city.
Tulsa is a lovely spot to visit during your honeymoon, and it is beautiful and full of exciting things to do!
Oklahoma City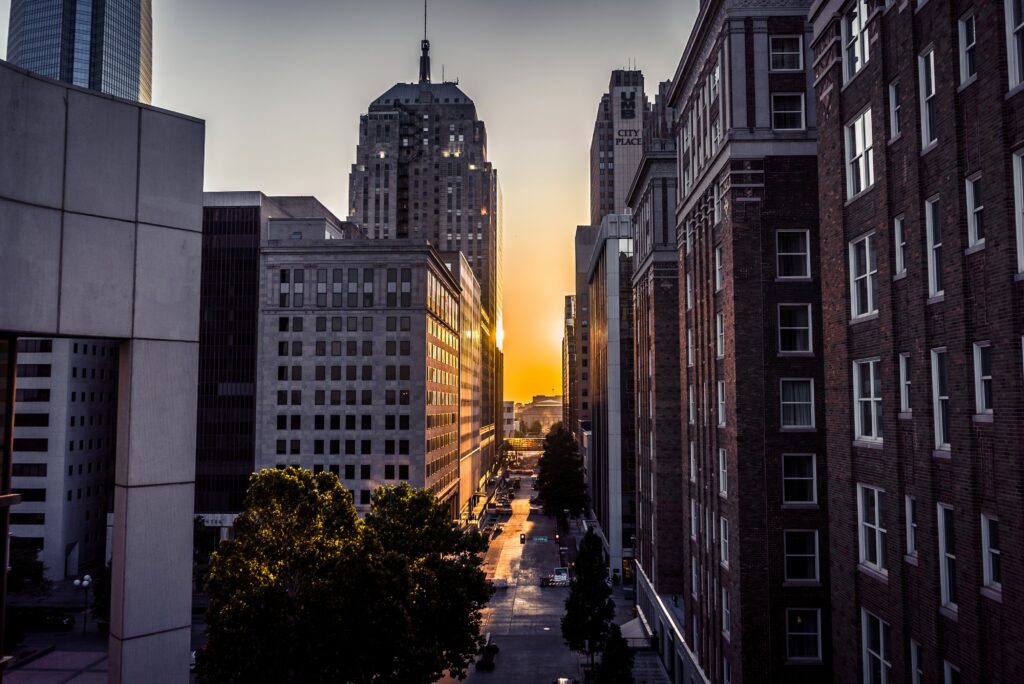 Oklahoma City is filled with adventure; you can explore everything from the museums to Bricktown Entertainment District and much more. Oklahoma City is known for its Native American heritage and booming energy and agriculture industries.
Oklahoma has an electric feel and Southern charm. Its entertainment district is huge and growing rapidly. Get ready to put on those cowboy boots and explore all this city has.
The Oklahoma City museum of art makes for an incredible experience, and you should visit the Myriad Botanical Gardens & Crystal Bridge Tropical Conservatory, there is often live music, and it is a stunning urban oasis with streams and lush gardens.
If you are lucky enough, you could also catch a big league game while you are there. You can have the perfect balance of fun and culture!
Top Excursions & Activities To Do On A Oklahoma Honeymoon
The Bricktown Entertainment District in Oklahoma City must be on your to-do list. The dining, nightlife, and entertainment are extraordinary!
You can wander the streets and find yourself watching a film at the Harkins theatre or go to the Coyote Ugly saloon and let your hair down! You should also go to the dueling piano bar while you are there. You are in for a real treat!
You can find anything in Oklahoma, and you can relax and take it easy, immerse yourself in the history and culture of the city, or get active in the mountains and go on hikes and other adventures.
You could go for a hike up the Cathedral Mountain trail in Gloss mountain state park or do the Elk Mountain Summit Trail. The scenery is incredible, and you will be taken aback by the breathtaking views.
Broken Bow Lake is also a popular choice. You can go swimming, boating, and have a lovely picnic while lounging in the sun. Oklahoma has almost anything and everything. There are tons of amazing activities and sights to see.
There really is nothing like a romantic day out in nature, and luckily Oklahoma has the perfect natural environment for just that!
Sample Itinerary & Budget For Your Honeymoon To Oklahoma
Your honeymoon will be incredible wherever you decide to stay. You could choose to stay in a cabin, or an inner city hotel, book a suite or go to a resort. The price will differ greatly depending on the type of accommodation you choose, as well as all of the add-ons and activities you'd like.
Below is a great budget idea for a lavish honeymoon getaway and one for a more budget-friendly escape. It is important to note that all prices will differ depending on availability and the time of year you book for.
The best time to visit Oklahoma is from September through to November. However, this time of year may cost more as it is much busier.
A five-night stay at Quartz Mountain Resort
| | |
| --- | --- |
| Accommodation | $465 per night / $2325 for five nights |
| Flights | $806 to $1,488 |
| Food and travel | $80 to $164 |
| Route 66 museum | $14 |
| Hikes, wildlife refuges, and trails | $0 (most do not have a fee) |
| Comanche Nation Casino | $50-$300 |
| | Total: +/- $5,200 |
A five-night stay at the Colcord Hotel
| | |
| --- | --- |
| Accommodation | $1411 per night / $7055 for five nights |
| Flights | $816 to $1,648 |
| Food and travel | $88 to $188 |
| Kayak and canoe | $60 |
| A night out and live music | $200 |
| | Total: +/- $10, 523* |
*Other costs:
Night at Coyote ugly: $150 – $300
Movie at Harkins theatre: $100
Most of the stunning attractions in and around Oklahoma are free of charge, mainly because most of them are natural outdoor areas. Hikes, kayaking, and trails are a must!
Below is a great sample itinerary to give you some inspiration for some great ways you could plan your honeymoon.
Day 1 – Spend most of your time relaxing on your first day; you are likely tired after traveling. So settle into your accommodation, get to know the place, and maybe spend some time by the pool or in the hot tub if they have one.
Day 2 – After a good night's rest, try go up one of the hiking trails and get those bodies moving. Explore all of the different paths and admire the views. Then come back home for a delicious dinner.
Day 3 – You could go explore all of the surrounding towns, do some shopping and see some of the historical sites. May watch a movie at the theatre and end the evening of at the Coyote Ugly bar.
Day 4 – Have another active day, go for a hike up another trail or spend the day at one of the beautiful dams in the area, catch some sun and spend all of your time swimming. You could go out for some dancing and drinks afterward.
Day 5 – You could go for a kayak or canoe trip, go visit some of the museums, or take it very easy and spend time at your hotel facilities. Maybe go to the casino for some dinner and fun in the evening.
Day 6 – Spend your last day relaxing as much as possible. You want to come home feeling rejuvenated and calm. Spend time by the pool or go on some beautiful walks.
Most of the stunning attractions in and around Oklahoma are free of charge, mainly because most of them are natural outdoor areas. Hikes, kayaking, and trails are a must!
Frequently Asked Questions
How much does an Oklahoma honeymoon cost?
The cost of your honeymoon will depend on the time of year you book for. Everything is more expensive during the high season. It also depends on the type of accommodation you book, how long you stay, and where you stay. Eating out and activities also add up.
On average, a honeymoon in Oklahoma could cost you anything between $5000 to $14,000. You could choose to go on a budget or decide to splurge – you are celebrating after all!
When is the best time to visit Oklahoma?
The best time to visit Oklahoma is between September and November. This is when the weather is fantastic, but not too hot. The most affordable time to go to Oklahoma is in January. August is also a good month as it is the festival of ballooning.
What is the best way to travel around Oklahoma?
The best way to travel around Oklahoma is via car or taxi. You could also take a train, bike, or scooter, depending on the distance you are traveling. Sometimes places are very much in walking distance.
Start Planning The Perfect Romantic Honeymoon Getaway
Oklahoma is a wonderful and very special place, and there is no doubt that it makes an exceptional honeymoon location. It has everything you need from city life to the natural world. You can go anywhere from a huge hotel to a more secluded getaway.
There are various tourist attractions to keep you busy, and most retreats and resorts will have an outdoor hot tub and outdoor swimming pool where you can take it easy for the day. The choice is all yours, and you can also immerse yourself in the outdoors and natural springs!
Take a look at the Couples Travel resources for some honeymoon inspiration to help you get started on the honeymoon planning process. You can have romantic getaways in just about any location, and Oklahoma is undoubtedly one of them!