A Puerto Rico honeymoon can be anything you want it to be: an adventure into a tropical rainforest, a beach resort getaway, or a romantic city break. From San Juan, you have Playa San Juan on one side, the winding, colorful streets of the city sprawling around you, and the dense jungles of El Yunque just a short car ride away.
Along the 620-mile coastline, you'll find all kinds of seaside resorts, with accommodations ranging from pastel-colored casitas to lofty, ocean-facing hotel complexes. Each setting has its own unique ambiance for your romantic vacation. To help you plan the ultimate honeymoon, this guide will highlight the best resorts and regions and give you some travel tips, too!
What Makes Puerto Rico Perfect For A Honeymoon?
Puerto Rico is a perfect honeymoon destination because it's a stress-free option – you don't even have to worry about your passport when traveling from the U.S.! Flights are also brisk. On average, the Newark to San Juan flight takes around 3 hours and 46 minutes. This means you could leave the U.S. in the morning and be sipping a piña colada by the afternoon.
You don't even have to leave San Juan; the island's capital city is one of the best city breaks-meets-beach resort getaways you can find, truly offering you the best of both worlds.
10 Best Honeymoon Resorts, Hotels, and Other Stays in Puerto Rico
A range of honeymoon settings can be found in Puerto Rico, from sunny beach escapes to boutique hotels in the middle of Old San Juan – there are a lot of accommodation types across this U.S. territory. Despite being a small archipelago, Puerto Rico has one of the highest occupancy rates in the world, meaning hotels and resorts are in abundance.
For this reason, it would be useful to have a clear idea of what the best hotels in Puerto Rico are for newlyweds to ensure that your honeymoon is as brilliant as possible. Here are our top 10 resorts, hotels, and other stays in Puerto Rico: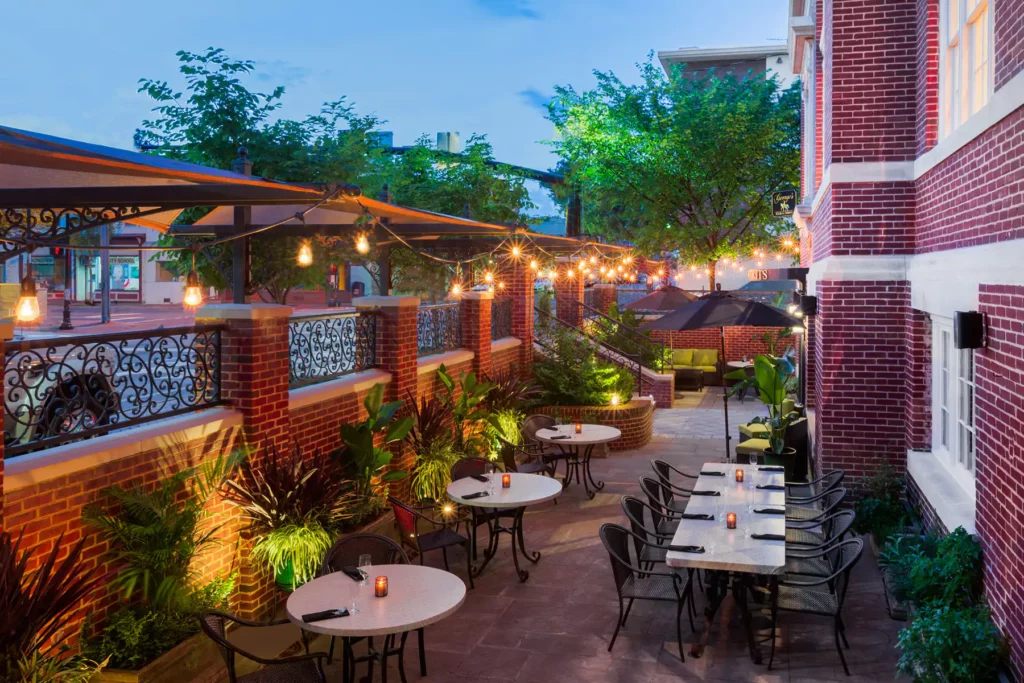 Price per Night: $399 – $940
Best For: Young couples, long stays
Availability: Easy to book
If you're an adventurous couple looking to make the most of the El Yunque National Forest (but don't want to camp out in the wild!), the Wyndham Grand Rio Mar offers a slice of luxury right next door to the boundless forest. Better still, this Wyndham resort boasts over a mile's worth of private beach, where guests can recover from their rainforest hike.
Each of the resort's 400 suites is honeymoon-worthy, featuring mountain and ocean views, a private balcony, and a dining area. Although most of your time will be spent in the forest and on the beach, the resort also has excellent amenities such as tennis courts, a golf course, a casino, ten restaurants and bars, and even a ballroom! At Wyndham, you definitely won't get bored!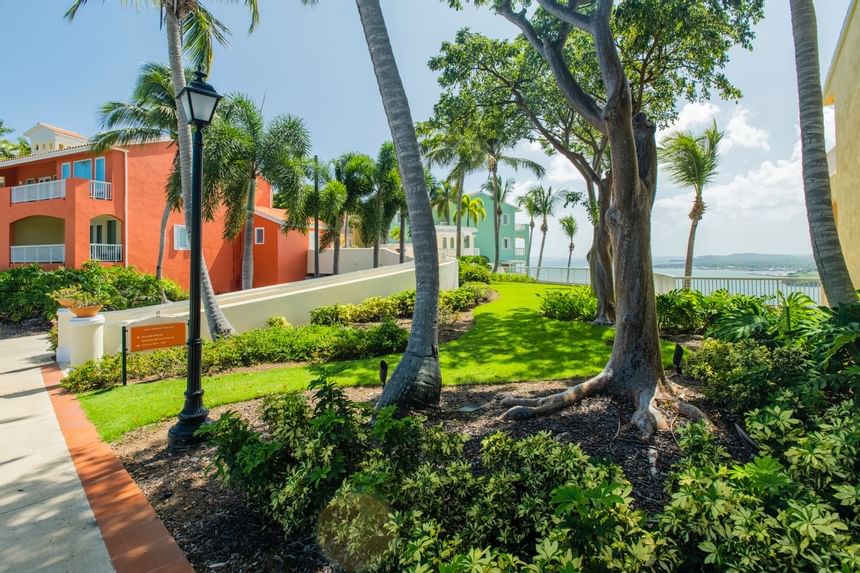 Price per Night: $270 – $1,040
Best For: Unique stays, long stays
Availability: Limited
The Caribbean Sea has never looked better than when viewed from your own private villa in Las Casitas Village. This small resort town rests on top of a 300-foot hill, gifting you raised views of the undulating turquoise waves far out in the distance. If you're seeking privacy, peace, and quiet, Las Casitas goes above and beyond to create the perfect honeymoon setting.
Each pastel-colored villa has a large bedroom, private decking, and kitchen, although butler services are available upon request. The resort has two pools and a tapas restaurant. Guests also have access to a private beach located on Palomino Island, tennis courts, and the nearby Coqui Water Park.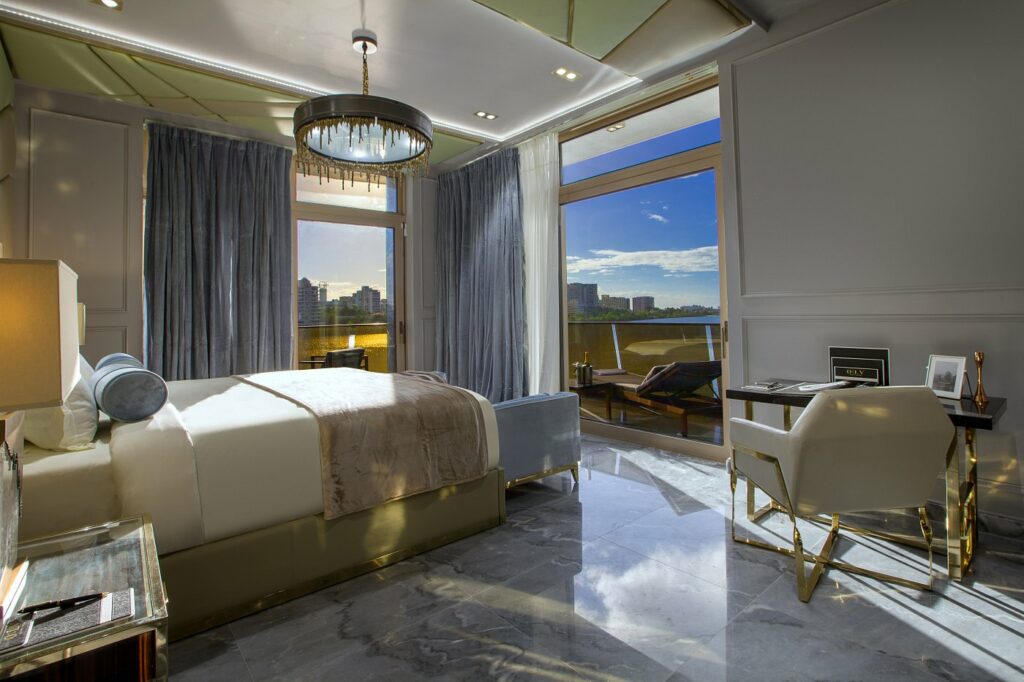 Price per Night: $250 – $665
Best For: Adults-only, trendy resort
Availability: Limited
O:LV Fifty Five is one of the latest additions to the San Juan skyline, and in the short span since its opening, it has garnered the reputation of being the trendiest place to spend your Puerto Rico honeymoon. Consisting of just 26 suites, the availability of O:LV Fifty Five is extremely limited, but those who do secure a room will love the plush decor found within.
The furniture and bathroom have a classical-meets-contemporary vibe, with a mini bar for preparing cocktails and a private terrace for sipping drinks under the moonlight. Highlights of the resort amenities include the rooftop pool, swanky bar, and restaurant.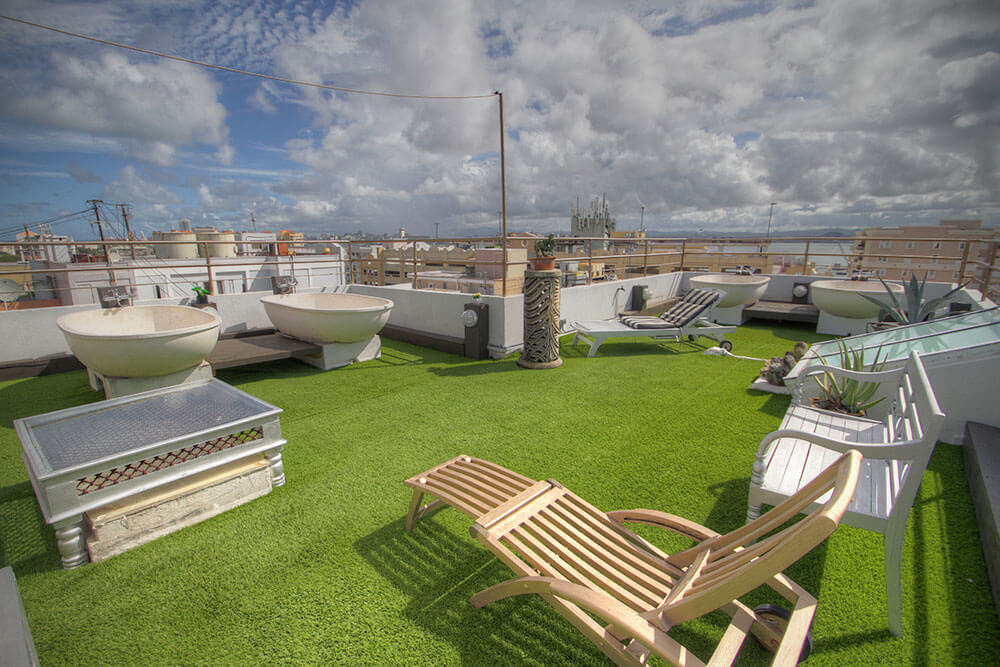 Price per Night: $169 – $320
Best For: Short stays
Availability: Easy to book
If you're looking to soak up as much of romantic old San Juan as possible, then we'd recommend checking in to the CasaBlanca Hotel. Each of the cozy 57 rooms is decorated to look as it did 100 years ago with the addition of modern amenities. Private balconies can be found on each, which are perfect for admiring the nearby Cristobal Fort.
This old San Juan hotel is topped with a communal rooftop area, complete with deck chairs and small romantic baths. Although there's no bar or restaurant available at this boutique hotel, it puts you right next to some of the best restaurants and quaint bars of the old quarter. This includes the likes of Restaurante El Campeon and Kokoye Restaurant.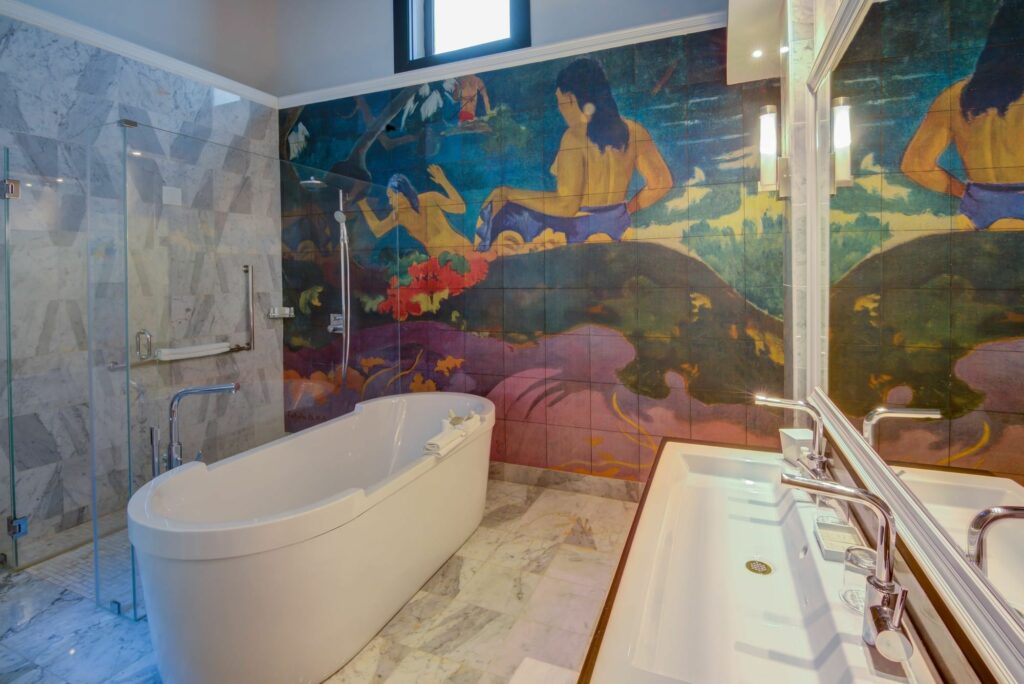 Price per Night: $165 – $505
Best For: Historic hotel
Availability: Limited
Hotel El Convento is as luxurious on the inside as on the outside. The old San Juan hotel occupies a convent that dates back to the 16th century and today upholds the glitz and glamour of what it was like to vacation in Puerto Rico during the 20th century, with grand arches looking out onto the courtyard and tropical plants growing below.
Many of the rooms feature louver doors that open onto a Juliet balcony and are decorated with period Spanish furniture. Ideal for honeymooners looking to step back in time, Hote El Convento also has many onsite amenities, including a plunge pool and heated jacuzzi located on the roof, a gym, and the open-air Patio del Níspero restaurant, as well as a private beach.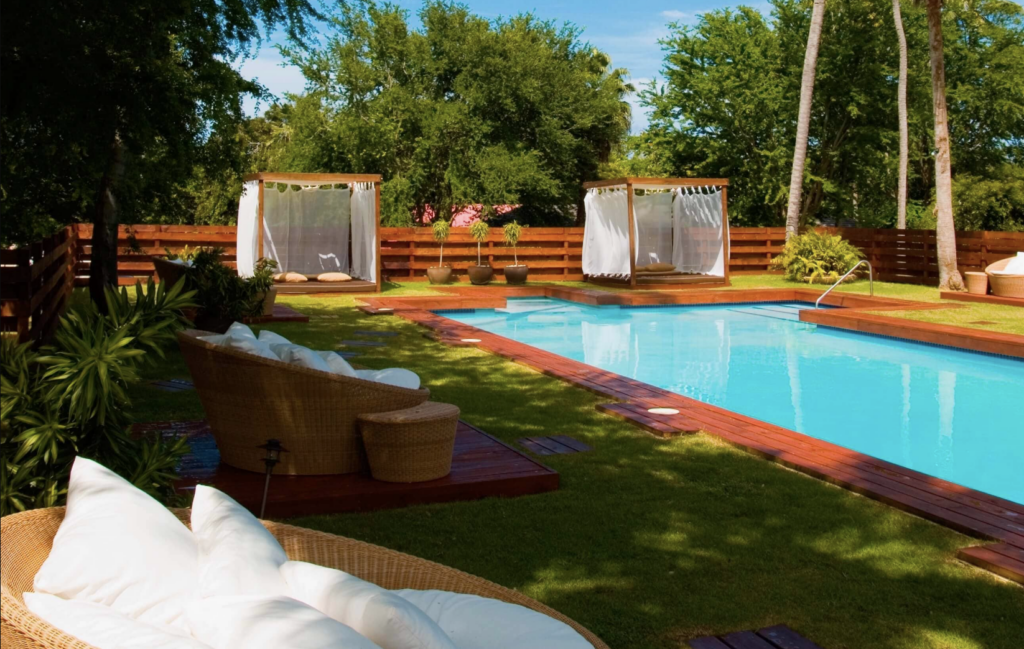 Price per Night: $230 – $375
Best For: Private beaches, romantic packages
Availability: Limited
Located in the resort town of Isabella, Villa Montana Beach Resort boasts 3 miles worth of secluded beach for you and your partner to enjoy the first week of your marriage together. We recommend booking a garden view villa with terracotta tiled flooring, patio doors, and a private terrace. From here, you can admire the delicate landscaping in the garden.
The Villa Montana Beach Resort offers several romantic packages, including the Romance Room Package, which provides your room with champagne, candles, a tropical fruit platter, and rose petals. Alternatively, the Romance Picnic Dinner Package provides a dinner on the beach experience, complete with tiki torches, vintage decor, and a bonfire.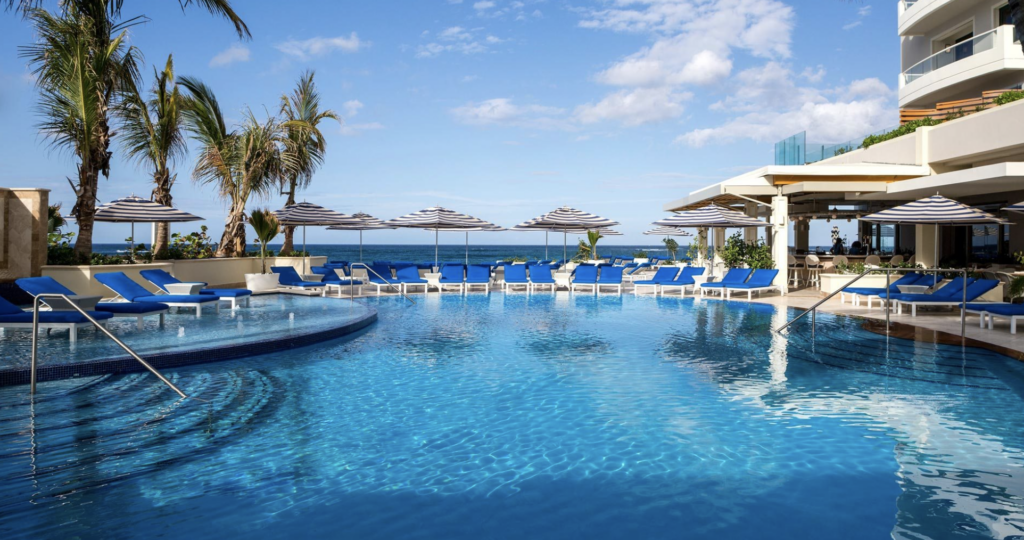 Price per Night: $325 – $860
Best For: Long stays, bridal suites, casino resort
Availability: Easy to book
Built in Spanish Revival-styled architecture, the Condado Vanderbilt Hotel is a new resort with a storied history. The accommodation actually dates back to 1919 but recently underwent renovations to exceed the standards of the contemporary hotel.
Throughout the state-of-the-art complex, you'll find oceanfront restaurants and martini bars, the 24/7 Casino del Mar, the beach club, and several swimming pools (one of which is adults only!). Guests at the Condado Vanderbilt Hotel also have access to some of the amenities found at Bahía Beach Resort in Rio Grande, including its impressively sized golf course.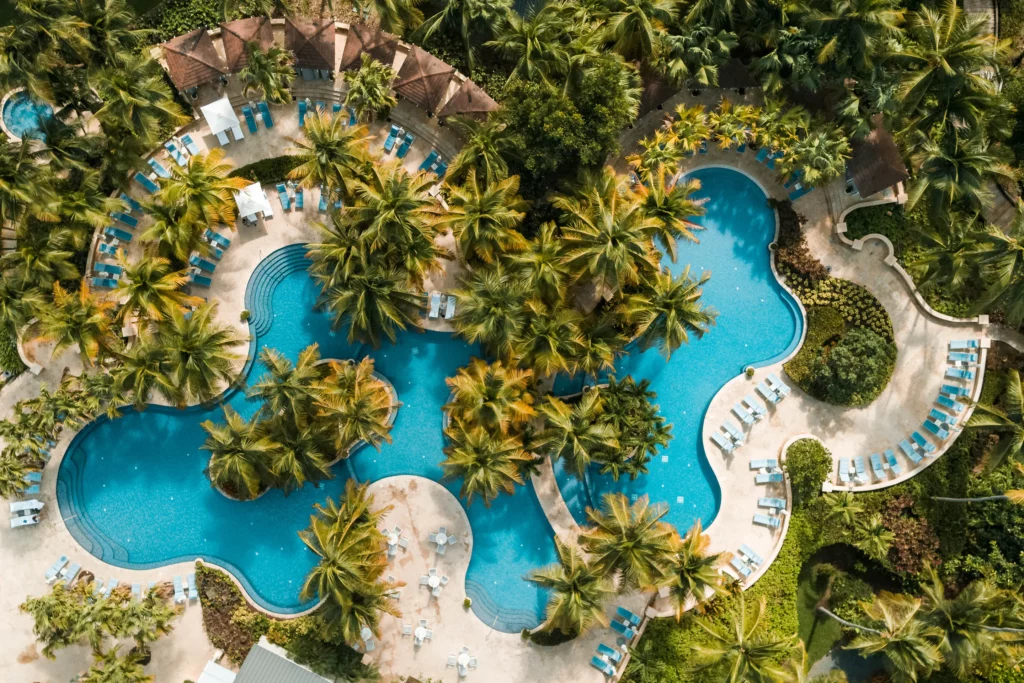 Price per Night: $880 – $1,290
Best For: Nature lovers, beach access
Availability: Easy to book
St. Regis Bahia Beach Resort is located in Rio Grande and is one of the best resorts in Puerto Rico for nature lovers. The resort is flanked by the Espíritu Santo River State Preserve on one side and the El Yunque National Forest on the other. It also sits on a former coconut plantation and boasts its own nature sanctuary, bustling with exotic flora and fauna.
Two miles' worth of private beach stretches out in front of the St. Regis Bahia Beach Resort, complete with lounge chairs and cabanas. Inside the resort, you'll find the Iridium Spa, where you can book a custom honeymoon session. You can dine at the Seagrapes Restaurant or the Beach Club whenever you get peckish.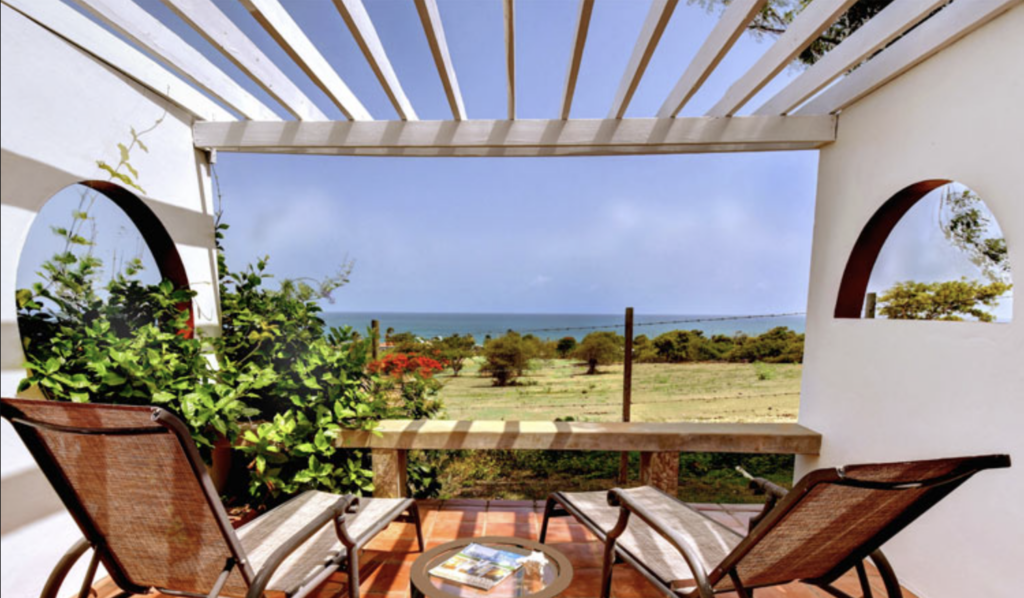 Price per Night: $185 – $255
Best For: Long stay, island escape
Availability: Easy to book
Hacienda Tamarindo is one of the most famous resorts on Vieques island, and thanks to its lofty ocean views, garden hammocks, and grand architectural design, it is the perfect place to spend your Puerto Rico honeymoon. Found on a hilltop, the rooms, pool, and terraces look out onto the ocean below.
Owned by an interior designer, each of the Hacienda Tamarindo's 17 resorts is totally unique, decked out with rare Puerto Rican antiques, with several windows looking out onto the ocean, pool, and surrounding tropical plants. For honeymooners, we'd recommend the Caribbean Delux Room, which comes with its own sheltered decking area.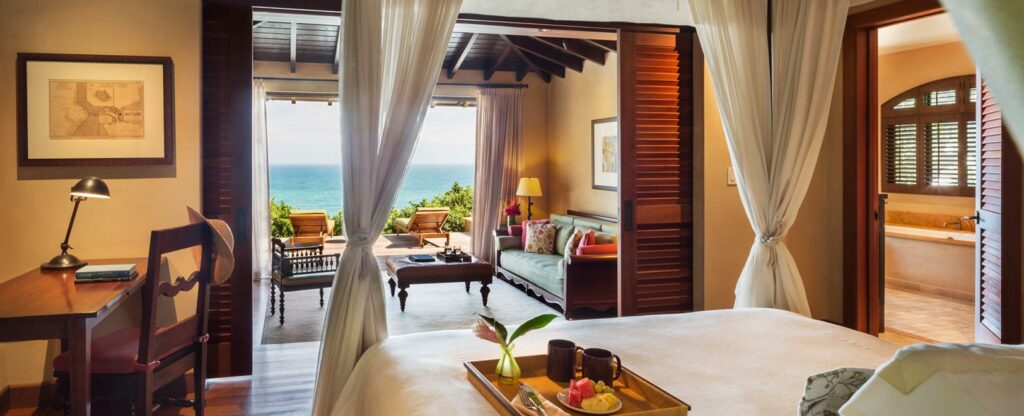 Price per Night: $425 – $775
Best For: Eco-friendly, unique stay
Availability: Limited
Royal Isabela is one of Puerto Rico's top eco-friendly resorts, with unique farm-to-table culinary options available for all guests. Everything served at the Royal Isabela was either grown in the garden, organically caught, or produced by local artisans. To sustain the garden, rainwater is collected for irrigation.
Consisting of 20 casitas overlooking the coast, the accommodations are romantically rustic, made simply using dark hardwood. Exposed beams line the ceiling in the bedroom and living area, which opens up onto a private decking area. The hotel itself has two pools, while each casita has its own plunge pool.
Best Areas To Stay in Puerto Rico
As we stressed at the start of this article, you don't have to leave San Juan; it has everything: a romantic city center, culture, and beautiful beach resorts. However, the rest of the island is also worth exploring, not to mention the islets poised close by.
Traveling around Puerto Rico is possible and worth considering if you want to add some variety to your honeymoon. However, you'll have to hire a car to travel around the mainland, as public transport doesn't run between all major resort locations. For example, you'd need to hire a car to get between San Juan and Rincon.
In terms of island hopping, although it's possible to fly between the likes of San Juan and Vieques, this can be expensive and complicated. We'd definitely recommend getting a ferry from Fajardo to either Culebra or Vieques. Ferries can cost as little as $2 and only takes between 30 minutes and 1 hour!
San Juan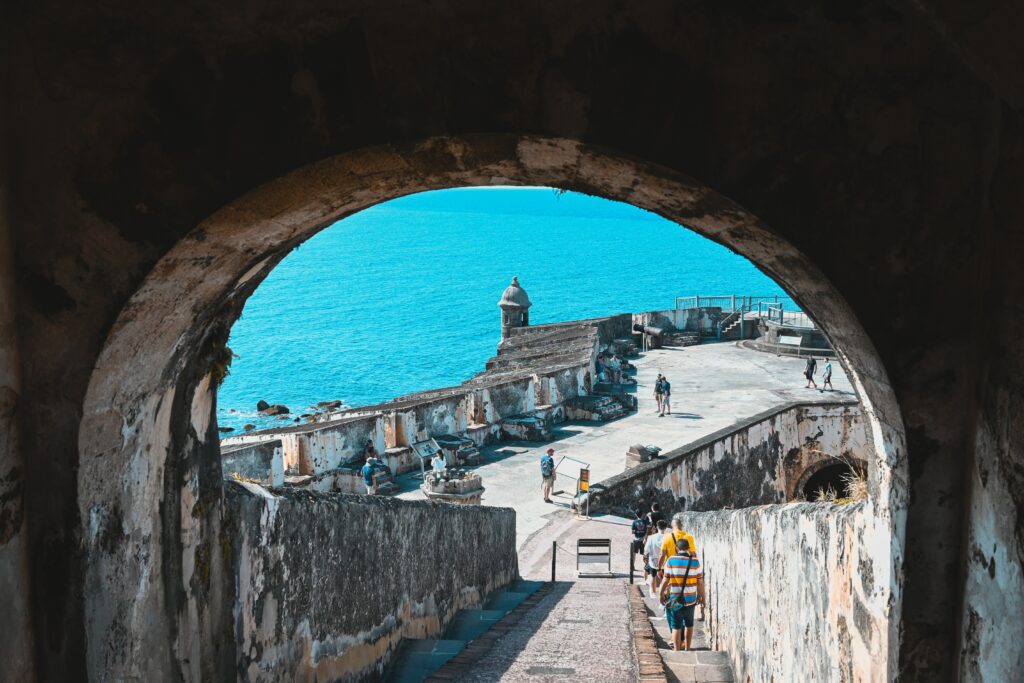 San Juan is likely where your Puerto Rico honeymoon will begin and, for some of you, will be the backdrop of your whole getaway. In the winding and colorful streets of Old San Juan, with its old-European charm, you'll find cozy bars, restaurants, and cafes, all of which sets the perfect mood for your romantic week ahead. Daytime is lively, and nighttime is festive.
While in the city, you can explore the ancient fortress of El Morro, shop in the boutique stores, and spend the afternoon lounging on Escambron Beach. It's also worth checking out the new half of the city, with its contemporary restaurants and clubs, the Museum of Art, and the San Juan harbor, the biggest of its kind in the Caribbean.
Vieques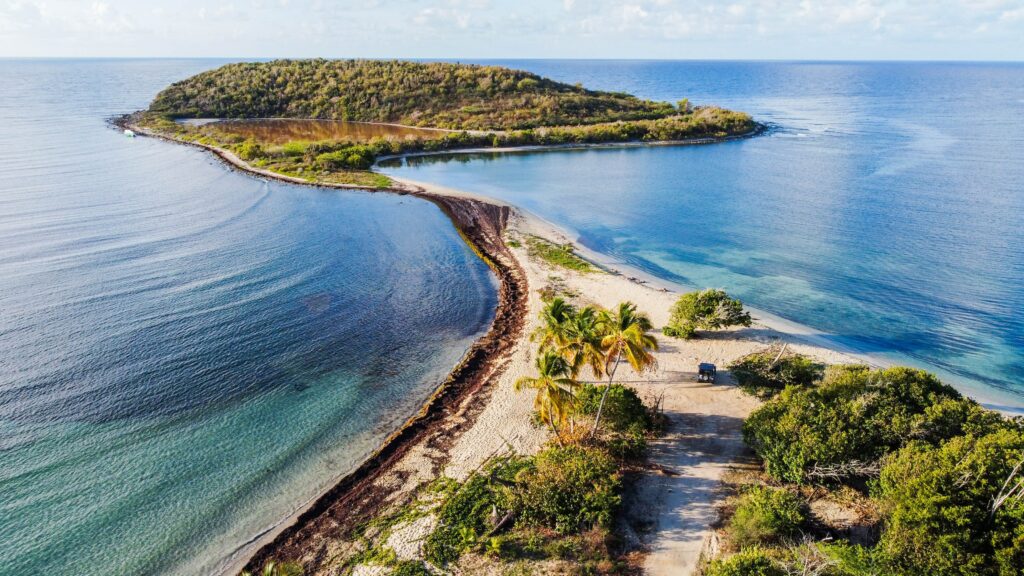 Vieques is the largest island of the Spanish Virgin Islands and can be found 6 miles southeast of the mainland. It's home to numerous resorts that give off a private tropical oasis feeling and boasts several of Puerto Rico's top beaches. Namely, in the island's south, you'll find Black Sand Beach and Media Luna Beach, while El Gallito (Gringo Beach) is in the north.
The most romantic aspect of Vieques, however, has to be the bioluminescent Mosquito Bay, which lights up at night, providing you with a perfect background for an evening stroll. Vieques island is also a hotspot for activity and adventure, with tourists visiting the island to partake in horseback riding, paddle boarding, snorkeling, and bio bay kayaking.
Culebra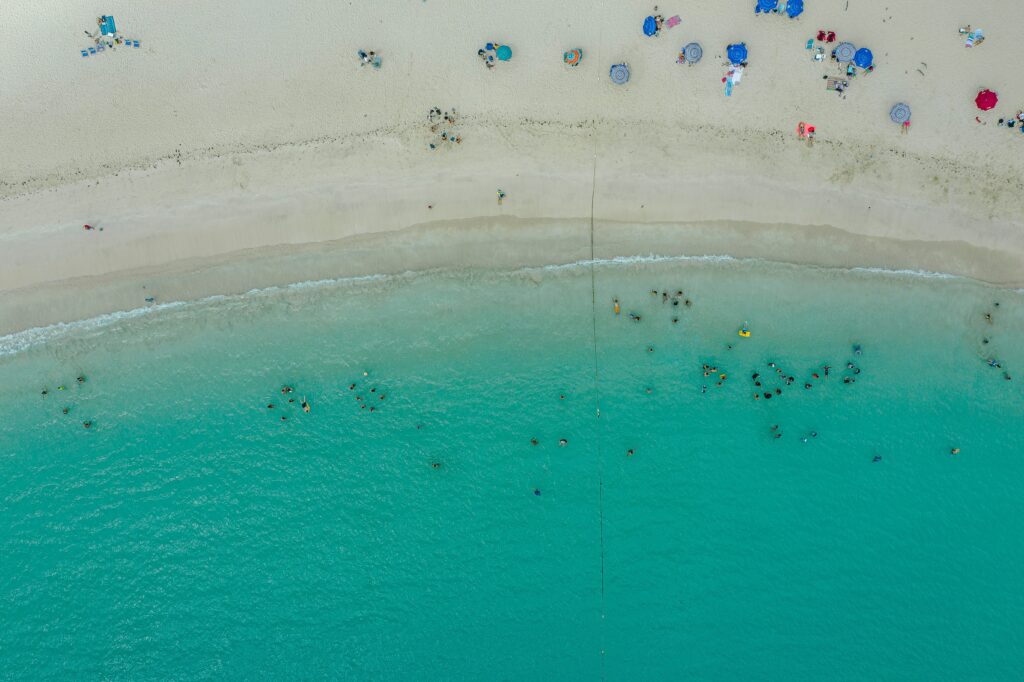 Culebra is located on the east coast of Puerto Rico's mainland and is popular amongst honeymooners for its tranquility. Unlike its noisy island neighbors, Culebra is not as party-focused, with some bars and clubs closing their doors early. Recommended for older couples seeking a short stay, this island has some boutique hotels scattered throughout.
Given that it's not as visited as its counterparts, you'll likely find public beaches deserted on certain days. The island's top beaches include Flamenco Beach, Tamarindo Beach, and Playa Sardinas. Besides enjoying these serene beaches, popular activities include snorkeling and going on nature walks.
El Yunque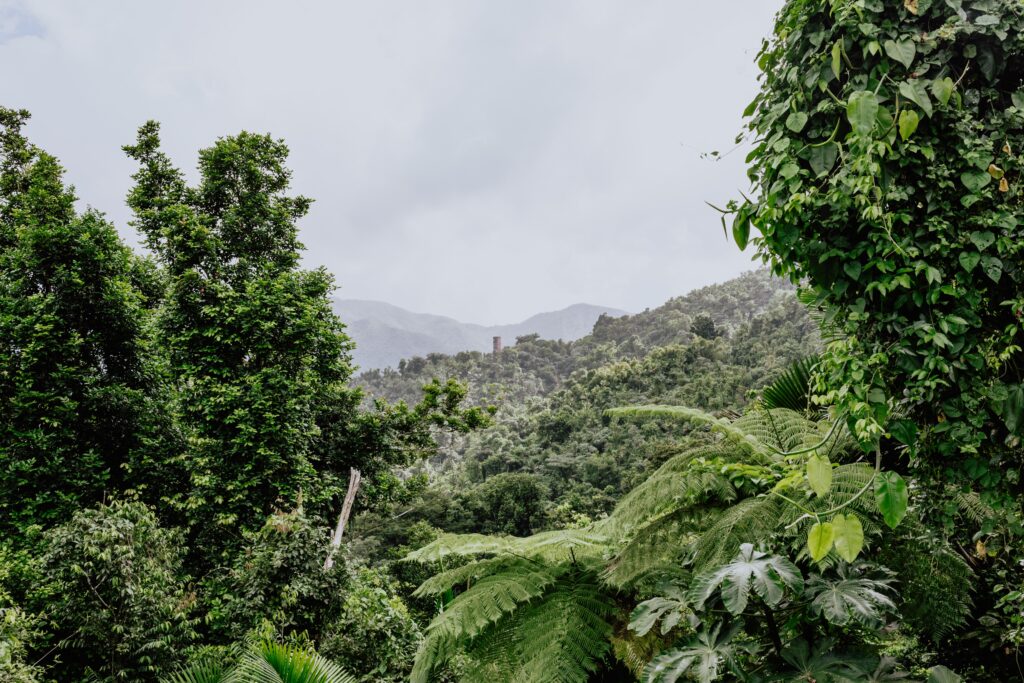 El Yunque National Forest is a popular excursion for many Puerto Rico honeymooners. To make the most of the fascinating wildlife, scenery, and jungle atmosphere El Yunque offers, why not stay next to it? The edge of El Yunque runs along the coast of Puerto Rico, allowing you to enjoy a beach getaway and a jungle adventure wrapped into one trip!
There are several comfortable resorts between where the jungle ends and the Caribbean Sea begins. From here, you can go on exciting guided jungle tours, wildlife spotting, or even zip line over the canopy of the forest!
Rio Grande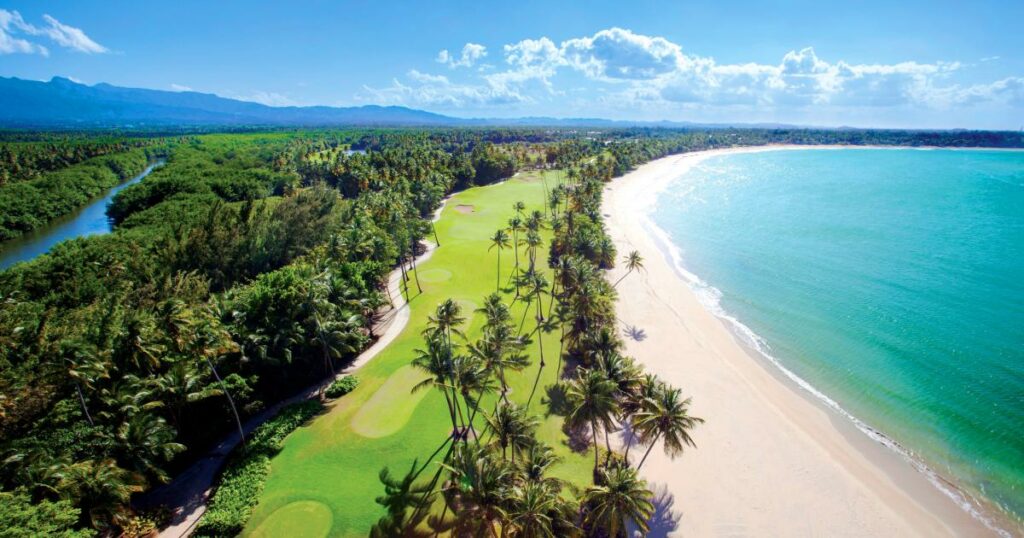 Rio Grande is the best resort town outside San Juan and is just a 30-minute ride away from the capital! This town delivers all you could want in terms of sea-facing luxury resorts, which include the Hyatt Regency Grand Reserve Puerto Rico and the St. Regis Bahia Beach Resort. In the evenings you can party, with plenty of nightlife to be found throughout the town.
The coastline at Rio Grande is also bioluminescence, which makes the perfect romantic scene for evening drinks on the beach. These glowing waters of Laguana Grande are also great for kayaking around. Other popular Rio Grande activities and excursions include joining a cruise and exploring the nearby Icacos Islands.
Isabella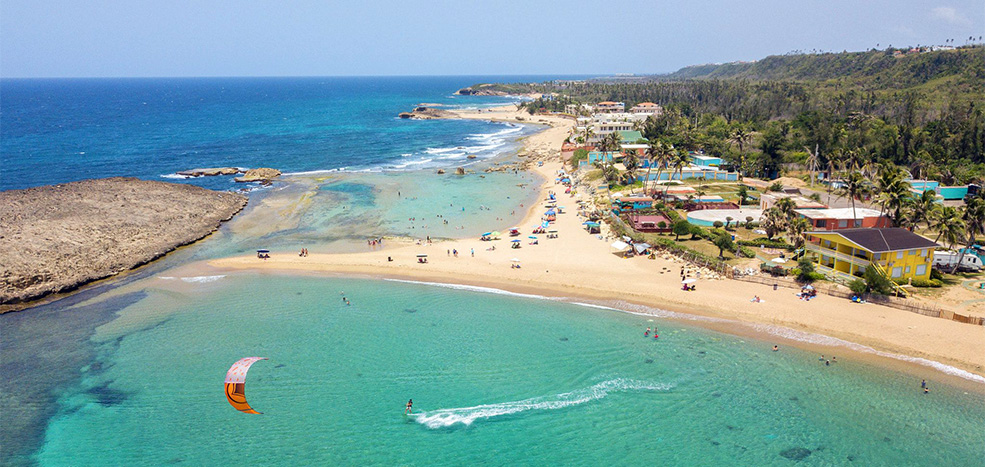 Isabella is a quieter alternative to Rio Grande, with plenty of private pools, although it is further away from San Juan, taking around 1 hour and a half to get there by car. When you arrive at the golden coasts of Playa Jobos and Middles Beach, you'll feel a good payoff for this travel time.
Located in the north-western region of the mainland, Isabella catches the dramatic waves of the west coast and is ideal for surfing and other water sports. For day trips, there are plenty of other quaint towns to explore in this region and great nature trails.
Top Excursions & Activities To Do On A Puerto Rico Honeymoon
It's not just the resort and location that will make your Puerto Rican honeymoon unforgettable; it's also the excursions and activities you choose to fill your week with. Whether you're staying in old San Juan or near Dorado Beach, you'll be able to find plenty of exciting things to experience with your partner in tow.
Learn to salsa dance
Puerto Rico has its own unique take on the salsa that you and your partner can pick up by enrolling in a salsa dance class. You'll find salsa classes for couples around Old San Juan, with prices starting from $19 per adult.
Go on a San Juan sunset cruise
You'll be able to book a sunset cruise in most coastal towns around Puerto Rico, but the best ones are definitely in San Juan. These cruises are organized by most prominent hotels on the coast, including Condado Vanderbilt, which offers sunset cruises for $95 per person.
Explore the El Yunque Rainforest
The El Yunque Rainforest is a sprawling tropical haven in the northeast of the mainland, full of waterfalls and rich flora. Although you could explore this yourself, getting a guided tour around the trees would be safer and easier.
We'd recommend doing the El Yunque Rainforest & Waterfalls Half-Day Tour, which is available for $88 per person. This tour starts in Luquillo, which isn't far from Rio Grande.
Fly along the world's second-longest zip line
The Toro Verde Adventure Park offers plenty of high-adrenaline activities, most notably the 2.5km zipline that can fly you and your partner over a forest at 95 miles per hour! The entrance price for this park starts at $42.50.
Snorkle around Culebra Island
If you've never been snorkeling, the best place to experience it for the first time would be off the coast of Flamenco Beach. You can explore the coral reefs here as part of the Culebra Island Snorkel Tour for $125 per person!
Sample Itinerary & Budget For Your Honeymoon To Puerto Rico
To help you plan the ultimate romantic getaway, here's a basic breakdown of costs you and your partner can expect to pay for a 7-day action-packed Puerto Rico honeymoon:
| | |
| --- | --- |
| Accommodation | $1,120 – $9,050 |
| Food and drink | $3,000 – $4,500 |
| Airfare | $80 – $180 (roundtrip) |
| Salsa dance class | $38 |
| Sunset cruise | $190 |
| El Yunque Rainforest trip | $180 |
| Toro Verde Adventure Park entrance | $85 |
| Culebra Island Snorkel Tour | $250 |
For some itinerary inspiration, here's our sample 7-day plan for the ultimate Puerto Rico romantic getaway:
Day 1 – Settle into your accommodation and get out and explore some of the surrounding neighborhood if there's enough time. Start your Puerto Rico honeymoon as you mean to go on by dining out at a romantic eatery and sharing a few piña coladas.
Day 2 – Ease yourself into your week ahead by exploring the nearby beachfront. Spend all day lounging in the sun, enjoying drinks at your resort's Beach Club, and participating in water sports.
Day 3 – Embark on a big adventure on day 3, such as El Yunque Rainforest. Don't plan anything significant for the evening besides a romantic meal at your resort.
Day 4 – Relax all day on the 4th day to make up for yesterday's adventure. Go for a shared massage or spend the whole day poolside. Dine out on the beach for sunset before embarking on a stroll along the bioluminescent bay.
Day 5 – Fit in a few different activities on day 5. Go to the Toro Verde Adventure Park in the morning, sign up for a salsa class in the afternoon, and reward yourself with a sunset cruise in the evening.
Day 6 – Do one last daring activity on day 6, such as going on a Culebra Island Snorkel Tour. Alternatively, adventure towards a nearby town or beach.
Day 7 – Take full advantage of your hotel's facilities on the last day and get as much relaxation as possible! Share one last candle-lit dinner in the city.
Frequently Asked Questions
How much does a Puerto Rico honeymoon cost?
You can expect to pay between $4,000 and $5,500 for the ultimate Puerto Rican honeymoon. For a fancy dining experience, you can expect to pay between $60 and $120. There are, of course, plenty of cheap eateries throughout Puerto Rico, which could see you only paying $30 for a meal for two.
When is the best time to visit Puerto Rico?
You should plan your Puerto Rico honeymoon for springtime. This puts you right between the winter rush and hurricane season, which starts in June. Springtime should offer excellent weather and a romantic ambiance.
What is the best way to travel around Puerto Rico?
The three best ways to get around Puerto Rico are by bus, taxi, and shared vans, known as Públicos. Taxis are reliable and easy to hail, with plenty generally parked outside the main tourist destinations. Uber, on the whole, does not operate in Puerto Rico, although it may work in San Juan.
Start Planning The Perfect Romantic Honeymoon Getaway
Puerto Rico is ideal for a honeymoon, particularly if you're looking for an island getaway easily accessible from the states. Its winding cobblestone streets, exotic beaches, and old Spanish architecture hold all the charm of going on a European honeymoon without the hassle of traveling!
Whether swimming with sea turtles, relaxing on Dorado beach, or staying at a luxury 5-start or a hilltop casita, you're sure to love every minute of your Puerto Rico honeymoon. Use this article to help you plan the ultimate getaway, and check out our other resources for further romantic excursion inspiration.