The western Pennsylvania city of Pittsburgh is a popular destination among travelers. This is because of its great location. It is easily accessible from Washington, Philadelphia, and New York. It is also just a couple of hours south of Lake Eerie.
Pittsburgh is not recognized for beach holidays. However, The Monongahela and Allegheny rivers meet to create the Ohio River. This provides visitors with a range of excellent river activities and tours.
Pittsburgh is also known for being a friendly city. There are lots to do for visitors enjoying a romantic weekend getaway.
This affordable destination has excellent nightlife as well as a great selection of museums and galleries.
Oh, did we mention that there are more bridges in Pittsburgh than Venice? This is great news for people looking for great photo opportunities.
If you are interested in a fun, romantic weekend getaway, keep reading to find out why Pittsburgh could be the perfect location for you.
What Makes Pittsburgh Perfect For A Romantic Getaway?
Pittsburgh is an excellent romantic weekend getaway destination and can be easily reached. Pittsburgh International airport makes flights to Pittsburgh simple. You can also make use of the train station to get around the city. Pittsburgh also has a number of bus stations making travel easy.
Pittsburgh has a wonderful collection of parks that are ideal for romantic walks. Aspinwall Riverfront Park and Allegheny Commons Park, and Lake Elizabeth are excellent options.
Tours of the Allegheny and Phipps Conservatory are popular among tourists.
Art lovers will have an excellent collection of galleries to visit, including the Andy Warhol Museum.
As well as excellent attractions and sights, Pittsburgh is also home to a great choice of romantic hotels and restaurants.
You can explore 90 different neighborhoods for different vibes and styles.
Living costs in Pittsburgh are slightly above the national average. This won't significantly affect the overall cost of a romantic trip.
Depending on when you plan to travel, budget romantic weekend getaways are possible.
Most Romantic Getaways in Pittsburgh
Pittsburgh is a great location with easy access to some of America's biggest cities and lakes. It is perfectly placed for romantic getaways from Pittsburgh. It is also a great option for those that want to learn more about the city's rich history.
Pittsburgh offers a range of cool, trendy, and different neighborhoods to explore. This means visitors can experience very different trips and evenings just a short walk from one another.
Traveling through the city by day, you will be able to enjoy tours, river cruises, and attractions. By evening you will find the city comes alive.
Explore the different neighborhoods with their distinct personalities. This will allow you to find bars, clubs, and restaurants to suit your tastes and moods.
Here are just some of the best neighborhoods worth exploring in Pittsburgh on a weekend trip.
North Shore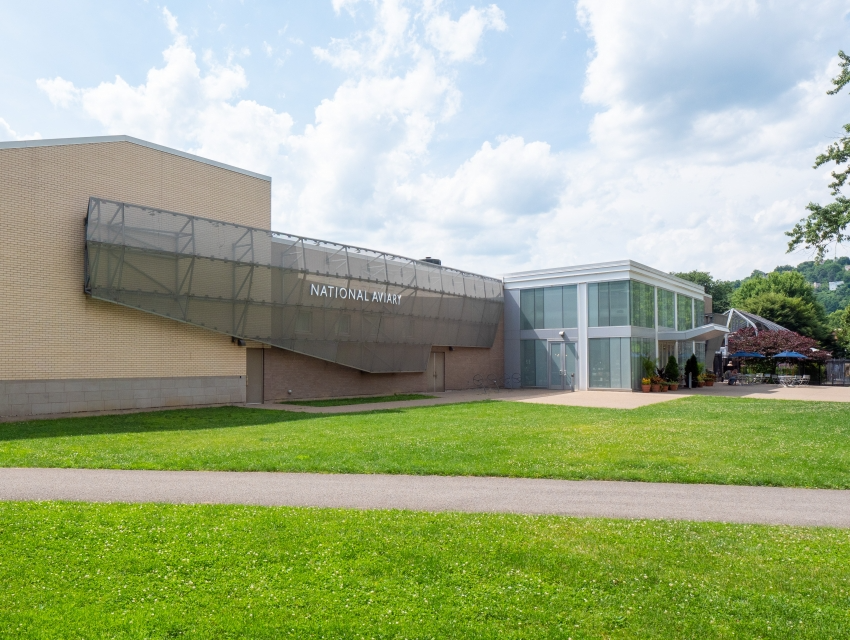 Pittsburgh's North Shore neighborhood is home to a number of excellent museums and sports venues. Some of the most popular attractions in the area include;
The National Aviary
Andy Warhol Museum
Carnegie Science Center
Randyland Art Museum
This excellent selection of attractions is popular throughout the year. Randyland, in particular, offers visitors a unique experience.
Formerly a dilapidated building, it is now one of Pittsburgh's most recognizable. The colorful building is brightly painted throughout and perfect for pictures. What's more, is that this attraction offers free admission.
Depending on when you visit, the North Shore area of Pittsburgh can get pretty busy. This is because it is home to PNC Park and Heinz Field, the baseball and football stadiums.
On match days, the area fills up quickly. However, this can lead to a fun carnival atmosphere, especially when the local teams win!
The area is home to a number of chain restaurants and steakhouses. There are also a number of sports bars that cater to local fans.
Best Accommodations in North Shore Pittsburgh:
Hyatt Place Pittsburgh North Shore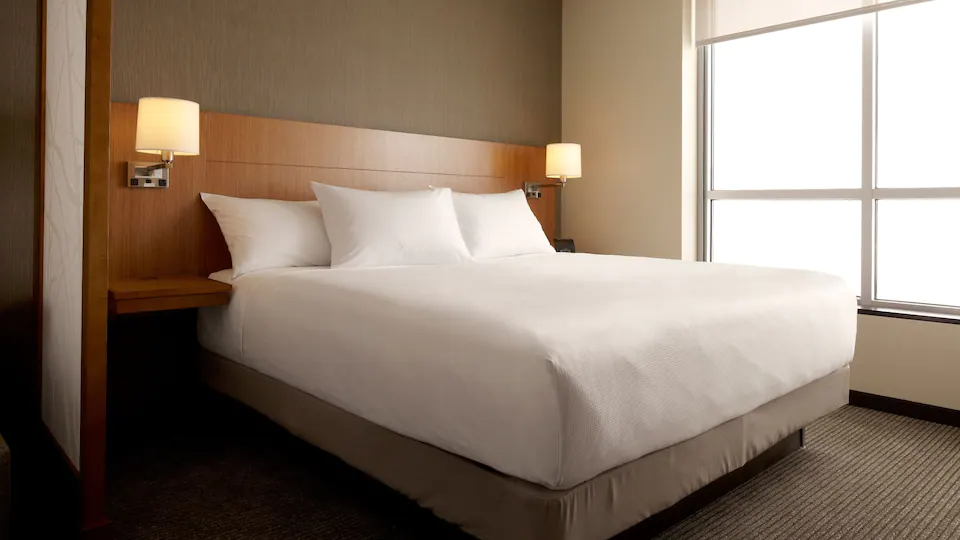 The Hyatt Place Pittsburgh-North Shore offers an excellent location in the heart of the North Shore.
It is the perfect base for couples to enjoy romantic weekend getaways. Free internet access and complimentary breakfasts are an added bonus.
The contemporary rooms are spacious, and some even have views of PNC Park.
The luxury hotel is equipped with a 24-hour fitness suite and indoor pool. It even has an on-site restaurant for convenience.
Easy access to the local sports arenas is possible from the hotel. Local attractions include the Carnegie Science Center and Pittsburgh Zoo & PPG Aquarium.
Residence Inn by Marriott Pittsburgh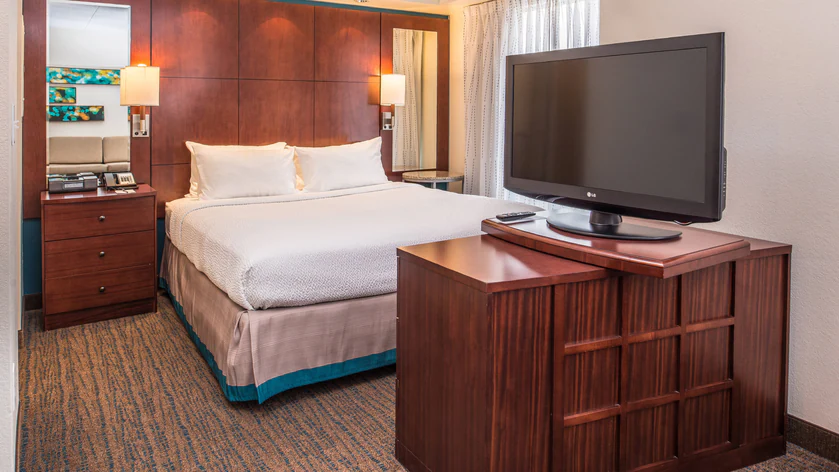 Price per Night: From $110
Residence Inn by Marriott Pittsburgh is another North Shore hotel located close to PNC Park.
The studio and suites available at Residence Inn are stylish and comfortable. The hotel offers guests access to their exercise room and indoor heated pool. The pool is open from 6 am to 11 pm, and the hotel provides towels for guests.
There are lots to see and do nearby, including visiting the Penn Brewery. A number of local tours are also available to couples that want to see more of the city.
Couples hoping for a relaxing weekend getaway will have lots of options right on their doorstep. The Alta Villa Spa and Dream Weavers Spa and Massage center offer an excellent way to pamper yourself.
Holiday Inn Express & Suites Pittsburgh North Shore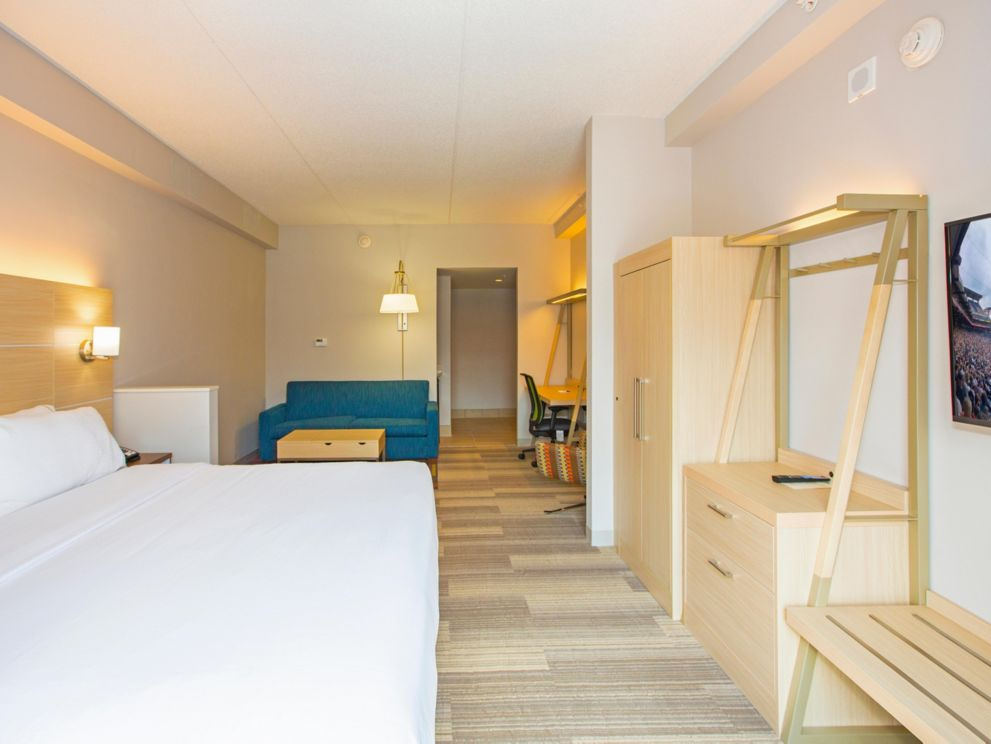 Price per Night: From $135+
The Holiday Inn Express & Suites Pittsburgh North Shore is an excellent option for couples that want to stay in the center of North Shore. This gives easy access to the excellent attractions and facilities the area has to offer.
Rooms come with black-out blinds for privacy and to guarantee a good night's sleep.
Rooms also come equipped with free internet access and complimentary tea and coffee supplies.
There are 135 guest rooms to choose from and 38 suites. Guests will be able to start the day with a complimentary buffet or continental breakfast. There is also an indoor pool for guests to enjoy.
Downtown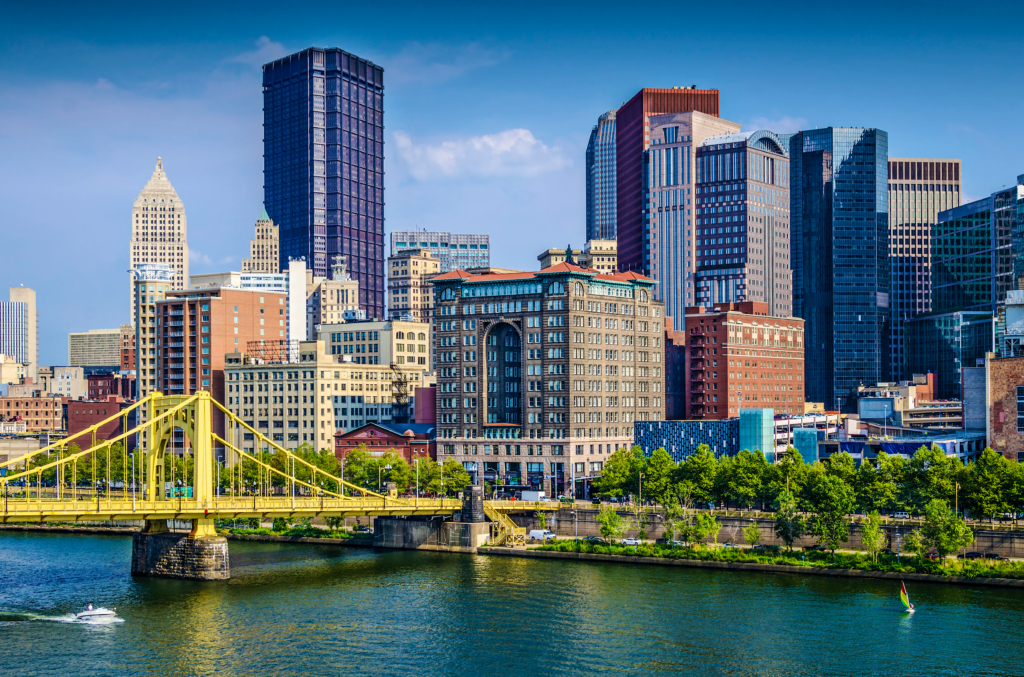 Downtown Pittsburgh is a small area that packs a selection of attractions into one incredible area. The dramatic scenery is made special by the intersection of three rivers, making it the perfect location for photos and river cruises.
Downtown is often recognized as the heart of Pittsburgh City. You will find an excellent selection of hotels in the area and easy access to all the other fascinating neighborhoods nearby.
Downtown Pittsburgh is home to the city's skyscrapers and lots of great restaurants. Despite being the business center of the city, there is still a lot to experience for visitors.
Point State Park is a 36-acre park in the heart of the city. The park is home to the Three Rivers Arts Festival and lots of Christmas activities, so it is worth visiting all year round.
Active couples might be interested to know that the Great Allegheny passage starts at Point State Park. This is a hiking and biking route that stretches for 150 miles. Ideal or an outdoor adventure.
The Cultural District in Downtown Pittsburgh is home to a selection of performing arts venues, including;
Pittsburgh Public Theatre
The Benedum
Cabaret at Theater Square
Heinz Hall
The Byham
The O'Reilly Theatre
This makes it a great area for couples on romantic weekend getaways that want to catch a show.
If you are looking for a romantic meal Downtown, the Cultural District or Market Square are your best options. There is a great selection of restaurants to suit all tastes and budgets Downtown. Some restaurants, such as Butcher and the Rye and Tako, are extremely popular. Making reservations, sometimes months in advance, may be necessary.
Best Accommodations in Downtown Pittsburgh:
Embassy Suites Hotel in Downtown Pittsburgh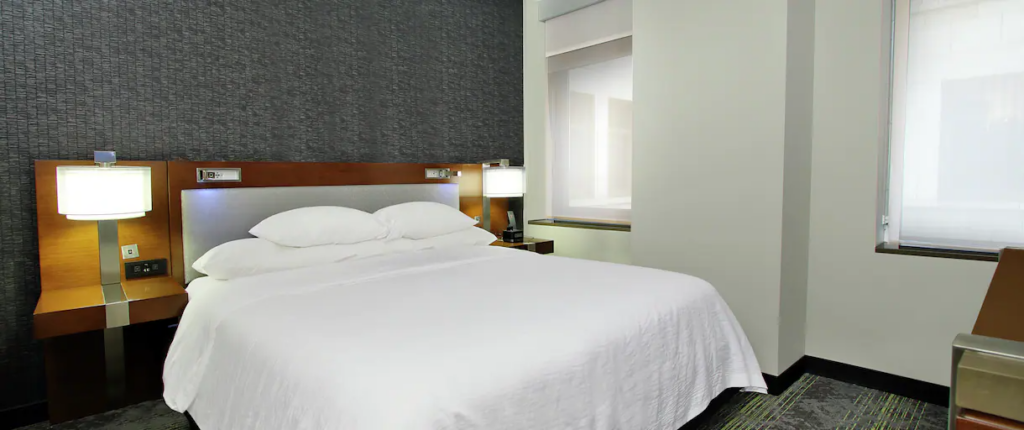 Price per Night: From $139+
Embassy Suites Hotel in Downtown Pittsburgh is located on the top floors of the Henry W. Oliver building. This makes it perfect for couples on romantic weekend getaways that want great city views.
The downtown location puts it within walking distance of some great attractions and sites. The indoor pool and modern amenities make this perfect for a great weekend getaway.
Complementary made-to-order breakfast is the perfect way to start your day.
Guests with cars can enjoy valet parking services from $38. The hotel also boasts magnificent dining and drink facilities. On the 25th floor, you will find Ollie's Gastropub for wonderful meals and vintage cocktails.
The large suites are spacious and comfortable. They also offer incredible views across the city.
Active couples can keep fit on their weekend getaways by taking a dip in the saltwater pool. You will also have the opportunity to make use of the fitness suite.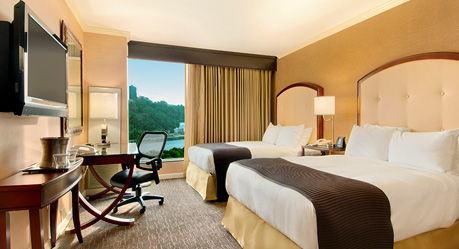 Price per Night: From $125+
The Wyndham Grand Pittsburgh is a relatively straightforward hotel. However, it does run occasional specials that are perfect for couples looking for a romantic getaway that won't break the bank.
Not every weekend trip has to be expensive. There are lots of great ways to enjoy romantic getaways without spending a lot. Finding great accommodation deals is one way to do this.
The Wyndham Grand Pittsburgh helps couples enjoy a wonderful downtown location. Downtown can get noisy, so rooms on higher floors can offer guests a bit more peace and privacy.
The hotel has an excellent state-of-the-art fitness center and indoor pool that boasts city views.
Rooms come with complimentary wifi, air conditioning, and flat-screen TVs. Complimentary bath products by Gilchrist and Soames are a nice touch too.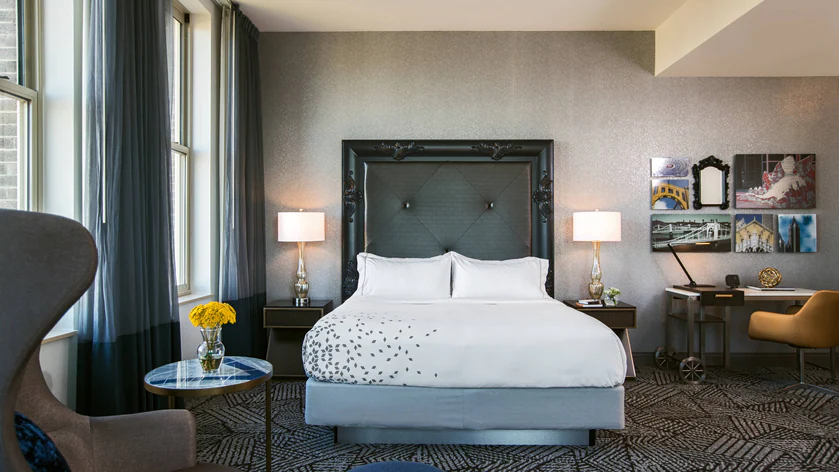 The luxury 4-star Renaissance Pittsburgh Hotel is located in the city's cultural district in the downtown area.
Located in the historic Fulton building, the luxury hotel overlooks the Allegheny River.
This makes it ideal for romantic getaways. The excellent location is perfect for a weekend trip where you want quick and easy access to the city's top attractions.
The hotel has two highly regarded on-site restaurants to choose from. These are Braddock's Street Side and Braddock's Rebellion.
The rooms offer complimentary wifi and luxury bedding. The contemporary styles combine comfort and decadence that are great for romantic weekends away.
The state-of-the-art fitness suite is available for guests to enjoy. It includes steam rooms, free weights, and a range of exercise machines.
Another excellent feature of this hotel is the Renaissance Navigators. The Navigators can help you with unbeatable local knowledge. They will help you find the best restaurants, nightspots, and attractions the city has to offer.
The Strip District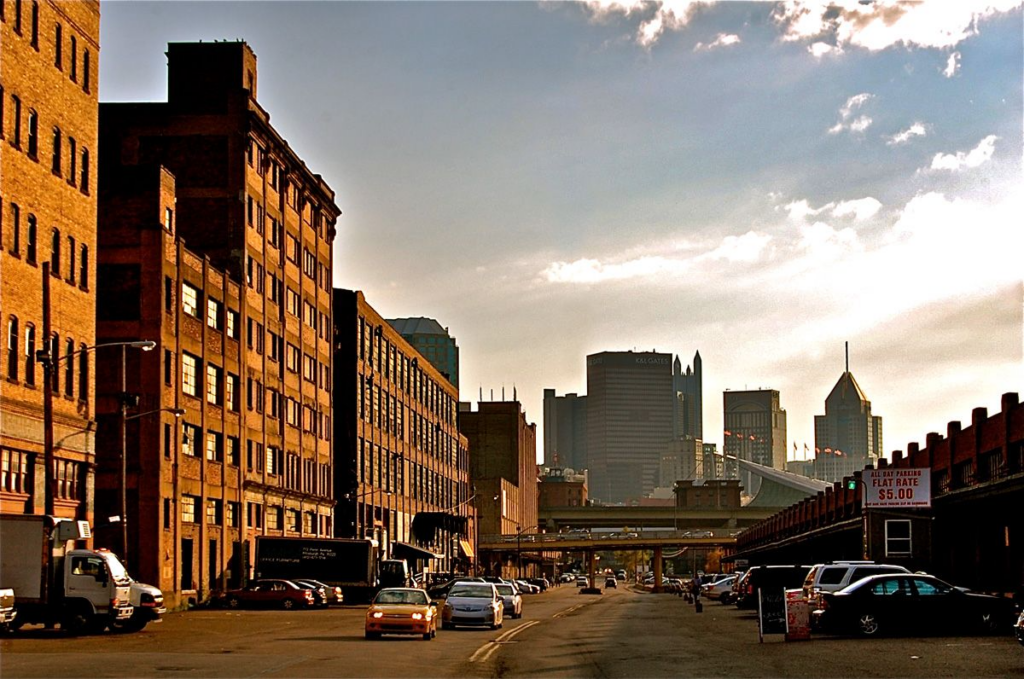 What romantic getaway is complete without delicious food? Well, if you want your trip to be more than a weekend away, the Strip District of Pittsburgh offers a great choice of eateries.
The area is home to some excellent coffee shops, as well as wonderful restaurants and bars.
There are lots of international markets on the streets along Penn Avenue and Smallman Street. These offer a great range of specialty foods for guests to enjoy.
The Strip is located near downtown and can be a great place to stay or visit.
The area is not just home to some of the best food locations in the city. There are also a number of wonderful boutique shopping options.
History buffs will love the Heinz History Center. It is worth noting that parking in the area can be difficult.
Best Accommodations in The Strip District Pittsburgh: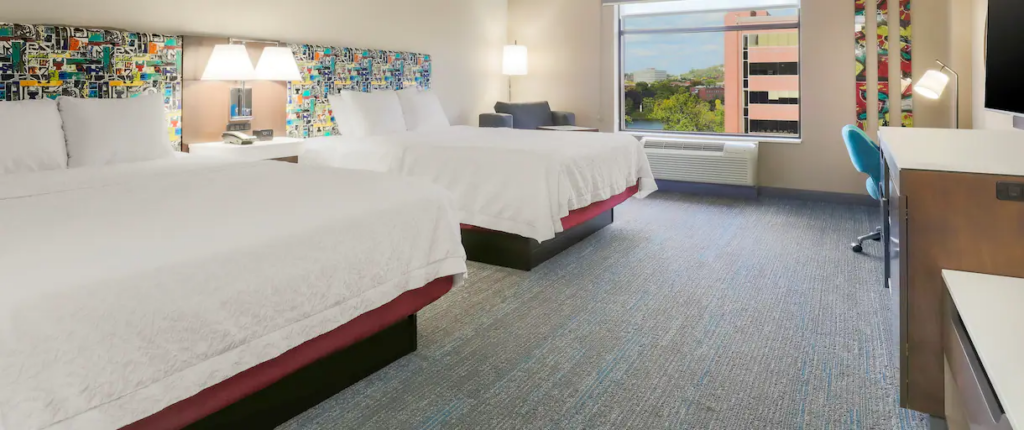 Price per Night: From $175+
The Hampton Inn & Suites Pittsburgh is on the border between the Strip district and downtown. This excellent location gives guests enjoying romantic weekend getaways the best of both worlds.
Located just a 30-minute drive from the airport, this great hotel will get your day off to a flyer with a complimentary hot breakfast.
The indoor pool and fitness center are perfect for couples that want to keep fit on their break.
Great views of the Allegheny River make it a wonderful destination for romantic trips.
Guest rooms and suites are available depending on your budget. The rooms are spacious and finished with a contemporary design.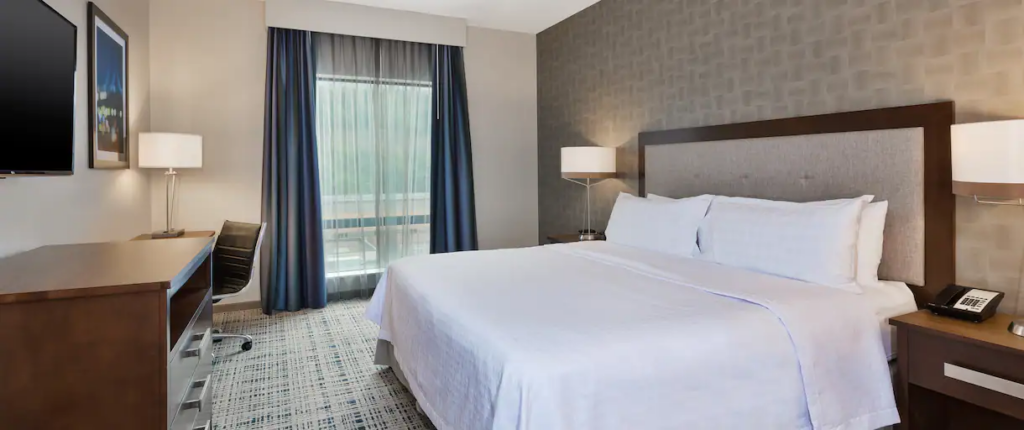 Price per Night: From $140+
Homewood Suites by Hilton is another great hotel that borders downtown and the Strip District.
Guests will love the indoor pool and fitness center in the hotel. The great location also makes it ideally situated for nearby attractions and sights.
Free wifi and breakfast are provided, making it a great way to save money and enjoy a high-quality service.
The spacious suites have great river and city views. The location makes it easy for guests to plan a good weekend trip. Nearby shopping and dining options make it a great choice.
Top Excursions & Activities To Do On A Pittsburgh Romantic Getaway
There are lots to see and do in Pittsburgh. It is perfect for weekend trips for people that love shopping, theatres, and historic charm.
The following activities are perfect for couples that want to enjoy fun-packed weekend getaways.
Mount Washington – Couples will love the incredible views you can get when visiting Mount Washington. The tramway is the best way to enjoy this area.
Haunted Pittsburgh Walking Tour – Pittsburgh is considered to be one of America's most haunted cities. Taking a haunted walking tour is the perfect way to learn about Pittsburgh's spooky past. Tours cost around $18 per adult.
Pittsburgh Zoo & Aquarium – Animal lovers will enjoy a trip to Pittsburgh Zoo & Aquarium. Tigers, crocodiles, and polar bears are all on display at the zoo.
PNC Park – If you are lucky enough to be in town during baseball season, a day out at the ballpark can be a wonderful option. The dramatic backdrop of the river, bridge, and skyscrapers make it an excellent day out.
Andy Warhol Museum – Art lovers must visit the Andy Warhol Museum. The incredible museum features more than 4,000 photographs and 900 paintings. There are also lots of sculptures and films in this incredible archive.
A Day at the Park – Active couples that want to enjoy the great outdoors will have a great range of parks to choose from. These include Schenley Park, Point State Park, and Riverview Park.
These are just some of the excellent attractions and activities that visitors to Pittsburgh can enjoy.
As well as great activities, there is an excellent range of restaurants to explore. Cuisine from around the world is available in famous chain restaurants.
There are also great independent eateries for more intimate and romantic meals.
Some of our favorite restaurants that you might want to check out include;
Morcilla – A great option for fans of Spanish Tapas
Apteka – This excellent Eastern European restaurant has a great menu with wonderful vegan options
Gaucho Parilla Argentina – Meat lovers will love this Argentinia gem
Poulet Bleu – If your idea of a romantic dinner is a high-class French restaurant, this is the option for you
DiAnoia's – We couldn't give you a list of Pittsburgh's best restaurants without including this great Italian option.
Sample Itinerary & Budget For Your Romantic Getaway In Pittsburgh
The cost of weekend getaways to Pittsburgh will vary depending on many factors. When you visit, how you travel, and the hotel you visit will all have a significant bearing on the cost. The following prices should give you an idea of how much you could expect to pay.
Hotel Stays/Accommodations: $100 to $140 for 2 to 3-star hotel rooms per night. Luxury hotels will increase the cost of your stay significantly.
Mode of Travel (if they need to rent a car or they can rely on public transit): Return flights to Pittsburgh vary from around $600 to $1,600 for couples.
Food/Beverage: Setting aside around $100 per day for food in Pittsburgh should be a good average for couples.
Daily activities: There are lots to see and do in Pittsburgh. Some attractions are free of charge, while others have admission charges. Cinema admission costs vary from around $10+. Attractions like the Pittsburgh Zoo typically charge up to around $20. Theatre tickets will cost around $50+.
Frequently Asked Questions
How much does a Pittsburgh romantic getaway cost on average?
The average cost for couples to travel to Pittsburgh varies from around $360 to $600 per day. This cost will vary depending on how you are traveling there and what you plan to do on your trip.
When is the best time to visit Pittsburgh?
The best time to visit Pittsburgh is any time from July to late October. This is because the weather is usually best at these times.
How long do people typically spend in Pittsburgh on a romantic getaway?
With lots to see and do, Pittsburgh is great for romantic getaways. Some people even stretch their stay out to a week to enjoy everything on offer.
What is the best way to travel around Pittsburgh?
Traveling by car around Pittsburgh can be expensive and confusing. A light rail system is a great option that connects neighborhoods. The free zone between North Shore and First Side also helps you save money.
What is the best way to travel to Pittsburgh?
Pittsburgh has airports, rail stations, and bus stations. This makes it easy to travel by rail, bus, and plane. Your location and budget will help dictate the best way to travel to the city.
Start Planning The Ideal Romantic Getaway
Pittsburgh is a great location for romantic getaways, thanks to its convenient location. This historic city has lots to see and do, and the bridges and rivers make it aesthetically pleasing for visitors.
Explore our couples' travel resources to start planning your romantic trip to Pittsburgh today.
This fantastic location is suitable for all budgets. There are lots of great free activities to enjoy throughout the city.
Those that want to splash the cash will be able to book a luxury hotel with great amenities. Whether you are looking for pools with indoor and outdoor pools or full fitness centers, there are lots of options available.
Pittsburgh's excellent selection of restaurants makes it easy to enjoy the perfect romantic meal on your trip.
Anyone on the lookout for the perfect romantic getaway will do well to consider Pittsburgh as a serious contender.