San Diego's nickname of 'America's Finest City' is certainly well-earned. From white, sandy beaches to fascinating museums, there really is something for everyone.
You can spend balmy evenings strolling through the romantic Gaslamp Quarter and exhilarating mornings jet skiing in Mission Bay.
In this guide, we'll give you all the tips you need for the perfect romantic getaway in San Diego. We'll show you the best areas to visit and the most romantic hotels to stay in. We'll also show you how to plan and budget for your trip so that you have the best experience possible.
What Makes San Diego Perfect For A Romantic Getaway?
San Diego is often thought of as a sleepy beach town. Yet, it's actually the eighth-largest city in the whole of the US. While San Diego's beaches are certainly great for relaxing, there's so much more to this amazing city.
The weather in San Diego is possibly the best in the country, and it's an easy city to get around. The famous trollies make it simple to explore downtown San Diego, and many of the attractions are within walking distance of each other.
There are plenty of romantic San Diego hotels for you and your partner to stay in. Whether they're beach resorts or boutique hotels in San Diego, the city has got you covered.
Generally, San Diego is ideal for short getaways of around four days. Still, the sheer variety of experiences available means you could easily stay for a week. Attractions like the San Diego Convention Center and Balboa Park make this a truly unique city to visit.
Most Romantic Getaways In San Diego
San Diego has many different areas that are perfect for romantic getaways. You can stroll along the cliffs at beautiful La Jolla, cycle around Coronado Island, and explore the bustling streets of the Gaslamp Quarter.
Whichever areas you visit, you won't be short of romantic hotels and incredible experiences. San Diego's bars and restaurants are also some of the finest in the US, and dining out here is something you won't forget.
The many different areas of San Diego provide opportunities for both relaxation and adventure. You could try watersports in Mission Bay or lose yourself in the Gaslamp Artisan Market. Remember, San Diego isn't just about sun and sand!
La Jolla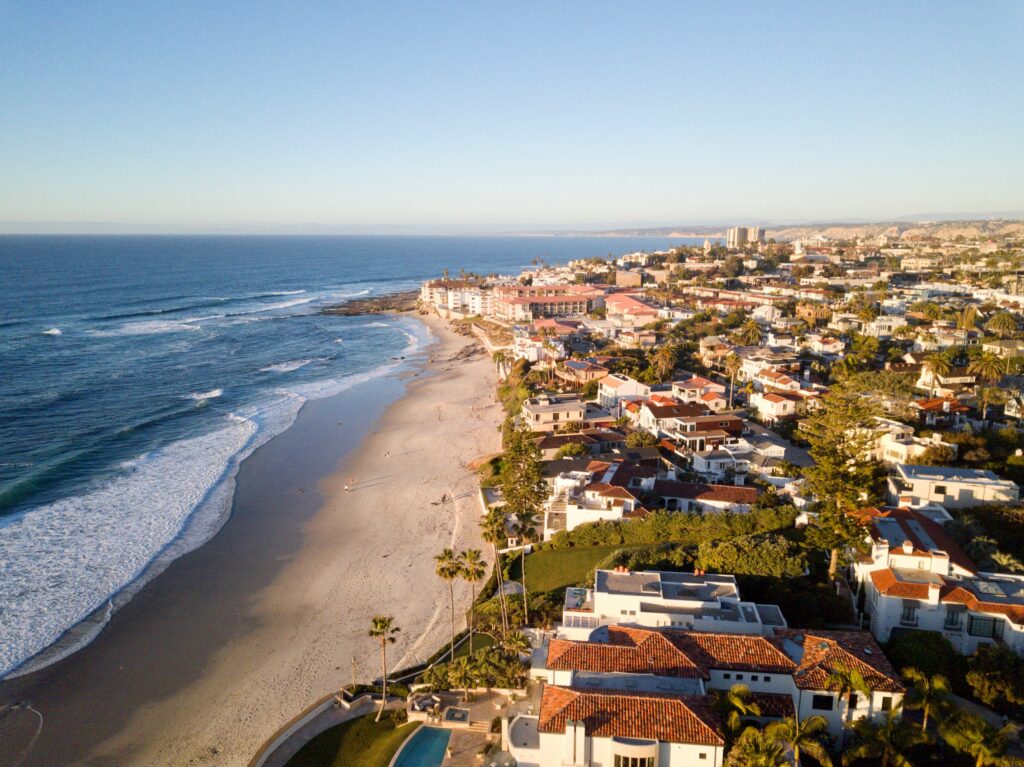 La Jolla is one of the most romantic spots anywhere on the Californian coast. Its main attractions are its cliffs and stunning beaches, but there's plenty more to do.
You can spend lots of your time relaxing on the beach but be sure to take advantage of the other activities in the area. Take a visit to Ellen Browning Scripps Park, which influenced the writing of Dr. Seuss. If you're feeling adventurous, go snorkeling in La Jolla Underwater Park.
The north side of La Jolla Shores Beach is great if you fancy surfing. It's known as one of the best places for surfing lessons in San Diego. If surfing doesn't appeal to you, then take a swim amongst the gently lapping waves.
Best Accommodations in La Jolla: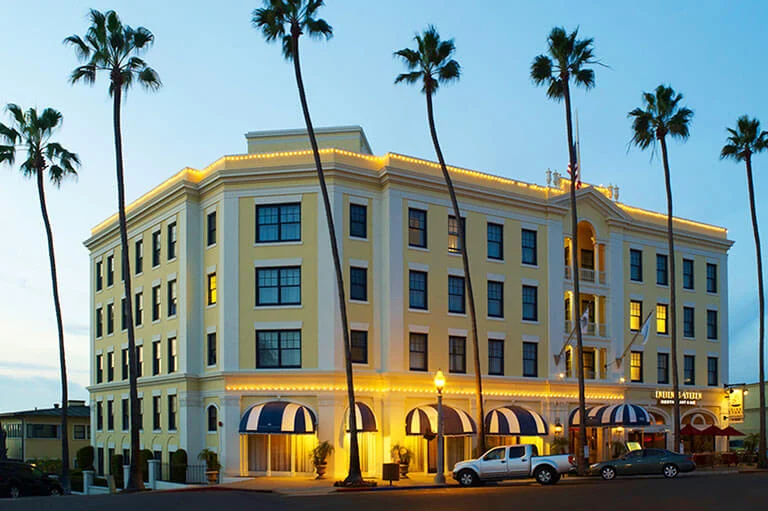 The Grande Colonial La Jolla is a boutique hotel located just 15 minutes away from downtown San Diego. It's perched above the shores of the Pacific Ocean with great access to the beach. It has 97 rooms and suites, some of which have ocean views. There's also a pool and on-site bar and lounge. It's undoubtedly one of the best San Diego hotels around!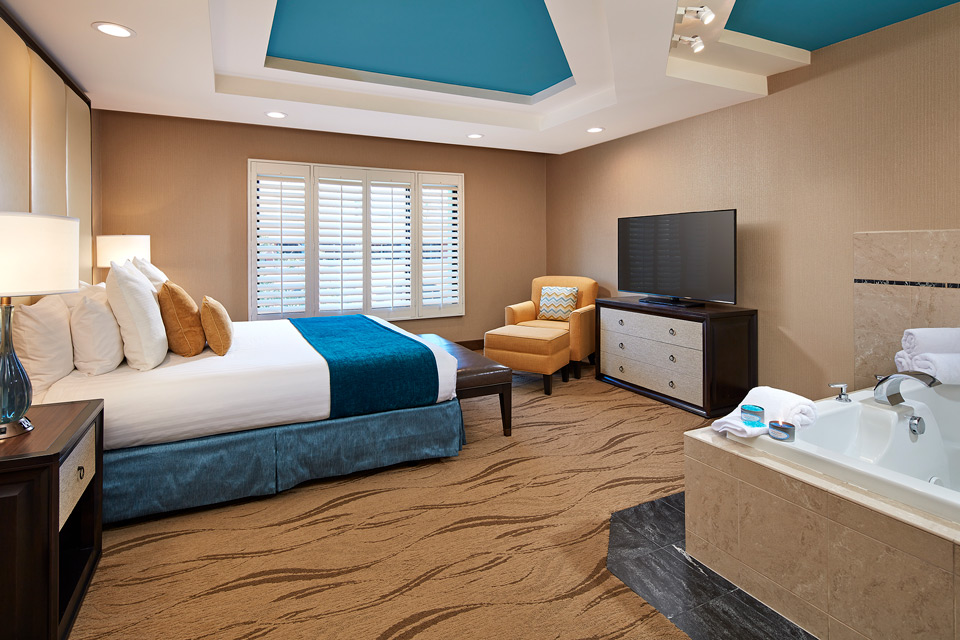 This is one of the most romantic hotels in San Diego, yet it tends to be fairly affordable. It sits in the center of La Jolla village, which has plenty of great stores, restaurants, and bars. It has a variety of accommodations, from suites to family rooms and hotel amenities such as a gym.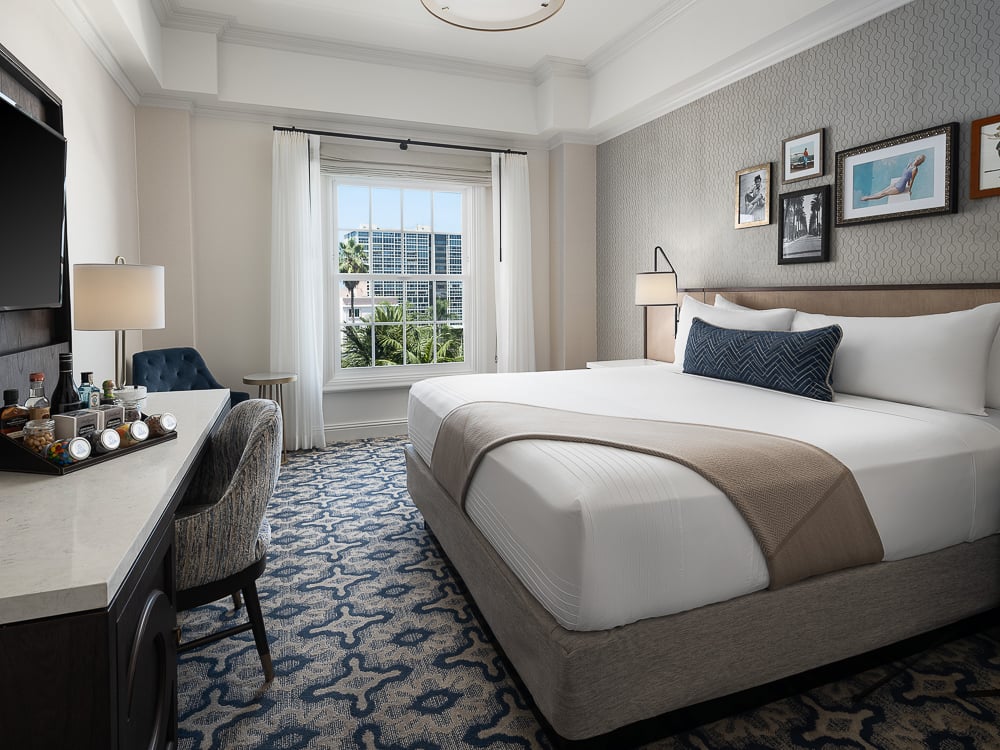 La Valencia Hotel has been around for over 90 years. Its pink exterior marks it as a boutique hotel within La Jolla. La Valencia Hotel features 114 suites, rooms, and villas. This includes snug boudoirs and a luxurious penthouse.
Coronado Island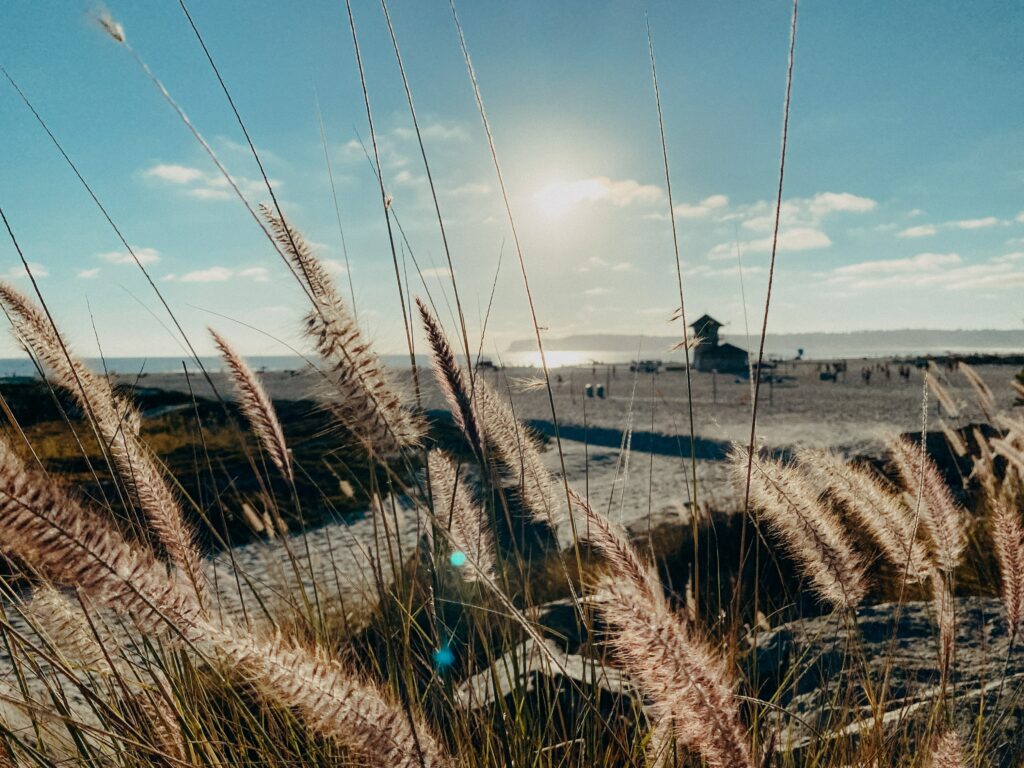 Romantic getaways to San Diego aren't complete without a visit to beautiful Coronado Island. The island is full of vibrant history and fun activities for you to enjoy.
There are frequent tours of the intriguing Hotel del Coronado, which is 130 years old. Make sure to book a tour and soak in some of the histories of this living monument to Southern California.
The flat terrain of the island makes it ideal for cycling, and this is the best way to see the surrounding area. You could even rent a surrey bike and spend an afternoon cruising along the tranquil coastline.
Best Accommodations on Coronado Island: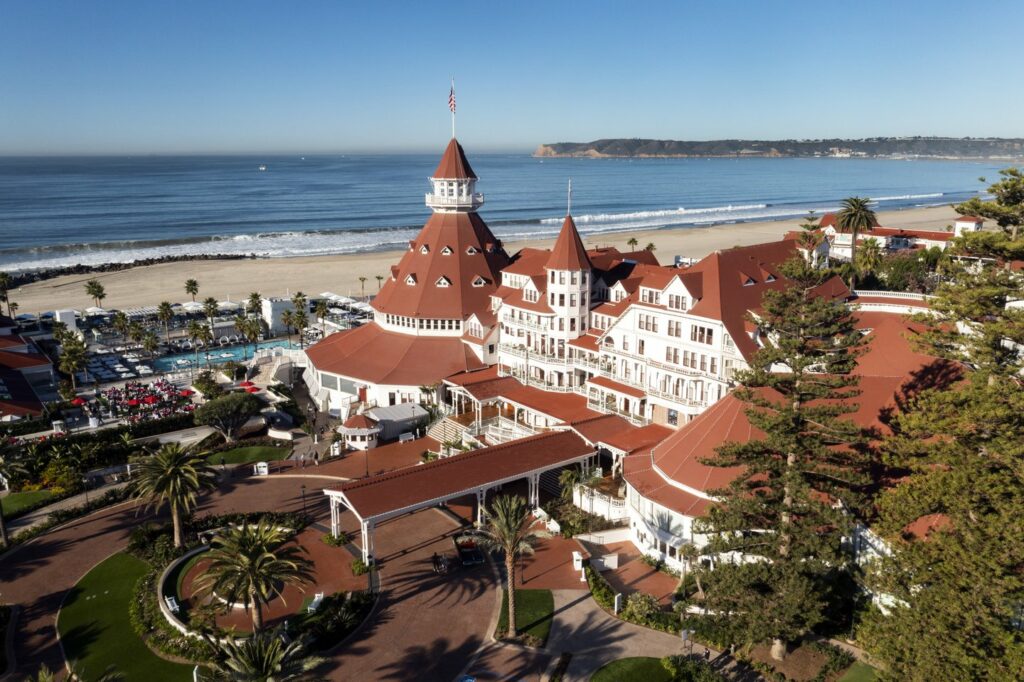 The Hotel del Coronado is probably the most famous of all the San Diego hotels. Built in 1888, it looks out onto the white sands of the Pacific Ocean and is a luxury hotel that's brimming with history. The accommodations range from smaller rooms to ocean-view suites, and there's a pool on-site.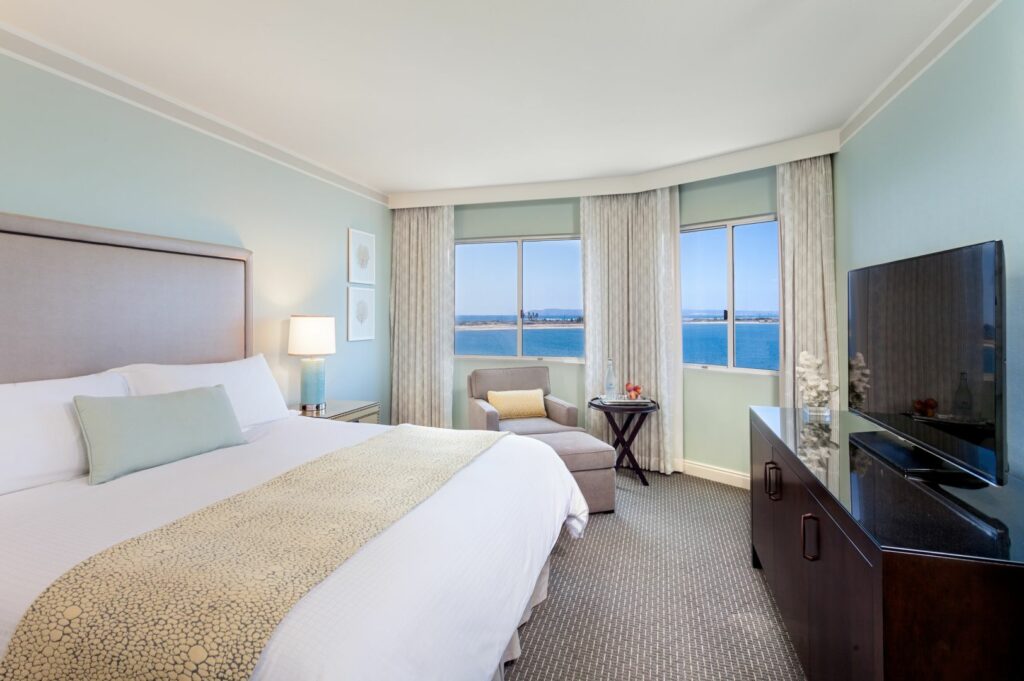 It doesn't get much more romantic than Loews Coronado Bay Resort. Nestled into its own private 15-acre peninsula, the resort boasts 440 guestrooms. Despite its stunning coastal location, it's only minutes away from downtown San Diego.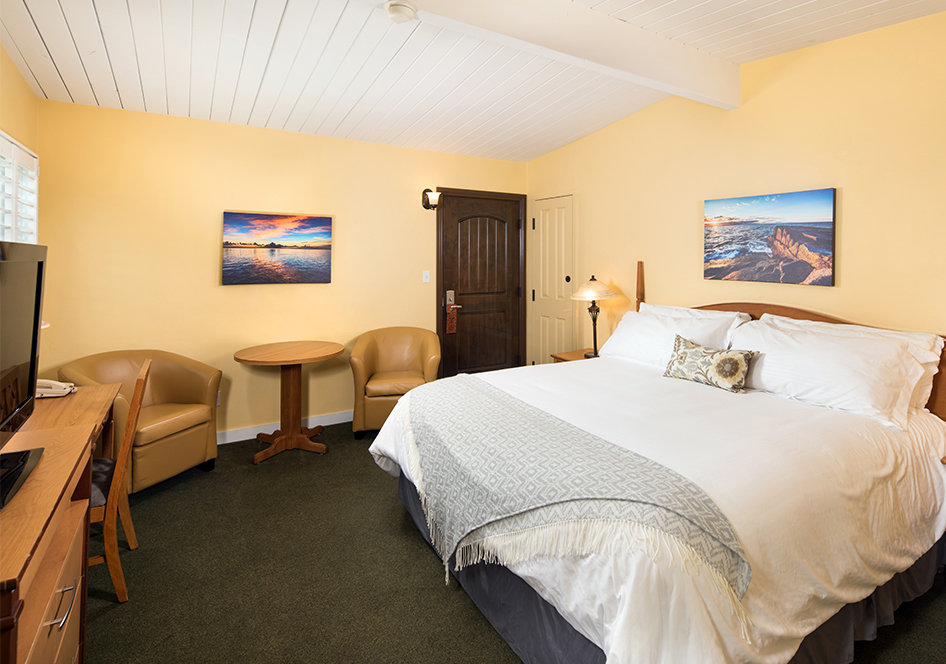 Crown City Inn & Bistro is an excellent choice for couples on a budget. It's conveniently located just off the Coronado Bay Bridge and close to the beach. The rooms are fairly basic but feature complimentary WiFi and air conditioning among the hotel amenities.
Mission Bay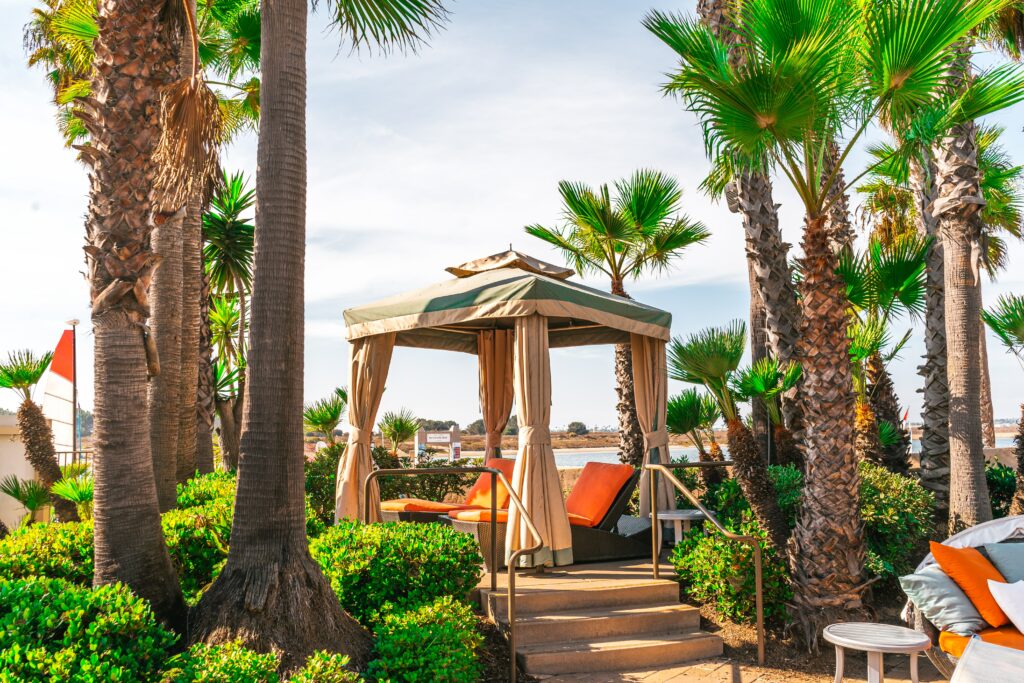 Mission Bay is perfect for romantic getaways with a splash of adventure. It consists of 4,235 acres which makes it the biggest human-made aquatic park on earth. As you can tell, there's plenty to do.
Chartering an electric boat is a great way to experience the expansive bay. These noiseless crafts make for a relaxing sojourn at any time of the day. If you're looking for more of a thrill, then pay a visit to SeaWorld San Diego. This is one of the most popular attractions in all of San Diego.
There are also more exhilarating ways to experience Mission Bay. Why not have a go at jet skiing, kayaking, or paddle boarding? It's easy to access all of these types of watersports in Mission Bay, and it doesn't tend to be too expensive.
Best Accommodations in Mission Bay: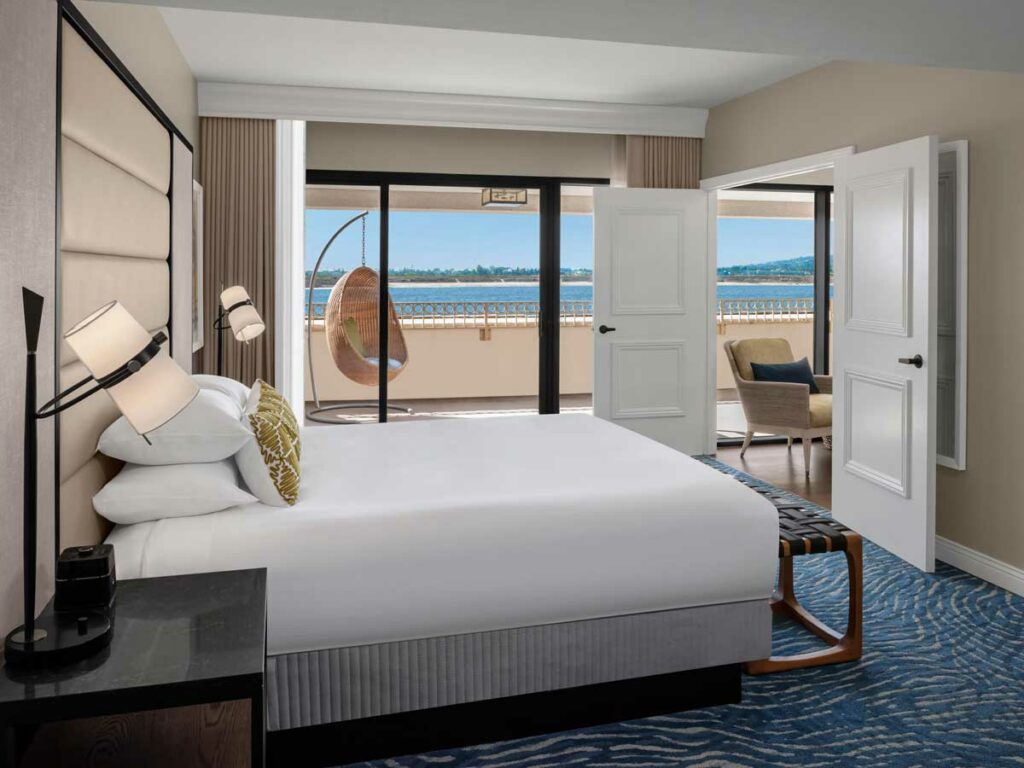 The San Diego Mission Bay Resort is undoubtedly one of the most luxurious in the entire area. From tennis courts to sailing, and huge pools to luxury spa treatments, this hotel really has it all. There are suites, family rooms, and smaller rooms, and your room may have its own private balcony.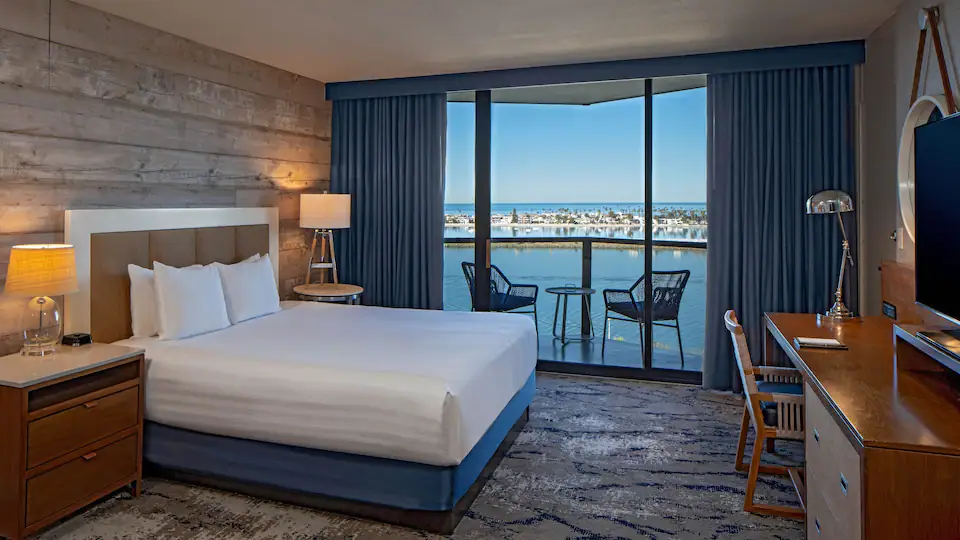 This hotel is conveniently located close to San Diego International Airport and downtown San Diego. The pool area is award-winning and features 3 waterslides. The rooms are either city-view, ocean-view, or pool-view and have full amenities such as air conditioning.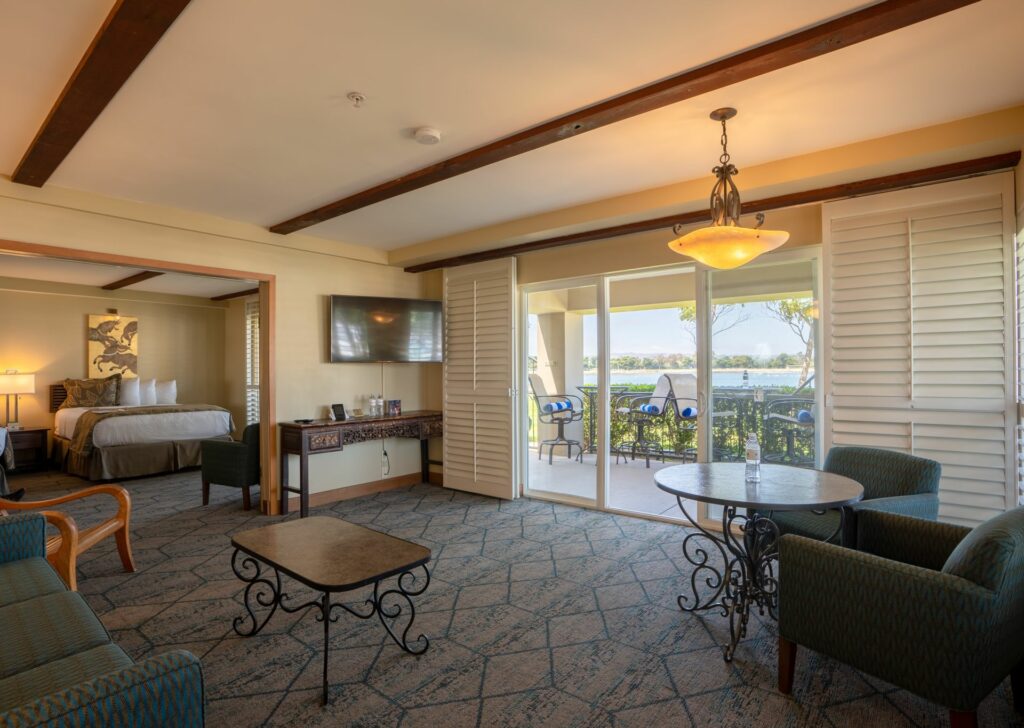 The Dana sits on the waterfront and is surrounded by tropical landscaping. You can choose from a guestroom or a two-room suite with views of the bay. There are also two pools with beach chairs, a private marina, and a fitness center.
Gaslamp Quarter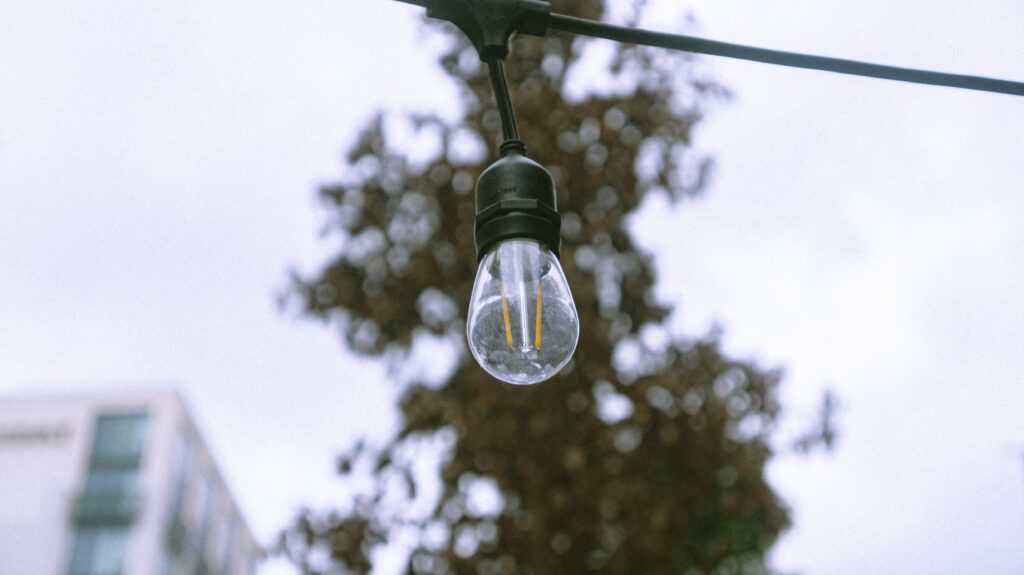 Once you've spent time relaxing on the beach it's time to explore the bustling streets of San Diego's Gaslamp Quarter. This historic district is full of world-class restaurants, great bars, and lots of sites to visit.
The gas lamps used to illuminate the area give it a distinctly Victorian feel and a truly romantic atmosphere. The Gaslamp Artisan Market is a brilliant place to find artisanal souvenirs. It's been held every week since 2018.
If you fancy a laugh, then spend a night at the American Comedy Co., where some of the biggest names in comedy perform. Soak up some history at the David-Horton House, where you can learn all about the district's culture and architecture.
Best Accommodations in the Gaslamp Quarter: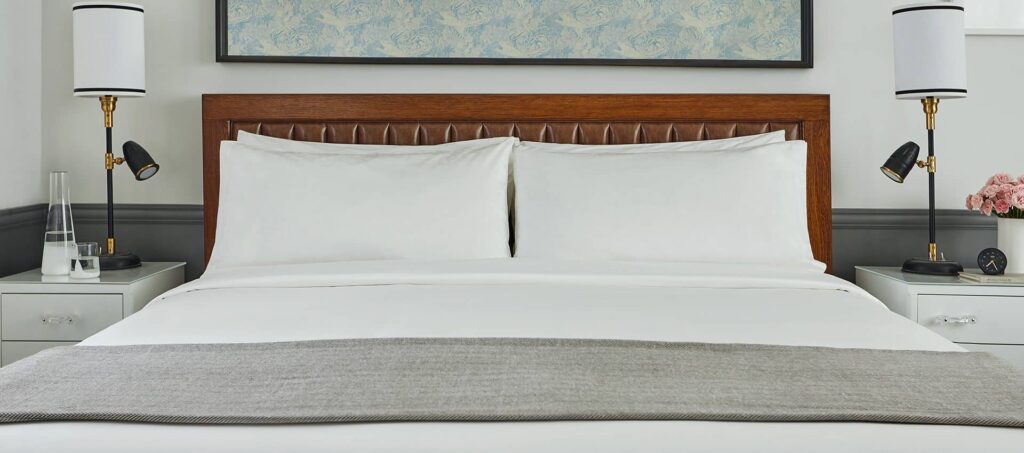 Pendry San Diego combines traditional glamour with modern hotel amenities. It sits in the Gaslamp Quarter, just 4 miles from San Diego International Airport. The hotel has 317 guest rooms which include 36 suites. It also has a private rooftop pool and 6 bars and restaurants.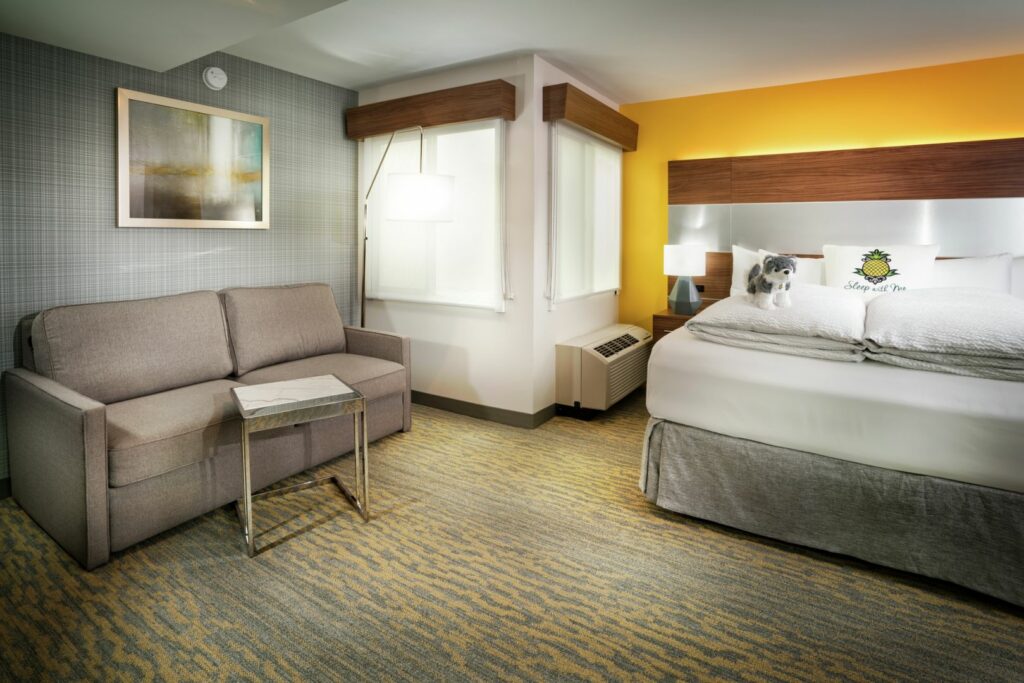 Hotel Z is a quirky option in the heart of the Gaslamp Quarter. It's also a more budget-friendly choice than many of the other hotels in the area. The rooms are fairly simple, but there are also suites for those on a bigger budget.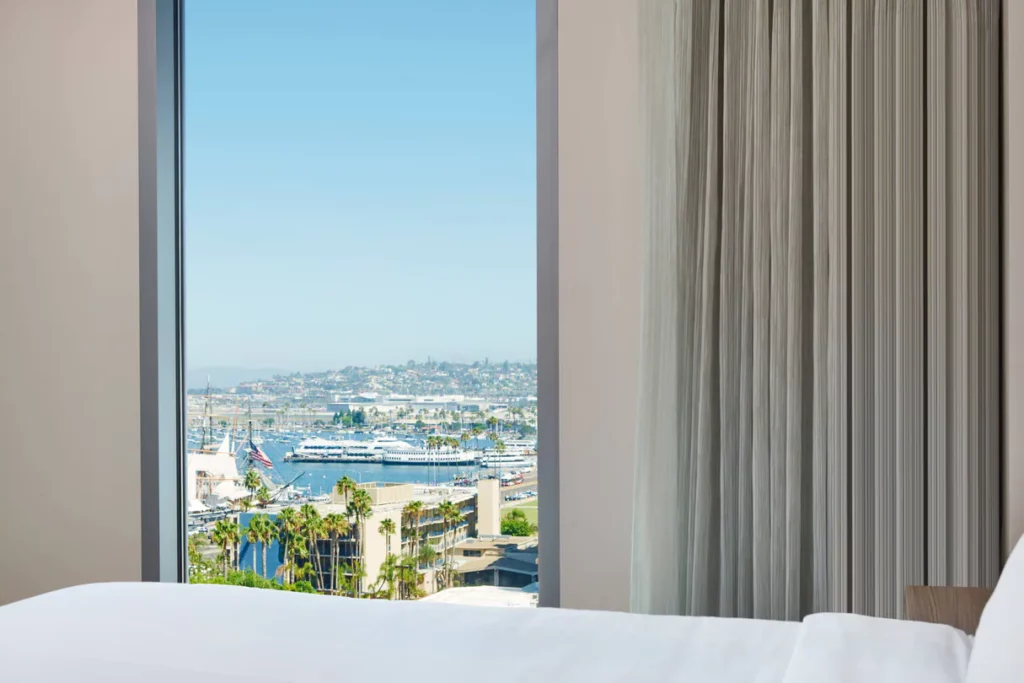 The Residence Inn is an all-suite hotel close to Balboa Park and the Port of San Diego. It features a rooftop bar and lounge with amazing views. There's even a rooftop pool for romantic dips.
North San Diego County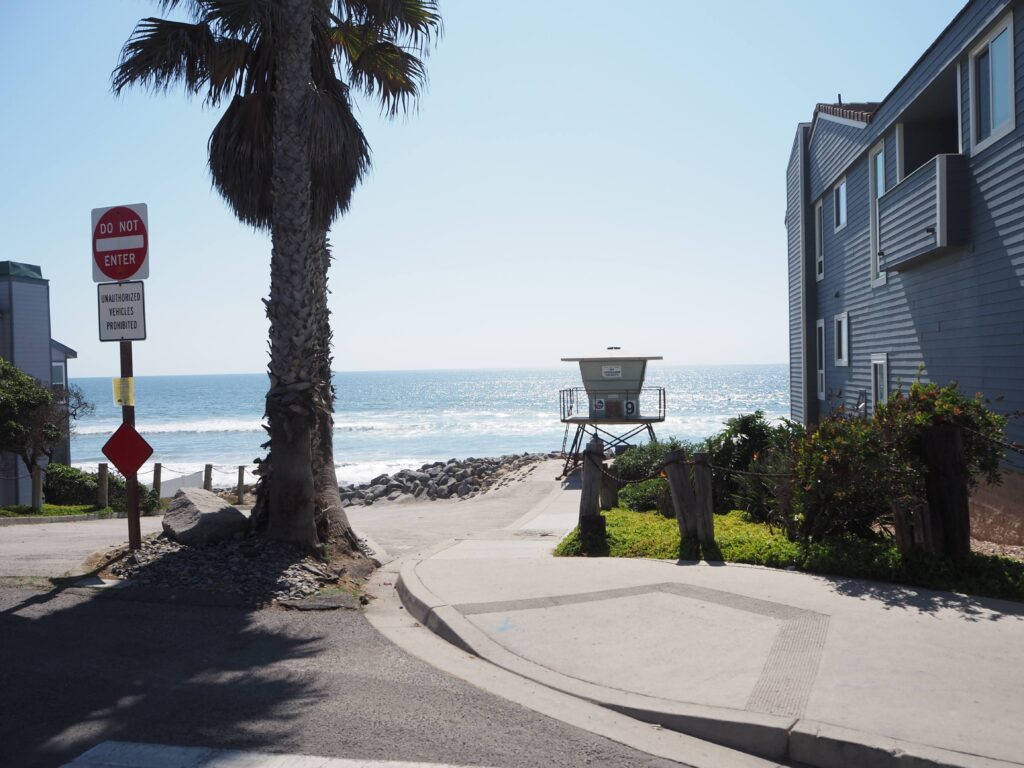 North San Diego County is the perfect way to add a bit of variety to your romantic getaway. It's just north of San Diego, and it only takes a short drive to get there. It's much quieter and less touristy than the rest of San Diego, which makes it all the more romantic.
The beaches here are simply breathtaking. There's Solana Beach, Del Mar, Oceanside, and San Marcos. You're simply spoiled for choice in North San Diego County.
Oceanside Pier is a great place to grab a bite, and Cardiff Market is truly a sight to behold. It features palm readings, beads, flower hats, and much more. The Carlsbad Flower Fields are home to rare species of flowers and are well worth a visit as well.
Best Accommodations in North San Diego county: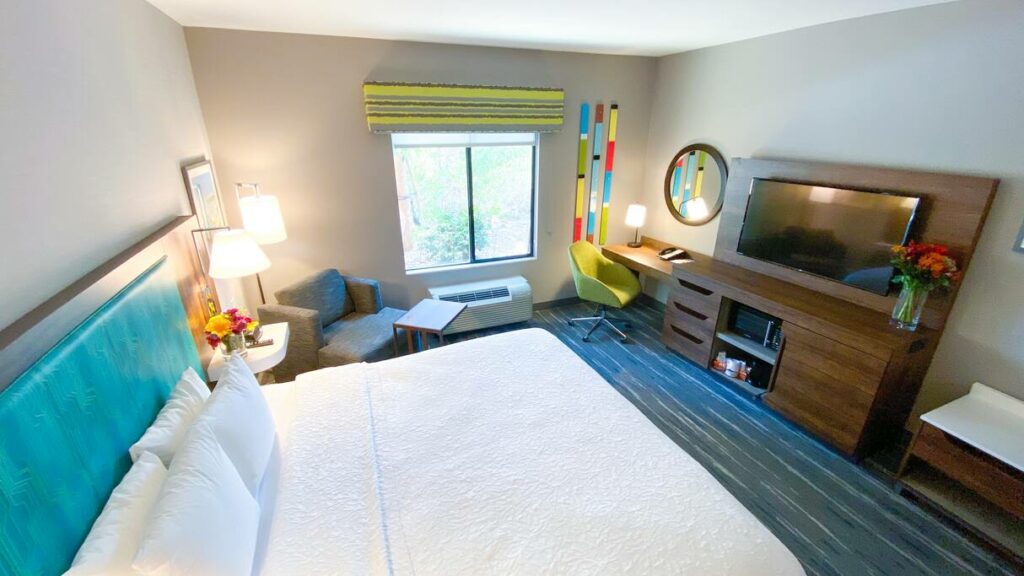 Situated in the beautiful beach town of Carlsbad, the Hampton Inn Carlsbad is a great choice for couples on a budget. It's a brand-new hotel with excellent amenities and gives you access to the surrounding beaches. Breakfasts are complimentary, and all of the rooms are air-conditioned.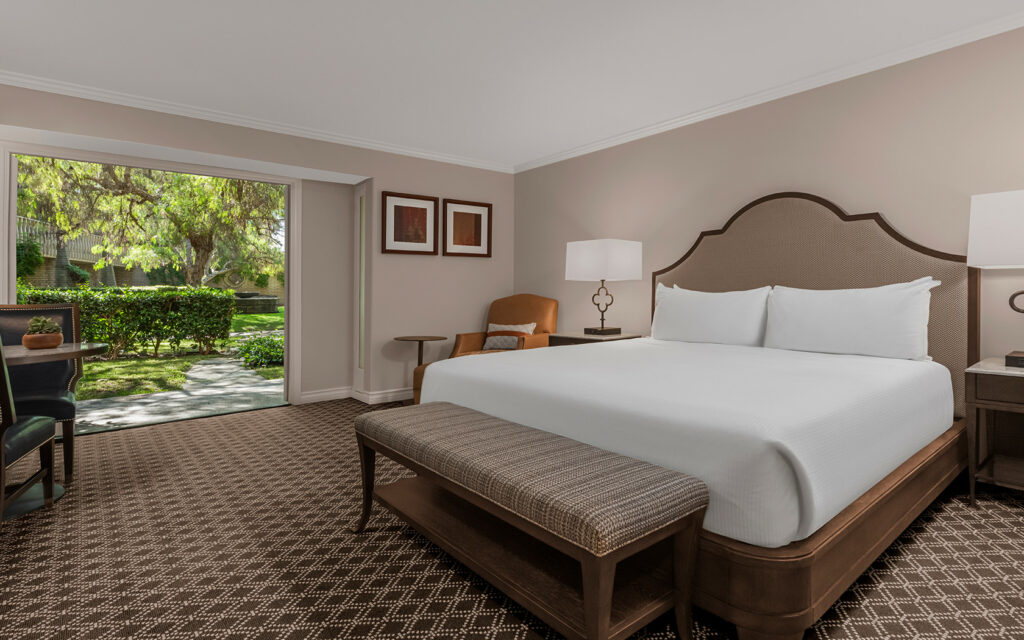 The Rancho Bernardo Inn is one of the most romantic San Diego hotels that you can find. It's set on 265 acres and has 287 guestrooms, an award-winning spa, and three pools. The Rancho Bernardo Inn is famed for its amazing restaurant, and it even has an on-site golf course. The Rancho Bernardo Inn may be fairly expensive, but we think it's worth it.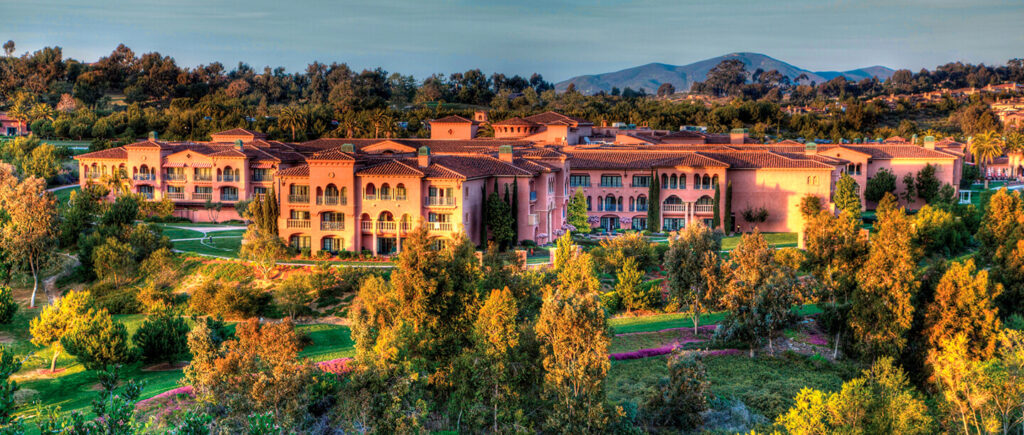 The Fairmont Grand Del Mar consists of 400 acres which include an 18-hole golf course. There are also four palm-lined pools and a three-Michelin-starred restaurant. The Fairmont Grand Del Mar is one of San Diego's more luxurious hotels, and it's not cheap. But it's well worth it.
Top Excursions & Activities To Do On A San Diego Romantic Getaway
The thing that makes San Diego so special is the incredible variety that it has to offer. It's just as suited to romantic getaways centered around relaxation as vacations packed with adventure.
As well as the gorgeous beaches, there are many attractions for you to visit. This includes museums full of fascinating history, zoos with amazing wildlife, and paragliding sessions above the ocean.
The best getaways in San Diego often combine a bit of both. Long days spent on the beach can be interspersed with high-octane watersports. Strolls along the coastline can be punctuated with educational museum visits.
Balboa Park
Balboa Park is probably the most famous attraction in San Diego. It's a public park consisting of 1,200 acres and has 15 major museums within its grounds. It's also home to a massive outdoor pipe organ, The Old Globe Theater, and houses representing 32 international cultures.
Spend a day or two in Balboa Park, and it's often best to rent a segway. This helps you to take in the park more quickly than you would do on foot.
San Diego Zoo
The San Diego Zoo is known as one of the best zoos on earth. It's home to a huge amount of animals, such as lions and komodo dragons. It was one of the first zoos to house animals in cageless environments to give the zoo a more natural feel.
The zoo offers unique experiences which are great for a romantic getaway. You can spend a day as a zoo keeper or gain early entry to the zoo and stroll around as the sun rises.
Torrey Pines Gildeport
Torrey Pines State Natural Reserve is one of the most beautiful areas around San Diego. One of the best ways to experience it is from the air. If you're feeling adventurous, you can try paragliding above it with a qualified pilot. This gives you a unique aerial view of the park that can't be beaten.
USS Midway Museum
The USS Midway Museum is a good option for history buffs. The Midway was decommissioned in 1992 and was the longest-serving aircraft carrier in the US Navy. If you visit, make sure you take an audio tour where you'll hear fascinating tales from former sailors.
Sample Itinerary & Budget For Your Romantic Getaway In San Diego
When planning your romantic getaway to San Diego, one of the first things you'll consider is your budget. San Diego is a fairly expensive city to visit, but the cost of your trip can vary depending on when you visit.
The summer months between June and August are the high season for San Diego. So, if you visit during this time, it will be more expensive. However, this is the best time of year to visit San Diego, so it's often worth the extra costs.
Let's have a look at how much your getaway in San Diego might cost if you visited in June for four nights.
If you stayed in a standard room in the Empress Hotel La Jolla, you'd pay around $329 per night. To rent a car for four days would cost around $60. Eating at a moderately priced restaurant each night would cost around $400 in total.
So, without factoring in the costs of any activities or excursions, your budget for two people would be around $1,776. The cost of your flights to and from San Diego will also vary greatly depending on where you're traveling from. Also, if you stay at a more expensive hotel, such as the Rancho Bernardo Inn, your trip will cost more.
Below is a sample budget for a long weekend in San Diego:
Activity
Price
Hotel stays:
$264 for 3 nights (Crown City Inn & Bistro) or $1,515 (Rancho Bernardo Inn)
Mode of travel:
Trolleys cost $2.50 one-way
Food and beverages:
Moderate restaurants cost $50 per person
Excurisions:
USS Midway Museum: $30 per person
San Diego Zoo: $69 per person (full-day pass)
Torrey Pines Paragliding: $175 per person
Balboa Park Guided Tour: $45 per person
Frequently Asked Questions
How much does a San Diego romantic getaway cost on average?
The cost of a romantic getaway in San Diego varies greatly depending on several factors. The time of year you visit, the type of room you stay in, and where you're traveling from will all affect your budget.
On average, your budget for a four-night stay should be around $1,776. However, this doesn't include your flights or any excursions. It's possible to pay less than this if you stay in the cheapest accommodations and visit during the off-season.
When is the best time to visit San Diego?
The summer months are definitely the best time to visit San Diego. The amazing weather means you can make the most of the beaches, which are San Diego's biggest attraction. If you visit in September, the weather will still be warm, but it tends to be less crowded.
How long do people typically spend in San Diego on a romantic getaway?
Most people spend between 3 to 4 days in San Diego during a romantic getaway. This gives you enough time to experience the city, the beaches, and some of the attractions around San Diego.
Still, if you have more time, it's easy to spend a full week in San Diego. There is so much to do that you can comfortably fill 7 days with activities.
Does San Diego have its own cuisine?
San Diego is home to some of the best restaurants in the US. The cuisine is a mix of many different styles from around the world. You can easily find amazing Italian and Indian food. One of the local specialties is the wood-fired, California-style pizza.
Start Planning The Ideal Romantic Getaway
San Diego has almost endless opportunities for a romantic getaway. From paragliding and watersports to trolley rides and museums, it's a city that suits any temperament. Couples love San Diego for its diverse experiences and romantic architecture, and we're sure you will too.
If you're planning a romantic getaway, make sure you check out our other Couples Travel Guides. We give you all the tips and advice you need when traveling to any romantic destination. Our aim is to ensure that you have the best trip possible, no matter where you're going.