Many people are only familiar with New Orleans due to the annual Mardi Gras festival. And while this is a big part of the city's culture, it's only a small example of what The Big Easy offers.
From the vibrant streets of the French Quarter to the quiet parks of Mid-City, New Orleans has something for every couple to enjoy.
This guide will show you the best areas and attractions in New Orleans. We'll also tell you about the most romantic hotels you can stay in during your couples' getaway in The Big Easy.
What Makes New Orleans Perfect For A Romantic Getaway?
New Orleans is the perfect choice for all types of romantic getaways. Whether you're looking for a foodie adventure, a relaxing sojourn, or an exciting weekend of live jazz, The Big Easy has what you're after.
New Orleans is easy to travel around due to its historic streetcars. Many attractions and the most famous streets are within walking distance of each other. This makes planning your days a breeze.
Or, you can decide not to plan and see what you find as you stroll along the beautiful city streets. The Big Easy is ideal for a long weekend, but you can easily spend a week there if you like.
This city thrives on passion and intensity, but there are also plenty of tranquil pockets where you can unwind.
Most Romantic Getaways New Orleans
The different neighborhoods of New Orleans all have something unique to offer.
The bustling streets of the French Quarter are packed with music, cuisine, and history. The Central Business District is renowned for its art galleries and museums. Marigny and Bywater provide a trendier alternative for couples looking to soak up the local culture.
You can find plenty of romantic bars and restaurants just across town in Mid-City. And if you and your partner are looking for a more relaxed vibe, you can head down to the Garden District and ride the St. Charles Avenue streetcar.
Whatever type of romantic getaway you have in mind, the diversity of New Orleans is sure to have something to suit you.
French Quarter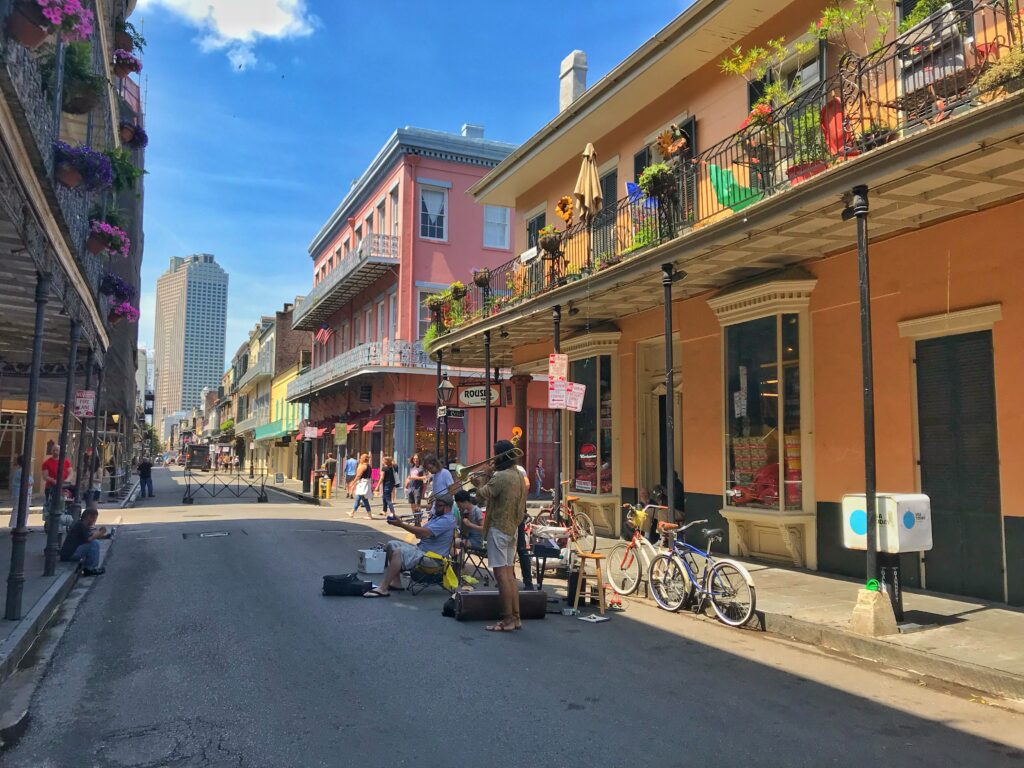 The French Quarter is undoubtedly the most famous part of New Orleans. No romantic getaway to the city would be complete without a visit to Bourbon Street. Here, you'll find the best live jazz music in New Orleans and lots of lively bars.
However, there is more to the French Quarter than Bourbon Street. It's also full of incredible architecture, delicious food, and fun activities. As you roam the streets, you'll come across charming street performers and opportunities to ride in horse-drawn carriages.
There are also interesting attractions like the Cabildo Museum and the Aquarium of the Americas for you to visit. If you're interested in antiques, you can visit M.S. Rau Antiques and browse the amazing offerings.
Best Accommodations in the French Quarter: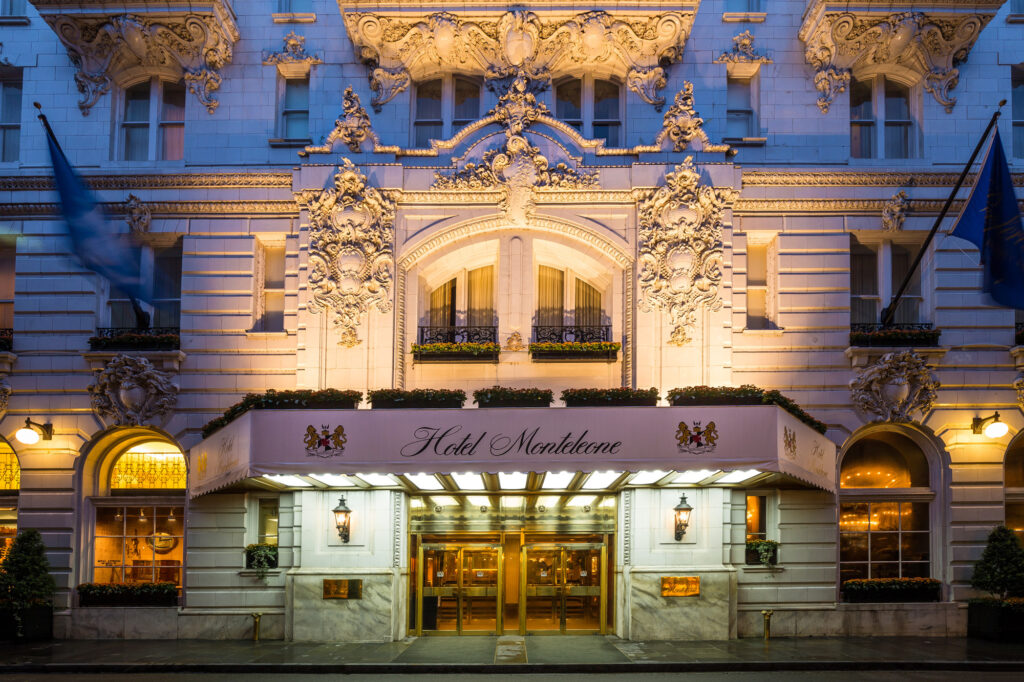 The Hotel Monteleone is a luxury hotel in the heart of the French Quarter brimming with New Orleans charm. It has opulent suites, guest rooms, and a rotating cocktail bar – the Carousel Bar. It's truly one of the most romantic New Orleans hotels around.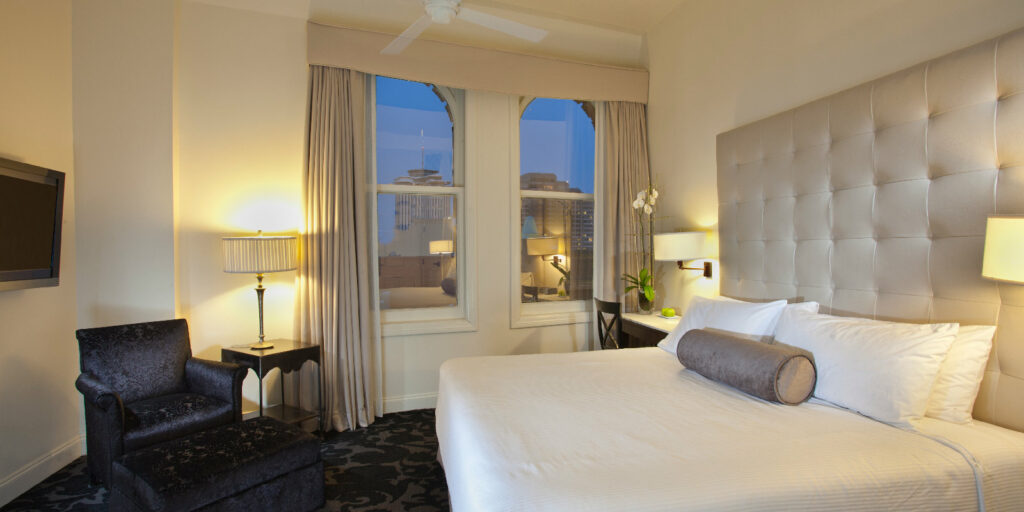 The International House Hotel is one of the hippest hotels in New Orleans and one of the more affordable options. It has a fitness center, a lounge, and a concierge service. There are city-view rooms, plus a luxurious bridal suite for newlyweds.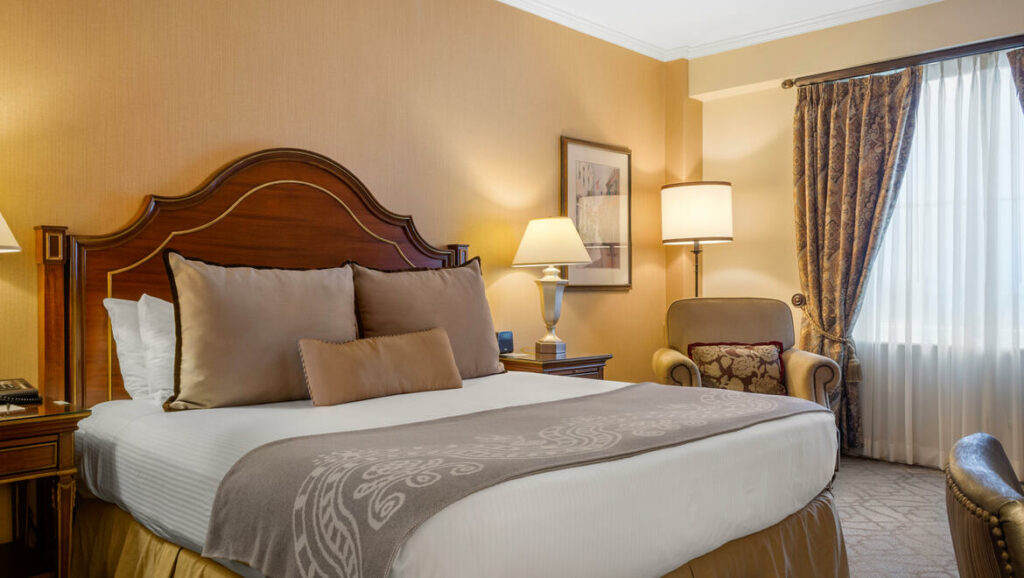 The Omni Royal Orleans Hotel is just a short distance from Bourbon Street. It has an award-winning restaurant, elegant décor, and upscale suites and rooms with city-view balconies.
Garden District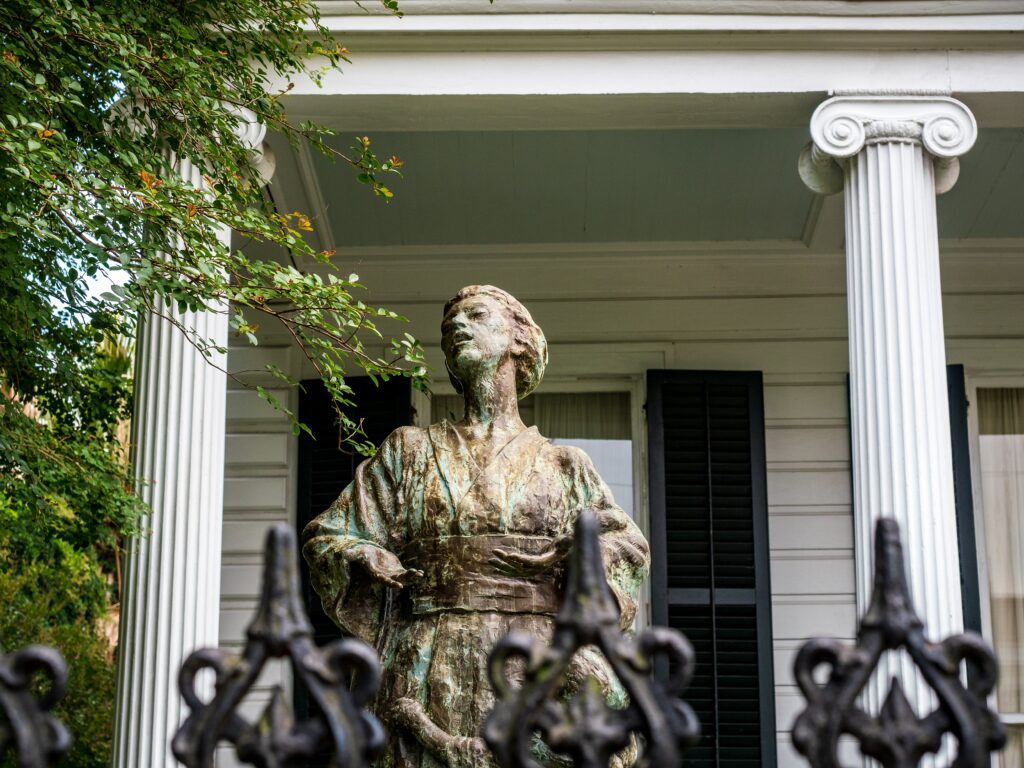 The Garden District offers a quiet escape for couples on romantic getaways. It's home to many of the most beautiful mansions in New Orleans and is overflowing with culture. You can take long strolls beneath the grand oak trees and drop into some of the excellent family restaurants.
Be sure to visit Audubon Park and Zoo; the zoo is home to more than 2,000 animals. You should also take a peaceful ride on the historic St. Charles Avenue streetcar. It's the best way to experience the area's beautiful French architecture.
Tipitina's is the best venue in the Garden District for live music. You and your partner can get swept up in a rambunctious Cajun dancing session. And there are also plenty of bars if you fancy a drink.
Best Accommodations in the Garden District: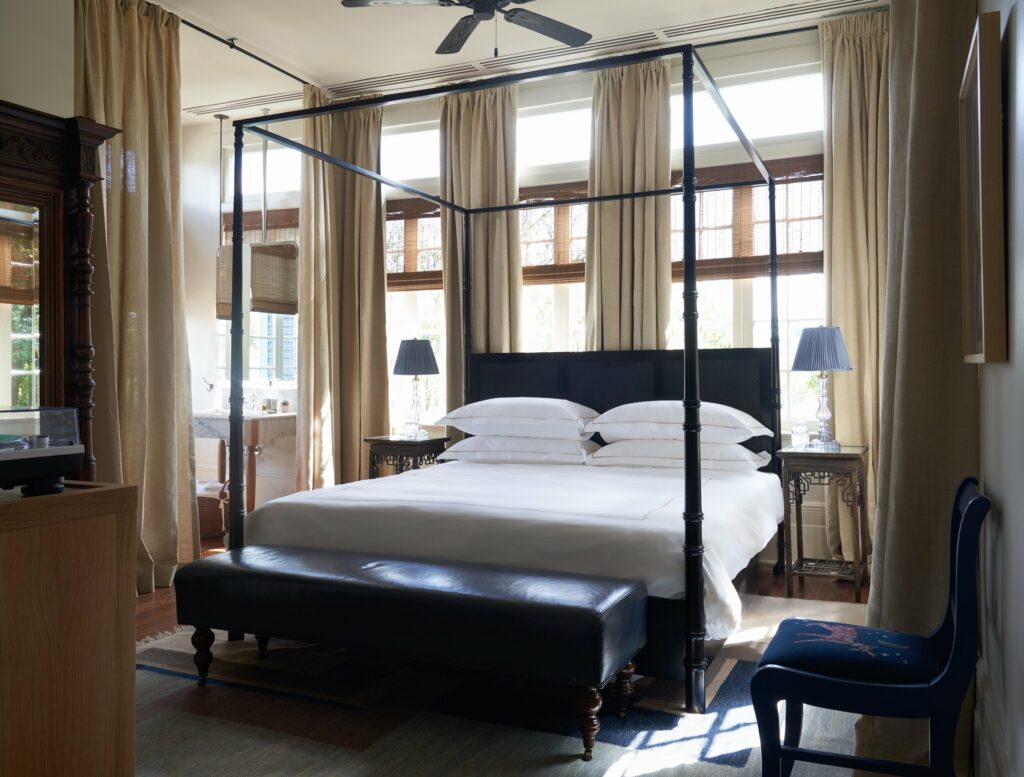 The Chloe is a boutique hotel located on St. Charles Avenue. It's a historic home, recently renovated, making it one of the most romantic hotels in New Orleans. It has 14 guest rooms that are spacious and comfortable, with plenty of New Orleans charm.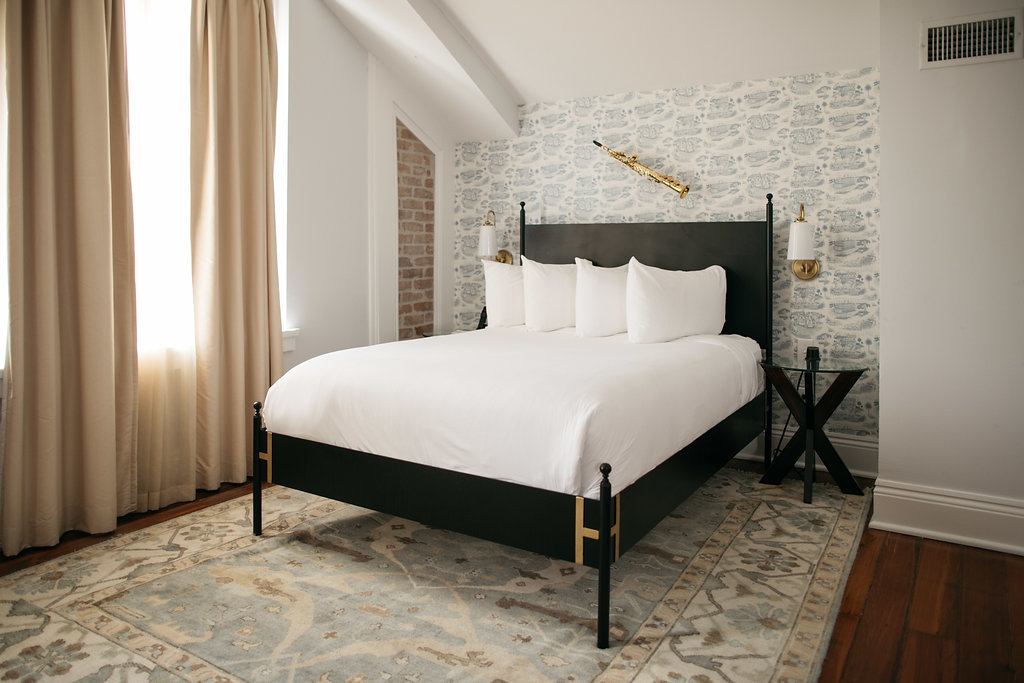 The Henry Howard Hotel has been an institution in New Orleans since 1867. It features 18 impeccably designed guest rooms. The hotel pairs traditional décor with the best modern amenities.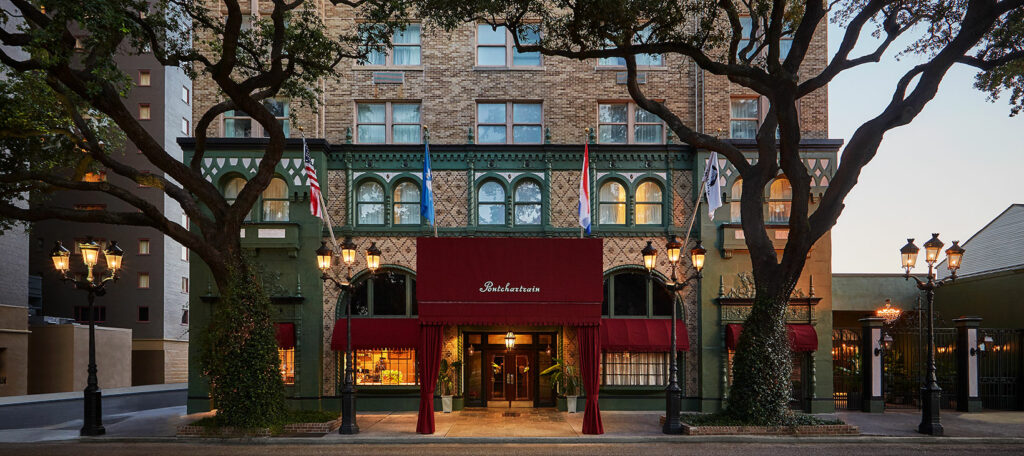 The Pontchartrain Hotel is another historic building situated in the heart of the Garden District. It's adjacent to the streetcar route for easy access. Its rooms are spread over 14 stories, and it features a bar, lounge, and gym.
Central Business District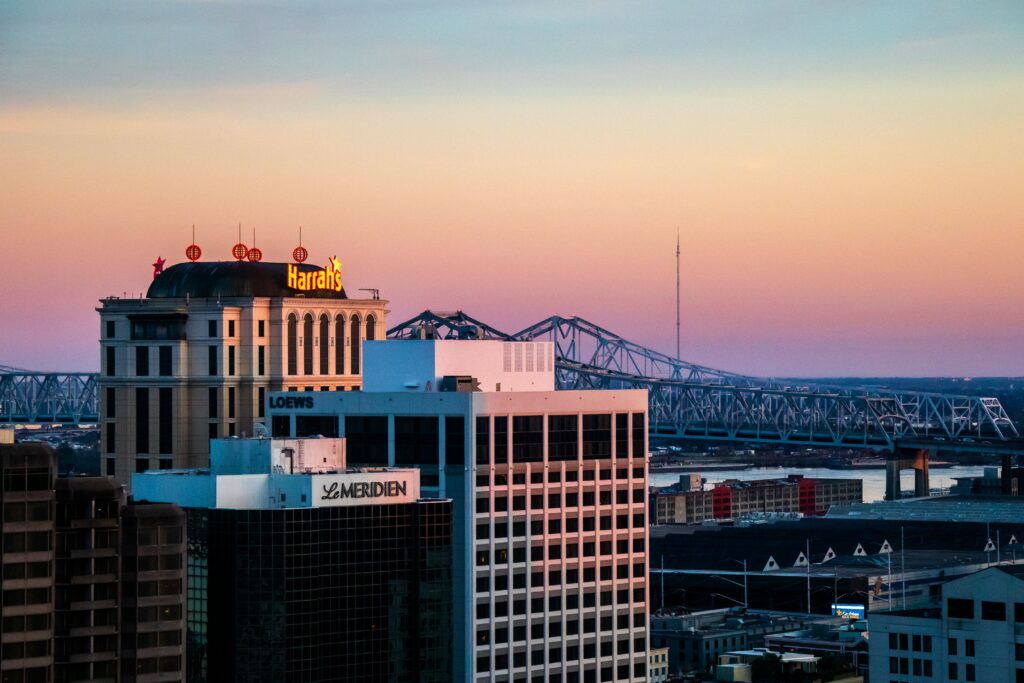 The Central Business District is where most of the office buildings in New Orleans are. However, it's not only a commercial district. Since the 1980s, the area has grown into a hub for galleries and museums. It also has many restaurants and bars.
Gallery Row is on Julia Street and has over 12 galleries for you to explore; many are situated in old warehouses. This makes for a unique visitor experience. The galleries are filled with both classic and contemporary art.
What could be more romantic than enjoying an evening show with your loved one? This is something else that you can easily do within the Central Business District. Both the Saenger and Orpheum theaters are located here. You and your partner can book yourselves in for some incredible evening entertainment.
Best Accommodations in the Central Business District: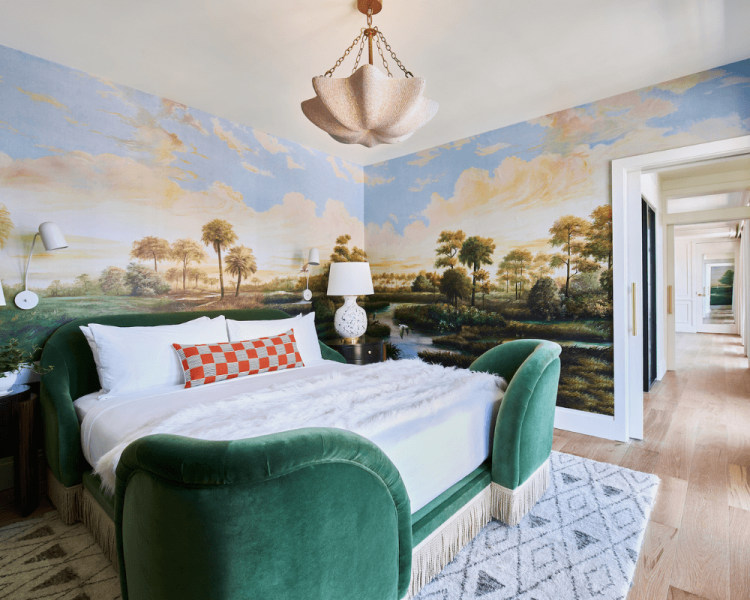 The Virgin Hotel has recently opened in the Warehouse District of New Orleans. It features city-view rooms, suites, and a penthouse. There's even a rooftop pool and lounge where you can take in some amazing views of The Big Easy.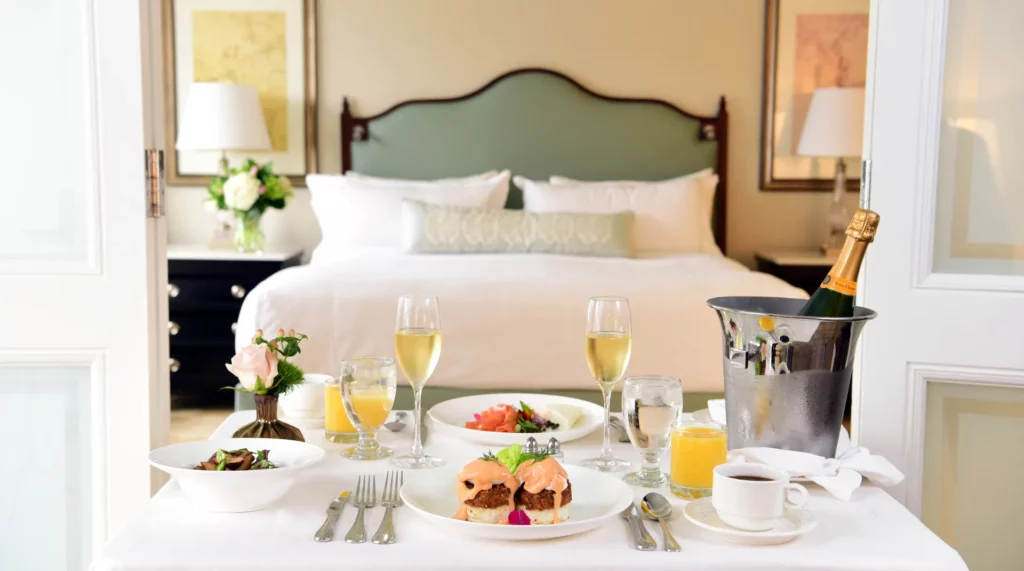 The Windsor Court Hotel has spacious rooms with views of the New Orleans skyline and the Mississippi River. It has a full-service spa, a rooftop pool, and world-class fine dining. Romantic hotels in New Orleans don't come much more luxurious than this.
Marigny & Bywater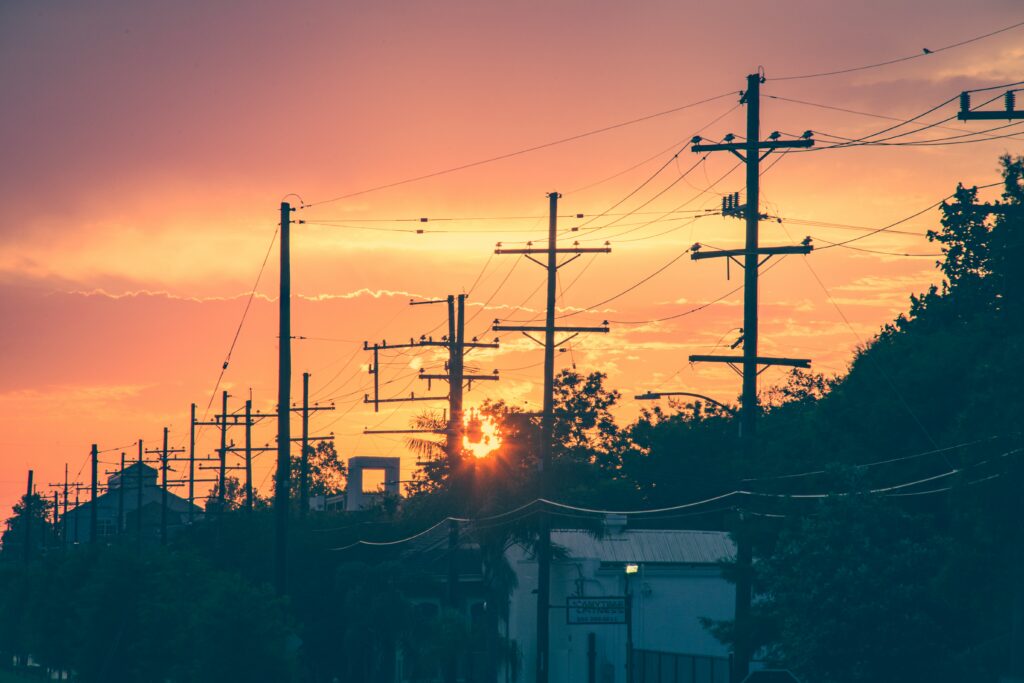 Marigny and Bywater are often referred to as one continuous neighborhood. However, they're two distinct areas of New Orleans that are known as the trendiest parts of the city. If you're looking to mingle with a young, artsy crowd, Marigny and Bywater are the places to be.
The epicenter of these areas is Frenchmen Street. It's packed with live music venues where you can hear authentic blues and jazz. There are also some nice bars, restaurants, and even a few record shops.
If you fancy a romantic stroll, head over to Crescent Park, which runs alongside the river. This is a peaceful way for you and your partner to while away an afternoon in The Big Easy.
Also, be sure to visit JAMNOLA. This is a 5,500-square-foot warehouse with rooms designed by various local artists. It provides countless opportunities for couples to snap some selfies in true New Orleans style.
Best Accommodations in Marigny/Bywater: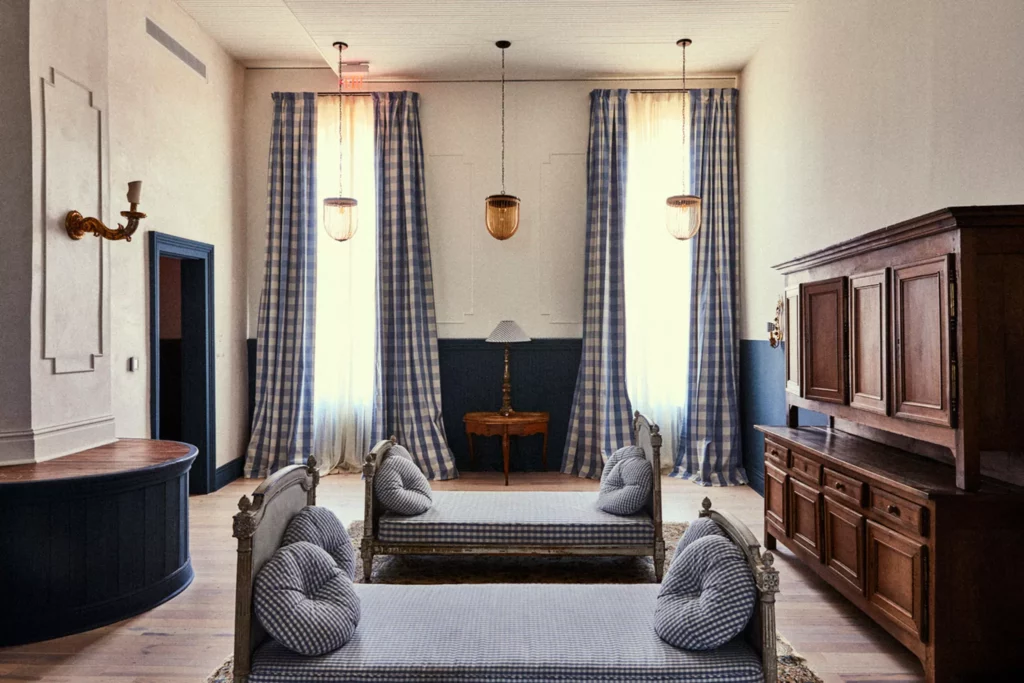 This historic New Orleans hotel is spread across four buildings. You have the choice of staying in a renovated church, rectory, school house, or convent. This makes each room in the hotel uniquely romantic. Some rooms even have their own fireplaces for cozy nights in with your partner.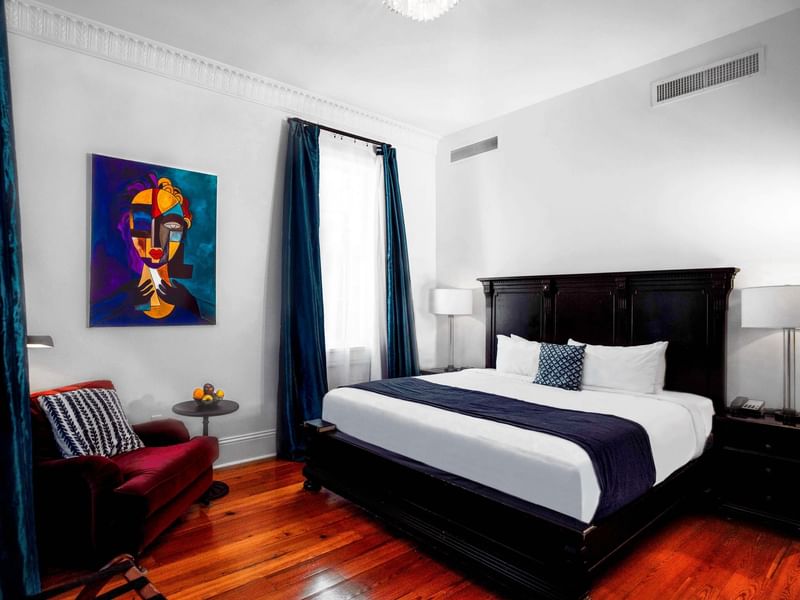 The Royal Frenchmen Hotel & Bar is a renovated Creole mansion situated on Frenchmen Street. It has 13 rooms and three suites with an impressive collection of art dotted along its walls. The hotel's bar is regarded as one of the best in New Orleans and features live music every day.
Mid-City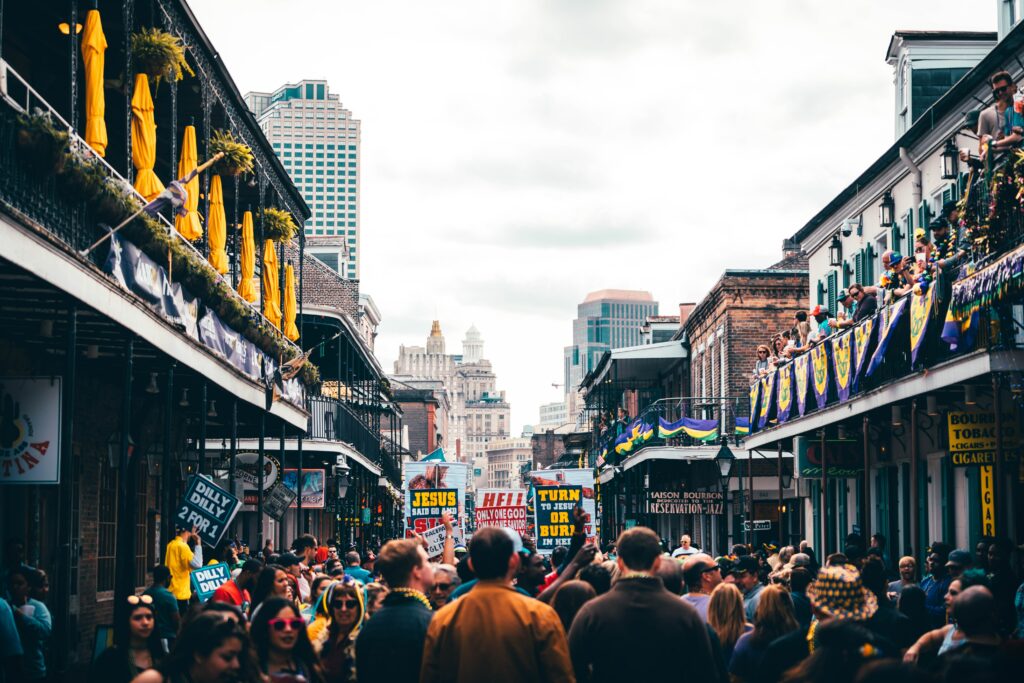 The Mid-City neighborhood sits midway between Lake Pontchartrain and the Mississippi River. For couples who want to burn off some energy, you can cycle along the Lafitte Greenway from the Quarter. Bayou Road is home to many historical landmarks and colorful houses.
If you're visiting New Orleans in spring, make sure to see the annual Jazz and Heritage Festival. It takes place during April and May in Mid-City. This is a great way to learn all about the musical and cultural heritage of New Orleans.
The main attraction in Mid-City is City Park. It consists of 1,300 acres of peaceful paths, moss-drenched oaks, and native birds. In City Park, you'll also find the Botanical Gardens and the New Orleans Museum of Art. You can also go boating on the Big Lake and even play a round of golf.
Best Accommodations in Mid-city: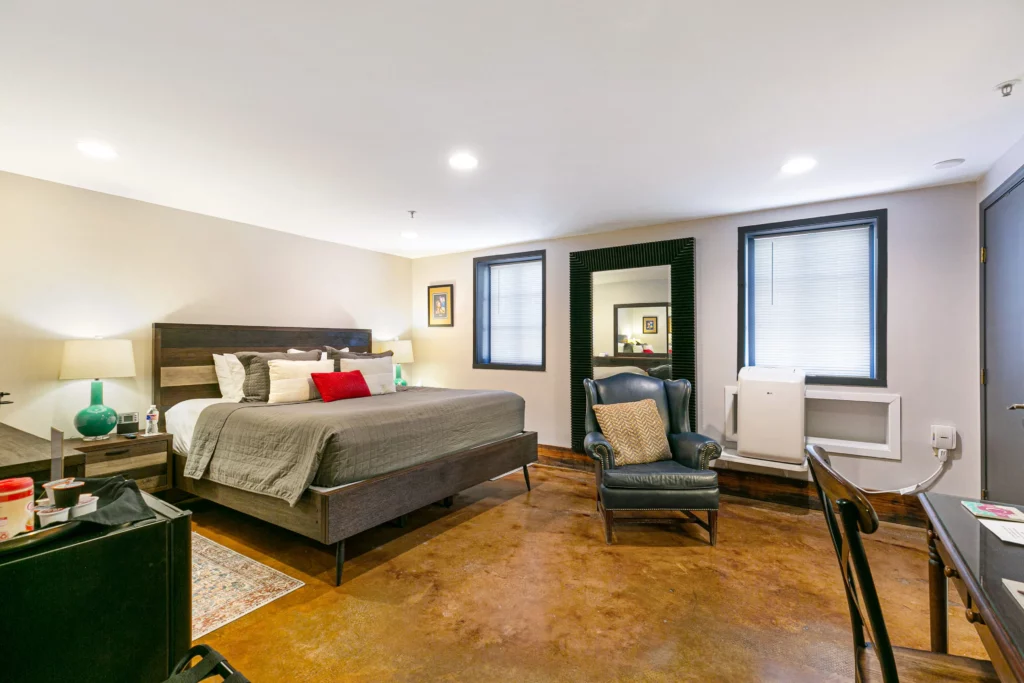 The Canal Street Inn is a Neo-Classical style villa located on the world-famous Canal Street. This beautiful hotel gives you great access to City Park and the Superdome. There are double rooms, suites, and bridal suites for you to choose from at this romantic hotel.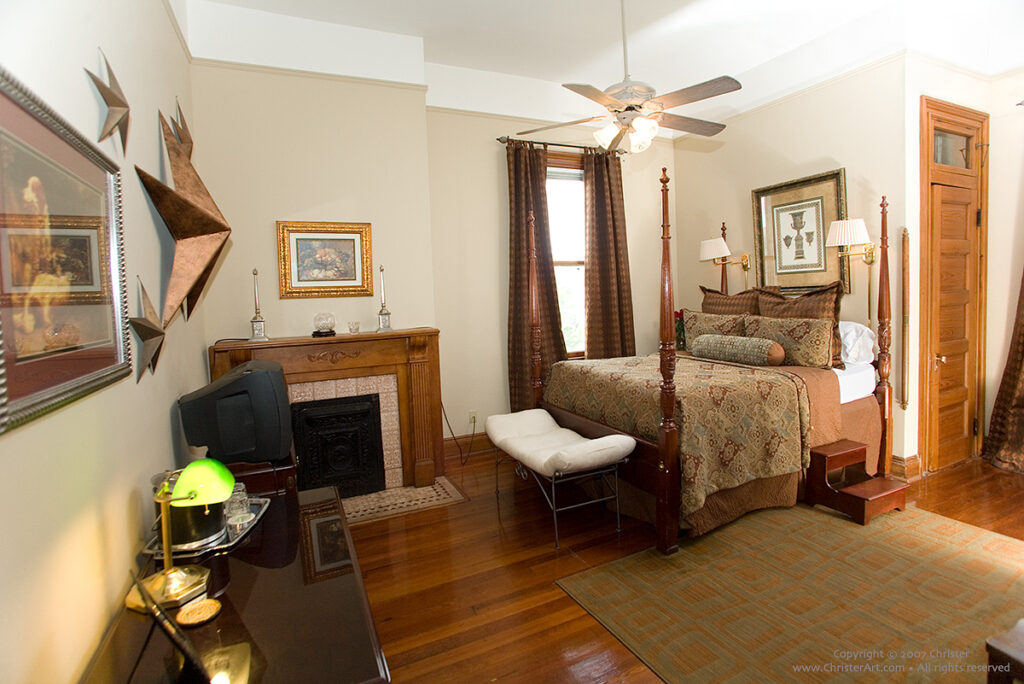 The 1896 O'Malley House is a quaint bed and breakfast in the heart of Mid-City. It's one of the most historic buildings in New Orleans that you can stay in, and has an antiquated romantic atmosphere. There aren't many rooms, so if you fancy staying here, book well in advance.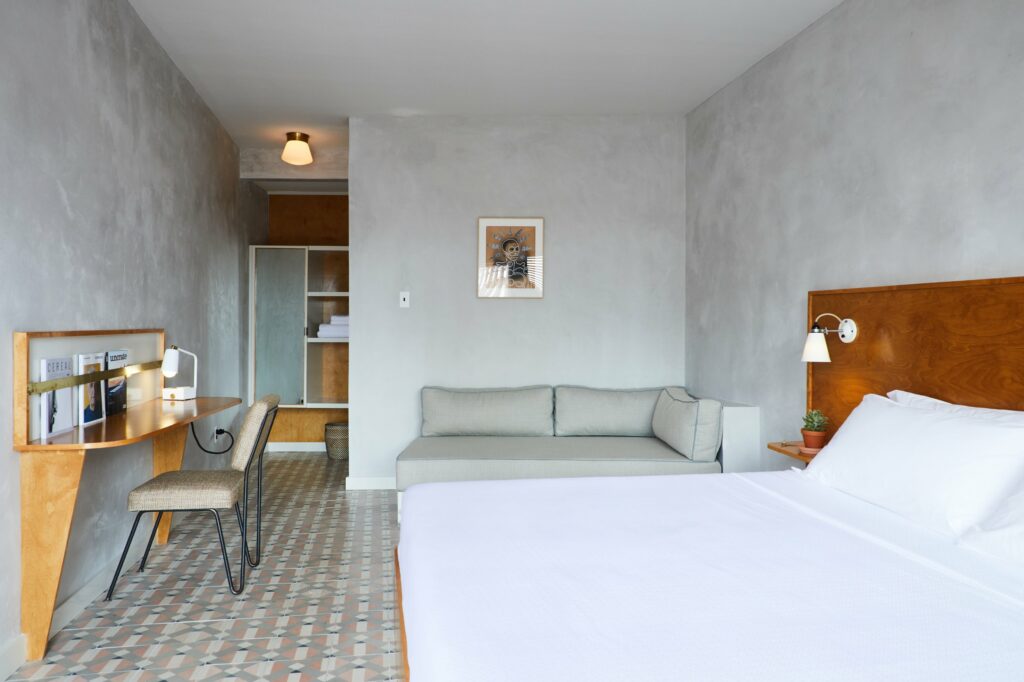 The Drifter Hotel is an ideal choice for couples on a budget. It may look like a motel from the outside but is actually a well-designed boutique hotel. It has simple double rooms, a pool, and a bar.
Top Excursions & Activities To Do On A New Orleans Romantic Getaway
New Orleans is so vibrant and varied that every visit there is unique. While Bourbon Street and its many live jazz bars may be the main draw for many, there is so much more to see and do.
You can embark on river cruises and experience New Orleans from a new perspective. Or, take eerie tours of the city at night and learn about its haunted past. If you're feeling adventurous, you can head out of New Orleans to explore the Louisiana swamps.
The sheer variety of experiences that New Orleans has to offer means that you'll never be short of things to do. Often, the best way to see the city is to sample all it has to offer. You could be strolling through an antique market in the afternoon and dancing in a jazz bar by nightfall.
Evening jazz cruise on the Steamboat Natchez
Take a romantic two-hour cruise on the historic Steamboat Natchez. The Dukes Trio will serenade you with some New Orleans-style jazz as you drift peacefully along the Mississippi River. You can also enjoy some local cuisine on board such as Creole jambalaya as well as some craft cocktails.
Be sure to explore all four decks of this fine vessel and view New Orleans from the top deck. The view is simply breathtaking.
Ghosts, Vampires, & Voodoo French Quarter tour
If you and your partner are in the mood for a spooky evening, take a walking tour of the city at night. The guides will tell you stories of witchcraft and show you some of New Orleans' most haunted spots.
Voodoo is inextricably linked to New Orleans and this is one of the best ways to learn all about it.
High-speed airboat ride
If you'd like to take a break from the city itself, try a tour of the marshes and swamps that surround New Orleans. An experienced captain will take you on an airboat tour where you can see alligators, ospreys, and bald eagles.
These tours take place just a 35-minute drive from the city and the boats can access parts of the swamps that are otherwise impossible to see.
Cemetery bus tour at night
The cemeteries of New Orleans are famous and have appeared in countless works of fiction. Of course, the best way to see them is at night. There are many tours that leave from the center of the city where guides will take you to the most interesting locations.
Many of these tours begin in bars where you can grab a drink before heading off on your adventure.
Sample Itinerary & Budget For Your Romantic Getaway In New Orleans
New Orleans may be one of the most visited cities in the US, but it can also be pretty affordable. Still, when you choose to visit and where you choose to stay will greatly impact the cost of your getaway.
Mardi Gras takes place in February and so this is the most expensive time to visit New Orleans. Every hotel gets fully booked and the rates skyrocket. For the rest of the year, hotel prices tend to be pretty reasonable.
Let's take a look at how much a four-night visit to New Orleans in the early spring would cost on average.
If you stay at one of the more affordable hotels, like the International House Hotel, you'll pay around $704. If you ate at a moderately priced restaurant once a day that'd be about $35 per person, per day.
The best way to travel around New Orleans is by streetcar. So, if you bought a daily Jazzy Pass that'd be $3 each per day. If you went on one tour a day or visited one attraction a day, that'd be around $40 per person, per day. So, the total cost of this trip would be $1,328.
Below are some sample budget estimates for a long weekend in New Orleans:
| | |
| --- | --- |
| Activity | Price |
| Hotel stays: | $528 (three nights) |
| Mode of travel: | $3 per day, per person (full-day streetcar ticket) |
| Food: | $210 (moderately priced restaurant) |
| Evening Jazz Cruise on the Steamboat Natchez: | $49 per person |
| High-Speed airboat ride: | $63 per person |
| Cemetery bus tour: | $37 per person |
Frequently Asked Questions
How much does a New Orleans romantic getaway cost on average?
New Orleans is one of the most famous cities in the US but it's also fairly affordable. On average, a four-night getaway to The Big Easy costs around $1,300.
Still, how much your romantic getaway to the city costs will depend on several factors. Visiting during Mardi Gras will make your visit much more expensive than at other times of the year.
If you're within driving distance of New Orleans, your trip will be less expensive than if you have to book flights.
When is the best time to visit New Orleans?
The best times to visit New Orleans are in the early spring and the late fall. This is when the weather is at its best and it's not too hot for sightseeing. This means the best months to visit are March through April and October through November.
However, if you want to take part in Mardi Gras, you'll need to visit in February.
How long do people typically spend in New Orleans on a romantic getaway?
Most couples typically spend three or four days in New Orleans. This is enough time to see plenty of the city as it's easy to travel around the most popular areas. Still, you could easily spend a full week in New Orleans and not come close to running out of things to do.
What food is New Orleans famous for?
New Orleans is most famous for its Creole cuisine. This is a unique fusion of different food cultures, including Spanish, French, and West African cuisines. Creole cuisine includes dishes such as jambalaya, gumbo, grillades, and shrimp creole.
Start Planning The Ideal Romantic Getaway
The historic streets of New Orleans are perfect for couples looking for a romantic getaway. Enjoy exhilarating nights in Bourbon Street's jazz bars and quiet strolls beneath the oak trees of the Garden District. The Big Easy truly has it all.
Wherever you're planning to go for your romantic getaway, we've got you covered. Check out our other Couples Travel Guides, where we give you tips about the most romantic destinations in the world. We'll tell you everything you need to know, so you and your loved one can have the best trip possible.