Any destination can be considered romantic if you try hard enough! However, nowhere is quite as magical as South Carolina if you want one of the easiest romantic getaways.
It's full of natural beauty and has an aura of intimacy and enchantment. Just ask the hundreds of honeymooners who choose this spot as their ideal wedding and vacation location every year!
With sprawling beaches, cozy mountain retreats, and towns filled with rich history, there's a destination in SC for every couple. We've covered the top destinations, hotels, and excursions to help you plan the perfect itinerary. We've even included a sample budget so you can decide how extravagant or simple you want your getaway to be!
What Makes South Carolina Perfect For A Romantic Getaway?
South Carolina is an unassuming place to get away, which only adds to its charm. But there's no denying that it has some of the most diverse activities and locations to suit every couple's needs. South Carolina has everything – from the Blue Ridge Mountains and National Parks to bustling cities and serene beaches, you'll always have somewhere to explore!
Of course, if you're planning on visiting any of the major tourist spots, you may want to plan your visit during the off-season. Locations like Myrtle Beach and Hilton Head Island are usually full of families between the months of June and August, which also increases accommodation costs!
So, if you want to visit Myrtle Beach, it might be best to visit in late spring.
You can enjoy a quiet week or two in SC with more privacy (and more spending money) during the months of March, April, May, September, and October. Typically, you can expect to spend an average of around $2,500 for a week-long couple's vacation, depending on your itinerary and accommodation.
Most Romantic Getaways In South Carolina
With so many fantastic locations and hidden gems in South Carolina, narrowing down the top few spots for an unforgettable getaway can be tough. Luckily, we've hand-picked our favorite destinations (and the best accommodations you'll find there). So you can just choose your dates, book your room, and head on over to a destination that suits your style!
Each location has a unique selling point that will help create a different experience for couples. So, if you're planning a longer trip, visiting more than one of our favorite destinations may be worthwhile.
That way, you can enjoy an array of new experiences, like soaking in the sun at Myrtle Beach or taking in the natural beauty of the Blue Ridge Mountains – all in one perfect romantic vacation!
Hilton Head Island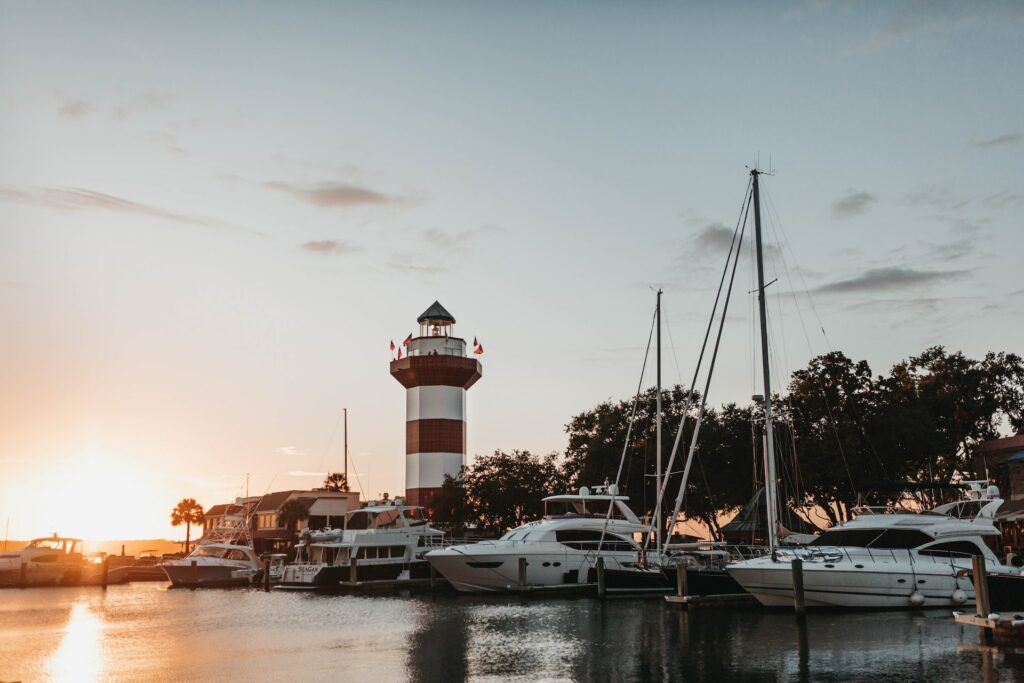 Hilton Head is one of the most popular destinations for couples in SC. And for a good reason! The sandy beaches with breathtaking sunsets are the perfect setting for a romantic getaway. And, if you want to enjoy the amorous atmosphere even more, you can book a sunset cruise to share an intimate moment with your partner!
But there's much more to do on Hilton Head than tan on the beach and drink sundowners in the evenings. You can also head over to Sea Pines Forest for a slow stroll or enjoy the Coastal Discovery Museum for couples who want to immerse themselves in the history of Hilton Head. If nothing else, you can enjoy a relaxing massage at one of the spas along the coast.
This destination is perfect for couples who want a quiet getaway to soak up the sun and enjoy some R&R. You can also enjoy more spontaneous outings without creating an itinerary first. It's slow living on Hilton Head! Just be sure to check out one of the many dining spots along the beaches while you're there!
Best accommodations on Hilton Head Island: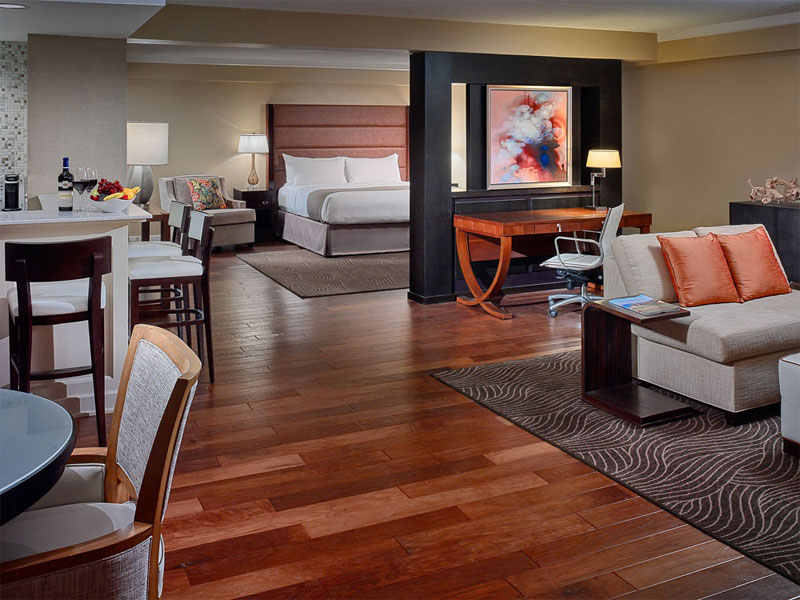 Price per night: $189 – $578
With an onsite spa and restaurant, the Sonesta Resort has everything you need without leaving the resort! It's also a great pick for both budget and luxury accommodations.
But if you're up for an adventure, the Sonesta offers bike rentals so you and your partner can take in the sights at your leisure. When it's time to leave, don't forget to stop at the Pearls Market on your way out for some nifty souvenirs.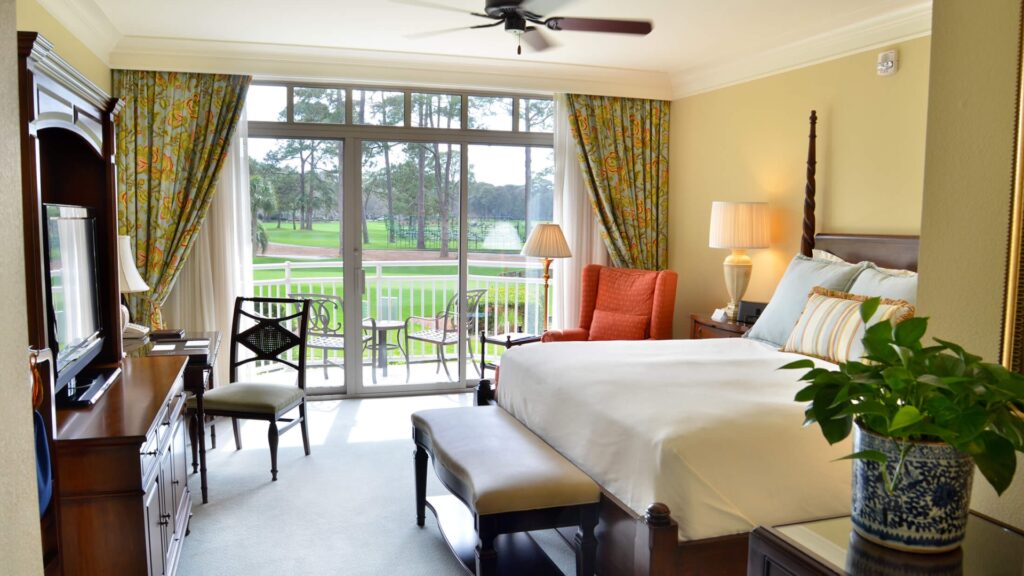 Price per night: $236 – $285
The Inn & Club at Harbour Town is another fantastic spot to settle in when you're visiting Hilton Head Island. With special romance and bed and breakfast packages, you can tailor your experience to be as intimate as you'd like without leaving your accommodation.
You and your partner can also enjoy the Harbour Town Lighthouse and Pier for a romantic stroll or spend your days full of fun and adrenaline with on-site watersports. Then, wind your evening down at one of Harbour Town's various top-rated eateries.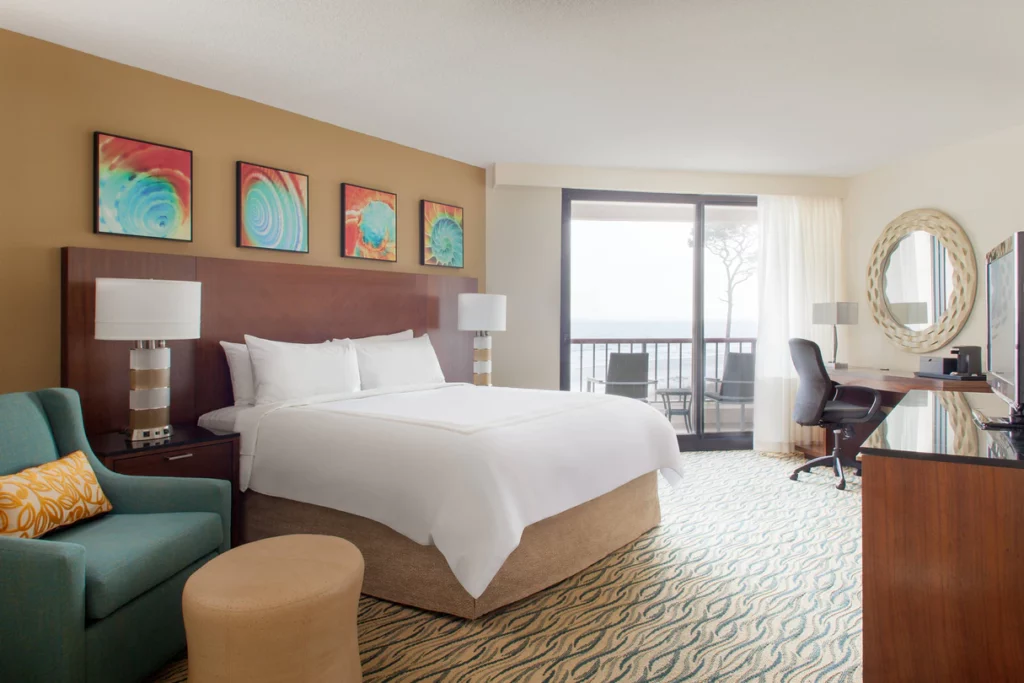 Price per night: $251 – $401
The Marriot Hilton Head Resort is the ultimate retreat for couples who want to enjoy luxury on a budget. This resort is anything but average, with private balconies to enjoy a cocktail or early morning cuppa joe. It also has an on-site spa where you can let all your stresses melt away.
If you want something more exciting to keep you entertained, make sure to book a Dolphin Watch tour. It's the perfect way to round off your romantic weekend!
Greenville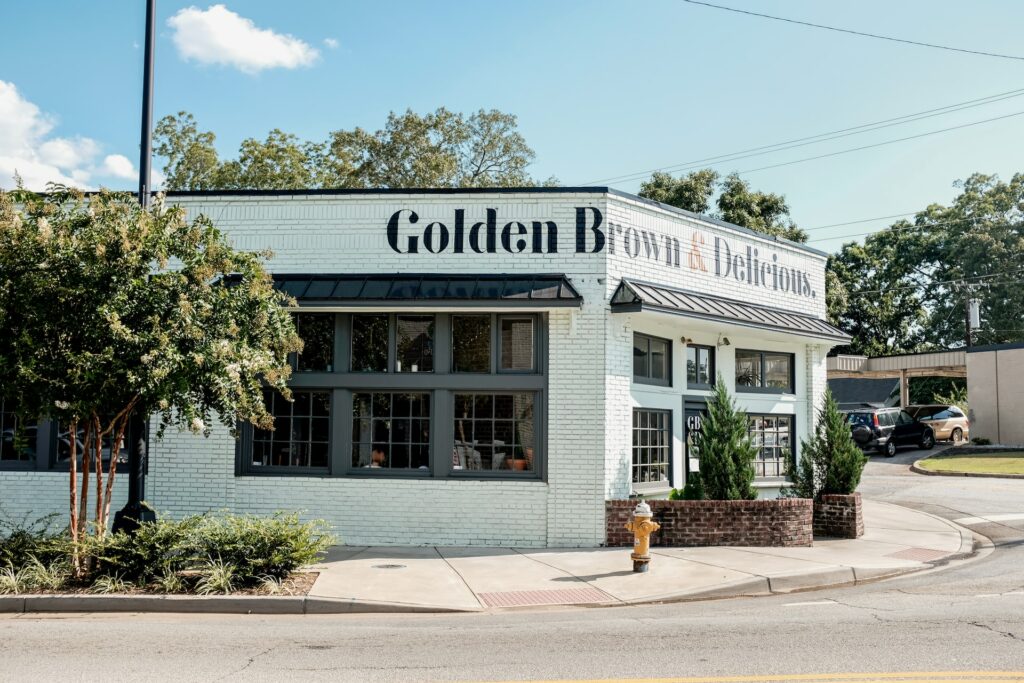 Greenville is the ultimate destination for couples who are looking to get out into nature. With stunning waterfalls like Raven Cliff Falls in Caesars Head State Park (located just outside Greenville) and the iconic 22-mile-long Swamp Rabbit Trail, you can enjoy the great outdoors at your own pace.
But don't be fooled! Couples looking for the best romantic weekend getaways will also find something that tickles their fancy in the East Park historic district. With dessert tastings and cozy eateries, there's no shortage of a romantic atmosphere here.
Best accommodations in Greenville: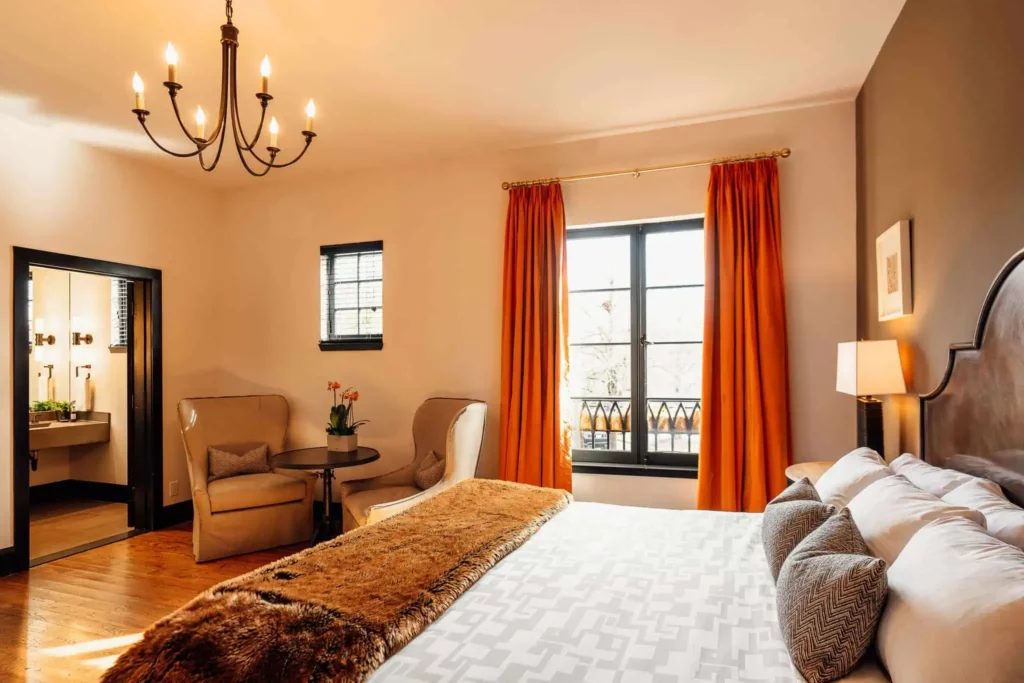 Price per night: $389 – $509
With cozy fireplaces and awe-inspiring decor, the accommodation at Hotel Domestique is perfect for a romantic night in. When you stay here, you're guaranteed stunning country or mountainside views to start your morning on the right note.
The Cliffs golf courses are within walking distance for some on-site recreation, but there are plenty of excursions to enjoy off-site too. Some of these activities include cycling, hiking, paddling, and fishing.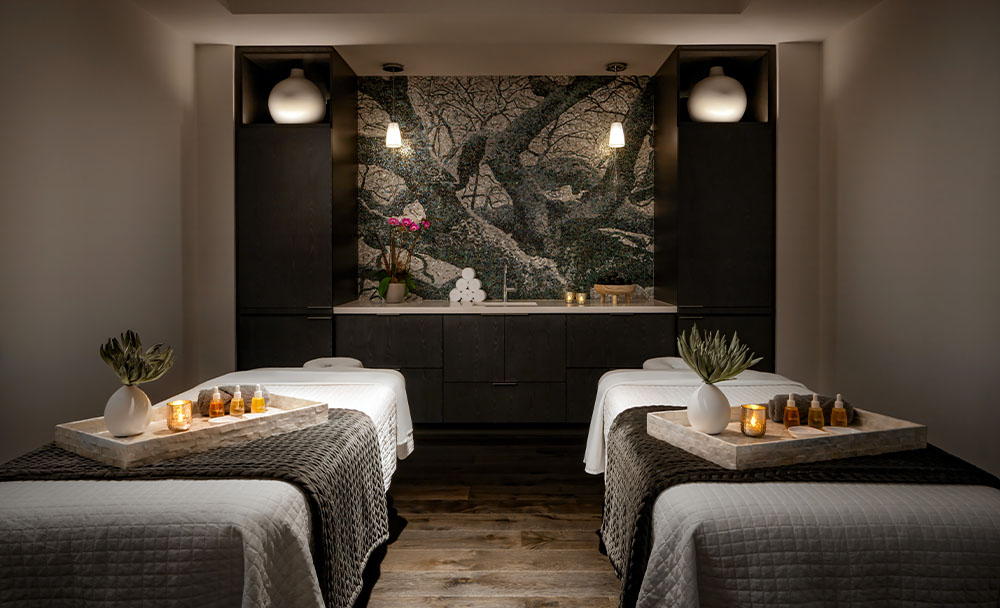 Price per night: $308 – $358
If arts and culture inspire you, then you'll want to check out the Grand Bohemian Lodge. With an on-site spa and art gallery (yes, you can buy the art!), you'll have no shortage of excitement without needing to leave the comfort of the lodge.
The Grand Bohemian is perfect for couples who want to enjoy luxury accommodation while they're in South Carolina and is the ideal retreat for peace and privacy. So, you can unplug and focus solely on your partner.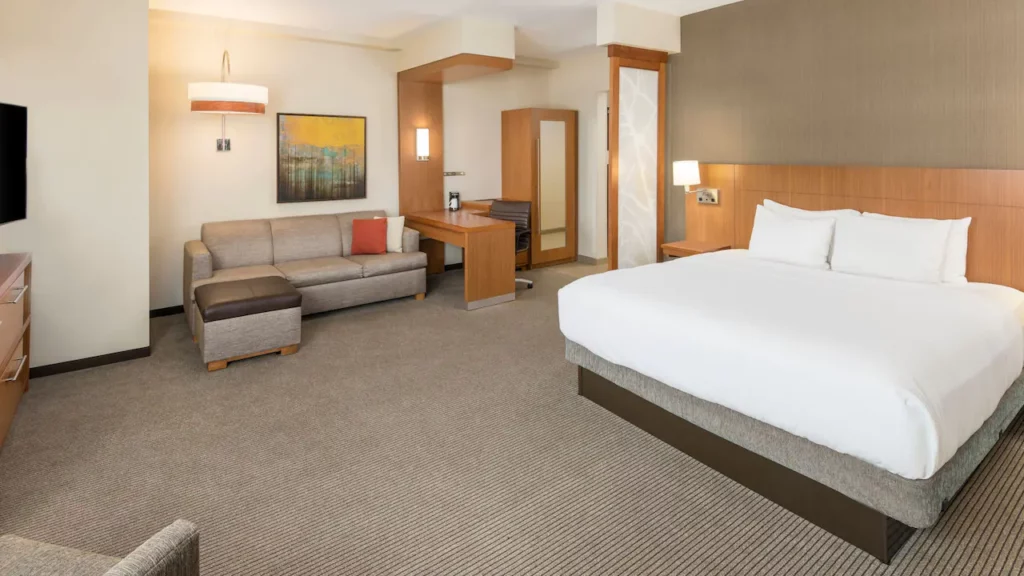 Price per night: $129 – $179
One of the budget-friendly gems on our list of getaways in South Carolina is Hyatt Place. With quaint rooms, a huge breakfast bar with every food imaginable, and an on-site fitness center, you'll feel right at home while enjoying your stay.
When you leave your hotel, don't forget to take a day trip to check out the Blue Ridge Mountains! Their natural beauty will surely put you and your partner in the mood for romance!
Charleston
A short drive from Folly Beach (home to the Morris Island Lighthouse), Charleston is one of the most beautiful cities in South Carolina. With restaurants and entertainment venues everywhere you look, Charleston is more than meets the eye.
If you're interested in the city's history, you can enjoy scenic walks while taking in the views of the colorful Colonial-style buildings. If you're in Charleston, you need to spend a day at the Joe Riley Waterfront Park. We guarantee it will inject some lighthearted fun into your trip!
Best accommodations in Charleston: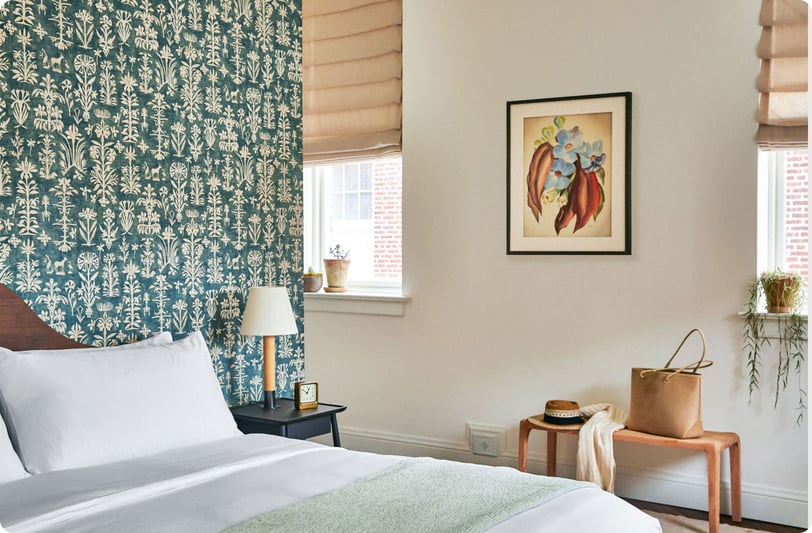 Price per night: $321 – $589
The Pinch is the height of luxury accommodation in Charleston. If you're planning a romantic retreat, you'll want to check out the Romantic Getaway or Relax & Rejuvenate packages the resort offers. Plus, you can sip on your complimentary welcome cocktail as you arrive! There's also an on-site spa to help you unwind and get into 'vacation mode.'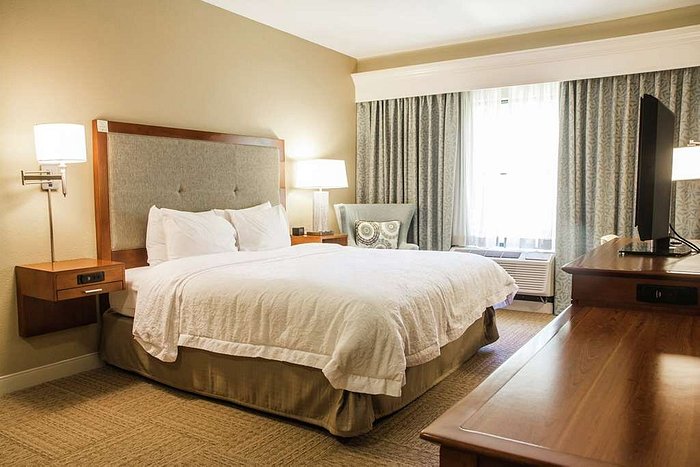 Price per night: $110 – $163
Our budget pick for one of the best getaways in South Carolina is definitely the Hampton Inn on Daniel Island. A stone's throw away from Charleston; the inn has everything you need without breaking the bank. Although it may seem understated, the inn is comfortable and cozy after a day out and about in the city.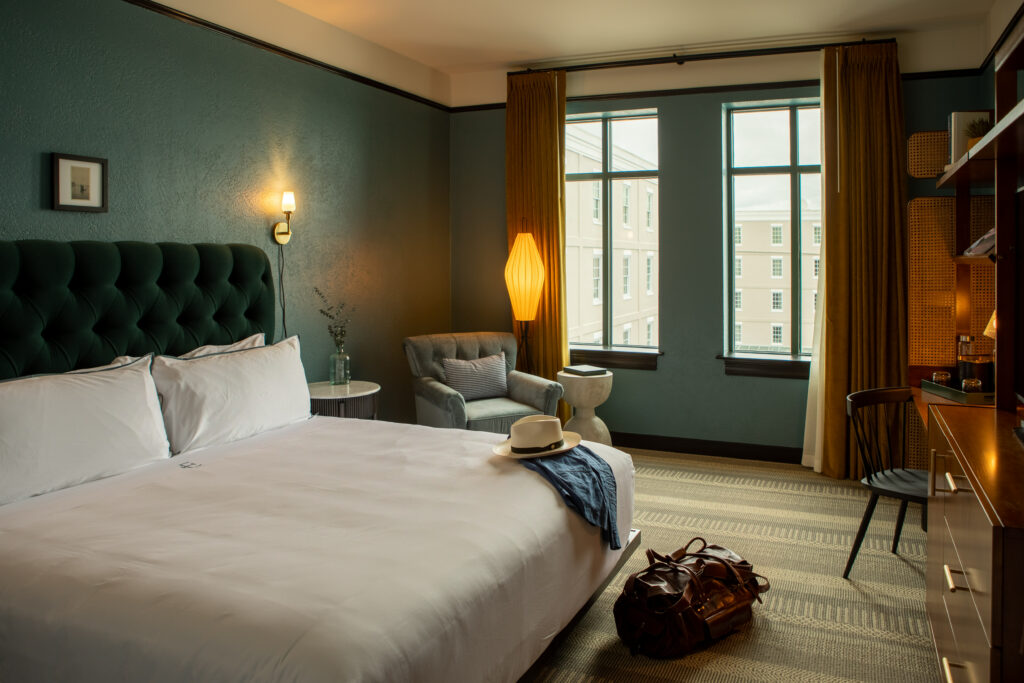 Price per night: $288 – $496
For mid-range accommodation that feels more luxurious than most hotels and resorts in South Carolina, the Emeline is the place to go! With romantic spots at the hotel (like the outdoor courtyard, greenhouse, and reading nook – complete with books and other reading materials), you won't want to leave!
The rooms are picturesque and include high-end linens and stunning views, making it the ideal place to rest your head. When you're ready for a day out, just ask the concierge! They'll provide you with a map and the best activities around, and you can even rent Emeline bikes to help you get around.
Top Excursions & Activities To Do On A South Carolina Romantic Getaway
Head to Huntington Beach State Park
Huntington Beach State Park is a must-see spot for anyone going to South Carolina. The park includes beaches, campsites, picnic sites, bird spotting, and much more! If you find yourself in the park around September, be sure to check out the arts and crafts festival at the Atalaya home.
You can enjoy the park for just $8 per adult and spend as much time as you'd like strolling through the 2,500 acres of land. It's also a great place to snap some gorgeous pics with your sweetheart!
Check out South Carolina State Museum
The South Carolina State Museum is a great place to spend some time in South Carolina. Of course, it's filled with typical exhibits and displays. But its main selling points are the planetarium, 4D theater, and observatory. The 4D theater is one of a kind, so you won't want to miss out on this excursion!
General admission for one adult is around $9 to $17, making it incredibly affordable too!
Sea Pines Forest Preserve
The Sea Pines Forest Preserve is a protected area for some of South Carolina's wildlife and includes walking and hiking paths to explore at your leisure. Of course, if you're bored of taking in the sights on foot, you can always explore the preserve on a boat tour, horseback, or wagon tour.
The preserve is open from sunrise to sunset, but the route only takes around an hour to complete. So you won't need to rush.
Fun in the sun at one of South Carolina's beaches
From the Myrtle Beach boardwalk to Folly Beach, South Carolina is known for its pristine beaches and quaint beach towns that line the coast. If you're spending a weekend away in SC, chances are you're going to want to enjoy a romantic walk along the sand or go on a budget-friendly picnic to take in the salty air.
Either way, there are plenty of beaches to choose from, so you won't leave disappointed.
Sample Itinerary & Budget For Your Romantic Getaway In South Carolina
So, you're ready to embark on your South Carolina getaway! But… where do you start? Before you get too overwhelmed, it's a great idea to check out the average budget for long weekend getaways in South Carolina.
The typical budget for a couple in SC includes the following:
Accommodation: $110 per night for two adults (budget) – $600 per night for two adults (luxury)
Flights: Flights to South Carolina will typically cost between $350 and $750 per person, depending on where you're departing from. Flight costs will also fluctuate depending on class and airline prices.
Travel: When you're traveling around South Carolina, you can expect to pay around $20 to $30 per day for taxis. There are also hubs for public transport. However, the easiest way to get around is by car.
Food and drinks: Romantic getaways are all about enjoying good food with an enchanting atmosphere. When you're dining out, you can expect to spend an average of $50 per person per day. Of course, if your hotel offers free breakfasts or snacks, then you can expect to budget a little less for dining.
Visiting the National Parks: If you're planning longer romantic getaways in South Carolina, you may want to consider purchasing the seven-day Park Passport for $65 per car. This will grant you and your sweetheart access to all 47 South Carolina National Parks, including Table Rock State Park and Cleveland Park, for seven days.
Take in the sights from the SkyWheel at Myrtle Beach: The SkyWheel is one of Myrtle Beach's main attractions. Tickets start at $17 per adult for standard passes and cost $55 per adult for VIP passes. There are usually some deals that include a ride and a bite to eat for couples, so be sure to enquire when you purchase your tickets!
Pay a visit to the Columbia Museum of Art: For just $10 per adult, you and your partner can enjoy the rich culture and beauty that the Columbia Museum of Art offers. This is a great option for couples planning romantic getaways on a budget!
Now that you have a better idea of what romantic getaways in South Carolina cost, you'll want to start building your itinerary. If you're out of inspiration or you don't know where to start, we've compiled a sample itinerary to help you get started.
Day 1
Settle in at your hotel and enjoy a relaxing meal at your hotel or resort. If you're feeling weary, book a spa package for you and your partner and kickstart your getaway with some rest and relaxation! Alternatively, if you're nearby, go for an evening stroll along Folly Beach Pier and enjoy the sights and sounds of SC!
Day 2
Go on a tour of South Carolina's National Parks. It may be a good idea to map out which parks are closest to your destination. Grab your Park Passport and go sightseeing. Don't forget to snap some vacation pics to take home and show off!
Day 3
Start your day with a walking or boat tour and enjoy the crisp morning air. Then, take a trip to the Columbia Museum of Art and check out their latest exhibits. End your day on the beach or at a cozy eatery for a delicious meal and a romantic atmosphere.
Day 4
End your getaway at Myrtle Beach and jump on the SkyWheel for one last look at the incredible views the beach has to offer. Grab some easy grub and wind down at your hotel before you travel back home. And whatever you do, don't leave without a souvenir of your perfect trip!
Frequently Asked Questions
How much does a South Carolina romantic getaway cost on average?
A romantic weekend getaway in South Carolina will typically cost under $1,000. However, your budget for your getaway will depend on where you stay and the activities that make up your itinerary. Generally, you can expect to budget between $150 and $200 per person per day, which averages out to around $900 – $1,200 for a romantic three-day break.
When is the best time to visit South Carolina?
South Carolina has gorgeous weather all year round, but it's not always geared toward romantic weekend getaways. If you want to enjoy all SC offers, then you'll want to plan your vacation in the warmer months. These months typically fall between March and May or September and October.
How long do people typically spend in South Carolina on a romantic getaway?
The length of your romantic getaway will depend on where you're going. If you want to enjoy South Carolina by visiting different cities and towns, you'll likely need to allocate a few days to each location.
In this scenario, a week or two is usually the perfect amount of time. But for a quick trip, there's nothing wrong with romantic weekend getaways in a specific location.
Is Folly Beach worth a visit during romantic getaways in South Carolina?
Folly Beach is just south of Charleston and is definitely worth a visit. Be sure to walk along the Folly Beach Pier and see the Morris Island Lighthouse.
Start Planning The Ideal Romantic Getaway
South Carolina is the spot for the best romantic weekend getaways. With the combination of traditional Southern charm and the awe-inspiring beauty surrounding SC's cities and towns, there's nowhere better to spend some time away with your loved one.
With our breakdown of the best destinations, accommodations, and things to do while you're on your romantic retreat, you'll be planning your next trip in no time. And if you've already been to South Carolina, why not check out our resources for more trip inspiration? We'll help to take you anywhere you desire!