Known for its agriculture and popular tourist destinations, South Dakota makes for the ultimate honeymoon destination! Couples will love exploring the state's natural forests, trails, parks, and lakes. And no matter where you stay, you will surely get a breathtaking view.
If you want to know why you should pick South Dakota for your honeymoon, where to stay, what to do, and how much to budget, our ultimate honeymoon guide has everything you'll need to start planning your trip!
What Makes South Dakota Perfect For A Honeymoon?
South Dakota may seem like a sleepy destination at first glance. And while most of its towns and cities are quiet and not as densely populated as other metropolitan areas, there's no better place to spend your honeymoon.
With outdoor excursions and activities to do and enjoy all year round, honeymooners will feel like big kids with unlimited possibilities! From skiing and snowboarding in the winter to hiking, fly fishing, and exploring the gorgeous Black Hills forests in the summer, there's always something to do!
The stunning landscapes and breathtaking views everywhere you turn, Dakota has something for every couple.
Best Honeymoon Resorts, Hotels, and Other Stays in South Dakota
When it comes to South Dakota hotels, you may struggle to find the kind of luxury and modernity that other states can offer. However, that doesn't mean you should shy away from South Dakota for your perfect honeymoon.
Most metropolitan states are busy, and – while they can be exciting for a honeymoon – they don't offer the same intimate, romantic experience couples can find in South Dakota. So, when you're looking for somewhere to stay, don't be surprised if all you can find are rustic lodges with small-town charm.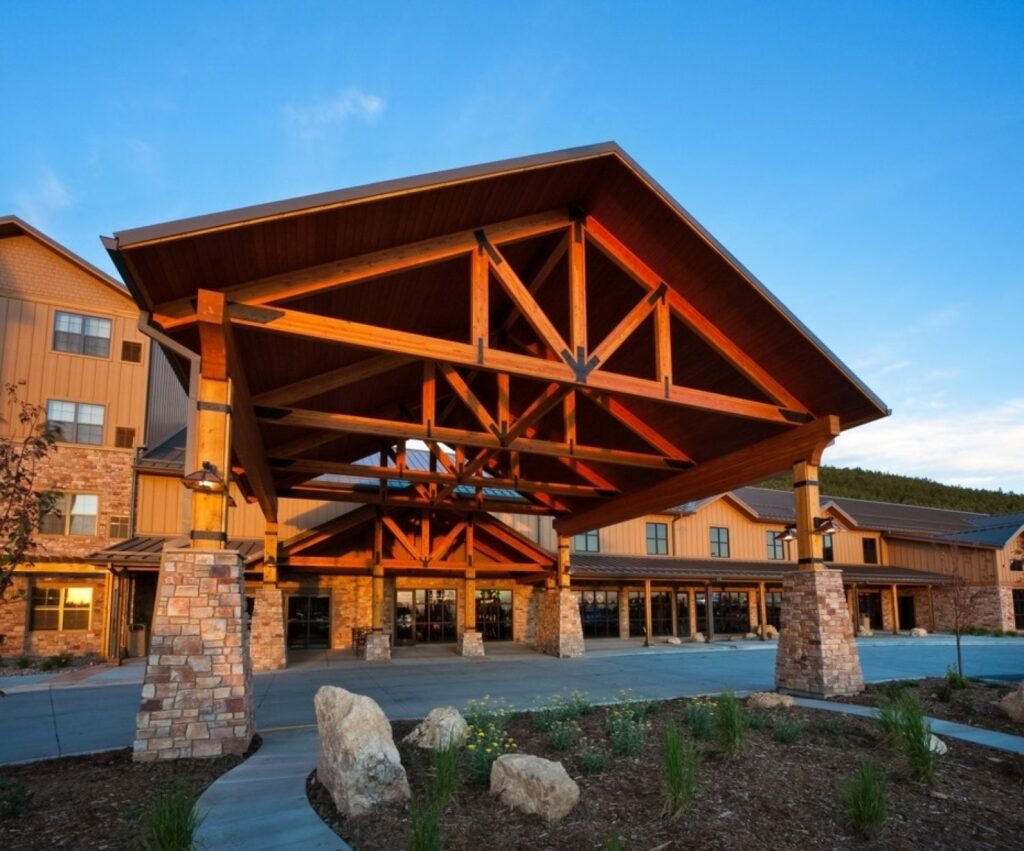 Price per night: $229 – $359
Best for: Young couples, longer stays, entertainment
Availability: Good availability
If you're settling in for your stay in Deadwood, you may want to check out the Lodge. This hotel is better suited for younger newlyweds and has an on-site casino for after-hours fun! But if you want to venture outside your hotel, you'll be just minutes away from the Adams and Days of '76 Museum, Mickelson Trail, and Mount Roosevelt ("Friendship Tower").
During the day, you can enjoy outdoor activities like a visit to Custer State Park for hiking trails or a picnic lunch, or rent a snowmobile or UTV at Recreational Springs Resort. In the evenings, you and your partner can relax and unwind with a dinner for two at the luxury grill or casual sports bar before playing the slots.
For your honeymoon, you'll want to take advantage of the Sweet Heart special, where you'll receive complimentary chocolates, wine or champagne, and dining credit for a romantic dinner. The Couple's Retreat package is also a great choice and includes all of the above, as well as a gift card and transport to Deadwood's world-class Akela Spa.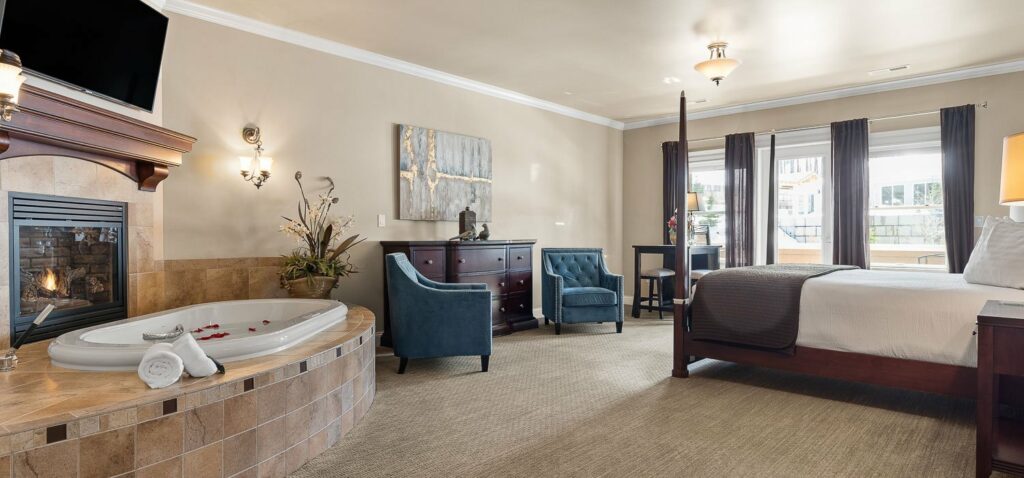 Price per night: $215 – $285
Best for: Older and younger couples, longer stays, quiet accommodation
Availability: Good availability
You'll find Summer Creek Inn just fifteen minutes outside of Rapid City. The Inn gives you enough privacy to enjoy a romantic getaway while still being close enough to the city for you and your partner to enjoy all the action. The luxurious suites are perfect for honeymooners, with some having in-room fireplaces to cozy up to in the evenings.
Summer Creek Inn offers seasonal specials, but the highlight of this accommodation is the indulgent add-ons you can include for your stay. From bouquets to chocolates, chocolate-covered strawberries, and a wine and dessert package for two – you can plan your perfect honeymoon celebration without leaving your room!
When you want to enjoy the natural beauty of South Dakota, you can go exploring at the nearby Wind and Jewel Caves, the Wild Horse Sanctuary, and Devil's Tower National Monument. You can also tap into your inner adrenaline junkie and enjoy seasonal activities like hiking, fishing, kayaking, snowboarding, snowshoeing, and more.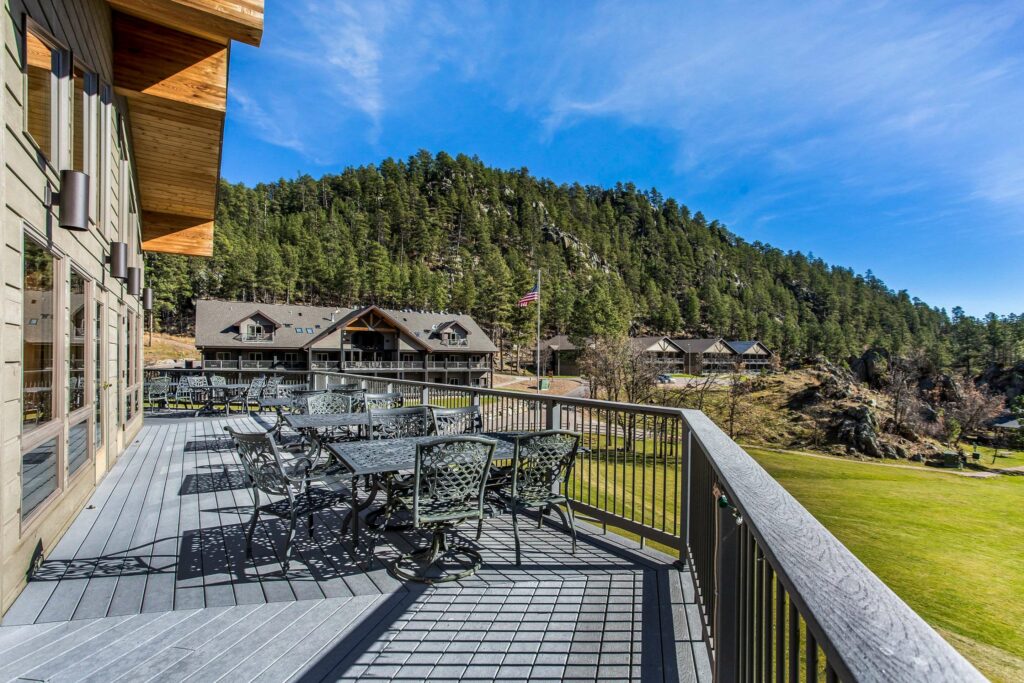 Price per night: $180 – $267
Best for: Older and younger couples, short and long stays, seasonal accommodation
Availability: Limited availability
The K Bar S Lodge is a seasonal hotel open from mid-April to late October. While the hotel is centrally located in Keystone for trips to some of South Dakota's main attractions, there are limited on-site activities. That means that it's a great choice for mature couples or those who want more quiet accommodation, but it may be a bit too quiet for adventurous honeymooners!
However, if you want the best of both worlds, the K Bar S Lodge is just a stone's throw away from Mount Rushmore, Rapid City, and Custer State Park. And when you're done adventuring, you can head back to one of your luxurious Queen or King suites with breathtaking views of the Black Hills or the one-and-only Mount Rushmore.
In the mornings, you and your partner can enjoy a cup of joe from the on-site coffee shop or sit down for a complimentary continental breakfast to start your day the right way. You can also tuck into an easy meal at the pub when you're looking for a hot, fast, and delicious meal.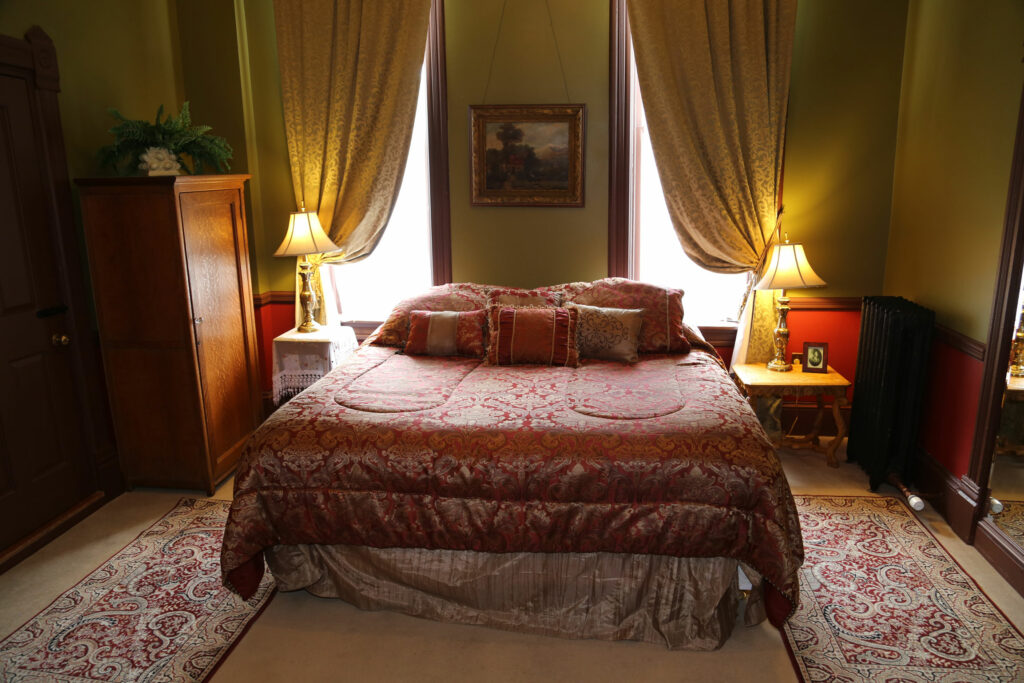 Price per night: $199 – $389
Best for: Older adults, long and short stays, entertainment
Availability: Good availability on standard rooms
If you're honeymooning in South Dakota to enjoy nature and soak in the picturesque views without being too far removed from home comforts and city life, then the Martin & Mason Hotel is a great pick. This hotel is best suited for more mature couples and has all the charm of traditional old-world opulence.
The hotel is a restored Victorian-era hotel, and the rooms are furnished with antique decor for a romantic and historical feel. Every room comes standard with a King-sized bed as well, so you can be sure that you'll get a good night's rest.
Besides enjoying the history of Deadwood, guests are only a few minutes away from Spearfish Canyon, Badlands National Park, and Devil's Tower. And after a full day of sightseeing, you can relax at the Lee Station Cafe or roll the dice at the Wooden Nickel Casino, located on the first floor.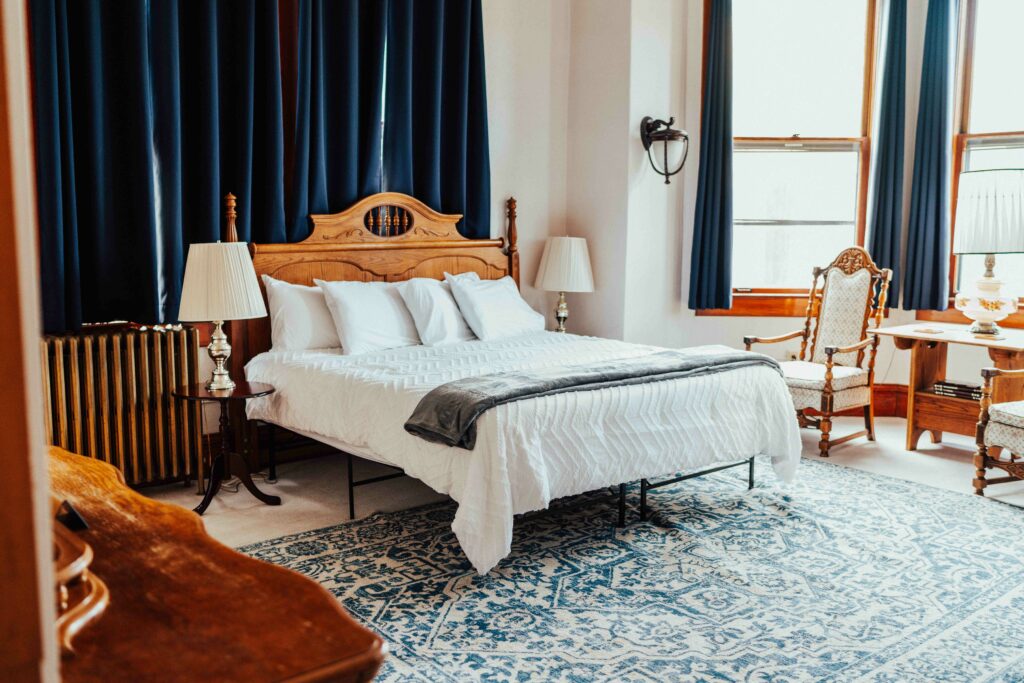 Price per night: $100,80 – $132,30
Best for: Old and young couples, long stays, intimate accommodation at a boutique hotel
Availability: Limited availability during peak season
Located just outside Deadwood, the Town Hall Inn is a short drive away from Ski Mystic Deer Mountain and Terry Peak. These destinations are perfect for a winter honeymoon and offer guests an exciting adventure of skiing and snowboarding.
The Town Hall Inn was historically a town hall, and each room is themed according to the Inn's history. You can't go wrong with the comfort and luxuries the Town Hall Inn offers for a quiet and romantic getaway.
In the basement, you'll find the Jailhouse Taps Brewery. And every guest of the Town Hall Inn gets a complimentary beer ticket to settle in on their first night. The Inn also offers a discounted price on e-bike rentals from Mile High e-Bikes, which are great for exploring and spending a romantic day exploring the town.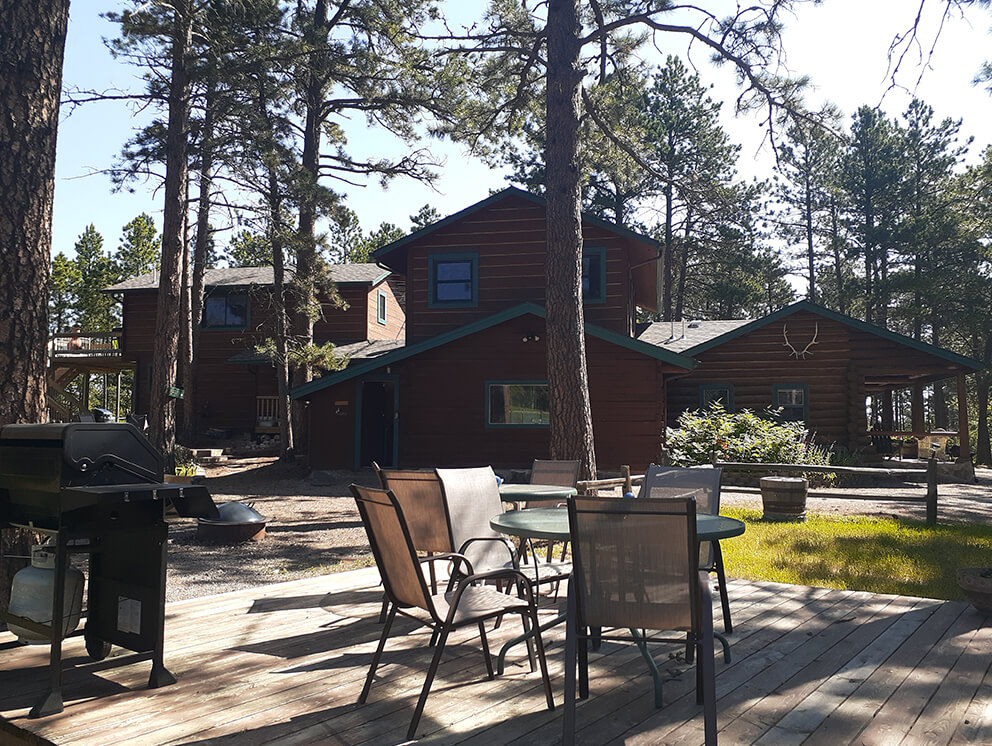 Price per night: $80 – $440, depending on the season and availability
Best for: Older and younger couples, long stays, rustic accommodation
Availability: Good availability
Tucked away in the lush landscape of Black Hills National Forest, the Silver Mountain Resort is the ultimate South Dakota honeymoon destination. This remote resort is private enough for couples to enjoy a night of romance but also close enough to several of Black Hills' main attractions.
Besides enjoying the local lakes and breathing in the fresh air on the surrounding hiking trails, you and your partner can easily travel to the Crazy Horse Memorial, Custer State Park, Rockerville Ghost Town, or go on an unforgettable zip-lining adventure in Keystone.
The resort offers several private cabins for honeymooners to enjoy, with comfortable beds and luxurious linens for a good night's sleep. Silver Mountain is ideal for newlyweds that want to get away from city life, slow down, and enjoy each other's company.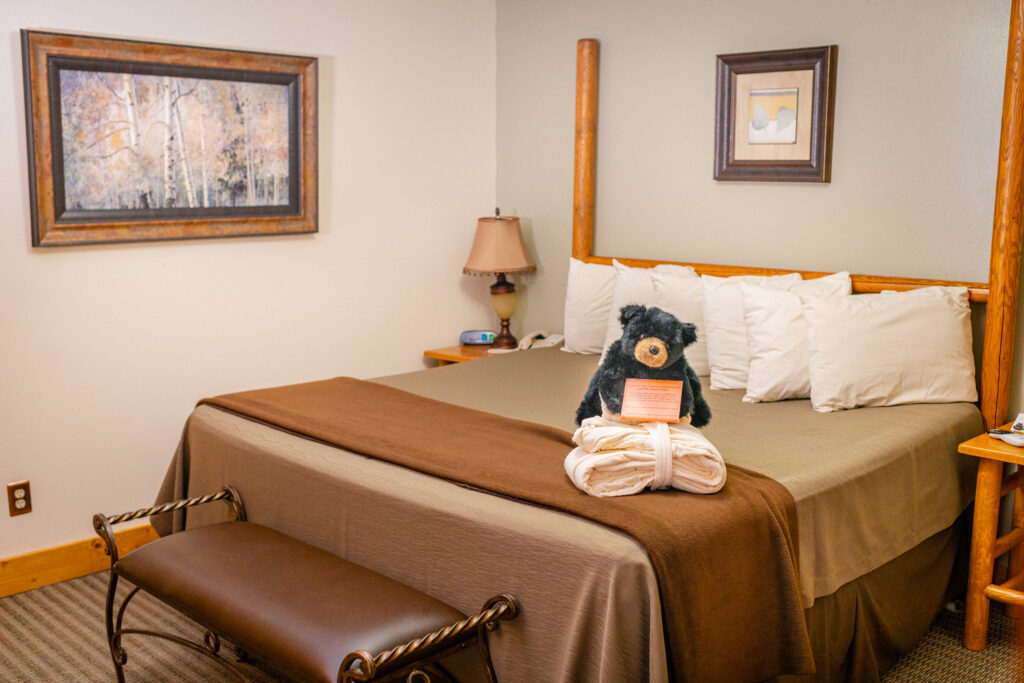 Price per night: $139 – $269 (excluding the Berry Patch Cabin)
Best for: Old and young couples, long and short stays, adventure
Availability: Limited availability for some suites
Spearfish Canyon Lodge has been a fan-favorite among honeymooners for years, and for a good reason! With Spearfish Canyon right at your doorstep, you and your partner can enjoy hiking trails, mountain biking, and fly fishing for an outdoor adventure. And when you're done, you can head back to the lodge for romantic alone-time with your spouse.
With the on-site Roughlock lounge providing delicious drinks and cocktails, you can enjoy an intimate drink before sneaking off to enjoy one of the outdoor hot tubs for rest, relaxation, and romance. And with some of the most awe-inspiring views around you, it will be a night under the stars that you'll never forget!
Honeymooners should take advantage of the Romantic Rendezvous Package, which includes a two-night stay, a bottle of champagne, turn-down service, and a Lodge Romantic Basket for two. You can also enjoy an intimate couple's dinner in front of the crackling fireplace at the Latchstring restaurant, only a short walk away from the lodge.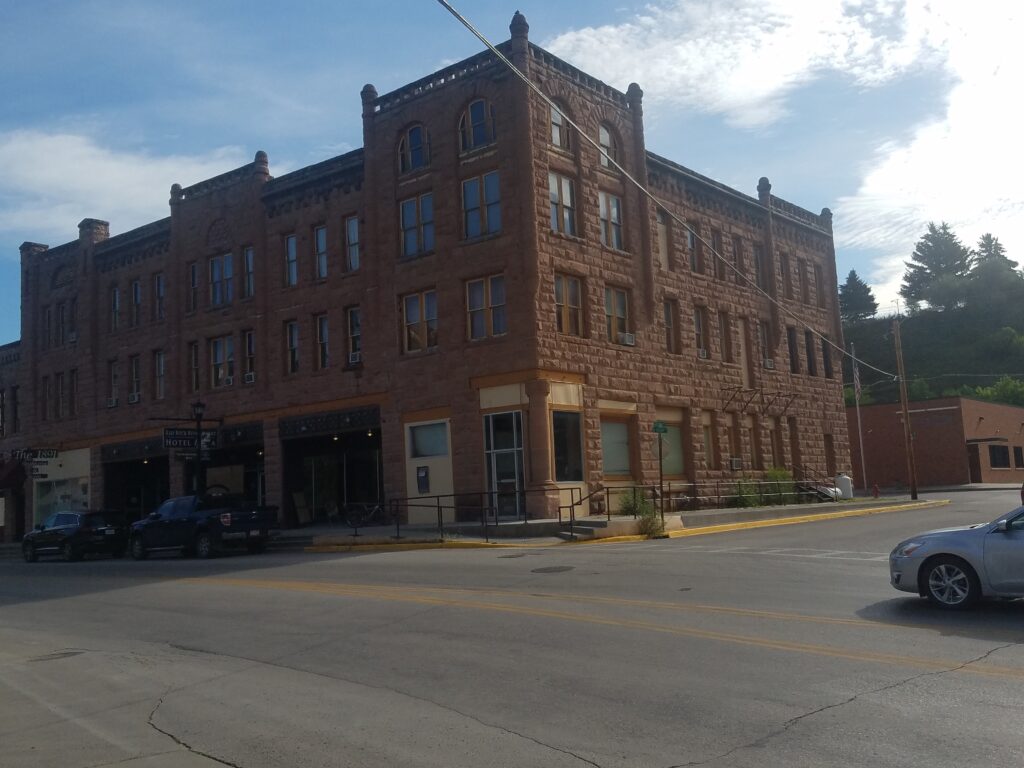 Price per night: $95 – $175, depending on the season
Best for: Old and young couples, longer stays, relaxation
Availability: Limited availability for some rooms
Located in the center of the historic district in Hot Springs, South Dakota, is the hidden gem known as the Red Rock River Resort. And when we think of this resort, it brings two other 'R' words to mind: Rest and Relaxation! We recommend booking your stay here if you want to unwind and spend your romantic getaway in absolute bliss.
With luxury rooms fitted with modern amenities, you would never guess that the historic building dates back to 1891! And speaking of history, the on-site 1891 Steakhouse takes its name from the resort's roots. You can also steep yourself in the rest of the town's history by taking your partner for a stroll down to the local galleries and museums.
The resort offers a Special Occasion package that's also a perfect pick for newlyweds. It includes an in-room breakfast, an hour-long bike rental for outdoor fun, a charcuterie board, and a bottle of wine for some luxurious eats you can enjoy in your room. You'll even get two massages and a couple's soak at the resident spa, complete with two glasses of wine.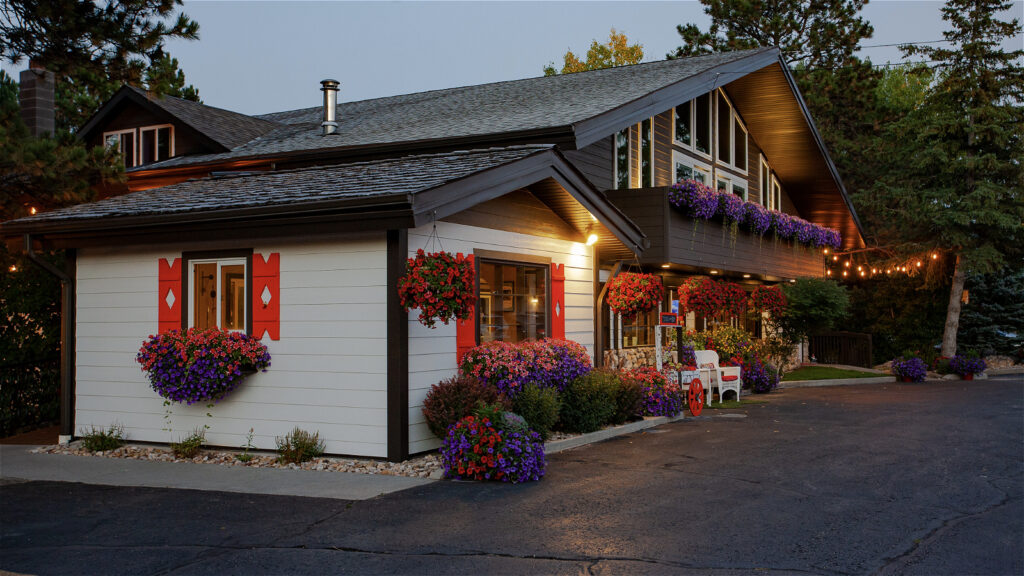 Price per night: $119 – $279
Best for: Young and older couples, long and short stays, boutique hotel accommodation
Availability: Good availability
For accommodation that's less about adventure and more about creating the most romantic getaway possible, there's no place finer than the Bavarian Inn. The inn has Queen and King suites, but our top pick for honeymooners is the King Jacuzzi Tub Room. This room includes a two-person jacuzzi for the perfect night in for you and your partner to connect.
At the inn, you'll find a few different activities to keep you busy. From indoor and outdoor heated pools to pickleball and basketball courts and even a fitness trail, you and your spouse will never be bored!
If you feel like exploring the surrounding area, you'll be able to check out Mammoth Site, Wind and Jewel Cave, Crazy Horse Memorial, and – of course – Mount Rushmore. Don't forget to take a few holiday snaps to show your friends and family back home!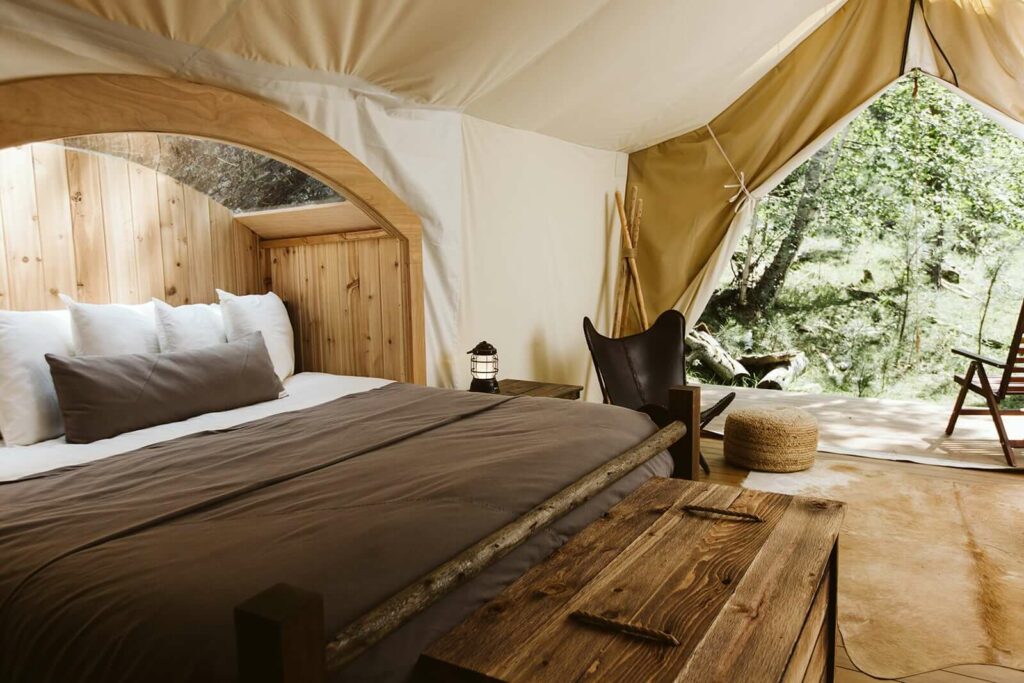 Price per night: $199 – $399 (excluding family tents)
Best for: Younger couples, short and long stays, adventure, sightseeing
Availability: Extremely limited availability
If you're looking for an unforgettable stay that's so close to Mount Rushmore you can practically touch it, we've got you covered. Under Canvas is a unique "glamping" experience that is perfect for a South Dakota getaway for couples. All the tents are gorgeous, with the most incredible views of Mt Rushmore.
Couples can enjoy a range of dining options and outdoor activities like driving tours, guided hikes, kayaks, bikes, and combination tours. And back at the camping grounds, honeymooners can tap into their breathtaking surroundings while stretching it out with morning yoga. You can also settle around the campfire for live music and activities.
We've definitely saved the best for last because the Stargazer tent is an unreal experience! You and your partner can snuggle up in your luxury bed and look out the window above it for a night of romantic stargazing and unbelievable scenery.
Best Areas To Stay in South Dakota
South Dakota is the perfect honeymoon destination for newlyweds looking for a small-town experience away from the hustle and bustle of the city. With unbelievable landscapes surrounded by the Black Hills, there's nothing more romantic than spending your days relaxing and adventuring in the natural beauty of South Dakota.
Rapid City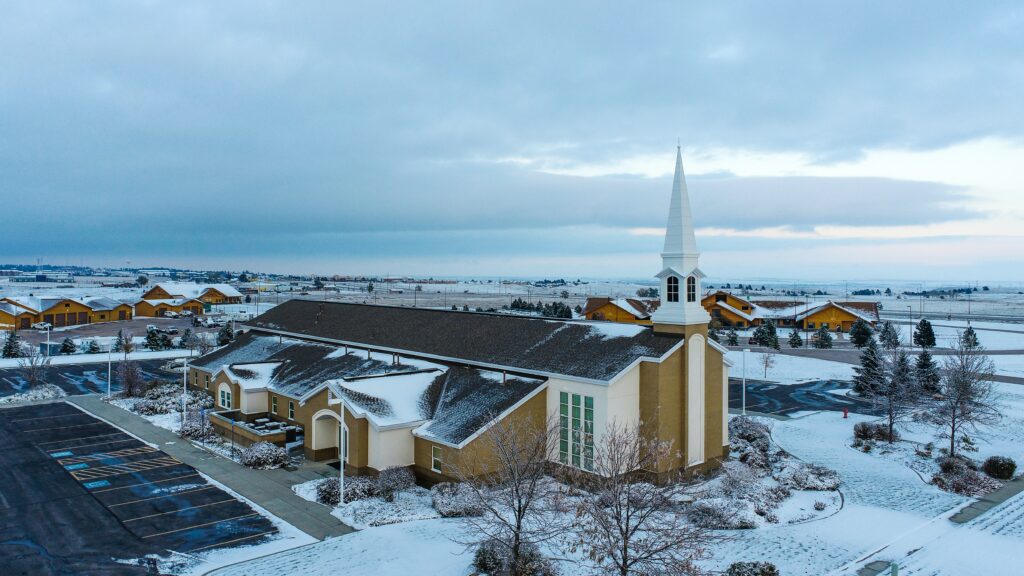 Rapid City is one of the most central locations in South Dakota. Rapid City gives honeymooners the best of both worlds with a backdrop of the Black Hills National Forest and all the comforts of city living. It's also a short drive to different landmarks and attractions, making it the ideal place for outdoor adventures and metropolitan entertainment.
Downtown Rapid City is home to Art Alley, the South Dakota Air and Space Museum, and the Museum of Geology. So you'll never have to wonder what to do next. Because Rapid City is also a popular tourist destination, there is no shortage of restaurants and accommodation.
When you leave the city, you're only a short drive from Mount Rushmore, Bear Butte State Park, and one of the most romantic attractions: Chapel in the Hills.
Hill City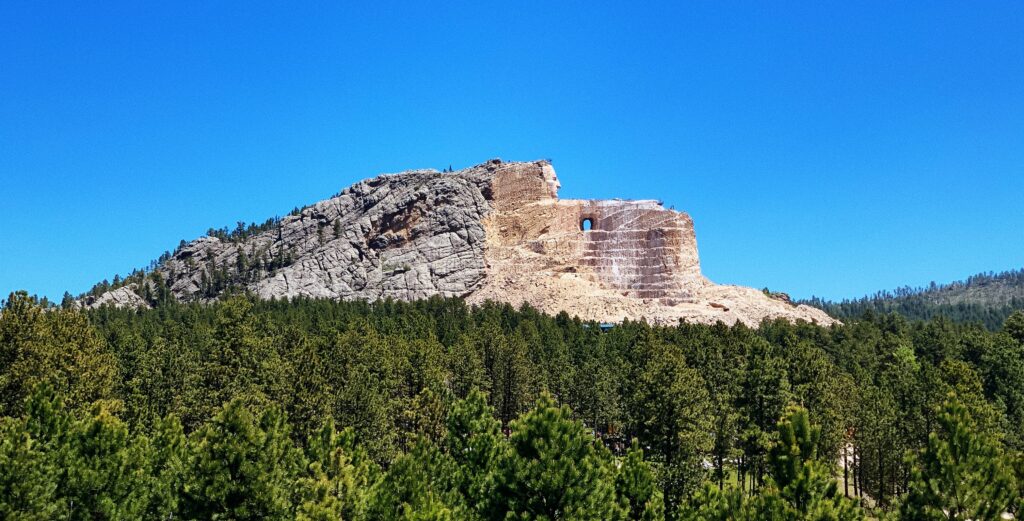 Hill City is a great area for couples while still being close to major attractions like Mickelson Trail, Mt Rushmore, Custer State Park, and Crazy Horse Memorial. It's also full of boutique South Dakota hotels, so there will always be a place to rest your head.
As one of the oldest remaining cities in Pennington County, you can expect to enjoy the historic feel of the city, which only adds to the romantic atmosphere. Hill City is also home to the South Dakota State Railroad Museum, so be sure to pay it a visit!
If you want to get a little closer to the action of Mount Rushmore, you can take the historic 1880 Train for a full-day excursion. The train ride may take a little longer than traditional transport, but the views and romance of the historic locomotive are unparalleled!
Deadwood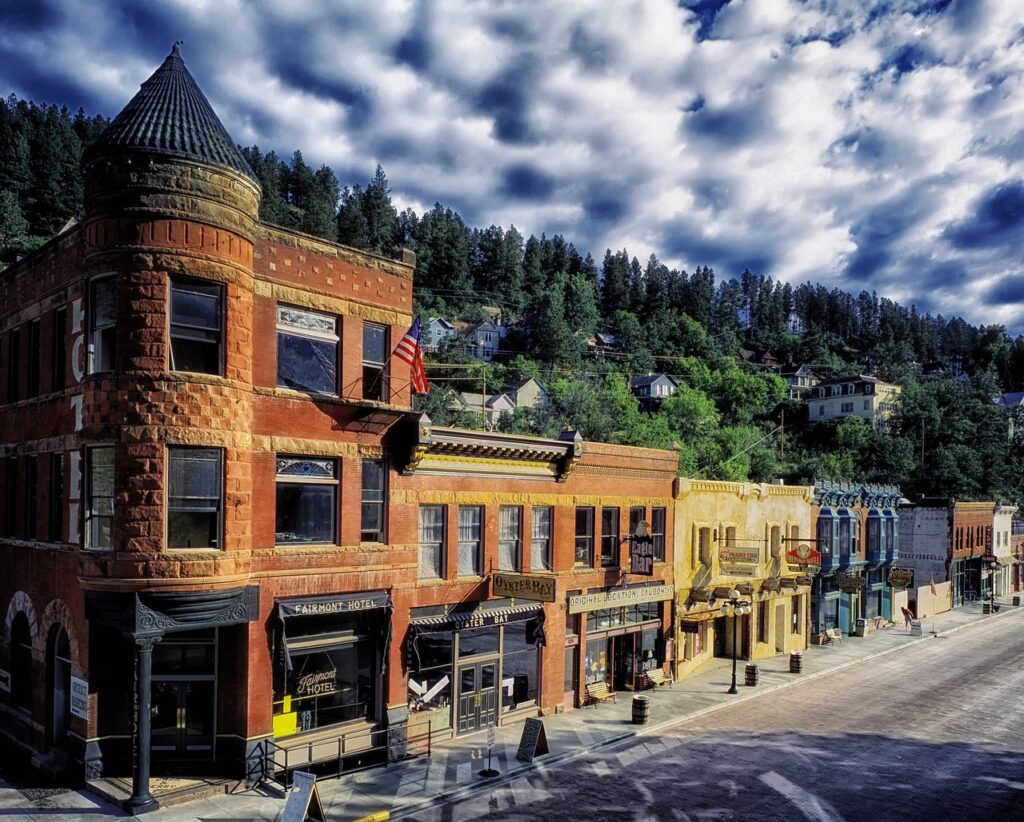 Are you a fan of the old wild west? Or maybe you're looking to immerse yourself in South Dakota's deep-rooted history. Either way, Deadwood is the ideal destination for couples and families alike. You may also be surprised to know that the entire town of Deadwood has been declared a National Historic Landmark!
Deadwood offers a slower experience than other cities and towns around South Dakota and offers more relaxed activities like the walking candlelight tours at Broken Boot Gold Mine. If you're looking for a quiet getaway in a scenic and quaint destination, then Deadwood is the place to be.
Top Excursions & Activities To Do On A South Dakota Honeymoon
With so many sleepy towns and smaller populations, we don't blame you for wondering what exactly there is to do around South Dakota. But don't worry, there's plenty to keep you and your partner occupied!
Most activities center around the state's history, stunning terrain, and, of course, the world-famous Mount Rushmore National Memorial!
Go on a sculpture walk at Sioux Falls
Sioux Falls is a point of interest to most tourists because, in the summertime, the entire city turns into an outdoor gallery filled with sculptures that line the sleepy streets. If you're looking for something to do that won't cut into your budget, this is it!
Go on a train ride on the 1880 Train
With access in Hill City and Keystone, the 1880 Train is an excursion not to be missed! You can get a full view of Dakota's Black Hills, enjoy the relaxing rumble of the train as it moves along the tracks, and spend an intimate ride with your new spouse.
You can find out more about this activity, the train's schedule, and special events, and book your tickets here.
Enjoy a spa day at Akela Spa in Deadwood
Visit the Akela Spa of Deadwood to relax and unwind with your partner for a day of undisturbed tranquility.
Akela is the most popular spa in Dakota's Black Hills and offers a once-in-a-lifetime wellness experience that will leave you feeling rejuvenated and refreshed.
You can check out the spa's packages and treatments and book your perfect day of relaxation here.
Take in the splendor of Mt Rushmore
You can't visit South Dakota without going to the famous Mount Rushmore. Take in the incredible views and enjoy the natural history of one of America's must-see landmarks. Just don't forget to snap a pic for your holiday album!
You can plan your trip to this national memorial and find the latest fees and prices here.
Sample Itinerary & Budget For Your Honeymoon To South Dakota
Before you can finalize your trip, you may want to find out how to spend your time – and money – on your honeymoon. We've included a sample budget and itinerary to help you plan your stay.
| | |
| --- | --- |
| Activity | Cost |
| Travel | $40 per day |
| Accommodation | $850 for sevens days |
| Food and drink | $20 – $100 per person |
| Mount Rushmore | $10 parking fee per vehicle |
| Akela Spa | $205 per person for a basic spa package |
| The 1880 Train | $29 – $34 per person |
For a basic seven-day honeymoon to South Dakota, you can allocate your time according to our itinerary template or draw up your own.
Day one – Get acquainted with your hotel or resort and enjoy any on-site amenities it has. Then, enjoy a romantic dinner for two at the on-site restaurant or one of the local eateries.
Day two – Take a scenic drive and take in all the beauty of the Black Hills. Stop off at a few state parks to enjoy everything this scenic destination has to offer!
Day three – Depending on the season, rent bikes, ATVs, skis, or snowboards for a day of non-stop adventure. In the evening, warm yourself in front of the fire at your hotel or find a restaurant with a fireside dining experience.
Day four – Get your hiking boots on and tackle one of the Black Hills hiking trails. Don't forget to pack plenty of water.
Day five – Jump on the 1880 train and take a trip to Keystone. When you're there, stop at Mount Rushmore and snap a few pictures to show your friends and family.
Day six – Spend a day at Black Hills' Akela Spa for rest and relaxation. Spend the rest of your day walking around the small towns of South Dakota and pay a few visits to the local galleries and museums.
Day seven – Grab a delicious continental breakfast at your hotel and visit a gift shop to grab a souvenir or two as a keepsake of your perfect honeymoon.
Frequently Asked Questions
How much does a South Dakota honeymoon cost?
On average, couples can expect to pay between $1,700 -$3,500 for a romantic getaway. These prices may fluctuate depending on where you stay, whether you're visiting in peak season, and the prices of your favorite activities and excursions.
When is the best time to visit South Dakota?
The best time to visit South Dakota is during the summer when the sun is shining for up to sixteen hours a day. Generally, you should plan your trip between early May and late September to make the most of your getaway.
What is the best way to travel around South Dakota?
Because most attractions are just outside the major towns and cities, renting a car for your honeymoon to South Dakota may be best. Alternatively, you can use shuttle services and public transportation, but they may not take you as far as you'd like to go!
Start Planning The Perfect Romantic Honeymoon Getaway
Now that you're armed with everything you would possibly want to know about South Dakota, you can start planning your honeymoon. With gorgeous scenery and quiet accommodation, this destination is the ultimate spot for a romantic getaway.
If you're still looking for your ideal honeymoon spot, you can check out our other honeymoon guides to find your perfect fit!