Washington, in the Pacific Northwest, really is a state packed with dramatic differences. While the west has dreamy, untouched forests and snowy mountain ranges, the east is home to vineyards, rivers, sandy beaches, and scablands.
There's a host of culture that runs through the state of Washington, something that is intrinsic to its charm. There's a friendly, relaxed vibe coupled with a heady mix of cool nightlife and award-winning restaurants.
In this article, we'll look at the best places to visit, accommodation to suit any budget, the top excursions in the state, and some travel tips, so that you can have the honeymoon of a lifetime in Washington State.
What Makes A Honeymoon in Washington State So Good?
There's something about the Pacific Northwest that oozes romance. Maybe it's the lush green forests or the friendly, welcoming vibe wherever you go. Or maybe, just maybe, it's the dramatic backdrop of the Pacific Ocean. Whatever it is, one thing is for certain: a Washington State honeymoon is hard to beat.
The state of Washington is a big one, so there's always something to see and do. From chilling out in a hot tub in the middle of a forest, drinking a glass of bubbly with your loved one, exploring the bustling cities, and feasting on world-class food, a Washington State honeymoon promises to be nothing but perfect.
Best Areas To Stay in Washington State
There are lots of options open to you on a Washington State honeymoon regarding where to visit and stay. There's out of the way towns and islands or bigger cities. The choice is yours! However, we've compiled a list of some of the best locations in the Pacific Northwest for you newlyweds to potentially consider.
San Juan Islands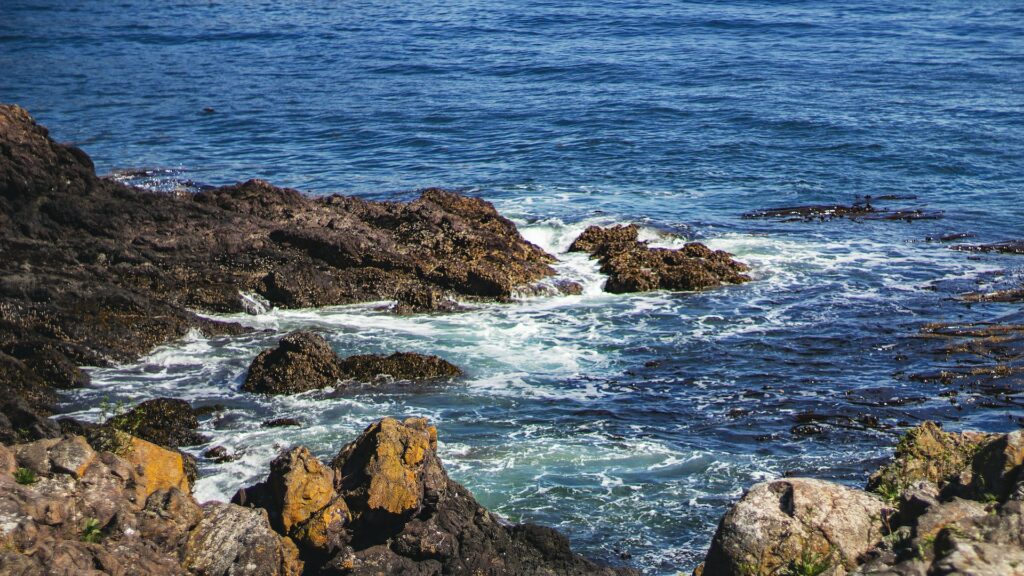 The San Juan Islands are easily accessible from Seattle. Yet, when you arrive, you'll feel like you are in a completely different world. The area offers a peaceful escape from the hustle and bustle of the city, yet there are areas where there are lively locations too.
In the seaport town of Friday Harbor on the San Juan Islands, for example, there are a number of museums, small independent and eclectic shops, and not to mention countless eateries. Many of these specialize in local cuisine, so if you are a seafood fan, the islands could be the idyllic spot for you and your other half.
A visit to Lime Kiln Point Park, which sits on the west side of San Juan island, is a great place for whale watching in the summer months and long, dreamy walks and hiking trails around the area.
Seattle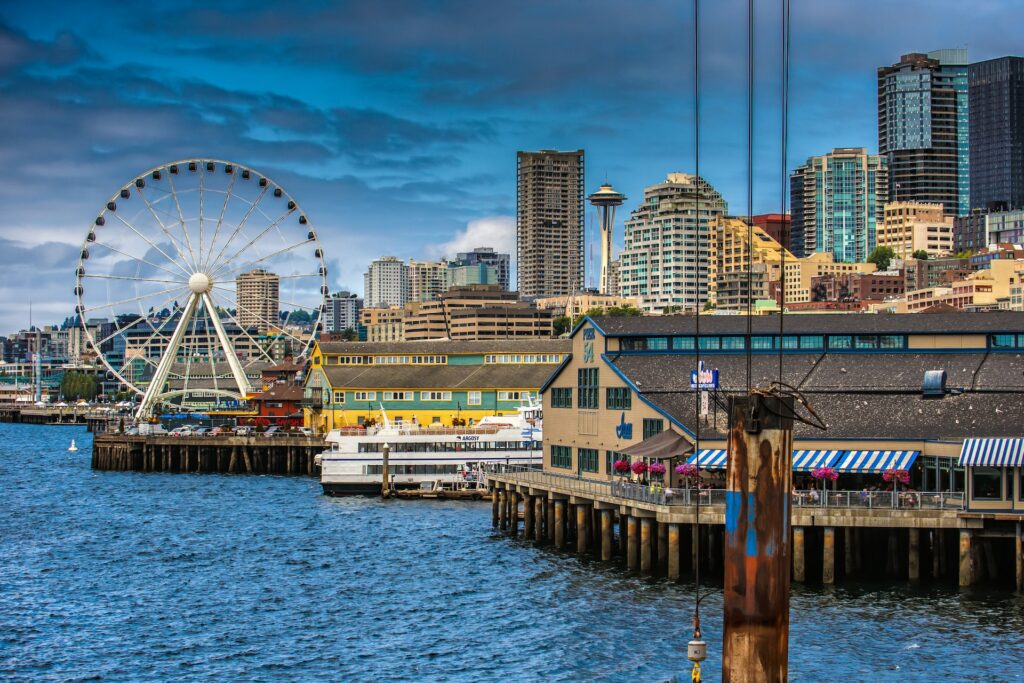 Known as the 'Emerald City,' Seattle offers honeymooners evergreen forests, lush, pretty parks, and plenty of coffee and culture to boot. The city is also known for having some of the best food in Washington State.
Downtown Seattle has a huge choice of restaurants and plenty of opportunities also for drinking Starbucks, people-watching, and a spot of shopping.
It's an exciting city with a unique buzz about it. The central Waterfront has an impressively large Ferris wheel which is pretty much on everyone's bucket list. It makes a lovely and enviable Instagram photo, too!
The Seattle Art Museum is well-known for being a big draw for both locals and tourists alike, running an array of exhibitions, as well as being home to a colossal amount of artwork.
North Cascades National Park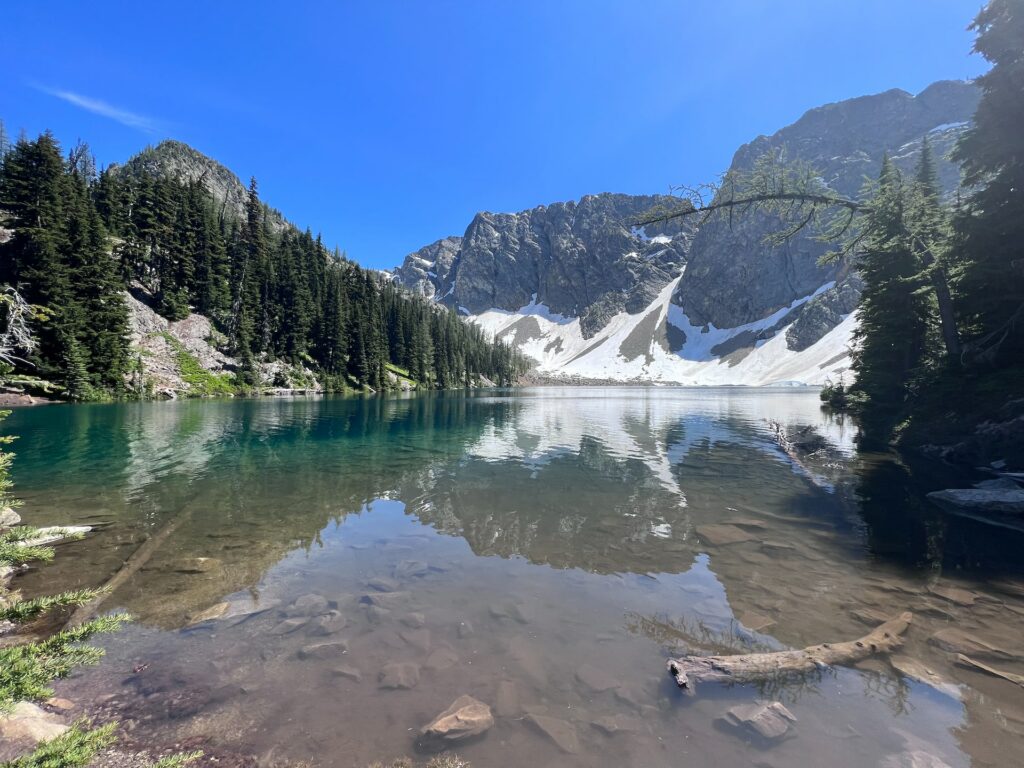 North Cascades National Park really is a hidden gem. As one of the least visited national parks, not just in the Pacific Northwest but the whole of the country, there is rugged wilderness and unspoiled jaw-dropping scenery to take in.
Beaten only by the number of glaciers in Alaska, there are 300 here, as well as a unique and diverse ecosystem. There's plenty of opportunity to bird-watch while you are at North Cascades National Park.
And if you are lucky, you might spot a bald eagle or osprey. There are also more elusive mammals, including grizzly bears, cougars, moose, and wolves.
Langley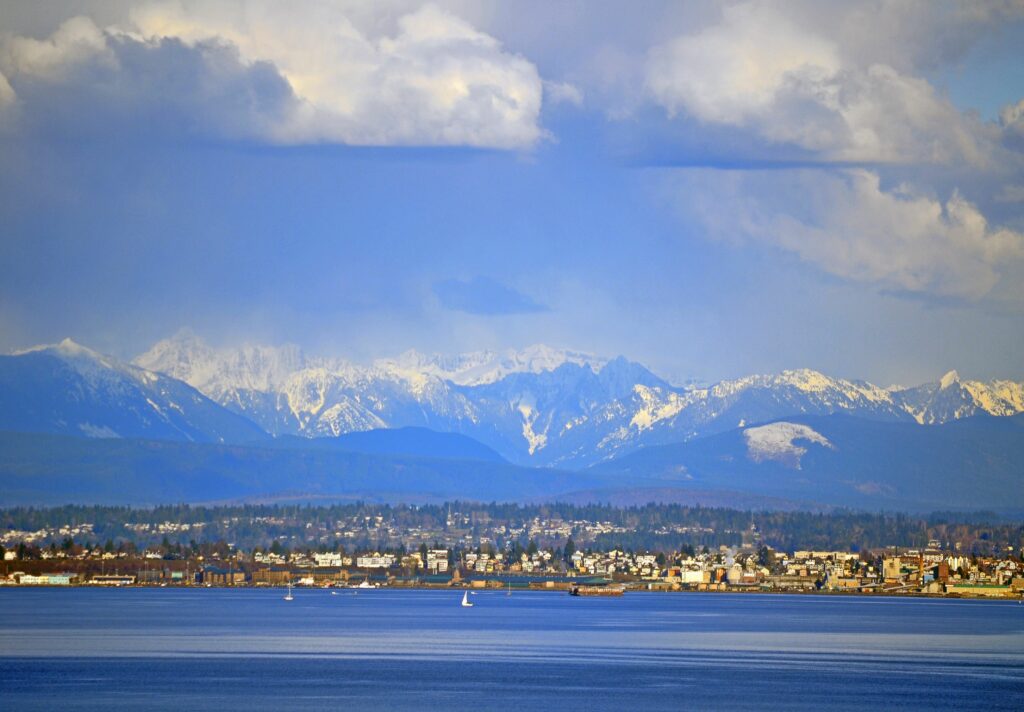 The romantic little seaside village of Langley is the perfect location to stay in or visit as part of Washington State. The area overlooks the waters of Saratoga Passage and runs beside the Cascade Mountains.
It has a truly charming and quaint atmosphere. Each of the streets is lined with historical buildings that act as bookstores, cafes, antique shops, and eateries.
Langley also gives lots of opportunities for whale watching. Plus, you might even want to get out into the water in a kayak. Keep a keen eye out for blues herons and perhaps even those migrating whales!
Best Honeymoon Resorts, Hotels, and Other Stays in Washington State
When considering a Washington State honeymoon, the Pacific Northwest offers a world of choice to appease just about any budget. Below, we've outlined some of the best options, ranging from a stay in a luxury cabin to premium hotels and even an opportunity to camp!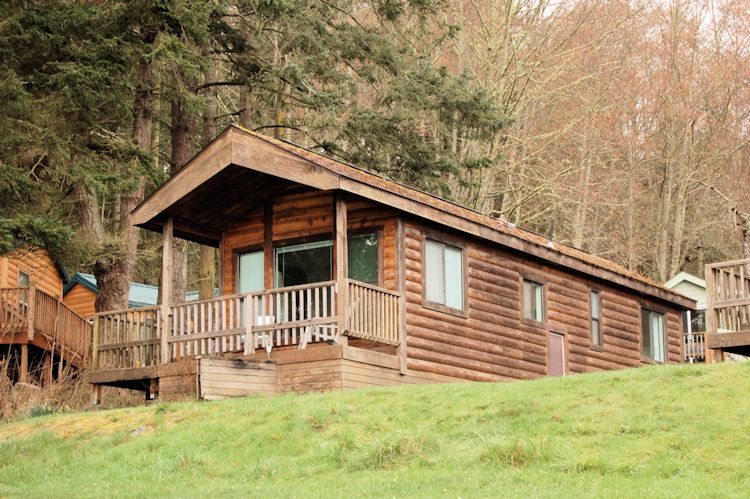 Price per Night: From $159 (minimum stays apply)
Best for: Long stays
Availability: Easy to book
Doe Bay Resort & Spa offers a completely tranquil break away from the daily grind in a unique and awe-inspiring setting.
Located just next to Doe Bay on the San Juan Islands, the resort offers tranquility and back-to-nature activities to help you rediscover yourself.
With hot pools and saunas in a stunning setting, what could be better after the business of your wedding and festivities?
The bath house on the resort is specifically designed as a modern cabin hall. There are relaxing saltwater soaking tubs where you can chill out, as well as a sauna, an on-site bathroom, and an outdoor showing area. People flock from all across the world to stay on the islands, and it's easy to understand why.
When it comes to your sleeping quarters, there's a huge choice available, including yurts, luxury cabins, domes, or even a campsite where you can pitch a tent. Both the yurts and domes are pet friendly if you want to bring your four-legged friend on the adventure too.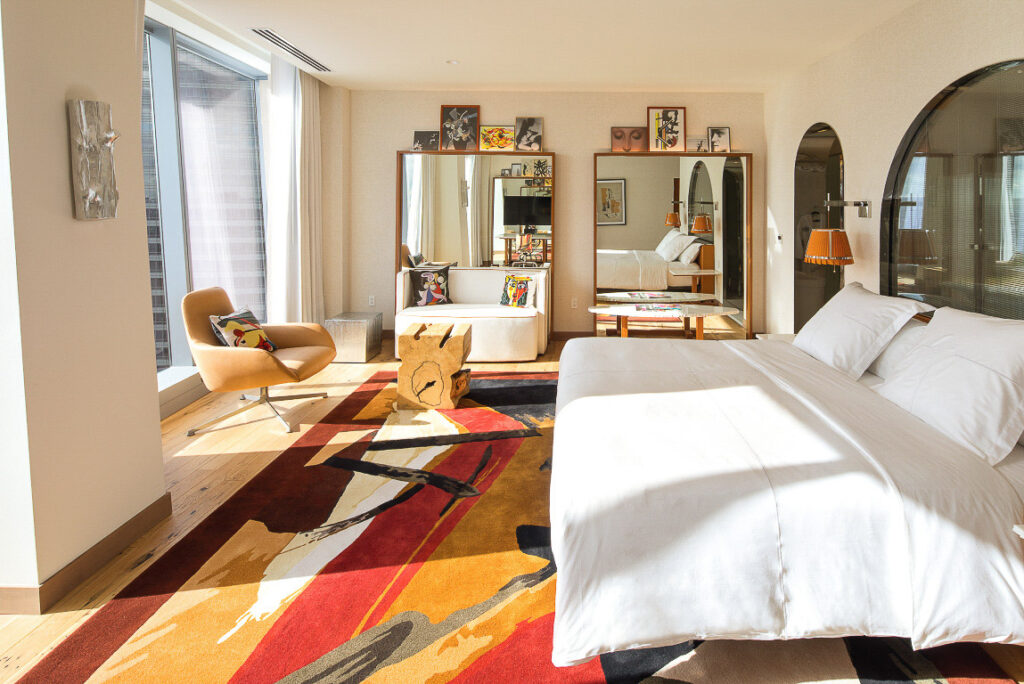 Price per Night: From $360
Best for: Packages
Availability: Easy to book
The brand-new Lotte Hotel in Seattle opened its doors in 2020 and has never looked back.
One of the most exciting hotels in the city, the Lotte Hotel has quickly made a name for itself as a top spot to stay and dine.
Just several blocks away from the water, the hotel has stunning views of both Elliott Bay and the unique skyline of Seattle. In each of the guest rooms, there are incredible floor-to-ceiling windows for you to take in the truly remarkable surroundings.
The hotel is a unique mix of old and new and is centered in a prime location within the city. Nearby, there are bars, clubs, and restaurants, as well as a host of shops and attractions.
Within the hotel itself, there are first-class facilities which include a cocktail bar complete with an extensive menu, a restaurant, and a spa. The hotel also offers a range of packages throughout the year, as well as seasonal offers.
Price per Night: From $527
Best for: Luxury, premium budgets
Availability: Limited
The Four Seasons in Seattle makes the perfect base for a honeymoon in Washinton State. Only a quick walk from the fun and liveliness of Pike Place Market in Seattle or the wonderful performances at Benaroya Hall, the hotel is right in the center of the hustle and bustle of this exciting city.
Each of the 147 luxury guest rooms offers a wonderful view of the Pacific Ocean as well as a cozy fireplace where you and your other half can unwind after a busy day of sightseeing. There's even the Couple's Suite which you can choose for even more indulgence.
If you want to be pampered in style, you can relax in the spa with a massage, facial treatment, or body wrap treatment. There's also an outdoor pool where you can splash around and take in some lengths.
The hotel has an award-winning restaurant that caters well to both meat eaters and vegans alike.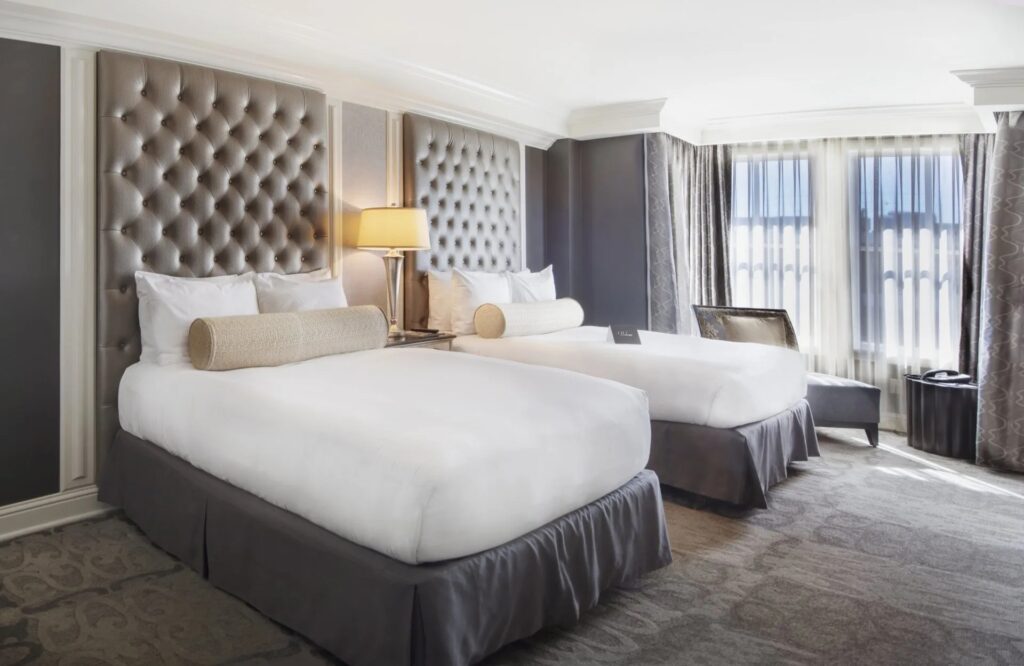 Price per Night: From $289
Best for: Long and short stays
Availability: Easy to book
Hotel Ballard, set in the historic location of Ballard, is a luxury hotel with a reputation to match.
Boasting 29 beautiful and individually designed guestrooms, each has every modern comfort and amenity you could hope for when it comes to the perfect honeymoon.
There's a bridal suite if you really want to push the boat out and celebrate your nuptials in style. There's also a full gym, a swimming pool, a cozy and elegant bar, a lounge, an on-site restaurant, and a 24/7 concierge service, should you require it.
The hotel's restaurant, called The Stoneburger, offers freshly made and high-quality Mediterranean food and is open for lunch and dinner.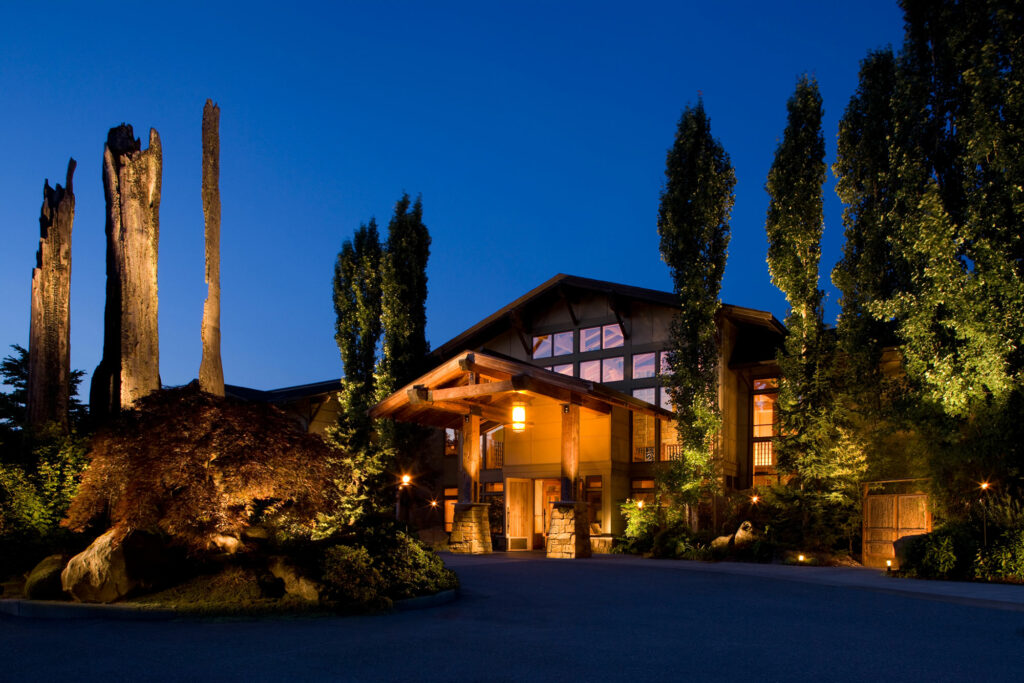 Price per Night: From $386
Best for: Luxury, premium budgets
Availability: Limited
What could be more romantic than spending your honeymoon in Woodinville, Washington's unique wine region? If this sounds like your idea of romance, Willow Lodge could be your perfect base.
With over 110 wineries in the region and a whopping 30 of them within walking distance of the hotel, there'll be plenty of vino for you to learn about and sample on a getaway break with your significant other.
It isn't just all about wine here, however. There are plenty of opportunities nearby for canoeing and boating around the stunning scenery.
In the hotel, there are two restaurants, so you most definitely won't go hungry! The Barking Dog offers good, old traditional American fare, while the Herbfarm Restaurant is a slightly more sophisticated affair, boasting a 9-course wine-paired tasting menu.
There's a meditation pool where you can while away your mornings, or there's a large selection of bespoke massages to soothe your tired muscles after a jam-packed day of adventure and excitement.
Top Excursions & Activities To Do On A Washington State Honeymoon
Whether you are an adrenaline junkie or simply prefer a quieter life, Washington State is packed with a huge variety of excursions and activities to take part in while on your honeymoon. Below, we discuss some of the top attractions.
Seattle Art Museum
The Seattle Art Museum, or the SAM for short, houses art collections ranging from traditional to modern. It is home to an extensive and impressive collection of African artwork, which proves a distinct hit with visitors.
With over 25,000 pieces of unique art, you're sure to have a great day at the museum, which will inject some cultural experiences into your romantic honeymoon in Washington State.
Olympic National Park
The Olympic National Park is one of those places that everyone should visit at least once. However, come once, and it'll be hard to stay away for any real amount of time. The mountains in the area reach peaks of 9,000 feet and are covered in snow.
Meanwhile, on the ground at the Olympic National Park, there are lush, green rainforests dotted around. In between all this is 70 miles of stunningly rugged and captivating coastline.
There are hot springs at Olympic National Park if you and your significant other want to enjoy a swim, or there's a wide variety of trails with pretty streams and flora and fauna dotting the routes.
Mount Rainier National Park
Mount Rainier National Park has an impressive 26 glaziers. But wait, it gets even more thrilling; the area also has an active volcano. Tens of thousands of visitors come here each and every year in an attempt to scale this incredible 14,410-foot natural creation.
It's a great challenge, but a challenge nonetheless, so if you aren't experienced in hiking trails, Mount Rainier National Park could be a challenge you might want to give amiss!
Lake Chelan
Lake Chelan makes the perfect day out regardless of the time of year you choose to go on your honeymoon. The springtime makes it perfect for exploring the lake. There's also a host of neighboring wineries in which you can partake in a wine-tasting adventure.
By the summer, Lake Chelan offers fishing, golf, boating, and a brilliant Farmer's Market. If you and your new bride or groom are into more adrenaline-filled recreational activities, you can opt for paragliding or even skydiving here.
In winter, there are lots of opportunities to ski and snowshoe at Lake Chelan. Afterward, why not relax and get a warming bowl of fresh homemade soup at the Ski Club? Or, you can dance the evening away at the Sunset Bar & Grill, where there's karaoke and amazing food, like loaded fries with maple chili and chocolate sauce!
The Crab Pot
If you are a serious foodie, you must make a stop in downtown Seattle. This is the prime location of The Crab Pot. Not a flashy or fancy eaterie by any means, The Crab Pot lets its food do the talking. Instead of diners being served food on plates, the divine array of seafood, including crab legs, mussels, shrimps, and clams – is all served by the bucket-full!
There's no such thing as small portions here. This eaterie does everything big. If dining on seafood with your other half is your thing, get to The Crab Pot, where you'll have a taste experience like no other.
Leavenworth
Fancy some Bavarian-style culture on your honeymoon? Washington has it in the form of Leavenworth, a small village where lederhosen is just regular attire! The village also offers some of the best German food you can find in all of the United States.
By far, the best time to visit Leavenworth is over the festive season. Come Christmas time, the village turns into a winter wonderland and one of the best places to spend a truly romantic day (or night).
During the winter months, Leavenworth is covered in thousands of lights, and merry carolers descend to spread some festive cheer. You can enjoy the spectacle and then retire to one of the inns with a cozy glass of mulled wine.
If you want to get out and about in the area, the village is the perfect starting point for a number of trails. There are also options to jump on a snowmobile and go exploring. On top of this, there's snowshoeing and skiing, too!
Hoh Rain Forest
Set in the Olympic Peninsula, the Hoh Rain Forest is a specialized theme park that even adults can enjoy. It's meticulously designed as a reminder of the Amazon Rain Forest and is certainly a great way to spend a fun-filled afternoon when in Washington State.
As an ecological learning experience, you can choose to hike the Hall of Mosses Trail, the Spruce Nature Trail, or the Hoh River Trail, which is longer and for the slightly more adventurous.
Sample Itinerary & Budget For Your Honeymoon To Washington State
A romantic getaway to Washington State is by far one of the best places to spend your honeymoon. But are you in need of some more inspiration? We've put together a sample itinerary for a 3-day Washington state honeymoon break to give you some ideas of how to fill your days.
Day 1
Arrive at the Four Seasons in Seattle after a busy day of traveling. Maybe you might want to grab a bite to eat in the stunning restaurants after your journey, or you might want to chill out and relax in your room with some room service and take in the stunning views of the city from your guest room window.
Afterward, why not pamper yourself in the spa with a bespoke massage or luxury skin treatment before hitting the city for some pre-dinner drinks, before back to the hotel for a romantic dinner, and going back to your room in preparation for the adventure tomorrow?
Day 2
Wake up to breakfast in bed before getting ready to explore the area. It's going to be a busy day! After a morning of coffee and shopping in Seattle, why not take a boat ride to the islands of San Juan, where you'll feel like you have arrived in a completely different world?
Take in the breathtaking environment and be on the lookout for whales and eagles. Next, why not take a long, lazy walk through a trail before heading to Friday Harbor for lunch?
In the late afternoon, you can check out a museum or, too, in the city, with the art museum being a special draw for many. After that, you can indulge in some dancing and karaoke at one of the various friendly and lively bars in the area.
Before you retire back to the hotel, you can choose between the amazing restaurants the area offers.
Day 3
On your last day, opt for a late checkout so you can relax, unwind and prepare for your journey home. There's no doubt about it, however: this will definitely not be your last trip to Washington State.
Budget
The below budget is a rough indicator of the costs for a three-day Washington State honeymoon. Of course, many people prefer to stay longer and make a week or even two out of their getaway trip. The below prices are based on peak season prices.
Accommodation: $600
Car hire: $180
Food/drink: $360
Excursions: $100
Spending money: $200
If you are on a budget, the best time of the year to indulge in a Washington State honeymoon is the off-season when prices tend to be lower on accommodation. It might also be a good idea to look out for packages on offer during off-peak season, too.
Frequently Asked Questions
How much does a Washington State honeymoon cost?
Washington, when compared to many other states, offers great value. Regardless of your budget, you can always find somewhere affordable to stay and great things to do. For a week-long honeymoon, expect to pay, on average, $2000 for a full seven days. However, there are both cheaper and premium options out there, too.
When is the best time to visit Washington State?
Pretty much any time of the year is the perfect time to visit Washington state for a fun-filled romantic honeymoon! However, the fall and summer are most popular with visitors.
What is the best way to travel around Washinton State?
By far, the best way to travel around Washington state is by car. This is the only real way to get to some unique, off-the-beaten-track locations packed with the natural beauty that the state is so renowned for, such as the Olympic Mountains.
Start Planning The Perfect Romantic Honeymoon Getaway
The reason why so many newly married couples come to Washington on their honeymoon is that there's just so much to see and do! Whether you want a slow-paced, relaxing break or a more adrenaline-filled adventure packed with exciting sports, buzzing nightlife, and plenty of amazing restaurants, Washington has everything you could ever want.
Before we go, don't forget we have a comprehensive list of Couples Travel resources for you to check out, too! So, why not take a browse, and you can start planning trips to cover your new married life together for years and years to come?