If you and your spouse-to-be are keen anglers, who enjoy outdoor activities, or snuggling up in front of a fire while watching the Northern Lights, then Alaska will make a fantastic honeymoon destination.
Sparsely populated and remote, Alaska's untamed beauty makes a stunning backdrop for your first adventures together as a married couple. We've gathered together the best resorts, cabins, and excursions to make your planning easier and have included some additional travel tips so that you have the best possible honeymoon!
What Makes Alaska Perfect For A Honeymoon
Dramatic landscapes, exciting wildlife, the Northern lights, and stunning hiking trails – are just a few reasons to visit Alaska for your honeymoon.
With a wide variety of experiences on offer, you can choose to cozy up in a cabin for your romantic getaway or take part in an all-inclusive adventure cruise.
With both budget-friendly and luxury options, an Alaska honeymoon can accommodate couples from all walks of life.
Best Honeymoon Resorts, Hotels, and Other Stays in Alaska
Many honeymooners opt to stay in a luxury wilderness lodge when honeymooning in Alaska. Still, there are plenty of cruise ship options, privately owned cabins, and all-inclusive resorts available as well.
Staying near a coastal town will allow you to view the glaciers and the diverse marine life that Alaska offers. You'll also be able to wander through some of the great national forests, such as Tongass national forest. Further inland, you'll find some awe-inspiring National Parks and Preserves to visit and a number of hot springs.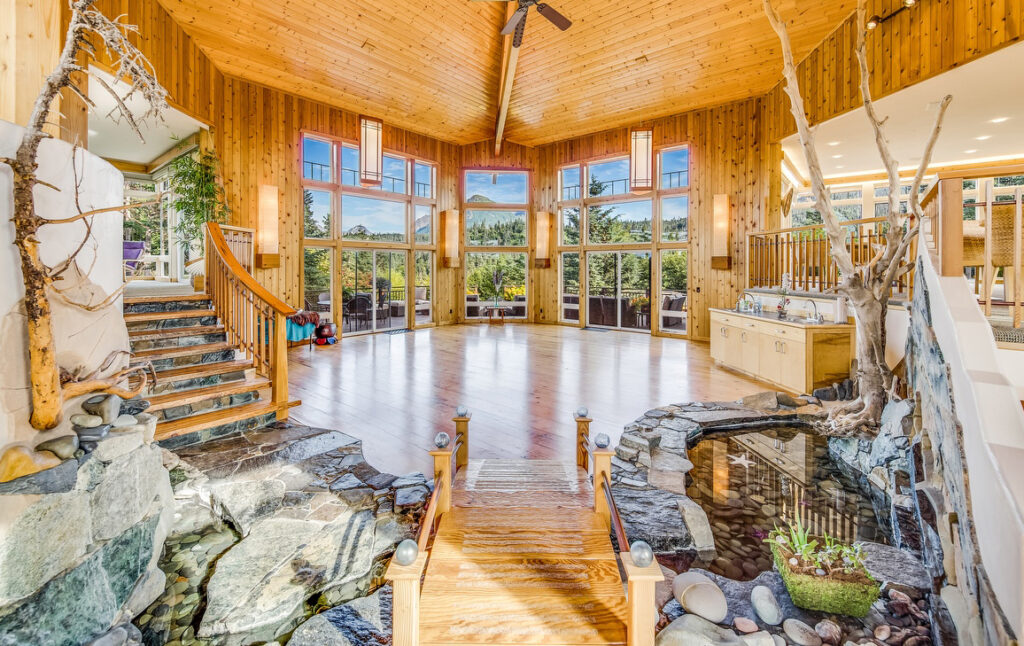 Price per Night: $2200 – $5000 p.p.s
Best For all-inclusive, younger couples, older couples, extended stays, short stays
Availability: Easy to book
Located on the Kenai Peninsula, with stunning views across Kachemak Bay, Stillpoint Lodge is an all-inclusive luxury resort, open seasonally between mid-May and mid-September. They include boat transfer from Homer in their rates and all meals and drinks for your stay.
With a wide range of local guided activities included with your stay, as well as a private wellness session of your choice, this resort won't disappoint. A selection of various group outbound excursions is also included in your stay, dependent on the number of nights you're at the resort.
Once you're back from your chosen excursions, you can relax in the sauna and hot tubs before cosying up in the lounge with a book from their library. Alternatively, you can take a relaxed stroll through the curated organic gardens, which supply the lodge's gourmet kitchen.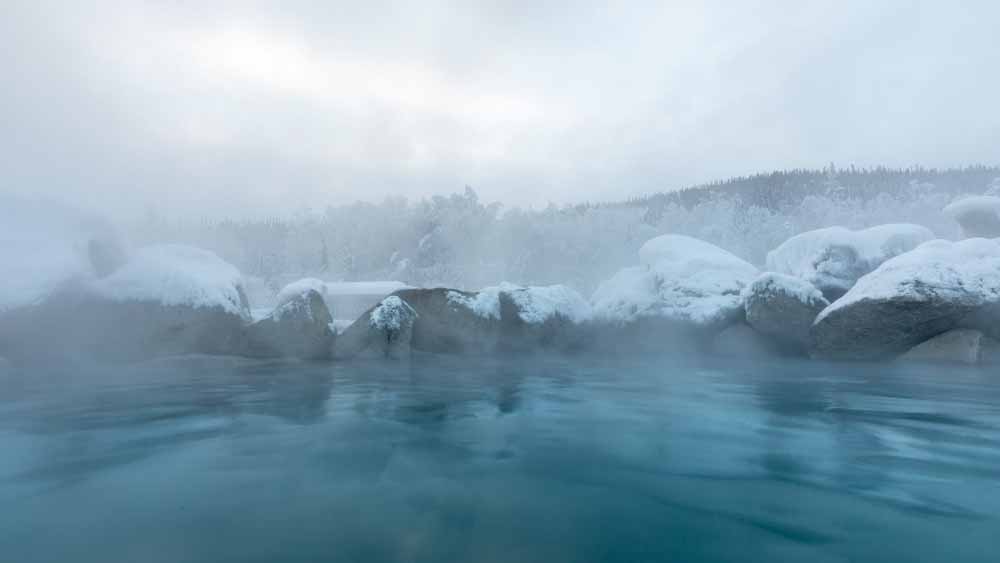 Price per Night: $180 – $300
Best For: younger couples, older couples, extended stays, short stays
Availability: Easy to book
Located east of Fairbanks, between the Chena River State Recreation Area and the Steese National Conservation Area, Chena Hot Springs Resort is a beautiful spot for a romantic getaway.
You can cozy up in the Moose Lodge or in one of their dry cabins in the winter and watch the Aurora. During the day, you can go ice-fishing or dog sledding through the snow. In the summer months, you can have fun touring the area via ATV, exploring the wilderness on horseback, or taking a relaxing scenic river float tour.
Be sure to enquire about their various honeymoon packages for a special treat for you and your loved one. They also offer aurora packages to ensure you get the best possible views of the Northern lights.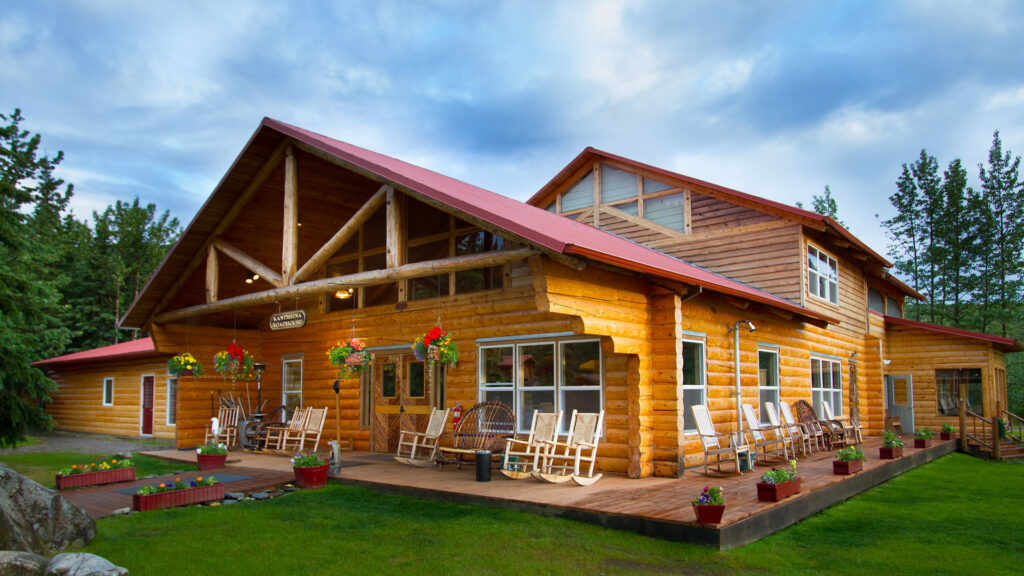 Price per Night: $1050 per person
Best For: All-inclusive, adults-only, younger couples, older couples, extended stays, short stays)
Availability: Limited/Easy to book
While there are plenty of remote, beautiful spots in Alaska, honeymoon goers won't easily be able to top a visit to Kantishna Roadhouse. Geared towards the more adventurous couple, this full-service lodge operates in Denali National Park between June and September.
Currently operating on a fly-in-only basis due to a significant landslide in Denali National Park, the lodge will hopefully return to having road access in the not-too-distant future. Return flights to the resort are $550 per person, with a luggage limit of 25lbs per person, and duffle bags are required.
Due to the lodge's remote location, it is entirely off the grid when it comes to phones and the internet. This gives you the excellent opportunity to connect with each other, be distraction-free, and truly absorb your surroundings' grandeur.
You can spend your days fly-fishing, hiking through the wilderness, mountain biking, or even trying your hand at gold panning! The resort offers daily naturalist and historical presentations related to the area and cultural presentations highlighting some of the unique aspects of Alaskan life.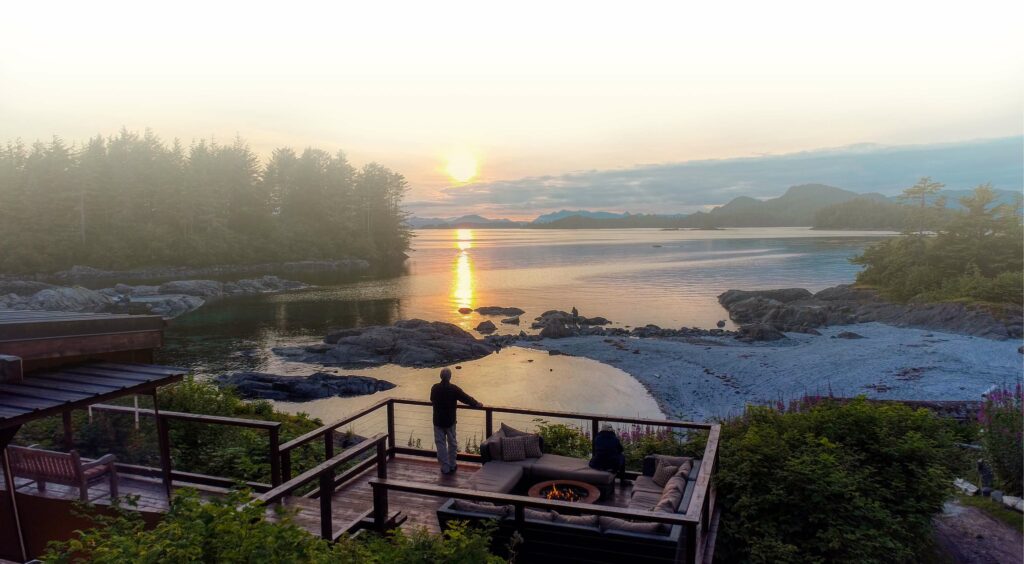 Price per Night: $4895 to $5295 p.p.s (4 nights)
Best For: all-inclusive, younger couples, older couples, extended stays, short stays
Availability: Easy to book
Any angler's dream, this fishing lodge is the perfect spot for your Alaska honeymoon. The experienced skippers will take you to prized fishing spots, whether you want to catch halibut, salmon, or trout, and can take you fly-fishing or out on open waters, depending on what you enjoy the most.
After a day out on the water, you can enjoy a relaxing massage at the resort's spa, followed by sundowners on the lodge deck, soaking in the beautiful views of Alaska's Inside Passage.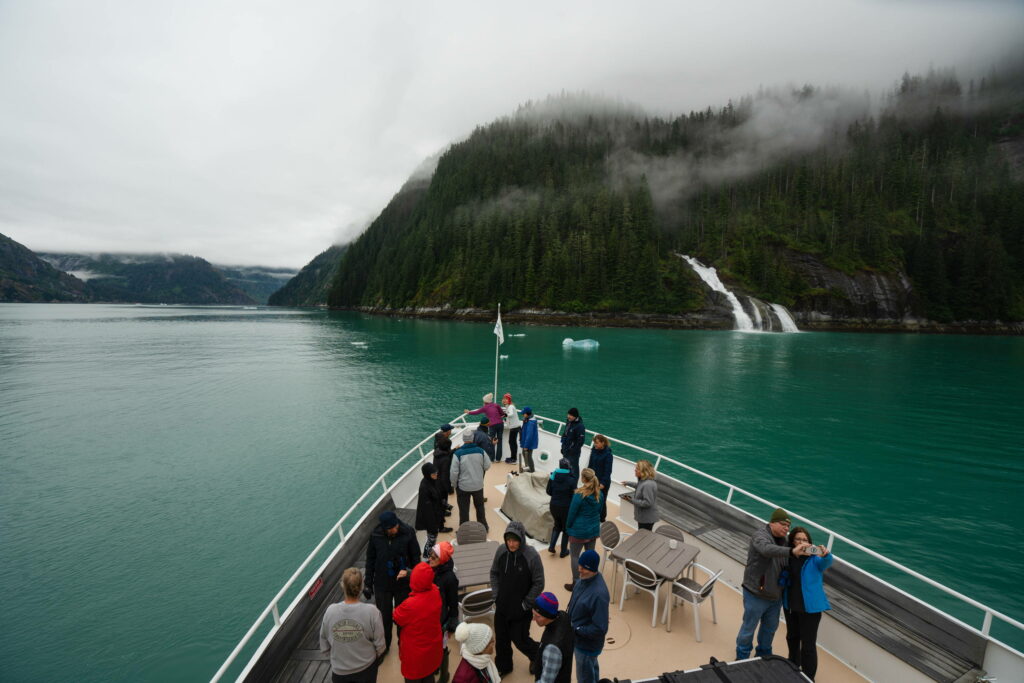 Price per person: $2995 – $8200
Best For: all-inclusive, younger couples, older couples, extended stays, short stays
Availability: Limited
This adventure cruise travels from Juneau to Ketchikan, passing through majestic fjords and passing by incredible glaciers. With various daily excursions, you'll see the best of Alaska's Southeastern natural beauty.
The smaller vessel allows you to access areas inaccessible by the large cruise ships. All cabins have a view, and the smaller number of passengers increases camaraderie and fun.
Throughout the cruise, you'll get the opportunity to explore remote waterways on your kayak, hike in the incredible wilderness and forests, and see an abundance of wildlife from the ship, skiff, and on your daily excursions.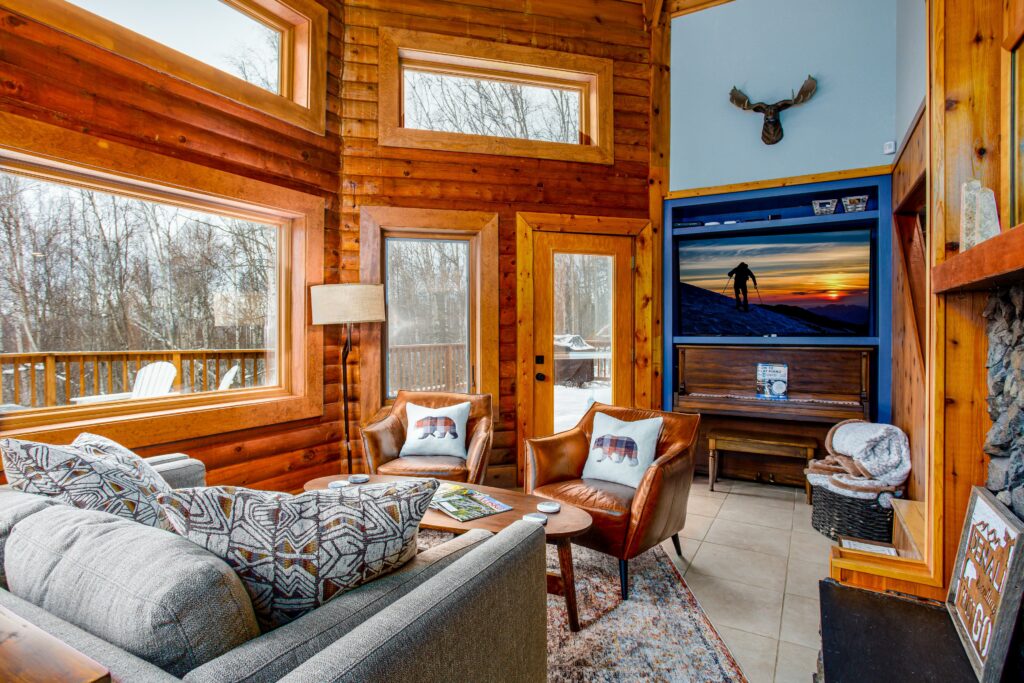 Price per Night: +/- $350
Best For: adults-only, younger couples, older couples, extended stays, short stays
Availability: Easy to book
Located 30 minutes from Anchorage, this well-appointed cabin is a beautiful spot for a honeymoon trip, no matter the time of year – although it is particularly charming in winter!
Cook a meal together in the fully equipped kitchen, then cuddle up in front of the gas fireplace and watch a movie. If you've had a fun day out adventuring, you can treat yourself to a good soak in the hot tub before heading inside to make a cocktail from the bar cart.
This cabin is an excellent base for exploring the many nearby glaciers and state parks, with more fun experiences (such as full-day cruises) only an hour's drive away. If you're missing city life or want to explore some local cultural offerings, downtown Anchorage is definitely worth visiting.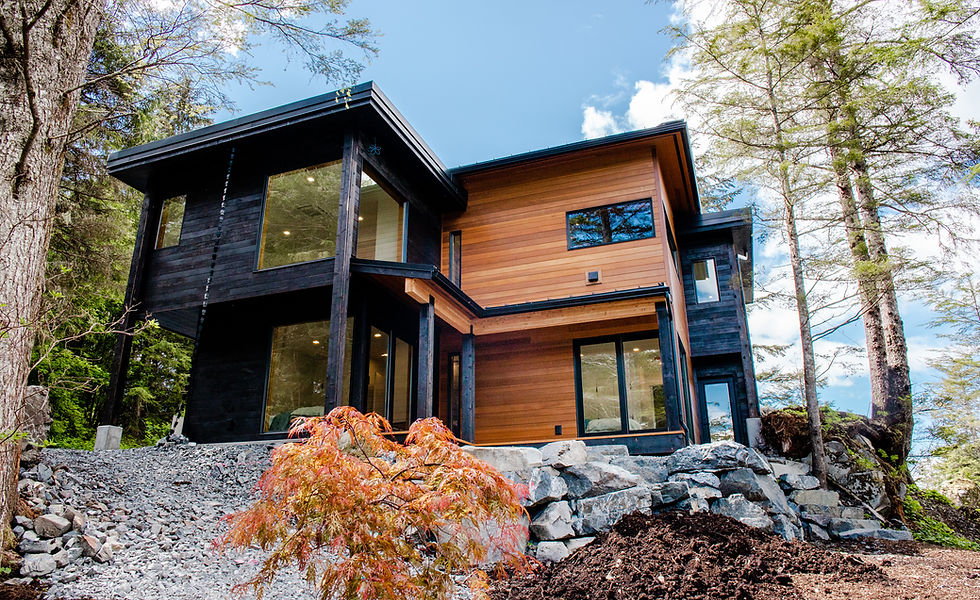 Price per Night: +/- $500
Best For: (all-inclusive, adults-only, younger couples, older couples, extended stays, short stays)
Availability: Limited/Easy to book
This majestic home features a private beach, a fully equipped kitchen, a Japanese tea room (perfect for morning yoga sessions), and fantastic views from every window. Built into a rocky outcrop, the home has incorporated its natural surroundings into its design.
Located in Sitka, the home is within spitting distance of Tongass National Forest, where you can spend the day on various hiking trails or go fishing in one of the many lakes and bays in the region.
After a day of exploring, you can unwind on the couch in front of the fire with a glass of wine and a book. The master bedroom features a king-sized bed with huge windows looking out across the bay.
Best Areas To Stay in Alaska
An Alaska honeymoon can satisfy various interests, from bear viewing to fly-fishing, cross-country skiing to whale watching, or enjoying a full day at the spa. If visiting in the winter, we recommend staying at a resort with hot springs or a hot tub and an indoor fireplace to increase the cozy romance.
Winter stays will allow you to see the Northern lights, whereas visiting in the summer allows for more wilderness exploration. A great way to see the coastline near Juneau is to join one of the many available Alaska cruises, where you'll get to do some whale watching, view magnificent glacier vistas, and possibly spot some sea lions!
For the more adventurous couple, a visit to Denali Park is highly recommended, where you can stay at the Kantishna Roadhouse wilderness lodge while exploring the vast acreage of the park. For a more luxurious and relaxing time, why not book one of the honeymoon packages at an all-inclusive resort near Anchorage?
Anchorage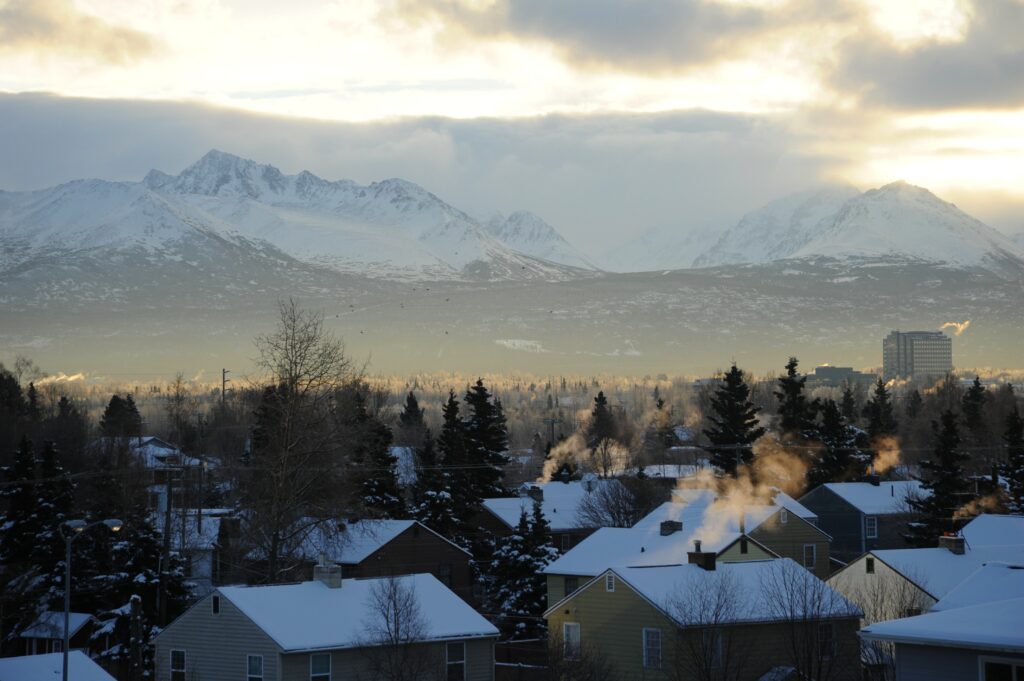 Alaska's most populated city, Anchorage, is also the state's cultural hub. Settled in 1914, it was incorporated as a city in late 1920. The Iditarod Trail Sled Dog Race, established in 1967, starts just outside the city, with the finish line in Nome.
We recommend spending a day exploring downtown Anchorage, the heart of the city. Stop in at the Log Cabin Visitor Centre to find necessary travel information, and plan your day from there. From here, you can visit the Botanical Gardens and plenty of museums, galleries, and statues.
Anchorage is an excellent base if you want to view some magnificent glacier vistas. With over 80 different glaciers within 50 miles of the city, you're spoiled for choice. A trip down to Whittier is worth it – you can join a day cruise on the Prince William Sound, which boasts the most tidewater glaciers in North America.
Denali National Park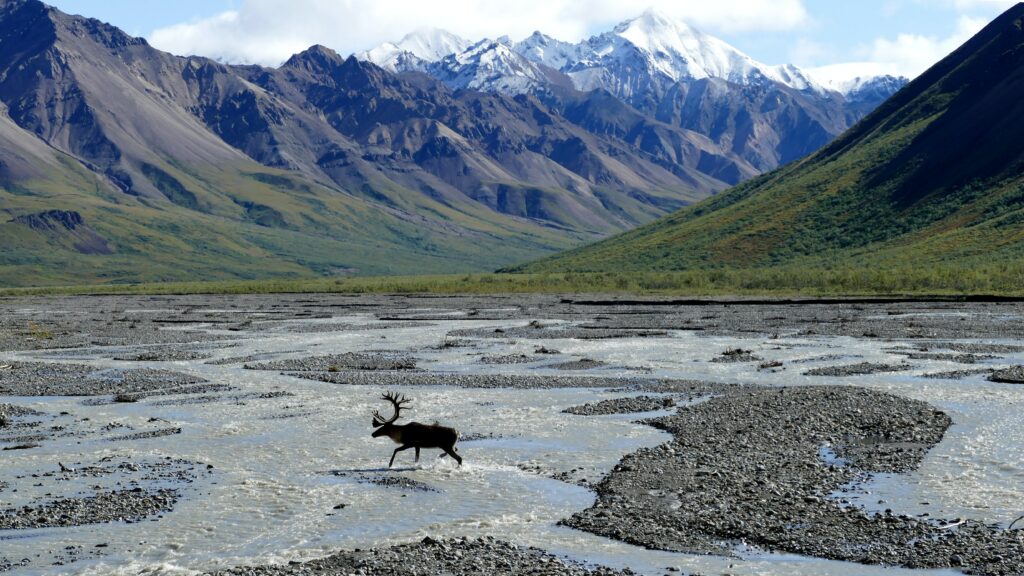 Featuring North America's tallest mountain, surrounded by over 6 million acres of wilderness, Denali National Park is rich in history. Dinosaur footprints have been found, dating back millennia, and human settlements have been discovered, dating back more than 11 000 years.
One of the best ways to see the park is to travel in one of their busses along Denali Park Road. Currently closed at mile 43 due to a landslide, the rest of the road is due to reopen in 2023.
Another great option is to hike on one of the many phenomenal hiking trails in the park. If you prefer to be out on the water, then a boat trip on the Nenana River will suit you well – you can take a scenic float or adventure through the rapids.
Kenai Fjords National Park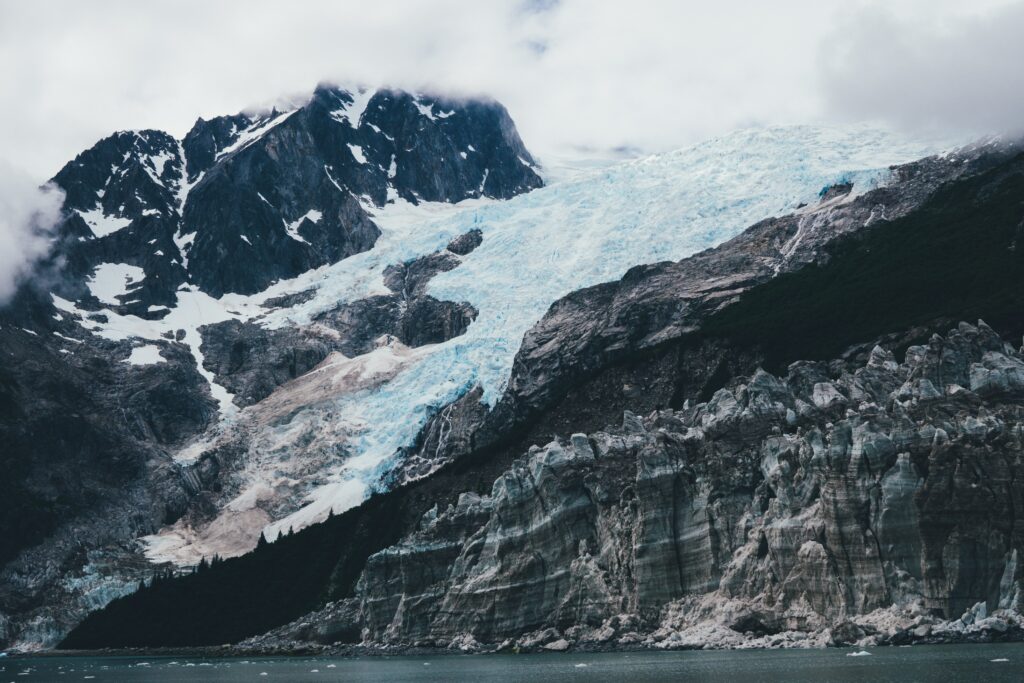 Spanning more than 600 000 acres outside of Seward, this magnificent park was established in 1980 to protect some of Alaska's most pristine wilderness and fauna. It is known for its phenomenal scenery and abundant wildlife.
Joining one of the half or full-day boat tours will allow you to see some of the stunning glaciers, along with some of the wide variety of sea life – you can also enjoy some whale watching on the way.
To find out just how drastically the glacier has shrunk over the years, you can hike the glacier overlook trail and the glacier loop trail. Along the trail, you'll see year markers showing the glacier's size that year. Alternatively, you can take a leisurely drive along Exit Glacier road, which connects Exit Glacier with Seward.
Juneau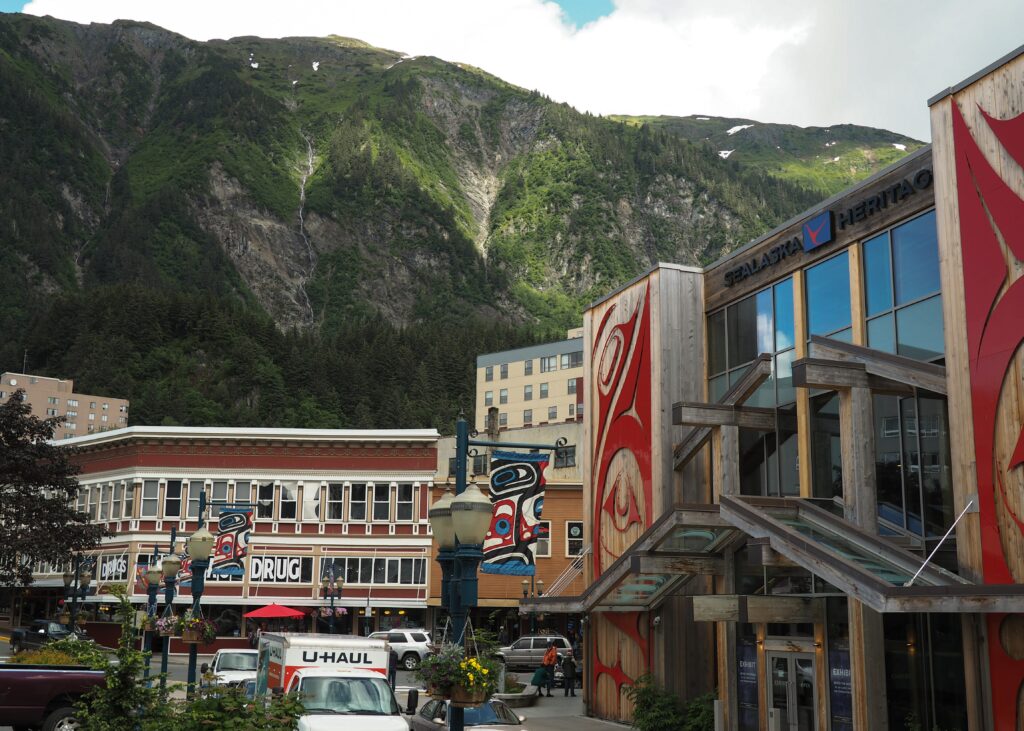 Settled in 1880, Juneau was originally a gold mining town before becoming Alaska's capital in 1906. Located in the American panhandle, this interesting city is considered an island city, as it can only be reached via sea or air, thanks to its dramatic mountainous surroundings.
Spend the day learning about Juneau's fascinating history by visiting the Juneau City Museum and the Alaska State Museum, and if you're up for the walk, a visit to the Last Chance Mining Museum is worth its weight in gold – make sure to see the mining cars at the back.
When it comes to food, the Alaskans have had to learn to be innovative with hunting, fishing, and foraging. Take the Juneau Food Tour, run by a local, to taste some delicious Alaskan delicacies. To see the town from a bird's eye view, take a ride on the Mount Robert's tram – an excellent way to ease the legs after walking around downtown Juneau.
Top Excursions & Activities To Do On An Alaska Honeymoon
While mainly geared towards adventure and nature enthusiasts, Alaska has something for everyone. With a rich and interesting cultural and natural history, there are plenty of places for history and culture buffs to frequent if they need a break from all the hiking, fishing, and kayaking.
Hiking trails – There is an abundance of hiking trails throughout Alaska, ranging from short and easy to long and challenging. Pop in at the local information kiosk to find out about the nearby hikes and which hiking trails could be best for you and your partner.
Fishing – If you and your partner are anglers, you will love an Alaska honeymoon. From open water sports fishing adventures to relaxing days spent fly-fishing in the creek, there is something for every angler to enjoy.
Museums – We highly recommend visiting the many informative museums that can be found in the main cities. Fairbanks is home to the internationally renowned University of Alaska Museum, and there are several interesting spots in downtown Anchorage and Sitka too.
Cruises – From half-day trips to week-long excursions, many different cruises are available in Alaskan waters. If you join a cruise in September, you may see the northern lights while out at sea, which will be particularly spectacular. Cruises are a great way to see the striking coastline and spot some of Alaska's extraordinary marine life.
Sample Itinerary & Budget For Your Honeymoon To Alaska
The cost of an Alaska honeymoon will vary dramatically, depending on what you want to do and where you want to stay. All-inclusive lodges and cruises are several thousand dollars per Night, whereas a private cabin can be only a few hundred dollars a night. Have a look at our all-inclusive and budget-friendly itineraries below:
Seven-night Luxury all-inclusive honeymoon Budget
Activity
Weekly Cost
Stillpoint Lodge
$2,200 p.p.p/n

Food and beverages are included in accommodation rates
Travel estimates
Flights $1,000+ per couple

Airport shuttle included
Excursions
$1,320 p.p
Total
$19,040
Sample Itinerary
Day 1 – After the boat ride to the island, you'll visit the main lodge to get the lie of the land. Then head to your cabin before heading back to the lodge to enjoy a drink at the bar and a scrumptious dinner.
Day 2 – Ease into your Alaska honeymoon by taking a paddle tour of Halibut Cove, followed by a well-deserved soak in the hot tub.
Day 3 – Have an adventurous time spotting bears with a Float Plane Bear Viewing Tour – you can choose how strenuous you want your day to be depending on the tour you select.
Day 4 – Start your day with a tour of the lodge's organic gardens before taking a boat ride to Homer for an art and culture tour.
Day 5 – Spend this day out at sea, trying your hand at catching some local halibut or salmon.
Day 6 – You can have a relaxed day lounging around the lodge, enjoying all it has to offer – read a book from the library, play a game of badminton, visit the meditation cabin, or go for a paddle in the bay.
Day 7 – End your lovely stay with some morning yoga, followed by a short hike in the nearby State park, and finish the day off with a relaxing massage.
Seven-night Budget-Friendly Honeymoon Budget
| | |
| --- | --- |
| Activity | Weekly Cost |
| Queen Birch Lodge | $350p/n |
| Travel estimate | +/- $1,800 per couple |
| Food and beverages | $120 p.p /p.d |
| Excursions | $813 |
| Total | $5,438 |
Sample Itinerary
Day 1 – Check into your luxurious cabin, and have a good long soak in the hot tub before snuggling up in front of the fireplace and watching a movie.
Day 2 – Have a slow morning before taking a leisurely drive to the Alaska Wildlife Conservation Centre, where you can have a bear encounter, and see much of the fauna found in Alaska. In the evening, you'll head to the Alaska Mushing School for a nighttime dog sled ride, where you'll hopefully get a glimpse of the Northern Lights!
Day 3 – Today, you'll spend relaxing at home, enjoying all the cabin has to offer, and making sure to have a relaxing time in the hot tub!
Day 4 – Time to explore the nearby Chugach National Forest, where there are plenty of fun hikes to choose from.
Day 5 – Head to Whittier today to enjoy a Wildlife and Glacier cruise.
Day 6 – Explore the nearby city with a walking tour of downtown Anchorage. This is the area's cultural hub and will keep you interested for a full day.
Day 7 – Spend your last day relaxing and enjoying the cabin's various amenities before heading home tomorrow.
The cost of an Alaska honeymoon will vary considerably depending on the time of year and the activities one wishes to partake in. Resorts and lodges are more expensive in peak seasons, as are things like car rentals.
Bear in mind that you can save a fair amount by doing a DIY tour – the Northern lights, for example, can be seen from anywhere at the right time of year, so you don't necessarily have to book a special package just to see them.
Frequently Asked Questions
How much does an Alaskan honeymoon cost?
A honeymoon in Alaska can cost anything from $5000 for a budget honeymoon to $20 000 for a luxury honeymoon package. It is definitely possible to find an option that will fit your budget. Choosing the right time of year and researching the different service providers makes it possible to reduce costs considerably.
When is the best time to visit Alaska?
For outdoor adventures such as fishing and kayaking, as well as any cruises, it is best to visit Alaska in the warmer months, between May and September. If you want to view the Northern lights, you'll need to visit during the winter, between August and April. The winters are harsh but are great if you want to spend your time cozied up in front of a fire or soaking in a hot tub.
What is the best way to travel around Alaska?
Traveling in your own vehicle allows you to explore various places in your own time. If you'd prefer not to drive, then the Alaskan Railway is highly recommended – make sure to book a GoldStar Service ticket to enjoy the views through their glass domed ceilings. Traveling on a cruise ship is the best option for you if you'd prefer to be out at sea.
How long should you spend in Alaska for a honeymoon?
We recommend spending at least a week in the state for your Alaska honeymoon, as there is so much to see and do. You'll want to make time for some necessary R&R in between all the adventuring, and a more extended stay will result in a more relaxed and enjoyable schedule.
Start Planning The Perfect Romantic Honeymoon Getaway
For a romantic getaway, Alaska has much to offer. From fishing adventures to romantic nights under the stars and viewing the Northern lights, there is something fantastic for every couple. It is difficult not to feel relaxed and content when surrounded by such vast natural beauty, combined with the luxury of Alaska honeymoon resorts.
If the wilderness of Alaska does not appeal to you, why not browse through our other Couples Travel honeymoon guides to find the perfect destination for you and your loved one?