Colorado is the perfect honeymoon destination for adventure lovers or couples who enjoy nature. Known as the Rocky Mountain State, you will find plenty of fun outdoor activities to enjoy together, from hiking to hot air ballooning and horseback riding to world-class skiing on the slopes.
A Colorado Honeymoon can be both an adventure and a romantic getaway – with the various all-inclusive resorts, you can enjoy the best of both worlds. There are also plenty of cozy, privately owned cabins, should you want something more independent and secluded.
What Makes Colorado Perfect For A Honeymoon
Want to honeymoon like you're in the Alps, without having to leave the country? A honeymoon in Aspen will make you feel like you're in Switzerland, without the challenges of a language barrier and with no international travel.
After a busy day on the slopes or exploring the mountains, you can relax in the natural hot springs or take a soak in the hot tub, depending on where you're staying.
If you want to add some cultural activities to your Colorado honeymoon, you can stay in Denver and visit the various museums, galleries, and gardens. In the evenings, you can get spooky with a Haunted Denver food tour or explore your creative side with crafts and cocktails at Upstairs Circus.
Best Honeymoon Resorts, Hotels, and Other Stays in Colorado
From all-inclusive resorts to secluded cabins to fancy hotels in the city and cozy bed-and-breakfasts, there is accommodation to suit all needs in this mountainous state.
If you want to be immersed in nature, you can stay in one of the cabins near one of the state's many National Parks and Forests. If you want to ski, one of the all-inclusive resorts in colorado might be the match for you, and if you're looking for a city vibe, Denver has a range of classy hotels.
If you're honeymooning in peak skiing season, you'll want to look for the less popular or more exclusive resorts unless you don't mind the crowds. By the same token, the cities can get booked up in the summer during the festival season.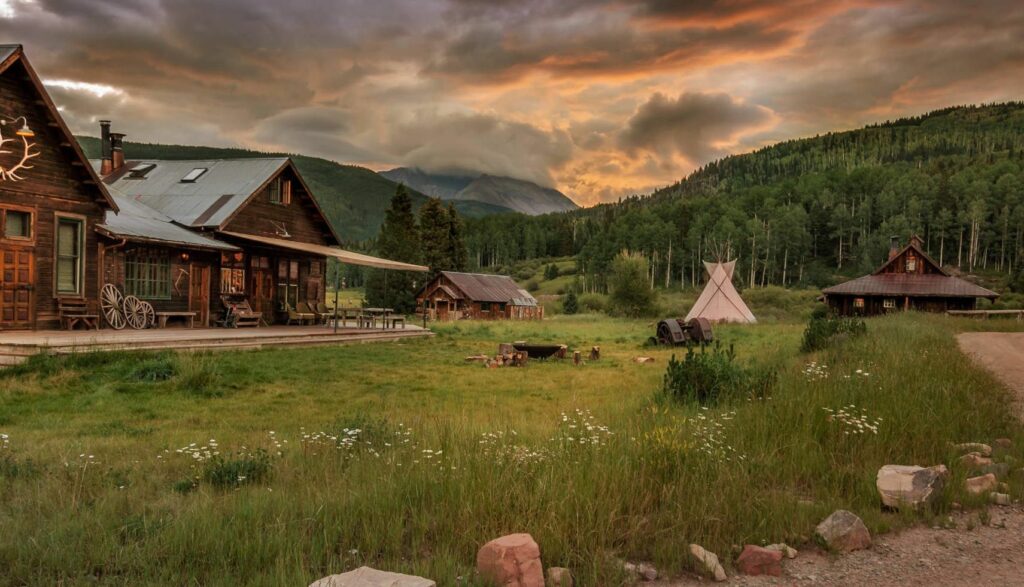 Price per Night: $895 – $3615
Best For: All-inclusive
Availability: Limited during peak seasons
Dunton Hot Springs is a beautifully restored Ghost Town located in the San Juan Mountains with hot springs and well-appointed rustic cottages. To sweeten your stay, we recommend booking the Mountain Romance package add-on for your visit – this includes Champagne on arrival, a custom massage each, and an excursion of your choice during your trip.
In the summer, you can spend your days fly fishing on private waters, horseback riding through the Rockies, or mountain biking through the forests after starting your day with some relaxing yoga. In the winter, you can explore the area on a short snowshoeing expedition or enjoy some hot chocolate and sleigh rides down at the river.
Why not spend some time at their alpine-inspired spa to relax and unwind? They offer various body treatments, facials, and massages, as well as yoga classes and mindfulness sessions.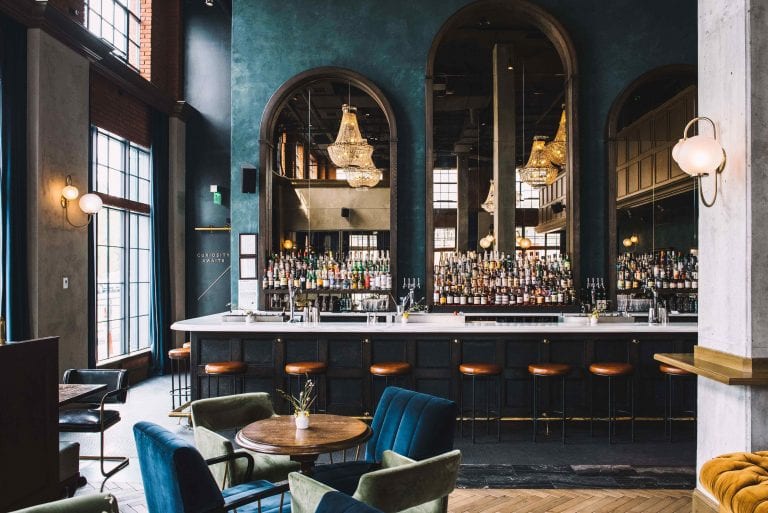 Price per Night: $426 – $534
Best For: younger couples, older couples, long stays, short stays
Availability: Easy to book
Located in Denver's River North Art District, this 50-room hotel was inspired by Madame Rambouillet's 17th-century French Salons and features an intimate theatre and event bar, as well as the first Death&Co Cocktail bar outside of New York.
With a variety of rooms and suites, all designed with double thick walls to reduce noise from inside and outside the hotel, The Ramble Hotel aims to provide the most relaxing experience possible. The rooms feature free wifi, french press coffee (grounds refreshed daily), and a bar curated by Death&Co.
There are many exciting spots to check out in the RiNo neighborhood. This hotel is located in a cultural hub, from galleries to markets to breweries to wineries. There are also plenty of fun day trips you can partake in – why not visit the Rocky Mountain National Park, or head out to the Deckers and Pine areas for some outdoor activities?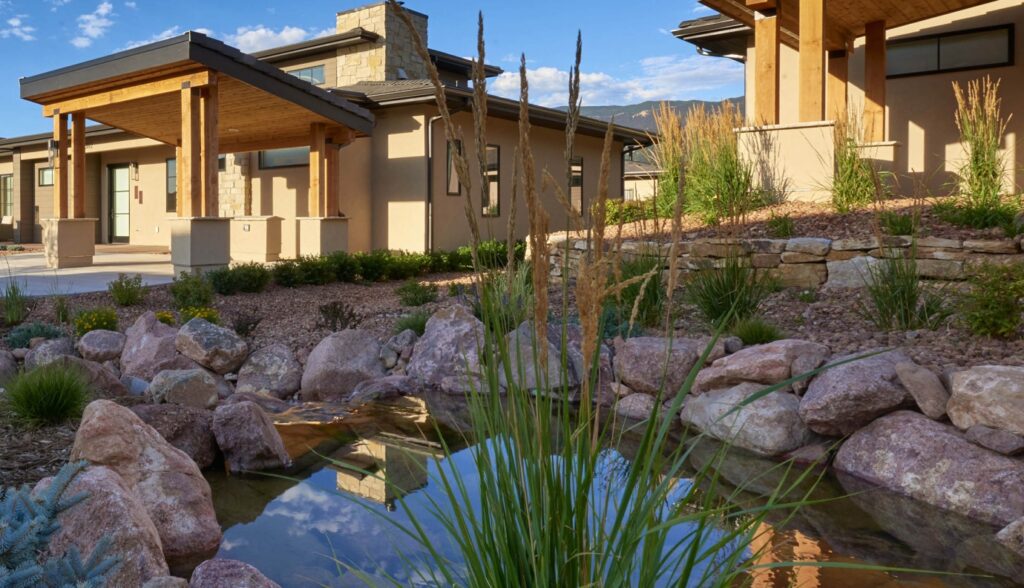 Price per Night: $320 – $1000
Best For: all-inclusive
Availability: Limited
This luxurious all-inclusive resort lies on the outskirts of Colorado Springs. Originally an exclusive club, Garden of the Gods became an open-to-the-public resort in 2007. With the stunning STRATA Wellness Centre, as well as beautiful cottages, casitas, lodge rooms, and suites, this resort caters to a wide range of clientele.
The Club rooms or suites are what we recommend for your honeymoon – they have fantastic views of the Garden of the Gods and come with a wide range of amenities, including a gas fireplace and a Nespresso machine.
While staying at the resort, you can relax with various treatments at the spa or enjoy a variety of sports, from swimming to golf. Alternatively, you can enjoy some guided hiking, take part in a bike tour, or even learn about falconry!
Price per Night: $344 – $754
Best For: (all-inclusive, adults-only, younger couples, older couples, long stays, short stays)
Availability: Limited/Easy to book
Situated in the old Union Station in the center of Denver, this unique hotel honors the rich history of its building, which first opened in 1881. The hotel features 112 rooms and suites,
With the variety of summer activities available in Denver, it's no wonder it's one of the most popular times to visit the city. You can see various farmers' markets, say hi to the animals at the zoo, enjoy the beautiful blooms at the botanical gardens, catch a game at Coors field, or attend a concert at Red Rocks.
We highly recommend adding the destination amenity fee to your booking. This will get you many benefits both within the hotel and throughout Denver – discounts, free drinks and eats, free wifi, a coffee machine in the room, and Tesla Courtesy Transportation within a 2-mile radius of the hotel.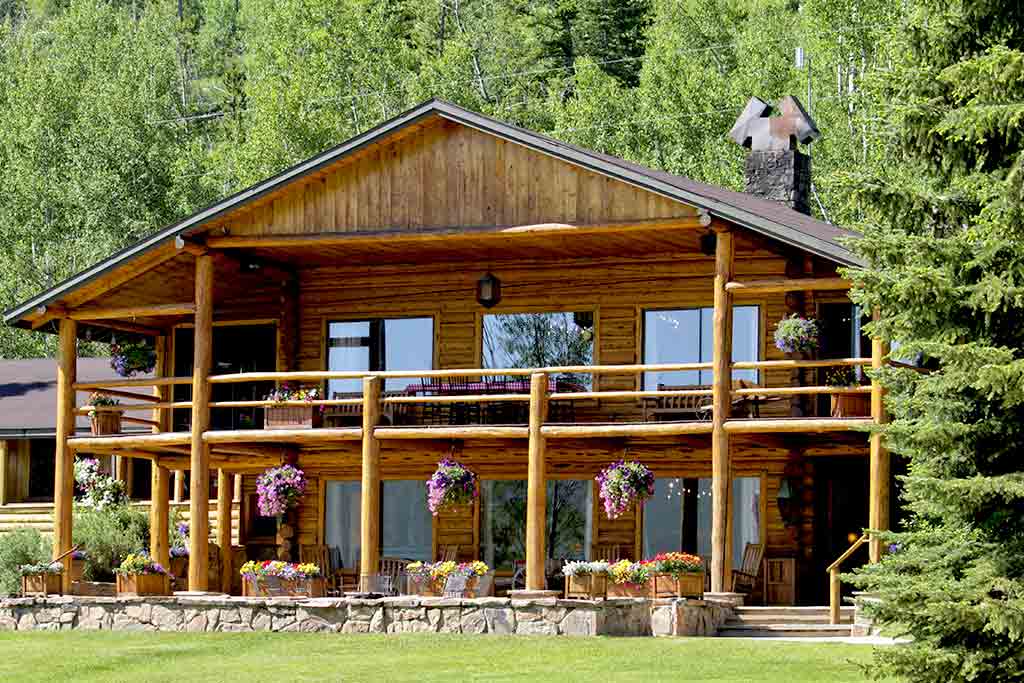 Price per Night: $525 – $1076
Best For: All Inclusive, long stays, short stays
Availability: Limited/Easy to book
This luxury dude ranch is perfect for any couple who loves horseback riding and other outdoor activities. Open year-round, C Lazy U Ranch offers a variety of activities depending on the season; all included in their rates. From snowshoeing and skiing in the winter to mountain biking and hiking in the summer, fly-fishing in the spring, and trail riding and archery in the fall.
The Aspen cabin is their honeymoon cabin, which is open Spring-Fall. This is a cute spot for a romantic getaway with a king bed, ensuite bathroom, and fireplace. Enjoy a lovely trot through the wilderness to enjoy some stunning mountain views, followed by a massage or soak at their unique tented spas.
Price per Night: $810 – $1300
Best For: all-inclusive, younger couples, older couples, long stays
Availability: Limited
Situated southwest of Colorado Springs, this all-inclusive wilderness experience can be found 3000ft above The Broadmoor resort. Open between April and October; this is a beautiful spot for a late-spring, summer, or fall honeymoon.
The lodge rooms and cabins are well-appointed, with all the necessary comforts. The honeymoon suite is recommended if you're staying in the lodge, and for a real treat, a stay in the Fire Tower cabin (featuring a private hot tub) is highly sought after.
With a wide variety of daily activities, you can be as busy as you wish, with archery lessons, hiking, and pickleball, or you can choose to relax in one of the hot tubs, play board games, or take in some bird watching.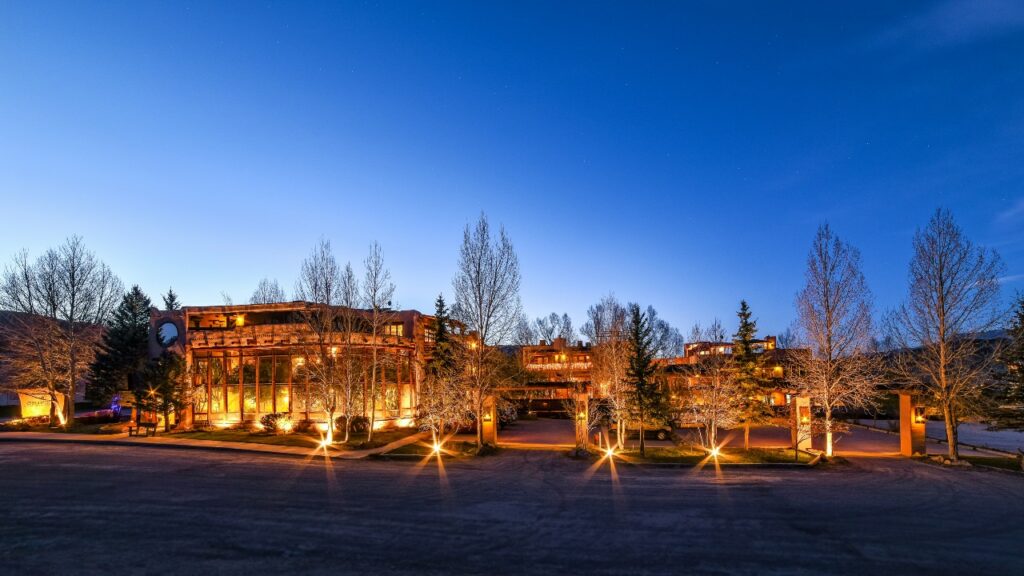 Price per Night: $255 – $415
Best For: (all-inclusive, adults-only, younger couples, older couples, long stays, short stays)
Availability: Limited/Easy to book
If you're looking for a more budget-friendly Colorado honeymoon, Chipeta Solar Springs Resort, situated on the edge of Ridgeway, CO, is the place to go. A 45-minute drive from Telluride, you're close enough to have a fun day skiing while also enjoying a range of other activities at the resort itself – from a narrow gauge railway journey to Jeep tours through the San Juan mountains.
In the summer, you can spend your time kayaking and whitewater rafting on the Uncompahgre River or participate in various water sports at the Ridgeway State Park Reservoir. There are also many interconnected hiking and mountain biking trails, known as the Ridgeway Area Trails.
We recommend using the Summer Honeymoon Package add-on, which includes hot springs passes, Champagne, roses, and massages, amongst other things. From their standard rooms to the more luxurious Locha Studios, Chipeta accommodations offer a rustic charm perfect for a mountain retreat.
Best Areas To Stay in Colorado
A Colorado honeymoon can offer a variety of activities and can satisfy a range of interests. The state's natural beauty is unmissable, but there is also a rich cultural history showcased at several museums throughout the state.
Not only can you enjoy world-class skiing, hot air ballooning, rock climbing, and hiking, but you can also visit breweries, art galleries, and theatres in the Rocky Mountain State. With many cultural hubs being close to ski resorts and the Colorado Rockies, it is easy to get the best of both worlds when enjoying a Colorado honeymoon.
When staying in Denver, for example, you can plan a day trip to explore some rock climbing spots. When in Colorado Springs, a short drive will get you to some fantastic ski resorts.
Denver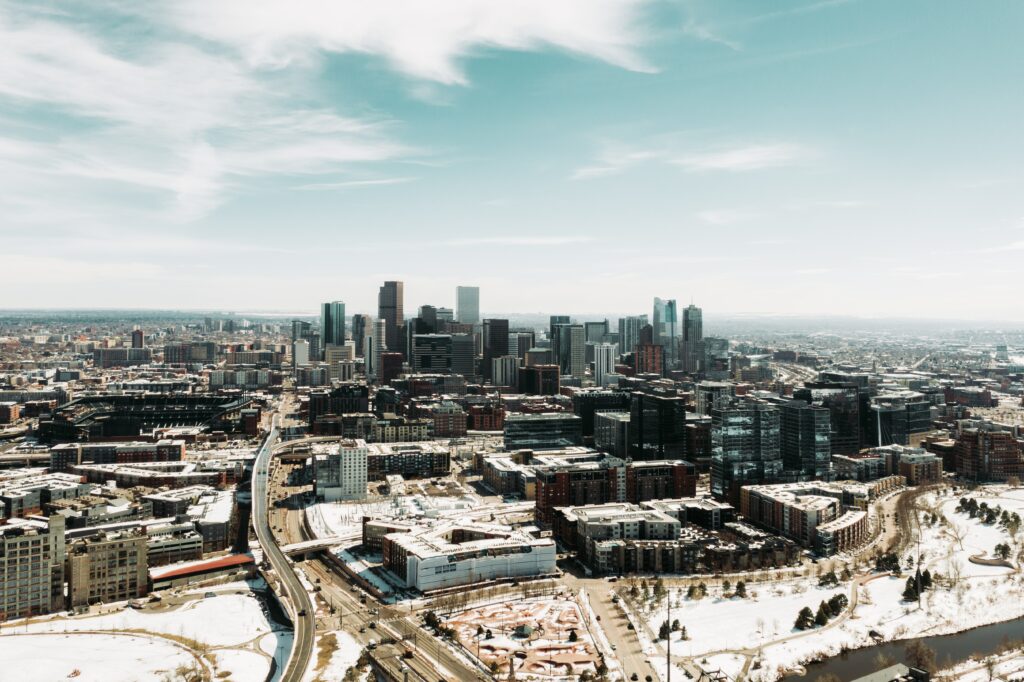 Given the nickname of The Mile High City, thanks to its elevation of 5280 ft, Denver is known for its sunny and mild climate. Initially a stopping place for fur trappers, traders, and Arapaho Indians, the town was formed in 1858 and renamed Denver in November of that year.
While visiting this historic town, take a romantic walk with your partner at the Denver Botanical Gardens, or enjoy a concert there in the evenings. Alternatively, you can catch a game together at Coors Field. If you're more interested in dinner and a show, why not dine at the Clockwork Cabaret – a somewhat risqué, Parisien-styled club in downtown Denver?
Colorado Springs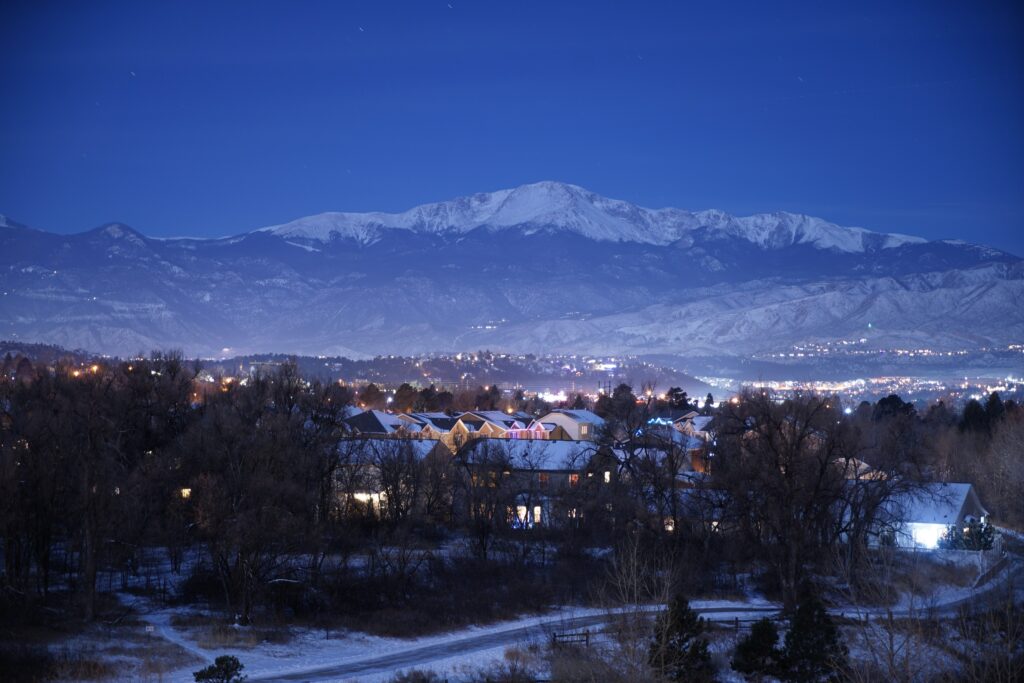 Situated at the foot of Pikes Peak, Colorado Springs was founded by General William J Palmer in 1871. It is the home of the North American Aerospace Defence Command (NORAD), the US Space Command, and the US Airforce Academy. It is named for the nearby mineral springs.
When choosing Colorado Springs as one of your honeymoon destinations, you mustn't miss out on taking your loved one on a romantic hot air balloon ride. If they're not a fan of heights, then a paint and sip evening at Painting with a Twist is a fun alternative. If you'd like to do something more adventurous, take a walk to see the kissing camels in the Garden of the Gods.
San Juan mountains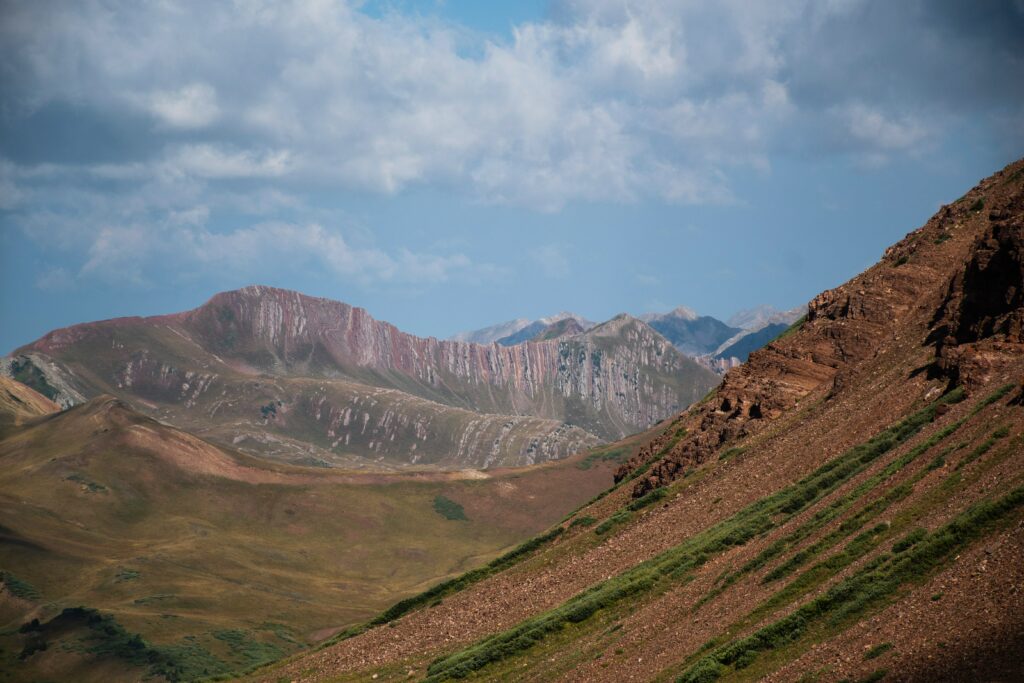 This mountain range is part of the Southern Rockies and snakes along the Rio Grande from Ouray down to New Mexico's Chama river. Early Spanish explorers used two old passes in these mountains, Cumbres Pass and Wolf Creek pass.
If you're keen on high adventure, then climbing Via Ferrata in Telluride will be a perfect couples activity for you. Is history and heritage more of your thing? Then take a tour of Mesa Verde National Park. Are you looking for a short hike? A visit to the Box Canyon Waterfall and Park when passing through Ouray could be right up your alley.
Rocky Mountain National Park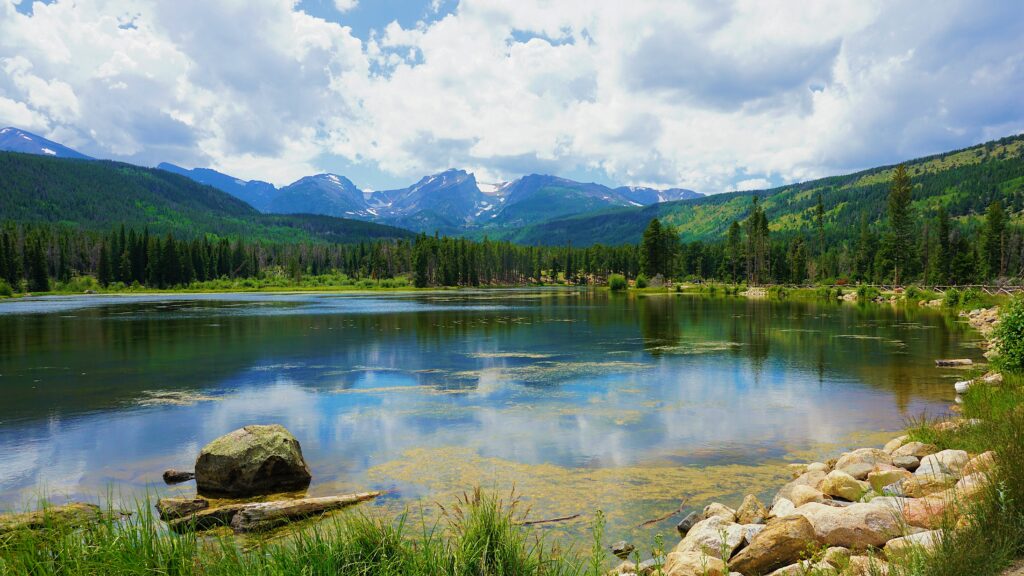 Lying west of the town of Estes Park, the Rocky Mountain National Park is a magnificent mountainous region in North Colorado. This 415 square mile park was established in 1915, and in 1976 it became a UNESCO Biosphere Reserve.
If you can handle the early start, watching the sunrise at Sprague Lake is a romantic way to start your day. If you're night owls, a moonlit walk followed by some hot chocolate is a fun idea. If this is one of your summer honeymoon destinations, we recommend taking in a show at the Rocky Mountain Repertory Theatre.
White River National Forest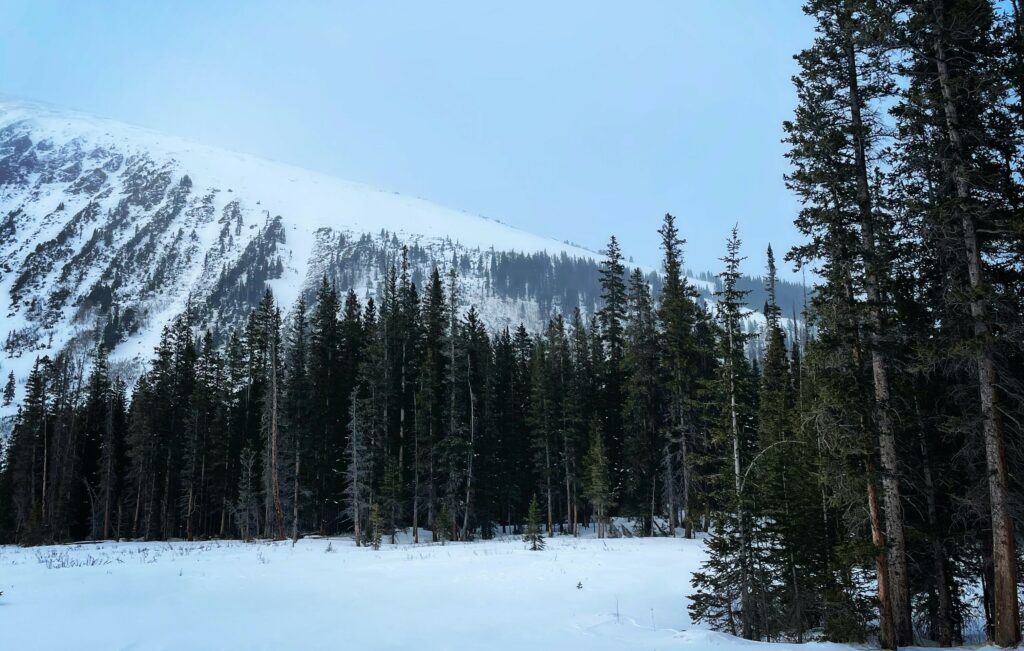 Home to the Maroon Bells and Hanging Lake, as well as boasting ten peaks over 14 000 feet, White River National Forest is a world-famous spot for adventure and exploration. One of the most visited forests in the USA, the region hosts 12 different ski areas.
For a cultural and historical experience, a visit to Breckenridge Historical District is bound to pique your interest. A full day of skiing on the beautiful slopes of the Rockies is a great way to have fun together. If you're honeymooning in July and enjoy trail riding, then a cycle along the 401 trail will be a treat, as there will be wildflowers in bloom!
Top Excursions & Activities To Do On A Colorado Honeymoon
There is something for everyone when it comes to a Colorado Honeymoon – from skiing to horseback riding, soaking in the hot springs to enjoying a spa day, and visiting art galleries to enjoying a beer tasting at a local brewery.
Skiing
There are a large number of ski resorts in Colorado, many offering world-class skiing adventures.
Horseback riding
Whether learning about horses on a dude ranch or taking a casual horseback ride through the rocky mountains, this is a great way to enjoy the natural beauty of the Rocky Mountain State.
Spa day
Many resorts and hotels mentioned above offer spa services on their premises, sometimes even as part of the package. Treat yourself and your loved one to a romantic day of relaxation and rejuvenation.
Art galleries
If you enjoy a leisurely walk through a gallery, you won't be disappointed with what you find in Colorado's major (and minor) cities. There is something for every taste, from modern art galleries to sculpture gardens.
Sample Itinerary & Budget For Your Honeymoon To Colorado
Whether you choose to stay at a luxury hotel, an all-inclusive luxury resort, or a cozy cabin, the budget for your romantic getaway could vary dramatically. We've provided a sample budget and itinerary below for a luxury and budget-friendly honeymoon.
Seven-night Luxury all-inclusive Hot-Springs Honeymoon
| | |
| --- | --- |
| Activity | Weekly Cost |
| Dunton Hot Springs | $895 – $3,615 p/n + $1,225 Mountain Romance add on package |
| Travel estimates: | |
| – Flights | +/- $2,000 per couple |
| – Airport shuttle | free |
| – Bus | $100 – $125 |
| – Metered taxi | $175 – $215 (one way) |
| – Car rental | $800 (small SUV, excl fuel) |
| Food and beverages | Included in accommodation rates |
| 3-5 excursions | |
| – Sand Canyon Hike and Wine Tour | $245 p.p |
| – 1.5hr dog sledding ride | $1,200 |
| – Backcountry Skiing | $425 p.p |
| – Sleigh ride & dine | $1,500 |
| Total | $14,330 |
Seven-night Budget-Friendly City-based Honeymoon
| | |
| --- | --- |
| Activity | Weekly Cost |
| Sweetheart City Sanctuary | $200p/n |
| Travel estimates | |
| – Flights | $2,000 |
| – Car rental | $800 |
| Food and beverages | $150 p.p /p.d |
| 3-5 excursions | |
| – Exploration of Rocky Mountain National Park | $60 + fuel |
| – Biking at Devils Backbone Open Space | $10 + fuel |
| – Self-guided art tour | free |
| – Fishing and picnic at Sleep Hollow Park | free |
| Total | $6,370 |
It is essential to remember that the various costs involved will be affected by the time of year. Peak seasons are always more expensive and much busier. They will vary from place to place, but the ski resorts are more popular in winter, and the cities are more popular in summer.
Be sure to do your homework regarding travel costs as well – in some places; it may be more affordable to use public transport and in-house transportation rather than renting a car.
Frequently Asked Questions
How much does a Colorado honeymoon cost?
A honeymoon in Colorado can cost between $6000 and $15000, depending on whether you are looking to stay at an all-inclusive, luxury resort or planning on doing a more DIY, budget-friendly honeymoon.
Sometimes the all-inclusive places can work out to be more affordable than the DIY options, so make sure to check your sums carefully when planning your honeymoon. Time of year also makes a significant impact, depending on what you want to do. Be sure to look out for off-season specials and packages.
When is the best time to visit Colorado?
The best time to visit Colorado depends entirely on what you want to do. A fantastic skiing experience is best suited to a winter honeymoon. But if you want to do lots of hiking, river rafting, and rock climbing, then summer is the better season for a visit.
Cultural visits can happen year-round, so if you're not big into boisterous activities, you can choose the best time for you and your budget.
What is the best way to travel around Colorado?
If you want to travel through the rocky mountains, it can be advisable to do so in your own vehicle (or a hired one). If you're planning on staying in one of the cities, you can opt to fly in and use public transport or metered taxis instead. A fair amount of travel within the towns and cities can be enjoyed on foot, especially in the warmer months.
How long should you spend in Colorado for a honeymoon?
We recommend spending at least a week in colorado for your honeymoon. A fortnight would be better, as it will allow you to spend a decent amount of time at the different spots. Some accommodations offer discounts when staying for a week or longer, so keep an eye out for this when booking your stay.
Start Planning The Perfect Romantic Honeymoon Getaway
One of the favorite honeymoon destinations for adventure-loving couples, Colorado provides many fun athletic activities throughout the year but also offers many cultural activities. Whether you want to cozy up in front of a fire or wander through a field of wildflowers, romance will find you in the Rocky Mountains.
If Colorado isn't up your alley, look at our many other guides for information on planning a wonderful honeymoon in the location of your dreams! From Montana to the Maldives, we've got you covered.