When you think of the Caribbean, you imagine miles of white sandy beaches, warm blue waters, and cocktails by the pool. A honeymoon in Antigua offers all that and more, and is just a short flight from the US!
Antigua is a large island that forms part of the island nation Antigua and Barbuda. This 108 square miles of tropical paradise is perfect for honeymooners who want to relax, unwind, feel the sun on their skin, and sip on some amazing rum.
With a beach for each day of the year (seriously, Antigua has 365 beaches!), and plenty of luxury Antigua honeymoon resorts, it is easy to see why Antigua has become such a popular tourist and honeymoon destination.
Read on to find out more about the best luxury stays and some of our favorite activities to enjoy while on your honeymoon in Antigua.
What Makes Antigua Perfect For A Honeymoon
If the 365 beautiful beaches are not enough to convince you to plan your honeymoon in Antigua, then perhaps the luxury resorts will do the trick. From all-inclusive resorts to couples-only escapes, it is almost as if the accommodation options in Antigua have been specifically designed with honeymooners in mind.
Antigua also has the most pleasant weather of all the Caribbean islands, averaging at 84°F year-round. Of course, this doesn't mean that each day is perfect. December to April has the least amount of rain, while July and August bring hurricanes – so best to avoid those months!
It is also incredibly easy to reach Antigua from the States, with several airports offering direct flights to Antigua. Antigua is an English-speaking nation, and they use the American dollar as their currency, which means Americans will get on incredibly easily while traveling (just make sure to drive on the left-hand side of the road!).
Apart from the beaches and tropical paradise, Antigua also has an interesting military history. Antigua was an important harbor for the British Royal Navy, and Nelson's Dockyard has been declared a UNESCO World Heritage site. You can also see a lot of military buildings, barracks, and even a fort. So, although the beaches are a great attraction, history buffs will also have a great time.
Best Honeymoon Resorts, Hotels, and Other Stays in Antigua
There is no shortage of hotels and resorts in Antigua. All-inclusive resorts are the most popular type of accommodation, and most of these have access to private beaches. This does not mean you will have to splurge on the most expensive accommodation, as there are hotels to suit every budget.
With so many resorts to choose from, we have narrowed down our top ten picks for the best resorts in Antigua to consider for your
honeymoon.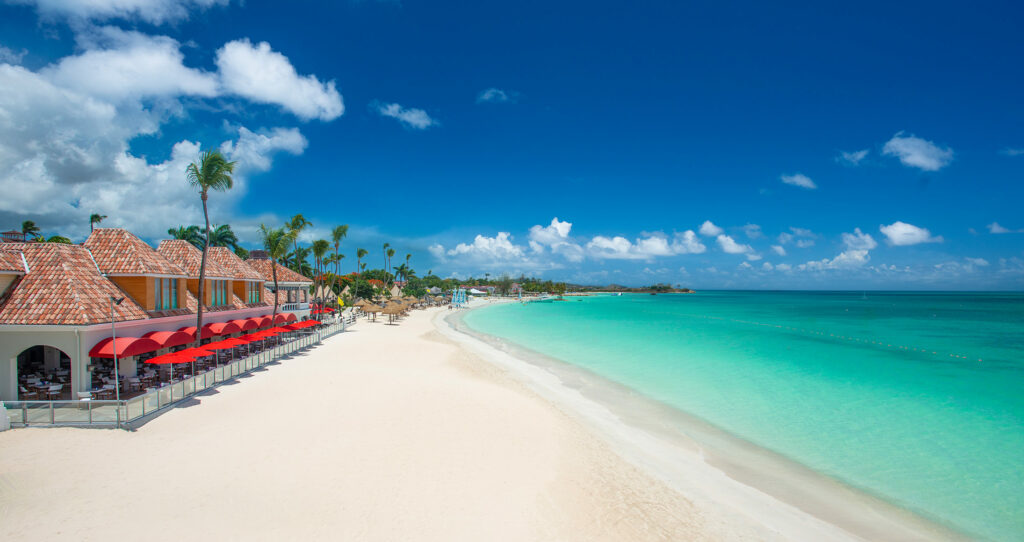 Price per Night: $299 – $941 pp/pn
Best For: Adults-Only, All-Inclusive
Availability: Easy to book
Sandals Grande Antigua has been voted the "World's Most Romantic Hotel", and it is easy to see why.
Situated on Dickenson Bay, this amazing adults-only oasis has plenty to offer for guests. Beautiful gardens, five-star dining, spa treatments, entertainment throughout the day and night, and plenty of activities – it is easy to see why this all-inclusive resort is so popular with honeymooners.
There is also no shortage of room options at Sandals Grande Antigua. You can get rooms with butler service and private plunge pools, terraced balconies, ocean views, standalone rondavels, and poolside rooms.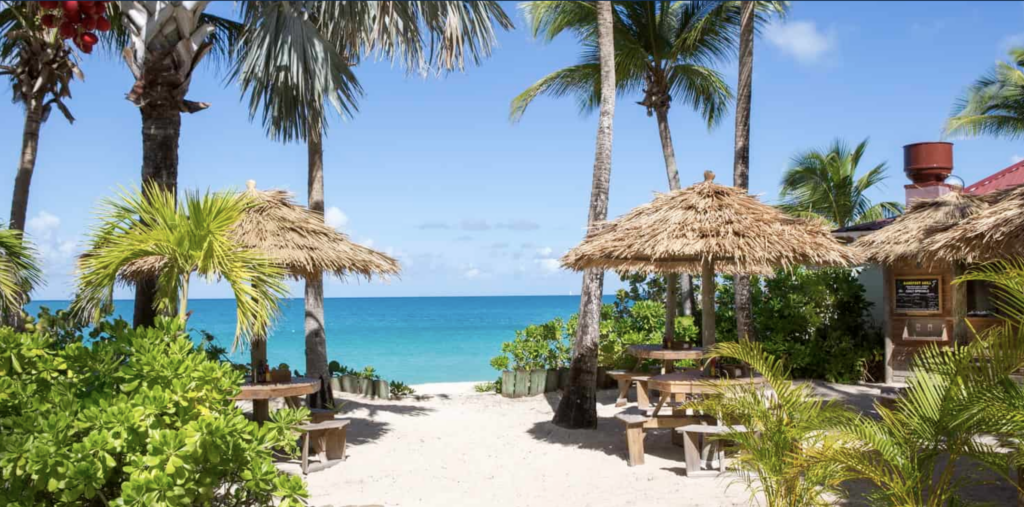 Price per Night: $894 – $961 (note: minimum stay of 3 nights)
Best For: All-inclusive, Adults Only
Availability: Easy to book
If you are looking for a romantic resort, then Galley Bay should be on the top of your list of honeymoon destinations. Galley Bay Resort and Spa offers an authentic Caribbean experience, with all-inclusive luxury, and no children to be found.
This resort is situated on a private beach on the west coast, amid acres of lush, tropical gardens. The Indulge Spa on site is the perfect place to get rid of that wedding planning stress, or you can dine at any of the six food establishments at the resort.
There are rooms and suites to choose from, and if you want to get wet, this all-inclusive resort offers plenty of water sports, as well as tennis, a gym, or cycling around the resort.
Note: there is a minimum stay of 3 nights.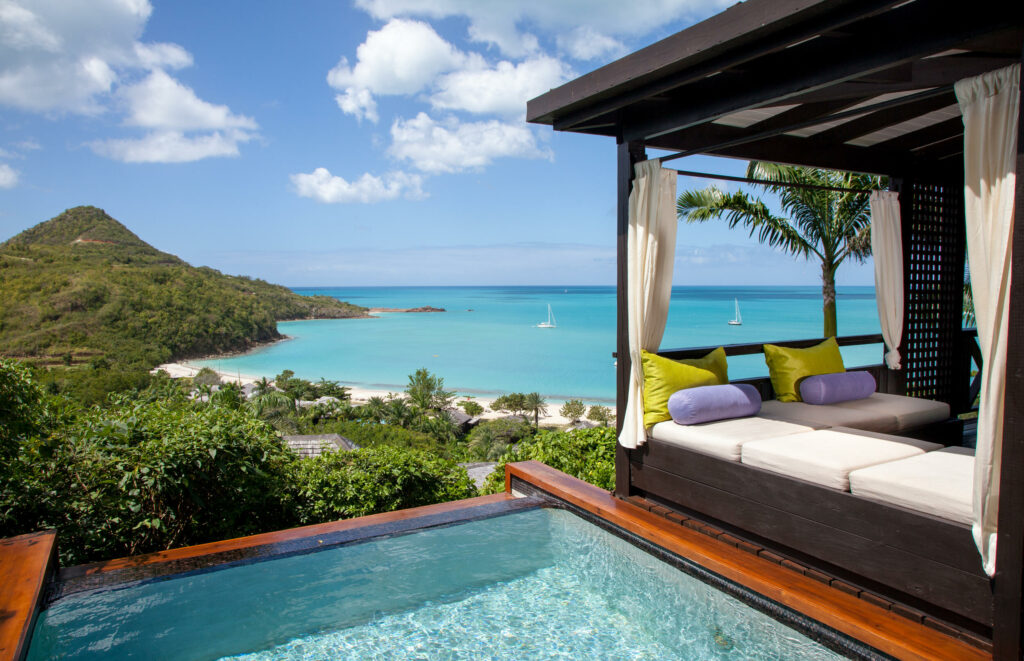 Price per Night: $2,000 – $2,200
Best For: All-inclusive
Availability: Easy to book
Hermitage Bay is a large resort with a cozy feel. This all-inclusive resort is tucked away in the hills above a white sand beach. Hermitage Bay is all about understated luxury. The resort oozes a calm, tranquil atmosphere, with world-class facilities and dining.
Honeymooners will enjoy the couple treatments at the on-site Garden Spa or enjoy a sunset private boat charter.
There are a variety of rooms at Hermitage Bay, although the Hillside Pool Suites with their own private pools are the perfect getaway for newlyweds.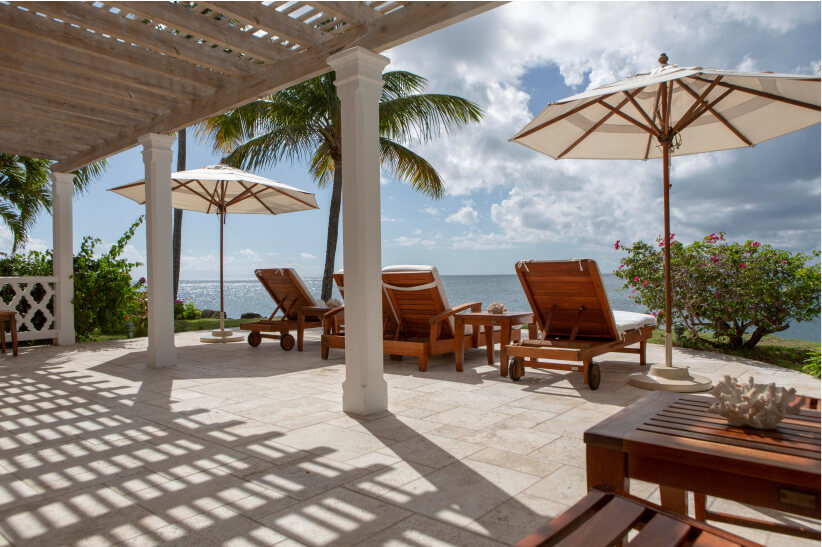 Price per Night: $1,690 – $3,410
Best For: All Inclusive
Availability: Easy to book
Located on the rocky south coast, Curtain Bluff Resort invites honeymooners to experience a peaceful, romantic escape. This romantic resort is all about relaxation and Caribbean sea views.
The hotel offers 72 rooms and suites, each with amazing views of the coast and rocky shores. There are also three restaurants at the resort, as well as the Sugar Mill Lounge and Bar.
For those looking for even more relaxation (just in case the pool and beach is not enough), Curtain Bluff Resort Spa will have you and your life partner reach the ultimate levels of relaxation.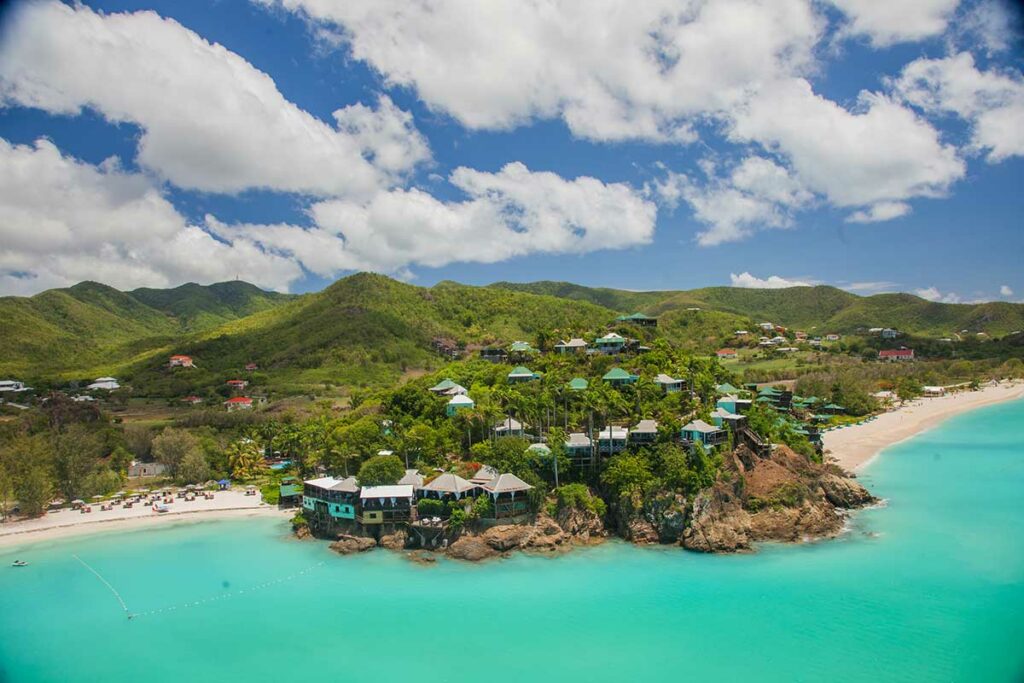 Price per Night: $547 – $1,540
Best For: All-Inclusive, Adult-only
Availability: Easy to book
The COCOS Hotel is an adults-only, couples-only, all-inclusive hotel surrounded by the clear turquoise waters of the Caribbean, with two white sand beaches on either side of the resort.
COCOS is all about rustic luxury. This hotel is unpretentious, but that does not mean you will not get five-star treatment and hospitality. Guest stay in one of the 35 wooden cottages surrounded by jungle, with views over the ocean.
The on-site restaurant combines local flavors with international cuisine, and there are also spa treatments, water sports, yoga classes, and entertainment on offer. COCOS Hotel is one of the best honeymoon resorts in Antigua.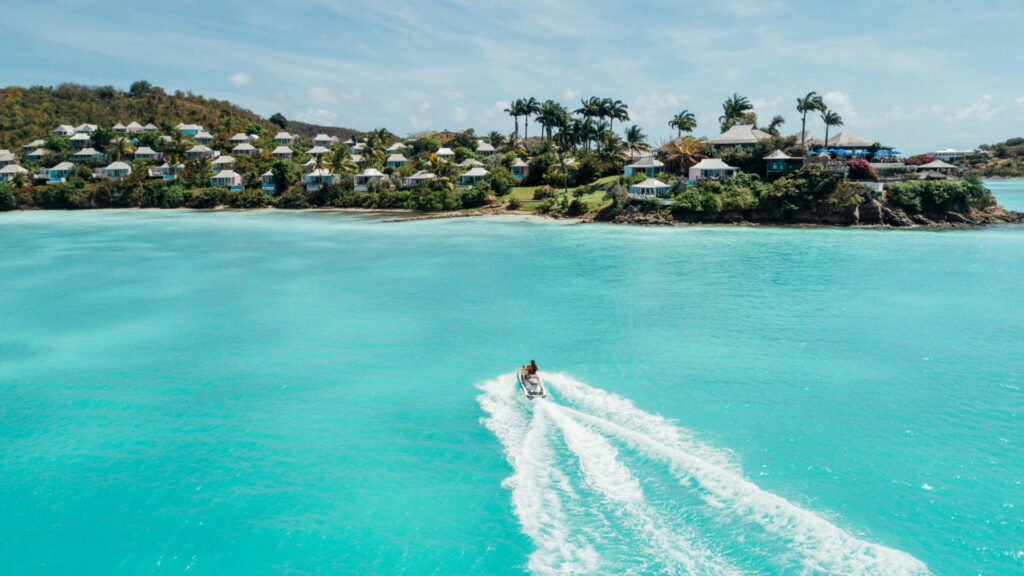 Price per Night: $479 – $1,339
Best For: All-inclusive, Adults Only
Availability: Limited
Cocobay Resort is one of the best honeymoon resorts in Antigua for romantic sunsets. It is the perfect getaway for those looking for barefoot luxury, comfort, and Caribbean hospitality.
Surrounded by white sand beaches, the pastel-colored cottages tucked away into the hillside are the perfect place to stay after the stress of the wedding. Several of the cottages have private pools, terraces, and amazing ocean views.
Cocobay Resort is possibly one of the most romantic resorts in Antigua. Couples can enjoy amazing local and international cuisine, delicious cocktails, and floating pool snacks while taking a dip in the resort's pool (or your own infinity pool).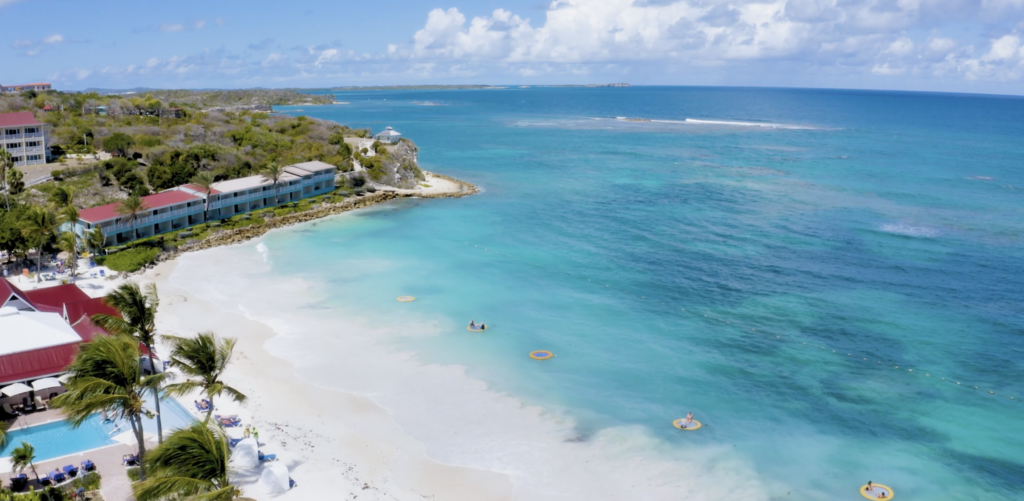 Price per Night: $420 – $770
Best For: All-Inclusive, Adults Only
Availability: Easy to book
Pineapple Beach Club Antigua is where white beaches meet crystal clear waters. This all-inclusive resort has direct access to powdery white beaches, where guests can enjoy kayaking, swimming, snorkeling, or stand-up paddleboarding – all just a stone's throw from their rooms!
This all-inclusive stay includes accommodation, unlimited drinks, food, all amenities, and non-motorized watersports.
There are five room types at Pineapple Beach Club: Waterfront, Ocean View, Garden View, Beachfront, and Pool Terrace. Each of these rooms is incredibly well-appointed, comfortable, and offers the ultimate luxury experience.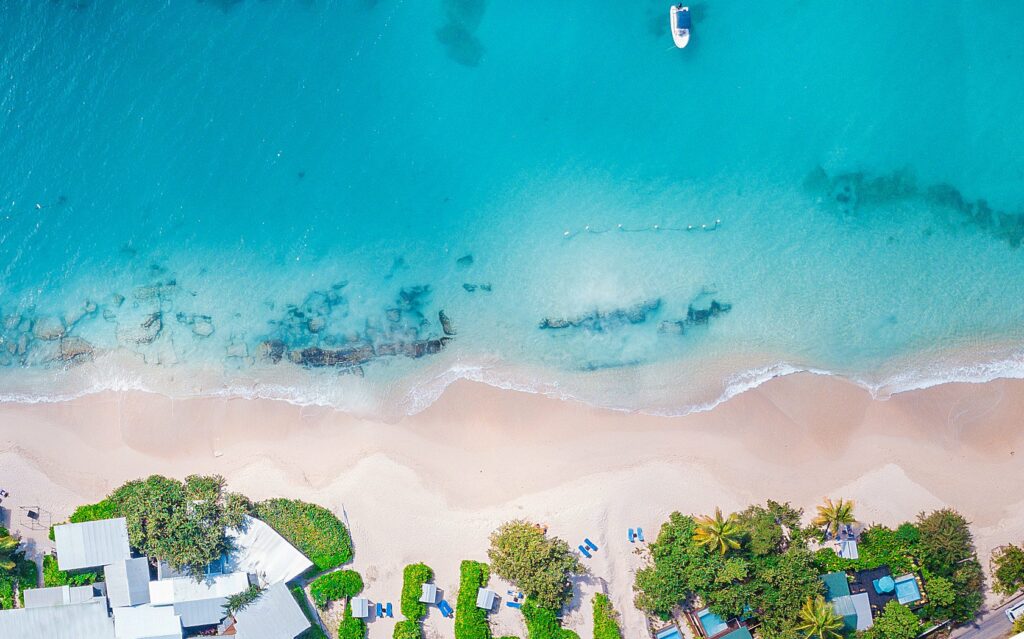 Price per Night: $792 – $1,275
Best For: Couples Only, All-Inclusive
Availability: Limited/Easy to book
This resort is unlike any other in Antigua. Keyonna Beach Resort is a darling boutique hotel, situated right on the beach.
Only couples are allowed at this exclusive resort, where they will stay in rustic, luxury cottages directly on the sand. You won't find any TVs in your cottage though; at Keyonna Beach it is all about escaping modern-day life and experiencing the ultimate relaxation. The indoor-outdoor living vibe is completed with an outdoor shower and doors that open wide.
The on-site Beach Restaurant offers guests the opportunity to dine with full ocean views, and after a gourmet lunch, you can relax on one of the Balinese beds on the wooden deck.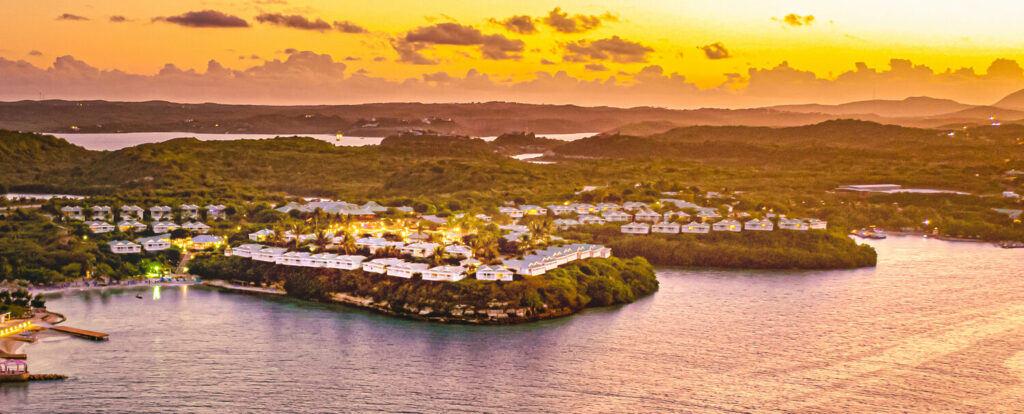 Price per Night: $454 – $1,140
Best For: All-Inclusive, Family-Friendly
Availability: Limited
If you are looking to take your family along on your honeymoon, then the Verandah Resort and Spa is the place for you. This family-friendly, all-inclusive resort is located right on the beach and includes a spa, five swimming pools, and even a miniature golf course.
The Verandah Resort is situated on 30 acres of jungle and beachfront, making it the perfect spot for a honeymoon. There are plenty of amenities on offer, and the price includes access to the spa, pools, water sports, land sports, and dining and drinking opportunities.
Couples can stay in any of the charming suites at the resort, or splurge on a larger villa with multiple rooms and private pools.
Price per Night: $784 – $1,557
Best For: Five-Star Luxury, Seclusion
Availability: Easy to book
Carlisle Bay is a resort just west of Falmouth, offering couples the privacy they dream of following the stress of their wedding. This luxury resort has 82 villa suites and rooms, as well as four restaurants, a spa, excellent hospitality, and the staff, are happy to help you plan different excursions to nearby attractions.
We highly recommend one of the Bay Suites, as it has been designed with couples in mind.
Because of its location on a small islet, you will feel completely removed from the bustling tourism hubs dotted around Antigua, making it the most romantic resort in Antigua.
Best Areas To Stay in Antigua
Antigua is not a large island, stretching only 14 miles long and 11 miles broad, so no matter where you stay, you will be able to reach almost the entire island during your Antigua honeymoon. There are hundreds of beaches to visit, dozens of luxury accommodations, and plenty of restaurants around the island.
That being said, there are still some areas that cater specifically to honeymooners. Although a honeymoon in Antigua will revolve around the beach, couples will also have the opportunity to learn about Antigua's military history as they traverse the island.
Here are our top areas to visit while honeymooning in Antigua, as well as what activities couples can enjoy while visiting these honeymoon destinations.
English Harbour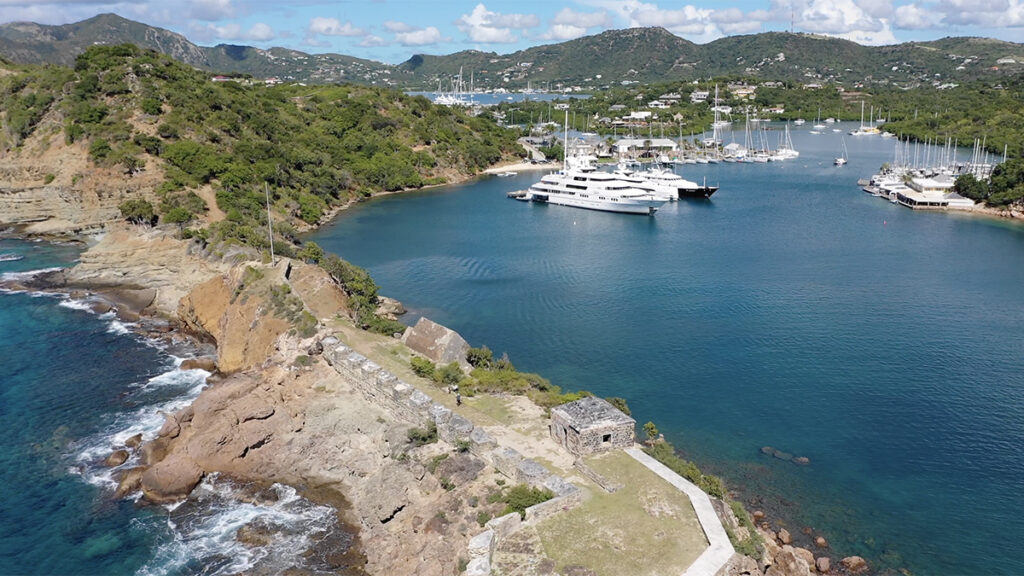 English Harbour is located on the south coast of Antigua, and history nerds will not want to skip this destination. There is plenty to see and do, including the UNESCO heritage site Nelson's Dockyard, which was home to the British Royal Navy.
Here are some of the top activities that couples can enjoy in English Harbour:
Take in the views at Shirley Heights Lookout Point. You can grab dinner and a drink at the renovated military building. On Sundays, you can find live music at the venue.
Learn about the naval history of Antigua at Nelson's Dockyard National Park. There are historic sites, hikes, and leisure activities to discover. A day pass costs $15 per person.
Meet the locals and escape the bustle at Pigeon's Point Beach.
Go Scooter Snorkeling in the clear waters of the bay. Skylork offers scooter snorkeling tours starting at $85 per person and you will see the waters of Galleon Beach as well as the Pillars of Hercules.
Dip in the waters at the popular Galleon Beach.
Falmouth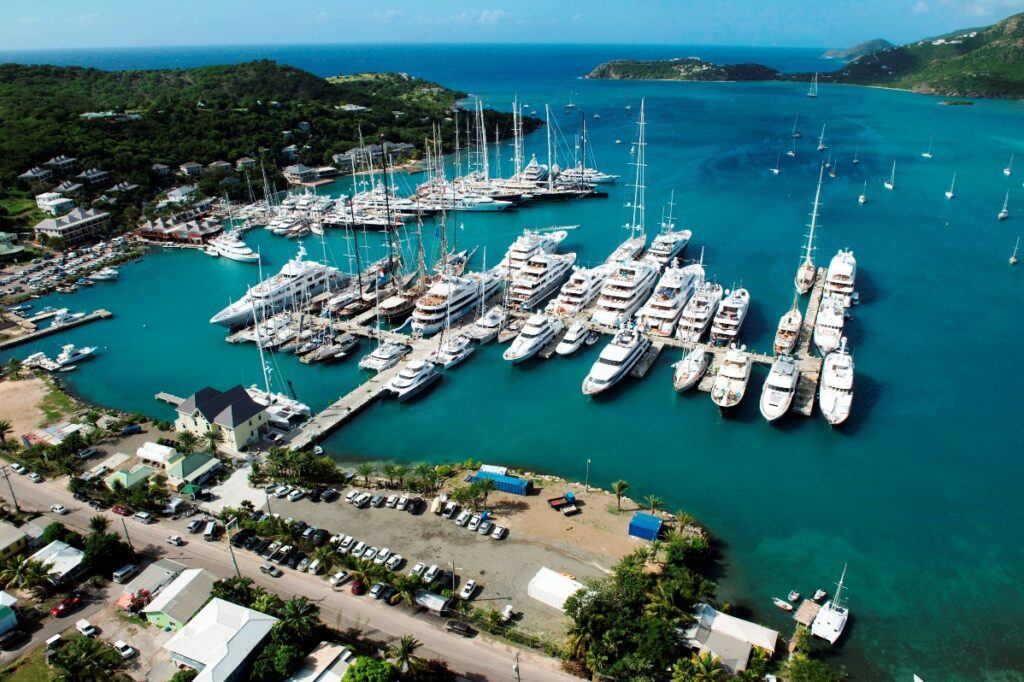 Falmouth is located on the south coast of the island and was home to the original British settlers. If you want a break from the ocean, then Falmouth is the place to go, because of its amazing historical landmarks and attractions.
Falmouth may be a small town, but it has a lot to offer. There are many top-class bars and restaurants with local cuisine.
Here are our top activities for couples in Falmouth:
Go on a private charter with Ondeck Sailing. You can choose between a motorboat or a sailboat, or opt for a luxury private charter on the 46-foot "Happy Days", starting at $520 for a half-day cruise on a sailboat.
Marvel at the uniqueness of Saint Barnabas Anglican Church, also called the "Green House of God"
Grab delicious seafood at Cloggy's at the Antigua Yacht Club.
Willikies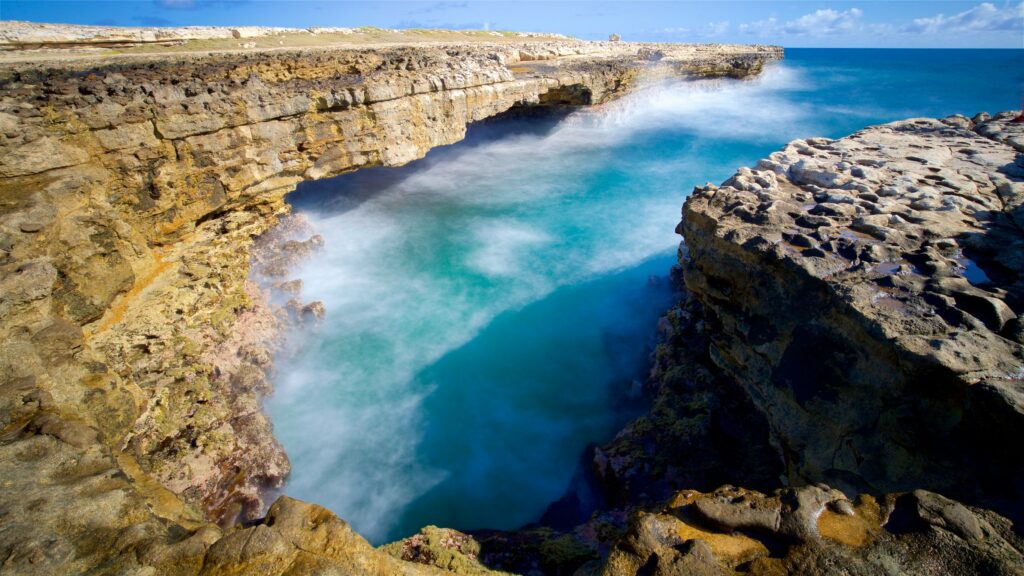 Willikies is located on the east coast of Antigua and is home to many of the large Antigua honeymoon resorts. Although your resort will have plenty to keep you busy, this region holds some splendor for couples who wish to escape their hotel for the day.
Visit Devil's Bridge to see a real natural wonder. Devil's Bridge is a geological formation consisting of limestone rock that has been carved out by the ocean over thousands of years.
Relax at Long Bay Beach, just five minutes from the town.
Grab a meal at The Bay at Nonsuchbay Resort for amazing local flavors and breathtaking views.
Saint Johns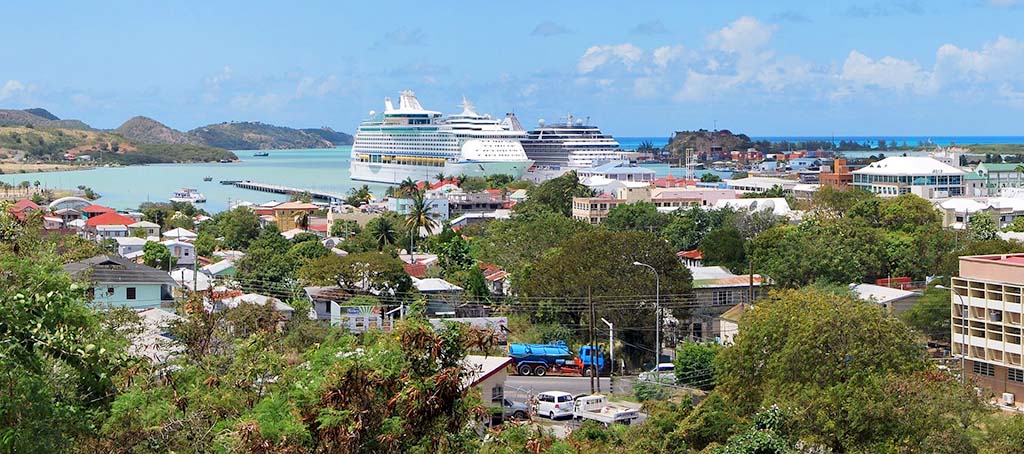 Saint Johns is the largest city in Antigua, and will most likely be your first and last stop during your honeymoon.
This area is great for those looking for a bit of nightlife and is also home to many resorts and hotels. Saint Johns caters to tourists, with a variety of international cuisines at dozens of restaurants, plenty of shops, and constant entertainment.
There is also plenty of historical landmarks to explore at Saint Johns.
Here are some activities couples can enjoy:
Get lost in history and see the guns at Fort James. Despite this fort being mostly a ruin, you can still admire the fortifications and imagine what days gone by must have been like.
Take a cooking class at Nicole's Table. There are different classes to choose from, such as "cooking with rum" or "from the sea cooking".
Go snorkeling or diving with Adventure Antigua. They offer different tours and activities. The eco-tour will take you on a day trip to go explore caves, snorkel, and learn more about Antigua's ecology. The tour costs $125 per person.
Top Excursions & Activities To Do On An Antigua Honeymoon
Each of the different areas of Antigua has plenty of activities for honeymooners, so how can you possibly fit it all in?
We have compiled a list of some must-do excursions and activities on your honeymoon in Antigua. Depending on the duration of your honeymoon and your budget, you may have to select only a few from this list.
Swim with stingrays at Stingray City. You will take a guided tour to the northeastern side of the island, learn about how to not get stung, and then enjoy sharing the waters with these amazing creatures.
Take in the views at Shirley Heights. This old military lookout point and the gun battery have the perfect views over Antigua, and if you head on a Sunday afternoon, you will be able to enjoy a party with live music and a barbeque for $25 per person.
Zip through the jungle. Antigua Rainforest Zipline Tours offers a zipline tour with walkways in the canopy, a tree house, some suspension bridges, and up to 13 zip lines. Zipline tours with 6 ziplines cost $59 per person, while the full adventure tour costs $89.
Spend a day at the beach. With 365 beaches on Antigua, we are not going to tell you which one to go to. Simply pack your towel, sunscreen, book and hat, and spend a day lazing on the beach or sipping a cocktail at one of the many beach bars.
Get a day pass to Nelson's Dockyard. It is more than just a dockyard, and you can easily spend the entire day at this National Park. A day pass will set you back only $15 and will give you access to the historic sites such as the two forts, King William IV's home, or the admiral's house, walkways and hiking trails, and beautiful beaches.
Take a ride down Fig Tree Drive. If the sun is getting a bit too much for you, then taking a scenic drive will offer you plenty of villages and jungles to explore. Simply rent a car and start driving to uncover hidden parts of Antigua.
Go for a hike. There are plenty of hiking trails through Antigua, and outdoorsy honeymooners are certain to find the perfect walk. Shirley Heights is a popular hiking spot, or you can hike to Devil's Bridge outside of Willikies for some dramatic rock formations.
Sample Itinerary & Budget For Your Honeymoon To Antigua
With more than 300 beaches to explore, planning a trip to Antigua could feel slightly overwhelming. We have compiled a 7-day itinerary to help get you started. This itinerary is completely customizable to suit your duration and budget.
Day 1: English Harbour. Check into your accommodation and explore the area around your hotel. There are plenty of restaurants and bars in the area, and spending the day at Nelson's Dockyard (especially the Dockyard Museum) is a must.
Day 2: Falmouth Harbour. From your hotel at English Harbour, you can easily explore Falmouth. Spend the day at the beach, snorkel in the calm water, and grab some ice cream.
Day 3: Morris Bay and Carlisle Bay. The water here is slightly cooler and less populated, so you and your partner will be able to explore the beach and surroundings by yourself.
Day 4: Jolly Harbour. Jolly Harbour is a popular tourist destination, and you will find plenty to do, see and eat while here. It is also home to the Hermitage Hotel, which is definitely worth a stay.
Day 5: Five Islands. Head north to Five Islands village, home to the famous Galley Bay Beach. There are plenty of little eateries in the village, and you can walk around admiring the architecture and old-world feel of the place.
Day 6 and 7: Saint Johns. Even two days in Saint Johns won't feel like enough. Plenty of luxury resorts call Saint Johns home, and there is lively nightlife, amazing restaurants, shops, and sandy beaches.
Frequently Asked Questions
How much does an Antigua honeymoon cost?
On average, a 7-day honeymoon in Antigua will cost $6,000 to $10,000, including flights. This budget is highly dependent on where you stay, which activities you do (for example, chartering a private yacht will be more expensive than chilling by the beach), and what you eat.
When is the best time to visit Antigua?
The best time to visit Antigua to avoid the crowds and high prices are May to November. The peak season is December to April because of a lower chance of rain, however, prices will be very high during these months.
What is the best way to travel around Antigua?
The best way to travel around Antigua is to rent a car. You will need a valid driver's license and pay $50 for a permit. Remember to drive on the left-hand side of the road! Otherwise, you can take a local bus for as little as $3. You can also attempt to cycle, but there are plenty of hills, so it might be a bit challenging.
Start Planning The Perfect Romantic Honeymoon Getaway
With dozens of honeymoon resorts, hundreds of white sandy beaches with turquoise warm waters, and interesting history and culture, it is no surprise that almost all areas of Antigua have been deemed amazing for honeymooners.
If you are ready to start planning your honeymoon, but you are not convinced that Antigua is the perfect destination for you, make sure to check out Couples Travel where we offer you all the resources you need to plan your honeymoon to any destination in the world.