Having your honeymoon in the Sunshine State is unbeatable. Think white sand beaches, cocktails, spa days, sunshine, good food, and endless romance. Florida has it all, from top resorts to stunning BnBs and hotels, as well as luxury amenities and activities.
Florida is known for its beaches, orange orchards, theme parks, resorts, and natural sceneries, making it the perfect destination for a relaxing honeymoon or a honeymoon packed with activities and adventure.
Finding the perfect stay for your honeymoon can be tricky, so this guide will help you find and plan the best parts of a Florida honeymoon. Below you can find some of the best resorts and hotels in Florida, as well as some tips and must-sees and dos!
What Makes Florida Perfect For A Honeymoon
Florida is one of the best honeymoon destinations, and you can get all the sun, luxury, romance, and fun you'd find almost anywhere else. You can visit various cities in the state, all with their unique features and experiences.
You can experience almost any type of vacation on a Florida honeymoon, as you've got everything from coastal stays to life in the hustle and bustle of the major cities. There are over 1,300 miles of coastline in Florida, so there are tons of sandy beaches for you to explore.
Florida also holds the record for having the most consecutive days of sunshine, so there's no doubt that your tropical getaway will be sun-filled. Nobody likes a rained-out holiday, so you won't be disappointed with the sun beaming on your skin day in and day out.
Traveling around Florida is easy and convenient, and you can go on a budget or live a high life. Florida is perfect, especially if you're looking for a tropical and tranquil retreat to celebrate your love and a new beginning!
Best Honeymoon Resorts, Hotels, and Other Stays in Florida
Below are some of the best stays for your Florida honeymoon! There is something for everyone, and you will surely find the perfect place to go and celebrate tying the knot. There are some beautiful luxury resorts in Florida.
Resorts are very popular, with plenty to choose from. The best locations include Miami, Palm Beach, the Florida Keys, Orlando, and some of the stunning islands. Finding the perfect stay for you and your partner is essential, and then you are one step closer to your ideal Florida honeymoon!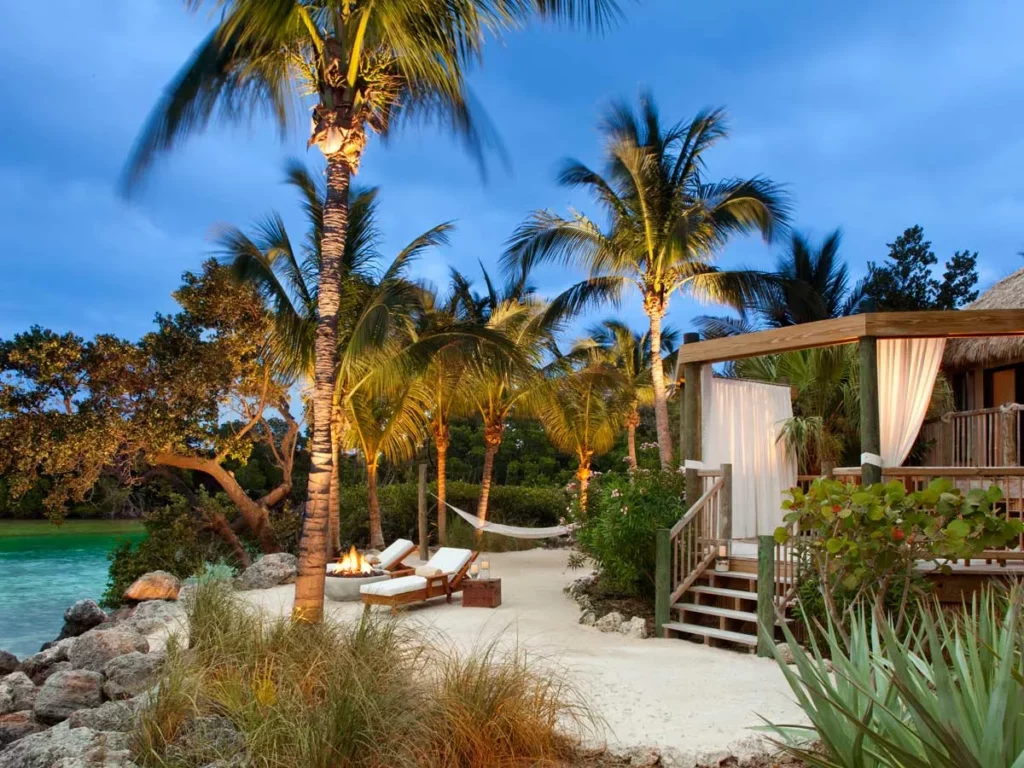 Price per Night: From around $2000 to $4000 a night
Best For: It is an adults-only resort that is perfect for young and older couples. A short and sweet stay on the island is ideal, and you can get some great package deals during your stay.
Availability: Booking is easy, and there is a lot of availability. Their high season runs from January to May and from October to December; booking early for these months is recommended.
Little Palm Island Resort in Florida is the only private island resort in America, located off the coast of the Florida Keys. This 4-acre island resort boasts luxury beach bungalows with all of the necessary amenities and lush beaches at every turn and will give you a Florida honeymoon that you will be sure to remember for the rest of your life.
You can spend your days snorkeling, sailing, kayaking, scuba diving, and lounging on the stunning beaches, then spend the evenings indulging in the most relaxing spa treatments. You can choose to opt for one of their romantic turndown packages for that extra touch of romance.
You can enjoy a private deck, complimentary double kayaks, soaking tubs, and outdoor showers. Prices can range from around $2000 to $3000 a night if you book well in advance, or you can expect to pay about $4000 per night for their stunning bungalow suites. They also have Island premier suites that come at a higher price but promise high-class luxury.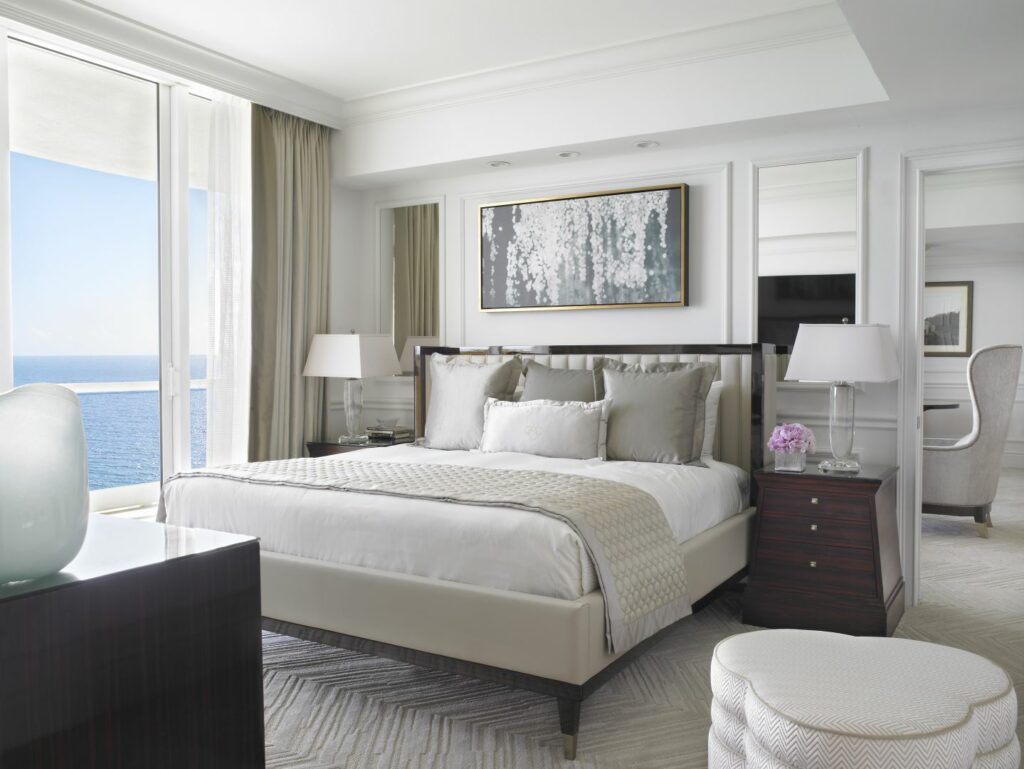 Price per night: Around $1500 a night
Best for: Newly-weds and honeymooners, family-friendly
Availability: Limited
A romantic getaway at this five-star resort on the beachfront is unbeatable. The rooms are luxury at their finest, and the views are jaw-dropping. This resort can be found in Miami's Sunny Isles and is right on the beach.
The staff at the resort are friendly, attentive, and will care for all of your needs during your stay, and honeymooners are always treated to some lovely extras. The suites are spacious, and you'll have your own private balcony and a jacuzzi.
Lovebirds can spend their time lying in the sun at the adults-only pool, sipping drinks, while lying on the comfortable loungers. The resort also has a roman waterfall, heat jet pool, and spa pool, and there are tons of packages to benefit from. Be sure to book a romantic beachfront dinner during your stay! This resort is a top-rated honeymoon destination, so booking in advance is a must!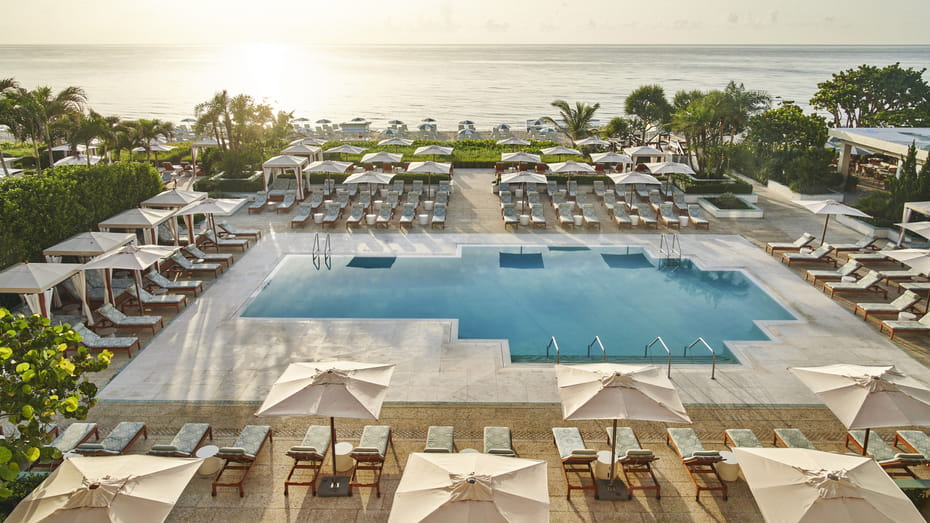 Price per night: Typically between $1000 to $2000 a night.
Best for: Family-friendly, great for couples, and extended stays.
Availability: Limited
This 5-star resort is glamorous and gorgeous – it is the best getaway for a stunning honeymoon! Expect rooms with ocean views, luxury amenities, and out-of-this-world spa treatments.
Their restaurant, Florie's, has the most incredible Mediterranean cuisine, and you can spend your days soaking up the sun on the lush beaches or getting involved in the various water sports on offer.
You can also spend your days by the pool, eating fruit and lounging in one of their luxury poolside cabanas. This resort fills up very quickly, and there is already limited availability for 2023, so booking far in advance is crucial if you'd like this to be the setting of your dream Florida honeymoon.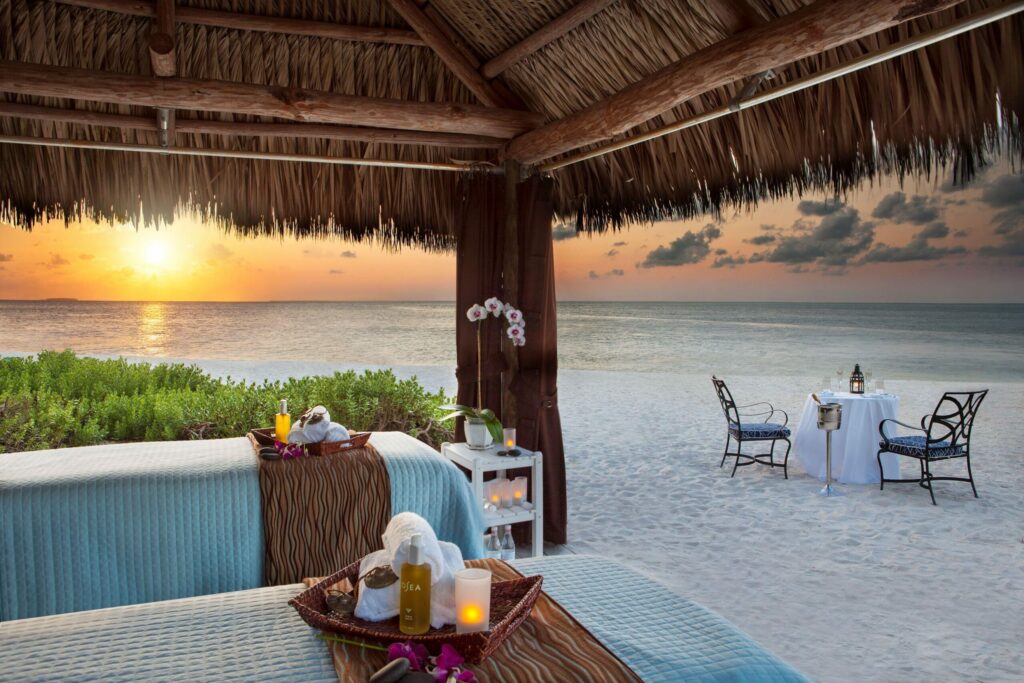 Price per night: Between $1,999 and $2,400+
Best for: Couples, families, large groups
Availability: You will need to book in advance, space is limited, and spots fill up very quickly during the high season. The low season for 2023 is already filling up.
A private and tranquil island resort just off of Key West. All cottages are private with big verandas for you to take in the ocean breeze and exceptional views of the sea. The room comes with a fully equipped kitchen, and you can get it stocked before arrival.
Their ice cream carts do their rounds, and treats are delivered daily. Start your mornings by indulging in your hand-delivered breakfast basket, and then head to the beach to lounge in the sun with a cocktail in hand.
You can also relax in the hammocks or book a spa treatment for the two of you to unwind and have a day of utter bliss and relaxation. You can also go parasailing, fishing, snorkeling, or scuba diving at the resort. It can cost around $1,999 per night for their standard cottage, or you could get opt for a bigger cottage for a price of $2,399 and up. Sunset Key Cottages is excellent for both couples and families as they can cater to large groups. For those looking for an intimate honeymoon, tons of privacy is offered in each cottage.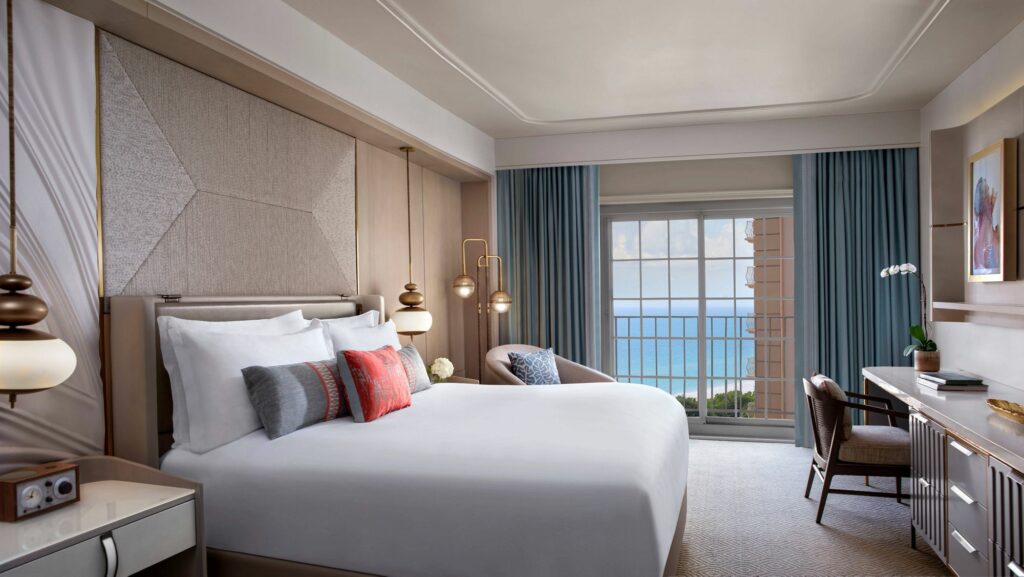 Price per night: Starting at $1500 per night
Best for: Couples
Availability: Limited
The Ritz-Carlton is full of 5-star standard facilities. Their spa is fantastic, and you can indulge in the most relaxing and top-class treatments. There are loads of activities for you and your partner to enjoy.
You can spend your days lying by the pool drinking frozen cocktails, eating fantastic food at the Gumbo Limbo, and admiring the views of the Gulf of Mexico from your suite. The hotel has saunas, two outdoor pools, a bar, and seven restaurants.
The hotel also isn't too far away from the Coastland Mall and the Sun-N-Fun Lagoon Water Park, so you can easily go and explore the surrounding area.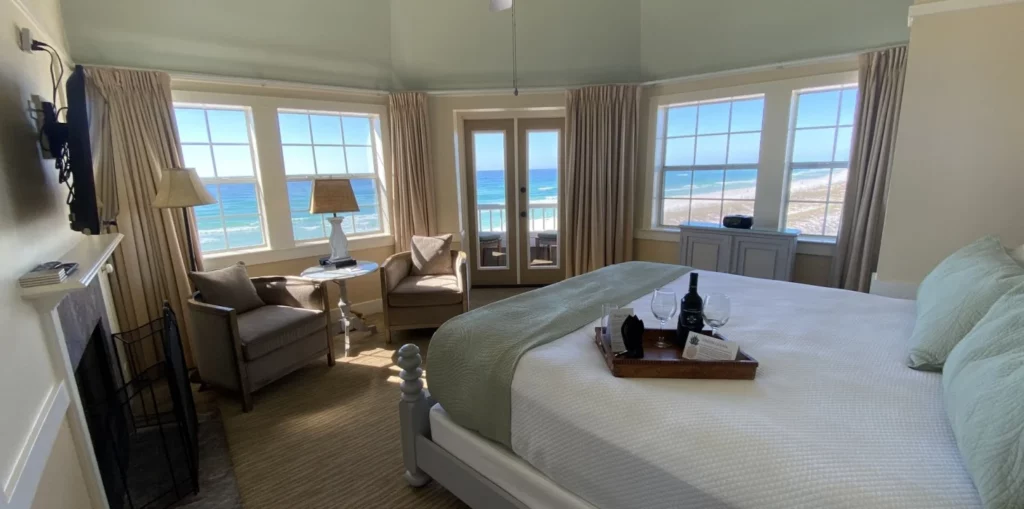 Price per night: Presidential suite from $1,144 per night
Best for: Honeymoons, romantic packages, short and long stays
Availability: Good availability but book in advance
Right on Florida's Emerald Coast, this adults-only resort is the best escape. The rooms boast the most incredible sea views, the food is divine, and there is an endless beach for you to lounge around on.
Spend your days swimming in crystal clear waters, drinking cocktails, and eating the best food. The Henderson Park Inn includes breakfast, lunch, some snacks, and a happy hour every day; what could top this!?
Enjoy a delicious dinner at the Beach Walk Café and book their Honeymoon Suite for the ultimate experience. You will have wine waiting for you, a whirlpool hot tub, and a king bed. Spa treatments are also available, as well as romantic packages which can be added to suite prices from around $10 for that extra touch of romance.
Best Areas To Stay in Florida
Florida has some must-see places, from the pristine beaches to the art and culture. You can stay in hotels, Air BnBs, or luxury resorts, whatever suits you and what you'd like out of your honeymoon!
There are national parks, beaches, museums, botanical gardens, boat tours, theme parks, and more to explore in and around Florida. There are tons of different locations, all as special and unique as the next. Here are some of our favorites:
Key West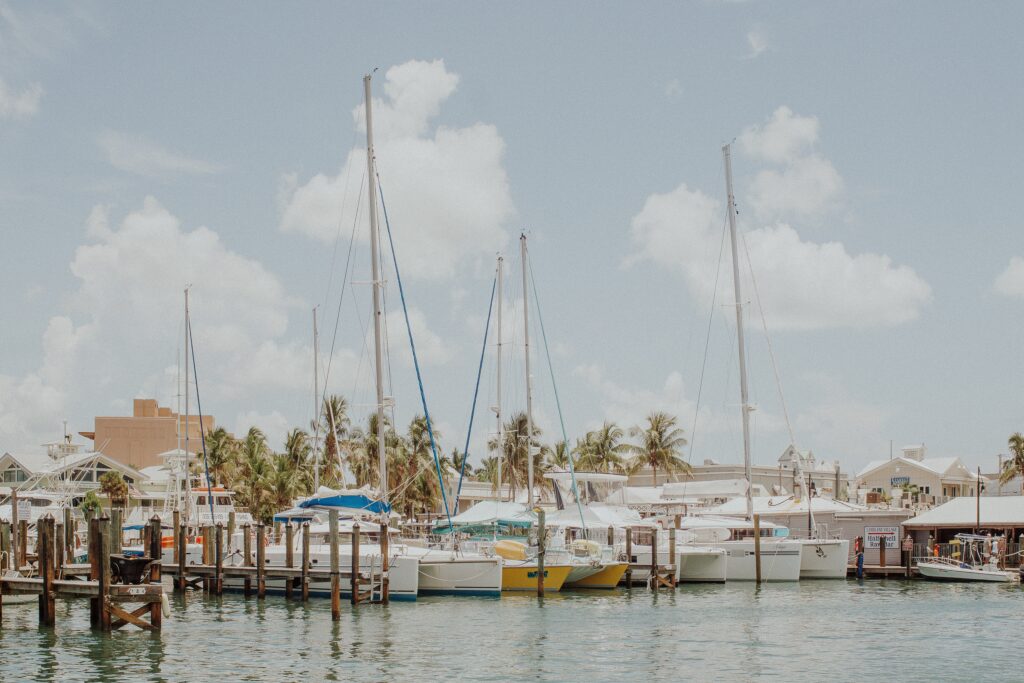 Picture the mini Caribbean, Key West is just that – with its tropical look, feel, and smell and the whole bohemian vibe to match. You will undoubtedly feel like you are on a tropical island. Avoid going from June to November as it is the rainy season.
Throughout the rest of the year, you can expect sunny days and warm temperatures. You can enjoy a romantic picnic on one of the silky sand beaches, champagne in hand, watching the sky change color as the sun sets over the azure water.
Head to Mallory Square for delicious food, dancing, and live music to end your days off. Key West is a beautiful destination, and it will be filled with love, sunshine, and loads of fun!
Miami Beach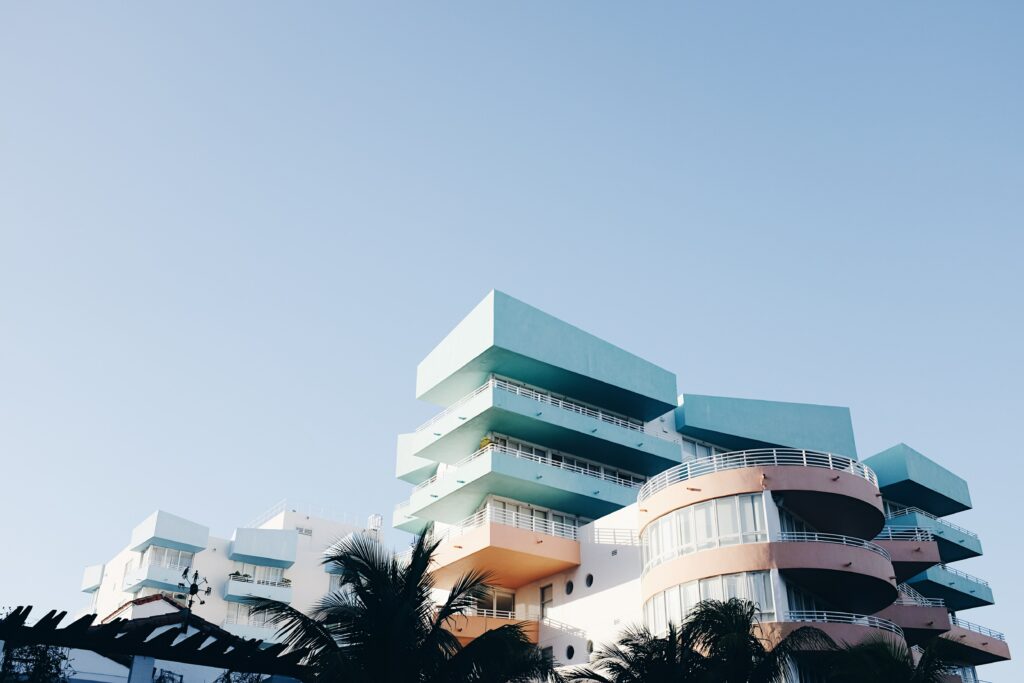 Going to Miami is such a treat; you'll have sun, shopping, fun, and romance! South Florida is a great choice for a honeymoon, and you are guaranteed to have loads of sunny and hot days. You can expect temperatures in the high 70s to 80s Fahrenheit.
It starts getting a bit rainy between November to May. South Beach is a must; there are loads of romantic hotels, fun nightlife, delicious restaurants, and endless entertainment. There is much to see and do. You can spend days lounging on the beach or packed with activities!
You can go on hikes, day tours, go to the Art Deco Historic District, or sunbathe on lavish beaches.
Captiva Island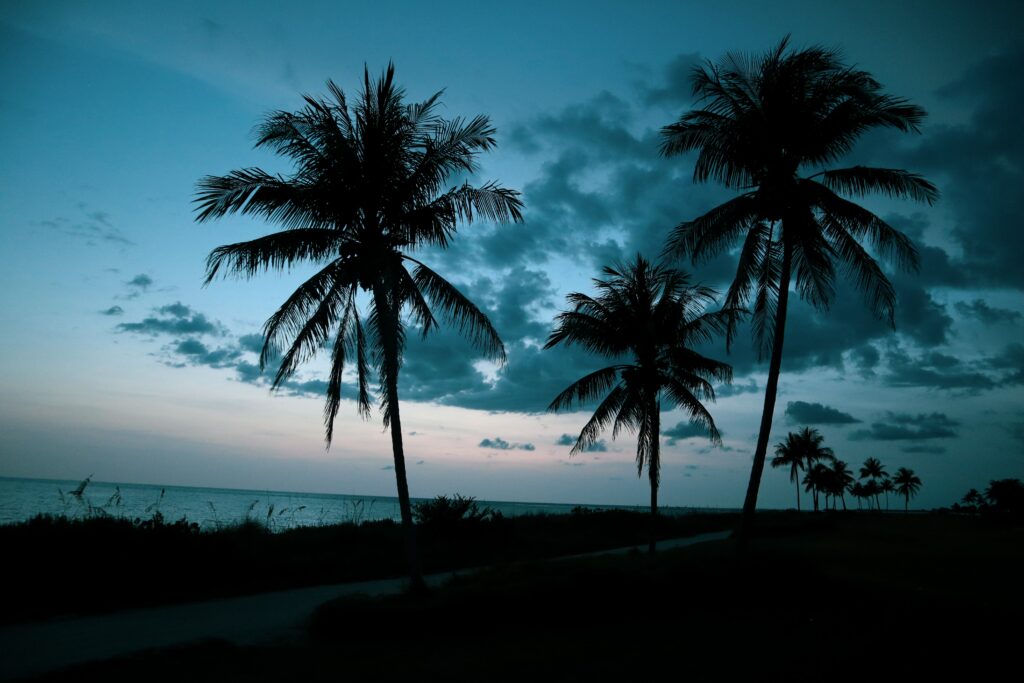 Captiva island is jaw-dropping beautiful, and it is not too far from Sanibel Island (which you should also plan to visit while in the area). There are long and beautiful stretches of beach, and you sure are in for a relaxing and idyllic stay.
It can get very hot in the summer months, but at least you'll be right on the water's edge, so cooling off will be easy! Captiva Island is a romantic retreat, and you can spend your days at a luxury resort and keep yourself busy going kayaking, swimming, and much more!
Top Excursions & Activities To Do On A Florida Honeymoon
There are over 700 natural springs in and around Florida, and the water is so clear that you can see all of the aquatic plants, eco-systems, manatees, and turtles – visiting the springs is a memorable and unforgettable experience.
What is a honeymoon without some pampering? You definitely need to unwind and treat yourself to some soothing and relaxing spa treatments. The best spa in Florida is at the Ritz-Carlton. You will come back feeling relaxed, refreshed, and rejuvenated.
Florida has endless hiking trails as there are 175 state parks. The best time is to go during the sunset or sunrise, and you will be treated to the most incredible views.
The Ringling Museum is an excellent choice for those who love art. The museum is massive and filled with tons of exhibits. You can see everything from modern art to interactive art. The Bayfront Gardens are close to the museum, so you can also wander around and explore.
Since you are right by the ocean, there are loads of water activities that you could do. A great idea is to snorkel in the Dry Tortugas. It is made up of seven gorgeous islands and is part of the national park. You can see stunning marine life and coral.
Sample Itinerary & Budget For Your Honeymoon To Florida
On average, people spend about $5000 on their honeymoon, some up to $10,000. It really does come down to your budget, what type of honeymoon you want, and if you're going to splurge on resorts and hotels or experiences. The time of year also makes a huge difference.
| | |
| --- | --- |
| Accommodation | $2400 (at a more expensive resort) $1000 (at a fancy but budget hotel). These prices are per night. |
| Flights | $223 is the average price for a roundtrip. It could be higher or slightly lower |
| Food and drink | $300 – $1000 |
| Spa day at the Ritz | $250 – $1200 |
| Ringling Museum | $5 |
| Spa treatment at your Hotel | $700 |
The following is a great itinerary idea to help you plan your honeymoon:
Day 1 – Take it easy. You have likely gotten off a flight. So use this day to settle down and get comfortable. Explore the hotel and all of its amenities. Find a lovely spot and spend some time by the pool or lie on the beach.
Day 2 – After you have had some rest, you can jump straight into the fun. Consider going snorkeling in the Tortugas or going on a whole day catamaran trip. Come back to your hotel and enjoy a delicious dinner with cocktails or drinks.
Day 3 – Enjoy some time at your hotel, go to the beach nearby and lie in the sun, read a book, and catch that tan! If the hotel has various water sports, you could get involved with those as well. Have some drinks, and check out some of the resort's amenities.
Day 4 – You explore the town around your hotel, get some shopping done, have a delicious lunch, and grab a fancy dinner. Maybe even go out dancing and have a party with your lover.
Day 5 – After a busy day of exploring and potential drinking and dancing, you must treat yourself to the ultimate spa day. Book a full-day itinerary at the Ritz Carlton. Then come home and have a beautiful dinner on the beach to end off this relaxing and peaceful day.
Day 6 – You could either spend your last day at your hotel doing something very laid back and relaxing, or you could go out with a bang and find a stunning tour, go diving, or go on a day cruise.
You could opt for an all-inclusive package, and this often costs about $5000 to $8000 dollars. Your food, drinks, hotel, and various activities will be paid for.
If you don't get an all-inclusive package and organize it yourself, you should budget about $300 per person for meals each day. If you want to stay at Sunset Key cottages during the low season, you can expect to pay $9,995.00 for five nights of accommodation.
You could treat yourself to spa treatments at the resort for around $700 for both of you, and an excursion to the springs can cost you $2 entrance, or a hike can cost about $1.
The costs will vary during peak seasons and will depend on availability and whether you'd like a standard room or a premier suite.
Frequently Asked Questions
How much does a Florida honeymoon cost?
The cost of a Florida honeymoon will depend on the type of accommodation you go for, the time of year, and the packages and activities you'd like to include.
A honeymoon in Florida could easily cost you around $20,000, but it could also cost $10,000 if you go on a budget during low season but still treat yourself to lavish experiences.
When is the best time to visit Florida?
The best time of year to go to Florida is from March to April and September through to October. This is when there are fewer crowds, the weather is terrific, and the rates are relatively low.
Mid-September to November is also a good time as the rates are quite low. It is during school, so most places will be relatively quiet, the summer rush will be over, but you will still benefit from stunning weather.
What is the best way to travel around Florida?
The best and easiest way to travel around Florida is via car. Most people hire a car when they get there. Otherwise, there are also buses, taxis, and shuttles that can take you around and to the best attractions. In some cases, you can travel by boat.
Start Planning The Perfect Romantic Honeymoon Getaway
Florida is an incredible honeymoon destination. The resorts and hotels are beautiful, the weather is perfect year-round, and you'll have crystal clear waters at your fingertips. It is the ultimate tropical getaway.
Couples love Florida as it is not too far away from most other states but still feels like a total escape – it really is its own tropical oasis. The natural world there is stunning, and there is much to see and do.
You are sure to return relaxed, madly in love, and sun-kissed, of course! Romance is in the air, and what better place to celebrate than by the beach at a stunning coastal retreat!
Be sure to check out all of the Couples Travel resources so that you can start planning the ultimate romantic retreat. This is such an exciting time in your life, and you need to celebrate the right way!