Costa Rica is a land of hot springs, jungles, honeymoon resorts, adventure, and relaxation. With so many different experiences and types of accommodation on offer, it is easy to see why Costa Rica is the top honeymoon destination in Central America.
Not only is it great value for money, but the Costa Rica honeymoon resorts offer all-inclusive honeymoon packages that will help you to create unforgettable memories with your new life partner.
In this guide, we will look at why Costa Rica is one of the best honeymoon destinations and give you some tips and tricks on where to stay and what to do.
What Makes Costa Rica Perfect For A Honeymoon
Costa Rica is a land of natural beauty. When you visit Costa Rica, you can expect to find beautiful beaches, lush rainforests, exciting wildlife, and plenty of outdoor adventures. Of course, that doesn't mean that only adrenaline junkies can enjoy a honeymoon in Costa Rica – there are plenty of relaxation opportunities as well!
Costa Rica has always been considered a very affordable destination, and although it has become more expensive in the past few years as more travelers flock to the region, you can still expect to pay 3-star prices for 5-star accommodation. And there are plenty of Costa Rica honeymoon resorts to choose from.
Best Honeymoon Resorts, Hotels, And Other Stays In Costa Rica
When it comes to a romantic getaway in Costa Rica, it's all about luxury hotels, all-inclusive resorts, and eco-lodges.
With so many amazing locations – from beachfront to jungle – we want to highlight some of the best areas to find luxury accommodation. Guanacaste Province is very popular with tourists and expats, and offers amazing luxury accommodation options and plenty to do. Puntarenas is also a great area that has plenty of luxury, all-inclusive resorts.
Let's take a look at some of the best luxury resorts to stay at during your Costa Rica honeymoon.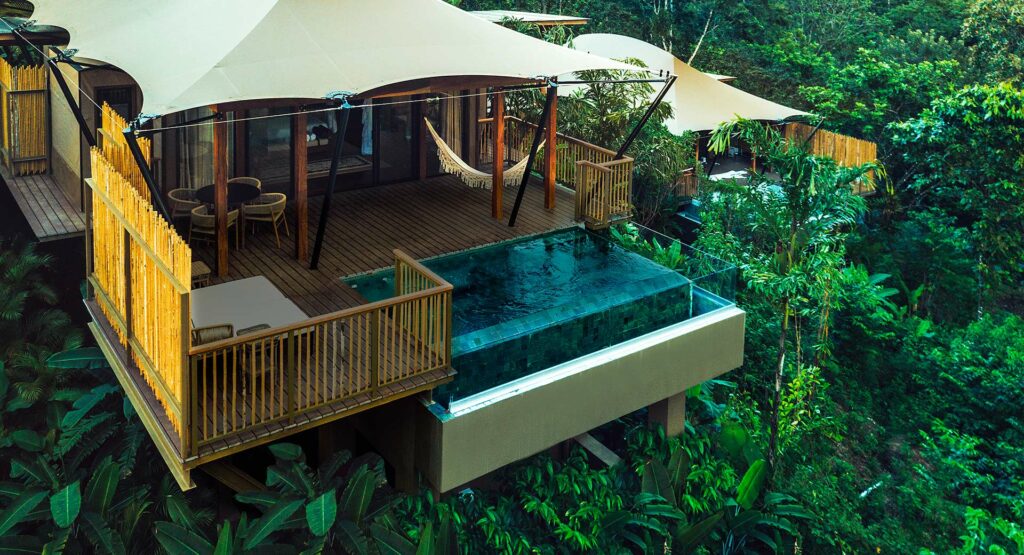 Price per Night: $885 – $2,000
Best For: Adults-only
Availability: Easy to book
Nayara Springs Resort, located close to the Arenal Volcano, is a beautiful resort that offers private thermal pools and a secluded feel, despite being located in a busy part of Costa Rica.
The resort boasts excellent dining opportunities, breath-taking volcano views, and a spa where newlyweds can relax and unwind.
Nayara Springs offers guests exclusive villas which are catered to all – including those who enjoy romantic evenings at home or adventure seekers.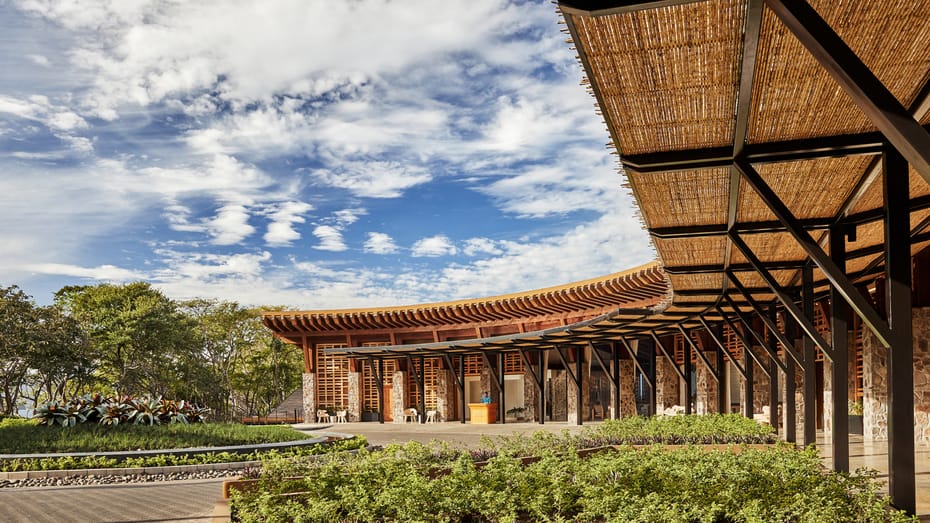 Price per Night: $835 – $30,805
Best For: Younger couples, older couples, long stays
Availability: Easy to book
The Four Seasons Resort is located on the Papagayo Peninsula and gives guests the feeling of being in a tropical paradise. It has gorgeous sea views, with an in-house spa, brilliant dining options, as well as a private golf course.
This five-star resort is the perfect combination of eco-living, adventure, and relaxation. There are a variety of accommodation types on offer, including private guest rooms, suites, and private residences.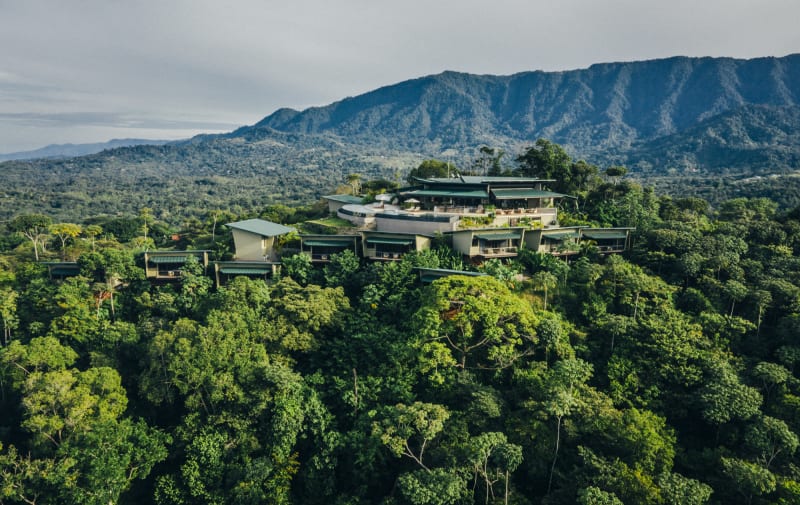 Price per Night: $220 – $270
Best For: Breakfast included, short stays, couples.
Availability: Easy to book
Tiki Villas is located just a few steps from Hermosa Beach, one of the best beaches in Costa Rica.
This Bali-inspired lodge is surrounded by natural rainforest, and guests will wake up to the most beautiful birdsong each day. The proximity to the sea will make it feel like you have access to your own private beach.
The lodge also has a private pool, relaxing wellness spa, and well-appointed rooms that have both indoor and outdoor showers which will help your jungle dreams come true. The Las Velas Restuarant on site should is also well worth a visit.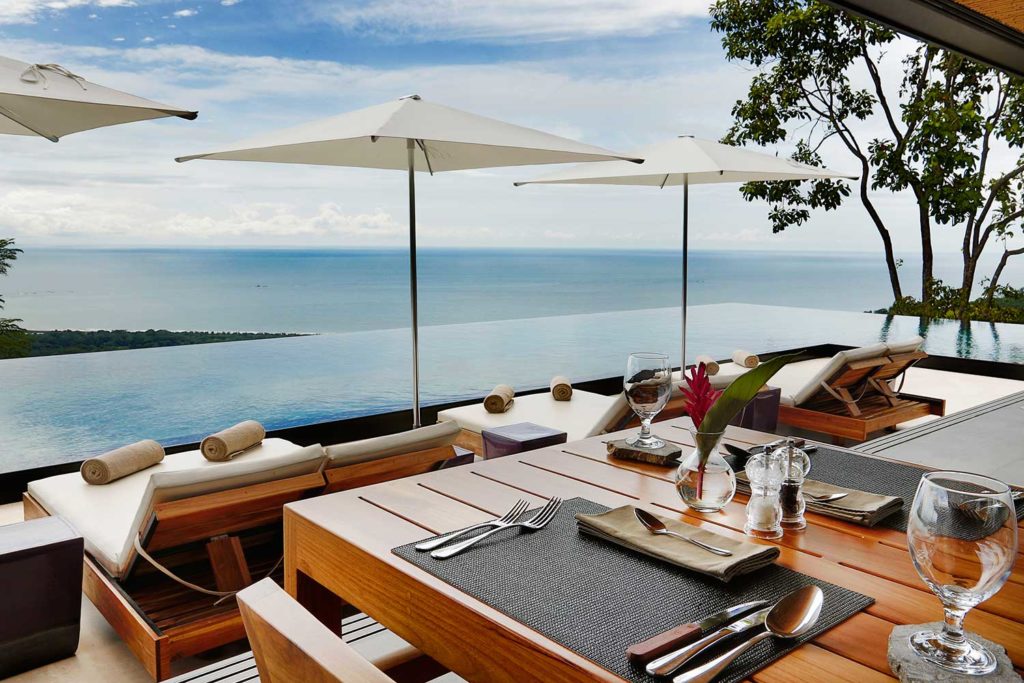 Price per Night: $540 – $1,676
Best For: Adults-only
Availability: Limited/Easy to book
Kura Boutique Hotel is specifically catered towards newlyweds on their honeymoon. It is located deep in the jungles of Uvita, on the Costa Ballena, and has an infinity pool that embraces jaw-dropping views.
This boutique resort offers couples the chance to relax in the beauty of Costa Rica, with gourmet dinners, couples massages, and beautiful sunsets.
There are eight luxury suites to choose from, all designed with a minimalistic style and with romance in mind.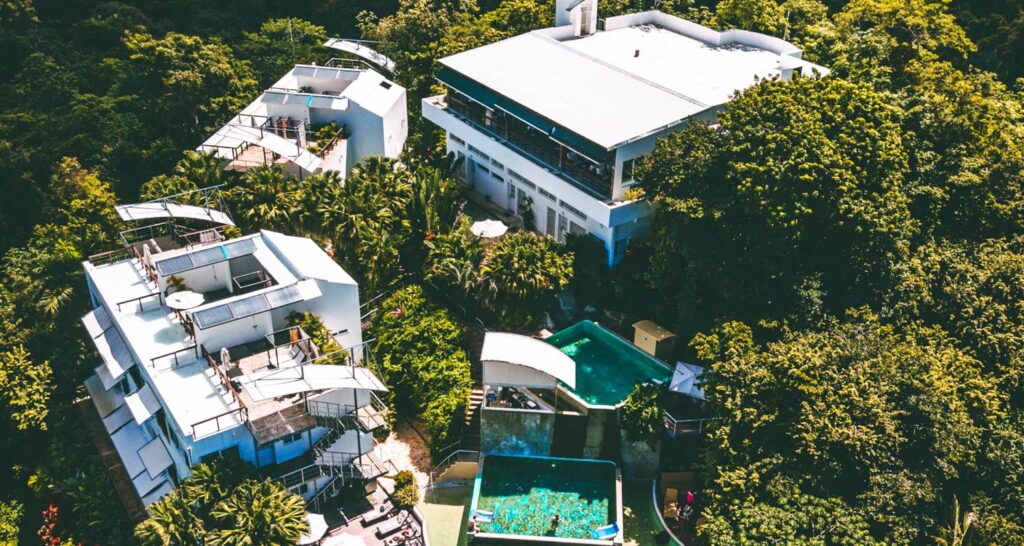 Price per Night: $180 – $795
Best For: Breakfast included, romantic getaway
Availability: Easy to book
The Gaia Hotel consists of beautiful terraced suites as well as villas, located in the pristine forests of Manuel Antonio. Guests at this hotel will enjoy magnificent views of the jungle and can enjoy fine dining, a wellness spa, gym facilities, an infinity pool, and several different day trips organized by the hotel.
This hotel aims to attract nature lovers, and couples on honeymoon will surely love this eco-friendly establishment. Honeymooners can choose between the suite, jungle suite, loft suite, deluxe suite, or villa.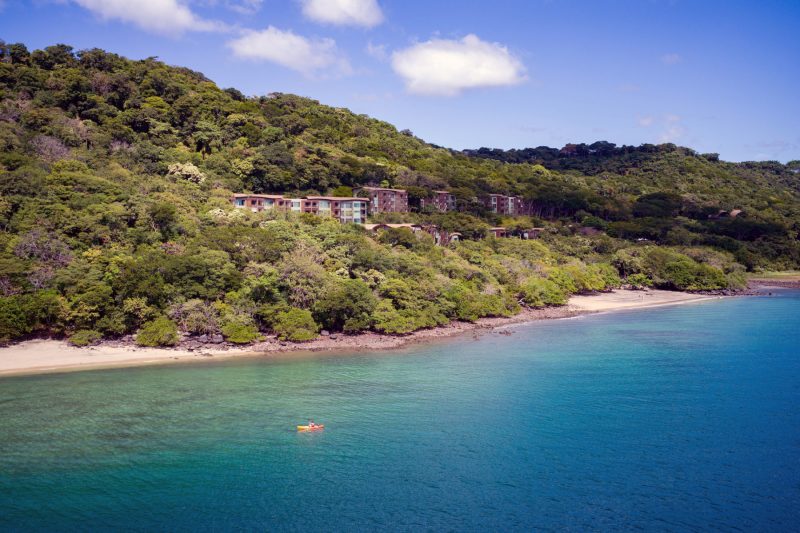 Price per Night: $610 – $2,480
Best For: Long stays, pet-friendly
Availability: Easy to book
Andaz Resort is located on the beach in Guanacaste and is one of the best honeymoon resorts in the region. Guests can enjoy access to three beaches, golf courses, gourmet dining experiences, and access to a private peninsula.
There are 131 rooms and 21 exclusive suites to choose from, so newlyweds on any type of budget will be able to find a room to suit their needs. The rooms and suites all have a terraced balcony, with a view of either the lush rainforest or the bay.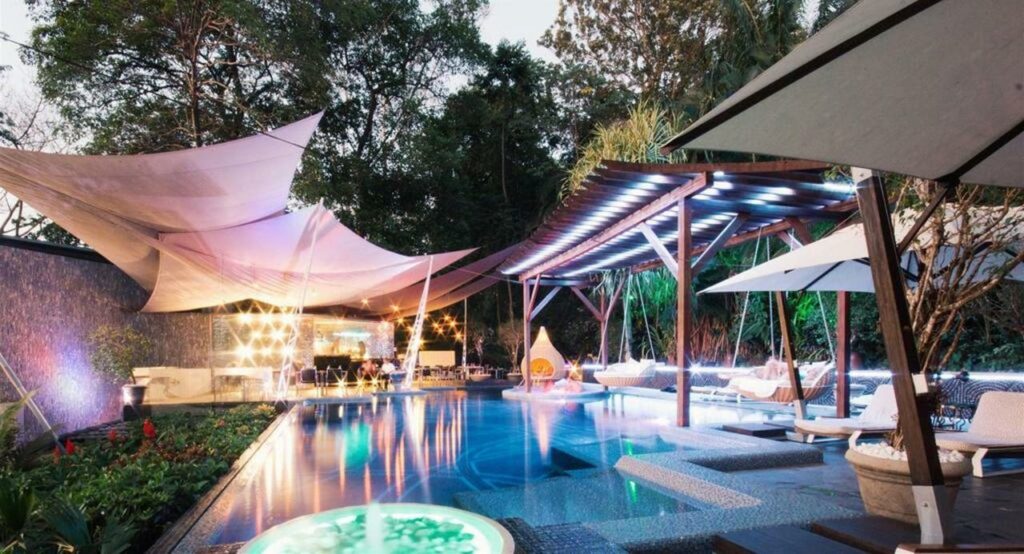 Price per Night: $326 – $1,206
Best For: Adults-only
Availability: Limited/Easy to book
Makanda is where paradise is found. This resort and hotel is a top-class jungle establishment, which allows guests the opportunity to enjoy the unspoiled beauty of Costa Rica. With a perfect blend of ocean views and jungle vibes, couples on their Costa Rica honeymoon won't be disappointed.
There are several suites at this boutique hotel, like a private villa with its pool, a luxurious penthouse, and junior suites. There is also the Arbol Restaurant on site that uses fresh, seasonal produce from local fishermen and farmers.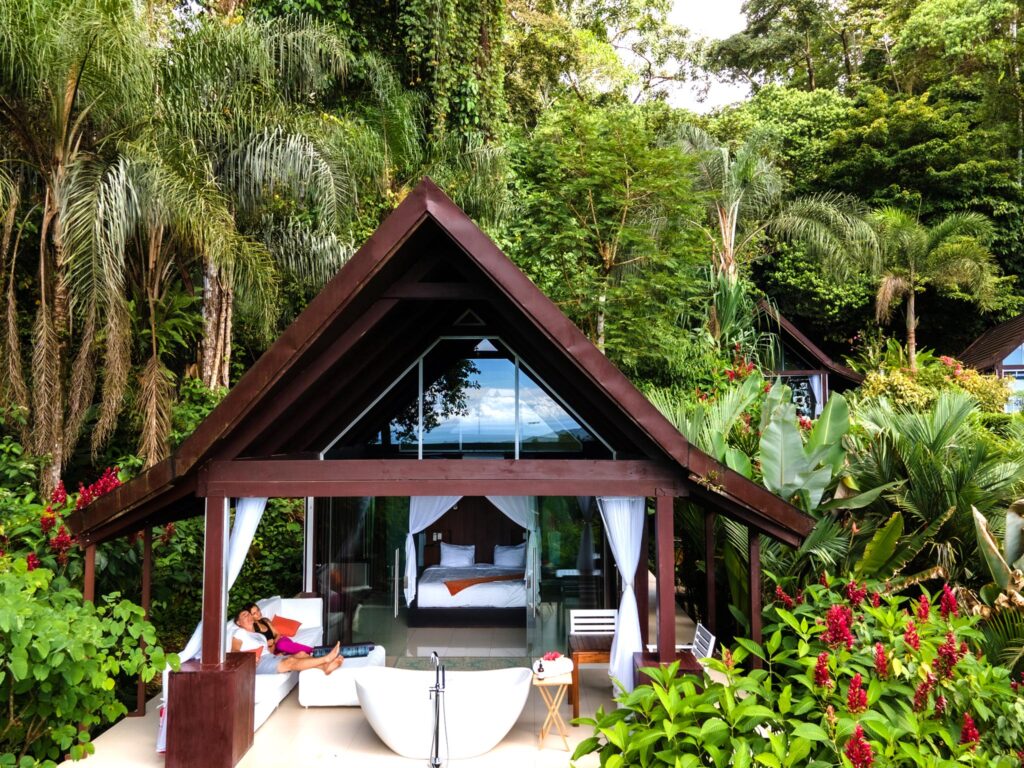 Price per Night: $389 – $550
Best For: Adults-only, romantic getaway
Availability: Limited/Easy to book
Oxygen Jungle Villas is a Balinese-themed establishment, with private villas made predominantly from glass, to allow guests to soak in the coastal and jungle views, or enjoy stargazing at night.
There are 12 villas at Oxygen Jungle, each beautifully furnished for a calm atmosphere, which allows the surrounding nature to shine. Guests can enjoy the pool deck and myriad walking paths, relax at the on-site spa, or enjoy the flavors of Costa Rica at Restaurant Yaⱽdé.
Best Areas To Stay In Costa Rica
There is so much to do and discover in Costa Rica, that it can be difficult to narrow down the best areas to see on your Costa Rica honeymoon.
Below are some regions of Costa Rica that have amazing accommodation and plenty of activities to enjoy, making them some of the must-see regions on your honeymoon.
Guanacaste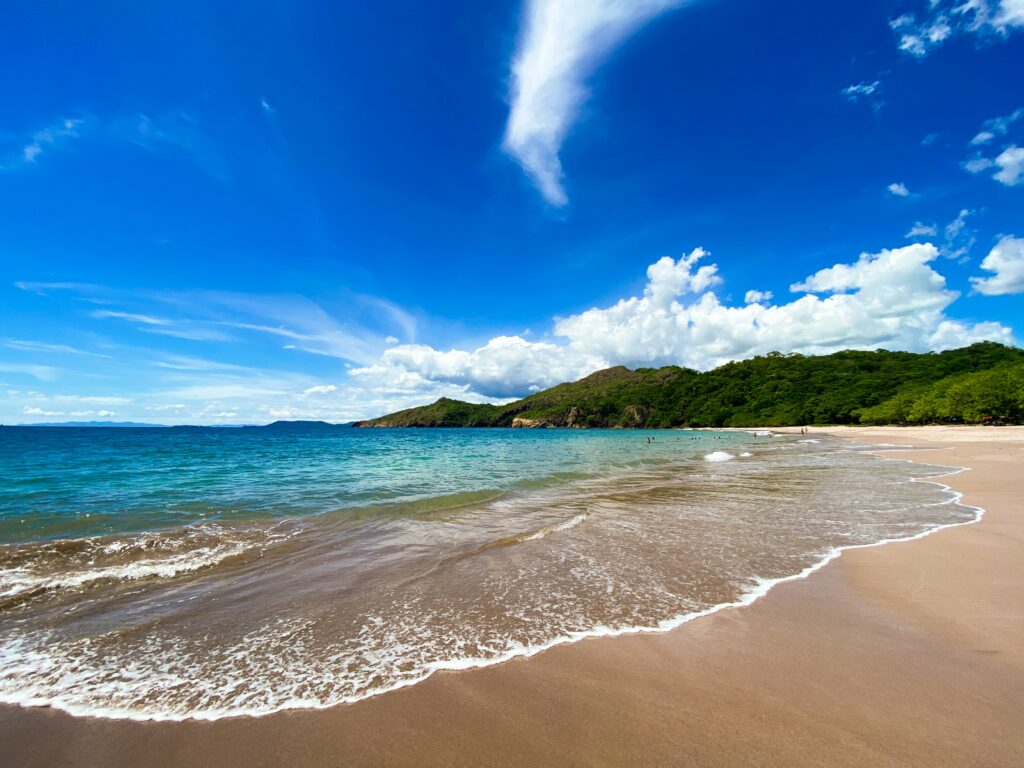 Guanacaste is located on the north-western side of Costa Rica and is a well-known tourist destination because of its sandy beaches, luxury resorts, seaside towns, and national parks.
Couples on honeymoon can choose whether they want to relax on a calm beach, explore the bustling nightlife, enjoy outdoor activities, or learn more about history in traditional fishing villages.
Here are some activities that couples might enjoy when traveling around Guanacaste:
Surf or relax at Tamarindo Beach (Iguana Surf Shop offers surf lessons which will cost $73).
Animal lovers can go on safari at Ponderosa Animal Park (tickets from $50).
Zip lining, tubing, horseback riding, soaking in the hot springs, and hiking at Rincon de la Vieja National Park (admission fee of $10 per person).
Explore the sea on a catamaran or water taxi where you can scuba dive or snorkel. Tour Guanacaste have various boat tours and adventure available.
Take a sunset stroll on Playa Guiones (free).
Have a drink at Volcano Brewing Company.
Arenal & Manuel Antonio National Park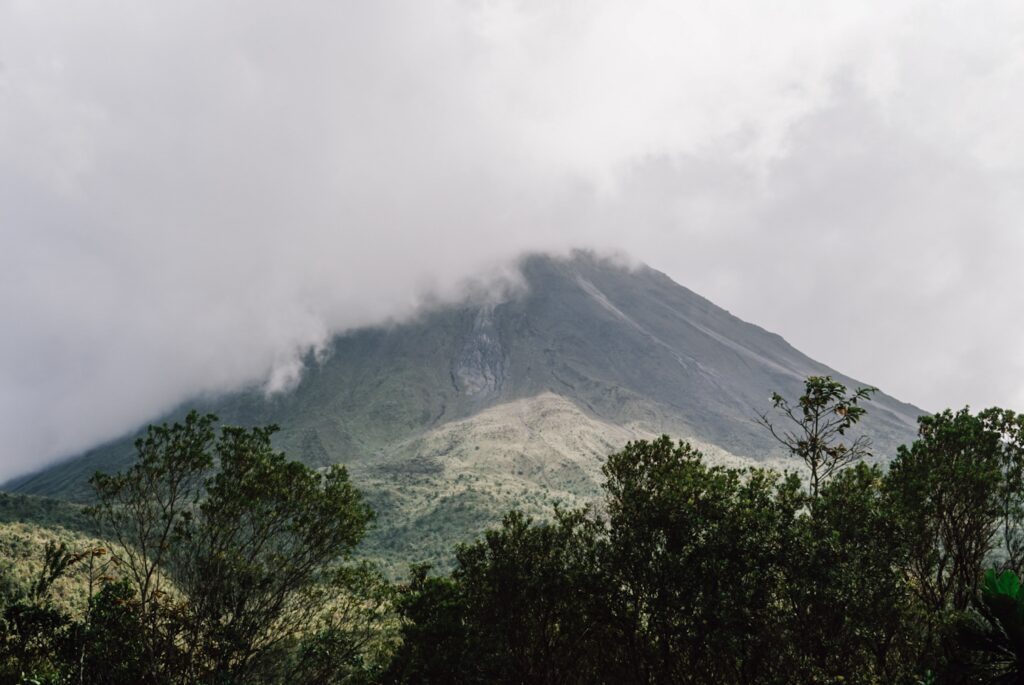 Arenal is well known for the Arenal Volcano, which has resulted in a lot of thermal springs and outdoor adventures. From hiking to ziplining, or spotting wildlife in the Manuel Antonio National Park, honeymooners won't regret stopping at Arenal.
But Arenal is not all about outdoor activities. There are plenty of sandy beaches and comfortable Costa Rica honeymoon resorts where newlyweds can relax and unwind.
Couples can enjoy some of the following activities during their time in Arenal:
Swim at the La Fortuna waterfall ($15 per person admission fee).
Visit the hot springs at Ecotermales Fortuna (Tickets are $44 to visit the hot springs and $72 for lunch or dinner along with a visit to the hot springs).
Hike and zipline at Arenal Volcano National Park (entrance to the park is $15 per person)
Explore the cavernous Venado Caves (entrance costs $28 and gives you access to the swimming pool, safety equipment, and a guided tour)
Learn more about native wildlife at Arenal Oasis Wildlife Refuge, where there is a variety of tours on offer
Walk along Playa Manuel Antonio Beach (free)
Limon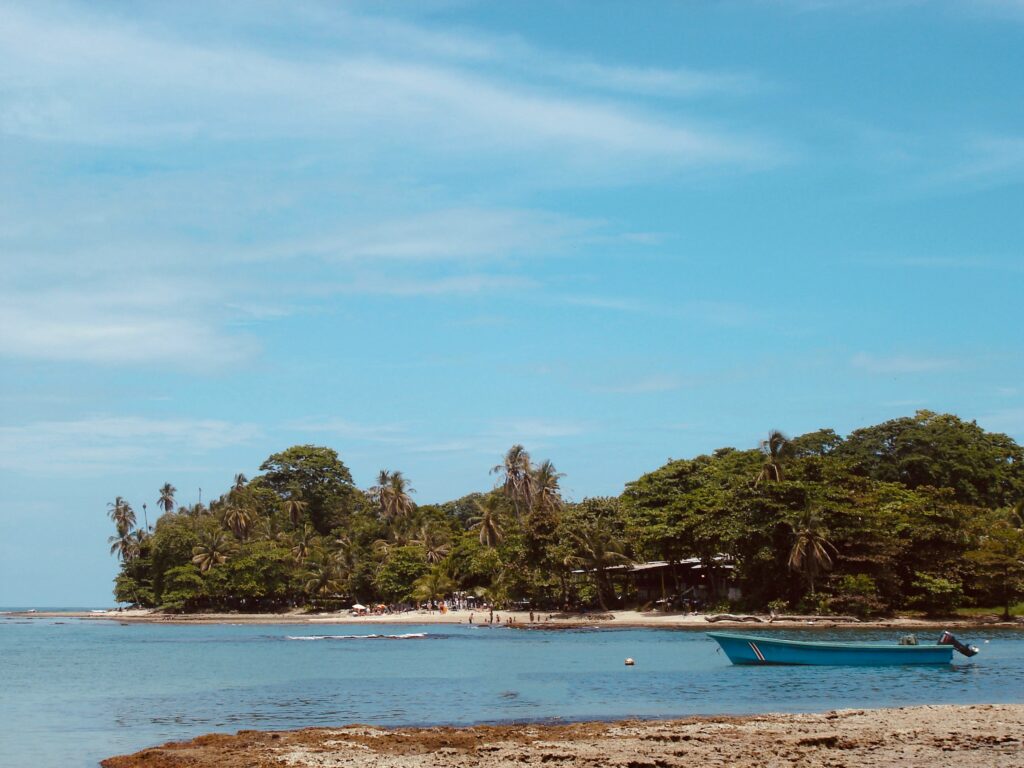 Limon is located along the eastern coast of Costa Rica, on the Caribbean Sea. This location caters specifically to adrenaline junkies, and is not nearly as touristy as other parts of the country, making it a hidden gem for adventure seekers.
Couples can enjoy the following activities in Limon on their honeymoon:
The Osa Peninsula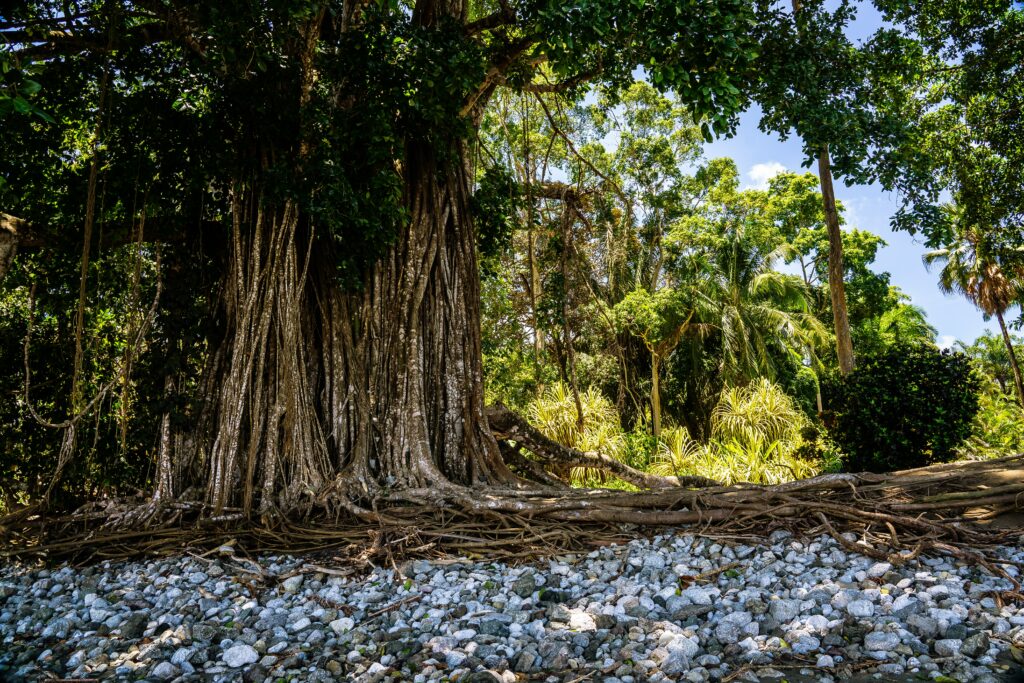 The Osa Peninsula is the perfect honeymoon destination for couples looking to escape and experience some alone time.
This is a lesser-developed region, with plenty of wildlife and wild habitats. There are still some gorgeous honeymoon resorts, which means there is a perfect balance between comfort and seclusion.
Couples can enjoy the following romantic activities in the Osa Peninsula:
Marvel at the marine and terrestrial wildlife at Cano Island (Pacheco Tours offers a full-day snorkeling tour with lunch for $95 per person).
Take a chocolate tour at Rancho Raices de Puerto Jimenez.
Bird-lovers rejoice at Corcovado National Park (admission fee of $10 per person for the day).
Learn more about Costa Rican ecosystems at Golfo Dulce (free).
Hike and swim along the Drake Bay trail (free).
Top Excursions & Activities To Do On A Costa Rica Honeymoon
Those who love nature will have a great time on their honeymoon in Costa Rica. But if the great outdoors aren't necessarily your thing, don't fret – you are bound to find the perfect excursions to suit you on your Costa Rica honeymoon. There is a reason this country is one of the top honeymoon destinations after all!
Honeymooners will enjoy any of the following activities during their honeymoon trip in Costa Rica:
Relax in many of the thermal springs dotted across the country. You can either find a hot spring out in the wild or pay a visit to a thermal spa. Our favorite thermal springs include:
Enjoy a whitewater rafting or peaceful kayaking adventure along many of the beautiful rivers. We personally recommend the following companies for water sports in Costa Rica:
Look out for wildlife: you can try to spot sloths, monkeys, tapirs, and toucans in the jungles of Costa Rica. Check out Arenal Volcano National Park, Cahuita National Park, or Manuel Antonio National Park for the best wildlife spotting opportunities.
Reduce your carbon footprint and go off the grid at one of the many luxury eco-lodges. We highly recommend El Silencio Lodge and Spa in the Cloud Forest as well as Lapas Rios Ecolodge in the Oso Peninsula Rainforest.
Spend time outdoors. There are plenty of opportunities to hike along the coast and jungle, hunt for waterfalls, zipline through the rainforest canopy, or go horseback riding at sunset.
Explore the Arenal Volcano on foot or mountain bike.
Relax at the beach. The beaches of Costa Rica offer amazing snorkeling, diving, or surfing opportunities, or you can simply lounge with a cocktail in the sun.
Interact with the locals. Costa Ricans love showing off their country, so make sure to try some local cuisine, visit fishing towns, and learn more about cocoa and coffee plantations.
Sample Itinerary & Budget For Your Honeymoon To Costa Rica
Honeymooners will require at least one week in Costa Rica to make the most of their trip. One week in Costa Rica will cost approximately $750 per person without airfare.
Here is a completely customizable seven-day Costa Rica honeymoon itinerary.
One Week Costa Rican Honeymoon Itinerary
Upon Arrival
The most accessible airport for this itinerary is Liberia Airport, although flights to San Jose airport might be more affordable.
Days 1-4: Relax at La Fortuna
La Fortuna is the location of the world-famous Costa Rican hot springs, and it cannot be missed by couples on their honeymoon.
The thermal springs will help you to relax and unwind after the stress of your wedding and your long journey to reach Costa Rica.
There are plenty of thermal spas and springs to choose from, each offering amazing spa treatments, dining opportunities, bars, and hot and cold pools. We highly recommend the Baldi Hot Springs, where a day pass will cost you $23.
La Fortuna will also give you access to surrounding towns, making it a great base to explore the region. Car rentals will cost around $50 a day.
Days 5-7: Beach it Up in Guanacaste
After relaxing as much as possible as well as exploring the jungles around La Fortuna, it is time to hit the coast. You can reach Guanacaste by road via bus ($4), shuttle bus ($50), taxi ($140), or car rental.
Guanacaste has several world-famous beaches, and couples can relax on the white sand or dive into the water for a surf, snorkel, or sunset cruise.
Guanacaste has plenty of luxury resorts to choose from – couples really will be spoiled for choice in terms of accommodation, dining, and activities.
Extending your honeymoon
Within seven days you can only see a small part of Costa Rica, so it is recommended that you have a 10- to 14-day honeymoon trip to make the most of all the romantic destinations.
There are plenty of hidden gems to see near La Fortuna and Guanacaste, such as the Monteverde cloud forest (a day pass costs $8) and the Santa Elena District.
You should start with a Costa Rican bucket list when you plan your honeymoon, and calculate how many days you will need to see the top items on your list. You should also consider your budget, as traveling during the peak season may significantly increase the costs to stay at many Costa Rica honeymoon resorts.
Frequently Asked Questions
How much does a Costa Rican honeymoon cost?
The cost of your honeymoon will depend on where you stay when you visit, and what you do. On average, couples spend between $3,000 and $5,000 during their honeymoon. The average costs of a seven-day honeymoon can be broken down as follows:
| | |
| --- | --- |
| Activity | Weekly Cost |
| Flights | $800 – $1,200 (for two people) |
| Accommodation | $2,000+ |
| Dining | $700 – $1,000 (for two people) |
| Transportation | $200+ |
| Honeymoon Activities | $500+ |
When is the best time to visit Costa Rica?
The peak season in Costa Rica is from December to April, because of the lack of rain and amazing weather. Although this is a great time to visit, the tourist spots will be incredibly busy, and prices for stays and activities will be increased.
The real magic of Costa Rica is that there is pretty much good weather all year around. When it rains on the Pacific Ocean side during September, the Caribbean side tends to be dry, and vice versa. This means that with some moving around the country, you are guaranteed to have good weather all year round.
So, although the middle of December to the end of April will guarantee you dry weather, there are mini dry seasons throughout the year, and the different sides of the country have different rainy seasons.
What is the best way to travel around Costa Rica?
To travel around Costa Rica, consider renting a private car, private hotel transfers, or take buses and shuttle buses.
Most people will opt for renting a private car when they arrive in Costa Rica. Car rental will allow you the freedom to go where you want when you want. For a week's rental, you can expect to pay between $250 and $700, depending on the car you get and when you are visiting the country.
If you do not want to brave the roads yourself, you can check whether private transfers are included in your honeymoon package. Alternatively, you can take domestic flights in hair-raising small planes. There is also the option of hiring a private driver to take you around, or the more adventurous can tackle the public transport system as there are buses traveling around major destinations.
How long should you spend in Costa Rica for a honeymoon?
How long you want to spend in Costa Rica is completely up to you and your budget, but it is generally recommended that you do not spend less than seven days in the country for your honeymoon.
This duration will allow you to visit at least two destinations during your trip which can be set up as a base to explore the surrounding areas, and also gives you the opportunity to do activities as well as relax at your resort.
If your budget allows it, a ten to fourteen-day honeymoon would be preferable, as you will be able to see and do a lot more, with rest days in between.
Start Planning The Perfect Romantic Honeymoon Getaway
Planning your Costa Rica honeymoon is easy once you have an idea of where to go, what to do, and where to stay.
There is no shortage of resorts, villas, and hotels in Costa Rica, so it is up to the newlyweds to find their ideal accommodation in their dream location. From the beautiful beaches of Guanacaste to the Jungles of Arenal, there really is something for everyone in Costa Rica.
We hope that this Couple's Travel guide has inspired you to take the plunge and start planning your unforgettable Costa Rica honeymoon.