There are few things out there better than gathering up your family and taking them down to the beach. Unfortunately, this isn't always something you can do over a weekend, especially if you live in a landlocked state.
Sometimes you need to pack your bags and see what other states and countries have to offer. Your family will definitely appreciate you for it, as nothing creates great memories quite like spending some time lazing in the sun, splashing in the waves, and building sand castles.
However, with so many family beach destinations on offer, it can be difficult to make a decision. Luckily for you, we've created a list of the best family beach vacations to help make your decision that much easier!
1. Best Overall Family-Friendly Beach: Myrtle Beach, South Carolina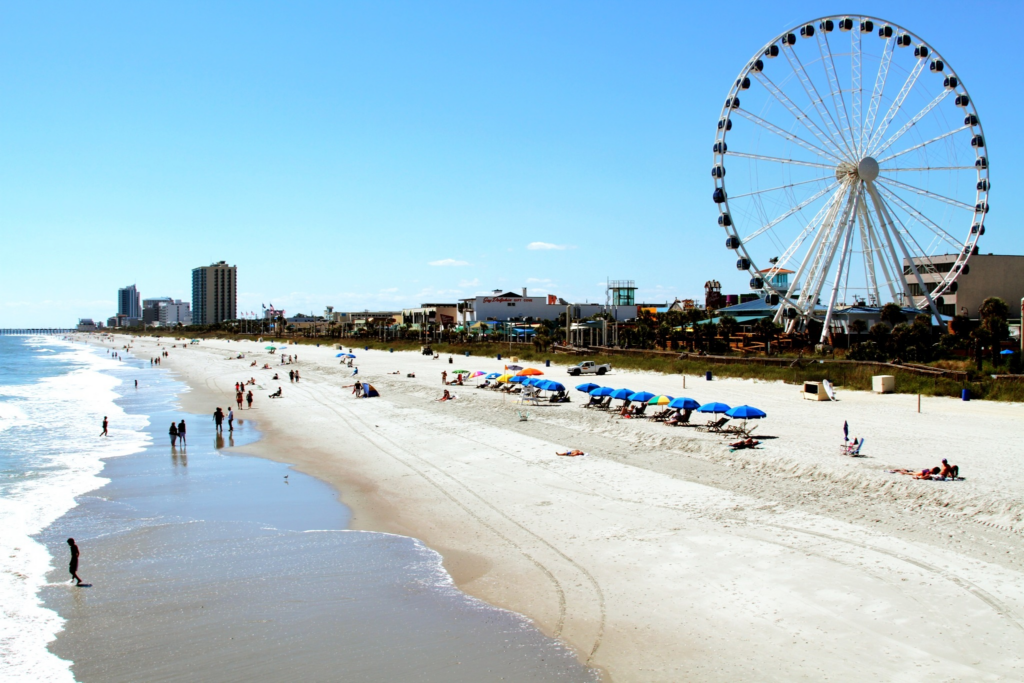 If you're looking for a classic U.S. family beach vacation destination, then look no further than Myrtle Beach in South Carolina. While Myrtle Beach isn't really a place where you'll be sipping drinks out of coconuts under palm trees, it has many other attractions to offer!
Myrtle Beach offers over 60 miles of uninterrupted sandy beaches, so it will be easy to find a spot to lay down your towels and watch your kids or partner splash in the waves. You don't need to worry about their safety either, as lifeguards are on duty monitoring all 60 miles of the coastline from 8 am to 5 pm every day from March to October.
When the sun finally sets, you can wash off at your hotel, and then make your way back to the boardwalk. There, you'll find plenty of eats, amusement park rides, and some old-fashioned arcade games that any kid at heart will love.
2. Best for Kid-Friendly Activities: Destin, Florida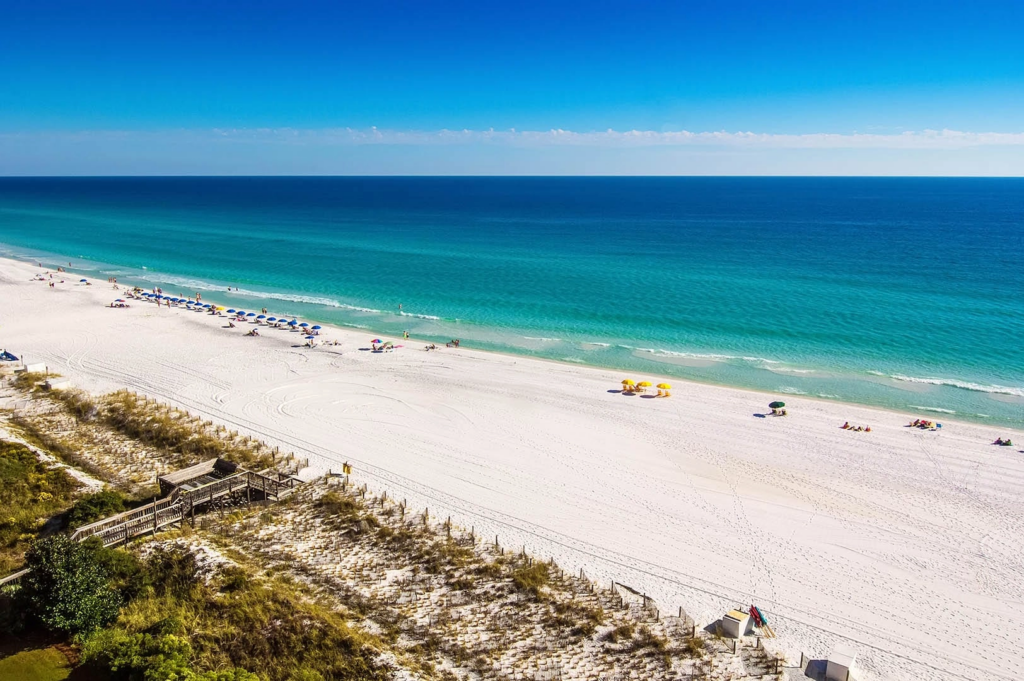 Destin, in the Florida panhandle, offers the perfect weather for beach vacations almost year-round. Destin is fun for couples, solo travelers and families, as there are a range of activities made with kiddos in mind.
For little ones, the pirate boat tours that launch from HarborWalk Village allow kids to engage in a variety of pirate-themed activities. These include treasure hunts, water gun battles, and even pirate training!
For the older kids, there are also water sports on offer at HarborWalk Village. You can easily rent kayaks, or do some parasailing and jet skiing.
Luckily, Destin isn't all action. If you want more of a relaxing beach experience, head to Henderson Beach State Park. It features a white sandy beach and emerald-colored water, making it an excellent spot to lay down a towel and read a book.
When you've had enough of the beach, you can hike one of the many nature trails or stop and have a bite to eat at one of the picnic areas the park offers.
3. Best for Scuba Diving and Surfing: San Diego, California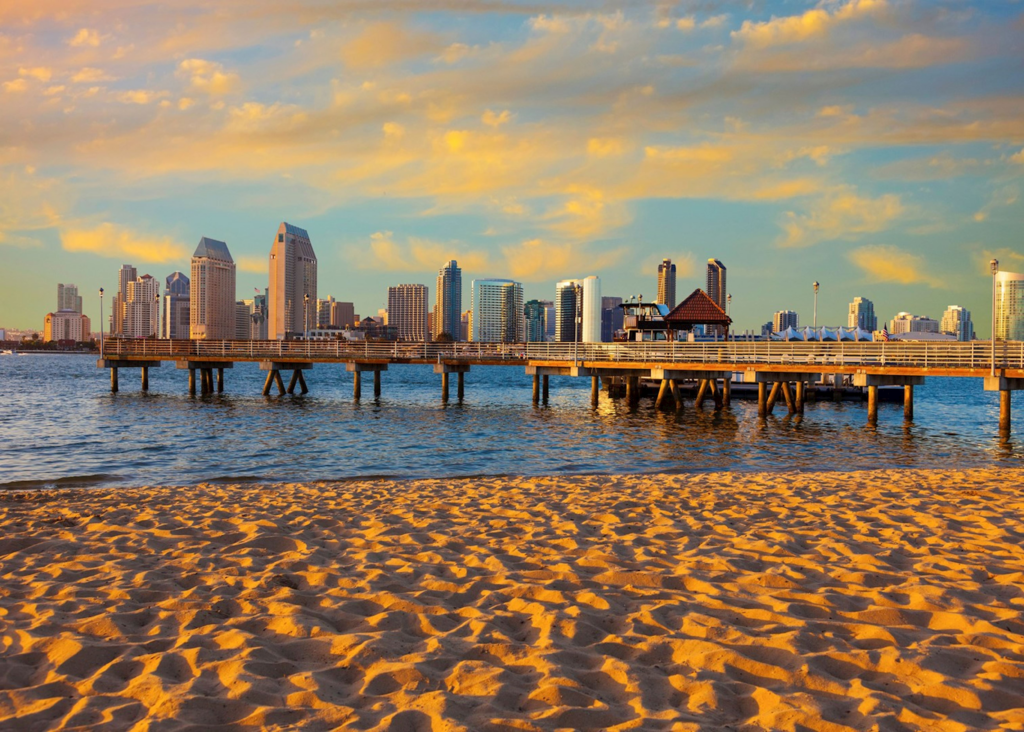 San Diego has long been known as one of the best family beach destinations around, and it's clear to see why.
Coronado Beach is the best family beach in the city, as it has tide pools that little ones will love to explore. It also features calm waters that are great for a dip, and is entirely dog-friendly, so your pooch can come, too!
Unfortunately, Coronado is far from a well-kept secret and can get very busy, so it's best to visit in the early morning or late afternoon.
If you have older kids and an adventurous family, you can head to La Jolla Shores to learn how to scuba dive and surf. Not only does this make for an exciting activity but also a wonderful experience to make memories.
If the weather isn't great when you decide to visit, you don't need to fret. There is an abundance of other kid-friendly activities in San Diego that don't involve the beach. Your kids will love the San Diego Zoo and LEGOLAND just as much as a day on the beach – if not more!
4. Cape May, New Jersey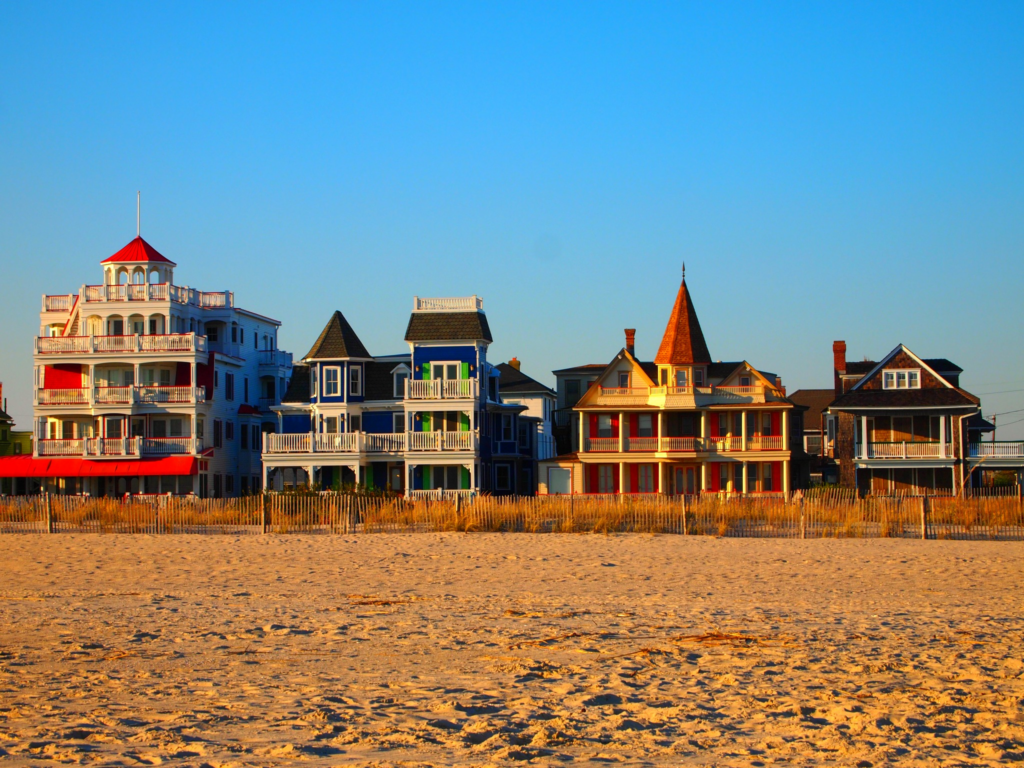 Cape May is a great spot on the East Coast, and while it only offers three miles of beach, there is more than enough for you and your family to do.
In Cape May, you can find Sunset Beach, which as you might have guessed is famous for its spectacular sunsets. But, it also has many amenities and is a great spot for surfing, kayaking, and swimming.
You and your kids can also spend some time searching for Cape May "diamonds" at Sunset Beach. These "diamonds" are actually quartz pebbles, so they won't be worth very much, but they do make great souvenirs!
Unfortunately, you'll need to purchase beach tags if you want to head down to most of Cape May's beaches during the summer. These tags cost $6 per person per day, or $12 per person for three days. While you might think that this is a downside, it does tend to reduce the crowds, so it can be worth the money.
When you and your family build up an appetite after spending a long day at the beach, there are rows of food stalls that can be found across Beach Avenue. They serve everything from hot dogs to funnel cakes, so you'll be spoiled for choice.
5. Cape Cod, Massachusetts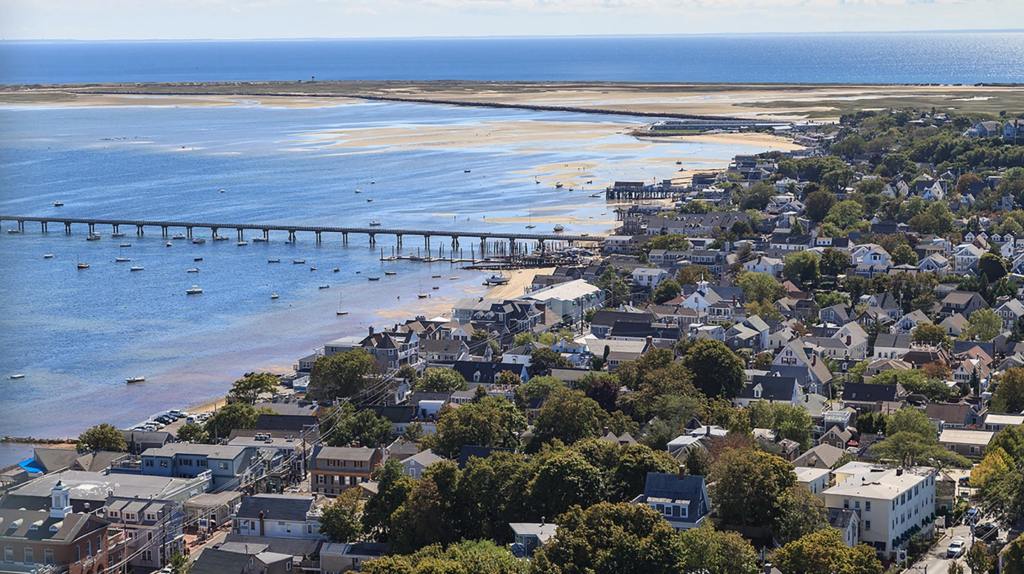 If you're looking for the best family beach vacations in the U.S., then Cape Cod should be near the top of your list.
Cape Cod can get very crowded in the summer as there is so much to do and see in the area. However, this does mean you'll need to book way in advance if you want to get into the best beach resorts.
Mayflower Beach is one of the best family beaches the area has to offer, as it has loads of picnic areas and public bathrooms, and is regularly patrolled by lifeguards.
At low tide, the water retreats quite a bit, making it an excellent spot to throw a frisbee or play a game of beach volleyball. Tide pools form right on the sandy shores during low tide too, which are great for kids to wallow around in.
Mayflower Beach also features the calmest waters in the entire Cape Cod area thanks to its location on the bay side. So no need to worry while your little ones splash about.
6. South Padre Island, Texas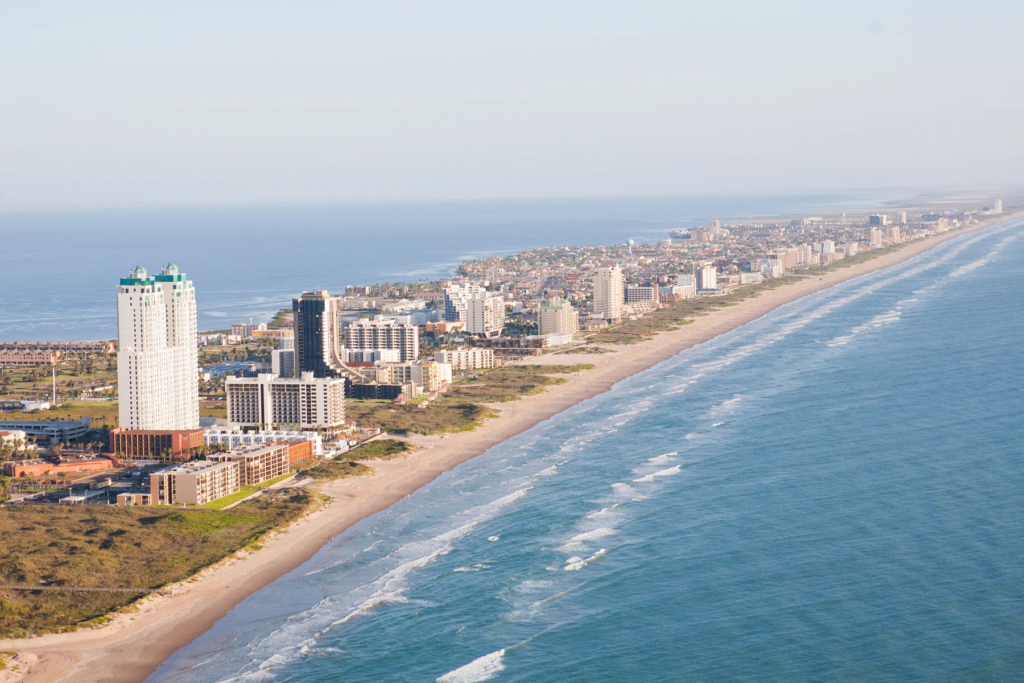 Texas might not be the first state you think of when it comes to family beach vacations, but it certainly has a lot to offer in South Padre Island.
One of the main activities on this Texan tropical island is sandcastle building. While you might think this activity is just for kids, there are several places that offer lessons for people of all ages.
Once you've honed your sandcastle-building skills, you and your family can enjoy swimming, paddle boarding, and surfing in the warm water. There are no lifeguard towers, but lifeguards patrol all of the beaches on South Padre Island and respond when issues arise.
The island also features an excellent array of sea life, and if you visit between June and August you might get to see some baby Kemp's Ridley sea turtles being released into the water! The National Park services collect turtle eggs laid on the island and usually release hatchlings between these months.
When you've taken in all the sights and sounds on the beach, you can head to one of the many restaurants in the beachfront area. They often feature live music, free for everyone to enjoy.
7. Outer Banks, North Carolina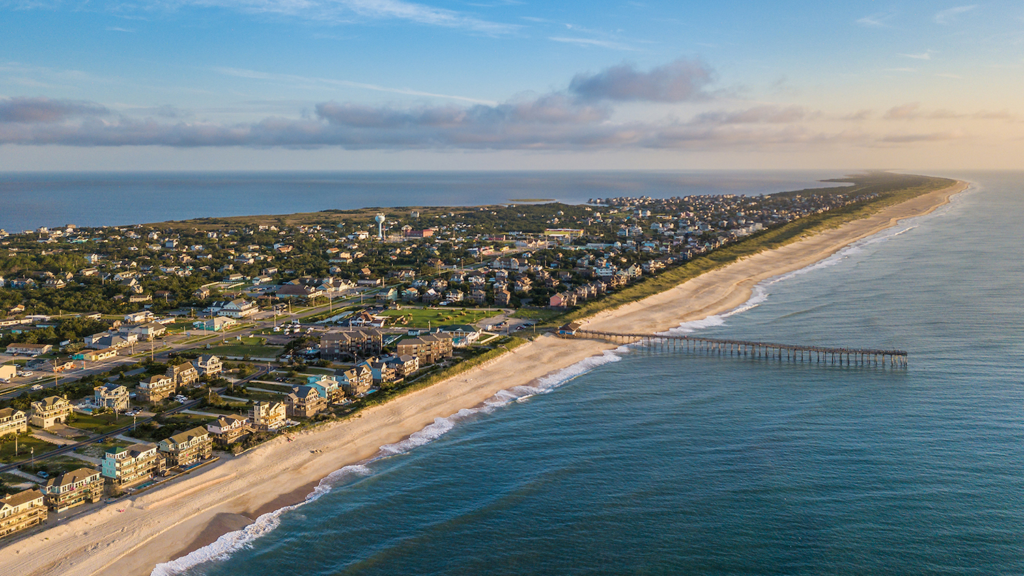 If you and your family aren't interested in action-packed beach activities and would prefer to laze in the sun on large stretches of unspoiled beaches, Outer Banks is the perfect spot.
The Outer Banks is a collection of small coastal towns, making for a relaxing vacation for the whole family. Many people call Corolla the perfect Outer Banks town due to its beautiful wide open beaches.
Currituck Beach is the most popular beach in the town for a couple of reasons. However, you can only get there if you have a 4X4, as the beach sand is not very forgiving to lesser vehicles.
Currituck Beach's most popular attraction is the herd of wild horses that lives in the area. If you're lucky, you and your kids may even get to see them running along the shore and playing in the waves. How's that for a magical sight on your beach vacation?
More adventurous families can also head down to Jockey's Ridge State Park. The park allows visitors to hang glide off the tallest sand dunes in all of the East Coast.
If you're after a more traditional beach experience, make your way to Rodanthe Beach. The waves are calm so the beach is perfect for swimming, and there are always spots open for sunbathing.
8. Virginia Beach, Virginia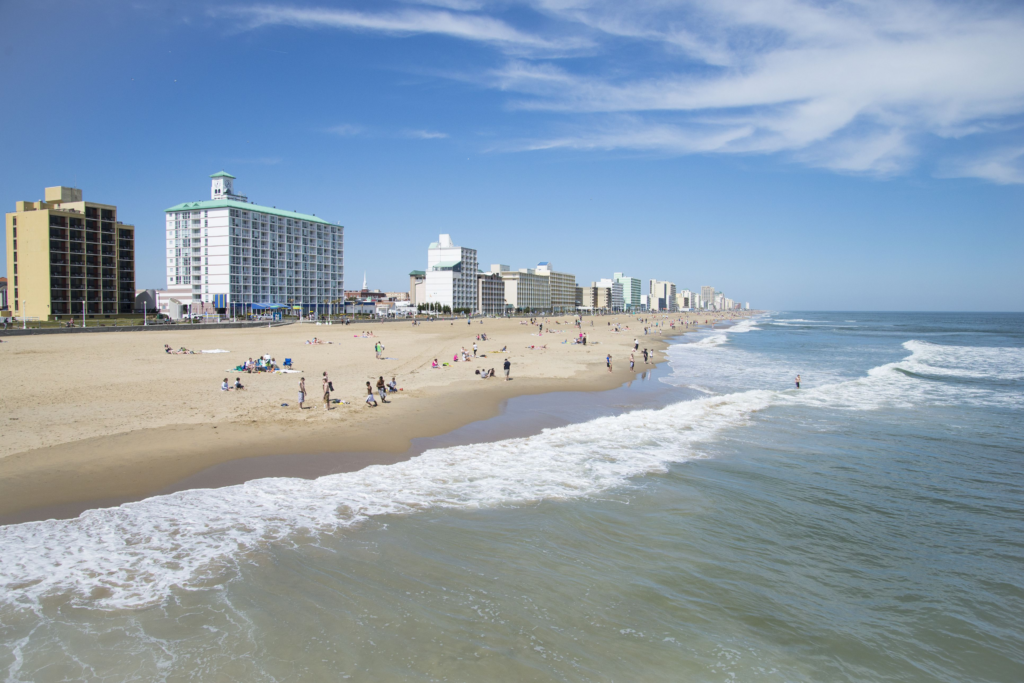 Virginia is another state that isn't well renowned for having excellent beaches. However, you'd be doing yourself a disservice if you don't consider Virginia Beach for one of your next family beach vacations.
Locals favor Sandbridge Beach, as it doesn't attract too many crowds, but is still regularly patrolled by lifeguards. This means it will be easy to find a nice spot to sunbathe, while your kids enjoy the water. It also features clean public restrooms and outdoor showers.
Little Island Park is only five minutes away from Sandbridge Beach and is another great beach in the area. Its swimming beach is highly rated and also features a brackish lake that is great for fishing.
Little Island Park is also loaded with other amenities like picnic areas with charcoal grills, pickleball courts, volleyball courts, basketball courts, and public restrooms. This makes it an excellent option if you want to spend the whole day on the beach with your family.
If you get a bit tired of the beach, Virginia Beach has many other great activities for the whole family. It has a three-mile boardwalk with an excellent playground and plenty of restaurants and shops. And, if you're willing to venture a little further inland, you'll find amusement parks, mini golf, and an indoor skydiving center.
9. Monterey, California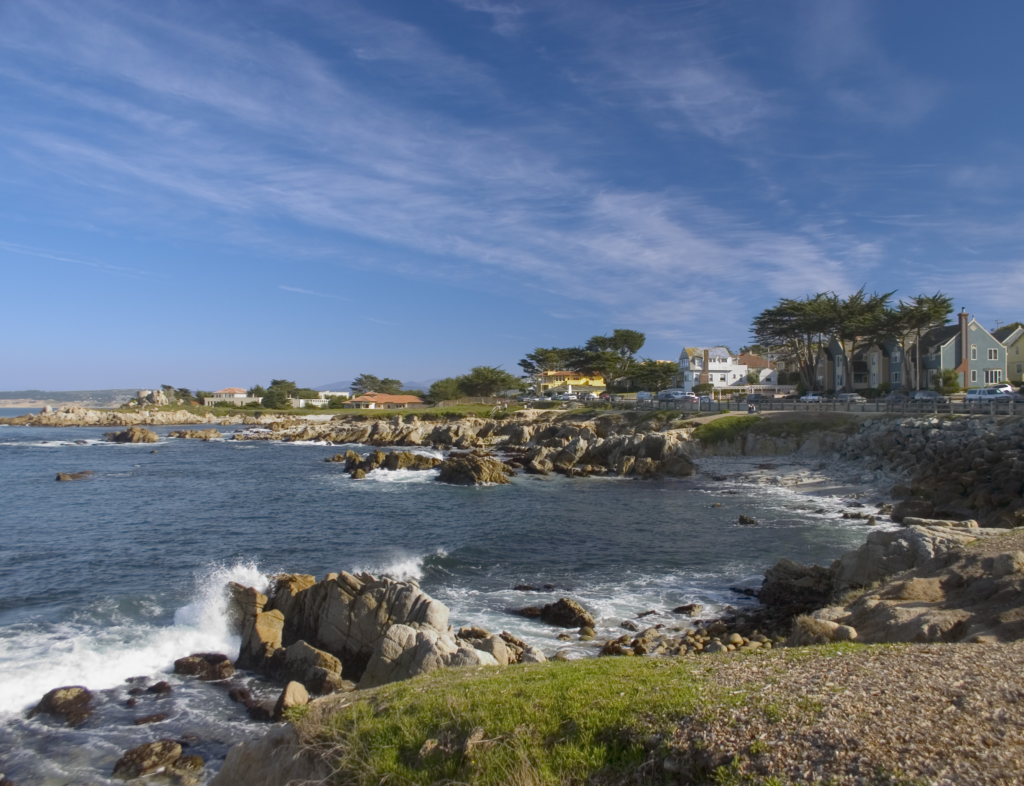 Monterey is another destination in the Golden State that is excellent for family beach vacations. But, if you and your family want to go for swims in the sea, it's best to visit in the summer, as the water can get cold during other seasons.
Lovers Point Beach is a local favorite. It faces east, meaning it's one of the few places on the West Coast where you can watch the sunrise over the water. Nature lovers are often drawn to this beach, as it's surrounded by trees, and features a picturesque rocky landscape.
Lovers Point Beach isn't just for people who want to admire the scenery, though. It's also perfect for surfing, stand-up paddle boarding, and kayaking. Thankfully, you don't need to bring your own water sports equipment, as it's all available for rent right on the beach.
Lovers Point Park is also only a short distance away and features a children's swimming pool, picnic areas, and a beach volleyball court.
If the weather isn't great for a beach trip, you can take your family to the Monterey Bay Aquarium. It houses over 200 exhibits including sea lions, penguins, sharks, and much more.
10. Maui, Hawaii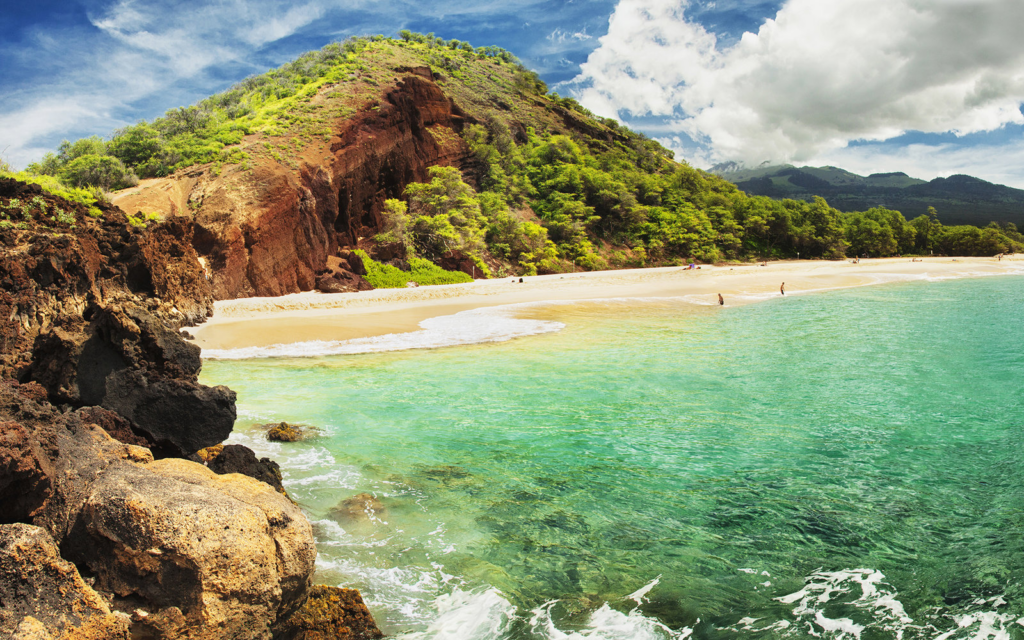 All of the Hawaiian islands are perfect for family beach vacations, as they are all littered with impressive beaches. Although, many people seem to think that Maui offers the perfect balance, as it's not as remote as Kauai or as crowded as Oahu. It's also not too small like Lanai, or too big to explore everything the island has to offer like the Big Island.
Wailea is highly renowned for its crescent-shaped beaches, as they all offer calm, crystal-clear waters, making them perfect for children to swim in. Wailea's most famous beach is Wailea Beach. It was voted America's Best Beach back in 1999, and it's easy to see why.
It's home to a range of high-end resorts that are situated right on the beach. The paved, palm tree-lined walkway that connects these resorts to the beach makes it easy to get to the shops and restaurants in the area.
Wailea Beach's crescent shape makes for calm waters, making it excellent for both swimming and snorkeling. You can even rent water sports equipment right from the beach if you want to go kayaking or stand-up paddle boarding. Best of all, if you decide to visit Wailea Beach in winter, you may even spot whales right from the shore.
11. Nassau, Bahamas
If you've got more of a tropical family beach vacation in mind, and want to head outside of the U.S., why don't you take a trip to Nassau? The capital of the Bahamas is brimming with beautiful beaches, but Paradise Island gets our vote.
Paradise Island has everything you would expect a tropical island to have, boasting beautiful crystal clear waters and white sand beaches. You and your family can also swim in the pristine water, as many of the resorts on the island have private beaches with designated swimming areas that have lifeguards on duty at all times.
But Paradise Island has far more to offer than just its beaches! The island is also home to some thrilling waterparks. The most well-known option is Atlantis, but Fins Up Waterpark will also be an excellent choice.
The waterpark at Atlantis has some amazing slides including "The Leap of Faith", which is 60 feet high, while Fins Up has a lazy river and a 10-foot jumping platform.
You and your partner can also head to one of the many different spas and wellness centers on the island if you want to spend a little time away from the kids. Most of the resorts on the island offer daycare services that will keep your kids both busy and happy while you and your partner blow off some steam.
12. Phuket, Thailand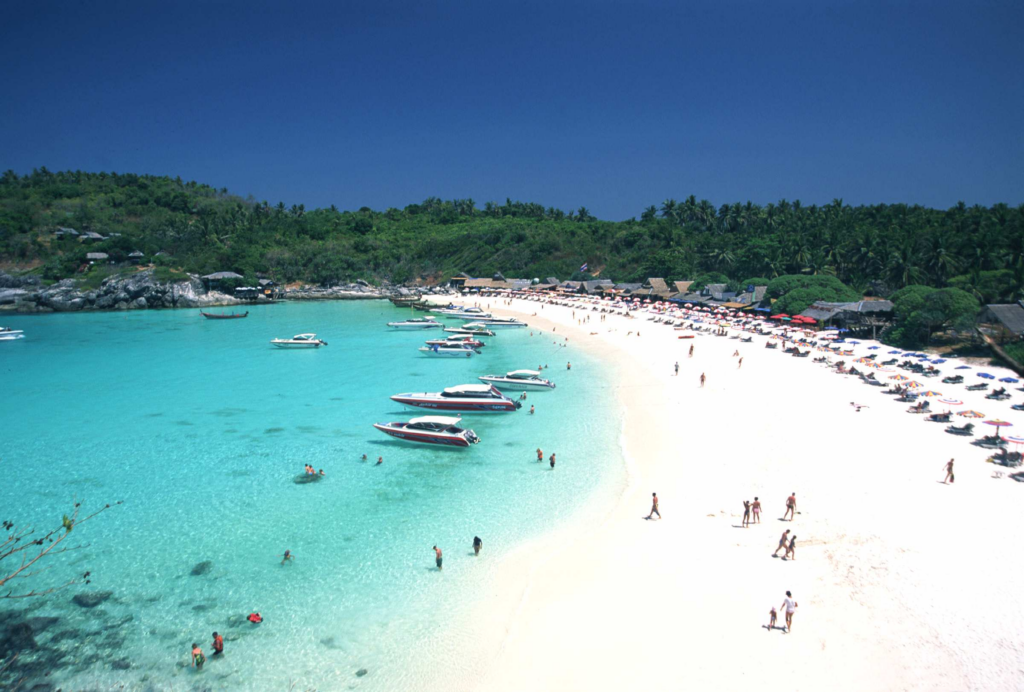 Phuket in Thailand is another great tropical option for family beach vacations if you don't mind long flights. Phuket plays host to some of the best beaches in all of Thailand, which is why tourists flock to the island year after year.
Patong Beach is one of the most popular beaches on the island, and there is a wide range of hotels to choose from that are situated right on the beachfront. Unfortunately, Patong Beach can get quite crowded so it might be difficult to find a spot to lay your towels down.
However, it makes up for this by offering a great number of water sports activities and other amenities. For example, you can take a jet ski tour from Patong Beach that will take you around some of the other islands that surround Phuket. Or you can rent a kayak, and paddle around the turquoise waters.
Phuket also has a plethora of activities for kids – you can choose from a long list of water parks, zoos, and aquariums. The Phuket Aquarium, in particular, is a great choice for a day out. It is home to more than 130 different sea creatures and even has an underwater tunnel.
13. Corfu, Greece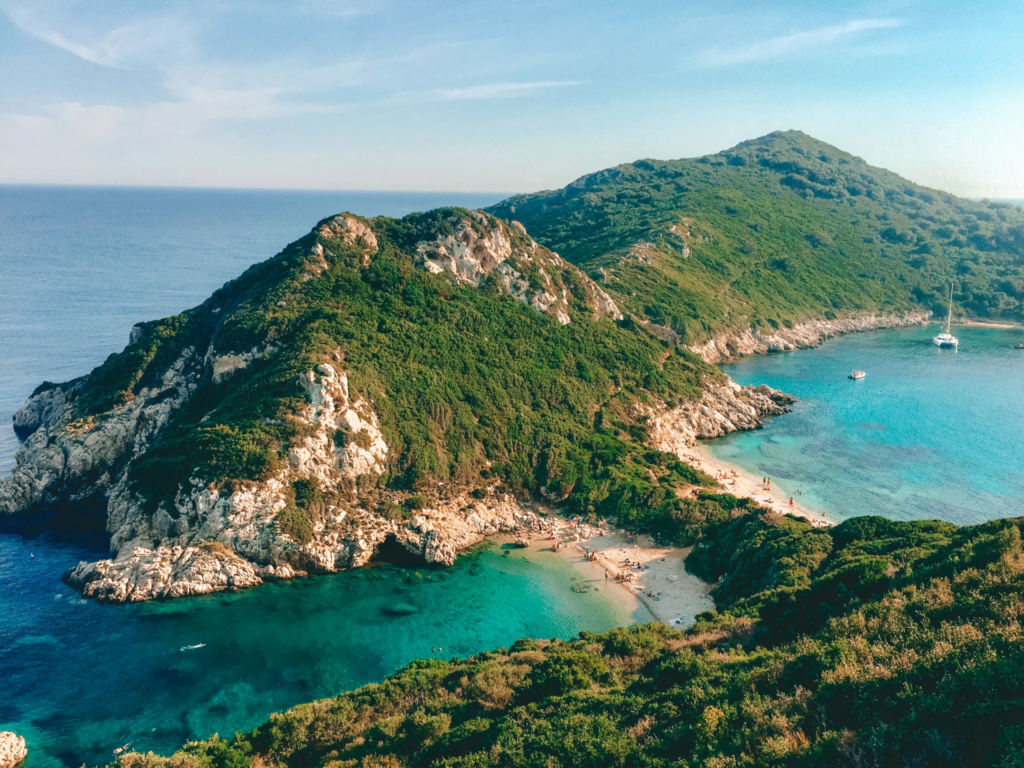 If you and your family are after a European beach vacation, then you can't go wrong with the Mediterranean island of Corfu. Corfu is one of the most popular Greek islands, mainly because of its beautiful soft-sand beaches.
Paleokastritsa has the best beaches for families in Corfu, the most famous of which is Agios Spyridon. Unlike many of the other beaches in the area that have small, smooth pebbles on their banks, Agios Spyridon's banks are made almost entirely of sand.
You'll be able to soak up the sun for hours on the soft sand, while your kids build sandcastles. When you get a little too hot, you can take a swim in the clear waters, but, be warned, as the waters aren't always the warmest (which is not a bad thing on a hot day!).
Unfortunately, Agios Spyridon can get quite crowded, so if you want more peace and quiet, you should take your family to Ampelaki Beach.
It is a lot less crowded than Agio Spyridon, so you're sure to find a sandy spot to relax with your kids.
Ampelaki Beach also offers umbrella and sunbed rentals, so you can relax in comfort away from the blazing Greek sun.
FAQs
How long are flights from the U.S. to Phuket, Thailand?
If you're flying from LAX to Phuket, you're going to be spending at least 20 hours in the air, but if you're flying from somewhere in the Midwest, you could spend up to 27 hours on a plane.
Which U.S. state has the best beaches?
Hawaii is widely considered to have the best beaches in the U.S. However, if you're talking about beaches on the mainland, then California and Florida also have an array of beautiful beaches that are definitely worth checking out.
What are the best budget family beach vacation destinations?
Virginia Beach and Myrtle Beach both offer affordable accommodation options and are great for families. You and your family can easily have just as much fun at these locations, so there's no need to hop on a plane and fly somewhere exotic.