Home to miles of the best beaches in the US, Georgia isn't known as the Charming State for nothing.
You'll enjoy the sweet peaches and warm hospitality, along with its breathtaking coastline. From the idyllic Cumberland Island to the luxurious Little St. Simons Island, Georgia's beaches have a little something for everyone.
So, if you're looking to escape the daily grind and experience some fun in the sun, join us as we explore 15 of the best beaches Georgia has to offer.
We've included the famous Driftwood Beach and Great Dunes Beach Park as well as many other beaches on the barrier islands too.
How We Choose Our Beaches
What makes a good beach really depends on how couples want to spend their time.
For romantic getaways, miles of shimmering white sandy beaches top the list. This is followed by crystal clear water that's perfect for swimming and relaxing in. While big waves may be a no-no for some, active couples may enjoy surfing, which is where big waves and perfect shore breaks make the list.
If you're looking for adventure and something a little different, then access to marine life, rocks and boulders, and perfect scuba or snorkeling locations are important.
We've done our best to cover all the bases. But the one thing we can all agree on is that warm, sunny weather is a must.
Before you head off for your day in the sun, there's something you must do…
A Quick Tip: The Importance of Checking Travel Advisories
When traveling to a new destination, it makes sense to ensure the weather's going to play ball and that you'll be safe. And Georgia's Golden Isles are no exception, open as they are to the Atlantic Ocean.
Before heading out to the Barrier Islands, visit the National Weather Service for the latest weather warnings and Georgia Department of Natural Resources for water quality warnings.
March to August is the high season and most popular time to visit. Although March to May is also tornado season, with April the month you're most likely to experience adverse weather.
1. Best for Wildlife: Cumberland Island National Seashore, Cumberland Island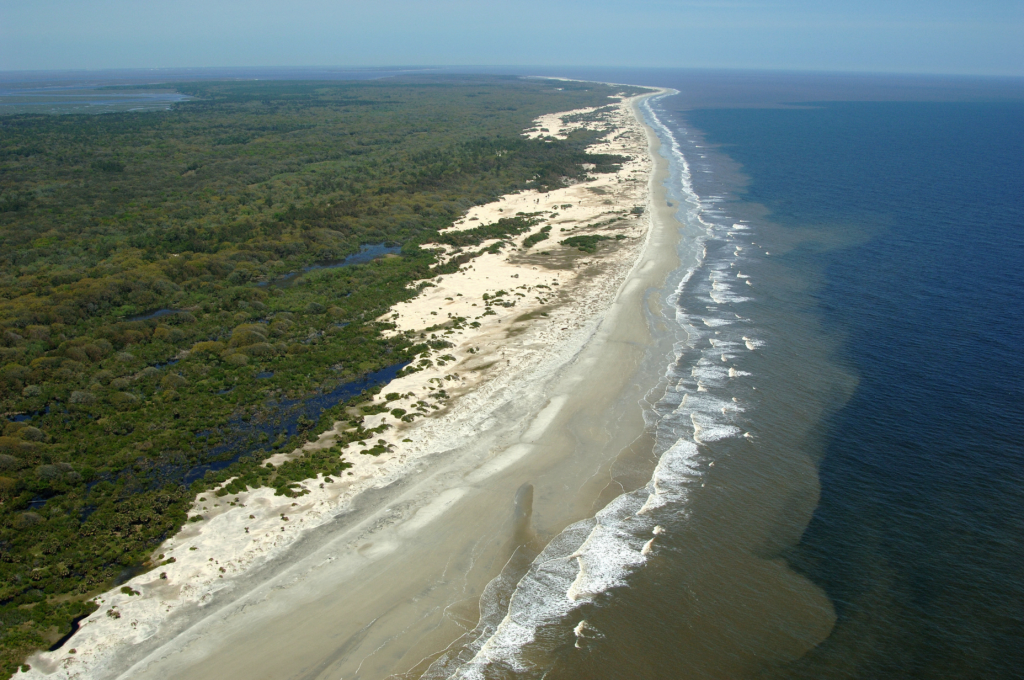 With so many spots to choose from on the Georgia coast, you'll be hard-pressed to pick the ideal one for your trip.
Cumberland Island National Seashore, just off the Georgia coast, offers miles of the most pristine beaches and tops our list.
Offering stunning views and a protected national seashore, you'll enjoy peace and tranquillity on the secluded beaches amongst abundant wildlife.
Depending on what time of the year you choose to visit, you'll get to experience wild horses, gorgeous sea turtles, and inquisitive armadillos.
For the more adventurous, there's ample room for hiking, biking trails, as well as camping.
1.1 Best for Relaxation: St. Marys Beach
St. Mary's Beach on the Cumberland Island National Seashore is a superb destination if you're looking for a peaceful escape from everyday life.
1.2 Best for Spotting Sea Turtles: Dungeness Beach
Cumberland Island National Seashore also includes Dungeness Beach, which is an absolute treat. You'll find two enticing and beautiful beaches with white sandy shores here.
Assorted hiking trails as well as some of the most wonderful wildlife will keep you busy too.
You have the best chance of seeing loggerhead turtles here between May and October.
1.3 Best for Hiking: Stafford Beach
Stafford Beach offers visitors an opportunity to enjoy the unspoiled coastline, far away from crowds and noise.
But make sure that you book in advance on the National Park Service website, as they can only accommodate 300 visitors per day via ferry access.
You may also access the beach via kayak if you're especially adventurous.
This is one of the best beaches in Georgia. It's located on an absolutely pristine coastline where no watersports are allowed. With no lifeguards on duty, the sea is better suited to confident swimmers.
You can make use of the public restrooms that are spotlessly clean. If you want to splurge, the island has several excellent restaurants. You can also rent bicycles to get around for more leisurely exploring.
If you want to stay overnight, there's also accommodation available.
2. Best for Honeymooners: Sea Island Beaches, Cumberland Island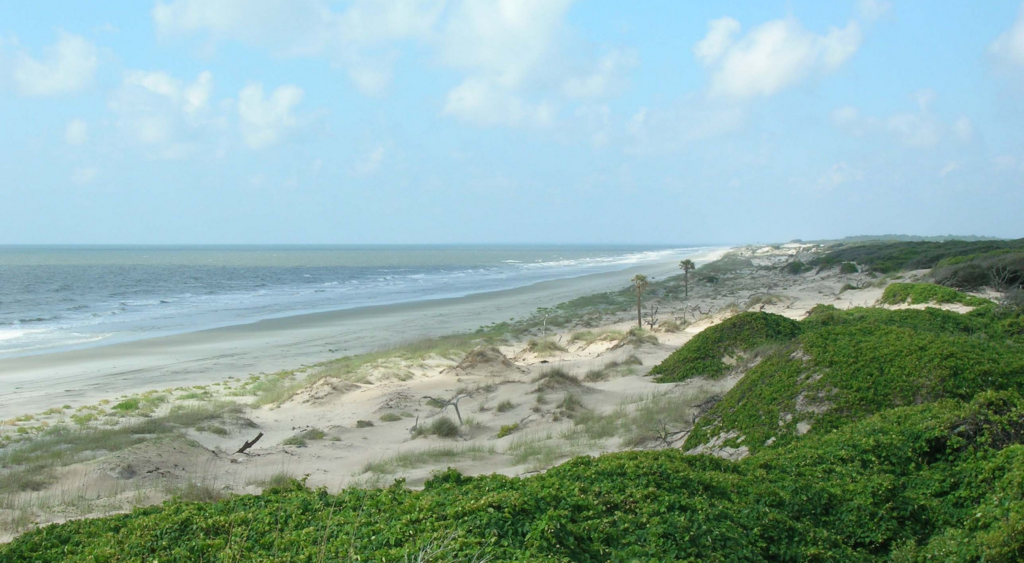 If you and your partner are looking for a little more luxury, Sea Island is a resort town that is home to a variety of private beaches.
The water at Sea Island beach is crystal-clear, and you can book accommodation in high-end resorts and villas such as The Cloister.
This island resort is built on fifty acres and surrounded by salt marshes, the sea and a river. It makes for a delightfully, elegant and luxurious getaway for couples and honeymooners.
If you don't feel like lounging around your 5-star Sea Island resort, there's more than enough to keep you busy on the rest of the island. From excellent restaurants, three superb golf courses, and a spa, you'll be spoilt for choice.
The Sea Island Beach Club resort offers horseback riding to explore the island. Down on the beach, the resort offers the option of kitesurfing or kayaking to get your heart pumping.
3. Best for Photo Ops: Jekyll Island Beaches, Glynn County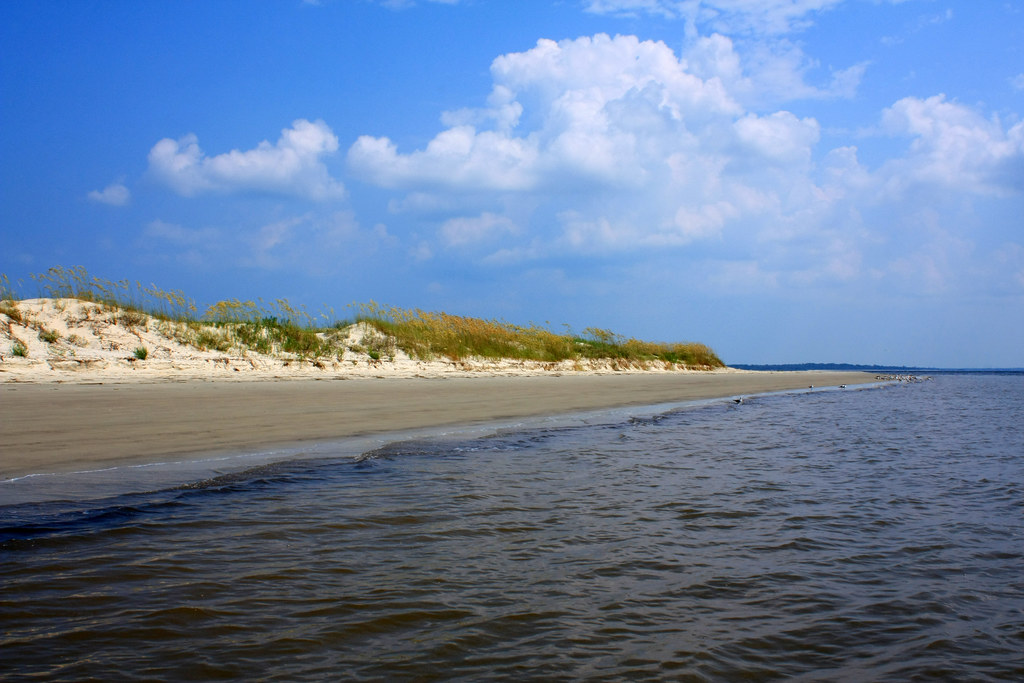 Jekyll Island is a state park where you can experience ten miles of freedom on some of the greatest beaches in Georgia.
3.1 Driftwood Beach, Jekyll Island
You'll have the time of your life visiting the most famous Jekyll Island beach, Driftwood Beach.
Jekyll Island Driftwood Beach is well-known for its nature trails through crooked and contorted trees. If you're looking for stunning backdrops to capture portraits of your loved one, then the creative opportunities offered by the surreal landscape will leave you awestruck.
To make getting around Jekyll Island a little easier, you can rent a bike. Or get some serious exercise by taking to the adventurous hiking trails or superb golf courses close to Driftwood Beach.
3.2 St. Andrew's Beach, Jekyll Island
St. Andrew's Beach is both dramatic and peaceful – probably the reason why the directors of Chariot's of Fire chose it as the destination for their iconic film.
Be careful if you go swimming here as lots of people fish in the area. But, the picnic area is superb and surrounded by gorgeous trees that provide plenty of shade.
This lovely, couples-friendly Jekyll Island beach has a convenient restroom to clean up after a delightful run along the pristine coastline.
3.3 Great Dunes Park, Jekyll Island
Great Dunes Park on Jekyll Island offers non-stop fun if you're looking for a bit of excitement.
The beach is huge, with lots of space for swimming and sunbathing, making it the most popular of Jekyll Island's destinations.
There's plenty of parking close to the beach and if you time it right you'll get to see the area's famous sand dollars as they're all over the beach between June and September.
3.4 Glory Beach, Jekyll Island
For a more relaxing Jekyll Island beach experience, we recommend you visit Glory Beach, next door to St. Andrew Beach.
There are full amenities for you to enjoy as you take in the awesome natural beauty of the surrounding area. It's close to Great Dunes Park but far enough away for you to avoid the crowds and noise.
3.5 St. Andrews Beach Park, Jekyll Island
St. Andrews Beach Park on Jekyll Island (not to be confused with St. Andrew's Beach) is a stunning stretch of virgin shoreline. It offers wildlife enthusiasts opportunities to see migratory birds and other animals on various nature walks.
You can spot dolphins from the two-story wildlife observation platform, just a short distance from Jekyll Point. But if you want to see them up close, then book a charter cruise.
St. Andrews Beach Park offers you magnificent surroundings but is geared more towards bird and wildlife watching rather than swimming.
4. Best for Swimming: St. Catherines Island Beach, South Newport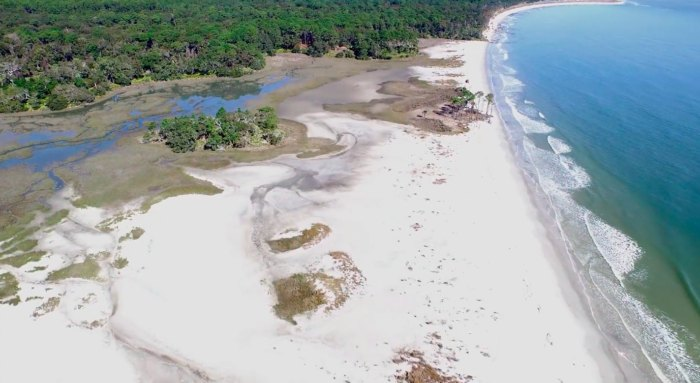 Considered by many to be one of the top Georgia beaches, St. Catherines Island Beach offers you more than 10 miles of unspoiled sun, sand, and fun.
The island has a history of preserving its flora and fauna as well as its historically significant buildings.
While the beach is open during the day, you won't be able to stay after dark.
5. St. Simons Island Beaches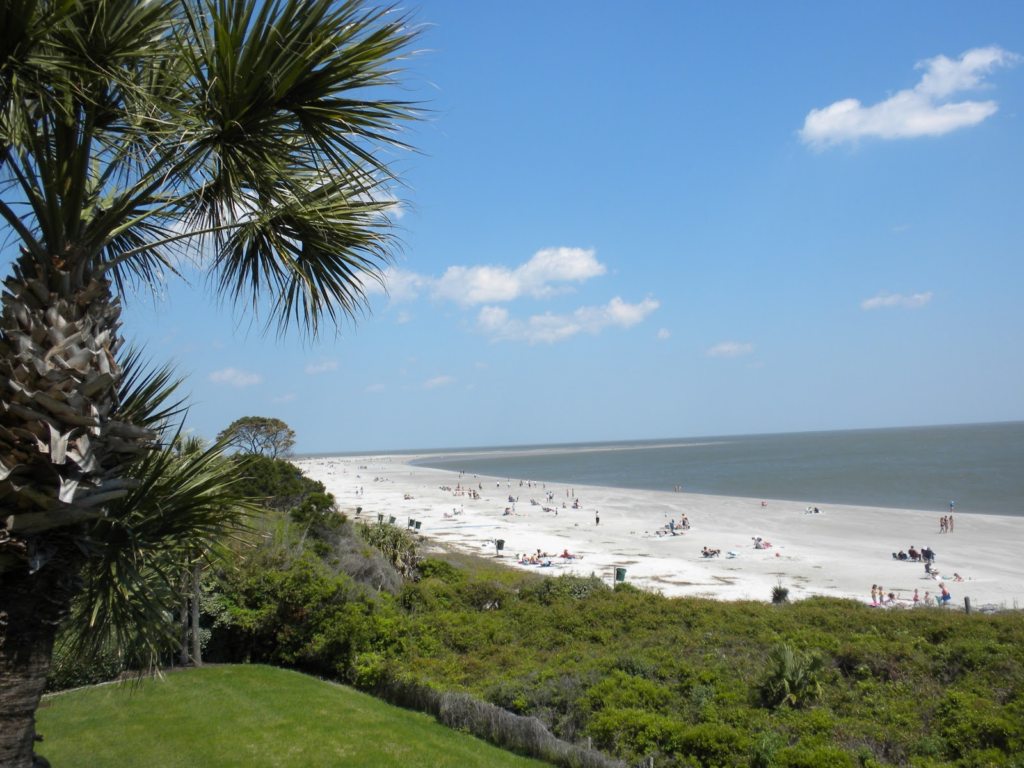 5.1 East Beach
St. Simons Island's East Beach makes for a perfect romantic getaway as it's secluded and usually quite quiet.
East Beach is within a short distance of Ocean Blvd, where you can rent a bicycle or a golf cart if you're feeling adventurous.
The East Beach shoreline is clean and large enough for pick-up games of volleyball that won't interfere with your sunbathing.
The Island's unique "Tree Spirits of St. Simons" are a major drawcard and well worth the visit. The elaborately carved faces on the tree trunks scattered across the island make for a wonderful holiday experience while visiting East Beach.
5.2 Gould's Inlet
Secreted away just north of the Coast Guard Station on St. Simons Island is the idyllic, Gould's Inlet Beach.
You can rent a fishing pole at the booth next to the Dockside Inn in summer as it's an awesome spot to catch fish.
The beach is also a firm favorite with bird lovers, who can discover a variety of birdlife, including least terns, gulls, black skimmers, painted buntings, and Wilson's plovers.
However, it's not an area suitable for swimming, as the currents and rip tides are extremely dangerous.
5.3 Little St. Simons Island – Main Beach
If you value your privacy (there's only room for 32 visitors), then Little St. Simons Island offers boat-only accessibility.
The Lodge Hotel offers an intimate getaway with everything you could possibly want from a vacation at one of the best beaches in Georgia.
Nature lovers will experience excellent birdwatching opportunities with seven miles of pristine beaches and salt marshes stretching for over 8,000 acres.
If you're a little more active then you can look forward to some great fishing at St. Simons Island as well as kayaking.
6. Tybee Island Beaches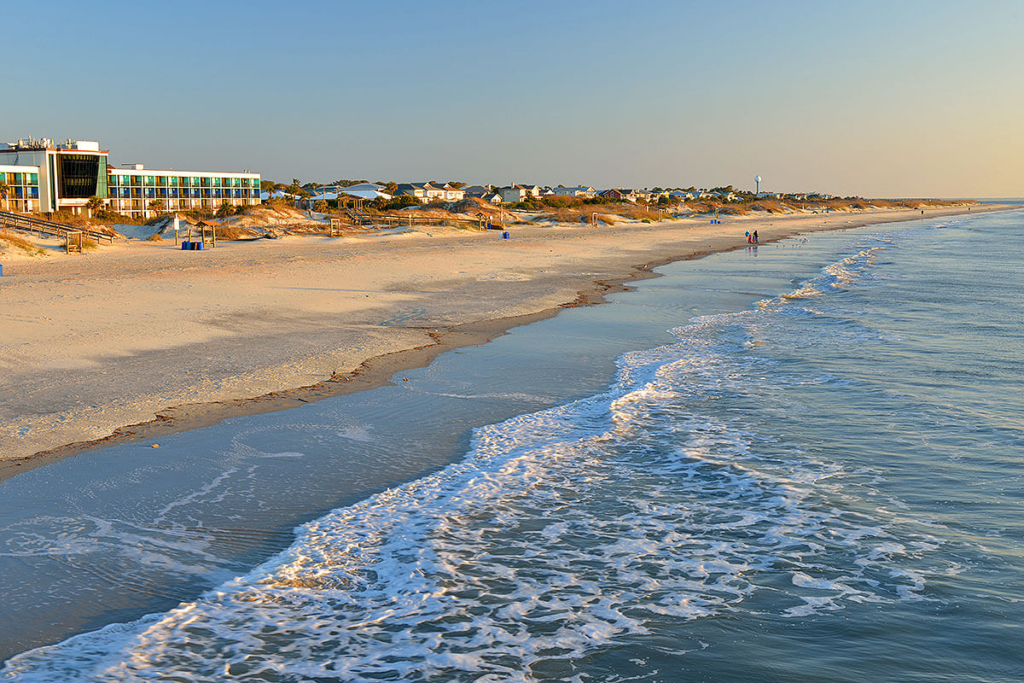 Tybee Island is home to many of the best beaches in Georgia. This barrier island is just over 18 miles southeast of Savannah.
There, you'll find over 3 miles of the softest, most inviting sandy beaches available anywhere.
6.1 South Coast Guard Station
On the fabulous Tybee Island, you get to experience the wonders of the South Coast Guard Station beach.
The beautifully clear blue water and expansive beach offer wonderful swimming and sunbathing opportunities.
6.2 Tybee Island South Beach
Of all the beaches on Tybee Island, South Beach is the most couple-friendly. It can be pretty crowded but there are lots of lifeguards on duty. The calm waters make it a great place to let your hair down and relax without worrying about children getting into trouble.
Tybee Island Pier and Pavilion is close by and provides an enticing place to spend time either before or after your visit to the beach.
6.3 North Beach
North Beach is the next popular destination on Tybee Island. While the swimming is great, be warned if the wind picks up, as the sea can get rather choppy. As it's open to the Atlantic Ocean, the water temperature can also get quite low.
There's plenty of space to stretch out and with public bathrooms and changing rooms, you'll be quite at home in no time.
6.4 Mid Beach
This centrally located Tybee Island beach is a great option if you want to get away from the crowds and enjoy a little more peace.
The drawcard here is the almost endless shallow water that makes paddling safe for non-swimmers. If you're lucky, you'll catch a glimpse of dolphins frolicking in the waves. Avid shell collectors will have plenty of opportunities to add to their collection here.
6.5 Back Beach & Savannah Beach
On either side of Mid Beach, you'll find Back and Savannah beaches. These can become slightly more crowded than Mid Beach because of the great views you'll get of the dolphins.
This stretch of beach is also a short walk away from the lighthouse and fort if you're up for an exciting excursion.
7. Little Tybee Island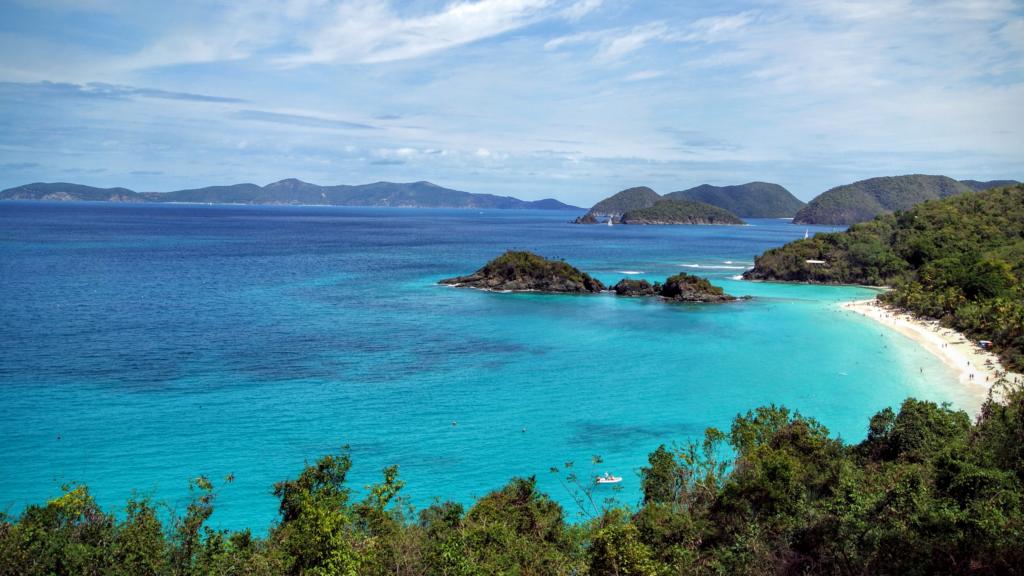 For the more adventurous souls, why not rent a kayak or catch a boat ride across Tybee Creek to Little Tybee Island, located close to the main Tybee Island?
If you're after a more isolated and romantic outing, then this little nature reserve is right across the Back River.
The beaches are fantastic and you'll have lots of privacy. Just remember to bring everything you need, like water and food, as there are no facilities on the island.
This little island is one of the best spots in Georgia to see dolphins and enjoy spectacular bird life.
8. Van Pugh Park North Beach at Lake Lanier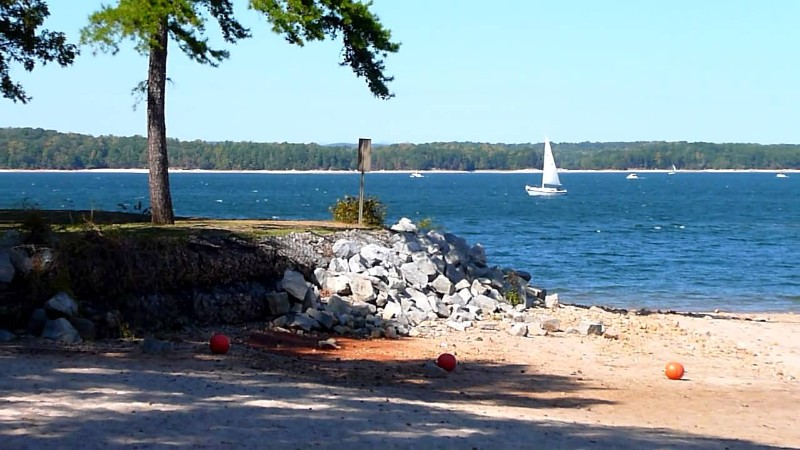 Van Pugh Park North Beach offers visitors a serene and peaceful beach experience. But if you're feeling energetic, swimming, boating, and fishing are also on offer.
Van Pugh Park North Beach is located on the east side of Lake Lanier and provides a safe bathing spot during the peak season. Lifeguards watch over the sandy beach, and the covered pavilion and picnic areas are beautifully shaded to escape the mid-afternoon sun for a lunchtime picnic.
If you have a boat, then you can use the boat ramp or stroll over to the fishing pier for some relaxation.
With lots of parking, great restroom facilities, as well as outdoor showers, your visit to North Beach is going to be stress-free.
9. Sapelo Island Beaches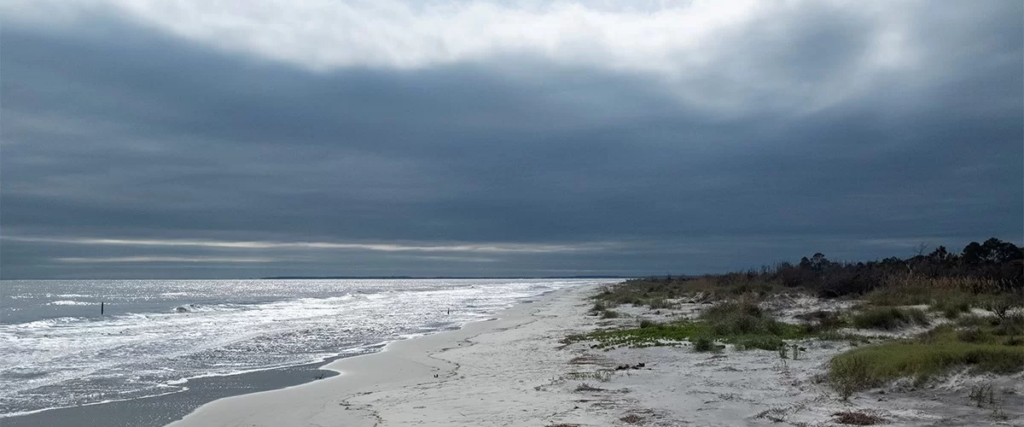 9.1 Nanny Goat Beach
If you're looking for somewhere extra special, then the serene and unspoiled Nanny Goat Beach is the perfect destination.
It's known for its rolling dunes, fine sand, and lush woodland that plays host to abundant wildlife.
Located on the southeast corner of Sapelo Island, Nanny Goat Beach has a tranquil, unspoiled coastline. The sand stretches away for two miles, allowing plenty of room for walks.
With its proximity to historically significant landmarks, including the Reynolds Mansion, Gray's Reef National Marine Sanctuary, and Sapelo Island National Estuarine Research Reserve, this Georgia beach is extremely popular.
Nanny Goat Beach is one of the best beaches in Georgia offering a variety of activities to keep you busy.
9.2 Cabretta Beach
While you're on Sapelo Island in Georgia, it's well worth your time visiting Cabretta Beach.
With a look and feel very similar to Jekyll Island's Driftwood Beach, it is also covered in old tree trunks, roots, and branches. For photographers, it offers an ideal opportunity to create memorable and eye-catching landscapes.
Situated on the northernmost point of Sapelo Island, Cabretta Beach is often referred to as Cabretta Island. This is due to the high tide coming in and cutting the beach off from Sapelo Island so that it resembles an island.
Other than that small warning, you can enjoy superb fishing and kayaking excursions to the adjacent Blackbeard Island.
10. John Tanner State Park and Beach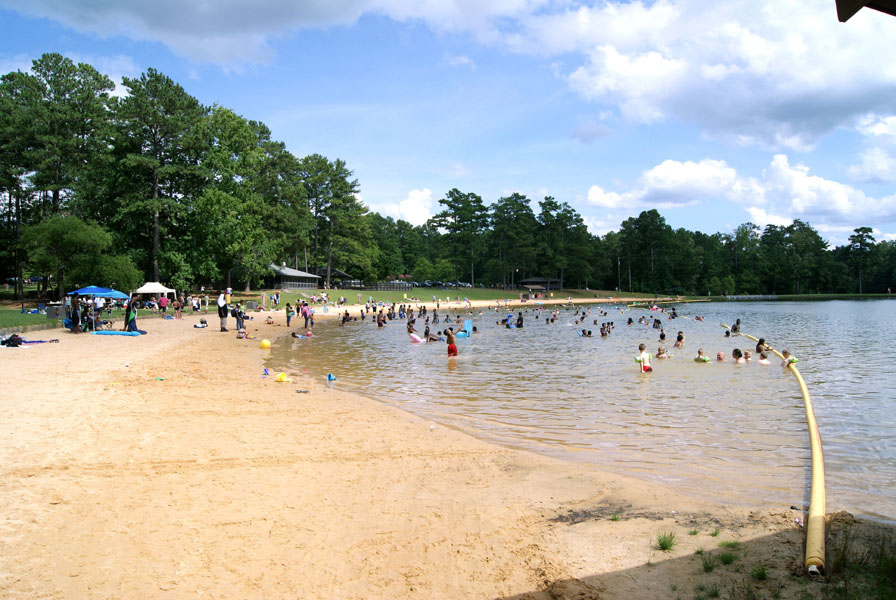 Tanner's Beach is located inside John Tanner Park in Carroll County.
This stretch of man-made beach is the longest sand beach in the State of Georgia and is home to a host of exciting attractions. Relax on the beautifully shaded front porch, sunbathe on the sandy white beach, and cool off in crystal clear water.
You can go fishing, rent a paddle boat, ride your bike, or explore the John Tanner State Park Loop trail. There's also a safe, well-lit campsite or you can book a motel-style room on the lake.
The state park is home to two lakes and includes various campsites, so you can spend your entire vacation here. You won't be bored thanks to the hiking trails – and the most gorgeous beachside facilities that ensure you'll have everything you need for a fun-filled or relaxing trip.
11. Robin Lake Beach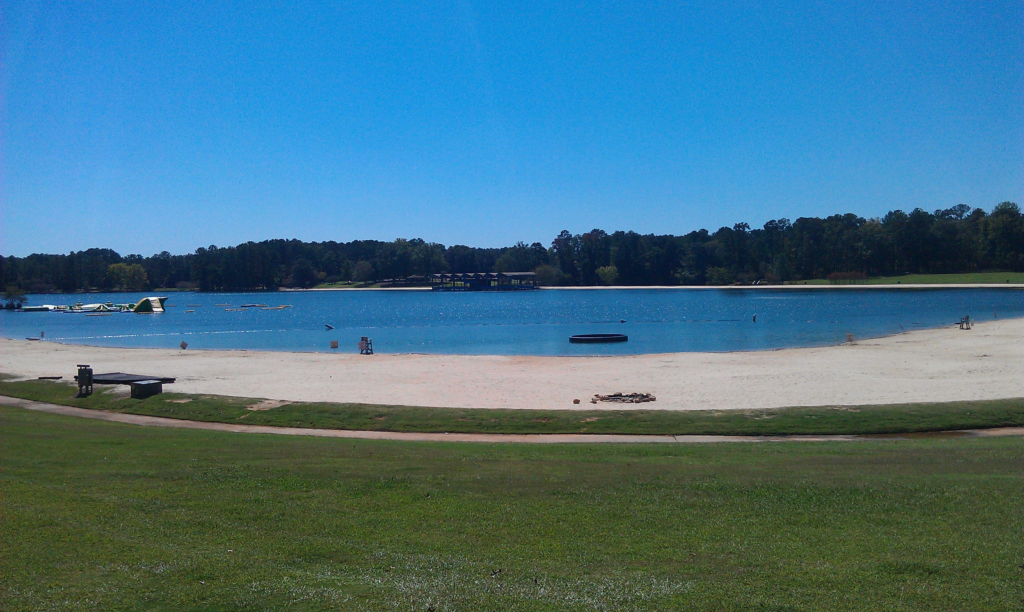 Robin Lake Beach is located at Callaway Gardens Resort in Pine Mountain, Georgia and is home to the largest man-made beach in the world.
If you are looking for all-inclusive resort facilities that include public restrooms, a playground for your children as well as other outdoor activities, then this may very well be the perfect beach to visit.
For competitive couples, Robin Lake Beach offers giant chess and checker sets, shuffleboard, table tennis, and miniature golf.
After spending time down at the beach, you also have access to a restaurant and ice cream vendor.
The beach is safe and secure with a lifeguard on duty and beach chair hire if you prefer to avoid getting too much sand on you. The water is beautifully clear and the enticing white sandy beach is hard to resist.
There's also a swim line to prevent swimmers from getting into trouble in the deeper areas. Don't forget your water shoes as the rocks are sharp and may injure sensitive feet!
If water sports are your thing, you're in for a real treat. Robin Lake Beach caters for wakeboarding, tubing, waterskiing as well as canoeing and kayaking. All the equipment you may need is available for hire from the very friendly staff.
If you're more interested in land-based activities, then biking, hiking and picnicking are on the menu. Trails run throughout the woods and around the lake, allowing you to go exploring or just take a leisurely stroll.
FAQs
What beach has the clearest water in Georgia?
East Beach on Saint Simons Island has the most attractive and clearest water of all. We think Jekyll Island is a close second, though!
Are there white sand beaches in Georgia?
Cumberland Island National Seashore offers more than 10 miles of white, sandy beaches. From Simons Island to Nanny Goat Beach, you'll find some of the best white sand beaches in the entire nation right here in Georgia.
Does Georgia have any nice beaches?
The short answer is yes! Whether you decide to visit Sea Island Beach Club or the gorgeous Simons Island, the Great Dunes Beach Park, Driftwood Beach or St. Andrews Beach Park, you'll be spoilt for choice when deciding on where to lay your towel.