Is there anything better than feeling the warmth of the sun on your skin, wiggling your toes in the sand, and breathing in the salty sea air? All while sharing it alongside your loved one in a country as beautiful as Portugal? We don't think so!
Lucky for you, Portugal is a beach lover's paradise. And no matter where in the country you find yourself, you'll be spoilt for choice with a spot to bask and swim under the Mediterranean sun. From the sun-drenched Algarve sands to Porto's coastline, there's an abundance of sandy shores, rocky cliffs, and breathtaking vistas to explore.
We already know you're eager to learn more about the beautiful beaches in Portugal, that's why we give you the low down on the best beaches in Portugal, including some handy travel tips.
So what are you waiting for? Get packing, slather on some sunscreen, and discover the best beaches Portugal has to offer!
1. Best for Every Type of Beachgoer: Praia de Odeceixe, Algarve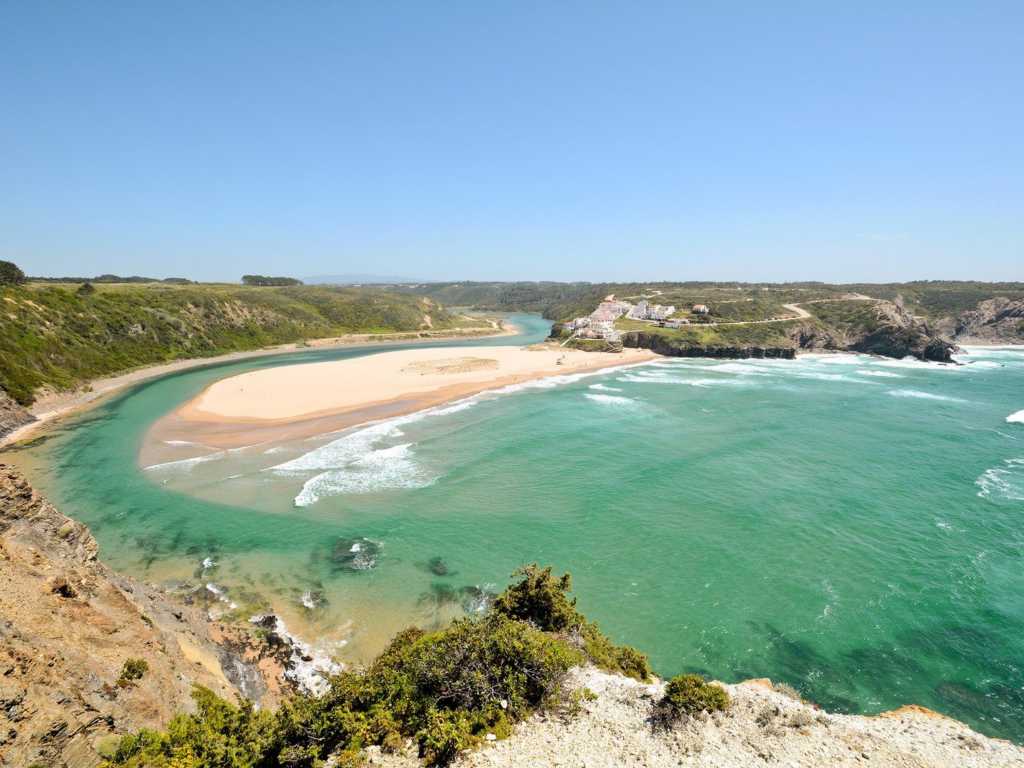 Located right on the border between the Algarve and the Alentejo lies one of Portugal's most gorgeous beaches, Praia de Odeceixe. What makes this beach truly unique is the fact that it's situated at the mouth of the Rio de Seixe, which loops around to form a horseshoe-shaped beach and calm lagoon.
When it comes to things to do, Praia de Odeceixe has something for everyone. The lagoon is ideal for paddle boarding and swimming, while the strong waves of the main beach draw a crowd of surfers and adventure seekers.
From the north side of the river, you'll find steep cliffs that majestically overlook the beach. It also makes for the perfect family-friendly spot with its calm and warm water for kiddos to splash about in.
On the south side, there's a bluff adorned with a handful of cozy houses, shops, hotels, and mouth-watering restaurants. Tourists and locals alike have long praised the sunset views from up here.
When you reach the beach, you can rest assured knowing there are plenty of amenities to ensure a fabulous beach day. There are restrooms, showers, and sun loungers available to rent. And with the ocean on one side and the calm river on the other, you can take your pick of where to settle for the day.
2. Best for Lack of Crowds: Praia do Barril, Tavira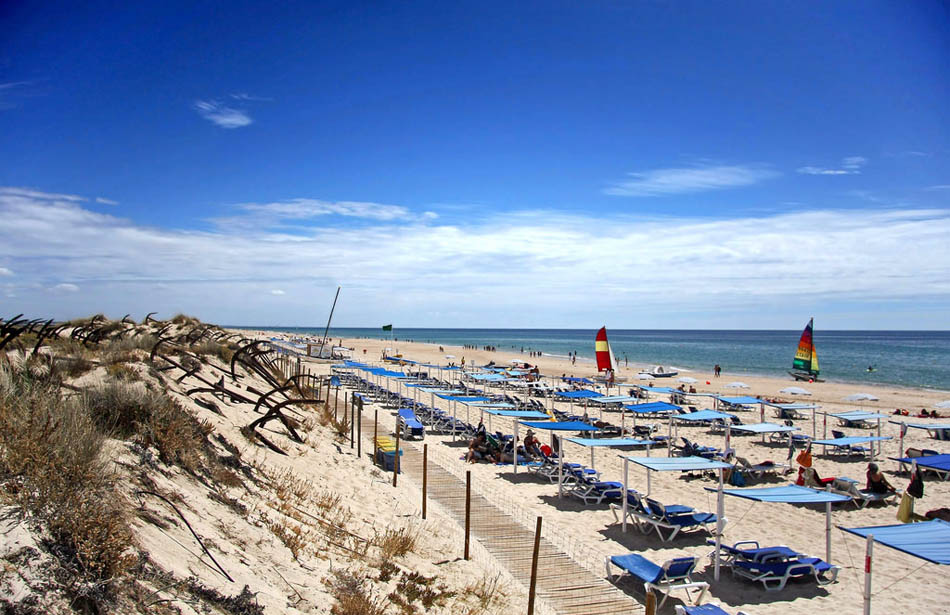 Experience the allure of Praia do Barril, a striking wild beach situated just a few miles from the charming town of Tavira in Southern Portugal. This beach offers the perfect blend of natural beauty and convenience, featuring various restaurants and beach stores dotted along its expanse.
What sets this beach apart from others is the anchor graveyard or Cemitério das Âncoras. Located amongst the dunes, this graveyard features hundreds of rusting anchors arranged in neat rows as a tribute to the tuna fishing industry that once flourished along this coast.
The lack of crowds at Barril Beach means enjoying the sun, sand, and sea in solitude is easy. Sure, it can get a little busy near the entrance during the summer, but don't worry, there's plenty of space if you're willing to take a short walk. You may even find a huge stretch of sand all to yourself, even in the busiest season!
If you're a more adventurous couple, know that Praia do Barril isn't only for strolling and soaking in the sun. You can try your hand at a variety of water sports here, including kitesurfing!
Like many other beaches in Tavira, Barril Beach, as it is also known, proudly flies the Blue Flag, meaning it has excellent facilities, clean water, and is patrolled by lifeguards in summer.
If you're feeling daring and don't mind showing off your birthday suit, Praia do Barril also has an official nudist beach, Praia do Homem Nu, around the corner from the main beach.
3. Best for Surfing & Sightseeing: Praia da Nazaré, Nazaré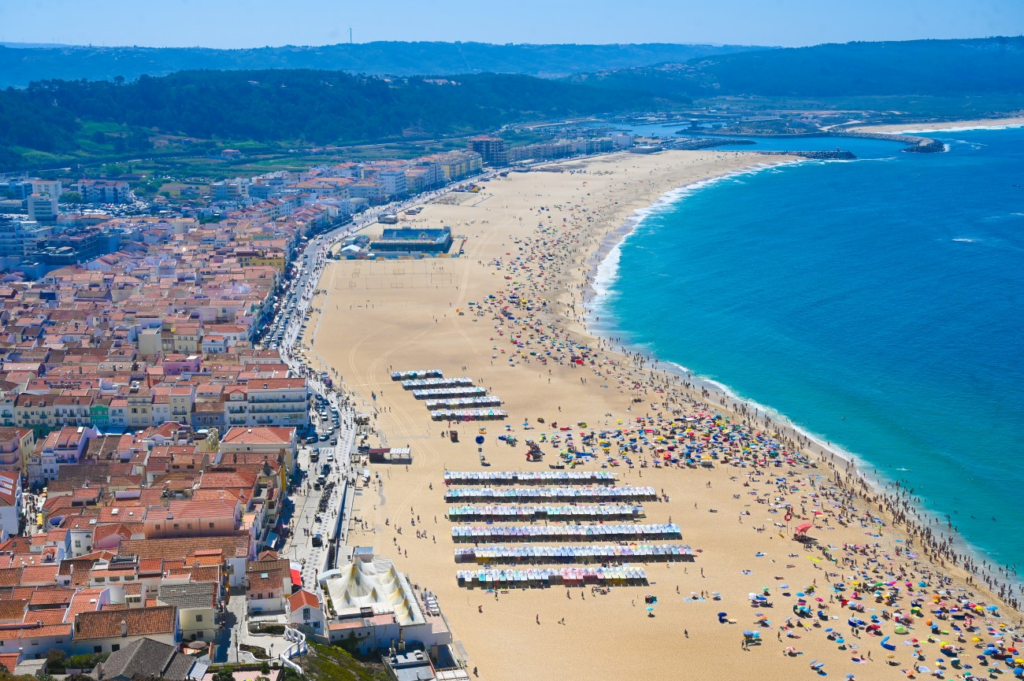 Get ready to fall in love with the quaint and unpretentious charm of Nazaré, a lovely beach town located in the far west of Portugal. And nestled right in the heart is the magnificent Praia da Nazare, a beach that draws sun worshippers from far and wide.
But Praia da Nazare isn't just any old beach town. It's the place where American big-wave surfer Garrett McNamara made history by riding a colossal 100-foot (30m) wave. So if you're a fan of shredding some serious surf, this is the beach to do it at. After all, Praia da Nazare produces some of the biggest waves in the world!
But if surfing massive waves isn't your cup of tea, don't overlook Nazare Beach just yet – there are still plenty of other things to do here! This glorious band of sand hugs the town's wide and mosaic-patterned promenade which offers a tranquil respite.
Sunbathers can watch fisher folk mending nets or enjoy a delicious helping of the catch of the day at one of the many authentic seafood restaurants. Plus, there are plenty of shopping and sightseeing opportunities so you'll never be bored here!
Looking for some romance? Take your special someone for a sunset walk along the beach and enjoy a romantic dinner at one of the local restaurants. And don't miss out on the chance to explore the town's rich history by visiting its numerous churches, museums, and old mansions, all conveniently located within walking distance.
Tip: The Atlantic waters here can be unpredictable, so always exercise caution when taking a dip in the ocean.
4. Best for Adventurous Couples: Praia da Marinha, Algarve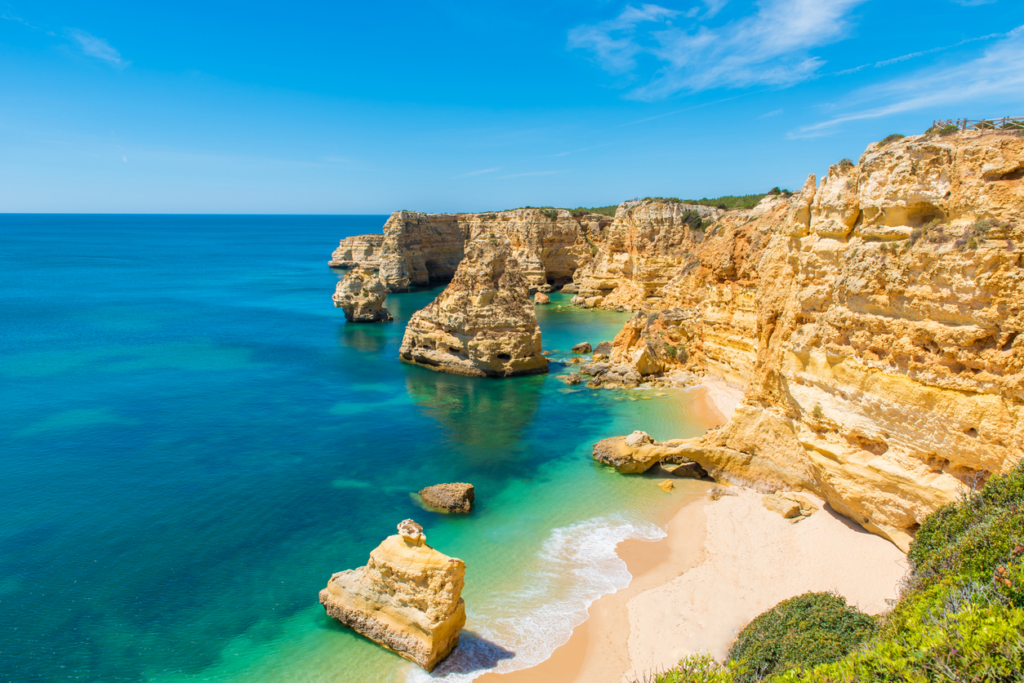 Algarve – the name alone is enough to evoke images of idyllic beaches and stunning coastlines. With over 200 beaches and coves to choose from, it's easy to feel lost in your decision to choose one. But among the plethora of stunning beaches in the area, Praia da Marinha shines as one of the most breathtaking.
So what makes this beach so special and worth the visit? Well, for starters, the soft sandy beach nestled between towering limestone cliffs is sure to take your breath away. And no matter the season, the Algarve's ideal weather means that Praia da Marinha is always a treat.
There is no shortage of things to do at this wonderful beach. Couples can enjoy just about any activity here, from snorkeling and boating to hiking and – of course – swimming. As soon as you set eyes on the crystal-clear water and the inviting blue-green color of the sea, you'll be hooked.
You've also got the beautiful Benagil Cave, just 10 minutes away. This popular spot is loved by locals and tourists alike, but don't worry about the crowds – it's usually not too busy, so you're sure to find the perfect spot to spend the day.
Services are limited at Praia da Marinha so be sure to pack everything you need for a day of fun. We recommend a pair of non-slip shoes, an umbrella, some snacks, and all the water gear you can think of to splash about.
5. Best for Nature Lovers: Praia de São Jacinto, Aveiro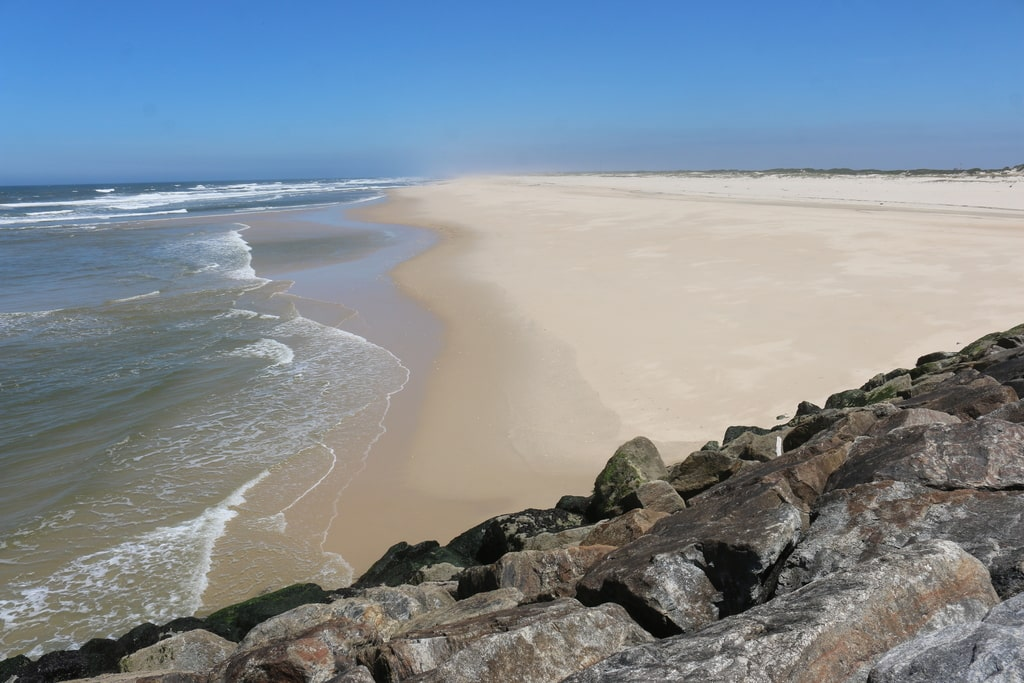 Nestled between the Atlantic Ocean and endless sand dunes lies the unspoiled paradise of Praia de São Jacinto. While São Jacinto is a lesser-known beach, it's no less gorgeous than its sandy, sun-drenched sisters.
A beautiful boardwalk will lead you down to the pristine white sand that stretches for several miles. With good parking, restrooms, and a cafe right on the beach, you'll have everything you need for a perfect day at Praia da São Jacinto.
But that's not all you have. This beach forms the western flank of the São Jacinto Nature Reserve, making it a haven for nature lovers and adventure seekers. The Nature Reserve is also one of Portugal's top spots for surfing enthusiasts.
On the other hand, you have the salt pans in Aveiro, an economic driver of the region. These salt pans, which date back to 959, offer endless adventure. You can float around in a salt pool, enjoy a natural mud bath, and indulge in relaxing massages – perfect for couples!
If you're traveling with kiddies in tow, just be aware that the beach is not always supervised and swimming can be dangerous.
Tip: The quickest way to get to this hidden gem is by ferry from Aveiro or an hour's drive south from Porto.
6. Best for Couples with Kids: Praia Dona Ana, Lagos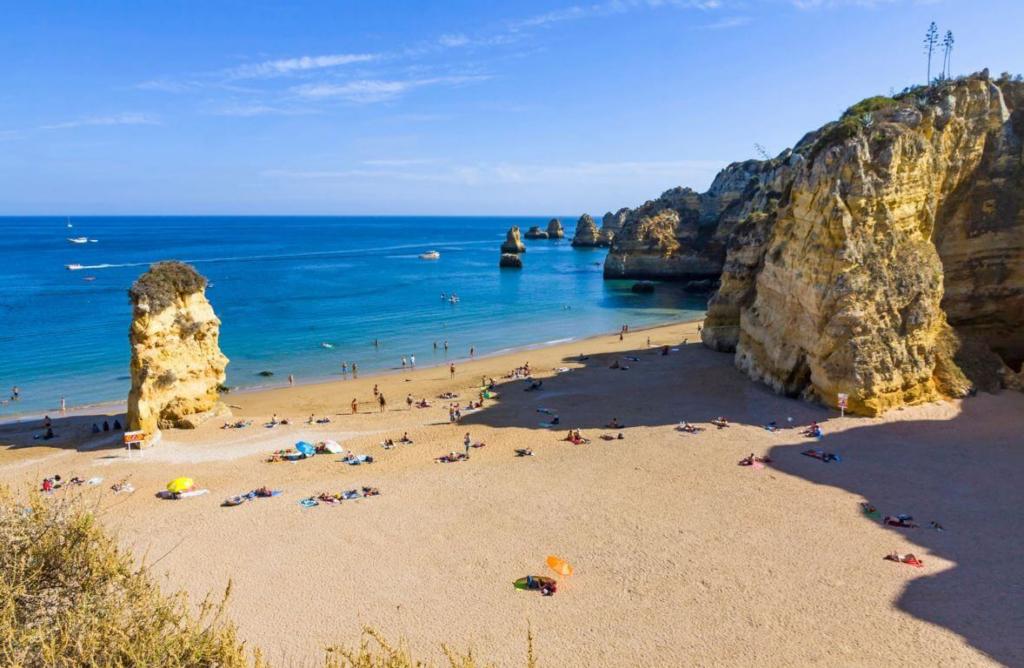 Hailed the best beach in the Algarve, and even the world, by the prestigious Condé Nast Traveller magazine, Praia Dona Ana is in a class of its own when it comes to the best beaches in Portugal. The beach is nestled between the majestic sandstone cliffs on the eastern side of Ponta da Piedade, offering the perfect backdrop for a day of adventure.
To access this secluded bay, you'll need to make your way down steep steps and through a tunnel. But the effort is well worth it! You'll be greeted with a show-stopping view of the beach and the Atlantic Ocean. It's also packed with amenities like showers, toilets, and a large parking lot.
If you're on a family vacation, this is the ideal spot for you. Praia Dona Ana's shallow waters and sheltered position make it a safe, comfortable, and fun spot for kids. But that's not to say adventurous souls aren't welcome! The beach is also known for its buzzing bars, restaurants, and fun water sports.
Due to its popularity and proximity to Lagos, it can get pretty busy. But don't let that discourage you – Praia Dona Ana is a beach experience unlike any other.
7. Best for Calm Beach Days: Praia da Rocha, Algarve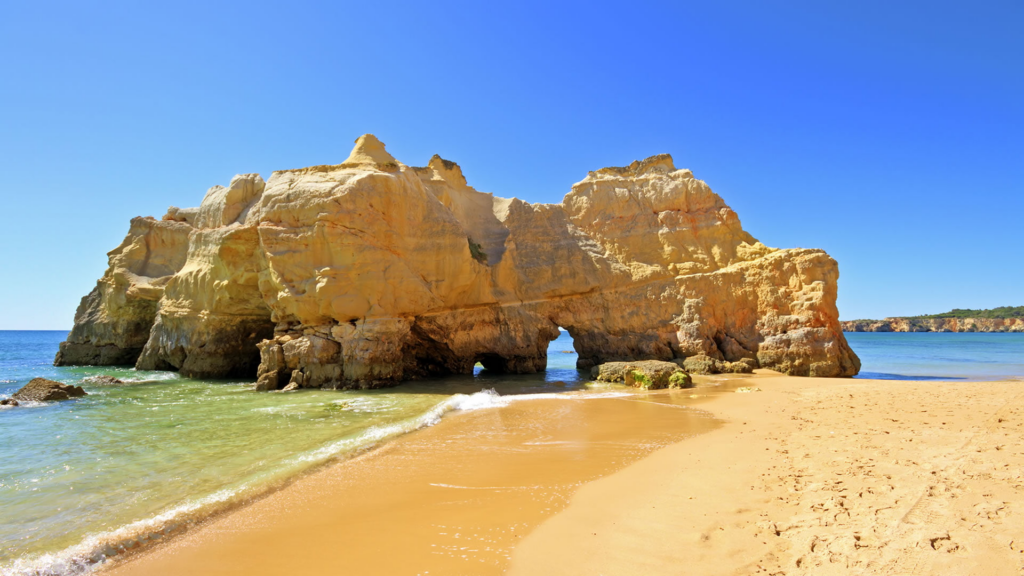 Welcome to Praia da Rocha, one of the Algarve region's most historic beach resorts. For over a century, tourists have flocked to this beautiful spot, located just a stone's throw from the charming city of Portimão.
The scenery here is unmatched with the golden beach boasting stunning red sea cliffs as its backdrop. It's also overlooked by the small, 16th-century Fortaleza da Santa Catarina, which along with Castelo de São João de Arade in Ferragudo, was built to prevent pirate attacks. Even the sand has an interesting story – brought here from Portimão when the harbor was dredged.
After descending down several flights of steps to reach your spot on the sand (make sure to pack light!), you'll find a swimmable sea, vendors renting out paddleboards, kayaks, and jet skis, and plenty of space for everyone.
You'll want to bear in mind that this is not the beach for those seeking a quiet and secluded day out. Praia da Rocha is a bustling hub of activity, with lively beach parties and nightlife. So, if you're a young couple looking to spend a beach day in Portugal packed with adventure and constant fun, Praia da Rocha is the place to be!
Once you've had your fill of sun, sea, and sand, be sure to head to one of the many restaurants along the strip for some al fresco dining.
8. Best for Adventure Seekers: Praia da Adraga, Sintra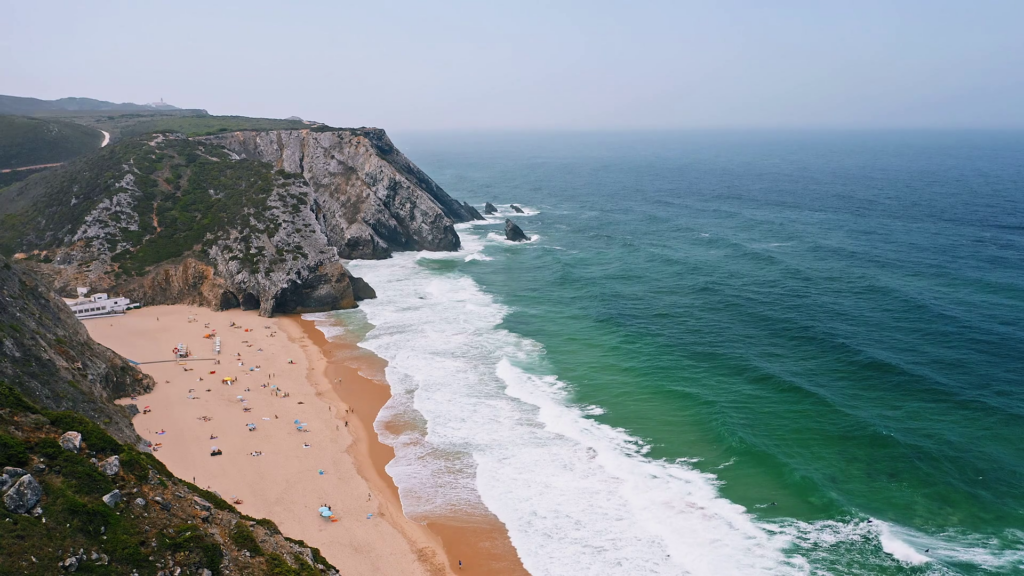 Praia da Adraga offers travelers the ultimate Portuguese beach experience, dropping beachgoers in a stunning arc of pale-golden sand framed by a low cliff peppered with cool caves and rock pools. With a stunning backdrop like this, it's no wonder it was once listed among the top 20 best beaches in Europe!
But even with its growing popularity, it remains somewhat of a secret. At the southern end of the beach, you'll find the impressive Pedra de Alvidrar ("Rock of Reason"). In the past, local young men would climb this massive rock to prove their bravery. But that's something best left in the past as it is incredibly dangerous – so don't go getting any ideas!
Nearby is the Fojo natural well, a fascinating geological formation created by the erosion of limestone rocks. Legend has it that a 90-meter Triton lives at the bottom of the well, playing with a conch shell. While the sound may actually be caused by the waves, there's no denying the natural wonder of this spot.
If you're looking for a beach to swim at, Praia da Adraga may not be the best option due to its strong waves. But it's perfect for catching a tan or taking romantic walks along the shore. And when you're ready for a bite to eat, sit down at Restaurante da Adraga right on the beach for some of the best fresh fish.
If you're up for a bit of exploration, head to Cabo da Roca. This cape marks the westernmost point in mainland Europe and is a popular spot for witnessing some of Portugal's most breathtaking landscapes.
9. Best for Beach Resort Enthusiasts: Praia do Camilo, Lagos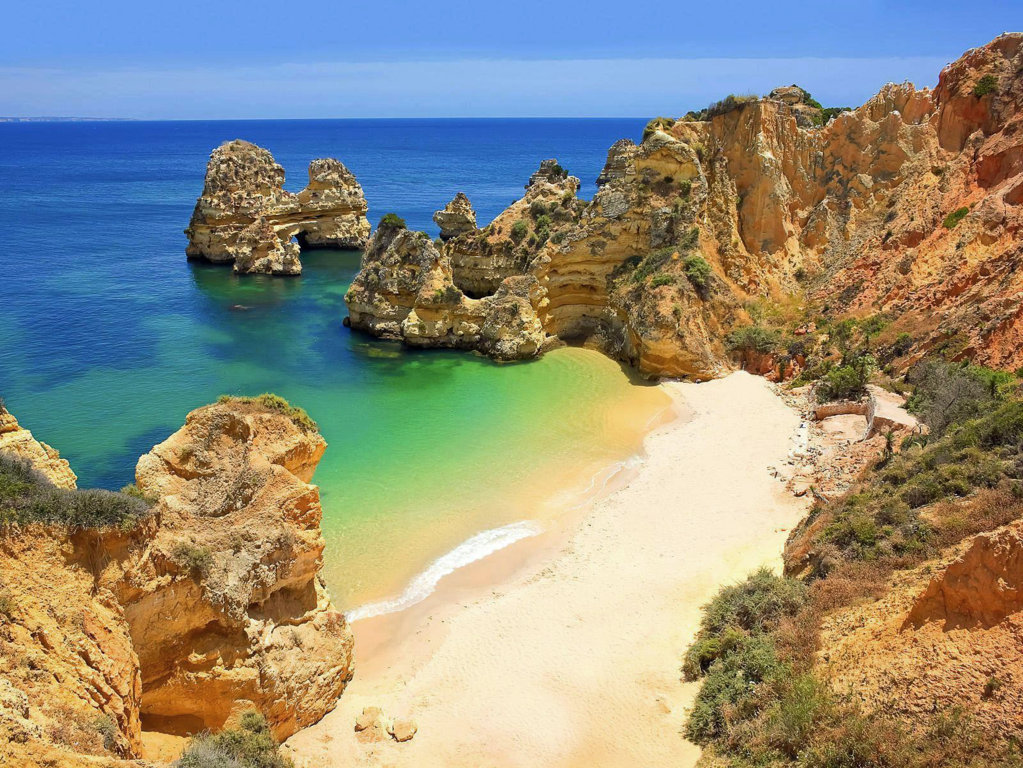 Prepare your legs for a workout, because Praia do Camilo in Lagos is waiting for you! Tucked away among towering cliffs, this beach boasts dazzling blue waters and a moderate-sized stretch of beautiful golden sand.
But don't let the picturesque scenery fool you! Getting here requires descending a staircase of over 200 steps. Be sure to take a moment to catch your breath and marvel at the stunning landscape while heading down.
Once you reach the bottom, you'll find yourself on one of the most beautiful beaches in the Algarve, if not the world. The rugged limestone rocks that surround the beach only add to its dramatic scenery.
While small, Camilo Beach offers plenty of opportunities for adventure. Lounge with a good book, take a dip in the turquoise water or rent a kayak and explore the cliffs of Ponta da Piedade.
You'll also find all the major resorts here, but despite that, Praia do Camilo still feels like a world away. Besides, why stay tucked in your hotel room or at a resort's fancy outdoor swimming pool when you can explore this sandy gem?
And after climbing all those stairs, you'll surely have worked up an appetite. Lucky for you, there's a small cliff-top restaurant with an unbeatable panoramic view over the coastline between Lagos and distant Albufeira. And good food too, of course!
10. Best for Lazy Beach Days: Praia da Falesia, Algarve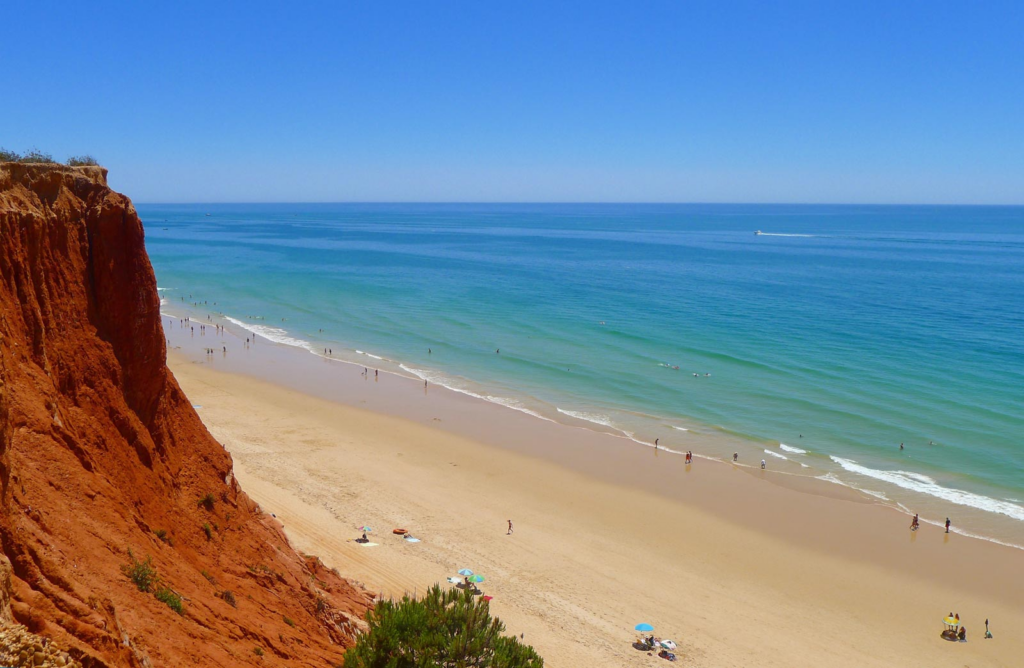 The Grand Canyon meets the beach at Praia da Falesia. Aptly named "Cliff Beach", this natural wonder has garnered international attention for its incredible beauty and crystal-clear waters. It's a destination hailed as not just one of the best beaches in Portugal, but also the world.
Half of the beach, towards the Albufeira region, is protected by towering, red- and orange-colored cliffs, adorned with fragrant pine trees at the top and vibrant flowers at the bottom. Standing on the beach, you'll be in awe at the sheer size of these magnificent cliffs towering over you.
The soft sand and refreshing waters make Falesia Beach the perfect place to spend a lazy day sunbathing or taking a dip in the Atlantic. But if you're up for more adventure, you can try your hand at a range of water sports or go hiking. And for a truly romantic experience, what's better than a picnic on the beach or cliffs while watching the sunset?
While the beach can get pretty crowded during peak season, there's no need to worry. With so much sand and sea to go around, it's easy to find your own little slice of paradise. Plus, there are plenty of wicker parasols and sunbeds to rent, as well as plenty of space to set up.
If you happen to visit during low tide, keep an out for locals collecting bean clams, a regional delicacy known as "conquilhas." You may recognize these from any shell-hunting adventures you've been on, and you just might find them served up at the restaurants located on the western end of Praia da Falesia.
11. Best for Watersports Enthusiasts & Foodies: Praia de Carcavelos, Lisbon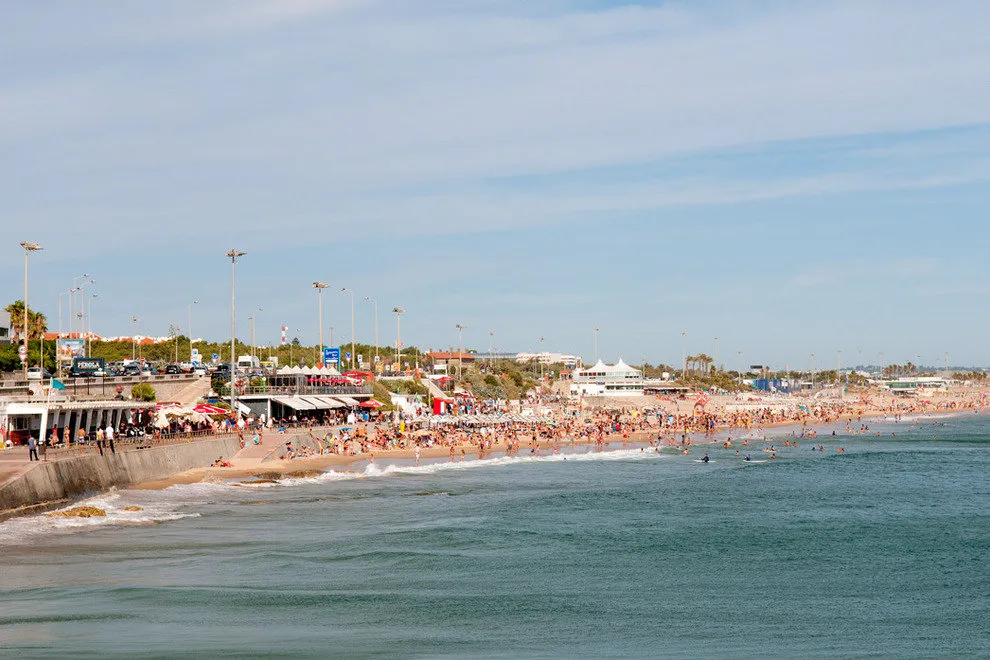 Praia de Carcavelos, smack dab in the middle of Lisbon and Cascais, is a beach lover's and adventure seeker's paradise. Not only is it the biggest beach on the Lisbon coast, but it's also a hub for watersports enthusiasts. There's always something going on here!
During the summer months, the beach comes alive with numerous beach volleyball and football competitions that both locals and tourists take part in. And in the winter, the surfing and bodyboarding fanatics flock out for its excellent conditions and waves.
What makes this beach so popular is the many surf schools on offer, where both young and old wave catchers can rent boards and learn the tricks of the trade.
But there's more to do than get sandy and salty on the beach. If you're looking for a little history with your beach day, head to the eastern end of Carcavelos and check out the Sao Juliao da Barra Fortress. Once used to defend Lisbon's Tagus River, it's now a picturesque backdrop for your Insta-worthy beach pics!
But besides Carcavelos being one of the best beaches in Portugal, the true highlight here is the food. With plenty of restaurants, bars, and terraces lining the beach, you'll find plenty of options to grab a refreshing local beer or wine to sip on while watching the sunset.
FAQs
When is the best time to visit Portugal's beaches?
Summer is undoubtedly the best season to visit some of Portugal's beautiful beaches. As you head south towards the Algarve region, the ocean temperatures get warmer, making it perfect for swimming and other water activities. Although, be prepared to share the shores with other beachgoers, as July and August are the busiest months with the biggest crowds.
What are some helpful tips when visiting the beaches in Portugal?
When exploring all the wonderful beaches Portugal has to offer, it's essential that you bear in mind a few tips, such as:
Wear sunscreen: The Mediterranean sun can be quite unforgiving in Portugal, especially during the summer months.
Swim safely, especially when with kids: Always make sure to swim in areas where there are lifeguards as currents can be strong at some of Portugal's beaches.
Watch out for cliff erosion: Although beaches in the Algarve are generally safe, there are some beaches where the cliffs can be unstable.
Go at the right time: Portuguese beach season is in July and August, so if you're going during this time, try going later in the afternoon when the crowds thin out.
Keep an eye out for blue flags: These blue flags are an indicator of a top-quality beach. Awarded by the EU, it means the beaches are clean and meet environmental and safety standards.