Bora Bora, The Pearl of the Pacific, The Romantic Island – with so many glamourous nicknames, it is no surprise that this grouping of islands in French Polynesia is one of the most popular honeymoon destinations in the world.
Americans have been flocking to Bora Bora since the 1950s, to seek out warm crystal-clear waters, white sandy beaches, and to stay on their own private island.
With such a variety of resorts in Bora Bora – from smaller hotels to overwater bungalows – coupled with romantic dining opportunities and plenty of activities for those seeking both adventure and pampered relaxation, it is no surprise that newlyweds head on over to Bora Bora to unwind and enjoy their love.
From the best resorts to the best things to do, here is the only honeymoon guide to Bora Bora that you will ever need.
What Makes Bora Bora Perfect For A Honeymoon?
Bora Bora is a sight to behold. The main island has an extinct volcano in the middle called Mount Otemanu. The rocky outlines and jungle slopes can be seen everywhere on the island. Around the volcano, there are crystal clear turquoise waters, barrier reefs, and smaller islands with resorts and plenty of activities.
We're not going to lie – Bora Bora is expensive. But you do get amazing luxury and service for the price you pay. Many of the resorts have overwater bungalows, while hotels have butler service, spa treatments, gourmet dining opportunities, and plenty of excursions.
Bora Bora is great for couples seeking adventure. There are cycling, hiking, diving, and snorkeling excursions on offer. But, that does not mean those looking for a bit of relaxation won't enjoy Bora Bora. Most resorts have spas, there are plenty of boat cruises, newlyweds can enjoy a romantic dinner, or couples can relax on one of the many private beaches.
It is also fairly easy to reach Bora Bora in the South Pacific from the West Coast, and flights can cost upwards of $700. But, once you get to Bora Bora, it will be well worth the cost.
Best Honeymoon Resorts, Hotels, and Other Stays in Bora Bora
Bora Bora is truly one of the best honeymoon destinations. The larger island and smaller islets (known as Motus) offer amazing accommodation options in the form of resorts and hotels. You can even book your own private island!
You can also find plenty to do at each of the resorts and hotels on Bora Bora, such as taking an ATV tour organized by the resort, snorkeling around the coral reefs, or enjoying romantic dinners at your resort's restaurant.
Here are some of our top picks when it comes to resorts and hotels for your Bora Bora honeymoon.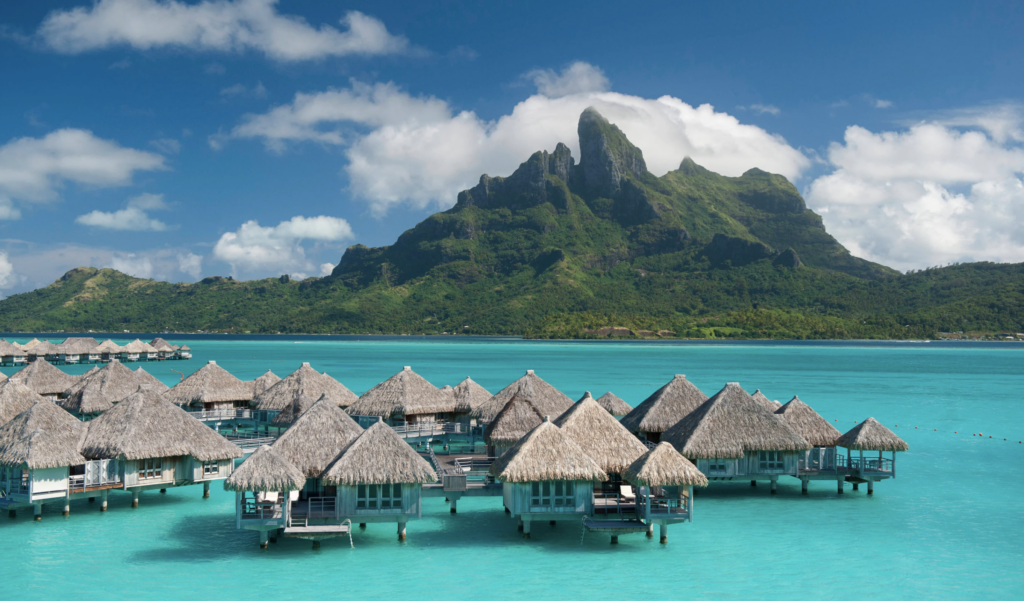 Price per Night: $2,800 – $5,220
Best For: Romantic Getaway, Overwater Bungalow
Availability: Limited
The St Regis Bora Bora resort is home to the largest overwater bungalows in the South Pacific ocean. If you stay in an overwater bungalow, you will be able to marvel at the blue waters through the glass panel floors and enjoy the secluded, private beach. There are also beachside rooms located on the brilliant white sands.
With four restaurants and two bars, you won't have to travel far to find a range of dining options. St Regis also offers a variety of excursions for couples, such as the on-site spa, three outdoor swimming areas (including the "lagoonarium"), and a fitness center.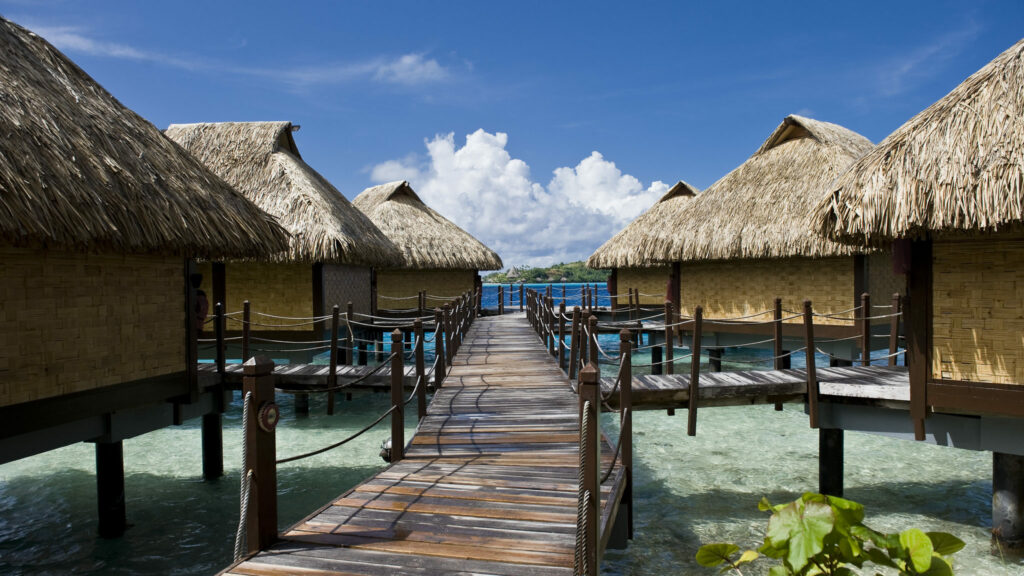 Price per Night: $240 – $700
Best For: Special Deals and Packages
Availability: Easy to book
The Maitai Polynesia hotel is proof that you do not have to spend the equivalent of your wedding budget on your honeymoon accommodation. This is one of the more affordable hotels in Bora Bota, but still offers plenty of luxury.
You can choose from overwater bungalows, bungalows on the beach, or rooms with a garden or ocean view. These room options make it the perfect destination for budget-savvy honeymooners.
This hotel caters to both adventurers and those looking to relax. The hotel is able to organize excursions for couples, and the kayaks and canoes are free to use, or you can relax on the white sand beach. If you are looking for pure relaxation, the Maitai Polynesia Hotel has a partnership with the InterContinental Bora Bora Resort Thalasso Spa.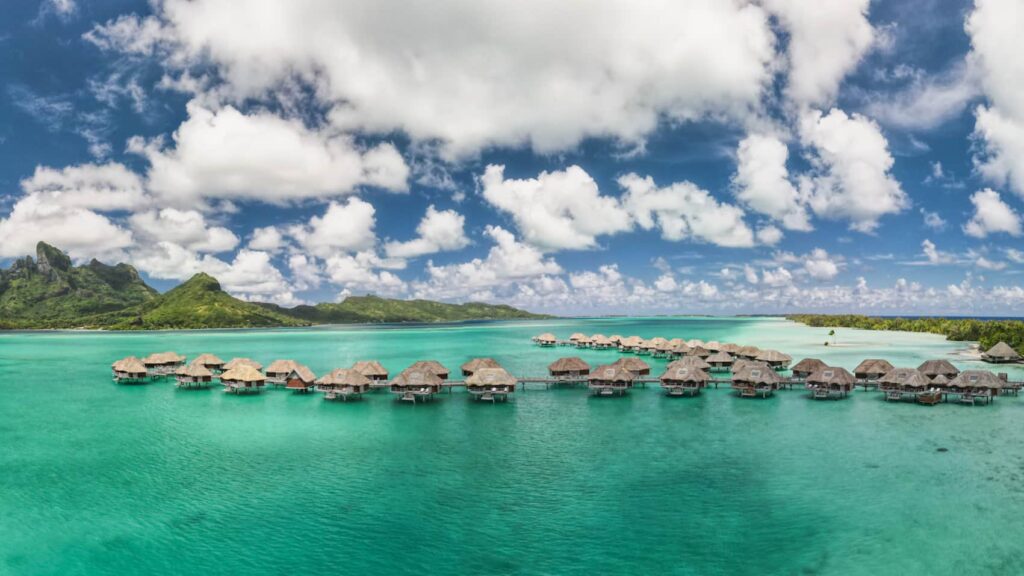 Price per Night: $2,600 – $16,100
Best For: 5-Star Luxury
Availability: Easy to book
The Four Seasons Bora Bora Resort is situated on Motu Tehoto, and the entire island belongs to the resort. From the Premier Overwater Villa to one-bedroom Overwater Suites, this resort offers only the best for its guests. If you wish to keep your feet firmly in the sand, there is also the large three-bedroom beachfront villa.
You never have to leave the resort to achieve your ultimate honeymoon. You can relax in the resort's private pools or simply cuddle up and watch the sea from your private bungalow. You can go for a romantic dinner at the many restaurants and bars, go paddle boarding, relax at the holistic spa, or stroll hand-in-hand down the private beach while admiring these beautiful islands.
Even better, the Four Seasons can take care of all your honeymoon planning – they'll put together an itinerary for you, and you can even make a honeymoon registry with them.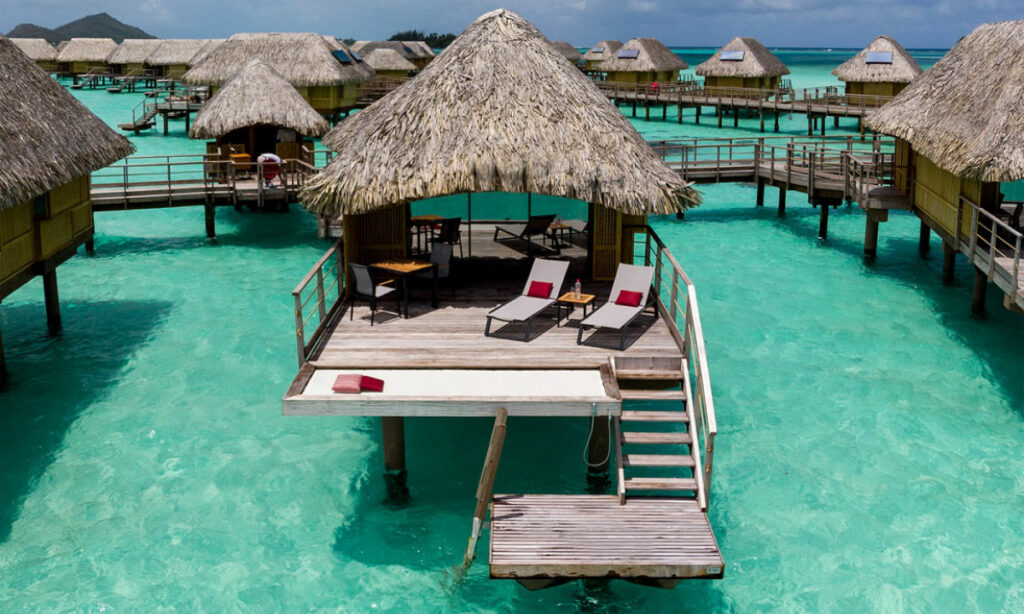 Price per Night: $1,226 – $3,474
Best For: Long Stays
Availability: Easy to book
Le Bora Bora, by Pearl Resorts, is a luxury resort with plenty of overwater bungalows, or beach suites with gorgeous ocean and garden views. Although the beach suites do not have private pools, they do have direct access to the beautiful beach.
Le Bora Bora is fairly inexpensive as far as resorts in Bora Bora go, with just as much luxury as many resorts that cost significantly more.
This resort was one of the first to have overwater bungalows, but the recent refurbishments have brought it up to date with its competitors, and it offers traditional Polynesian furnishings. There are also three restaurants and a bar on-site, as well as the relaxing Tavai spa.
If you stay at Le Bora Bora, the hotel can organize you and your loved one a private cruise on the Okeanos Pearl, scuba diving and snorkeling excursions, a helicopter or parasailing tour, as well as a tour to the historic WWII sites.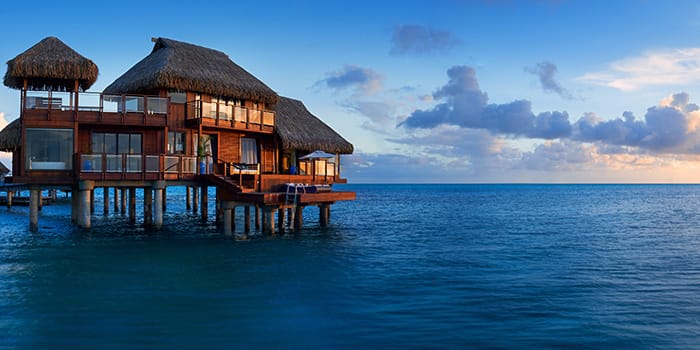 Price per Night: $870 – $5,570
Best For: Romantic Getaway
Availability: Easy to book
The Conrad Bora Bora Nui was previously the Hilton Bora Bora and is possibly the best luxury escape in Bora Bora. The Hina Spa treatments will massage all your stress away, and the international cuisine at the many restaurants will have you craving more.
The Conrad Bora Bora Nui offers double-story overwater bungalows, beachside villas, and suites on the hillside. It is the perfect base to explore these beautiful islands and offers various suggested itineraries grouped into interests (such as cultural heritage, water sports, ocean activities, and exploring Motu Tapu).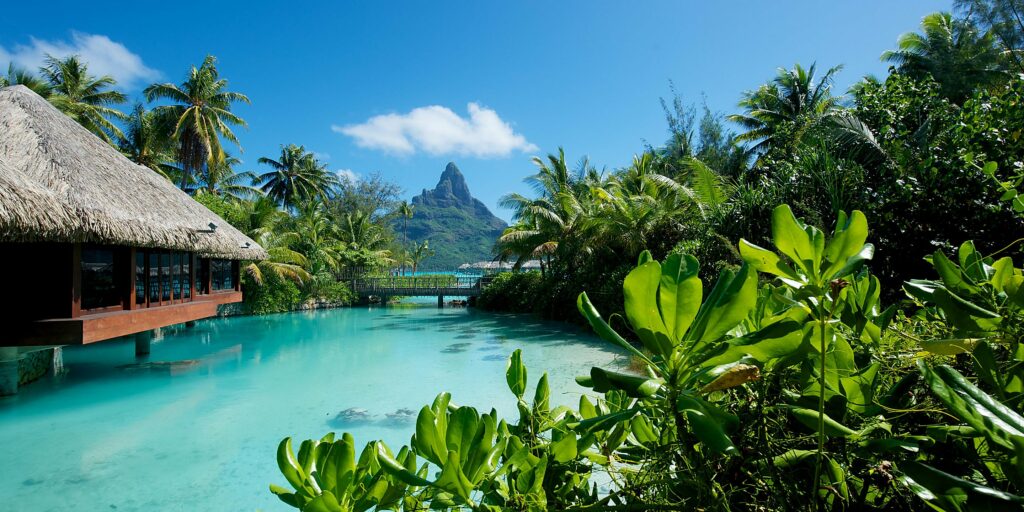 Price per Night: $1,216 – $4,905
Best For: 5-Star Luxury
Availability: Easy to book
The InterContinental Resort and Thalasso Spa are located on Motu Piti Aau, a small coral island on Bora Bora's coral reef.
The Resort oozes sophisticated Polynesian luxury, with overwater villas and comfortable suites, unspoiled views of the ocean, lush gardens, and several activities that will allow you to make the most of your Bora Bora honeymoon.
Located in the shadow of Mount Otemanu, you cannot find a resort that is more in tune with the atmosphere of Bora Bora, yet it offers all the comforts you would expect from an all-inclusive resort.
The Deep Ocean Spa is at the heart of the resort, while glass-floored bungalows will make you feel at one with the marine life in the pristine waters.
Best Areas To Stay in Bora Bora
Space is limited on Bora Bora, which means that almost all the honeymoon resorts are located primarily in three areas: Vaitape, Matira, and the Motus (small islands around the main island). This means that your options of where you want to stay are pretty limited, but there are still plenty of resorts at each of these locations.
Bora Bora is all about the ocean, so when you plan your honeymoon to Bora Bora, get ready for beaches, blue waters, snorkeling excursions, relaxing by the pool, and admiring the natural beauty of the place.
Traveling between resorts in Bora Bora is fairly easy, as hotels often have complimentary transfers, or you can take water taxis to get around between the different islands. On the main island, you can use the local bus service or hire a taxi to reach different parts of the island.
Matira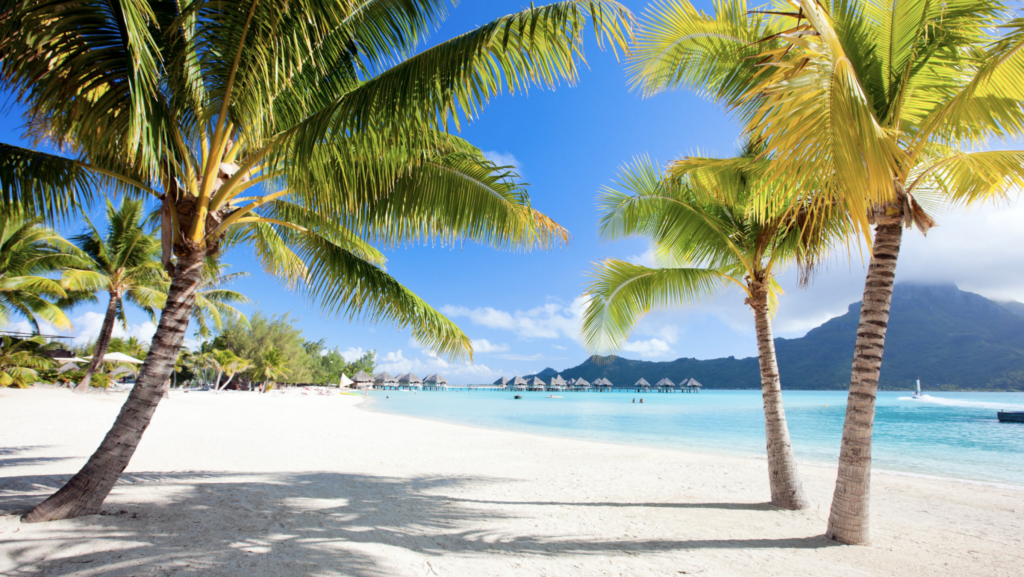 Matira is a must-see destination in Bora Bora and is also the only public beach on the whole island. This sandy beach is located on the south of the main island and is surrounded by tall palm trees and rolling green hills.
The shallow waters are perfect for a relaxing dip, or you can simply chill out on the beach. There are plenty of accommodation options around Matira Beach, such as the Hotel Matira, InterContinental Resort, or Village Temanuata.
Here are some top activities for couples near Matira Beach:
Vaitape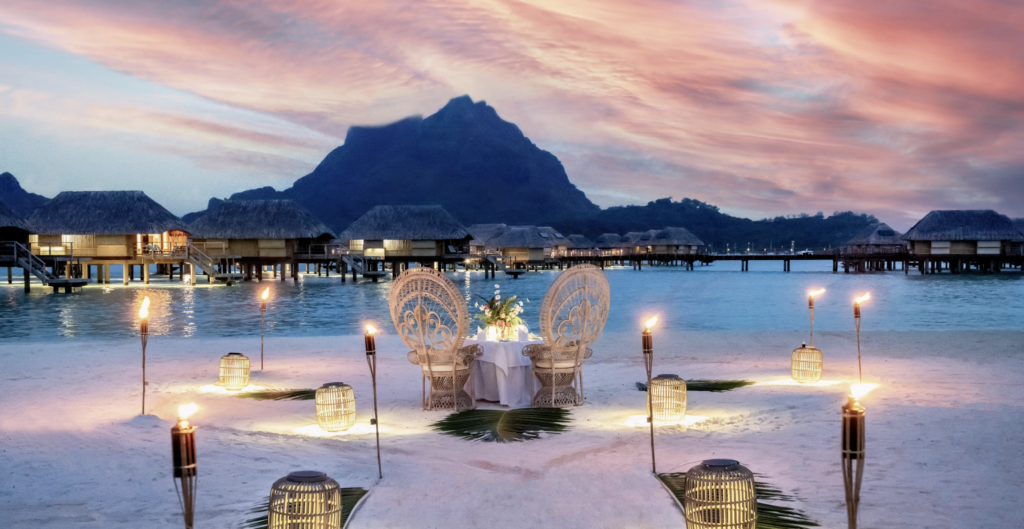 Vaitape is the most populous city of Bora Bora, with half of the local population living there. There is plenty to do, see, eat and places to stay here – your visit to Vaitape will be a busy one!
Here are some of the top activities for couples staying at or near Vaitape:
Spend the day swimming in the salt waters surrounding Vaitape.
Spot Nemo on a snorkeling excursion with H2O Bora Bora Snorkeling Tours. A full-day private tour will cost you $1026 for a couple, while a half-day tour with a maximum of six people will cost you $95 per person.
Sail on the Vitamin Sea Catamaran to get a better view of the beautiful islands. A private half-day tour will cost you $1,086, a private full-day tour will cost you $1,455, a private sunset cruise will cost you $855, or you can opt for more affordable group tours starting at $222 per person for a half-day tour or $179 per person for a sunset experience.
Jump on an ATV and go on an island tour with Bora Bora ATV tours.
The Motus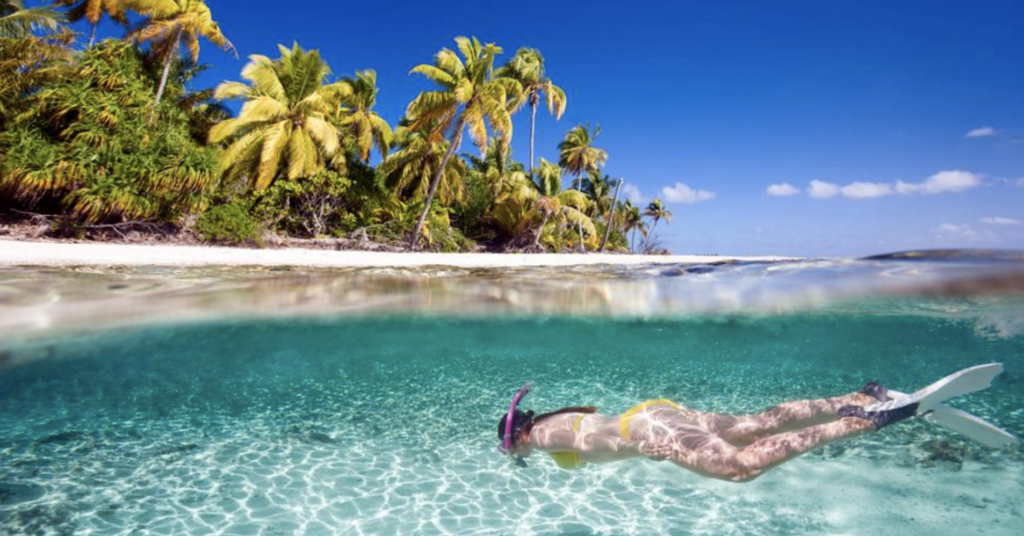 Around the main island, there are several smaller islets to explore, called Motus (atolls). These Motus are home to luxury resorts (many times a resort is located on a private island!) and each of the Motus offers plenty of activities, from kayaking to dining opportunities.
Some notable Motus are:
Motu Tapu
Motu Tape
Motu Piti Auu
Motu Ome
Traveling between these Motus is relatively easy. If you are staying on a Motu, your resort will often offer you complimentary transport. Alternatively, you can book a cruise or a water taxi to the different Motus.
Things to do on the Motus differ by island, although most will have the following activities for couples:
Relax at your luxury resort and enjoy the amenities they offer.
Get onto the water in a kayak or paddle board.
Get under the water by renting snorkeling gear or scuba gear.
Explore the islet by bike or foot.
Top Excursions & Activities To Do On A Bora Bora Honeymoon
Bora Bora is all about combining outside adventure with ultimate relaxation. There is plenty to do around these gorgeous islands, but to help you plan your honeymoon, we have compiled some of the top excursions and activities for couples to enjoy on their Bora Bora honeymoon.
We have divided the activities into three groups:
Adventurous Activities
Must-see Tourist Attractions
Different Bora Bora Tours
1) Adventurous Activities
Adventure seekers will have a great time in Bora Bora. There is so much to do that will get your heart racing, such as renting a jet ski, windsurfing, standup paddleboarding, scuba diving, and snorkeling.
Although each of these activities is amazing, there are some stand-out activities you cannot miss on your honeymoon:
Fly in a helicopter: Tahiti Nui Helicopters is the main helicopter tour operator in Bora Bora. A private helicopter flight is the best way to see the islands from the sky, and this operator flies over both Bora Bora as well as the Tupai atoll which is shaped like a heart – perfect for their honeymoon clients! A 10-minute flight costs $146, and prices go up all the way to $2,300 for a flight into the heart of Tahiti.
Take a sunset cruise: Plenty of the Bora Bora resorts offers sunset cruises, including the Four Seasons Resort and the InterContinental Resort. There are also private third-party cruise operators which are sometimes a little bit more affordable. The Bora Bora Romantic Tour is perfect for newlyweds, as it offers a sunset cruise with champagne and local delicacies. It costs just over $600 for a private sunset charter.
2) Must-See Tourist Attractions
There are plenty of must-see tourist attractions around Bora Bora. Although this list is not exhaustive, we have included some of the top attractions in the region:
Vaitape: Vaitape is the most populous area of Bora Bora, and continues to be a stop-over for almost all tourists and honeymooners. Those with a hunger in their belly should stop by Bloody Mary's Restaurant, and learn more about the history of Bora Bora at the Alain Gerbault Memorial. Couples can marvel at the art (and views from the studio!) of Alain Despert.
Mount Otemanu: No trip to Bora Bora is complete without admiring, or even hiking, Mount Otemanu. Otemanu is an extinct volcano with plenty to offer. Couples can hike the foothills of the volcano, go on a 4×4 adventure into the jungle with Natura Discovery for $70, get the blood pumping on an ATV tour with Bora Bora ATV Tours, or even fly in a helicopter around the volcano.
Visit Matira Beach: Matira Beach is located on the south of the main island, and is one of the only public access beaches. It is a great spot for snorkeling, although unless you stay at one of the hotels in the vicinity, you will have to bring your own gear.
See the relics from WWII: You probably think that reliving WWII is not the best way to spend your honeymoon, but touring the relics from World War II is a great way to see the island and learn more about the history of Bora Bora. You can explore the old World War II bunkers and cannons on a tour with Tupuna Safaris.
Other honorable mentions: Visit the boats at Musee De Marine, explore local culture and cuisine at Anau Village, and admire the ocean vistas at Terei and Taihi Points.
3) Different Bora Bora Tours
There is a variety of different tours in Bora Bora – boat, ATV, bicycle, helicopter, photography, sunset, aqua-bike, and 4×4. Your resort should be able to provide you with more information on tour providers in the area that can offer you these exciting experiences.
Touring the lagoon is an absolute must. The lagoon is home to sharks, stingrays, and manta rays, and a tour of the lagoon will stop at three or four places to allow guests to snorkel and swim in the clear waters.
Bora Bora Cultural Lagoon Tours offers a full-day private tour of the lagoon, including lunch, drinks, snorkeling gear, and the assistance of an informative guide.
Sample Itinerary & Budget For Your Honeymoon To Bora Bora
You can make your stay at Bora Bora as long or as short as you wish. We have compiled a five-day sample itinerary, as well as an estimated budget, that you can adjust for your own honeymoon in Bora Bora.
Day 1: Arrive in Vaitape and explore. Arrive at your resort or accommodation and get unpacked. After lunch, head over to the Alain Despert Art Studio and also go take some Instagram-worthy images at the Bora Bora photo lagoon viewpoint.
Day 2: Dive into the water. Start your morning with a snorkeling excursion. Your hotel will most likely be able to organize snorkeling gear for you. After lunch, go on a jet ski ride with one of the local tour operators, like Moana Adventure Tours, who offer private jet ski and snorkel tours for $1,000. Enjoy dinner at your resort.
Day 3: Stay local. After breakfast at your resort, dive into the saltwater of the Bora Bora Lagoonarium. You can spend the whole morning here, soaking in the sun, walking around, or swimming with the marine life. After lunch, go looking for local pearl shops, such as Baldini Perles. When you are done with retail therapy, go on any of the lagoon tours on offer. We highly recommend Maohi Nui for dinner and a show.
Day 4: Relax! After all this excitement, it is time to relax. Spend the morning lounging at Matira Beach (or your resort's private island beach), and after lunch, meander to the closest spa for a massage or other pampering treatment.
Day 5: Final swim. If you have time in the morning, go swim with the giant manta rays at Leopard Rays Trench, before heading home.
Here is an estimated breakdown of costs for a five-day honeymoon in Bora Bora during peak season:
| | |
| --- | --- |
| Accommodation | Five-star resorts will cost you around $1,500 a night per couple |
| Food | Food is expensive, so budget for $300 per couple per day. |
| Activities | It depends what you do, but you will pay around $1,500 for activities. |
Frequently Asked Questions
How much does a Bora Bora honeymoon cost?
Excluding flights, a 5 to 6-day honeymoon in Bora Bora will cost you around $12,000 during peak season. This price will depend on when you go, where you stay, what you eat and drink, and what you do. You may be able to find honeymoon packages that cost slightly less, excluding flights.
When is the best time to visit Bora Bora?
The peak tourist season in Bora Bora is during the US summer. This is when there is the least amount of rain and the temperature is pleasant, making it perfect for honeymoon activities.
If you are looking for a more peaceful time, then visiting between April to November would be best. You may experience some rain, but prices will be lower and there will be fewer people.
The rainy season (and mosquito season) is between December and March, so although costs will be at their lowest during these months, you will not enjoy your time outdoors as much.
What is the best way to travel around Bora Bora?
It is relatively easy to travel around Bora Bora's main island as well as cross the lagoon to smaller islands. You and your life partner can choose any of the following transport options to reach your destination:
Rent a bike to cycle across the island for $12 a day.
Rent a car or scooter from Avis, Europcar, Fare Piti Rent-a-Car, or Bora Bora Tours.
Use Le Truck public transport. It may be unreliable, but it certainly is affordable!
Get a private taxi. It is more expensive and will cost you around $14 for a 10-minute drive.
Hire a water taxi to get around for the price of $65.
How long should you spend in Bora Bora for a honeymoon?
You should spend at least 5 days in Bora Bora if you are staying at one resort. If you have time and money, you can extend this to around 9 days and stop off at two different resorts. This will give you enough time to explore, relax and partake in adventurous activities in Bora Bora's lagoon.
Start Planning The Perfect Romantic Honeymoon Getaway
Are you ready for your Bora Bora honeymoon yet?
As you can see from the information in this article, Bora Bora is the perfect honeymoon destination. The islands offer so much for honeymooners, like water activities, exploring the jungles, a rich history and culture, amazing local cuisine, and plenty of pampering and relaxation opportunities.
If you are ready to start packing your bags, make sure to check out Couples Travel for all the tips you need to plan your perfect romantic honeymoon to any destination in the world.