Azure waters, verdant forestry, and a backdrop of the iconic Piton mountains – all of these can be found in the Eastern Caribbean island of St Lucia. Add in swim-up suites, private plunge pools, and beach-facing terraces, and you'll discover some of the best honeymoon destinations in the Caribbean. Excursions are also aplenty in St. Lucia, and include waterfall hikes and volcano adventures.
Does St. Lucia sound like your ultimate romantic getaway? All-inclusive villas are dotted along the coast of both sides of the island, just waiting for newlyweds to book them up! In this St Lucia honeymoon ultimate travel guide, we'll provide you with all the best accommodations, areas, and excursions to add to your newlywed itinerary.
What Makes St Lucia Perfect For A Honeymoon?
Honeymoons should be a time of celebration and what better way to celebrate than with the help of Caribbean cheer? In the capital city of Castries and all the other major towns and villages, you and your loved one will be able to immerse yourselves in jump-up street parties, carnivals, full-moon celebrations, and plenty of other unique shindigs.
When planning a St Lucia honeymoon, you've got to factor in the nightlife aspect – this isn't the best honeymoon for those looking for a quiet island retreat. Although, it is possible to find several quiet corners of this island and plenty of other activities to do other than party each night away.
The island is made up of dense jungles, which are perfect for going on tropical hikes to find the island's breathtaking cascades. Climbing up the island's iconic Piton mountains is also a popular activity, which is perfect for newlyweds. These jungles lead right onto the pristine beaches that also define the island of St. Lucia, where couples can sunbathe and swim.
Best Honeymoon Resorts, Hotels, And Other Stays In St Lucia
St. Lucia has a diverse range of resort settings, from ones that are found in the middle of a UNESCO world heritage site, to others that are located right on one of the island's beautiful beaches. Some of the best include the Jade Mountain Resort, the Calabash Cove Resort, Sandals Grande St. Lucian, and Coconut Bay Beach Resort.
But which one is the best for your St Lucia honeymoon? In this section, we'll go over all you need to know about each of the island's top resorts, detailing prices, rooms available, honeymoon packages, as well as a whole host of other useful information.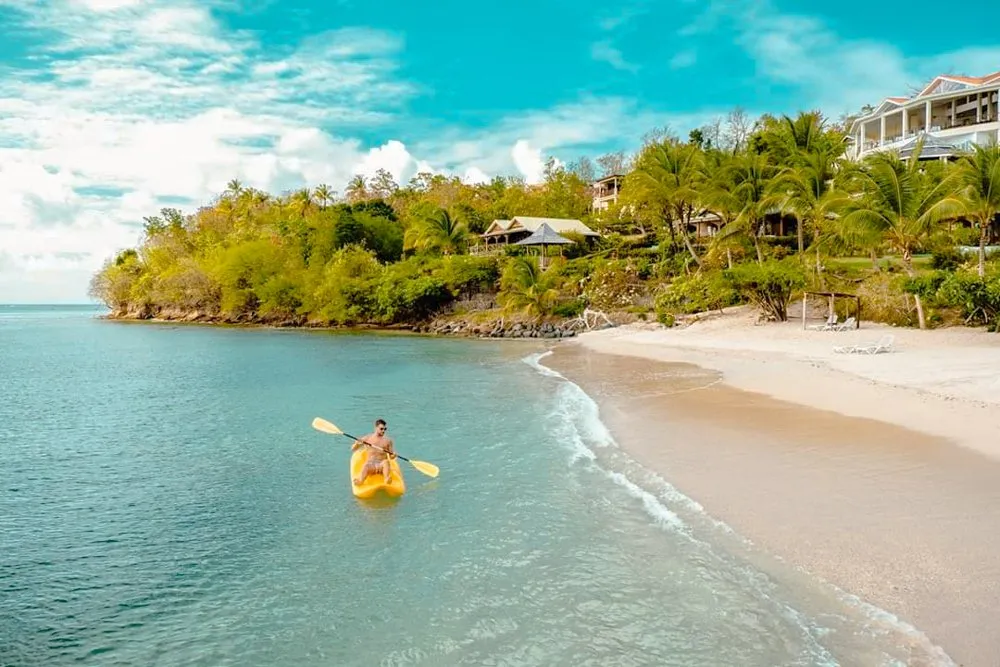 Price per night: $365 – $720
Best for: Adults only
Availability: Easy to book
All of the best parts of St Lucia can be found on the grounds of the Calabash Cove Resort. Ocean views, Caribbean Sea breezes, swim-up suites, and tropical vegetation surroundings. Each of the rooms comes with its own balcony or patio, made minimalistic with stone and wood. Onsite amenities include a private beach, spa, swim-up bar, and alfresco restaurant.
Best of all? It's adults only, meaning you can enjoy this heavenly setting without being disturbed by children! The resort only has 26 rooms, meaning you won't even have many other guests in the communal areas bothering your St Lucia honeymoon. Although the hotel is boutique, as long as you book far enough in advance you should be able to secure a room.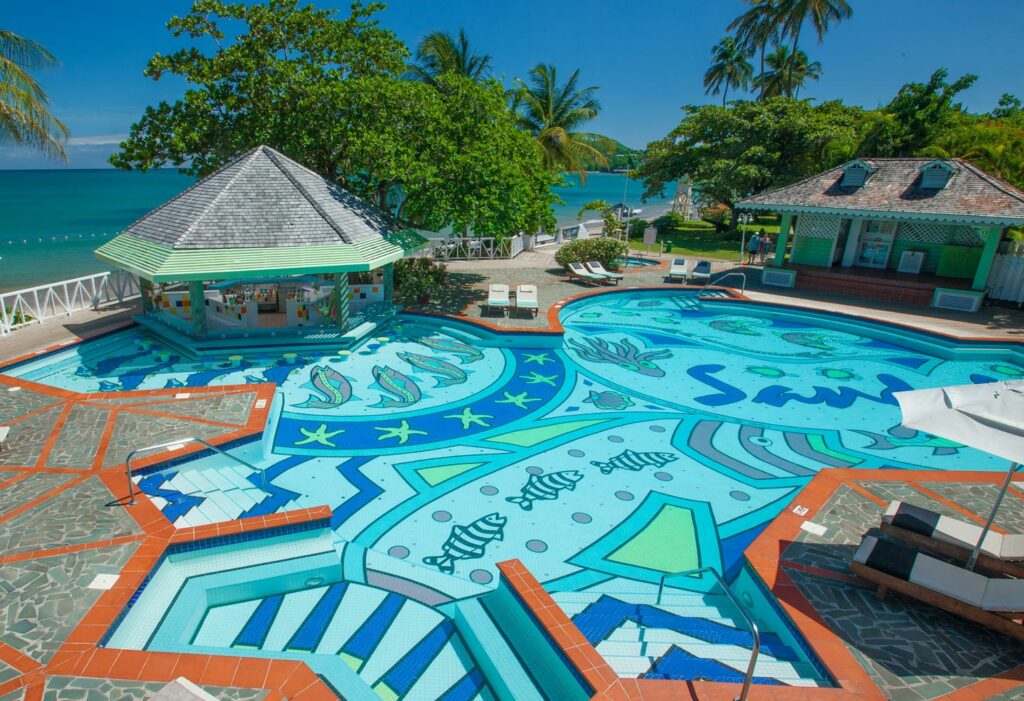 Price per night: $490 -$580
Best for: Couples-only beach, golf
Availability: Easy to book
A pier that juts out over the Caribbean Sea, poolside food and drink service, and a couples-only beach – Sandals Halcyon Beach resort has plenty to offer for a St Lucia honeymoon! It's one of the bigger resorts found on the island, with 169 rooms, which creates a distinctly buzzing atmosphere throughout its crystal lagoon and plethora of bars and restaurants.
One of Sandals Halcyon Beach's biggest draws is it provides guests with access to two of St. Lucia's best golf courses, which include a 9 and an 18-hole course. Bear in mind that Sandals Halcyon Beach only accepts block bookings of 7, 10, 0r 14 nights. Like most Sandals hotels, this resort is not suitable for single nights. In the suites, you'll find a private balcony and minibar.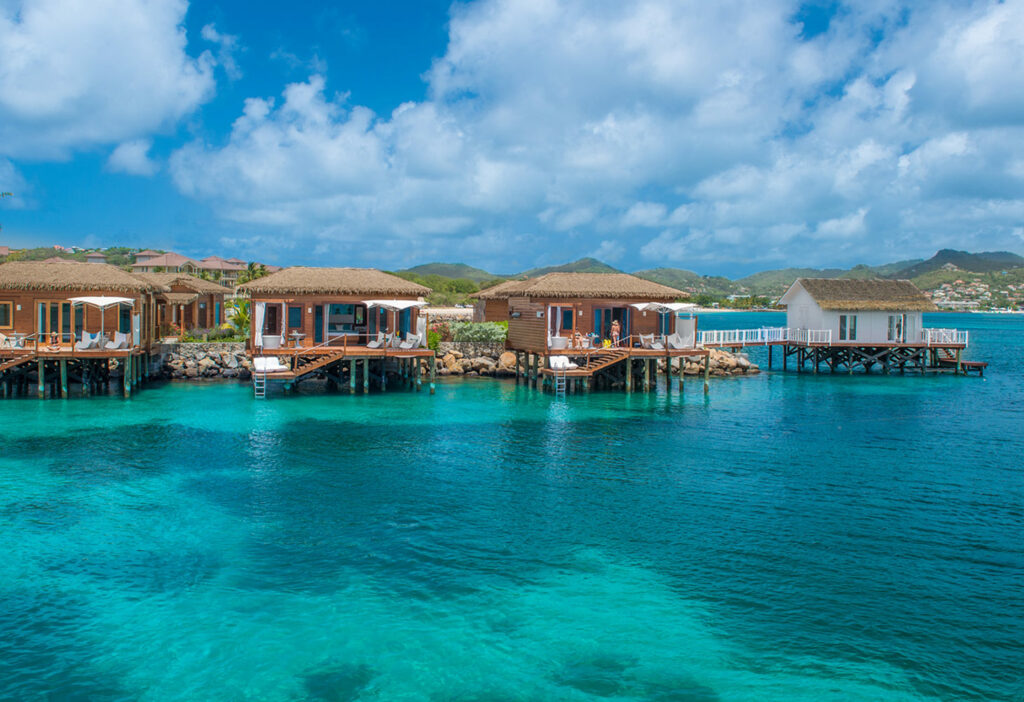 Price per night: $530 – $560
Best for: Honeymoon suite
Availability: Easy to book
The Sandals Grande St. Lucian is a top luxury resort for honeymooners with its own Lover's Lagoon Honeymoon Premium suite. These suites can be found on the third and fourth floors of the resort, giving newlyweds privacy as well as lofty views over the landscaped gardens and lagoon pool down below. This room also comes with airport transfers and a fully stocked bar.
Alternatively, if you fancy being closer to Pigeon Island Beach out front, overwater bungalows are also available. Some rooms come equipped with a whirlpool and hammock. Given the resort's position, 360 views are available of the ocean, and quick access is provided to such attractions as Pigeon Island National Park.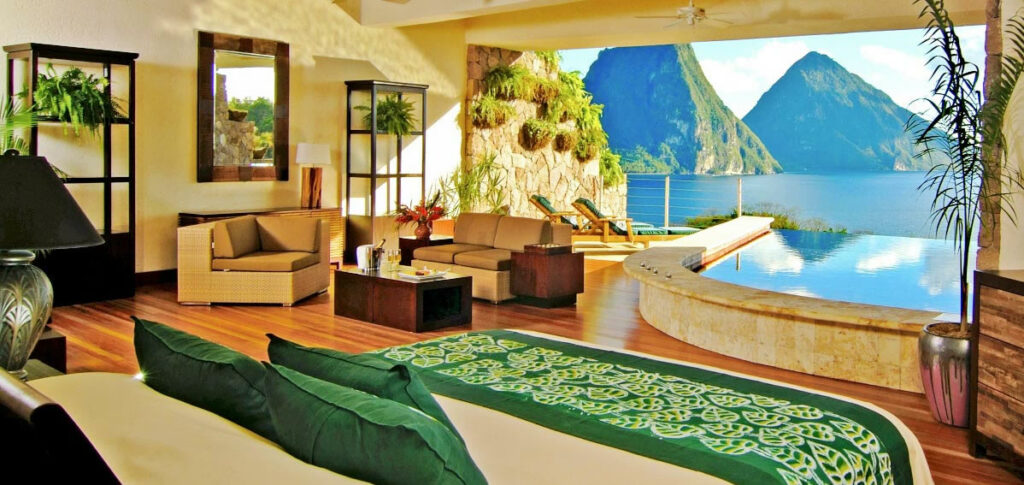 Price per night: $1,285 – $2,155
Best for: Spa room service, Piton views
Availability: Limited
Many St. Lucia honeymoon resorts come with their own spas, but can many offer spa treatments to guest rooms? At Jade Mountain Resort, you and your partner can receive private massages and other treatments from the comfort of your suite bed! The resort is built into the side of a rising hillside, providing guests with unparalleled views of the Pitons.
This adults-only resort refers to its rooms as 'sanctuaries' due to their open-plan bedroom, living, and private infinity pool area. Jade Mountain Resort itself has plenty of onsite amenities, including the Celestial Terrace, which is perfect for romantic star gazing and late-night drinks. Guests can also enjoy two sandy beaches out front, perfect for tanning.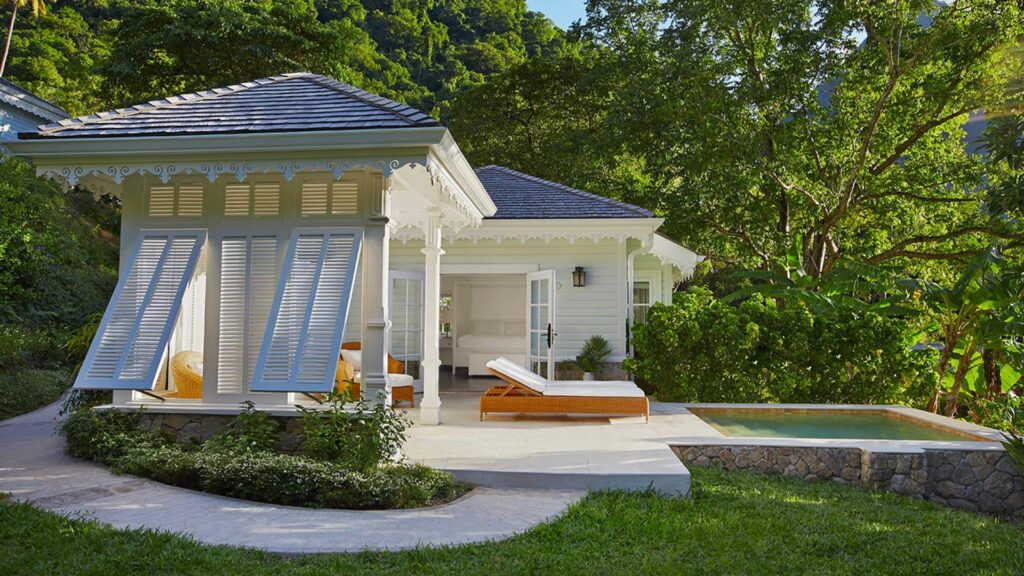 Price per night: $500 – $3,830
Best for: Scenery, outdoor spa
Availability: Easy to book
Out of all the Lucia honeymoon resorts, Sugar Beach is definitely the winner regarding top-class scenery. Poised directly below two towering Pitons, and a slight sandy beach out front, you couldn't find a more Caribbean scene if you tried! Add in a beachfront bungalow and a personal butler, and you'll get to experience the tropical getaway you always dreamed about.
Sugar Beach resort also has several other room types on offer, such as mill rooms, villas, and cottages, some of which come with a private plunge pool. By day, guests can relax on the beach or by the pool, dine at one of the three on-site restaurants, or receive treatments at the outdoor rainforest spa. By night, guests can enjoy cocktails to the sound of the lulling waves.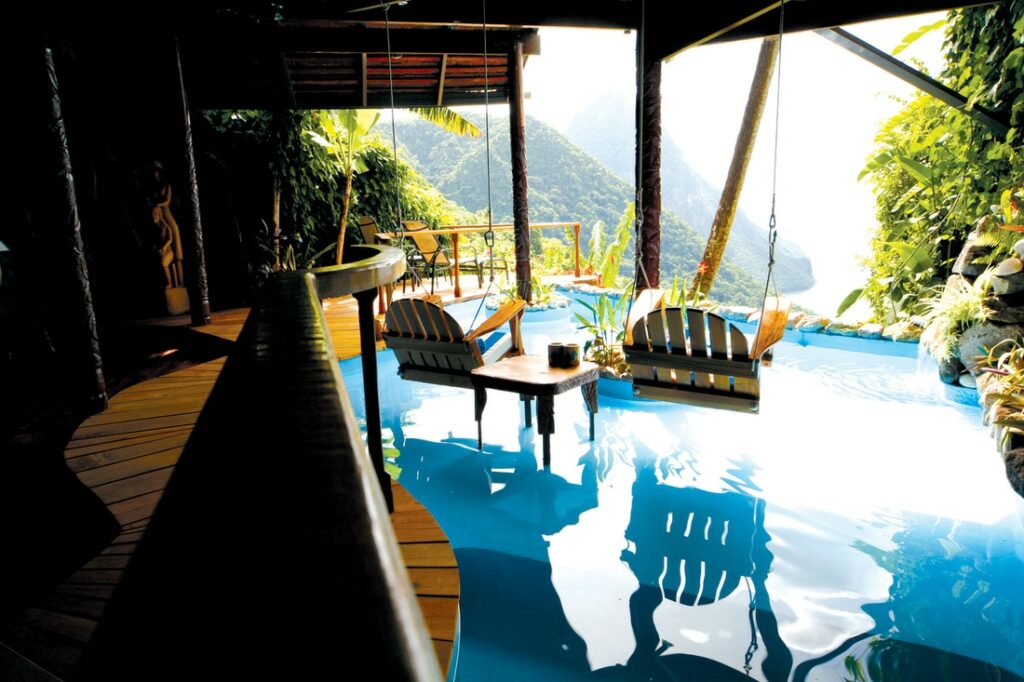 Price per night: $865 – $1,590
Best for: Couple photos, hikes
Availability: Easy to book
The Ladera Resort may be one of the highest accommodation options on the island. Constructed into the side of a volcano, the Ladera sits 1,000 feet above the level of the Caribbean Sea. Each suite at the Ladera makes full use of its height and offers guests panoramic views over the sea and the Pitons in the distance.
Matched with the traditional wood and stone design of the rooms, Ladera is one of the best St. Lucia honeymoon resorts for taking plenty of couples photos. Room amenities include a private plunge pool and dining area, while the hotel amenities include the likes of the Dasheene Restaurant and the Ladera Spa. Hikes up the Pitons leave from Ladera daily.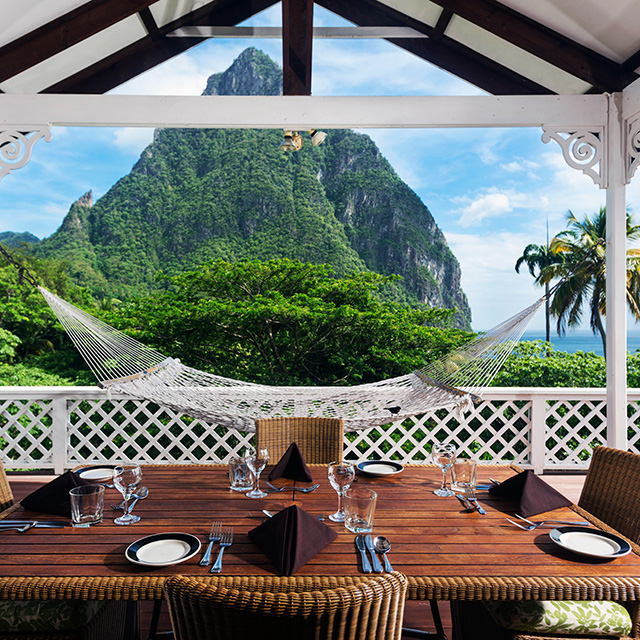 Price per night: $330 – $1,400
Best for: Rustic villas, adults-only boutique resort
Availability: Limited
You'll find Stonefield Villa Resort in the middle of Pitons World Heritage site, which allows newlyweds to appreciate the surrounding nature of St Lucia. The resort is made up of just 17 rustic villas, making it one of the smallest St Lucia honeymoon resorts to make this list. This scale ensures privacy, as well as tranquility when enjoying the onsite amenities.
Each villa is equipped with private pools, showers, gardens, and hammocks, providing the ideal secluded relaxation spot. Within the resort, guests will find a world-class spa and the Mango Tree Restaurant. Being in the middle of the natural side of St. Lucia, guests have easy access to waterfall and Pitons hiking routes if you and your partner want to go explore.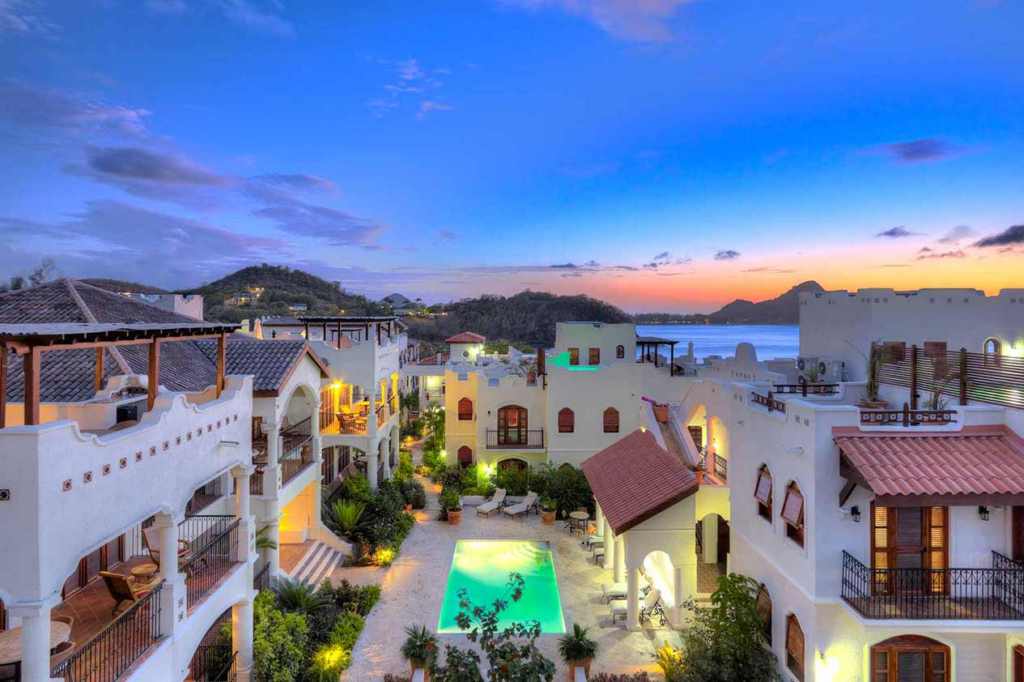 Price per night: $785 – $910
Best for: Honeymoon packages, yoga
Availability: Easy to book
The Cap Maison Resort & Spa is located on the northwest coast of St. Lucia and can turn your honeymoon into a private wellness retreat. Not only is the onsite spa one of the best on the island, but the yoga classes in the on-site gardens prove very popular among the resort's limited guests. A major highlight of the resort is Cliff at Cap fine dining restaurant.
We've included the Cap Maison Resort & Spa in our list of honeymoon resorts as it offers an exclusive newlywed package. This offer includes a One Bedroom Villa Suite, a bottle of champagne upon arrival, a further bottle of champagne at the Cap Restaurant's private deck, as well as a one-hour couples pass at Spa Maison.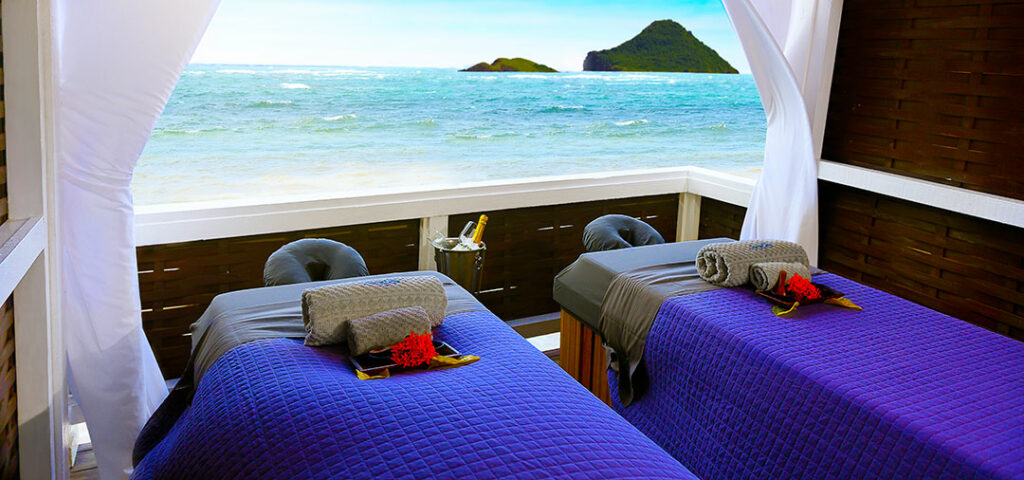 Price per night: $185 – $215
Best for: All-inclusive resort
Availability: Easy to book
The Coconut Bay Beach Resort is one of the most popular St Lucia resorts for all types of guests. Luckily for honeymooners, there is an all-inclusive adults-only wing that's perfect for your romantic getaway. There is a wide range of activities in this section of the hotel, including a private bar, pool, outdoor spa, and adult relaxation area with hammocks and beds.
Out of all the St Lucia honeymoon resorts, the Coconut Bay Beach Resort is the closest to the international airport, making it also the most hassle-free in terms of transport. Newlyweds can choose from the resort's extensive range of ocean-facing rooms, with balconies for some quiet evening drinks. In total, the resort has eight restaurants, seven bars, and a private beach.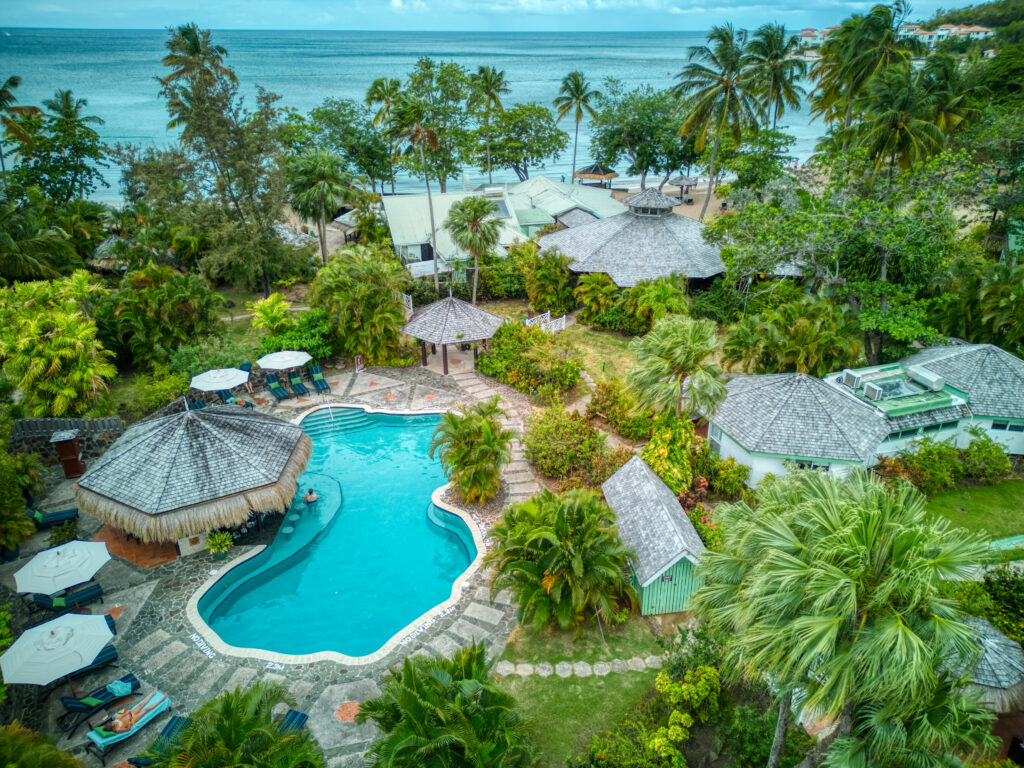 Price per night: $530 – $1,315
Best for: Sandy beaches, street parties
Availability: Easy to book
East Winds St. Lucia can be found on the northern end of the island, close to Gros Islet, which gives guests easy access to some of St. Lucia's most attractive beaches. The palm tree-shaded beach right out front of this luxury hotel is the perfect place to spend a quiet afternoon with your partner, with Reduit Beach and nightlife just a short drive away.
This luxury resort consists of 30 modern cottages scattered amongst the tropical forests that open out onto the beach. Inside each cottage, you'll find a private decking area that faces sea-wards. Onsite amenities at this all-inclusive resort include swimming pools and beachfront dining and drinking.
Best Areas To Stay In St Lucia
When it comes to choosing the best region to spend your St. Lucia honeymoon in, the debate normally gets reduced to the north of the island vs. the south of the island. The north of St. Lucia is where you'll find the most amount of nightlife and atmosphere, while the south of the island is where you can find the most secluded and laid-back districts.
Although the north and south are different, we'd say that it's worth breaking down St. Lucia further into even small regions. Here are our top picks for the best regions to visit on your St Lucia honeymoon.
Soufriere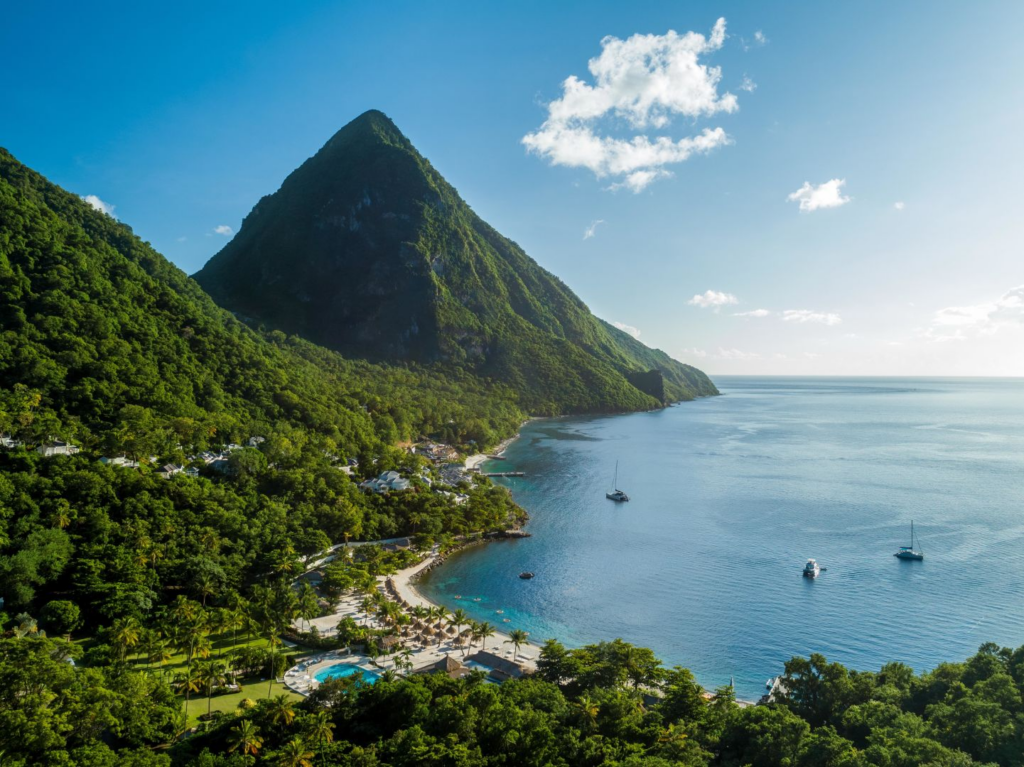 Soufriere, located on the west coast, is home to some of the island's most famed beaches, including the likes of Sugar Beach, and some of the best honeymoon resorts in the whole of the Caribbean. Top resorts include Sugar Beach Resort and the Jade Mountain Resort. Soufriere is not so much about partying, but rather chilled-out, nature-based resort living.
Soufriere is the best location for those who want to be between the island's famed twin peaks, rather than at an admiring distance from them. Although they make for a good background to your couple's photos, the twin peaks are even more impressive when seen close up. You'll find Soufriere on the coast in between the two Pitons.
Castries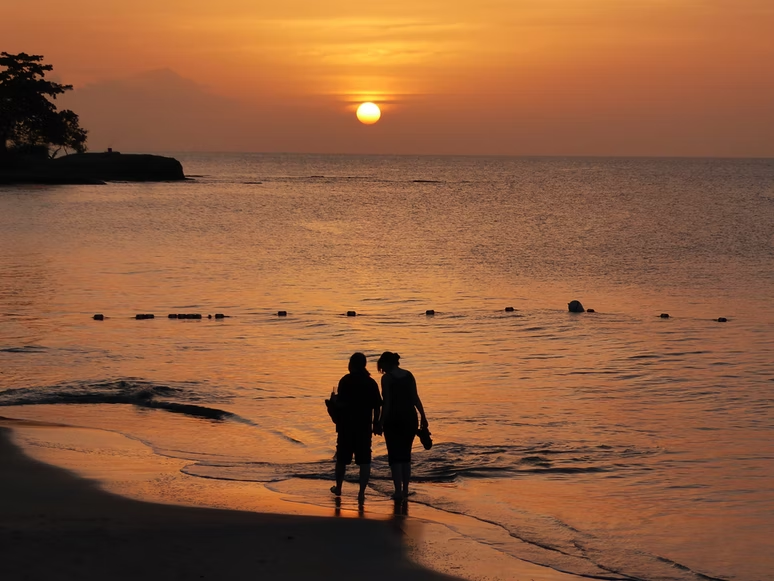 On the west coast, you'll find Castries, the island's capital city. It is known for its party atmosphere, beautiful tree-lined Vigie Beach, and duty-free shopping near its harbor. Although moderately busy all day, Castries sees an influx of visitors at points thanks to the cruise ships that stop here. If you're looking for a buzzing atmosphere, Castries is the pick for you.
Besides the restaurants and bars, there are plenty of cultural things to see and do in Castries, including parks, squares, colonial buildings, and local produce markets. It may not be ideal for the entirety of your St. Lucia honeymoon, but Castries is definitely worth stopping by.
Gros Islet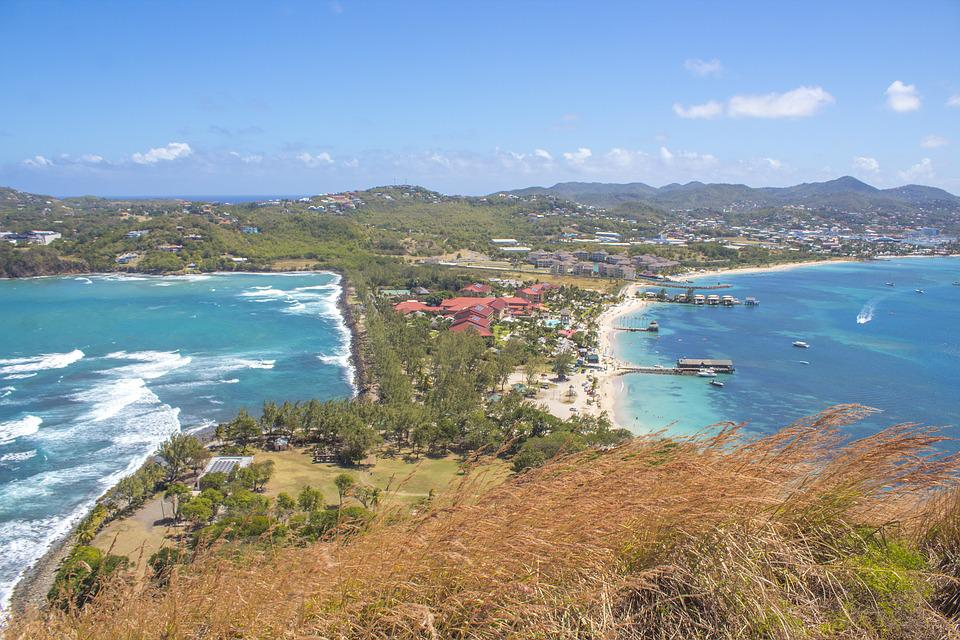 Near the tip of St. Lucia, you'll find Gros Islet, probably the most lively of the island's smaller towns. Although mostly a laid-back fishing village, here you'll find some busy bars and restaurants. Gros Islet is also the location of a weekly street party, which takes place every Friday night. During which, you can mix with the locals over barbeque and drinks.
Made up of attractive, winding streets, Gros Islet is fun for just wandering around, too. It's also ideal if you want to see the island's most popular beach, Reduit Beach. Popular hotels near Gros Islet include Bay Gardens Beach Resort and East Winds St. Lucia.
Cap Estate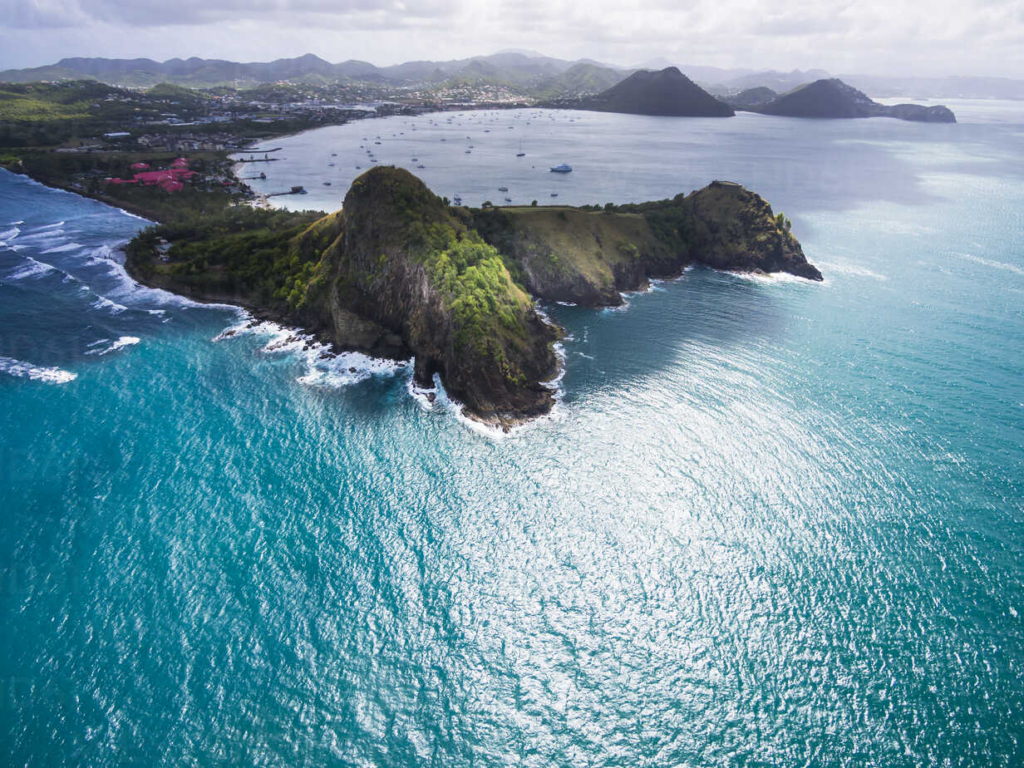 If you're looking for something a bit more chilled out than Gros Islet, go further north towards Cap Estate. This area will give you peace from the rest of the tourists and is home to a selection of white sandy beaches, including Plantation Beach. Cap Estate is also home to Pigeon Island, which is perfect for hiking.
One benefit of Cap Estate is you're never too far away from the party, with Gros Islet being just a short car ride away. Popular St Lucia honeymoon resorts that can be found in this area include Cap Maison Resort & Spa.
Marigot Bay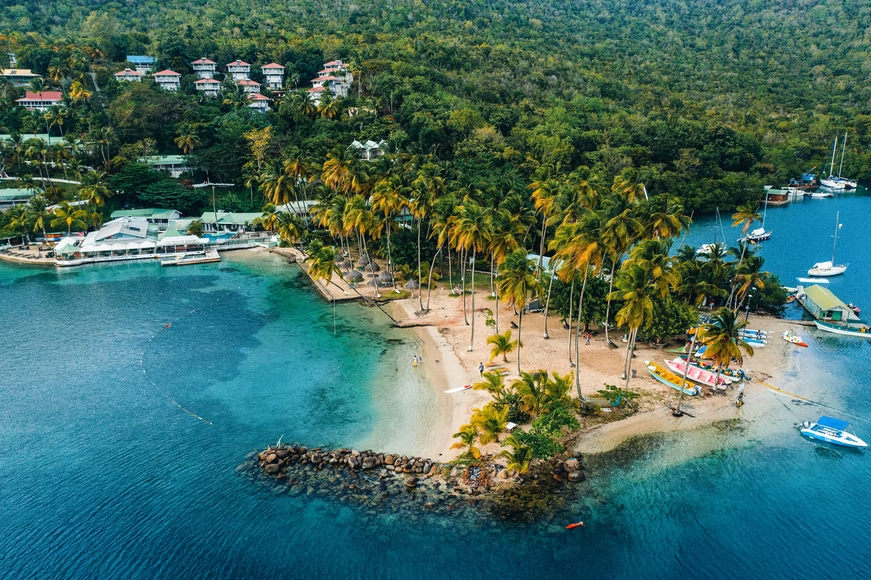 Marigot Bay is one of the most underrated areas and is perfect for a St. Lucia honeymoon. The scattering of restaurants along its horseshoe bay is perfect for romantic walks in the twilight, as the waves gently reach the shore. Although it's worth staying in Marigot Bay itself, this region is only a short drive away from Castries, making it also good as a day trip.
You'll be able to find several great resorts to spend your St. Lucia honeymoon in, including the Oasis Marigot Bay.
Top Excursions & Activities To Do On A St Lucia Honeymoon
As if sun lounging by the pool and taking advantage of your resort's onsite spa wasn't enough, there are plenty of excursions and activities you could plan to make your St. Lucia honeymoon that extra bit special. The island scenery is unbeatable and it's definitely worth seeing as much of it as possible. Top excursions and activities include:
Tet Paul Nature Trail
One way to do this would be to do a hike, like the Tet Paul Nature Trail. This trail is very easy to complete but provides you with breathtaking views of the Pitons. The basic price for this experience is $10 but for an extra cost, you can have a professional guide lead you along the trail as well as resort pick-up.
Contact the Tet Paul Nature Trail organizers for a quote.
Toraille Waterfall Tour
Alternatively, if you'd rather take in the island's cascades you could sign up for the Toraille Waterfall Tour, which will take you to the island's Sulpher Springs. Guided tours start from $80 and resort pick-up is available.
Romantic sunset cruise
If you'd rather admire the island from the ocean, why not partake in a romantic sunset cruise? You can kick back on a catamaran, champagne in hand, and take in the Pitons as the sun descends. It's possible to book a sunset cruise at the Oasis Marigot, with prices starting from $75.
Share a mudbath
Other great activities you and your partner could partake in include sharing a mudbath, which you can do at Sulphur Springs, which is in Soufriere. The entrance fee for Sulphur Springs is $11.
Go scuba diving
If you're in the Soufriere area, you'll find plenty of scuba diving experiences along Soufriere beach, with prices starting from $132.
Horseback beach ride
Horseback beach ride experiences are offered at most of the island's popular beaches. If you're looking to do one along the eastern coast, the best company to book through is Sandy Hoofs who are based in Gros Islet. Prices for this experience start from $99.
Sample Itinerary & Budget For Your Honeymoon To St Lucia
To help you organize your St. Lucia honeymoon itinerary here's a basic look at how much you should expect to pay throughout a week-long stay (per person). Of course, everyone's spending will be different, and also depends on whether you visit during peak season or not.
| | |
| --- | --- |
| Activity | Cost Per Person |
| Accommodation | $300 (budget hotel) – $26,830 (most expensive resorts) |
| Food and drink | $800 |
| Transport | $2.30 – $8 (per ride) |
| Tet Paul Nature Trail | $10 (for basic experience, price will be more with add-ons) |
| Toraille waterfall tour | $80 |
| Sunset cruise | $75 |
| Scuba diving | $132 |
| Sulphur Springs Mudbath | $11 |
To help you plan how to spend each day of your honeymoon, here's a sample itinerary:
Day 1 – Settle into your accommodation either by the pool, on the beach, or in the resort's onsite spa!
Day 2 – If you want to get adventurous, set out on a hike to Toraille waterfall or embark on the Tet Paul Nature Trail.
Day 3 – Relax during your third day to recover from yesterday's hike and head out on a romantic sunset cruise at night.
Day 4 – Hit up the mudbaths of Sulphur Springs and explore the nearby waterfalls.
Day 5 – Take an extended beach day, topped off by a horseback ride at night.
Day 6 – Make the most of your second last day by scuba diving and exploring the underwater world of St Lucia.
Day 7 – Spend your last day relaxing poolside and by enjoying all of the onsite amenities one last time.
Frequently Asked Questions
How much does a St Lucia honeymoon cost?
The average couple should expect to pay $3,500 – $4,500 for their honeymoon in St Lucia. However, this depends massively on which time of the year you visit the island and how long your honeymoon lasts. Honeymoon resorts tend to be pricier, but if you choose to go during the off-peak season, you'll be able to make St. Lucia a lot more affordable.
When is the best time to visit St Lucia?
The best time to visit St Lucia would be during the island's dry season, between December and May. The rainy season lasts between June and November, although September remains the island's hottest month. For the most agreeable weather, visit around April.
What is the best way to travel around St Lucia?
Hiring a car would be the best way to travel around St. Lucia, as the roads are fairly quiet and easy to drive on. St Lucia does not have Uber, so you'll need to use the island's standard taxi service. You could also opt for the bus service, which is fairly regular and can take you around most of the island.
Start Planning The Perfect Romantic Honeymoon Getaway
There is a diverse range of St. Lucia honeymoon resorts to choose from. Some, like The Ladera Resort, are perched on the side of a volcano, while others can be found between the two lofty peaks of the island, such as Sugar Beach resort. Some are found in Castries, the epicenter of tourism, while others are found in quieter regions, such as Cap Estate.
When it comes to planning your St Lucia honeymoon, choose a resort that suits your scenic needs, and use Couple's Travel resources to make organizing your itinerary easier.