Dubai is an oasis in the middle of the desert, with flashing lights, luxury resorts, high-end shops, and gorgeous white beaches. This large Arabian city is a popular honeymoon destination because it caters to so many different couples, budgets, and interests.
Whether you and your life partner want an adrenaline-filled adventure honeymoon or a relaxing time at the spa and beach, you will find Dubai to be the perfect destination.
If you are considering having your honeymoon in Dubai, read on to find out where to stay, what to do, and have all your questions answered.
What Makes Dubai Perfect For A Honeymoon?
Thirty years ago, Dubai was a sleepy town along the coast, but now it is the top honeymoon destination and tourist site in the United Arab Emirates (UAE).
Visiting Dubai will make you feel like you have escaped into a different reality. You will find everything and anything you need – no matter what your honeymoon fantasy is. It is also incredibly easy to reach due to the large Dubai International Airport, home to Emirates and Etihad airlines.
Being the largest city in the UAE, a Dubai honeymoon offers beach relaxation, desert adventures, plenty of shopping opportunities, and gourmet dining. There are also plenty of affordable Dubai honeymoon packages available for this glitzy city.
Depending on what you do and where you stay, Dubai can make an affordable honeymoon destination.
If you want to extend your honeymoon, Dubai is also the perfect middle point to reach the Maldives or Seychelles.
You should keep in mind that public displays of affection are frowned upon in Dubai and that tourists are encouraged to respect local customs and dress modestly.
Best Honeymoon Resorts, Hotels, and Other Stays in Dubai
Dubai is well known for its luxury hotels and beach and desert resorts. You can find accommodation across the city, from the popular Downtown Dubai to The Palm Islands. Some resorts are even located on their own private islands!
Below are some of our top picks for hotels and resorts to stay at during your Dubai honeymoon.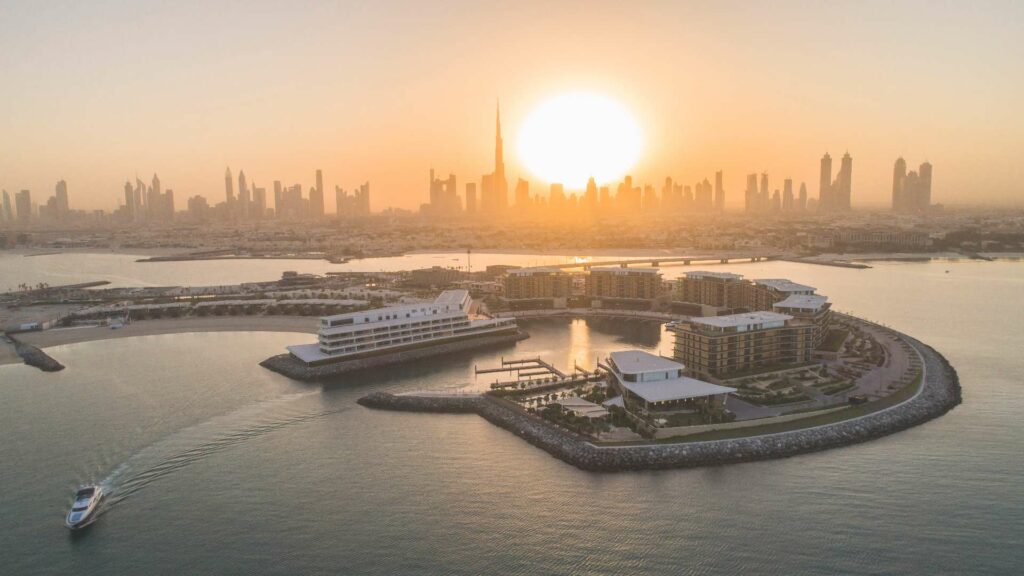 Price per Night: $1,497 – $3,812
Best For: Romantic Getaway, 5-Star Luxury
Availability: Easy to book
The Bulgari Resort is located on a private island in Jumeira Bay. This island is uniquely shaped like a seahorse when seen from above.
From large luxury villas with private pools to more modest (but well-appointed) rooms and suites, guests at the Bulgari Resort will have plenty of options for accommodation.
Guests can also enjoy access to the spa, indoor pool, yacht club, and beautiful private beach. There are seven restaurants and bars on-site, offering a variety of cuisines.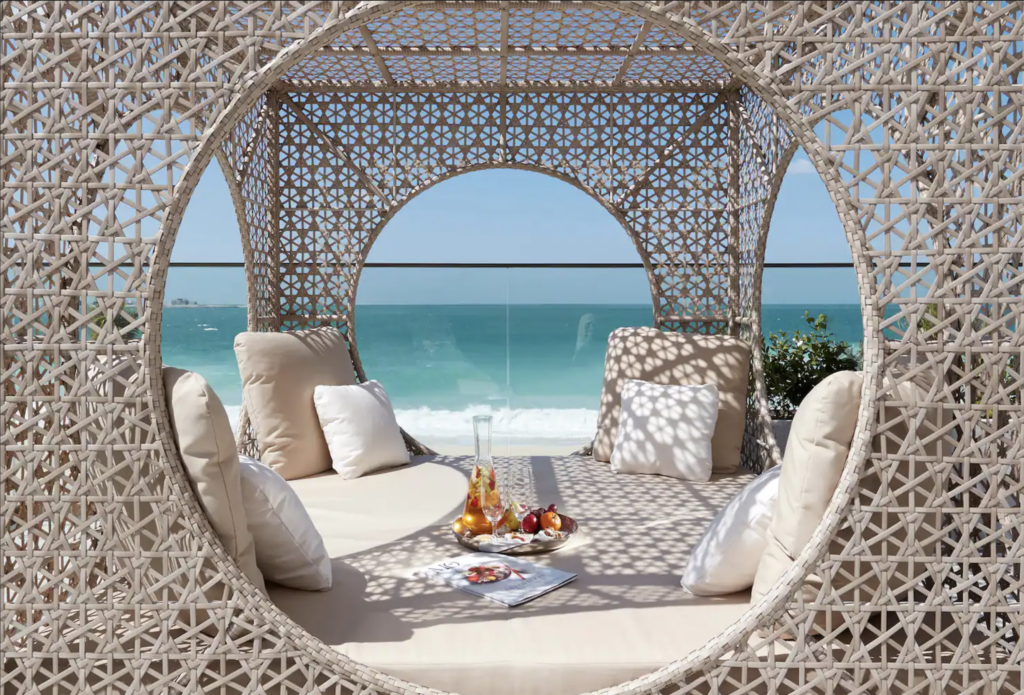 Price per Night: $1,000 – $20,400
Best For: Long-Stays
Availability: Easy to book
The Mandarin Oriental Jumeira overlooks the Arabian Gulf and the city skyline, allowing guests to wake up to views of the shimmering ocean or go to sleep with the sparkling night lights.
There are a variety of rooms and suites available, such as sea view rooms, skyline rooms, superior rooms, family rooms, suites, and a penthouse.
The on-site spa is great for couples looking to unwind after the stress of the wedding, while the six restaurants and bars will keep your bellies full without having to venture too far.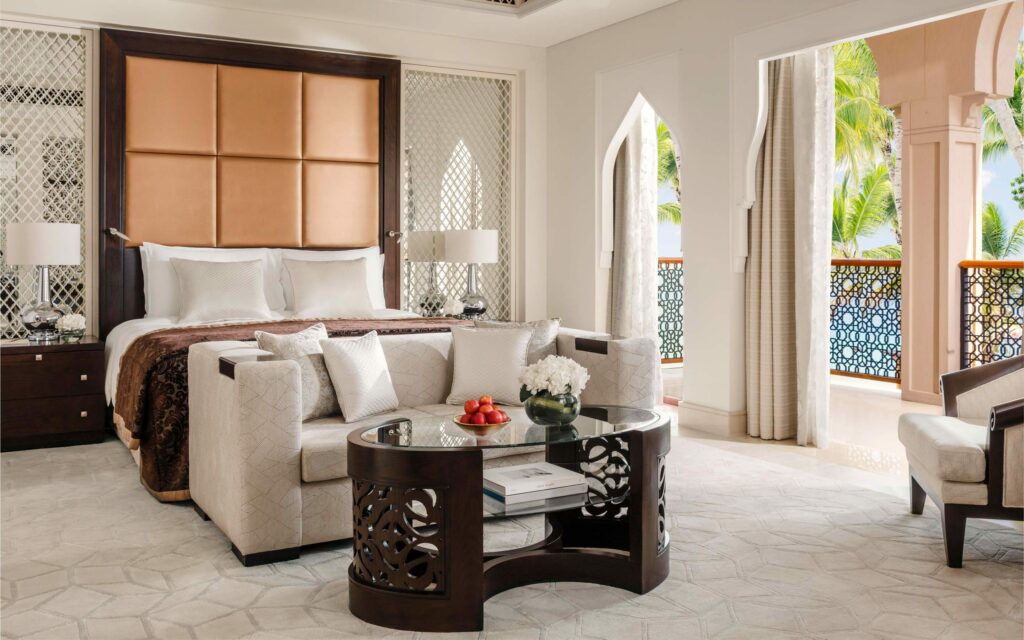 Price per Night: $1,037 – $2,777
Best For: Family-friendly
Availability: Easy to book
The One&Only at The Palm is located on Palm Jumeirah, the well-known artificial palm tree island built adjacent to the cost. This hotel takes pride in being the most exclusive resort on The Palm and provides honeymooners with infinity pools, a private beach, wellness options as well as lush tropical gardens.
The private marina provides guests with access to plenty of water sports.
If money is no object, you can rent an entire mansion or villa, whereas more modest travelers can rent luxury rooms and suites at this hotel.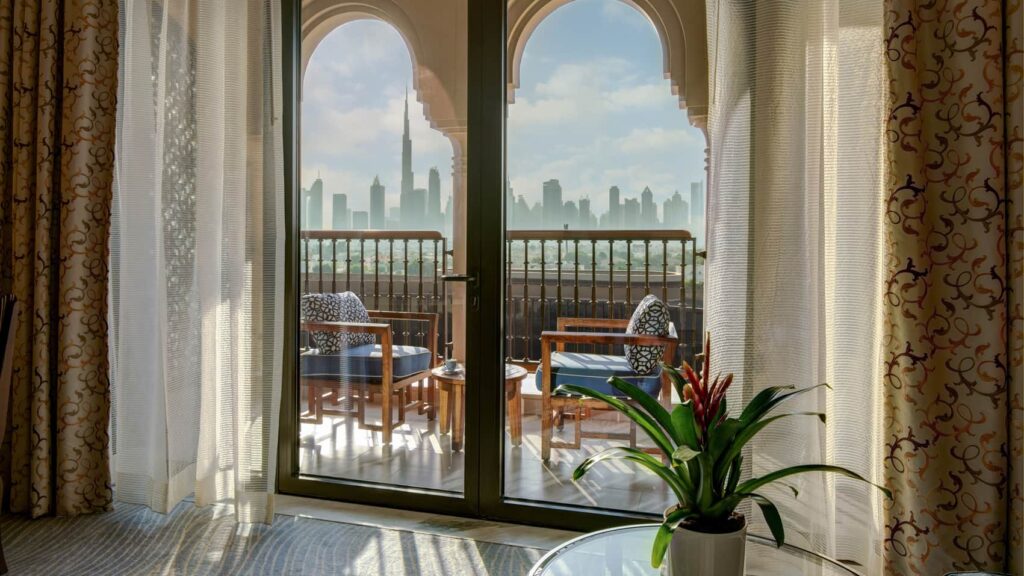 Price per Night: $1,464 – $5,445
Best For: Romantic Packages
Availability: Easy to book
The Four Seasons Resort is located in the popular Jumeriah neighborhood of Dubai.
As with all the Four Seasons Resorts, this hotel oozes luxury and fine living. It is well-located to be a base from which to explore the rest of the city, and also provides guests with access to Dubai's famous beaches, a private pool, an on-site spa, and a variety of restaurants, bars, and lounges.
Guests can choose between five types of guest rooms, four types of suites, and four specialty suites, to enable them to find the perfect room for their honeymoon in Dubai. The hotel can help you plan every aspect of your honeymoon in Dubai, from planning a romantic dinner to booking you the best room in the resort!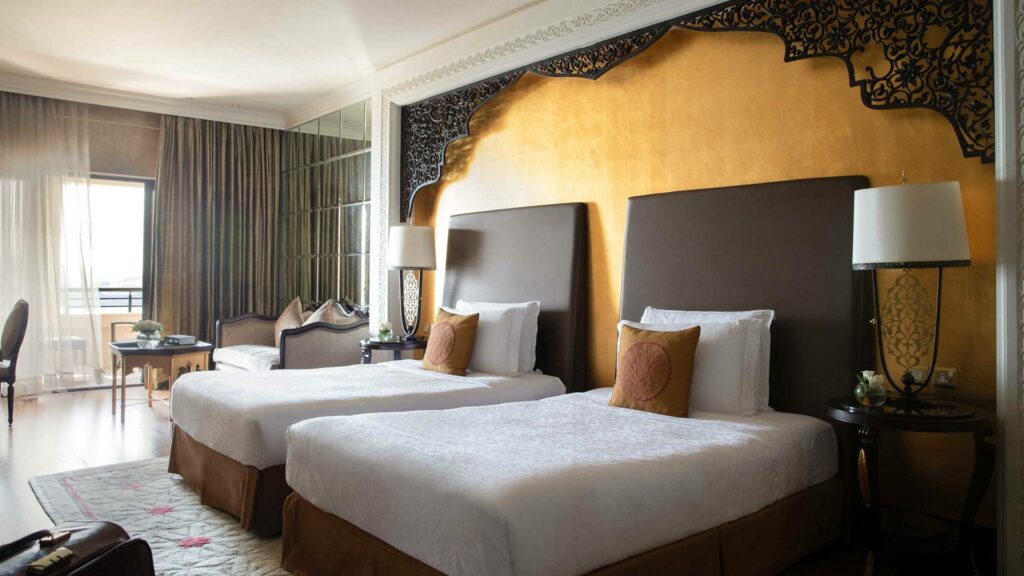 Price per Night: $550 – $1,577
Best For: Romantic Getaway
Availability: Limited
The Jumeirah Zabeel Saray is located on Palm Jumeirah beach and combines the traditional Ottoman style with modern luxury.
There is a variety of rooms and suites available, although you will want to get a room with a sea view to make the most of your stay.
There are also several options for dining, from a traditional British pub to food fit for a Sultan.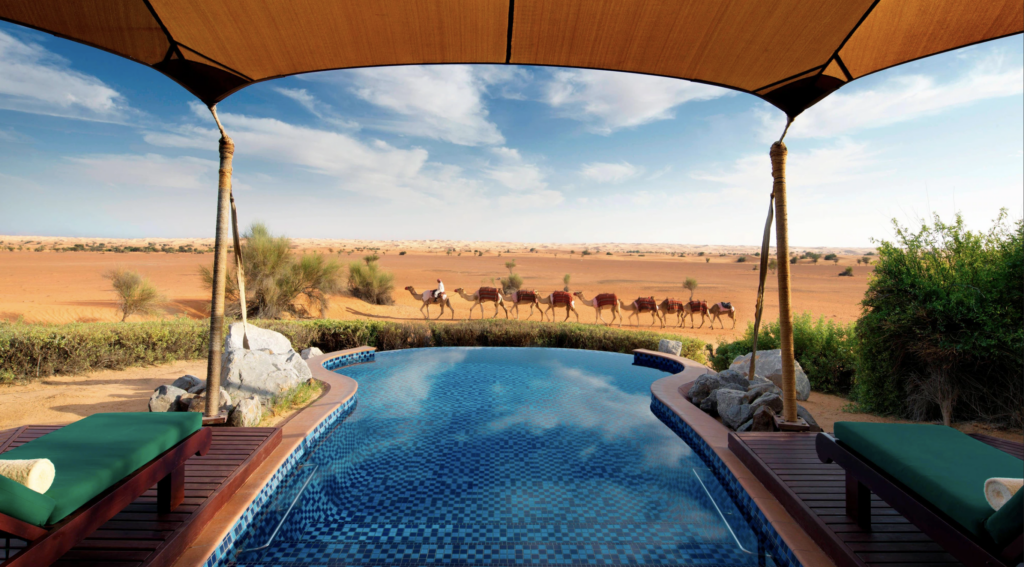 Price per Night: $1,667 – $8,755
Best For: Desert Views
Availability: Easy to book
The Al Maha Desert Resort and Spa is the perfect romantic escape for couples looking to get away from the busy city. There are 42 suites available to choose from, and despite being located in the desert, it is a true oasis, swaddled with tall palm trees while surrounded by large dunes.
The Resort offers guests plenty to do, despite its seclusion. Guests can go on horseback rides, ride a camel through the desert, learn about falcons and archery, dip in the cool waters of the swimming pools, or simply marvel at the views of Hajar Mountain.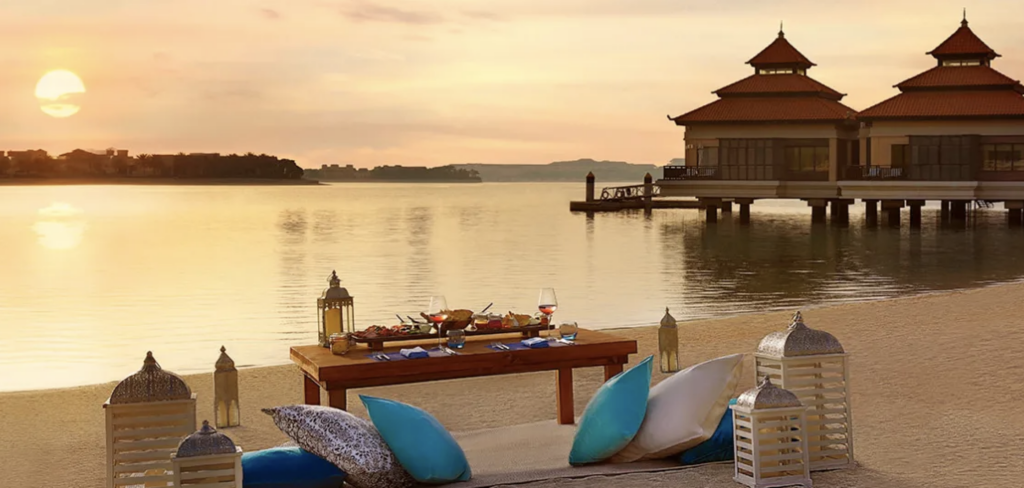 Price per Night: $390 – $4,192
Best For: Above-water villas
Availability: Easy to book
Anantara The Palm is one of the many luxury hotels located on The Palm Jumeirah. This grand resort gives guests access to 400 meters of private coastline, while still being within easy reach of the bustling nightlife of the city.
The Anantara is special, as it has the only over-water villas in the UAE. You can spend your whole honeymoon at this resort without getting bored or running out of things to do.
Unwind at the spa, dip in the pool or jacuzzi, or get your blood pumping while participating in any of the water sports on offer.
Price per Night: $654 – $1,972
Best For: All ages, including families
Availability: Easy to book
The Ritz-Carlton is situated on a private beach within walking distance from the JBR Walk. This Hotel caters to couples, singles, and families, with plenty of dining options, lounges, wellness offerings, and even a Ritz Kids Club.
There are ocean-view and garden-view rooms and suites available, each decorated in a classic Mediterranean style, which, when coupled with the world-famous Arab hospitality ensures the perfect, relaxing honeymoon destination.
Best Areas To Stay in Dubai
Dubai is a very large city, with modern accommodations, excellent shopping opportunities, beautiful architecture inspired by a variety of cultures, and plenty of places to visit.
There are several popular areas that tourists enjoy staying in due to their proximity to activities and luxury resort offerings. This includes Downtown Dubai, Jumeirah, and The Marina. It will also be able to travel between these areas due to the amazing transport system in Dubai.
Even if you do not stay in these areas, they are certainly worth a visit because of the host of romantic activities they offer for newlyweds.
Jumeirah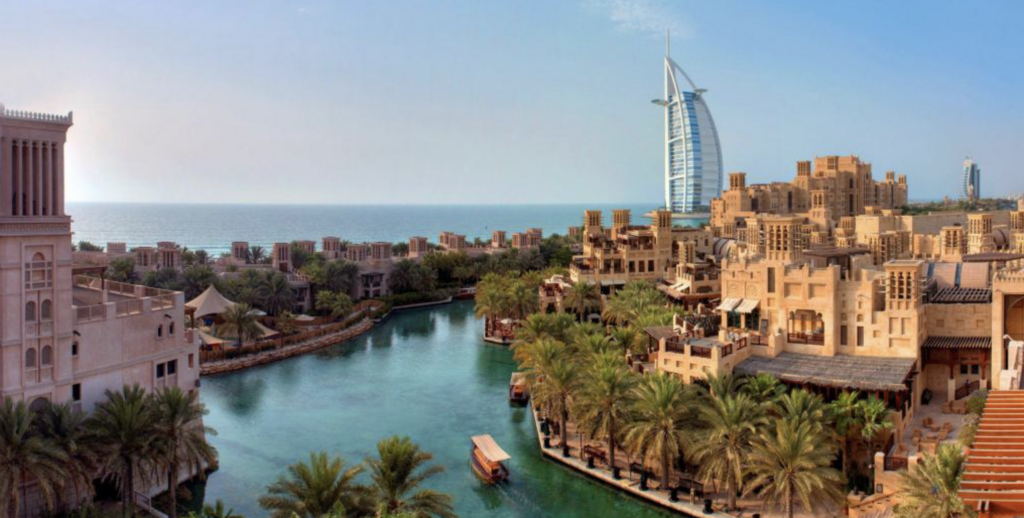 Jumeirah is located along the beach and is the most popular neighborhood in Dubai. It is incredibly diverse, with people from all over the world calling this neighborhood home.
The beachfront is littered with luxury accommodation options, and there is plenty to do and see in this area. Here are our top picks for couples visiting Jumeirah:
Go shop to your heart's desire along The Walk, a mile-long strip of hotels, shops, and restaurants.
Get a view of the city while enjoying a fine dining experience on The Flying Cup. Just a flight will set you back $16 per adult, while a flight with a pizza will cost you $33 per person.
Relax and soak in the sun at Jumeirah Beach.
Splash around and feel like a kid again at Aquafun Water Park, the world's largest inflatable water park. An all-day pass will cost $42 per person.
The Marina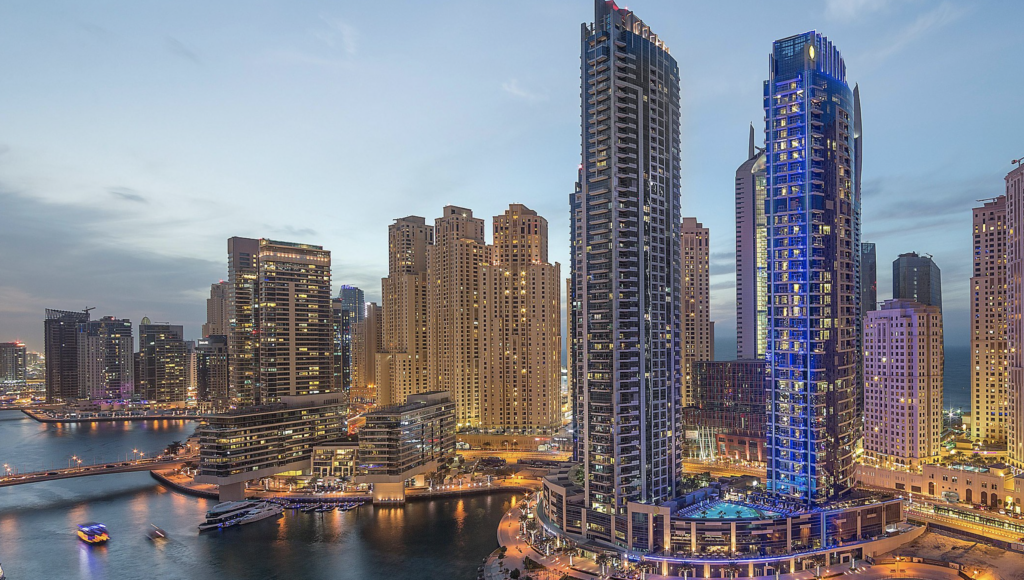 The Marina is a bustling neighborhood next to Palm Island. This area is popular with tourists because of its range of eateries, beautiful views (especially when the lights reflect on the water at night), a plethora of shops, and entertainment options.
There are also several hotels located near The Marina, or guests staying on the nearby Palms can head over and explore the area for the day.
Here are some of the best things for couples to do while visiting The Marina:
Simply enjoy a stroll around the Marina, exploring the many shops, cafes, and restaurants. For the ultimate shopping experience, pop into the Dubai Marina Mall.
Take a dip in the calm waters of Marina Beach.
Go on a Yellow Boat Tour from the Marina. There are four tours to choose from, stopping at must-see sites for photo opportunities. It is also a great way to learn more about Dubai. Tours range from $40 to $80 per person.
Downtown Dubai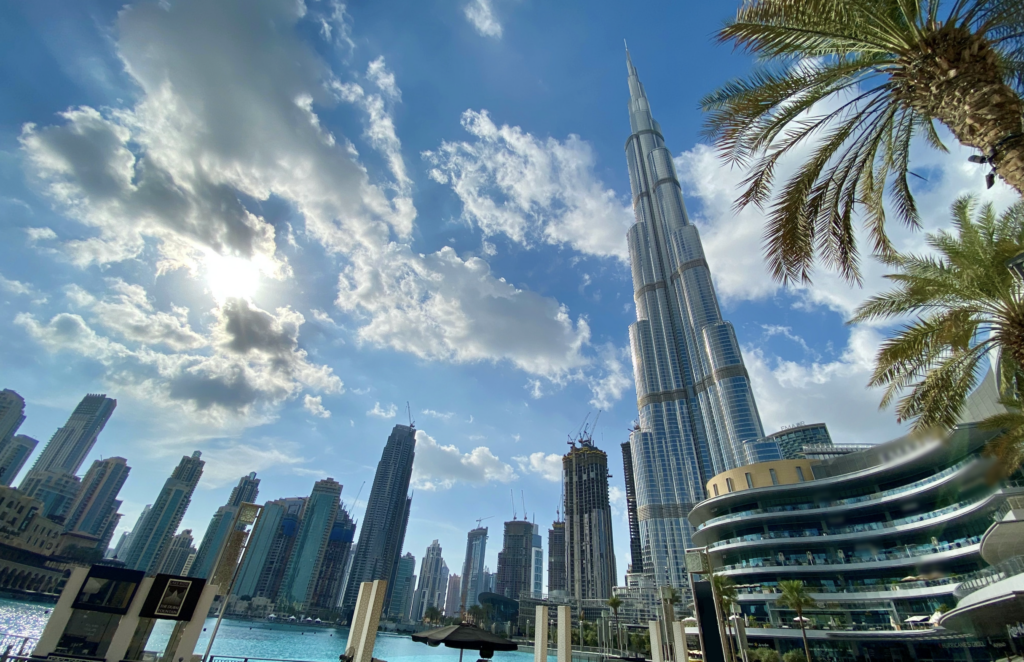 Downtown Dubai is probably the most well-known and iconic neighborhood in Dubai. This area is filled with young, international people who live a cosmopolitan lifestyle. There is plenty to do and see, and Downtown is an area that all honeymooners should experience.
Here are some of our top picks for couples visiting Downtown Dubai:
Top Excursions & Activities To Do On A Dubai Honeymoon
It is hard to narrow down the top activities to enjoy during your honeymoon in Dubai, but we have tried to compile a concise list of some of the must-do excursions if you are planning your honeymoon.
Go dine at the Burh Al Arab. The Burj Al Arab Jumeirah is the only seven-star hotel in the world, and is a popular icon on the Dubai skyline because of its sail-like shape. From the Michelin Star Al Muntaha to the Middle Eastern Bab Al Yam, honeymooners are sure to find a delectable meal at this gourmet destination.
Get lost in the music and colors of the Dubai Fountain. The Dubai Fountain is the tallest fountain in the world, and the lights and music of this fountain will amaze you throughout the night. Shows start at 7.45 pm and end at 11.30 pm, playing every 30-mins. This is probably one of the most romantic (and free!) activities you can do in Dubai.
Reach "At The Top" at the Burj Kahlifa. At The Top SKY is the highest observation deck on level 148 of the Burj Kahlifa, the world's tallest building. The terrific glass floors and 360-views may even inspire you to propose again! Tickets cost $100, and include a refreshment at the SKY Lounge.
Go on a Dubai Safari. When you think of going on safari, you probably think about the plains of Africa. A desert safari in Dubai is a unique experience, where you can roam the sand dunes, sandboard, or even go on a camel ride at sunset. Desert Safari Dubai offers a variety of options, from overnight tours to morning tours into the sand dunes.
Go on a boat ride with Dhow Cruise Dubai. These cruises offer guests the opportunity to see the city lights from the water while enjoying dinner and a musical show. A two-hour tour of the Marina that includes dinner will cost you $34 per person.
Beat the heat by going skiing. You and your partner will have the ultimate bonding experience by learning to ski together at Ski Dubai. If skiing isn't for you, why not take a toboggan down the slope, or meet the adorable penguins? Tickets to Ski Dubai will set you back $111 per person for the ultimate day on the slopes.
Fall in love all over again at Love Lake. Love Lake is a man-made lake in the shape of two interlocking hearts. Located in the middle of the desert, you will find this lovely oasis with more than 15,000 trees and plants and 150 bird species. Couples can stroll around the lake, have a picnic, or even go for a run along the running track. It is free to get access to the lake. Just note – this lake is not for swimming!
Go and relax at one of the beaches. Chances are your resort may have a private beach, or you can head over to Dubai Marina Beach or Jumeirah Beach for some sun and relaxation. Umm Suqeim Beach offers amazing views of the Burj Al Arab, while La Mer Beach is close to plenty of trendy restaurants and cafes.
Sample Itinerary & Budget For Your Honeymoon To Dubai
Below we have curated a 4-night, 5-day itinerary for when you visit Dubai city on your honeymoon.
The budget for your honeymoon will largely depend on where you stay; however, you can expect to spend around $200 per person per day, excluding flights.
Day 1: Arrive in the City of Gold. Once you safely land at Dubai International Airport, head to your hotel or resort and spend some time exploring the amenities on site. Go on an evening boat ride with Dhow Cruise along Dubai Creek or the Marina, enjoying dinner and music on board.
Day 2: Take a half-day tour of the city. You can curate your own tour or ask your hotel for a tour service provider. Some of the must-see stops on your tour include the Burj Al Arab Hotel, the Dubai Museum, and the Jumeirah Mosque. After your tour, relax at one of the many beaches or head up to the Burj Khalifa for sweeping views of the city.
Day 3: Get wild on a desert safari. Spend the morning relaxing at your hotel by dipping in the pool or getting a spa treatment. After lunch, head into the desert for a sunset desert safari to get your adrenaline pumping. Book a tour that includes dinner, or head back to the city after the safari for dinner at one of the many amazing restaurants.
Day 4: Tour Abu Dhabi and head to Ferrari World. Abu Dhabi is located around 90 miles from Dubai, making it the perfect day trip if you get started early. Get lost in the historic sites of the city, and once you have had your cultural fill, head over to Ferrari World for an F1-inspired theme park (including the world's fastest roller coaster!).
Day 5: Final Day. Spend the morning of your last day relaxing, or pop into the shops around your hotel to get some last-minute shopping done.
Frequently Asked Questions
How much does a Dubai honeymoon cost?
There is no set budget for a Dubai honeymoon, as the variety of hotels, resorts, restaurants, and excursions will determine your budget. You can spend anything from $200 to $1000 a day, depending on where you stay and what you do.
When is the best time to visit Dubai?
Dubai is great to visit throughout the year, although May to August is the hottest time, and you might want to avoid Dubai during these months. The best time to visit is between October and April to ensure pleasant weather. The peak tourist season is from December to March, so if you prefer fewer people, avoid these months.
What is the best way to travel around Dubai?
Dubai has an amazing public transport system that is used by tourists and locals. Visitors can pay for public transport (which includes the metro, water taxis, trams, buses, and cabs) using the Nol Card. You can also rent a private car, although government-funded taxis remain the easiest way to travel by road. To explore locally, you can rent a bike for a day from an BYKY Station, with prices starting at just $5 per adult.
How long should you spend in Dubai for a honeymoon?
We recommend at least 4 nights and 5 days in Dubai to make the most of this city against the Arabian Gulf. This will give you enough time to see the many sites, such as the Burj Khalifa, the Dubai Marina, Dubai Mall, and the Dubai Fountain, as well as some time for a desert safari or a boat ride up Dubai Creek.
What is the best way to travel to Dubai?
Dubai International Airport is home to Etihad and Emirates Airlines, and these airlines fly from most major airports in the world. Reaching Dubai by airplane with one of these airlines will be the easiest and most affordable option to reach Dubai. Return flights can cost around $1,500 from New York to Dubai.
Start Planning The Perfect Romantic Honeymoon Getaway
From shopping malls to the Dubai Desert, lush tropical gardens to Dubai cruises along the coast – it is no wonder that couples flock to Dubai for their honeymoon. And with Abu Dhabi located just 90 miles away, you can visit two amazing cities during your honeymoon!
If you are ready for the ultimate luxury honeymoon, with plenty of opportunities to relax or experience adventure, then Dubai is the perfect destination for you and your partner!
Are you getting ready to pack your bags? Make sure to check out the Couples Travel website for everything you need to get going!