California is recognized as one of the most diverse states in the US. From the bustling cities of San Francisco and Los Angeles to the National Parks of Yosemite and Joshua Tree, you can switch up your vacation in just a few hours!
However, it's the state's world-class beaches that arguably attract the most local and international tourists every year. With over 840 miles of coastline and 420 public beaches to choose from, you're guaranteed to find the perfect base for your next couple's vacation.
But what are the best beaches in California? There are sandy beaches, rocky beaches, pebble beaches, and even the occasional white sand beach. So whether you prefer to relax by the sea or play along sandy shores, keep reading to find out which beaches you should visit on your next trip to the Golden State.
1. Best for Surfing: Huntington Beach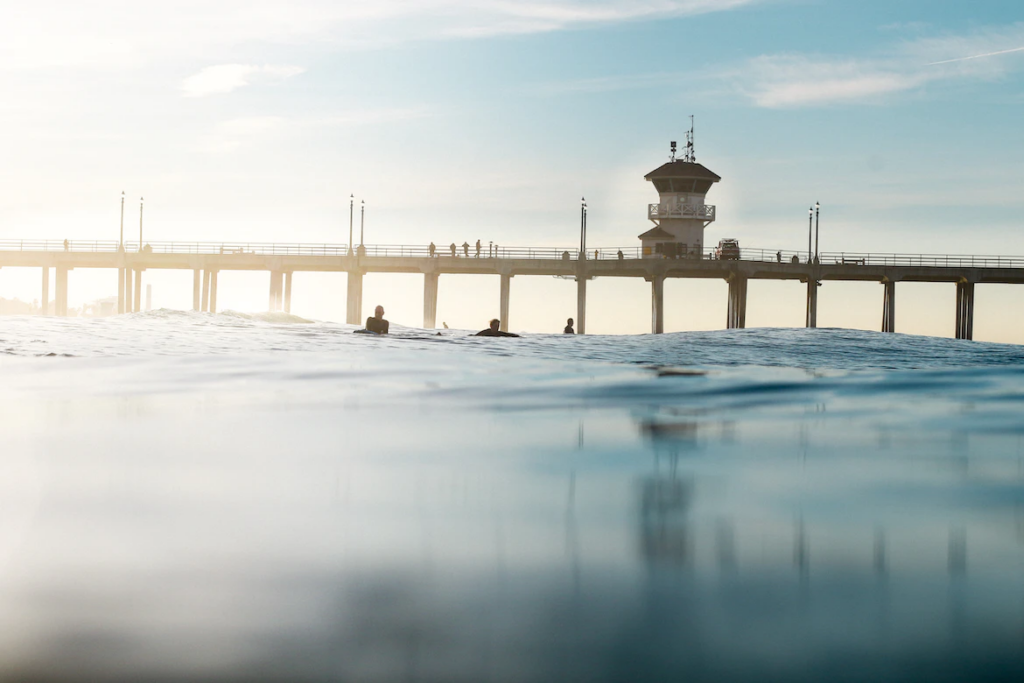 Huntington Beach is one of the most well-known beaches in the US. USA Today named it their Best California Beach thanks to its white sand, turquoise water, and bustling pier.
This 10-mile beach is renowned for surfing, making it the ideal vacation destination for beginners and experts looking to catch a wave. It definitely earned its nickname "Surf City"! The world's biggest surf competition, the US Open of Surfing, is held at Huntington Beach every year.
But it isn't just surfing that attracts over 11 million tourists a year to Huntington Beach. It is conveniently located between Los Angeles and San Diego and is just a stone's throw away from the Pacific Coast Highway. The mild climate and long stretches of sand make it an ideal location for a day by the sea.
Huntington City Beach is also situated just a few minutes walk away. This beach is part of the same stretch of shore but tends to be a little less busy. So if you're looking for a quiet day at the beach without the hustle and bustle of the crowds, it's worth the walk.
From nature reserves and museums to skateparks and souvenir shops, you certainly won't be bored on your trip to Surf City. Catalina Island is also just a quick boat trip away if you fancy a change of scenery at one of California's most unique islands.
2. Best for Luxury Hotels: Coronado Beach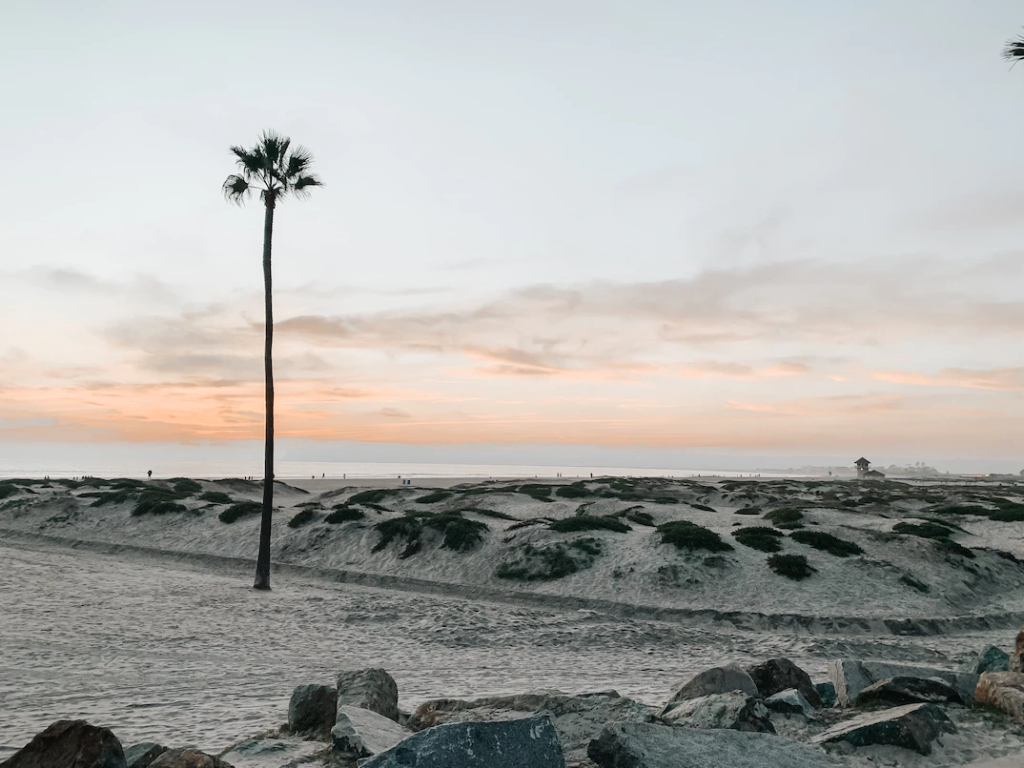 Situated across the bay from San Diego, Coronado Beach, or Central Beach, is popular among couples for its timeless charm and wide shoreline.
Known for its luxury resorts and relaxing atmosphere, it has everything you could ever want from a beachfront vacation. The shore only stretches for 1.5 miles but with few crowds, there's plenty of room to swim, sunbathe, or surf. The award-winning clam chowder at the nearby Bluewater Bouthouse Seafood Grill is also a must!
The iconic Hotel del Coronado provides a picture-perfect backdrop. And with the historic Ocean Boulevard just meters away, you'll be treated to world-class views in every direction. Fans of the 1958 Marilyn Monroe classic film Some Like It Hot might also recognize Hotel del Coronado as the backdrop for the film.
Coronado Beach was ranked 15th on TripAdvisors Best Beaches in the United States and third on Travel and Leisure Magazine's list of the 25 Best Beaches in the United States.
So, if you're looking for a romantic beach getaway jam-packed with relaxation, history, and natural beauty, look no further than this San Diego favorite.
3. Best for Peace and Quiet: Carmel Beach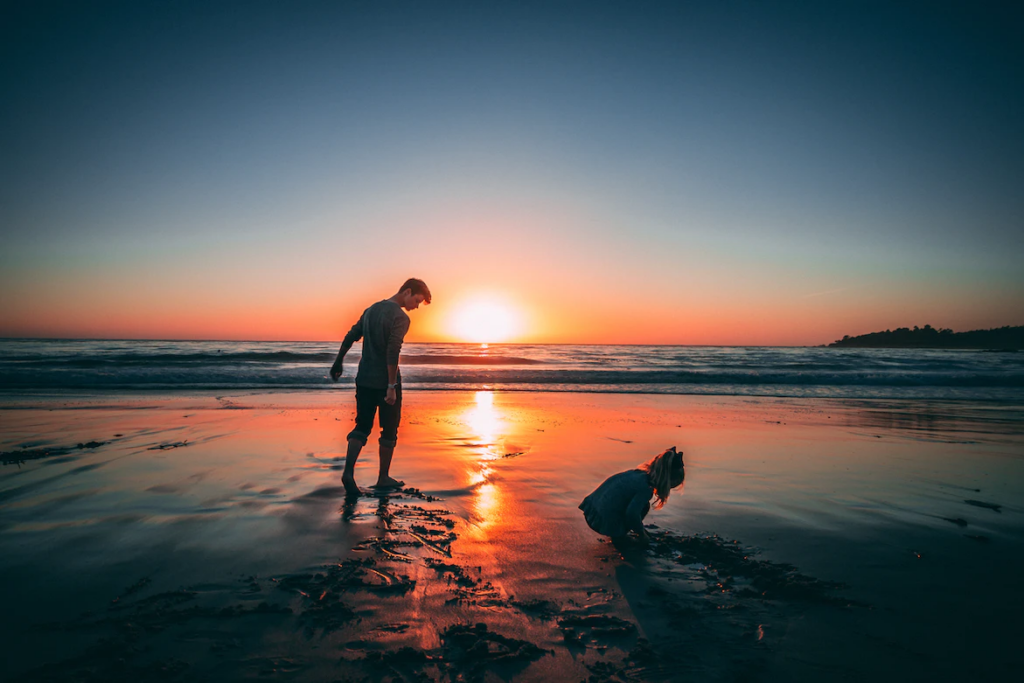 Rolling green hills. Lush green trees. Sugar-white sand. The crescent-shaped Carmel Beach wouldn't look out of place in the Italian Riviera. But it is situated just 300 miles from Los Angeles.
One of the state's most picturesque beaches, it is a popular destination for weddings, honeymoons, and couples' vacations. This is mainly due to its beautiful backdrop that stretches from the dunes to the mountains.
The nearby beach city of Carmel-by-the-Sea is also a must-visit for couples that like to live like a local while on vacation. At just one square mile, what it lacks in size, itmakes up for in old-town charm.
With museums, libraries, and fairytale cottages lining the streets, you'll feel like you've stepped back in time when you visit this historic city. And with most of Carmel-by-the-Sea accessible by foot, you don't even need a car to get around!
Whether you visit Carmel Beach or Carmel-by-the-Sea, you'll soon discover why this hidden gem was voted One of America's Top Beach Towns.
4. Best for Art and Music: Venice Beach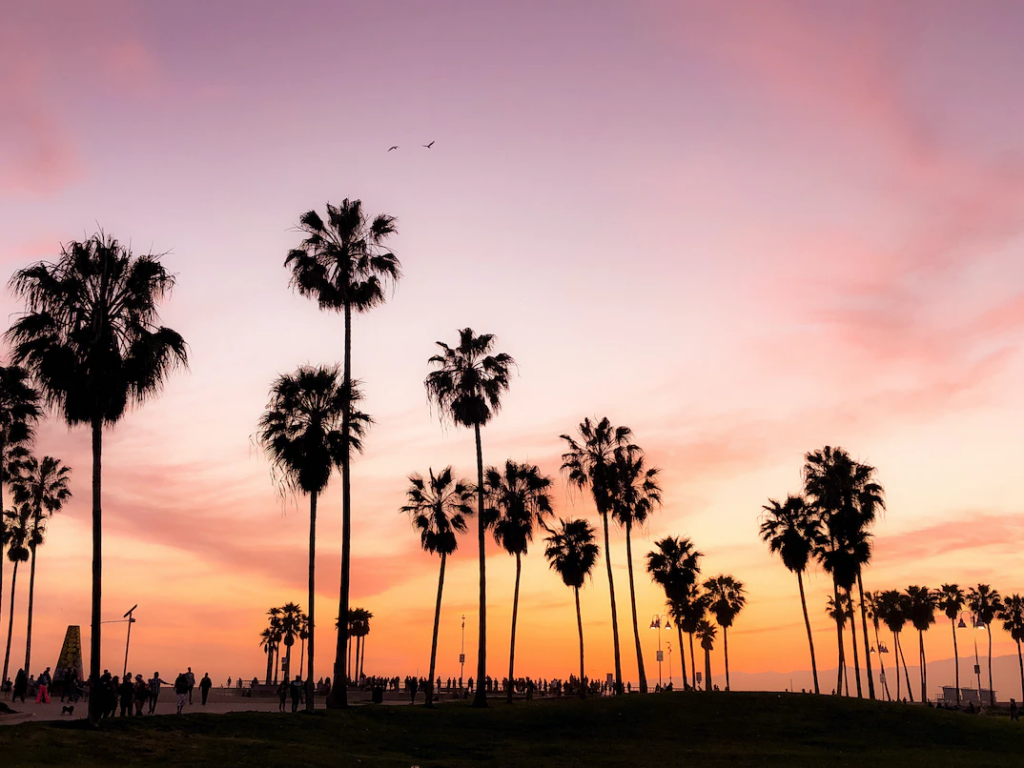 Consistently voted one of the best beaches in California and the wider US, Venice Beach is a popular vacation destination for both young and old couples.
With a vibrant art scene, famous boardwalk, and 2.5-mile promenade, it's one of the busiest and most visited beaches in the state and one that's definitely worthy of a visit if you're in the area!
Venice Beach has also become synonymous with bodybuilding thanks to its proximity to Muscle Beach. Founded in 1934, it's widely regarded as the birthplace of the physical fitness explosion of the mid-1900s. Millions of people from all over the world still visit every year just to get a workout in at this iconic beachfront gym.
But don't worry if this isn't your scene because there are plenty of other things to see and do at Venice Beach. From jugglers, mimes, and fortune tellers lining the pier to walking tours, drum circles, and beach cruisers, you're sure to find something to keep you entertained.
5. Best for Shops and Restaurants: Newport Beach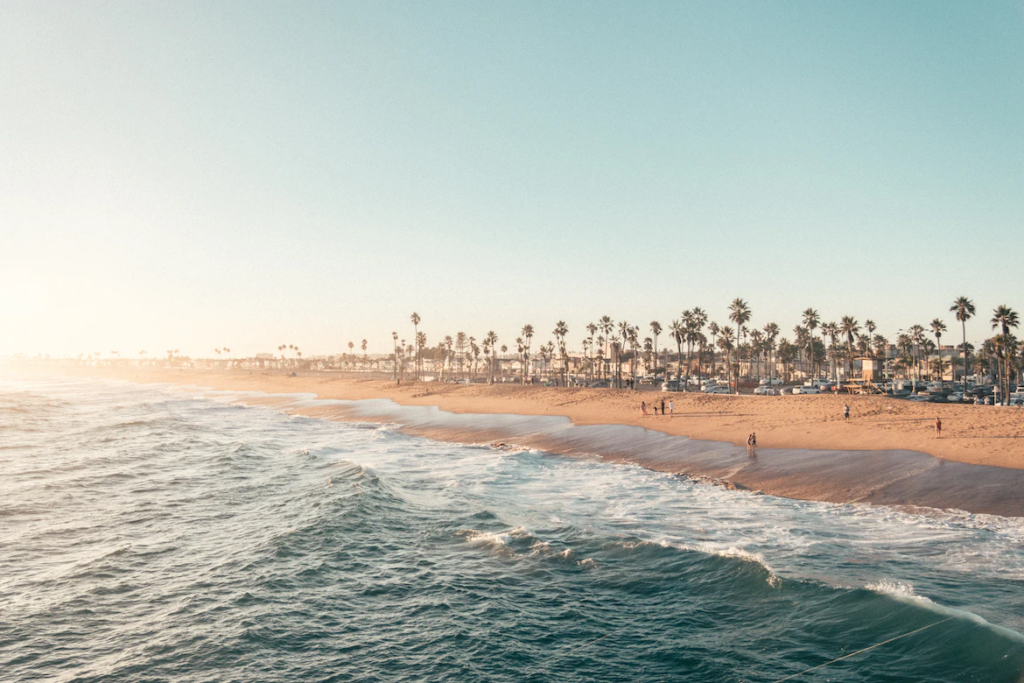 Newport Beach is another popular beach on the California Coast that is visited by up to 100,000 tourists a day in peak season thanks to its white sandy shores and turquoise-blue seas.
Having earned a reputation as a playground for the rich and famous, it's become a hot spot for tourists looking for a bit of glitz and glamour on vacation. Think luxurious mansions, exclusive boutiques, and pristine yachts.
But just because some of the locals live like that, it doesn't mean you have to! It is situated on 10 miles of coastline and is the perfect vacation spot for couples that love to stay at the beach from morning til night.
Surfing, swimming, and sunbathing are a given but the real star of the show happens when the sun goes down. Head to Vista Point at Pelican Point to catch the best view of the sunset before grabbing a drink at Stag Bar + Kitchen.
Whether you're there for the week or just passing through, there are not enough hours in the day to see and do everything on offer at this fun-filled beachfront oasis. Nearby Crystal Cove State Park is also worth a visit if you have the time.
6. Best for Nature Lovers: Pfeiffer Beach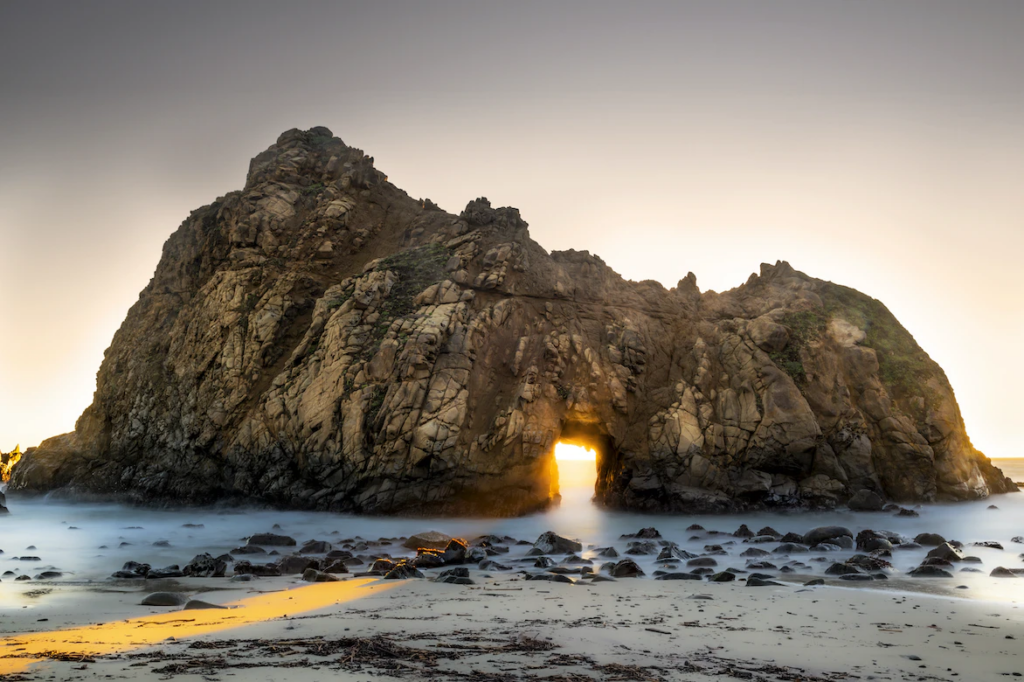 No list of the best beaches in California is complete without mentioning this Big Sur favorite. Pfeiffer Beach is known for its rugged coastline, giant rock formations, and stunning sunsets.
Pfeiffer Beach has also become famous worldwide for its pockets of purple sand. Caused when manganese particles are pushed down the hillside, it truly is a sight to behold. Made even more majestic by the setting sun, visit late afternoon for the best chance of catching a glimpse of this rare phenomenon.
There is a narrow, bumpy road leading to the beach but there is also a shuttle service to save you the stress. Hidden from the hustle and bustle of some of the state's better-known beaches, it's definitely worth a spot on your itinerary.
Although not the easiest beach to get to, the journey will be worth it when you step onto the sand and take in the view that makes this region so popular for millions of tourists every year.
7. Best for Kids at Heart: Santa Monica State Beach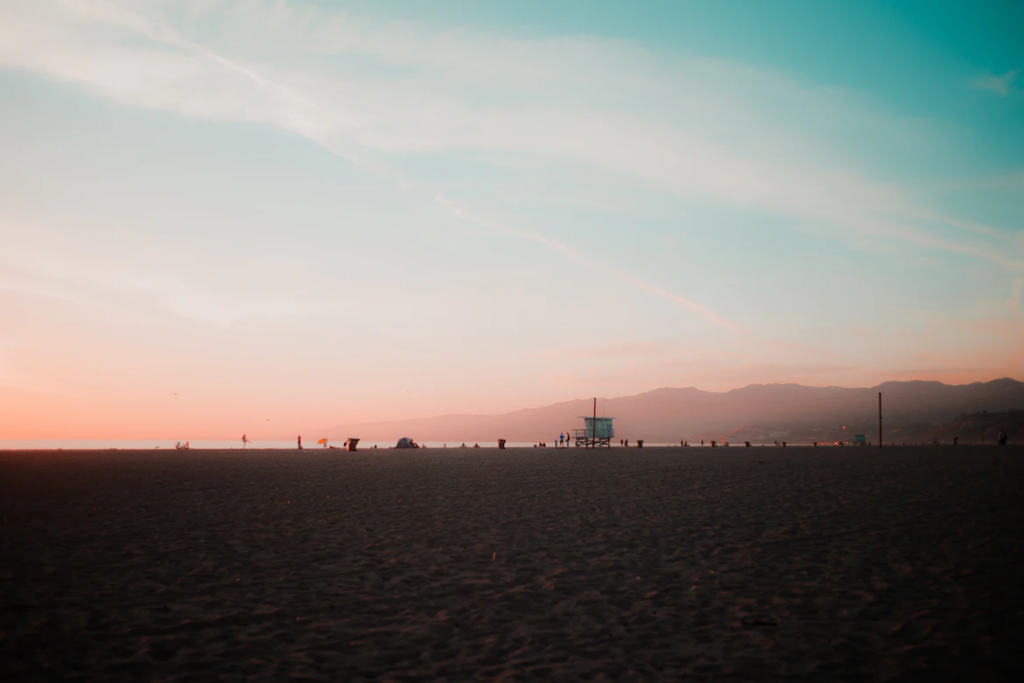 Santa Monica might be most well-known for its famous beachfront pier but there's so much more to see and do at this iconic vacation destination.
It is situated just 14 miles from the glitz and glamour of Los Angeles and is the perfect coastal escape for couples looking for a day of fun and relaxation. For the adrenaline seekers, there's a rollercoaster, ferris wheel, and sometimes live music. And that's just on the pier!
But for those seeking a slice of the peace and quiet, it's also just a great place for a little people-watching. As one of the most photographed locations in the world, there's certainly no shortage of people, places, and things to see.
Santa Monica Beach also marks the final point of Route 66, making it a popular spot for those exploring the California Coast by car. But aside from Santa Monica Pier and Route 66, there are plenty of shops, restaurants, and bars to choose from. Try Seaside on the Pier for seafood, ice cream, and cocktails.
Whether you're a big kid at heart or want to top up your tan, Santa Monica State Beach has the best of both worlds.
8. Best for Explorers: Laguna Beach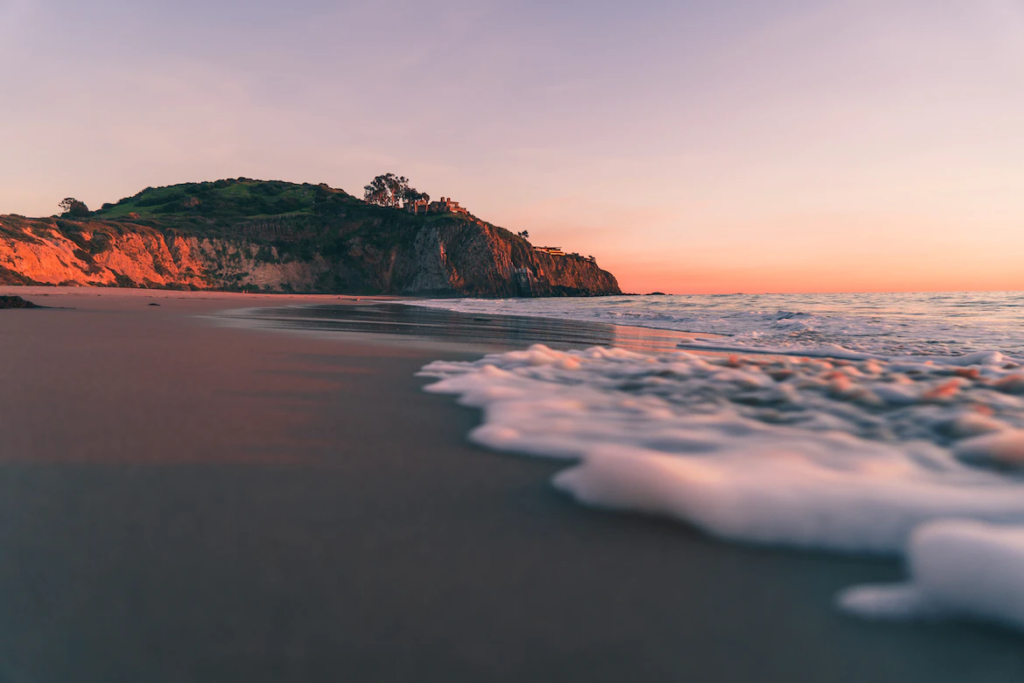 Hiking trails. Art festivals. Independent boutiques. Laguna Beach has everything you could want from a beachfront vacation. With over seven miles of coves and canyons to explore, its picture-perfect coastline is perfect for a romantic getaway for two.
It is considered one of the best beaches in California for its unique tide pools and nature trails and is a true adventure paradise. From beachside strolls to cycling tours, it has something to suit couples of all interests.
Situated between Los Angeles and San Diego and just a stone's throw away from Huntington Beach and Crystal Cove State Park, Laguna Beach is definitely worth a visit if you're in Orange County. Even if you just admire the view from the car!
Laguna Beach also benefits from a year-long mild climate, making this not-so-hidden retreat worth a visit all year round. The summer months are the busiest but you can expect the best weather and the least crowds between April and May and September to October.
The nearby Heisler Park is also worth a visit. It has tide pools teeming with fish and walkways offering panoramic views of the Panoramic Ocean.
9. Best for Adventure Seekers: Limantour Beach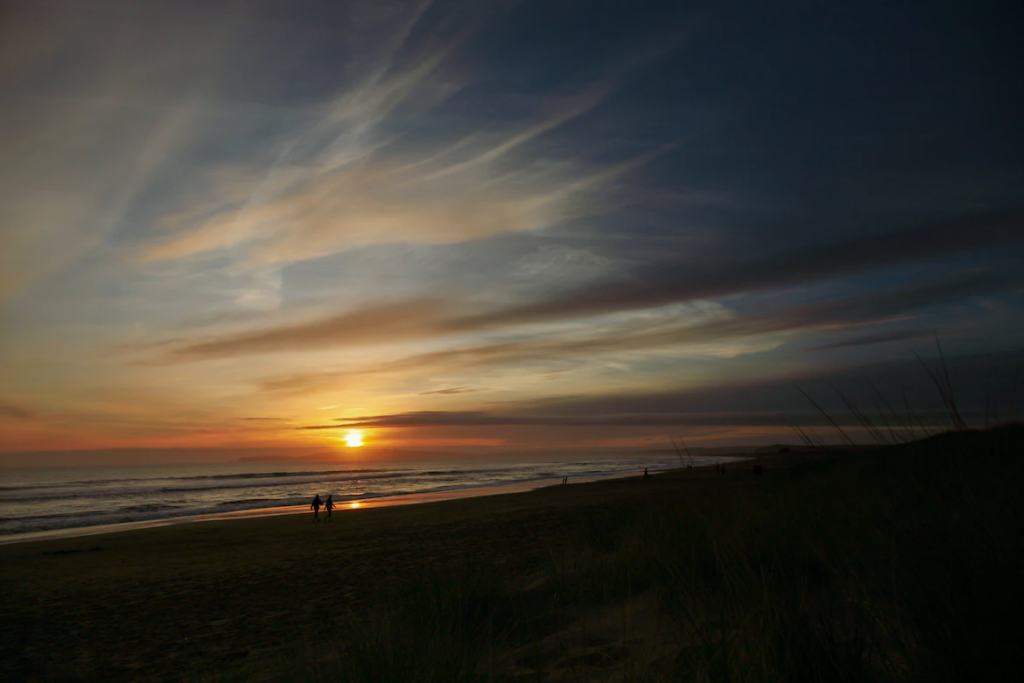 Situated on Point Reyes National Seashore, Limantour Beach stretches for over four miles from Limantour Split to Santa Maria Beach. It's known for its impressive sand dunes and is the perfect place to relax or explore.
Swimming. Horseriding. Surfing. There's plenty to see and do across this vast stretch of hilly coastline. And with San Francisco less than 50 miles away, it's a great base to explore Northern California and the Point Reyes National Seashore.
This cliff-backed beach is more sheltered than some of its neighboring beaches along the Point Reyes National Seashore. So expect gentle waves and a calming breeze. Seals and sea lions also like to call Limantour Beach home but shouldn't bother you as long as you keep your distance.
Because of its sheer size, it also never gets too crowded. So whether you're in the mood for a solo sunbathing session or a romantic picnic, you shouldn't have a problem finding a prime spot on the sand.
10. Best for Views: Baker Beach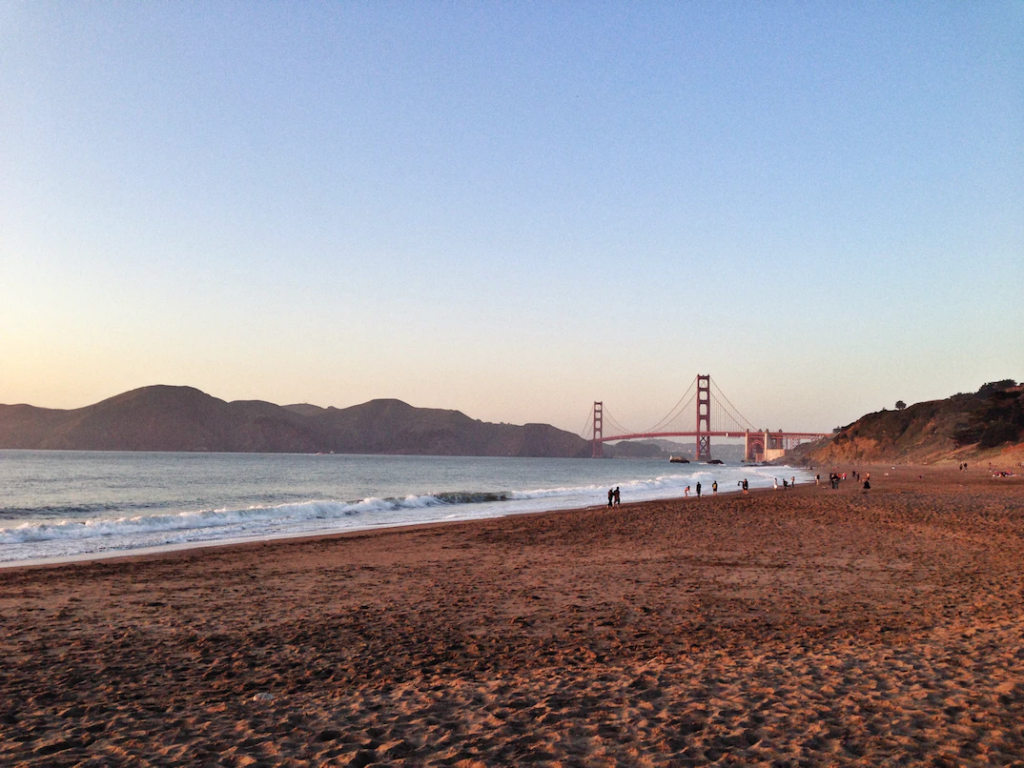 San Francisco might not be known for scenic beaches but with one of the best views of the Golden Gate Bridge, Baker Beach is the kind of beach you'll remember forever. Whether you're heading into the city or just passing through, make a point to stop at this true hidden gem the next time you're in the area.
At just a mile long, it isn't known for its sandy shores or calm seas. But the spectacular view more than makes up for it. And because it rarely gets crowded, you can set up a picnic, explore tide pools, or just enjoy a leisurely stroll without bumping into people.
The cooler temperature and rugged coastline might not make it a prime spot for swimming or sunbathing. But on warmer days, it can be a great place to top up your tan while taking in the view.
Locals tend to flock to the nearby China Beach or Marin County Stinson Beach when the sun decides to show. So if you're looking for somewhere quiet to enjoy one of San Francisco's best sunset spots, it doesn't get much better than Baker Beach.
11. Best for Laidback Couples: East Beach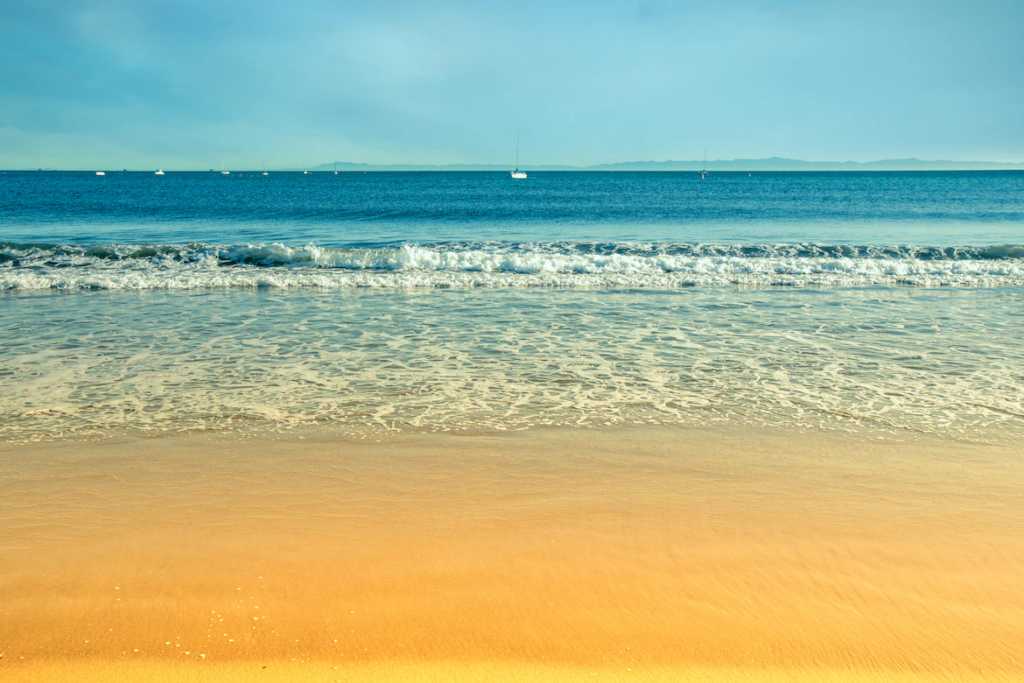 Santa Barbara is a coastal city known for its sandy beaches and year-round warm climate. But few beaches come close to the city's most popular stretch of coastline: East Beach.
It is bordered by a grassy park and tall palm trees and is the perfect place for some fun in the sun. Whether you want to catch some rays on the sand or grab a game on the beach volleyball courts, its laid-back atmosphere will have you revisiting time and time again.
East Beach has everything you could need for a day of sun, sea, and surf. There is an impressive skate park for the more adventurous type and plenty of picnic tables for those that enjoy dining al-fresco style.
There are also plenty of luxury and budget hotels in the area so you can explore the surrounding city of Santa Barbara from your beachfront base. And with the Pacific Coast Highway on your doorstep, you're in for some spectacular views along the way.
If you've got a trip to Santa Barbara coming up, be sure to stop off at East Beach on your travels. It's worth it just for a chance at seeing the sunset alone!
12. Best for Watersports: La Jolla Shores Beach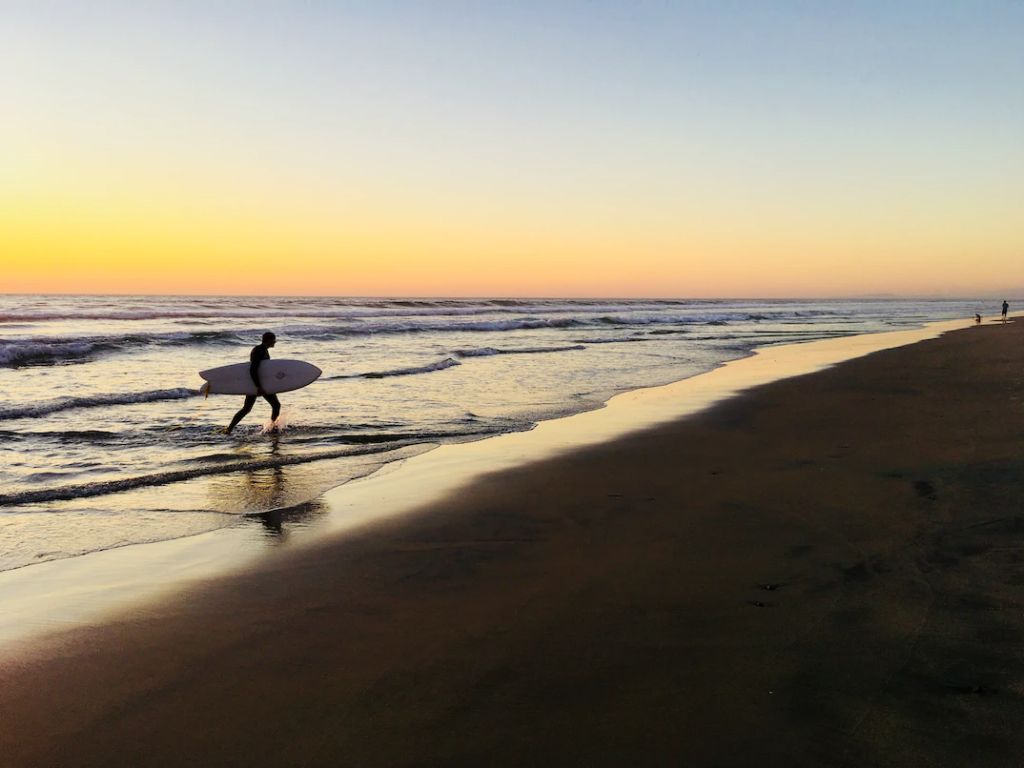 When it comes to the best beaches in California, La Jolla Shores Beach is worth a mention.
It is popular among both locals and tourists and is unusually long and wide compared to other beaches in the area that tend to be a little rockier.
Most people come to bask in the year-round sun but the beach is also popular with kayakers, snorkelers, and scuba divers. Watersports equipment, including paddle boards and boogie boards, can also be rented on the beach.
Surfing is another popular sport due to the big swells created by the exposed coastline. But don't worry if you're not an experienced surfer. There are plenty of surf schools on the beach to help you learn. Or you can just sit back, relax, and admire the experts.
La Jolla Shores Beach can be one of the busiest beaches in the region on warmer days. So be sure to get down early for a prime spot if you know you'll be visiting.
13. Best for Entertainment: Santa Cruz Main Beach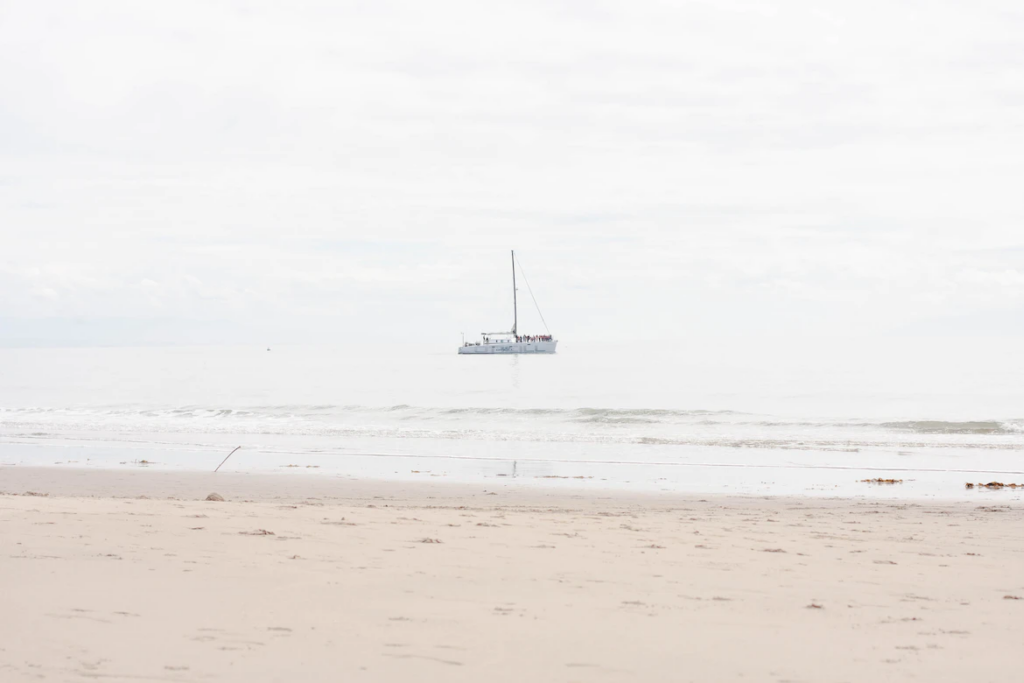 Santa Cruz Main Beach is a 3-mile long stretch of shore located between the Santa Cruz Wharf and San Lorenzo River. It is one of the most popular beaches in California with plenty to see and do.
Also known as Boardwalk Beach, its main attraction is a seaside amusement park offering thrill rides, beachfront snacks, and daily entertainment. There's also mini golf, bowling, and laser tag for the competitive couples out there.
But there's more to Santa Cruz Main Beach than just Santa Cruz Beach Boardwalk. As well as sunbathing, volleyball, swimming, fishing, and boating are just some of the activities enjoyed by tourists at this fun-filled vacation spot.
Like most California beaches, Santa Cruz is also known for surfing. So if you've ever wanted to try your hand at riding the waves, this is the perfect place to get some practice in.
One of the best beaches in California for some fun in the sun, you're guaranteed to have a blast no matter what you get up to when you visit this family-favorite beach!
14. Best for Surfers and Skaters: Mission Beach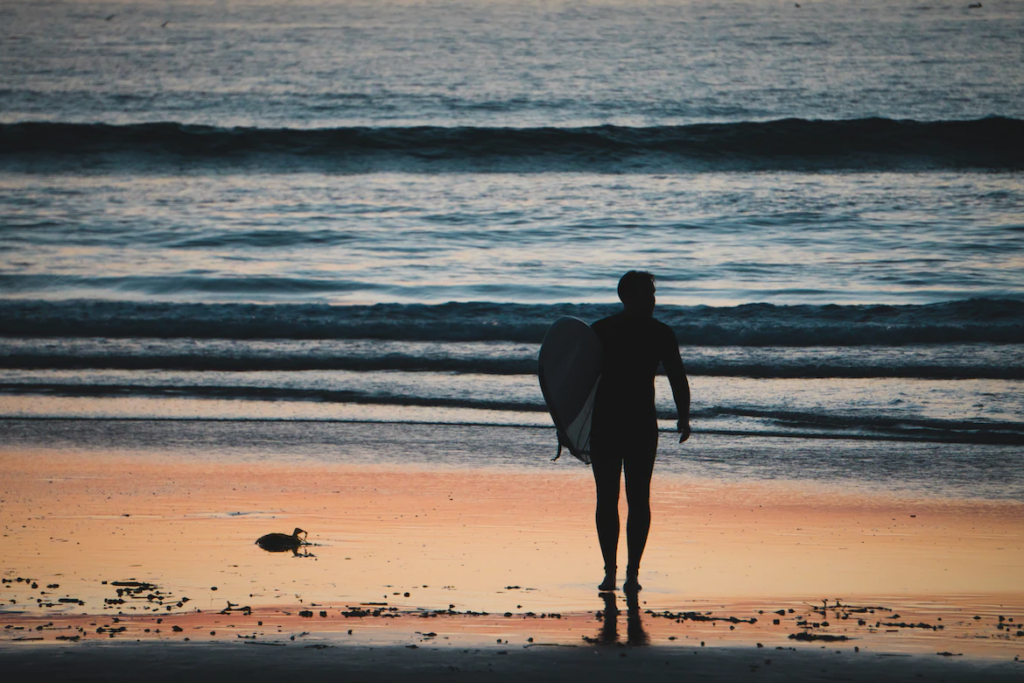 Another San Diego spot, Mission Beach is one of the best beaches in California for couples that like a mix of relaxation and fun. It is conveniently located just a short drive from Mission Bay and is a great spot to bounce between the two neighborhoods.
Home to surfers, sunbathers, and roller-skaters, there's something for everyone at this laid-back vacation destination. And with a 2.3-mile boardwalk situated along the shore, you'll never be short on things to do and see. Check out Miss B's Coconut Club for the best tropical-themed food and cocktails in the area!
Mission Beach is also home to Belmont Park, a beachfront amusement park offering rides, attractions, and arcades. Biking, skating, and walking are also popular along the pathway adjacent to the shore.
Because it is one of the busiest beaches in the region, it can get a little crowded during the summer months. But it's definitely worth a visit if you're in the San Diego area. Even if just to take a stroll, or skate, along the pathway and people-watch by the beach!
FAQs
What California beaches are best for swimming?
California is the ideal vacation destination for people that love to swim and splash in the sea. The best beaches with the calmest and warmest waters for swimming are Newport Beach, Venice Beach, and Coronado Beach.
What is the best beach for couples in California?
With hundreds of breathtaking beaches, California is the perfect destination for a romantic beach getaway. Carmel Beach, Pfeiffer Beach, and Moonstone Beach are just some of the best beaches recommended for couples.
Do you have to pay to use the beach in California?
California is one of the few states where all public beaches are free to access. However, some beaches charge for parking. Be sure to research parking fees before you visit any beach in the state to ensure you're not caught off guard.