Do you find yourself daydreaming about warm sand and gentle waves lapping up against the shore? Then it may be time to visit one of the best beaches in the world!
If you're a beach lover looking for your next perfect tropical vacation, you're in the right place. From secluded coves to bustling stretches of sand lined with lively beach bars, we've scoured the globe to bring you a list of the world's most beautiful and unforgettable beaches.
Whether you're looking for a romantic escape, a family-friendly adventure, or a thrilling surfing spot, we've got you covered. So grab your sunscreen, pack your beach bag, and get ready to discover a sandy paradise!
1. Best for Snorkeling: Grace Bay Beach, Turks and Caicos Islands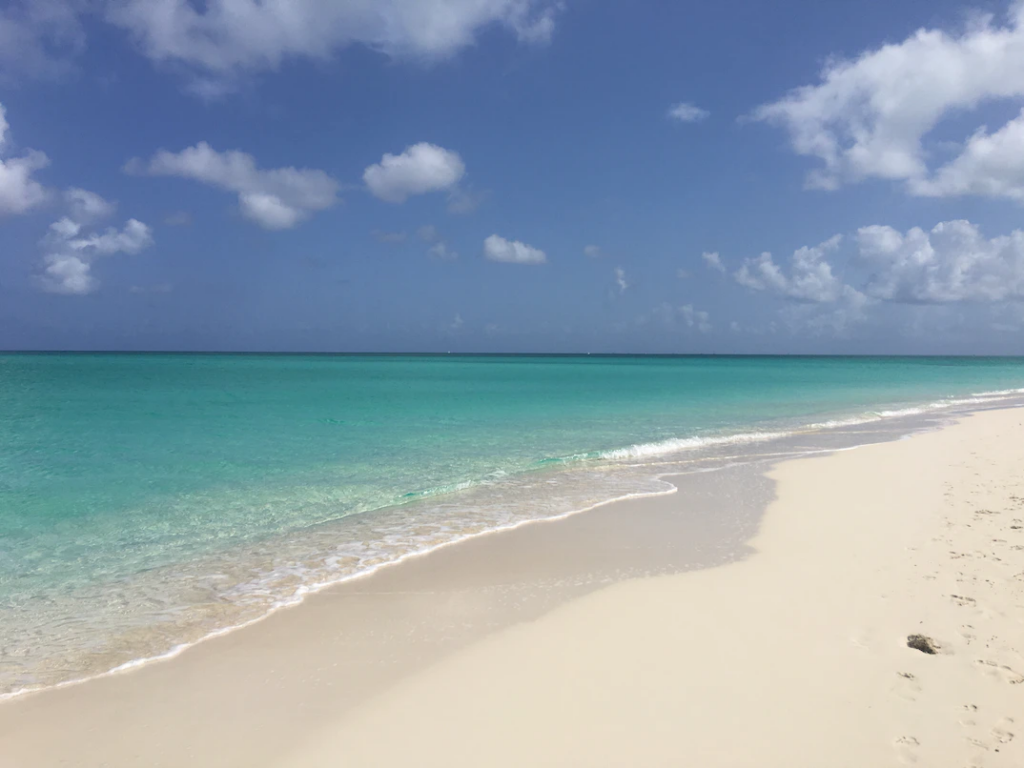 Grace Bay Beach in the Turks and Caicos Islands is a tropical paradise that will take your breath away. The beach has crystal-clear turquoise waters, powdery white sand, and luxurious resorts. So there's little wonder why this is considered one of the most spectacular beaches in the world.
Located in the Grace Bay area, which is part of the smaller islands in the Turks and Caicos archipelago (or island chain), this famous beach offers visitors an unforgettable experience. It's situated within the Princess Alexandra National Park, which is a protected marine park. It ensures the coral reefs and marine life remain intact and drop-dead gorgeous!
If you love snorkeling, then you'll want to visit Grace Bay for the best snorkeling opportunities in the world.
With the Marine Park just a stone's throw away, you can swim with brightly colored fish, spot majestic rays, and watch sea turtles as they glide by. So if you want one of the best scuba and snorkeling destinations, don't forget to add Grace Bay Beach to your bucket list.
Still, Grace Bay's beauty isn't limited to its turquoise bay and clear waters. It's also surrounded by luxurious resorts that offer relaxation and comfort for honeymooners, romantic getaways, and even families!
In fact, there are plenty of activities and recreation spots near the beach for you to stay entertained while also getting a jaw-dropping view of one of the best beaches in the world.
2. Best for Secluded Swimming: Horseshoe Bay Beach, Bermuda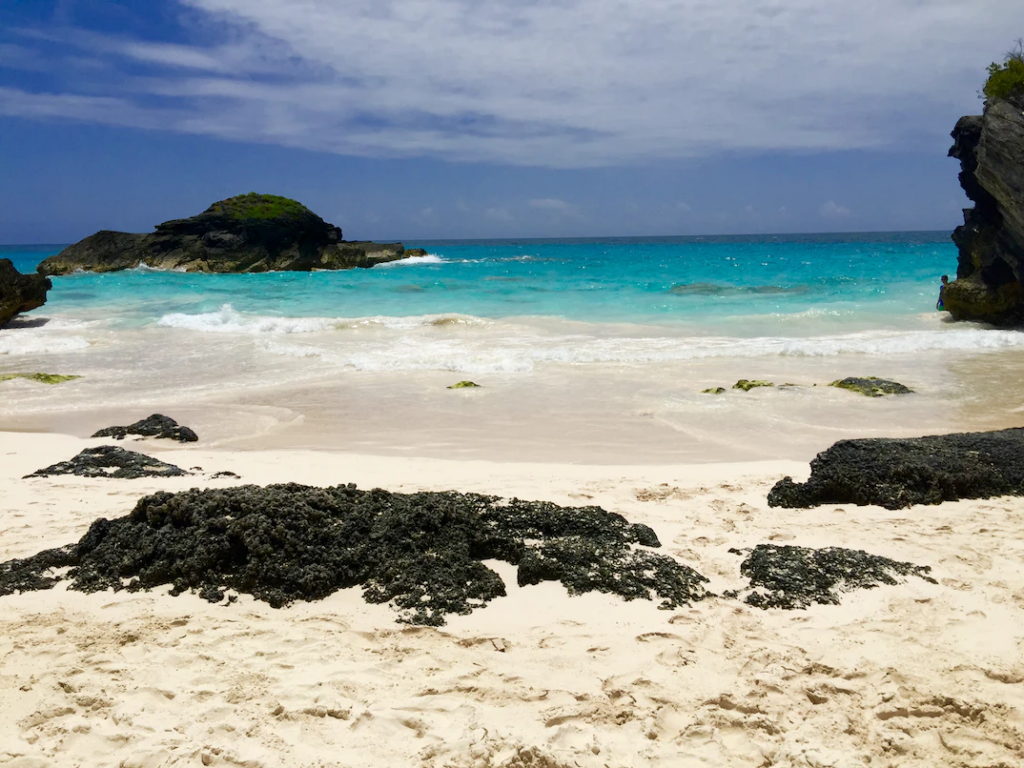 Horseshoe Bay Beach is a beach unlike any other. Located on the south coast of Bermuda, it's famous for its namesake horseshoe shape. And, thanks to its unique pink sand color, it's great for tourists who want stunning views and tons of fun under the sun. This beach actually gets its color from tiny red invertebrates that are crushed over time and mixed with the white sand.
One of the things that make beautiful beaches even better are amenities and activities. And Horseshoe Bay doesn't disappoint!
The beach has a cafe and rental services for umbrellas and chairs during the peak of summer. There's also a gift shop and grill to keep you entertained. Plus, if you're on an adult-only trip, Horseshoe Bay has one of the best beach bars around.
The waves at Horseshoe Bay are relatively small on calm summer days, making it a great spot for families with children or beginner swimmers.
It's important to note that the waves can pick up on windy days, making the currents stronger than usual. Although it's important to be cautious, there are protected and secluded coves for swimming that offer a safe environment on high-wind days.
To make this beautiful pink sand beach even better, it has a picture-perfect backdrop for the ideal holiday snapshots. With limestone cliffs and the scenic South Shore Park in the background, Horseshoe Bay is a must-visit destination for anyone looking to soak up the Bermuda sun.
3. Best for Gorgeous Views: Whitehaven Beach, Australia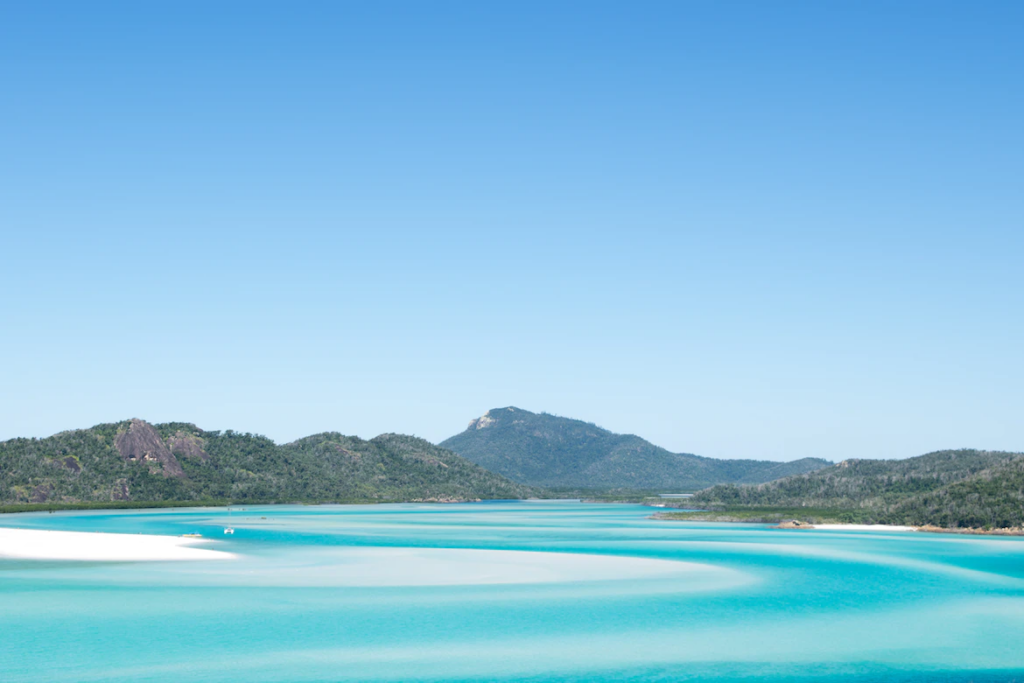 If you're looking for the ultimate beach paradise, Whitehaven Beach should be on your must-see list. As one of the best beaches in the world, the pristine sand is famous for being the softest and whitest in the world.
What makes this beach truly amazing is the swirling pattern that the soft white sand and clear water make from above. This mesmerizing natural phenomenon makes Whitehaven one of the most stunning – and most photographed – beaches in the world.
Whitehaven Beach is part of the Great Barrier Reef Marine area and is located off the coast of Queensland on Whitsunday Island. To get here, you'll need to fly to Hamilton Island Airport and then take a ferry to Whitsunday, so be prepared for a long journey.
Still, once you arrive, you'll be greeted with an island paradise unlike any other!
At Whitehaven, you can relax on the white sand, swim in crystal clear water, or take a helicopter ride to get a bird's eye view of the stunning swirling sand. For the best views, you'll also want to visit Hill Inlet Lookout, which offers a breathtaking vantage point over the white sand beach.
Not only is this one of the most stunning beaches, but it's also a place where you can enjoy adventures like snorkeling and diving. There is abundant marine life that is active in the summer months and incredible scenery, making it the perfect place for a romantic trip or family vacation. So be sure to grab your sunscreen and book your ticket as soon as you can!
4. Best for Culture: Cannon Beach, Oregon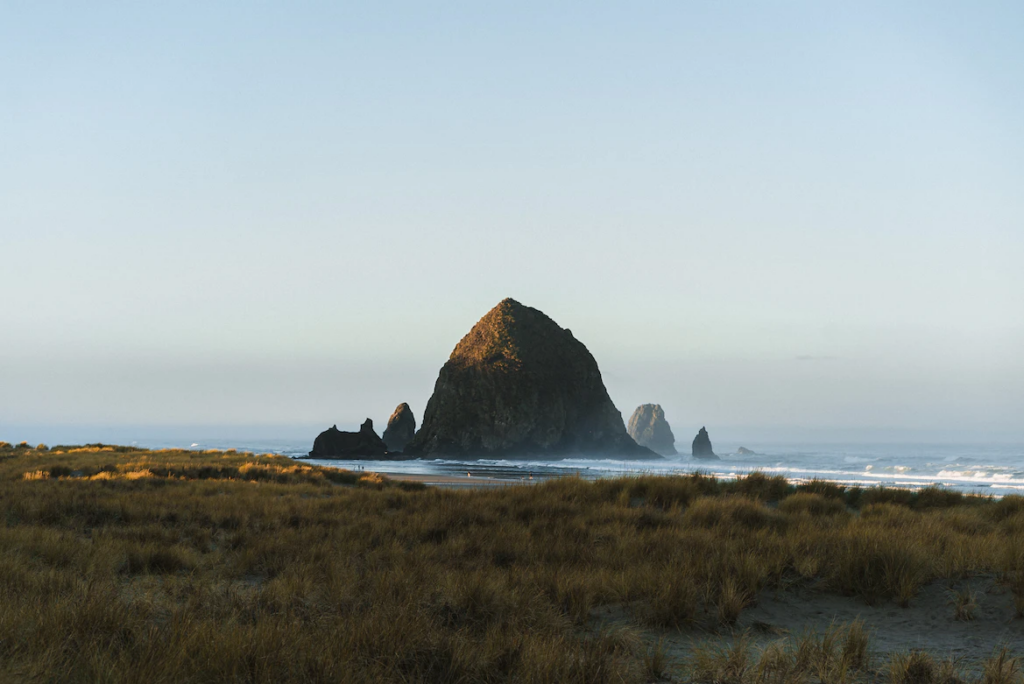 Next on our list of the best beaches in the world is Cannon Beach. Located just under two hours away from Portland, Oregon, Cannon is a destination that shouldn't be missed. While the waters of the Pacific Northwest may be too chilly for swimming on most days, they are still incredibly beautiful and picturesque.
This beach is known for its towering Haystack Rock, which stands at an impressive 235 feet tall and is surrounded by other needle-shaped rocks that create a unique skyline. Still, beyond the stunning rock formations, Cannon Beach is also home to Hug Point and Ecola State Park. This offers visitors even more opportunities for relaxation and to soak up the natural beauty.
Cannon isn't just a destination for nature lovers, though. It's also one of the Northwest's top art destinations, with art galleries, cafes, and fine-dining eateries. Visitors and tourists can observe glass blowers at work in their studios or take in live theater all year around.
History buffs will also appreciate Cannon's rich past. In fact, the town's name comes from a naval cannon that washed ashore after a shipwreck in the 1840s, adding even more to its charming character.
With so much to see and do, there's no wonder Cannon Beach is so popular. It's just an added bonus that it happens to be one of the most incredible white-sand beaches in the world!
5. Best for Entertainment: Camps Bay Beach, South Africa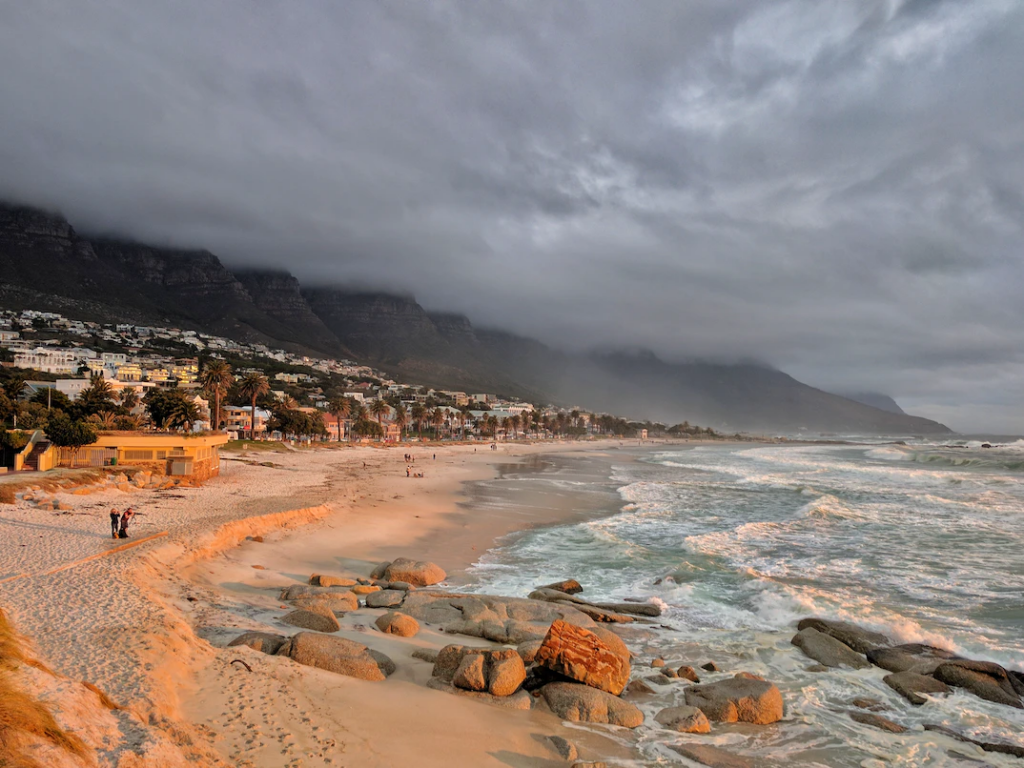 Camps Bay Beach is a beautiful and vibrant beach located in Cape Town, South Africa. It's a fantastic destination for travelers and has the aptly-named flat-top Table Mountain as its backdrop. With an expanse of golden sand and stunning blue waters, visitors can enjoy a range of activities or a relaxing dip in the tidal pools.
Regarded as one of the most beautiful beaches in the world, Camps Bay Beach draws in crowds of thousands of photographers every year. Although the beach itself is the main attraction for tourists, there is still plenty to do just minutes away from the waters.
Nearby attractions like Table Mountain National Park (accessible by hikes or exciting cablecars) and museums and art galleries can keep you entertained. But if you don't want to stray too far from the beach, you can enjoy a delicious meal and a perfectly mixed cocktail along the beach strip at one of the infamous beach bars.
While the current can be strong at certain times of the year, the summer months bring calm waters that are perfect for families. Still, with an expanse of mountains and lush vegetation all around, there is still a lot to look at if you're visiting during colder months.
Since this gorgeous beach is just as popular with the locals, you may even bump into a few colorful personalities who can share some tips and tricks about the area. You may get some tips about the best times to surf, soak up the sun, or avoid the crowds. Or, they may even tell you about hidden local gems along the beachfront!
6. Best for Romantic Retreats: Eagle Beach, Aruba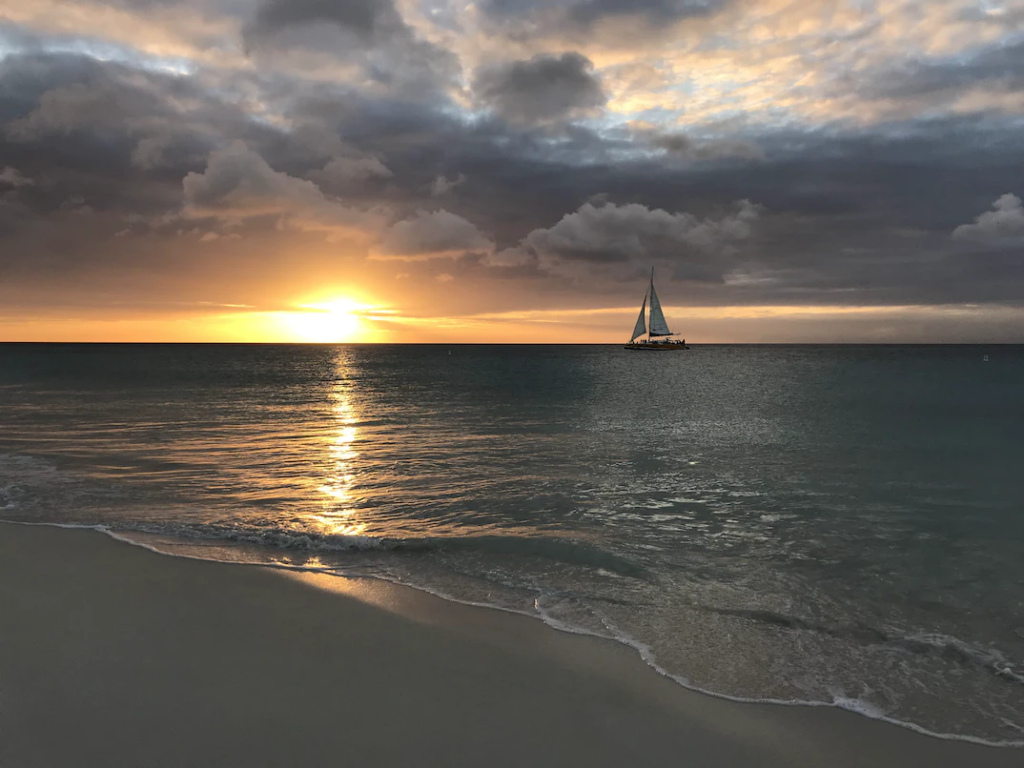 With some of the most gorgeous golden sand and fresh water, it's no surprise that this next beach was voted #1 of the Best Beaches in the Caribbean in the 2023 TripAdvisor Travelers' Choice Awards. We're of course talking about the slice of heaven on the north coast of Aruba – Eagle Beach.
In addition to its stunning beauty, Eagle Beach offers a range of amenities to visitors that make it a must-see destination. It boasts the widest beach in Aruba, with shaded trees that let you take a break from the sun while still enjoying one of the most beautiful tropical beaches in the world.
The beach also has beach huts and a variety of water sports for adventurous travelers. So if you want an adrenaline rush on your vacation, this is the spot to visit!
One of the most iconic features of Eagle Beach is its two Fofoti trees, which have become famous landmarks in Aruba. Their trademark silhouettes point toward the Caribbean Sea, making them highly recognizable (and frequently photographed). Nearby, some of the low-rise hotels provide cabanas and lounges for their guests, adding to the beach experience.
The beach also has some fun facts that add to its charm. For example, there are four species of sea turtles nesting in Aruba, with most of their nests found along this beach.
Despite it being one of the most popular beaches for tourists, the beach retains its sense of natural identity and offers a peaceful retreat for those seeking a relaxing or romantic getaway. From lounging under the sun to participating in watersports, there's something for everyone to enjoy here – at one of the best beaches in the world.
7. Best for Nature Lovers: Radhanagar Beach, India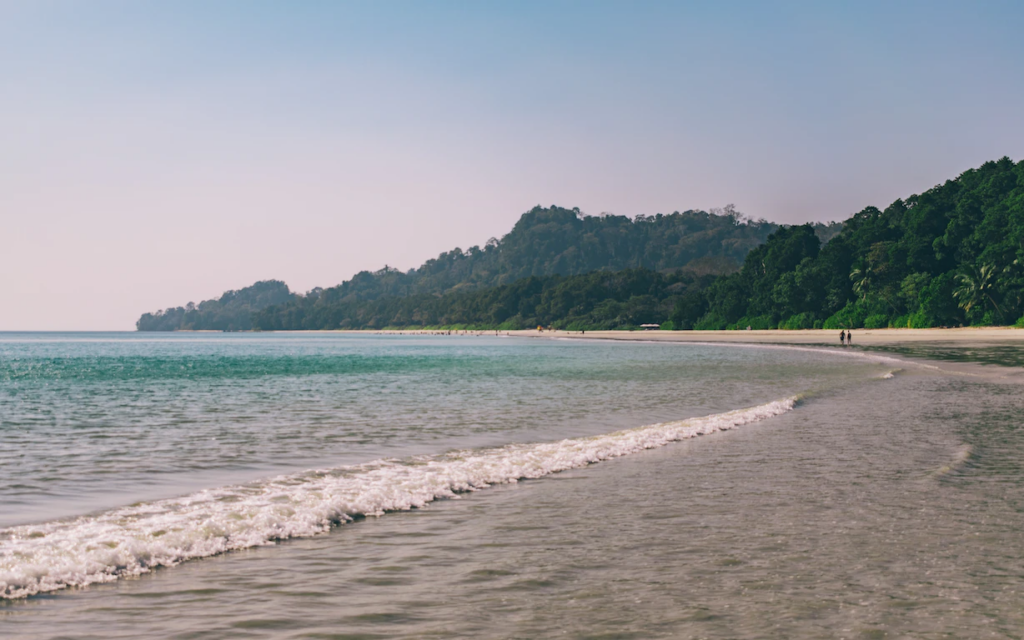 When you think of the best beaches in the world, India probably isn't the first destination to spring to mind. But you may be surprised by Radhanagar Beach, which is known for its soft sand dunes and incredible scenery. In fact, this beach is regularly voted one of the best beaches in the world (and in Asia) – and for a great reason.
Commonly known as Beach No. 7, Radhanagar is located on the western side of Swaraj Deep, which is part of the Andaman Islands in India. It's a beautiful, unspoiled landscape that boasts stunning white sand and idyllic waters that gently slope into the Bay of Bengal.
What sets Radhanagar apart from other beaches is that it has been left untouched by development. That means there's nothing but natural beauty all around you!
You won't find high-rise hotels or sports kiosks here, so it's best for relaxation and a quiet getaway than for adrenaline junkies or vacationers looking for a resort experience. Instead, the shorelines are scattered with tropical Mahua trees and other indigenous greenery that add to its breathtaking beauty. Of course, there are other smaller hotels nearby if you're planning a day trip to Radhanagar.
Another unique feature of this beach is that after the rainy season, it splits in two by a river running down from the surrounding hills. This only adds to the aesthetic and creates a tranquil, serene atmosphere. Additionally, there is a jaw-dropping Hindu temple at its easternmost side that overlooks the beach, adding to the cultural significance of the area.
Swimming at Radhanagar is a must-do activity, but you should exercise caution. While there are no swimming restrictions, the currents can get stronger the farther you swim. Although there are lifeguards on duty, we'd recommend this beach for couples and adult travelers.
8. Best for Peace and Quiet: Elafonissi Beach, Greece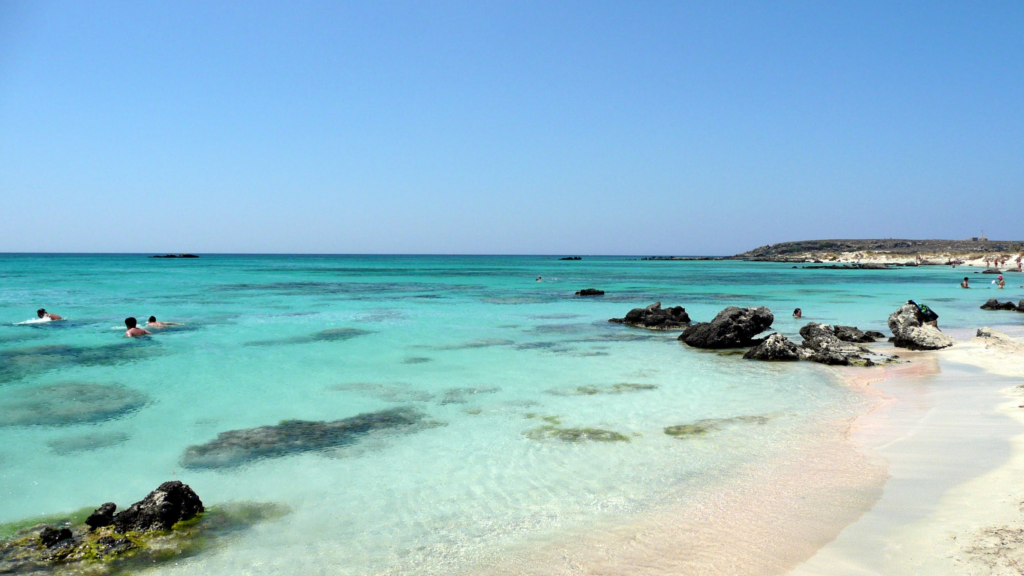 Elafonissi Beach needs to be on your travel itinerary if you ever find yourself in the buzzing and beautiful Greek Island of Crete. Nestled at the western tip of the island, this stunning beach has gained immense popularity for its unique features that set it apart from other beautiful beaches around the world.
One of the defining features of Elafonissi is its gorgeous pink sand. The warm, lagoon-like waters add to the appeal of this beach, making it a perfect spot for swimming and soaking up the Grecian sun. The shallow waters and sandbars separate the island from the mainland, disappearing under around three feet of water at high tide.
While facilities are limited, visitors can enjoy palapa-covered sun loungers and fresh seafood at the handful of tavernas or beach bars along its stretch.
The quietness of the beach only adds to the wild feel of this paradise, making it an ideal escape from the hustle and bustle of everyday life. Still, it may be best for adults and older children or teens rather than a family getaway.
For more adventurous travelers, hiking to Elafonissi Island during low tide is an exciting activity. The island offers fantastic hiking opportunities and is a great way to experience the natural beauty of this popular destination.
If you're up for a roadtrip, Elafonissi is less than a two-hour drive away from the Lissos Archaeological Site and Castel Selino, making it easy to incorporate other cultural and historical experiences into your trip.
9. Best for Day Trips: Nungwi Beach, Tanzania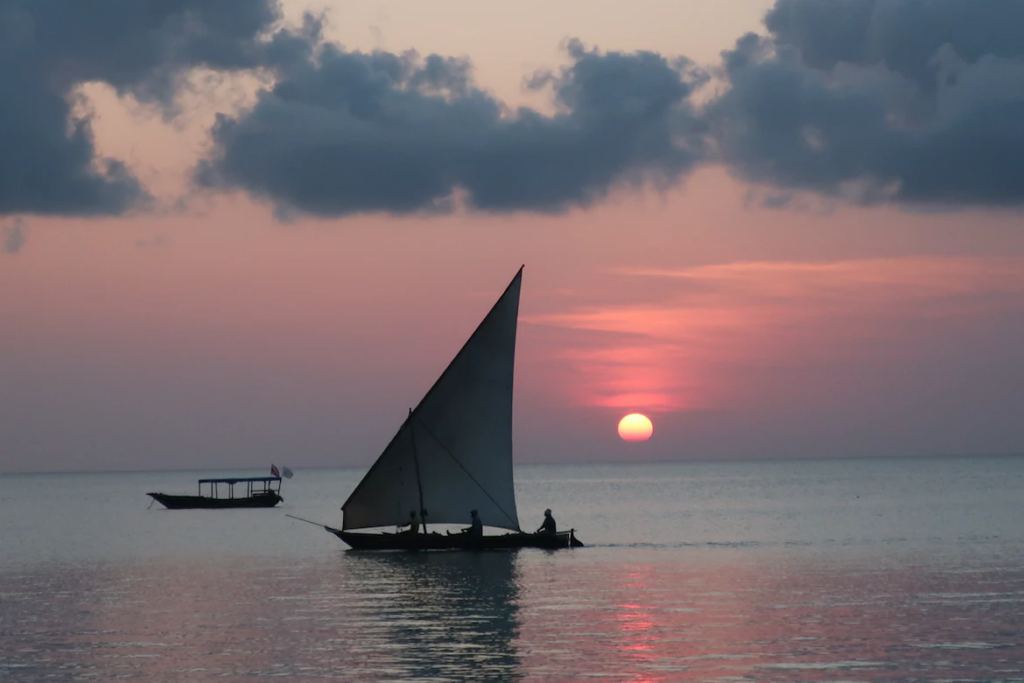 Nungwi Beach on Zanzibar Island in Tanzania is a true paradise for beach lovers. You're sure to love its sprawling white sand and crystal-clear waters of the Indian Ocean.
Set against the backdrop of swaying palm trees and traditional fishing boats, Nungwi Beach is a sight to behold. Visitors can enjoy a relaxing day on the soft sand or take part in some laidback activities on the beach. Snorkelers will find plenty of colorful fish to spot in the clear waters while vendors sell handmade crafts and freshly-caught fish straight off their boats.
Nungwi Beach's beauty is undeniable, and the influx of tourists means that the area has seen significant development in recent years. So, it's perfect for beach vacations with several restaurants, beach vendors, bars, resorts, water sports, and excursions. Activities like sunset cruises, fishing, and trips to the Nakupenda Beach sandbank are particularly popular with adults and couples.
Despite the commercialization, Nungwi still retains its rustic charm and holds a title as one of the best beaches in the world. The surrounding fishing village adds to its overall appeal and you'll have a selection of hotels and resorts to choose from if you're adding this beach to your dream vacation destinations.
10. Best for Long-Term Stays: Saud Beach, Philippines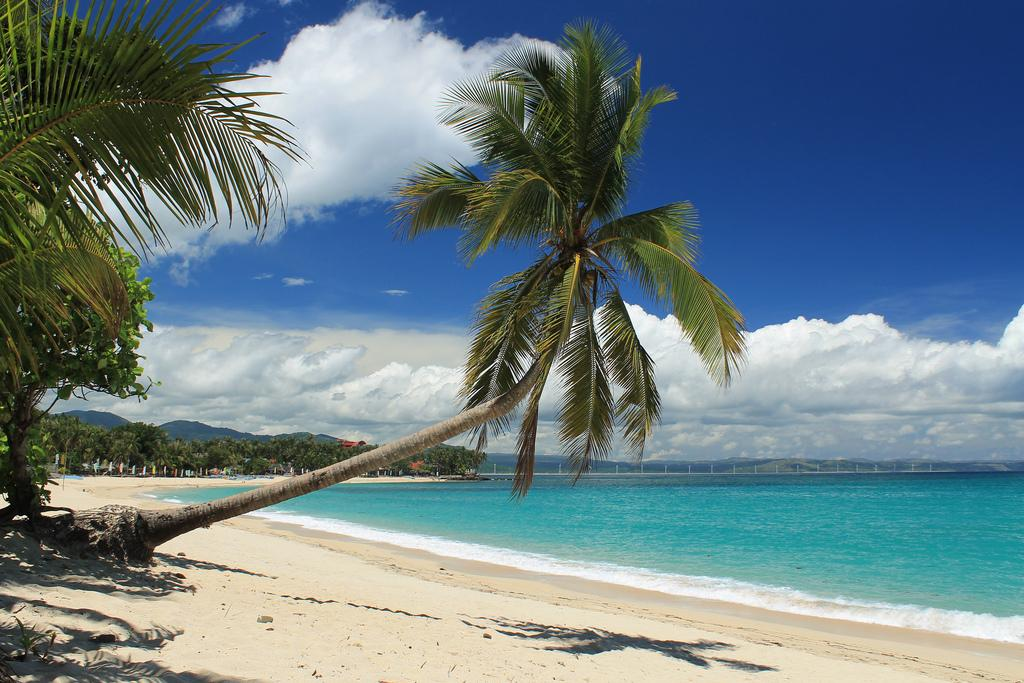 Saud Beach on the island of Luzon is a Southeast Asian gem that shouldn't be missed! This stunning beach is the epitome of tranquility, offering you a peaceful escape from some of the busier tourist areas. The beach boasts warm, golden sand that slopes gently into the waters of the Pacific Ocean, making it the perfect spot for snorkeling, swimming, and sunbathing.
Saud Beach's best feature is its unparalleled serenity. It is hardly ever overpopulated with locals or tourists, so you can relax and unwind without any distractions.
The beach stretches out in a vast arc, leaving plenty of room for you to find your own private spot to soak up the sun. And when you need a break from sunbathing, you can enjoy a delicious meal under a thatched-roof cabana, surrounded by tropical palm trees. You can also hire a boat for excursions on the water and explore the beautiful coastline.
You can find Saud beach at the northernmost tip of the main island, making it a bit of a trek to reach. However, it is undoubtedly worth the extra effort! While it's possible to visit Saud Beach on a day trip from Manila, we highly recommend staying in the area for an extra few days to get the most out of your trip.
11. Best for Swimming: Hanalei Bay, Hawaii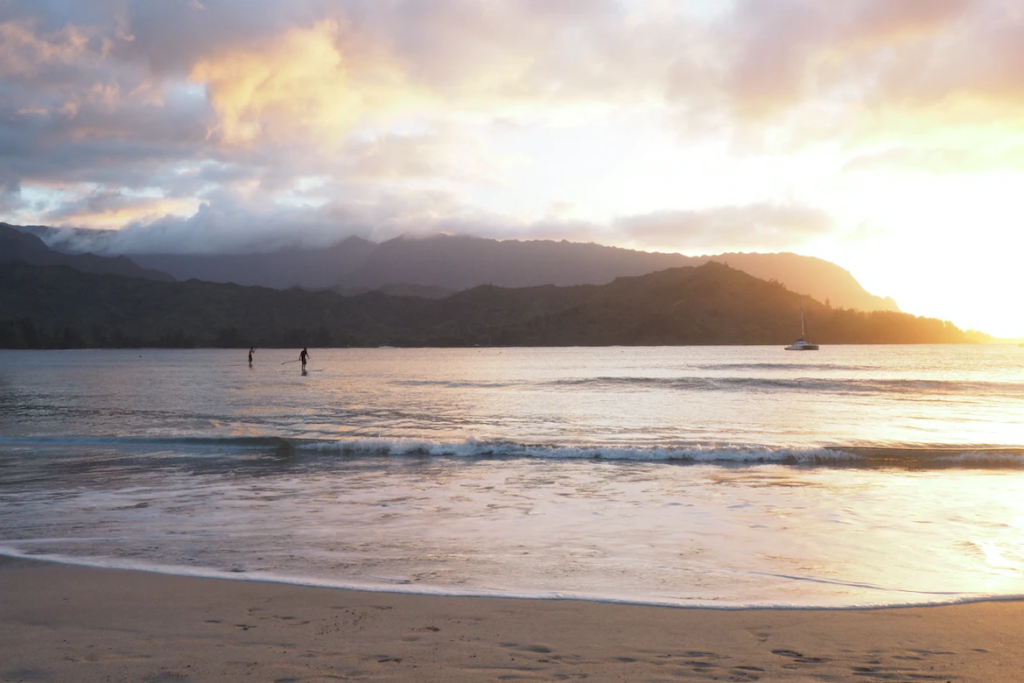 Hanalei Bay is the jewel of Kaua'i, one of Hawaii's most popular islands. Found on the north shore of Kaua'i Island, Hanalei Bay is a place of near-mystical beauty.
With more than two miles of soft, white sand, a calm bay, and a mountainous backdrop, it's easy to see why the area has been a popular local spot for generations. In fact, the mountains that frame the Bay rise to an impressive 4,000 feet, adding to the atmosphere of this incredible beach.
Hanalei Bay is divided into three sections: Wai'oli, Hanalei Pavilion, and Black Pot, each with its own personality and charm.
In the summer, the calm waters of the bay offer excellent mooring for sailboats and stand-up paddleboarding. Swimming is also a popular activity here, as the bay is known for its gentle waves and shallow waters.
For the adventurous at heart, Hanalei offers great surfing opportunities, especially during the winter months when the waves pick up in size and speed.
While the beach often sees large crowds of tourists, it still retains its authentic Hawaiian magnetism. And, largely untouched by anyone but the locals during surf season, Hanalei's allure should be calling to you loud and clear. So don't wait to book your trip!
FAQs
Are the best beaches in the world expensive to visit?
The cost of visiting these beaches can vary depending on the destination and the amenities and activities available. For example, many of Hawaii's resorts carry a hefty cost, while other destinations like South Africa are generally much cheaper. Still, there are options for every budget, from affordable beachside hotels to luxury resorts.
Are the best beaches in the world suitable for families with young children?
Yes, most of the beaches on our list are suitable for families with younger kids. Still, you may want to do your research before you take your children with you. Look for beaches with calm waters and kid-friendly activities.